"I have not been everywhere, but it's on my list."
-Susan Sontag
Is there a better time to make travel plans than the beginning of a new year? And, is there a better resolution than promising to take yourself to at least one new place to lose and find yourself at the same time? If I had to answer those two questions, my answer would be "No".
It was January 2016, and I was frantically going through travel blogs and websites to pick the places of my interest and make necessary bookings. I found some exciting options like Goechala in Sikkim, Roopkund in Uttarakhand, but they seemed to be moderate-difficult and I wasn't sure whether I was physically fit enough to go for one of those. Then I happened to find details of Beas Kund, a trek to the point of origin of river Beas. It was an easy-moderate, 4 day trek and suited me well. "Back to the Himalayas", I told myself excitedly.
Day 1: I reached Delhi by noon, roamed around a bit, met a couple of friends and rushed to catch an overnight bus to Manali. Rest of the group members (all unknown to me) were supposed to meet me at our home-stay in Manali. Usually trek leaders create a whatsapp group, including all the members, at least one day before the trek. That way it gets easier to communicate and know the group members who you are going to stay with for the next few days. I was in the bus to Manali when I started to get worried because no one from the group had contacted me yet. We halted at Ambala for dinner and I decided to call the organizers to inquire whether the trek was cancelled. I was almost prepared for a bad news and started making alternate plans to travel around Manali. Thankfully, everything was just fine and the organizers had already arranged a pick-up for me from the bus stand at Manali.
Day 2: The bus reached Manali at around 10:30 am. Two other group members had already arrived by a different bus and were waiting for me. We introduced ourselves formally, not knowing that by evening we will be sitting by the street, having a cup of chai, cracking jokes and laughing crazily. Our organizers had booked for us a home-stay in Burwa, a village around 6 kms from Manali. The three of us were a bit tired after the bumpy, overnight drive from Delhi to Manali and wondered whether we should take some rest instead of exploring the village. But then decided against wasting precious time in staying indoors. We had a quick breakfast and decided to roam around the village. After loitering around for a while we came back and met the rest of the group members that included a chirpy, enthusiastic bunch of school kids who were on a vacation after their board examinations. With them joining us, there was a sudden increase in the overall excitement level of the group. :)

Day 3: We started the day early because we had to climb from Burwa (6,726 ft) to Dhundi glacier (10,800 ft). It was a gradual incline till Solang Nullah, after which it was hardly a trek and more of a walk along the road leading to the glacier, where we were supposed to camp. We reached the camp-site around lunch time. But instead of grabbing our thaalis, we decided to walk around a bit, trying to absorb the beauty of the surroundings. It looked like a dream!
Day 4: The day had arrived, when we had to climb the snow-laden mountains that we had been gazing at since the time we had arrived at Dhundi and reach the highest point, Beas Kund (11,600 ft). Everyone was determined to finish the climb and get back to the camp-site before the weather decides to be a spoilsport. It had rained and snowed heavily last night and our trek leader told us that almost the path will be covered with snow and that certain precautions should be taken while climbing. We started to climb. The first one hour went well but after that some of the group members started to feel breathless and tired, and decided to stay back. I took a sip of water, had some biscuits, and assessed my condition. Climbing in snow was extremely tiring because every time your foot sinks in a few inches and then you need that extra strength to pull your foot out for the next step. At one point of time, my right leg sank in completely. Because I panicked, I ended up sinking in further and had to be pulled out by one of the group members. But despite that scary episode, I decided to move ahead. I am glad I did.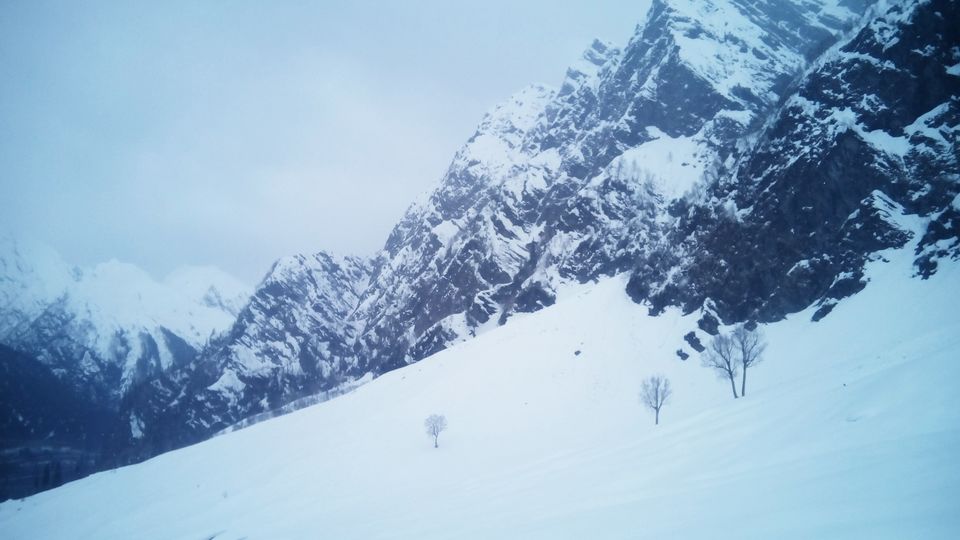 It was snowing throughout the last stretch of our climb. For almost an hour, we climbed in and on snow. Everything around us was so still that it seemed we had become a part of a still picture or a painting. It was a scary thought and I shrugged it off.
Our perseverance finally paid off and we reached the top. Since the weather had worsened by then, we spent only a few minutes there, clicked a few pictures, and started to climb down.
Another amazing trip got over with a multitude of memories, a few learnings, and a new bunch of friends. The next morning we all departed from Manali with a promise that we will plan and go on another trek together.