About this blog: After my Rupin Pass Trek, a cross-over trek from Uttarakhand to Himachal, I ended up at Sangla. I had heard that Chitkul is simply beautiful. Most travelers described it as "must visit place", some said "its so picturesque that you will forget everything", and some insisted "Do not return unless you visit Chitkul". So I had to add a few extra days into my itinerary to spend time at this pretty-village.
The distance from Sangla to Chitkul is around 25 kms and takes about an hour to reach by Bus. While you are heading towards the village, you will come across the beautiful Sangla Valley to your left and colorful Baspa Valley to your right.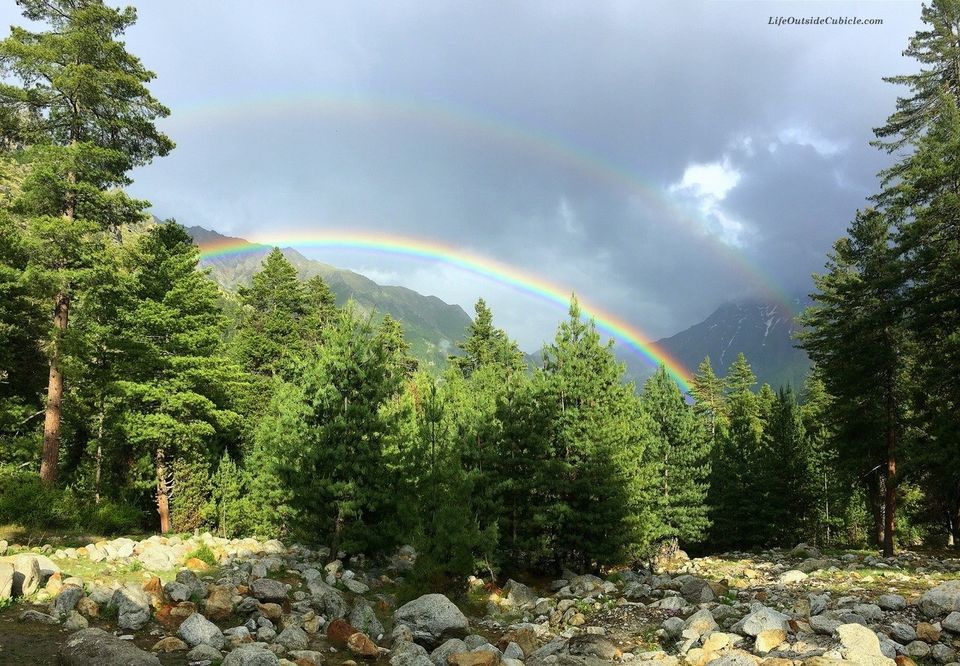 Though a small village, everything about Chitkul is glorious. Spectacular views of the Himalayas and the Kinnaur-Kailash, tall pine trees kissing the vast blue skies, dramatic clouds floating around the green valleys, gushing Baspa river, and the non-identical wooden houses make the village a picturesque beauty.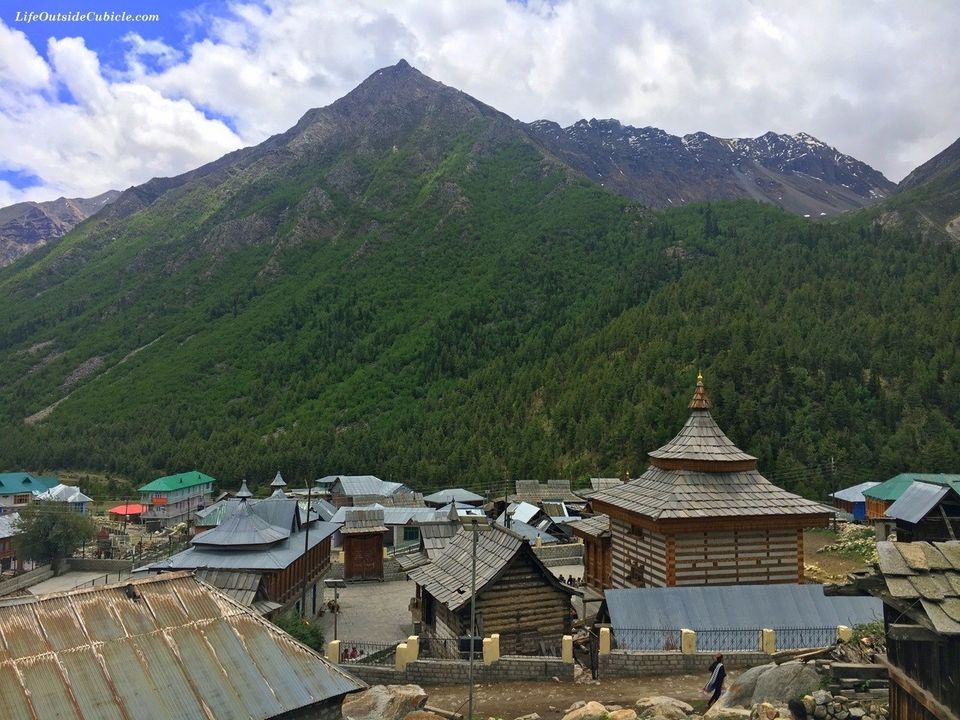 1. Prayer Flags
These Prayer Flags read - OM MANI PADME HUM - many people in the Himalayan region recite this mantra as part of their daily prayer practice. These flags are believed to blow the prayer to the winds and thus carried to different people.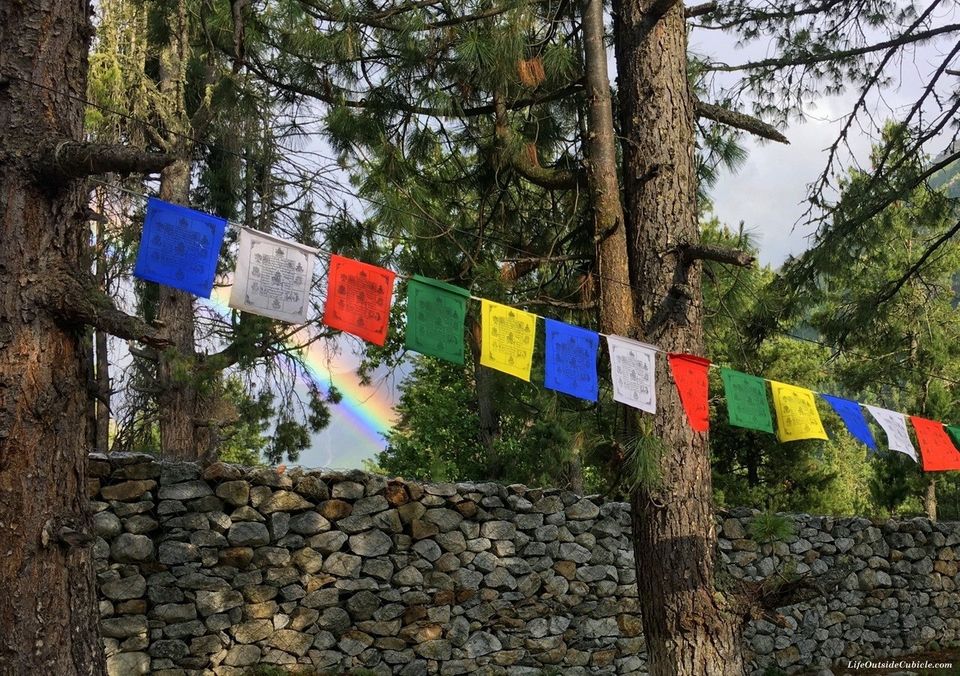 2. Mathi Temple at Chitkul
Mathi is the Goddess of local people of Kinnaur. There are three temples in the same complex among which the oldest one is believed to be constructed by a resident of Garhwal around five hundred years ago. The temple houses an ark which is made of walnut wood and is covered with clothes and a tuft of yak tail. The goddess Mathi Devi sits on this ark and two poles are inserted in to the ark for carrying it around.
People of the region believe that the prosperity of the villages is in the hands of Mathi Devi. The temple opens only on Sunday and there will be at least one person representing from each family of the region, there will be a person taking attendance too. Men from chosen families will bring the goddess on the ark outside the shrine so that people can offer their prayers. There will be few rounds of procession around the temple premises. Visitors are instructed to stay away from the way and are allowed to pray from a distance. The ritual is unique and is a surreal experience.
Post procession, there will be a closed group discussion among the people from chosen villages only. During this meeting villagers share their requests and grievances with the temple representative in front of Mathi goddess. Just before this process, people from other villages and tourists are sent out of the temple premises.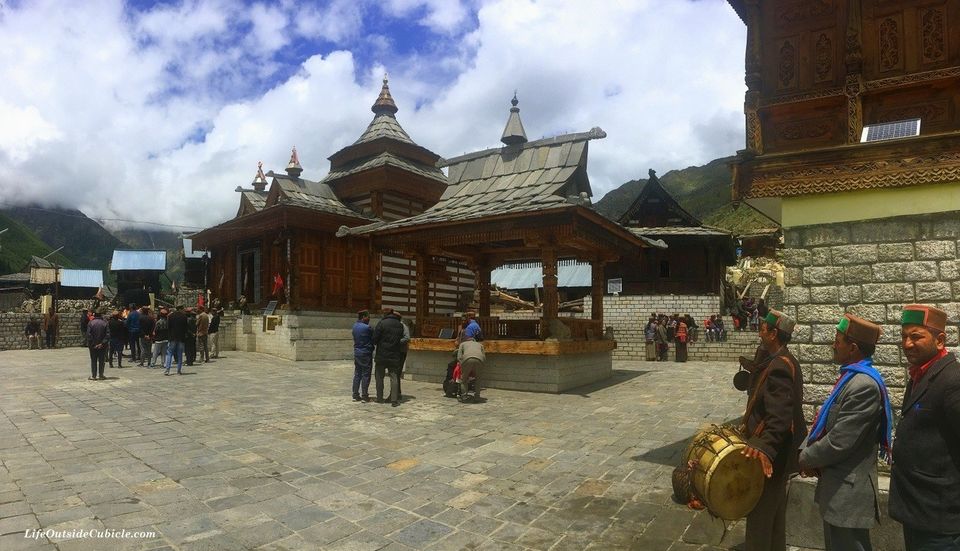 3. Post Office at Chitkul
When you are wandering across the village, do not miss out on this wooden structure which is also the last post-office of India. The building was constructed during 1950s and the post-office was started in 1960s.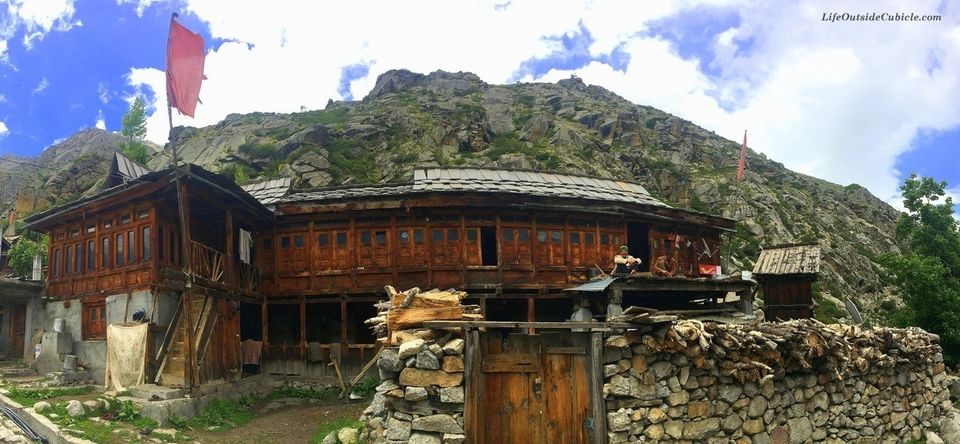 4. Ancient water mills
In Chitkul, you will come across the water mills that use the flow of water to turn a large waterwheel. A shaft connected to the wheel axle is then used to transmit the power from the water through a system of gears and cogs to work machinery, such as a millstone (in this case made of stone) to grind corn and other grains to flour.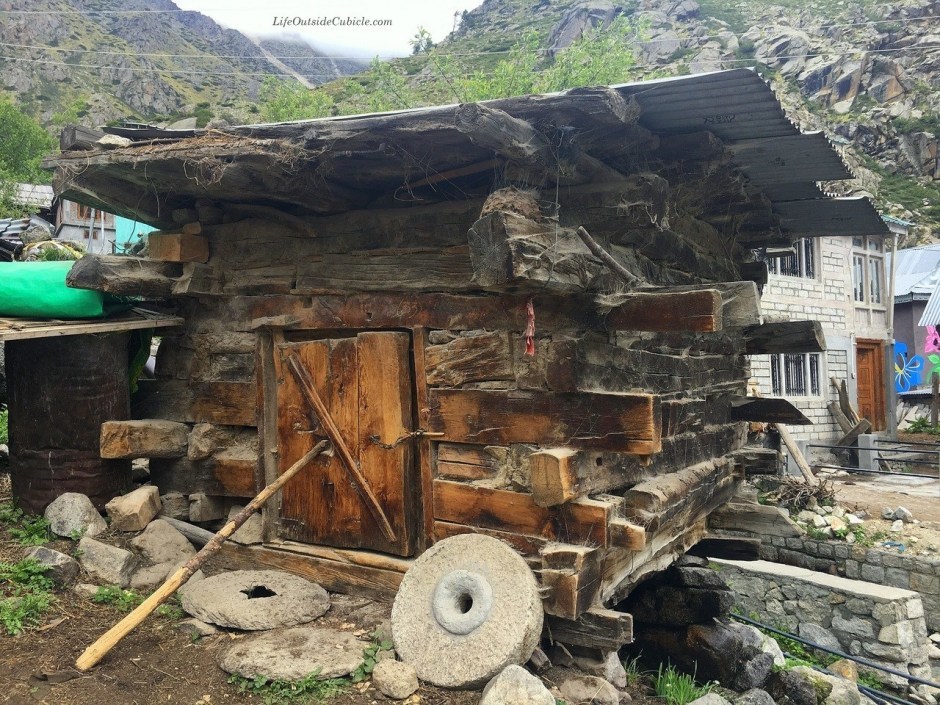 5. Wooden Houses and Storage
Almost all houses are built with wood and the architecture of these houses are different from one another. The roofing is either made of stone planks, wooden logs, or tin sheets. You will often come across a square wooden structure with a small door alongside the houses. These are used as storehouse to store grains, food, and flour during freezing winters.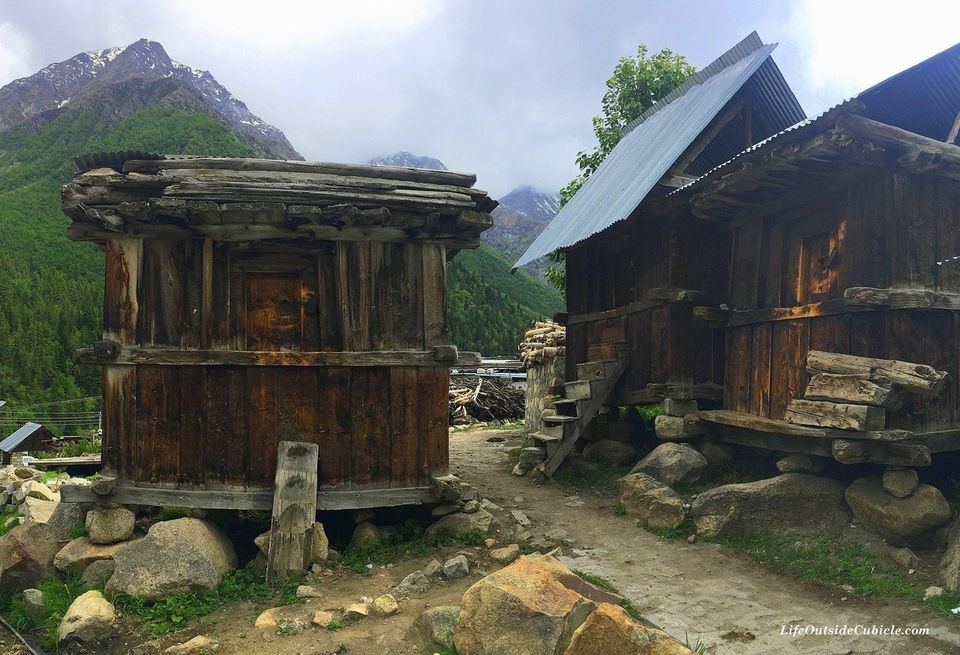 6. Hindustan ka Aakhri Dhaba, Chitkul
Well technically there are few other dhabas and hotels past this particular dhaba, whose name literally translates to "India's last Dhaba". It is a small restaurant situated right next to gushing Baspa river. Its a quick stop for most riders and a popular spot for almost every traveler to click a picture. The menu mostly consists of Aloo Paratha, Maggi, Rajma-Chawal, and Chai (Tea).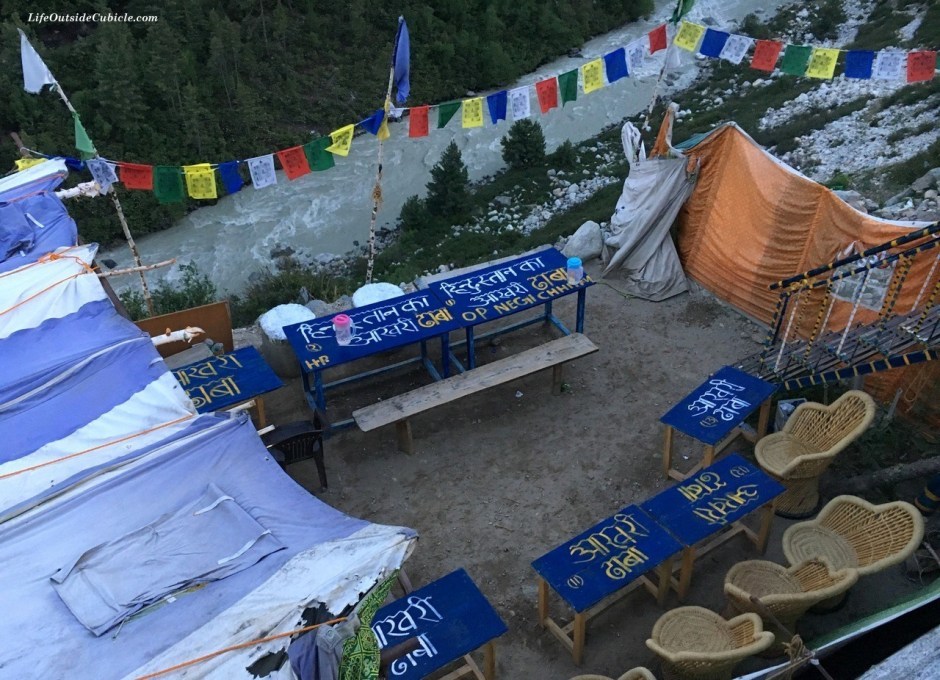 7. India's First Line of Defense, ITPB, Chitkul
Well, last but not the least, the place of utmost importance is the India's First Line of Defense, which is a peace-keeping border. This gate is around 3 km from the heart of Chitkul. You are allowed to visit from early morning 7 AM to 6 PM (till sunset). There are colorful buildings that house the military personal and there is a border check-post with armed soldiers. We can talk to the soldiers, ask about their duty, and can return with pride listening to the stories of their valour.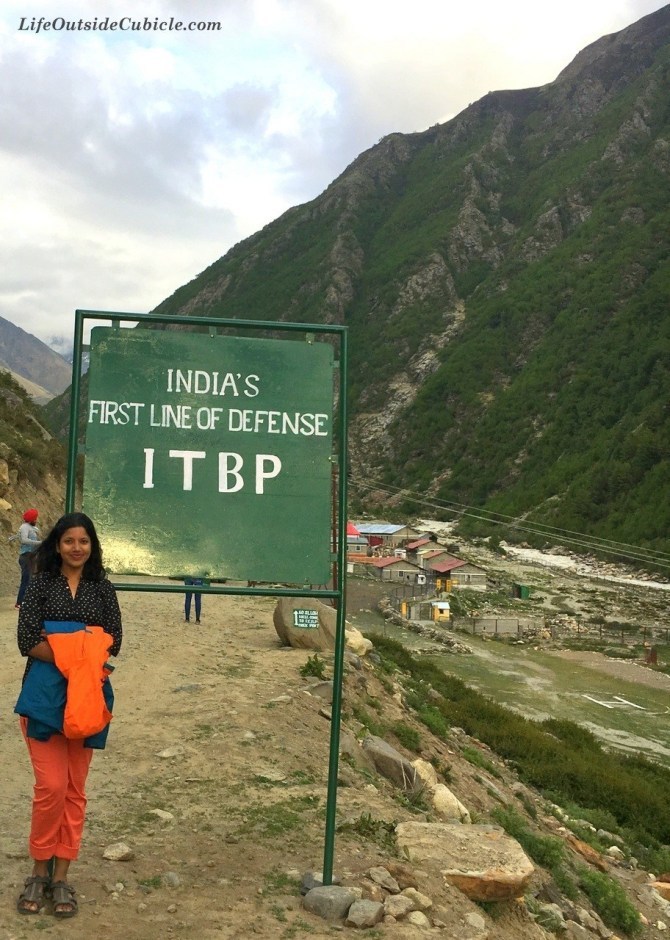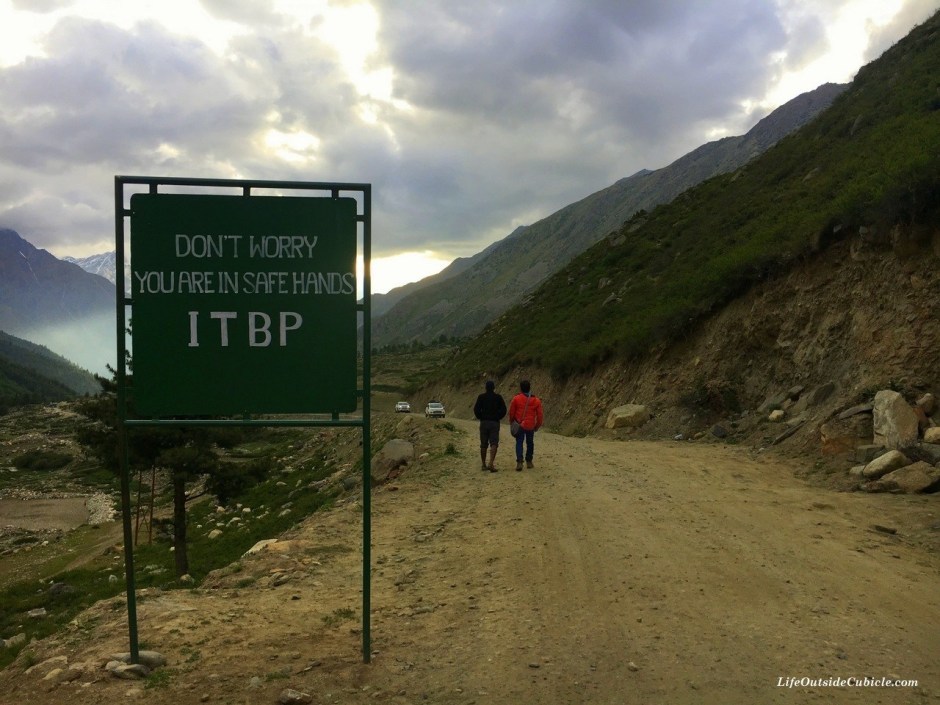 On a whole Chitkul is a haven for those who prefer to spend some peaceful time away from all the hustle-bustle of a city.
Have you been to Chitkul? Share your experiences in the comment section...
Have you not been to Chitkul? Plan now... ????
This blog was originially published on Life Outside Cubicle.