Everytime I step out for a trip, travel or a simple rebellious escape I come across old maverick beggars to Bangled up new brides holding hands to vagabonds in fabindia kurtas looking at the same sights of the hills, sunrises and sunsets. So I kept telling myself "Yeh sab toh Teekh Hai but where's the story?" Well I am a what do you say word-hunter and a story-finder almost everywhere. Shut me in a prison and I might just shell out a few books of my own:) Seeing me impatient ( for no reason ) my better half tells me "Let me Shut you up at Leh" like it was do-able. I grin ,blink my eyes rather innocently and coo "Okay".
So we head to his "first love" Leh along with a few friends, bikes and accumulated holidays ( corporate escapades! ) and I arm myself with a diary and a pen and my reliable Iphone camera while shooing off his attempts to operate a DSLR. No Thank you.                 Three days into the road trip I nudge him and say I can't find a story, you know. I can't get to sit and feel like somethings talking to me. he points at a snow covered large mountains and asks me "You can't hear them?" And I smile with all my teeth sheepishly. It don't move me, sorry. He tells me "Patience" while Guns and Roses sang in my Ipod and the dry beautiful silent roads of Leh welcomed me into their din.
The Highest motorable pass Khardungla, Changla and the numerous unexplored places we stopped by were good. But moving? Not yet. And then suddenly, just like that on our way to Pangong Lake ( Now famous as the 3 Idiots Lake ) at Leh, india I found a thought stirrer.
Our very own rather kickass BRO – Border Roads Organisation in collaboration with the cooler than thou Indian Army come sup with these signs that made me sit up , stop the ride and stand! Such spunk in their messages, I was rather moved you know. Imagine in silent deserts and valleys with no humans for kilometers such spunk. Not for the world to see but for the wanderers to smile and acknowledge.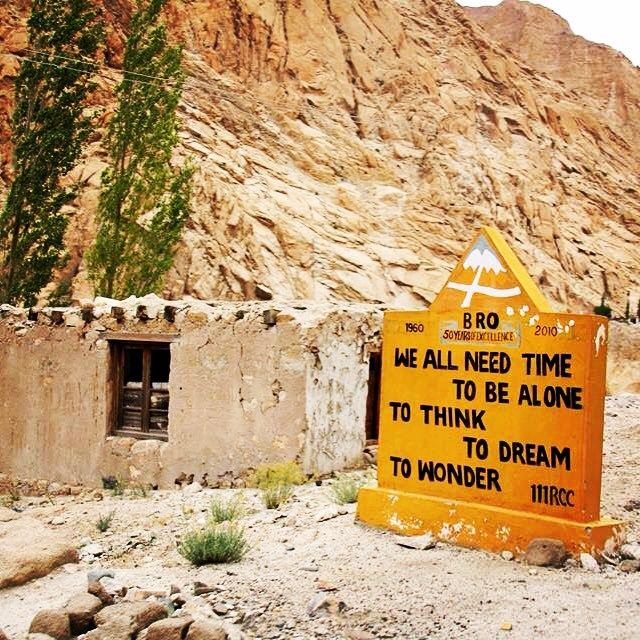 I possibly can't explain these signs because I know my readers are not stupid. So let me STFU and show you some of these very cool signs that finally inspired the wannabe author in me.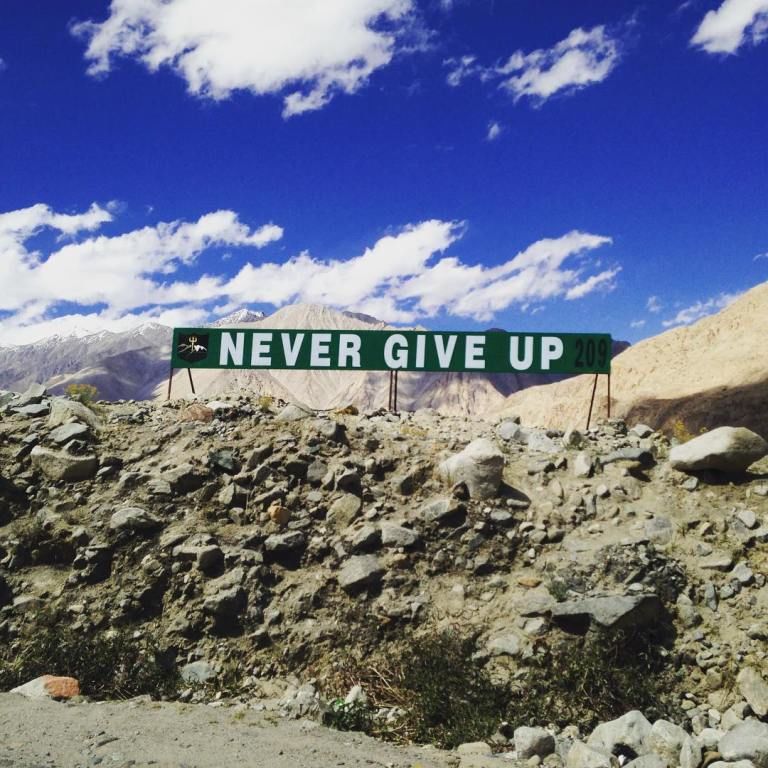 And this suddenly pops up out of nowhere almost like an inspiration to the travellers. Visit us , gulp us and go back to your tippy tappy keyboard worlds and spread the moments of inspiration , they seem to say. I look at my better half who nods his head with a I-Told-You-So headshake while I look away for more signs. Like a dog with his head out of the car I Turn back to look at this sudden inspirations while my ride fades away to another bend.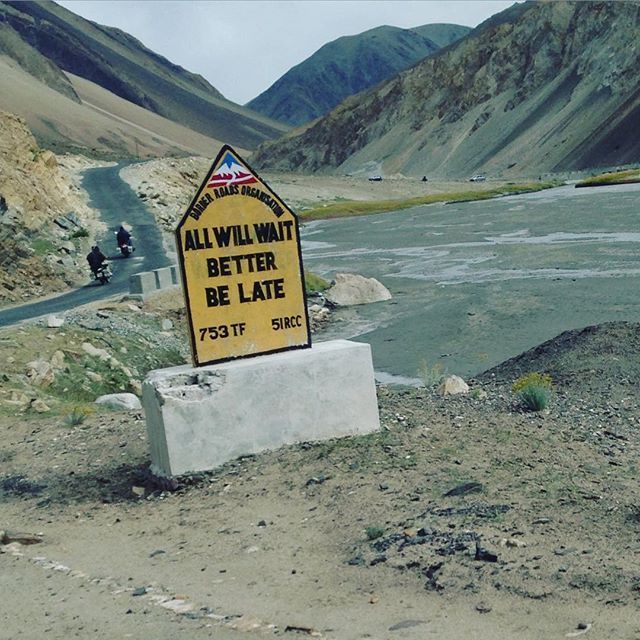 The world will wait for your pauses and musings. That's what the nothingness at Leh taught me.
The trip has ended now while I am still hungover and unsure about what hit me exactly. I will continue to pen such short incidents of sightings that inspire and move. Hopefully this has moved you.
For more such "Movement" inside your wandering soul visit
https://www.instagram.com/signsonroads/
SignsOnRoads on Instagram
Cheers
@Vishala_katta