One of the most popular tourist destinations in India is Goa. Goa is famous for its nightlife, beaches, water sports, flea markets and the overall relaxed vibe. It is one place which is in the checklist of every foreigner while visiting India and we Indians are always up for Goa. Goa has taken a place in our heart as one of the best beach side holiday places in India. But, this is not all that is to Goa. Goa has churches all over the place, and there are many stories of ghosts connected with them. Ironically, we don't know if it's true or just a myth,this still remains a mystery but it is definitely a topic of discussion while visiting the place. So, if you are planning to visit Goa soon, there are some place which can give you a spooky experience, so just beware or rather avoid them.
A haunted church might sound a little weird but holds true if you believe in the story that surrounds the Three Kings Church, Goa. According to some stories, this church saw the killing of two kings by a rival king who wanted the complete kingdom to himself. Later, the king himself committed suicide by consuming poison. Since then, it is said that the church is haunted by the spirits of three kings. Tourists and locals have reported strange voices and ominous presence of someone around the church. The place is supposed to be a perfect sunset point, however, most of the crowd disperses by late noon because of the horror tales associated with the church.
Igorchem Bandh
If you experience a paranormal activity during broad daylight, there can be nothing scarier. Another haunted place in Goa, the Igorchem Bandh is a stretch of road in Raia. A silent and deserted stretch of an otherwise scenic road, this place is literally spooking out people. This place is situated in the picturesque village of Raia behind the church of our lady of snows. There is a strong belief in locals that anyone taking the route between 2 pm to 3 pm is being taken over by the evil spirit. The haunted road has had spooky experiences in broad daylight. So, if you ever take this road just be cautious of the timings.
Jakni Bandh
Jakni Bandh, a temporary bridge between Navelim and Drampur, is another one among the haunted places in Goa. This place has a tragic story attached to it. A few years ago, a school bus filled with children toppled from a temporary bridge leading to an unfortunate incident with no survivors in the accident. This gave way to the story that one can hear the sound of screaming, crying and wails of the dead children at Jakni Bandh after sunset.
NH17 Mumbai-Goa Highway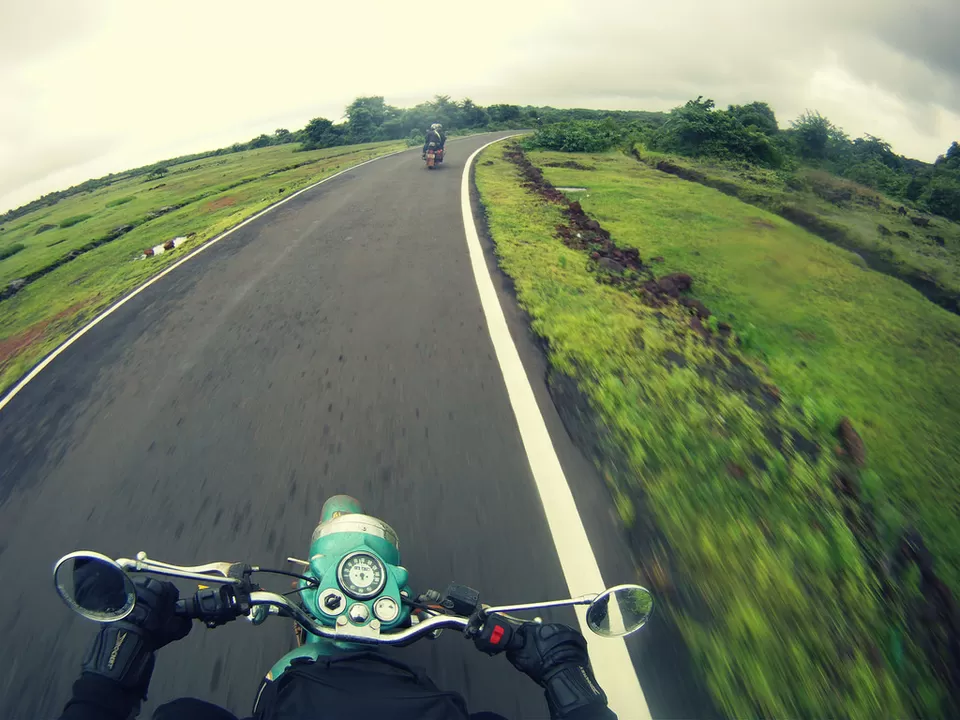 Famously known as the Mumbai-Goa highway, this highway is known for much more than just the scenic route. It is a horror story with a twist, locals believe that a stretch of road is haunted by hungry witches and ghosts who roam around in search of dead meat. Hence, it is recommended not to carry meat while travelling after sunset because if you do they would chase you. Some travellers have reported their vehicles getting stalled or out of control when they tried carrying non-vegetarian food across the stretch. Forget takeaway, I would rather suggest you dine in somewhere nearby.
Baytakhol
Baytakhol, another of the haunted places in Goa, is located between Dhavali and Bori. This place is known for a supernatural experience that seems to be a scene straight out of a horror film. Drivers have reported seeing women in the middle of the road crying out for help while taking that particular route in the night. Needless to say, stopping the car is a foolish move but what's worse is if you cross her and look back, be prepared for the consequences. Many accidents have taken place in the vicinity, as driver loses control and the moment they look back,the road is all empty.The disturbing sights and sounds lead to the distraction of the driver, leading to mishaps.
This village is on the banks of Zuari River that has an arch leading to the seminary. The arch leading to the seminary in the village is said to be haunted by the spirit of a soldier that goes back to the Portuguese era. The locals believe that he is still not ready to leave his post and still is on duty. If rumours are to be believed, a sentinel spirit walks to and fro under the arch on special days, he denies entry to anyone who he believes is unfit for entering this place.
Located 15kms away from Panaji, this small village named Saligao is also one of the haunted places in Goa. Although the village is famous for churches, it is said to be haunted by the spirit of a woman known as Christalina. A banyan tree in the village is considered to be the breeding ground of the spirit. As per the stories, a Portuguese man went missing, when he was discovered, he was founded with scratched and wounds on his body. All that he said on being questioned was that he was taken by Christalina. While the tree seems some curious tourists in the daytime, sunset brings in a pin drop silence to this site.
This bridge has a really scary story of a lady ghost at night. If reports are to be believed, people have spotted a lady on the bridge, if you approach her she jumps in the river. If somebody approaches to help, the driver does not find anyone and once you are back in your car, she is seated right there in the back seat of the car. This bridge is considered to be haunted by the spirit of the mad lady. Almost everyone who has seen the ghost lady has reportedly fallen sick after such an encounter. Nobody dares to cross this bridge after midnight owing to a number of incidents in the past.
D'Mello House
D'Mello House in Santimol is one of the most haunted places in Goa. It bears a deserted look and has no buyers because it is believed to be haunted. According to the stories by locals, two brothers lived in this house and fought over the ancestral property. One brother killed the other and then this tragic occurrence gave birth to rumours of disturbing noises coming from the disputed property. People have reported hearing shrieking sounds at night from the house. The sounds are often linked to the spirit of the dead brother.
The Rodrigues Home
No horror story is complete without a haunted house associated with it. The Rodrigues home is Verna, a village approximately 10kms north of the South Goa district headquarters, Margao. It is a normal beautiful house where the Rodrigues family resides, but the twist is that the spirits also stay with them in their residence. The mansion has been reported for various supernatural and paranormal activities. If the locals are to be believed, the doors and windows of the house open and close at will, lights keep flickering on and off, kitchen cutlery keeps moving, and linens keep appearing & disappearing at midnight. Enough to the scare the wits out of someone.
The haunted places in Goa may not be as popular as its other tourist attractions but are enough to give you a spine-chilling experience.
Do you know of any haunted places, share your story on Tripoto.
Need travel inspiration, watch out for Tripoto's Youtube Channel.
Frequent Searches Leading To This Page:-
Places to Visit in Goa, Goa tourism, Best Tour Packages for Goa, Goa Tour Package for Couple, Best Travel Packages for Goa, Best Goa Trip Packages, Goa Holiday Tour Packages, Top Goa Packages for Family, Goa Honeymoon Packages from Delhi