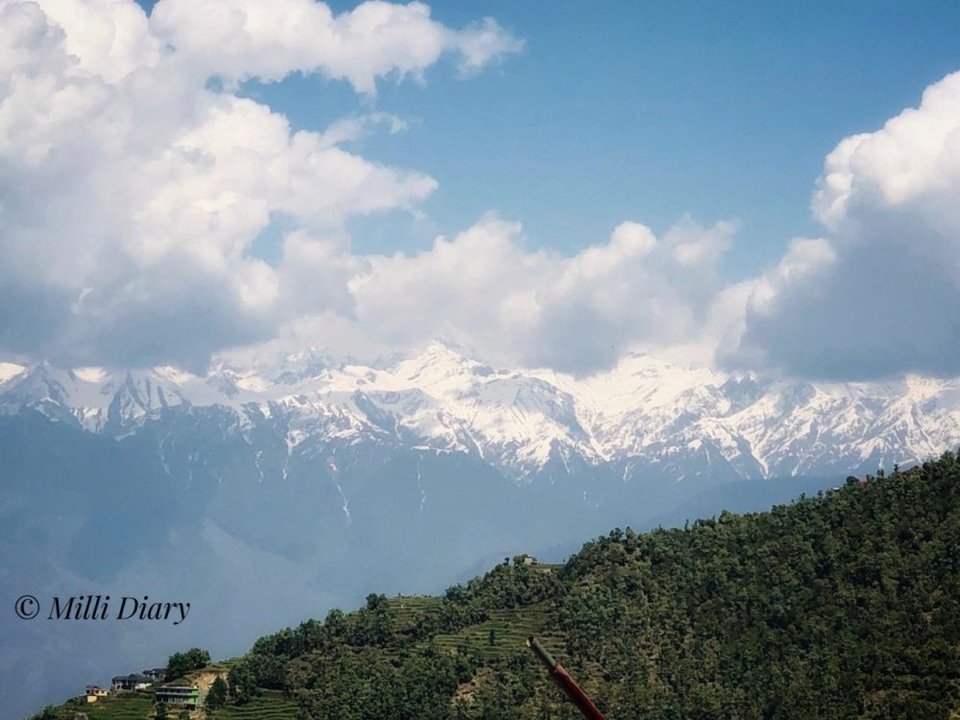 On the morning of 3rd day of our trip, the temperature at Dalhousie continued to be less than 10 degree celcius. We had a hearty breakfast at our hotel's restaurant and started out to explore places in and around Dalhousie.
Pir Panjal mountain ranges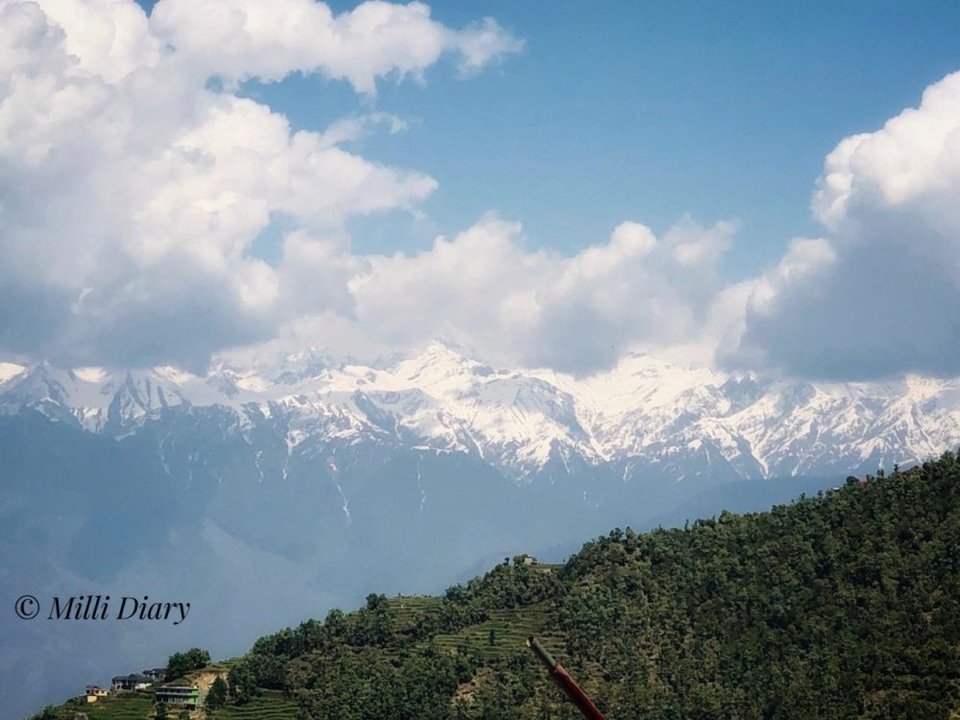 En-route our first destination for the day, Khajjiar, we found this amazing view point of Pir Panjal mountain ranges. Beautiful snow clad mountains in the backdrop with white clouds hovering around them and green valley of pine and deodar trees in the forefront; this was a perfect wallpaper spot.

Khajjiar is a small town situated at 24km from Dalhousie. The main attraction here are the lush green meadows surrounded by tall pine trees with a small lake in the centre. The place is very picturesque. Owing to the pine trees and snow clad mountains in the backdrop, this place is famously called as 'Mini Switzerland' and rightly so, it was very beautiful.
This place has been a favourite location for bollywood movies in the 70s and 80s. So after reaching there we decided to shoot some funny and romantic videos!!! We called it our post wedding photoshoot (Crazy, I know... But we had fun!!!!!! )
Other activities to do here are horse riding, zorbing and paragliding (If you are planning to visit Dharamsala, then I would suggest paragliding at Bir Billing. Read more about this in my blog for Day 6 of the trip).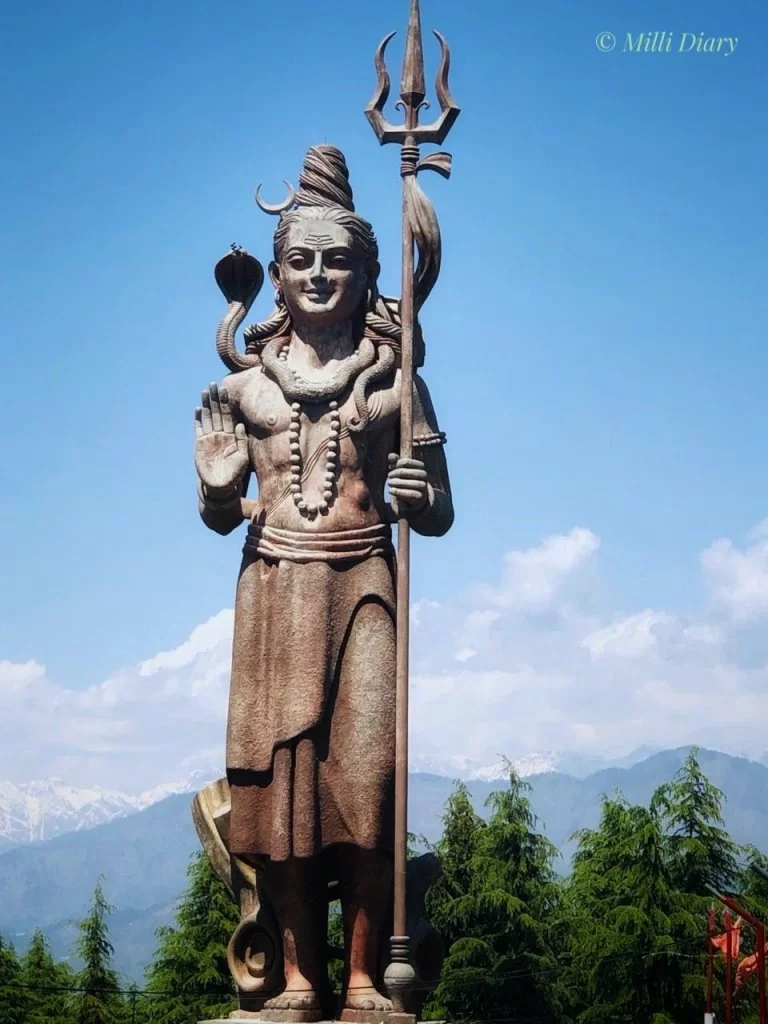 Jagdamba temple is situated around 1.5km from Khajjiar. The main diety is Goddess Parvati and a huge statue of Lord Shiva is present outside the temple. The location of the temple is very beautiful. We had a clear view of Pir Panjal mountain ranges and also of some people enjoying Paragliding.
The temple is built by a charitable trust and they even offer rooms for tourists to stay at a very nominal rate, inclusive of food.
Next on our list was trek to Dainkund Peak.

Dainkund peak is one of the best treks in Dalhousie that provide mesmerizing views of the snow capped Himalayan mountains and beautiful valleys of Dalhousie. It is the highest peak in Dalhousie and if lucky, you can even spot Mount Kailash from here. A temple of Goddess Kali called Phoolani Mata temple is situated at the top.
We went up in our car till the entrance of the peak. From there, the climb up to the peak starts. The climb is not very difficult; proper stairs/path has been built to reach the top. It was very windy and cold when we visited Dainkund and locals said it is always very windy here, so it is advisable to carry some warm clothes if you plan to visit. Also, if you are visiting during winters or end of winters, make sure you are wearing proper shoes for the climb as there are possibilities of finding snow at the top. I experienced my first snow here and since it was end of April, the snow was not much but it was enough for me to build a tiny Olaf!!!!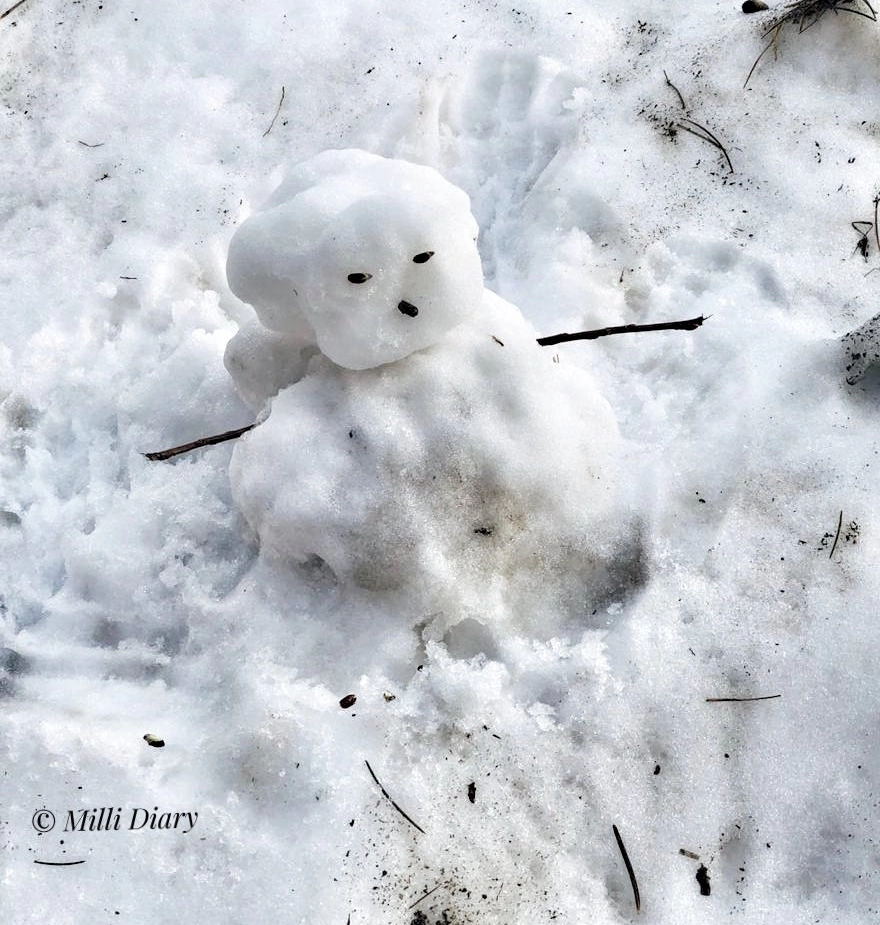 Benches are placed along the way to the top, so climbers can rest a while and soak in the beauty around them. After the ascent, a board displays the distance to reach the temple as 900 meters. From here, the path is very straight and not much of a climb. Some of our group members were tired so we did not go till the temple, but the climb till this spot provided us some amazing views that we cannot forget for a lifetime!!!
Panchpula waterfalls
Panchpula waterfalls are situated around 3 km from Subhash Chowk, Dalhousie. It is a beautiful waterfalls admist lush pine and deodar trees. Due to abundance of natural beauty, this place had a very calming effect. The water from this falls was so cold we could not stand in it bare feet for more than 20 seconds. It was very refreshing to dip our feet in the water after Dainkund trek.
There are many restaurants at this place giving a wonderful view of the waterfalls. We stopped at a restaurant that had their tables in the water. It was very welcoming but at the same time very painful to keep feet in the water!!!!! So we chose tables next to the waterfall and enjoyed hot momos, maggi and tea!!!
This place also has mini version of adventure sports like zip lining, ropeway bridge, etc. Frankly, I did not feel anybody should be spending money on these here. There were many shops selling winterwear, but the shopkeepers were extremelly rude and ill behaved.
Other attractions in Dalhousie
We had just one day in Dalhousie so we could cover only this much but Dalhousie has some more attractions which should not be missed like Chamera lake and Kalatop.
We returned back to our hotel from Panchpula and rested for a while. Our plan was to spend the evening playing Uno cards after dinner..
Dinner at Mirchi Dhaba, Banikhet
Our hotel manager suggested Mirchi Dhaba for dinner and it turned out to be pretty amazing. We loved everything that we ordered at this restaurant . The service was quick and the place was pocket friendly as well. ( We regretted having our previous day dinner at Subhash Chowk !!!!!!)
Stay tuned to know more about our adventures at Dharamsala.
Please like or leave comments on this blog in the comments section.
Blogs linked to this one:
Punjab & Himachal Pradesh: The Beginning
Day 2: Golden Temple & Dalhousie
You can view my blogs on https://millidiary.com