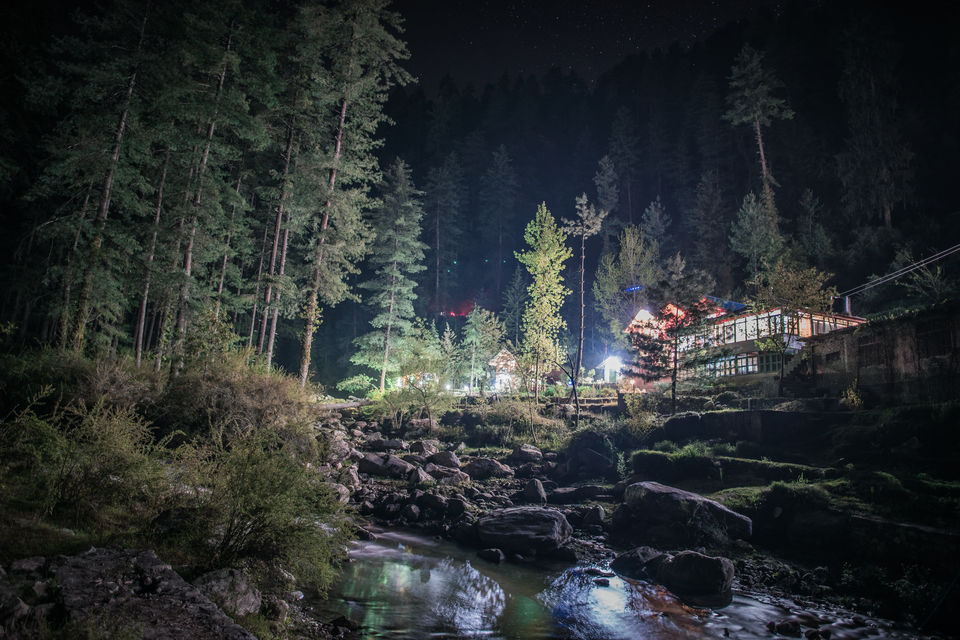 April2017 was a perfect a month for a short trip. Take 1day leave and that makes it 4day long vacation. So I started googling for a calm and quiet place in the hills away from city pollution, where we can relax and refresh our minds. After much research I found what I was searching for- Jibhi a little explored place in himachal , just 85 km from Mandi. The total distance between Noida and jibhi is approx. 528km. I booked a homestay called Latoda pinewood Hut after going through many good reviews on internet.I also called up my wifes cousin to join us. We decided to start our journey at around 2 o clock in the afternoon. I didn't want to drive in the hills at night (I don't have much experience in driving on hilly roads). So we decided to spend the night somewhere in the middle. My friend suggested me a place called Nalagarh heritage fort resort. I went through their website and booked a room for 2.
As I planned, we started our journey on 13th April . I picked up my wife and her cousin from their office in film city Noida and headed towards destination. Road between Delhi and Chandigarh was pretty good one can easily cruise at 100 kmph. Just before Entering Chandigarh Nh bifurcates and we followed the Panchkula kalka highway leading to kalka. That was a MISTAKE. The Panchkula kalka highway condition was good. But as soon as we took a detour at Pijnore, the road became narrow and crowded. We reached pijnore at around 7.30 oclock in the evening. From pijnore to Nalagarh its only 37 km but it took us approx.1.5 hours to reach the Nalagarh fort.
When we entered the Fort , we were surprised to see that the fort looks more attractive than it seems in the website. All the walls of the fort are painted white. Narrow alleys and stairs with white walls inside the fort resembles with alleys of Santorini .It was 9 pm .We were planning to take a swim but the hotel manager told us that pool timing is from7am to 9pm and requested us to come in the next morning. We asked for a room facing the city. The fort was on a hillock and the whole Nalagarh city is visible form the fort. The night view of the city is just amazing. The glittering lights make the city more beautiful. We sat on the terrace for an hour and enjoyed the calm atmosphere and city view. Soon we had our dinner and went to bed. Some photos are posted below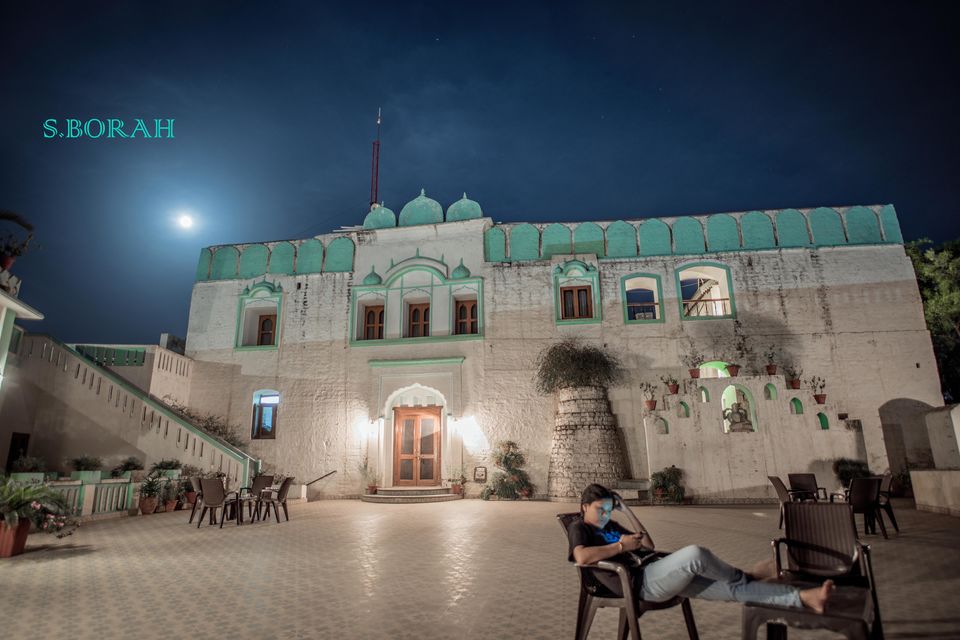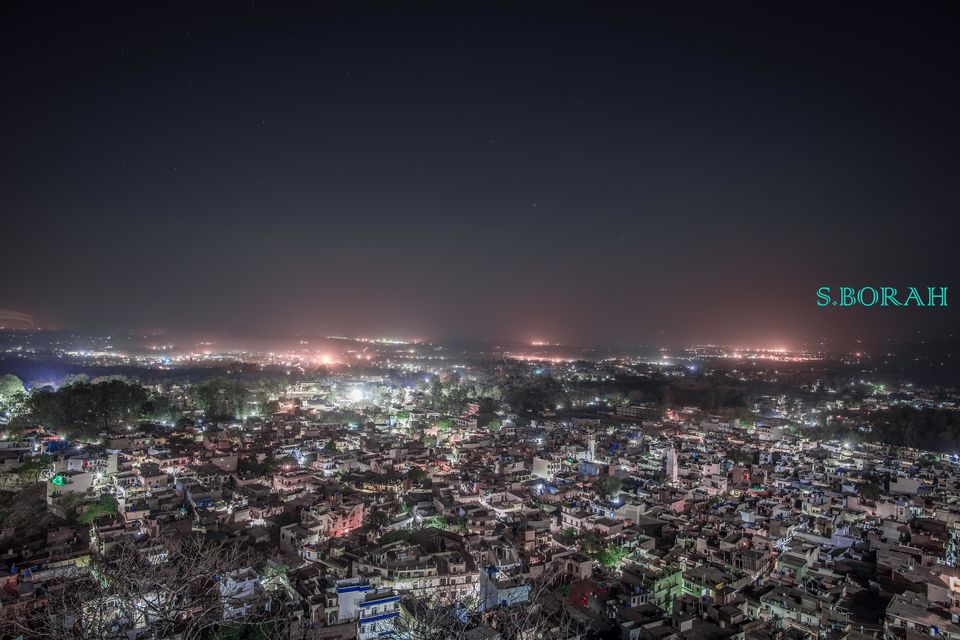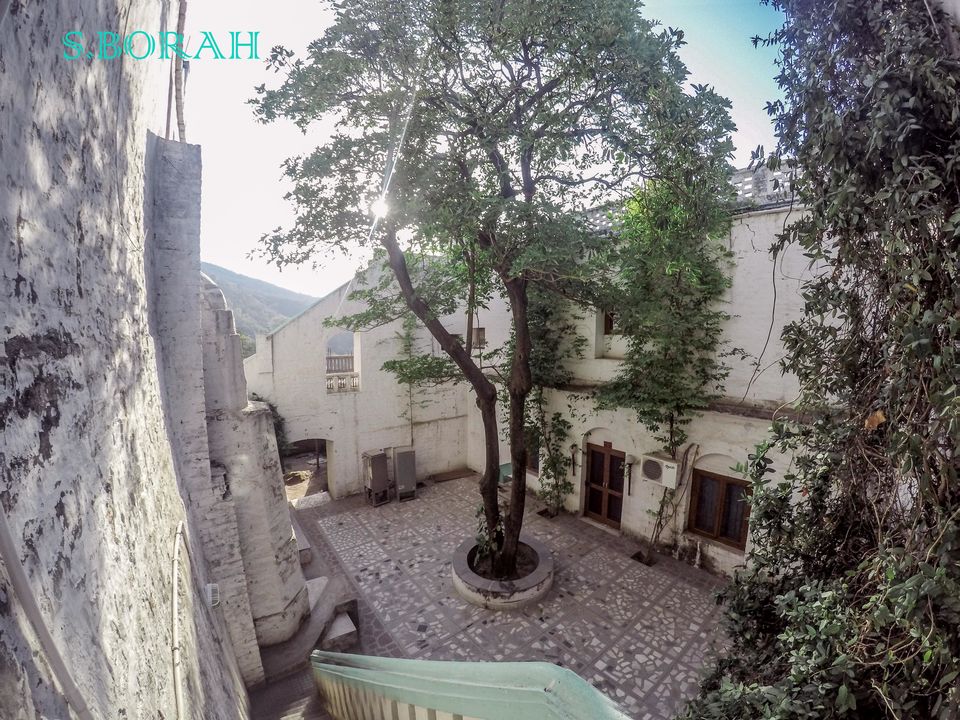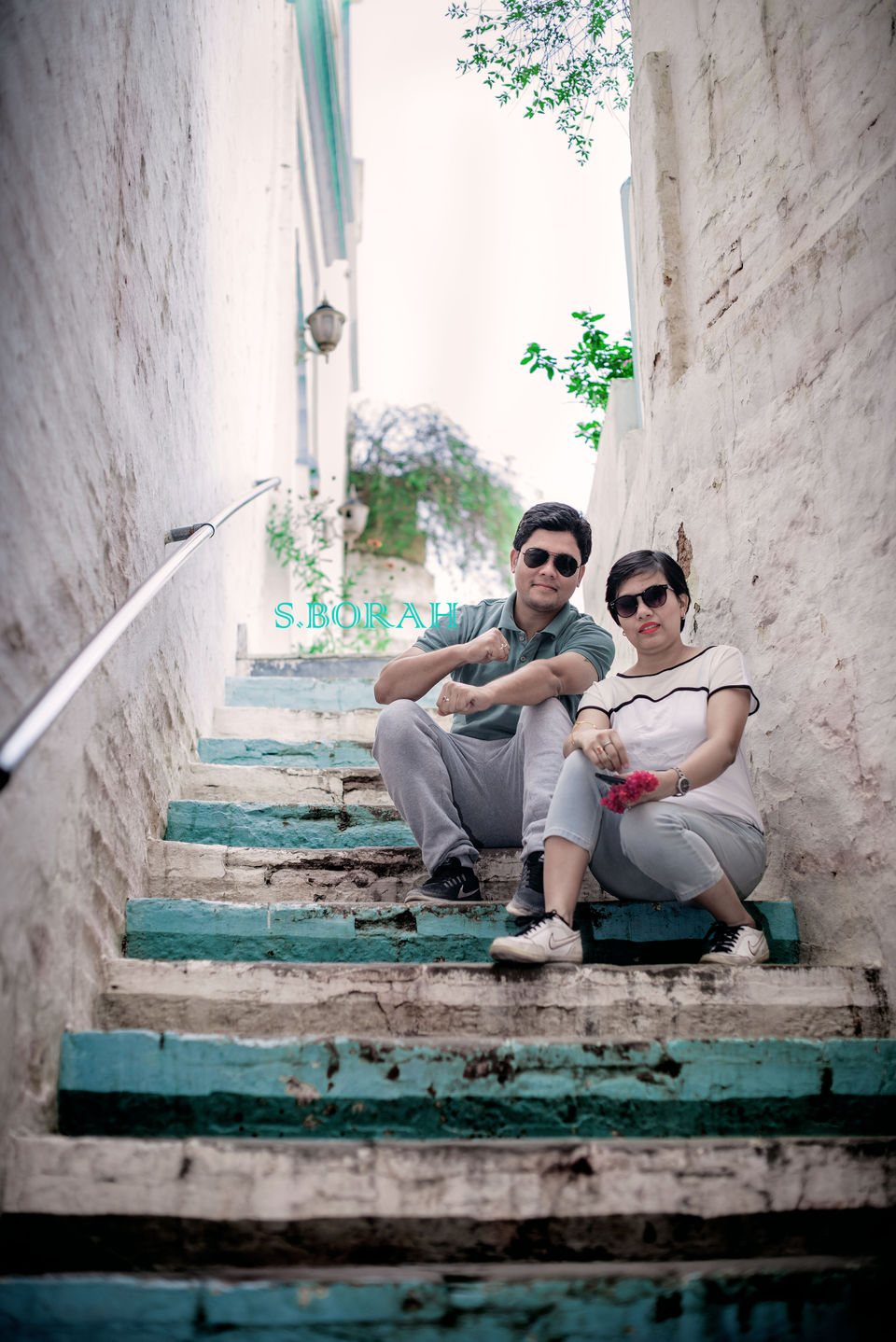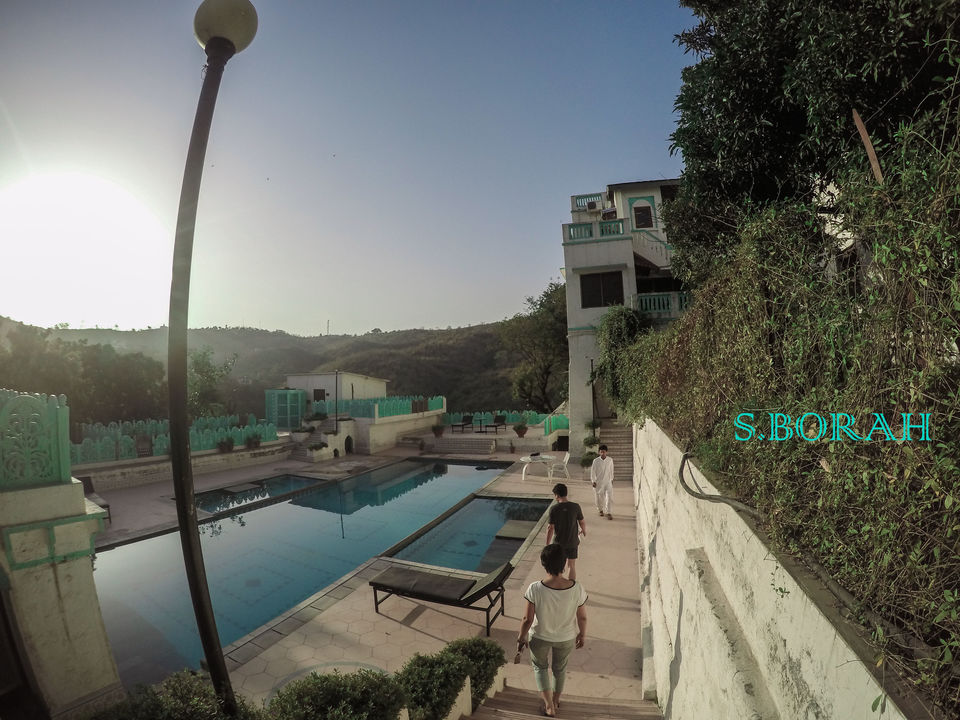 Next morning we woke up at 7 am and went for a swim. We were little disappointed as the swimming pool was not that clean. Still we spent some time in the pool and went for breakfast. After having breakfast, it was time for taking photographs. We started our journey at around 10 am towards Jibhi. We had another 210 km to cover. I was bit nervous as I had to drive rest of the distance on hilly roads. Then the horror began. Condition of the road from Nalagarh fort to Panjehra(approximately 15 km) was pathetic. The ride was bumpy. My car base hit boulders on the road at least 3 -4 times during this 1hour drive. But rest of the road till Mandi is in good condition. However there are few patches where road construction and widening is going on and road is full of potholes. From Mandi ,Jibhi is 85 km. After crossing Mandi, the road bifurcates, turning right leads to gusaini and left to Manali.The road towards gussaini and jibhi is narrow but is in good condition. The road is along the tirthan river. As we moved into the tirthan valley, the road gradually descended to the river bed level. We were awestruck by the beauty of the valley. The Colourful trees and bushes made the landscapes surreal. After continuing for around 30km s the road ascends again to a much higher elevation from the river bed. As we were going deeper inside the valley, the traffic became sparse. There were apple trees on the side of the road. We crossed many small villages en route. It was already 6 pm and we hadn't reached Jibhi . I was a bit worried as I wanted to reach there before sunset. After 20 min we drove up a steep ascent and reached our destination.I was much relieved as we reached there before sunset.
Jibhi is a small village. There were many foreigners groups who were working for a NGO and came there to attend yoga camps. As soon as I reached Jibhi I called up J D Thakur, the owner of Latoda pinewood Hut. The asked us to wait near the bridge. He came within minutes and guided us to his property. The property was as we expected. It is a wooden hut with 3 rooms. Located at vicinity of a small river One has to walk downhill from main road around 100 m to reach there. The location of the hut was just mind blowing. One can hear the river flowing on the side of the hut. The place was surrounded by tall pine trees. There is a small narrow bridge for pedestrians to cross the river 20ms from the hut.I was really tired after 8 hour long drive. We sat on the bench facing the river outside the hut.JD joined us and asked us about next day's plan. As we didn't had much idea about the place. He suggested that we can either cover baloo temple,gada gusaini and bahu in one day or we can visit Sirolsar lake which is approximately 7 kms from Jalori pass. One has to trek to reach the lake as there is no access road for vehicles. He also added that the lake is less crowded. We decided to go for the 2nd option. He then said that Prakash (caretaker) will guide us on the next day. By the time, Prakash brought some onion pakora with masala tea. Pakora was tasty. Prakash arranged for a bonfire. I took out my camera gears and started experimenting. It was genuinely a different feeling sitting under the stars hearing the sound of the flowing river. We went to the narrow bridge and took some pictures. JD called us to inform that the dinner was ready. We had dinner at around 9 pm and went to sleep.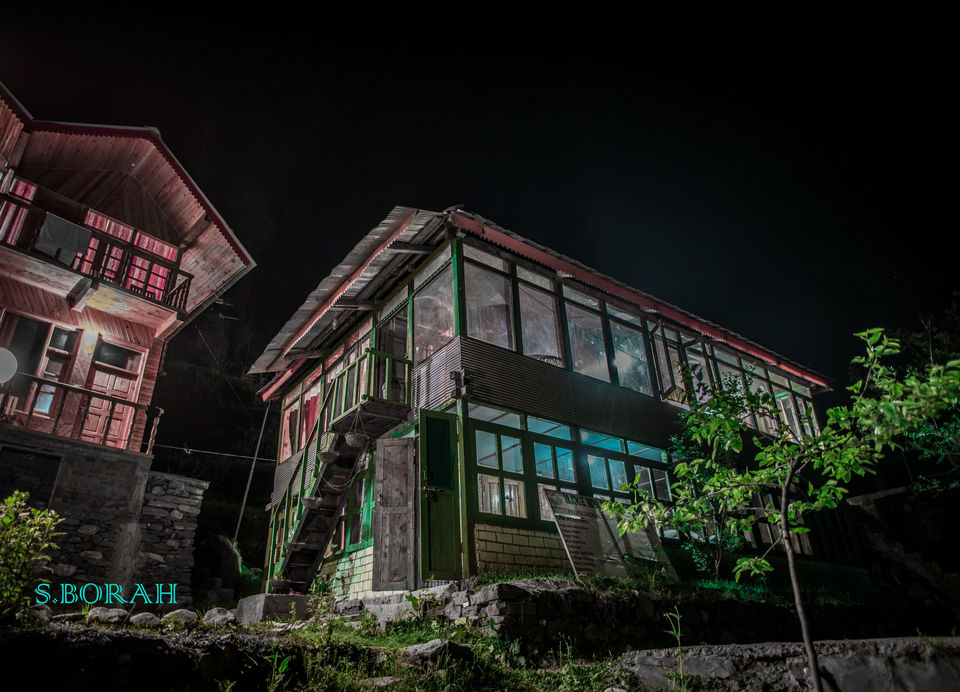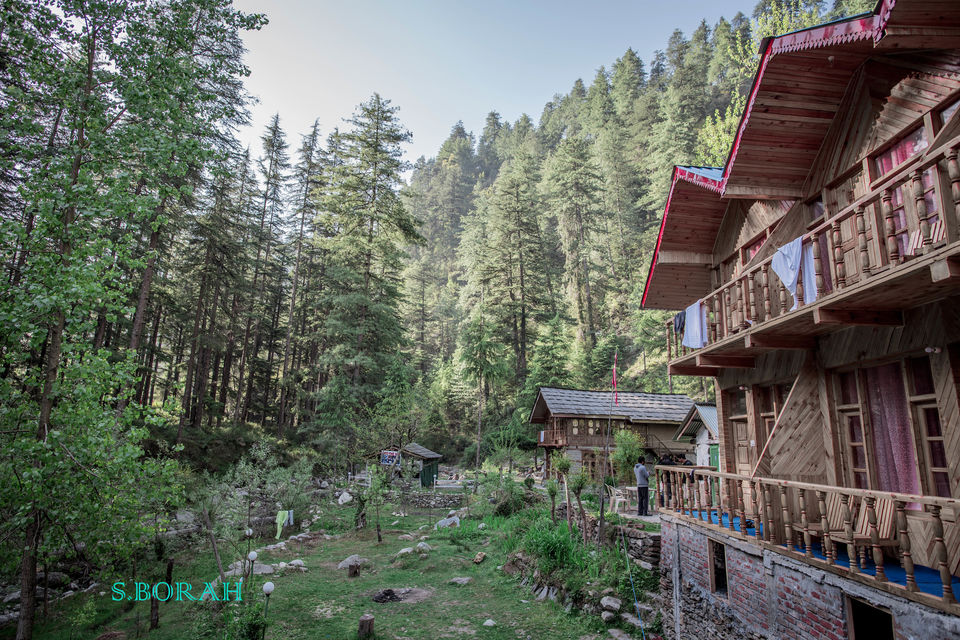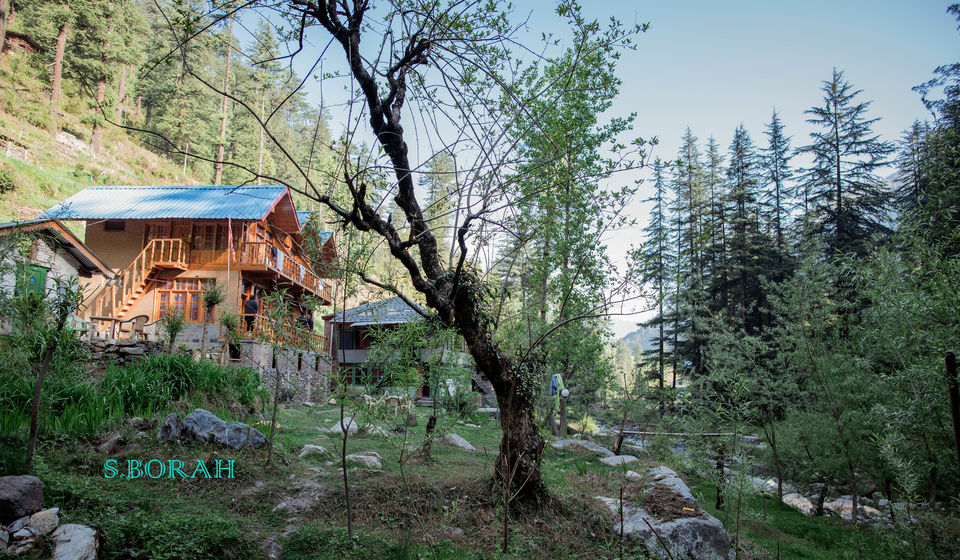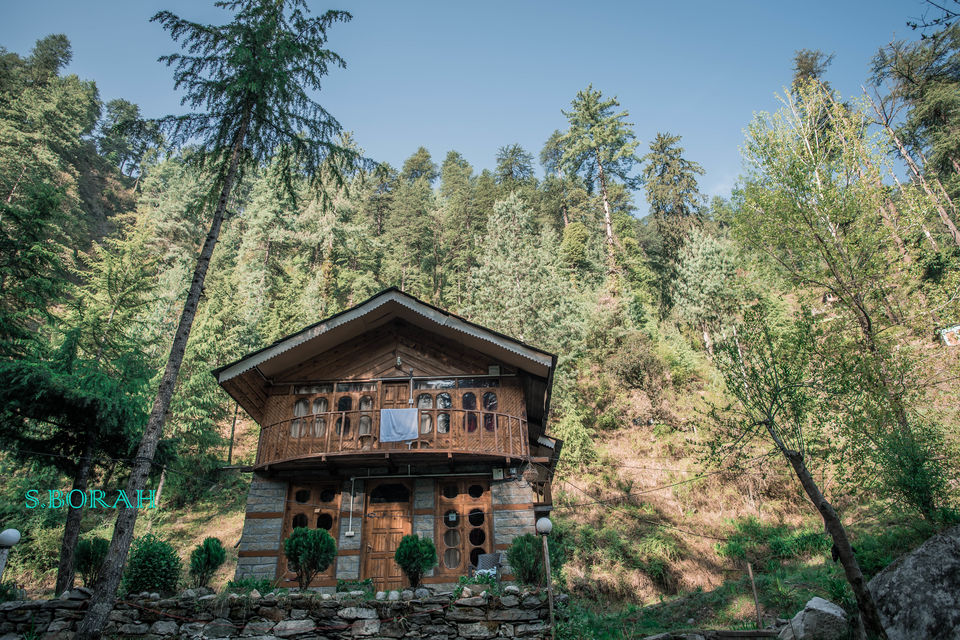 Next day we woke up early. Breakfast was ready by 8 am. We had aloo paratha, cornflakes, boiled egg and tea. After the pet puja, we headed towards jalori pass by my car. Prakash told us that Jalori pass is 7 km from jibhi but did not informed us about the road condition. First 2 kms was ok. Then came the toughest part of the entire journey. I have never seen a road in such a horrible condition. I was so terrified as the road was filled with small boulders and was very steep (may be 40-50 degree inclined).I was driving a maruti astar with 64 BHP power and 170mm ground clearance. At some point I found it impossible to drive as the tyres were slipping over the pebbles and the boulders. Somehow I managed to cover that portion of road and reached jalori pass. Later when I heard that that road is a state highway I was shocked. This road connects Shimla with mandi. Anyhow elevation of Jalori pass is around 10800 feet. I parked my car near a tea stall. Prakash showed us the trail that leads to the lake. One can see the pir pranjal range from there. The trails goes through a dense wood. Prakash started to tell us his experiences on trekking. He had done a mountaineering course and he frequently goes on trekking. The trail is pretty straight. We met few people coming from Chandigarh and Delhi on the way. After 1 hour trekking through jungle and frequent photo breaks, we saw some man made caves. Prakash told us that those were very old. My wife and her cousin climbed up to the caves and clicked some pictures. We were amazed by the architecture. After spending some time there we moved on. Soon we reached a flat land and saw a tea stall and some foreigner sitting there having tea and maggi. We walked for another 20 m and saw a beautiful lake. The lake is nestled on a small valley surrounded by mountains. The water was greenish. We walked by the side of the lake and climbed up to a small cliff above the lake. The scenery from the top was stunning I have no words to express the beauty of that place. We sat there for an hour enjoying the captivating landscapes. There were very few people in that place and we were surrounded by tranquillity of nature. There is a Mandir near the lake. There were still snow patches on some places.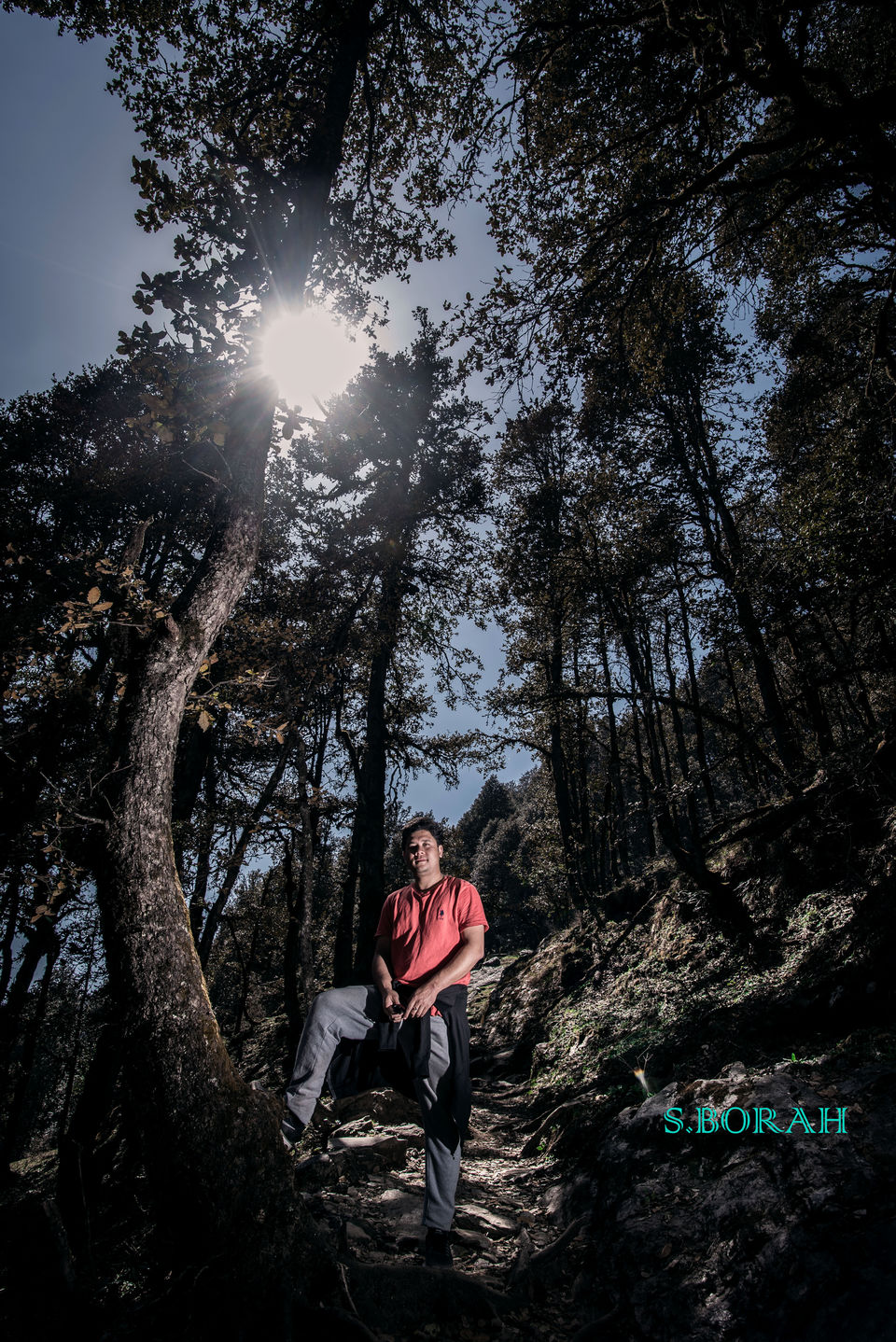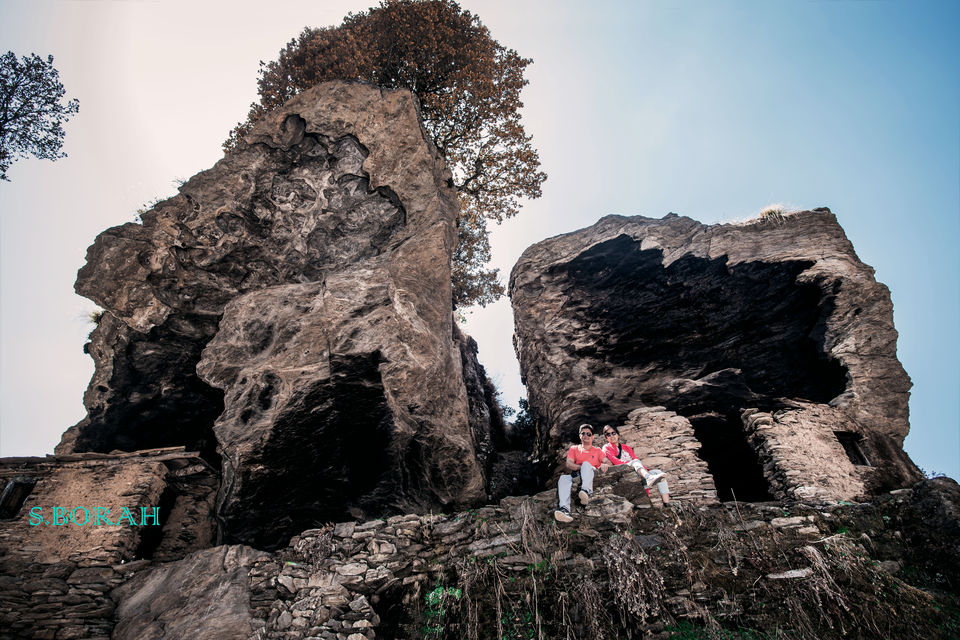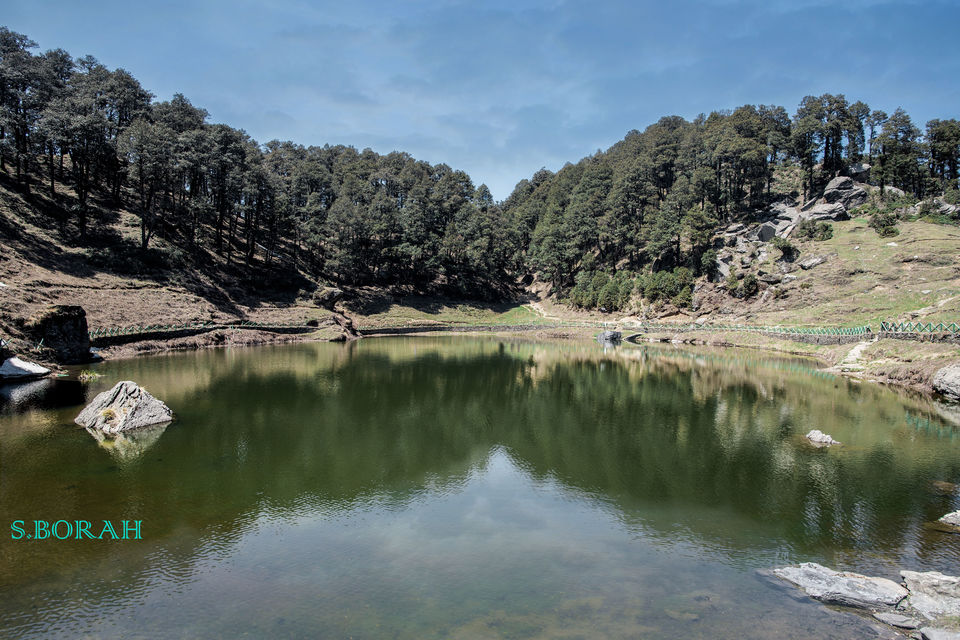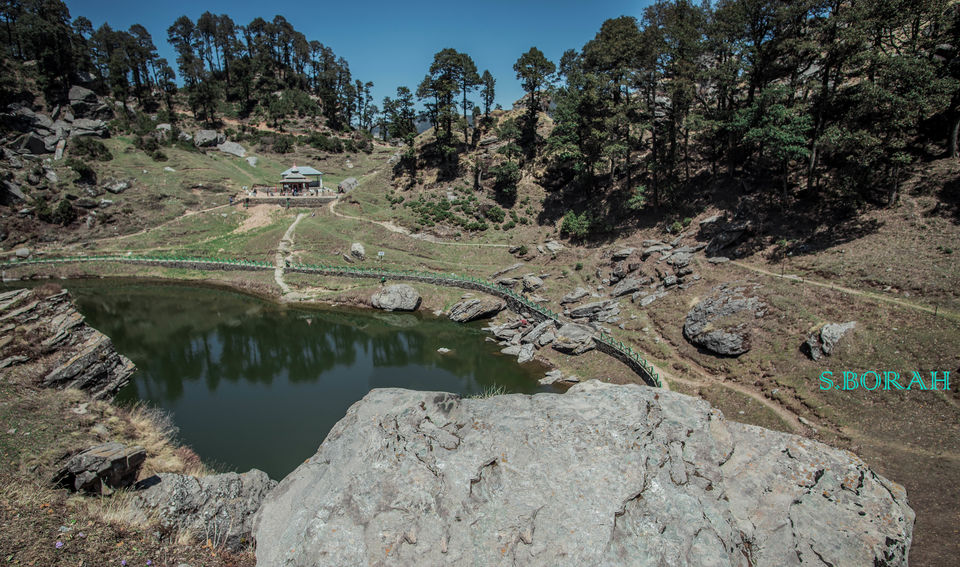 After relaxing there for an hour, we filled our lungs with fresh mountain air and climbed down to the tea stall. By that time we were all hungry. We ordered rajma chawal and maggi. Rajma chawal was awesome. Pakash had only chai. After the food my wife and her cousin sat there for some time and I went to explore nearby areas. I moved towards the right side of the tea stall and saw a small pond. Some local kids were swimming there. Some sheep were grazing near the pond. I went to the pond and washed my face. The water was very cold. I returned to stall and we started our journey back. We walked for an hour, took many photo breaks and finally we reached Jalori pass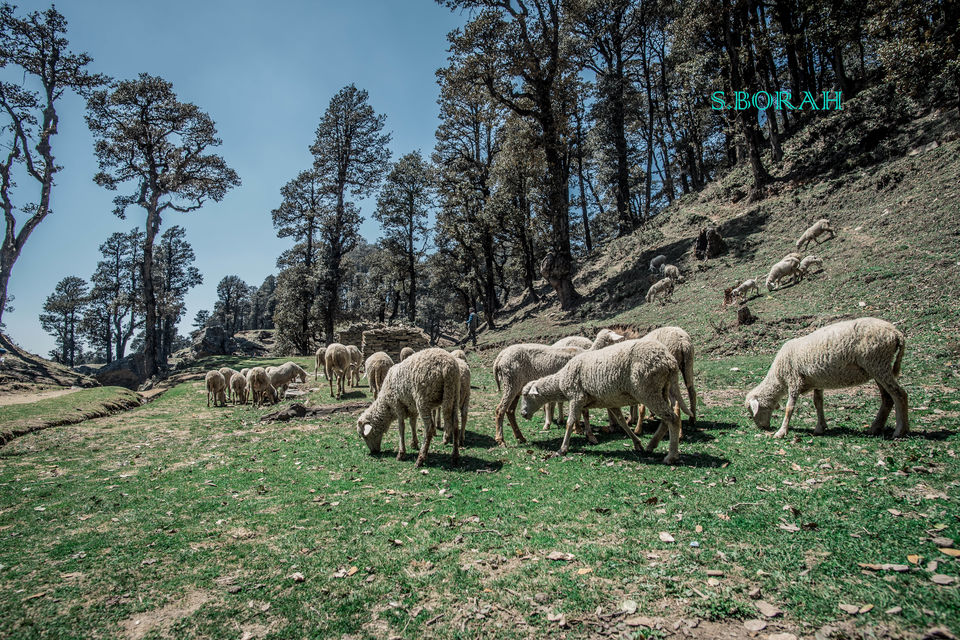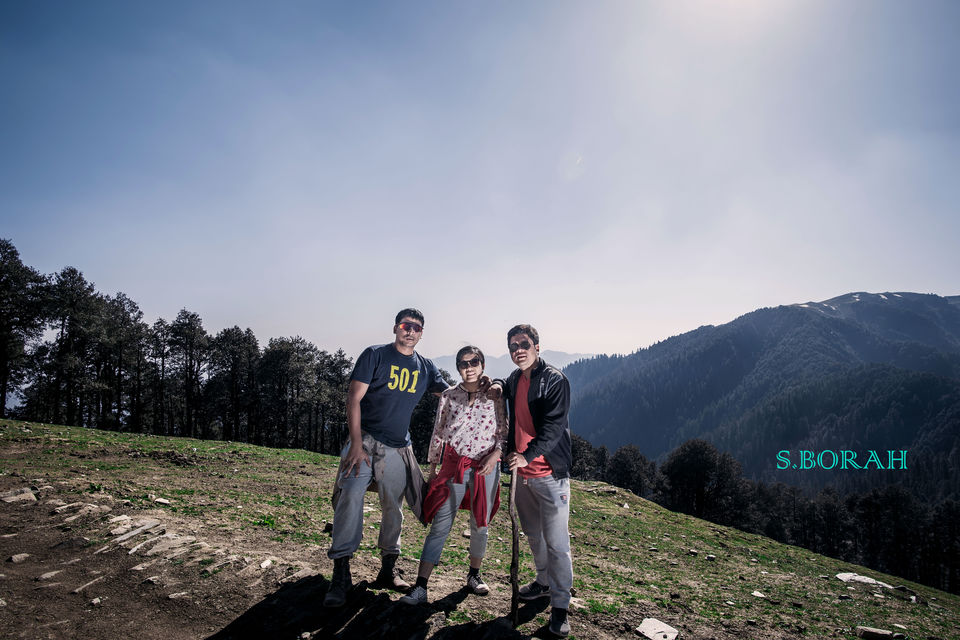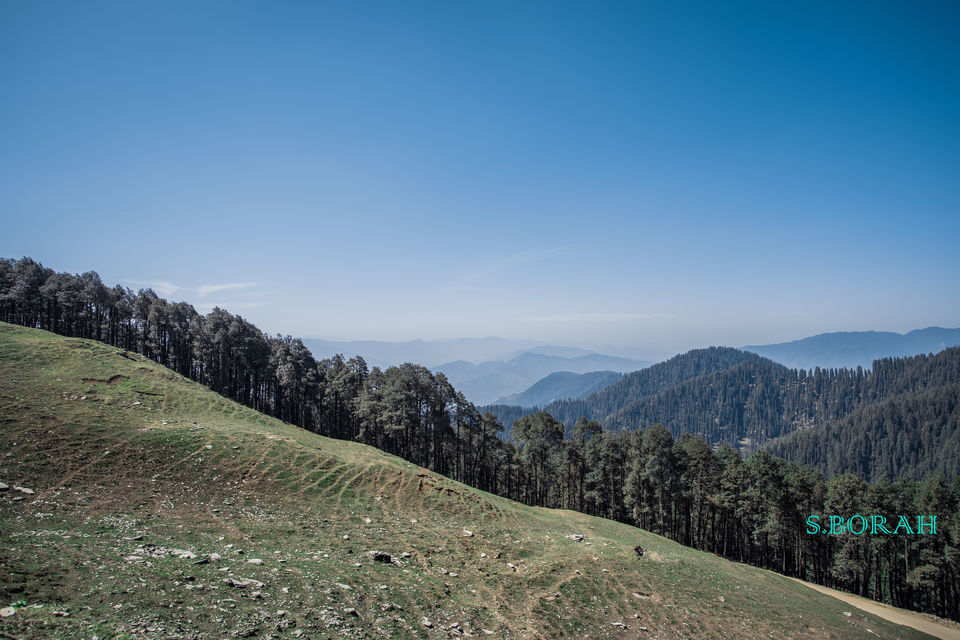 It was already 4 o clock in the evening so we decided not to waste time there and we started our drive back to Jibhi homestay. At around 5 o'clock in the evening we reached Jibhi. Prakash suggested that we should see the water fall just 300 m from the place we were staying. He took us to the waterfall. It is a small hike to an isolated place between two big rocks. The water fall is not that big but the place was beautiful. We sat there for so time, I clicked some photos and came back to our rooms.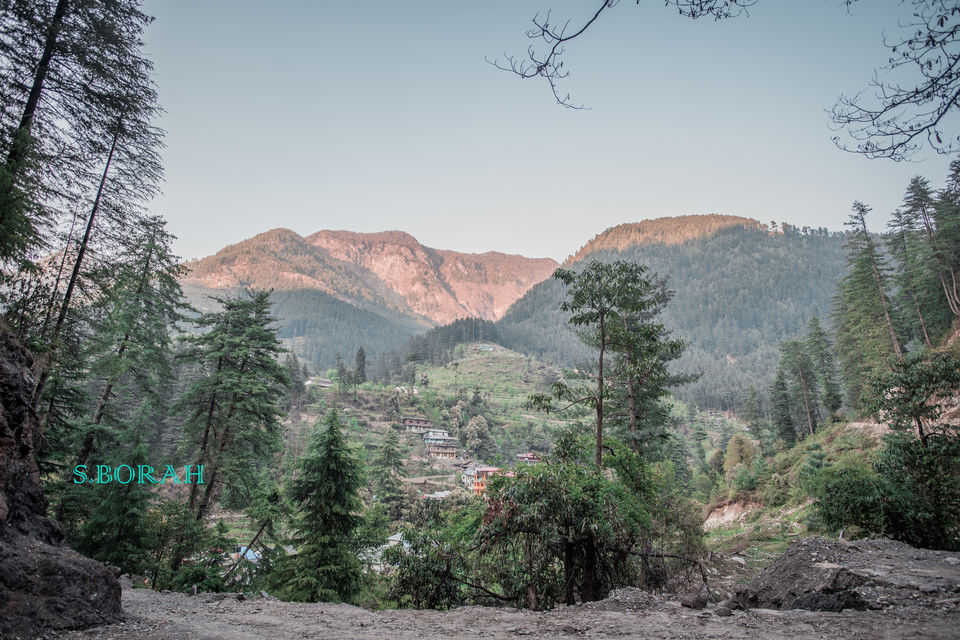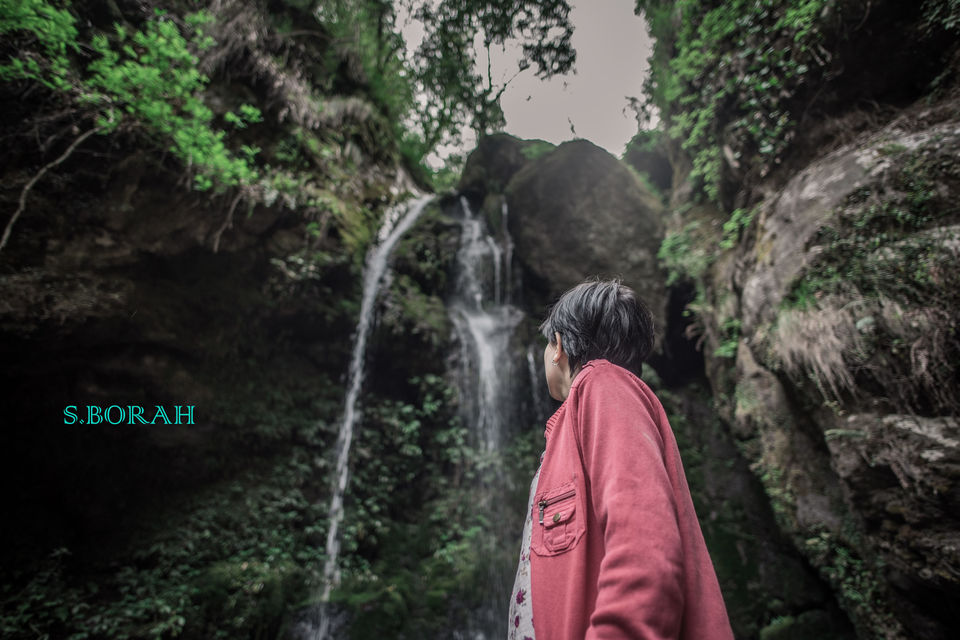 We were all tired from the long trek. I informed Prakash that will have dinner at around 8pm.Till then we enjoyed the bonfire by the side of the river. I was just wondering if I could stay there for another day as we missed baloo temple and Gusaini. But I had to join office on Monday. We went to sleep after having dinner
Next morning we started early in the morning at around 7 o clock, as we had to travel 530 km. We bid goodbye to Jibhi with a promise that we will be back to see what we had missed (i.e Baloo and Gusainin) soon.
Quick Facts
Route- Noida-Karnal-Ambala-Zirakpur-Pinjore-Nalagarh-Swaraghat-Bilaspur-Mandi-Pandoh -Jibhi
Total Distance=527 Km
Hotels we stayed - Nalagarh Fort Resort,Website-http://nalagarh.in/ ,Cost =4900 Rs for 3 person(Room only/1night)+2500 for Dinner and Breakfast