Serolsar Lake - Jalori Pass Trek
In Kullu district of Himachal Pradesh amid dense forest there is a small beautiful lake with crystal clear water known as Serolsar Lake.
It's an easy 5 Kms trek from Jalori pass situated at the height of around 11000 ft above the sea level.
Jalori Pass is a high mountain pass which remains open mostly during the year except few months of winter (Dec-Feb) due to very heavy snowfall (One may check the condition of the roads via HP Govt. offices sites online).
To reach here you may choose amongst following routes:
· Delhi -- Shimla - Narkanda - Luhri - Khanag - Jalori Pass
· Delhi - Chandigarh - Bilaspur - SundarNagar - Mandi - Aut - Jalori Pass.
· Manali - Kullu - Aut - Banjar - Jalori Pass
This place is connected via road, nearest Airports are Shimla and Bhuntar-Kullu. There are buses that ply from Manali/Mandi/Kangra towards Shimla district via Jalori Pass and vice-versa.
Nothing better than your own CAR/Bike; provided you are comfortable driving in the mountains. Taxi is excellent option as well.
I planned this trip while I was visiting my relatives in Mandi. It was a warm sunny day of june when I decided to trek to Serolsar Lake along with Goldy and Pankaj b haie ; we were to start our journey in my car next day morning. I t was pouring heavily when we woke up in the morning and the plan was already in risk of getting cancelled ???? .
After much of soul-searching we decided to move ahead and promised to return wherever it'd be unsafe to drive. We left Mandi at 07:30 AM. To our surprise there was no rain as we crossed Pandoh Dam. Drive along the Beas river was amazing with clouds are right on top of roof of our car. Road carved out of the rocks almost touching Beas at some places were equally scary and mesmerizing that demanded me to be little cautious. After crossing long-tunnel we reached Aut. Unfortunately, we had taken wrong route , instead of taking the road that leads to Banjar from Aut's market we should have followed the road that splits right at start of the tunnel. W e didn't want to go back and waste more time hence went ahead with it.Road was slippery and due the storm last night a tree had fallen on it,what worse could have happened; drizzle had already started picking-up again ???? . Also, Beas river had so swollen that it was almost touching the road; with no more thoughts oftrying to become Gama in the land of Lama (You will see sign boards put up by BRO with this caption on LEH-Ladakh roads as a warning to not to act smart and respect the nature) ,we turned back.
After crossing the tunnel, we turned right on the road leading towards Larji Project/BANJAR. We felt amused & comfortable as the road was well built and drizzle had subsided substantially. Soon, we were driving through the villages full of orchids, sound of crystal clear water of Thirthan River flowing beside the route, scenic beauty of Dev-Bhumi (God's Land) Himachal was at its peak.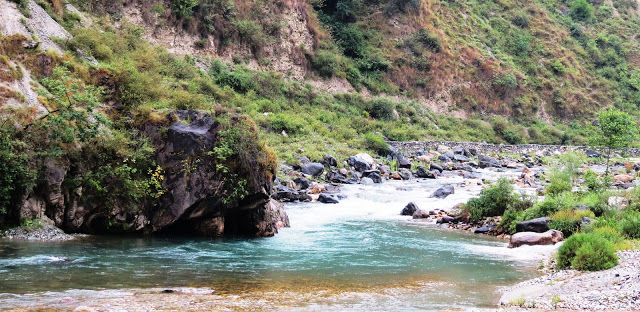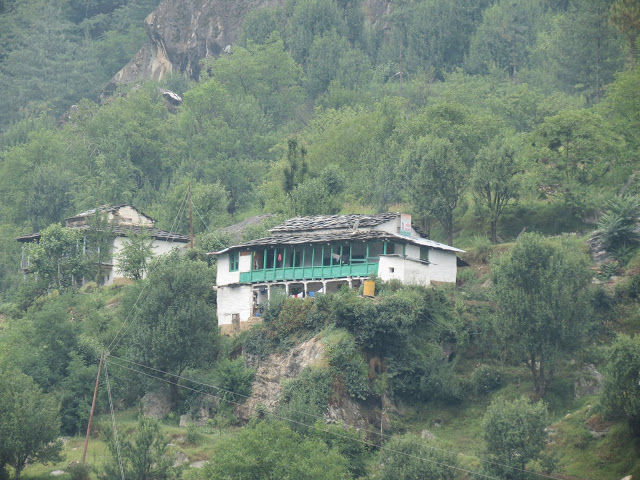 It is perfect gateway for one day only. This trip can be clubbed with visit to Waterfalls along with activities like river crossing and trout fishing offered in Tirthan valley. Do not litter the place, carry small bags to collect personal garbage and drop them in designated dustbins. Always check for the weather forecast and condition of roads before planning this trek.