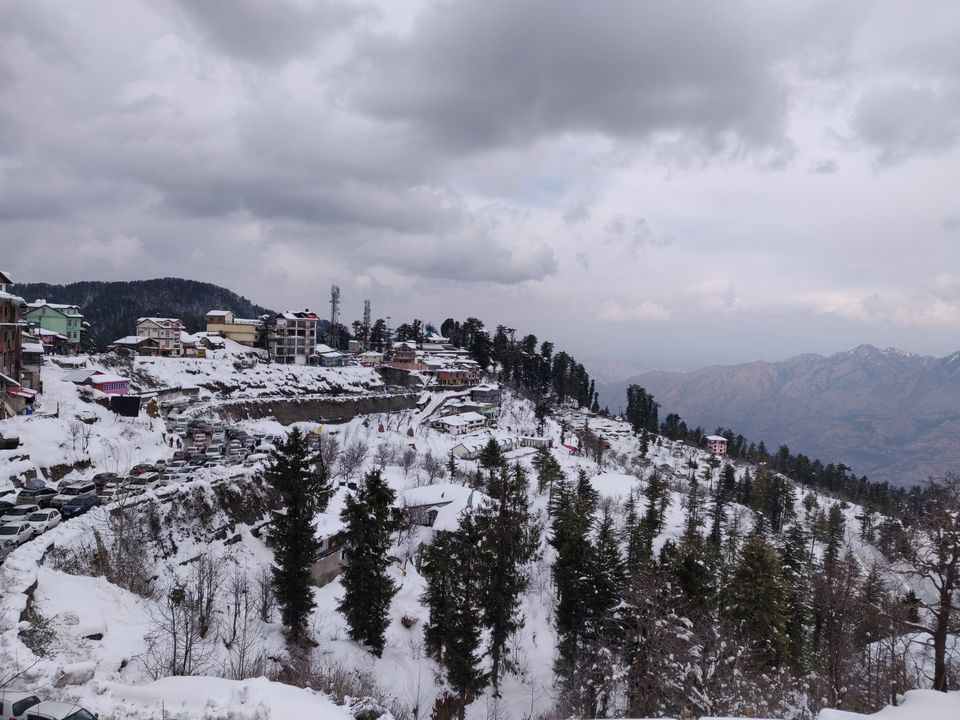 I reached Shimla at around 10:00 am in the morning, while I was on the bus my excitement level grew as I saw snow all besides the roads and I was so excited to reach my destination. Once I reached the ISBT bus station in Shimla I booked an OLA cab to reach my hotel which was nearby the Mall road, few minutes from CM Residence. After reaching my hotel we did check-in and experienced a wooden finished themed hotel (Backwoods B&B).
Once we got to freshen up it was already 01:00 pm already and we were starving for food, so we started to walk towards the mall road for food. While walking we experienced our first dish Stuffed Kulcha and it was mouthwatering, kulcha was softer than ever. While walking we had a few more dishes like a different kind of sandwich, Gulab jamun and a chaat, all of them were worthy and mouthwatering.
After filling our stomach we walked some more above to a well-known ropeway service Jakhu ropeway which takes you to Jakhu Hanuman Mandir situated on top of the mountain.
Once we reached the top we experienced some snowfall their and we were pleased by it. We played like children in snow and it was fun. We made a small snowman and hitting snow to each other was like a dream come true. Now it was time to go back downstairs using ropeway and the view going down was awesome.
After coming down from ropeway we came back to our hotel room and took rest for 2-3 hours as we were exhausted after our travel and stuff, at 07:00 pm in the evening we experienced one of the best lightings in the city while we again went for a walk on mall road, we had dinner on the way and went for some shopping and went to nearby church and few amazing architects we saw on the way. It was pleasant out there. After a long walk throughout the city, we came back to our hotel and concluded our day with a pleasant sleep.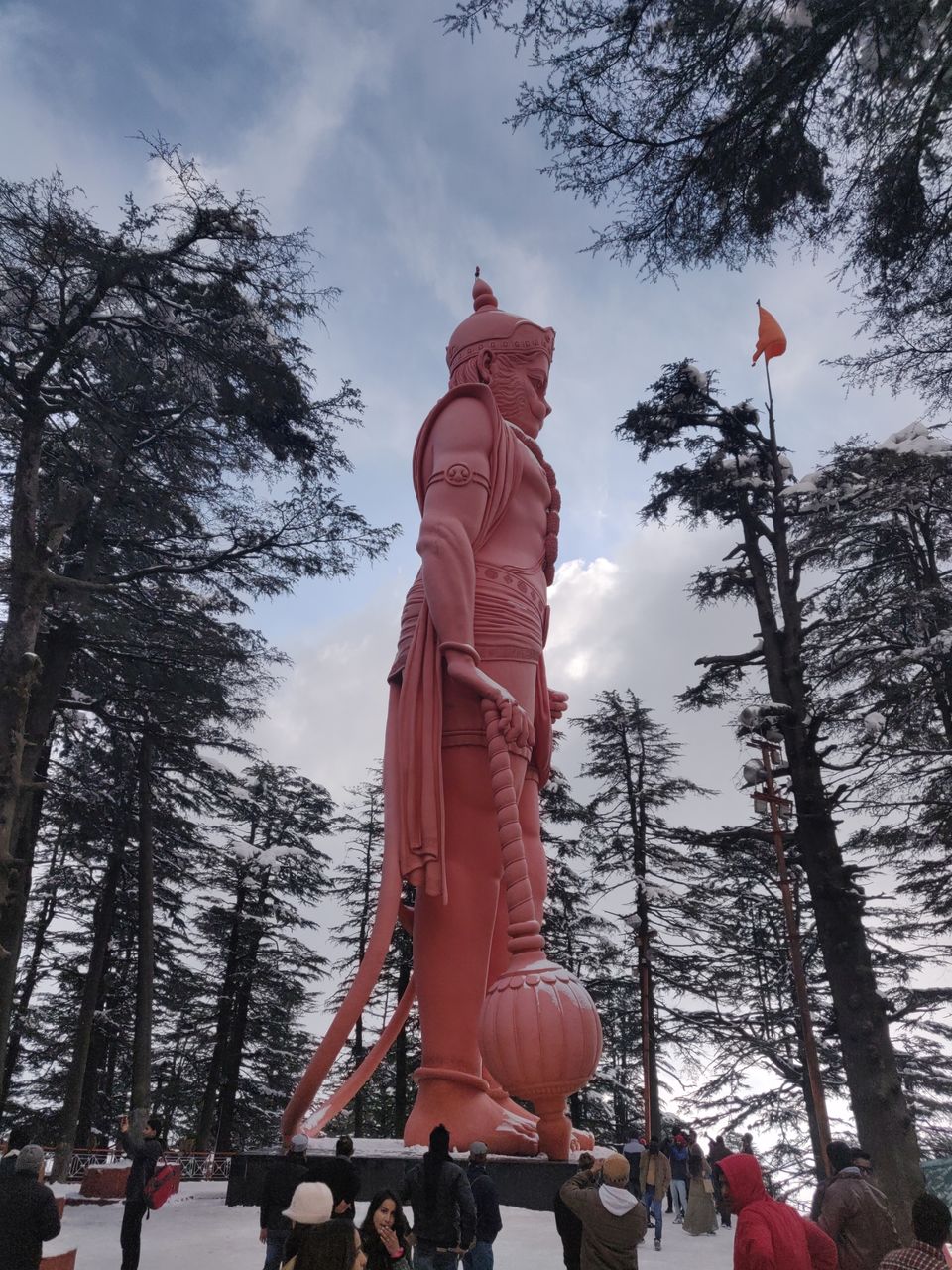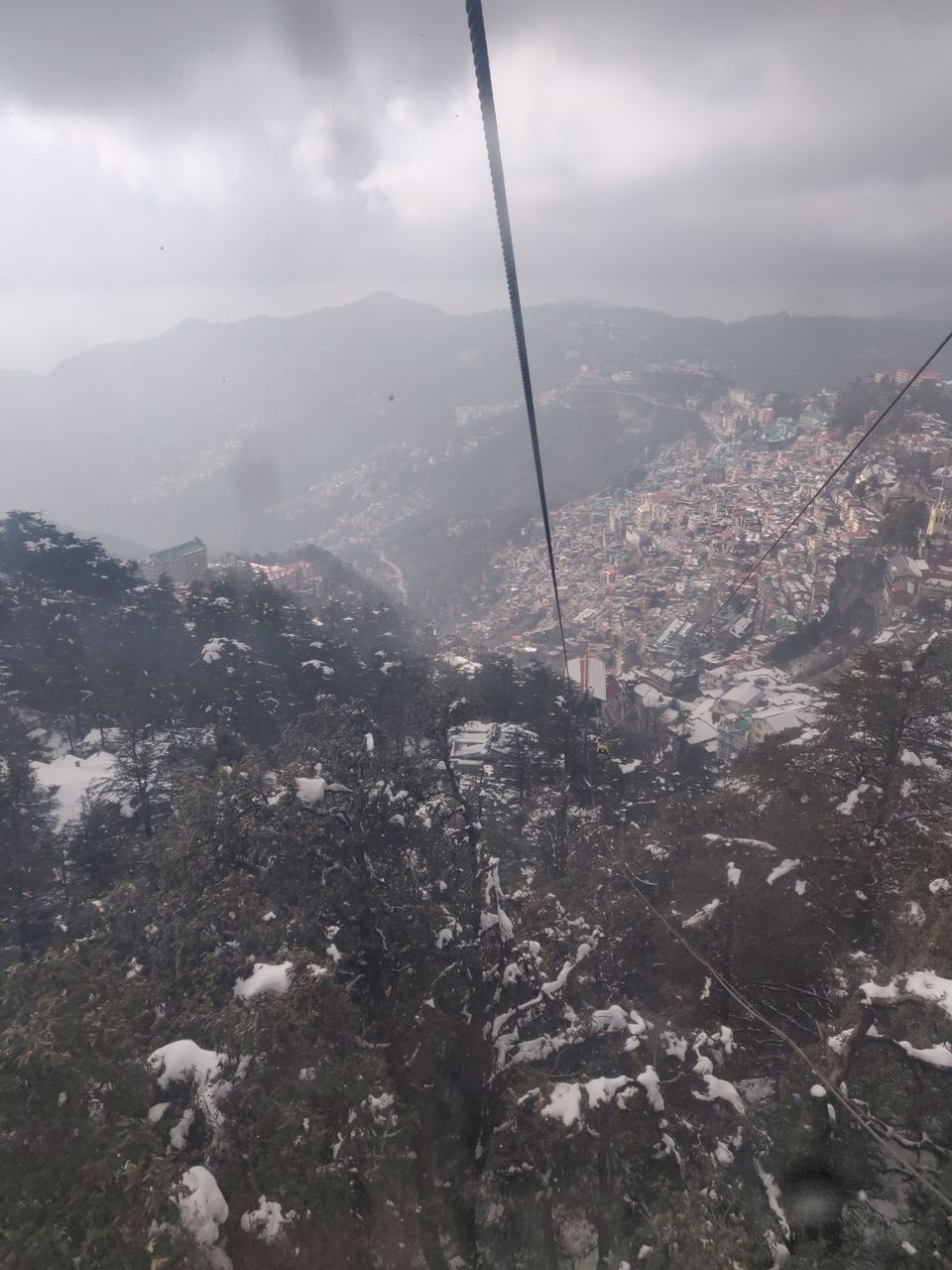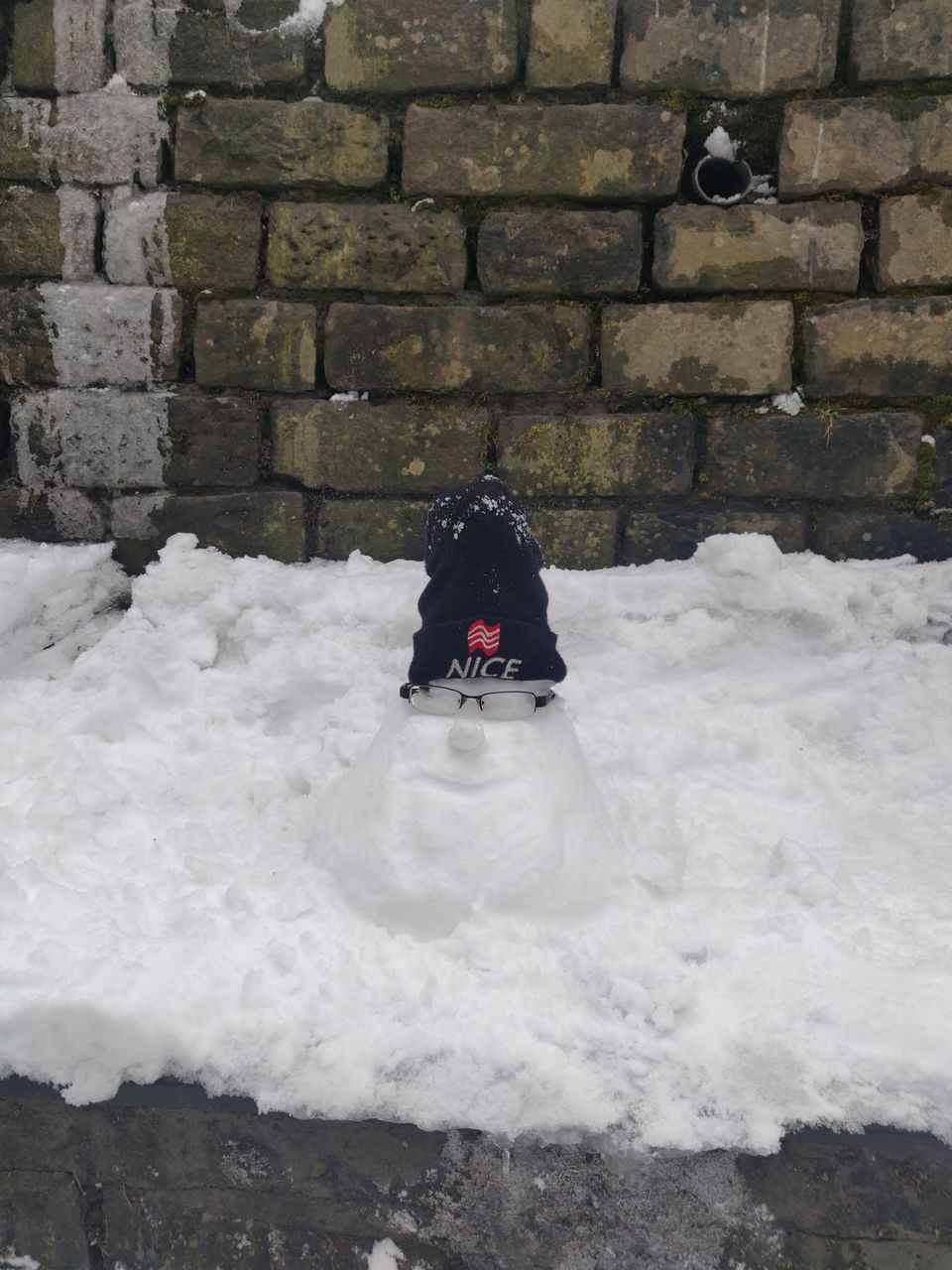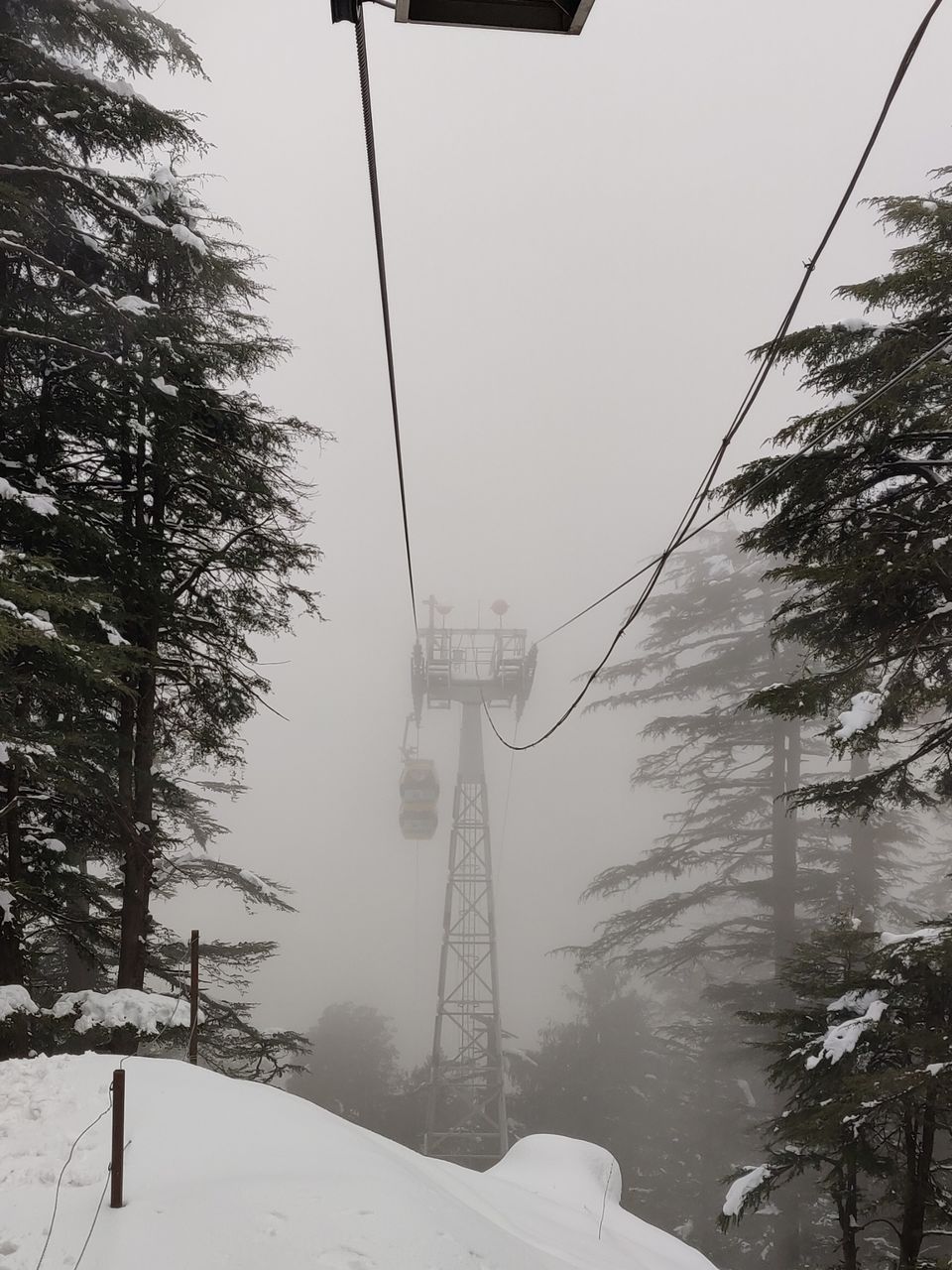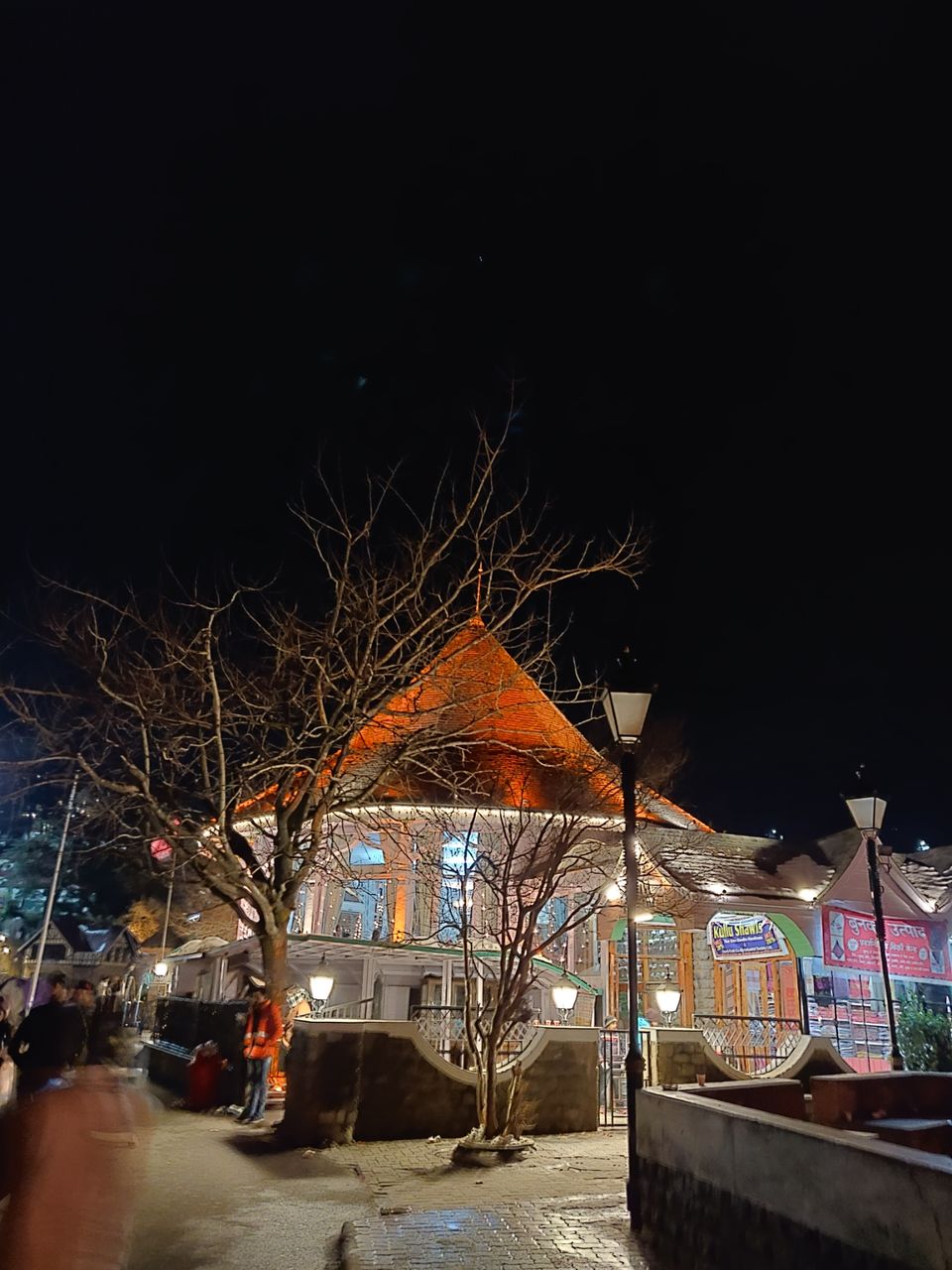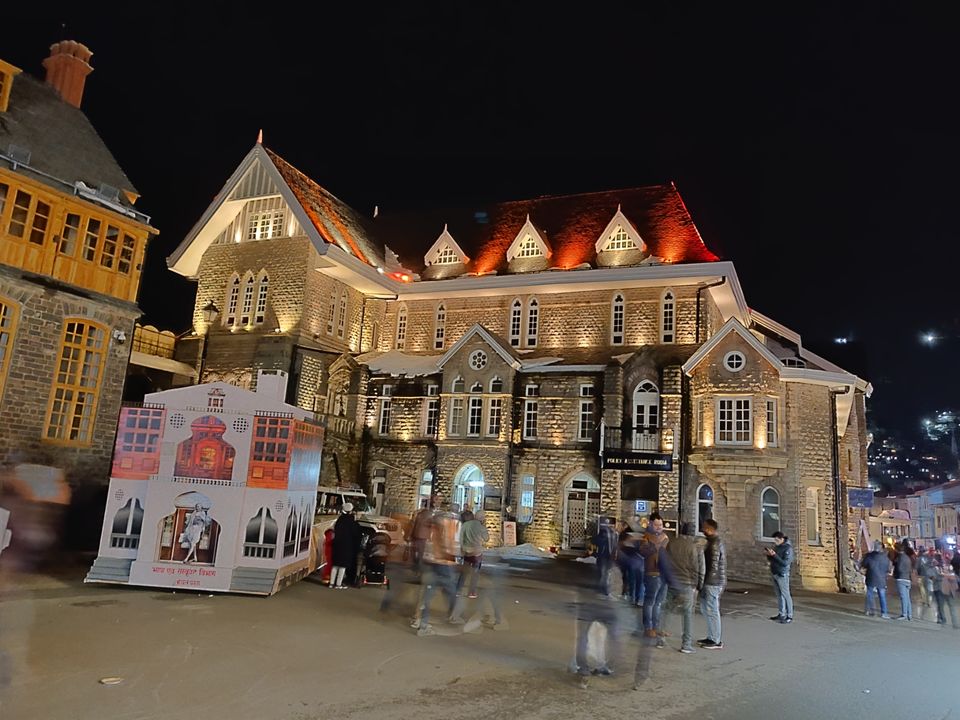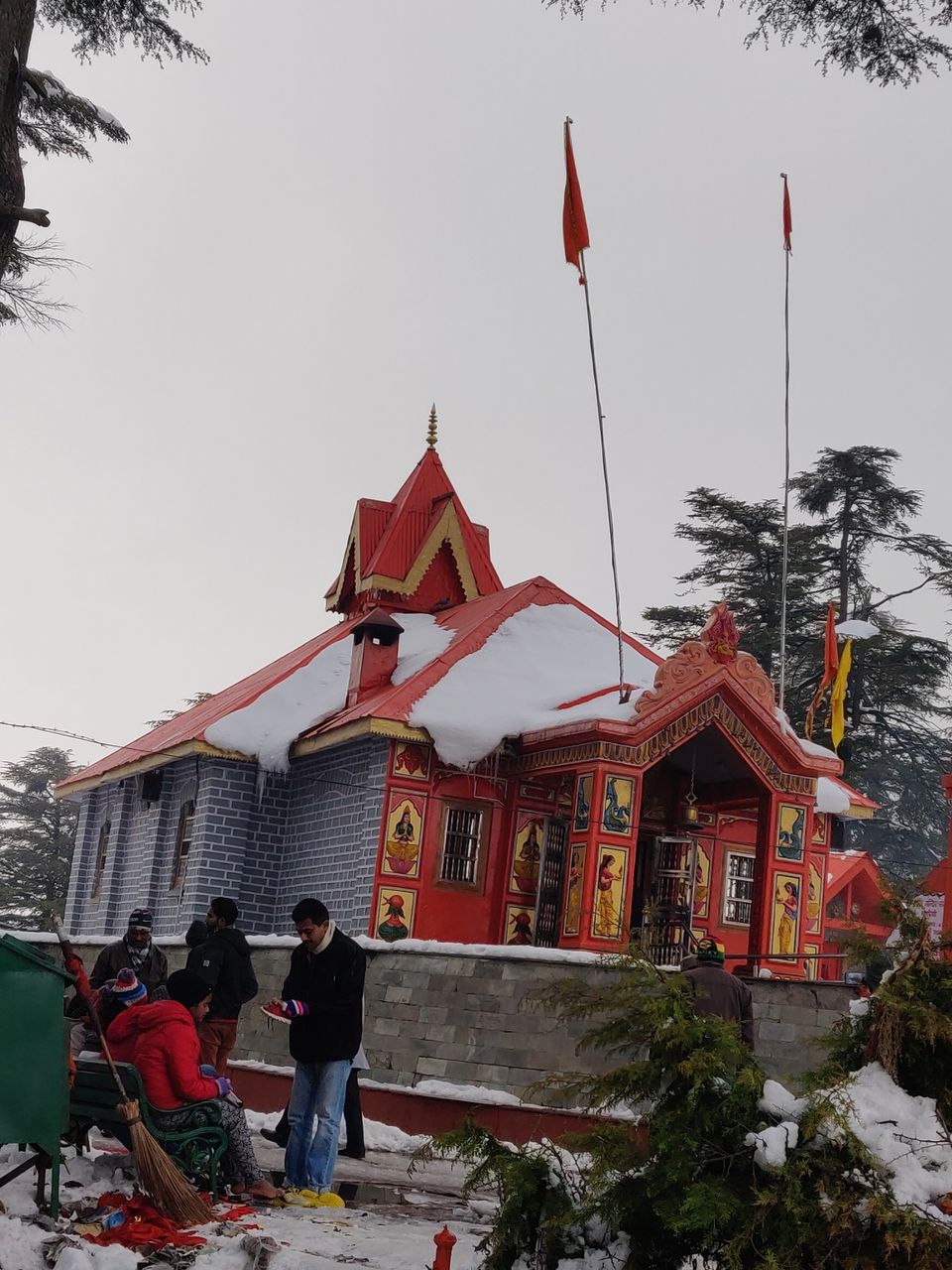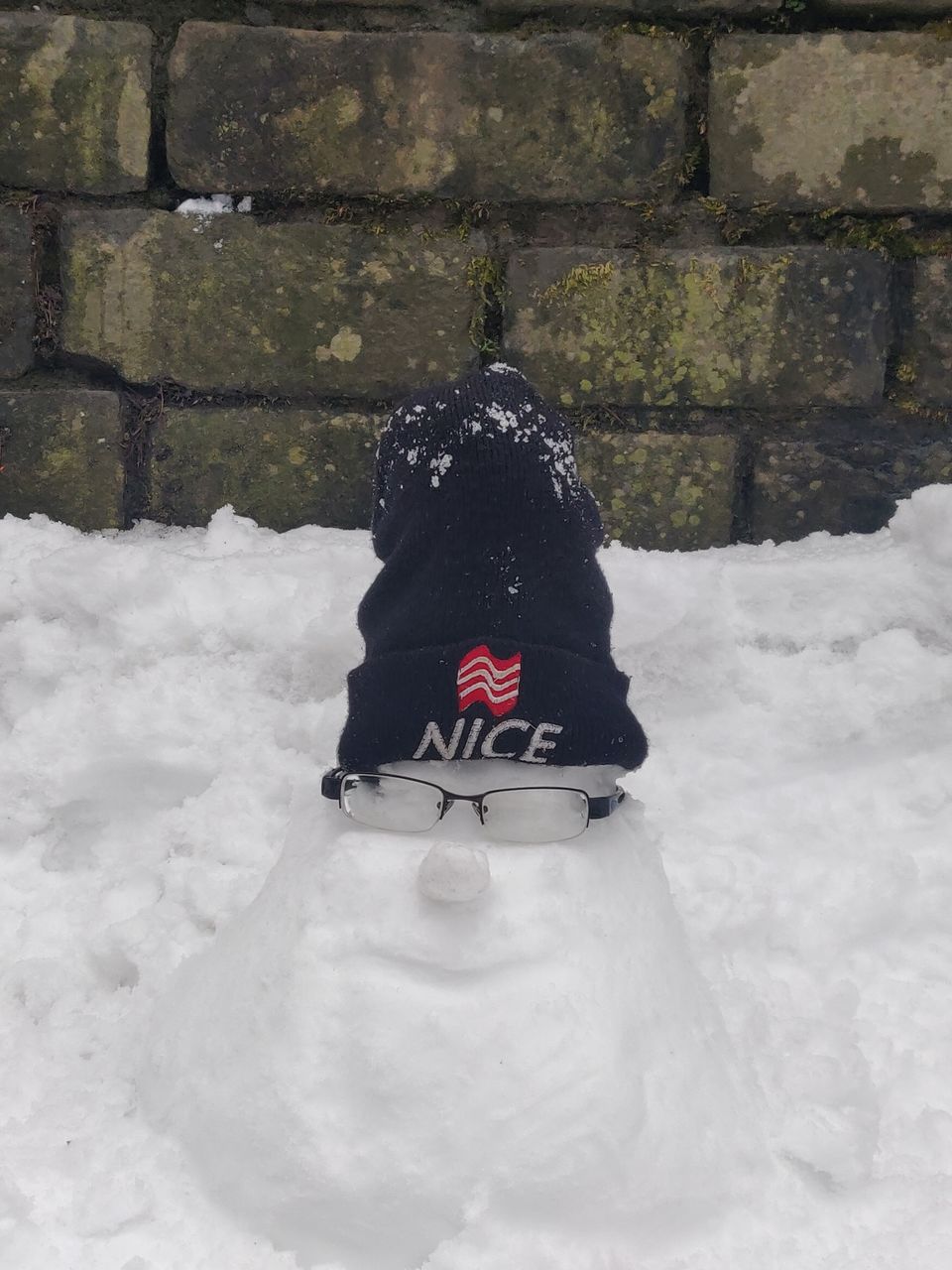 Experiencing the top view of Shimla by Jakhu ropeway.
Experiencing snowfall in Kufri
For day 2 we have booked OLA rentals to Kufri, so our cab came for pickup at 10:15 am in the morning, we were ready to go, so as we started our journey the first thing to do was breakfast. Again Shimla didn't disappoint us as the DAWAT restaurant on the way served paratha softer than ever I have eaten in my life.
Service was quick and the food was delicious. After having a full stomach breakfast we continued our journey, the traffic was more today as the roads to Kufri got opened after 2 days and as per weather forecast, there was no expectation of snowfall today.
It took around 3 hours in total for us to travel 16 km from Shimla to Kufri. The journey for that 16 km was amazing, the green valley throughout the way looks beautiful with some snow settled on those trees. Finally, we reached Kufri at around 1:30 pm in the afternoon and it was snow all around, people were playing in snow few were doing a horse ride and going to the top to see the zoo, but we didn't find that interesting as during snowfalls all animals hide in the snow. We took a wooden stick from a local boy standing around and started to climb a small mountain nearby. The snow was deep 3-4 feet in dept and it was like snow bed up there.
As we went up the surrounding view from the top got better and better. Suddenly we got a phone from our driver stating bhaiya come down we will go from here and do some adventure sports nearby. So we went walking some 800 meters where he parked the car. Now we went a few miles and the Adventure sports club came. We went inside to inquire about rates and stuff and we decided to go skiing, we took the tickets and went inside to experience a totally new thing.
At the skiing point, the attending asked the size of my shoes and gave me ski board accordingly. Just by wearing the ski board I started to slide on the snow and it was unbalancing. He stopped me and provided with proper instructions and I was good to go after falling a few times and I got the trick right and now skiing was fun. Suddenly Snowfall started and the skiing experience is now more exciting. We did skiing for more than 30 mins and now due to increasing snowfall, our driver called us to come as early as possible so that we can start our journey back for Shimla as early as possible. But the weather has different plans and the snowfall got on increasing and we got stuck in traffic and was no sign of single vehicle moving ahead, as the roads were now full of snow and still the snowfall was not stopping. Around 5:00 pm in the evening the snowfall stopped but it already damaged everything. The driver was tensed and there was no chance of going back to Shimla today. Our cab rental was about to complete at 5;15 pm and we were still in Kufri top with no sign of us going down on wheels. So we mutually decided to end the cab ride and start to walk. And yes we started walking as we didn't have any other option left other than getting stuck in the snow.
Our Journey started with our stomach empty as we didn't have lunch and now we have to walk until it gets dark because of these places gets colder as the day gets darker. We need to cover as much distance as we can until it gets really scary. But that was not the only challenge we have to face, the real challenge was to walk on ice as due to weather and vehicle moving on snow, the snow has already started becoming ice and it got really difficult to walk on ice. We went on walking carefully we fall few times, those mini heart attacks while sliding on the ice were breathtaking. We went on walking and walking without stopping as we reach the first vehicle which got stuck and as we see it was very difficult for that vehicle to move forward on the ice as it was very slippery. We went on walking but now it was our stomach who needed food and we didn't found any food stalls nearby. We walked around in total 7 km until we found a shop where we sat and ate Maggie and had tea to get some energy for ahead walking. Now we have made our mind to do this track completely as it was challenging and a new experience for us. So after this break, we started walking again, now the amount of ice was decreasing as we were moving in downwards direction. So it was becoming easy to walk now, but need to walk carefully as some ice was still on the road which can be killer sometimes. And around 8:50 pm we reach the Dhali tunnel from which we can expect some vehicle to our hotel. Near Dhali tunnel we found a good restaurant and decided to have dinner there. After having dinner we started searching for Ola and found nothing. We need to walk again, we started walking after walking around 1.5 km towards the city on Himachal transport bus came and we sat in the bus till the Lift to mall road.
Adventure doesn't end here as when we reached the Lift it was already 10:05 pm and the lift service gets closed at 10:00 pm. Now we again need to walk till our hotel 1.5 km upwards now with not much energy left in the body. Somehow we found the nearest route to our hotel and started walking. At around 10:30 pm we reached the hotel and our adventurous day came to an end.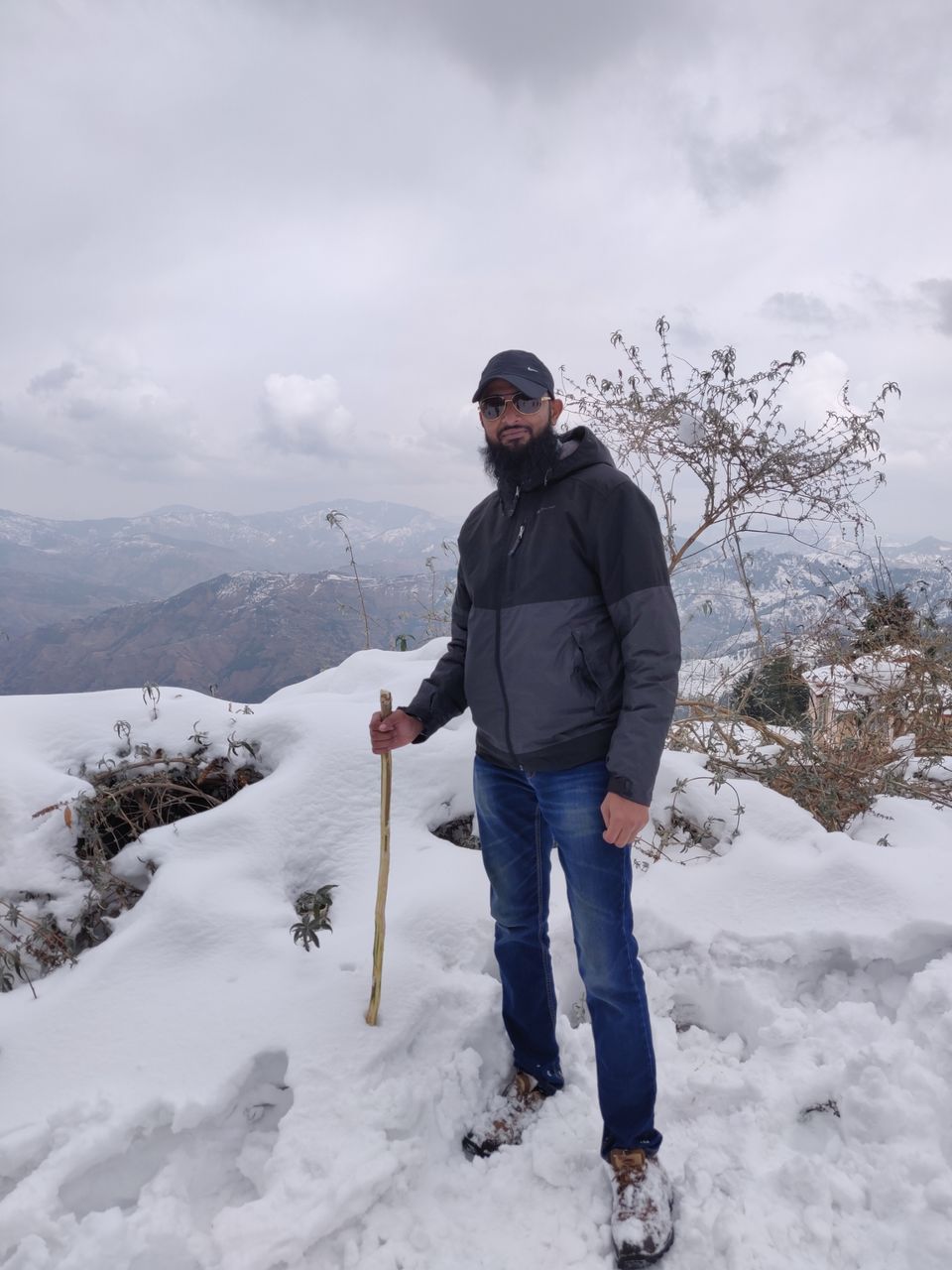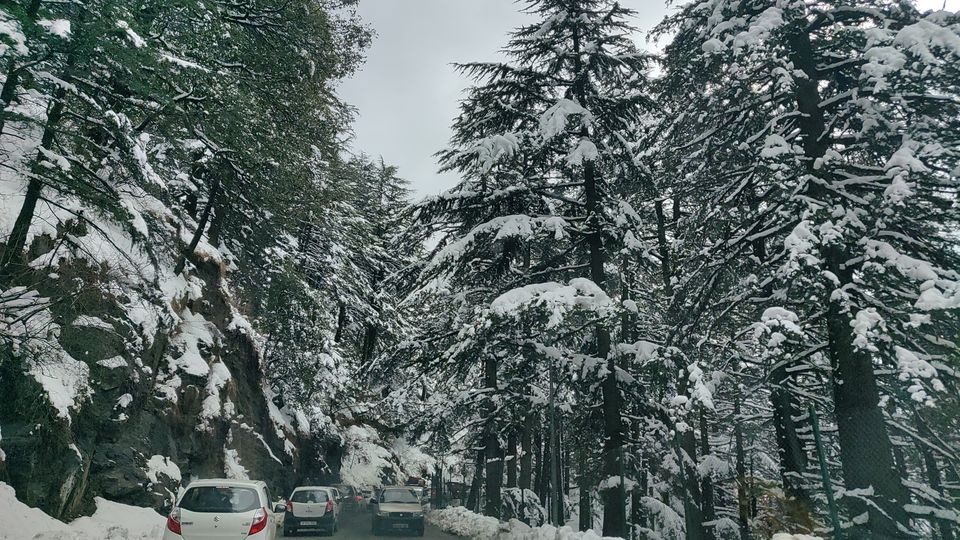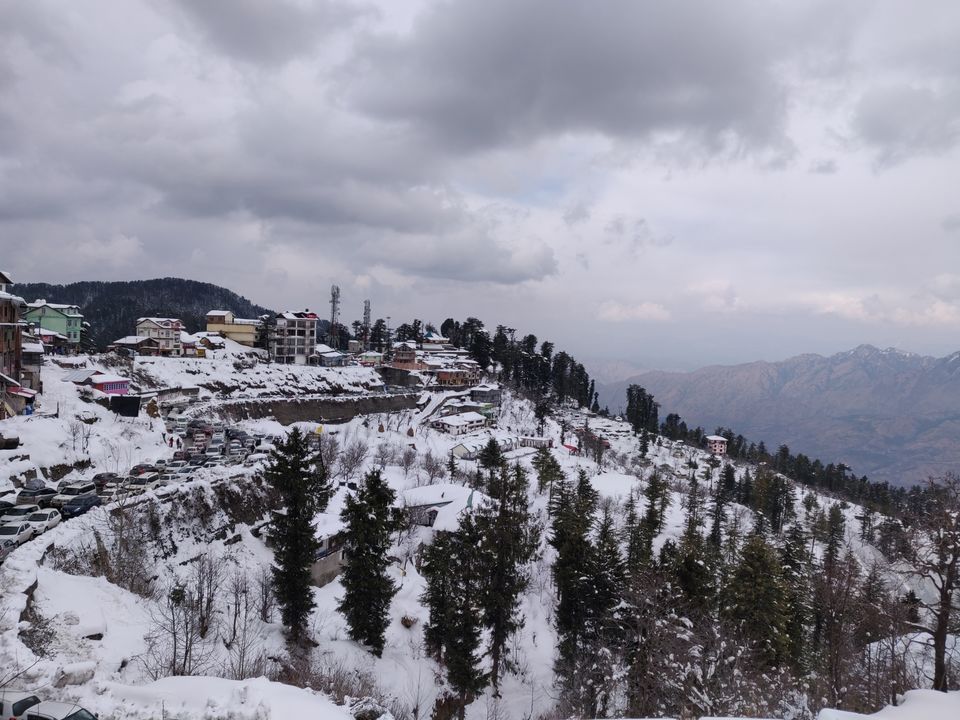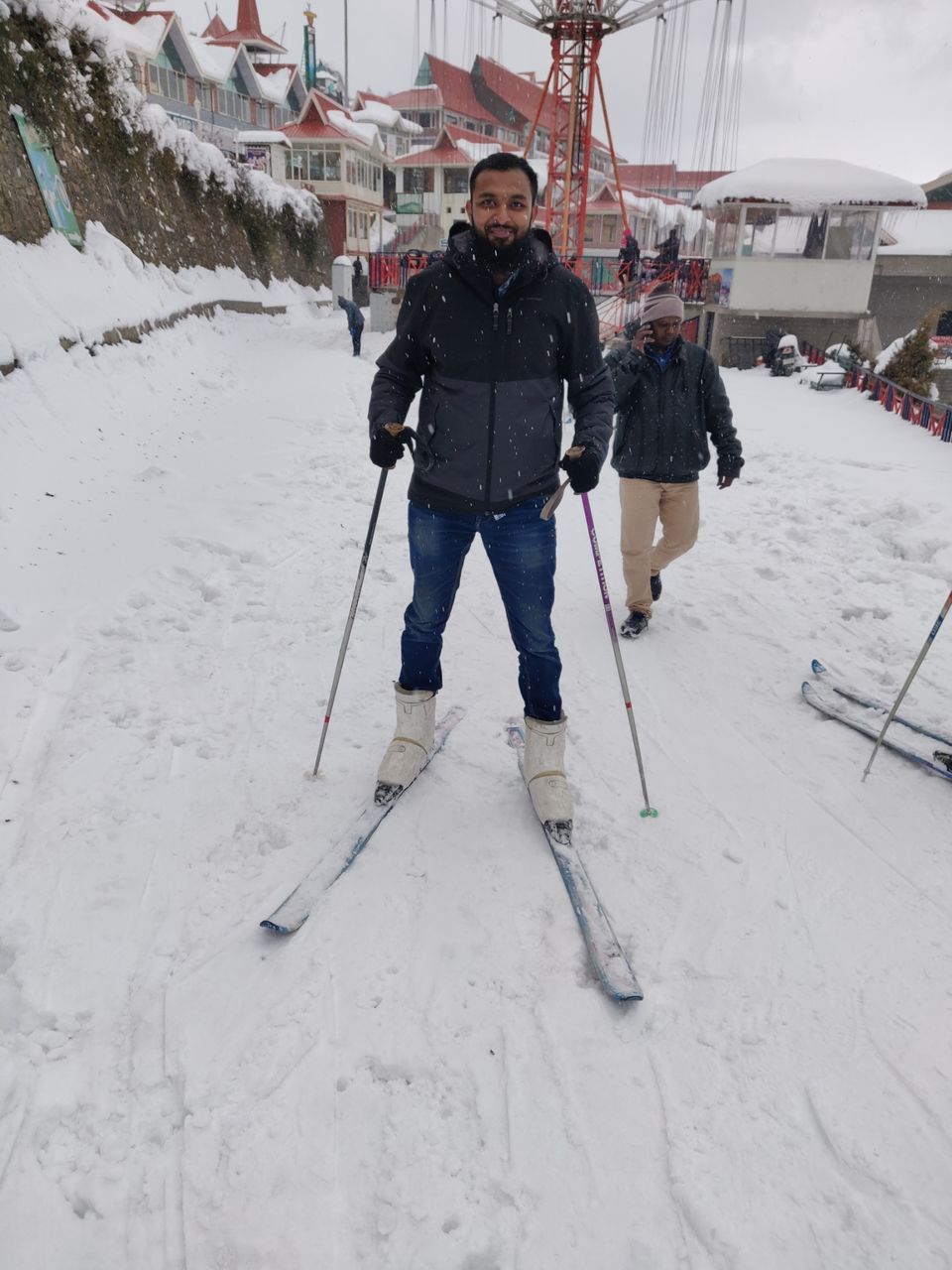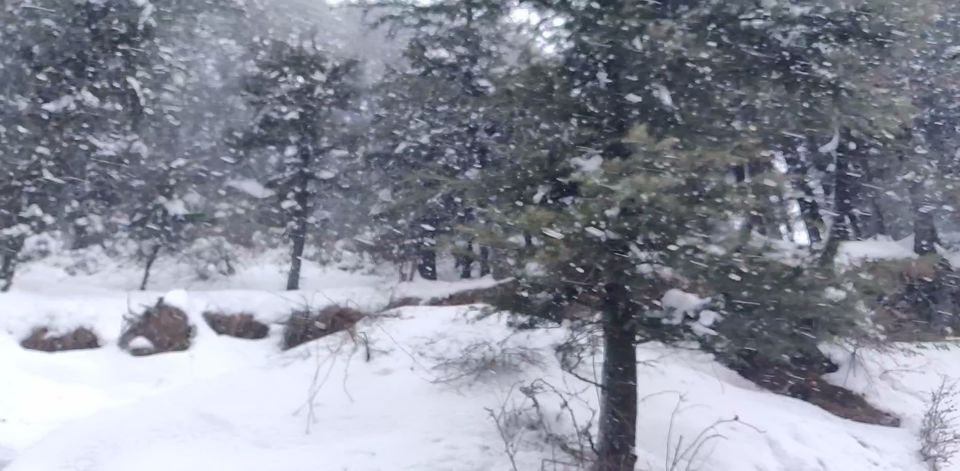 Experiencing shopping on Old Shimla Market
So after a hectic day 2, we were in no mood to stretch our limits and go somewhere for the track, although we had few places in mind like Rohru, Narkanda, and few others as well. But as per weather conditions to travel locally was the best option to do.
We started around 11:30 am after packing our baggage and completing checkout from the hotel. It was a new day with new energy and we started walking towards the market. First of all our prior task was to have breakfast after exploring a few options we tried some Samosa Chana chat something different from what we use to have back in Gujarat. The food was delicious and mouthwatering. Now we have energy boosted and we started walking. While walking on the street we saw a post office and we send some postcards to our Home address, a memory from Shimla.
While walking we went to a nearby church and some places where people use to roam around and sit with their loved ones, do some photography and chitchat. Some amazing viewpoint where people takes selfies and click some amazing photographs.
Roaming around here and there we went to a garden nearby and sat for some time for relaxation under the sun and did some chitchat. Now we went to a famous paratha place(A must visit the place to visit for food lovers) Gupta Paratha is the name and the parathas are softer than ever and taste delicious.
Now after food, we started with shopping on Old Shimla market, after exploring a few shops we found some good traditional type of sweater and saw different varieties of local costumes. Meanwhile, there comes snowfall again and people started rushing here and there to save themselves from snowfall.
Now we went back to the hotel, grabbed our luggage, booked and OLA till ISBT TUTIKANDI interstate bus station.
Our bus came at 7:30 pm and we started our return journey. The bus driver was awesome, it was fun while he was driving, few of them were vomiting(do carry tablets to avoid vomit) bus I was enjoying the rollercoaster ride. We reached Delhi Kashmiri gate on time as scheduled. Our flight from New Delhi to Ahmedabad was scheduled on time and we flew back to Ahmedabad.
An adventurous journey with lots of experience and lifetime remembering incidents happened. Experiencing snowfall for the first time and understanding how local people survive in such conditions.