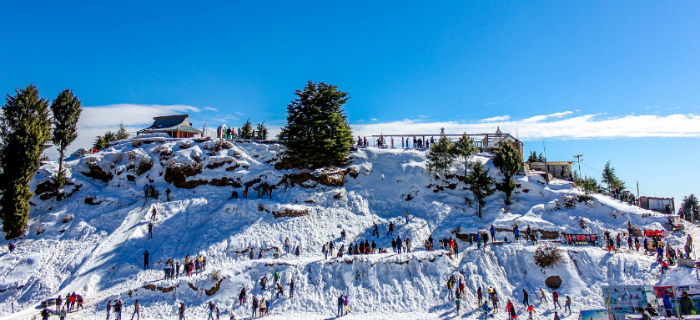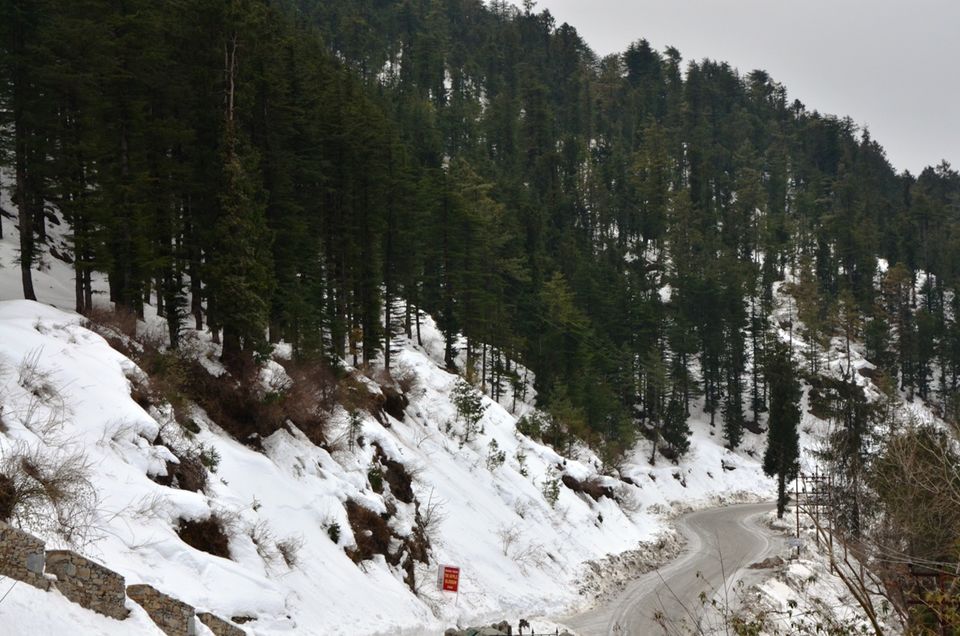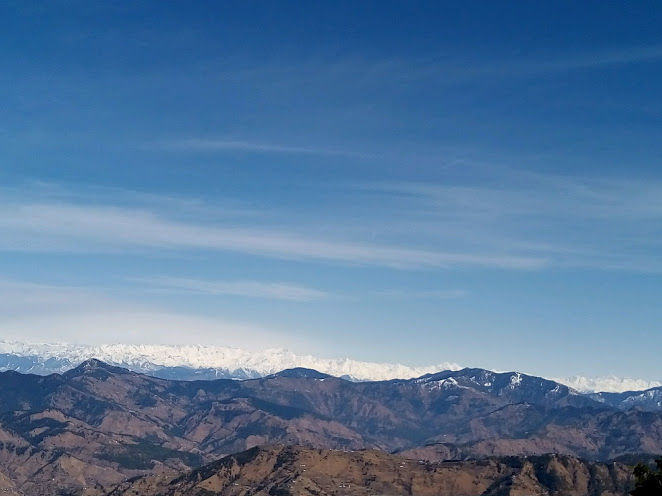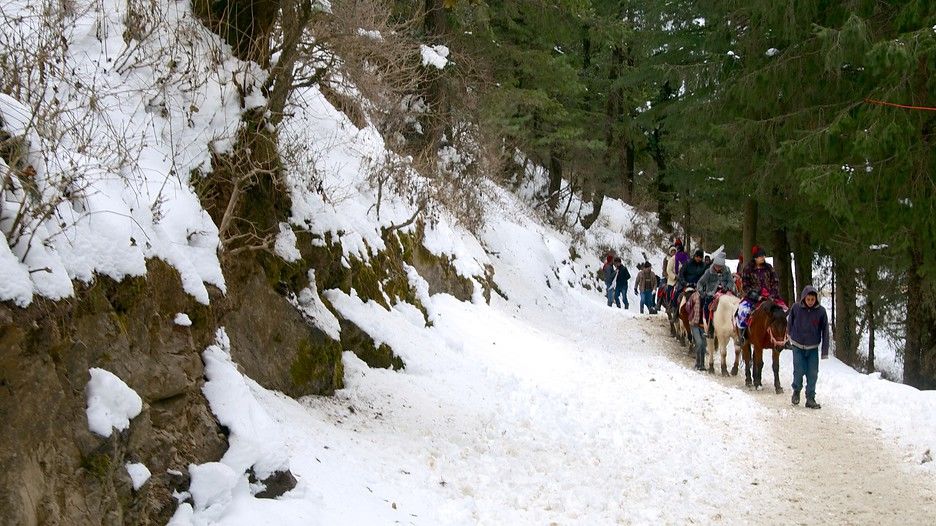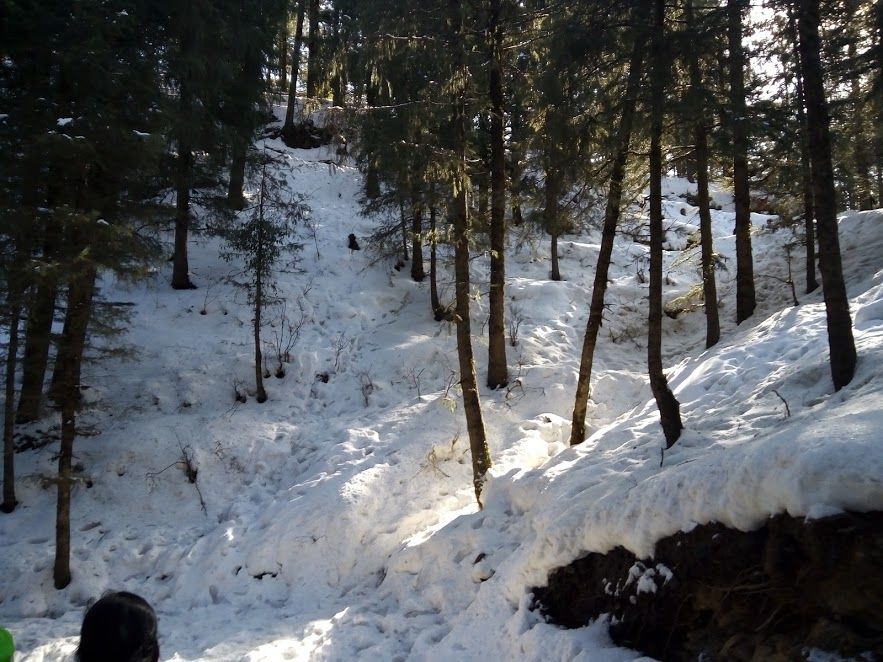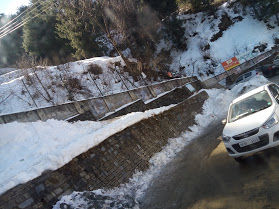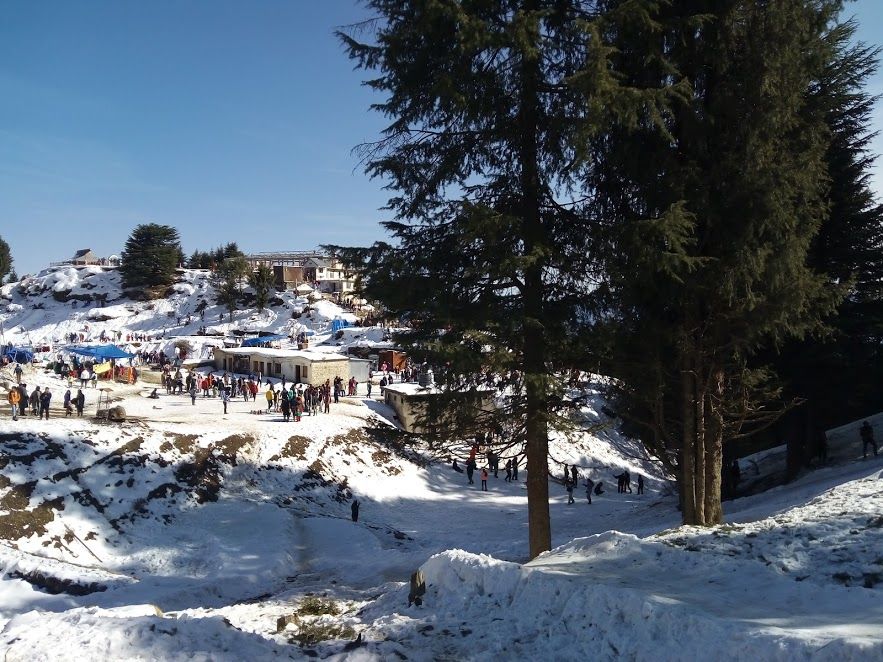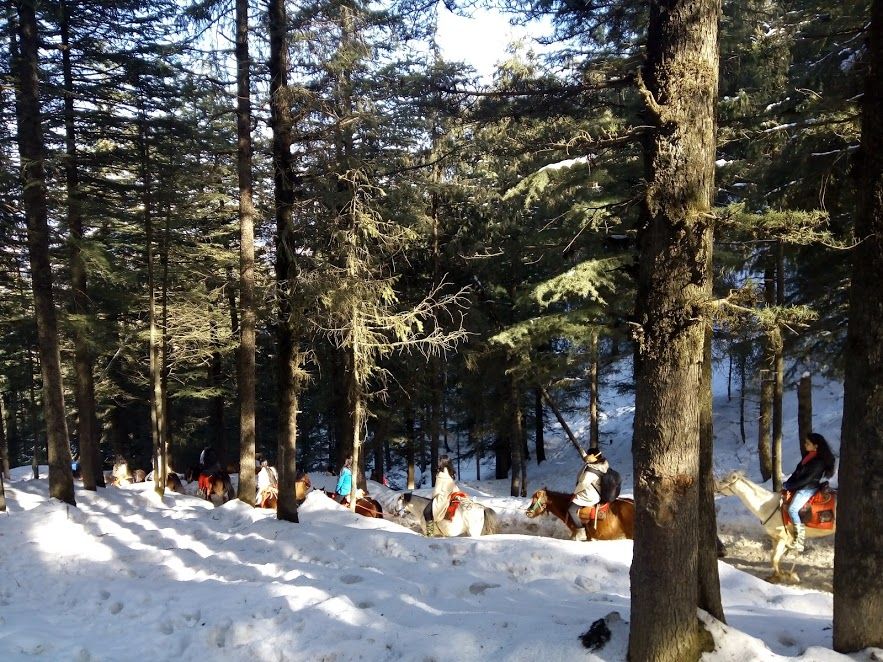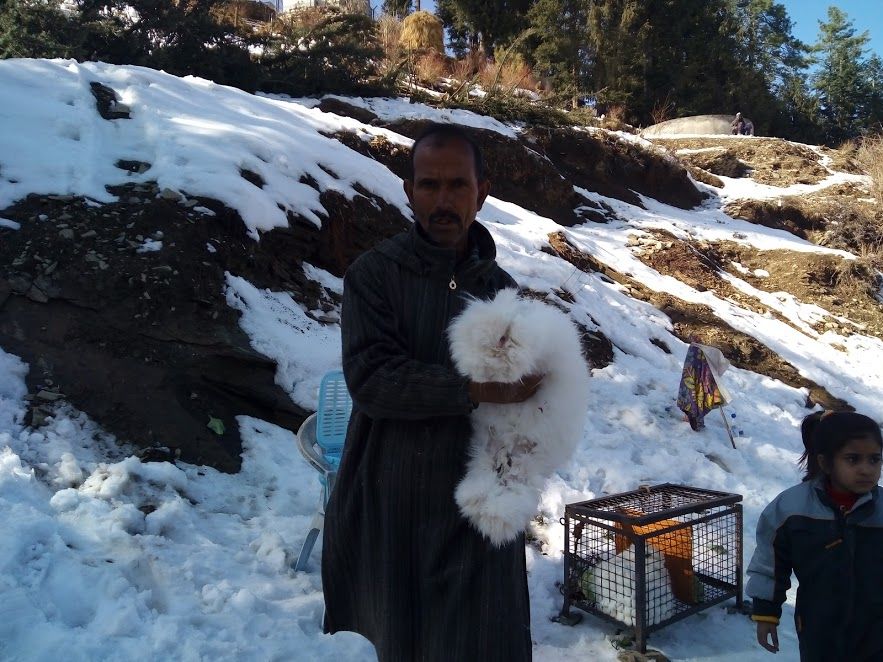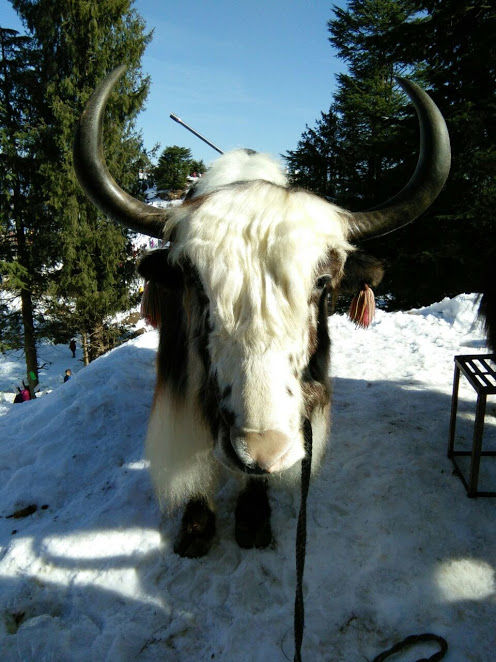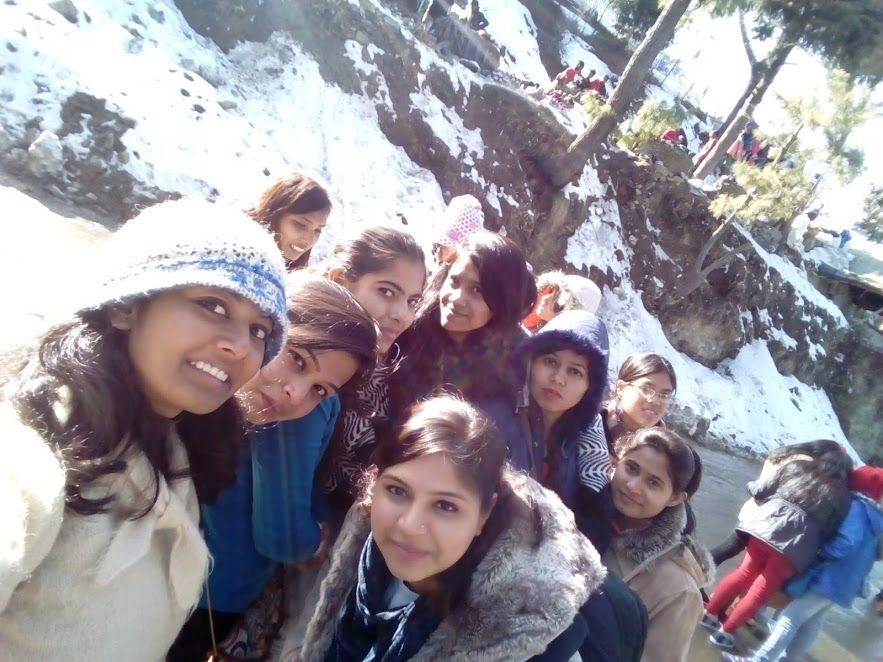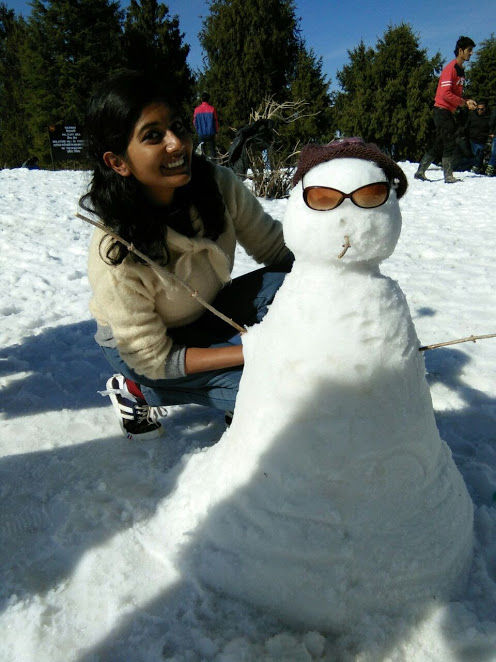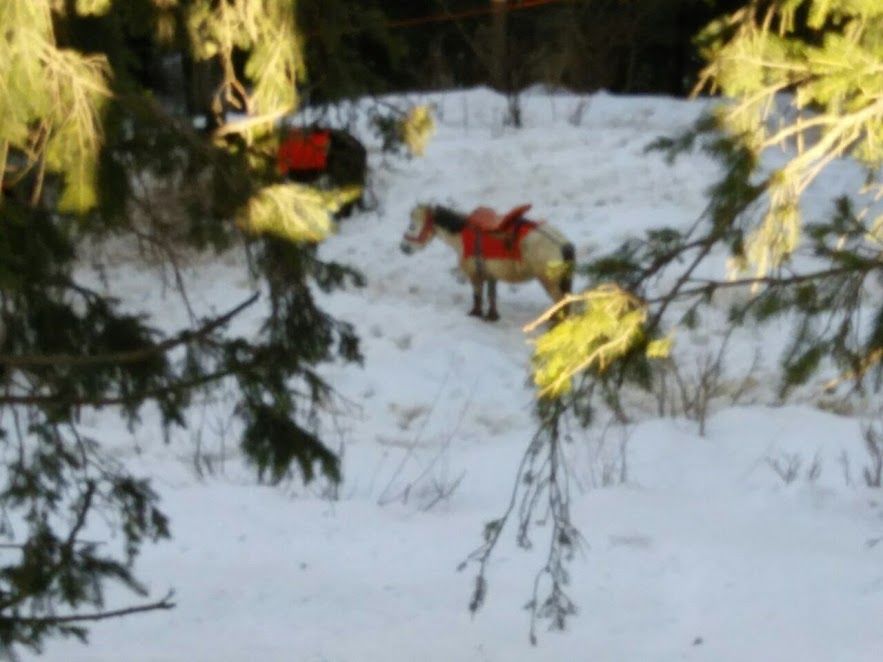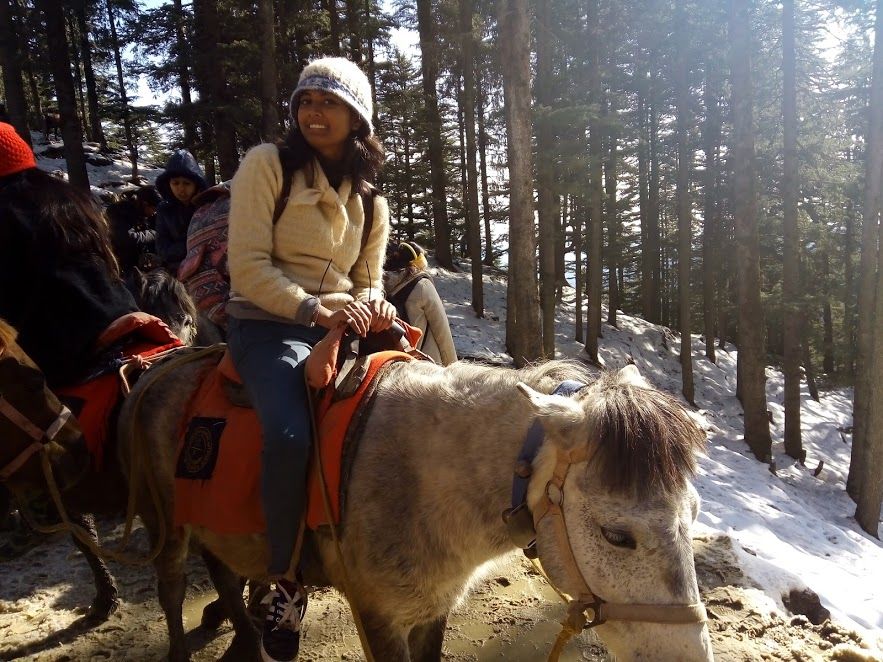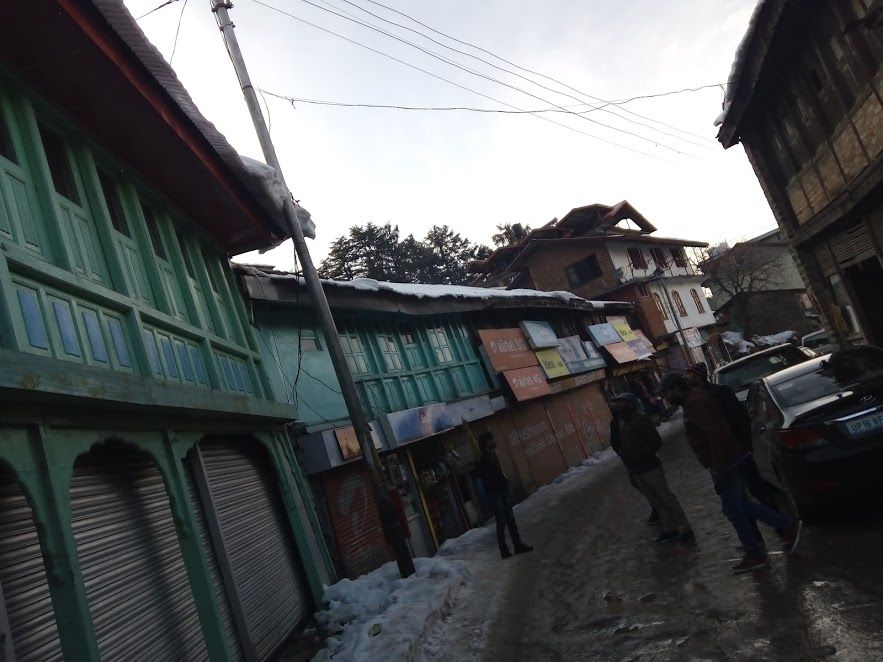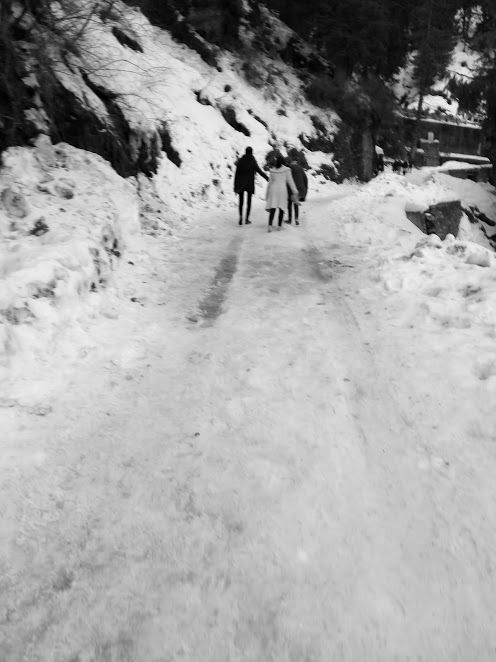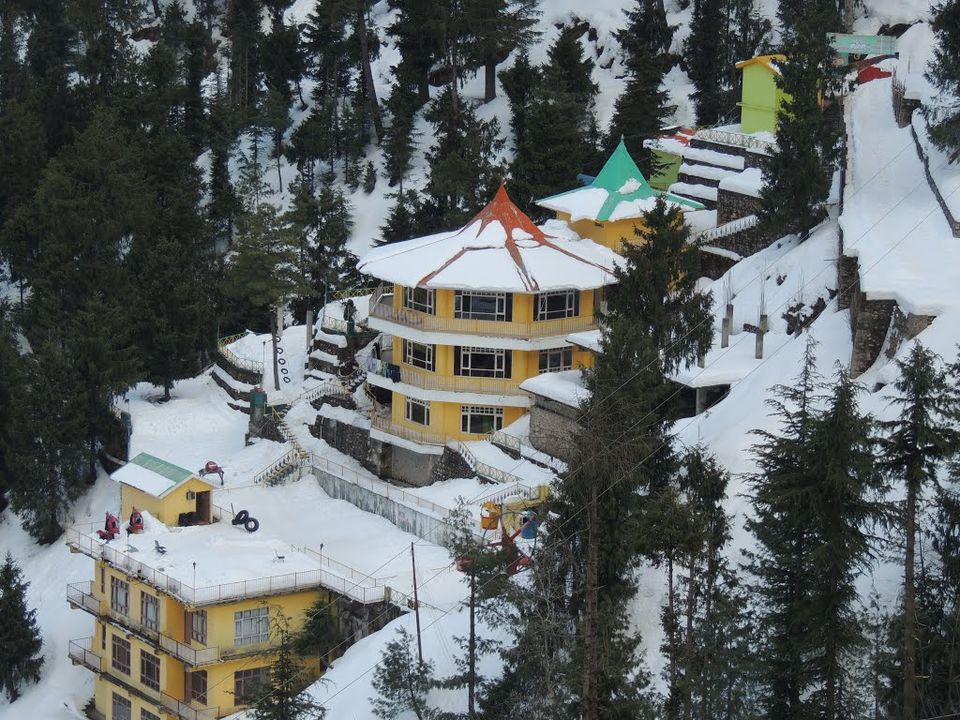 In continuation to my earlier trip : Climbing to the peak of Shimla: Jakhu peak . This illiteracy contains the second day of my trip.
I am always someone who wakes up late in the morning.. but while my stay in Shimla I just woke up early to see the sun rising over the horizon and spreading its multicolored hue on the snow capped peaks.I haven't seen a dawn more beautiful like this ...the sun made its way out gently through a thick layer of clouds and the glorious ways in which it greet the mountains and its people.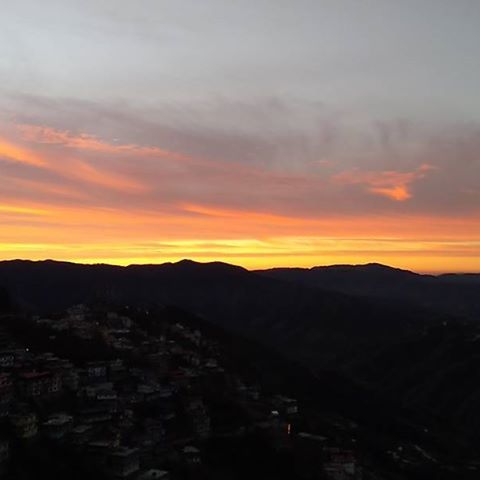 After few hours everyone else in our room woke up and begin the usual day routine. After having our breakfast we packed our bags and checked out of the hotel and started our journey to Kufri and experience snow.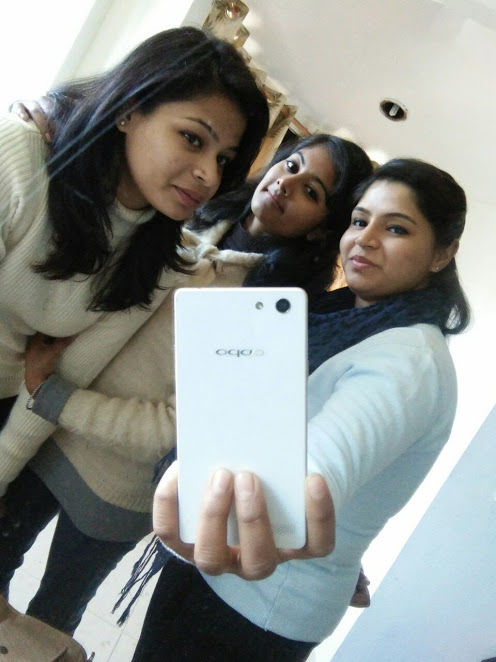 Although I had already seen snow near Jakhu Temple but the snow was melting and mixing with the dirt in the ground and had become a brownish slush. While going toward Kufri we could see the piles of snow frozen on the side of the road and on the roof of the surrounding area houses. I could sense that there was something different... the colour...it seemed a lot brighter than usual. Everything was covered in white flakes.. it was so beautiful. The air was clean from smoke and dust as we go closer towards Kufri... I took a deep breath and filled my lungs .. I felt great.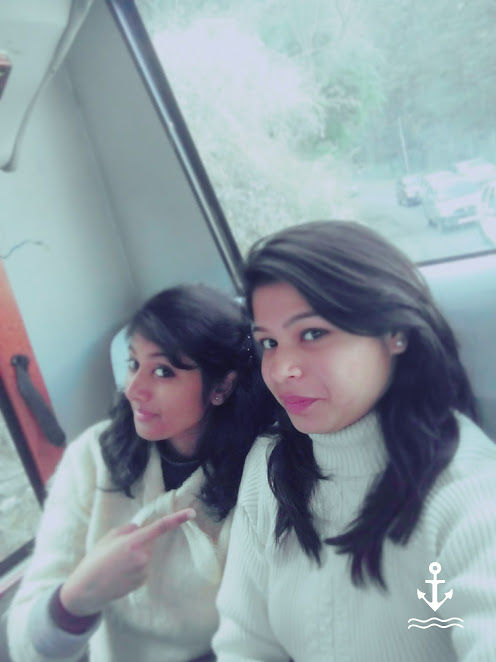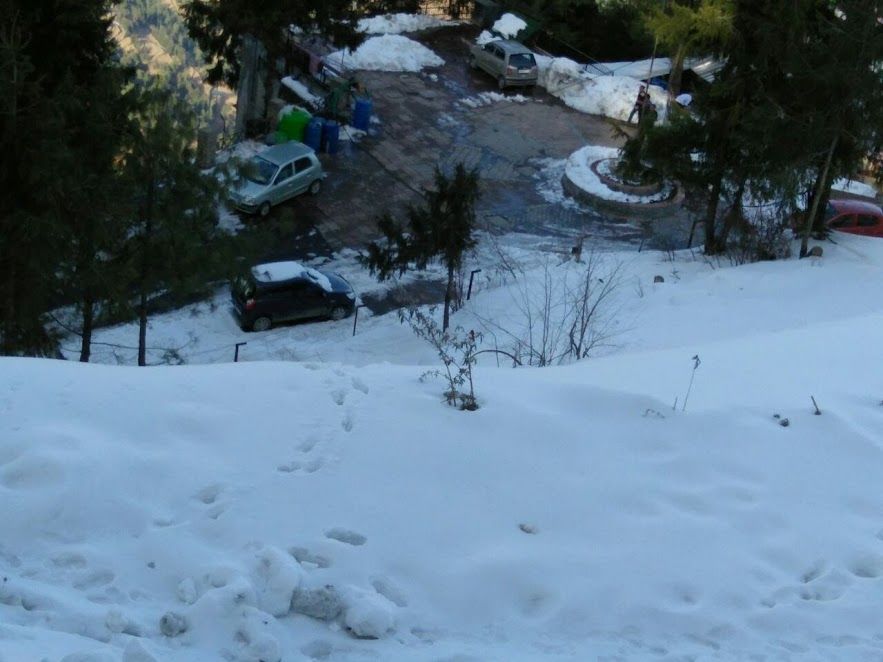 I made a pretty basic list of everything I wanted to do inside my head: A snowball fight.. Building a snowman.. taking pictures in the snow. After travelling for like 30 -45 minutes , our bus stopped and we had to decide whether we had to walk or take a horse ride after travelling from there in the shared taxi. We wanted to walk in the snow but some of our friends wanted to take a horse ride so after travelling in shared cab for 15 minutes we reached the area from where we had to take a horse ride to the open ground of Kufri . But to reach the horse we had to walk through the snow. After the first step I realized how slippery it is and forced myself to remember to be really careful while walking. The funny thing while walking in the snow is that when you stop on snow it makes this crackling sound. It just take 10-15 minutes to reach Kufri on horse... but that 10-15 minute ride was as dangerous as if riding a rolling rocker in WOW. Sitting on my horse 'Rocky' I was really scared as he was continuously breaking the crew of the horse going and was running in the corner of the road. The situation become worse when I saw a horse running towards from the other side as was no pakka road and if I fall then I would be injured badly. I just kept praying to God.... to reach safey.... but the horse are well trained. After reaching the top, I took a deep breath as I have reached safely.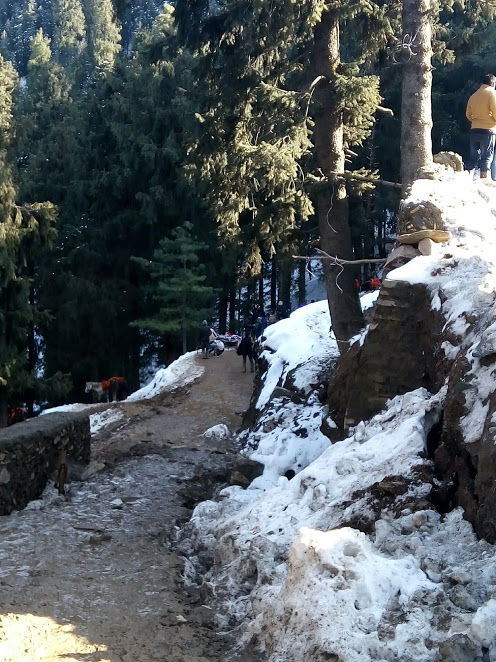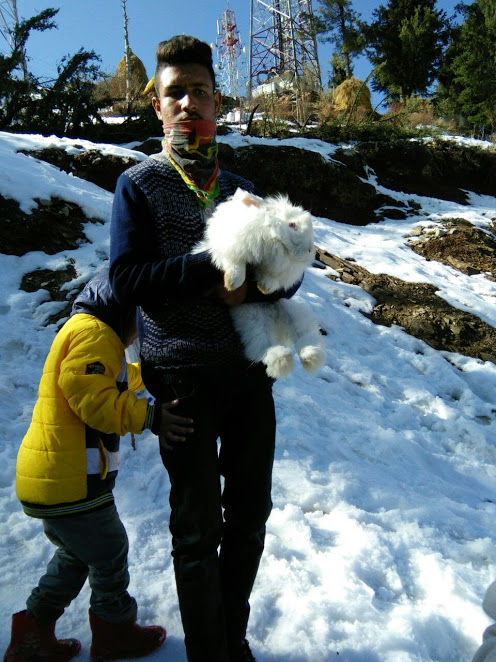 Before entering the tourist spot, the Panchayat of Kufri charged Rs 10 per head. Kurfi is like an open ground with snow lying all around. There were yaks standing in which you could sit and get yourself photographed. There were people with Angora Rabbits which you could touch after giving some money .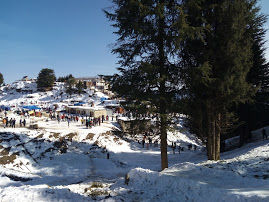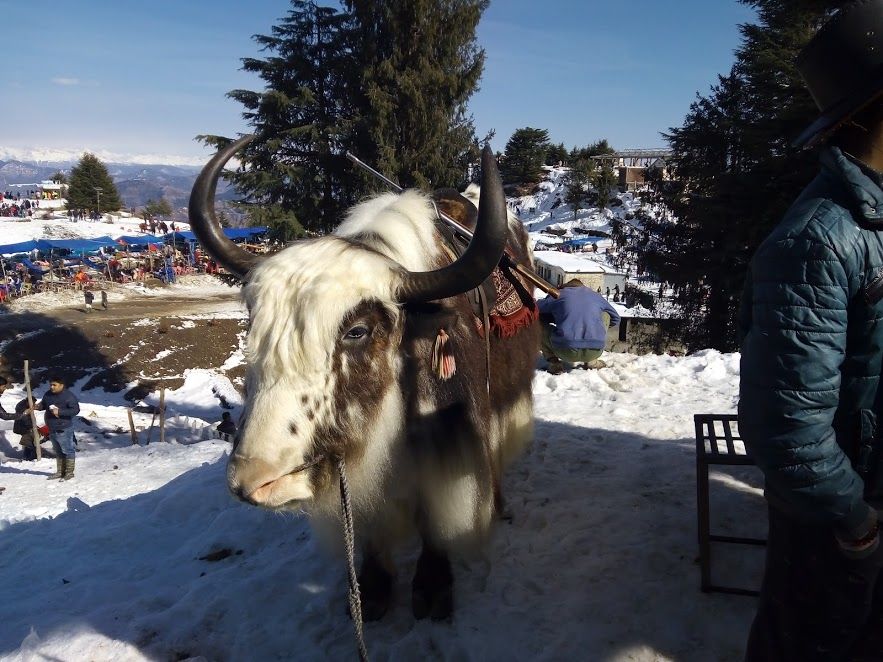 i I looked around and enjoyed the sight of the white world glittering like diamond and snow covered trees.Snow is just amazing ... there are no words to describe to full extent the peacefulness and the magical feeling snow transmits. While I was glazing at the beauty of the snow, one of my friend threw a snowball at me. It was so amazing to go around throwing snowball at each other. After playing with snow for sometime we started making little ball of snow and rolling it to make a fat body of snowman. After every 15 minutes it felt like we couldn't feel our fingers and had to wear gloves to make our hands warm . While rolling out the head of the snowman , a little girl also came to make the snow man with us. She helped us by giving snowball with her little hands. In her hands the snow looked like a white glittering pearl. After making the snowman we put the sunglasses and caps on our snowman as we didn't have any carrots to make his nose so we used a dry stick of the tree nearby and used it as his nose ... although it looks like our snowman is smoking cigarette to keep himself warm. It was wonderful and a unique snowman by all of us. After few hours of enjoyment and making of the snowman we started taking photos.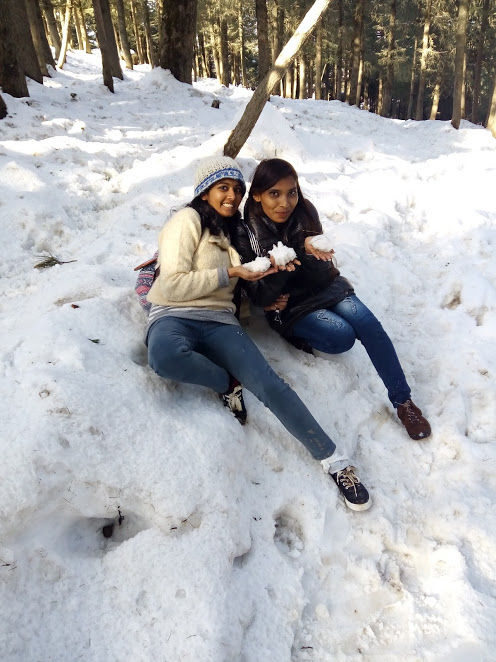 After sometime our teacher came calling us all as we had to return on the same day . While returning from the open ground of Kufri ..I was given a horse named' Suzia'. She was much more disciplined than my earlier horse 'Rocky'. Being a talkative girl, I started talking the the Suzie's owner.. he was from Nepal ... and we started a little conversation in Nepali...
Me: Timi naam ka chau?
Suzie's Owner: Mero naam Shekhar chau? Timi Naam ??( and started laughing)
Me: Nikita
Sherkhar: Tapai kaha basnu huncha?
Me: Delhi..
After this short conversation... We stopped to take some pictures..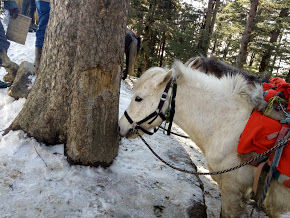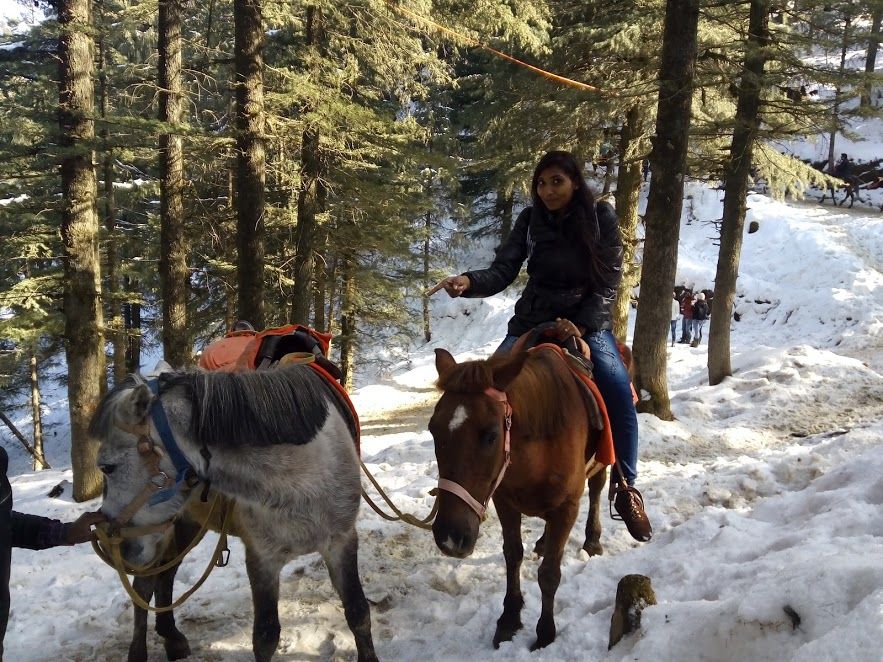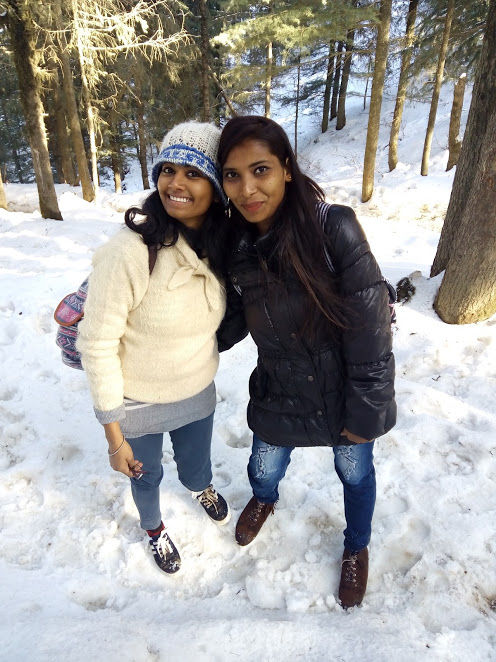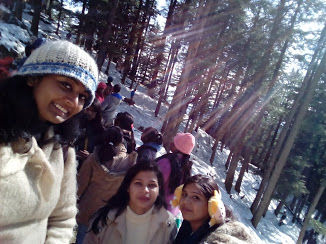 While returning down I realized that going upward was not as scary as returning down . As horse where running/ walking at a great speed and also sometimes they were slipping on the brownish slush. Half way through the route I asked Sherkhar to stop Suzia and let me down. As I started walking, a few distance away from me, one of our teacher's Meenakshi Ma'am fell down due to imbalance while walking and was all wet, but thank god she didn't got injured.
We reached the stop from where we had to hire a shared taxi but due to jam the taxi couldn't reach down. So after all of us have gathered we started walking down. The road was to slippery to walk .. even after being too careful ..some of our friends slipped many times but didn't got hurt.Finally after a lot of laughter and seeing the way our friends slipped we reached our bus.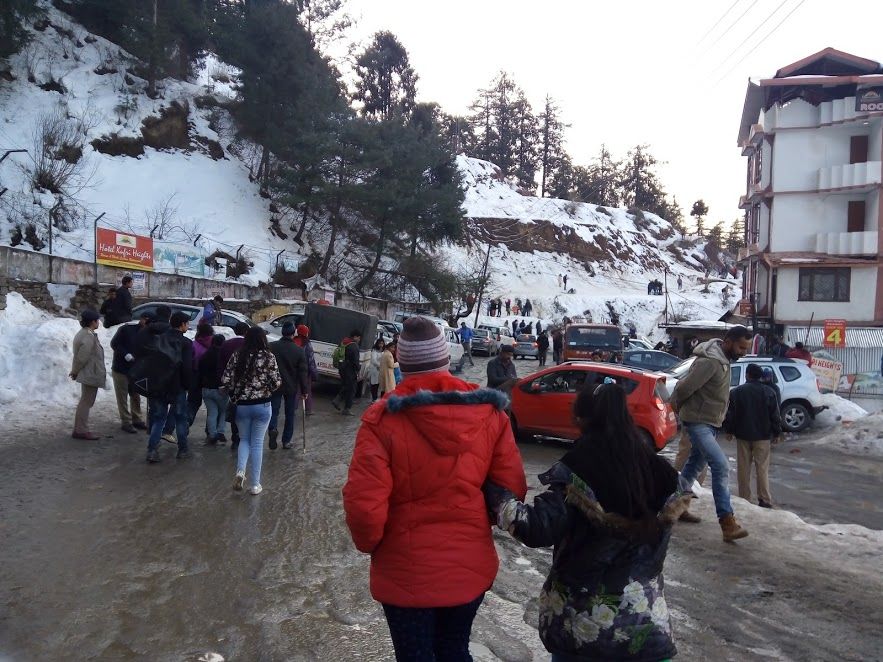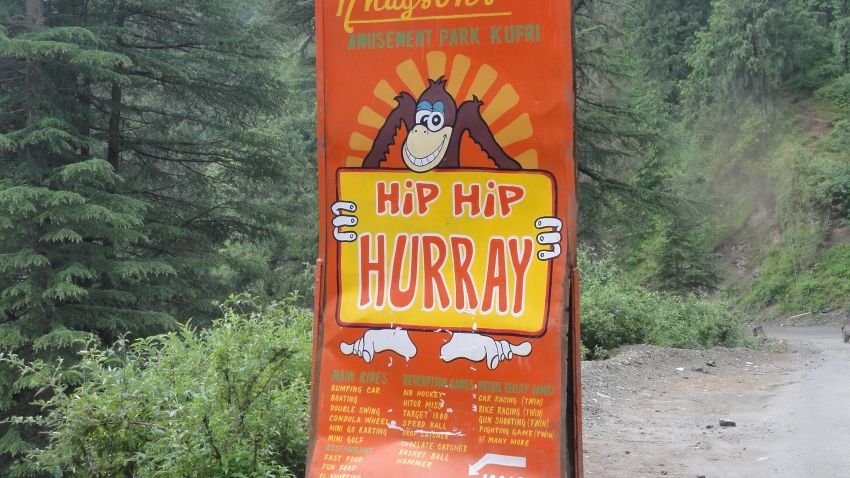 Inside the bus Usha Ma'am was making some announcement and said 'HIP HIP HURRAY' and to this we all started saying 'Hip Hip Hurray' but she stopped us and said that the institute had arranged our lunch at NAGSONS AMUSEMENT PARK HIP HIP HURRAY and after hearing this we all started laughing :D :D . It lies in Shimla-Kufri highway. The place is really amazing as it offers food and complimentary with food it offers adventurous ride as well.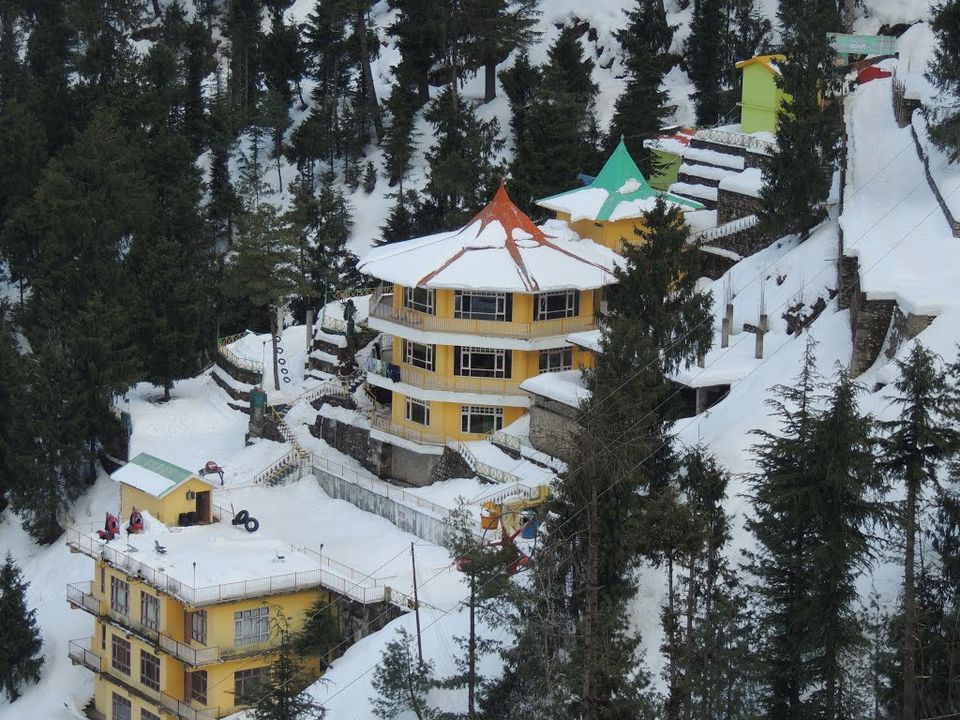 But the road leading to the park was covered with snow and it was making it difficult to walk on it. While walking towards the park, me and Ila both helped each other to reach the park. I removed my shoes to protect myself from slipping and getting hurt... but after few distance I had to again wear my shoes as my feet got frozen. Finally after a lot of slipping , laughter and frozen feet we reached the entrance of the park... a person was getting himself warm in the fire s0 we too joined him.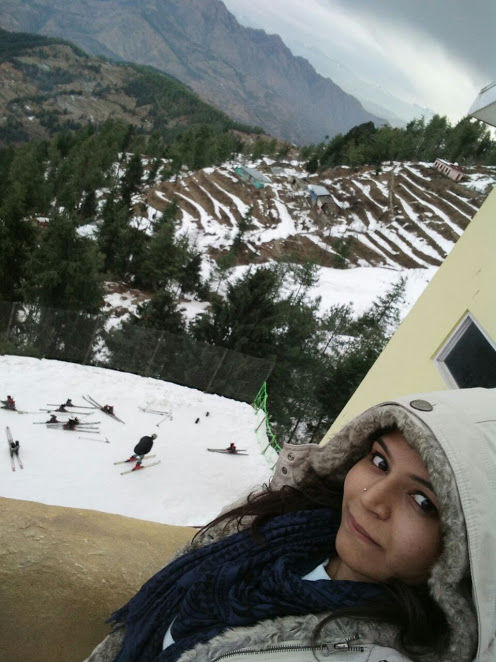 As all the other were busy in taking the photo....me and Isha were roaming around and we saw many rides .....even thought there are other things worth seeing and fun to do there. But only Bungee Jumping appeals to us. We just wanted to enjoy bungee jumping . Me ,Isha and Ila asked about the rate and it was just Rs 350 per person. A group of boys were doing bungee jumping before us and we got a little scared as the person doing it was screaming moreover there was a ditch just few kilometer away from the sight of bungee jumping. As they all had enjoyed ..it was our turn to decide who will go first ... as I was the one who was very excited ...so they sent me ..... I was now standing right there, right on the small platform. The Bungee jumping professionals shouted "1, 2, 3 Jump! Jump! Jump!"... and a jerk was felled. I was accelerating at a dangerous pace towards the sky . I screamed. My screams pierced through the peaceful valley and the green forests around me. Was it due to the fear of death? No! It was pure bliss! Immense exhilaration! These cheerful screams were due unprecedented adrenaline rush which I was experiencing, while flying through multiple layers of air at a rapid, very rapid pace. Perhaps they were some encouraging words by my friends and the boys...' Jai Mata Di' bol... zor se bolo Jai Mata di ..."Arre pahand dekh kitna sundhar hai". I oscillated and bounced back multiple times, hanging from the platform way. I realized what I had just done was a nerve-wrecking & thrilling experience.After some more screams, we all had finished our jumps. After enjoying, we joined our other friends at the restaurant. The food was delicious and yummy. Our teacher Meenakshi Ma'am had also changed after falling in Kufri.. and we were happy that she didn't have to travel in wet clothes. After having the delicious we got into a bus and said good bye to Kufri, Shimla. We were sad as trip was nearing its end. This was the last day of visualizing the snow covered mountains.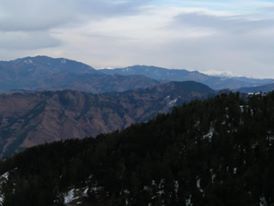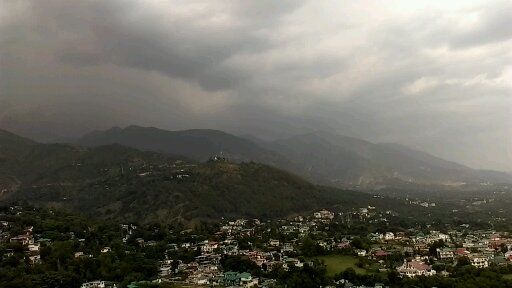 On the drive back to Delhi, I reminisced. This trip was all about sunrises, sunsets, feeling the nature,enjoying the music of the leaves tinkling birds singing, experiencing heaven. Though cliché, in the mountains, they were extraordinary, each more remarkable than the other. What has been happening for probably millions of years will continue. I just happened to witness that celestial spectacle. The sun will continue to rise and set whether anyone sees it or not. The day I stood on the mountain top looking at the snow peaks of the most magnificent mountain range in the world, I recalled these lines by the great mountain writer John Muir.
"We are now in the mountains and they are in us, kindling enthusiasm, making every nerve quiver, filling every pore and cell of us."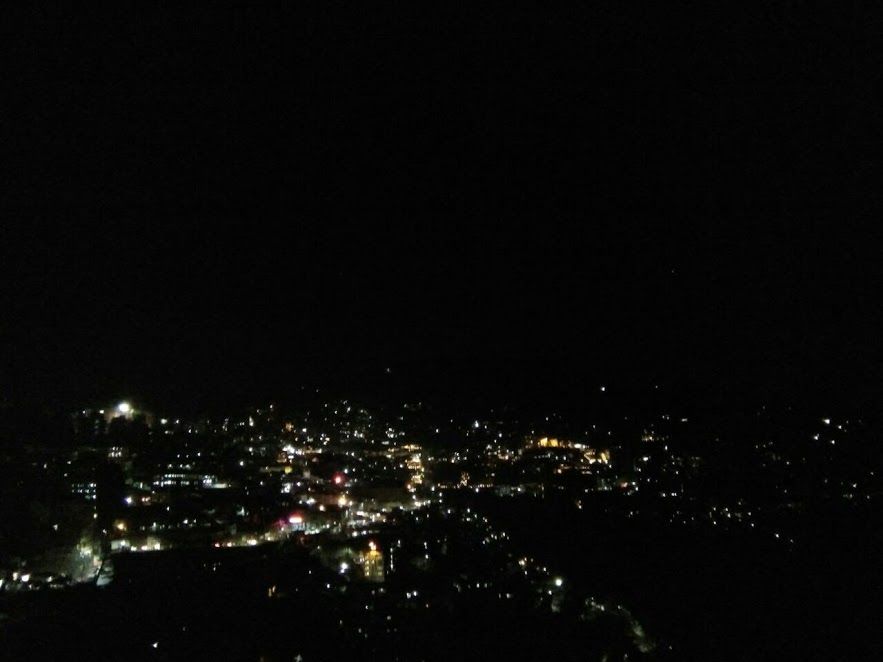 I had come alone to this trip with a blank SD card in my mobile . I was going back after meeting wonderful people, making good friends, a mind full of memories, a heart full of emotions and an SD card filled with glorious images of the mountain-scape....
My heartfelt gratitude to Rishabh Institute and our Teachers Usha Ma'am, Meenakshi Ma'am and Rekha Ma'am and our Trip organiser for making this possible.