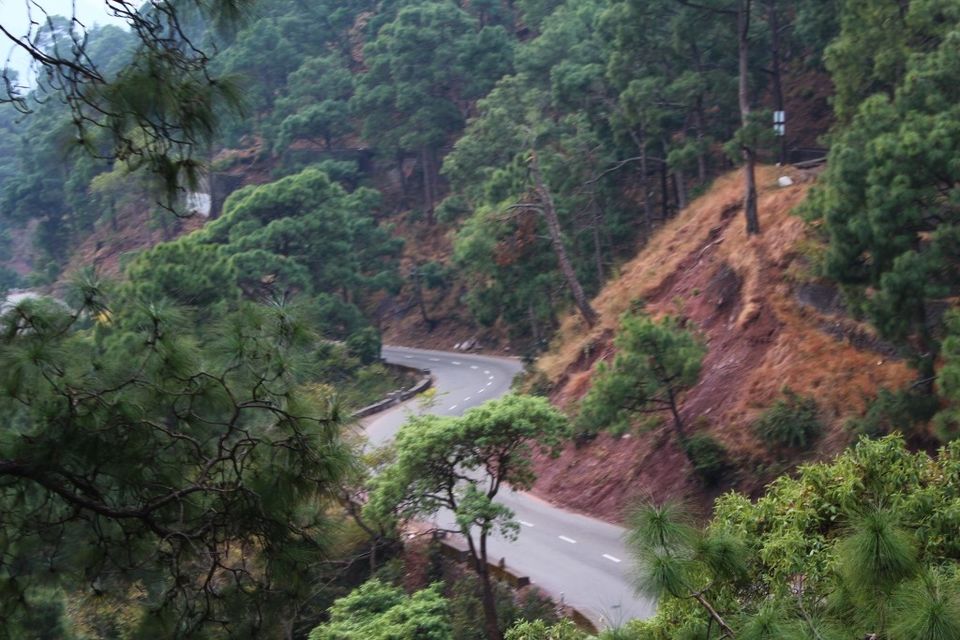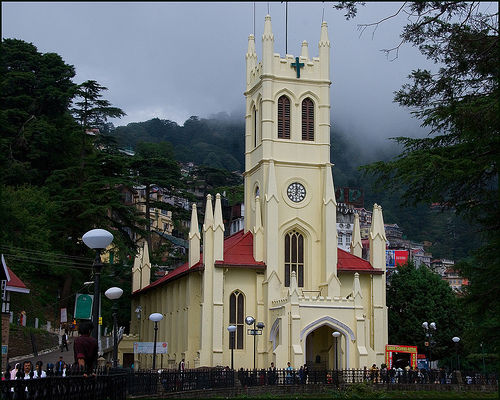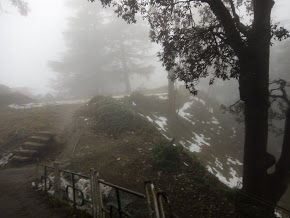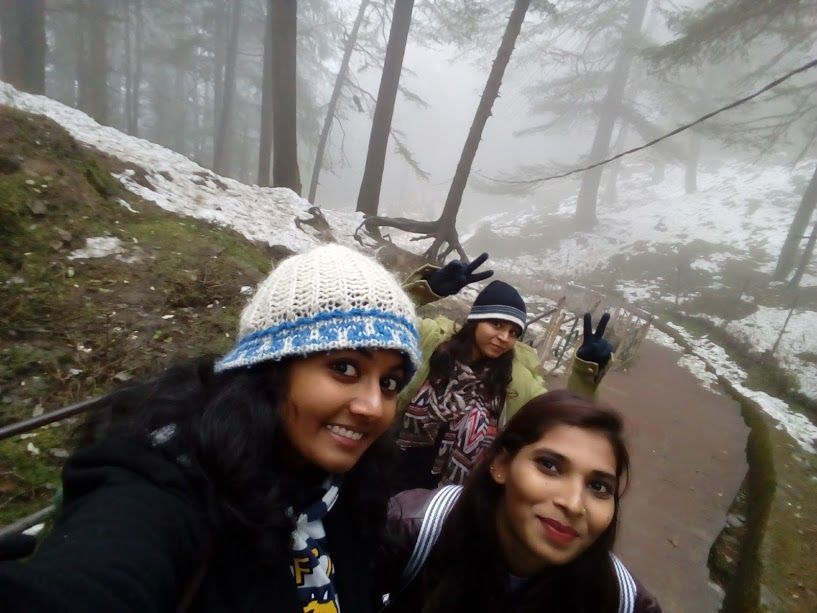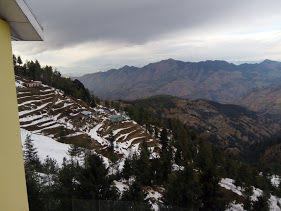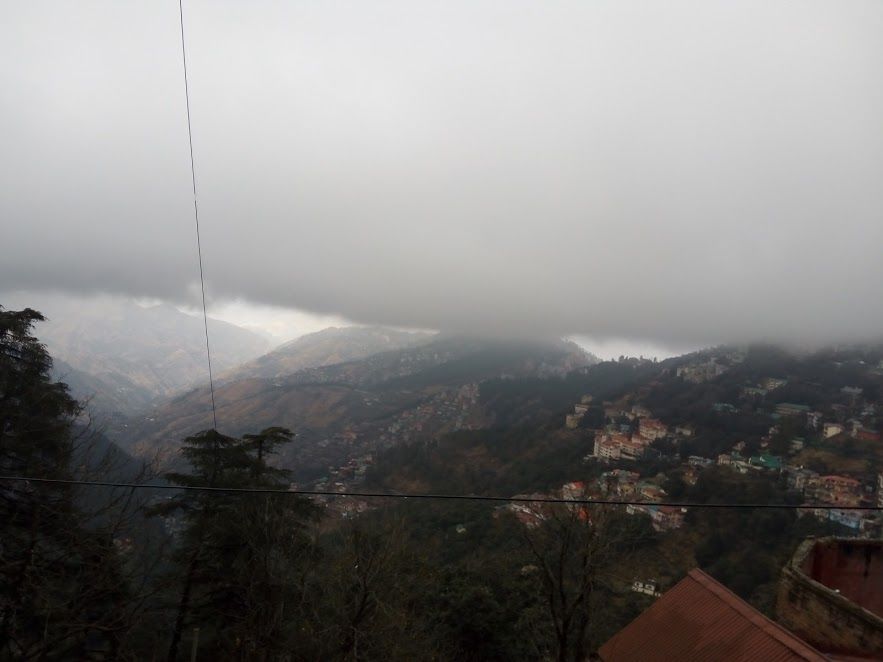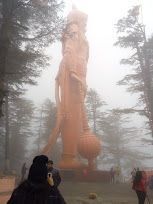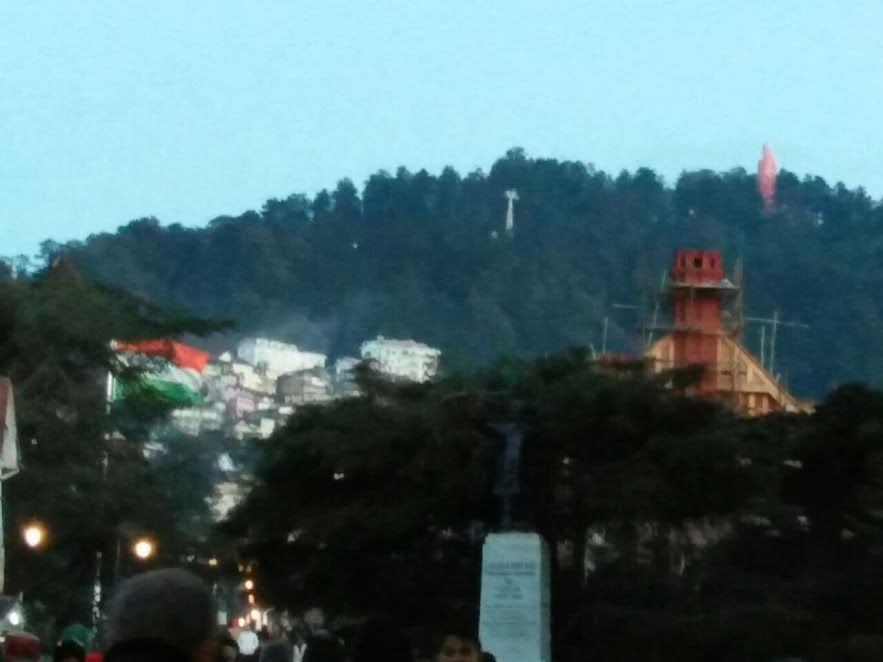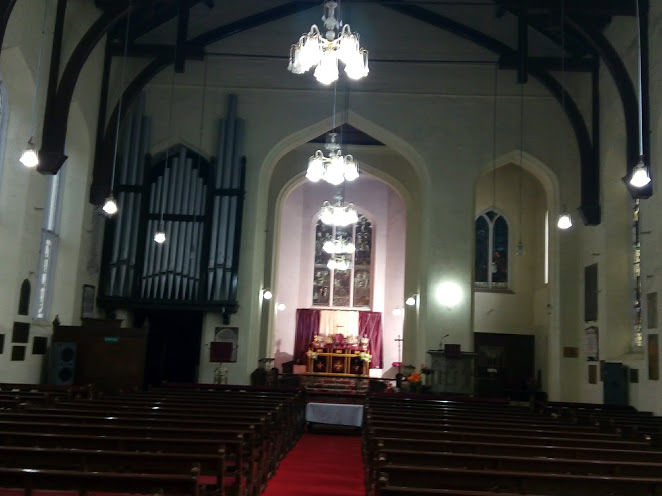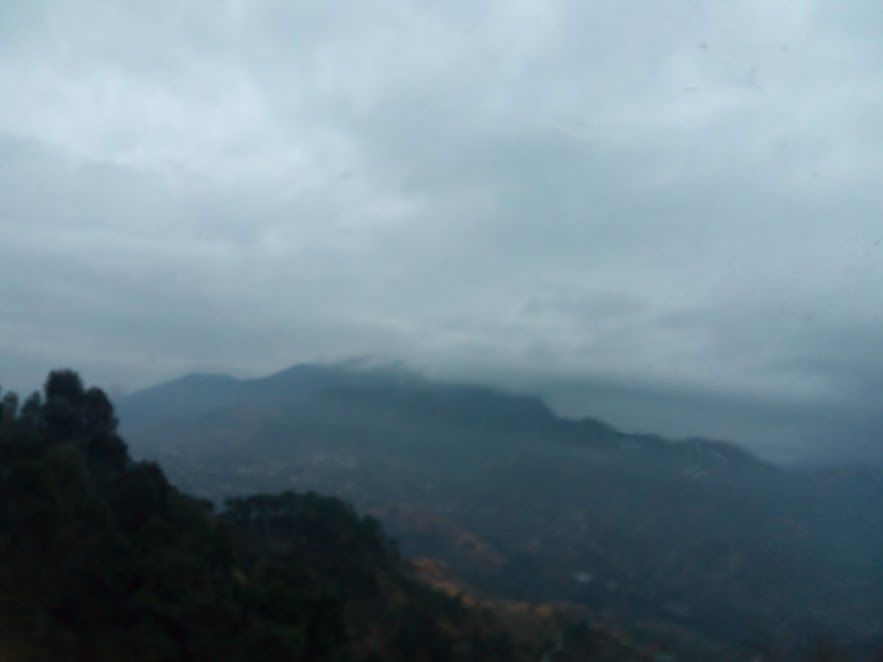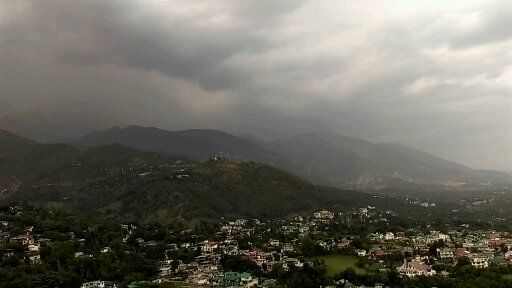 Travelling for me, has never merely been about conquering the places or taking pictures. It all about feeling the wind, about rediscovering myself, about making new friends, about enjoying freedom and about breaking free.
So when I read about a fellow traveller's experience In the lap of Ageing Queen : Shimla by Naresh Tomar and his trek to Jakhu Temple ... I knew in my heart that this was one place I had to visit ...& visit soon.
For as long as I could remember I always dreamt of Shimla and trek to Jakhu Temple after reading his Itinerary. After almost a year of Shimla on my wishlist ... A surprise came to me when our institute decided to take us on a 3 days trip to Shimla at the time when it had experienced snowfall after many years.. I was filled with joy and excitement as soon as I heard the announcement .
After a week of restless planning, packing and other formalities ... Jan 22 finally arrived... We in group of 4o students, our three teachers along with the travel planner boarded the bus at around 11pm . Once inside the bus, began the usual search for the best window seat and eager hellos and wassup. The most memorable trip had began on a extremely vibrant & positive note.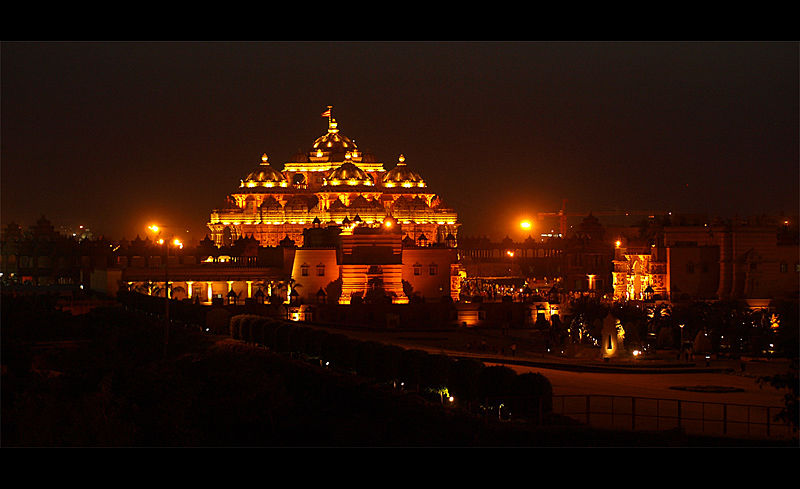 Delhi at night is extremely beautiful with Akshardham Temple in a perfect golden light reflecting as if made up of pure gold.. the busy roads were now silent with slightly yellowish street light giving it a look of perfect silence place. While enjoying the silence of this busy city I started murmuring one of my favorite song I like to hear while travelling and played it on my phone.....
      Yun Hi Chala Chal Raahi..
     Yun Hi Chala Chal Raahi...
     Kitni Haseen Hai Yeh Duniya
         Bhool Saare Jhamele,
       Dekh Phoolon Ke Mele
    Badi Rangeen Hai Yeh Duniya
Day 1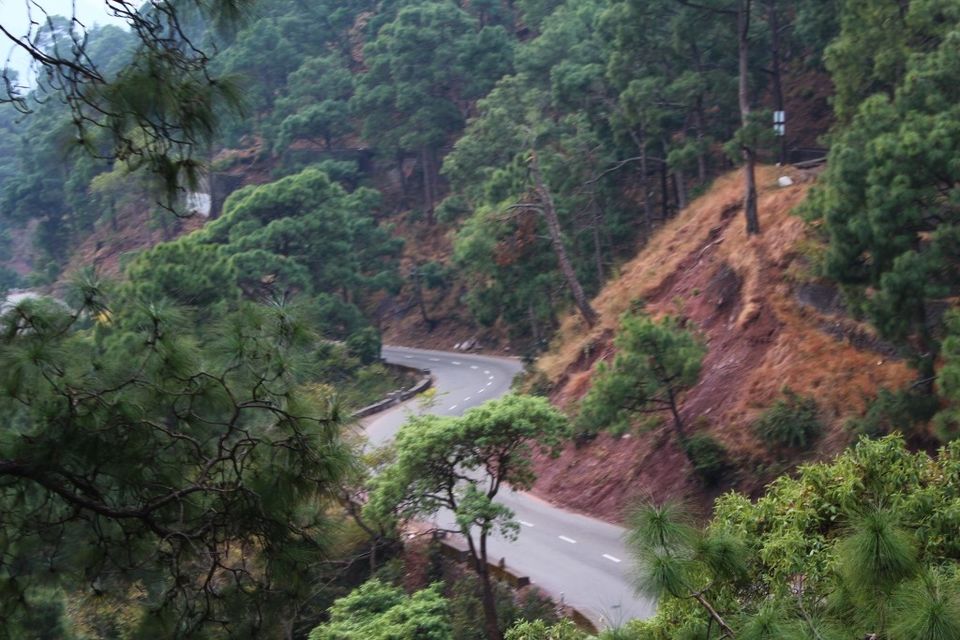 We reached Shimla at around 6 in the morning. I remembered feeling thrilled as the bus slowly made it way through curving tracks and forested hills and the sun rising from behind the mountain. It was a thrilling experience to feel the cool, hilly breeze and admire views of the beautiful valley from the bus window and listening to the song..
            Yeh Rasta Hai Keh Raha Ab Mujhse
             Milane Ko Hai Koi Kahin Ab Tujhse
    Dil Ko Hai Kyon Yeh Betabi Kis Se Mulakaat Honi Hai
    Jiska Kab Se Armaan Tha Shayad Wohi Baat Honi Hai
               Yun Hi Chala Chal Rahi..
           Jeevan Gadi Hai Samay Pahiya
In Shimla we had our accommodation in a grand hotel. The hotel is very popular among the tourist , due to its quality service and the hotel window provide the view of whole of Shimla. We rested for sometime, freshen up and had our breakfast and then hired a bus and under the supervision of our teacher we reached the lift area of Shimla and were free to roam around the city and reach the flag by 6pm. We reached the very famous MALL ROAD like it is well said that any other hill station is incomplete without prominent landmark. The Mall Road is that prominent landmark which is full of electricity with hawkers and vendors and loads of tourists running in and out of the shops. There is a church in Shimla 'THE CHRIST CHURCH' the only church in the city and the second oldest in Northern India. It is situated on the Ridge and has a very majestic appearance from the inside as well as outside.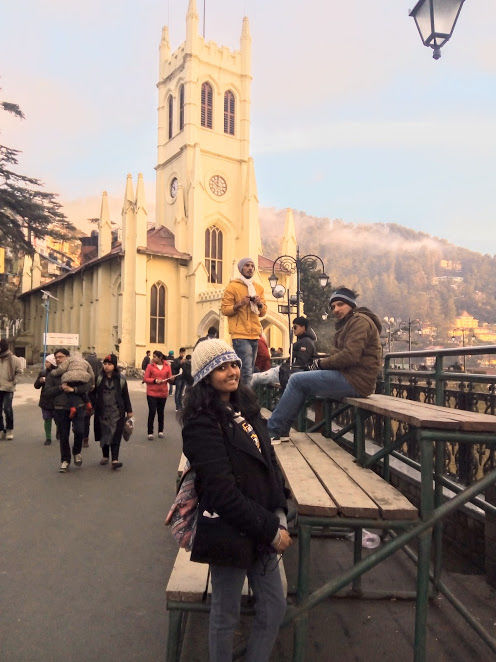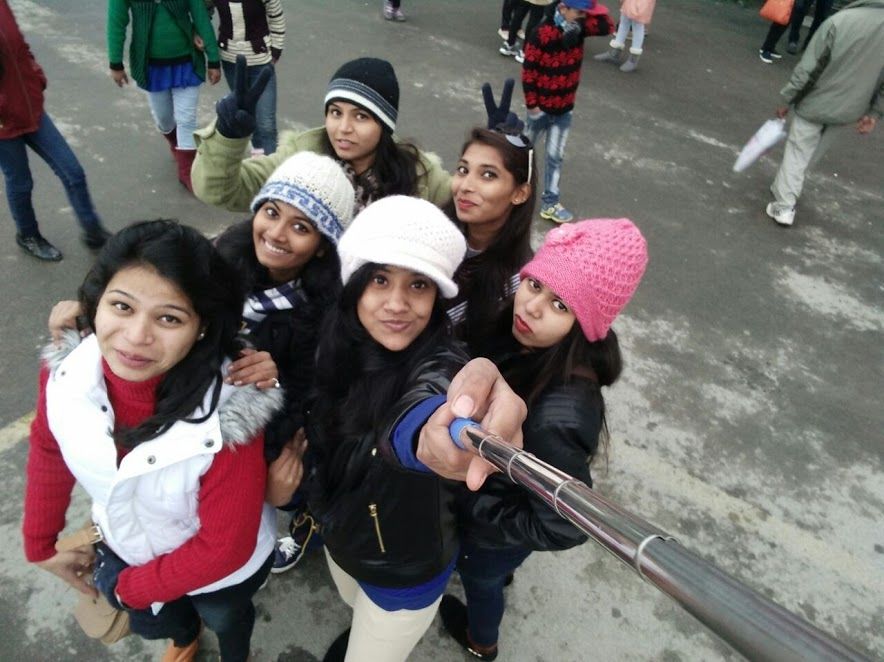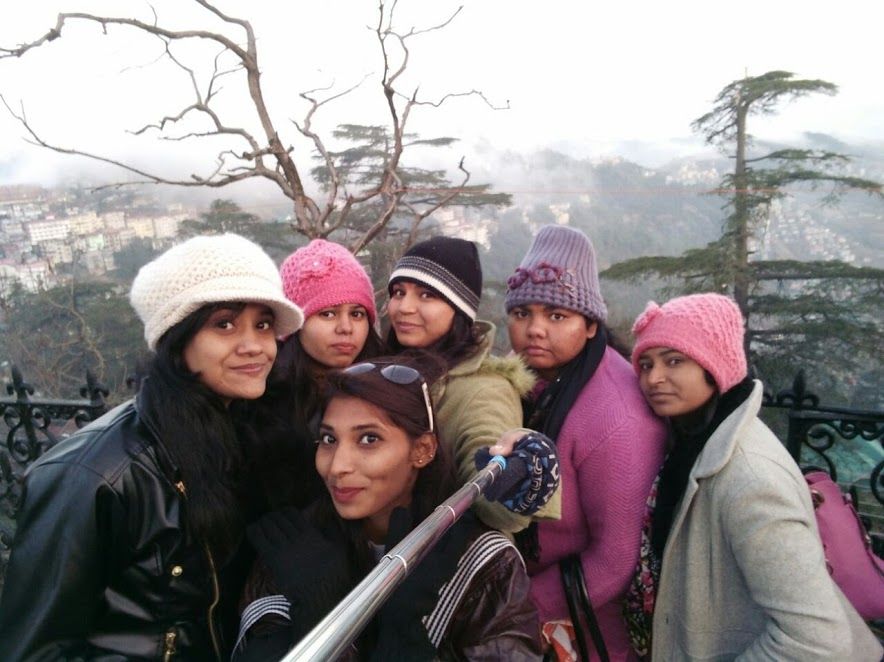 We just covered these two places as I was only excited to trek to Jakhu Temple and me with my six friends( Isha,Manisha, Ila,Anjali, Sulekha and Kriti) decided to go to JAKHU TEMPLE (dedicated to the monkey God, Hanuman) by taking the steep road near the church and started walking. After walking for some distance few of our friends dropped the idea of going to the temple and just four of us (Ila,Manisha,Isha and me) continued the trek. After walking for few distance the fog began to appear and the mountains began to play hide and seek with the fog...and what lays ahead was a long walk on the road followed by a climb on rocky terrain. After almost an hour of brisk walking we had to chose between the two routes- the one which was for the Jeep and Taxi and the other that went through the outskirt of the village. As we all were tired but excited as well so one of our friends asked about the cost of the taxi but Ila just went on walking towards the other route and we followed her. The climb was extremely difficult and the terrain was uneven and step high and on top of it there was snow lying all around the road so we had to walk through the stairs which was making our way more risky and difficult. It was a stamina test, more than anything else....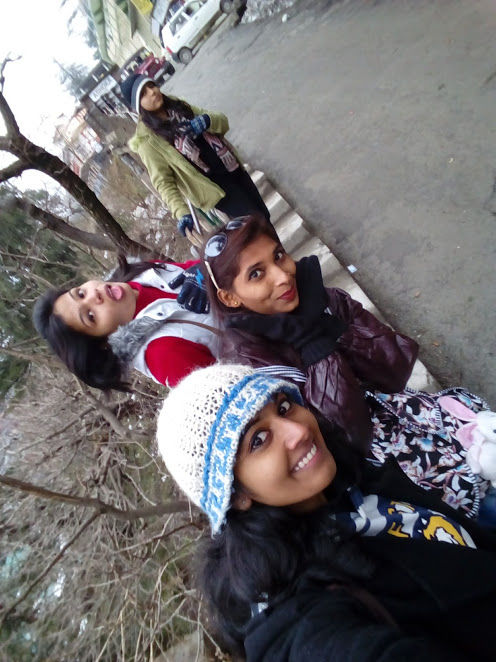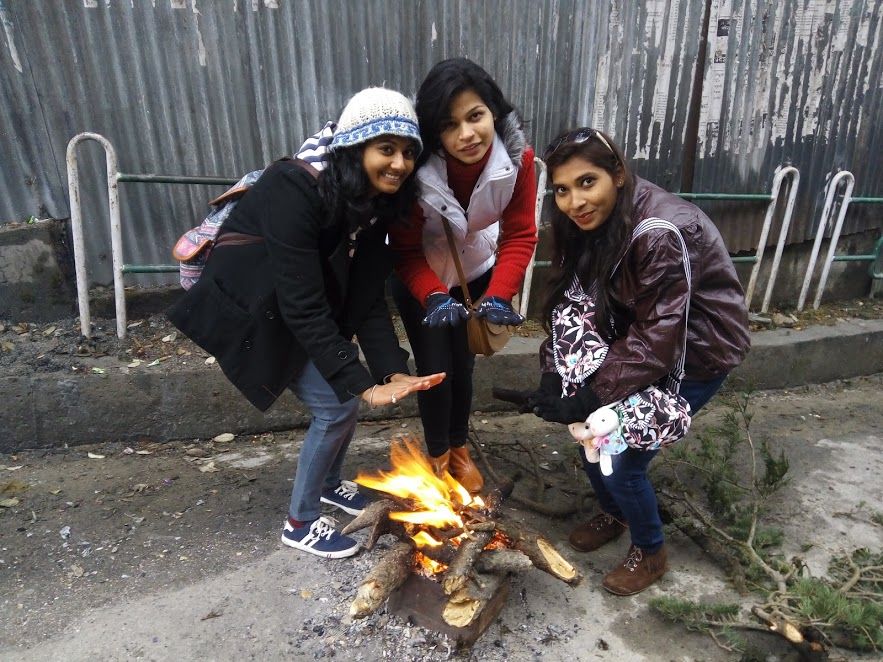 We decided to take a quick break.The camera were out and we gaped at the beauty of Nature from that height ,the scenic view was absolutely breath taking and splendid and the same song came into my minds.....
      Dekhoon Jidhar Bhi In Raahon Mein,
      Rang Pighalte Hain Nigaahon Mein
    Thandi Hawa Hai, Thandi Chaanv Hai,
         Door Woh Jaane Kiska Gaav Hai
    Badal Yeh Kaisa Chaya, Dil Yeh Kahan Le Aaya
      Sapna Yeh Kya Dikhlaya Hai Mujhko
      Har Sapna Sach Lage, Jo Prem Agan Jale
          Jo Raah Tu Chale Apane Man Ki
       Har Pal Ki Seep Se Moti Hi Tu Chhune
            Jo Tu Sada Sune Apne Man Ki
   Yun Hi Chala Chal Rahi......Yun Hi Chala Chal Rahi....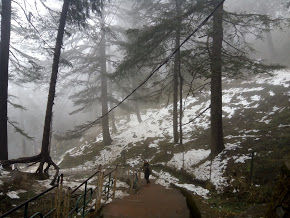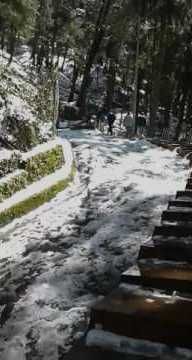 After what felt like ages of walking we realized that we had to reach down as well as till 6 pm as we had not even informed our teachers. Even after having this thought in our mind we kept on walking and on the way we kept asking the tourists who were coming down 'Uncle kitna dur hai??? Kitna time lagega?' and to this everyone replied bas 15 minute beta...bas 15 minute aur..... After hearing this for more than an hour we decided to return and not be too late .... But as soon as we were walking downstairs with sadness in our face and I was too upset that I could see Shimla from the peak and couldn't complete my dream....... But the enthusiasm in us returned again as soon as we heard the temple bell.. and started walking upstairs in zest to reach the peak which was the ultimate goal of our day....
As soon as we were close to the temple the people started warning us of the monkeys and how they snatch things ... and to be aware of them and the snow filled road also came to an end... There was a temple opposite the gate of Jakhu Temple . We prayed at the temple and saw the tallest idol of Lord Hanuman (which was visible from our hotel as well as from the Mall Road as well).
Words can not describe the feeling of elation on reaching the peak. The orange flag, the surrounding mountains, the blowing wind...all just too prefect to be true. We sat there enjoying the magnificent beauty from the peak. Trek to temple proved to be a major ice breaker for all of us along with the view of snow covering mountain . It felt like :
       Man Apne Ko Kuch Aisa Halka Paaye,
      Jaise Kandhon Pe Rakha Bojh Hat Jaaye
      Jaise Bhola Sa Bachpan Phir Se Aaye,
     Jaise Barson Mein Koi Ganga Nahaye…
         Dhul Sa Gaya Hai Yeh Man,
        Khul Sa Gaya Har Bandhan....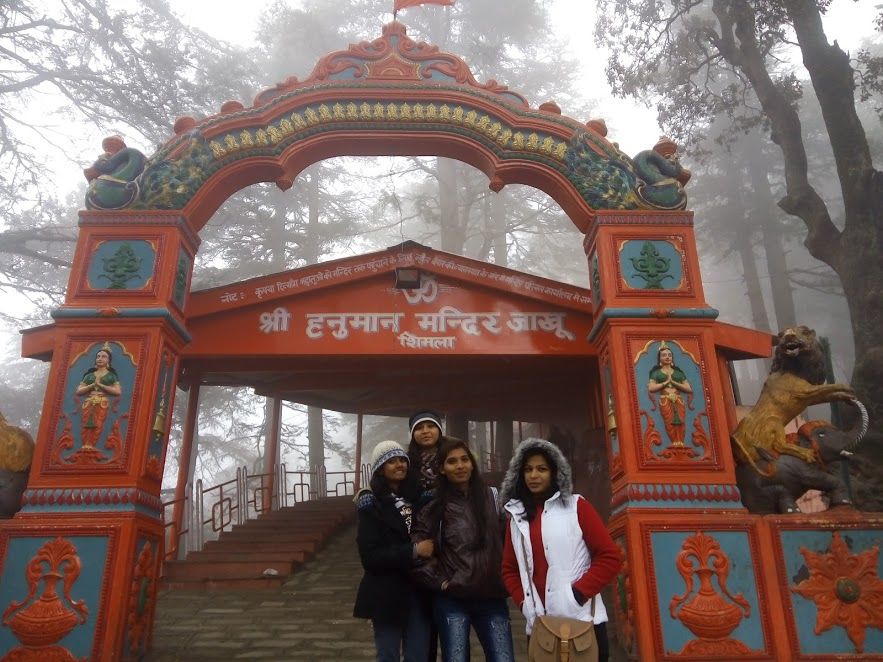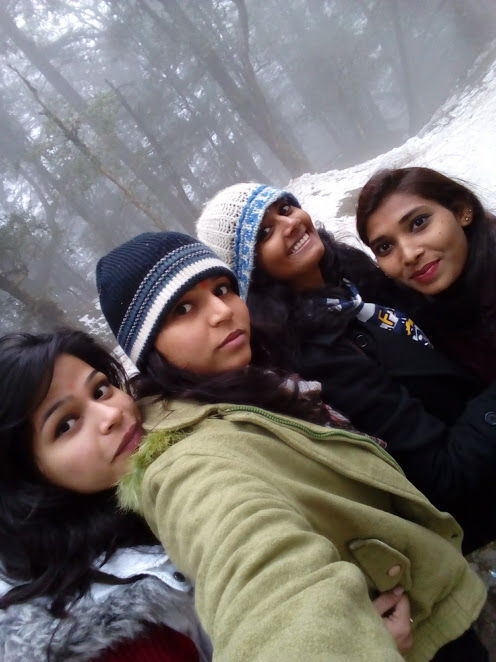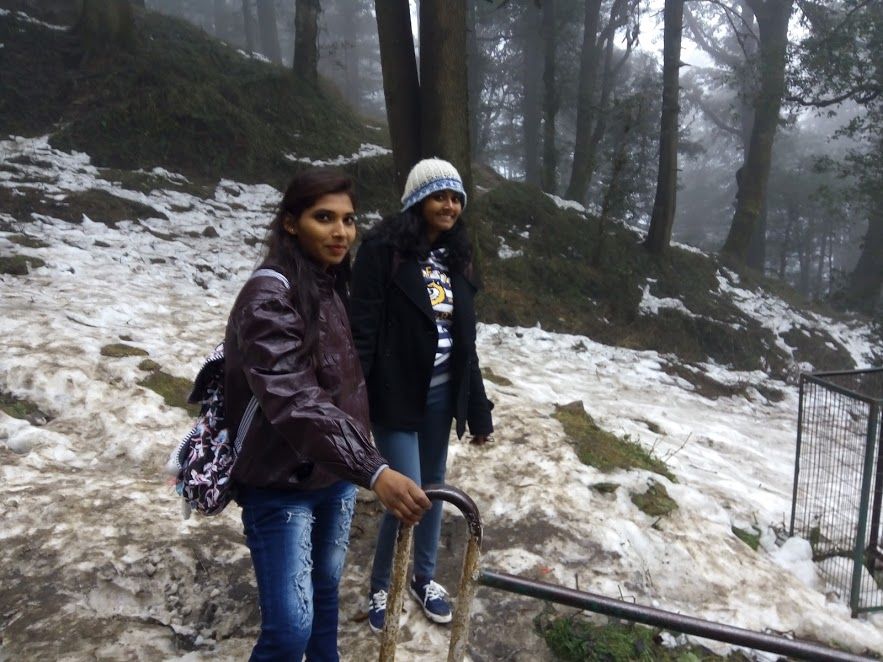 As we were socking in the mountains and the time flies with our hands, even before we knew it.. we had to reach down. Slowly one by one we walked down the staircase . While returning downstairs I realized that :
Trekking is not much about reaching the peak as it is ...it is about enjoying and feeling happy about every moment spent in freedom.
At Jakhu Temple, we hugged the wind, saluted the mountains, touched the clouds,enjoying the music of the leaves tinkling birds singing, experienced heaven, felt mother nature's loving and care... we did break free....
        Jeevan Ab Lagta Hai Paavan Mujhko..
     Jeevan Mein Preet Hai, Honthon Pe Geet Hai
       Bas Yeh Hi Jeet Hai, Sun Le Rahi
     Tu Jis Disha Bhi Ja, Tu Pyaar Hi Luta
           Tu Deep Hi Jala, Sun Le Rahi
        Yun Hi Chala …Hai Yeh Duniya …
While trekking to the peak and returning as well we made a video that always reminded us of how a free bird feels...
That's probably what differentiates us from the rest of our friends who accomplished us to Shimla trip.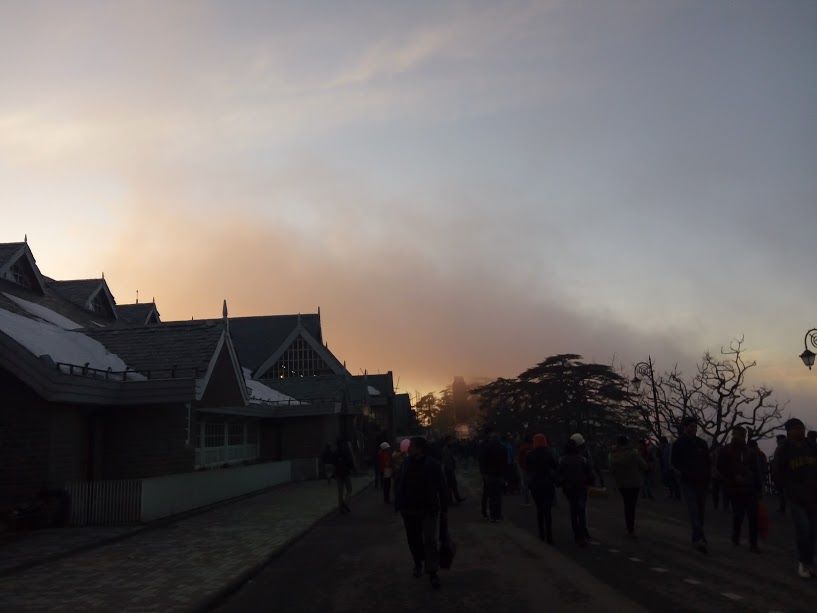 A windy evening welcomed us as we reached the flag and joined our other friends, the sun was nowhere in sight, but as dusk set in, the skies seemed to clear. Darkness welcomed a sky full of twinkling of stars. It was a magnificent display of the beauty of our universe. The moon was yet to rise and in the pitch-dark night, each and every star in the milky way seemed to watch us from the skies. I prayed for clear weather the next morning as a trip to Kufri was planned for the next day, which is a tiny hill station 13 kms from Shimla.
After meeting and chatting with everyone ...We retired to bed to get some relax. While laying on the bed I could still hear the sound of the wind rustling through my ears...it felt like the mountains tell us their story and help us create ours. An experience that will never fade away from my memory.
To be continued........Yun Hi Chala Chal Rahi......Yun Hi Chala Chal Rahi....