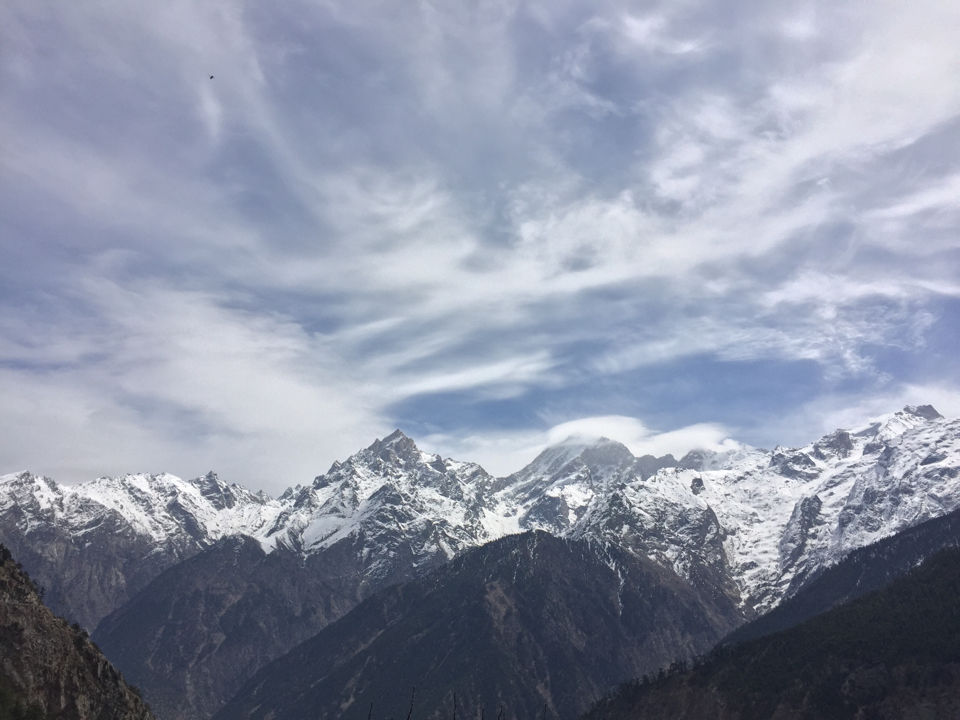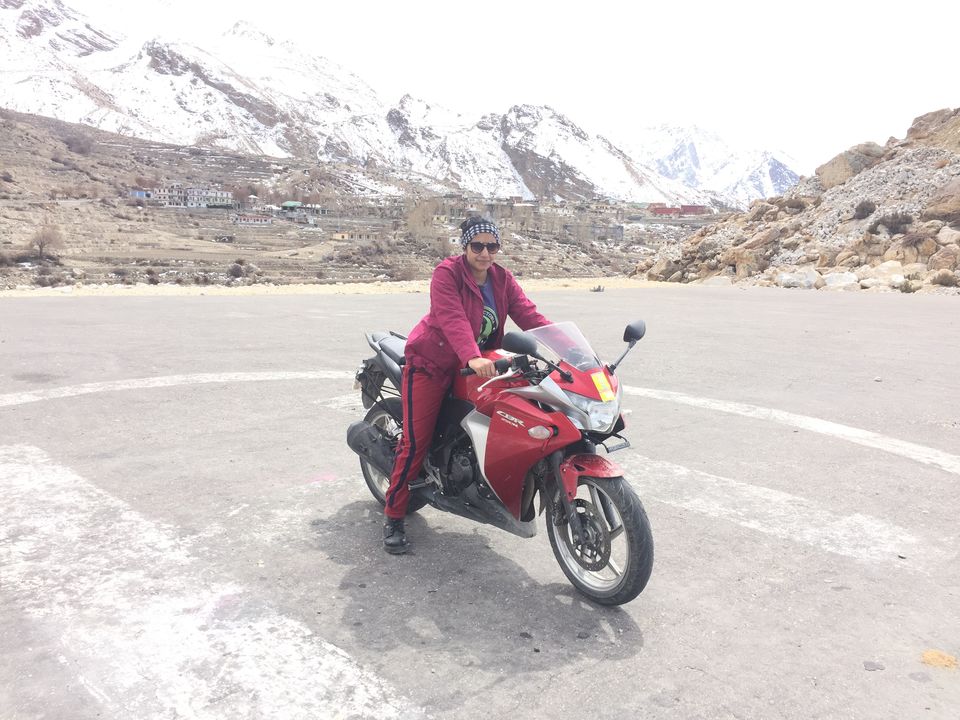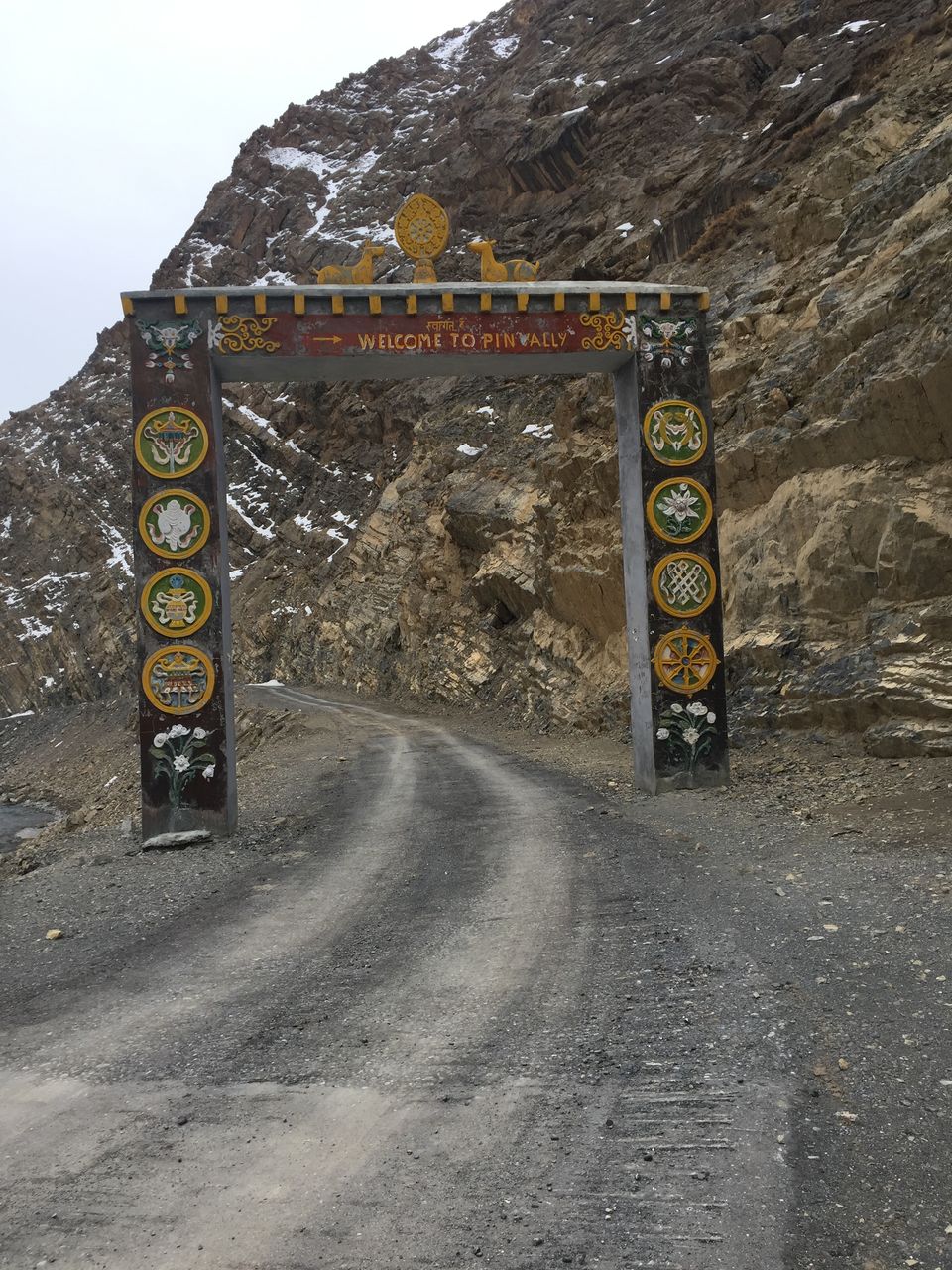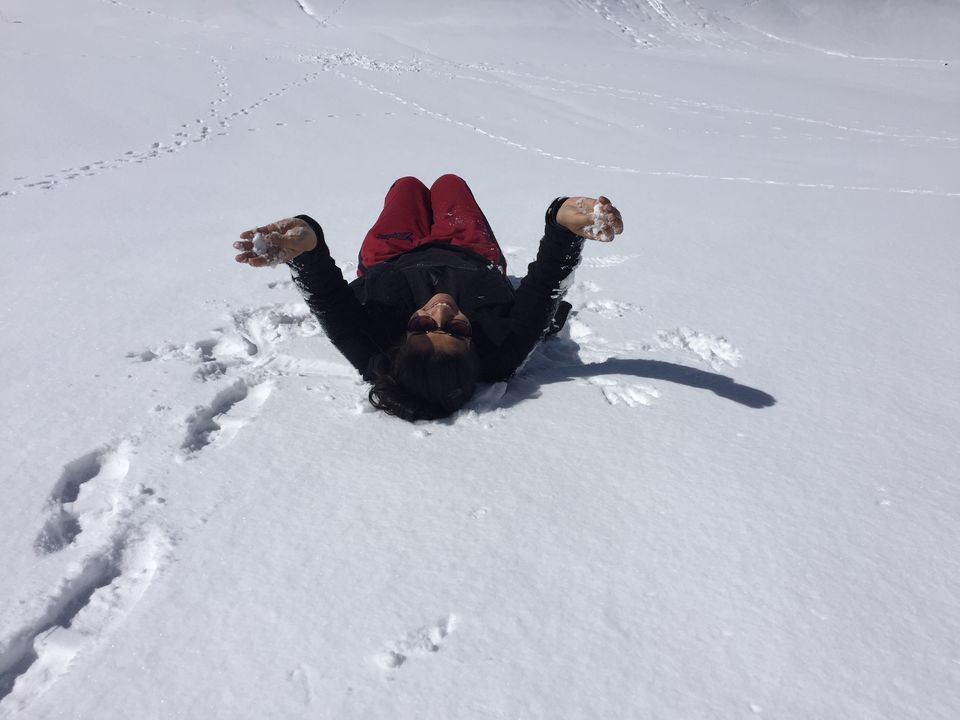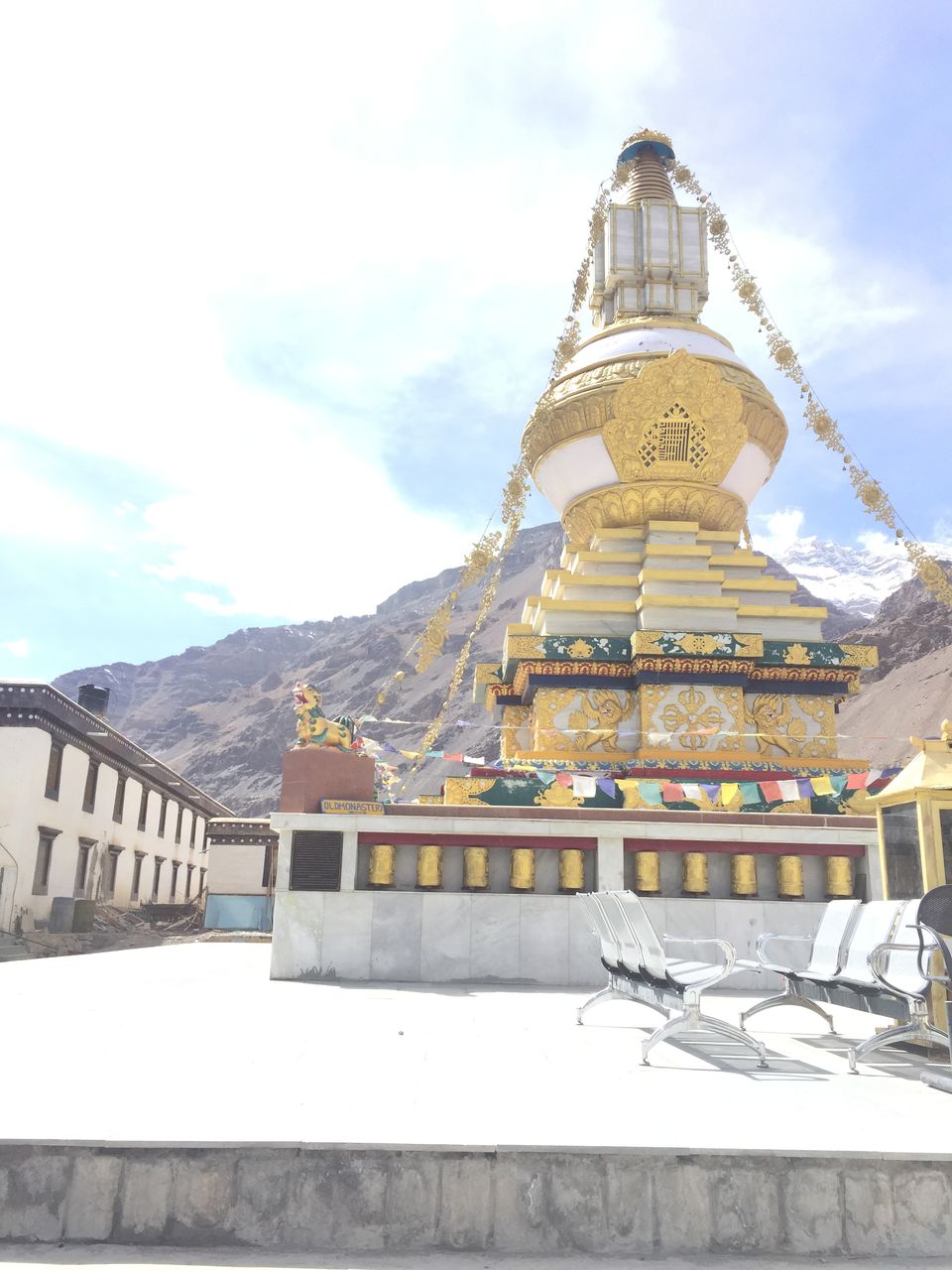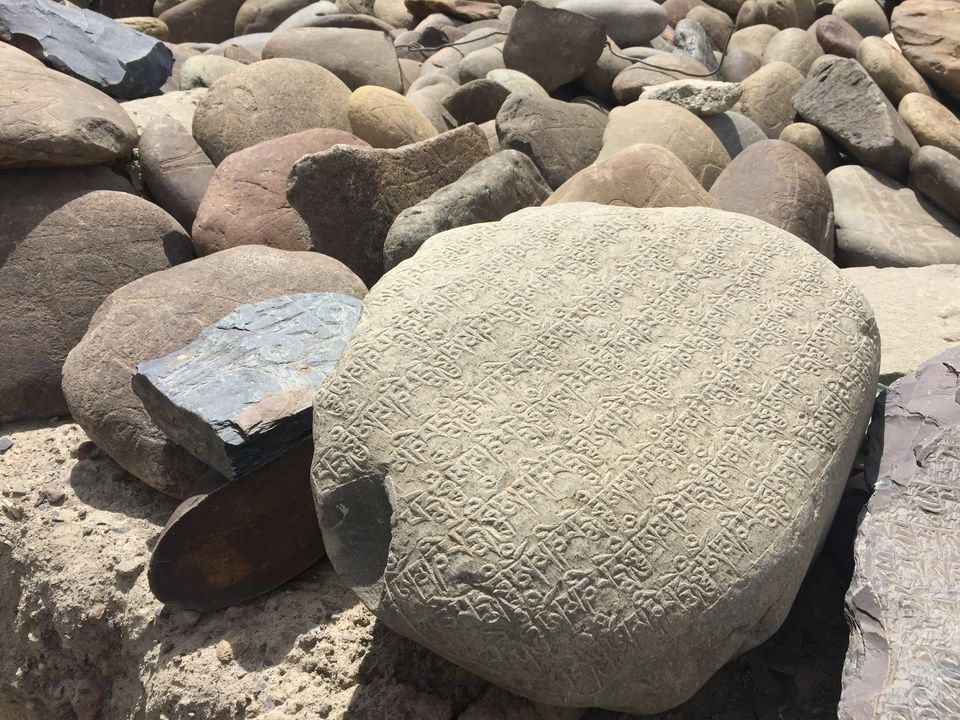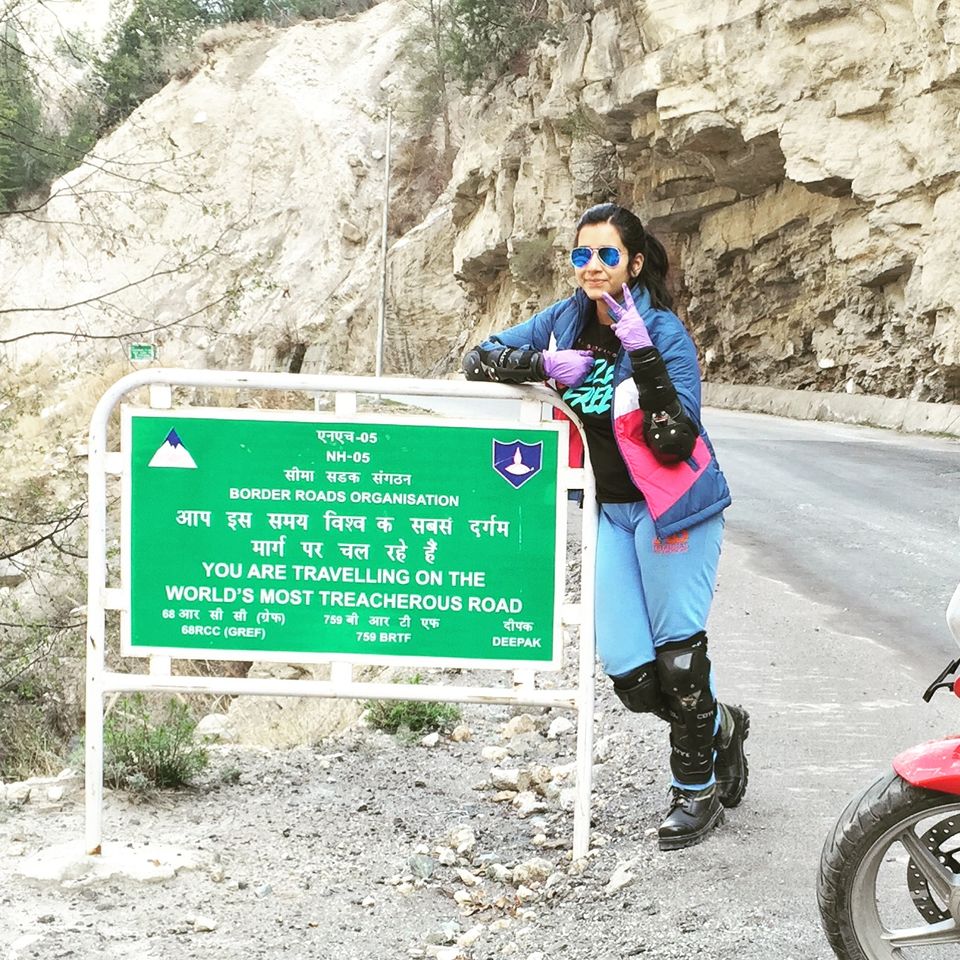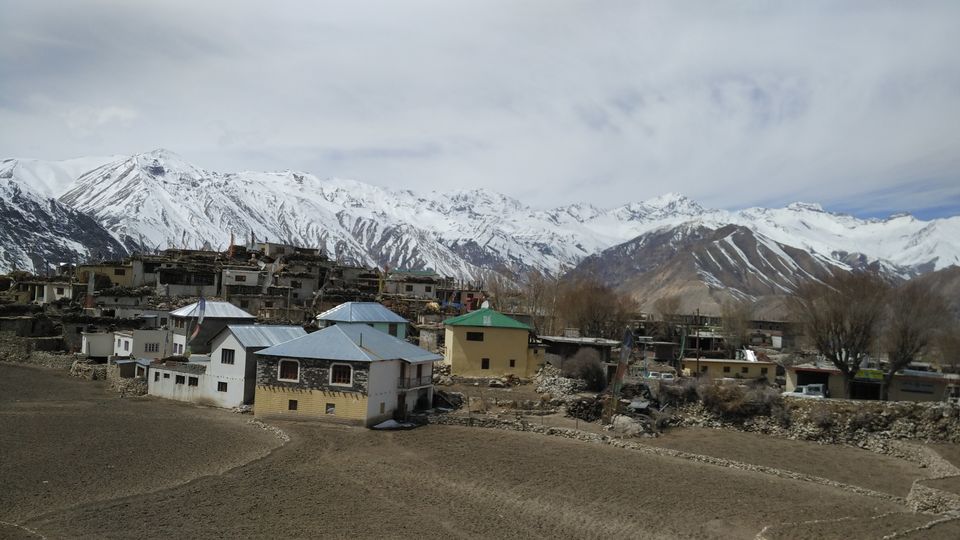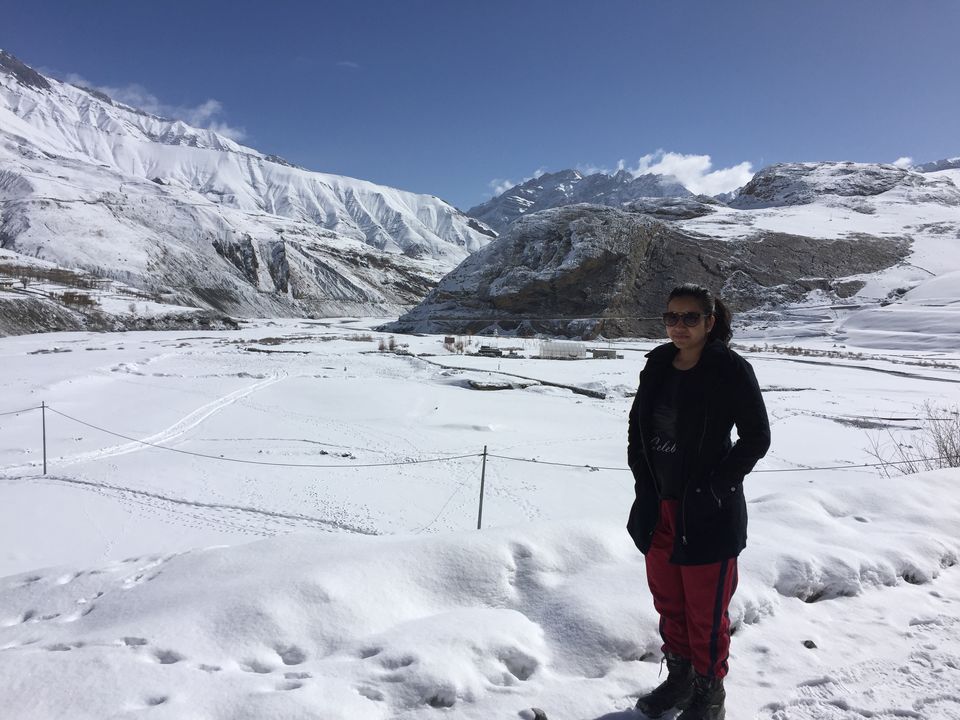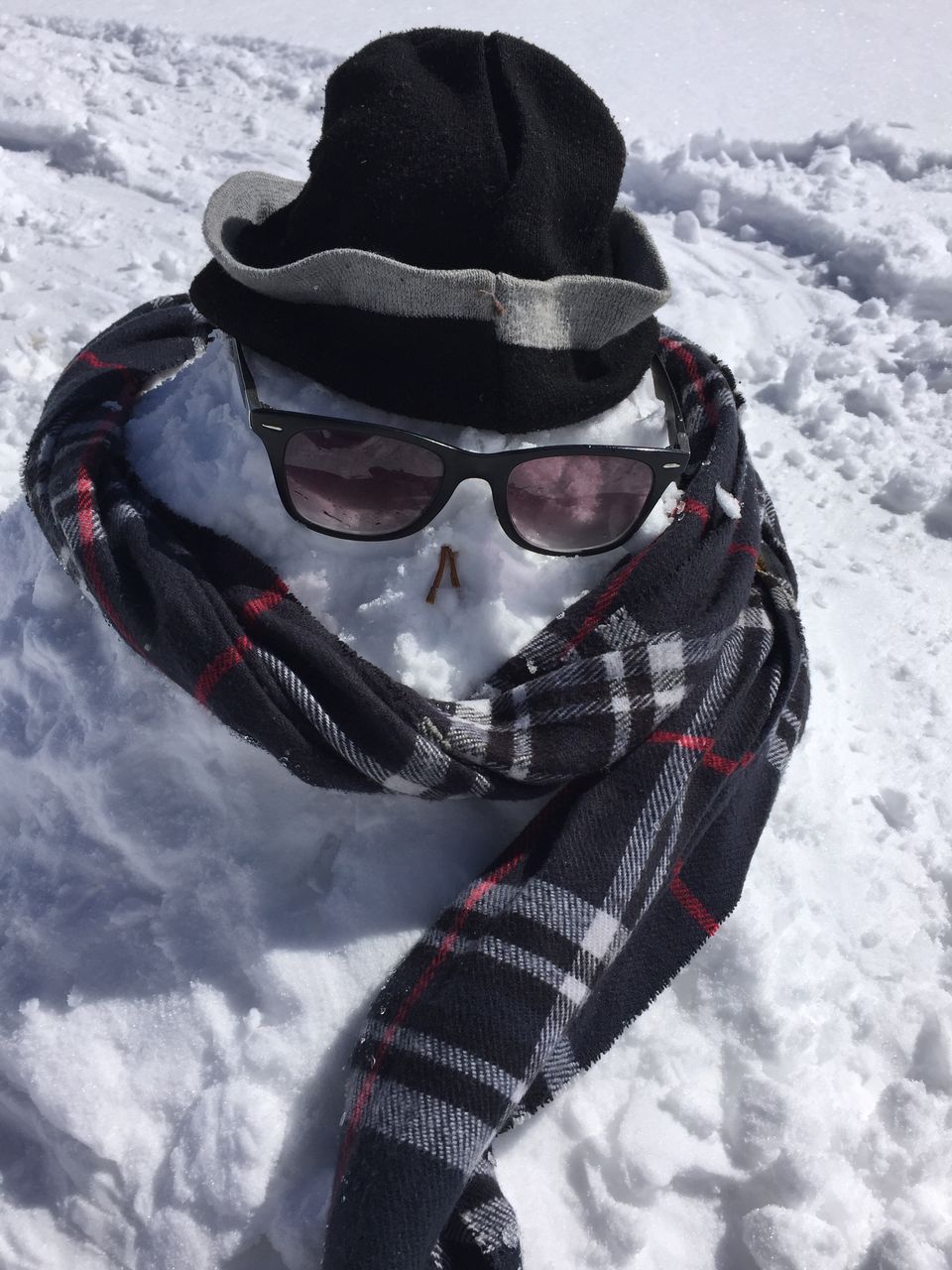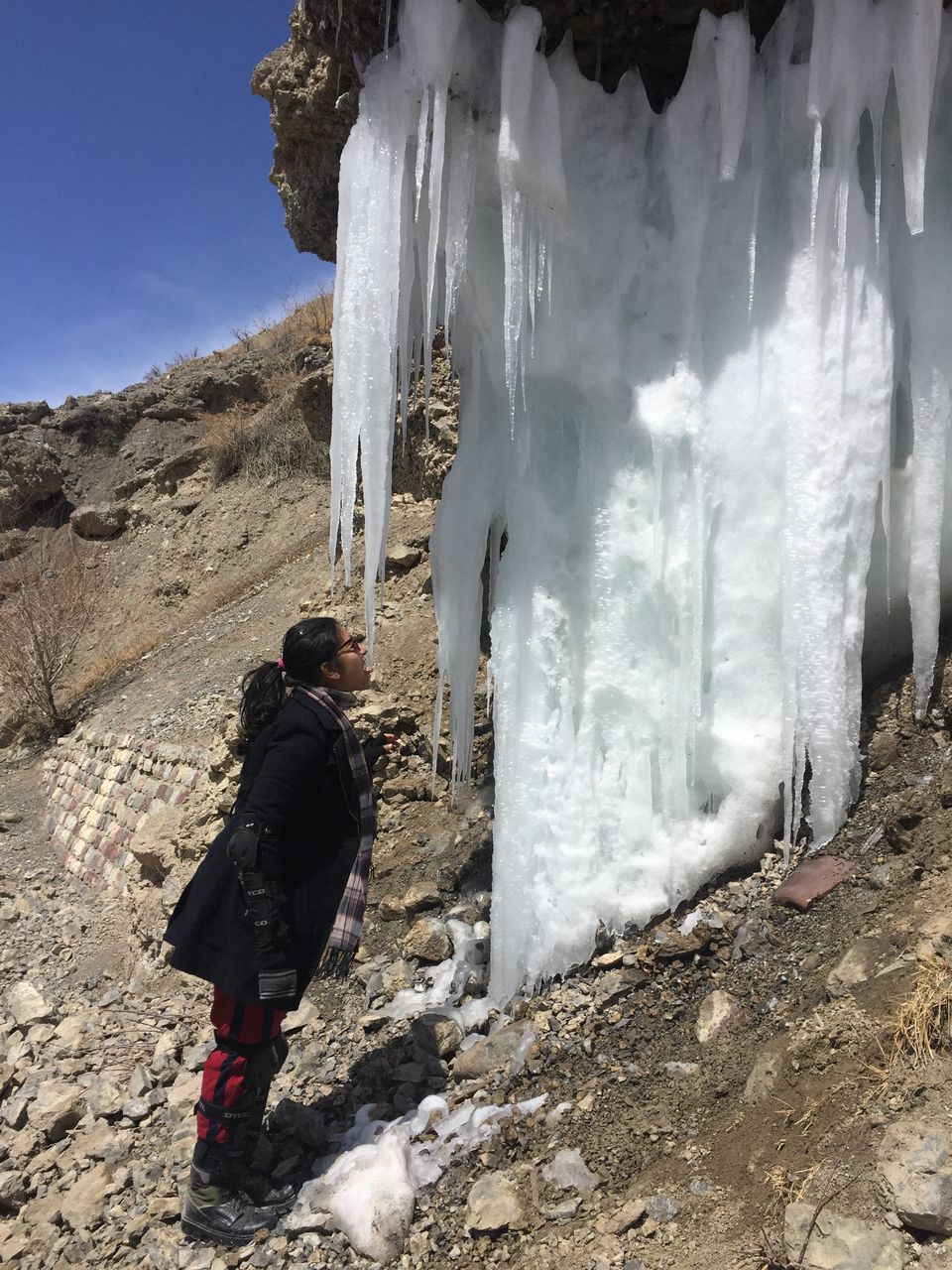 Lahaul Spiti is the place of dreams. A place beyond imagination. Beauty that can not be described. Travelling there was not a journey. It was a life lesson. It was not about discovering places it was something else.Something I cannot explain to you or even to myself.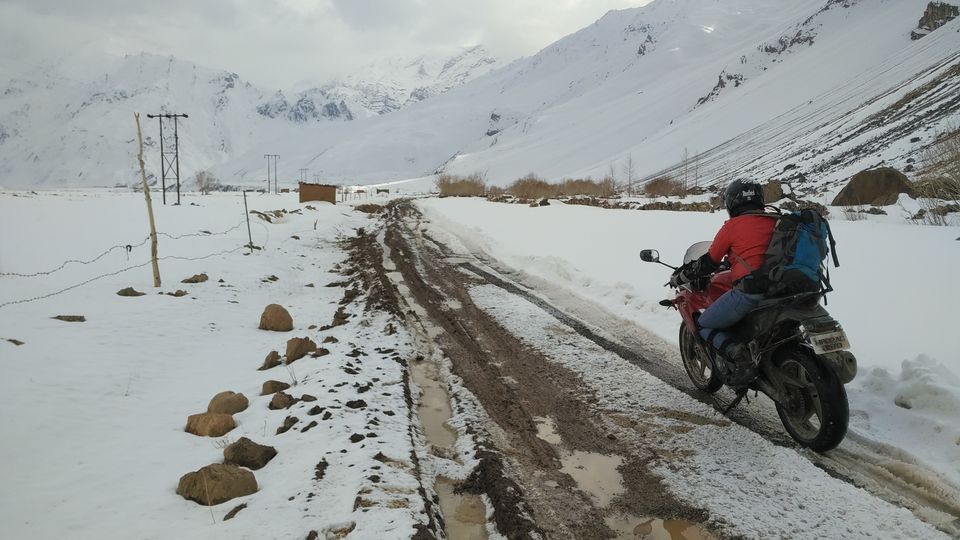 Day1- We started from New Delhi in morning around 6 in the morning. Our first stop was a small dhaba near Karnal where we had our breakfast and some rest and then resumed our journey.Next stop was Kandaghat where we had our lunch.I have been there earlier too. Its a small restaurant amidst the mountains. Very cozy and they serve delicious food too.From there we then moved forward and finally halted at Kumarsain. Kumarsain is a small town at a distance of around 70km from Kufri. And as soon as I hit the bed i was sleeping like a baby.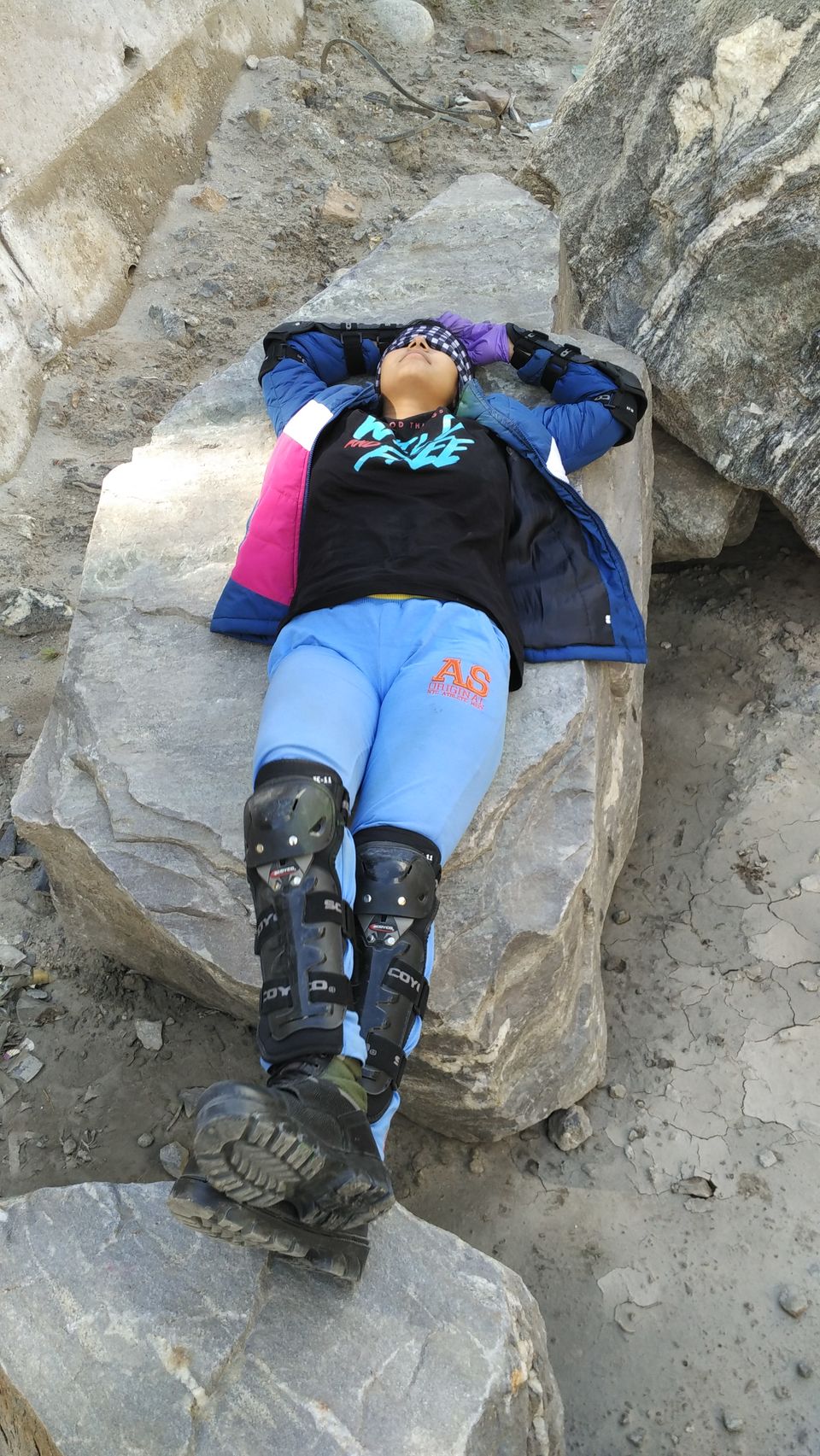 Day 2- Whole day was about just reaching Nako .We rode and rode and rode . As soon as you reach Wangtoo you would realize what lies in front you. The roads will just keep getting more and more treacherous . Biking on these roads is no easy play. Trust me. Go only if you feel capable enough.
This is me so exerted that i chose to sleep on these big rocks alongside the road.Never even had thought sleeping on rocks would feel so comfortable.Then we had our share of Red Bull (energy drink) and as they say it gives you wings. :D . We then moved forward and had to stop at few places because of mining.And hence reached Nako late at night. And surprise !!! There were no hotels or guest house open because in winters water pipelines in these areas are blocked. So due to no availability of water people have to face many difficulties. But luckily enough we found a guest house open , AMAR HOMESTAY. Here we got a very simple room with beds and blanket. That's it. But you have to agree it felt like a blessing. The owners of the home stay were kind enough to invite us to their home where they treated us with local liquor and very delicious homemade food.And they have beautiful kids one of whose name is Phunsuk (Yes Amir khan came to my mind too :D )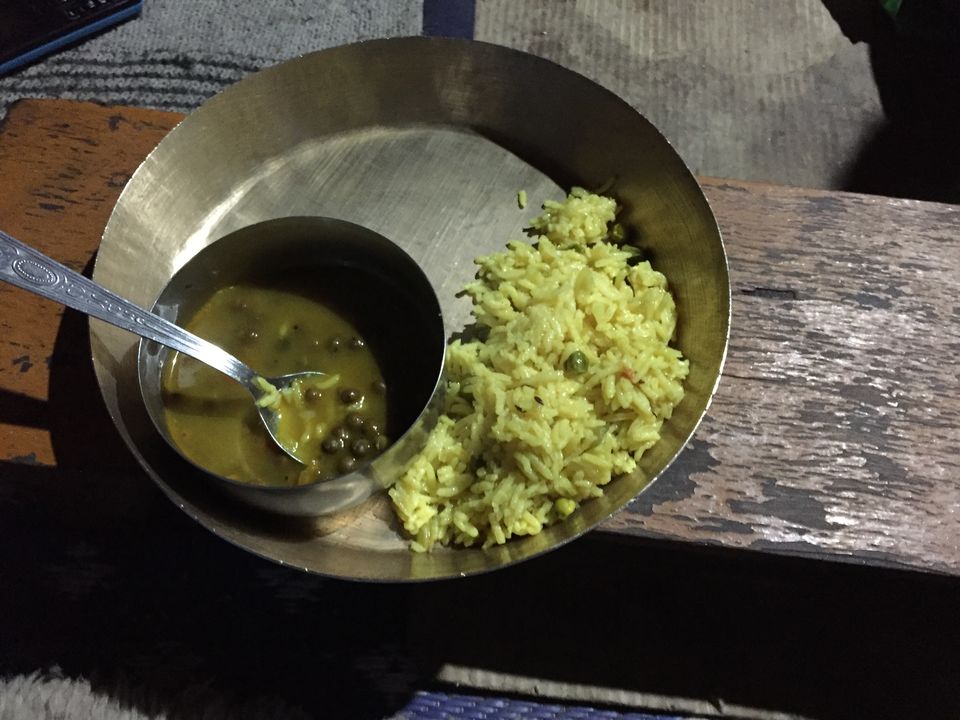 This was my plate of food.
After dinner we went back to our room and slept peacefully.
NOTE : Amar homestay is always open for the travelers . And if you reach there very late in night even then you will always find one room open there. The owner told us they do so to help anyone in need.
Day3: Next day we woke up early in the morning and had breakfast. and then started exploring the village.It was beautiful. Simplicity at its best.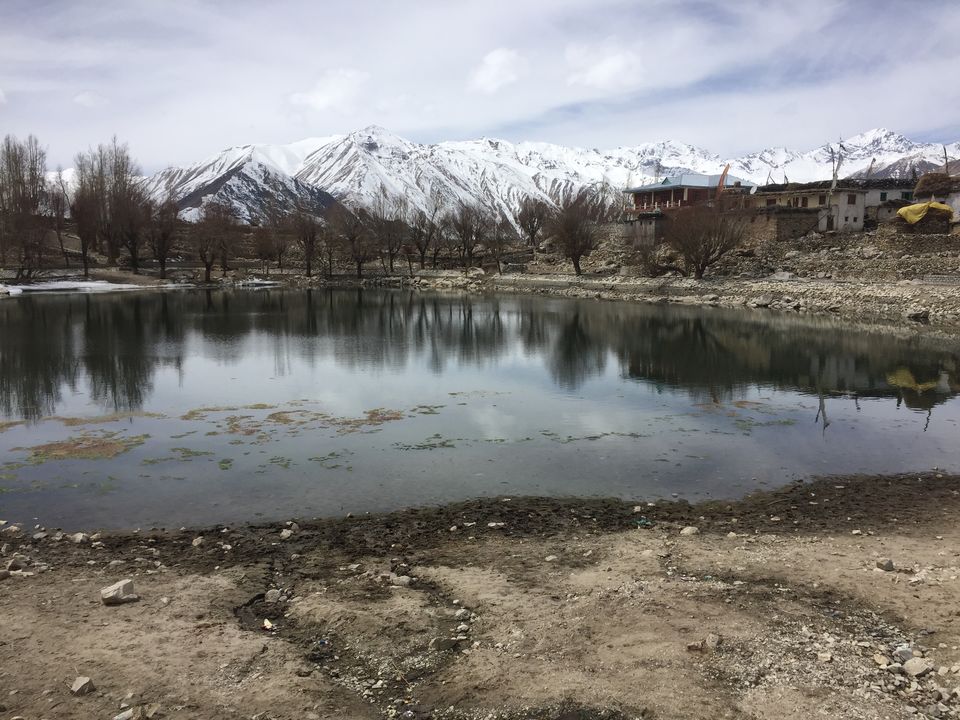 View of Nako Lake.
After few hours of exploring the village we packed our bags and started moving towards Kaza. Again we had to stop many times on the way because of blasting. Road from Nako to Kaza is very beautiful. But please note its difficult as hell and you won't find even a tea shop on the way. So please carry your water and food. Thanks to Red Bull that kept us going.
We took a little detour to visit Gue Village that is famous for housing the only Mummy in India. On the whole route we found no single man or even animal or bird. It was little terrifying too.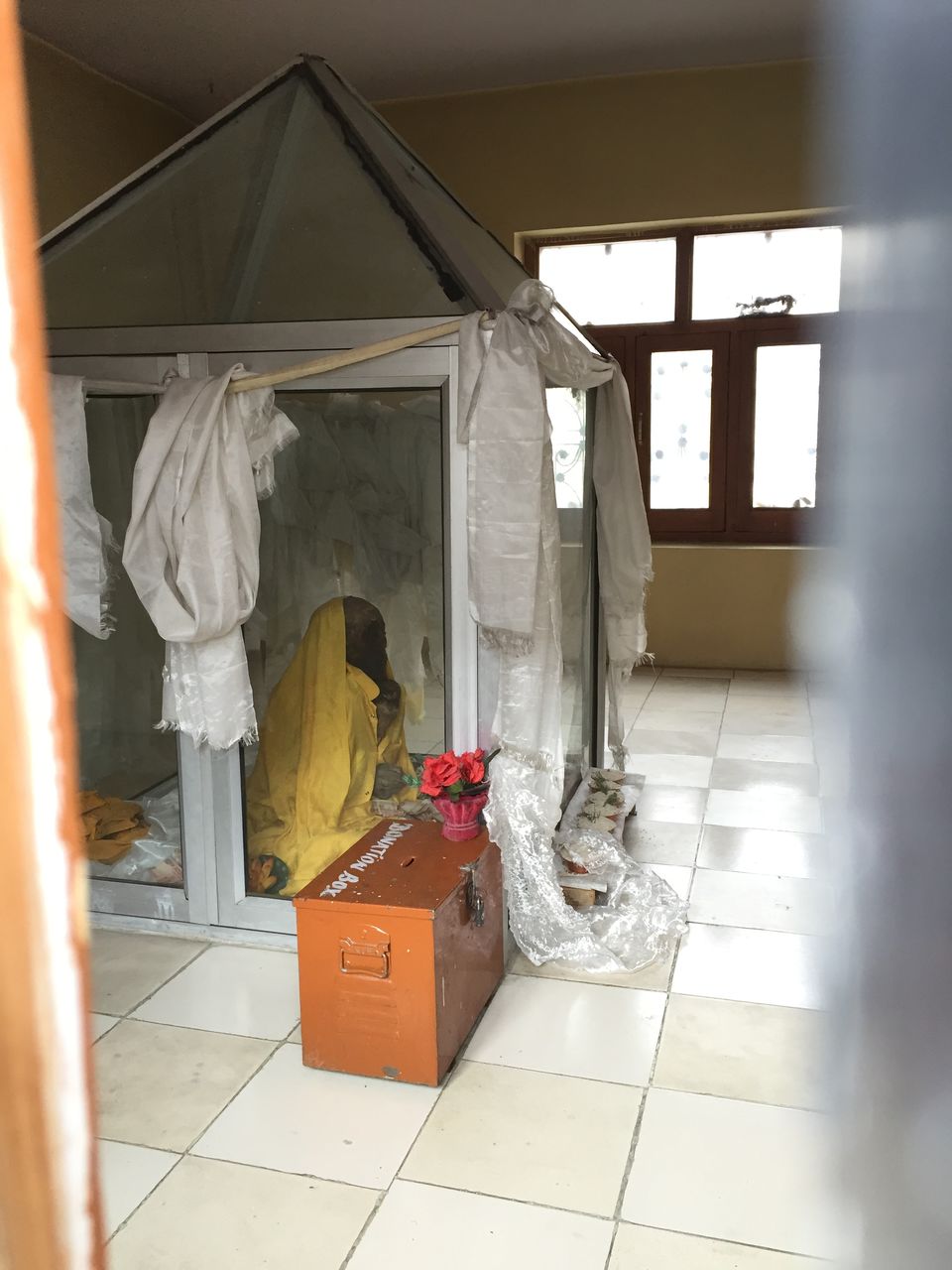 As told by the villagers this mummy is of a lama and is thousands of years old.It is believed that hairs and nails of this mummy still grows. So after spending few minutes there we resumed our journey.
We Reached Kaza very late at night and found accommodation in Circuit House Kaza. Its big ,beautiful but no water here too. Though the caretaker was very nice and served us very delicious food. We ate like gluttons and came back to room and slept.
Day 4- This was my favorite day so far.We got up in the morning and what i saw was so so beautiful. I have seen anything so beautiful till date. Snowfall..No.It was more of snowstorm and i was running in it like a madman. We then got ready and set out to explore the surrounding areas.But first we had to get petrol for our bike and here we are on the WORLD HIGHEST RETAIL OUTLET.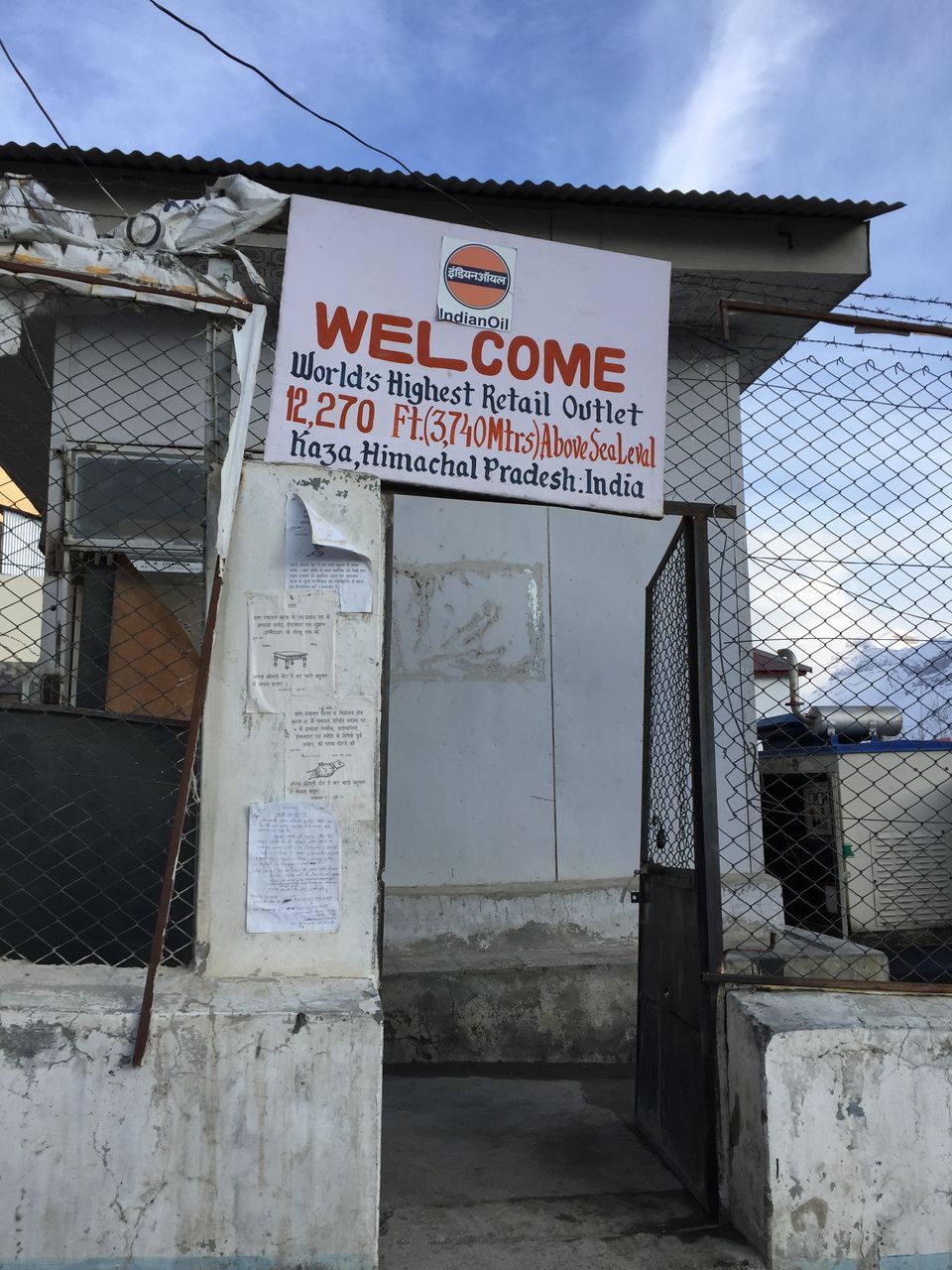 Our first stop was Key Monastery. It is the biggest monastery of Spiti Valley and a religious training center for lamas. According to of one lama around 300 lamas lives there. We were taken around the monastery by a lama who showed us different rooms. Main attraction was the room of Dalai lama where he stayed during his visit in 2000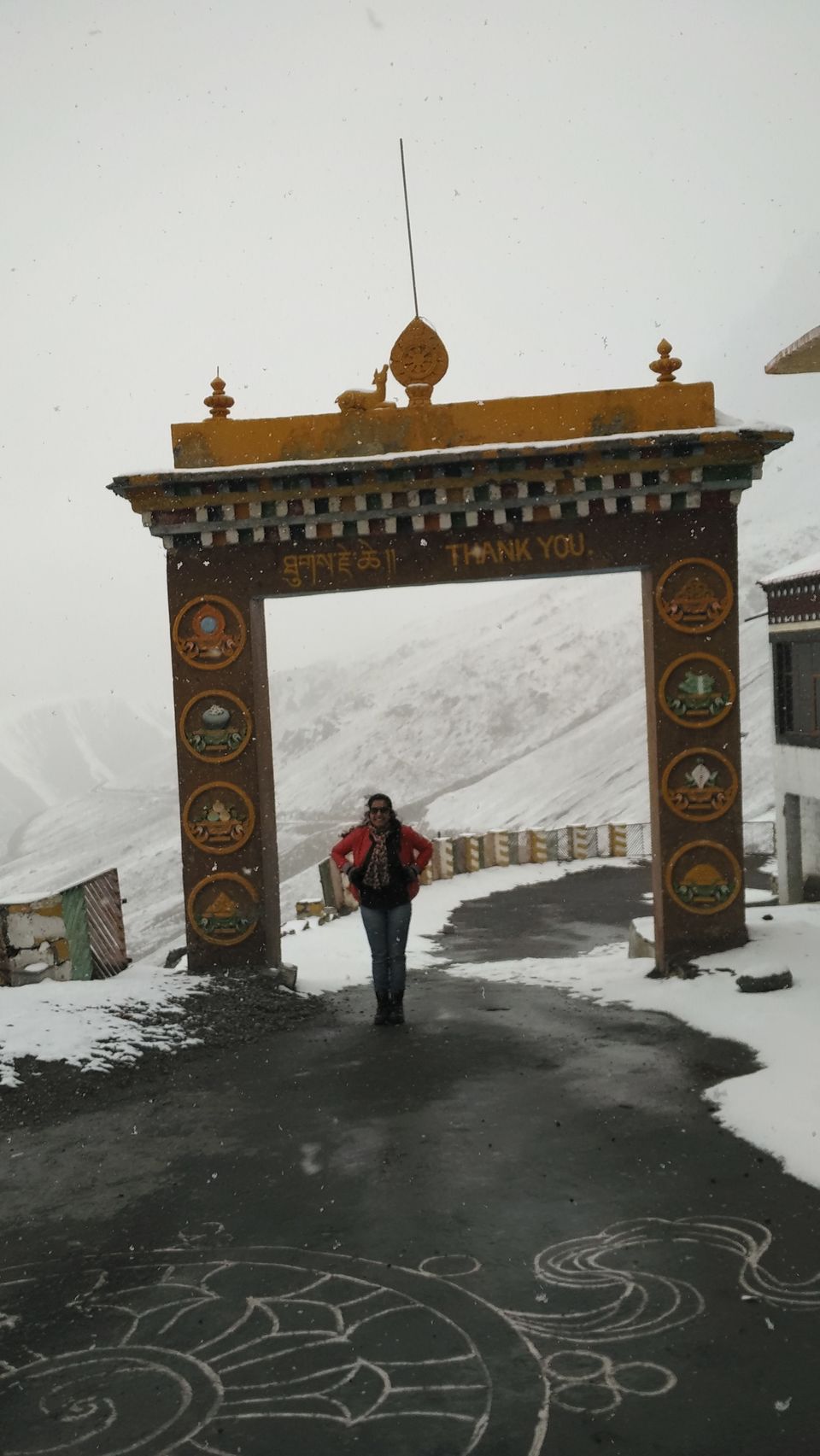 .
In the pic above is the main gate of the Key monastry.
From there rode further up towards Kibber village. This used to be the highest village in Asia untill few years back. (now Komic is the highest inhabitant village now) .Riding to this place on our bike was no easy task in snowstorm but we loved it. People in Kibber Village were very simple.While looking for a place to have some tea i came across a old lady with her grandson who was very sweet boy of around 5. She told us there are no restaurants around but offered to make tea for us. But i had to decline politely as a i didn't want to bother her. And few kms ahead we got to a place called Chicham. This place was totally isolated and we saw no man or animal or bird. But the view was spectacular. snow all around. As far as i could see there were just snow clad mountains. It was so quite and peaceful.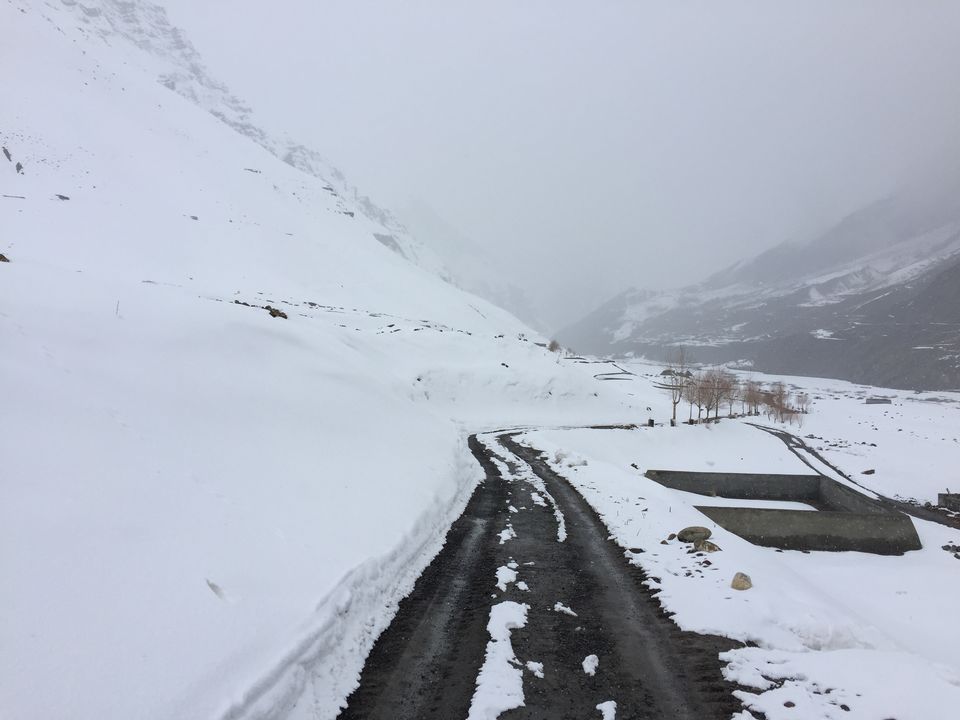 After spending a good amount of time here and clicking pictures and soaking up all this beauty and peace we moved forward.Our next stop was supposed to be Losar. The road (or let's say Ice-snow track) was in very bad condition. We went as far as we could go by pushing our bike and ourself but had to give up 23KM before Losar. From there we had to come back. I was sad for not reaching there but going upto that was totally worth it, for the Beautiful surrounding we could see.
We came to Kaza early in the evening and moved around the town. Had thupka (traditional noodle soup) and noodles at a small cafe shop. And then when we brought few sovereigns from local market.In the night we partied hard and I got a complete meal after all these days. Next morning I woke u with a little hangover and a mess of the room.
Day 5- We got up and packed our things and had breakfast in a hurry so that we could start our journey asap. I was reluctant to go though.I didn't wanted to go at all. I wanted to stay one more day to trek up to Komic Village.But we had lots of things scheduled so we had to miss it. We got on our bike and moved towards our next destination called Pin Valley. Only very very few people must have heard about it. It is still one of the hidden gem of places, totally untouched. As soon as you enter Pin Valley you would feel the temperature rising and roads getting worse.there was practically no road. On one side we could see Pin River which was semi frozen and on another hand were dangerous mountains from which stones kept falling continuously. Driving through this road was very very dangerous. But at the same time thirst quenching for your never ending search of adventure. We kept driving and passing few small villages which have population of mere 30 people and some were completely abandoned. The heavy snowfall showed no signs of stopping and i was literally freezing now. Finally we halted at a place called Sagnam where we found accommodation in Rest house.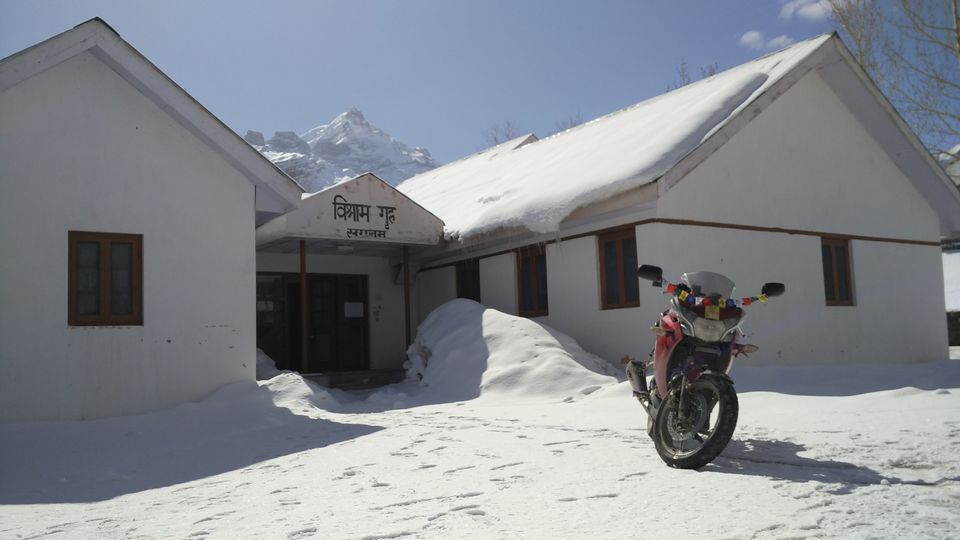 The last entry in Rest house was dated almost 5 months back. The caretaker told us not much people come here. Also there was no provisions for food and water.Toilets were also blocked due to extreme cold. But the good hearten caretaker got us maggi bowls for which we were very thankful. Also he told us he can arrange dinner but we have to eat before sunset because power cuts are very frequent there. We were grateful for the meal we received and there was no room for complaints and choices. With two heaters and three blanket i was still shivering in cold.The temperature varied from -5C to -18C . Luckily we found some local liquor from somewhere and that was great help in keeping us warm. As we had nothing much to do we slept early.
Day 6- We woke up early in morning and after having breakfast I got enough energy to play around. I took a little walk and tried making a snowman at which I failed miserably. For a long time I watched Yaks walking on Frozen river and they knew exactly its safe to walk. Their steps were measured and accurate always. People follow their footsteps to cross these frozen rivers safely. Pin Valley was truly beautiful. Still unexplored and untouched. We didn't found even one tourist so it was so so clean . Pristine white all around. The sight was heart winning.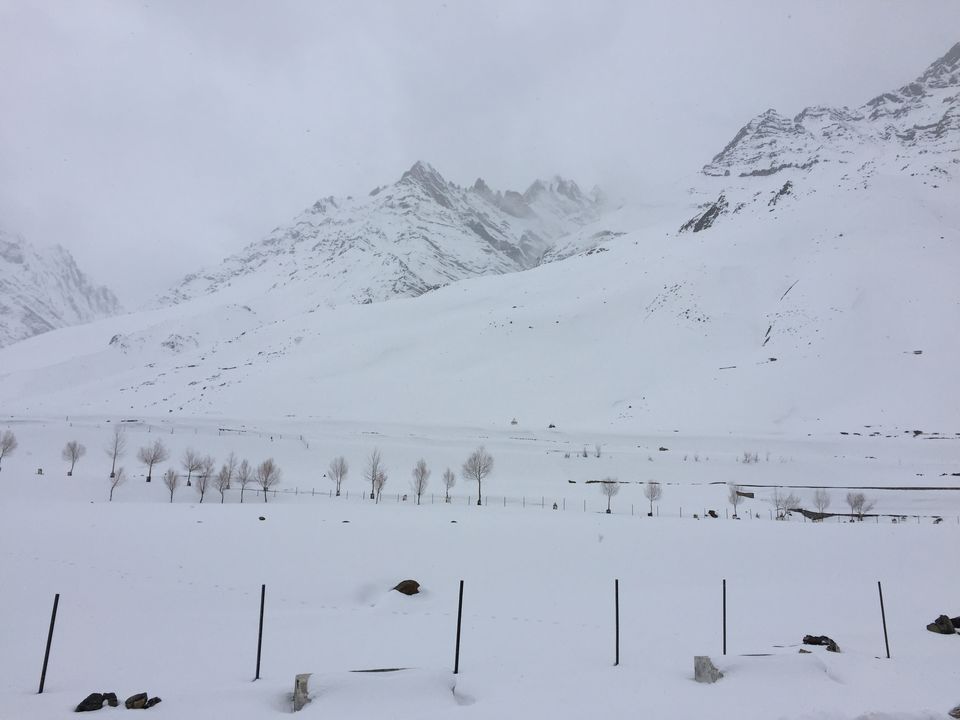 As we could not go any further in pin valley we decided drive back from here . our next stop was Tabo Monastery. It is one of the oldest monasteries in world. It is noted for being the oldest continuously operating Buddhist enclave in India and the Himalayas. It was ancient and beautiful and big and splendid. you can see old paintings sculptures and scripts. i was greatly impressed by stones that had engraved messages on them.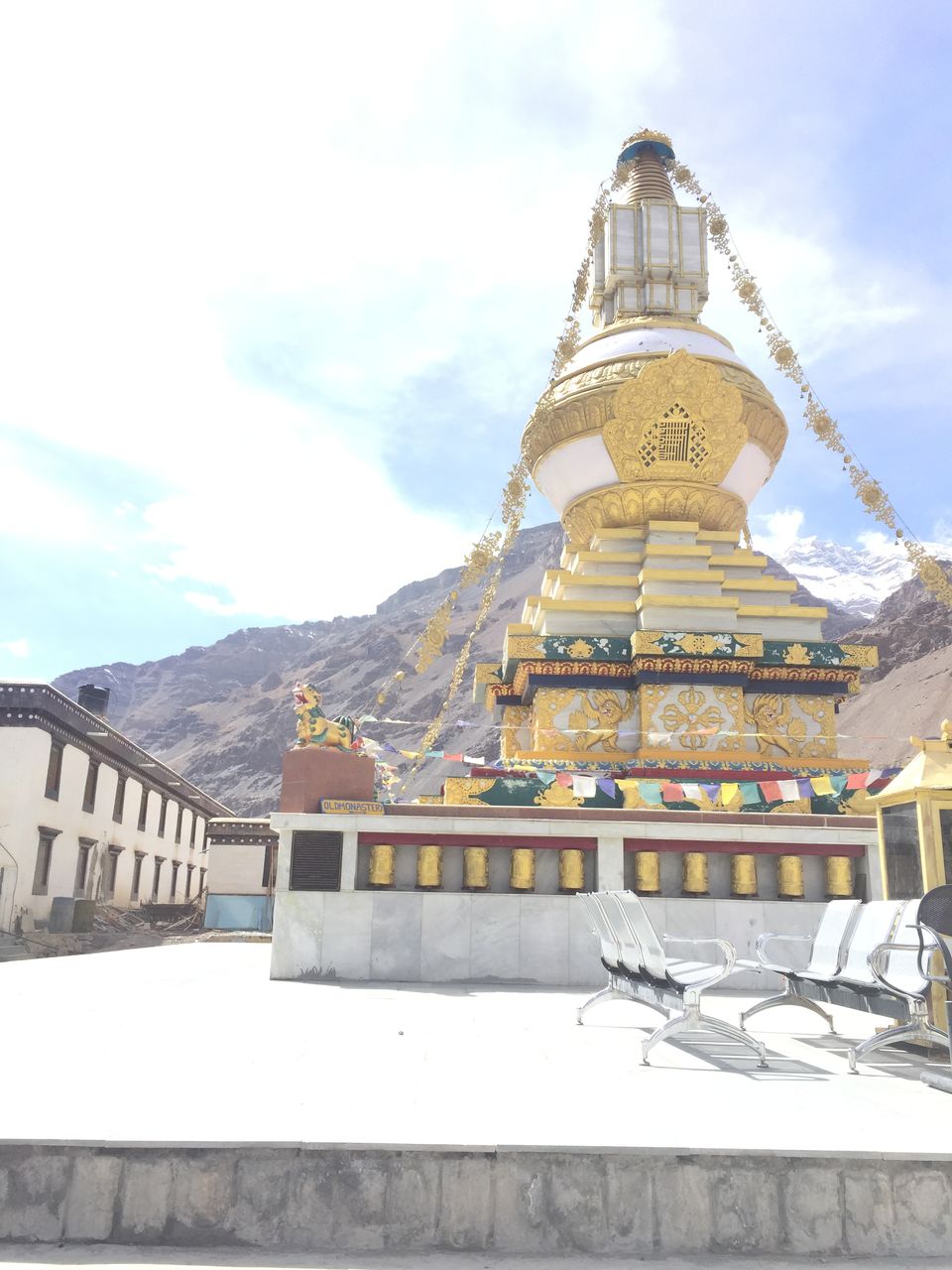 After spending sometime here we started our long journey of reaching Reckong Peo. We just rode and rode and rode. The road was non existent at many places and weather was cold all the time. Driving after dark was particularly dangerous.But we Finally made it to Reckong Peo. After a whole week we were again in town.I got to bath after almost one week. We had here food, water electricity,cellphone reception, roads and markets. Yes I was very happy. I had an hour long bath(may be 2 hour) and ate as much as i could and slept like a baby.
So next day we woke up late and had breakfast and then got out to explore places around. one of the attraction there is Roghi Village suicide point. No idea what is the story behind the name but i can assure you it was very scary and deep. After relaxing in the sun after so many days i was feeling a total jaadu (from the movie)
Next we packed our bags and Started our journey back to Delhi that took next two days which were very tiring. This is the part i hate most. Coming back is the to your normal life. I wish to travel forever.
So till next time!!
Frequent Searches Leading To This Page:-
spiti valley tour packages, spiti valley tour package from delhi, spiti valley tour best time, spiti valley tour by bike, best spiti valley tour packages