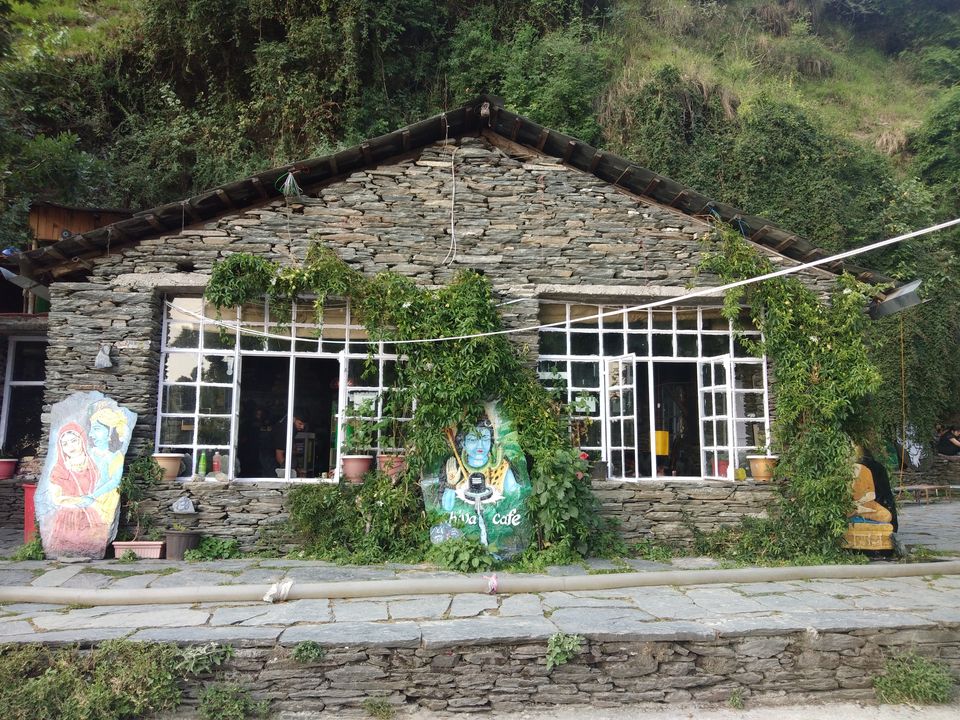 Ready for my next trip to Mcleodganj, although it's my fifth time but still have same excitment, same zeal to know more about Mcleodganj.
This time not a solo, it's a duet trip. I planned it with one of my friends. We both were excited about it.
We reached at our pick up point at 8:00pm, Our bus departed from Majnu ka tilla at 8:30 pm for Mcleodganj. It reached to Dharamshala at 7:00 am next morning. From dharamshala to mcleodganj it's approx. 10 kms. Bus dropped us at Dharamshala and we took taxi from Dharamshala petrol pump to Mcleodganj.
One can easily take local transport like jeep and bus that's more economical option to reach MCLEODGANJ from DHARAMSHALA.
Usually buses drop passengers at Mcleodganj, but due to some kind of parking issue it dropped us at Dharamshala.
After a ride of 20 mins , finally we were in Mcleodganj. Mcleodganj was really packed this time. Reason summer vacations and some Dalai Lama prayer ceremony which is going on in Dalai Lama temple, which will last till 13th June. Inspite such crowd, for me vibes are still same as it was five years ago.
This time again I was without any hotel bookings . This time it was becoming challange to find a place to stay thete for 2 days. With the search of an hour we finalised a hotel 8 auspicious him view hotel and checked it here. It's situated slighly at the down.
After whole night journey, we were really tired , hungry and wanted to grab a bite. So we went to MCLLO restaurent and bar to have our brunch which is situated at main sqaure area of mcledoganj. Here food was really good. We enjoyed the both ambience and food .
Now it's time to go for sightseen, we visited Bhagshu nag waterfall, shiva cafe.
Bhagshu waterfall is approx 3kms from main square area, we walked from main sqaure area to Bhagshu nag waterfall, it's a tourist attraction point. If one wants can easily take a auto or taxi till Bhagshu taxi point these are easily available. I always prefer to walk on mountains , it gives me a chance to appreciate the beauty of Himalayas and interact with locals. Finally we reached bhagsu waterfall, on the way there is a Bhagshu nag temple and a local market where one can find tibtean stuffs.
With the combination of walking and talking we reached to bhagsu waterfall. We enjoyed the fall and had a Maggi there. There are two Maggi points at waterfall.
I must say Maggi and nice mountain view is a fabulous combination.
After spending some time at waterfall, we thought to go to shiva cafe. And we moved ahead on our way to shive cafe. It was like 10 to 15 mins walk from waterfall. Here the ambience is so attractive and positive.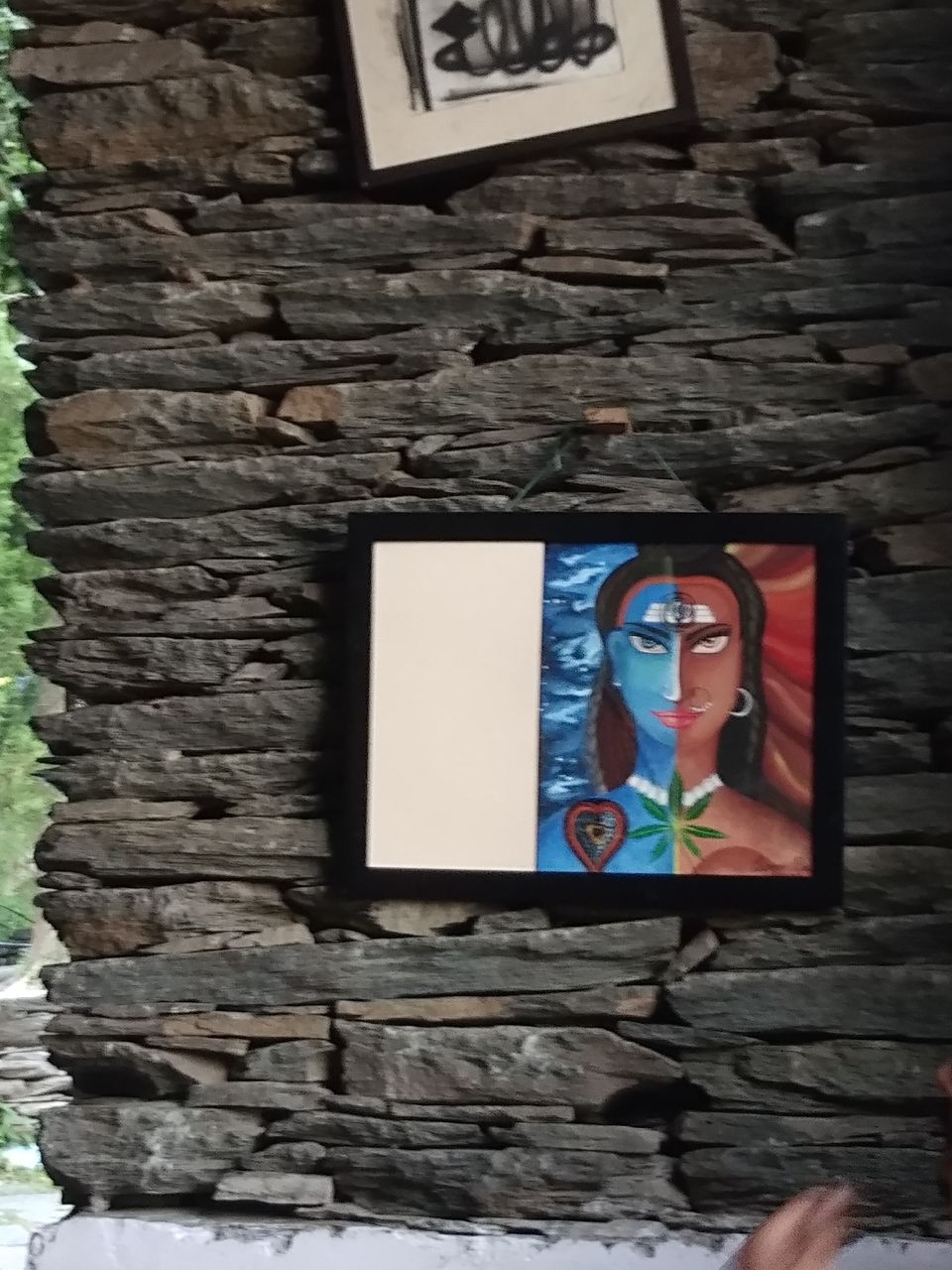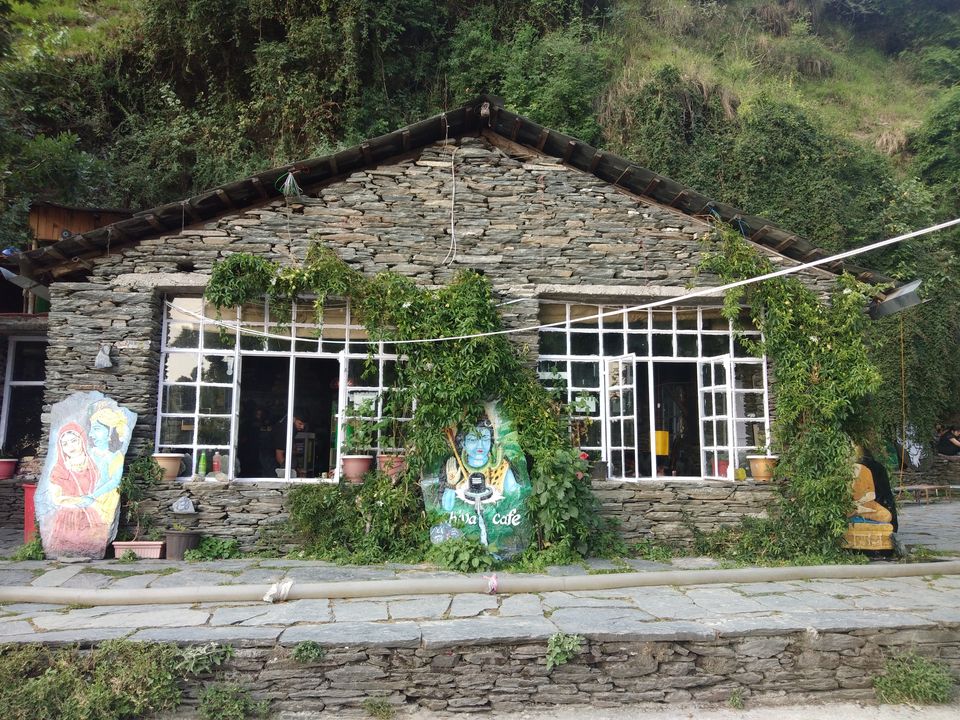 On the way back I saw people were enjoying zip swings, and i also decided to do it. It was a wonderful experience but for such a short time can say that only for 2 mins.
I was super excited and in just two minutes i was on the other side.
Then I came back to other side walking on stones and stairs and met him. Then we continued our journey back to main square area.
On the way we had Gol gappa's, it was quite big and made of rice, it was delicious. Hmm, yummy.
Then we reached to main square area. And again went to mcllo bar for dinner, because they have good food available on open terrace.
Day 2:
We visited St. John church. It's an old church situated 1 kms away from the main square area. And 1 can easily reach there by walking.
Dal lake'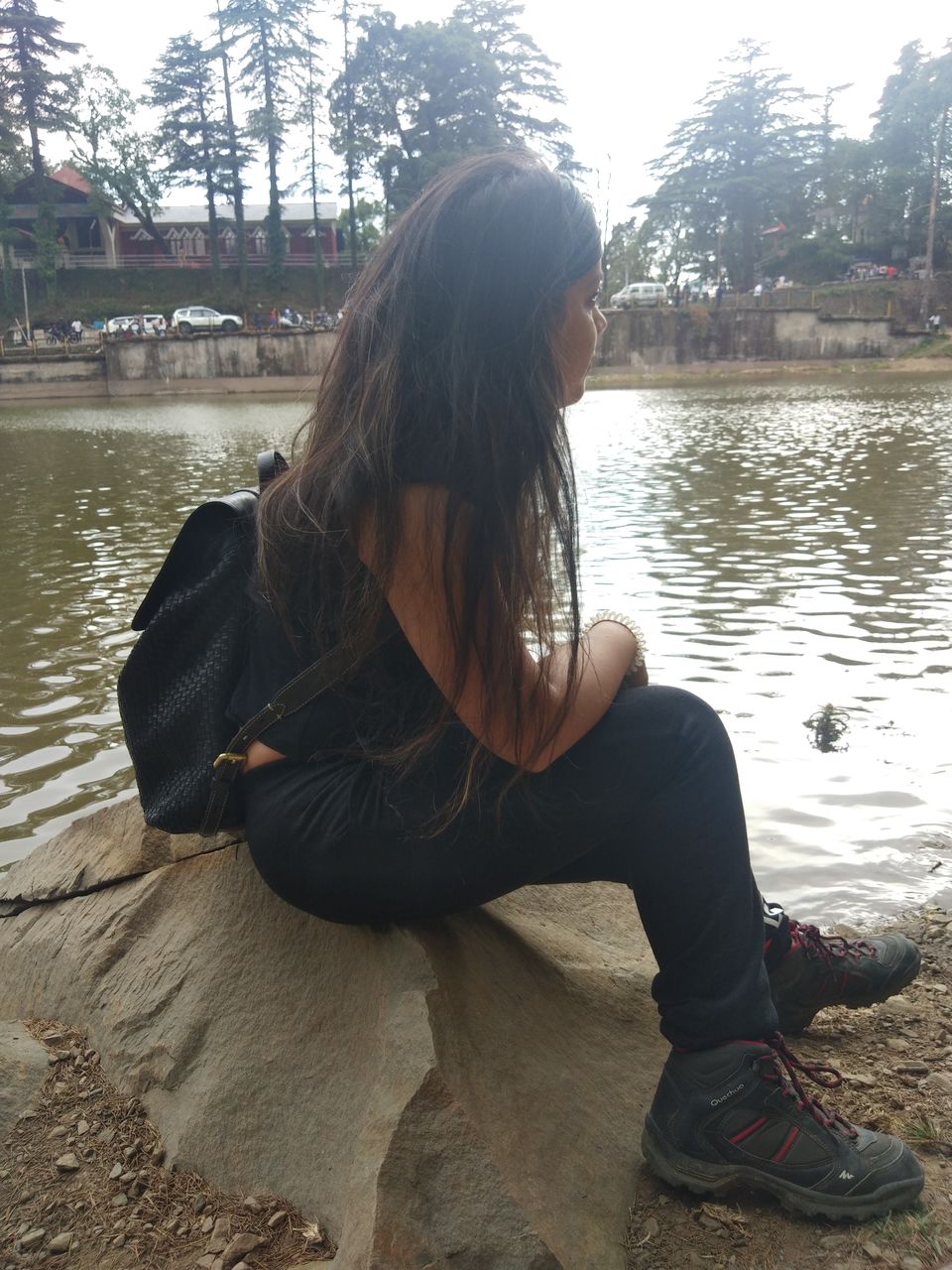 At dal lake, we saw direction board which was showing Naddi 2 kms away. Then we decided to go to Naddi and continued our journey to Naddi. And one can easily walk on mountains from dal lake to Naddi. There is straight road as well, if one wants can go by straight road.
We reached there at sunset's time. Sunset view was really nice from there.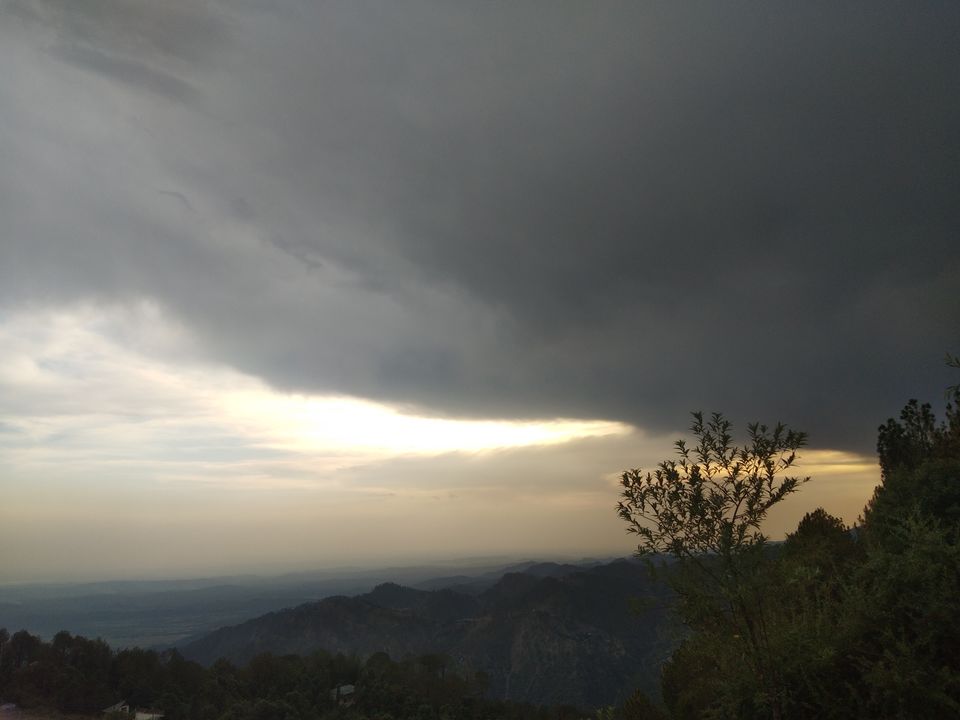 After seeing the view, we continued to get down from Naddi toward mcleodganj.
Day 3:
It was just a chilling and relaxing day.
We tried Tibetan food thupka (flat noodles with soup) in the morning
Went to see Dalai Lama temple and monetary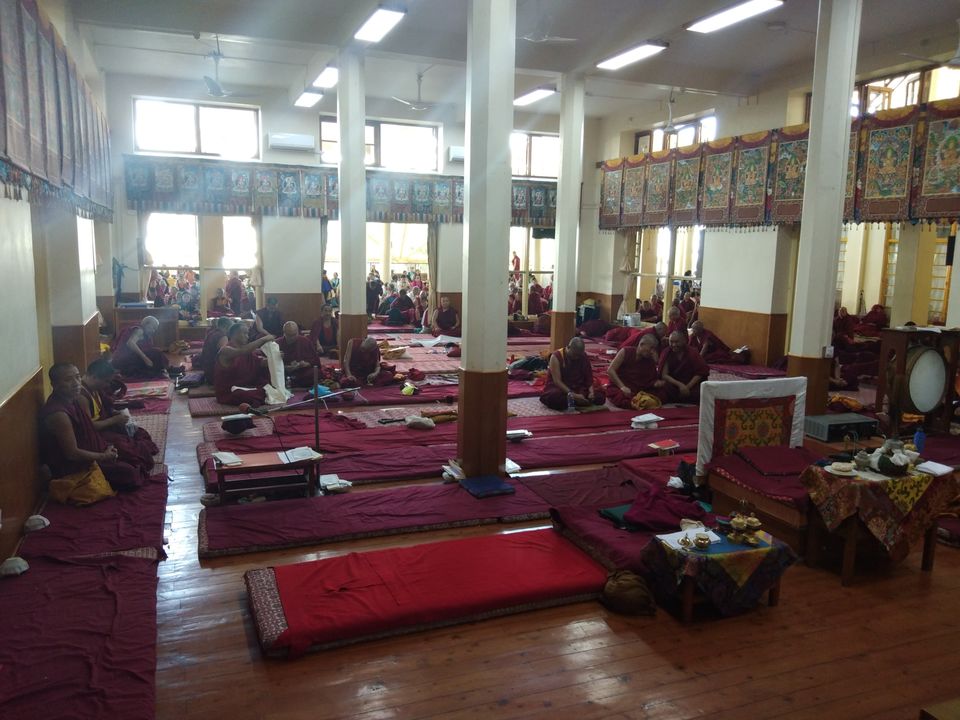 Then came back to main square area for lunch, had light lunch at main square area.
After lunch we walked lil bit ahead toward St. John church.
we sit on a stone on the way and had discussion on travel.
Then we came back to our hotel and had snacks, picked our stuffs and started our journey way back to Delhi.