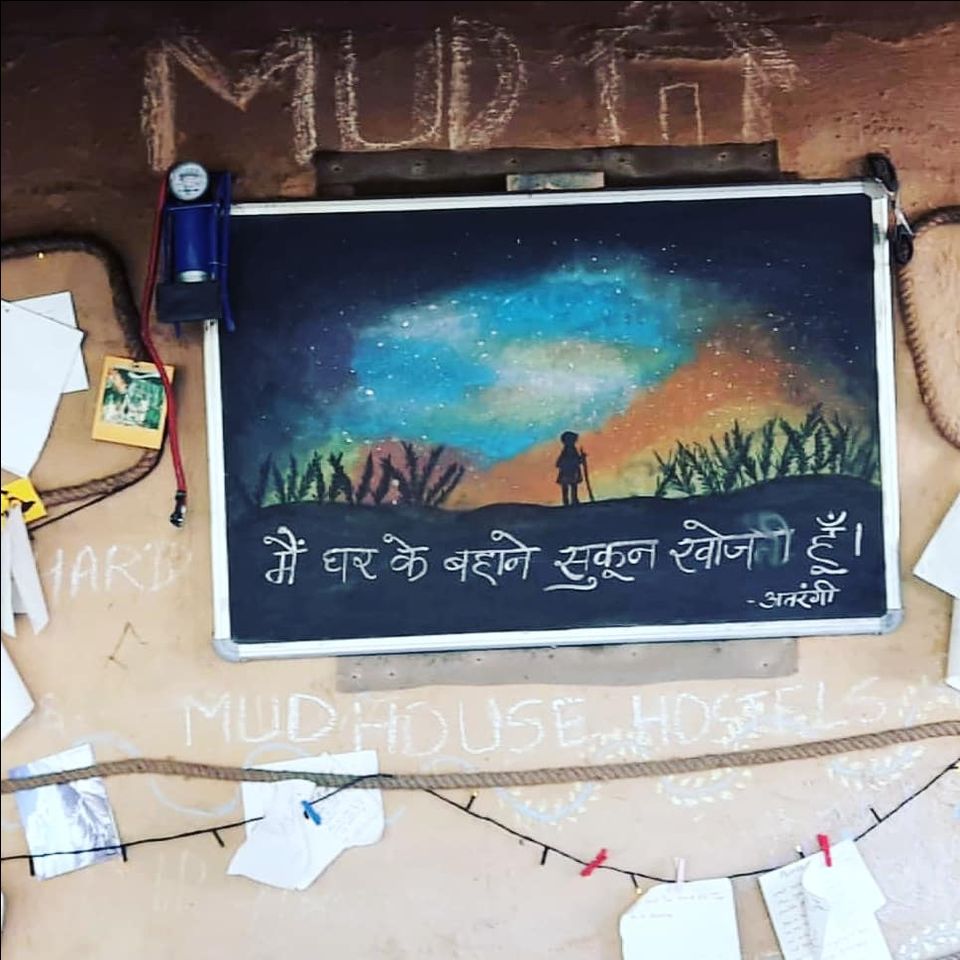 It was Thursday night and I was still in a second thought mood. I had already booked my tickets long back, and now I was worrying about how will I manage the things.
Yes, I always wanted to travel solo but I was always dependent on others. I wanted atleast one person to accompany me. But deep inside I knew that most of the things I liked to do is alone. So I could do this too.
I was following Mudhouse, Jibhi (Himachal Pradesh) from a long time. Mudhouse( Jibhi ) upload their stories each day on instagram which fascinated me so I decided to go there. But  many people questioned me why would I travel soo far in my first solo trip. And suggested going nearby from Lucknow first. But I knew if I  can succeed in this long solo trip, I can easily do any trip afterwards. So, I booked my tickets for 6th December to Chandigarh. And also booked my return tickets for 9th December. I believe, if you are traveling solo you have to prepare yourself with everything. So, I booked traveling tickets. Booked mudhouse too by contacting them through WhatsApp. One thing I liked most about mudhouse is they  send you confirmation mail along with tips which includes how to reach mudhouse,  how and where to take local buses and taxies? What can you do in mudhouse during your stay? The temperature of Jibhi and so on.
I got this mail too.
How to reach: Mudhouse is situated in Jibhi, himachal pradesh which is around 248 kms from Chandigarh. After reaching Chandigarh you have to take an auto or cab to reach bus stand which is in sector 43. If you take full auto they will charge you around 100 bucks and On sharing basis  around 50 bucks. From Chandigarh sector 43 bus stand, you have to take a bus which goes toward Manali/Mandi. Ask the bus conductor to drop you in AUT. From AUT, Jibhi is 40 kms. And keep this in mind, if you are travelling via locals , always plan to have 2 -3 hours more to reach your destination.  As local buses/cab will always take more time than your personal cab/car. Try to search your destination in Google in advance and  plan your  travel accordingly. As it was my first time so I took the bus at around 11:30 AM and reached AUT at about 8 PM. I was worried about how will I  manage to get any taxi or bus from AUT bus station as it was already dark. I called mudhouse and told them about my situation. They arranged a personal cab for me which costed me about Rs 1200. They told me that the cab has a trusted driver. My bus conductor was very supportive too . He was constantly in contact with the cab driver. I reached AUT at 8 PM and bus conductor was with me whole time until I  had boarded the cab. He gave his number and was  in contact with me until I reached mudhouse.
Anisha ,one of the mudhouse owners , she had already asked me what I would have in my dinner and when I reached she told me to freshen up and come, dine . It felt like home there. Jibhi is a small village of hill station. You won't find any street lights and you can't walk on roads after 7 PM. I was not able to enjoy the  view at night. So I took my dinner. Had talk with Anisha and Arushi (both work with-mudhouse project) and  came back to my dorm, charged my phone and slept.
Behind the mudhouse, there is a river which makes mudhouse more and more beautiful.
I woke up in the morning at around 8 AM. The first thing I did was I went to the  river and sat by its side and enjoyed the smell and sound of the river along with the scenic beauty and chirping of the birds. This was so rejuvenating. If you ever plan to visit here , do try this and  you will feel refreshed for sure.
Mudhouse has hired local people to work in kitchen and they can prepare almost anything to eat  what you will ask them to . I asked them for "aloo ka paratha and chai" for my breakfast. I was sitting near the river and they served my breakfast there only. After having breakfast, I had a chat with almost everyone out there and it felt like a family get together and I am sure  you too will find that everyone in mudhouse is a part of a family. The positive vibes, they were  soo strong that if you are an introvert then also you would  be able to have  a conversation with everyone.
There is a Jibhi waterfall which is 5 mins away from Mudhouse. I went there around 12 PM. I grabbed my headsets and enjoyed my favourite songs near waterfall. The Jibhi waterfall is a peaceful place. You won't find any kind of noise except the sound of waterfall. It was like meditation for me. I was near  Jibhi waterfall for around 2 hours. After coming back from waterfall, I had   a tour of places nearby. I was roaming alone in the streets and had a little conversation with the locals like how can I get a local bus to Chandigarh or AUT? And places to visit nearby? Etc... I came back to mudhouse at around 4 PM. Till then, only owners of the mudhouse were there  and they were discussing new ideas. They included me also in the discussion and we shared many thoughts and  ideas. Rahul , the founder of Mudhouse project, shared his experience , his views and his thoughts about the whole project. How he started, what problems he faced , about  positive responses he got and trust me this was the best time for me. I was able to express my views and was able to understand their views and thoughts.
It was 6 pm and people started coming back to mudhouse. Everyone greeted each other as if we know everyone from a long time. We played cards, shared laughs, had a long conversation over a bon fire.
It was 11 pm and the temperature was 2 degree Celsius. It was the time to say goodbye to everyone as I had to catch the train next day at 9PM. And for that I had to leave mudhouse in the morning. I had such a good time with those awesome people but "Zindagi hai ki chalti hi jati hai". We went to our dorms and on next day, I checked out and took a bus to Banjar. And from Banjar I took a bus to AUT. From AUT I took another bus to Chandigarh. I made this clear in my head that I should reach Chandigarh before 8 pm and calculated my time accordingly. Luckily, I reached Chandigarh sector 43 at 7 PM. I had my dinner in bus station canteen. From bus station  I booked an Uber to railway station. And I did it. I completed my journey.
All I wanted was to live life where I could be me and be okay with that. I had no need of material possessions and close friends with me on my journey. All I wanted was my art and the chance to be the creator of my own world, my own reality. I wanted the open road and new beginnings every day.
Girls, if you have ever planned for a solo trip, do it now. Never make your second thoughts to stop you. Let people around you give suggestions, listen to them but follow what you like. Plan your trip, search for everything, write it down, calculate your time, book everything in advance and be determined . This trip will introduce you to  a new version of yourself. And from that day, you will be unstoppable .No second thoughts. Just Give it a TRY!!!