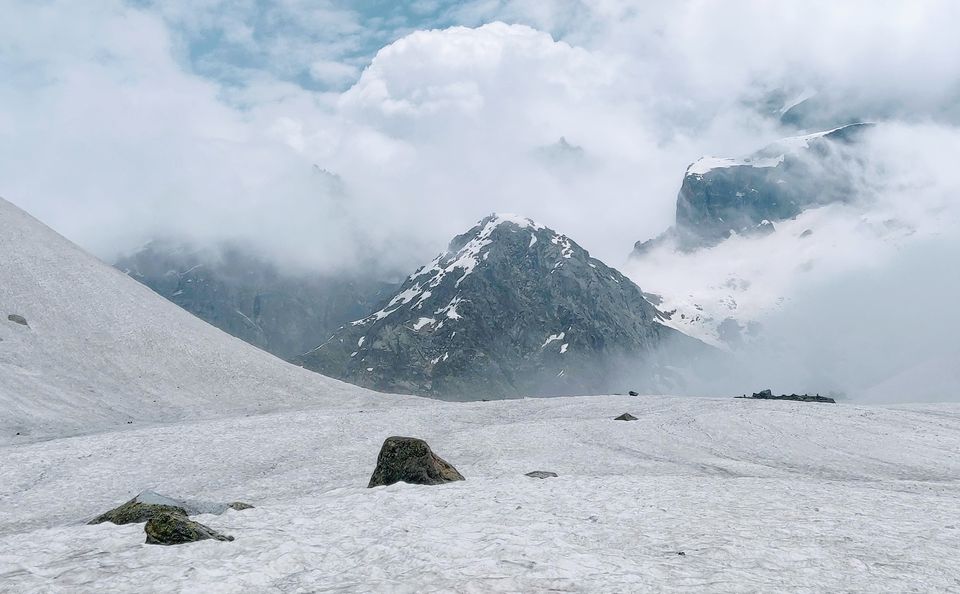 About the Trek in short

Hampta Pass is a dramatic monsoon trek which you'll always remember for its changing terrain. You'll see and know whats true white, true green and true blue. The turf ranging from grasslands with pine and maple forests with mild breeze, to rocky dry hills with chilly winds and to snow capped mountains with rain and fog along the way. River Rani always gushing around you somewhere giving that white noise reminding you of nature's presence and for deep sleep at night. You also get to cross the chilly waist level raging river in chain formation with your backpacks on. That's rare on any trek. Everyday you can only think what you'll see and pass through, but will never know in advance. That's why even the guides never see it the same way they saw it the last time. It changes everyday. Here is a glimpse from Day 3 of my trek. Hope it inspires you to take this trek.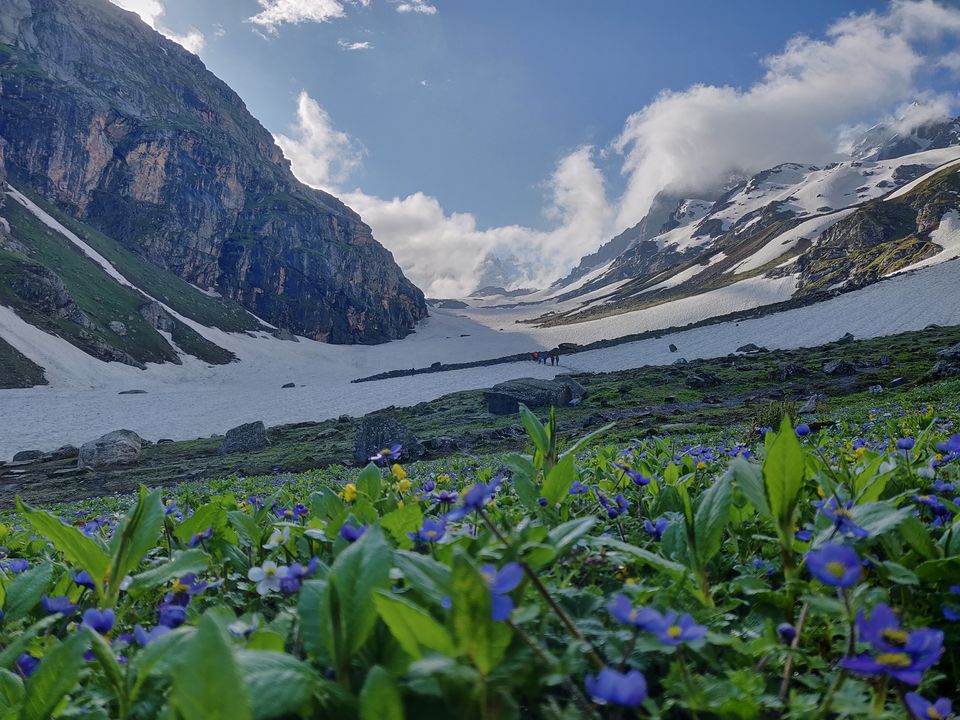 Duration: 5 days
Difficulty: Moderate
Season: June to September
Temperature: 15 to -2 degrees Celsius
Max altitude: 14100 ft

Lets begin the journey. You can directly skip to Trek details if you are not the one planning to go from Mumbai. I'd detail out how I went Mumbai-Delhi-Manali. The trek costs Rs. 7500-9000 depending on your agency.

Mumbai to New Delhi to Manali

While I took the train from Mumbai to reach Delhi, considering to make it a budget trip, you can take a flight which will cost you bit more and will save time if you are on a tight schedule. It was a pleasant 16 hours over night journey chatting with fellow passengers.
From Delhi you can take direct bus to Manali. Almost all the buses starts in the evening till late night and reaches in morning at Manali. The bus will drop you at the main Manali bus stand.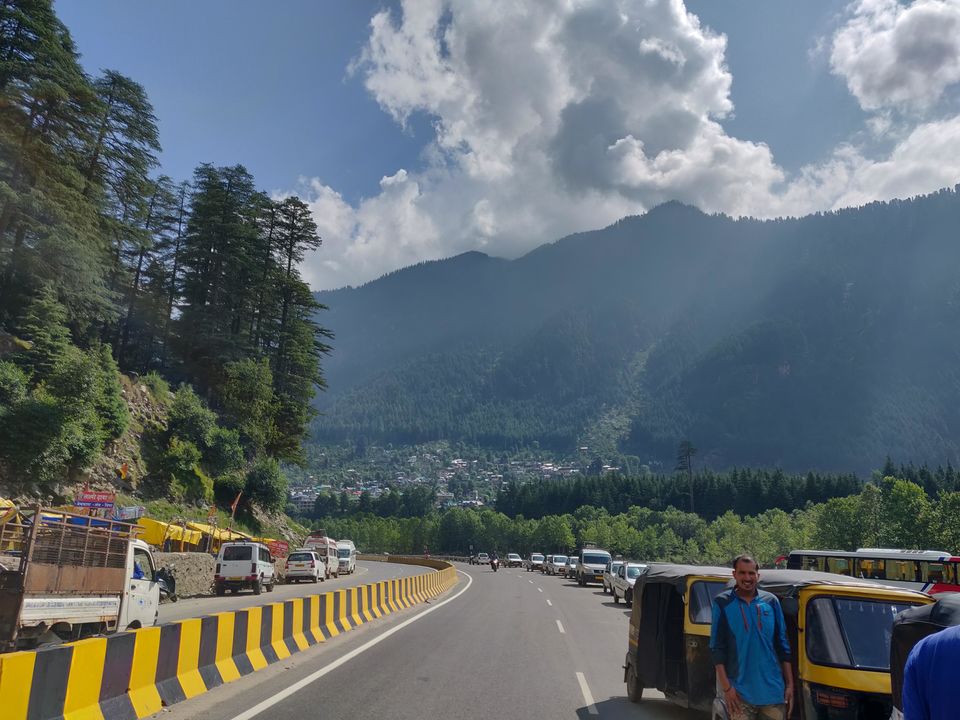 There are several auto rickshaws/taxis right there to take you to your accommodation. Its a small town and they will most probably know your hotel or hostel just by name and take you there. You can bargain, but rates are fair, considering the steep roads and baggage you'll load. If your Hotel is situated on a really steep road, they will ask for more. Dont worry, you can pay what they ask for, you will not be cheated. You will learn at the end of your trip after you've met so many locals, that Pahadi's (people from hills) are honest, helpful and always smiling.
Manali
Manali is a small town where people from nearby cities come looking for solace. The air is clean and you will witness colorful roof tops. I booked for 2 nights at Zostel. Its in the old town of Manali. I arrived 2 days early for my trek as I wanted to explore the town. Its full of historic structures and narrow roads. Again, if you are on tight schedule and came just for the trek, you can drop in just a night before. 2 nights stay costed me Rs.982 with awesome breakfast included on both days. Its an amazing place to stay in Manali if you don't want to stay in crowded areas full of tourists. Its located at a height with terrace giving you amazing views of the hills surrounding Manali.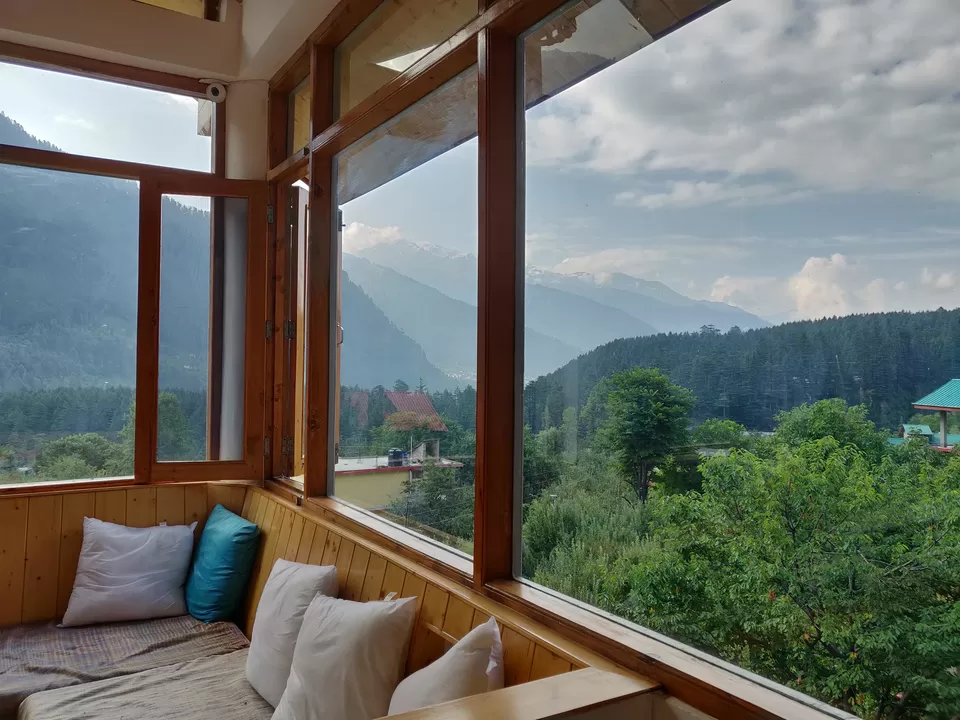 I walked almost everywhere in the town in those 2 days. Visited temples, markets, the famous mall road. I explored all the small trails winding in and around the town and almost got lost.
Well, its not about Manali, so lets move on. Also, did I mention I rented a bicycle and took a solo cycling trip to Solang valley (famous for adventure tourism). Beautiful way to warm up for your trek. Bicycle rent was around Rs. 300 for the whole day. You should be prepared for the minor repairs if needed.
The Trek
The trek costs around Rs.7500 - Rs.9000 depending on your agency. It goes on for 4 days + 1 day trip to Chandratal lake on last day. The following details will also be shared when you book your trek: Meeting point | Check list | Documents required | Trek Leader's name and contact | How to prepare yourself before coming for this trek
We met the Trek lead and assistant leads and submitted our documents and re-checked the check list. The documents you need are:
Identification (National ID, PAN card, Aadhar, Passport etc)
Medical certificate (from MBBS doctor, citing your fitness)
Disclaimer form (acknowledging the rules and knowing the risk you are taking)
I've collated a checklist for this trek at the end, you can have a look.
Make sure you start packing with heavy items below and go up with lighter items in your backpack. Use small pockets, straps and hooks on your bag to put frequently used items for easy access.
Day 1 - Manali to Jobra to Chikka (6500 ft to 10100 ft)
We started our journey to the start point of our trek called Jobra which is 3-4 hrs drive from Manali. With our bags loaded on top of SUVs, the batch of 15 set out. The ride was a bumpy with winding narrow road surrounded with clouds through out. Take your motion sickness tablet if you need.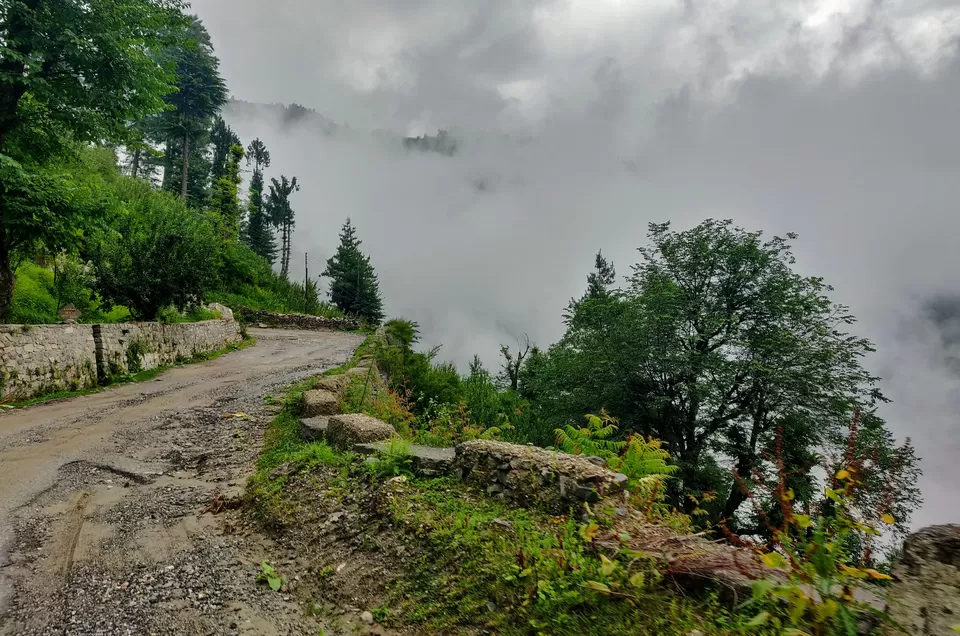 After 4 hours we reached Jobra around 2pm, took a halt at a chai shop for some snacks and tea.
3pm we started the trek for our next stop Chikka where we will camp for the night. Its an easy trek of 3 km to Chikka along the river Rani, called 'Rani nalla'. Its a forest terrain with pine and maple trees all around you. We crossed Rani nalla few times with wooden creaking bridges with lush greenery around. You could say the monsoon was ending. We barely realized the climb and reached the camp site at 6pm. The tents were set for us.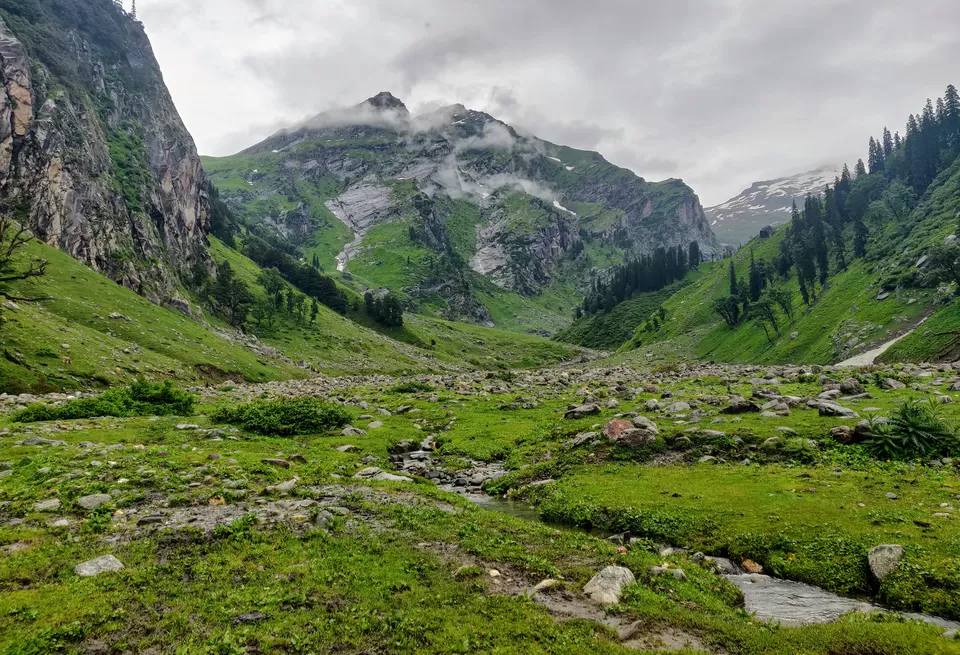 Its located at 10100ft with temperature of 15 degrees Celsius. After settling our bags into the tents we had tea with some biscuits and had an introduction session. We got to know all the members of the group and the support team too. Soon all were busy enjoying the green hills around us and taking photos. It was soon dark and we we served with delicious dinner. It was a clear night and we could see whole different sky from what we saw from our cities. Some didn't want to leave their friends for night and had to sleep with them and math worked out in my favor and luckily I had one tent just for myself.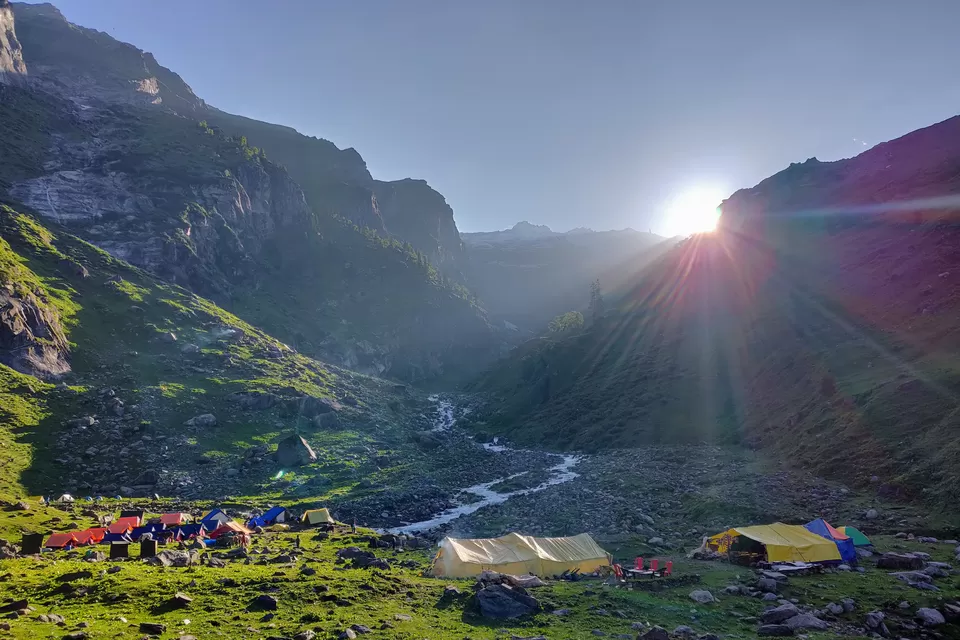 Day 2 - Chikka to Balu ka Ghera (10100 ft to 11900 ft)
Next day, after 7 am breakfast, 8am we set out for Balu ka Ghera with packed lunch and water bottles filled with fresh running mountain stream water. This stretch will show us how tree line transforms into dry rocky mountains with melting ice. Yet another easy climb with a distance of 8km.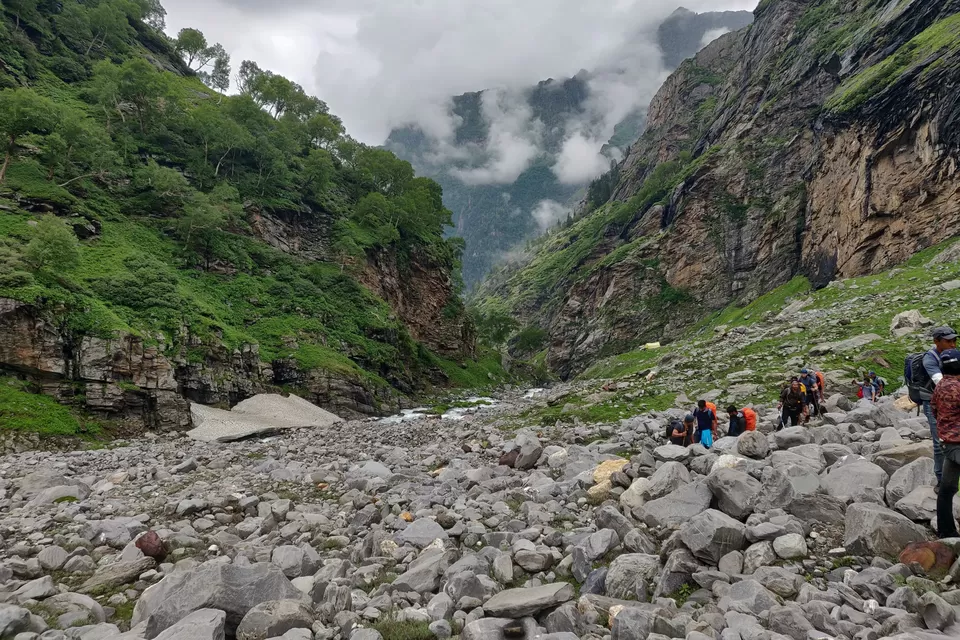 On the way we crossed the river with chilled water flowing fiercely. We formed human chains of 5 each and crossed with our bags on our back.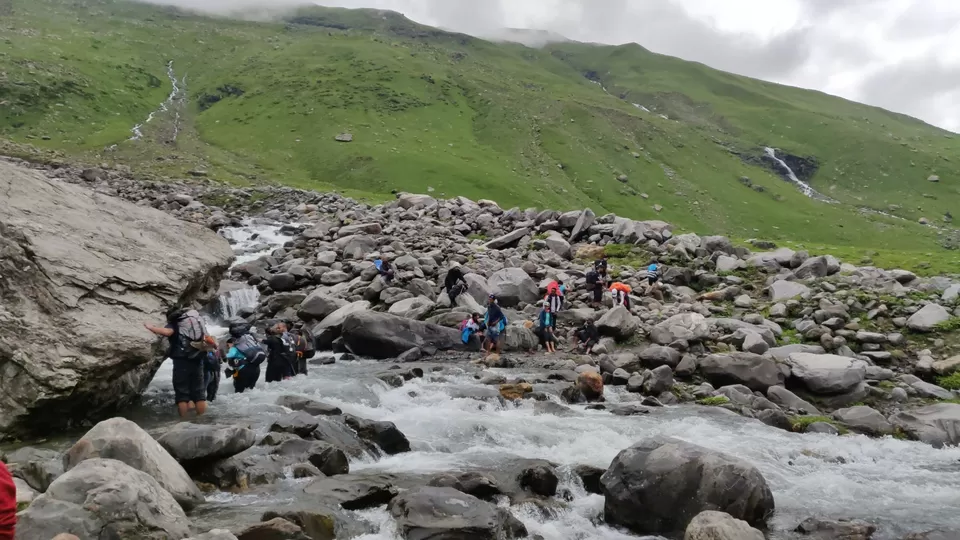 After 5 hours of trek at 1pm we reached Balu ka Ghera which is located at 11840ft. AT 10 degrees Celsius, now we have very less greenery but rocky mountains all around us. You can hear them falling sometimes at night. The camp was at nice flat area surrounded with mountains and river flowing next to our tent. That's almost the setting for all the camp sites, but here we have snow clad mountains on the side where we will climb tomorrow and green tree line on the other side which we crossed today. This was the day to acclimatize. We played Frisbee and did few walks around. We were advised not to go inside tent until its time to sleep. Mountain sickness started to take its toll on 2 of our group members. It was a sunny day but cloudy night with no starts visible.
We were briefed for next day, the day we attempt the summit. We had dinner and headed to our tents to sleep. We had to leave early to reach before sun reaches on top. Its always recommended to reach before noon to avoid sun burns and bad weather during descent on the other side.
Day 3 - Balu ka ghera to Sheagoru (11900 ft to 14100 ft to 12900 ft)
We start our day early at 6am, all excited to cross Hampta pass and reach on time to enjoy the view. Whether on the mountains is very unpredictable and can get against you any moment and disrupt your views. This is the day where we experienced the landscape of Spiti valley and the glory of Hampta pass. The day begins with steep climb till we reach the pass. It tests your physical fitness for which you were waiting till now. We cross 8 km stretch all over the ice.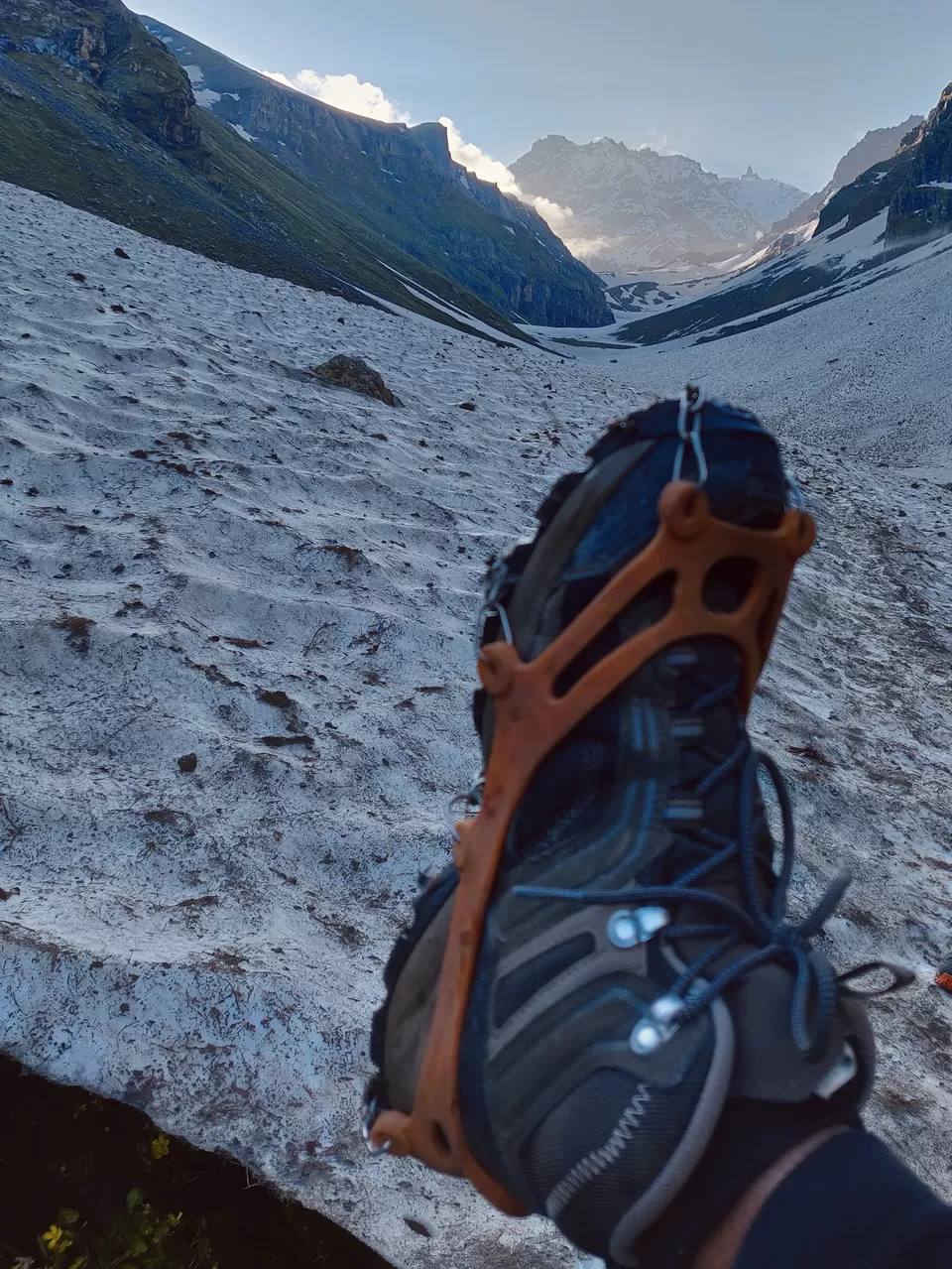 We had cramp-ons worn over our shoes for extra grip. Taking every step with care and walking in line with discipline. In between we came across small lake and beautiful field of young flowers blooming. It was a stunning site.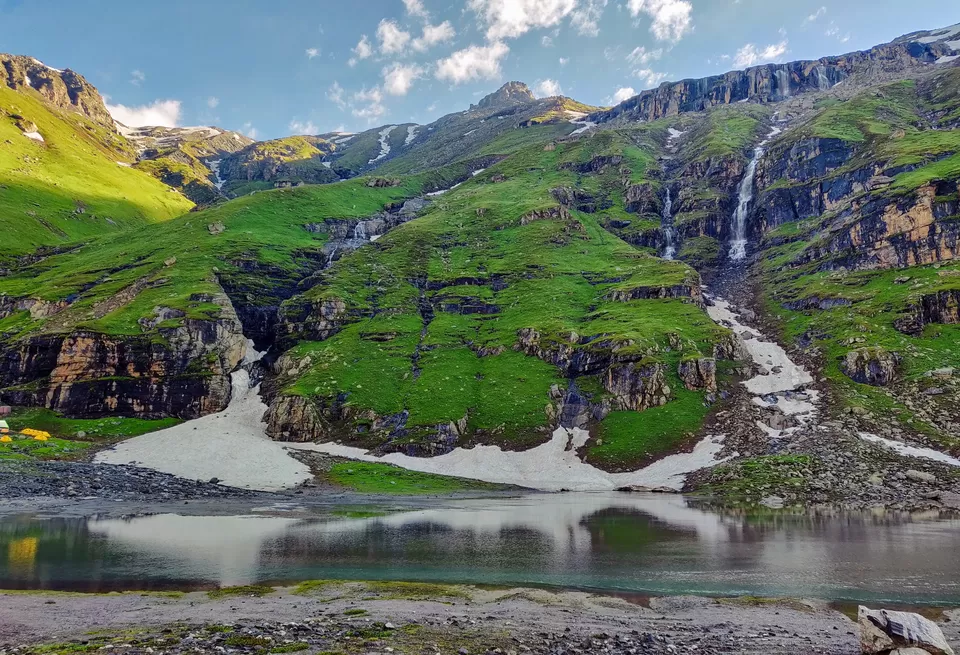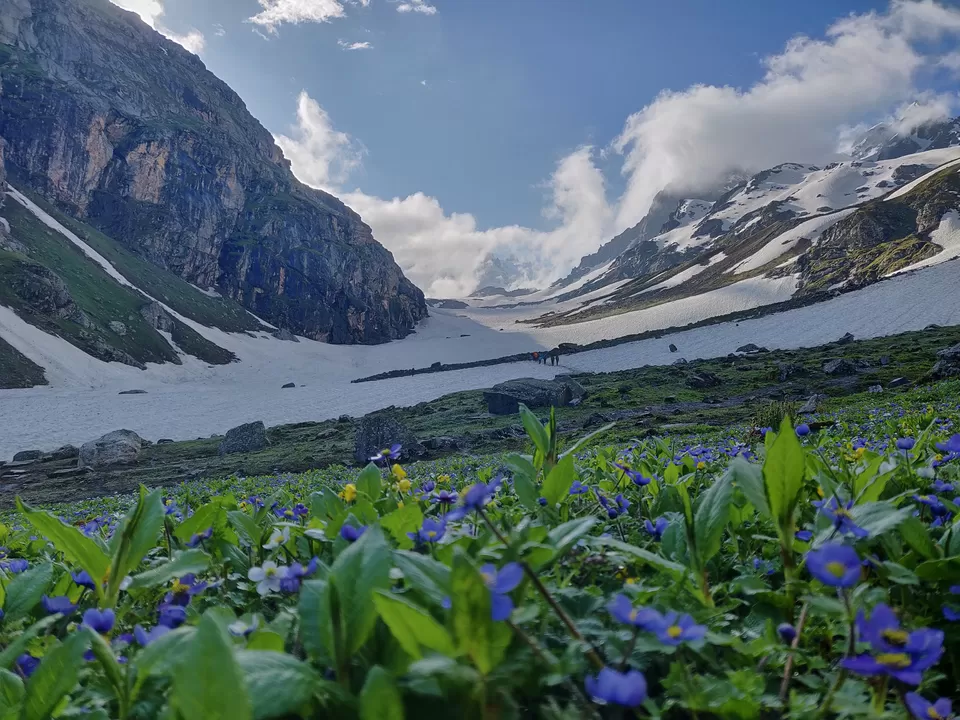 It drizzled rest of the way with fog around us.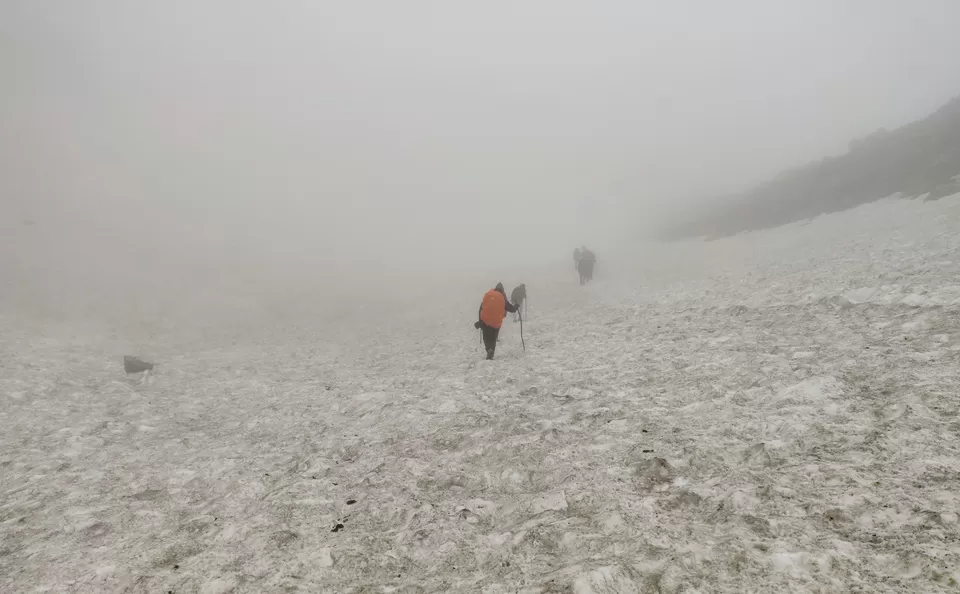 Once you reach the top of pass all your tiredness vanishes for few minutes. The Hampta pass sits at 14100ft and gives a lovely view form above. Its calm, cloudy, snowy and cold. The valley you climbed is in view on one side and the peaks on other. As we reached the pass the clouds started to clear and we had good view of the peaks around us. We did photo sessions and had our packed lunch.
Soon we started our descent towards Sheagoru. This 8 km stretch consists of steep climb and steep descent which is covered in 8 hrs. The descent is another fun and difficult activity. We had to slide over the snow as there was no other way left. That's how quickly the weather changes. The previous day's batch had a path to walk on and we didn't.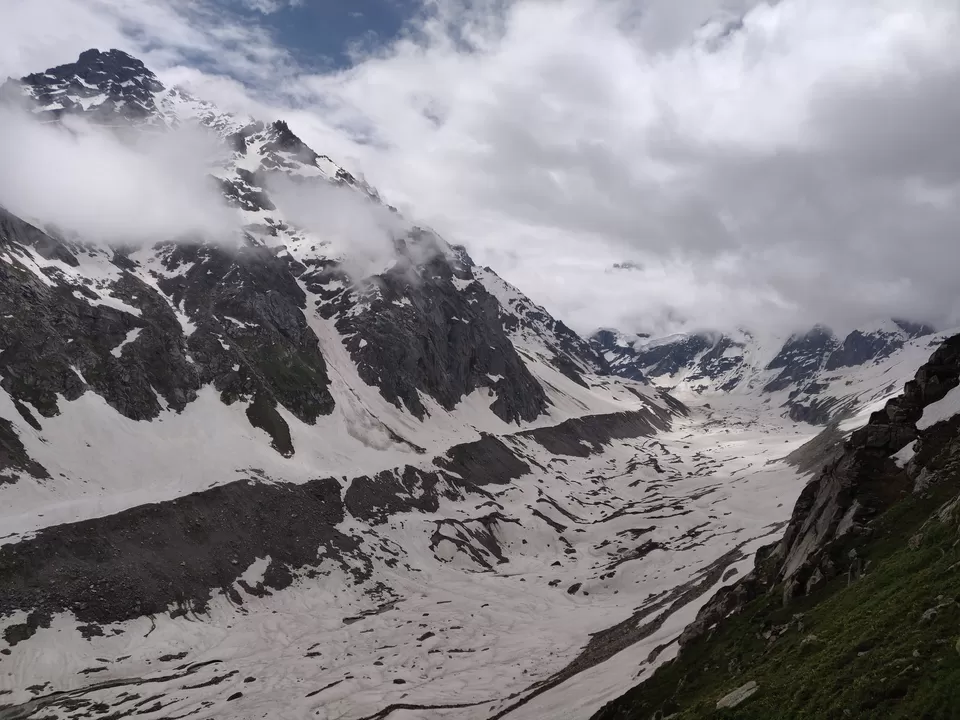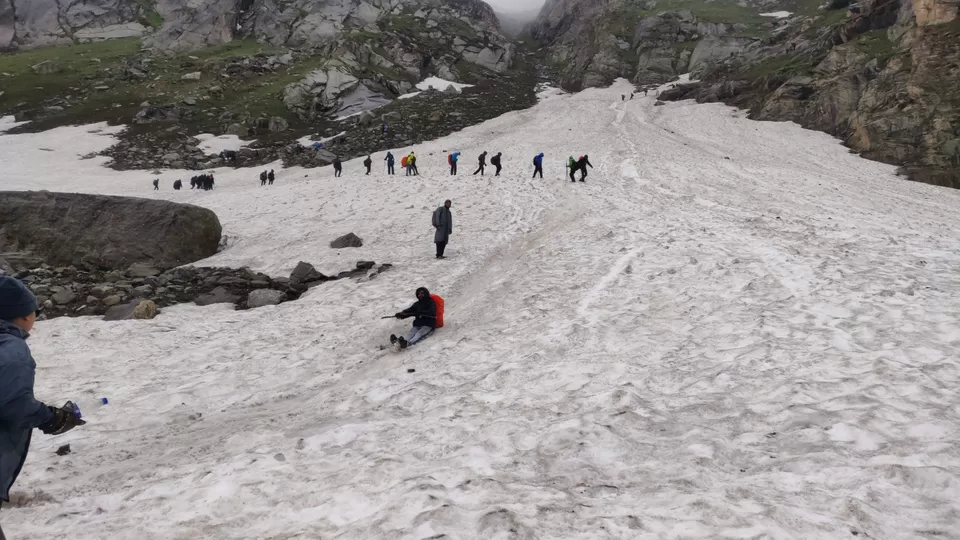 The camp site at Sheagoru is at 12900 ft where we took well deserved rest. We were exhausted and wet. This was the coldest day and night we experienced. The temperature varied between -2 to 5 degrees Celsius.
Day 4 - Sheagoru to Chatru (12900 ft to 11000 ft)
Started an early descent at 7 am after breakfast. Its a short stint which crosses through a deserted terrain. You will come across shining and colorful stones. After trekking down for 4 hours you will be able to see the road far in sight. Once we reach the camp site, we had lunch and rested for a while. The day didn't end there. We had the trip to Chandratal lake still left. The SUV will take you through muddy and bumpy road for 2 hours.
Chandratal is a moon landscaped lake. Its surrounded with green mountains on one side, barren mountains on one and snow clad mountains on the other side. Here you will fall in love with Spiti valley. Its situated at 13000ft. You are not allowed to dip or wash yourself in the lake and you should not.
Day 5 - Chatru to Manali (11000 ft to 9500 ft)
This is the day the trip comes to an end. With a start at 8am in our SUVs we set off for Manali. You will cross beautiful valley of Spiti via Rohtang pass. The road is bumpy at times, but smooth most of the time.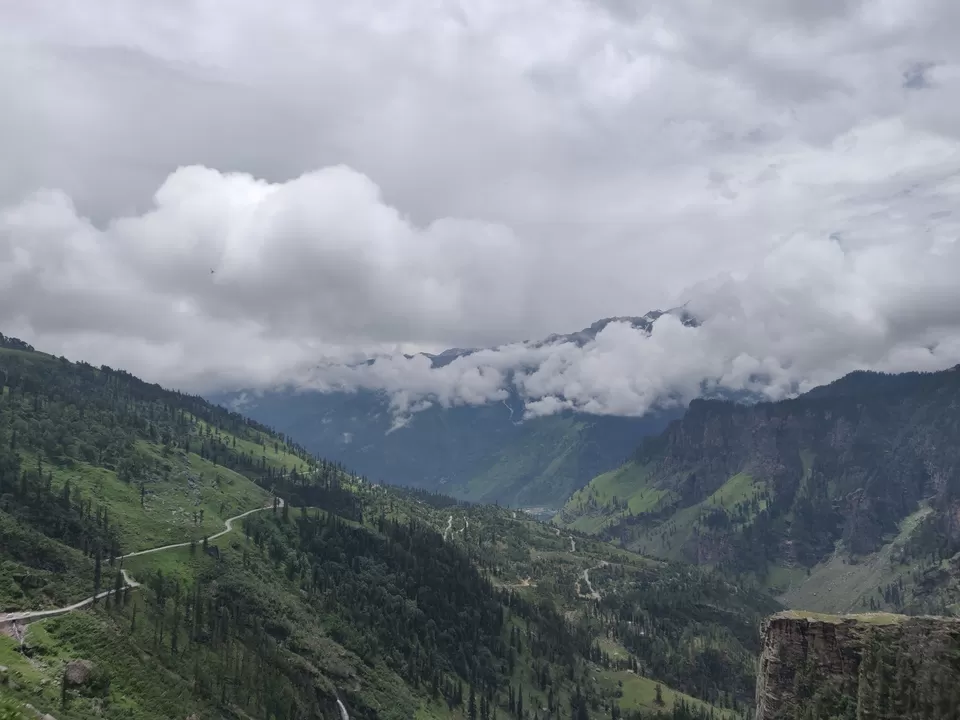 We reached Manali at 2pm. It was time to say goodbye to everyone and head to our home cities.
You can never thank enough to the helpful staff managing your food and tents, making sure of the safety, so you can rest, relax and enjoy the nature around you without worrying about food, and sleeping in cold weather.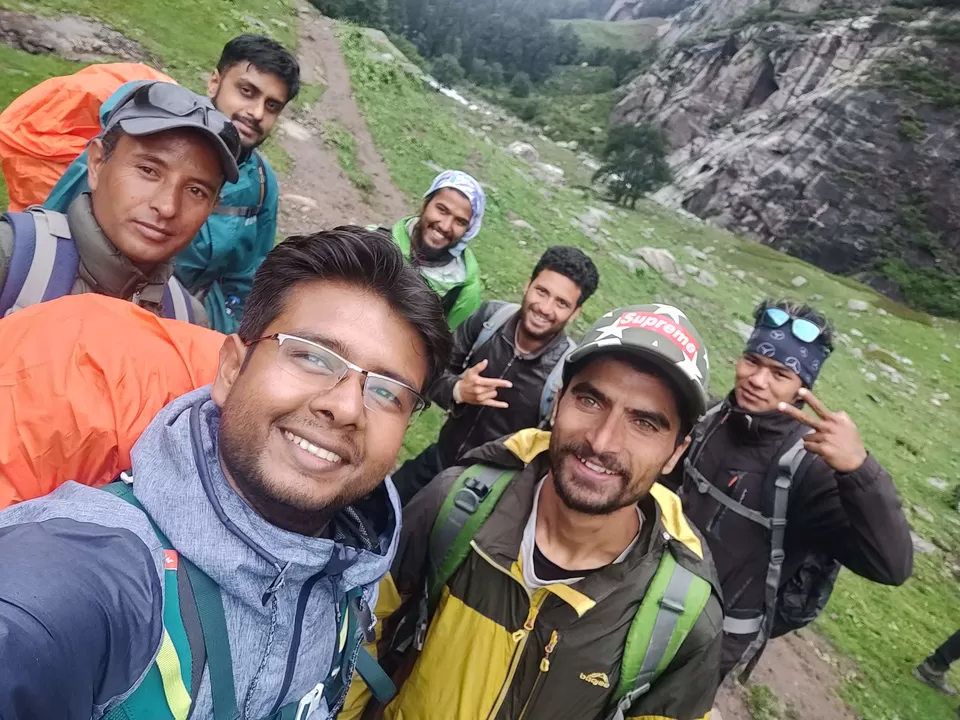 Food served throughout
We were served with the combination of following throughout the trek: Chapati, rice, mutter paneer, aaloo gobhi, rajma, dal, lady finger, gulabjamun, aaloo jeera, pulav, tea, bead jam, fruiti, macaroni, chik peas, maggi, soup and biscuits.
Manali
I stayed that day in Manali and took one more walk in the town and listened to the busy streets. I stayed at House of Amigos which I booked from Agoda. It costed Rs.415 for the night.
Manali to New Delhi to Mumbai
Next day I took the bus back to New Delhi with overnight journey. Bus journey costed around Rs.1200. From New Delhi, took train (Rs.2500) to Mumbai with another overnight journey to end the trip. That was a wonderful and memorable trip from 50 ft to 14100 ft and back.
After this impression of the Himalayas, I went on to do another trek called Kedarkantha peak. I'll write about it soon.
Check list
Backpack with rain cover (45-60L) | A daypack (if you plan to give your bag to porter) | Torch | Water bottle | Medicines | Trekking shoes | Walking poles (optional) | 3 t-shirts | 2 trek pants | Gloves | Cap or hat | Snacks | Sun glasses | Sunscreen and moisturiser | Fleece sweater | Rain jacket | Poncho | 2 pair of socks | Slippers/Sandals | Toiletries
Safety first. Always listen to your trek leader. Do not consume alcohol or smoke. Do not part away by going too fast or too slow during the trek. Keep a steady pace. Always inform someone from staff before going for a hike nearby. Mountain sickness is real. Do not sleep in odd times. Always be clothed properly in layers. Keep yourself hydrated. Dizziness, headache, vomiting and heavy breathing are symptoms of AMC (acute mountain sickness), inform your trek lead. Its normal. Do not panic. If you are fit, you will not experience any of it.
I booked with Moxtain. They played a great part in making this a pleasurable experience. The staff was amazingly experienced and helpful.