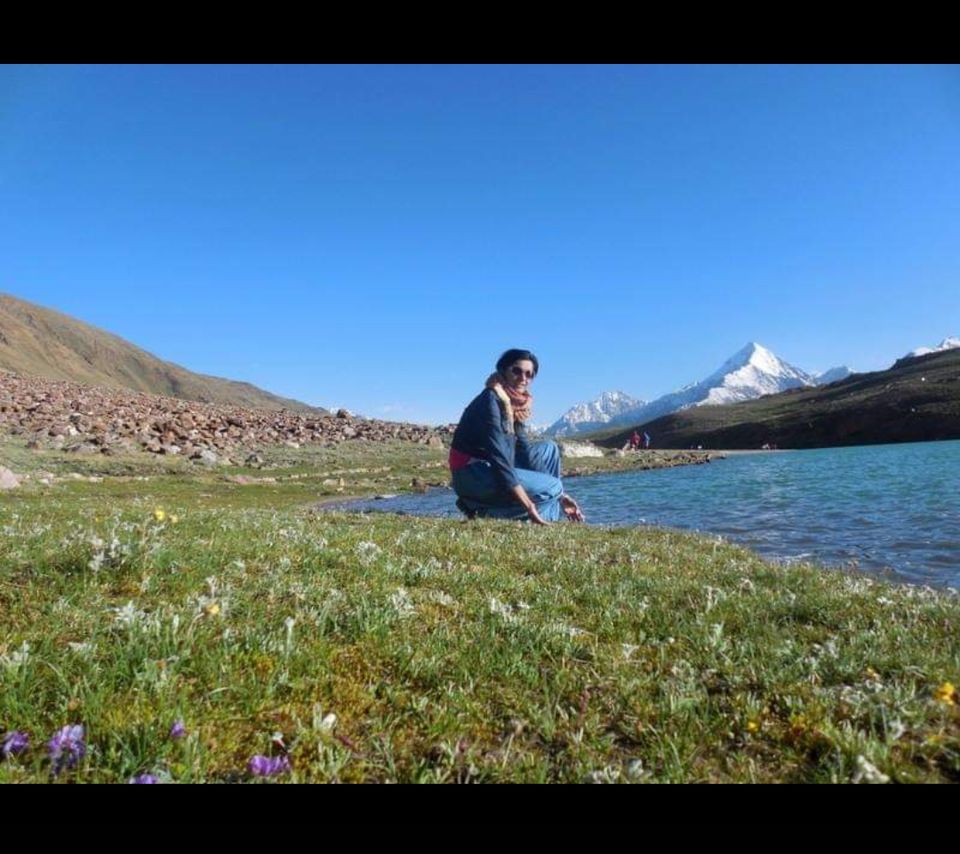 When finally got approval of 6 days leaves,didn't tell in office that I would be off network for next 6 days.Off to Spiti valley😊
Started  from taking a flight to Chandigarh from Mumbai,and then actual trip started on road,and not to my surprise in HP roadways bus for around 250 kms,being a rugged traveller then,wanted to do it that way,afterall plus point getting to watch scenic beauty all the way up
Chandigarh to Mandi,in around 7hours, then took local minibus from Mandi to Manali via Kullu,for another 2hours or so. Reached to my hotel called Leki Palace in old manali,late in the night,found pretty safe.
Only for the night stay as early morning have to start the road trip to Kaza with 3 other female travellers(by that time had no clue about them)so went to introduce myself before heading to bed,only to find out they all were asleep already🙄
So went to sleep with much excitement for next day🙂
Started early morning,with introductions amongst ourselves,and driver,in few minutes by the time we reached for breakfast on dhaba we realised we have got best of driver and buddy at service.
Crossed Rohtang pass and our 4 by 4 off road,drive started after solang pass,where we could still see snow melting.
Crossing nallahs,waterfalls,topsy curvy path and Chandra river gushing besides us. Driving past dirt roads reached to highest pass,Kunzum pass.
We were instructed to eat bananas or light breakfast,for getting acclimatized.
By lunchtime reached Batkal and had great cup of Maggi and rajma chawal at famous @chacha Chachi.
By evening reached Kaza, slept overnight at sakya abode,after having dinner under the stars.
Kaza to Langza
Day started with a hearty breakfast,and met our local travel buddy,Mr.Tashi,he was off to chandrataal camping (had own camping tents) before meeting us.
We saw Key and Kibber  Monastery before lunch.after that went up till Komic,one of the highest point there,and had nice cup of tea offered by a carpenter team working  for rehabilitation of monastery there.
On the way met Nasik motorbikers group,to highest placed post office in the world,Hikkim,and finally drove to our homestay in Langza by end of the day, which was one of the 32 houses there.
Beautiful homely vibes,our host was really warm welcoming,and made us learn cooking our own momos, filling of potato and saag from their backyard,and Spiti style thukpa.
Cooking our own meal together,took away all our tiredness of the day,after having scrumptious meal.
Langza to Dhankar
Woke up not feeling quite well,so stayed back at Dhankar hotel after visiting dhankar gompa,and skipping hike to some lake above,which my co travellers went for. To recharge myself for chandrataal hike,and I called it a day earlier than the rest
Dhankar to chandrataal on full moon
The best best part of my trip was visiting chandrataal lake,we reached there after a long drive,by early evening. Dropped our stuff in assigned tents,and hopped on to jeeps going up to the lake.
Had the most scenic and spiritual experience beside the lake,water was cold but sparkling with beautiful green and blue hues,and reflection of snow capped mountains in it.
Hiked down on foot while the sun was setting,and had the best meal and rum combo courtesy Mr.Tashi,under the stars.
Chandrataal to Manali
Last day of the trip,and longer on the road til Manali,passed through chacha Chachi again for lunch,had rajma chawal 😆by the time so much of rajma chawal we had in past days,still it tasted good. Reached back to zostel Manali for overnight stay,and next morning bus to Chandigarh and flight back to Mumbai.
I took me a lot to get back to work in complete zone, because I was zoned out😄in Spiti's zone,which uplifted my spirit like no other trip had that effect,inspite of being tired with continuous road travel.
Would like to end up with a poem,which came to my mind whilst crossing those mountainous paths:
Wrote this 2months ago,while passing by Spiti river and valley. Thought to share it after I read someone's journey note, so here is a piece of my feelings then...
पहाड़ों की तरह खड़ा तू ..अपने ही गुमान में,या किसी बैराग में..
सोचता है ना बदलूंगा,साल दर साल..
इज़ाज़त दे मुझे खु़द पर से गुजरने की,झरने की तरह बहते हुए..
हॉ ये सच है कि यूं घुल ताे ना जाएगा,पर तुझ पर बहते बहते कुछ निशान छोड़ जाऊँगी..जो तुझे करेंगे बयँआ पर तू रहना बेखबर...
शायद तू ये साेचे की बहती थी मैं तुझे बदलने के लिए,पर कभी यक़ीन होगा..बहती थी मैं तेरे साथ सँवरने के लिए