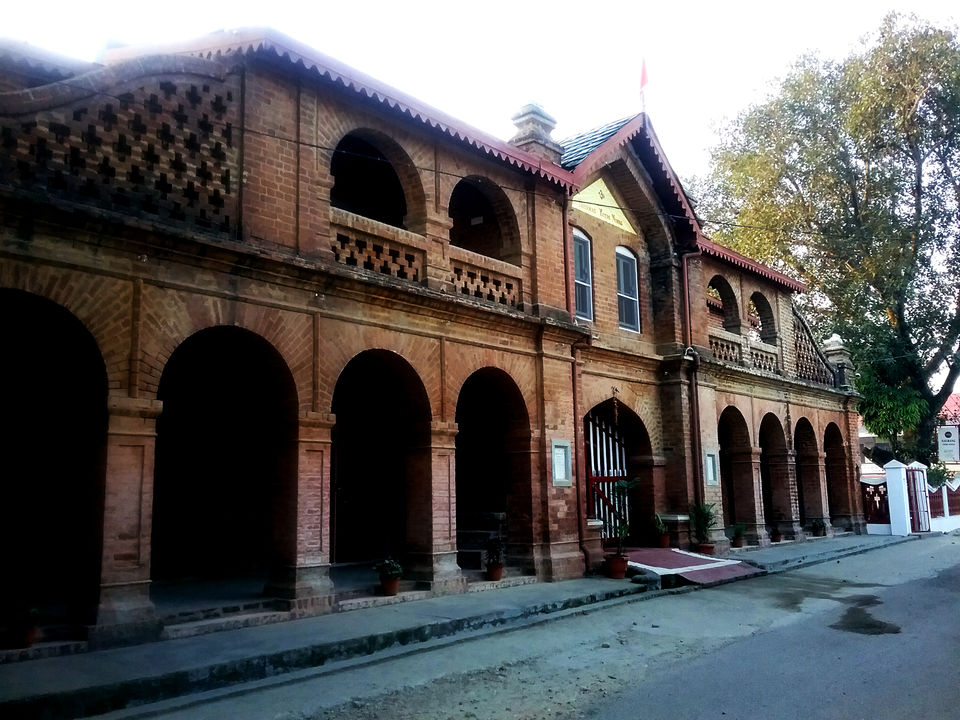 When History beckons, you answer and when history beckons you through off beaten path you cannot avoid the call. Garli and Pragpur is the first twin village in India declared as the heritage village in 1997 by Himachal state Government notification. Not by chance, but I was planning for this trip for last couple of months knowing their rich heritage and history. Finally after cancelling my trip for once, my husband and I set out a journey for Garli – Pragpur or better known as Pragpur Garli, in the first week of December. We took night bound train from Delhi and reached Amb- Andura in the morning, which is the nearest railhead to Garli. After a 40 minutes rides by local bus a walk of merely 1 kilometer we finally reached our destination Naurang Yatri Niwas by noon. Garli is a small hamlet nestled in Kangra valley, surrounded by mountains on three sides and on one side there is river Beas. The manager in Yatri Niwas, Pawan is an ever smiling local person who is always ready to extend his helping hand in whatever matter you need, be it knowledge of the local village and villagers or may be local cuisine or the history of the place. The building itself is about 100 years old was built by Rai Bahadur Mohan Lal, the grandfather of the current owner Atul Lal to facilitate the stay for the Lt Governor of Punjab to attend the wedding of his eldest daughter. This village along with Pragpur finds its history dated back to 16th- 17th century. The place is well kept by tasteful delineation in the supervision of the present owner Atul and his wife Ira and they are always available on phone if for anything you need them. A village map is also made available for the ease of roaming around in the near vicinity. There are around 50 odd heritage houses in and around Garli, but most of them are in a locked situation or may be given to the care taker. The doors of the mansions are always open to the travelers and without any hesitation one can go inside to find a smiling face of the owner or the care taker. If you say that you are just roaming around and happened to come inside, they will ask you to stay a while and may offer you a cup of tea. After a two and half hour roaming around through the ups and down of the village, we almost visited all the possible mansions those were mentioned in the map provided. There is a pond in the heart of the village, which was probably the main source of water as the river is around 3 km. from the village. Once you are in Garli, the visit to Pragpur is must.
Next day we decided to walk to Pragpur which is around 4 km. from Garli. Pragpur was founded in the late 16th century by the Patials in memory of Princess Prag Dei of the Jaswan Royal family. The meandering streets in Pragpur will take you through the picturesque cityscape and the market where you will mostly find gold and silver jewelry makers. The most prominent and well kept mansion in Pragpur is Judges Court, which has been converted into a heritage hotel. Other than that one can visit Lala Rerumal Haveli, Butail Mandir, Shakti Mandir which are located in the walking distance. The unique colonial style of architecture and well kept cobblestoned road will definitely take you to another time when you slowly walk past them. Listen to very carefully as the mansions whisper to you of their bygone era.
Keeping the base at Pragpur or Garli, one can visit Kalinath Kaleswar temple, Dadashiba temple, Mata Jwalamukhi and Chintpurni, the latter two are two Shakti peeth out of five shakti peeth in Himachal Pradesh. Take a walk to Beas in the morning or in the evening, enjoy sunrise and sunset, take a boat ride or just spend a lazy day over there.
After spending three days of complete bliss, we left for Una and came back to Delhi by a night bound train. This trip remained in our mind as a blissful experience and memories to cherish in future.