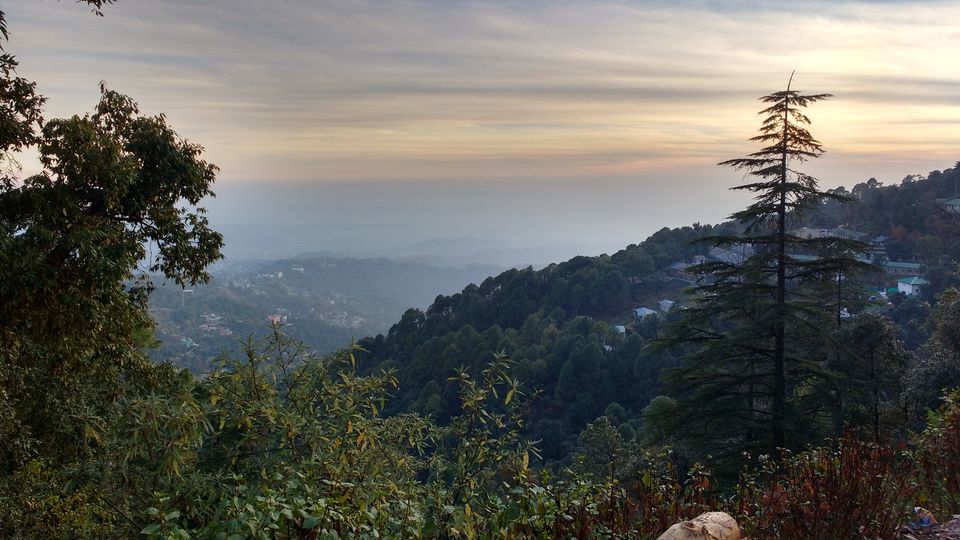 "A good traveler has no fixed plans and is not intent on arriving."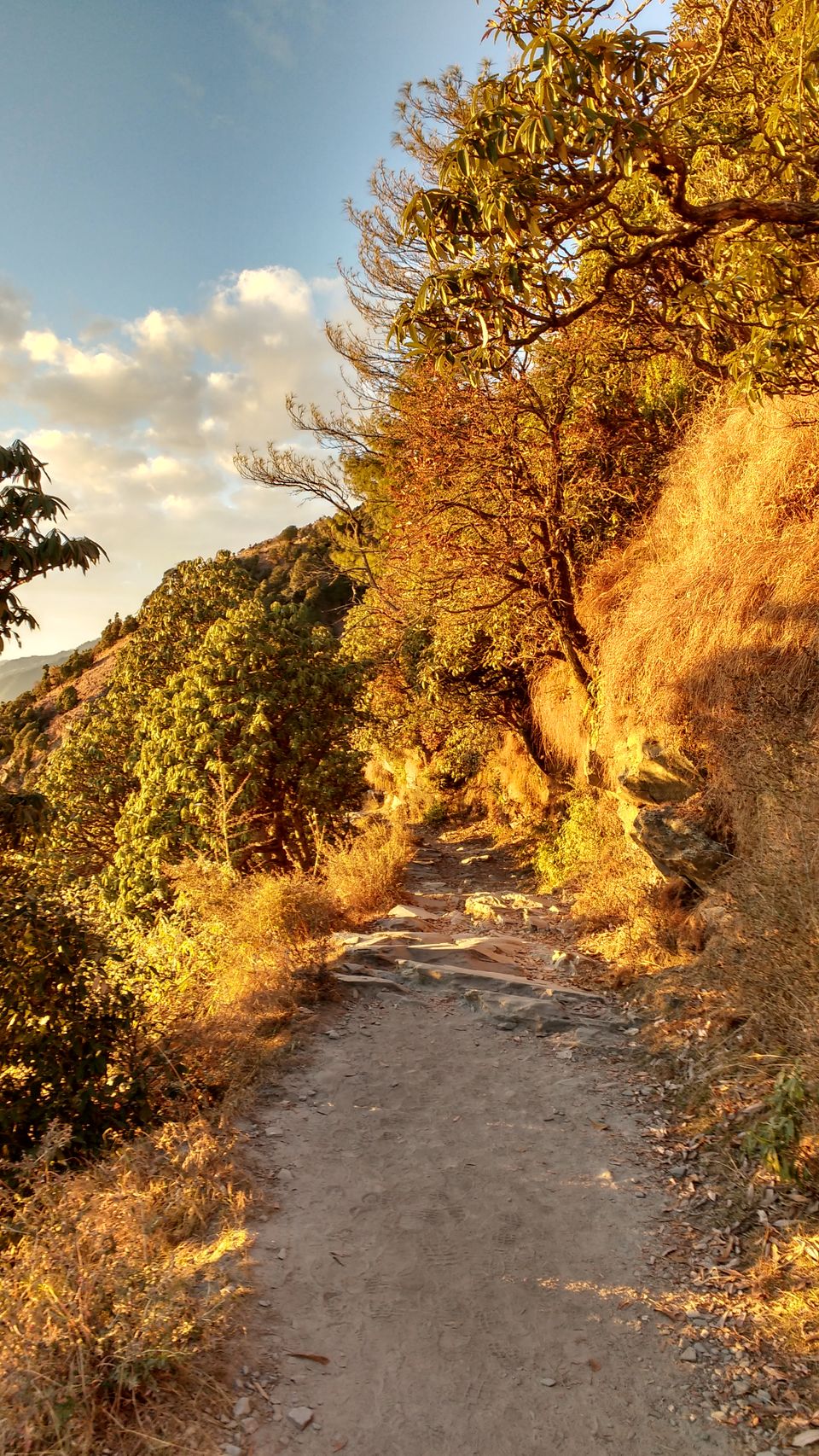 I'd always had this urge to document my travelogues but they say, "effort needed to take up a new thing is directly proportional to one's laziness" thus, every time the urge grew stronger, my laziness became even more strong and took a toll on it.
I'm yet another corporate slave who fights through the weekdays to make it to the weekends and every time it nears a weekend, my mind starts taking flights of imagination in order to make the most of the upcoming weekend. Just like any other travel enthusiast, the moment its a new year, I also sit down matching the office holiday calendar with the long and not-so long weekends, planning how to convert those to short and long trips (nothing extraordinary, you see!).
So today, as I got down to finally write one, the next challenge was to zero in on which one I wanted to begin with. After much anticipation, presenting: My First Travelogue!
It was one such long weekend in the February of 2017 that happened to be Maha Shivratri. Its a trend we millennials follow these days, the moment its a long weekend- the mountains call and off we go! So, the mountains called me too (or may be, hallucinating, was I?). However, with the lack of company I was in a dilemma even till the last moment- to go or not to go, was the question quite literally, here. So after thinking and re-thinking, braving the odd thoughts, I packed my rucksack and boarded the metro to ISBT Kashmere Gate.
Next question- where to go? With so much to cover and a few weekends in hand, the biggest challenge I face each time is to finalise the destination. I decided to go for Parashar lake trek and had made up my mind to take a bus till Mandi. But, if things went as per the plan, life would become boring, no? Reaching ISBT, I discovered there wasn't even a single ticket to any destination leave alone the one I'd chosen. But determined as I was, hopping from Uttarakhand ticket counter to Himachal, putting up a puppy face, requesting the person sitting at the ticket counter to issue me a ticket to anywhere (desperation, you see?), I managed to get the only ticket available for the last seat in an ordinary bus to Dharamshala (the dreams of a comfortable seat in a Volvo gone for a toss).
Just to tell, my affair with the mountains began with my first trip to Dharamshala and Mc Leodganj, There's something really appealing about this place for which I keep coming back to it, this being my third visit in three years and So, with a little disappointment of not being able to discover a new place and with a little more confidence of traveling on my own to a not-so-unfamiliar place, I boarded the bus.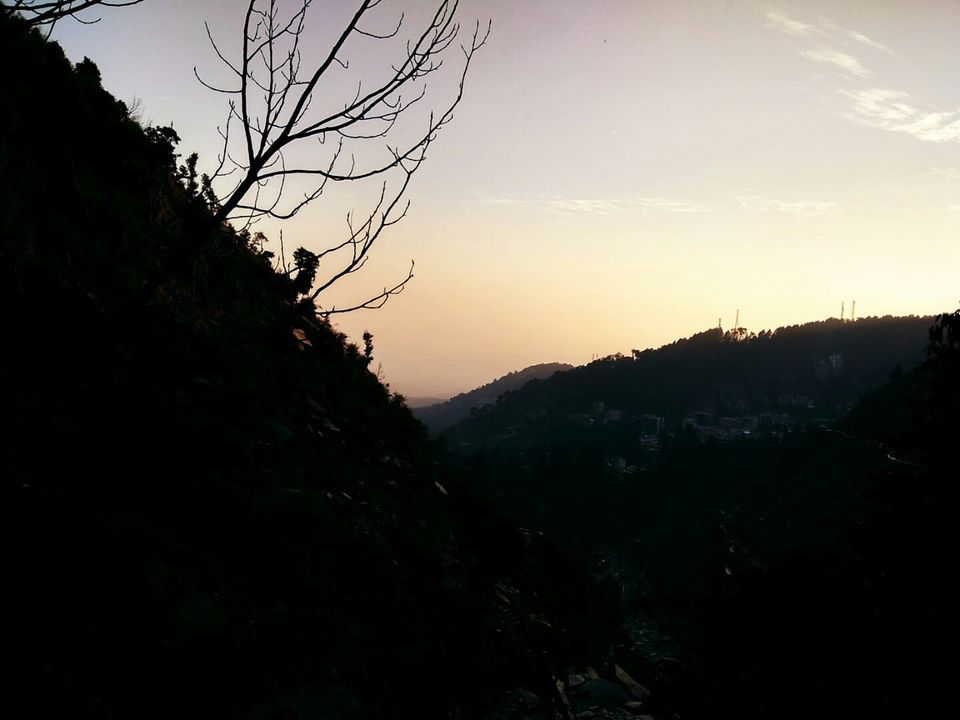 Day 1:
The bus reached Dharamshala at 6am the following morning and I was all geared up to catch the very first bus to Mc Leodganj from there as soon I could lay my hands on it. As a traveler mostly on a shoe string budget, the idea is to explore more by cutting down on the stay cost with the only pre-requisite being- no bugs in the bed and a clean washroom. Keeping this in mind, I booked a room in a homestay for as cheap as 30 bucks (rest being taken care of by Goibibo's go cash :P) on Jogiwara road at a stone's throw from the Main Square (The main market area).
A quick tip- you can explore the entire area solely on foot, taking halts for lipsmacking momo- with an option to choose from fillings of cottage cheese, vegetables, boiled potatoes or spinach or anything sweet from the amazing dessert places all across the area. Personally, being someone who's not very fond of sweets and an ardent momo lover, I always settled for the latter ;)
By 11am I was all ready to rock the place, yet again, but this time, all by myself. But, wait-did someone say fooood? :D As goes the saying "When in Rome, do as Romans", similarly, when in little Lhasa (synonym for Mc Llo), eat like a Tibetan (local cuisine). With the cute graffiti of a come-come cat (Maneki-neko in Japanese) beckoning with an upright paw, said to bring good luck, and the words 'Momo Cafe' written in Japanese at the entrance, Momo cafe was a quaint cafe located at the fork that further divided the Main Square to Bhagsu and Dharamkot, and served as my stop over for breakfast. With a capacity of 3 tables, mostly occupied by lamas and locals, sharing a conversation or two over piping hot ginger lemon tea or a plate of momos and tibetan chants playing in the backdrop, the scene offered so much peace and tranquility, almost stopping time. After a hearty meal of Thukpa (a broth with noodles, lots of vegetables and egg drop), I was again at my toes to explore the place.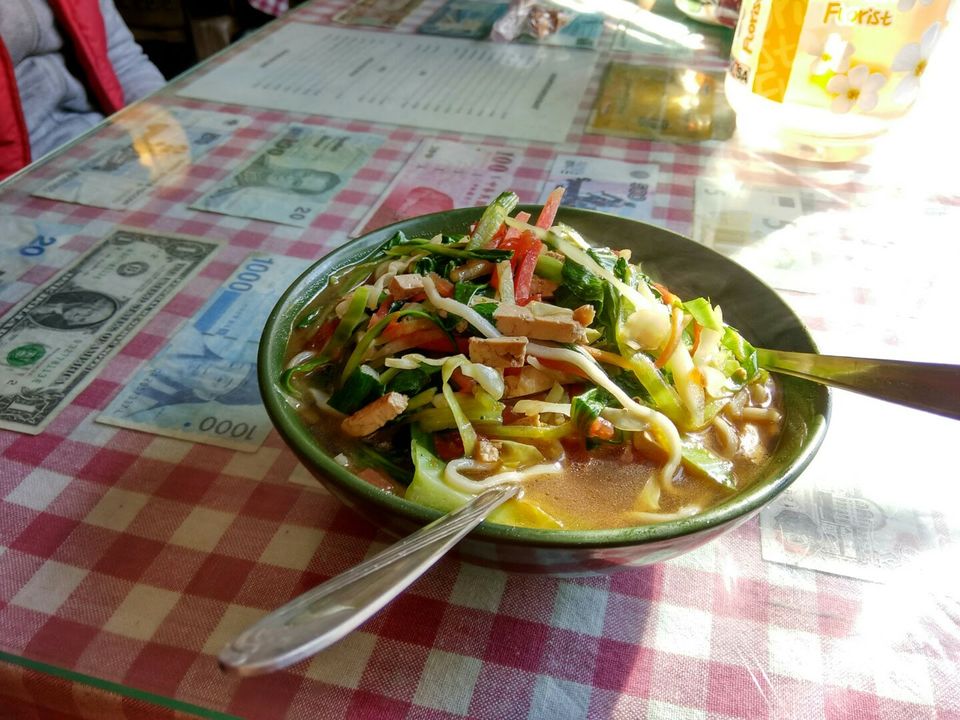 In my previous two visits I'd explored Naddi Village, Dal Lake, St.John in Wilderness, Dharamkot, Norbulingka Monastery, Main Square, Temple Road and Jogiwara Road (for the shopping enthusiasts), Dalai Lama temple and Triund trek. So, this time, I decided to settle for Bhagsu.
Bhagsu is known for the historical Bhagsunag temple, Bhagsunag waterfall and the (in)famous Shiva cafe. Bhagsu is around 3-4 kms from the main square, the route is such that you are provided with beautiful views of the valley along side. As one nears the Bhagsunag temple, one can see a large number of shops selling a variety of stuff for people to take back as souvenirs.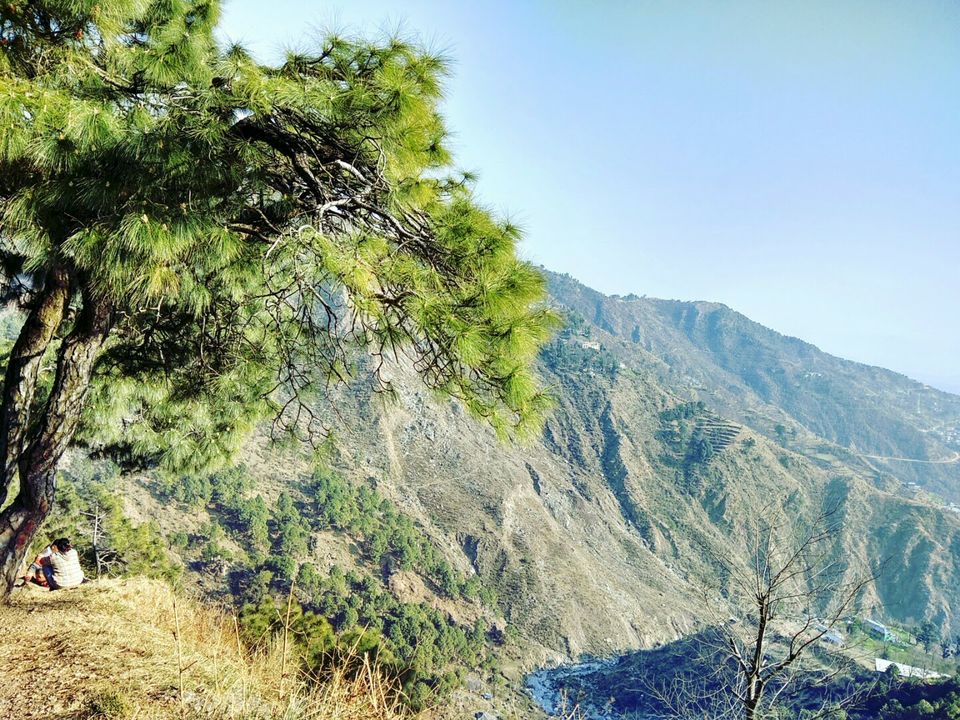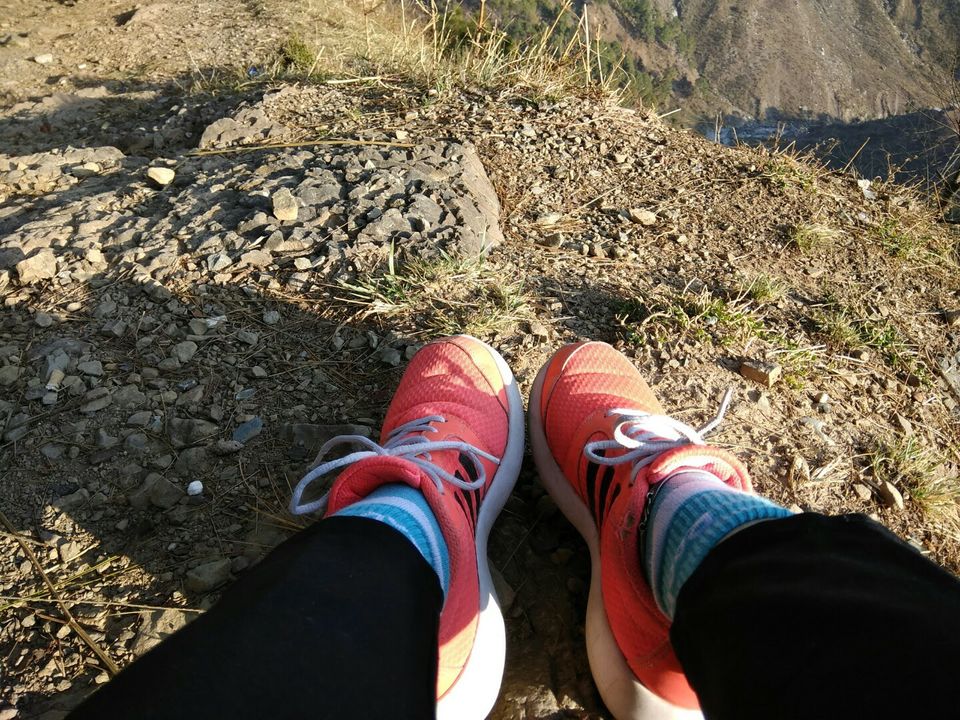 I took a quick halt at Bhagsunag Temple which was bustling with devotees offering their prayers and then made my way to the Bhagsu waterfall. Bhagsu waterfall is located at a distance of 1 km from the temple, the path is levelled with stones and is fenced all across presenting mother nature with its varied colours on the way.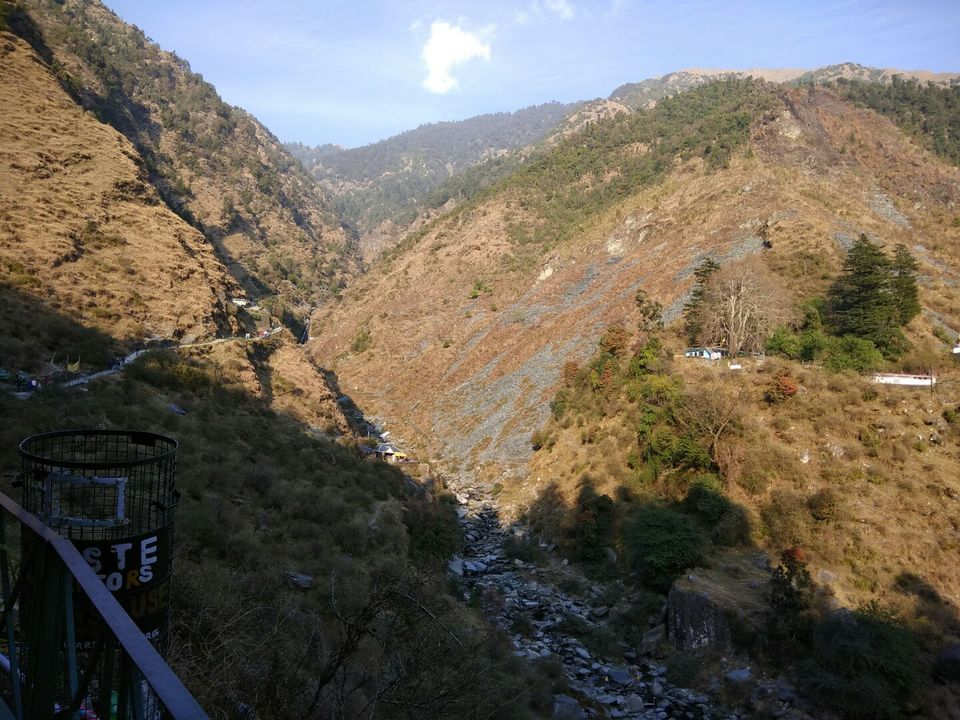 Gasping for breath, I finally made it to the waterfall and believe me, it was all worth the effort. I stopped there for sometime, just sitting there, looking into nothingness, snacking over a plate of delicious soupy noodles. My thoughts wandering, taking me to a euphoric place where there was no sound to be heard, absolutely nothing, a blanket of peace and calm took over the entire place.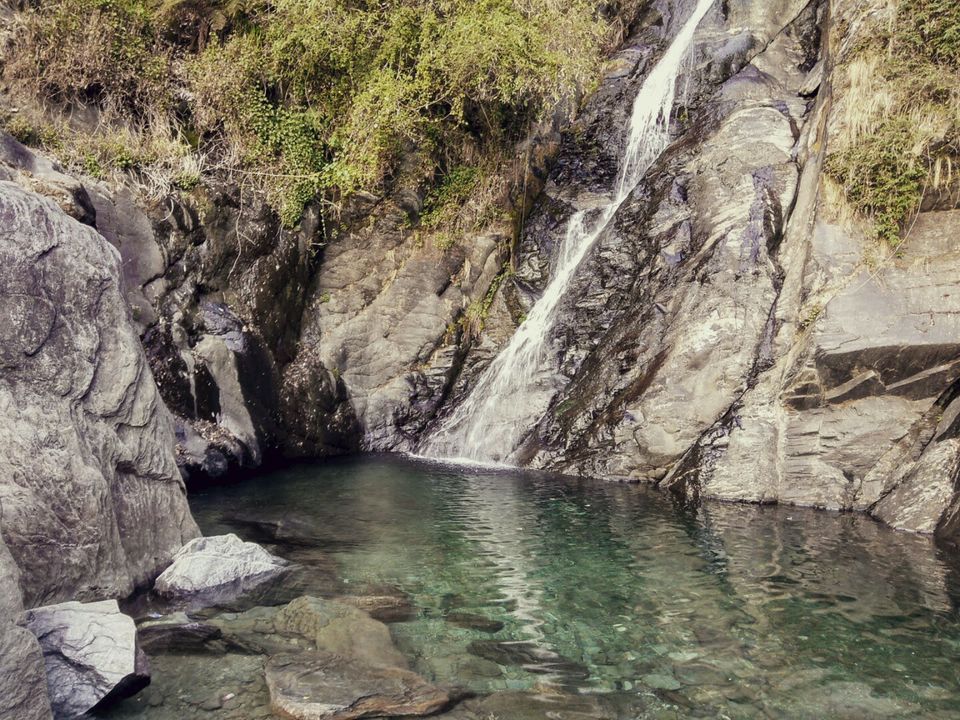 After spending good one hour, I got at my toes again for my next destination which was the (in)famous Shiva Cafe. I had heard so much 'stuff' about the place that I just couldn't wait to reach there. I was welcomed by chill air, beautiful surroundings with paintings made on rocks, a warm attendant kind enough to serve me pipping hot vegetable soup. I settled myself on a bench facing the valley savouring the bowl of soup, yet again lost in thoughts, the thoughts which took me places, the thoughts which were my companions in the absence of any company, the thoughts which were MINE! :)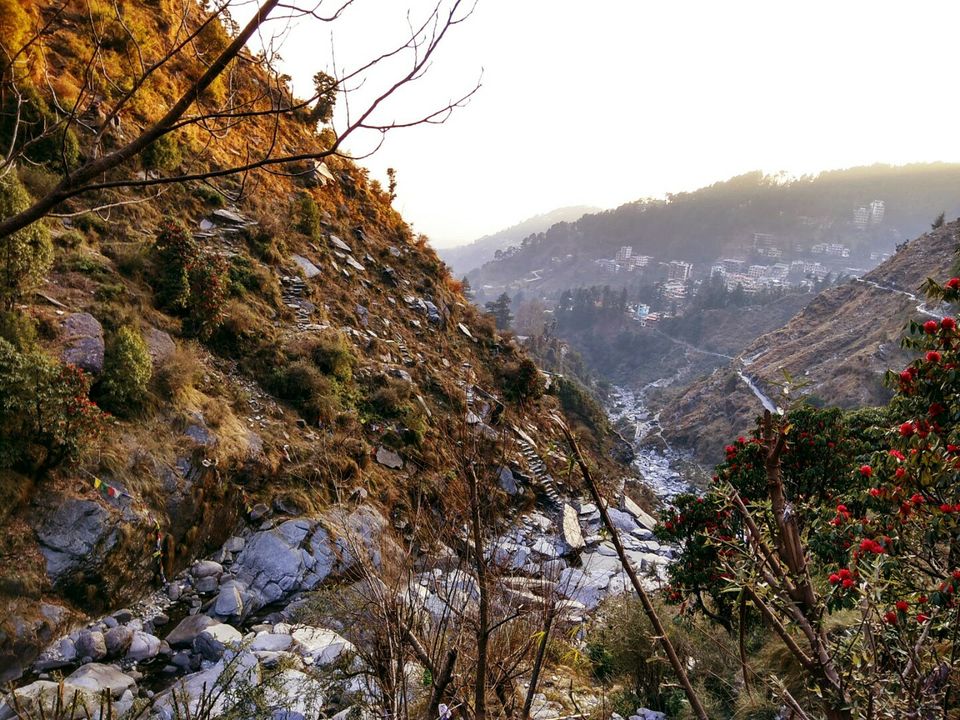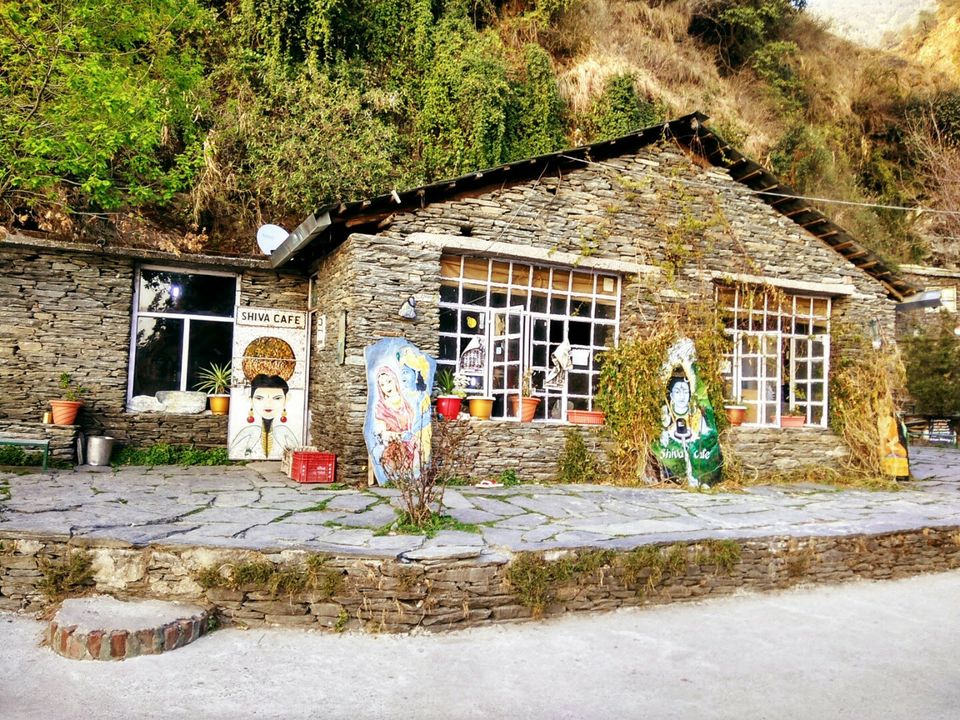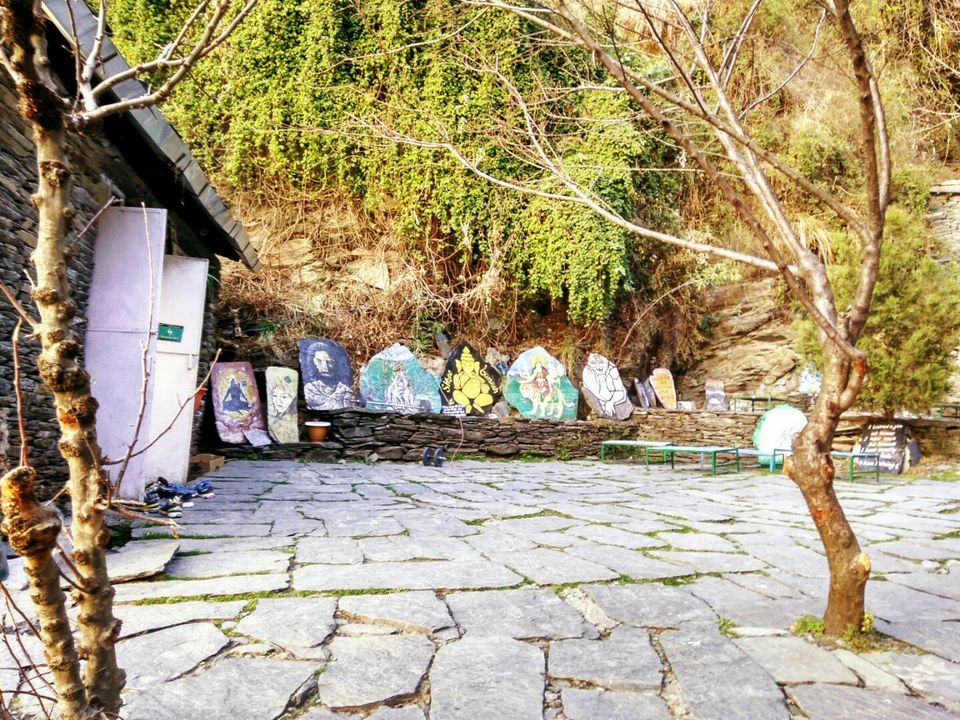 It was already 6pm by the time I decided to make my way back to the homestay- my abode for the night. One good thing about the mountains is the simple lifestyle of the people, unblemished by the fast-paced city life. Capturing all the beauty which was too much for one day, I decided to retire for the night and slept like a log.
Day 2:
Day two brought with it the obvious question of where to next. Since food is always a good idea, I thought of pondering over it accompanied by a scrumplicious breakfast of Chicken, saute vegetables and jacket potato from Jimmy's Italian Kitchen (located on the Jogiwara Road about 70 metres away from the Main Square towards the Bhagsu road). And since good food always brings with it good ideas, I zeroed in at Palampur as my next halt.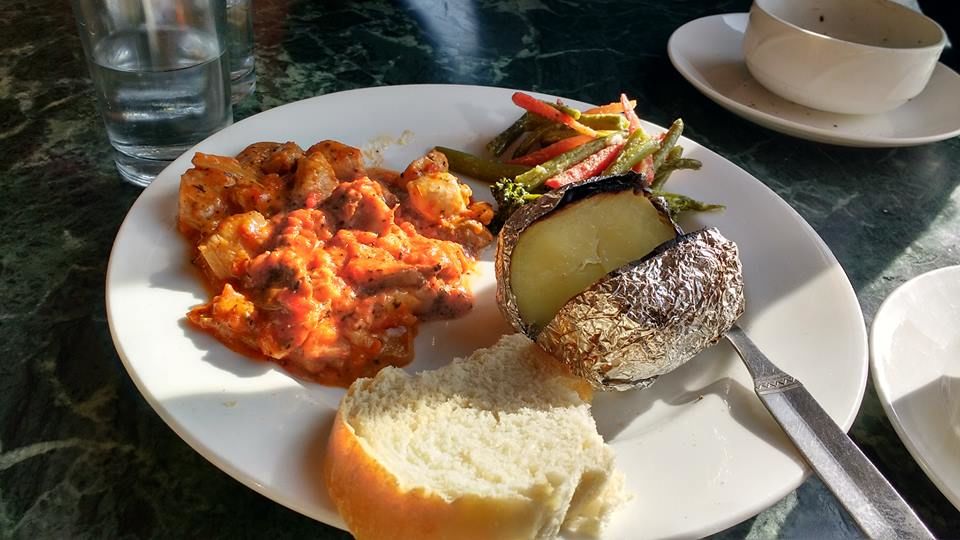 After having a hearty meal, I made my way to the Mc leodganj bus stand for my bus to Dharamshala from where I took the bus to Palampur. It takes about 1 hour 30 minutes to reach Palampur and the route is scenic beyond expression.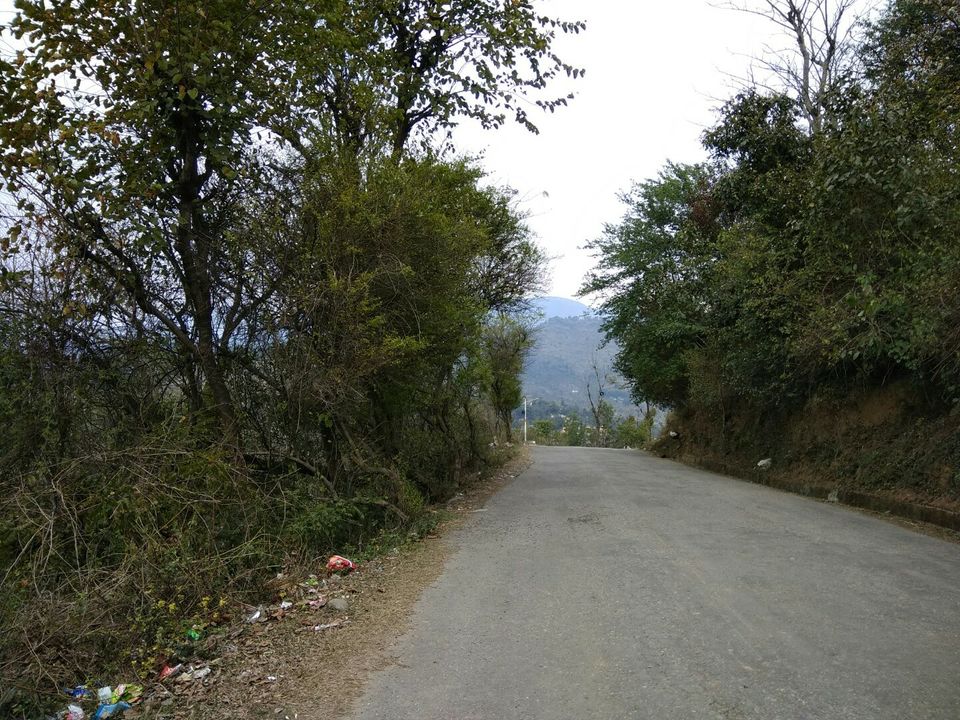 Setting foot at the Palampur bus stand, I was disappointed for it didn't turn out the way I had expected it to be. But, was I gonna give up that soon? Hell No! On exploring the web I came across this beautiful Monastery located in a place called Tashi Jong located about 18kms beyond Palampur on the way to Baijnath. I have always had a thing for buddhist monasteries so its not difficult to predict my next move- Yes, I was in a bus to Tashi Jong, already!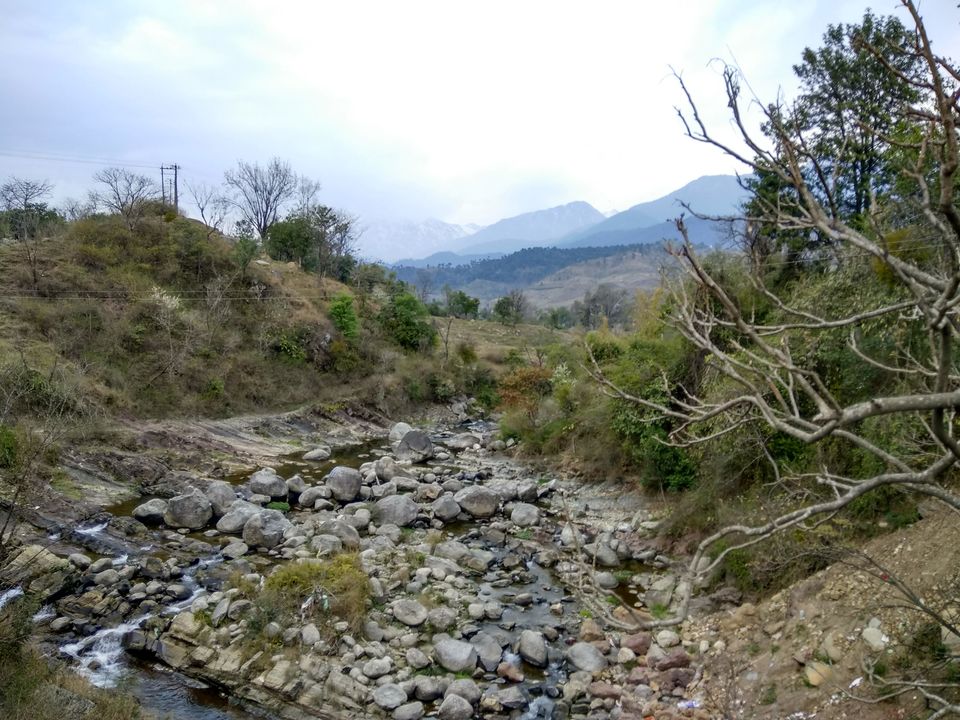 "Strange are the ways of God to men" they say, and Tashi Jong is an example of it. Who would have thought that there could exist a place amidst the otherwise himachali population, full of Tibetan people, portraying an altogether different culture (Himachal Pradesh otherwise has a number of Monasteries, I know, but this one is truly a hidden gem). The bus dropped me at a place called Bheth Jhikli from where Tashi Jong is another one km walk. I was welcomed by a gateway with inscriptions in a language I couldn't understand but it appeared beautiful to me, nonetheless. Oh, and did I tell you its the 1st Smoke Free Village of Himachal Pradesh? :D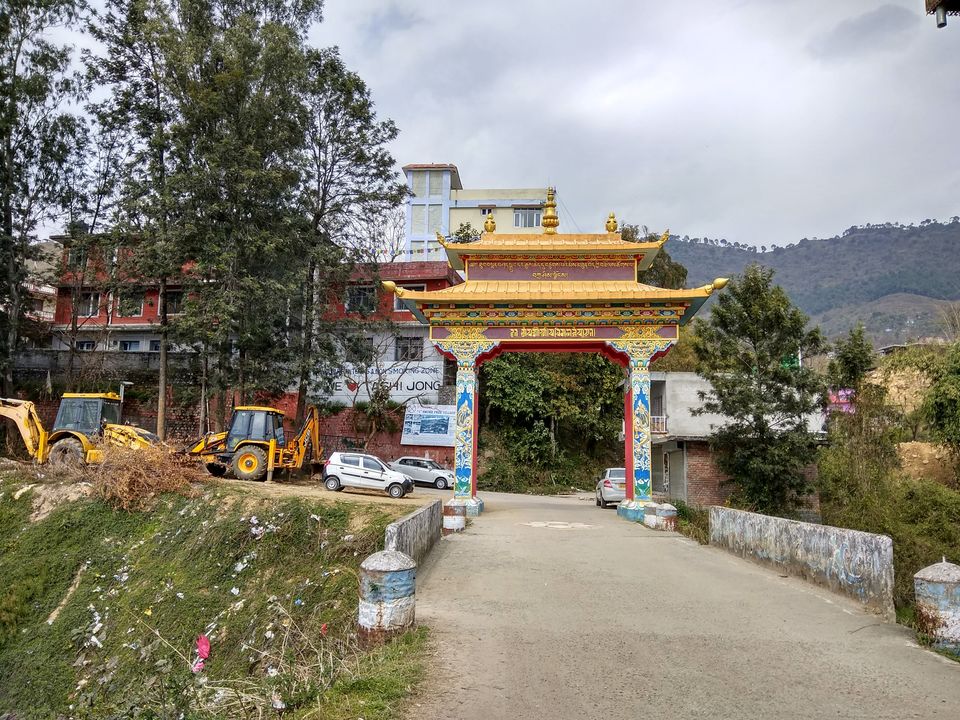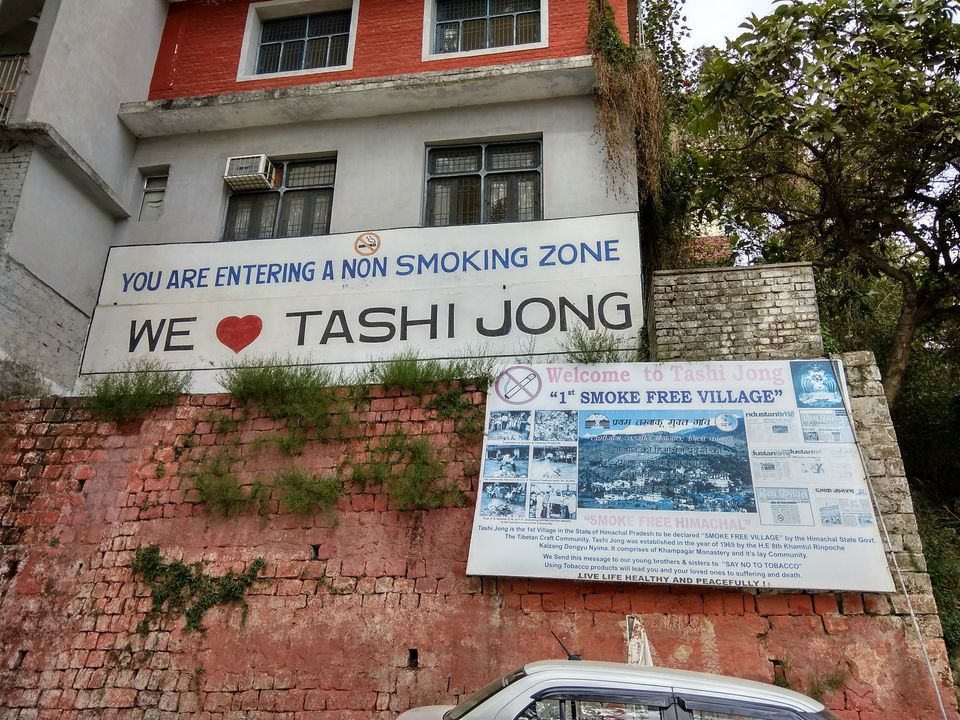 This Tibetan settlement houses the Tashi Jong Khampagar Monastery and believe me, its unbelievably mesmerising. Next you'll see more of pictures and less of content since no words would ever be able to do justice to what the eyes witnessed and what the heart felt, Tashi Jong was MAGICAL.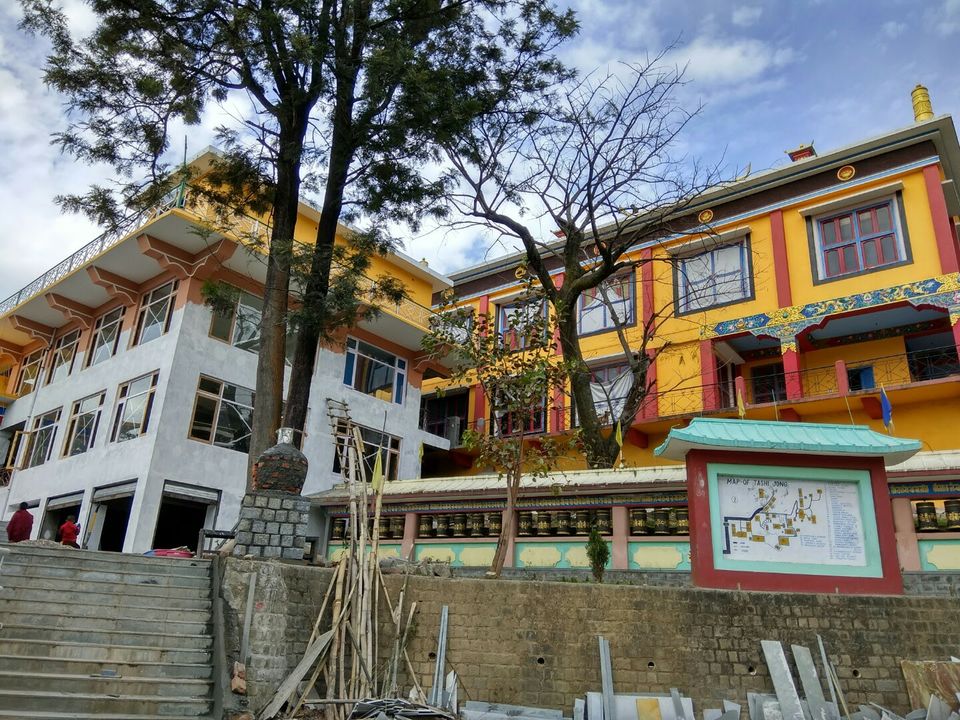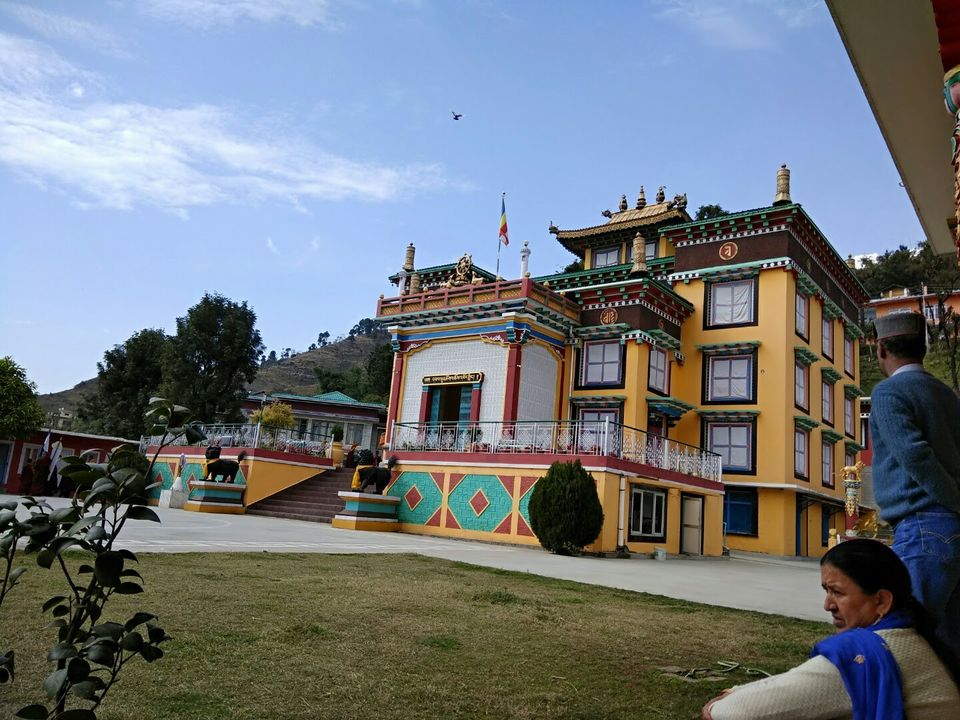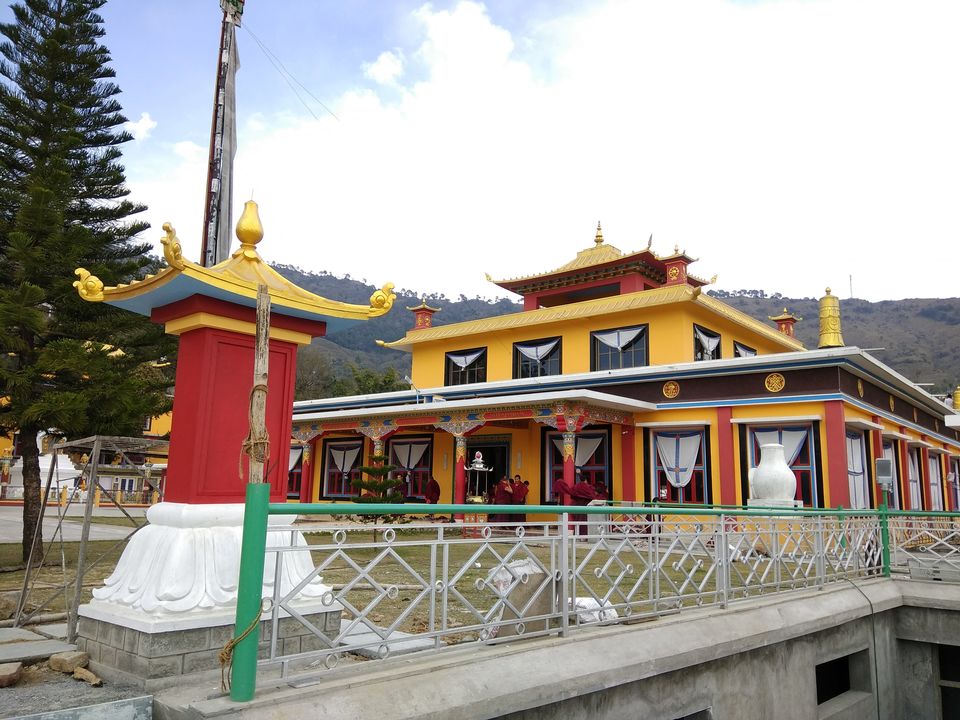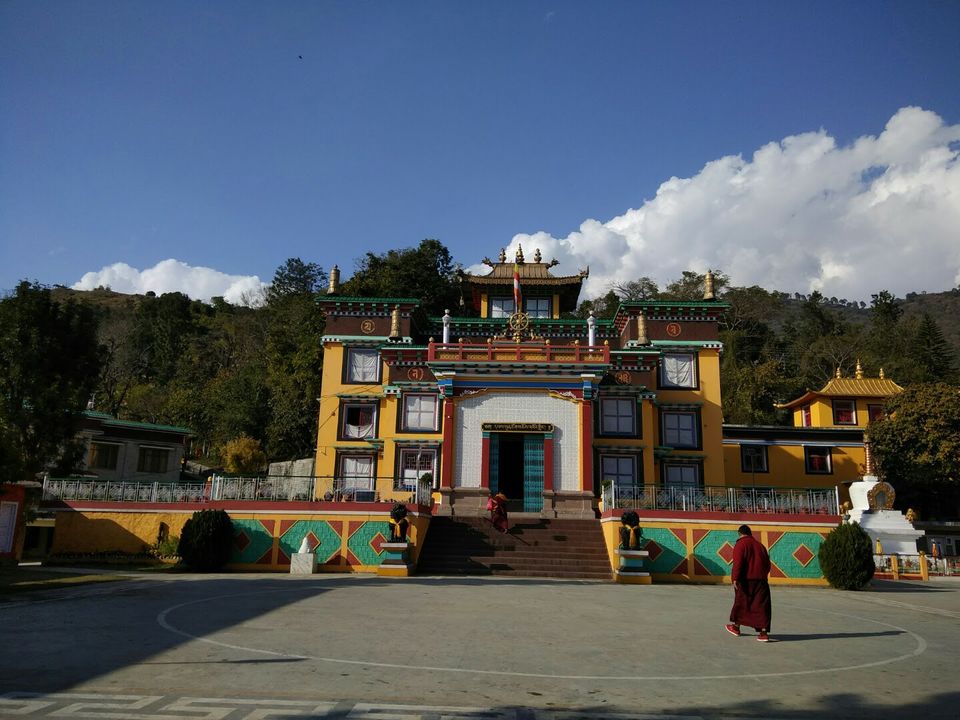 I happened to visit this place on one of their auspicious days and thus, got to be a part of their prayer ceremony. I couldn't follow any of their chants or the offerings they made but honestly, the peace that I felt by just being there, sitting there, observing, being as one of them... It was other-worldly!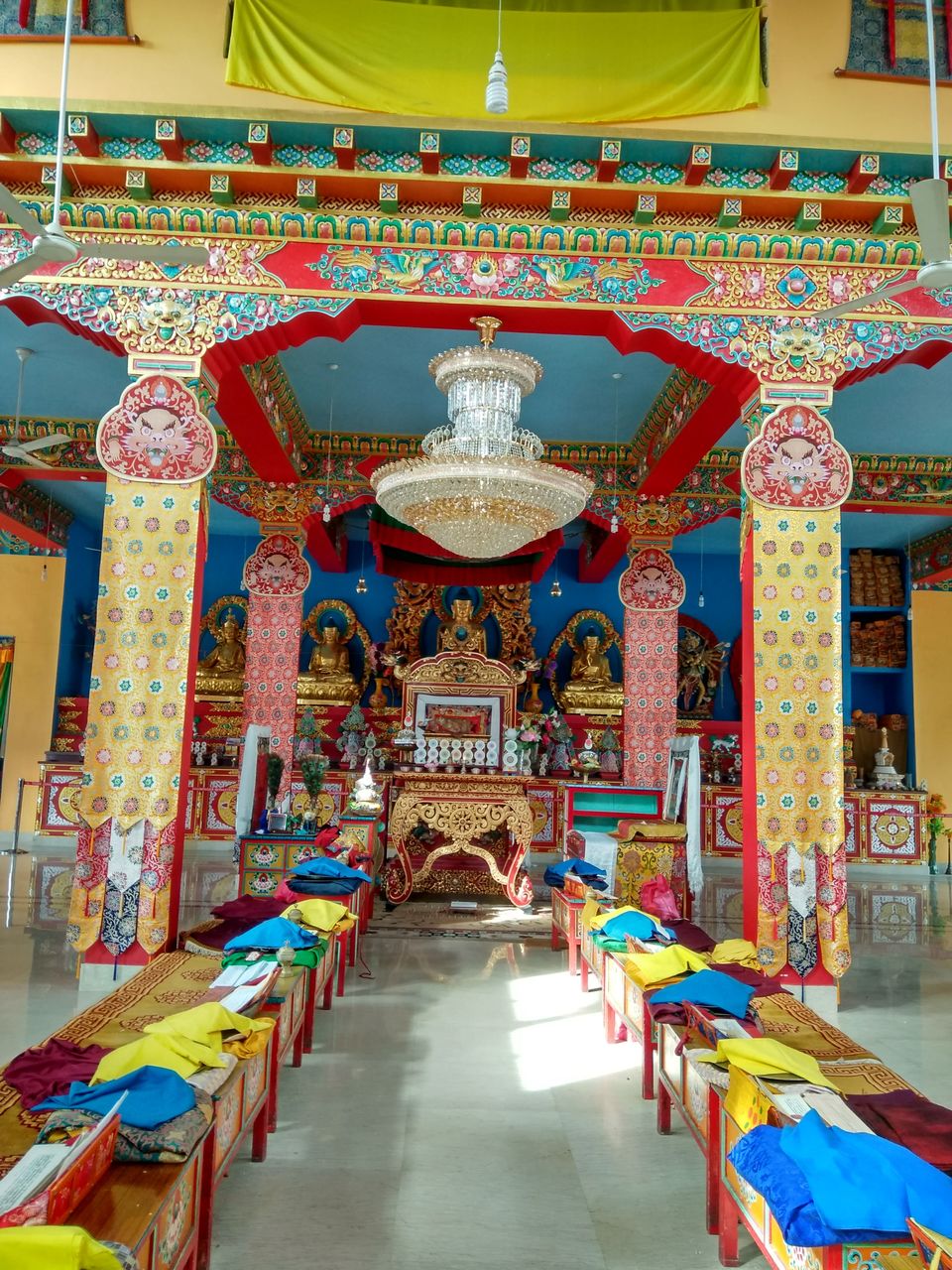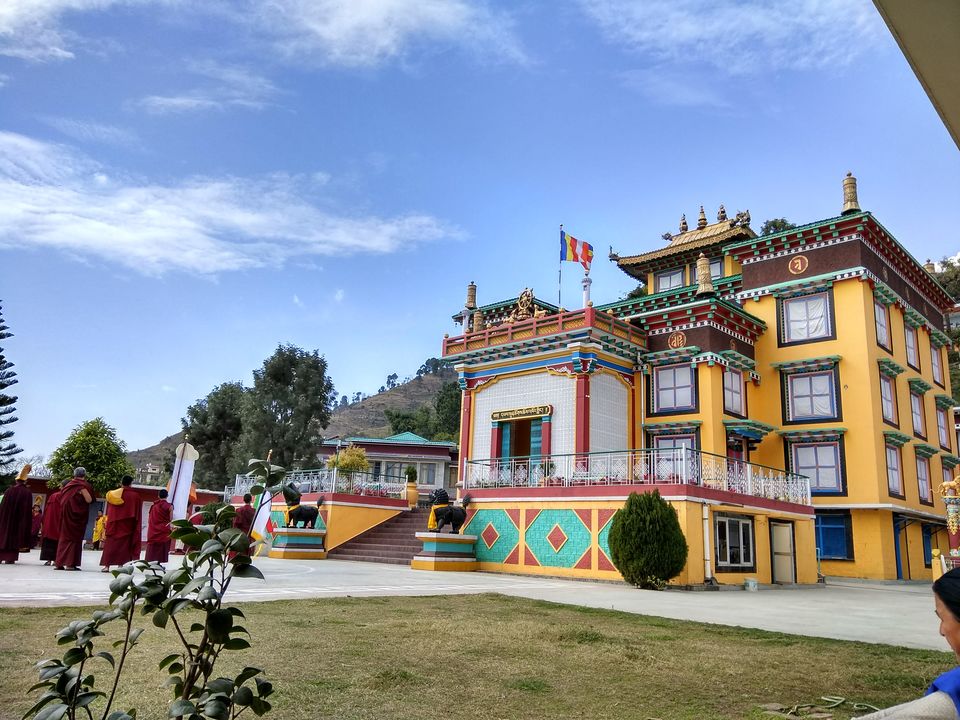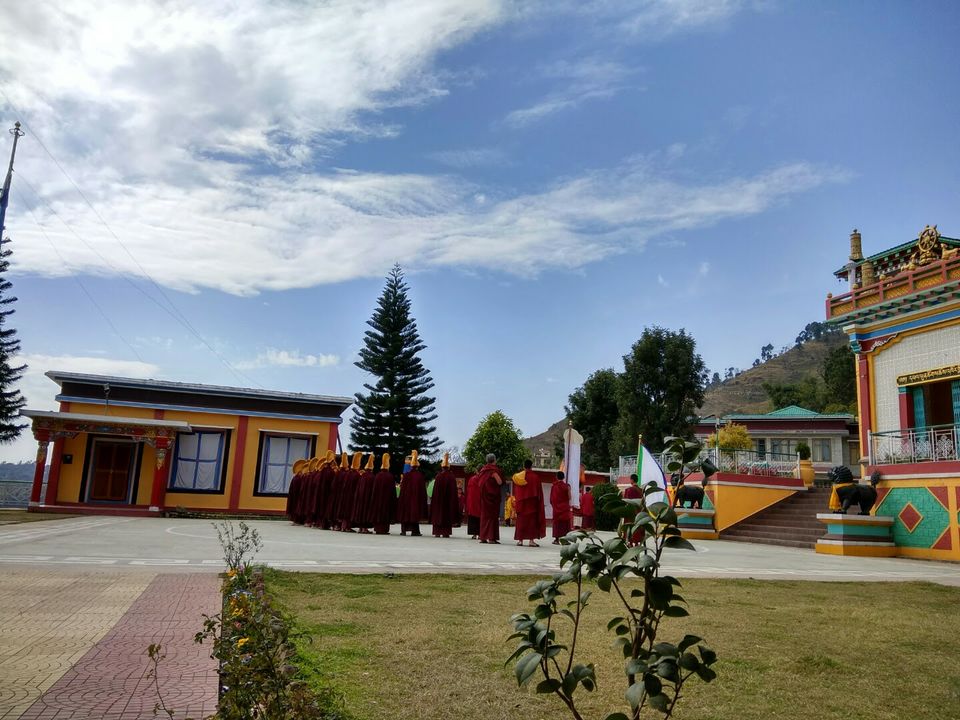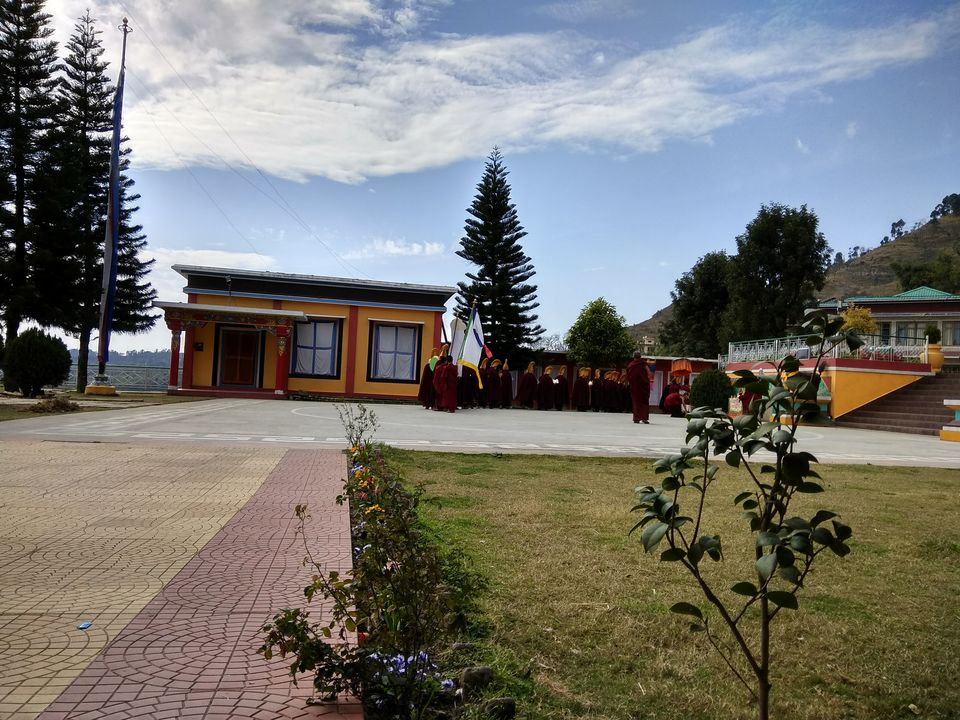 After witnessing so much beauty, I just couldn't contain my emotions and once again got lost into Euphoria, my happy place in some parallel universe for quite sometime, till I realised it was time for me to get back, to make a move towards the plains, to the place I call home (however a part of me were to stay here, forever!), back to the city life, to the hustle-bustle and routine. I came across an elderly couple who were kind enough to offer me a ride back to the Palampur bus stand from where I were to catch my bus to reality- Dilli!
One last time I took the deepest breath possible and tried to inhale as much as I could, of the purest form of air and bliss that these mountains offered me and bid them adieu, until next time!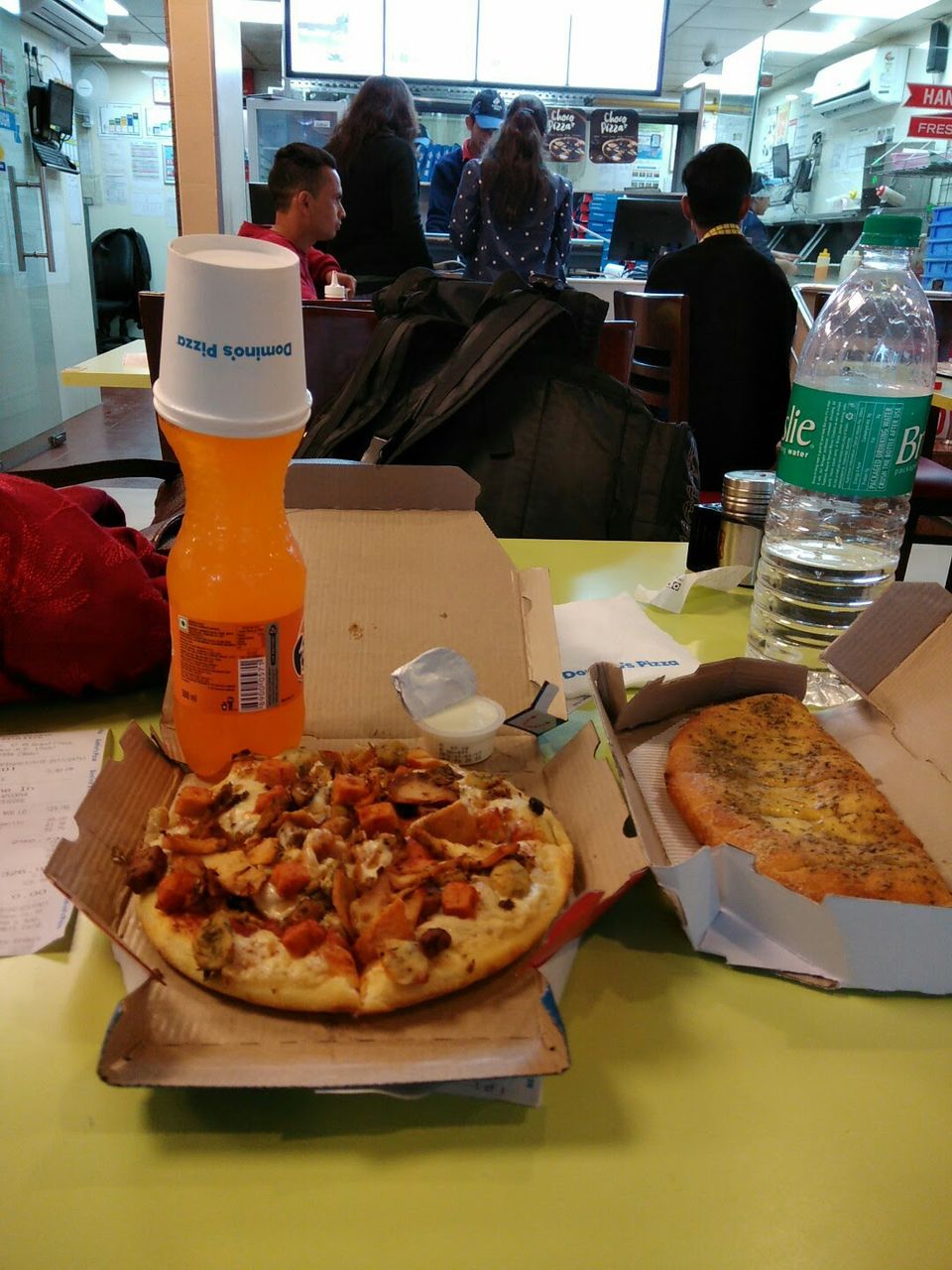 "...there ain't no journey what don't change you some."