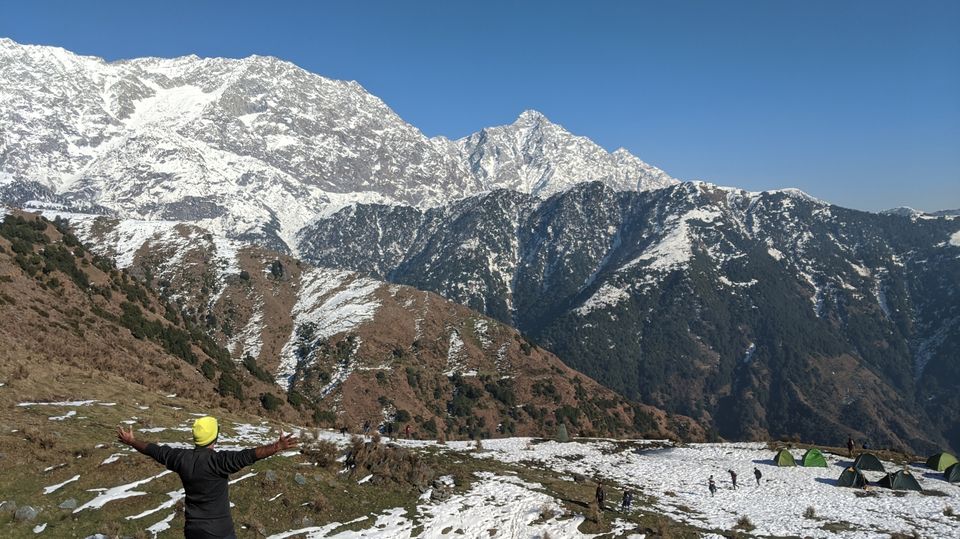 Triund is a small hill station in Mc leodganj, well known for hiking and camping. Our vacation in Mc leodganj was primarily because we wished to do this trek and stay overnight in the Forest Rest House at Triund to watch the starry sky and wake up in the lap of Dhauladhar range.
As we were visiting in winters, there was a possibility of Triund being closed due to snowfall.
This was the 3rd day of our 4 day trip to Amritsar and Mc leodganj from Delhi.
The glitch
Unfortunately, Triund was closed due to heavy snowfall. But, since we were eager to do the hike till Triund, the local trekking guides suggested us another route to hike till 2kms before Triund. The total distance was around 10 kms and took us almost an entire day from 9:30 AM till 7:00 PM.
Walking on snow wasn't something which any of us had dealt with before, so we hired a guide for INR 2000 for 7 people. Thought, it is not mandatory to hire a guide for this trek as we encountered snow only at few places.
This is an alternate longer trek route to Triund. The actual trek route is from Gallu Devi temple but due to snowfall, it was not the preferred route.
Where there is a will, there is a way
Since our hostel (Hostel Triangle Folks) was located in Bhagsunag itself, we met our guide at the main market and started walking towards the Bhagsunag waterfall. The climb to the waterfall consists of steep steps going higher and higher testing our patience and strength already. It was like the nature whispering into our ears ' Are you ready to embrace the challenge?'
We did not go further up till the Bhagsu Nag waterfall, but took a turn to go to Triund which was way upward through the rocks. The waterfall itself is quite a hit with the tourists here because of the scenic views.
Further ahead, we stopped by another waterfall to collect a few sticks which were helpful to hike uphill. From here, when I looked up at the trail spiraling upwards through the mountain, the only thought I had was ' Ah! this looks tough, wish we had an easier way to go up' with a few other people speculating whether to go ahead or not.
We crossed the stream of river to go to the other side by stepping on large pebbles. From here, We kept on walking over the uneven rocky surface and climbing up with short breaks to catch our breath.
On the way, we came across other groups like our's who were actually thinking of going back as the trek was only getting more and more difficult and long with no trace of snow which was the treasure everyone was looking for, like playing a game of Treasure hunt organized by Mother Nature.
The Treasure Hunt
'Where is the snow ? and How long will it take to reach?'
I heard someone asking the same questions I had in my mind from the locals they met on their way. I was even more curious to know their reply, so I overheard their conversation to know that we were pretty close.
And then I could hear them shouting with delight of finding some traces of snow. We walked further to find beautiful specks of snow spread across the mountains.
Finally, just the appearance of snow pumped in energy and a rush of thrill into me. We walked further up through paths surrounded by stacks of snow. At some places, the melting snow made the path slippery and muddy requiring us to exercise extra caution while walking over it.
After a short break to click some pictures, we resumed our hike. The trail was going through a dense jungle with increasing elevation. Finally, we noticed a campsite and thought maybe we were close to the destination now.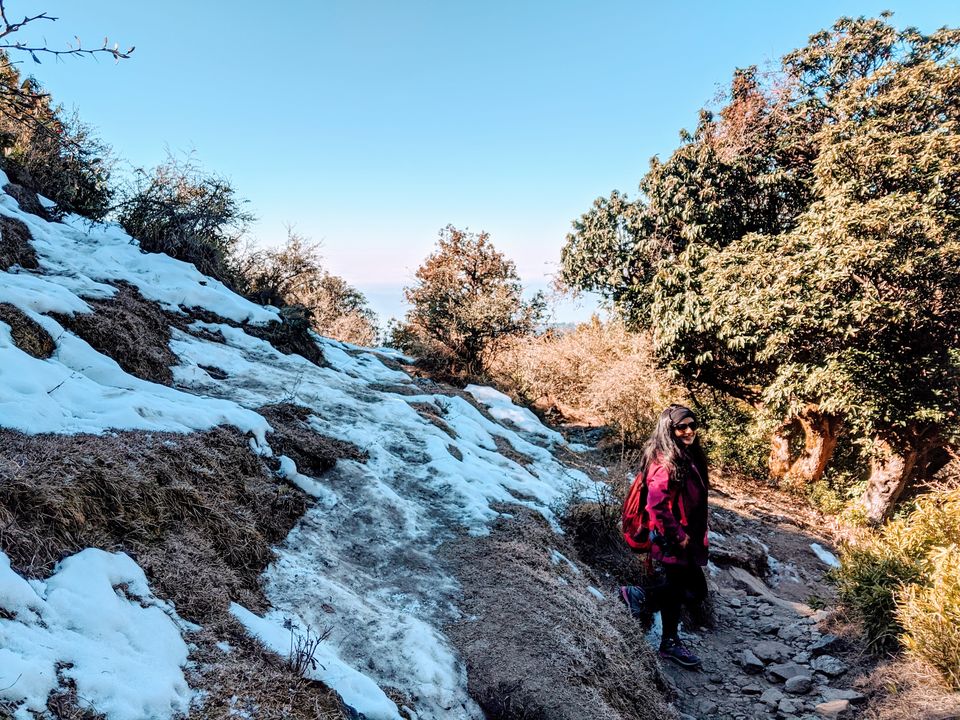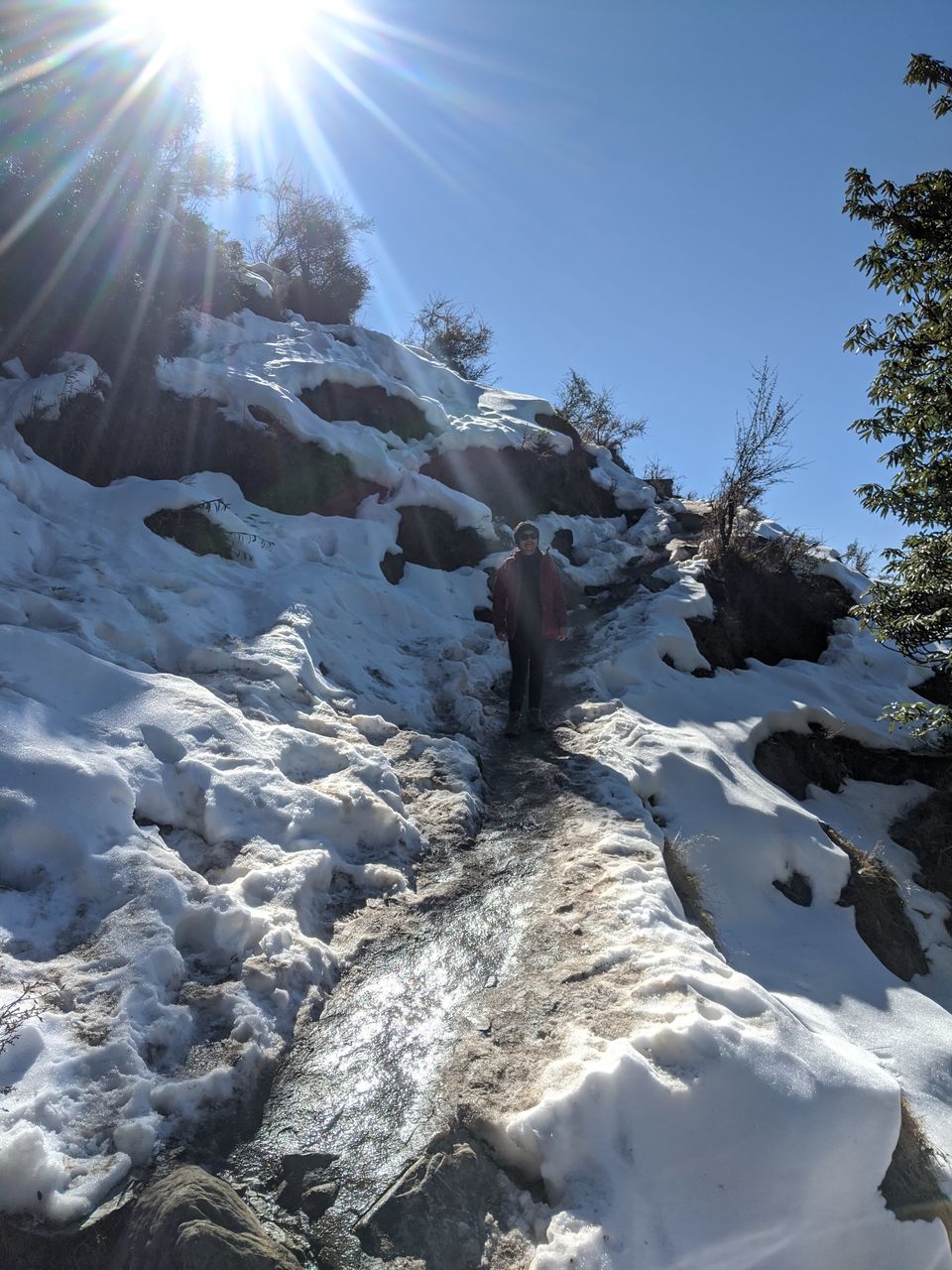 The mid-way break
Alas! we were just half-way through as told by our guide.
We decided to take a break here and have some light snacks or beverages from the shop at the campsite.
Sitting on the green grass under the sunshine with it's warmth healing the weariness felt blissful. The nature' energy drink was made up of generous portions of sunshine and scenic landscapes which did wonders by refueling our spirits to go further up to climb the mountain ahead.
Half way through the long strenuous hike, the finish line was still far and looked even more difficult than before as we had to walk further up on a steep huge mountain with a path laid out of rocks and snow.
The Grand Finale
We continued to walk further up towards the top of the mountain. The landscape turned mesmerizing with beautiful surrounding mountains layered in bits of snow scattered along with the snow capped Himalayas which appeared to be much closer than before.
Along with admiring the views and pushing ourselves to continue walking on the hiking trail, we were in front of a stretch of mountain covered with snow.
The treasure hunt was at it's peak now. We had to cross this hurdle to find the hidden treasure.
The snow was slippery, and without crampons it was difficult to walk on it. The sturdy shoes helped us cross this treacherous stretch by climbing steadily and following the foot steps imprinted into the snow. After a little more of a hike after this stretch of snow, one of us made it to the top and shouted ' It is worth it'.
We finally made it to the top, and the view was spectacular. The snowy mountains were right in front of us, with camps set up on sheets of snow layering mountains beautifully.
But, this was not it. We decide to go further up till another mountain to get some more mind boggling sights of this treasure rewarded by nature for our efforts to hike all the way up till here.
Further up, We found even more of the pristine snow, so much of it that it was enough to make my heart melt with it's profound beauty.
We spent some time here at the mountain-top and at the campsite below, clicking pictures on the snow and posing for camera with the Dhauladhar mountain range in the sunny warm weather, with the sunshine adding it's magic to present us a beautiful experience and embracing all of us together with a warm hug.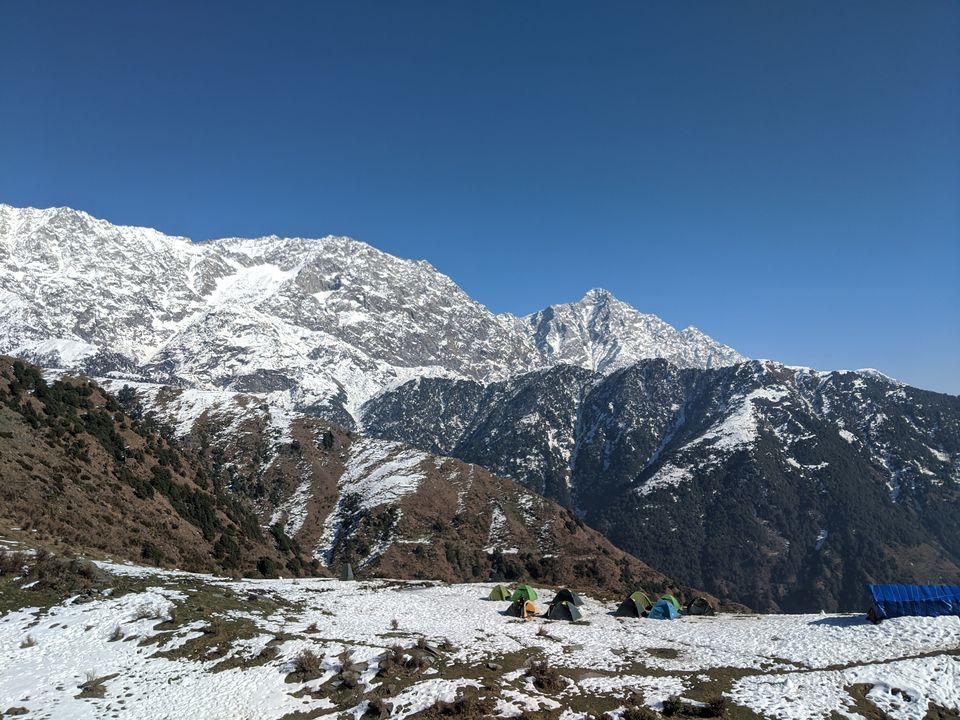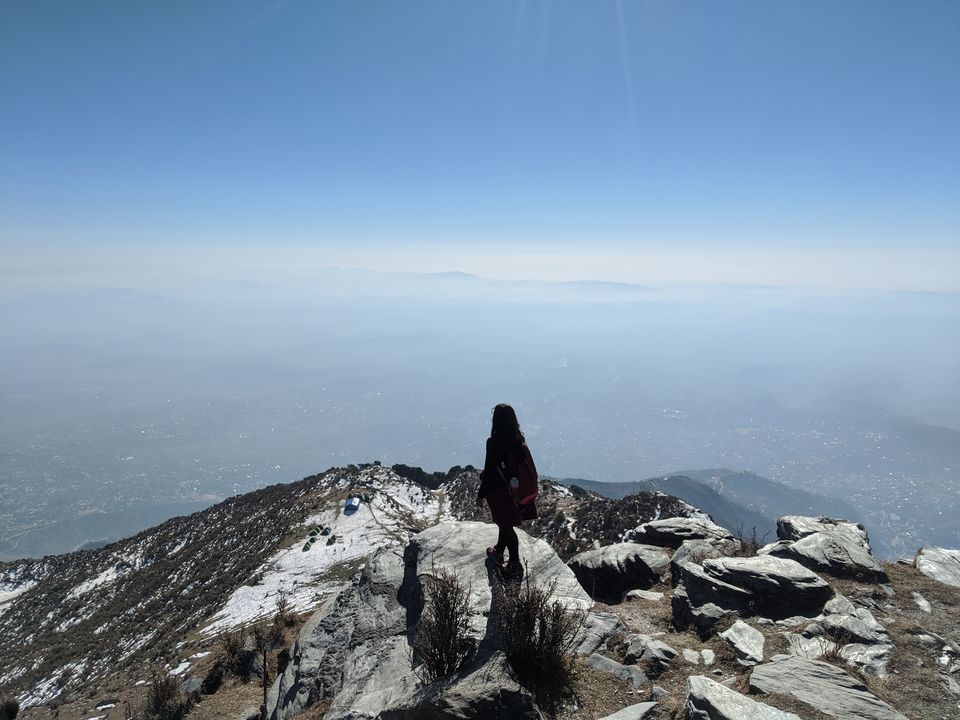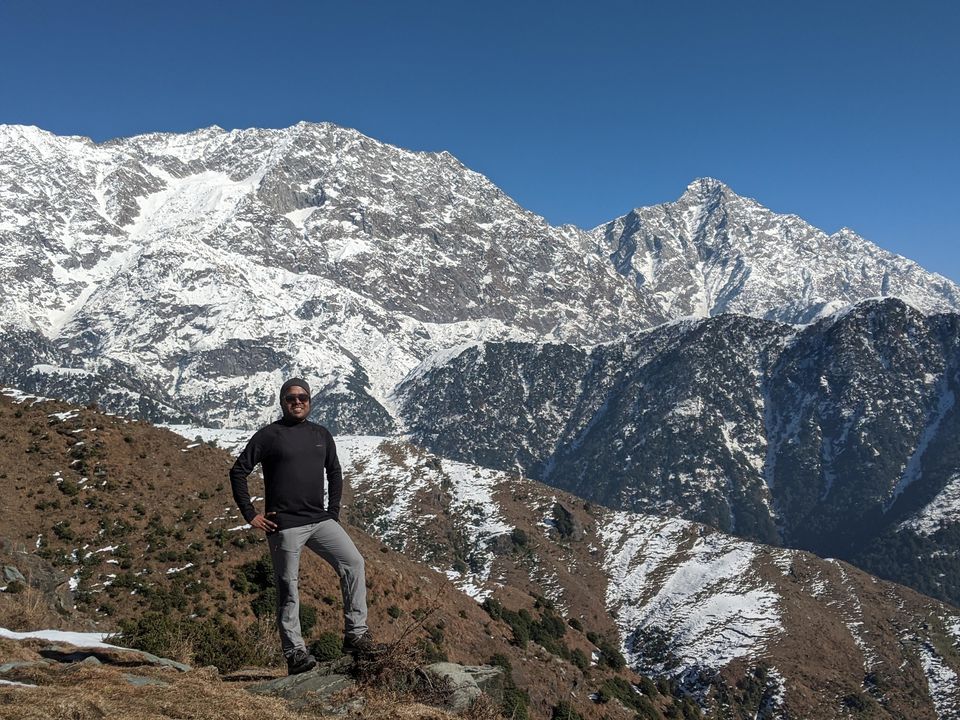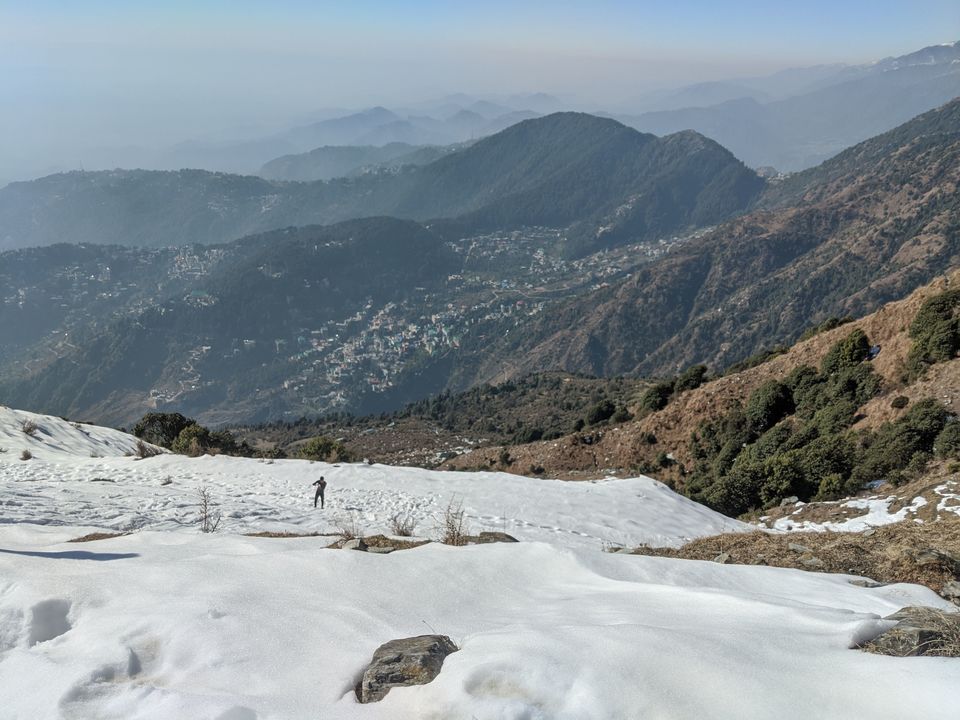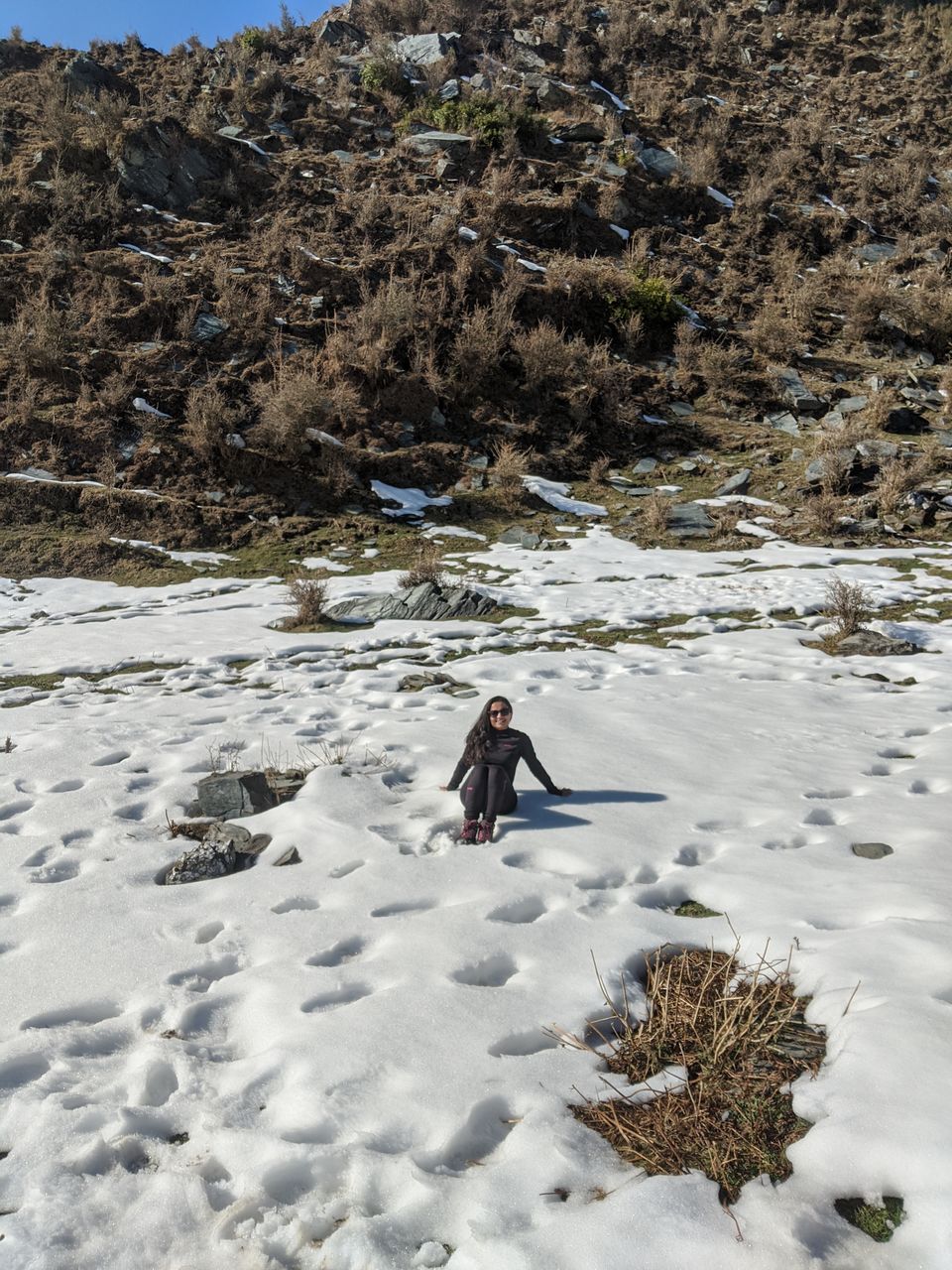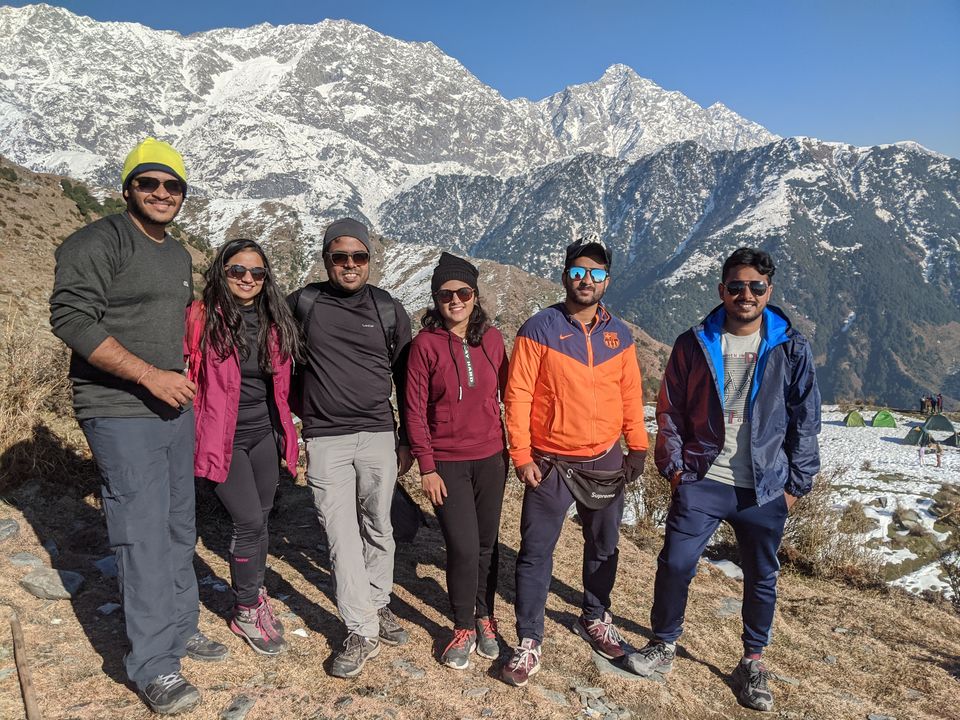 The descent
Time to hike back to the bottom was a task I wanted to get over with as soon as possible,especially the stretch of snow over the mountains.
Walking downhill is less tiring and much faster but gets more difficult as it requires extra caution and control on speed.
The knees and legs were already hurting by now, but we had to get back before sunset. And the downhill hike only made it worse.
We continued the trek downhill without much breaks and finally ended up at Shiva cafe which is a cafe at the top of Bhagsu waterfall and we had to cross another waterfall and climb steep and narrow steps to get here ( though we ended up coming here by following a different path than the one to go down directly to the waterfall from where we started our trek )
We stayed here for some time waiting for the rest of the people and also, relaxing with some nice music and lively atmosphere at a cafe situated on a mountain.
Though the trek ended with another set of steep steps to come down from the Shiva cafe to the Bhagsu waterfall which could have been avoided, if we followed the trail correctly to come down at the starting point.
But, now all of this only makes me smile about how a challenging hike gave us the best of the experiences to treasure forever! And yes, my legs did hurt for the next 2 days :-)