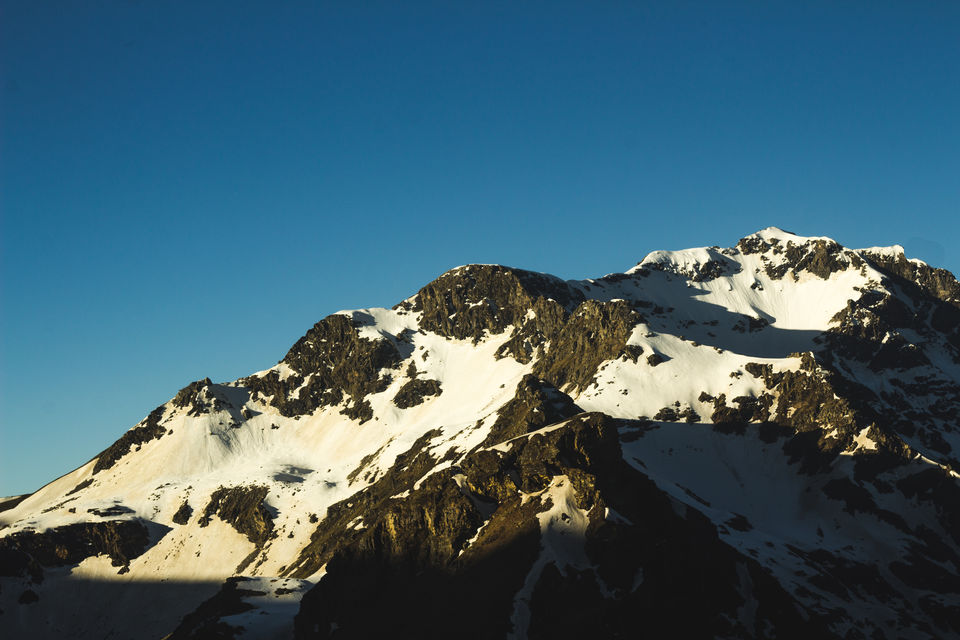 Day1,2,3-
We boarded train from Pune to Delhi. (Sampark Kranti express at 9am)
We Arrived at Delhi at 1:30 pm and boarded next train from New Delhi to Dehradun (Janshatabdi express.
We travelled from Dehradun to Dhaula by bus.
Day4:
So after three days of train journey and 1 day of bus travel, we reached our base camp at village Dhaula.
What a wonderful place that is!
A small town with hundred houses and very beautiful scenery.
We had booked a home for one night stay at Dhaula.
We, group members of the trek had a round of introduction and then full night of playing cards made our bonding stronger.
We prepared ourselves for the trek. Some of us had booked porter for the entire trek (500₹/day) but I carried my own backpack which was about 8 kgs heavy.
Started trek in the morning from Dhaula walking along with the rupin river till Sewa.
It is a walk of 12 kms.
The trail ascends through a few friendly villages, and curves into a gorge. You can find apple orchards and apricots frequently on this route. You will also pass through Barley and Potato fields. There is a river and a number of rivulets towards the end of the trail.
It took us 6/7 hours to reach the next camp which is at Sewa.
Day 5:
Sewa to Jhaka is one of the tough days of this trek. Once you leave sewa camp, you enter Himachal Pradesh from Uttarakhand. Trek is long and little tough covering 14 km in 7 hours. The trek has few steep climbs followed by easy walks. There is a steep over-hanging trail walk which leads to a river. This long climb is followed by a descending walk through Deodar and Walnut trees up to Jhaka village. Jhaka is a small village, popularly known as the hanging village as it rests on the edge of the mountain side
We explored that place at night... We found some interesting places where we shared some horror stories and everyone was so much scared. At the same place we explored one haunted house (which was locked for several years) also, adventurous, right?
The next day we proceeded farther for the trek and that day was pretty tough because we climbed so many mountains in a day & there was our first camp (tent) stay.
Day 6:
The trail makes its way out of the village through a playground, before entering a dense forest. That day also had a number of surprises in store with varied landscapes springing up unannounced. The trail passes snow bridges (In May & June), dense forests, and meadows with rivulets swiftly cutting across it. You will reach Buras Kandi in about 5 hours, covering a distance of 6 km.
Buras kandi is an amazing village with kind people and beautiful small houses.
One family invited me and my friends and offered us tea which was very kind of them.
Day 7:
Next day was a small but tiring trail from Buras Kandi to Dhanderas / Lower waterfall this is one of the best days of the trek. Campsite is besides the Rupin river with a beautiful view of Lower and Upper waterfall.
We collected some woods and did a campfire there.
Day 8:
The most important day of the trek to get acclimatized there
Since the entire walk is mostly on snow and ice, a trekking pole and ice axe (not necessary) will come in handy today. The trail from Dhanderas / Lower waterfall passes through a number of streams that you need to hop over until you get to the mouth of the waterfall. It will take close to 2 hours to get to the upper waterfall camp but the view is breathtaking.You'll reach a place which is surrounded by Snow Mountains from all the sides.
Day 9:
This day was a long and grueling, yet exciting day as we walked for almost 11 hours at a stretch. The trail is mostly on snow fields with steep ascents and all you see for miles and miles is a perfectly white hue. (Sunglasses highly recommended)
The pass is a saddle on a ridge line cutting its way through and across the Dhauladar range. Hundreds of little stone cairns line up the ridge line of the Rupin pass.
You feel amazing & emotional after reaching the top of Rupin pass. On my way down from the pass, it was a very sharp descent to the snowline and then to the meadows of Ronti Gad. You will reach Ronti Gad camp by evening 5 pm.
Day 10:
The trail from Ronti gad to Sangla is a steep descent through diverse landscapes every few minutes. You will see spectacular mountain views of the Kinner Kailiash ranges while descending.
Oh my god!! That view is literally, you can say heaven because at one point you cross the mountain and a very huge & gigantic mountain catches your eyesight.
As you near civilization, the trail cuts across steep farms and fruit orchards. It will take around 6 hours to reach Sangla.
Day 11:
Sangla is a great town where you can get every necessary thing.
Sangla - Shimla by bus took us 11 hours to reach.
We took night Halt at Shimla.
Explored Shimla's mall road, "the ridge", viceroy lodge (Rashtrapati Niwas).
Day 12:
Shimla to Kalka is 2 hrs Bus Journey.
We Departed for Delhi by Himalayan Queen from Kalka and Reached Delhi Sarai Rohila station at 11pm. Overnight Stay at a Hotel in Delhi.
I explored Jama Masjid, Agrasen ki baoli, Connaught place and metro rail of Delhi in the early morning.
And we departed for Pune by Goa Express at 3.00 pm from Nizamuddin Railway station.
We reached Pune at 6 pm with a lot of memories and new friends.
For the Vlog that I made -
YouTube channel- Nachiket Parchure
https://www.youtube.com/channel/UCxJbEMHYwWsutSpwomClwkw