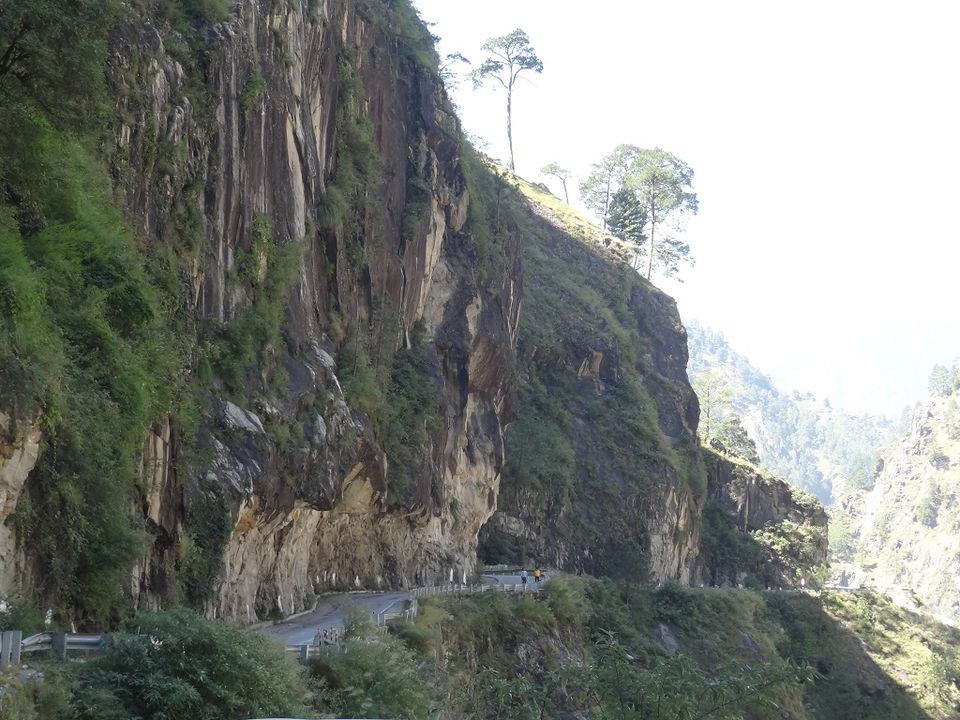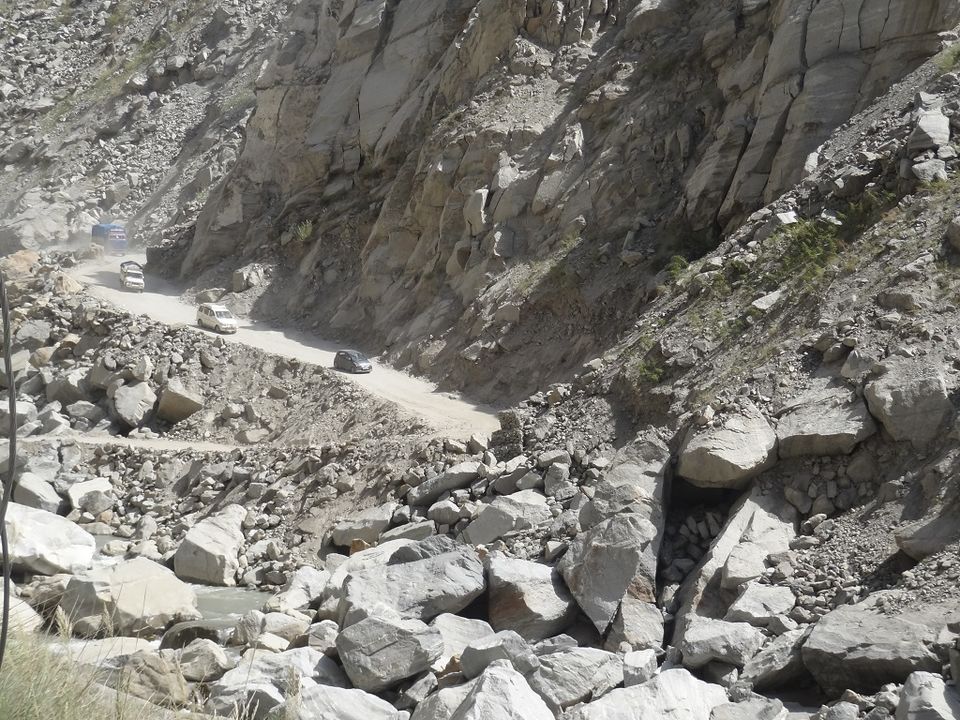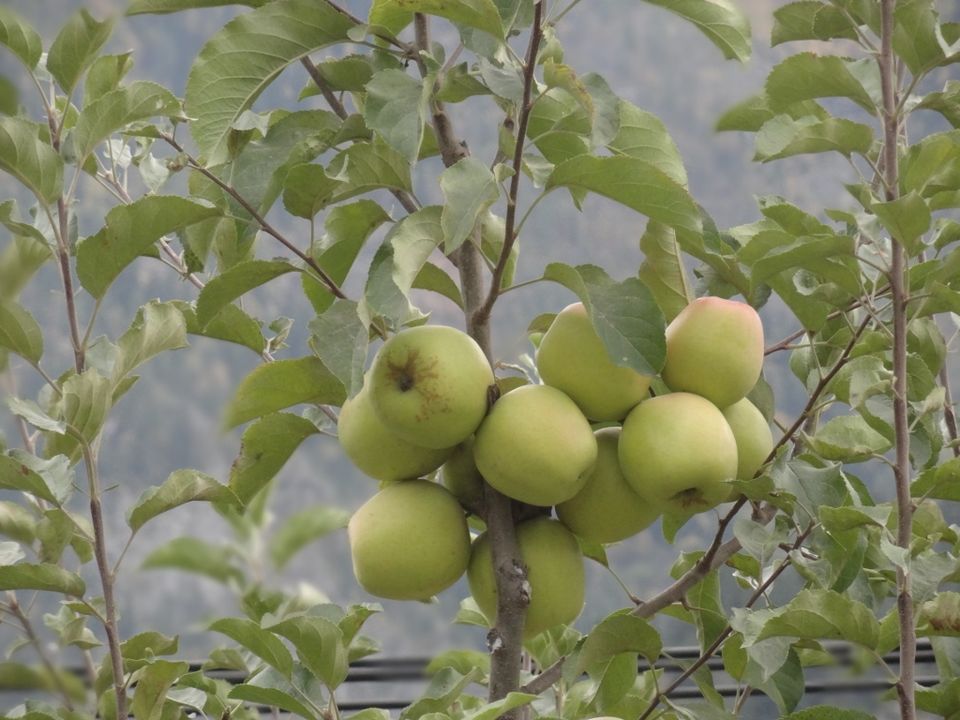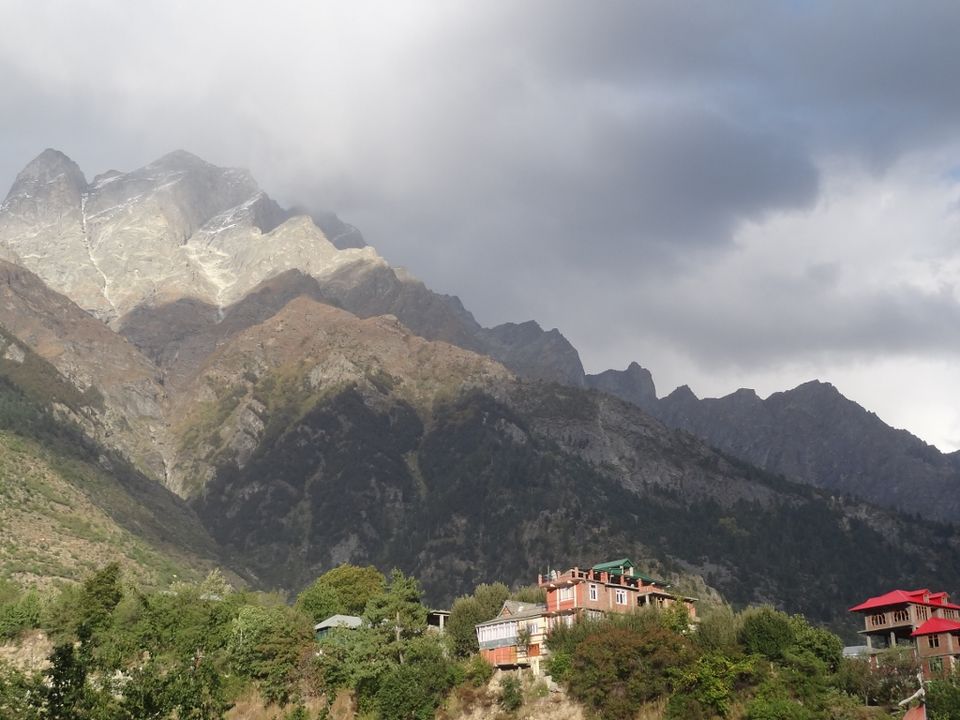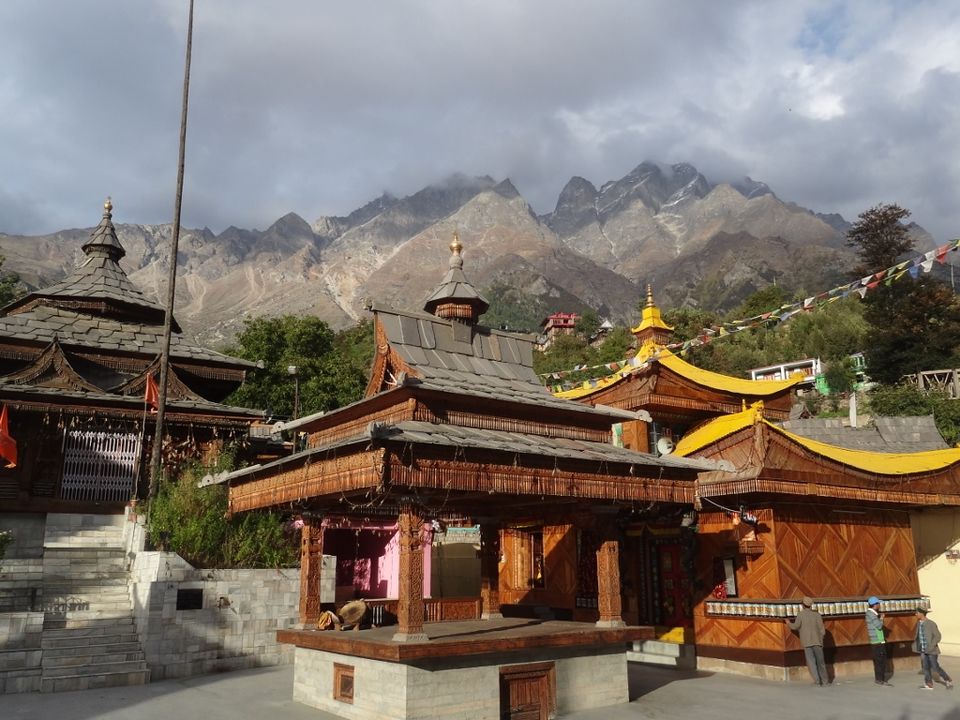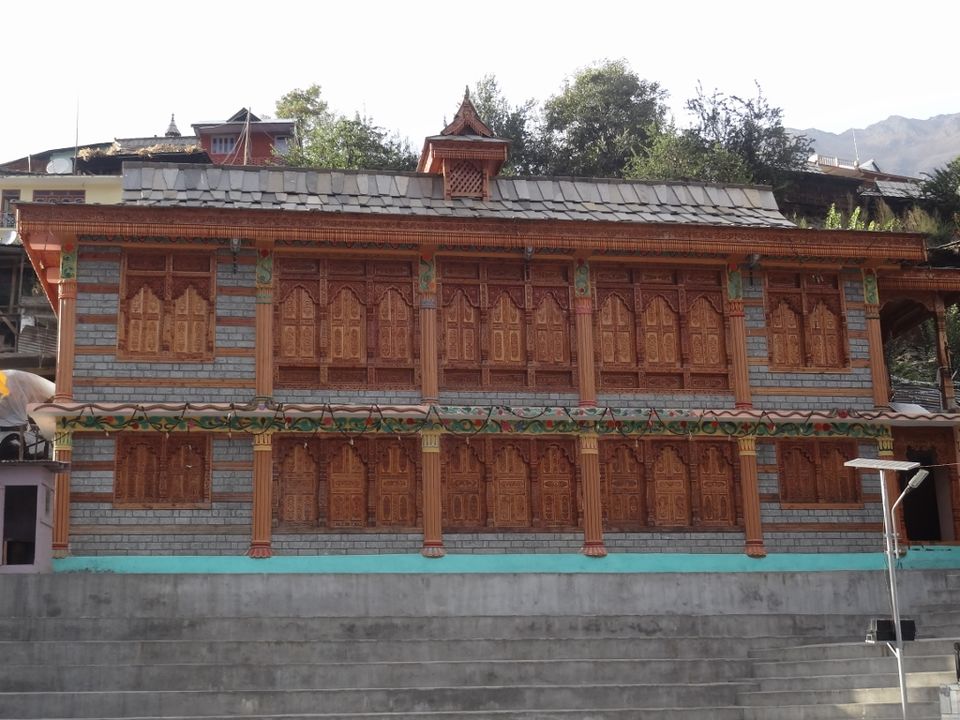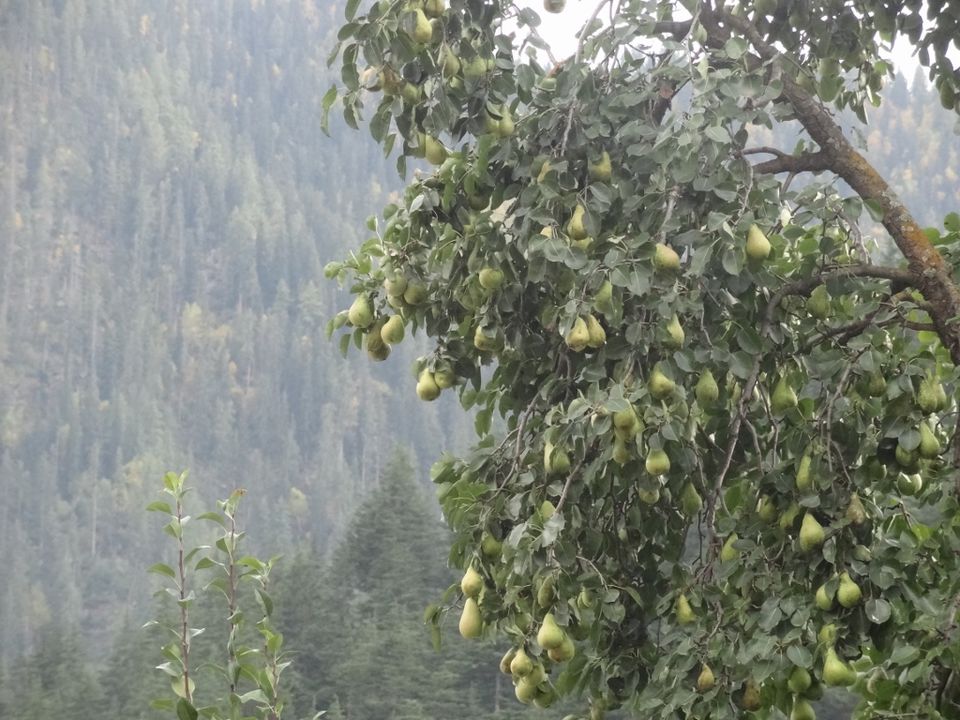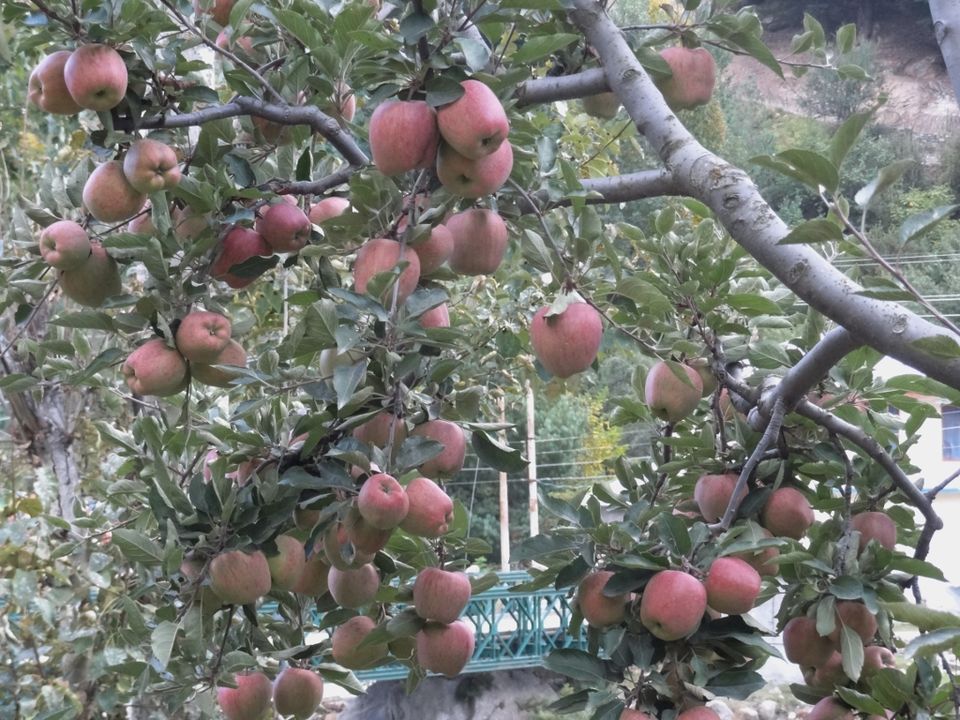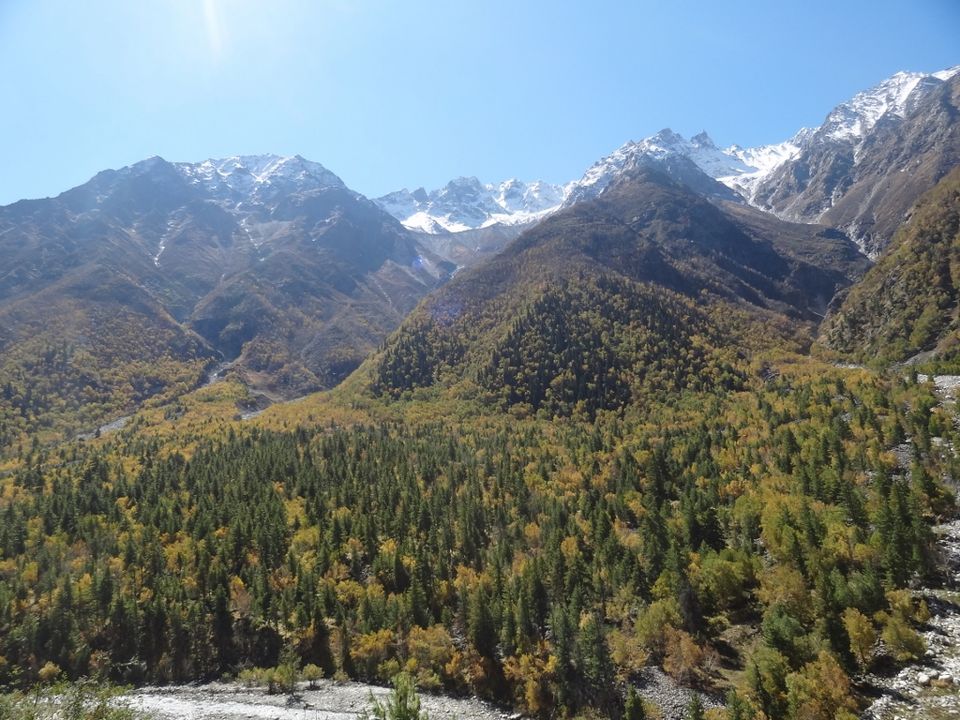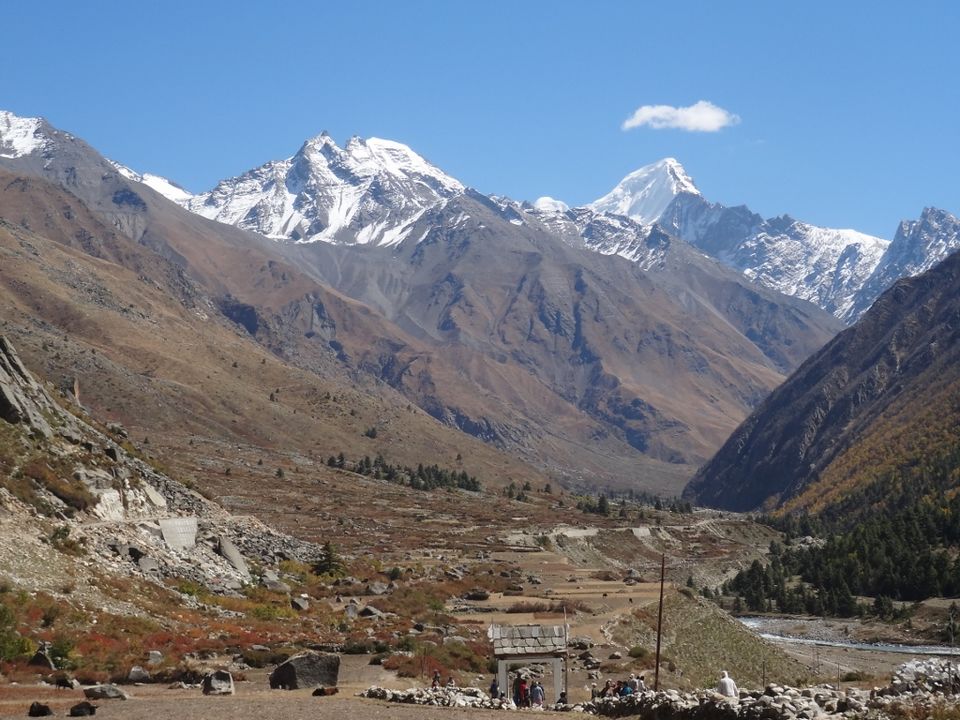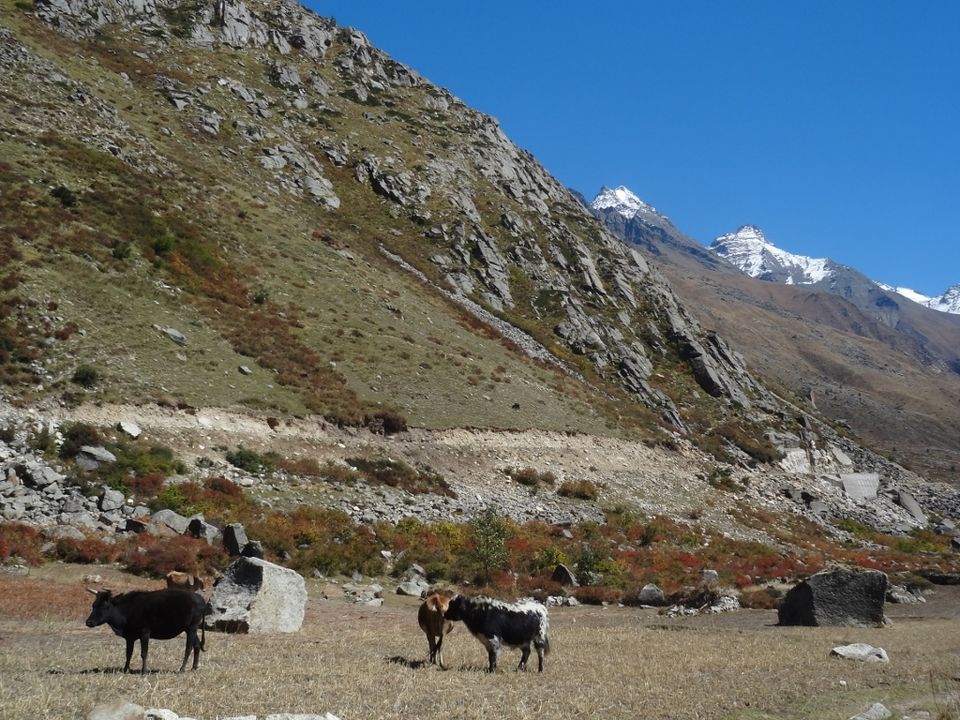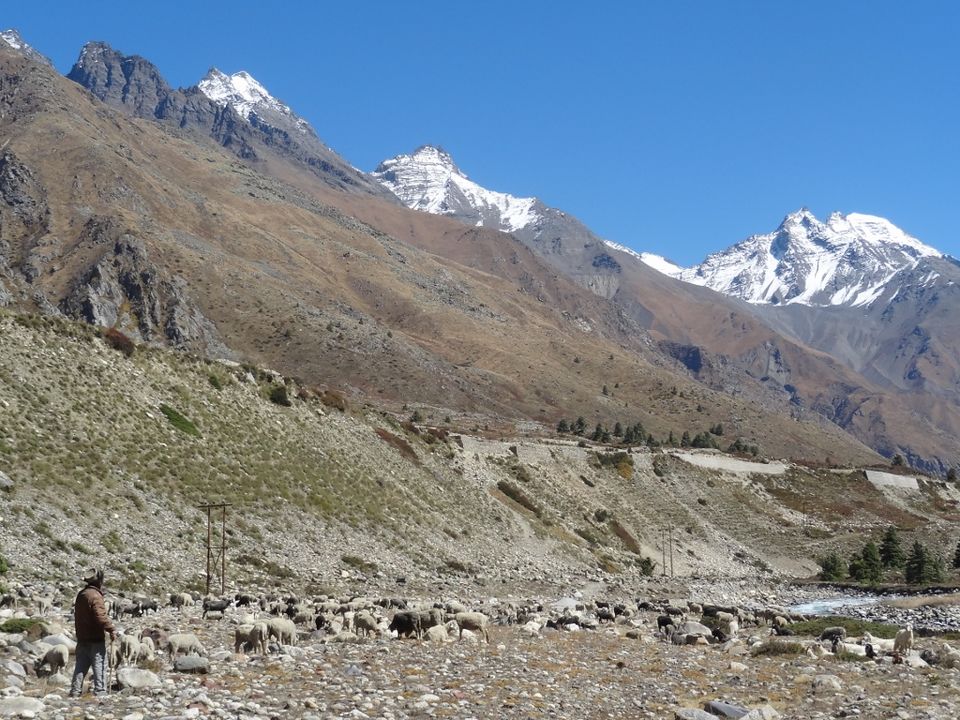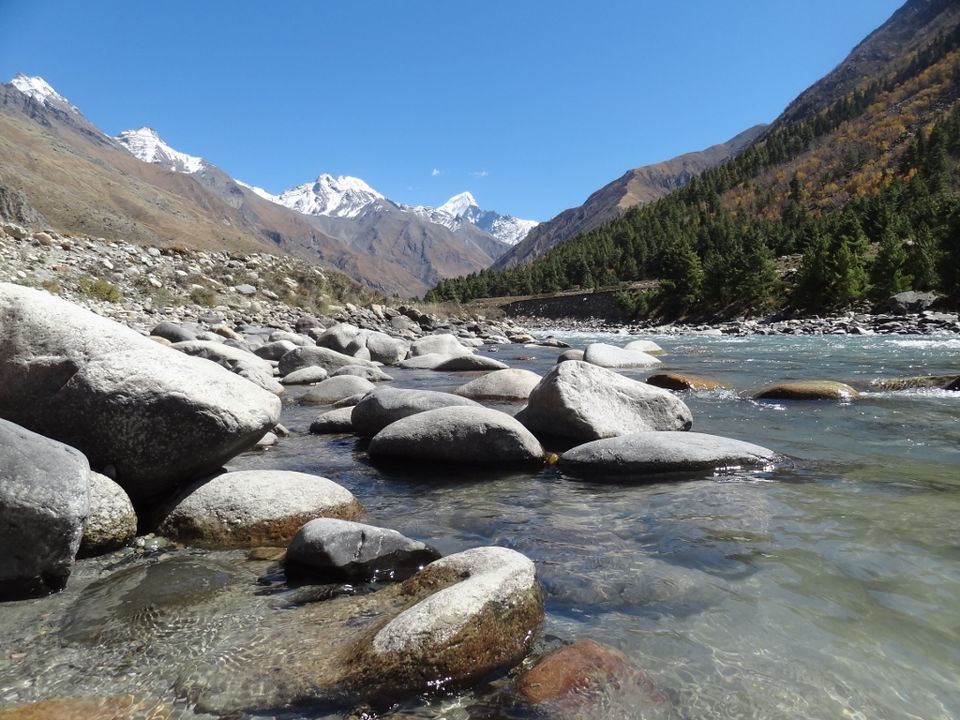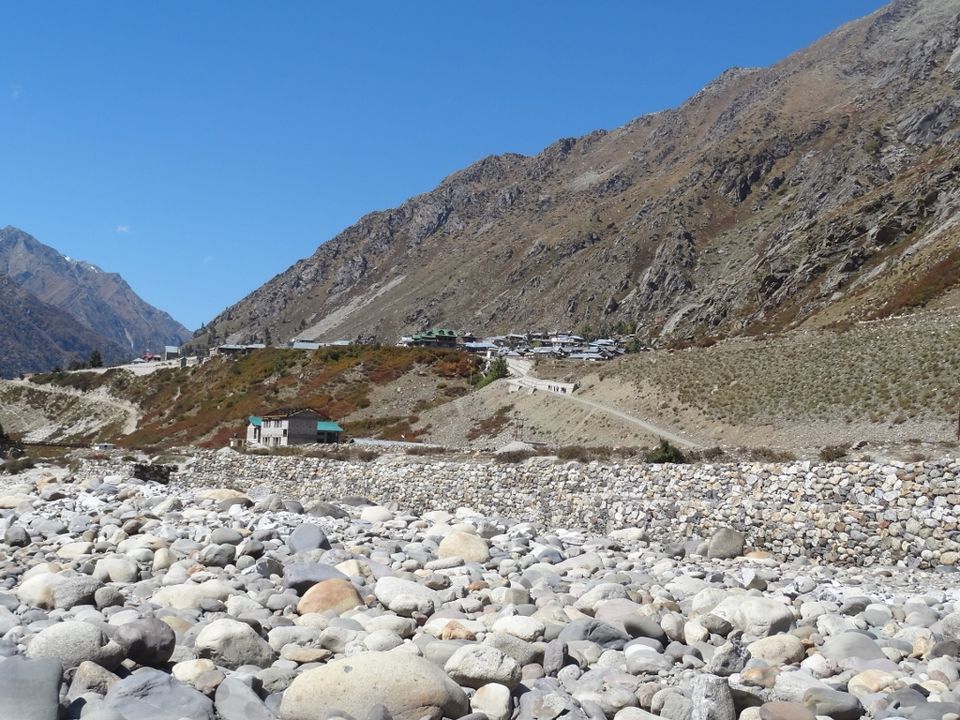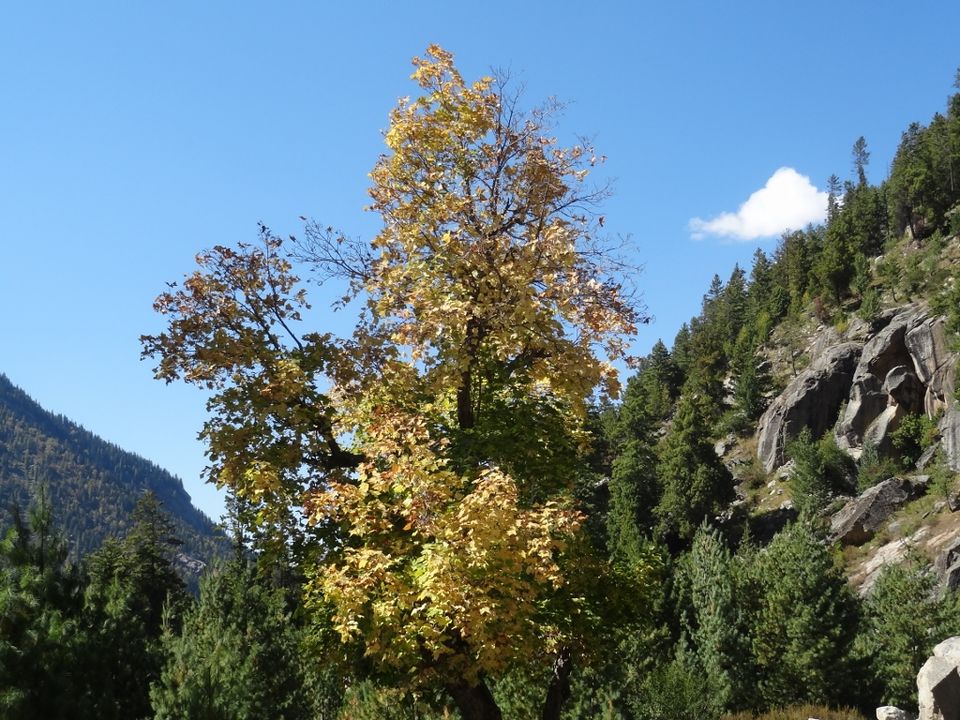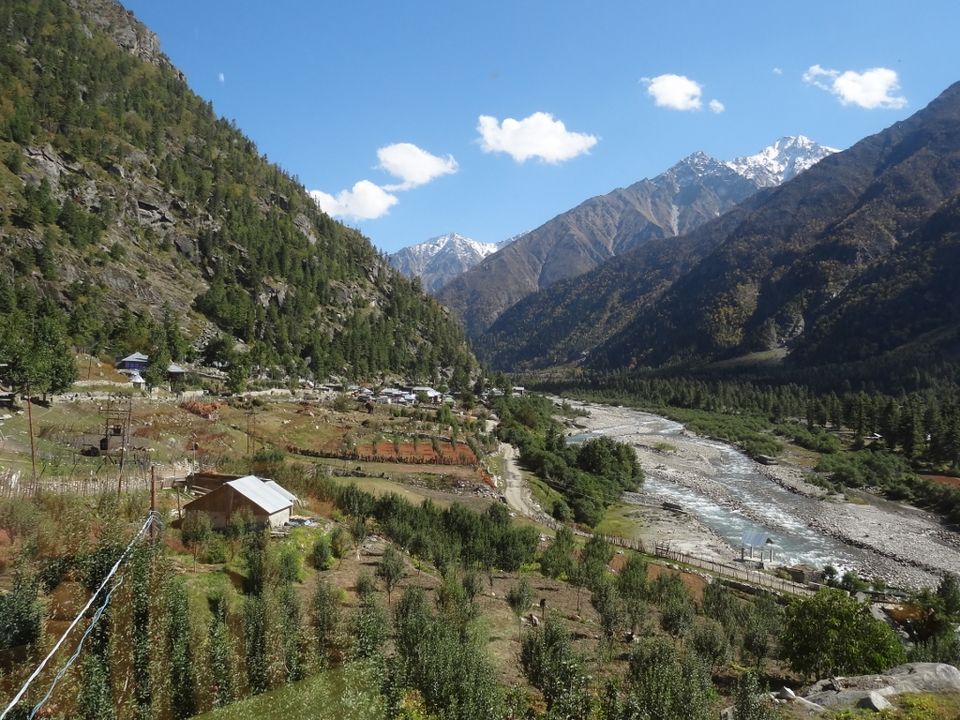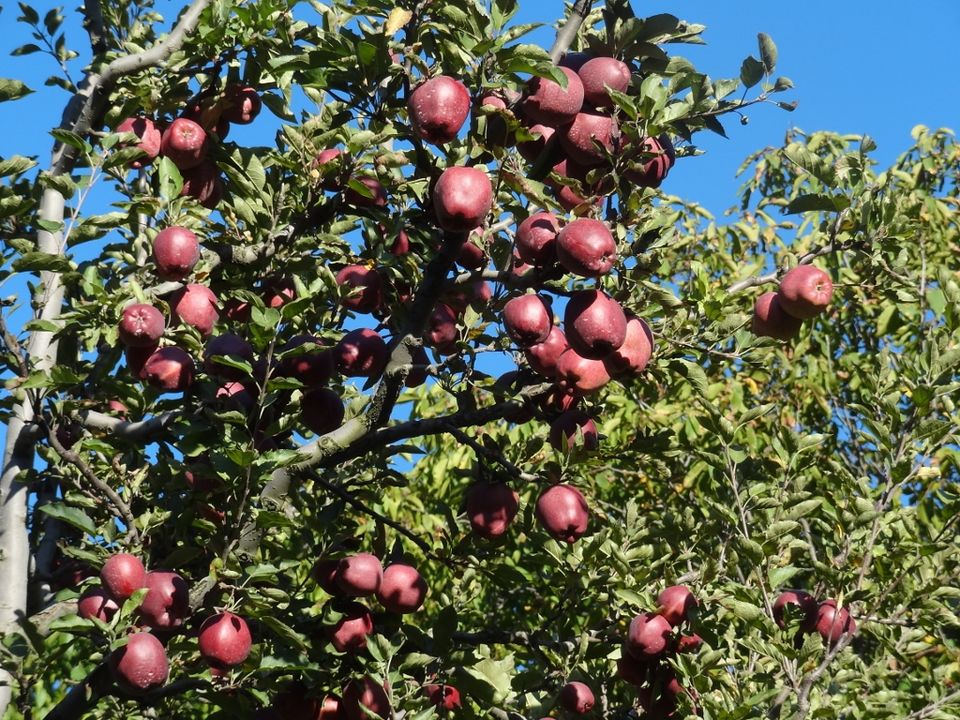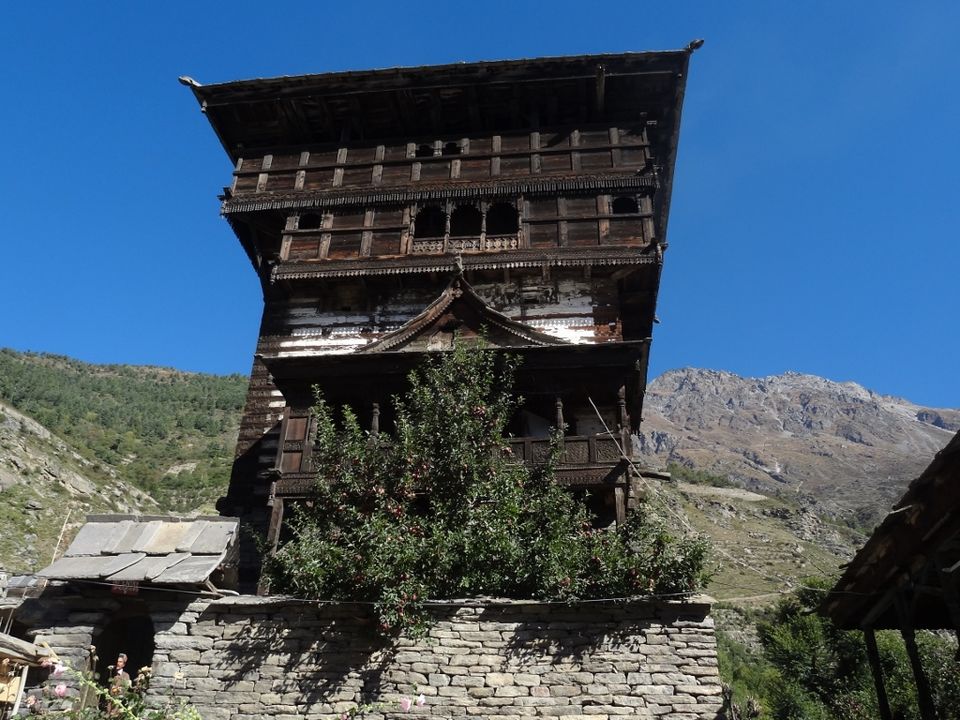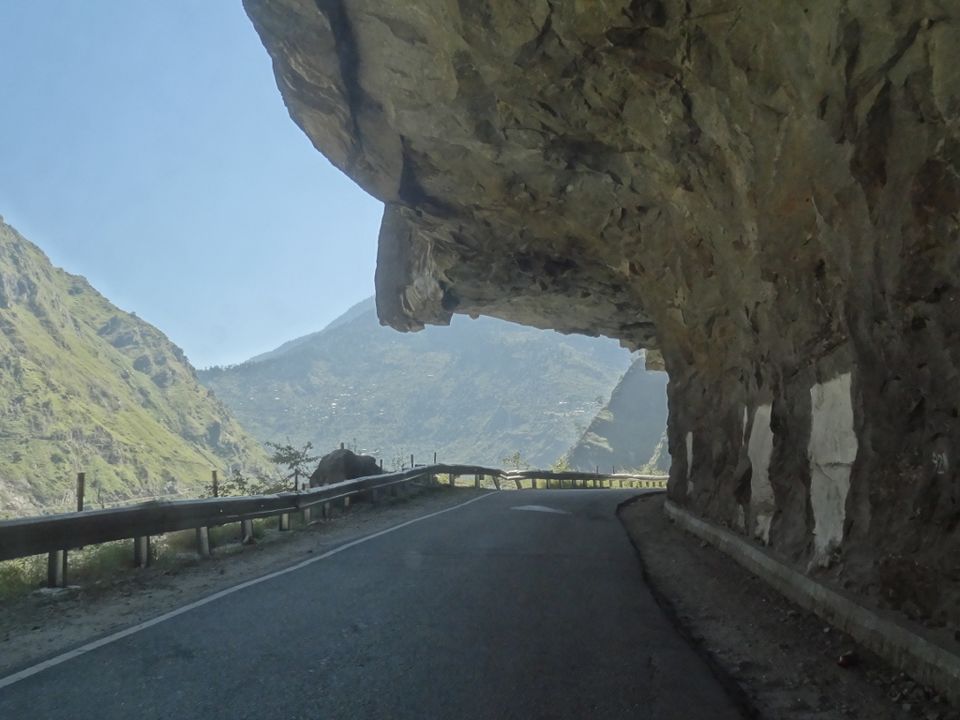 We visited Sangla for 2 nights in October 1st week and visited Chhitkul in a day trip from Sangla. We had selected October for the trip as we knew we would be able to see lots of ripe apples and the cold too would be bearable. The road to Sangla is classified as one of the most dangerous roads as the narrow road is cut through mountains with a sheer drop of a few hundred feet at one side and passes through landslide prone areas in many places. On our way we had to pass through a patch near the river which did not even look like a road and we came to know from our driver that this road was temporary and gets closed when the water level increases in the river. But however difficult the road might be, we have to agree that the road to Sangla provides gorgeous views of the lofty mountains and verdant valleys. At many places in our journey it felt as if we had entered a different world altogether where God had created everything with utmost care and panache. As we entered Sangla we could see vast apple gardens loaded with red, pink and golden apples which was a treat after a long arduous journey. We freshened up after reaching the hotel and set out to explore Sangla on foot.
As we passed through the beautiful lanes of Sangla, we observed almost all the houses/hotels had an apple garden whether it was small or big. We could see trees loaded with apples everywhere our eyes could go. Not only apples, many other trees laden with fruits such as pears, apricots, walnuts were also abundant in Sangla. We walked by the side of the orchards to reach Bairing Nag temple which is a living example of the Kinnauri craftsmanship. The temple has a beautiful architecture inspired from Buddhist style and has beautiful wooden carvings. A little walk down the path besides the temple and there we were near the Baspa river flowing unabatingly and stealing hearts with it's clear emerald green water. The whole set up was a picturesque sight surrounded by mountains and apple orchards and a small bridge over the river with fluttering prayer flags added to it's beauty. We sat by the river enjoying it's sweet sound and eternal beauty. As sun started setting beyond the distant mountains, it was time for us to go back to the hotel and as we started walking upward, we met an elderly lady who gestured "Namaste" to us and started a nice conversation about where we came from, where we stayed and what all places we wanted to visit. It was quite surprising as we do not usually see people greeting strangers in such a warm way without having their own interest. We also met a young lady on the way who gave us an insight about the life of people in Sangla. She even invited us for a cup of tea at her house which we humbly declined as it was already late in the evening. But these two small incidents that day made me fall in love with Sangla and it's people and I understood it's not only the beauty of the place that attracts strangers in to this land of God, but also the golden hearts of it's people.
Next morning after breakfast we started for Chhitkul which is around 25 kilometers from Sangla, but the road condition makes it a journey of around 1 and half hours by car. Chhitkul always seemed interesting to me being the last inhabited village of Indo Tibet border and having a dhaba which claimed to be the last dhaba of India named "Hindustan Ka Akhri Dhaba". All through the journey the mountains with yellow patches of trees, beautiful valleys with patches of pink, vast apple gardens loaded with apples, wild flowers peeking out of the gaps in between the stones and herds of sheep passing through were enough to keep us engrossed. Chhitkul looked amazingly beautiful and looked like a valley from Switzerland. One of my friends had truly said, had Yashraj films tried to explore this part of India, they would not have gone so far to Switzerland to shoot for the famous movie DDLJ. Chhitkul is a small village with traditional houses and a few shops one of which sells the best coffee I ever tasted in my life. Chhitkul mainly boasts of a valley surrounded by snow capped mountains with Baspa river passing through it and is probably the best place to witness various colors of nature. The yellow and pink colored shrubs or the moss covered ground, the trees with yellow leaves or the crystal clear water of the Baspa river, everything makes it a coveted place for nature lovers. We sat by the side of the river for sometime wondering how beautiful a place could be which makes us forget everything else and connects us to the the greater soul so easily. On the way back, we stopped at Rakhcham for lunch which too is a beautiful village in between Sangla and Chhitkul. Many people opt to stay here instead of Sangla for it's isolation from the crowd and the amazing views. Rakhcham too has a picturesque valley and in case you have time you could trek through the forest from Rakhcham to Sangla which I am sure must be a great experience.
Next morning we visited Kamru fort which is one of the oldest forts of Himachal having a tower like structure mainly built with stones and wood. It took us around 20-25 minutes to reach the fort through a steep set of steps that looked unending at a point and after such a tiresome journey it was quite disappointing to know that entry was not permitted to the main fort. So we visited the Kamakshya Devi temple in the fort premise and came back to proceed to our next destination. Sangla was beautiful for it's stunning views, it's majestic mountains, it's apple orchards and moreover it's welcoming people and in the 1st visit it surely made an entry to a very special corner of my heart.