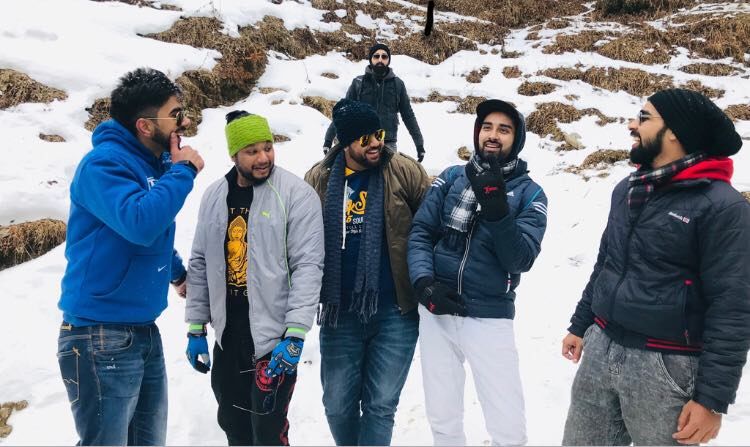 As it decided then, Seven lost Kids traveling together to Jibhi – Tirthan Valley! Where not everyone knows each other was a pint of curiosity, As people would like to travel with strangers too as they would have that curiosity to know new people.
Journey Begins!
Our Eldest Kid, Who's working with Looks – Select CITYWALK India for almost half a decade now, Was in the hunt to take a break (Who's often called by the name of Shikari, Yes indeed!) and he wasn't going to settle for an over-commercialized and over-populated hill-station like Mussoorie or Shimla.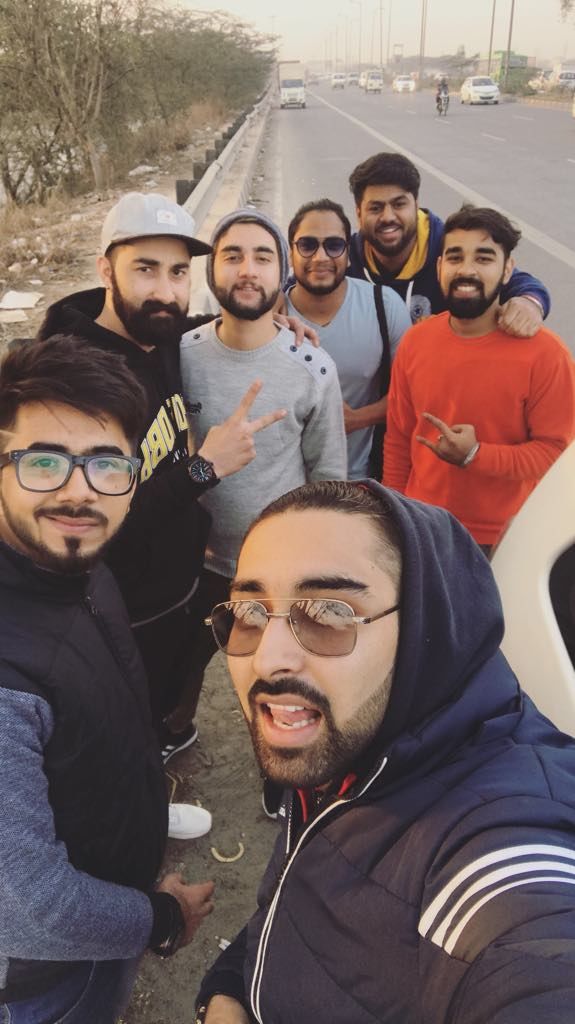 After making endless groups and trips on WhatsApp groups was the cancellation of one of the main member of our squad from Ludhiana, which turned out to be a heartbreak for everyone! As if the trip is going to be canceled. But here, I haven't mention one special friend, of mine yet! Who is having more value in my life and if I compare Aman's role is that to one special card in a deck of cards as More often than not, Special card is used to replace those cards that get lost or torn.
So, What we decided is to visit Jibhi – Tirthan Valley where we could relax and rejuvenate with a dab of adventure and have some quality family time.
Long road trips can take its tax of toll on the best of us. Sitting still for long periods of time make adults, especially kids unnecessarily agitated, especially when the roads seem to stretch out endlessly in front of you.
Music is a therapy that helps to pass the time. By introducing a set of different genres to play in the car for kids during your road trip, you can:
Pass the time,
Be less bored,
Use Our mind to keep us alert on the road
Entertain kids
Develop specific grammar or analytical skills
For about 18 hours of traveling in a car, many pee/sutta/food breaks, a sudden scare of failed brakes, our faithful zesty Innova car stopped for a breather at Tirthan Valley.
Tirthan Valley:
The road to Tirthan Valley was Mesmerizing; it warranted stopping often to take pictures but after analyzing a few spots, On the way, we crossed The Riverside Resort of Valley. An ambling river over rocks to look for the availability of a place to fresh n up click some pictures.
From Banjaar, the scenery changed dramatically before my eyes. This Valley is a true paradise for nature lovers, the ultimate destination for solo wanderers and remarkably uplifting experience for the weary.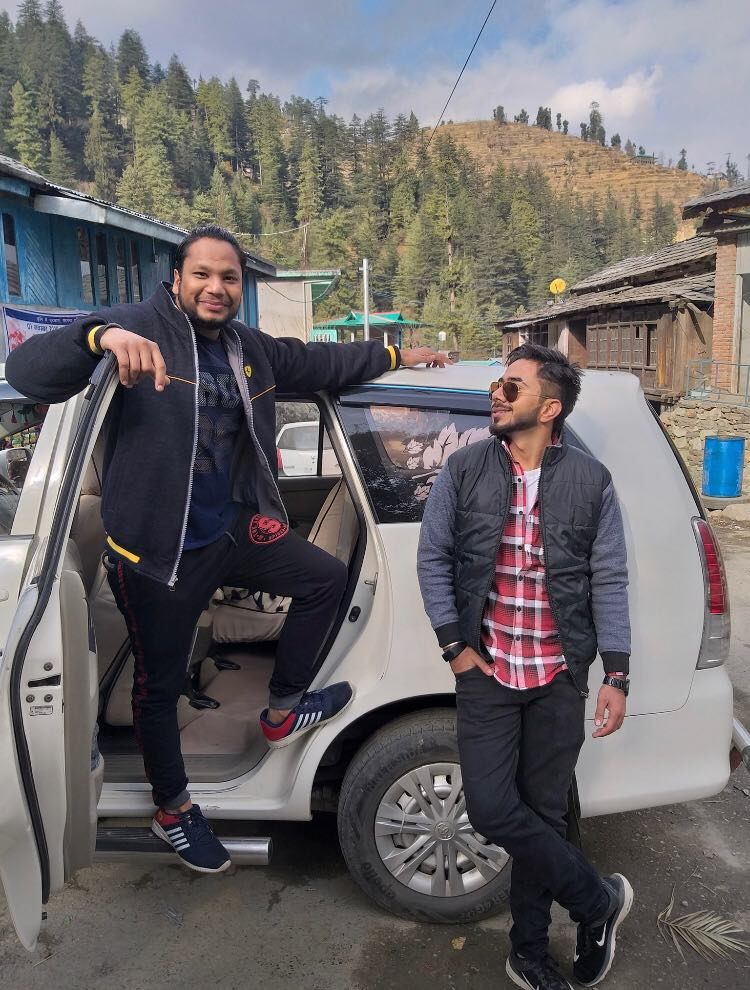 Jalori pass ki vadiyo me wanderlusts!
Tirthan Valley is a mass of emerald stretches paving way for deciduous forests and handsome vegetation. Valley is named after the Tirthan River that flows through its entire length, Which is a tributary of the Beas River and originates from the glacial lake of Hanskund peak (15,700 Ft) located inside the Great Himalayan National Park.
Hamlet of Jibhi:
While Vodafone decided we were too remote to grace us with their presence, Idea and Airtel jumped to life and we began making calls to find shelter And luck was not favoring us. After being turned down by 3-4 places, We finally had one homestay in Jibhi that agreed to give us a cottage. The challenge was to locate it. As with most of Himachal Pradesh, after sundown, it is unlikely to find people on the roads. Kudos to kanuj and his unique bargaining skill that actually worked here! We had an entire cottage of 3 rooms for Rs. 2500 seemed like a good bargain when all we had was the hope of a cottage for 3500!
Jibhi does not have any discs, pubs or bars. You can, however, go for camping under the stars or ask your guest house or homestay staff to arrange a bonfire. It's a great opportunity to interact with your fellow tourists. Additional charges might be applicable.
The marketplace comprises of a handful of very old looking shops including a couple of grocery stores that keep everything from local spices and edibles to chips and batteries, a couple of tea stalls, an ATM, a taxi stand and a liquor shop.
Frozen Serolsar Lake Trek
Kids kids… everywhere!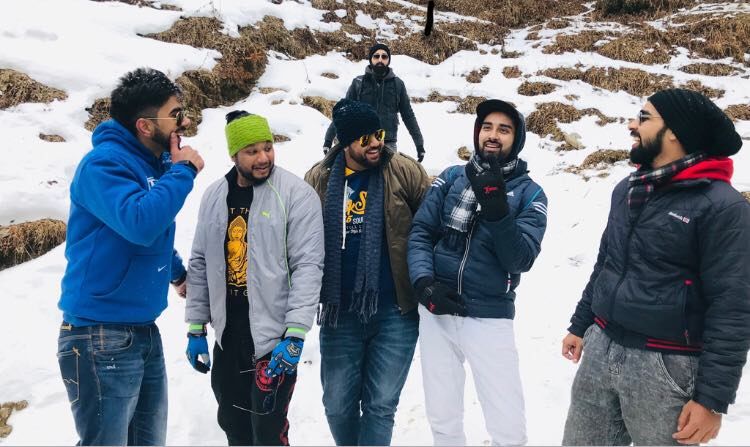 There are plenty of easy trails that are surrounded by pine and cedar forests all around. One of the most beautiful trails is from Jalori pass to Serolsar lake! It's a 5-6 K.M. Serolsar lake trek is a simple easy flat route with a couple of steep patches, An easy trek option for rookies.
I don't get excited easily because snow is normal for us (Himachali). But this was truly mesmerizing!
Frozen Serolsar Lake!
Trek to serolsar lake is one trek that I would love to do again with full power again!
I remember I spent the entire day in the jibhi valley with fambam and I didn't even realize how the day trek finished.
Trekking!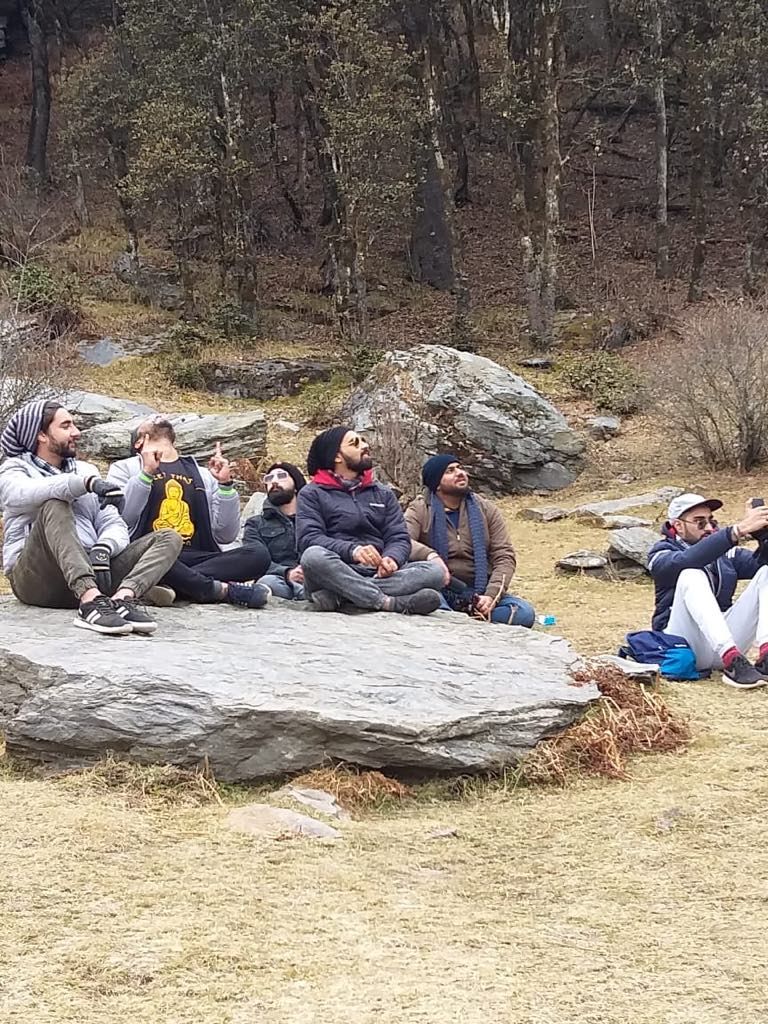 As darkness descended at 10500 ft, a little crimson Sunset, flashed up the all over the mountain road to Jalori Pass. It was a night where the half the moon lit up the pine trees and the stars twinkled mischievously at the seven lost souls making their way to some peace!
The next morning saw us packing and wolfing down aloo paranthas, omelets, and endless cups of tea. Our stay at the quiet village was over. After a mini photoshoot with Uncle and Aunty, we said our goodbyes and headed to Malana. Leaving Jibhi was bohat hard but we left with promises of coming back. But for the moment, there was Malana to be reached, newer memories to be made and a beautiful journey to be undertaken. With a new zeal to life, aiming to reach Kasol in time for lunch.
Kullu me na shimla me…Mohar lagegi Bimla me!!!???? .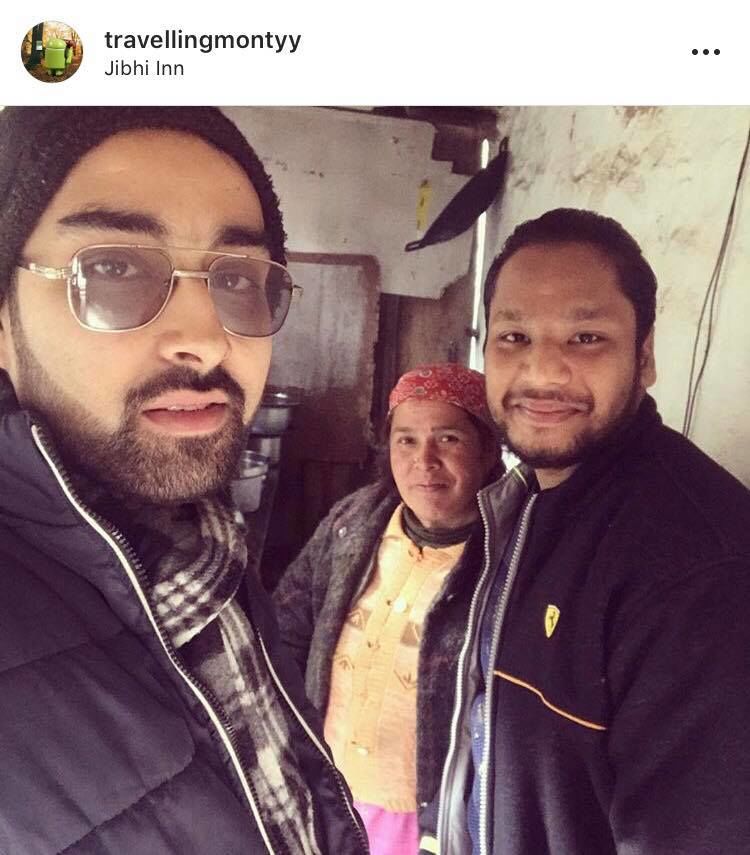 .
.
Bimla Aunty from Jibhi.
They may look different,
They may sound sane,
They are the women of India,
Their smiles are louder than their pain.
They'll herd their sheep and plough their fields,
Raise their children yet never believe,
That they're more than just women, they 're the avatars of Goddess,
But it happened so,
Once upon a time,
In the village of Jibhi,
She fed the food before we started our trek!
Meet this beautiful woman of Himalayas: "Bimla Aunty from Jibhi".
The route taken to reach Jibhi was Delhi- Sonepat-Panipat- Karnal – Ambala- Chandigarh- Swargghat- Bilaspur-Sundarnagar- Mandi – Aut- Banjar- Jibhi.