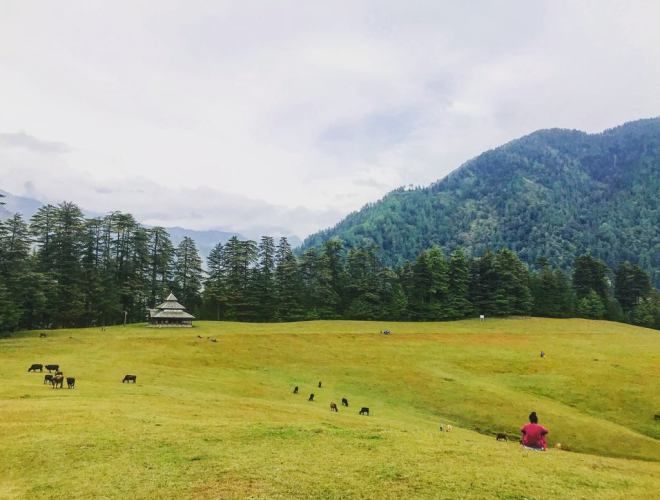 HRTC almost feels like home now. After traveling in the same bus for a year now, one's gotten used to all the state transport melodrama. Guess what? I immediately recognised the bus conductor and the driver. The driver's yanko hat was hard to forget and he sported the same even today. While the bus conductor smiled at me, i thought he too recognised me. When he asked me for the ticket, I frantically dug my pockets but couldn't find it. He said "Chalo jaane do" I quipped, "Bhaiya hum last time miley the, Mandi jaate hue! Yaad hai aapko?" He immediately retorted "Hum toh Mandi roz jaate hai, hum aapko yaad honge par aap humko nahi!" I sheepishly smiled and answered in my head, "Well Thanks mate! That was very flattering!"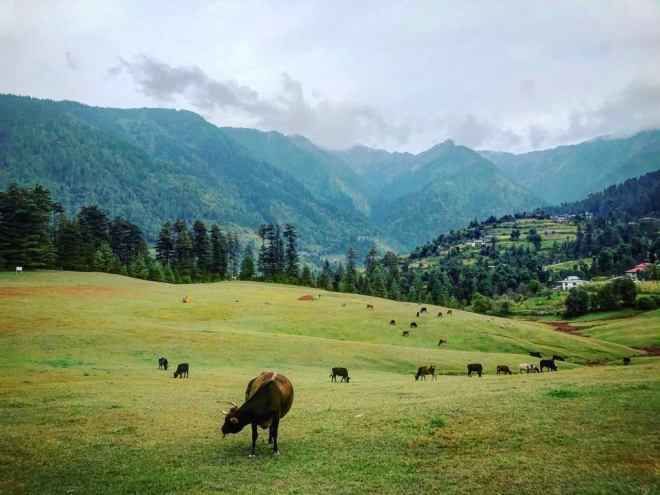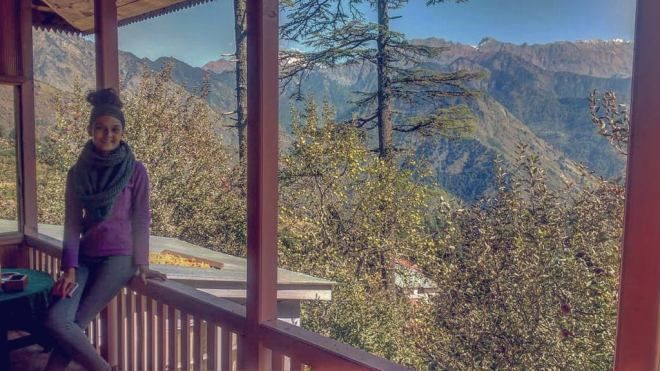 Folding my cargos, I literally thrusted them into my backpack. My mind isn't at ease. Its 12:30 am and i'm just back from one of the formal dinner nights that fail to satiate my tummy! ( Army Wife Duties are for real) and I have a bus to catch for Aut at 4:30 am. Groggily I talk to Tee, "Tee ya, I'm not sure about this trek. The book on GHNP says it's not easy plus I'd be hiking with four men who are absolute strangers. I'll be in pure wilderness with no network. What if someone tries to act funny. There won't be even dogs to save me Tee?!"
My ever so supportive husband pacifies me in ways you'd never believe! "Carry your pepper spray and knife and just sleep it off." Clearly, my husband is a man of few words! Well! Sleep I did that night, for those meagre two hours until the alarm pushed me out of my bed. I had never been so unsure of a trip before. I had probably read the book on GHNP a little too more than required.
After hours of staring outside the window, being humoured well by the passenger on the same seat who happened to be a young college pass out from Mandi anddd who was rather curious to find out what made me travel alone, I finally reached Aut at 1:30 PM. P from HMRA was waiting to pick me up from the bus stand. He had a warm infectious smile and spoke to me as though we were friends since long. No inhibitions at all. He raced the car like he were a Ferrari driver and suddenly paced down on seeing the cops around. I asked him if they were strict about the speed limits and seat belts here. He muttered, "Ye log yahaan sirf maal pakadne ke liye baithe hai! Abhi aut aate samay pakda tha mujhe aur puri gaadi khulwa di in search of weed! " Aha! Welcome to Kullu. Weed is organic and we wouldn't know how to work without it. I found it strange for the first time when men around me smoked up publicly but this was my 9th trip and I knew this was the norm.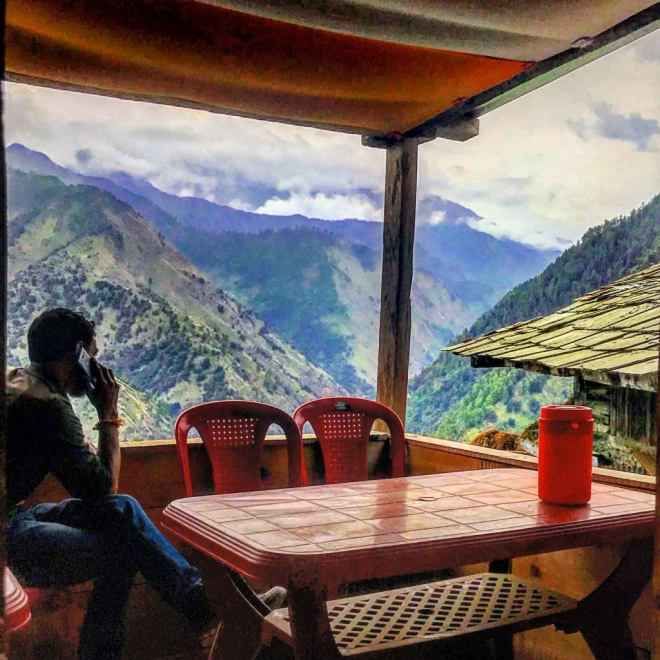 Back in March I was on the same road, lugging my way through, in the bus to Deori village. Mahi, my then homestay owner who even helped me with this trip messaged "hike ke baad pakka ghar aana" While I was tempted to leave the hike and run away to his place right away. Never was I so unsure of any of the treks before. On our way to Shangarh we gave lift to many locals who missed their bus. The Manu temple, one of the few Pagoda style temples in Kullu Valley stood their on the mountain top, looking as splendid as ever. I wondered if I could check it out this time.Its said that the walk from Neuli Village, along the Sainj river is extremely rewarding especially for the bird watchers looking for Blue Whistling Thrush, Chestnut Capped Tesia, Blue Magpies, Kestral and Shikra.
An hour later we were at Shangarh. It lies in the eco-zone of GHNP and people belonging to this belt take pride in their roots and call themselves Shangharis.
We reached a tiny makeshift cafe right at the entrance of Shangarh. The homestay that Mahi had arranged for me was still farther ahead. We decided to grab a cup of tea before driving up to the village I would be staying at tonight before finally starting the hike, the following day. The view outside the window looked surreal. What a massive transition in just a couple of hours. I could see blue greens and yellow while no vehicles honked. Dry hay hung by the rustic cobbled roofs outside. Shangarh looked different this time. I was lucky to have witnessed the last snowfall back in March. A little later I was at the meadow that looked somewhat green. Being a weekend, a relatively good number of people sat around, though very few of them were tourists. A flock of sheep grazed while the shepherdess stared into the deep oblivion. I sat down behind her, scribbling a few lines in my head.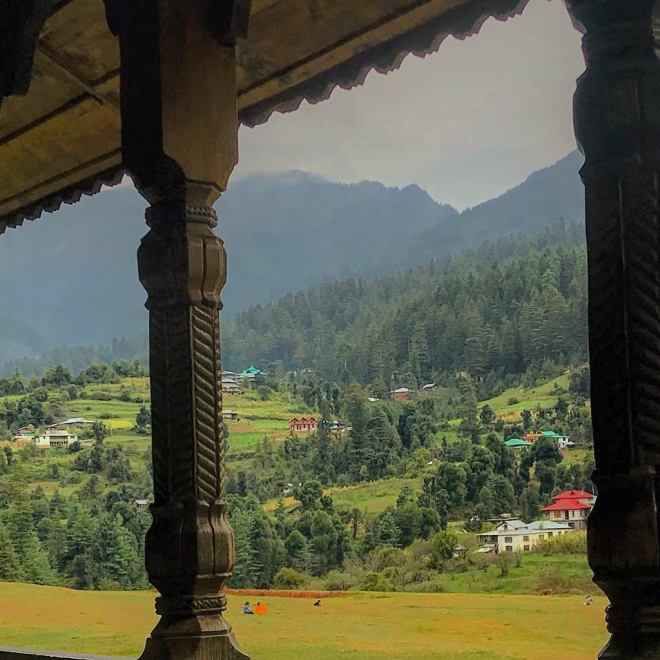 She sat there with an empty mind
Her flock of sheep, some eight or nine
Wandered around like fleeting clouds
Just me and her made the crowd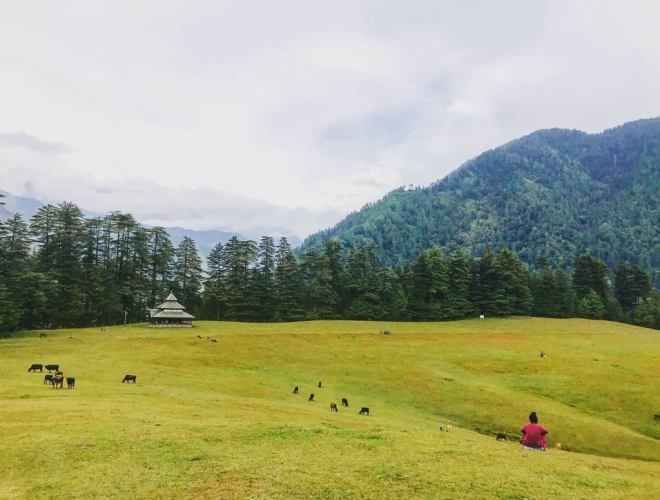 Just then my homestay uncle called up. "Beta have you reached! We look forward to see you soon!" I didn't expect my homestay owner to be so proficient in English for people settled in the villages mostly spoke in their native language. I was taken aback. I honestly had no idea about how the place was. I'd blindly believed Mahi. But I'm glad I went with less hopes because when I saw my abode, I was in seventh heaven. It was probably one of the most beautiful stays I had in Himachal.
My personal definition of a perfect homestay would be, a wooden house in the mountains, away from the mainstream village, a small balcony where I could sip on my coffee while staring at the mountains, basking in the sun andddddd some doggie love would be a cherry on the cake. Well I got all of that and the doggie love doubled with Shaina and Rambo, the two GSDs at the Lord Shiva Snowline Homestay. The house had sprawling apple trees all around in its compound and I was lucky enough to witness the last lot of apples of the season.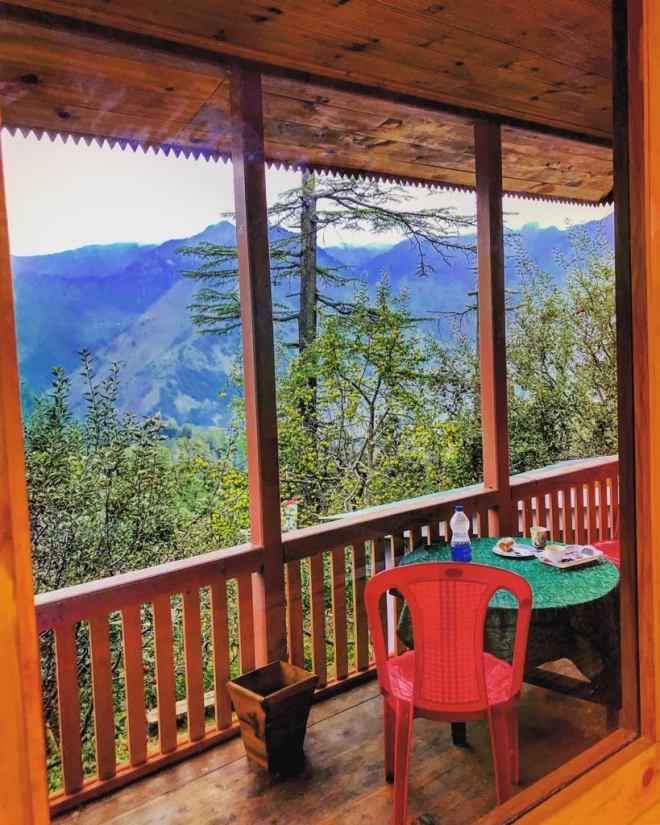 Personally not so much into fruits ( rarely do I indulge in good habits) it was one enlightening talk with Uncle who told me how the apple cultivation started back in the day in Shimla district ( Mashobra, Kothkai, Jubbal etc) and was introduced by Samuel Evan Stokes from America. While Capt RC Scott had introduced apple cultivation in the Kullu Valley but the ones that they introduced were sourish and not the sweet kinds that us Indians prefer.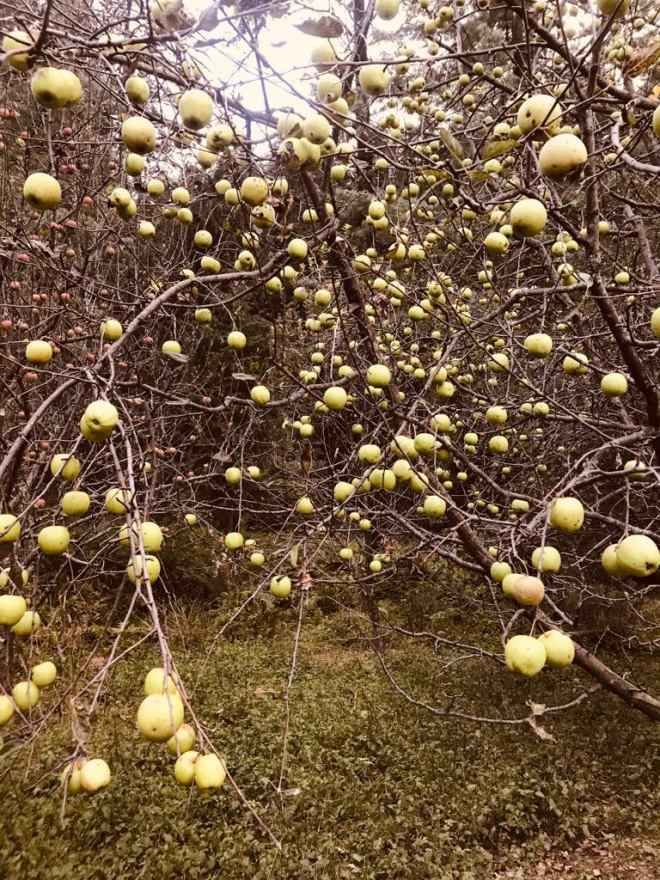 Till now, I could only classify apples on the basis of their color that is green or red but they actually have varieties which are mainly The Royal Delicious, The Red Delicious and The Golden Delicious! Well Uncle was very sweet and kind to pluck all of these for me and for once I actually enjoyed eating fruits! Now that's what I love about travelling. It makes you do things that you'd never do otherwise and of course adds a little more GK to your bank of faint knowledge.
The last rays of the sun was yet to greet us and I asked uncle if I could join him and Shaina on a walk to his hut close to the homestay. He has a beautiful wooden cabin that he rents out to people who intend to stay for a longer time and some camping place around it. We walked through some more apple orchards while Shaina roamed around like a free child sniffing around the countryside leaving her mark (peeing) at every nook and bend! Dasher and Haachu (my pets) must really envy this kind of life.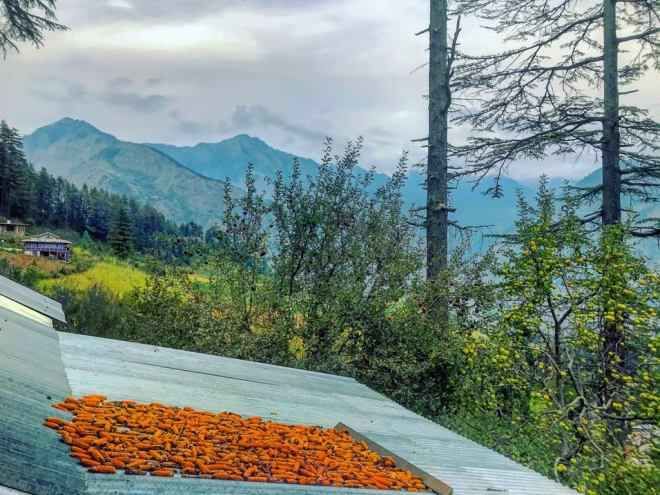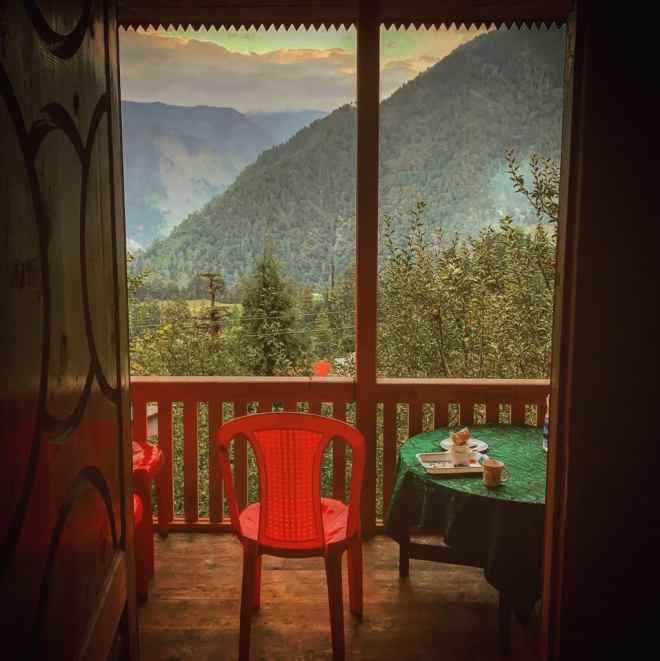 Rest of the evening was spent in my balcony, sipping on endless green teas and fighting those nervous butterflies in my stomach for the following day was the first day of the hike. I was going with three Himachali boys and Sharad, the founder of HMRA but i'd not met them even once. I was desperate to do GHNP and Mahi (one of the previous homestay owners helped me with their contact). The sky was packing up. That night lying down in my bed, the words I read in the book kept haunting me ' rudimentary landslide trails not easy to negotiate and a tough tough stamina'.Who knew there were bigger hurdles coming my way. Well , misadventures often make the best adventures and the hike up to Raktisaur Glacier was all about that.
So much to write and so little time. Until next time! The Raktisaur adventures shall follow up soon!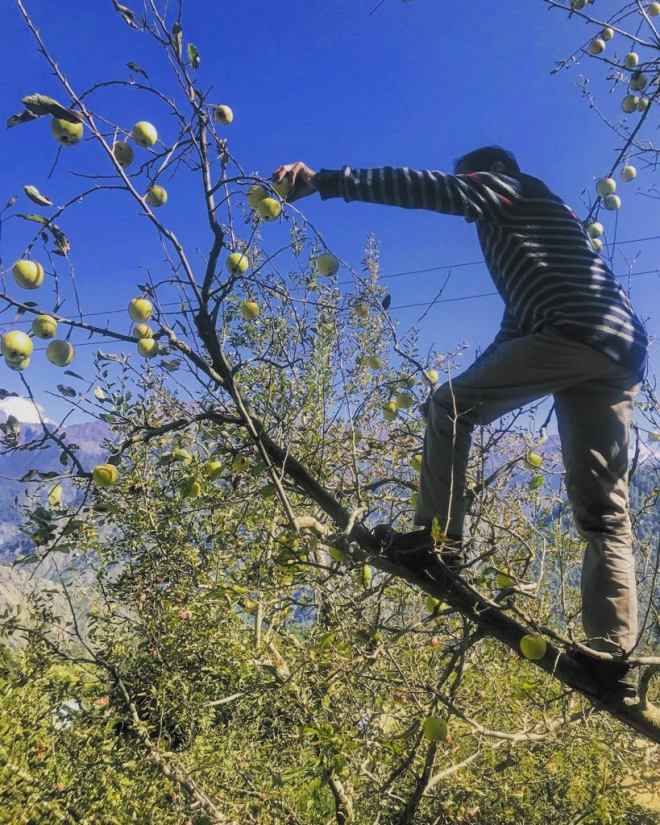 Travel and Homestay Info
Shangarh lies in the ecozone of Sainj Valley in Kullu region and boasts of housing many local deity temples of different architecture.
It can be considered as a base for many hikes in Great Himalayan National Park since Niharani , which is the base village to GHNP hikes is a stones throw away and doesnt have any homestay.
I caught a bus from Sec 43 ISBT Chandigarh for Aut ( the famous tunnel) that leads to Kullu Manali. After getting down here you may catch a bus to Neuli and further ahead to Shangarh from there. There is an option of shared cabs as well.
I stayed at the uppermost village in Shangarh. The homestay is situated very close to the forest rest house and offers undisturbed views of the Himalayas. It is called Lord Shiva Snowline Adventures.
The room is beautifully done with wood work and has comfortable beds and blankets. It has huge glass windows offering one with incredible views and a balcony to die for.
The washroom is located downstairs and though not attached with the bedroom but is tiled and neat and clean with geyser etc.
The charges are Rs 750 per day which includes all your three meals as well as tea and coffee ( isn't that so cool)
Contact no: 9805454430
There are tons of hikes around Shangarh. the serious hikers can trek up to Lapah, Dhel Meadow and Raktisaur Glacier in GHNP. Shakti and Marore Villages in GHNP can also be hiked up to.
Easy day hikes could also be done to near by waterfalls, Manu Temple, Upper Nahi Village etc.
All pictures are the property of the writer. To check out all of her adventures, see her Instagram!
Sign Up now and get the latest travel updates from Tripoto straight in your email's inbox!
Chat with us on Whatsapp to help us plan your next trip!