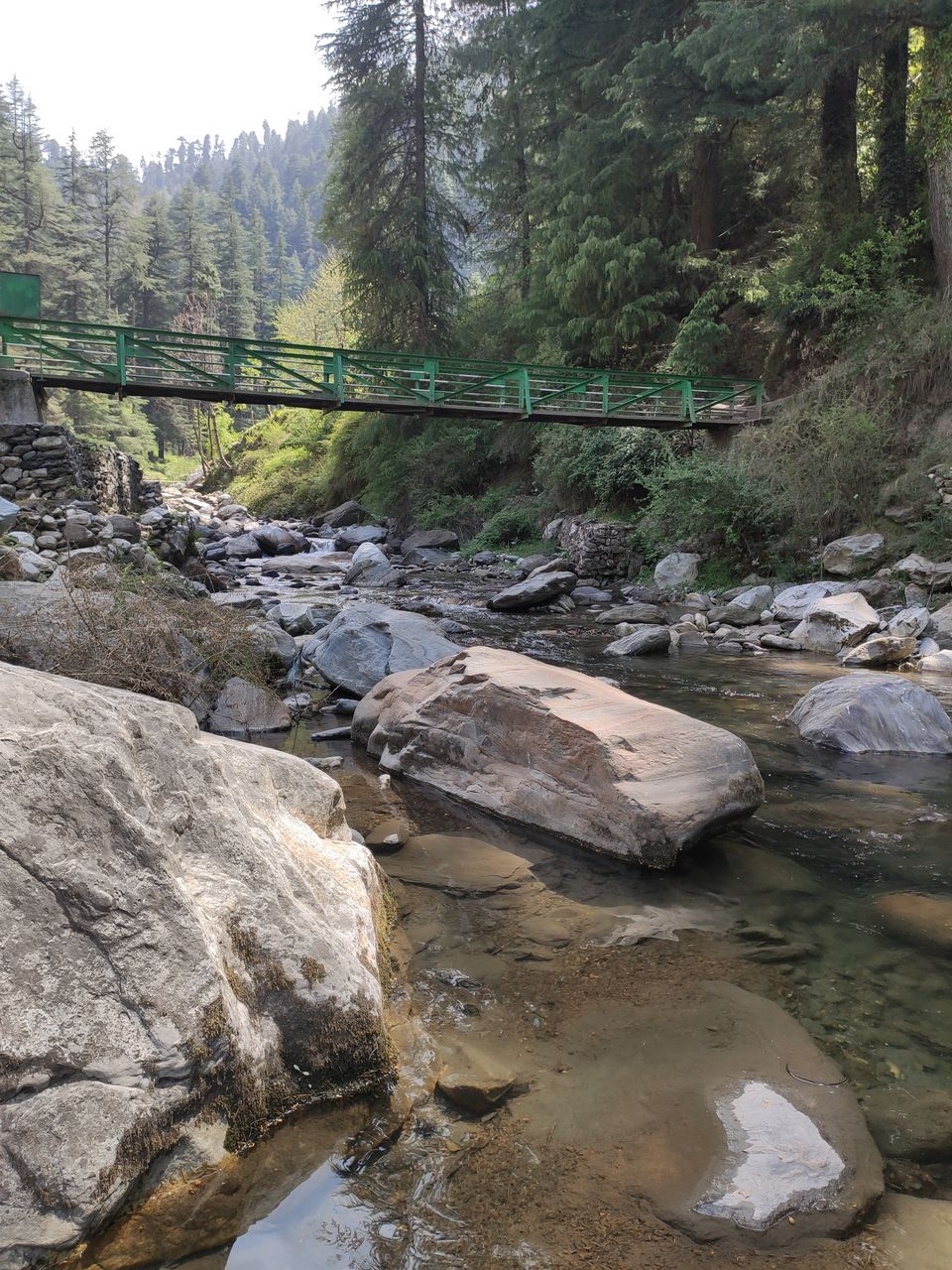 We were planning to have some trip for many months and after all the calculation of timings and workload we decided to have trip from 11 Apr to 17 Apr. We includes my family (myself + wife+ 2year old daughter) and my friend's family(husband+wife). He is my college friend and working in Vadodara. We decided to have a trip in mountains only. We explored Mcleodganj, Dharamshala, Jibhi etc online and finalised Jibhi with a one week trip.
So my friend left On Friday night from Vadodara and reached Hazrat Nizamuddin in Morning around 9am. Then he came at my flat in Noida. We left in evening around 7pm on 10 Apr for bus boarding at Majnu ka Tilla, New Delhi. It's a semi sleeper bus. The bus left around 9pm and reached Aut in morning around 9.30am. The bus conductor dropped us before Aut tunnel after coordinating with our cab driver. The cab driver took us to the Achintya Camps and Cafe. It was swift desire and charged 1300 to us. The cab is suggested by Achintya Camp owner Ajay only and we found it reasonable as the small Alto is charging 1100 for same. The views in the morning for Pandoh Dam and other small dam is also awesome through bus and cab.
We reached Achintya camp. Why Achintya Camps? Because one of my friend suggested and the owner Ajay is very genuine and generous to us. In mountains I think everyone there is very kind to tourists or if I talk in pahadi terms then generous to "neeche ke log" because they are living at much higher height than us. So wherever we go normally they denote us by "neeche ke log" or "achha neeche se aaye ho" and all.
The cab driver dropped us at SBI bank in Jibhi and then we walked to Achintya camps from there. It was a 5-10 minutes walk from there and the cover photo for this blog is one of the small bridge we came across while reaching to camps. The way and the location was awesome. The camps is in heart of Jibhi and views are awesome if you just sit there in camp.
We reached in morning and after bathing we just sat there and relaxed. We settled in well as we have to spend next 7 days here. The cook or we can say our "ustaad" bhai provided heavy breakfast of aaloo parathe and paneer parathe accompanied with plain omelette. The breakfast was heavy and we took rest by sitting in grass below. We have pre decided on the trip that this trip will be a relaxing trip. Motive is not to cover maximum places but just cover one destination a day whether it is near or far. Breakfast was so heavy the we did not care about lunch. We ordered dinner and ustaad provided it.
Ajay came after we arrived in tents. We discussed our iternary for whole week. He also provided us the one Rum bottle that we have asked. I have discussed with one of my friend living in Himachal and he said the liquor is cheaper in Himachal. And in the end when we asked to provide bill on Friday , we were amazed to see that Rum is 600 only. Much cheaper than Delhi NCR and of course Vadodara (Gujarat).
There was badminton net so my friend and I played badminton. It was fun. We were tired so after dinner we went for a good night sleep.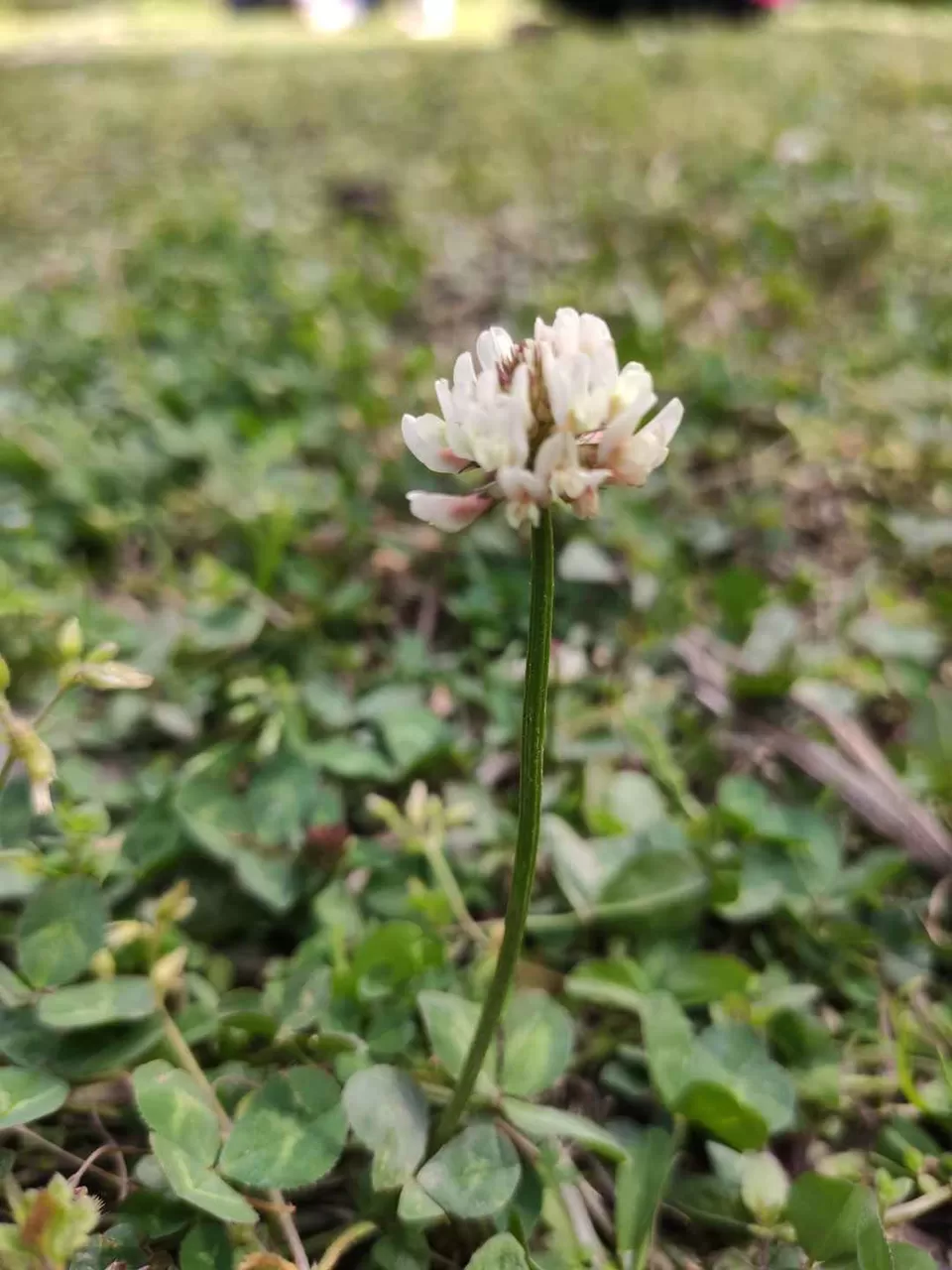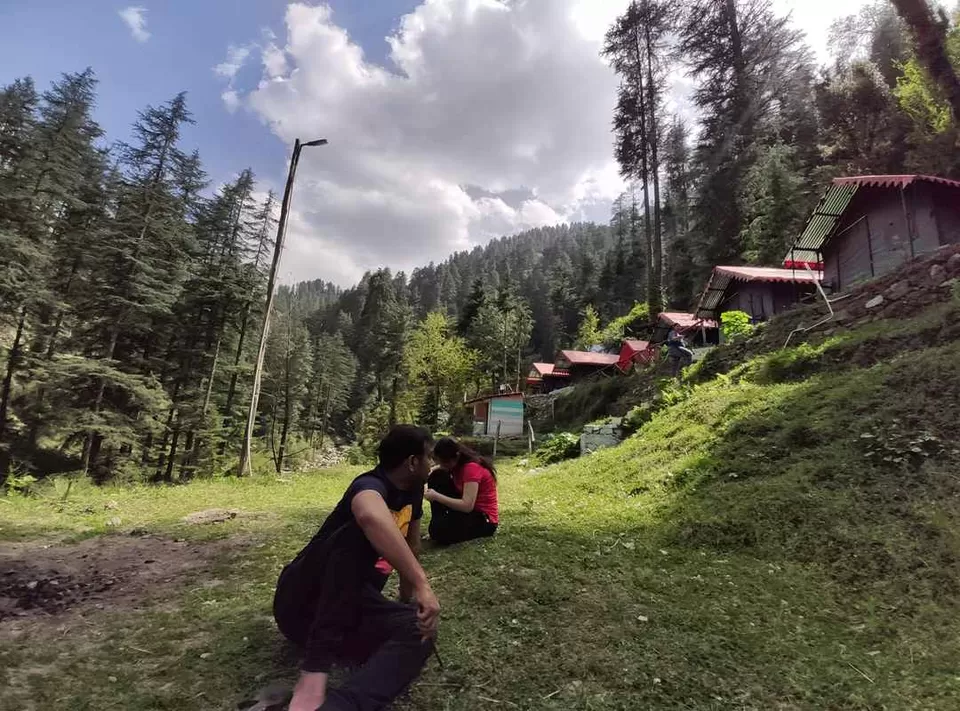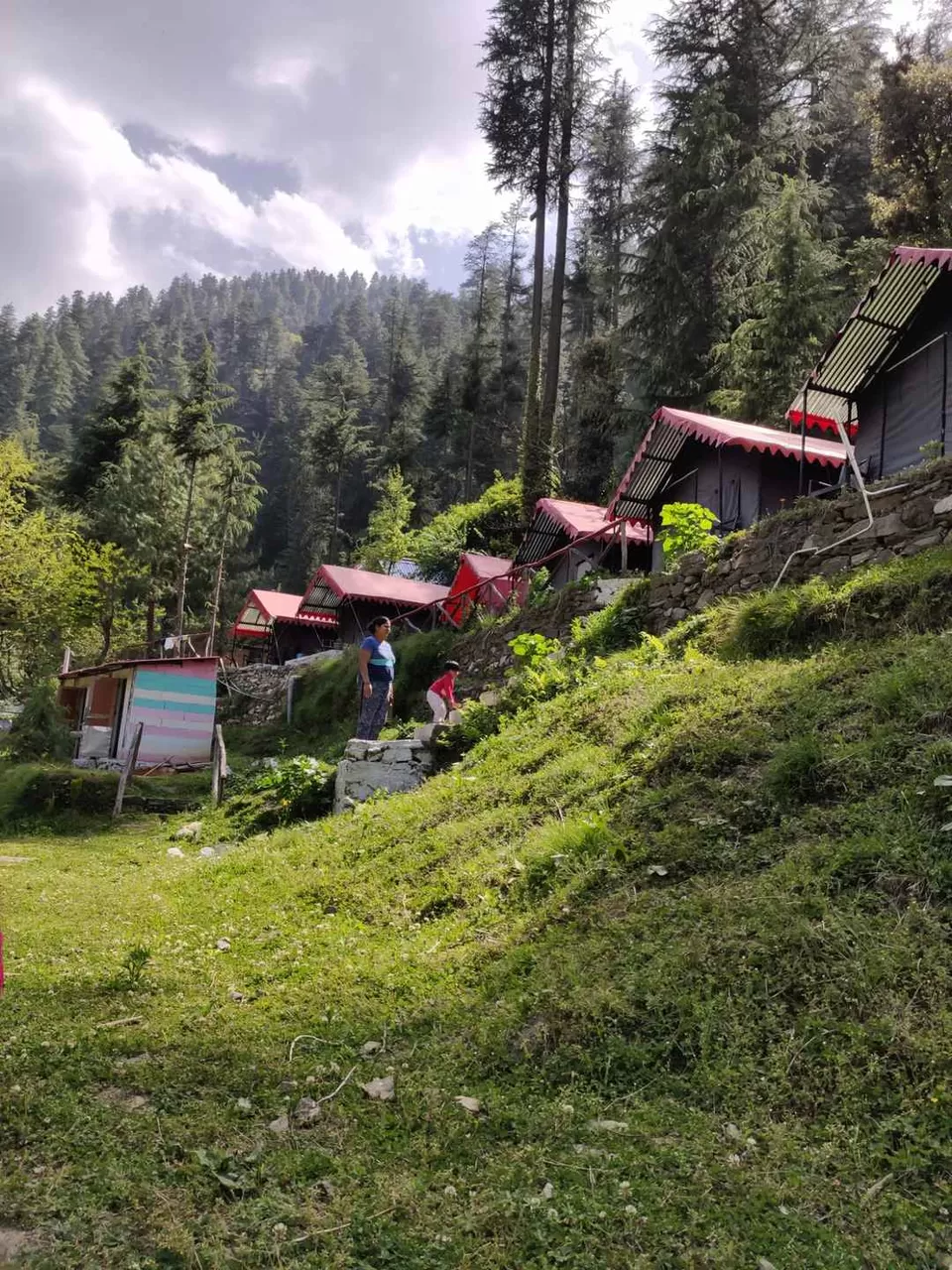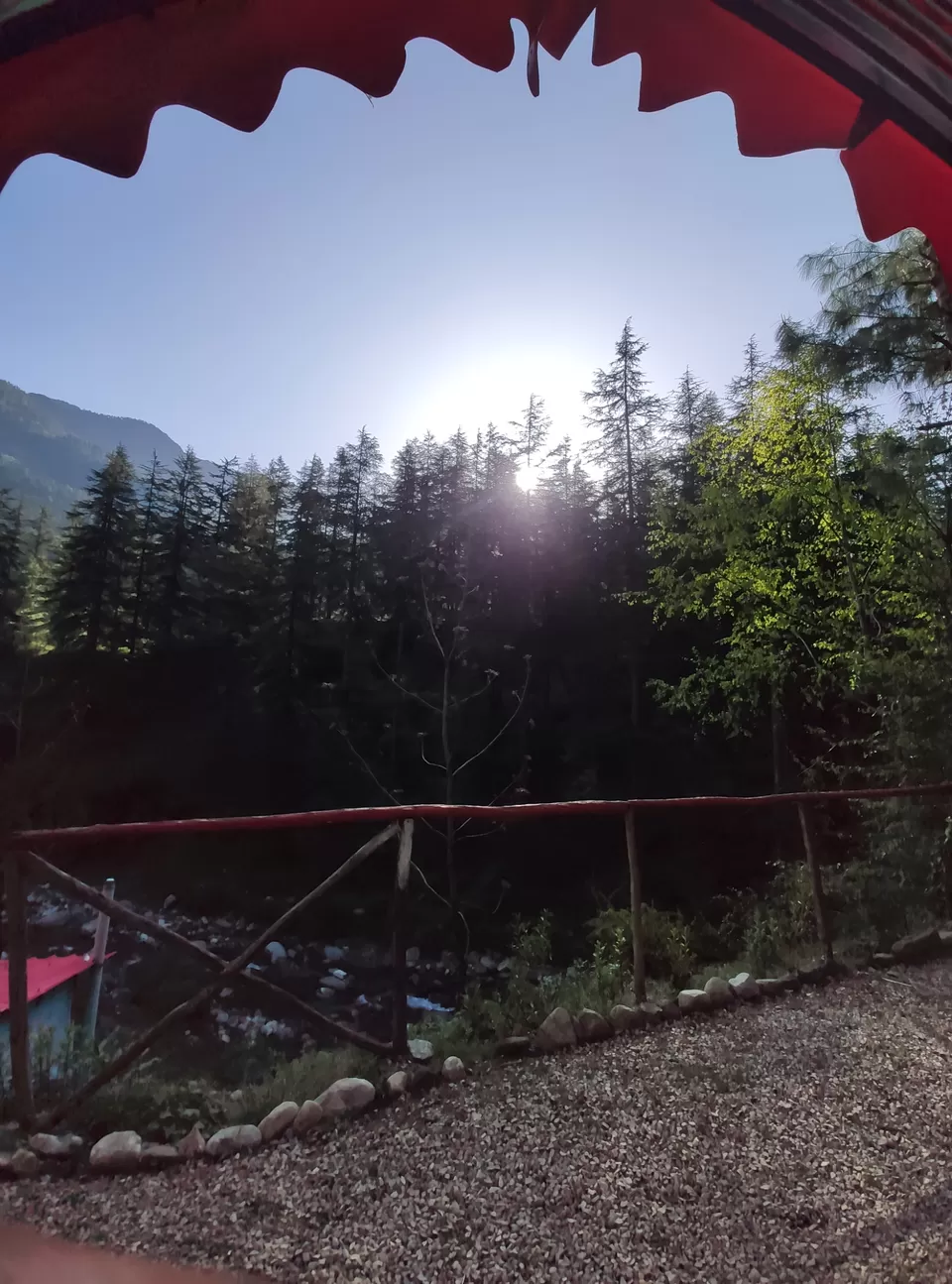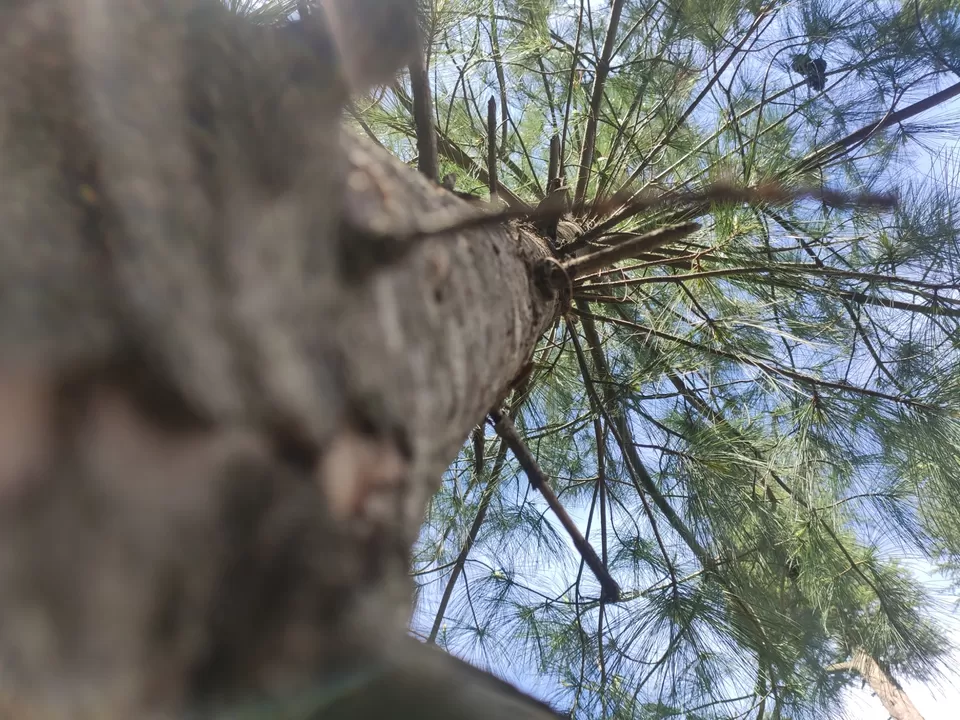 Second day we have planned to go Bhudhi Nagin Temple which is on banks of Serolsar lake. I woke up early around 6.30am and went to the flowing water near the camp and tried to balance the rocks that I have seen in many videos on instagram( see pics below what I have tried). The water was very cold. If you your feet for minute then you can't feel your feet.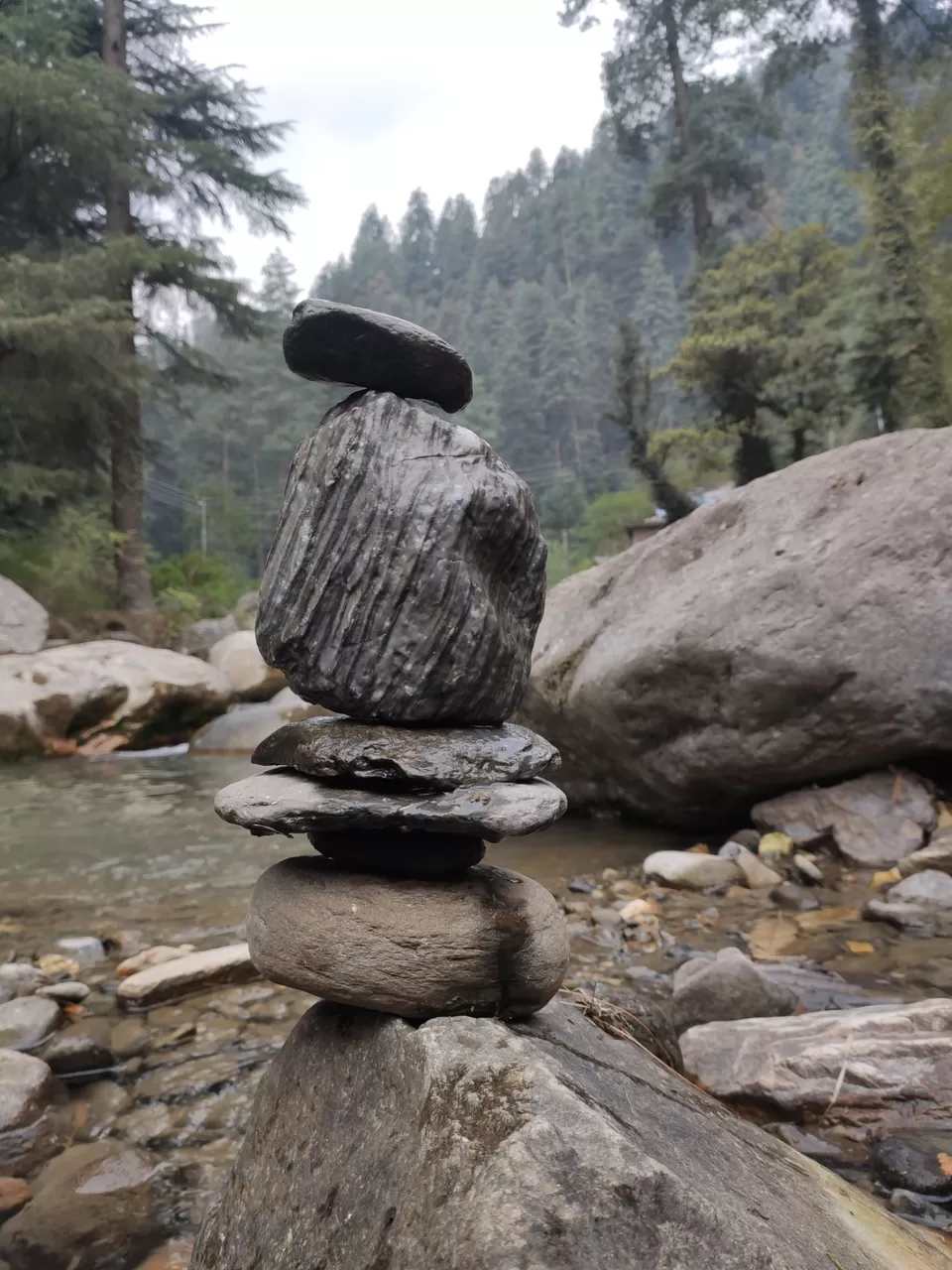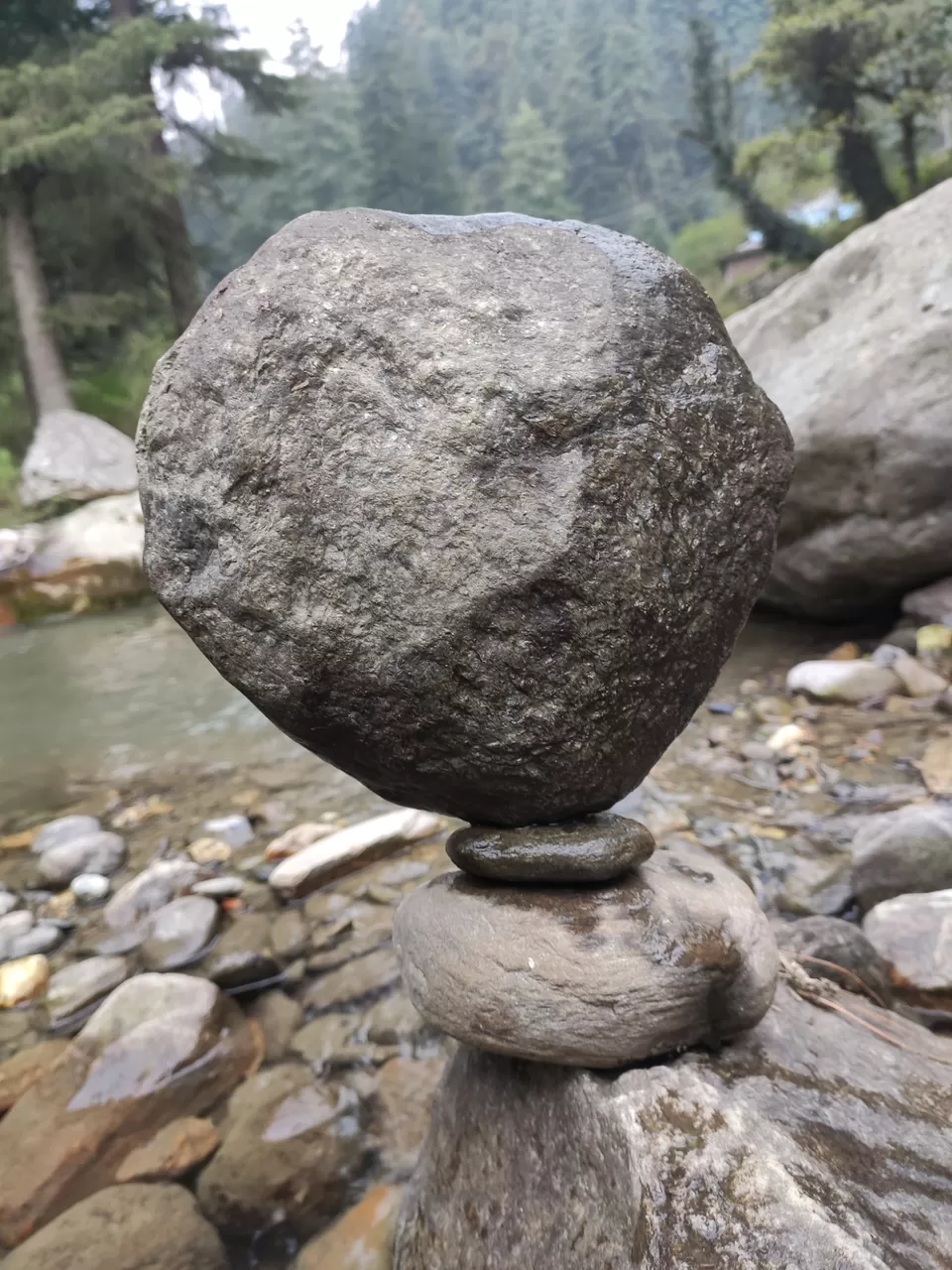 After spending some time and chanting ऊं with water , I came up to tents. Around 8am, ustaad and helper woke up. We asked for hot water to take bath and bread omelette in breakfast. One boiled egg for my daughter.
We left around 10am from camps and reached at Jalori Pass. Now we already decided to go Serolsar lake. Cab driver asked that there is 360 view point and it would take 15 minutes for him and 30 minutes for us to reach there. From same point you can also go for Raghupur Fort. Raghupur is also on mountain top and there is historical fort. We were not interested in history so we picked Serolsar lake. You can do one hike in a day. Either go for 6km Serolsar lake or 5km Raghupur fort.
We asked the driver to take us to 360 view first and it took 1 hour for us to complete that. But the view at top is awesome.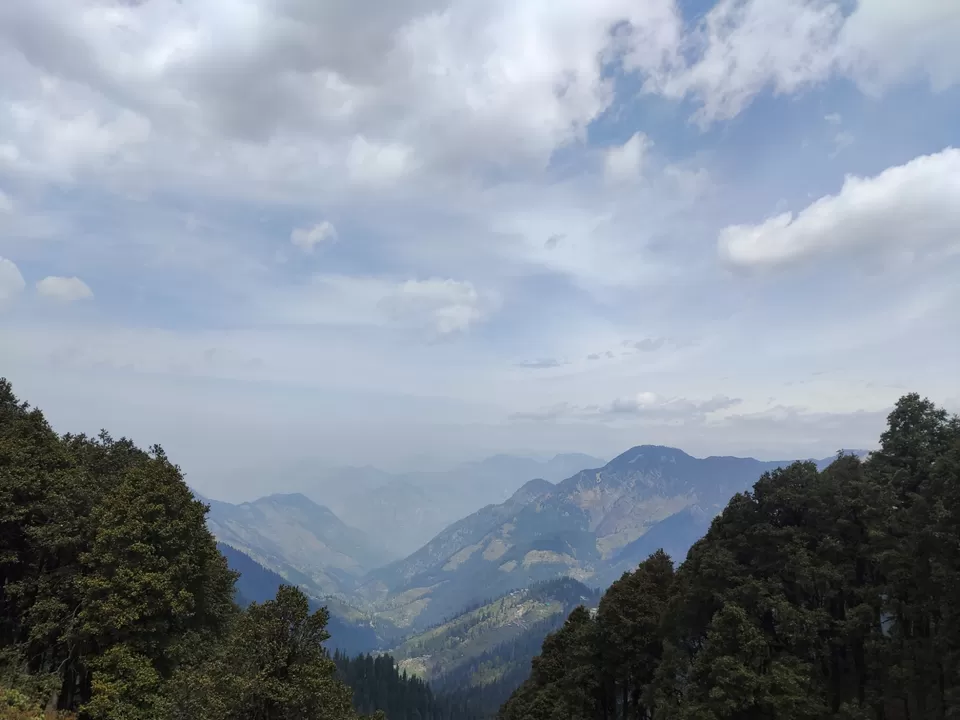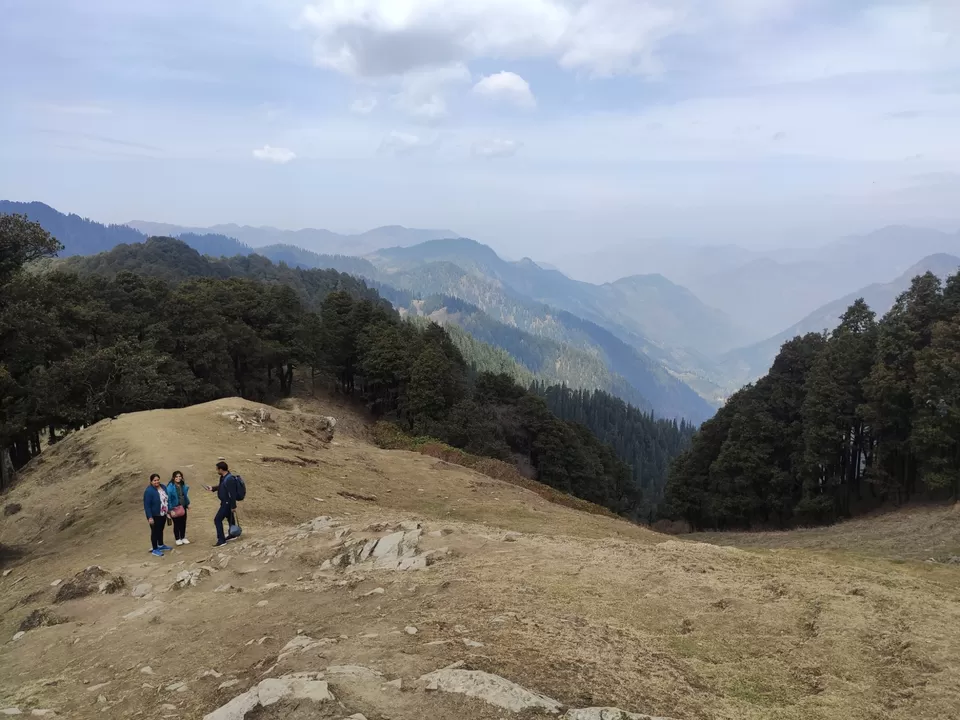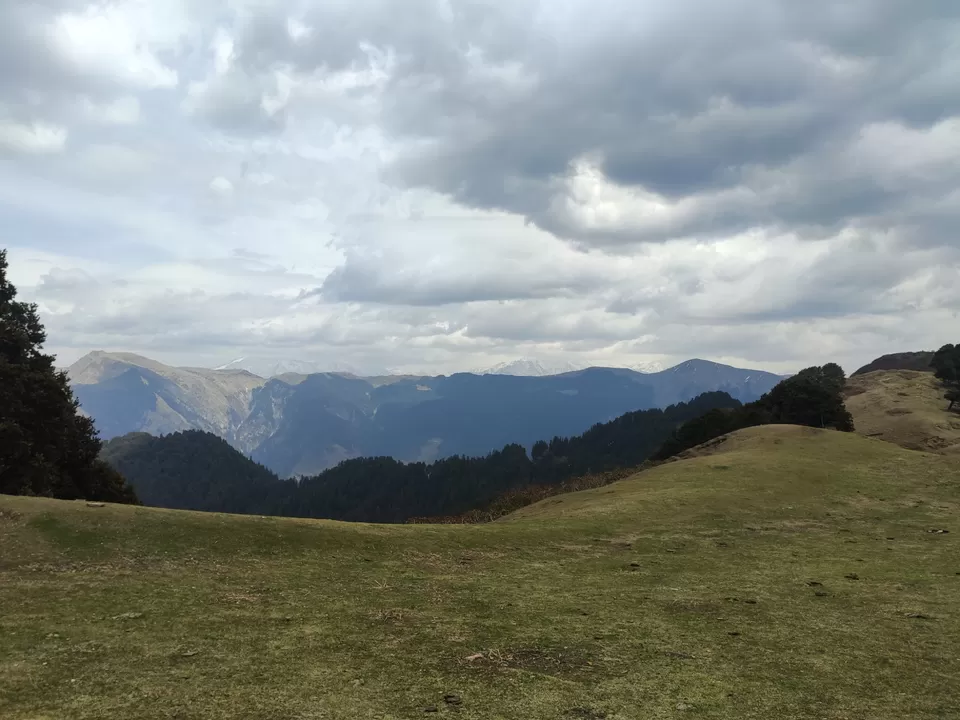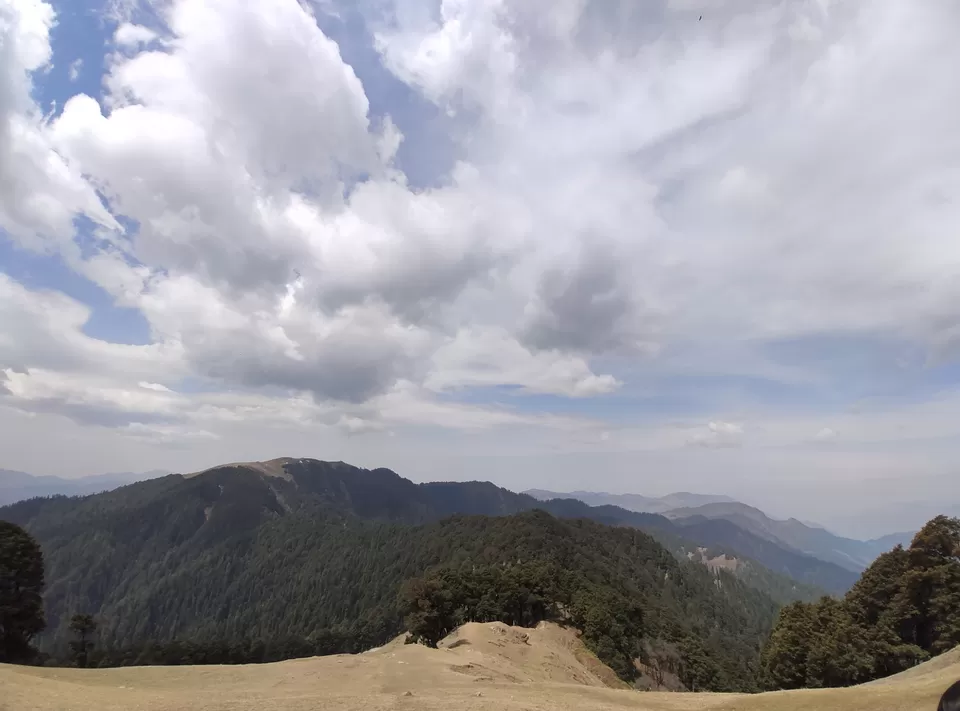 There is small temple also. And if weather permits you can have your own tent and have a night stay. We went in April so there is no snow but if you go in Dec or Jan, you will find a lot of snow.
We took an hour to go on top and then come down to the way to Serolsar lake. We started walking . In the start it seems easy but it's 6km walk with some high elevations. You enjoy the elevations in start but in the long run it will be tough. For me it's tougher becuase I was carrying my daughter. So we kept it easy with a lot of rests and relaxation points.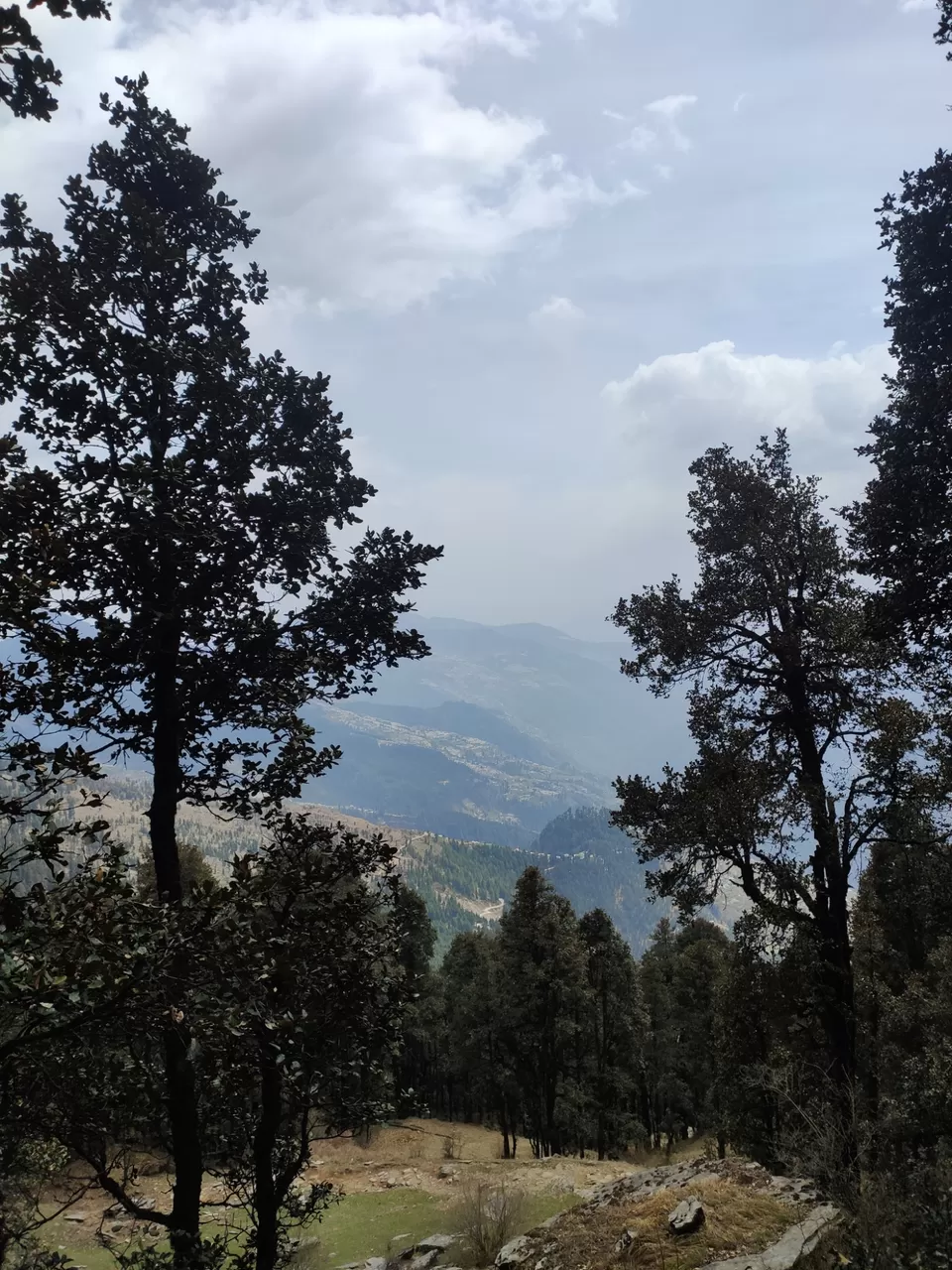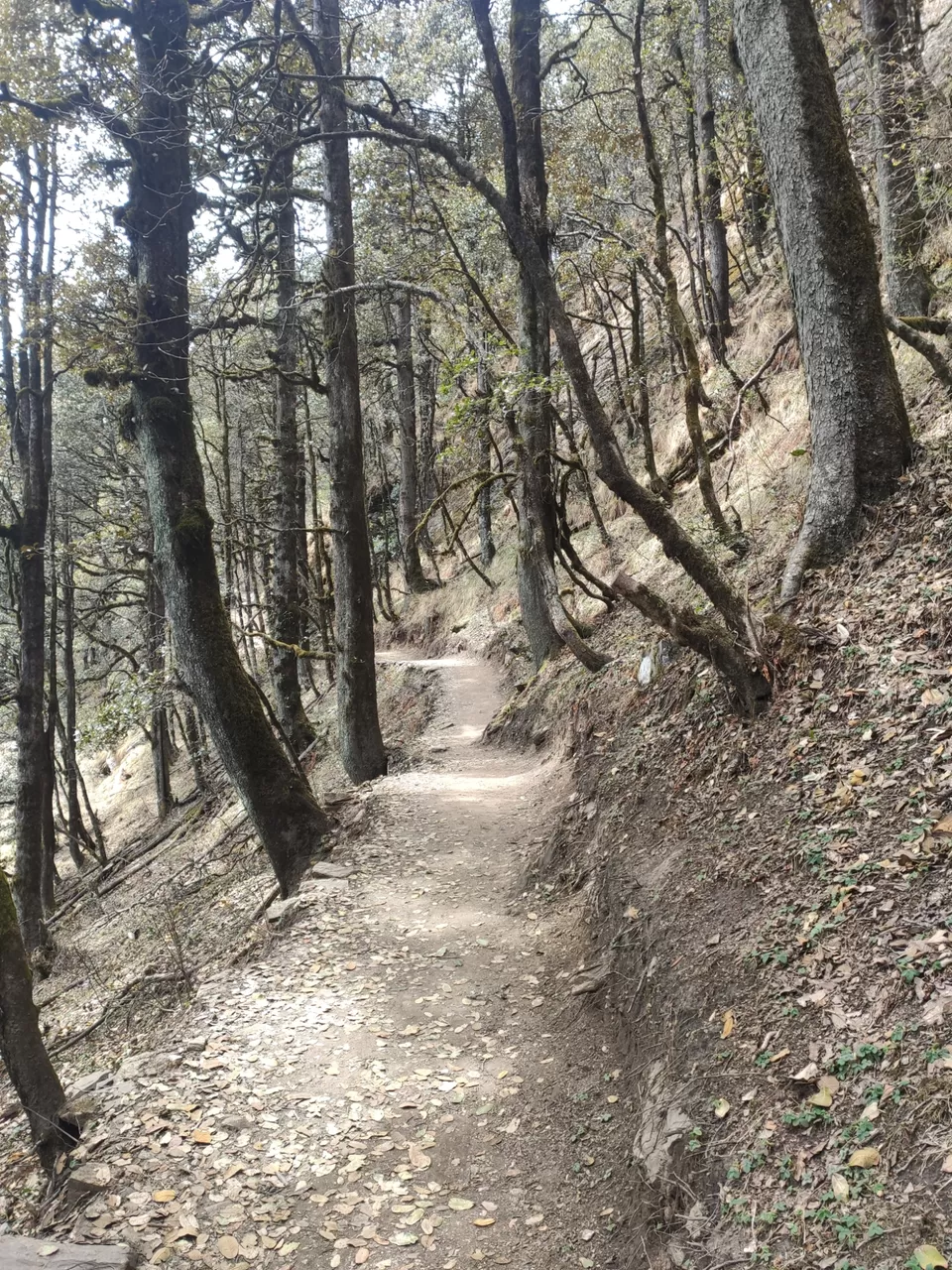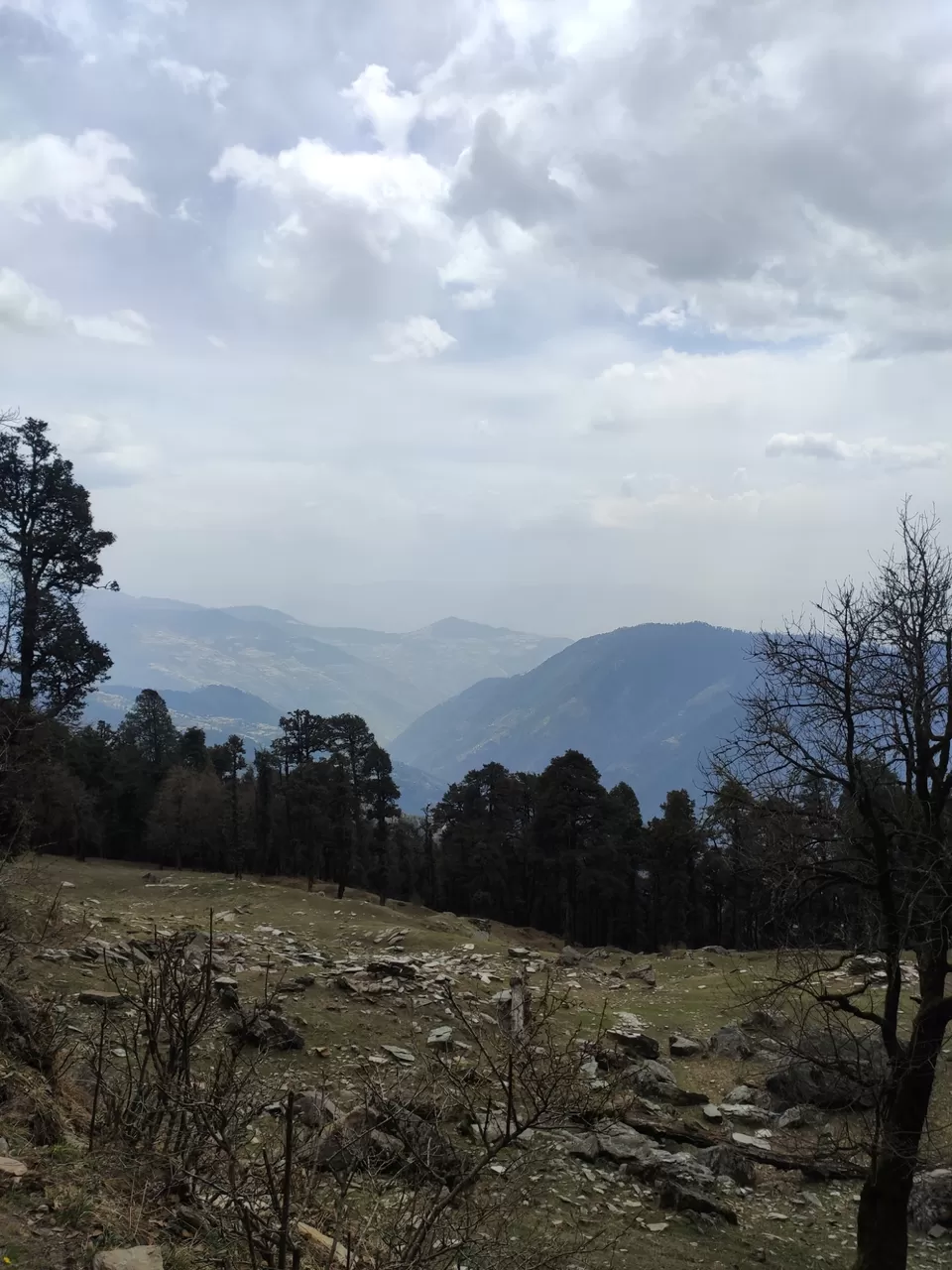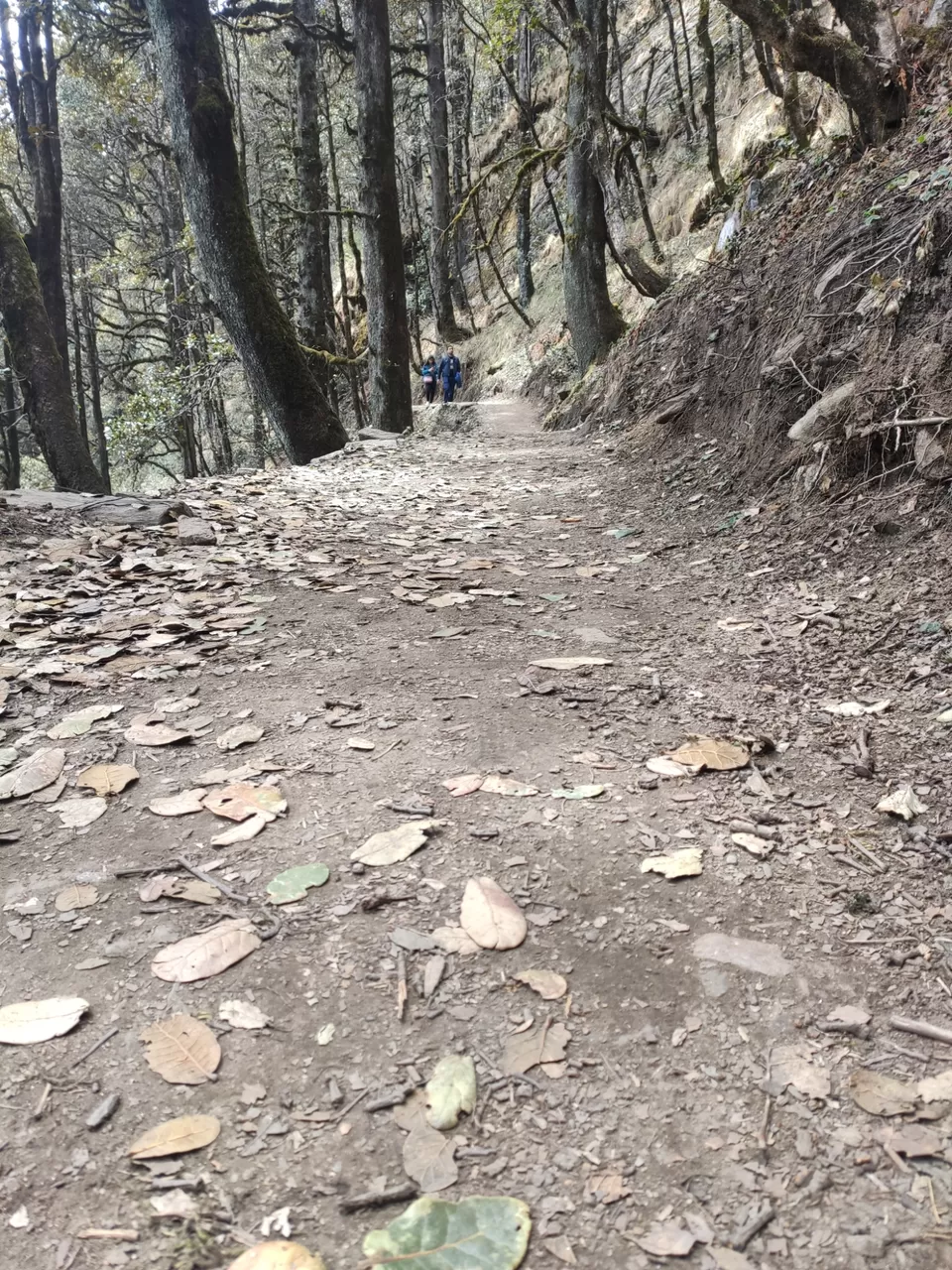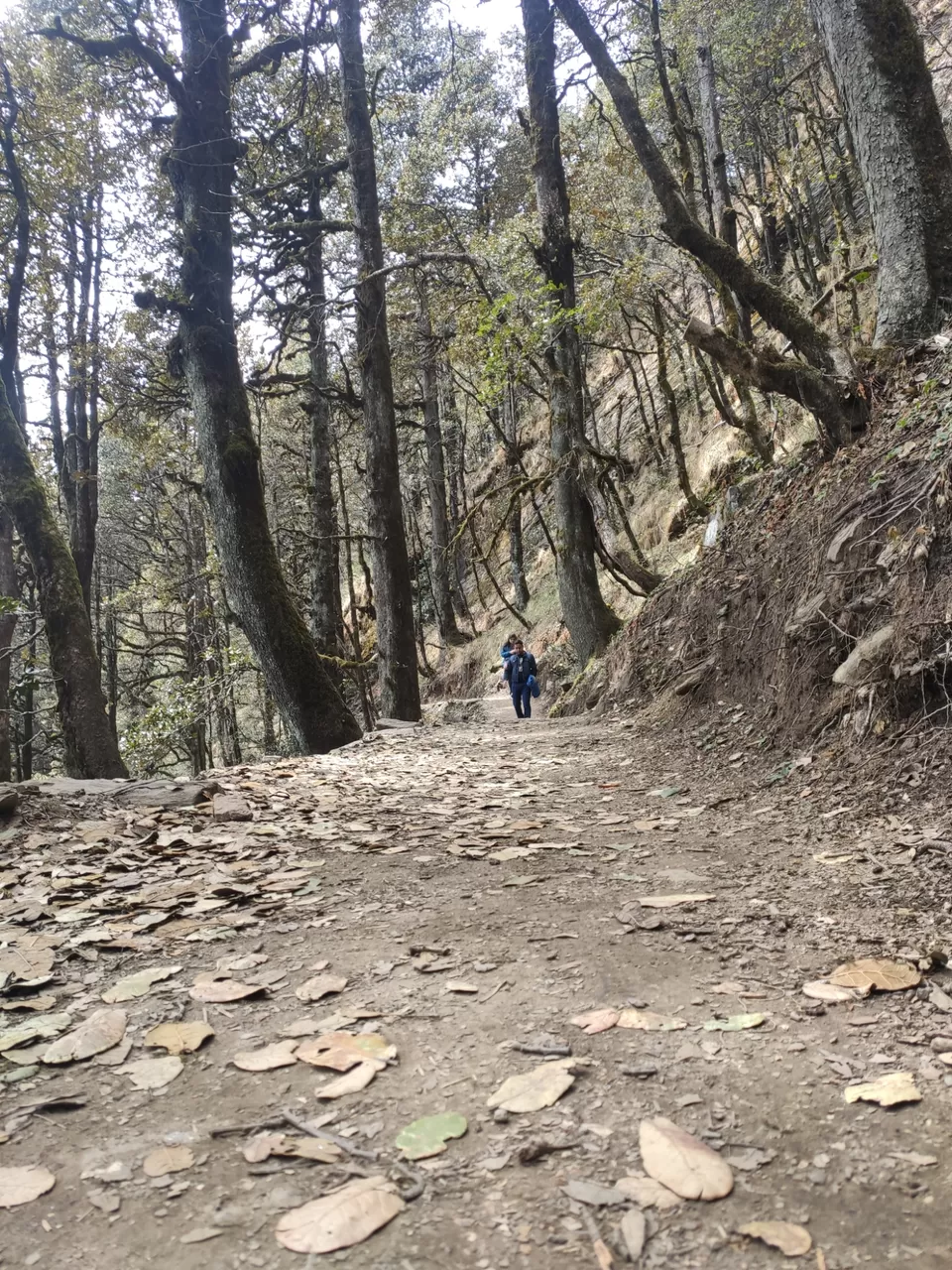 We were tired a lot. Like we were asking to every passenger coming from there how much more left ? How much more left? At a point 3 of decided to leave it and return. But I said we have a lot of time and started leading the way with my daughter. After that I did not listened to them just walked till destination. On the stairs which are leading to Serolsar lake, I taunted them that now let's leave, we have seen the lake from far. But they insisted to go near Lake and visit temple also. This is how it looks. The view was amazing and we have spent some time there in peace.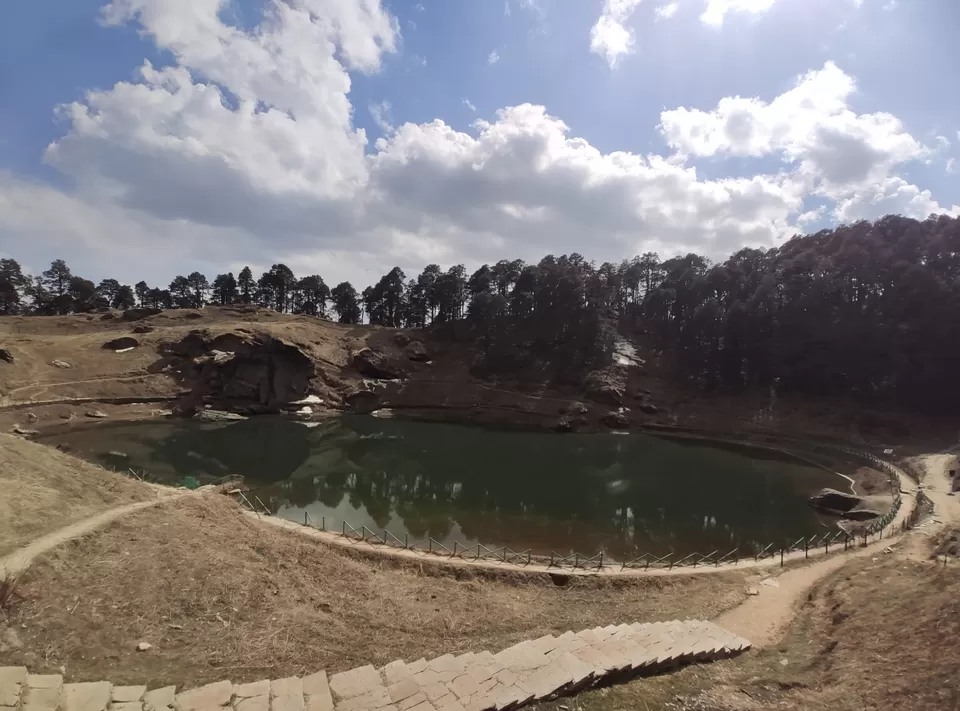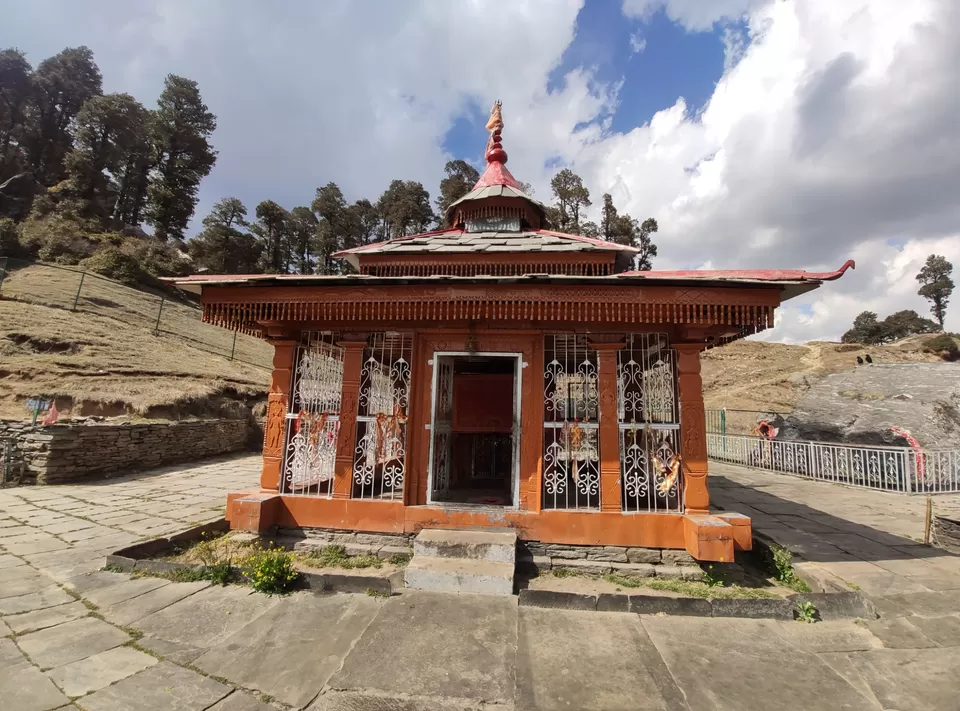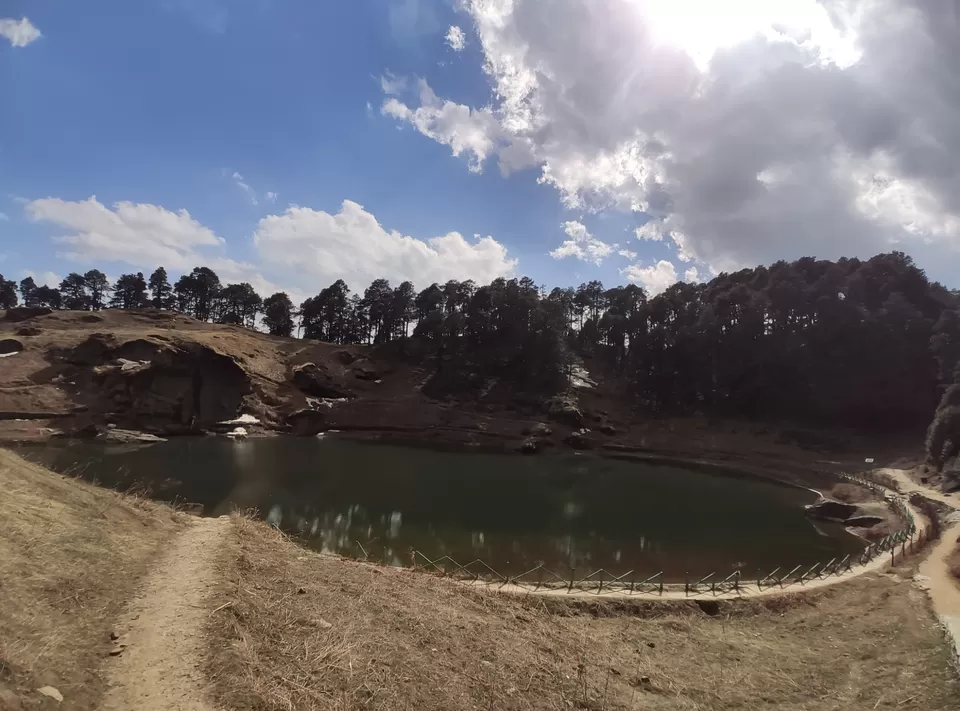 Then we did lunch in nearby dhaba where we got Kadhi Chawal , Rajma Chawal and Maggie. Kadhi chawal was good. After lunch we left in speed. Like we took 2 to 3 hours to reach there and 1 to 2 hour to return from there. While only 1km is left to reach cab, it started raining. And the rain turned into snowfall. While we are in trees, we felt very light and cotton like snow. But in the end of way where there are no trees we started facing heaving wind with snow. We were wearing hooded jackets so we covered our heads with that and ran towards cab. It was good but with 2 year old it's risky. We reached cab on time and then left. In camp it was not raining. But it was getting cold. We ordered momos and helper brought us that from market. Then we had dinner of one or two chapatis. There is 5.1 music system and bonefire. We enjoyed it. My friend opened the bottle of rum.
For weekend get aways you can plan your trip till today and then leave. Or instead of Serolsar lake you can plan Jibhi waterfall and Chehni Kothi.
This day we have decided to go for Chehni kothi. I woke up early today also and my daughter woke up with me. So I decided to take her with me. I was trying to balance rocks again today but I was failing and then my daughter also making fun of me that "apko to nahi aata hai banana". "Aap to nahi bana paa rahe".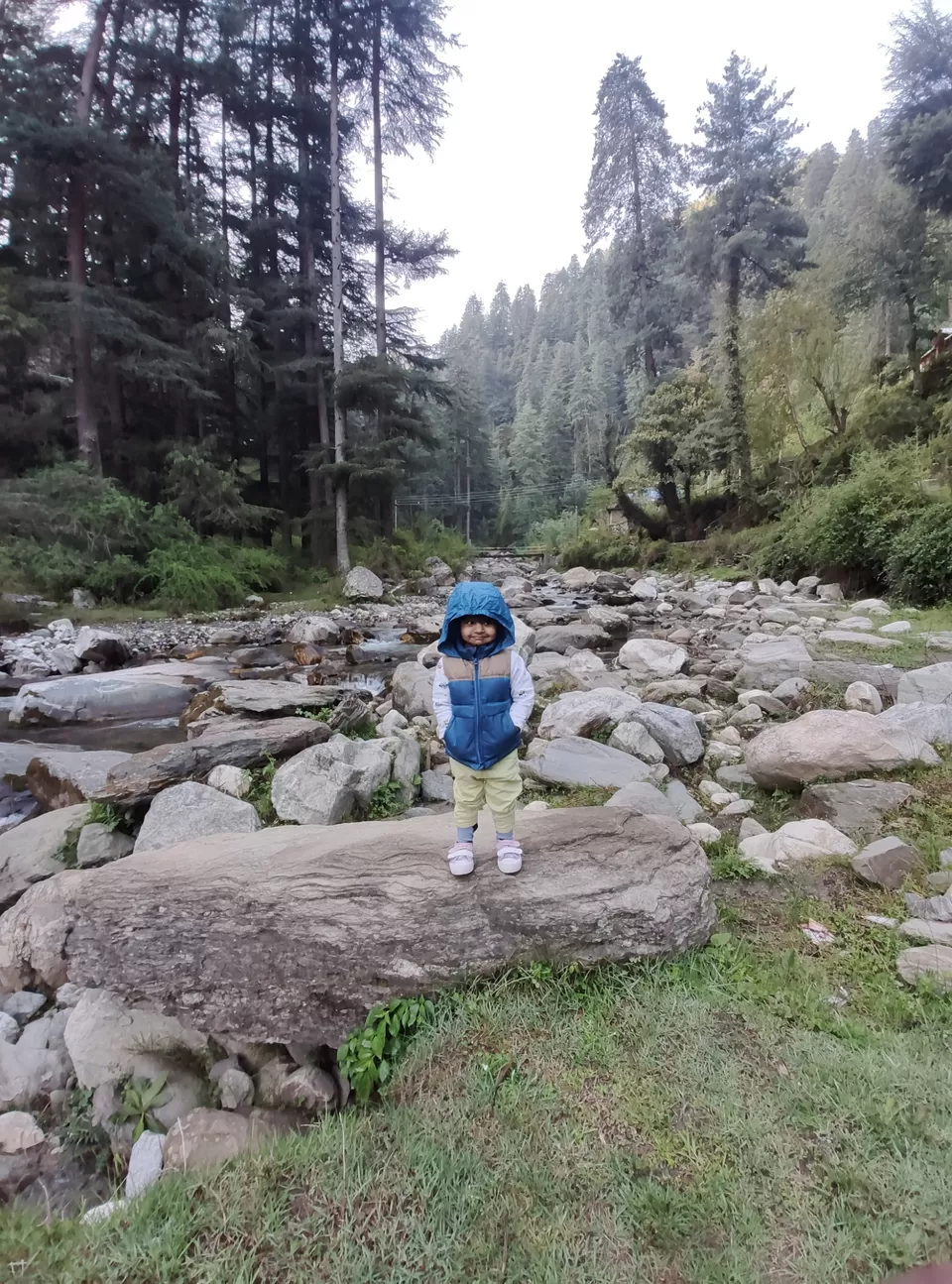 In breakfast, we asked for poori sabji and it was awesome. Ustaad ji made very tasty poori sabji. Best breakfast from Ustaad ji. After breakfast we left in cab. We first went to Shringa Rishi Temple. It is the first day of Ram Navami and also it's a new year celebration happening in Chehni Kothi. So basically in mountains every village has some god protecting them or saving them from hard times. Chehni Kothi is one of them. Shringa Rishi is the Rishi that suggested Dasharath to have a yagya from which Kheer was obtained and shared among queens of Dasharath. And then Ram, Laxman , Bharat and Shatrughan were born.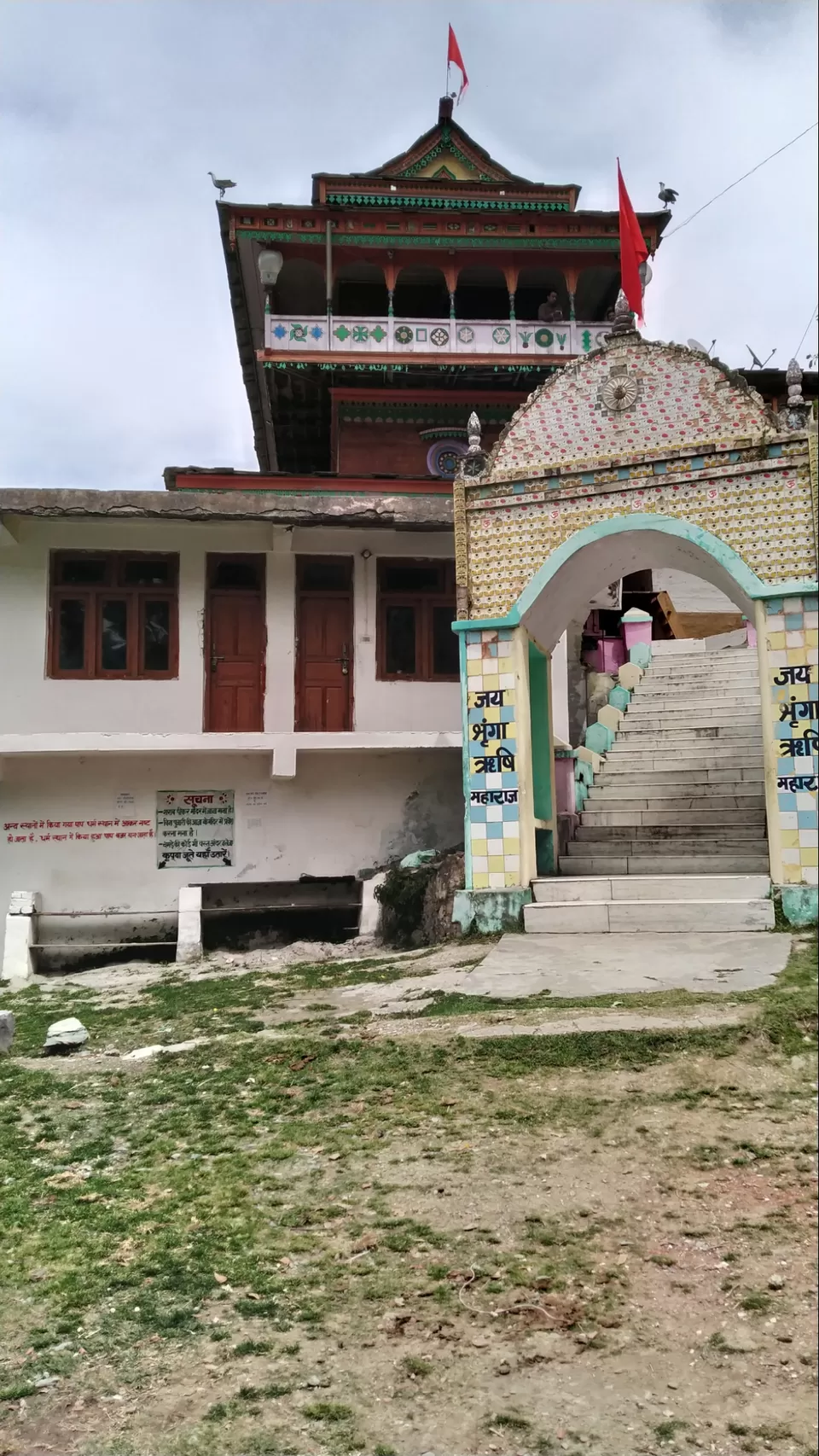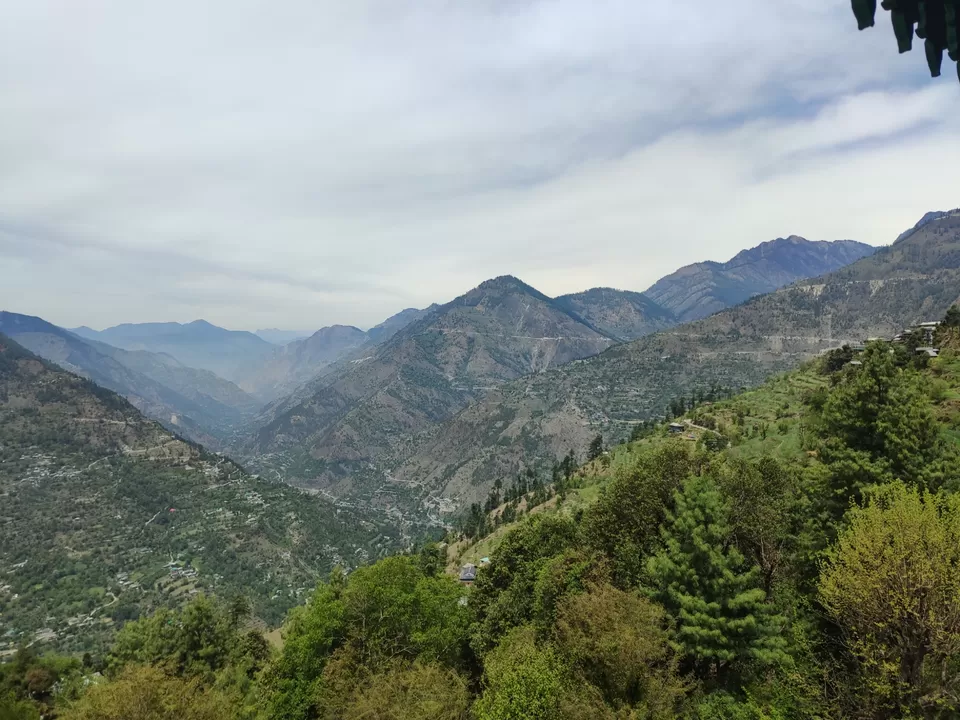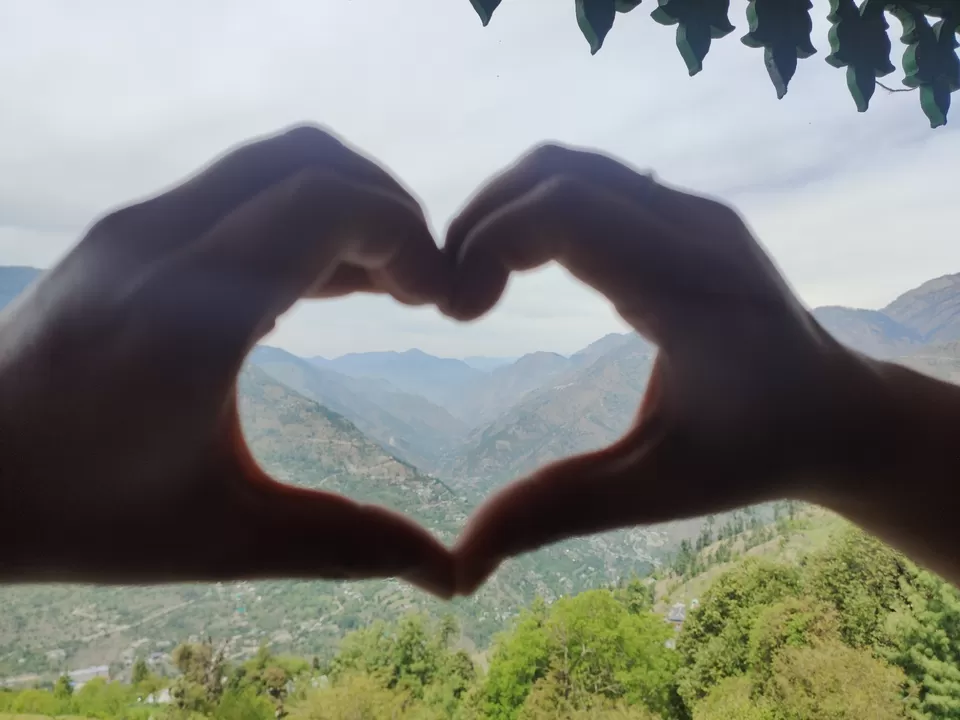 we left from temple to Chehni Kothi on foot. It was a trek with elevated trails. Only single person can go at a time. It was around 2km trek for us. 4 wheeler road is in making but that was a long route. We foolowed the trails and reached at the village and rested there for some time.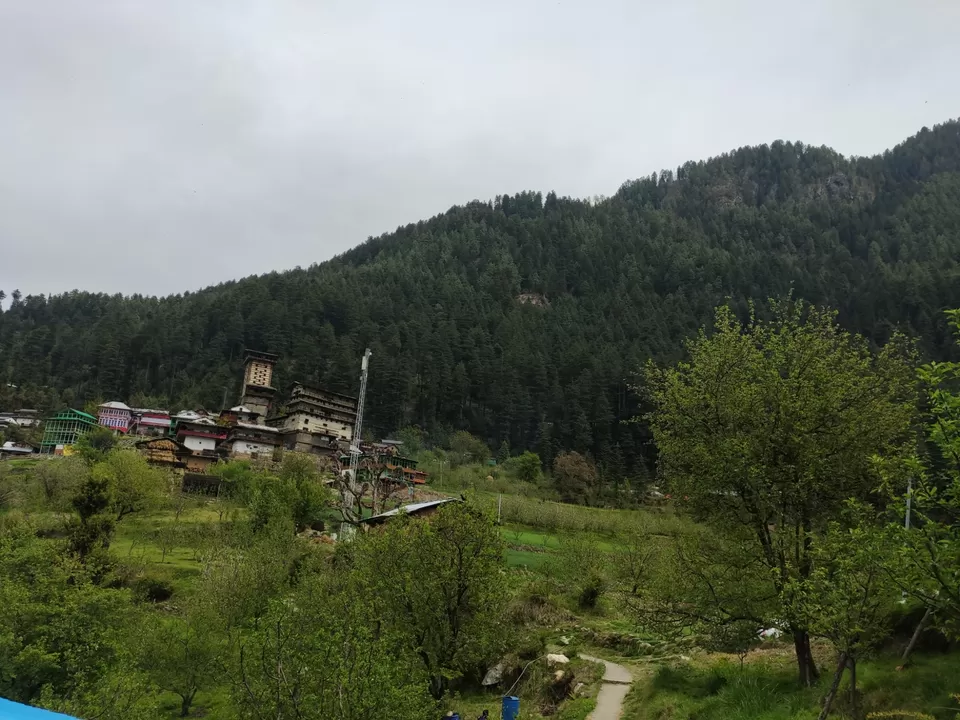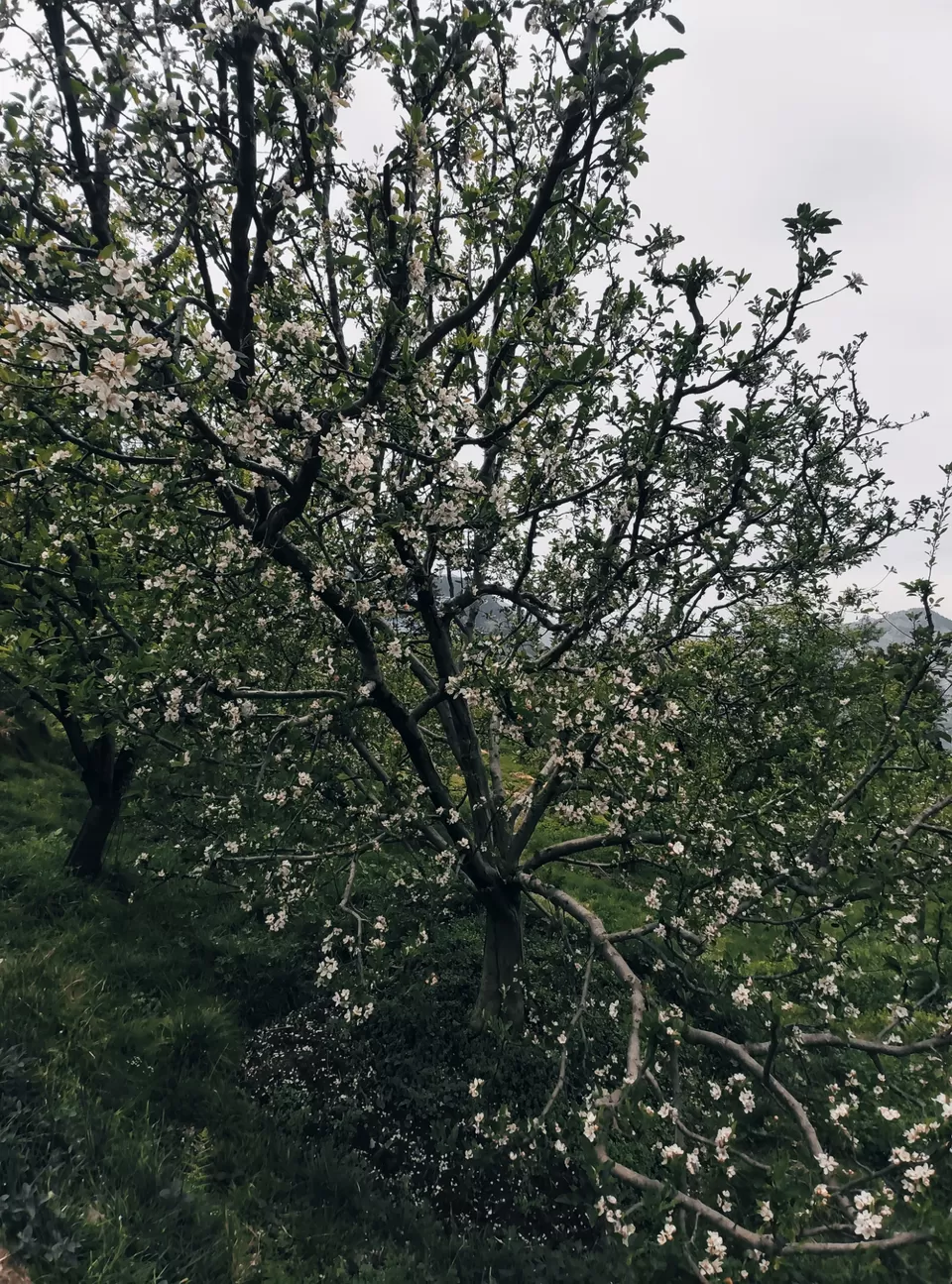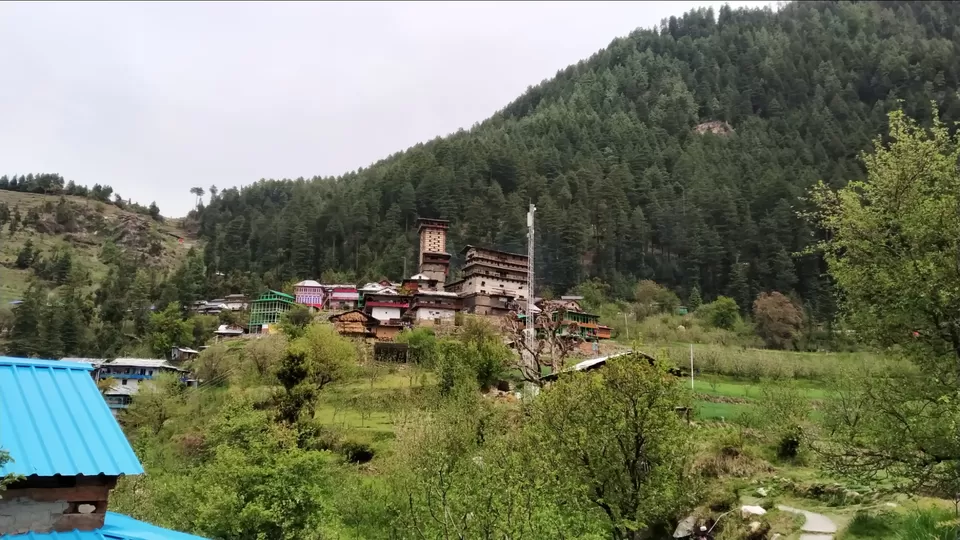 After some break we moved towards Chehni Kothi but it was festival to no one is allowed. There is one Krishna temple also nearby where all the Kanjaks were eating food. When we were reaching Chehni Kothi, there was one Goat which was sacrificed and 4 people were carrying the body to distribute the flesh. And there is music with drums and shehnai. We were with ladies so they were shocked and were abacked by the blood of goat. Then we went to backside of Chehni Kothi for some food. I ate Maggie and nobody else had anything.
While returning from Chehni Kothi , I saw the head of goat is one of local hands and was walking with it in whole village followed by Drums and Shehnai. It their rituals. There was food also like Bhandara where there is option for veg and non-veg. We did not eat in Bhandara. We left from there because there is so much crowd and we are avoiding crowded places in Covid.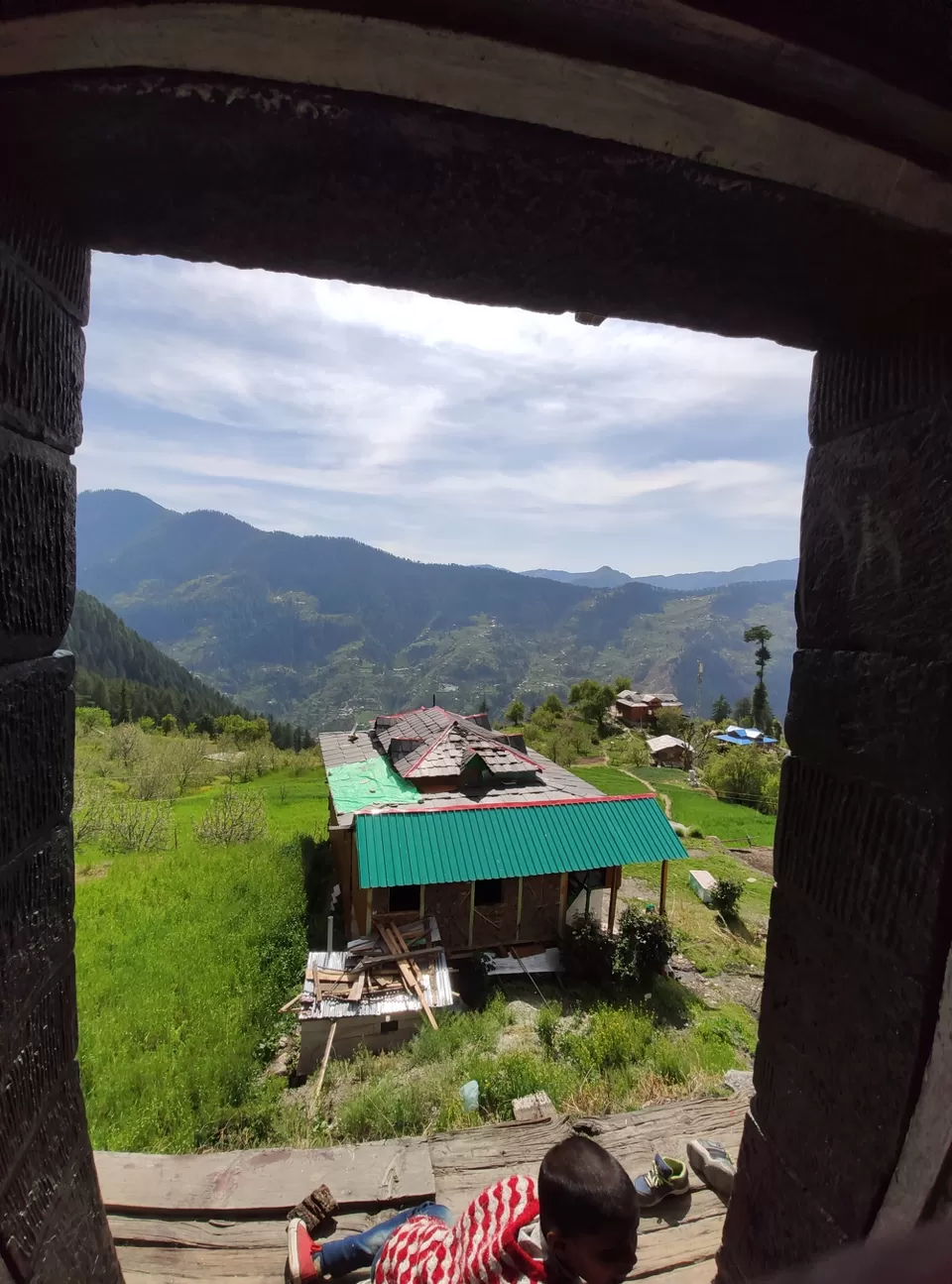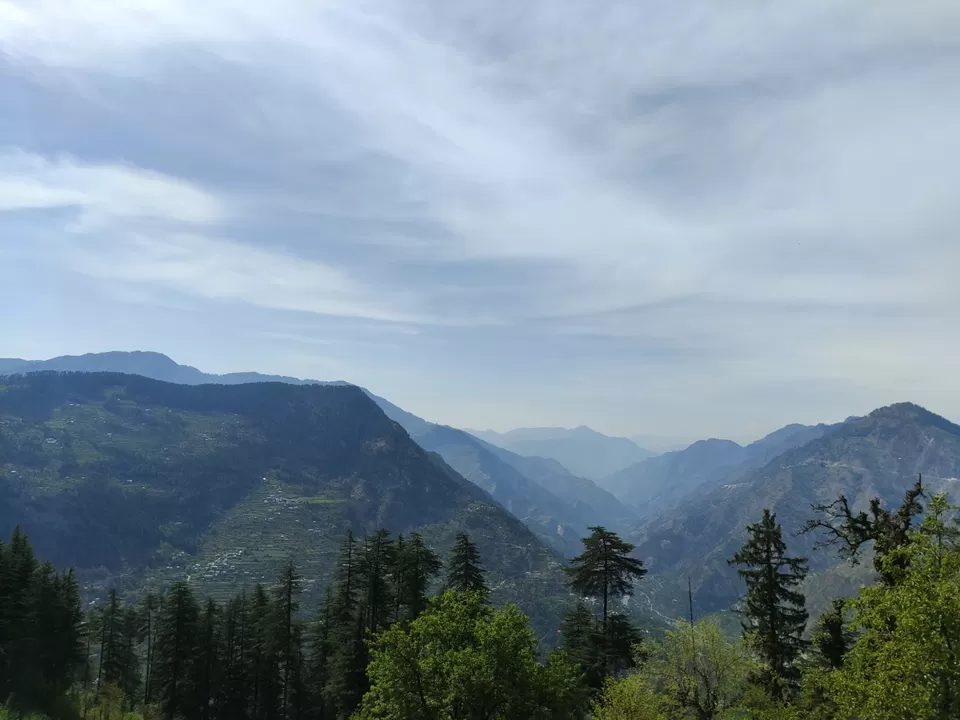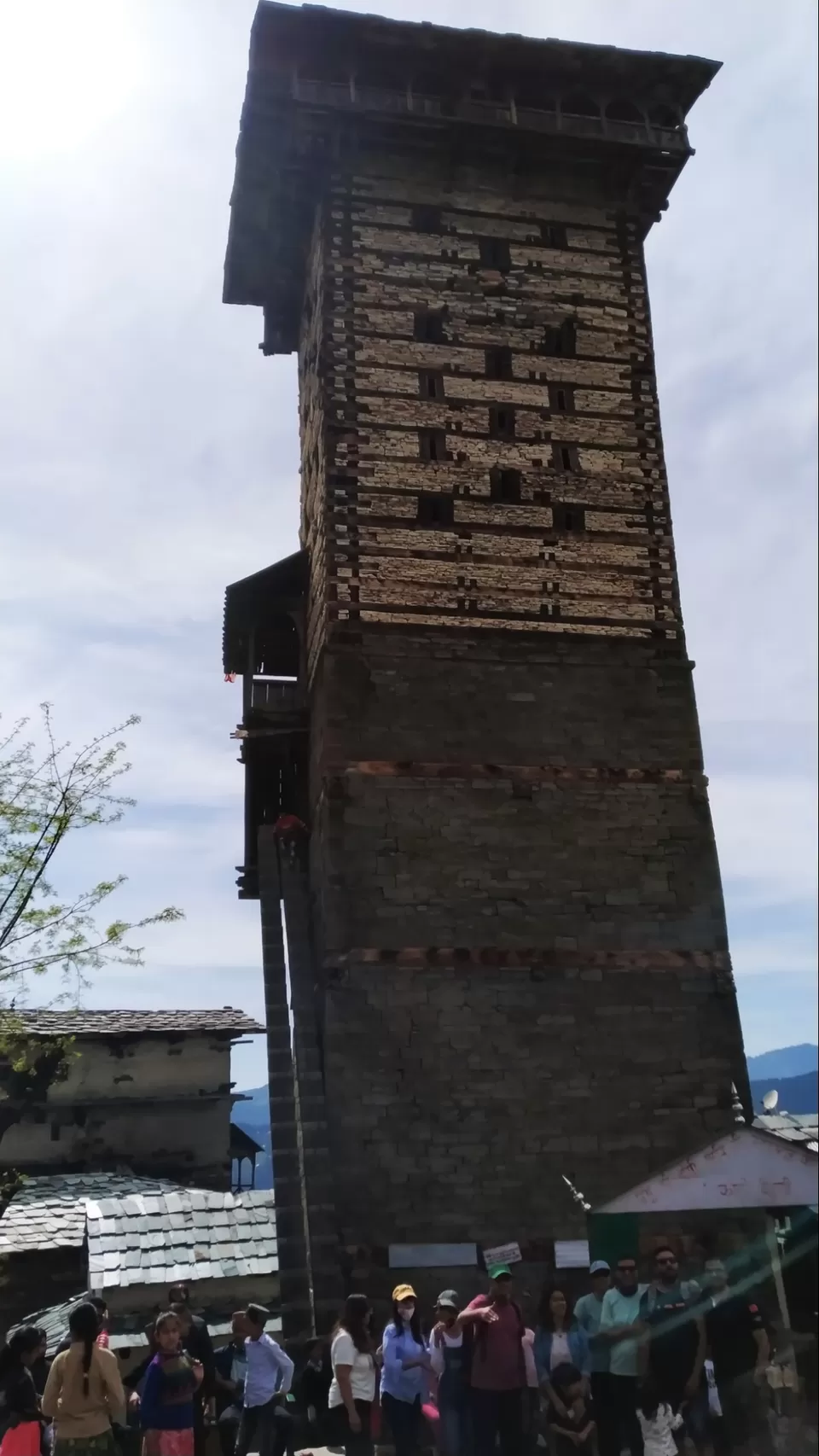 We came back to Shringa Rishi Temple where cab was parked and went to Banjar, not to camps. Because it has been 2 days and we have to network in our mobiles. We had 4 sims, 2 Vodafone and 2 Idea. And all were not working there. So we went to Banjar to buy new sims. The cab drivers is from Banjar only and Ajay is also from Banjar. When we were buying new sims then you have to give local reference and Ajay become our local reference for that. We bought one airtel and one jio sim. Had some sweets and samosa on Halwai shop. After that we left from there to Achintya Camps.
For dinner we tried Old School Cafe and it was good. We ordered red sauce pasta and Pizza. It was good but pizza crust was hand made to it was hard. Taste wise it was good. In old school my daughter met a 9 month old kid. And the kid was so cute. Pahadi babies are so cute with red cheecks. My daughter was playing with him.
After that we came to our camp and asked for bonefire. Music + drinks.
Just random thought came to my mind at that time is like we are so close to 5 elements of life :-fresh water , fresh earth, fresh air, fresh fire and fresh clouds on mountains.
Today I woke up late. But my friend his wife woke up early. It was surprising that when I woke up and told them then they were laughing and now they woke up early. I woke late with wife and kid. We aksed for hot water to take bath and mirror to get ready. Helper brought us all things.
Today we all were tired after above 2 trips so we decided to cover Jibhi Waterfall and Mini Thailand. There is no cab involved so we were doing things slowly. We repeated the Poori Sabji breakfast. We left the camps around 12 noon to Jibhi waterfall. We were following the path as told by Ajay and then someone we met on road. It's a 10-15 minutes walk only. And it was beautiful. The path. The waterfall the overall ambience. Wonderful.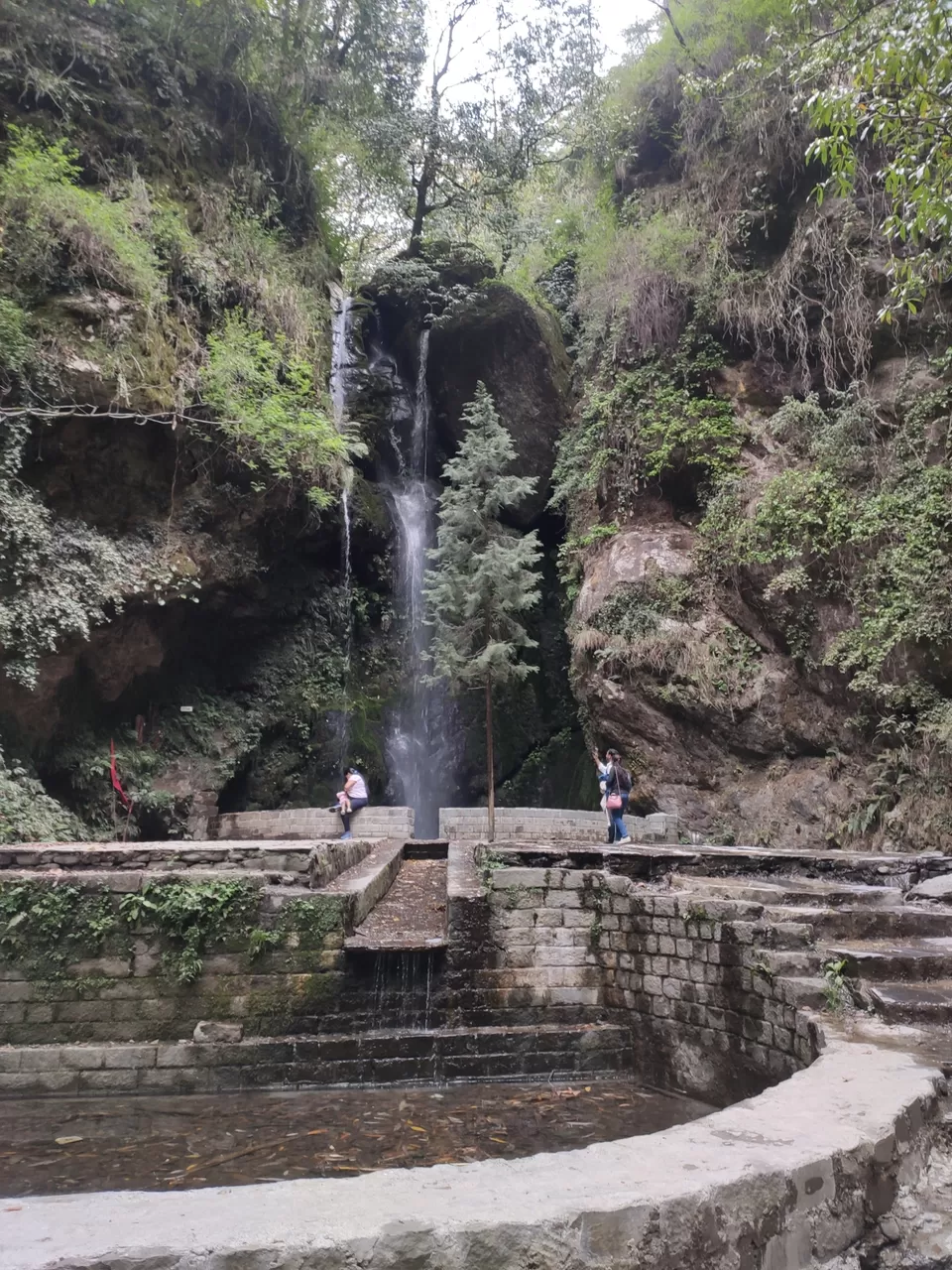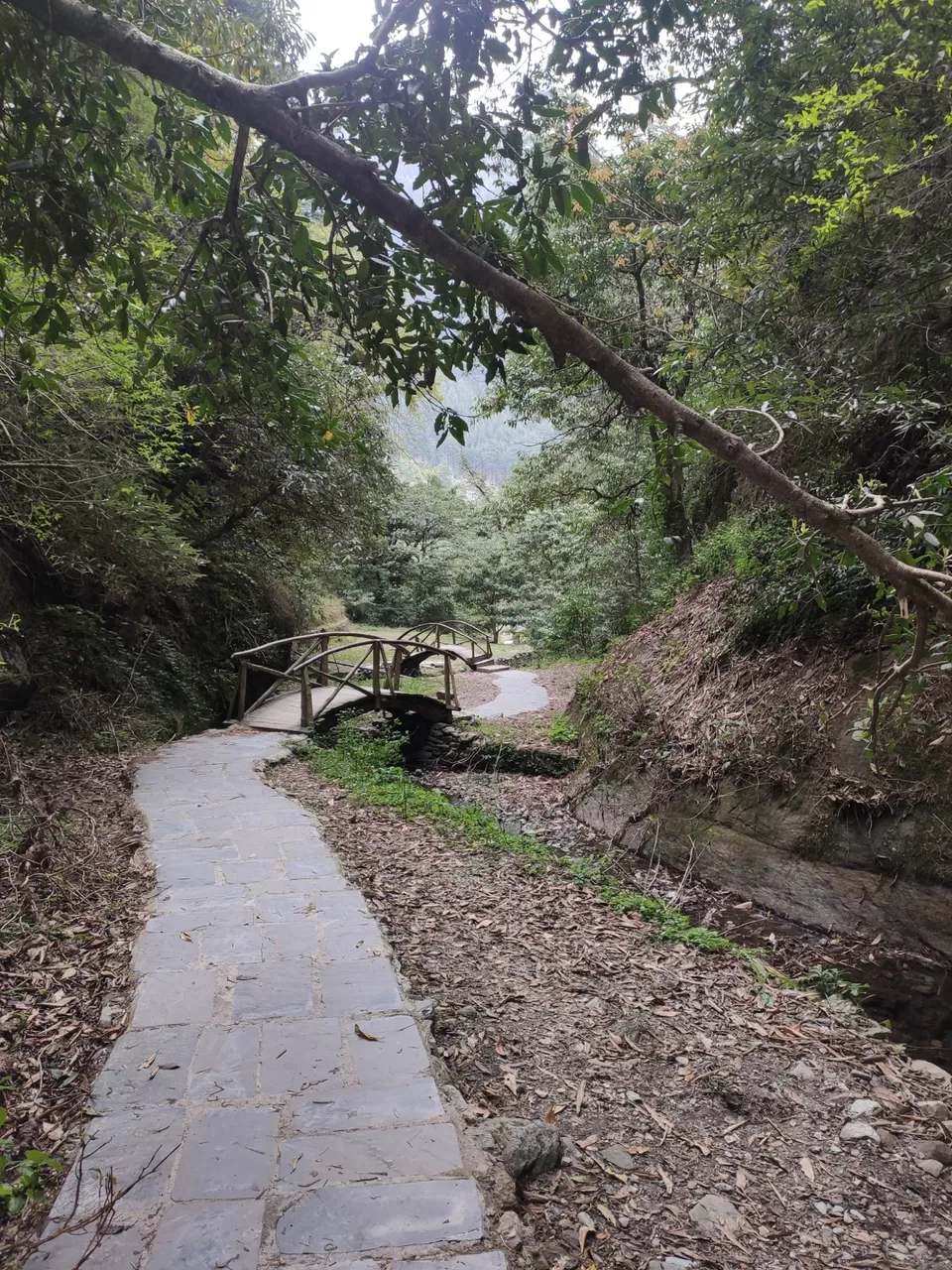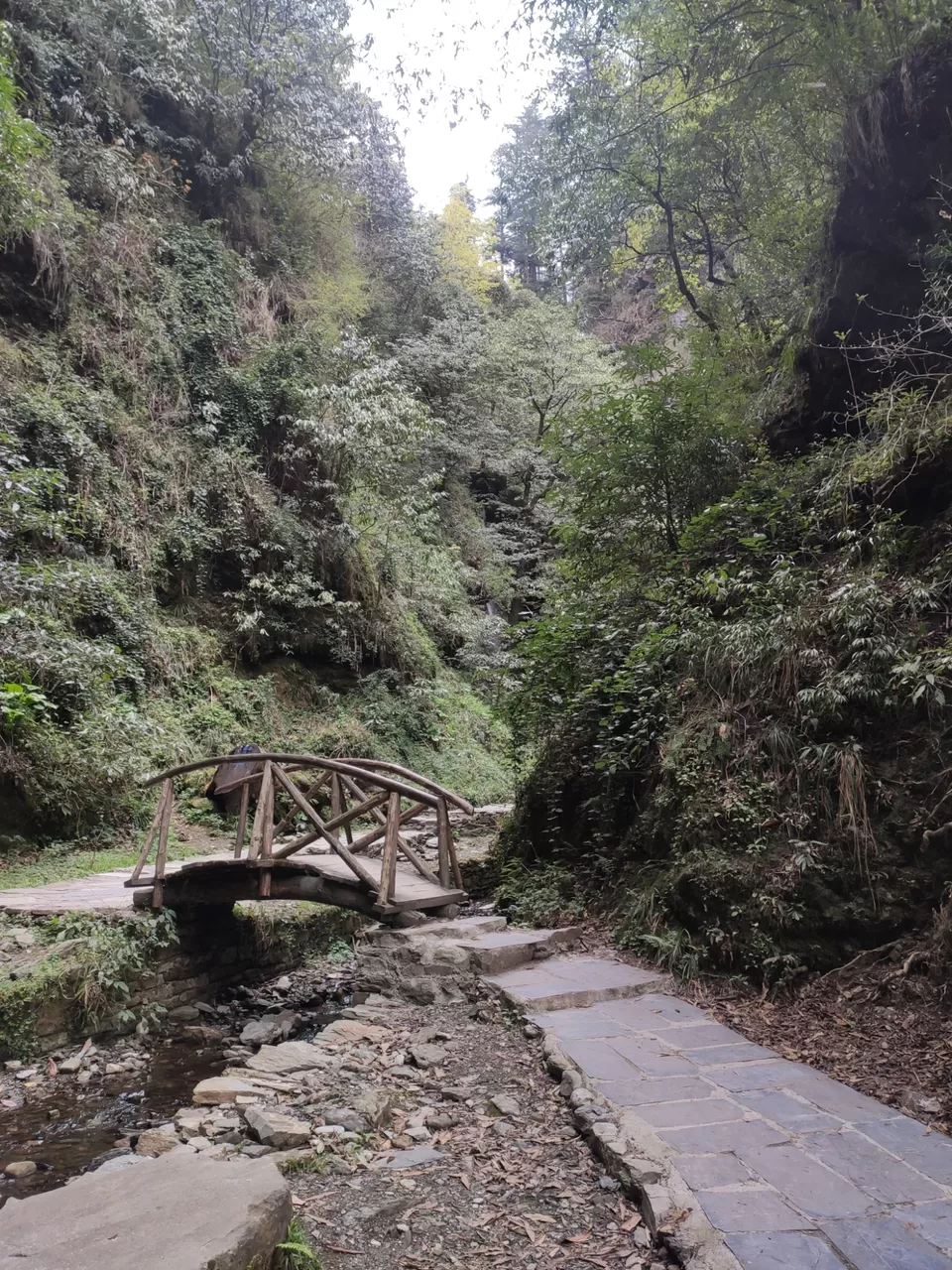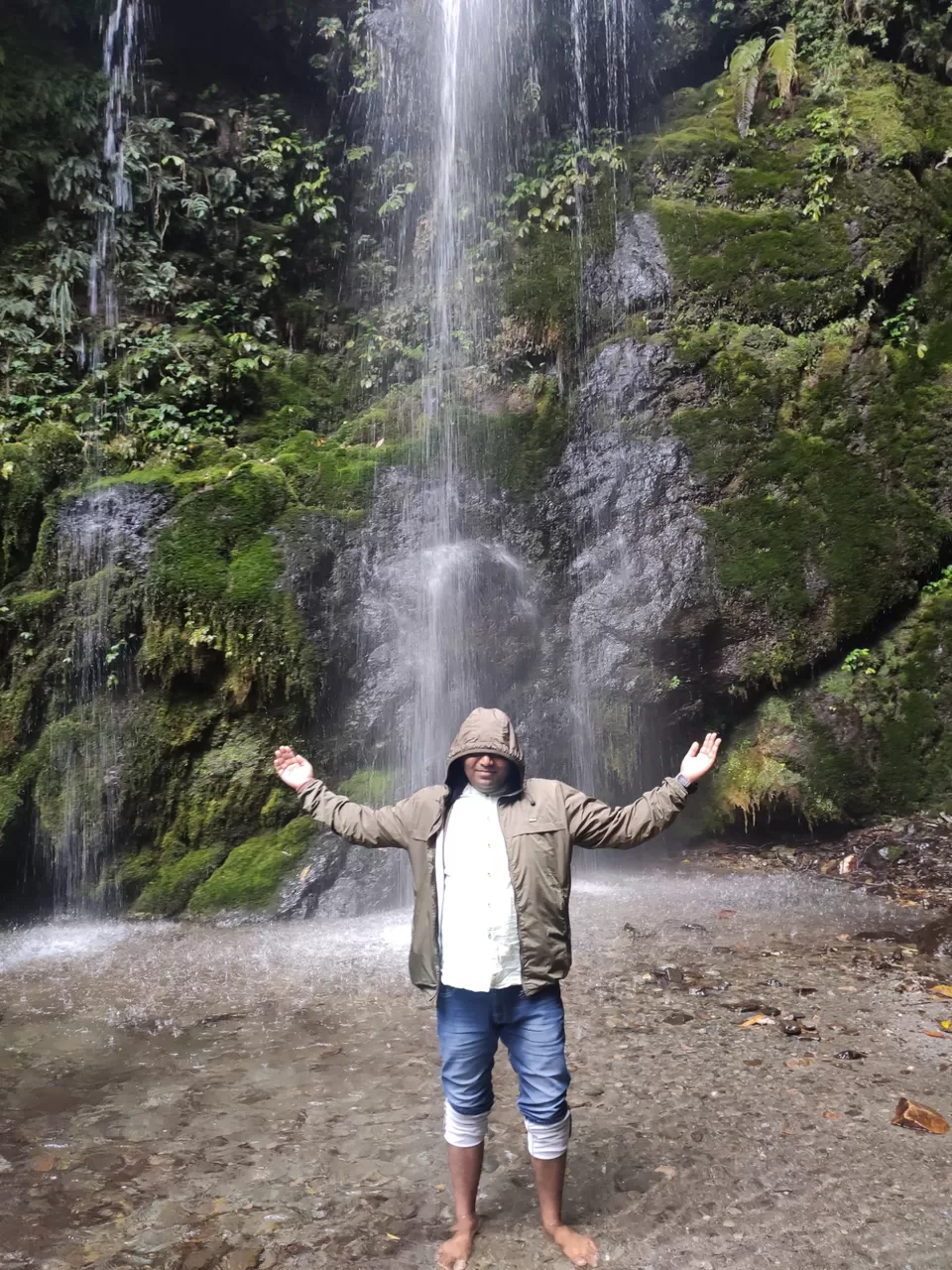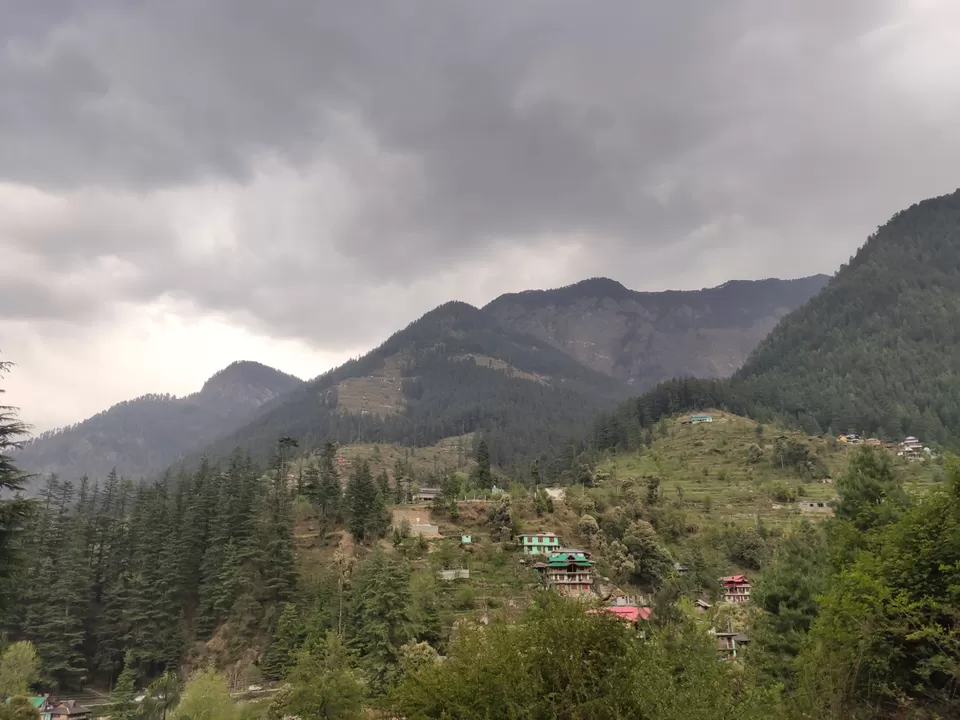 We spent a lot of time there. My daughter did not enter into water becuase its too cold and there is no sunlight to keep us warm. While coming back from there , on the way there is beautiful sitting area on grass. My friend brought the tab in which we had many video songs. We started with unplugged "tum hi ho" by Arjit Singh where in the end audience says once more once more and he sings again. We were sitting , listening to music , discussing life and future. Very classic picnic. It was great. Our parents took us to family picinic with other families but now those days are gone. Now you have to go on trip like to have picnic.
Then we dropped the idea of going to Mini Thailand and just walked around. We reached to Jibhi Camps ( these camps are different) and ordered some lunch around 4pm. The food was okay , not so great. After that we moved towards our Achintya Camp. Following the trails near the flowing water and we made it. It was new path but we finally reached to our tents.
So I invited ustaad to play some badminton and he insisted to play match on bet of a tea. Now he owes 3 teas to me. But he is a good player. He fell down once becuase of slippers. Then we left after three matches.
We did dinner of Kadhai Paneer and roti. After that we had bonefire and drinks.
Balo Nath Temple and Mini Thailand/Double Trouble waterfall
Today I woke early alone and no one else woke up with me. Today I hooked on to scenic beauty and clicked on some fresh mushrooms. Wandered around. Thought of going inside the rock house but alone it is dangerous.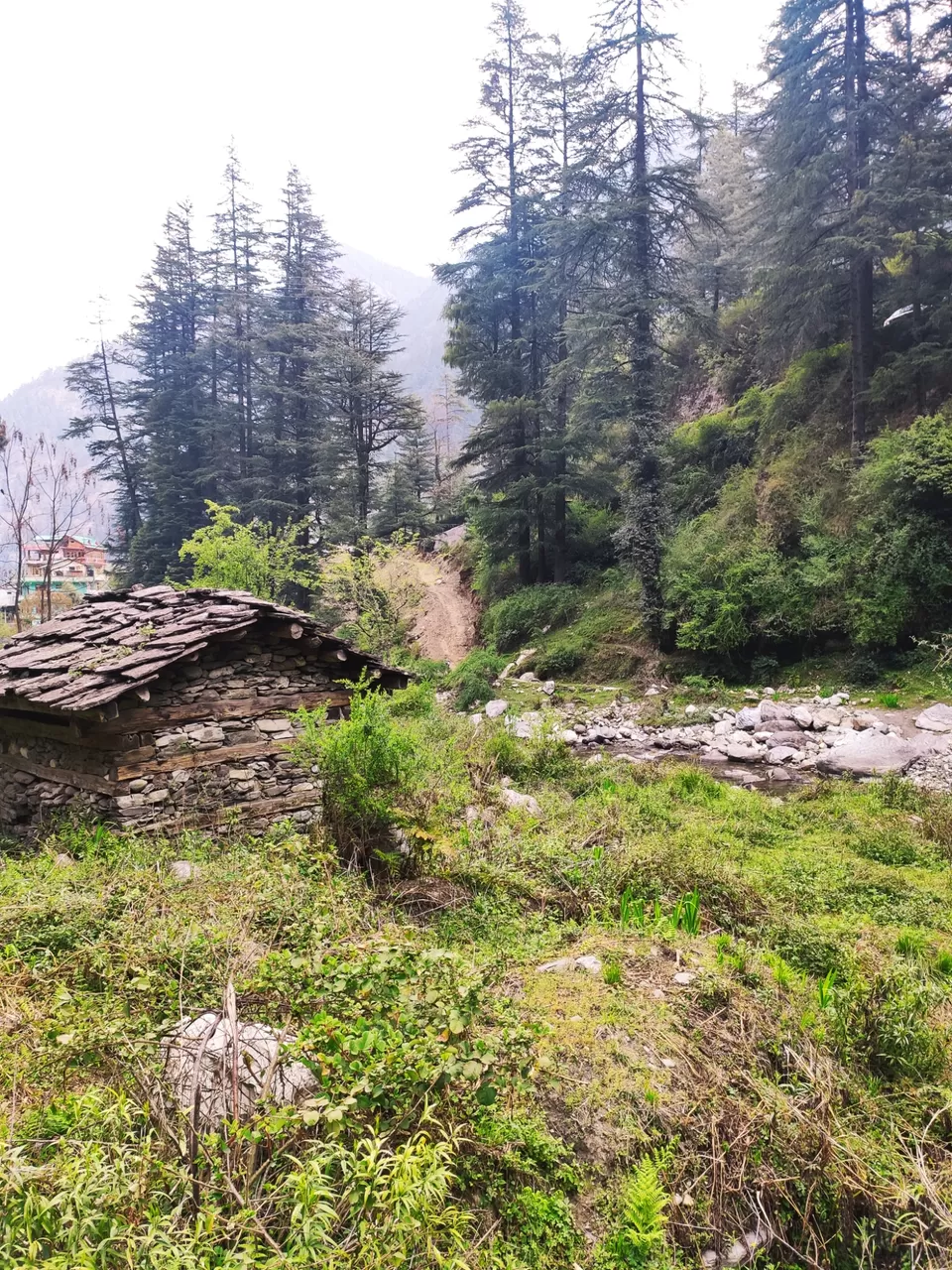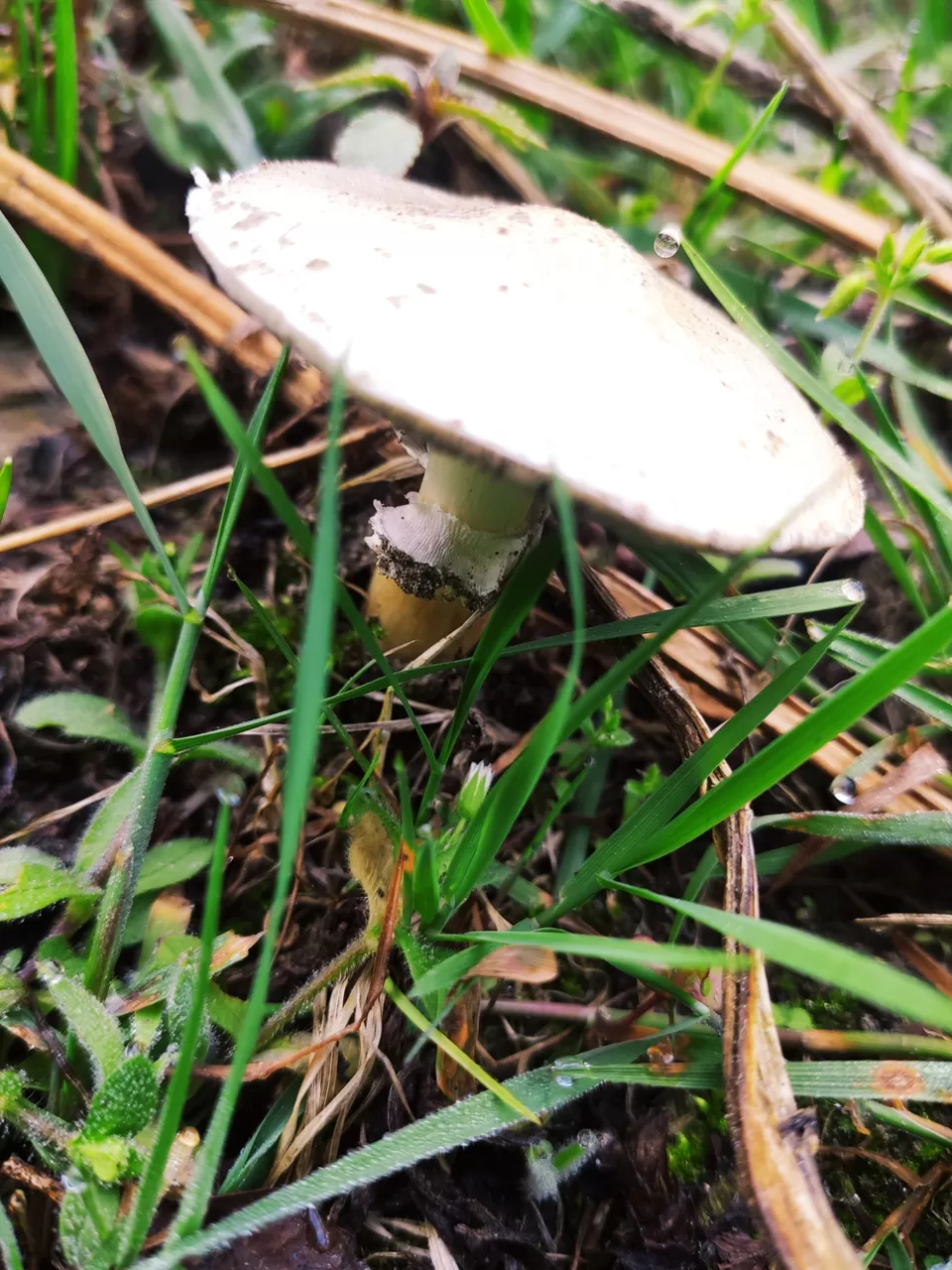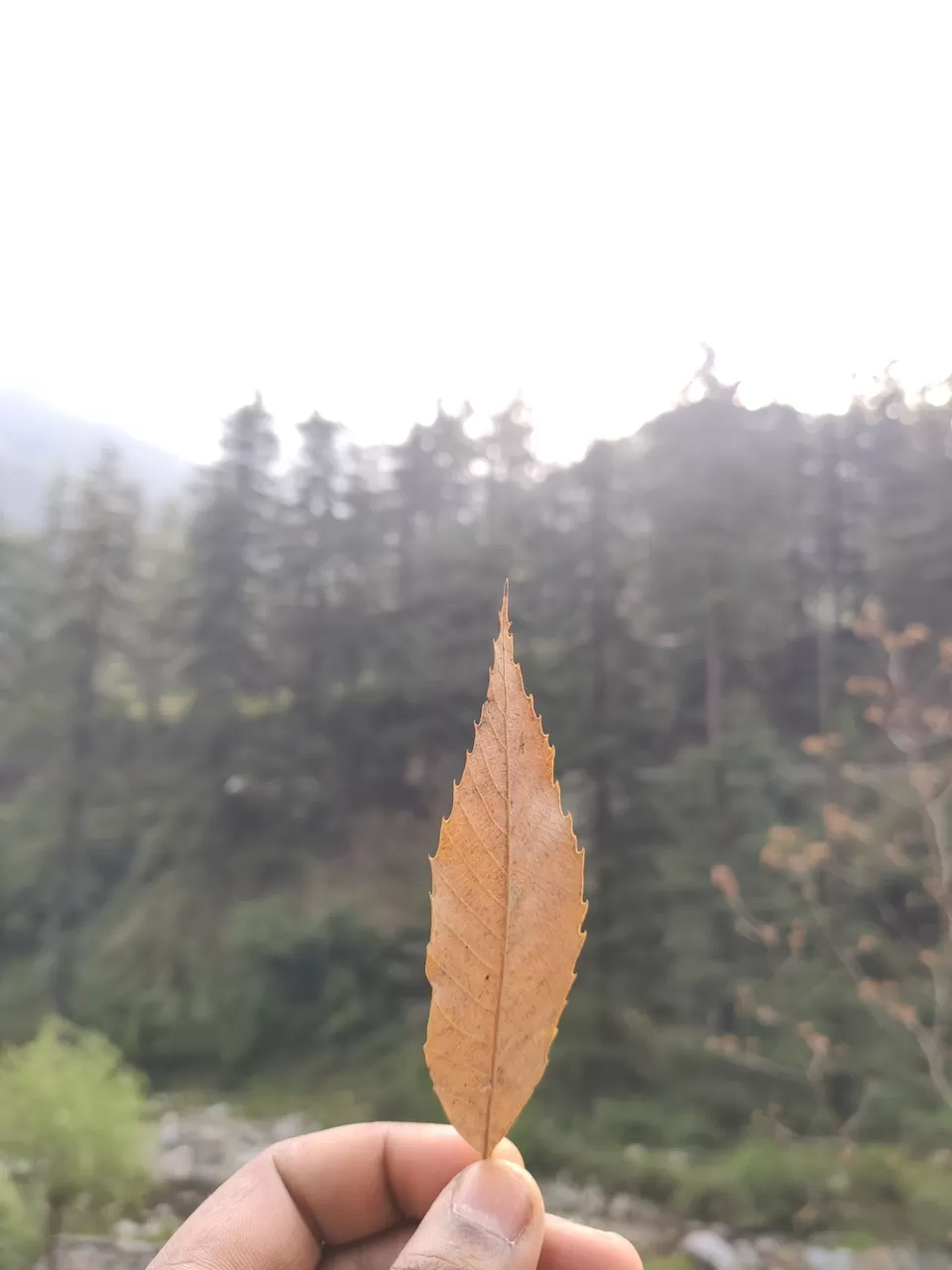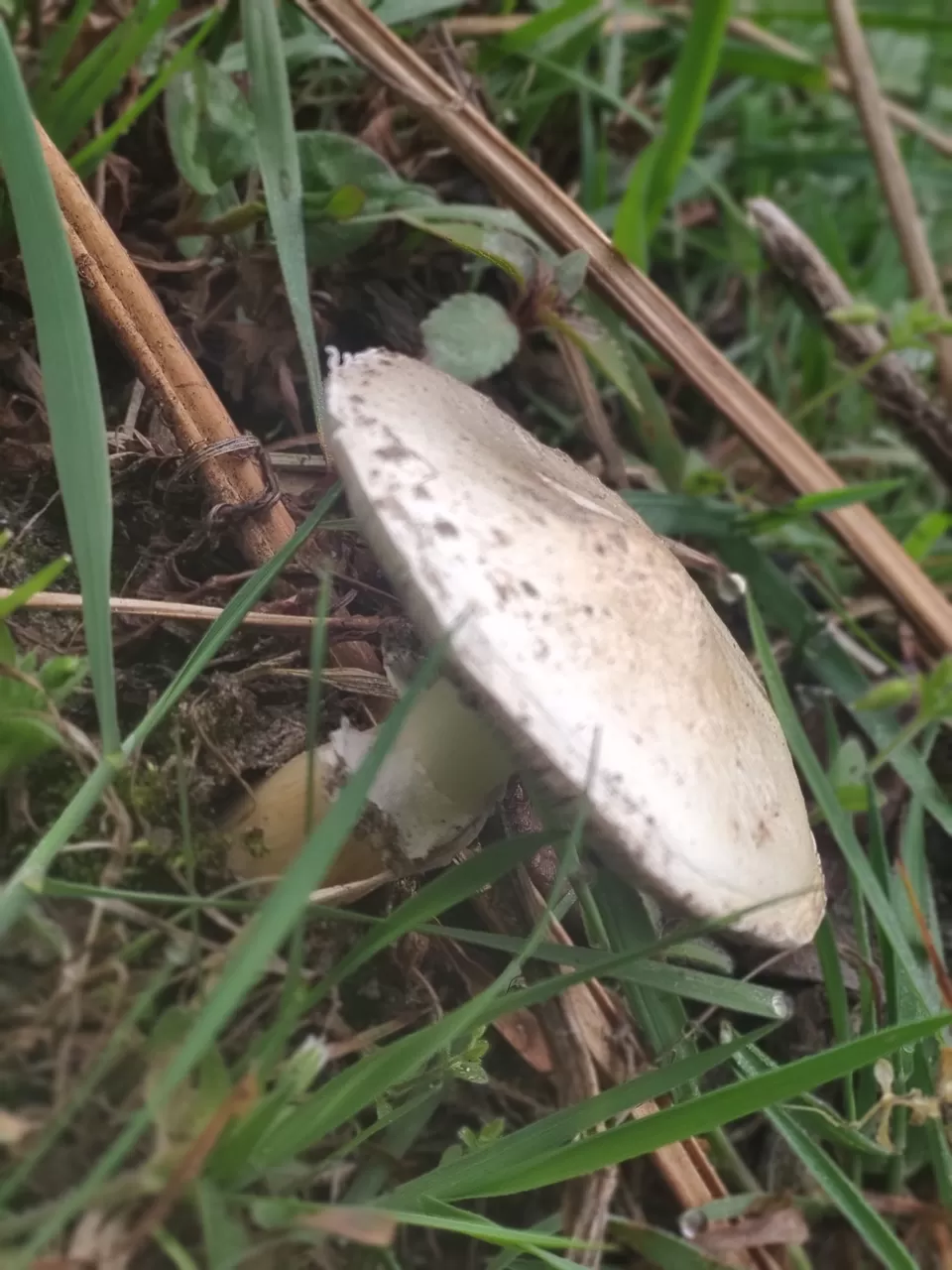 Now we had normal routine of getting hot water from helper. The helper puts wood in hamam then burns the wood. Then pours cold water and there is tap in Hamam from where hot water comes out. I have seen this first time but everyone uses it here. Per tent one bucket is allowed but we were using 2. One for hot water and one for mixing hot and cold water.
Todays plan is to go to Balo Nath temple. So we left around 10.30am. and reached there around 11.15am. Now after so many days of walking we don't want to walk anymore. So before going to any trip we asked is there any walking in elevation involved. Every one said that Balo Nath is 2km hike , not much elevation. I dont know whether the hike was easy or we have already done tough ones like Serolsar Lake and Chehni Kothi, Balo Nath was pretty easy. Most of walk is in plains. Height is there but not sudden height. A streatched height is there so it was easy to walk. I am unable to tag the location here so providing the Google link
https://maps.app.goo.gl/S3m3Wjs9ZsKMRhuTA
We reached there , took some rest. It was very peaceful. You can hear the birds chirping- singing. Clear and clean meadows. I was noticing the old temples here in Himachal are different from old temples in Kaumaon region Uttarakhand. Like I went to Kasar Devi Temple, Jageshwar Dhaam temple, Kararmal Temple and Baijnath Temple in Uttarakhand. All temples are made of rock. But in Himachal Pradesh all temples are made of wood, only roof is made of rock. Like Bhudhi Nagin Temple, Balo Nath Temple etc in HP. It was great and good time to bond with family when you have no office work or home work. My daughter enjoyed a lot with me ,my wife and with her uncle and aunty.
We also thought that it was easy walk so we should have tried this at first day instead of Serolsar Lake. but depends on people to people.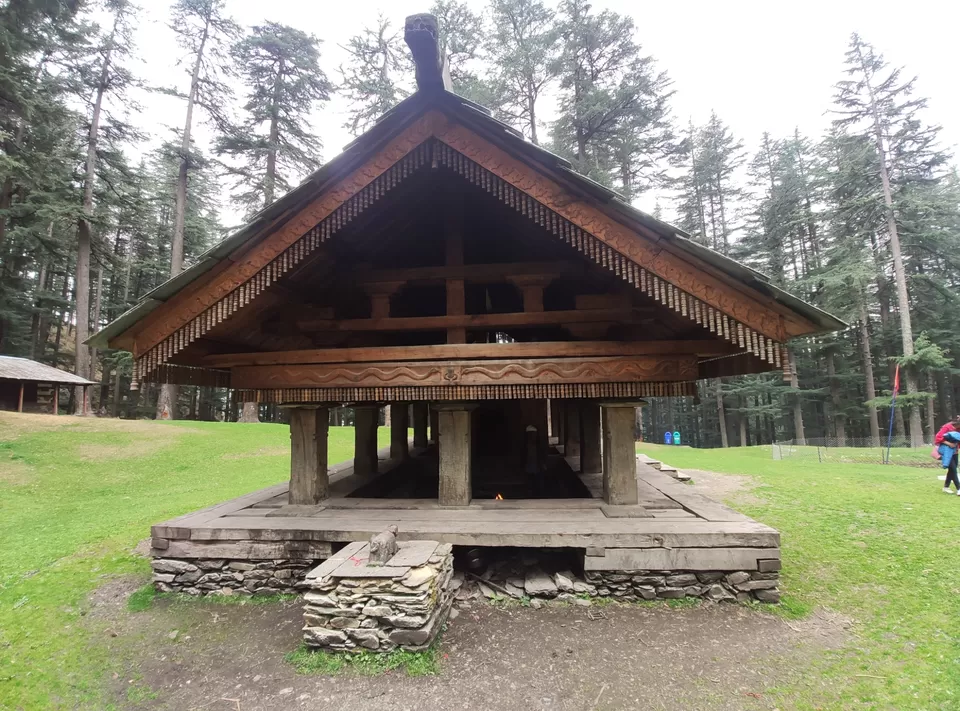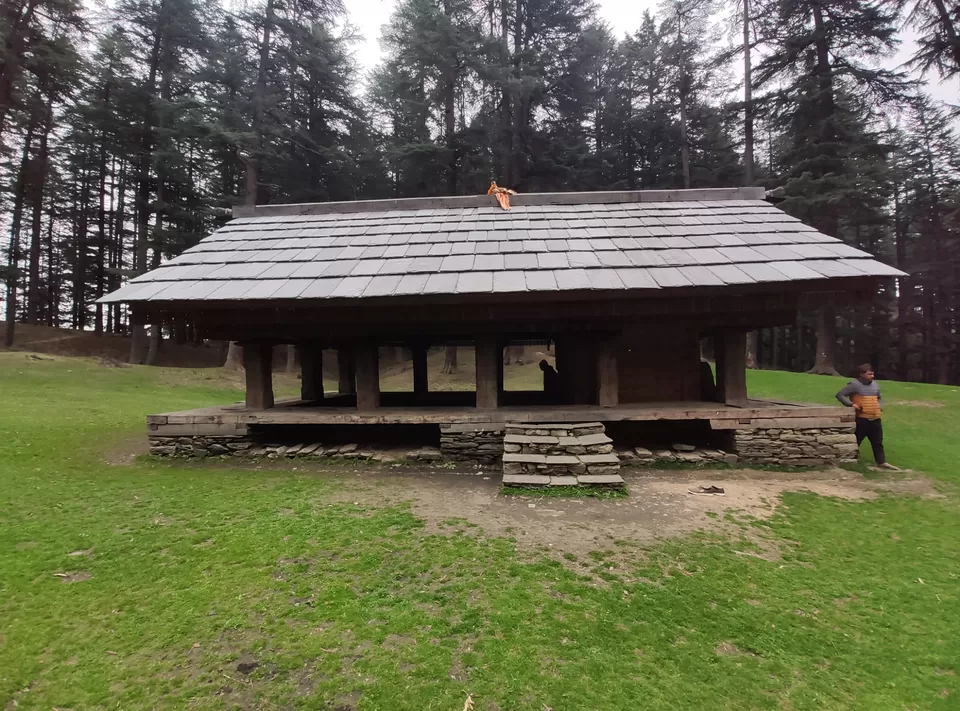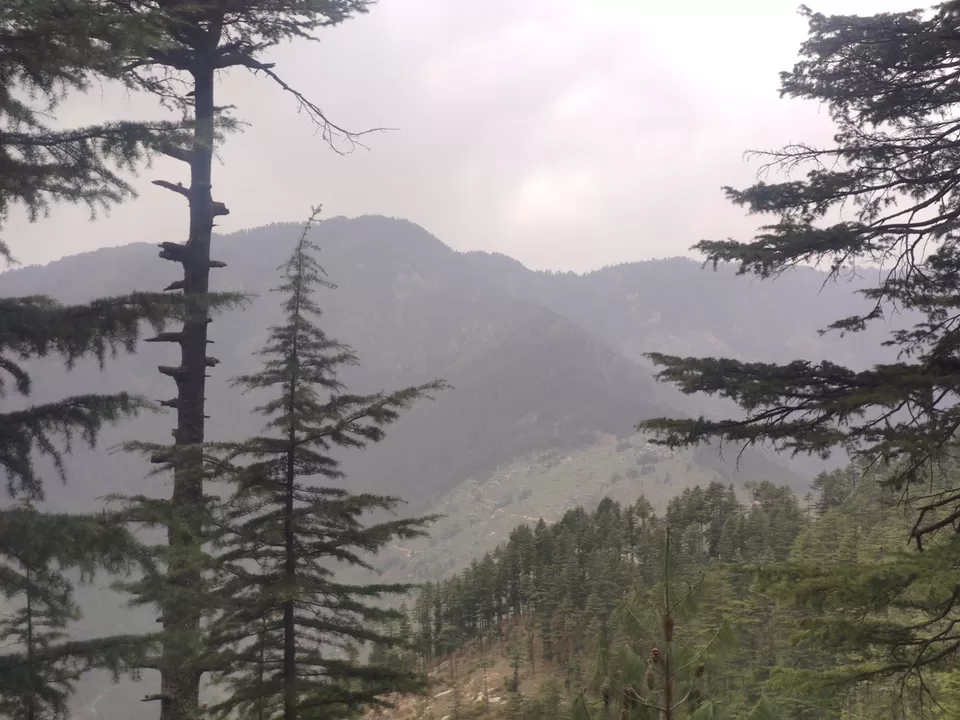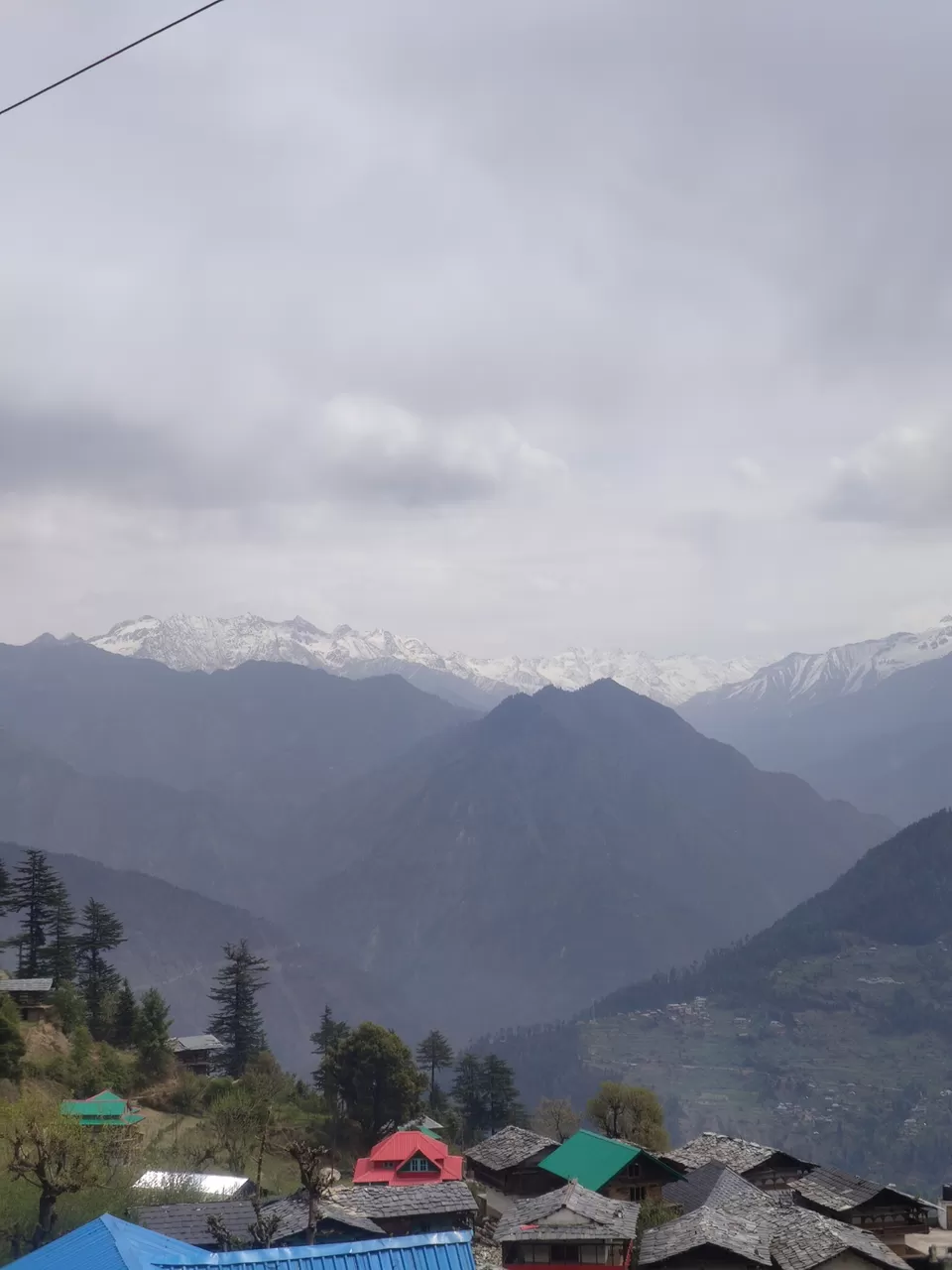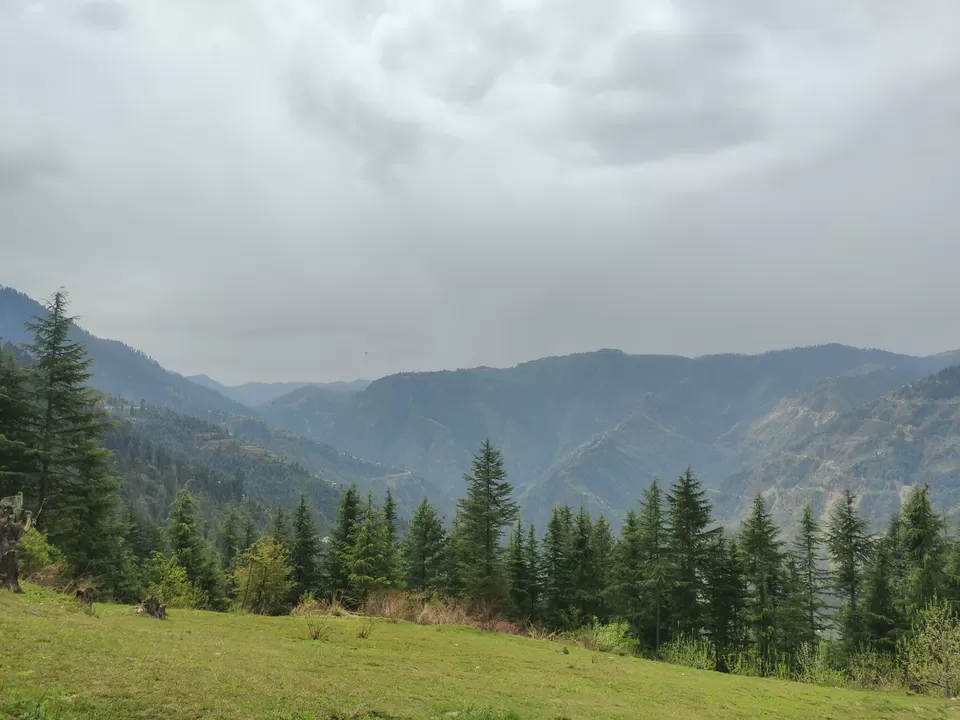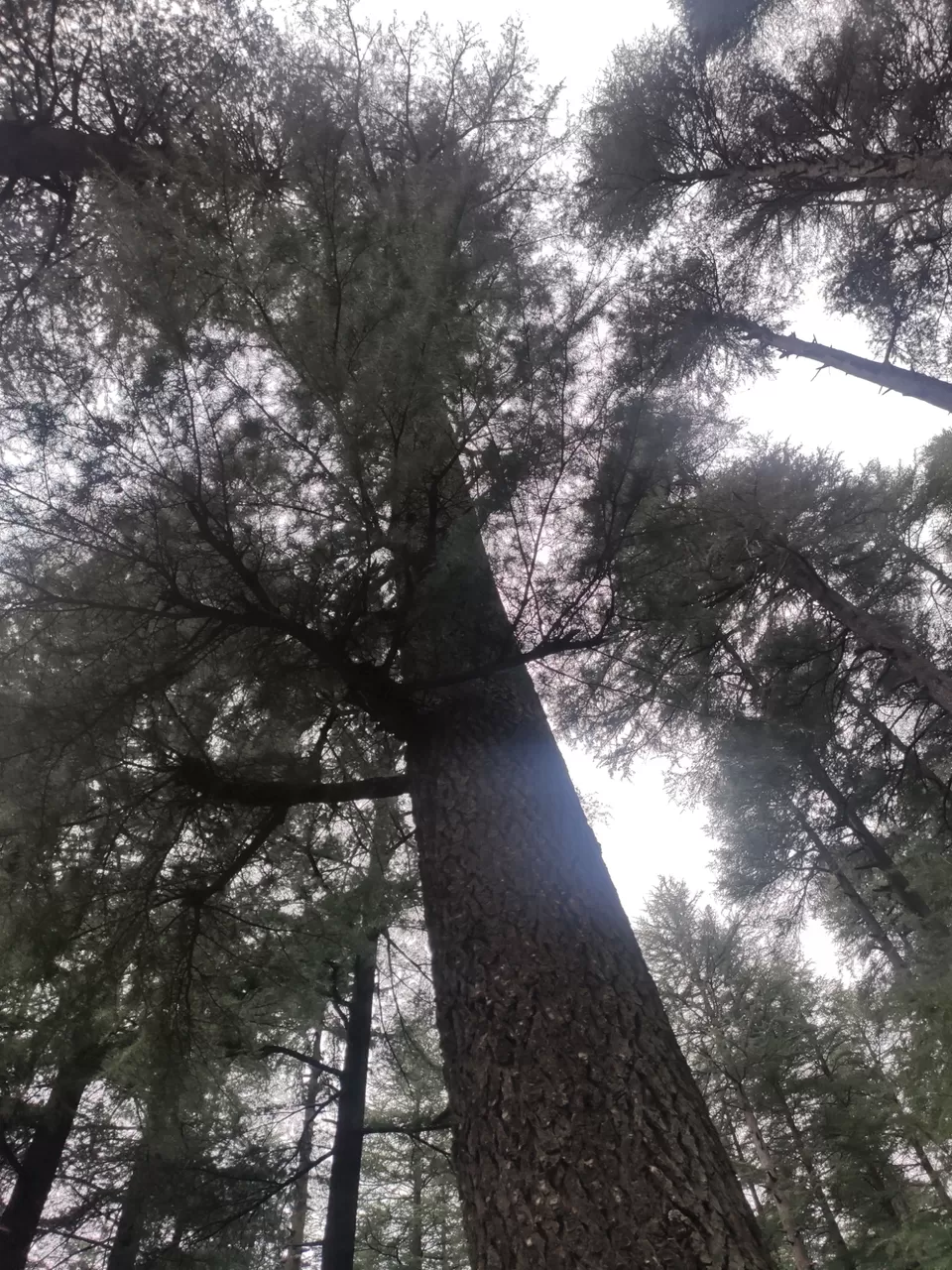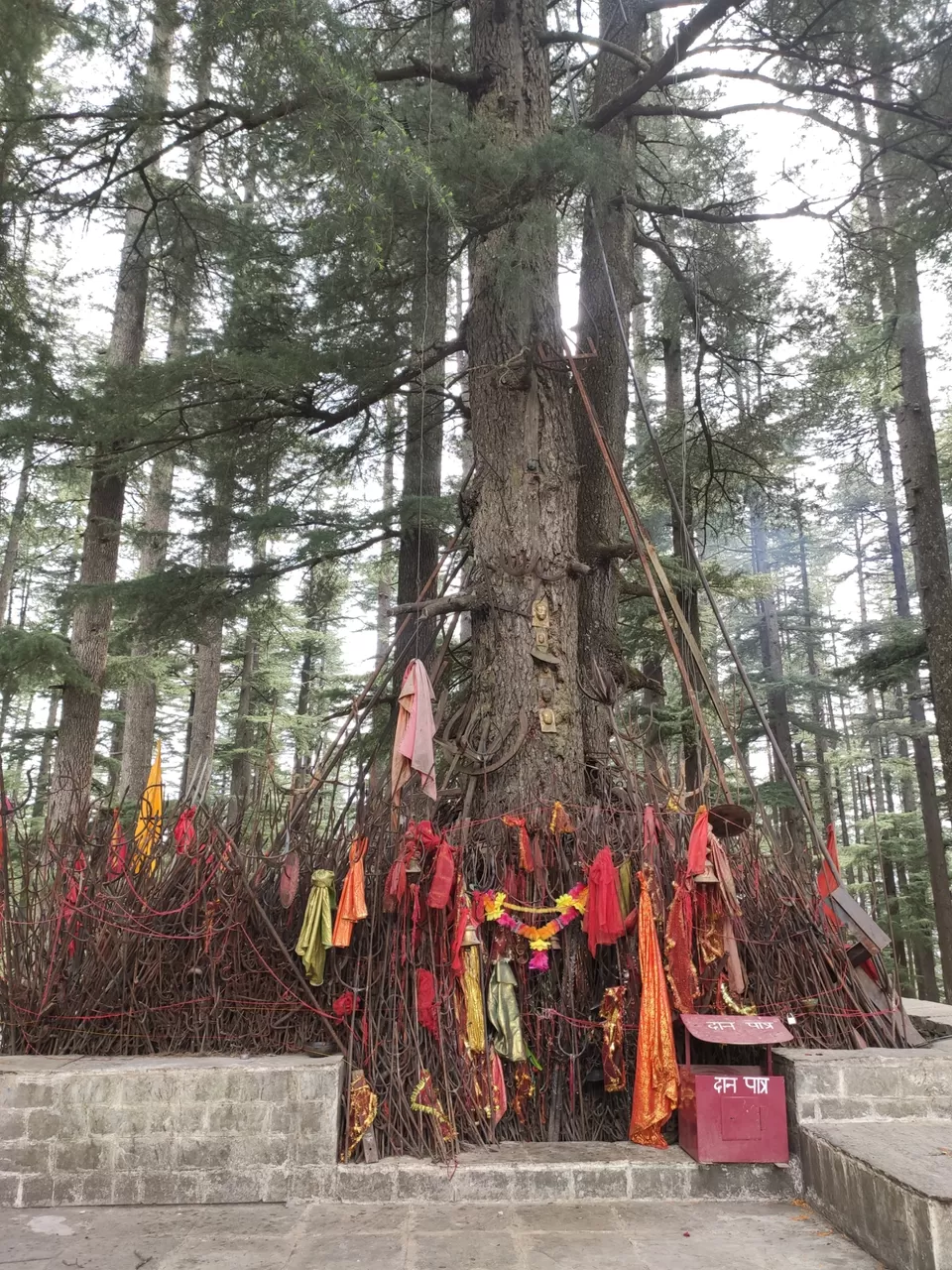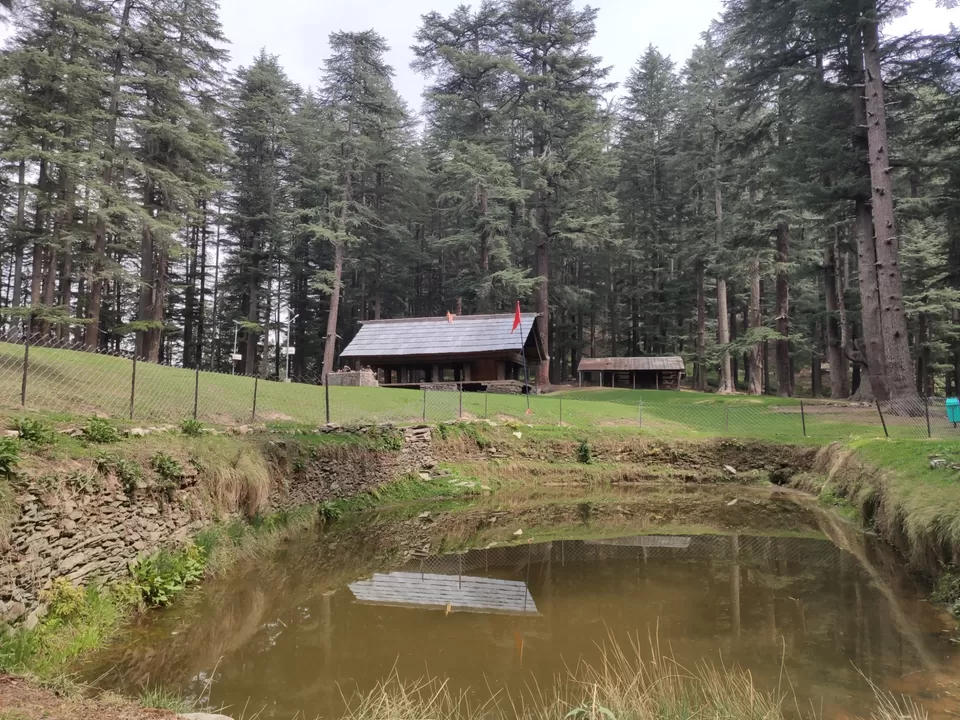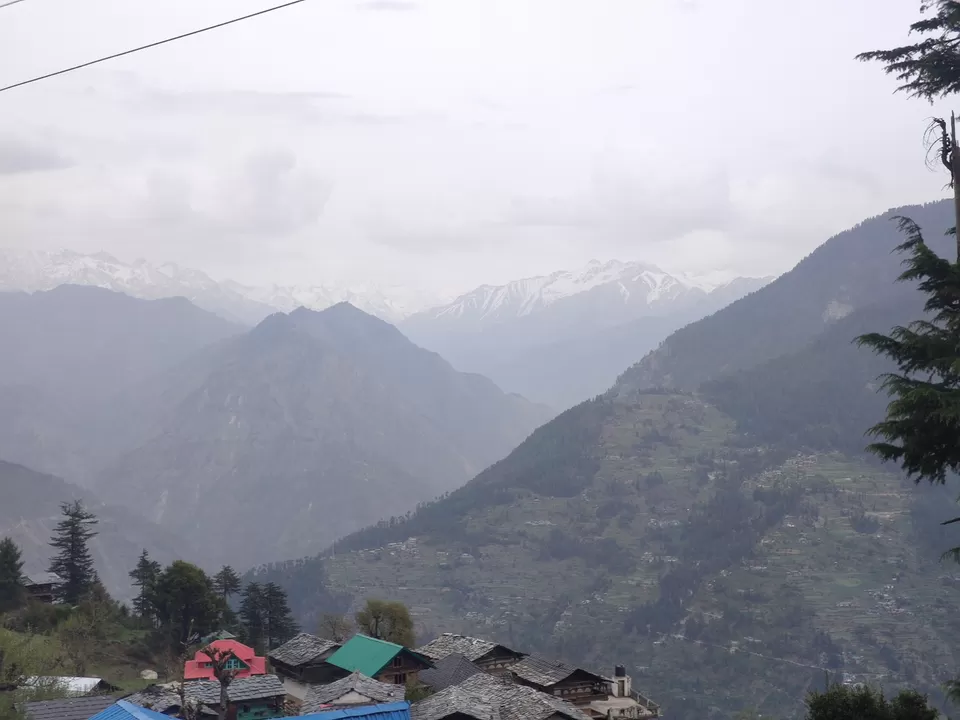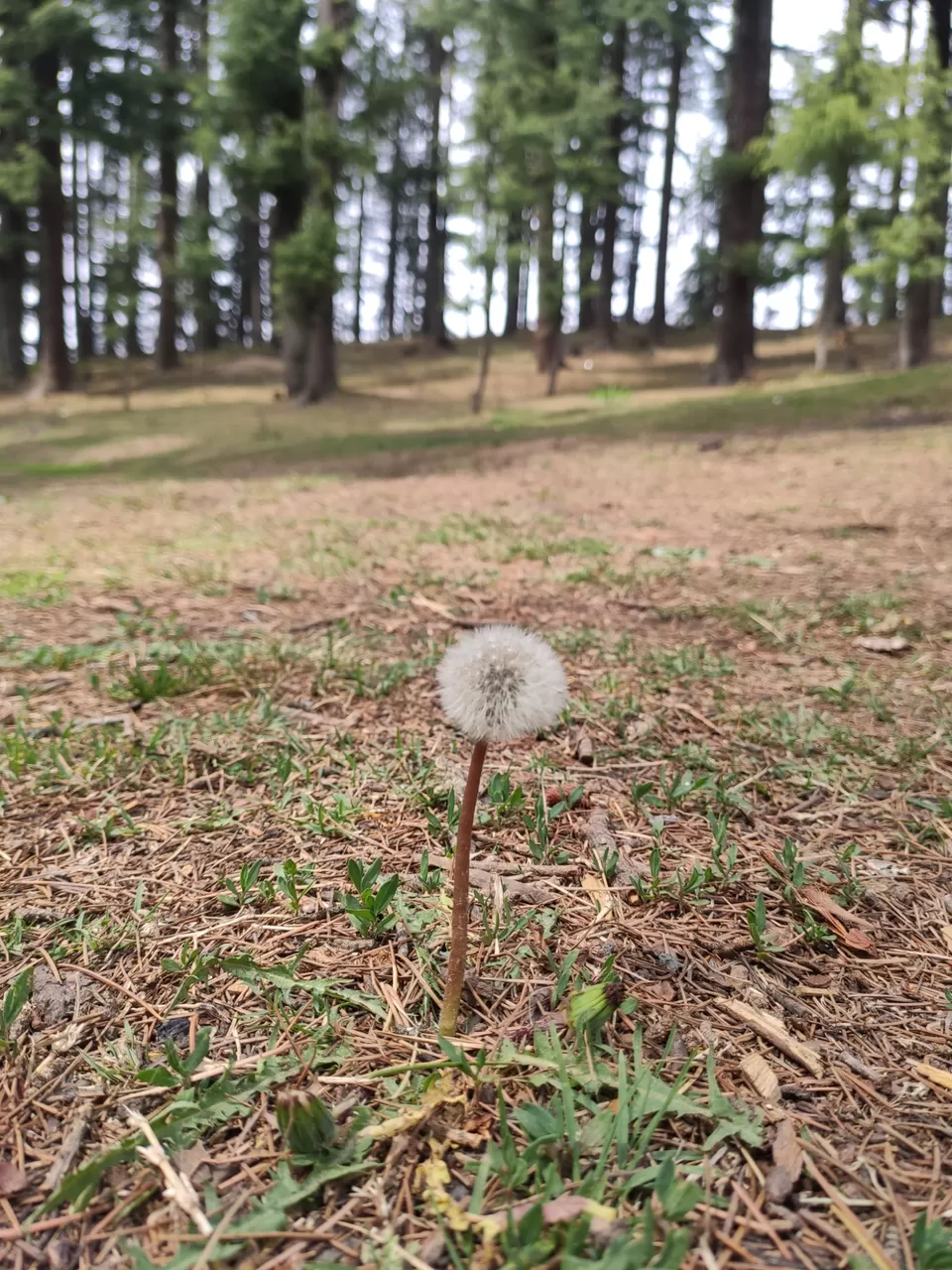 While coming down to cab ,there is nearby stall for Maggie and Siddoo. A big no to Maggie for all of us. And Siddoo is local and new dish for all. I was very keen to try that out. So we ordered one. The female asked if you want to have it with Ghee. I said of course. So they steamed siddoo and ghee to melt in appartus used to steam momo. The stuffing inside siddoo is like samosa. It was very tasty with ghee , then we asked for green chutney and the taste is doubled. Wow in this cold , a hot siddoo with green chutney. Awesome taste at awesome place. I tried it and shared a bit with others. Then we have ordered one more. And then we left.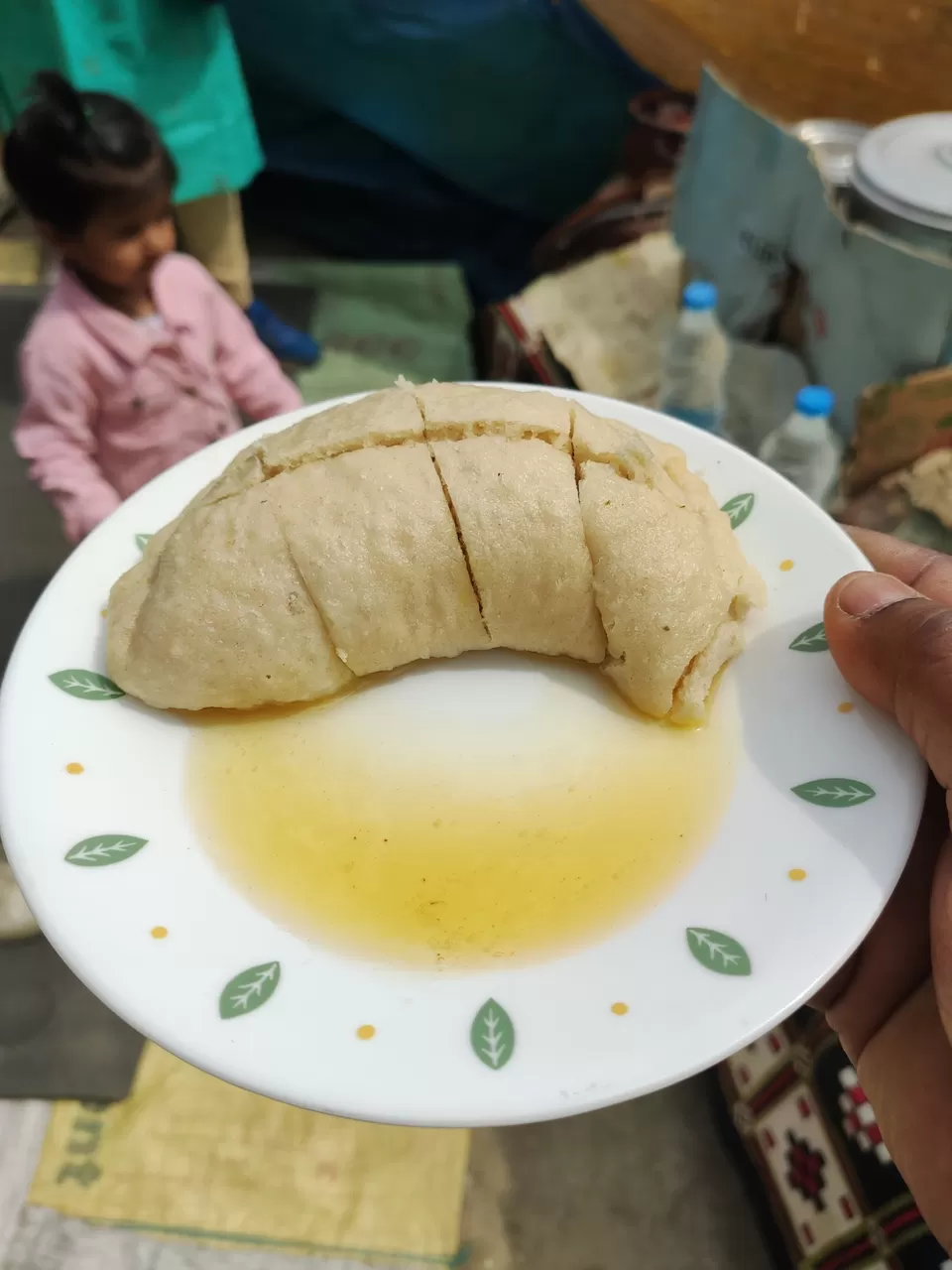 we left from Balo nath and reached at cab around 3pm. We have time so we planned for Mini Thailand and asked cab driver to drop at Mini Thailand instead of Achintya Camp. We can walk from Mini Thailand to our camp. Driver agreed. We were coming from Balo Nath to Mini Thailand, suddenly my friend and wife stopped the car and came out of cab to collect pines fell from tree 🌲 to on road. They have taken a lot pines and divided them between my wife and friend and also brought them to respective homes.
Now driver dropped us at point from where we can walk to Mini Thailand. Mini Thailand is a point where 2 rocks make a shed near water. Like there are many mountains in thailand. that's why called mini Thailand. Mini Thailand is also called Double Trouble falls on Google maps.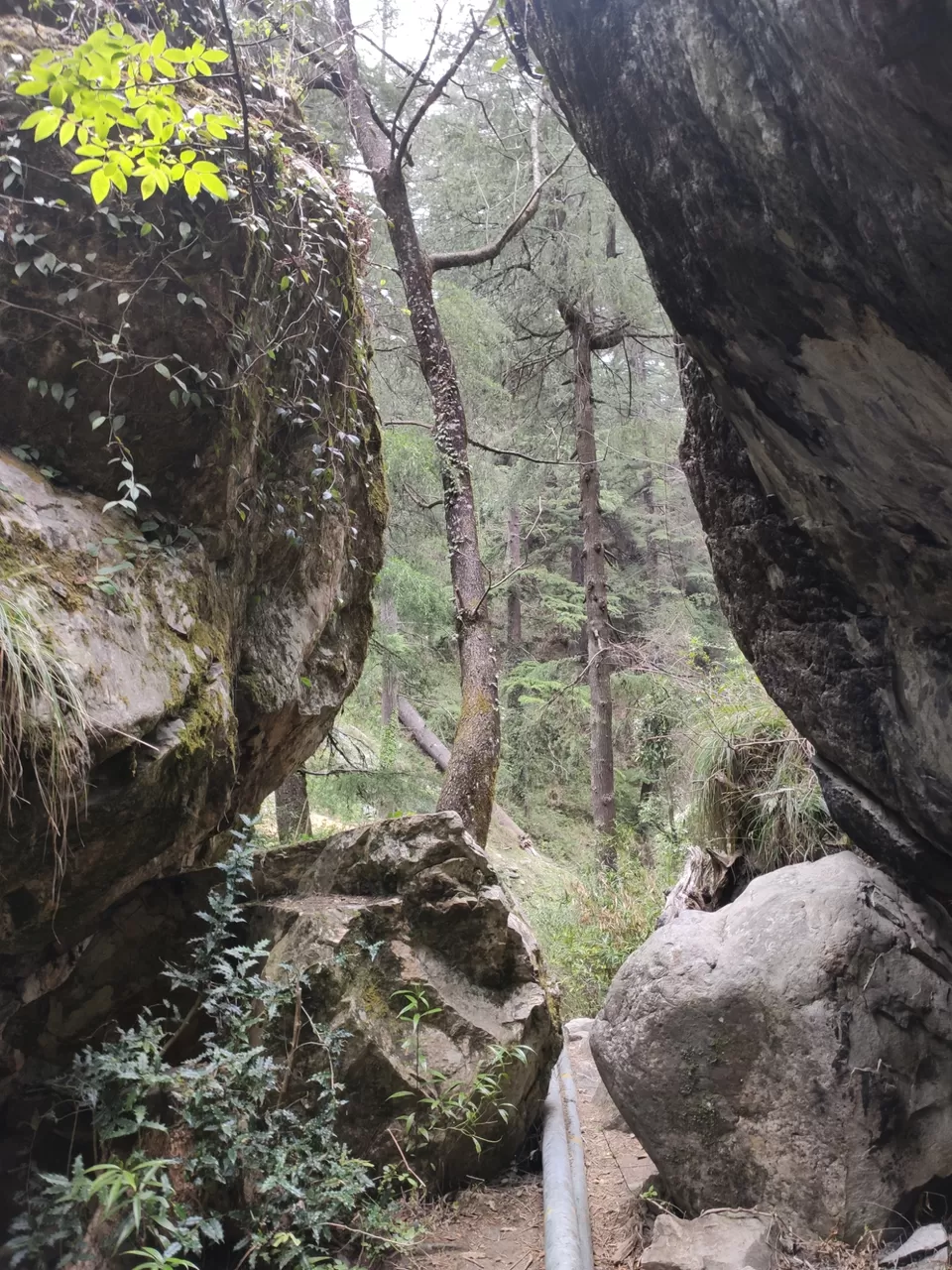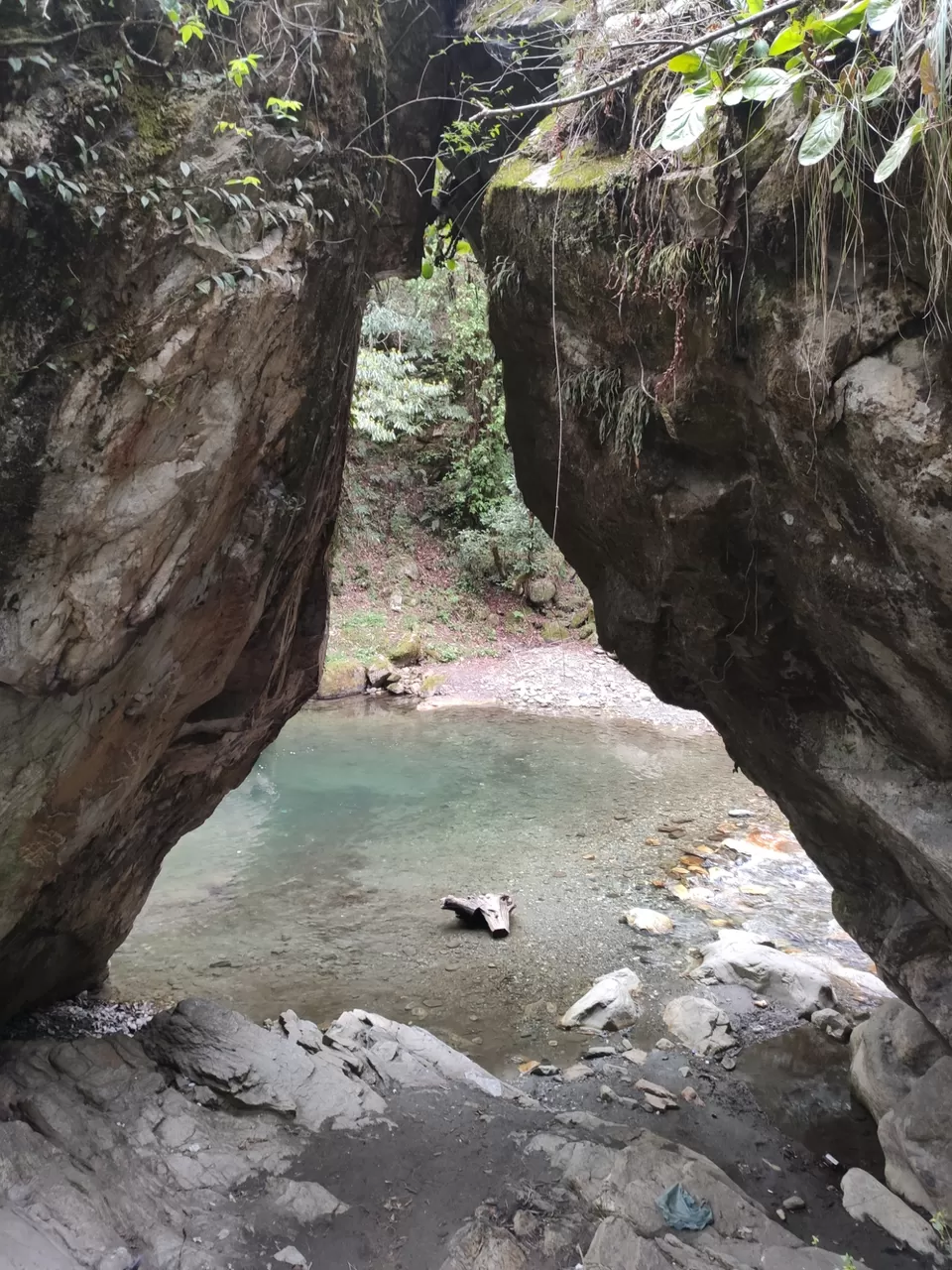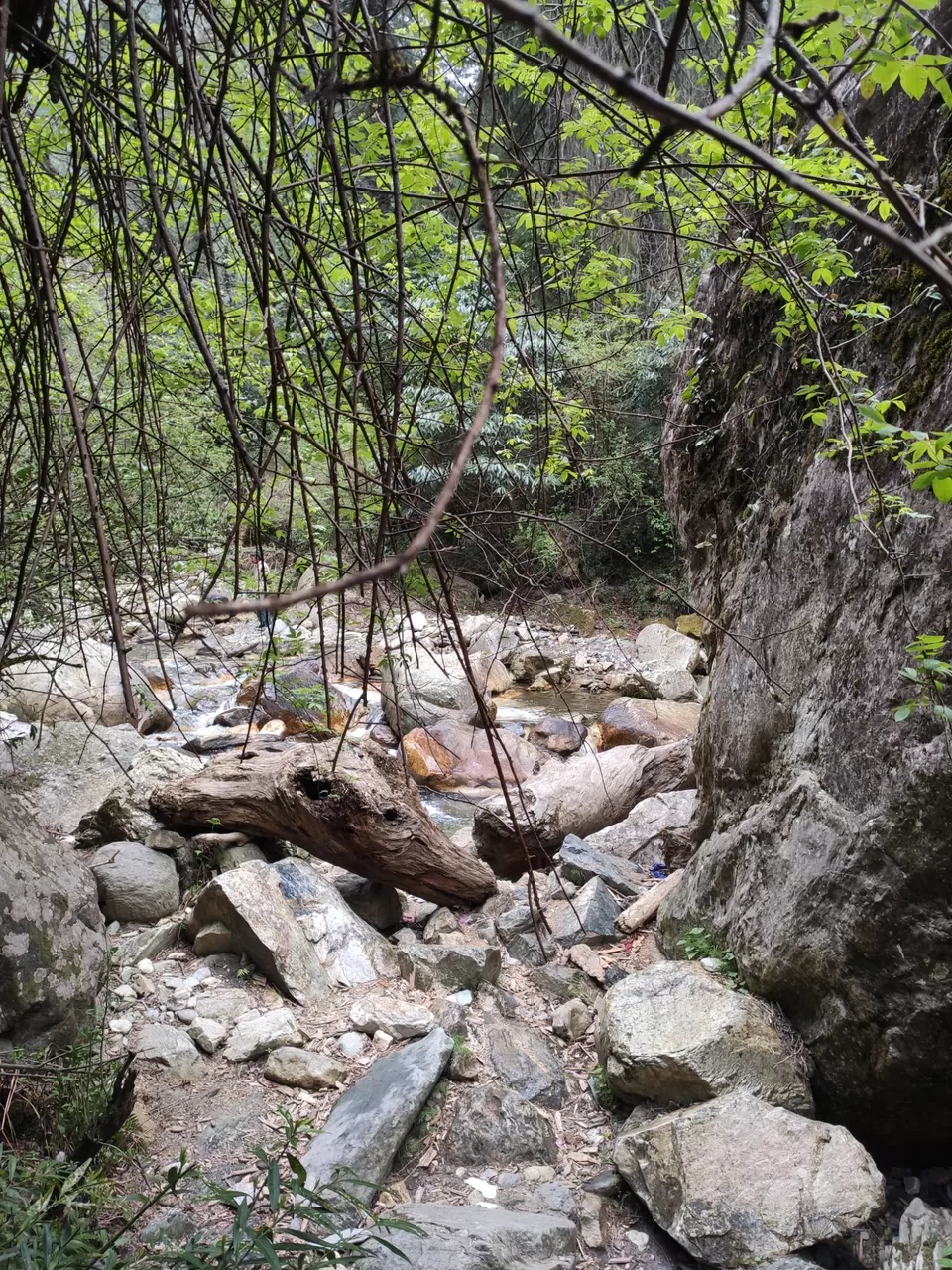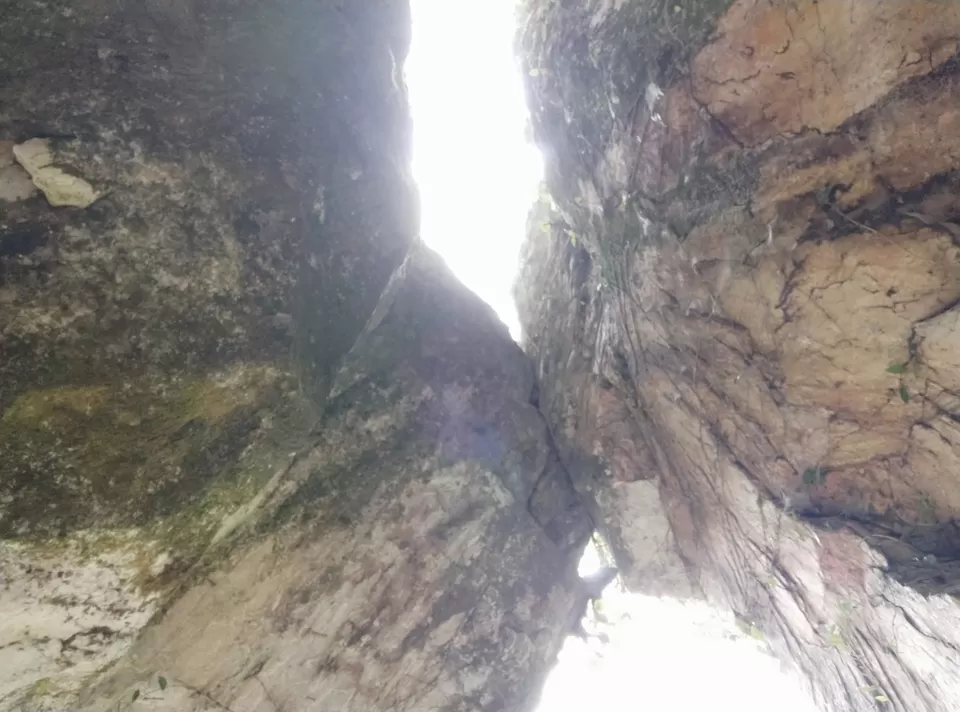 We left on foot from Mini Thailand and went straight to Jibhi Camps for dinner. We were early for dinner at 6.30pm. so we ordered some pakode. Those were not good. Dinner is okay simple. But simple is also great. In lunch we have only 2 siddoos so we were hungry. Then we left on foot and my friend went to shop in market to try some new drink. He brought Jolly maker bear. It's worth 140. But it was good. But not as good as what he tried another day.
While we were coming , some celebrations were happening with love music on Guitar and Bongo. It was nice to see. Then we spent some time there and then left to sleep.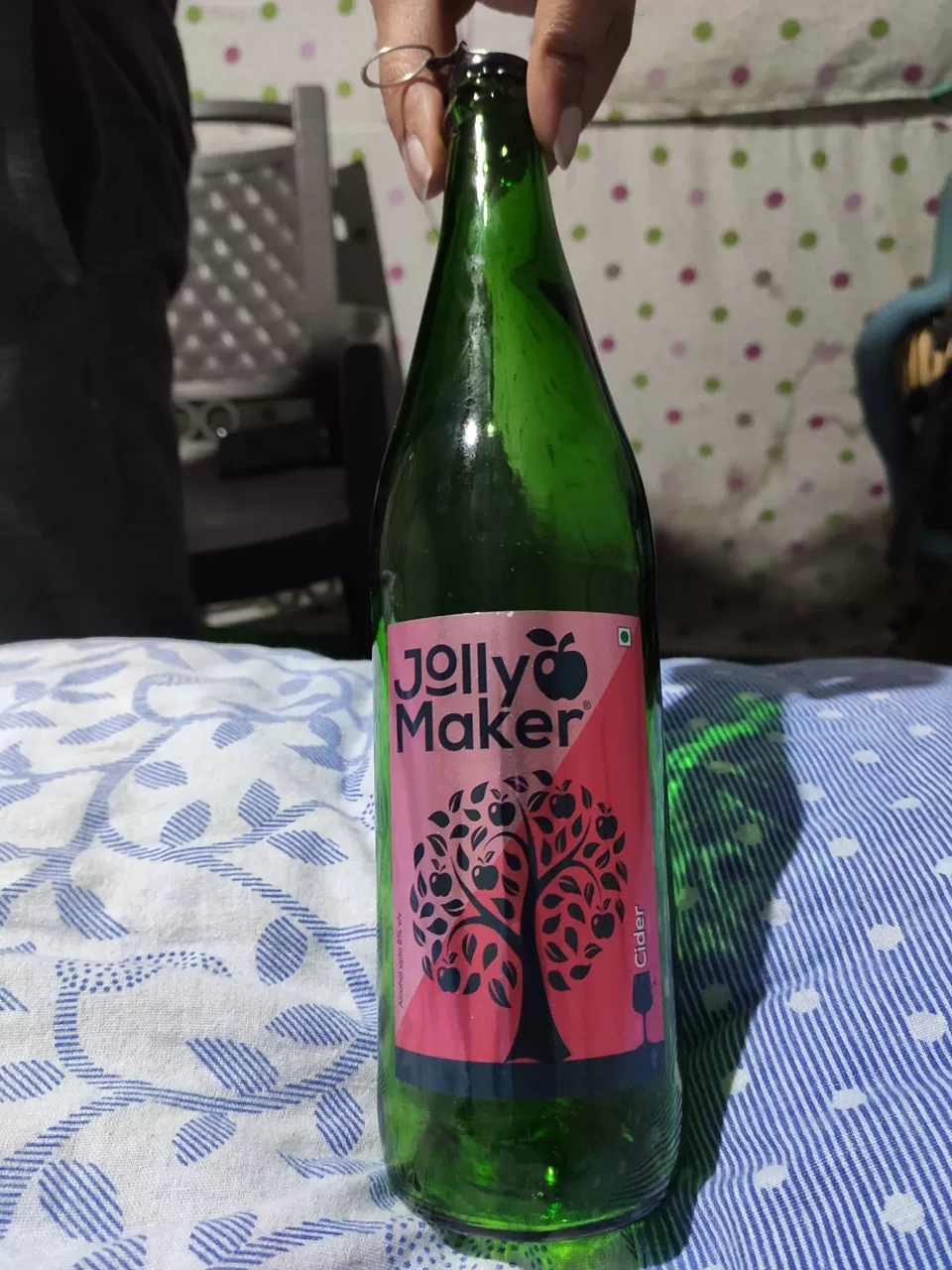 Today finally me and my friend woke up early and started exploring nearby. Oh I forgot to mention yesterday when we were coming a dog followed us from Hostalgic homestay to Jibhi Camps to Achintya Camps. My friend is big dog lover , so the dog followed him everywhere. While in the morning also dog followed him everywhere.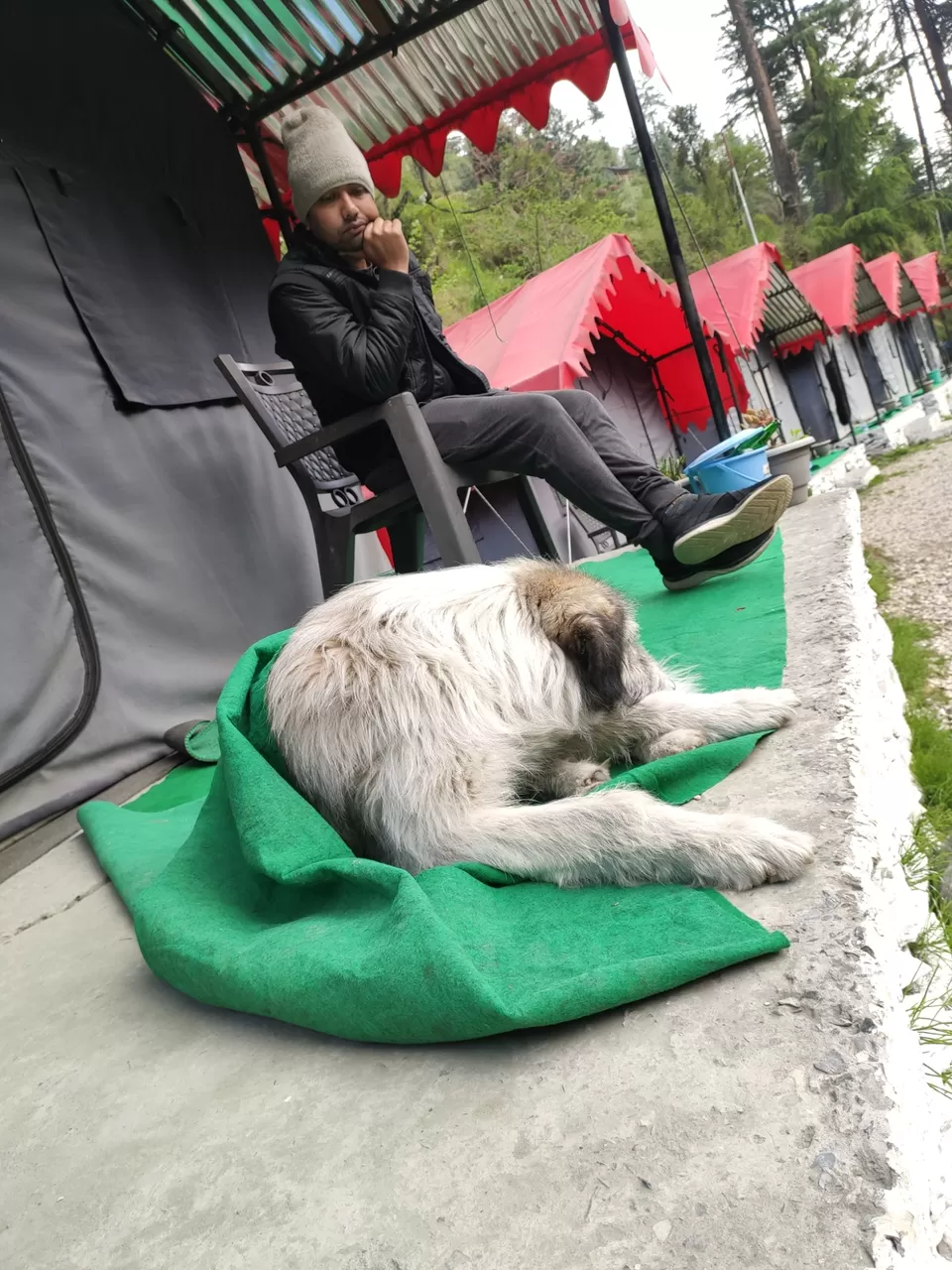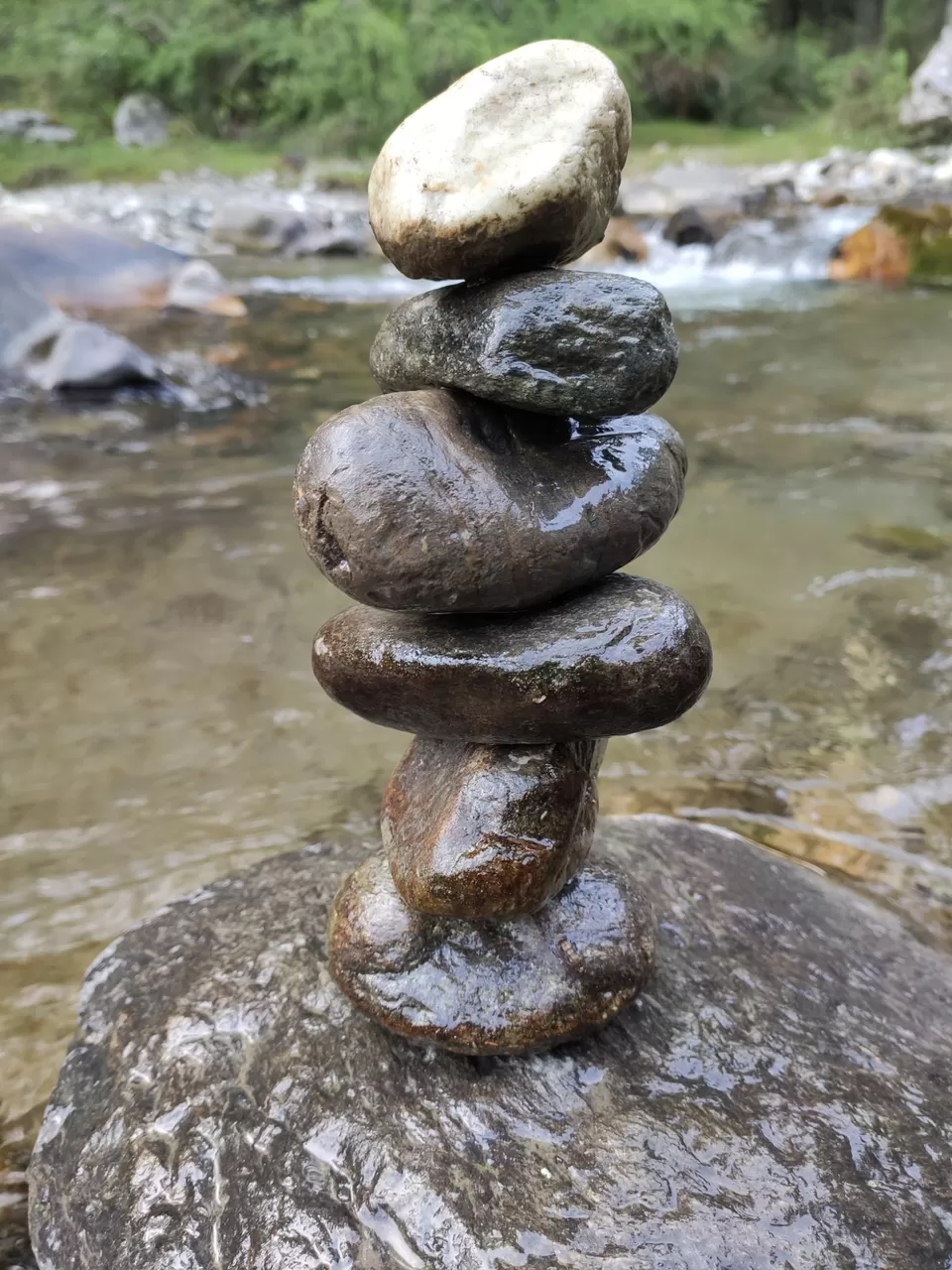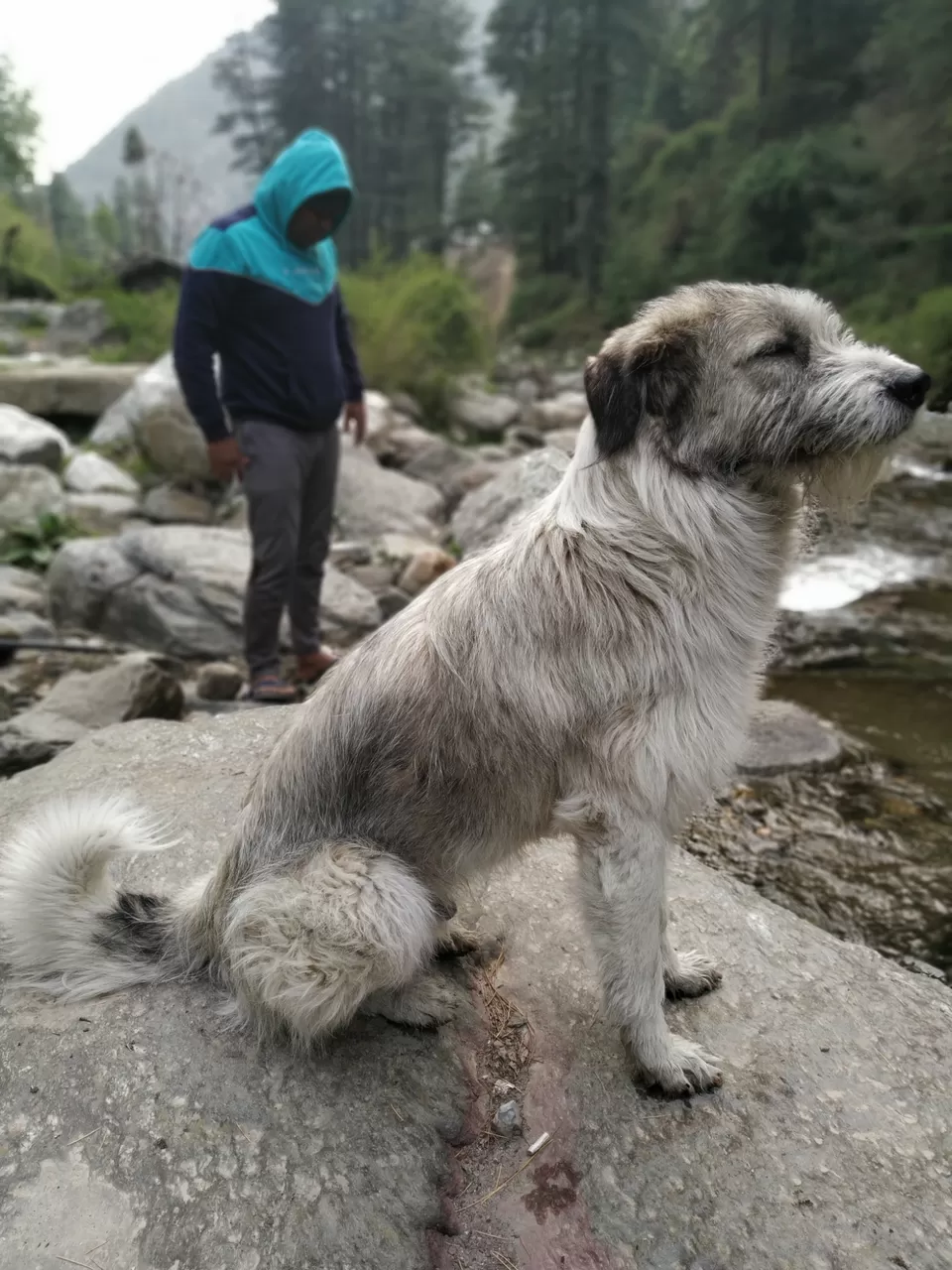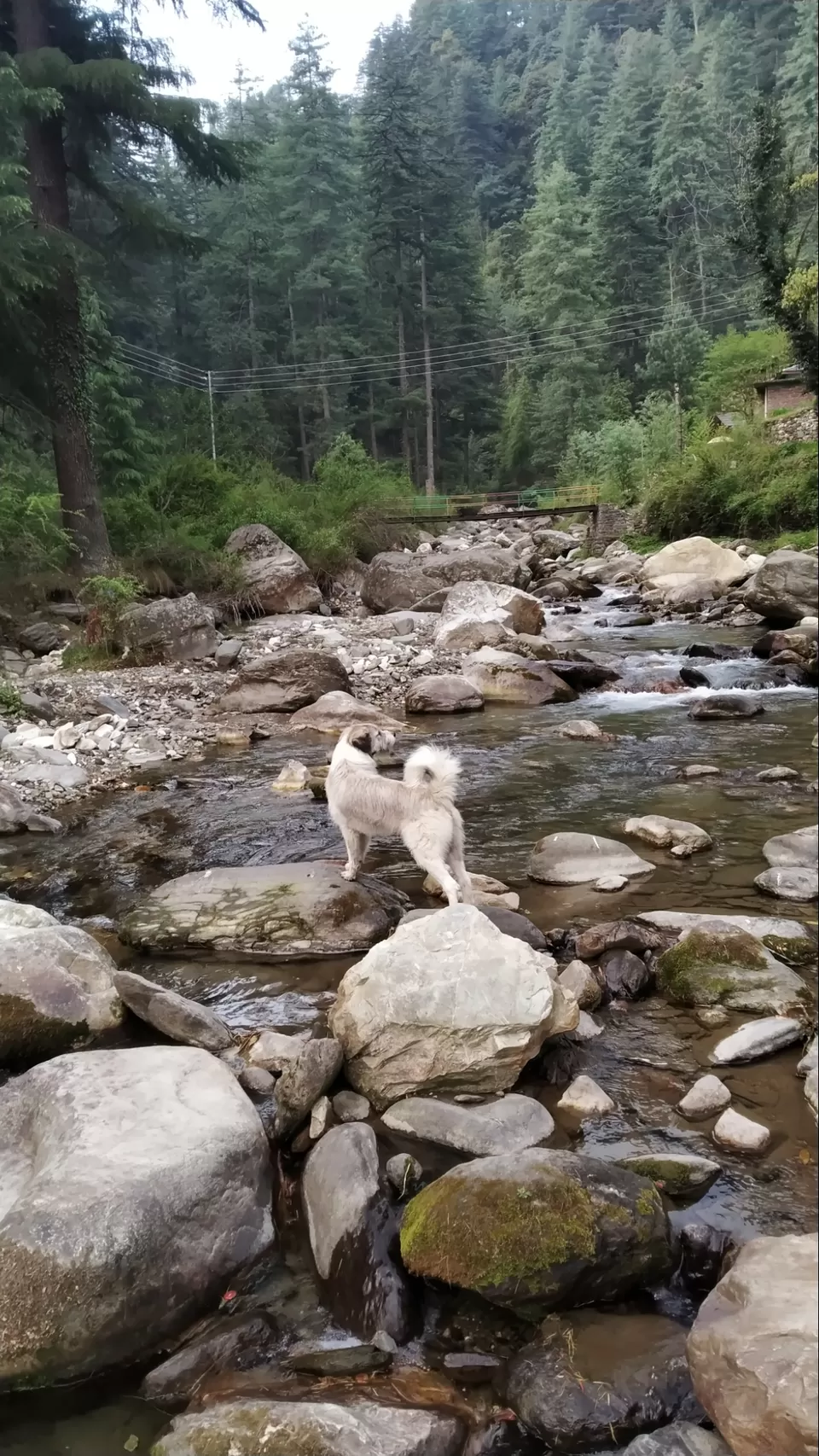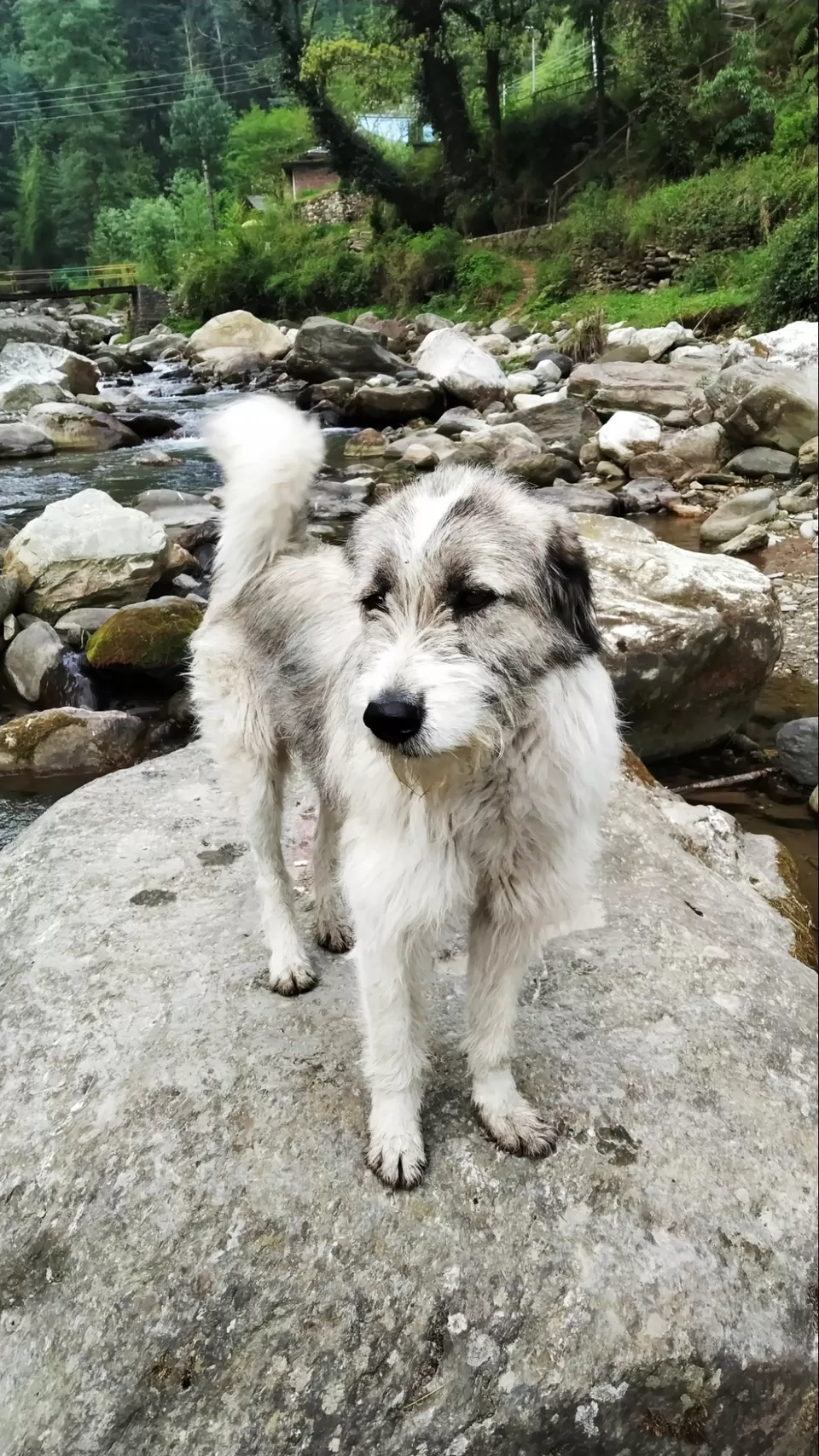 After the walk we can back and one of our group member was not filling well. Actually while doing trek or hike for long, it is difficult for women to go on natural calls. As there are no public toilets on the way. And previous day , we had only 2 siddoos for lunch. It will impact the health. So we decided to take rest today. We were here to just relax and ejnoy nature. It's very important that we take care of our health.
So cancelled the cab. We had planned for Chhoie waterfall in Teerthan valley but we cancelled. We have one more day so decided to go there tomorrow and cancel for Shangarh which was planned for last day. On discussion with Ajay said go for Shangarh instead becuase that is one time. Teerthan valley is itself a trip of one week if you go for trek. So we planned for Shangarh only on last day.
So today we took breakfast in time. Totally we rotated 3 breakfasts only:- bread omelette, poori sabji and Aloo/paneer ke parathe. We had poori sabji multiple times in that also. We moved to waters near to our tents and I crossed it from one end to another. Achievement unlocked for me. It was not easy when your friends were throwing rocks in water while you were crossing it. We played a lot in water. My daughter was so excited and happy. My wife kept her leg dipped in water for so long. Overall very good.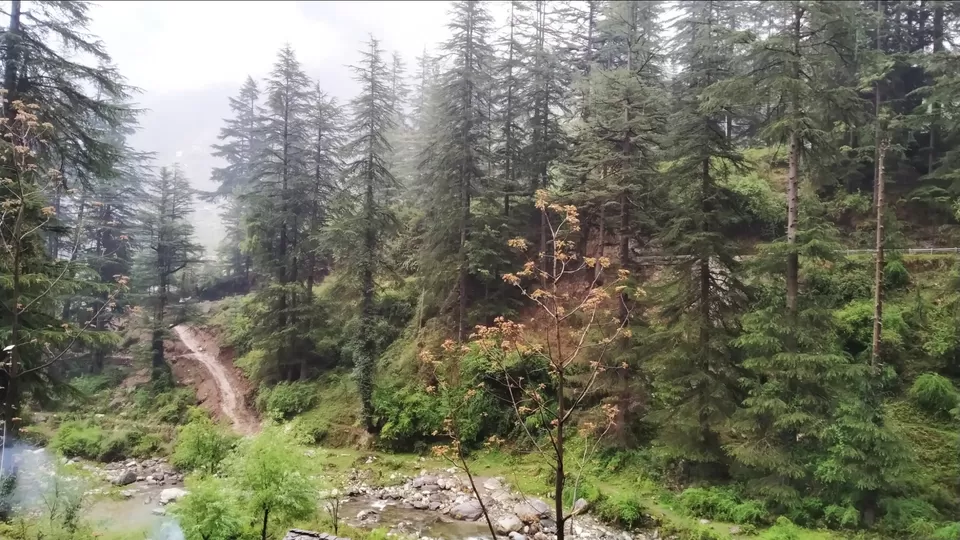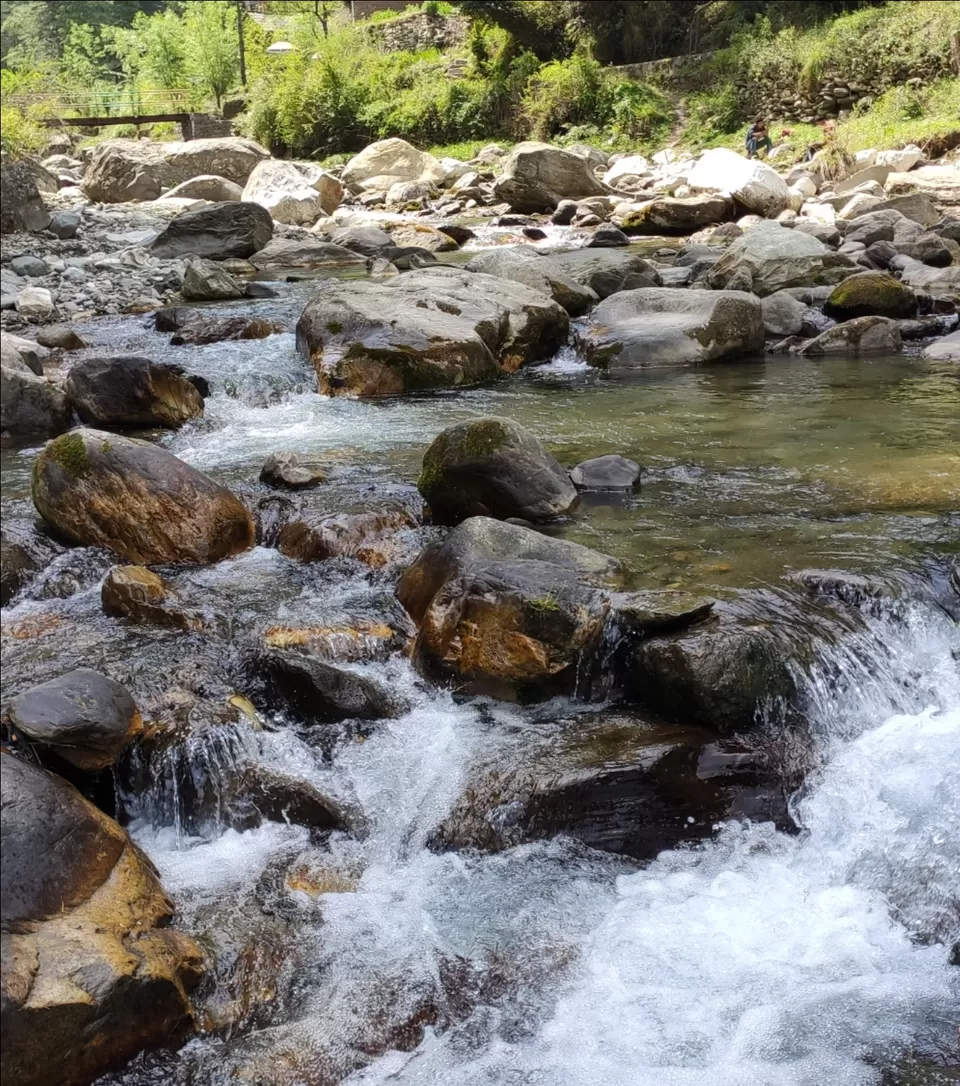 We left from there for lunch. Found one local restuarant but siddoo was not there. We found Hariom cafe where we ordered 2 siddoos. Only my friend and my self tried that. This siddoo was not have samosa filling instead some lentil filling was there and chutney is made of peanut which was awesome. Overall combination was very tasty. The size was also bigger than what we have at Balo nath temple. It's the best siddo I had in this trip. After siddoo we had lunch of chappatis. Food was nice. Better than Jibhi Camps. After food we went for walk to explore Jibhi.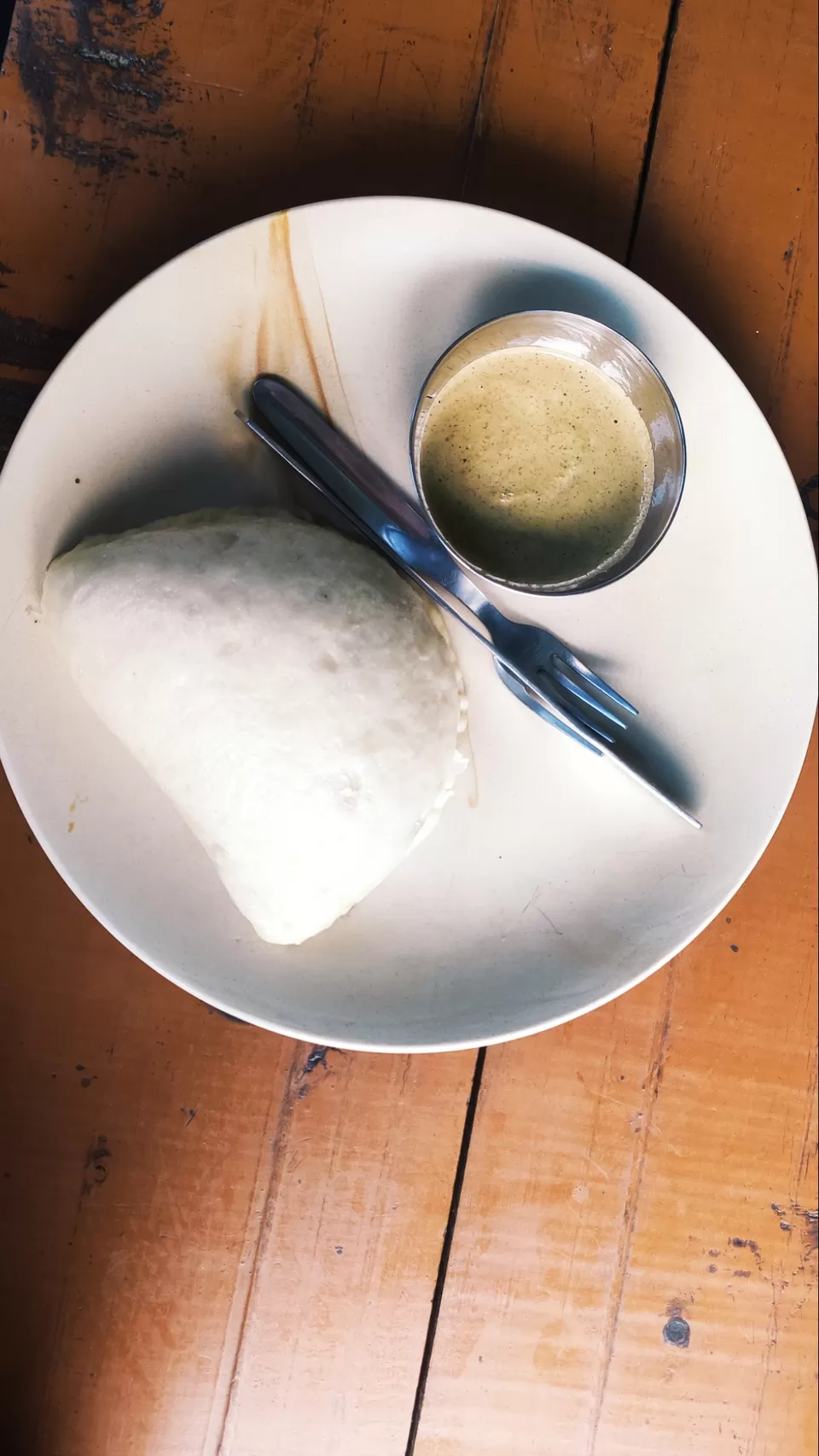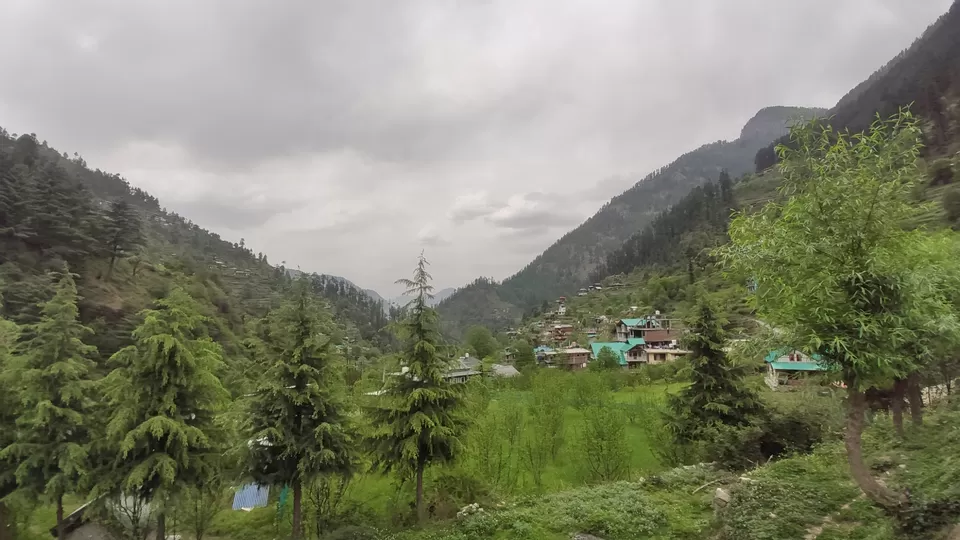 while walking we can see many home stays and property under construction. The whole view is just marvelous. Like camera can't capture the actual look and feel but still uploading pics.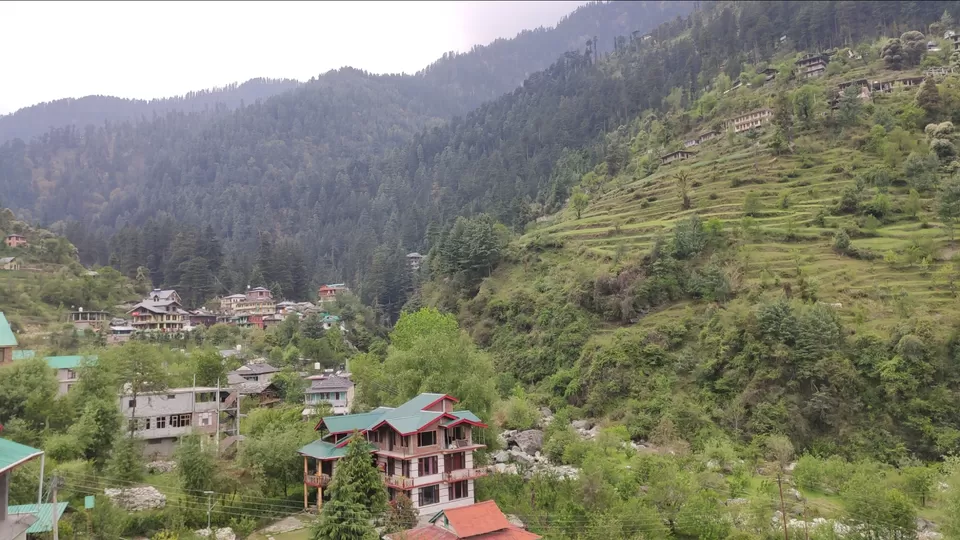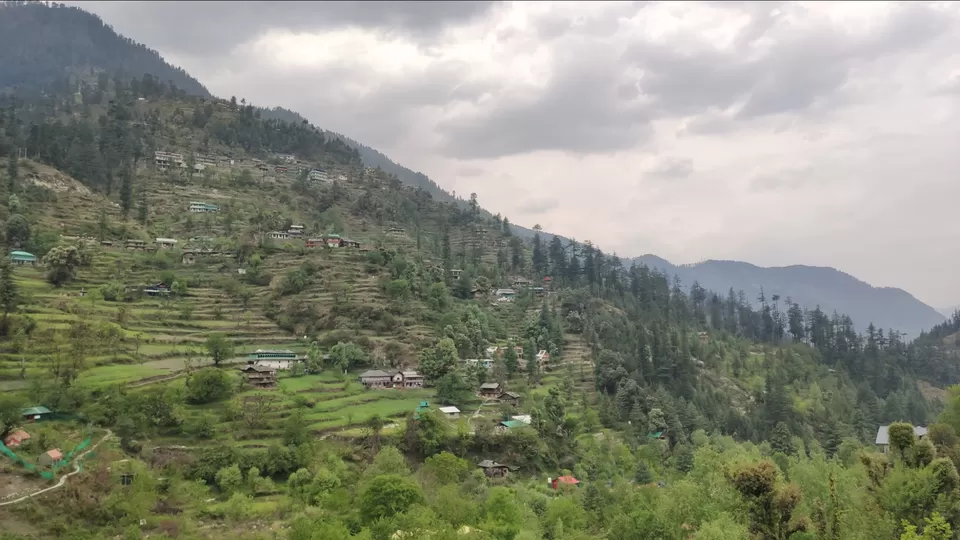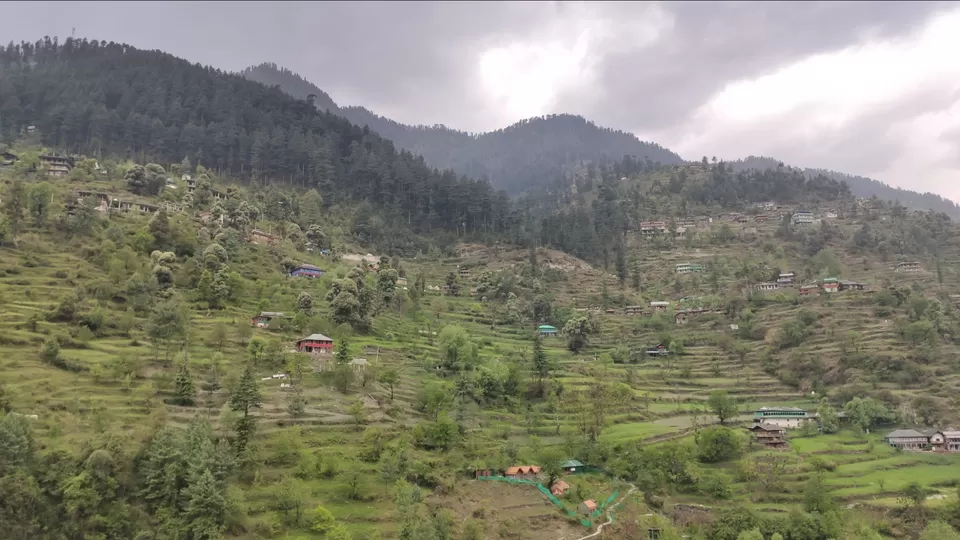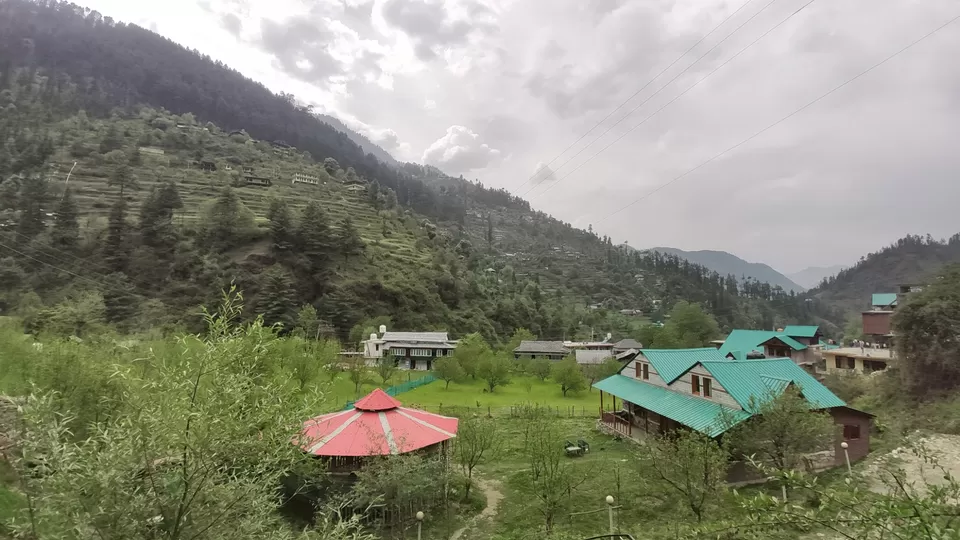 We bought local wine 🍷 from market. Wine made of Rhodo flower. And Apple Cider which is famous here. The wine cost us 300 for 375 ml and Cider 120 for 650ml. Wine taste was really good. I suggest your try the wine atleast. Very nice smell of wine and then it tastes very good. Apple cider is good option if you want to consume alcohol. We sat down on grass in Achintya and finished drinking wine and cider.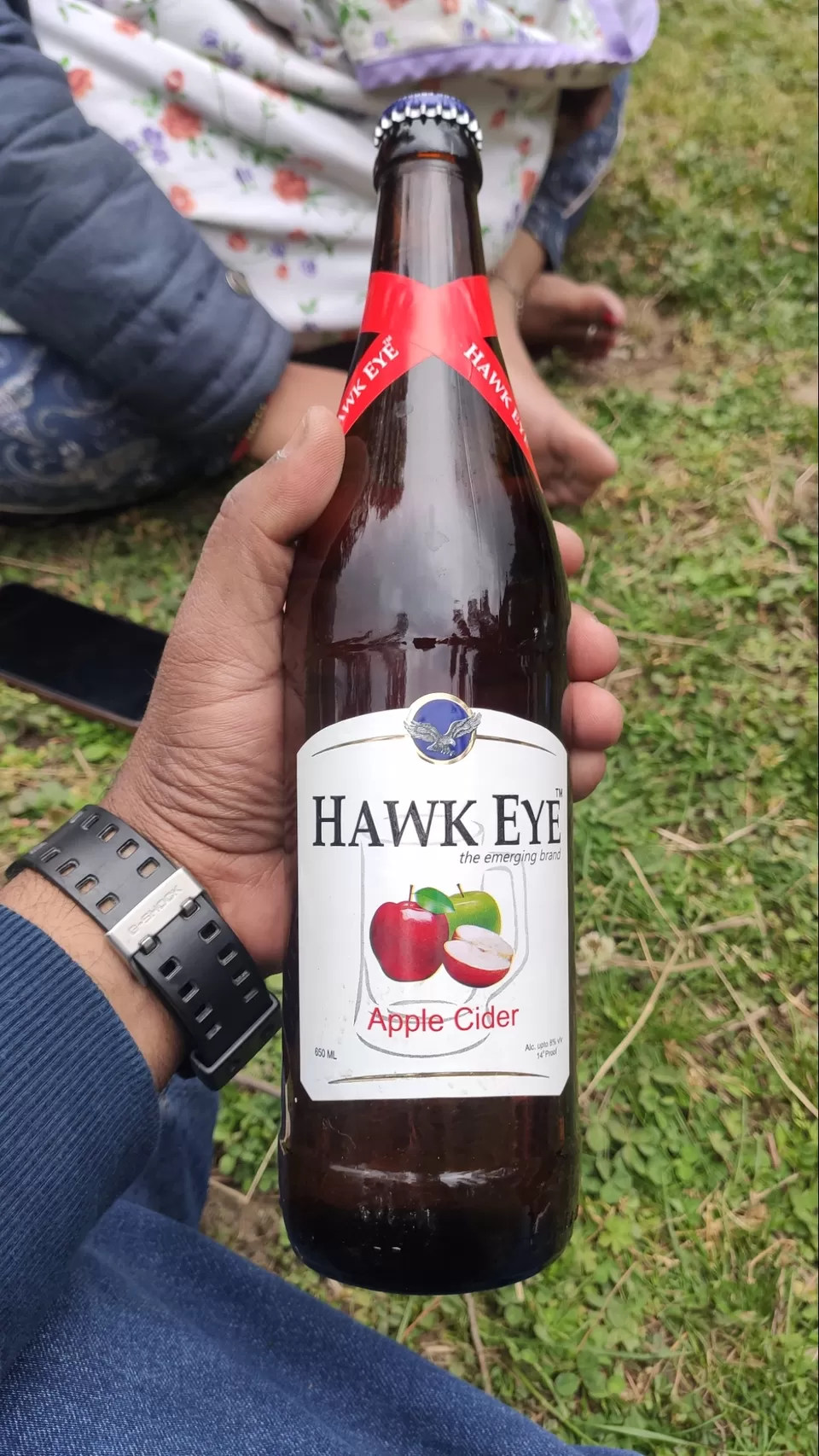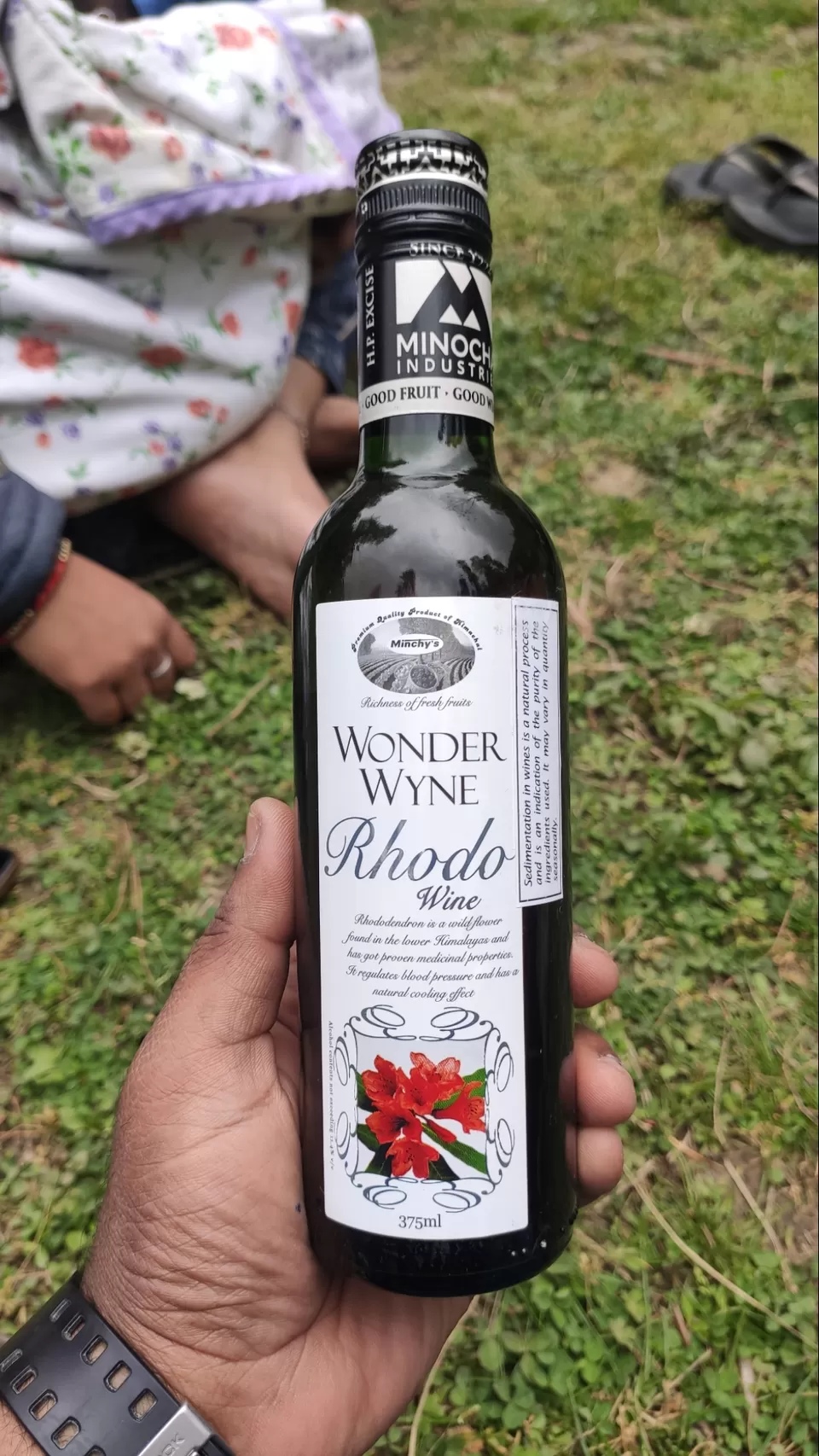 We went to our tents and rested well. After some time all went to sleep but me and my daughter were still awake. Then I asked ustaad to play badminton. Then we played badminton and my daughter was eating biscuit with water. The weather was cold and badminton brought some heat.
After that we again went to old school and ate dinnner. After dinner we went to tents for sleep.
So today is the last day in Jibhi, we were ready at early as possible. We were ready by 9.30am and did breakfasts by 9.50am. There was delay becuase we had to do the final payment of tents. It was done by 10.30am and we left Jibhi at 10.40am to Shangarh. The weather was unpredictable since morning sometimes clouds, sometimes sun. Very confusing.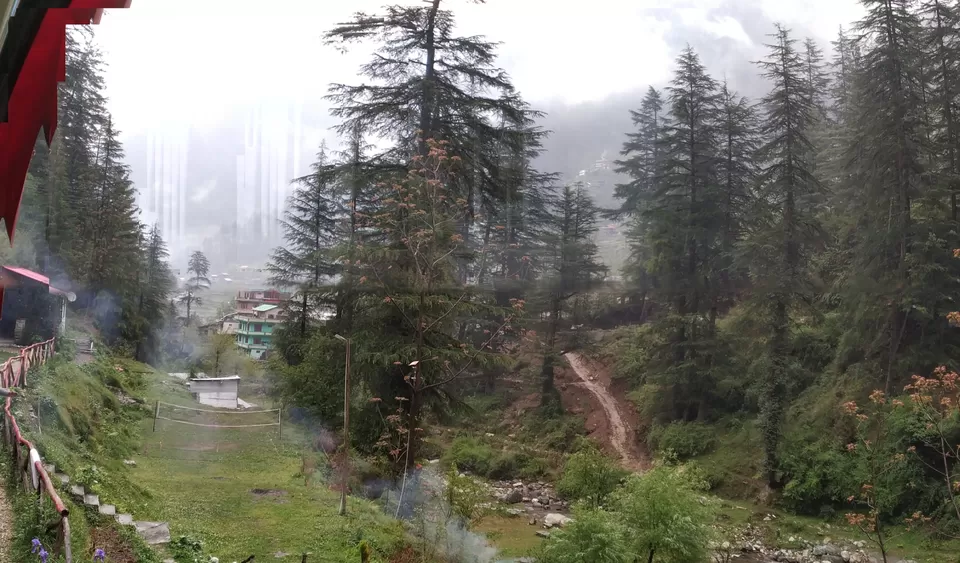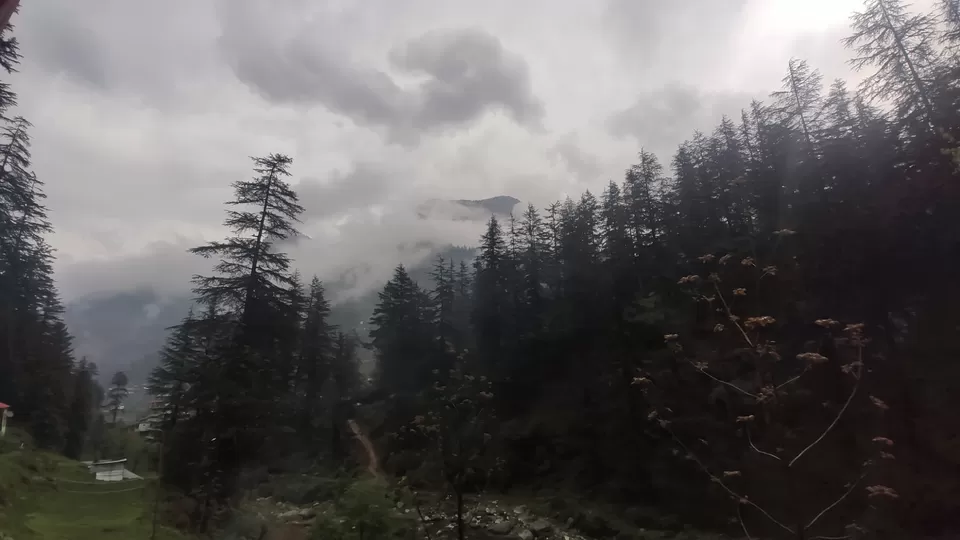 we left to Shangarh and it was a long journey in cab. It started light raining also. We stuck in traffic jam in Banjar after that we reached Shangarh at 1.30pm. it was a beautiful movie scene for me. Unbelievable meadow at top of mountain. Very beautiful. The village nearby also has Devta temple, which was looking like Disney Castle. We walked around the meadows. It started raining so we got shed of a tree then we moved to some old cattle house for shed.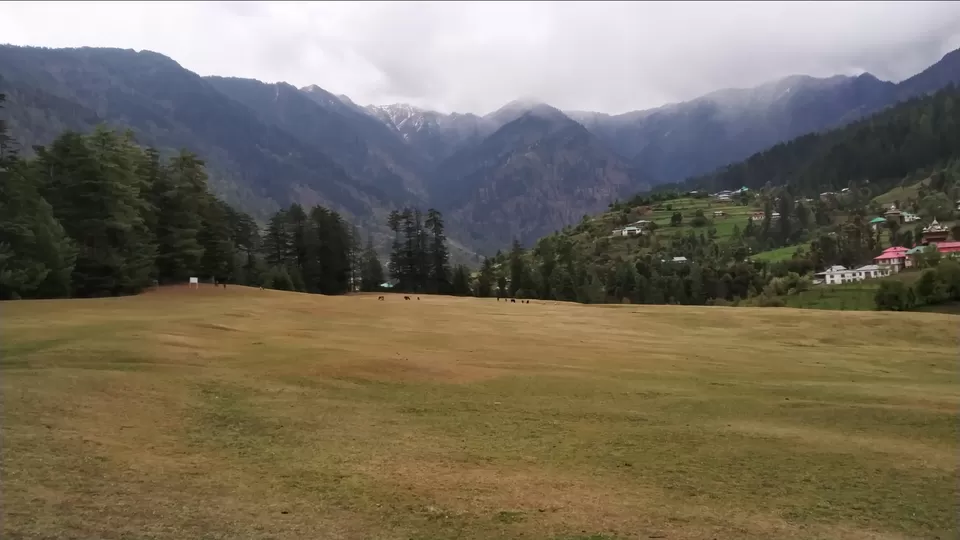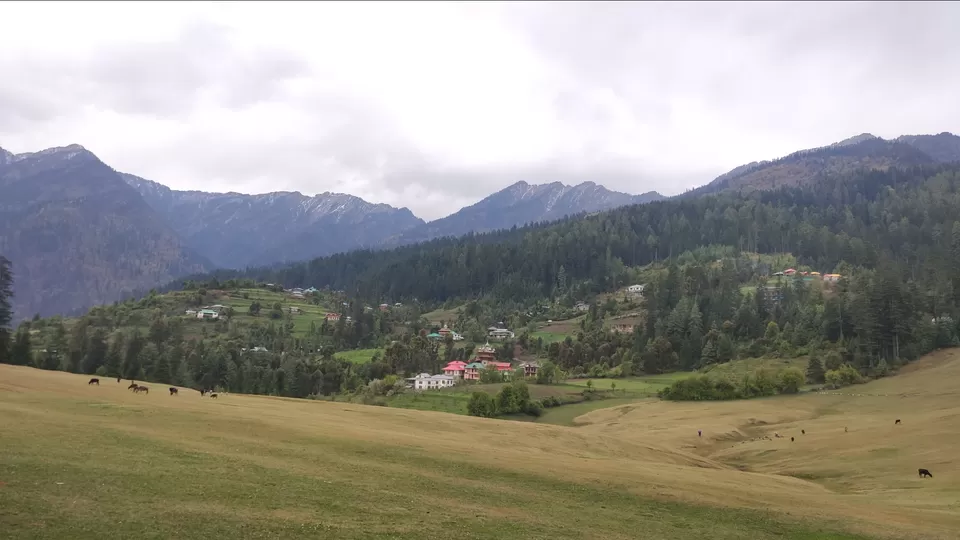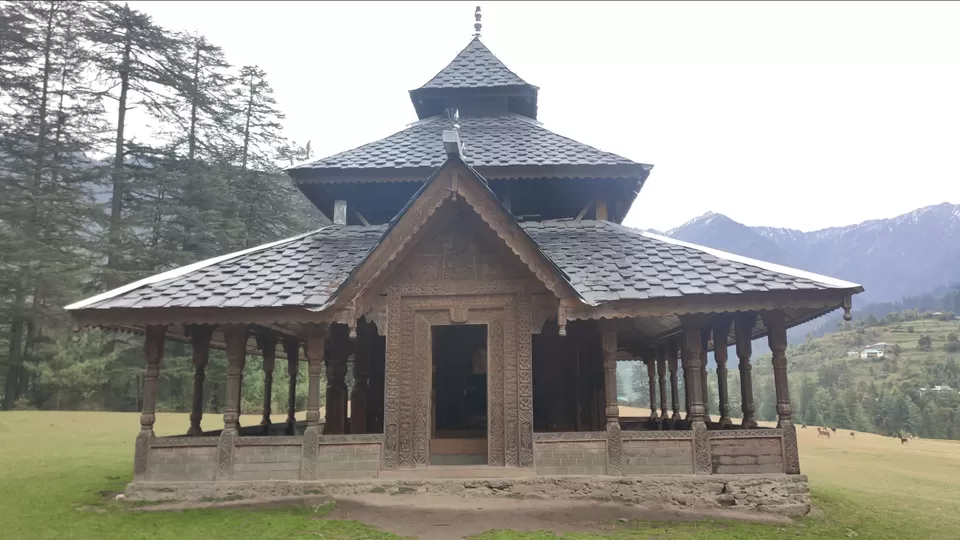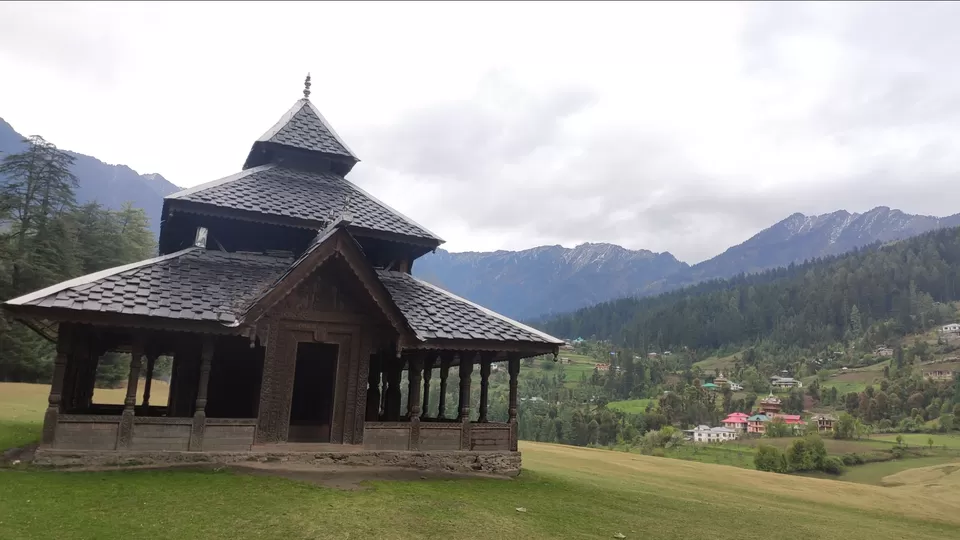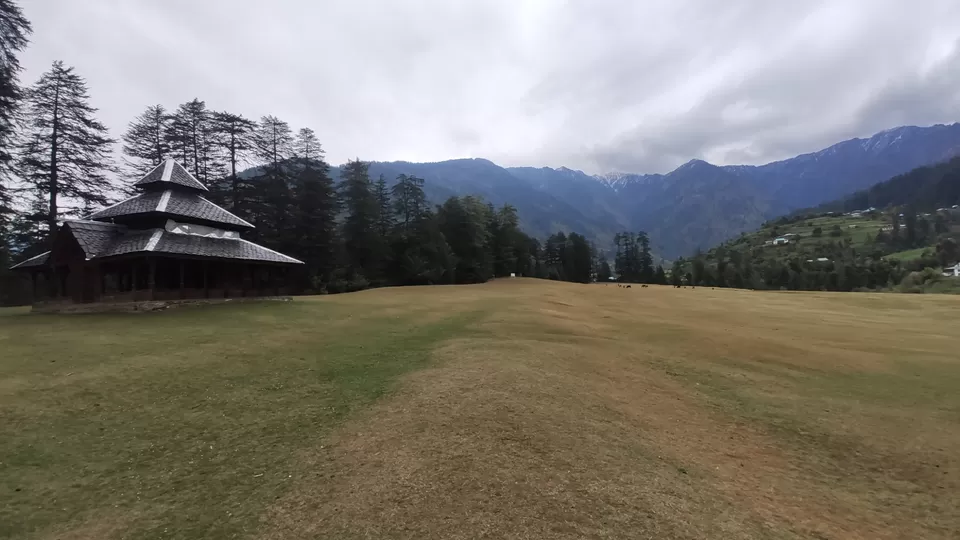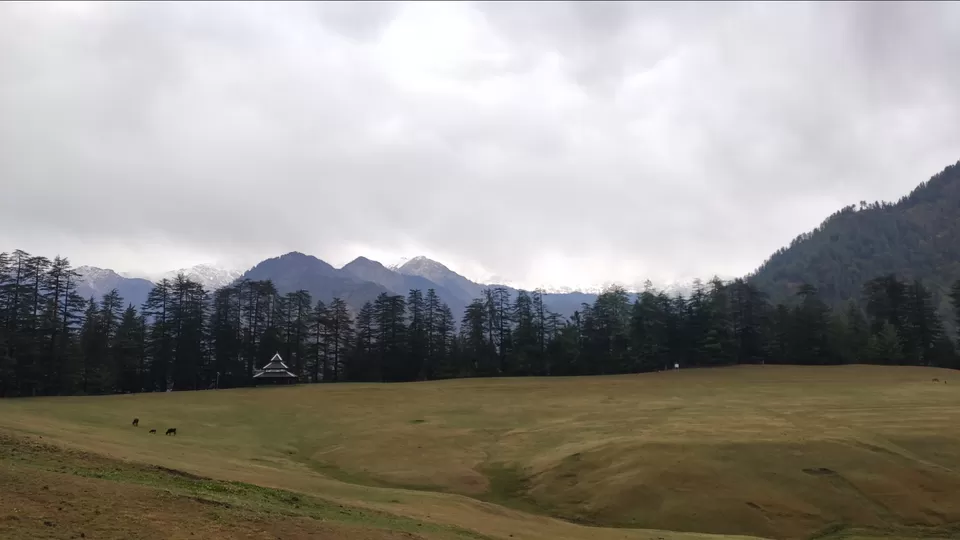 We waited for 30 to 40 minutes but rain was not stopping. We are strict on schedule so we left to have lunch and then moved to nearest dhaba. We ordered one Siddoo and 1 full chowmein. Like I have tried siddoo 3rd time only but it was the worst. Chowmein also was not so great. So we ordered Maggie in the end. Maggie was good and tea also. It was still raining while we finished our lunch. Then we decided to leave. We left from there to Aur Bus stand to cathc Volvo. It was Gateway restaurant where cab driver driver dropped us. We went to roof and we got a beautiful view. We ordered tea in evening. And had dinner in night.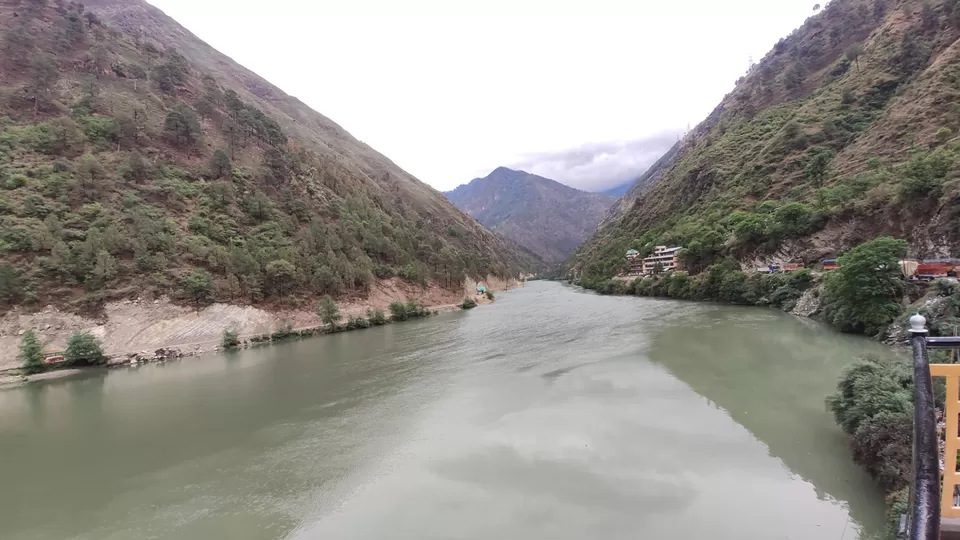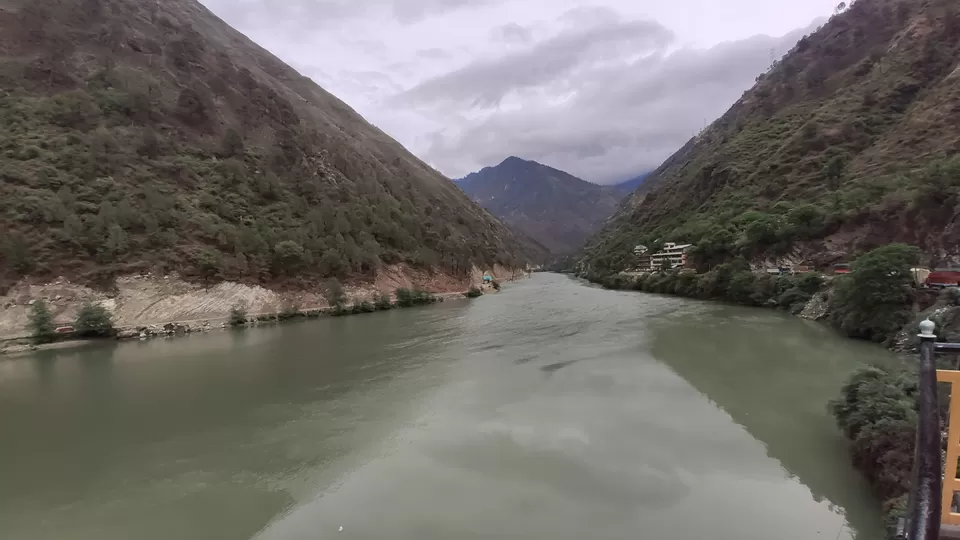 we caught the bus around 9m and the bus dropped at 7am in morning at Majnu ka Tilla.
Overall the trip is awesome for hikers and even if you don't wanna go on hike still locals are very peaceful. Very less crowd and less commercialized things. But in coming days it will be more commercialized and it will end up like Manali. But it would take around 3-4 years to happen. Please go and try this new place. For trip videos you can look into my you tube playlist.
https://youtube.com/playlist?list=PL0g0YzGAWp6tusUbrWUASAbYTppgT44XA