Reaching Shimla was n't easy on a rainy August night when it rained landslides on the highway that connects Delhi with the summer capital of British India.
A couple of weeks ago, I decided to go there by a Himachal Road Transport Corporation (HRTC) Volvo bus that got stranded for nearly six hours because of landslides galore en route.

There were serpentine kilometer-long queues of buses, cars and trucks on our most of the journey before I entered Shimla.
On more than one occasion, I thought that it would have been wise if I had not turned adventurous enough to visit Shimla in a rainy season. But as I was already midway through my journey, there was no getting away from it.
I reached around 11.15 am am when the scheduled time of arrival was 6 am.
I had booked a hotel (Dalziel) near scandal point, a pedestrian crossing where Mall Road meets The Ridge. It is believed that scandal point is the area where a king of Patiala—Bhupinder Singh or probably his father Rajinder Singhhad—eloped with daughter of British Viceroy.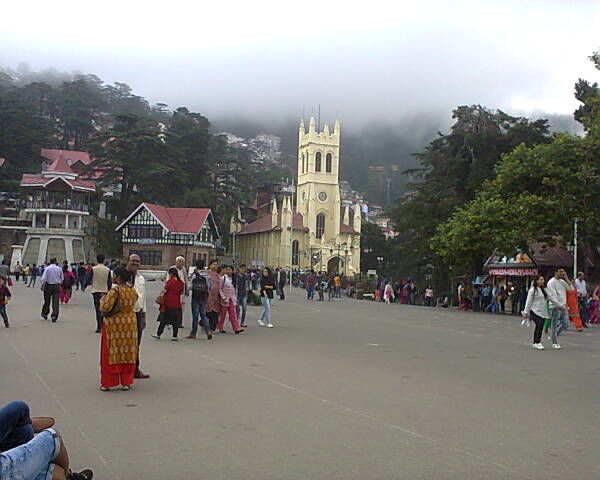 There are several places to visit on Mall Road and Ridge. I decided to visit a few eateries and wasn't disappointed.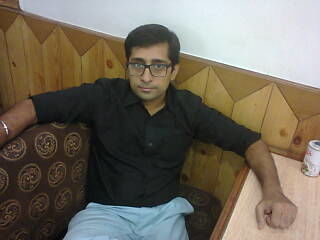 Central Perk was probably one restaurant that I enjoyed the most. There was another Cafe Wake & Bake I had read about, but didn't like their Pasta at all.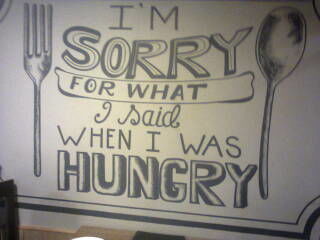 I was keen to go to Jakhu Temple that is located on a hill near Ridge. I spoke to a gentleman in India Coffee House on Mall Road who advised me that i take a cab near Plaza to reach Jakhu temple in just 10 minutes.
The other alternative is to walk from the Ridge uphill for nearly 35-40 minutes to reach the peak where Jakhu temple is located.
I followed this man's advise and took the cab to go uphill that took 10 minutes to reach there.
The story behind setting up of temple is that lord Hanuman had halted at the hill while going to Mainak hill for fetching sanjivani booti for revival of Laxman.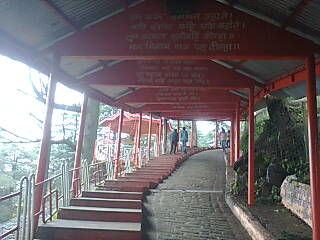 At the time, Daksh was meditating at the temple. Lord Hanuman had halted for some time and had promised to stop over again while going back to Ahodhya.
But as the luck had it, he couldn't come again and Daksh saw lord Hanuman in his dream, thereafter Daksh set up Lord Hanuman's statue in the temple.
This is the story written in the temple, that draws devotees and tourists from India and abroad.
When i reached there by cab, I liked ambience and tranquility at the peak quite a lot. The temple has a magnificent statue that is largest Hanuman statue in the world.
My liking for the ambience and its magnificence compelled me to visit the place again a day later.
But this time, I couldn't find a cab probably because it was a Sunday and a Hindu festival, too, fell on the same day, or for some other reason that I was unaware of.
I waited patiently for nearly half an hour at the bottom of the Jakhu hill so as to tag along a group of tourists who might be going in the same direction. I wanted someone to accompany me since I was scared of a barrage of monkeys who I were to encounter enroute.
All my plans went awry since there were barely any tourists on a Sunday morning. Eventually, I ran into a French tourist walking uphill. His wife's spectacles were snatched by a monkey while she was on her way to Jakhu. The monkey was smart and didn't leave the spot until someone in the group fetched him something to eat.

He took the grams and returned the spectacles.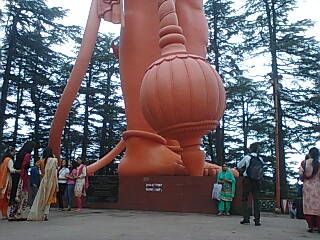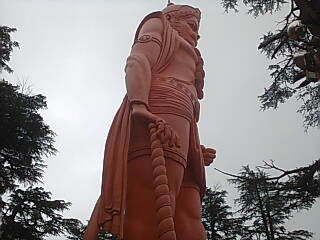 I wanted this French couple to accompany me but he had got too carried away with the "specs incident" that they (along with his wife and others) probably needed to relax briefly before proceeding with the rest of the sojourn.
As I prodded, I realized that there wasn't a single human (literally) going in the same direction as mine. Besides that, it had started drizzling that made my journey a little more strenuous, but only a little, since I was carrying an umbrella.
It was quite gratifying to reach there after nearly 40 minute uphill walk.
While I was walking downhill, I met a couple of girls who were panting for breath. As i walked past them, they enquired if the temple was nearby, and if they will be able to reach in another five minutes or so.
I told them it is very close and they will be inside in another two minutes.
The instant smile on their faces was something that i felt proud of. After all, I played a part in it.
Frequent searches leading to this page:-
how to reach jakhu temple shimla, jakhu temple ropeway ticket, jakhu temple timings