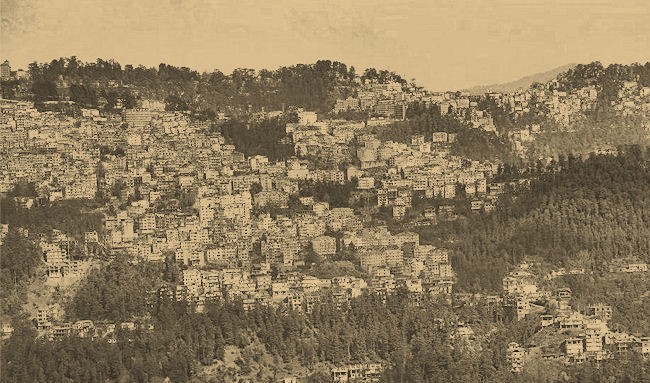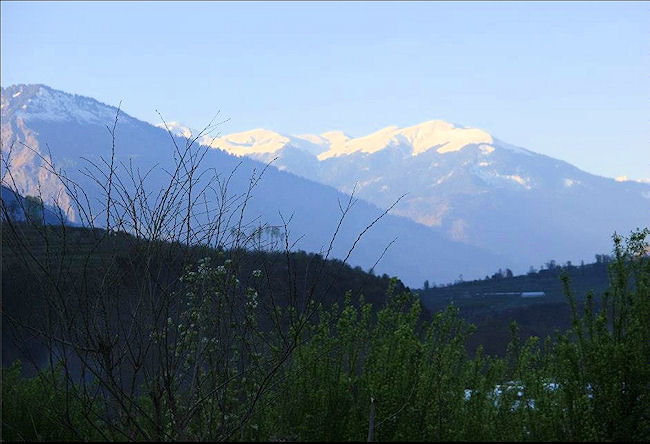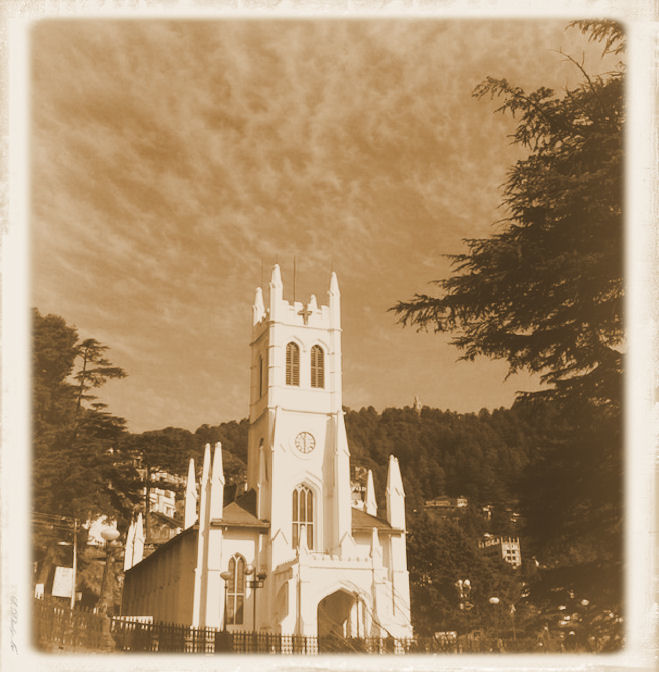 A bunch of youngsters in their 20's shouting, unapologetic, shrieking, laughing , singing and as the train speedily found its way through the lower Shivalik foothills, passing though so many tunnels, all eyes were upon the breathtaking views that slowly unfolded before us and gradually, the cluttered noises ceased to engulf a complete silence ! It was our study tour to Shimla but looked more like picnic party than anything else. Shimla welcomed us with a surprise shower of rain and the jeep that was assigned to take us to our guesthouse took more time than it was supposed to. On top of it when it got to a complete halt and did not move further we decided to leave the luggage and trekked our way to the destination.
It was not as easy as we assumed it before but slowly and slowly we trekked to the higher slopes, fighting the pangs of hunger, the untimely drizzle and mist covered mountains, it was definitely you would not expect on your first visit to Shimla. But Shimla was not new to me, even though I had not visited it before but somehow I always felt I belong to that place. Its mesmerizing beauty, the charm of bygone era, the sepia tone photographs of my family album, kept alluring me all the times, my mom's horse riding photos, dressed in traditional pahari attire and its convents always made me feel special about the place. And as we trekked higher, I tried to correlate the photographic image to the present day, but it never appeared, a lost era that never be the same again.
If there is anything that is still captivating or charming about Shimla is its beauty, that we witnessed that day, in the fading warmth of gleaming sun the wind uplifts the veil from the snow-capped mountains and the scene before us was truly magical. That day I fell in love again with Shimla.
Our days usually started with treks to the mountains and ends with shopping and eating at Mall road. the heart of Shimla and best place to watch people. As you walked down the road to a vantage point from where you can see the Mall and the Ridge, it will appear to be more European town than an Indian or pahari one, with its neo-Gothic architecture, it is reminiscent of erstwhile British era, arguably the summer capital of British India.
Weekends moved at a more leisured pace, a trip to nearby picnic spots or window shopping at the Tibetan bazaar at Kusumpti, there were so many artifacts and souvenirs to buy that we never returned empty-handed and an evening stroll across the Mall and Ridge or sometimes an occasional visit to Gaiety theater. Shimla kali bari, dedicated to goddess Kali or Shyamala after whom the town was named is another prime destination that I always wanted to go. Time just flew through and never realized how the month passed away.
That was the pre-mobile and pre-internet era and the Mall looks very different now, with clusters of internet cafes, mobile showrooms and modern-day banks with atms, pizzerias, modern style cafes and is more crowded now.
There are many nearby places to go from Shimla, but I would not suggest it to you. If you are going to visit Shimla for the first time, go and do not stay but live there at least for a week. May be a non-touristy and secluded hotels may be your answer, enjoy its charming beauty, spend the afternoons beneath the tall eucalyptus and deodar trees, walk along the whispering woods, or become a bird watcher for a day (home to Himalayan Monal), explore the Tibetan towns, a visit to Dorje Drag Monastery and endless list of things you can do.
Few pointers –
1) India's only natural ice skating rink at Circular road, Shimla
2) Mall Road and The Ridge – department stores, cafes, restaurants, jewellery, pottery, Himachal govt emporium etc. Walk up to Scandal point, GPO. The Ridge is also the place where summer festivals are held, a visit to Christ church and the library is must.
3) Shimla Kali Bari
4) Film shooting spots at Green valley, Naldehra golf course, Jakku hill, viceregal lodge and many
5) Shopping at Lakkar bazaar for wooden crafts, and Tibetan markets for Tibetan artifact at Kusumpti, a trip to chaotic Subzi Mandi and off course Mall road is there.
6) Festivals of Shimla – Summer festivals in the month of May, Baisakhi in April, Lavi fair, Rhyali festivals are some of the noted ones
7) Bird watching trips or visit to Himalayan bird park opposite to Viceregal lodge.
8) Must ride on heritage Kalka-Shimla toy train.
9) Hot sulphur springs at Tattapani located some 50 km from Shimla
10) Nearby day trips to Kufri, Fagu, Manikaran or Rampur in Bashahr state along the Sutlej valley.