This is about last year, When the beauty of clouds and rains was all around and we were having a long weekend. We always wished to enjoy the beauty of Shimla in Monsoon and we used that perfect timing to fulfill our wish.
Even knowing the risks of landslides during monsoon on hilly areas, we decided to go on this adventurous trip in our Ford Figo car driving through the Kalka-Shimla Highway. And let us tell you it was so much fun to drive through clouds and fog. And music in car just add all the fire we needed on the hilly roads "Mai ne meriye .. Shimle di raahein".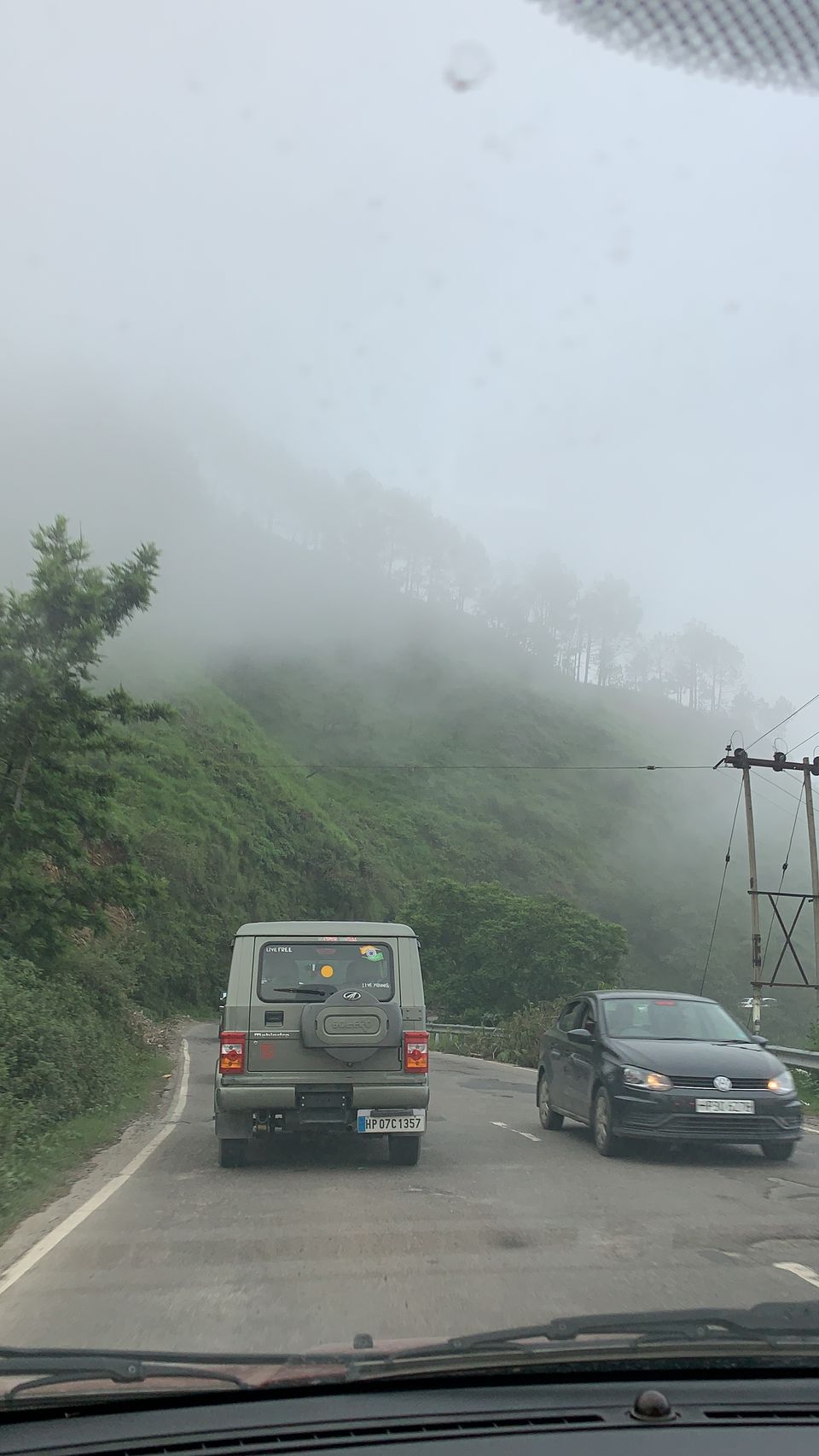 We drove for approx 10 hrs. non-stop from Noida to Shimla enjoying the changing landscape from Big buildings to highway Dhabas to beautiful cloudy hills of Shimla, writing this itself makes me to hit the roads and be in Shimla as the monsoon is at its peak right now in August. We wish....
We always wanted to stay in traditional Himachali home from long time, so we booked for us a Home stay in Himachal "Meena Bagh Homes, Sanjauli, Shimla, Himachal Pradesh, India".
We are so in love with place that wrote a blog on it. Please checkout the blog on Meena Bagh Homes, Shimla.
After check-in Meena Bagh Homes, we freshen up fast, as it was already evening time and we wanted to have a walk on The Ridge, Shimla before night. As we love to travel via local transport, so we hop on a local bus from Sanjauli Bus Stand to reach Lakkad Bazaar as after this Bus entry is not allowed.
"Lakkad bazaar" is famous for its wood antiques
We stepped on the road and it started drizzling slowly, which added to the mood of Monsoon in Shimla. We started our walk towards the Ridge and as usual the mall road view amazing. Compared to other heavy tourism seasons Monsoon is the least crowded adding to it rakshabandhan, 15 august fell in the same weekend. We feel one must visit to Shimla in monsoon season to have a beautiful experience.
As it was 15th August, National Flag hoisting happened in Morning @The Ridge, so we captured few photos with our National Flag.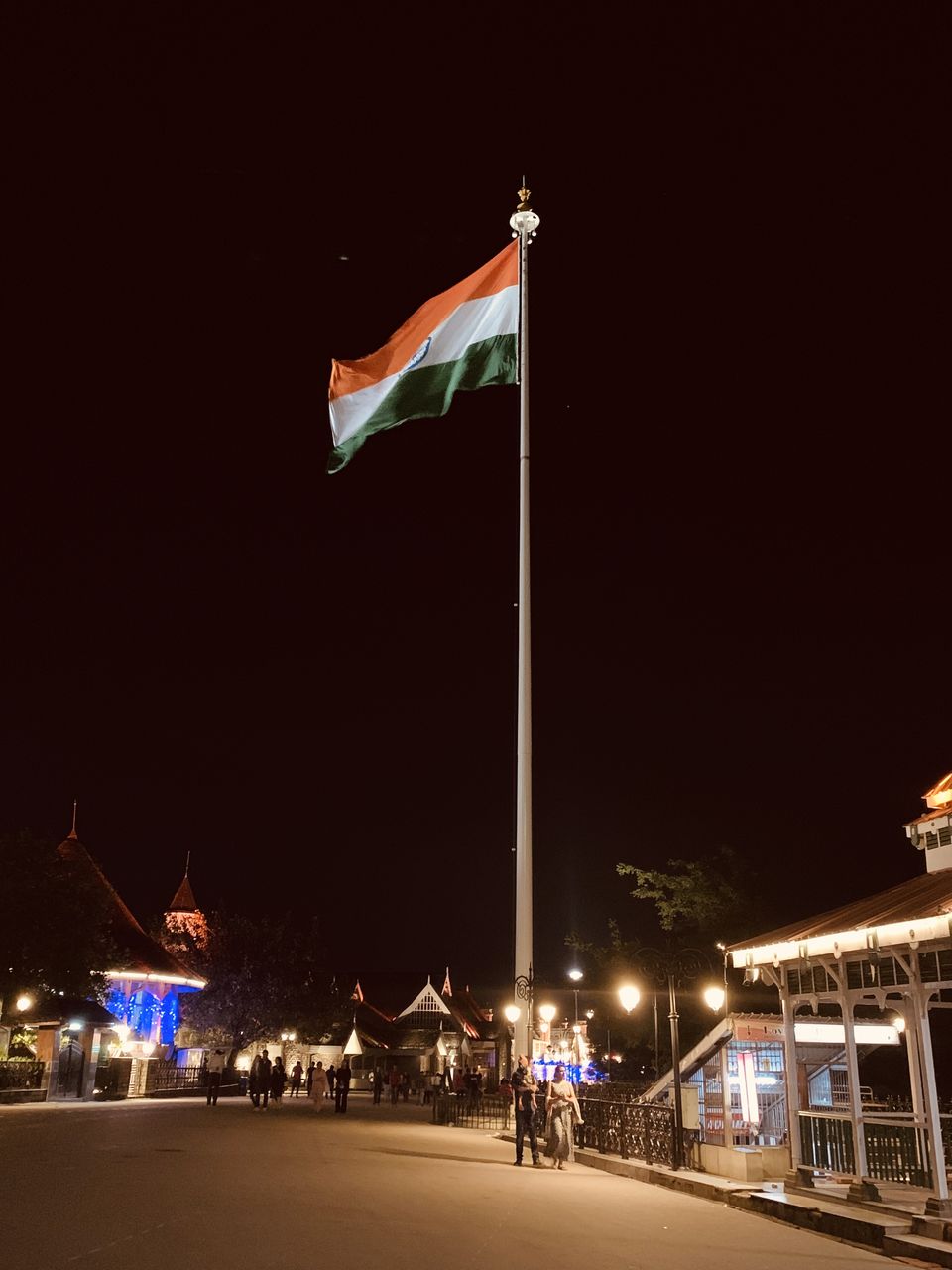 We decided to go back to Sanjauli after a long walk and lots of photos, after waiting some time at the stop we successfully catch the last commute to our way back to Meena Bagh(suggestion to everyone always keep track on timing of the local transport)
We reached and had our delicious dinner "Himachali Totti Dal" (it is made from dhuli kaali dal in Lots of desi ghee) and hand made Chapatis.
After long drive, a long walk on the ridge and delicious Himachali dinner, it was time for us to close the day, so we slept for the night as we had plans for the next day.
Morning we woke up to this beautiful view of clouds covering the hills, we enjoyed the view with our breakfast in our Home stay. In breakfast we had Tea, bread with organic Jam and Honey from the farms of Meena Bagh.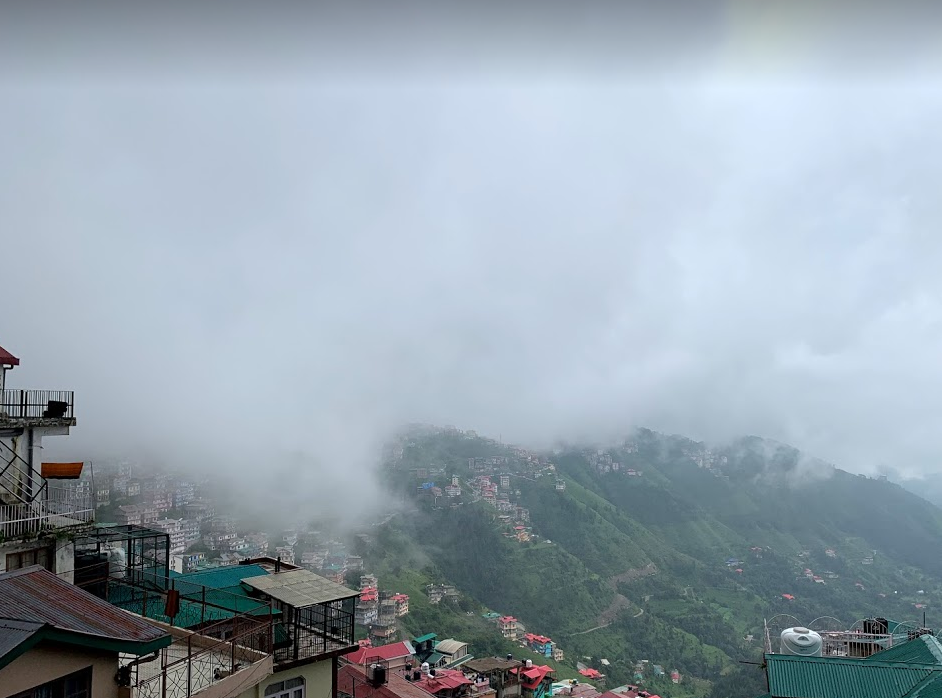 After breakfast, we again hop on local bus to reach Lakkad Bazaar from where we took a walk to cross the Mall Road and reached the stop from where we had to catch the bus to "Viceregal Lodge & Botanical Gardens". Bus comes at an interval of 30-45 minutes at the stop. We took the bus and reached our destination for the day.
From entry gate the road is quite a stretch to reach, but it was fun because of beautiful monsoon season. We took lot of photos during this beautiful walk
To roam inside this place it requires an entry ticket of 20 INR/- which includes a guided tour as well. This place was built in British era and has a very planned n thoughtful architecture, the most unique feature is the fire control system which is handled by the tanks installed on top of the building. this place is also an Institute of advanced studies for research scholars.
Timing for this place are 10:30 AM to 5:00 PM
"Viceregal Lodge & Botanical Gardens" formerly known as "Rashtrapati Niwas"
After the tour we enjoyed the coffee in canteen, thanks to the heavy rain started just after the tour.
But before we left this place, we came to know we do not have cash with us, so we decided to check at the ticket counter if they can provide us some cash in exchange of card payment, and Himachali people being generous and helpful always, they agreed to give us cash...relieved ..
It continued raining for more than an hour, When rain got slowed down we took cab to Shimla market and first thing first being a bhukkad we went in to a restaurant, and ordered favorite monsoon snack of India "Pakodas" with "Tea" and Paobhaji.
"Pakoda's in Monsoon"
After pet puja, it was time for some shopping from Mall Road. We did lot of shopping specially clothes, you can do very good bargaining with local shops.
For dinner we went to famous "Cafe Sol" on mall road. We got lost so much in our talks, we lost the track of time while walking on the Mall Road after dinner. It was already time for the last option to commute back to Sanjauli. In slow drizzling, we ran with all ours shopping bags in hand and somehow catch the last cab.
We got new companions in out home stay, we played carom with them and had some chit chat fun before we went to our bed.
Monsoon is already so beautiful in Shimla ⛰ and look at these Colorful "Umbrellas" ☔️ in people's hands, they makes this hill station so joyful in monsoon 🌧.. how can someone just not fall in love with Monsoon in Shimla.
Next Morning, we started with bed tea and biscuits, enjoying morning view with scattered clouds crossing the hills of Shimla. As per the plan we wanted to visit Tara Devi temple which is little far from Shimla.
So first we went to Old Bus stand of Shimla and their we came to know bus timings are at a gap of 1 hour, so while waiting we enjoyed few samosas at the bus stop and enjoyed the Shimla city view.
But after waiting for 2 hrs for the public transport we decided to take a to and fro cab .
At Tara Devi Temple, the serenity was so pure and divine and the monsoon clouds made everything so peaceful and picturesque at the same time. The temple architecture is very old yet very beautiful with designs carved out of woods imported from Bhutan. The Rohru artisans, using the ancient technique, worked on the woodcarving whereas the Kinnauri artisans contributed to the silver work. On July 20, 2018, the statue of Maa Tara Devi was re-installed with rituals performed by 90 priests. Inside the temple, the doors and the wooden structure have been carefully designed with the miniatures of Goddesses. Other than that, you will also see the heavy usage of gold and silver on the doors of the temple.