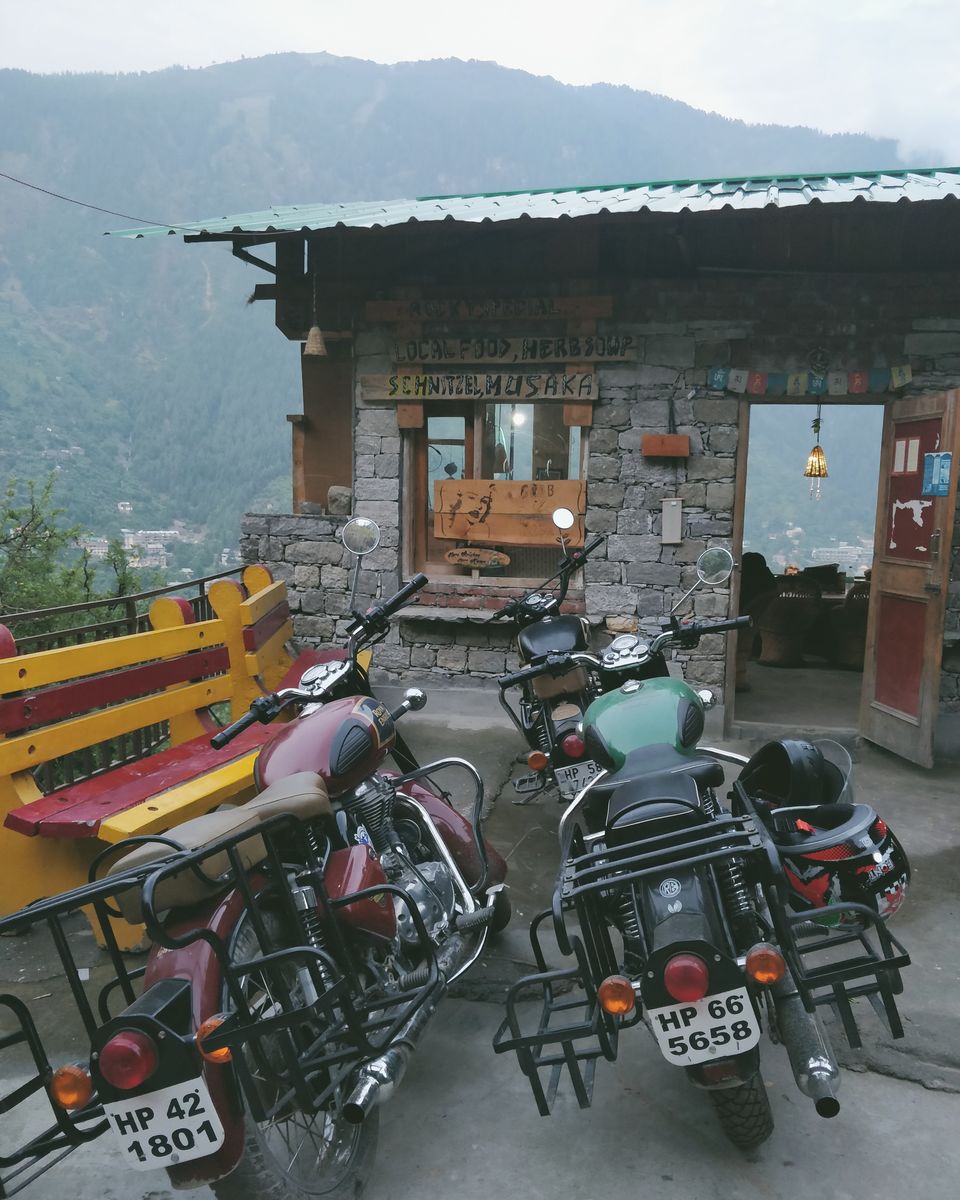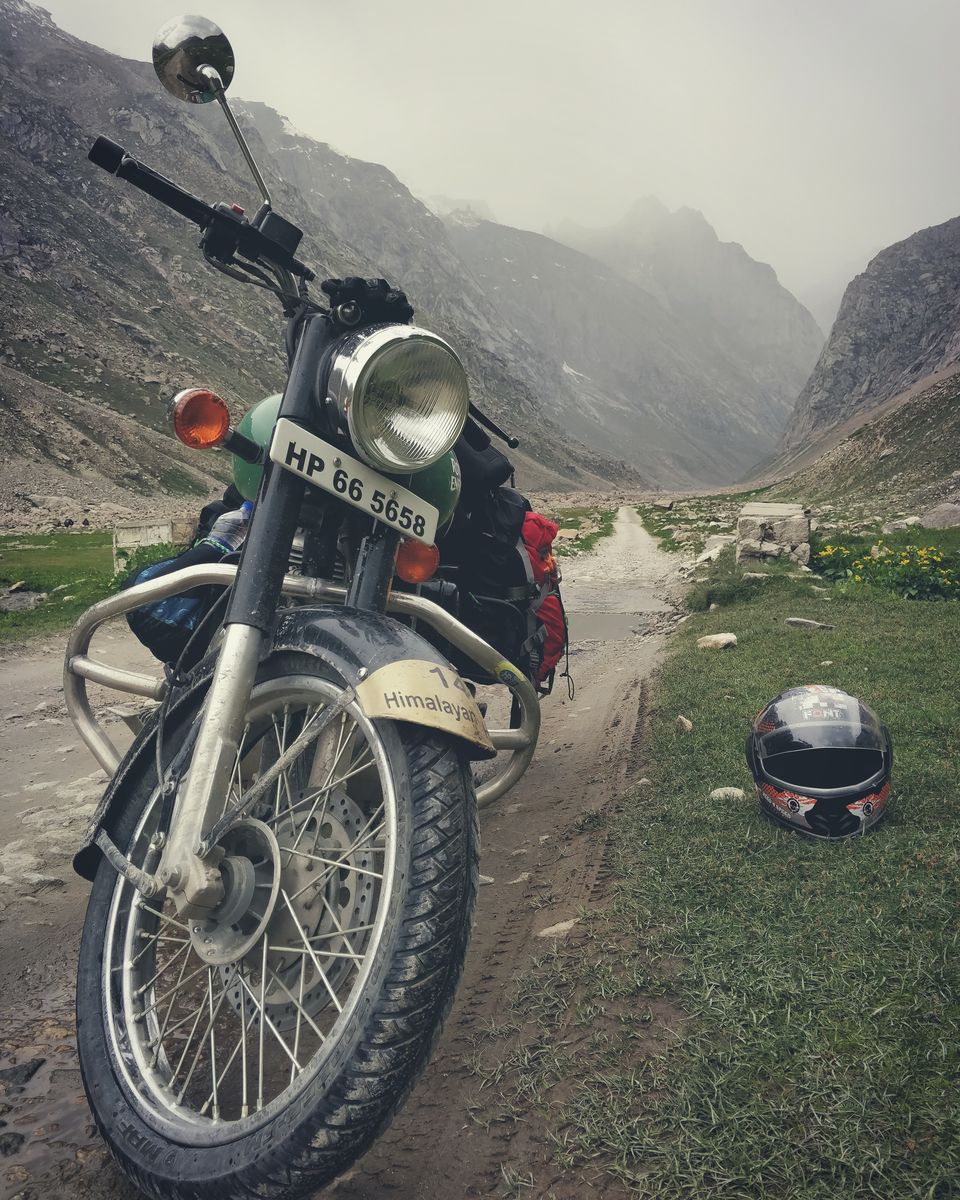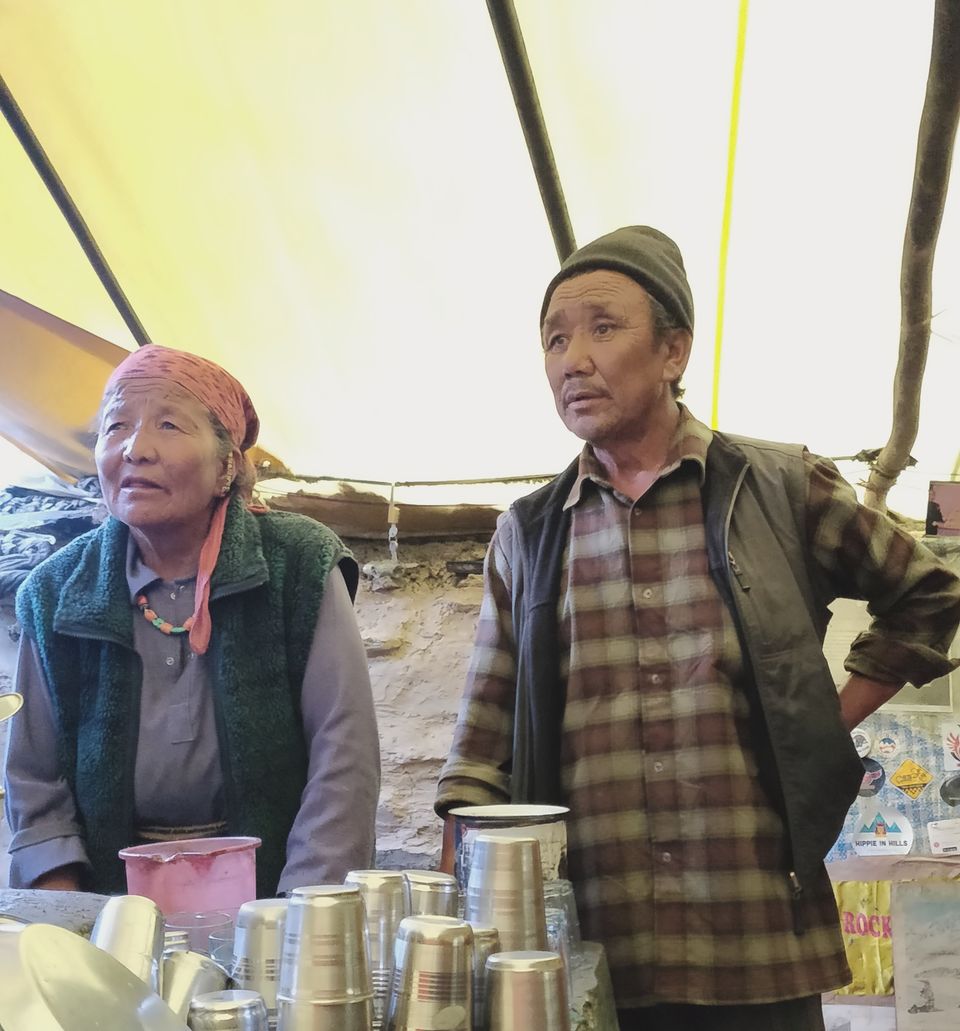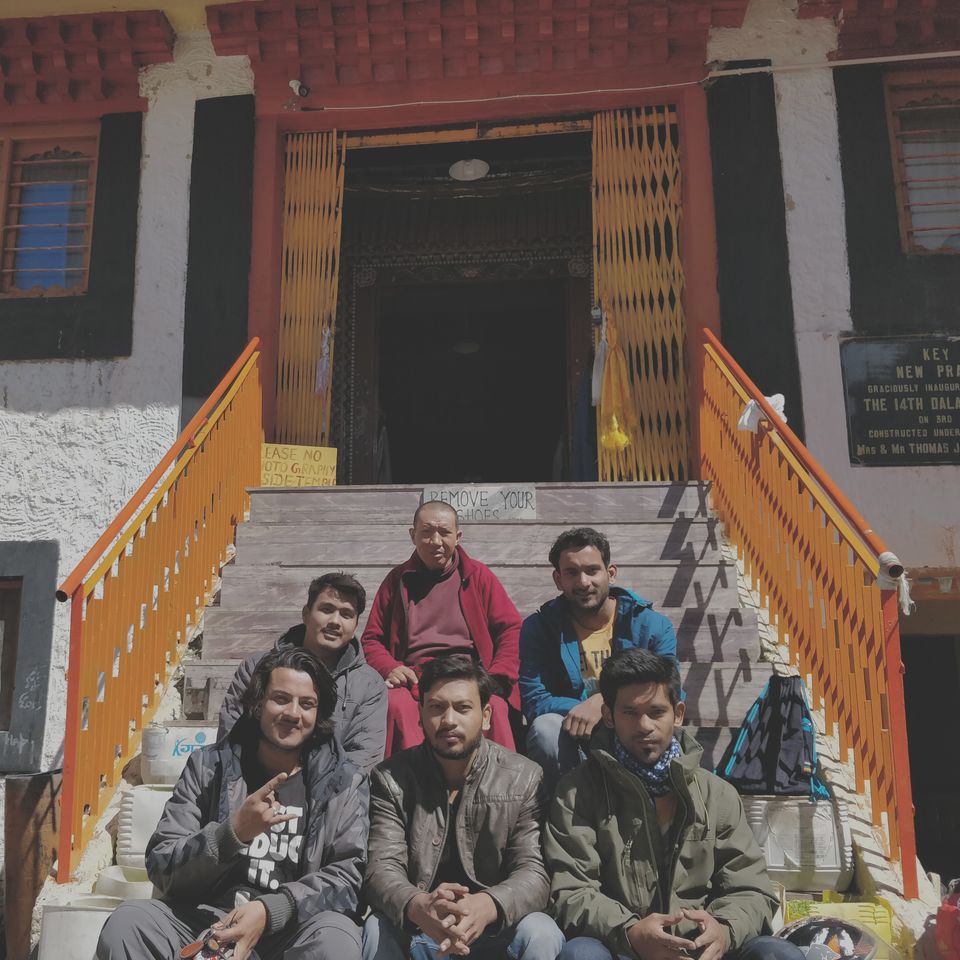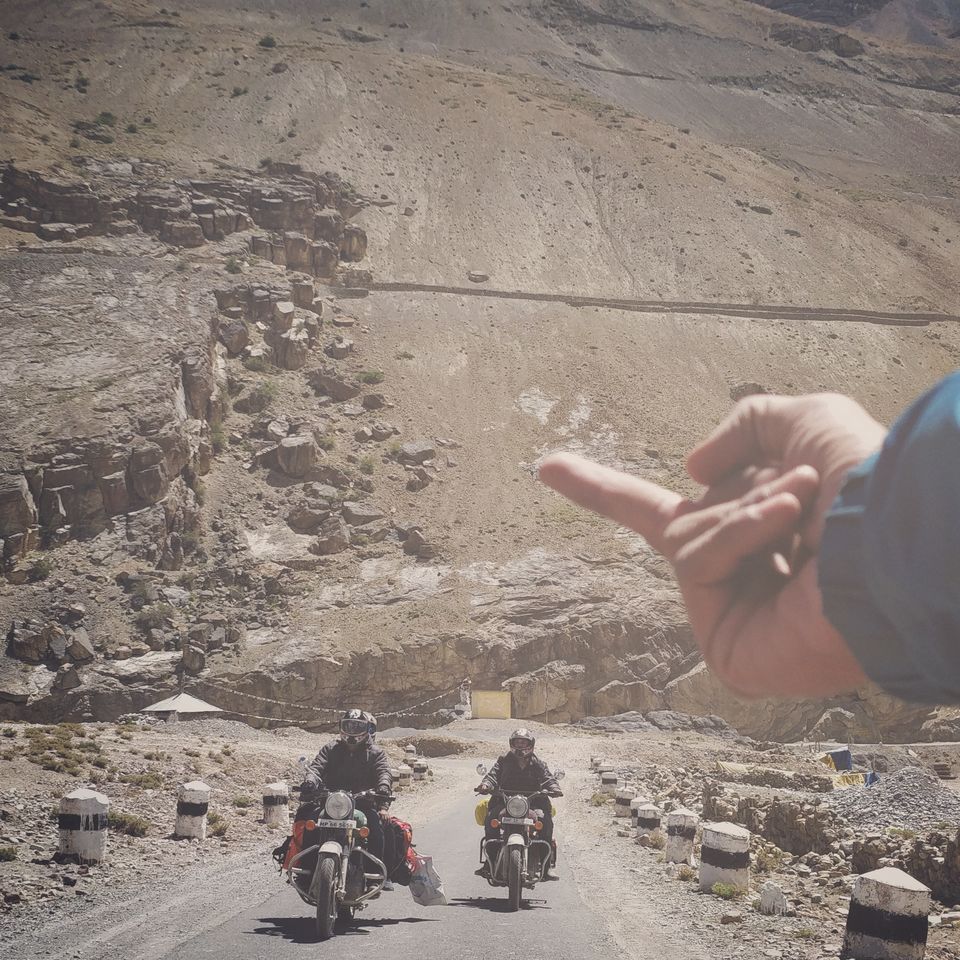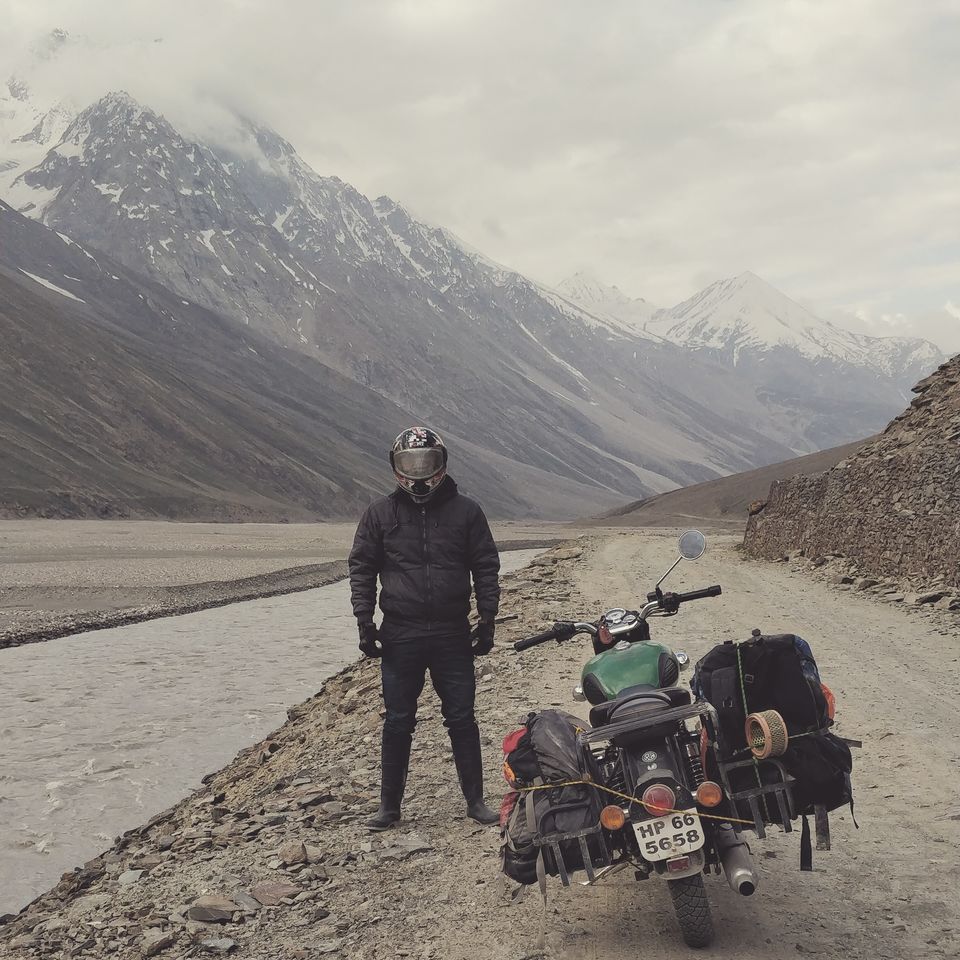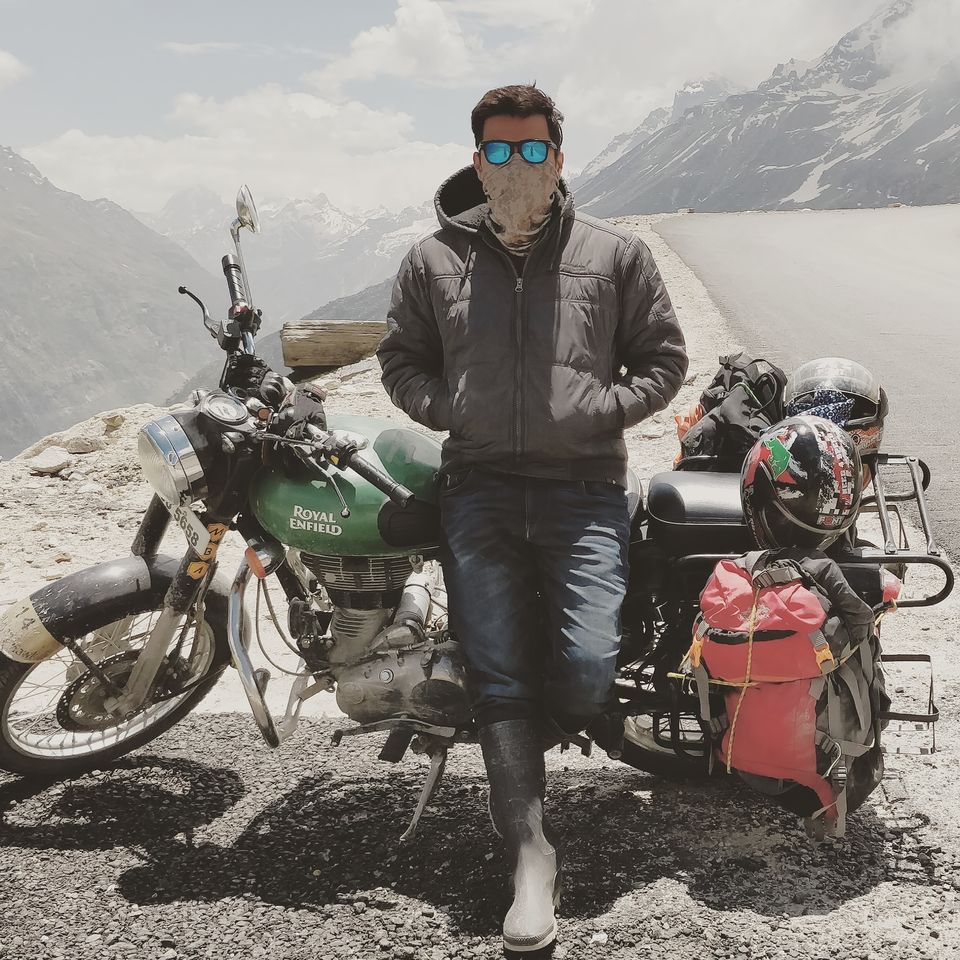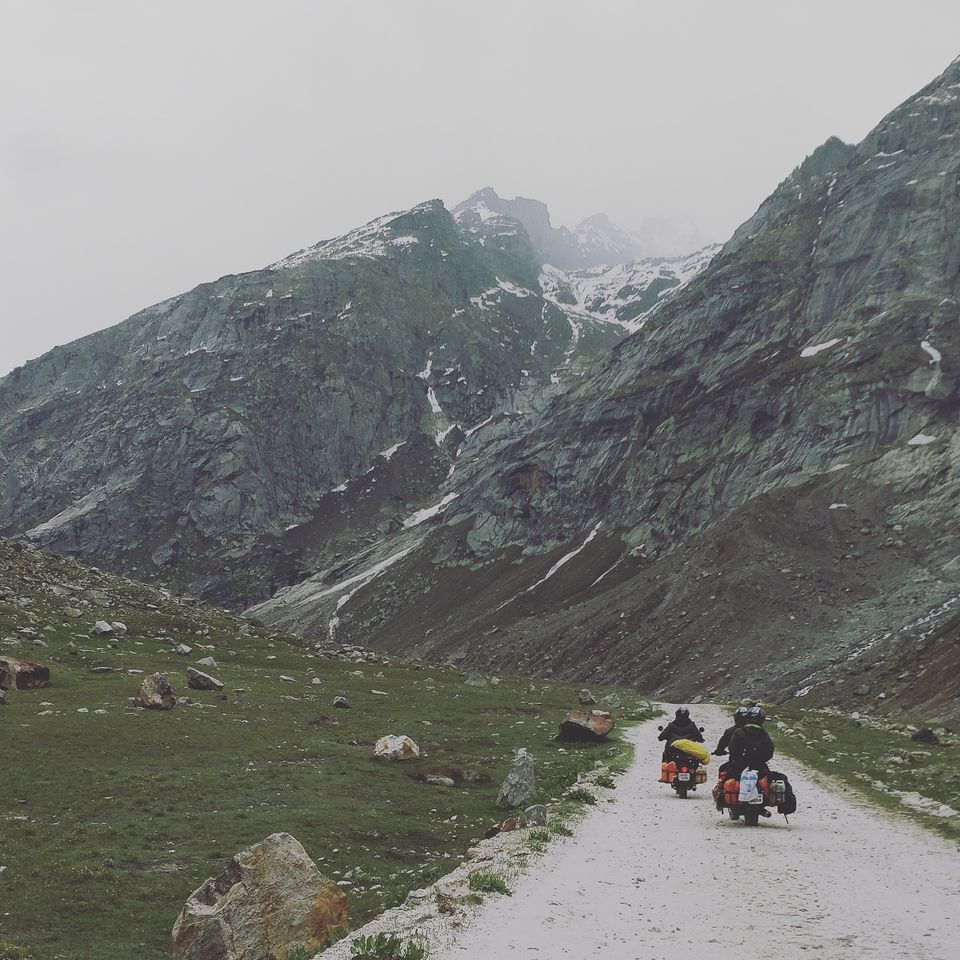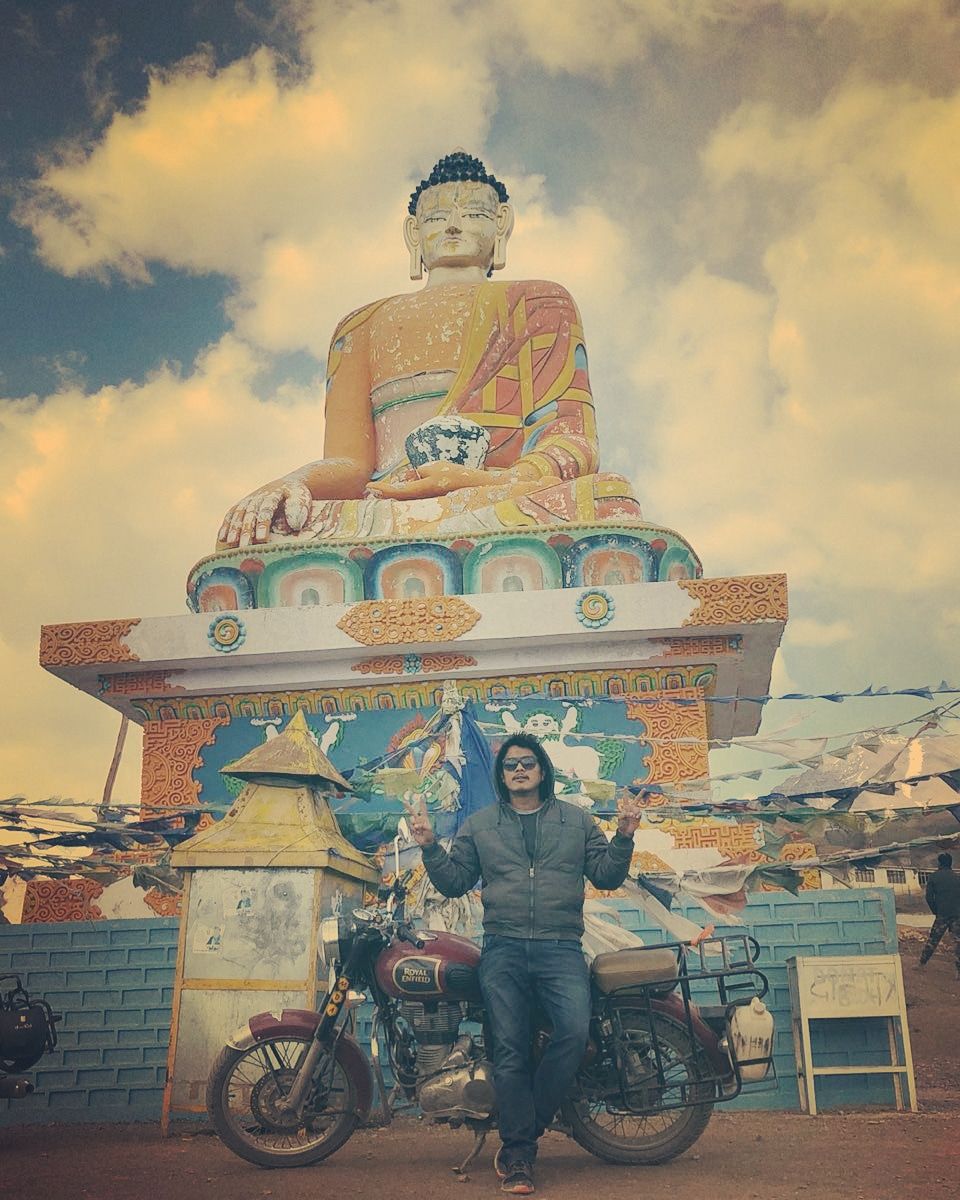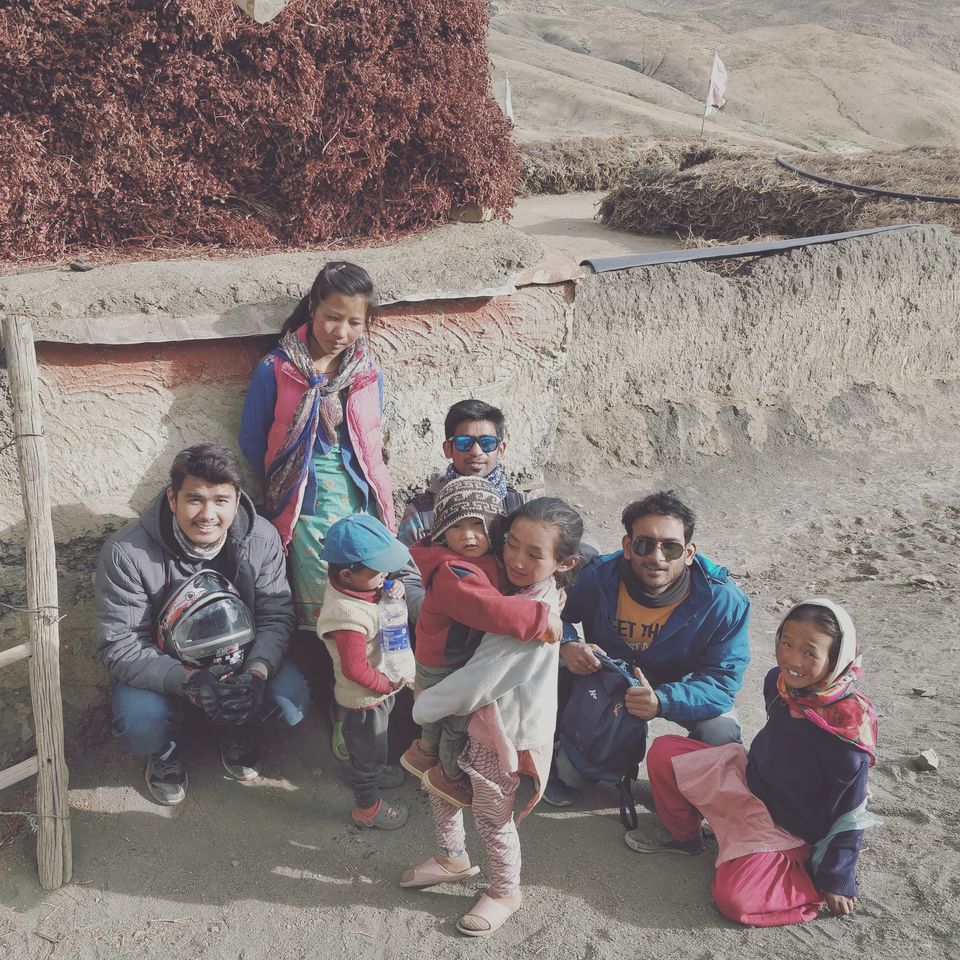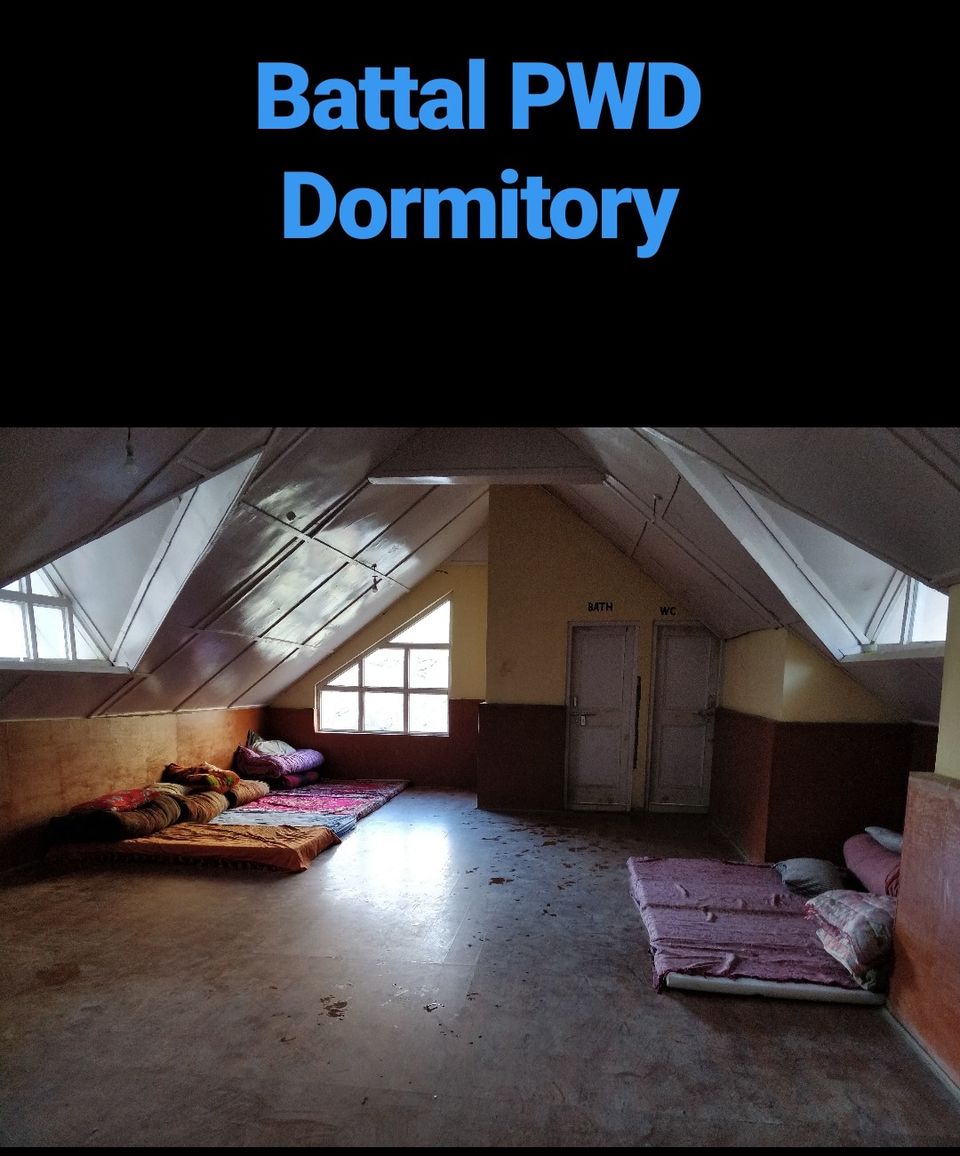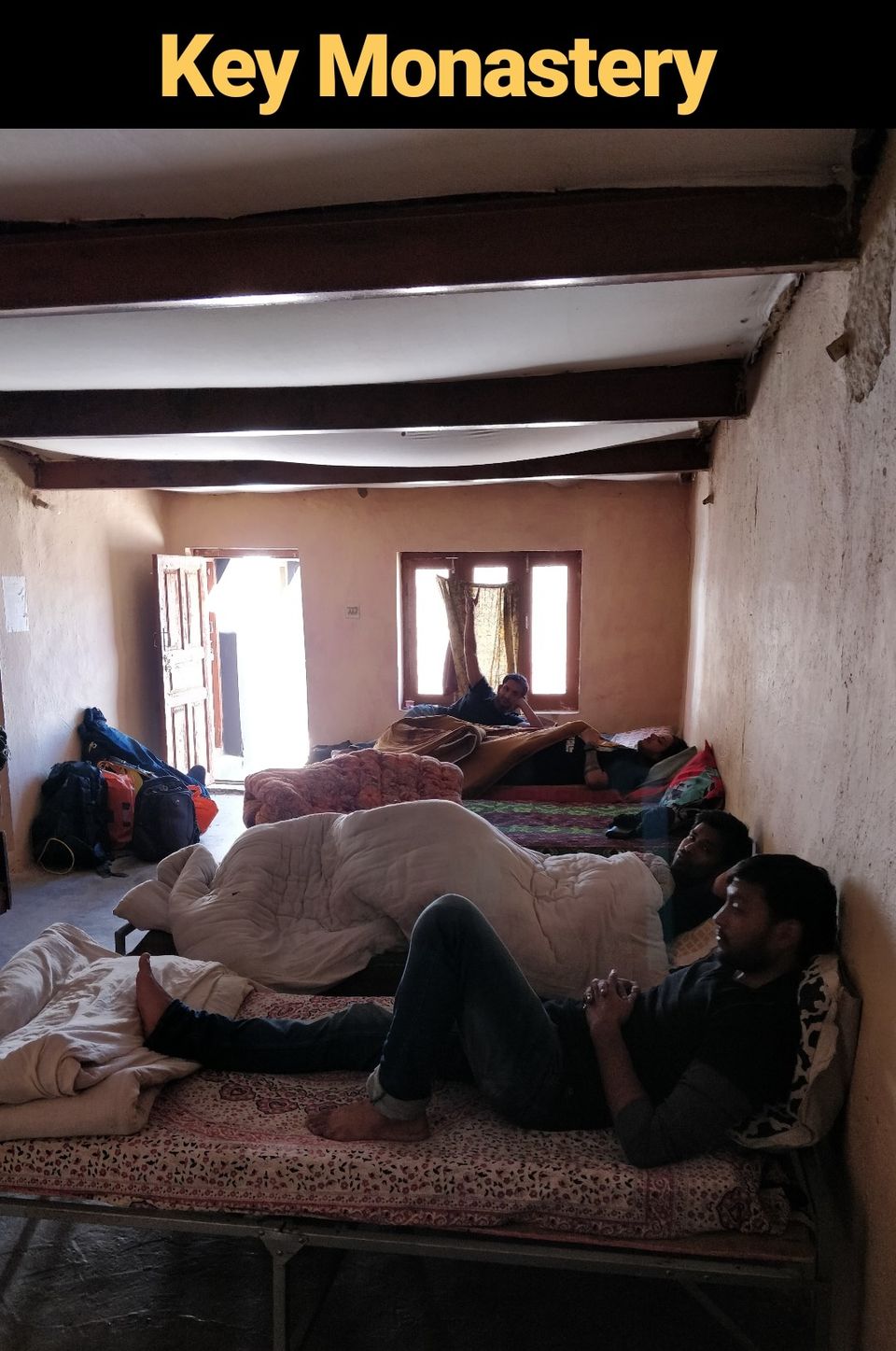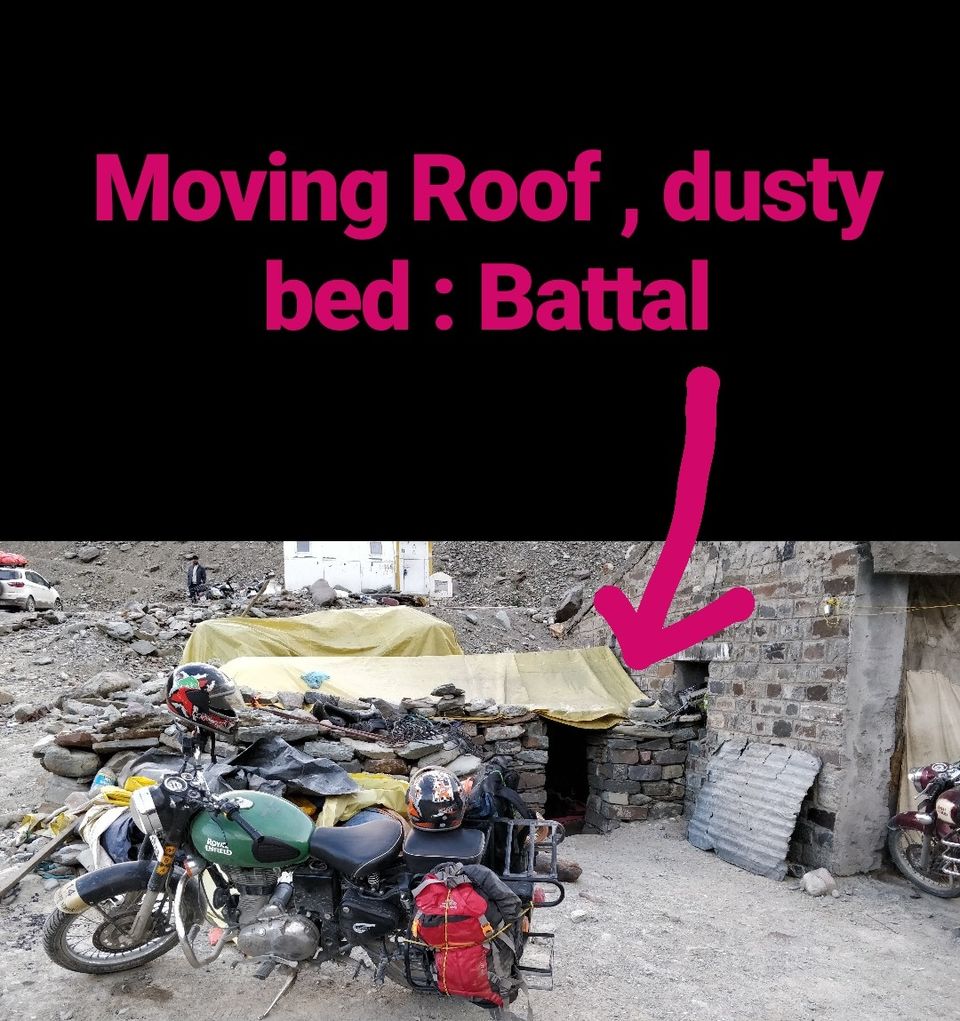 Bike trip in spiti valley is one of those trips where one should be ready for anything . In our group there was Me , Ankit and Rohan ( friends since 10th grade ) and ankit's college friend Devraj and rohan's friend Saket .
So , naturally a whatsapp group was created.
Everyone discussed what to bring on the trip ; 25000 in cash was mentioned on the top . Everyone was smart enough to bring just 1 rucksack but Rohan brought an extra bag to put his camera and other stuff .
On Saturday everyone reached Delhi , We took an 8 p.m. HRTC Himsuta for manali . Then saket got a call from manali that there has been a cloud burst in spiti . On sunday , morning we reached manali ( there was huge traffic between kullu and manali ) .
So , no one except me brought the 25000 cash they were supposed to bring and spent an hour near mall road on a sunday evening to find out that ATMs had no cash .
We had already booked our bikes and asked the guy to arrange permits as well . Since , saket already knew the guy Avinash ( HIMALAYAN HAWK ADVENTURES ) we expected that the bikes will be good and rates will be justfied .
350 cc RE classic : 1200 per day
Permit : 300 per bike ( negotiable or could be done online once you have details of bike )
Security : 5000 per bike
We paid avinash through NEFT and decided to use my cash for the food and stay during the trip .
We were informed that path before gramphu had too many water crossings and path between gramphu and battal was also not so good to travel . Avinash suggested that we should go to leh instead .
We decided that we will go to Spiti and if anything will look too scary on the path , we will quietly come back .
He provided us with all the papers and permits , tool kit , extra spark plugs and tubes , extra clutch wire was already attached on bike .
Avinash told us to maintain the bike in motion while crossing water coz if the bike stops beween stones inside water its harder to push it out of it .
Initially rohan booked a KTM , but avinash strongly advised him not to take it on roads of spiti . So rohan rode pillion with me .
Ankit and devraj rode on one bike .
Saket rode solo .
We bought bungee cords to tie luggage . Saket , dev and me bought rubber boots as we were driving .
We took the bikes to solan to check if the bikes were running okay .
We got the petrol tanks full and carried and carried extra 5 litres in can [ usually if the bike is new and good on mileage a full tank from manali and a full refill at Kaza on way back is enough ]
ITENARY :
MONDAY : Manali to Battal ( 8 - 9 hours at slow pace )
TUESDAY : battal to Key monastery ( via Kunzam Pass , Losar , CHICHAM and Kibber ) ( 8 hours or less )
WEDNESDAY : KEY Monastery to Kaza ( 1 hour )
kaza - langza - koumik - hikkim - kaza ( total 5-6 hours max )
THURSDAY : kaza to battal ( direct route ) ( at a very fast speed and no breaks it took us less than 4 hours )
battal - chandrataal - battal ( we could not do chandrataal )
FRIDAY : Battal to Manali ( 6 hours if road is open and crossings are okayish )
Saturday : Manai to delhi
SUNDAY : Delhi to _____
WHAT TO DO and WHAT NOT TO DO :
Leave early from manali to reach gulaba check post by 6 . We left at 7 a.m. and found huge traffic for around 10 - 15 kms before Gulaba .
On sunday night , try to sleep at places which are higher than manali ( eg. solan ) to acclimate . Our headaches started after Battal and continued till key Monastery due to height .
We ate diamox on sunday night itself ( its upto you )
In the morning when riding towards Rohtang , all the traffic is directed towards rohtang so bikers usually take the other lane which is kept free for vehicles coming down . Drive carefully.
In royal enfield , when you fill the petrol tanks fully , do not put it on side stand as the petrol starts gushing out of the cap .
Rubber boots are equally important for pillion riders .
When you are wearing rubber boots , you cannnot move your leg from the ankle to put gears or apply brakes or to put your toes over stones during water crossings , so , keep that in mind and get used to it . [ In other words its not a proper thing to wear but it saves you from icy cold water at crossings ]
WATER CROSSING TECHNIQUE :
In a group , 1 bike at a time so that others could help him .
One has to know where are the stones exactly inside the water , to avoid getting trapped in the gap between two big stones or where the the depth is too much . For this purpose the other person can walk ahead and guide where to take the bike .
Most importantly the earlier you are , the lesser the water will be , so try to cover this section in the morning hours .
We were taking extra caution because we knew nothing about repairing a bike ; if anything would have happened to the bike , the cost of sending the bike back to manali would be anything between 5000 and 10,000 plus the damages payable .
Reach Battal early and get a place at PWD Dormitory to sleep ( 250 per person ) . On our way back , we reached battal at 6:45 in the evening and we had sleep at a very dusty mattress inside a hut .
Even in kaza , find a stay first. keep your bags and then leave for langza - koumik - hikkim . [ there is direct route for kaza from hikkim so no need go back to kaza ]
While returning , from Kaza , our bike stopped and did not start . Rohan and i had to push the bike to the service center in kaza ; it was exhausting . The Service center is just near the entrance of kaza , the mechanic took only 150 for repair work of more than an hour .
So basically when the bike does not start even after using choke :
1. check fuel flow by taking off the pipe
2. take out the oil filter in open
3. check the spark plug ( scratch or change )
when my bike stopped again after battal , i followed the same and found out that quality of petrol found in kaza was really bad , but then again anyone else's bike did not stop like mine did .
You will realise that most of the time you are driving in the first gear ( uphill and at water crossing ) , its okay to do that , but just don't keep pressing the clutch half way .
The uphill U turns are harder due to the stones / dust / mud , the first gear and a bigger turning radius are the key , just make sure there is no vehicle at the junction coming from opposite side . As applying brakes at this point will create imbalance for sure .
having someone riding as pillion is a good thing for the person driving . ( guidance / Entertainment ) .
But the pillion rider will have serious pain in the back and below throughout the ride .
All the luggage should be tied to the bike properly . In no case the riders should carry anything on shoulder or back , while riding ; not even a camera ( to avoid discomfort and loss ).
There are huge biker groups you will find on the way , they are all prepared , they have mechanics too. Staying ahead of them , might prove helpful if you are in a trouble . People are usually helpful when they are in spiti .
OTHER THINGS :
Things are sold for more than MRP till Kaza .
Chacha - Chachi Dhaba in Battal is awesome for so many reasons . When you sit there for a tea or meal , it feels like a trip for real . When we were there it was windy AF , we thought the plastic roof might blow off .
Key monastery is calmest of them all . The Dormitory is at top of the hill shaped infrastructure . I have never seen the night sky so starry , the balcony is just perfect to capture the Milky way. The food at the monastery and the Norwang restaurant is " simple " .
BUDGET : IF 2 PERSONS ARE SHARING A BIKE ; EXPENSES FROM MANALI AND BACK TO MANALI ; INCLUDING BIKES , PETROL , STAY , FOOD : 10,000 TO 12000 MAX PER PERSON [ if there is no issue with the bike or health ] .
Most importantly , when you are riding down from rohtang pass , don't miss " that turn " towards spiti or you will be riding towards leh .
After your trip is done , you can go to Rocky's cafe located at old manali's end ( beyond manu temple ) . The food is good and the view is great on a cloudy day or mornings / evenings .
Lastly if you are on a trip and carrying your SLR , after every session take out the memory card and keep it n your wallet , just in case if you loose the camera , you will always have the pictures safe .
I hope this article proves helpful to travellers like us who want to do things on their own and in a budget .
Thanks for reading :)