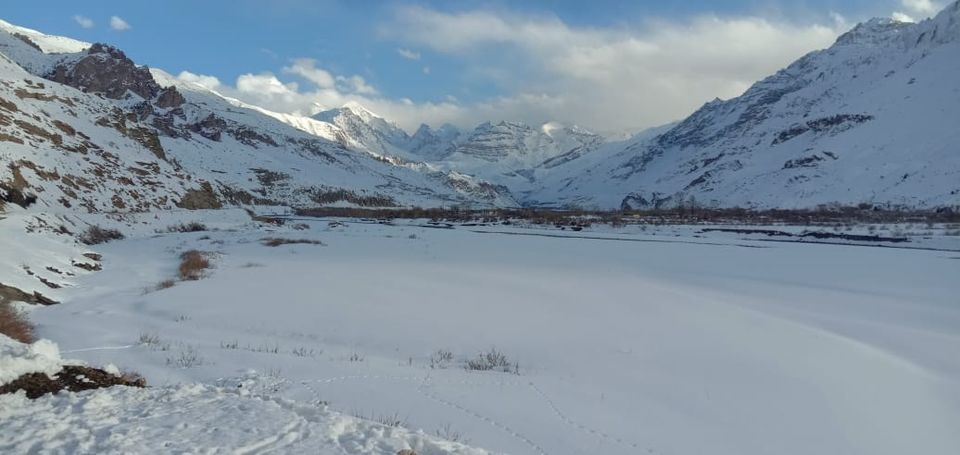 "Surely no man can live here, because this is a place fit for gods" - Rudyard Kipling
Ever been to a place so white and so high, it seems that you're living among clouds? That there can exist a valley which has preserved its culture for centuries? Join me as I wander to Spiti or "The Middleland" during winter, a time when the definition of Winter Wonderland comes alive.
For some background, Lahaul-Spiti is the last district of Himachal Pradesh along the north eastern direction. Geographically part of the Tibetan plateau, the area becomes numbing cold during winters as everything within sight comes under a thick blanket of snow. It renders a pristine white and blue shade to the region. Life becomes hard though as the locals have to adapt to the weather; which includes no running water, no meat and stocking your rations for months. We'll try to get a glimpse of this lifestyle.
Having voted in the Delhi Elections 2020 in the morning, I began preparing myself for a group tour to a land afar. I always hated packing, finding it too cumbersome and time consuming, but before long, I was waiting at the designated pick up point for the bus to arrive.
There I met my group mates, with whom I would spend the next week with. With the customary formalities of introduction and a few exchanges of profession and hobbies, I got myself acquainted with our group leader, Mr. Pandey. A joyous, amusing fellow, he led us to the Volvo bus bound to Shimla as we boarded ourselves, preparing for the cold ahead. Our overnight journey began.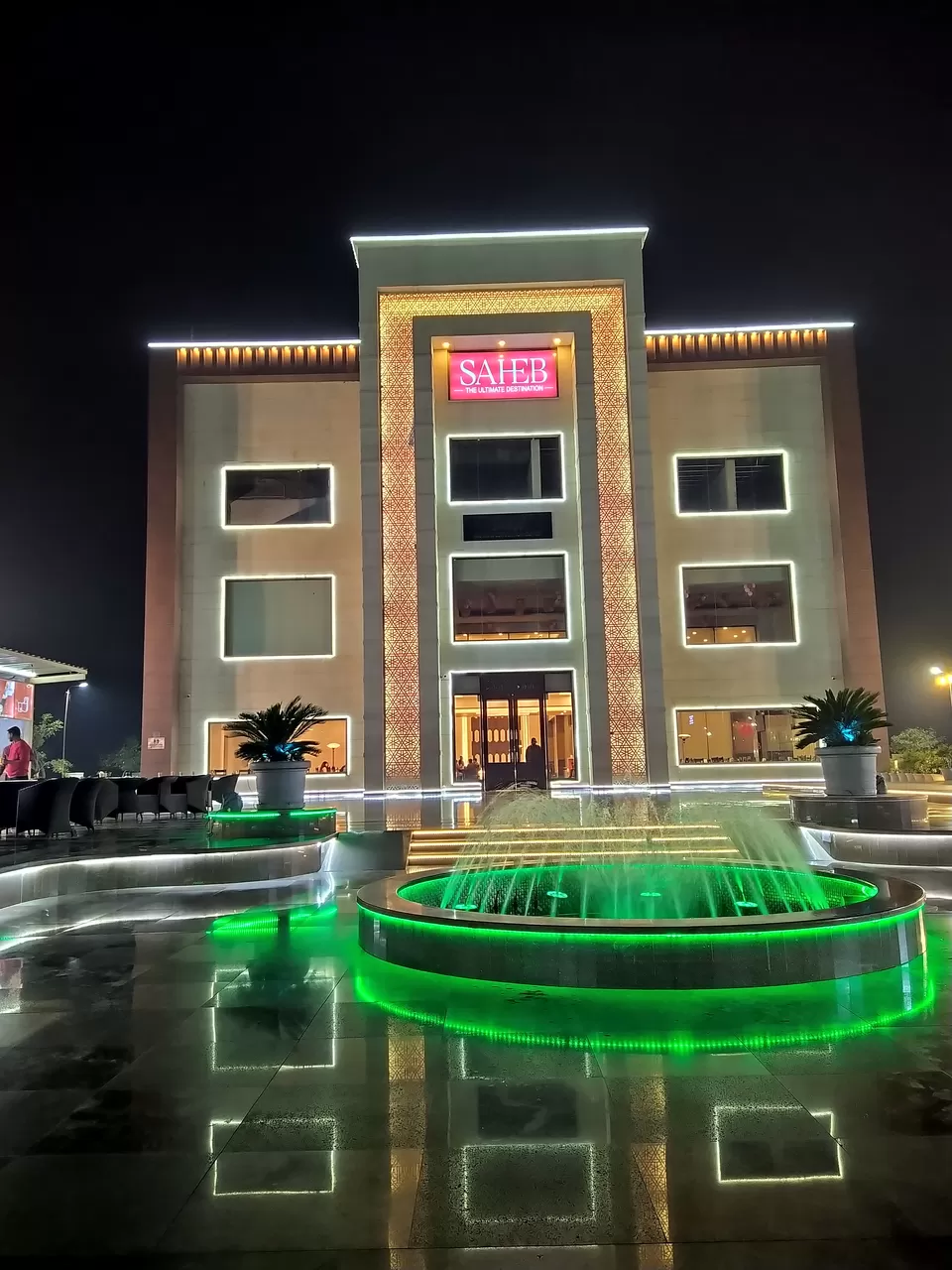 Having spent the entirety of the night in a recliner seat, our legs were aching for some space. And space they got, as the bus halted some 5 km before Shimla for the day's breakfast. After gobbling up some hot delicious stuffed parathas and sipping hot tea, we deboarded the bus and waited for our pickup car.
The Innova arrived some 30 minutes after we were done with our meal. The driver, Anchal Vashisht, helped us with our luggage as we hopped on and began the eventful day. Since the journey for the day was short; Shimla to Rampur, Mr Pandey had something planned for us.
A detour to Narkanda !
A quaint, scenic hill station some 65 km away from Shimla, it offers a good alternative to the hustle bustle of the now crowded capital of Himachal Pradesh. As we kept climbing higher, we could see the landscape becoming whiter. We were lucky enough to reach Narkanda just before sunrise and treat our eyes to the view.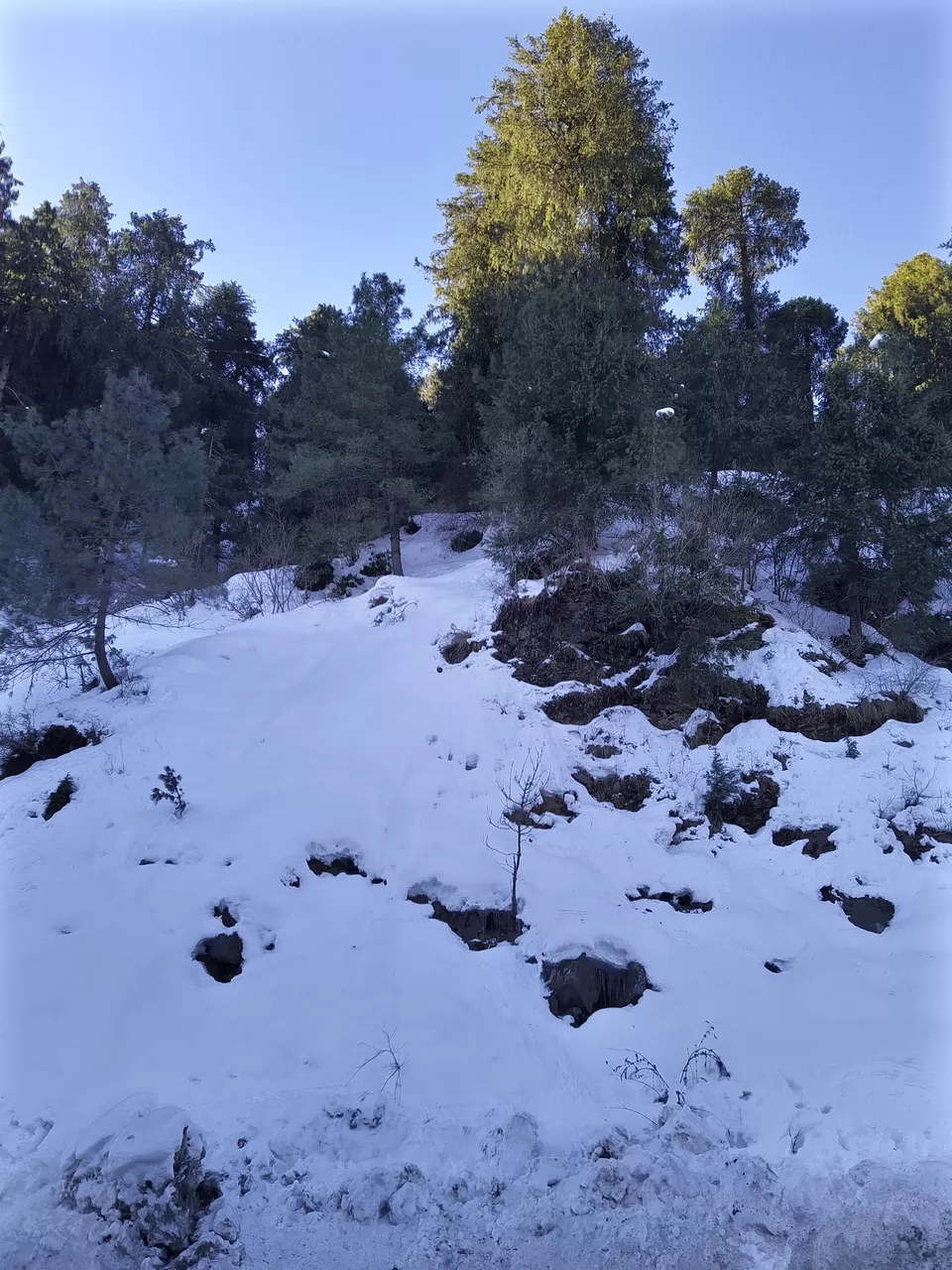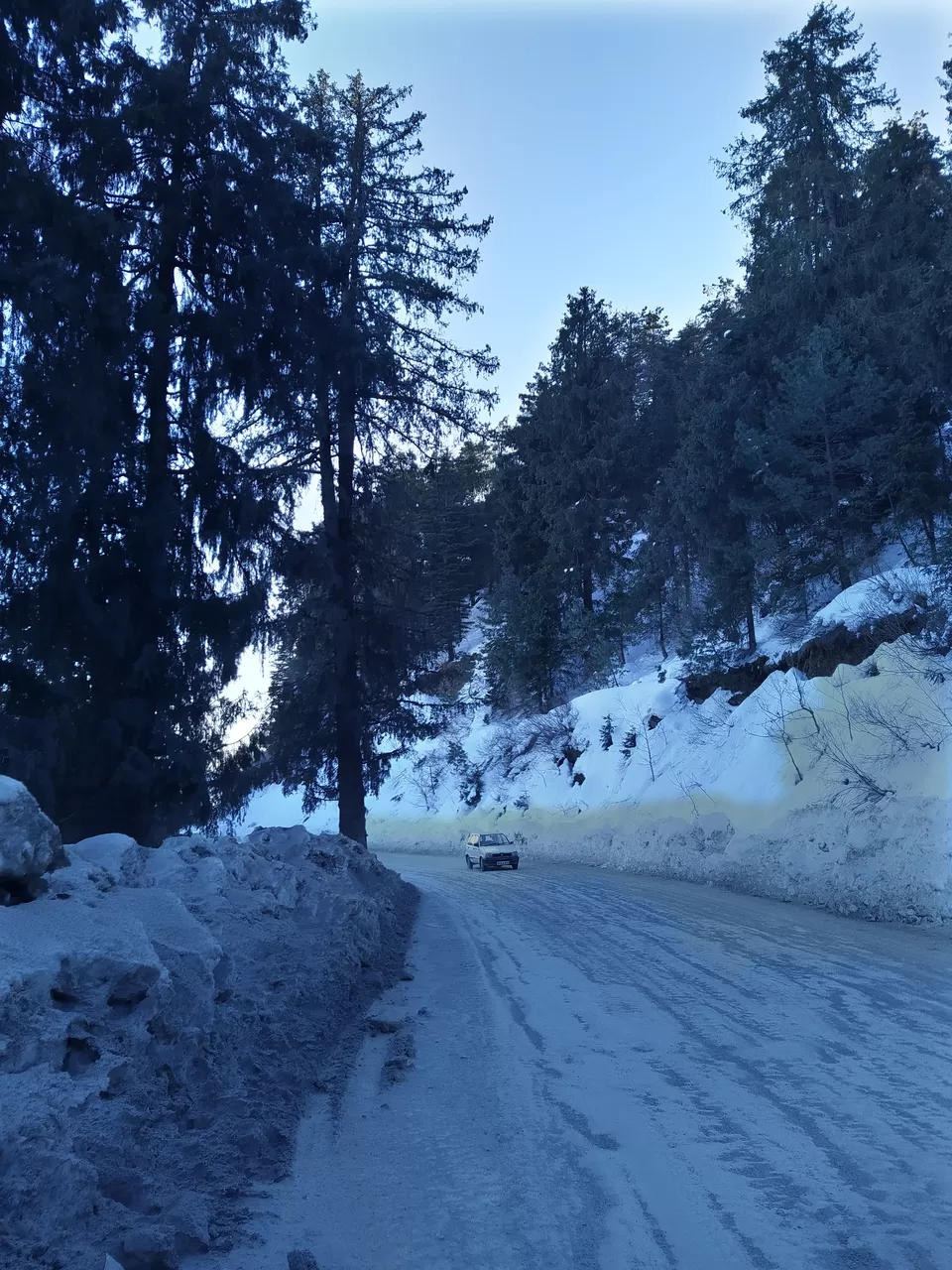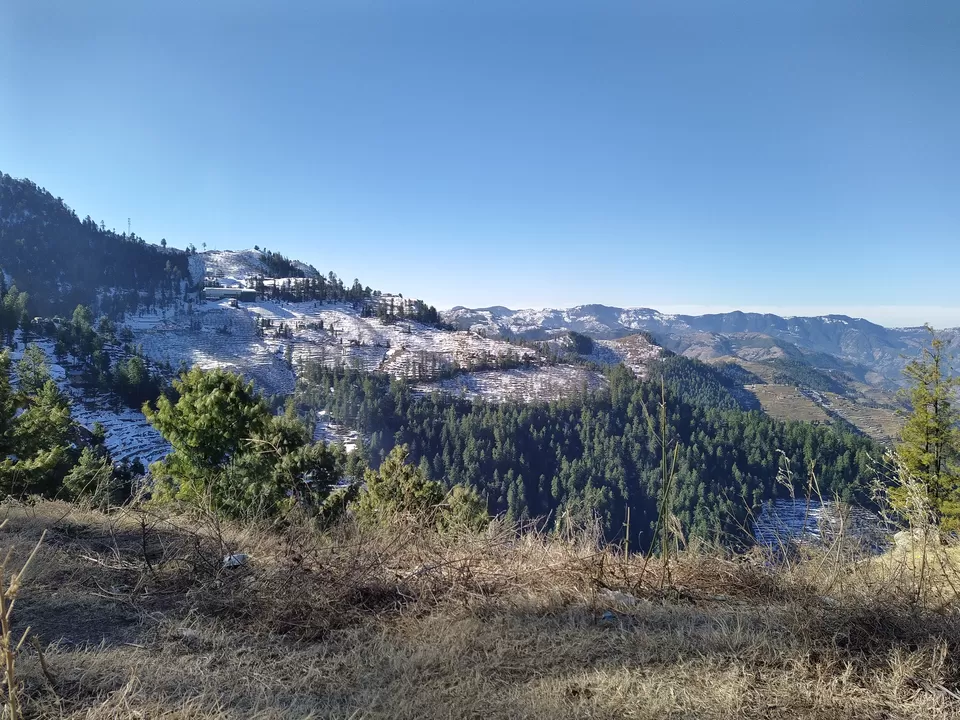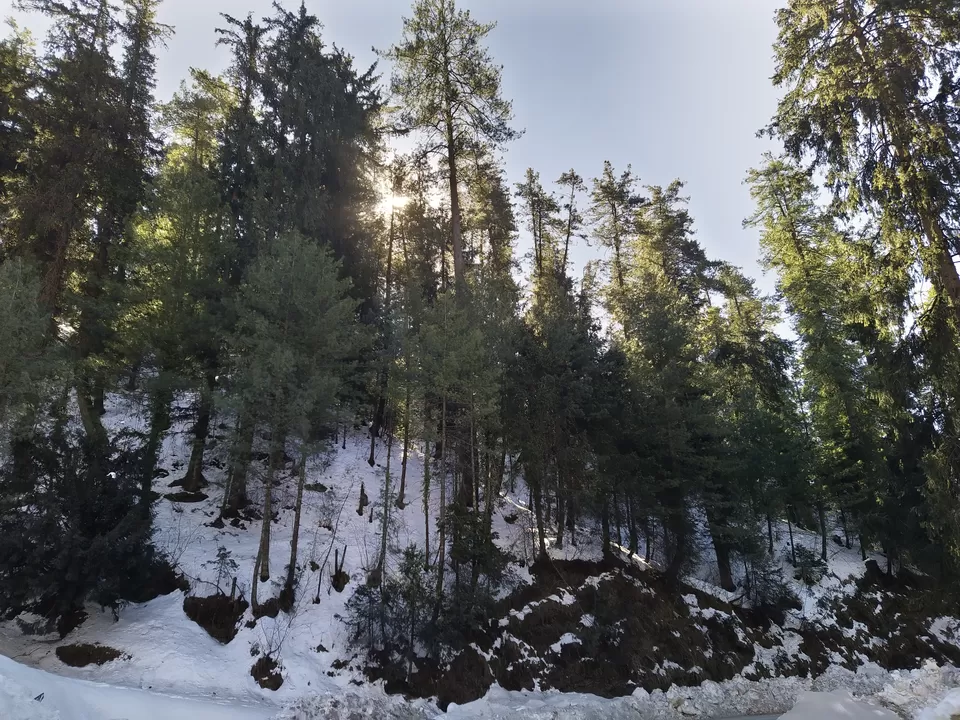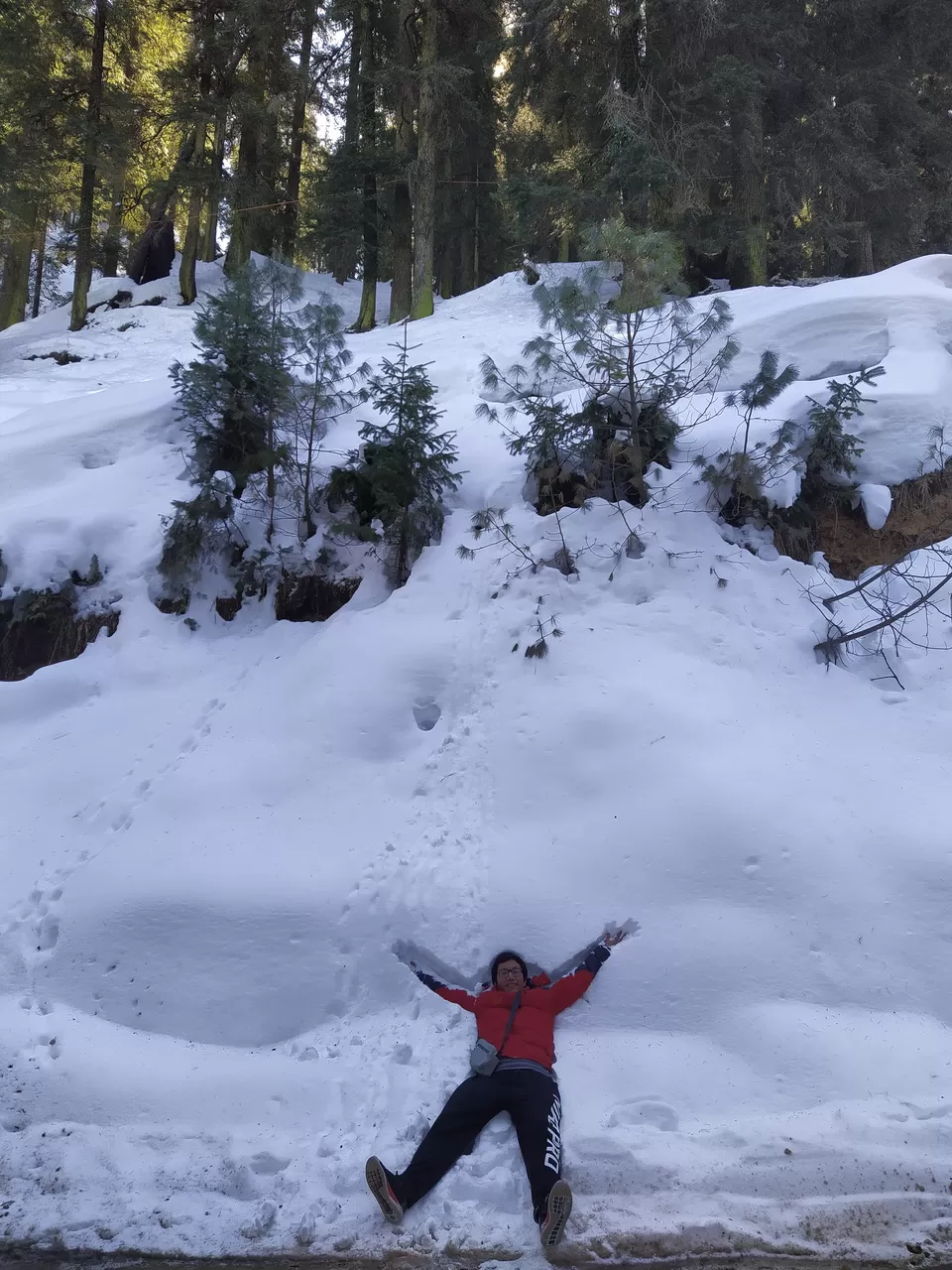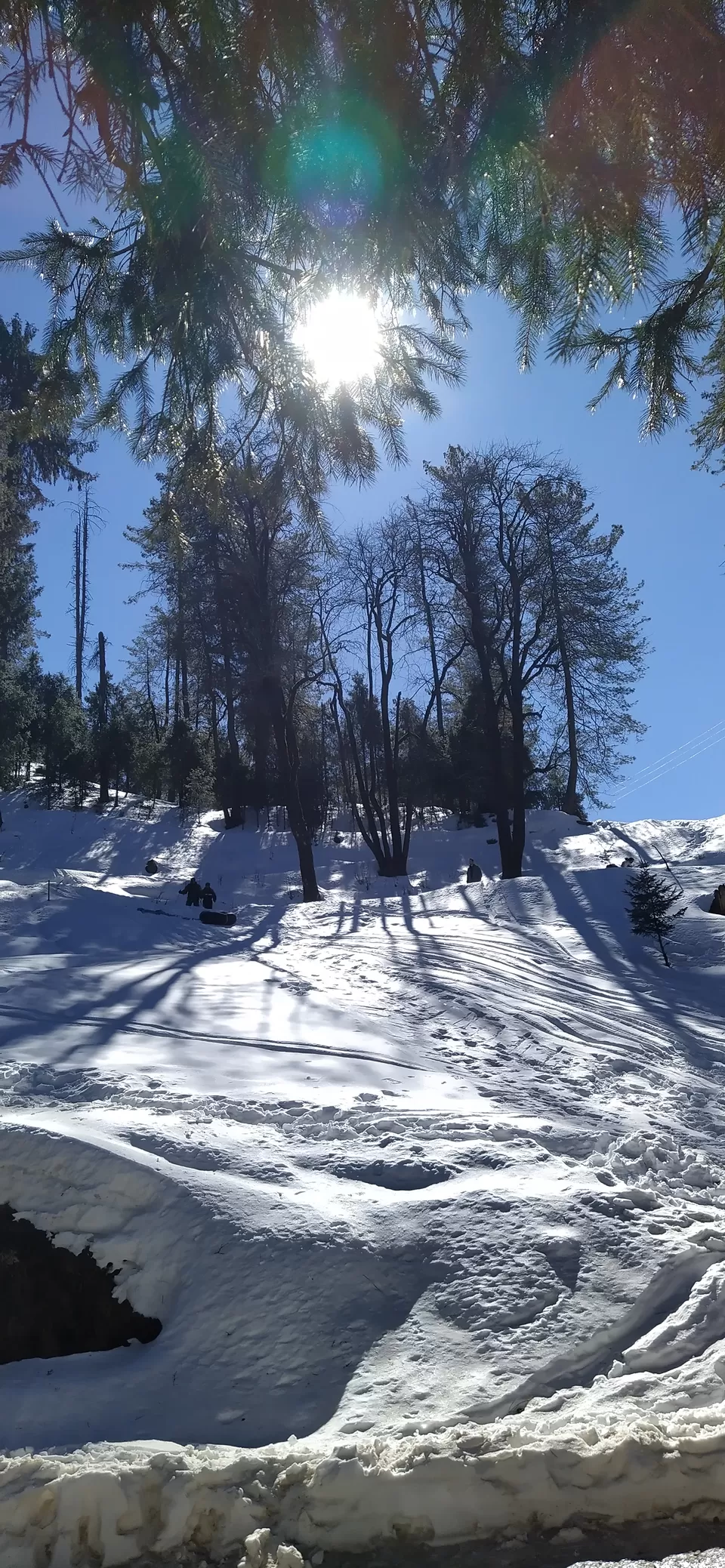 The fire oven cum heater did wonders for our shivering selves and for better insulation, all six of us decided to sleep in one room. The beds were comfortable and the double blankets warm, so we had quickly fallen asleep in a matter of minutes. Morning brought with it this view.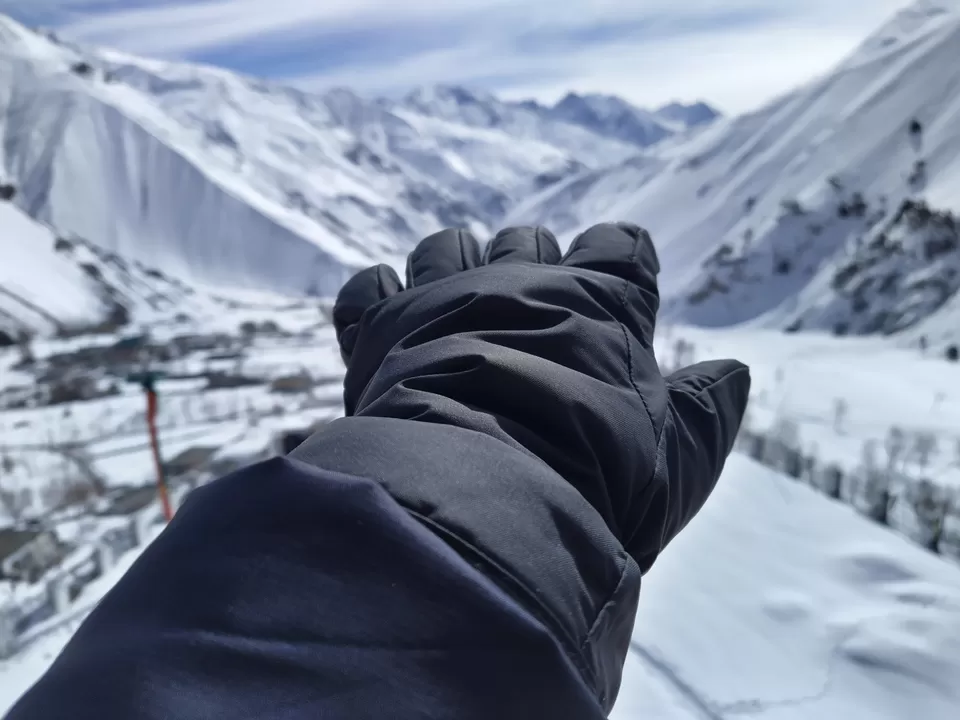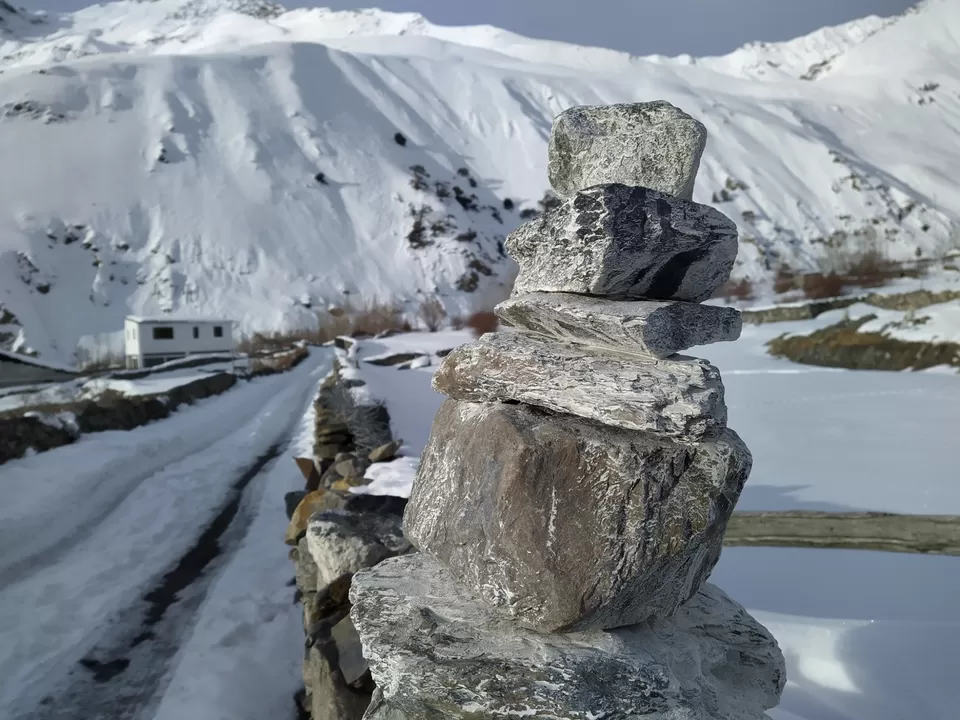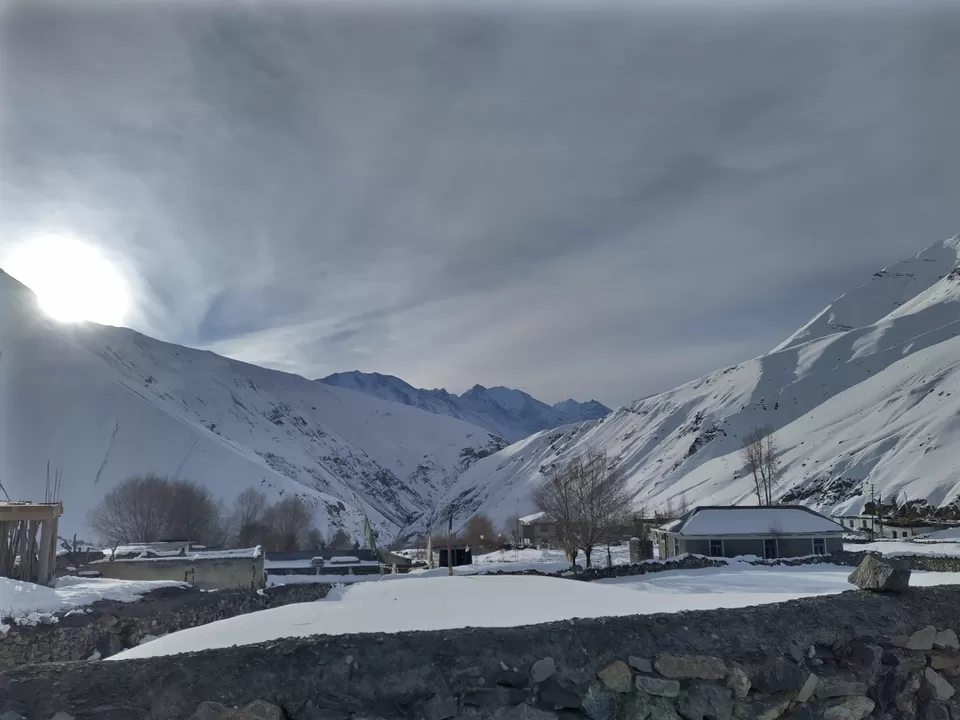 Calling Key Monastery a famous site in Spiti would be an understatement. It IS the icon of the region, its image inseperable from any brochure or catalogue of the valley.
The monastery is a beautiful architecture which is actually made up of smaller huts laid on top of one another in a conical fashion, giving it the shape of a pyramid.
Here's a comparison from two different angles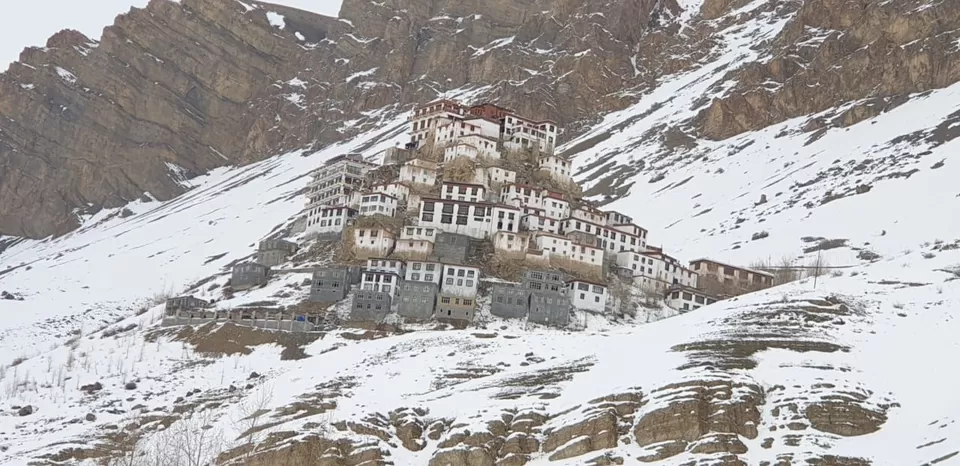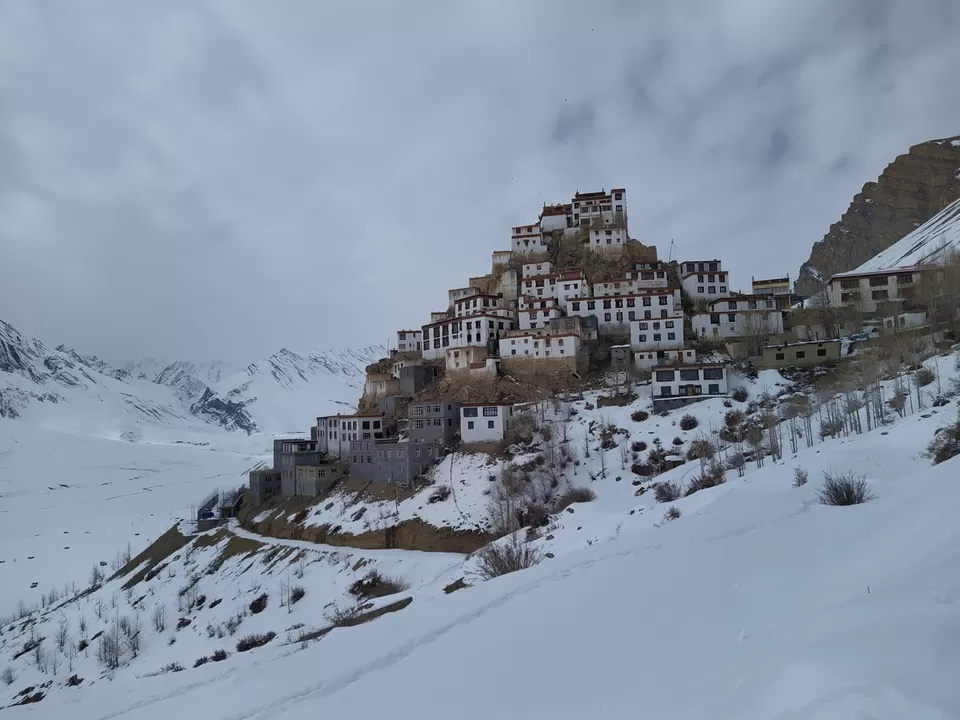 Woke up to some bad news; our car had broken down and wouldn't start and on top of that, it was continuously snowing since last night. Our group leader was making some last minute arrangements as we had a heavy breakfast for the long journey ahead. In the meantime, we soaked in the last few hours of our stay in Spiti.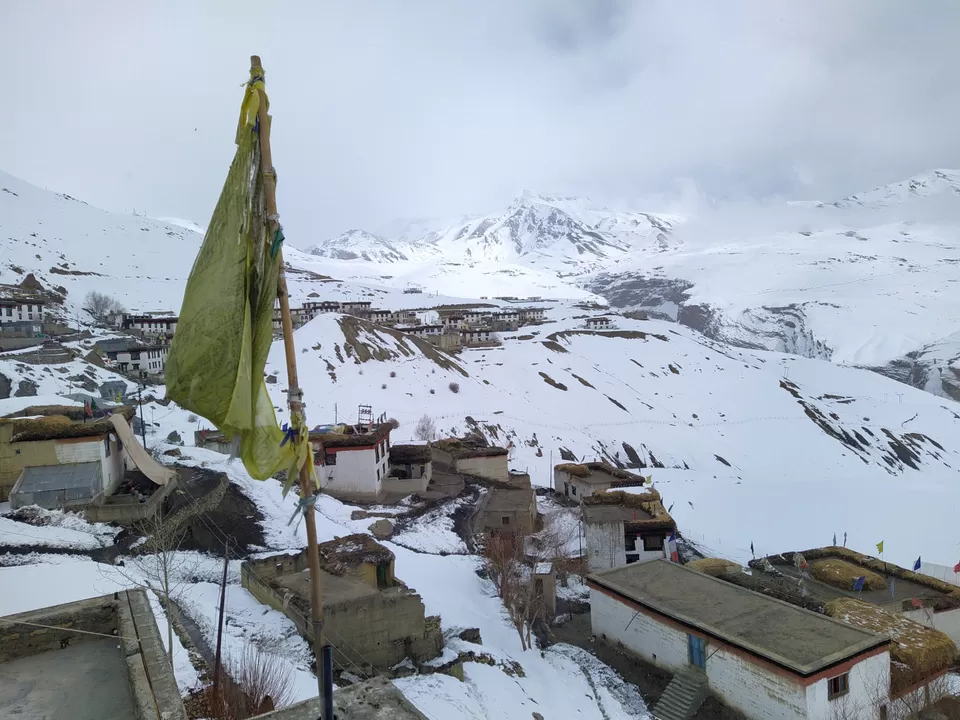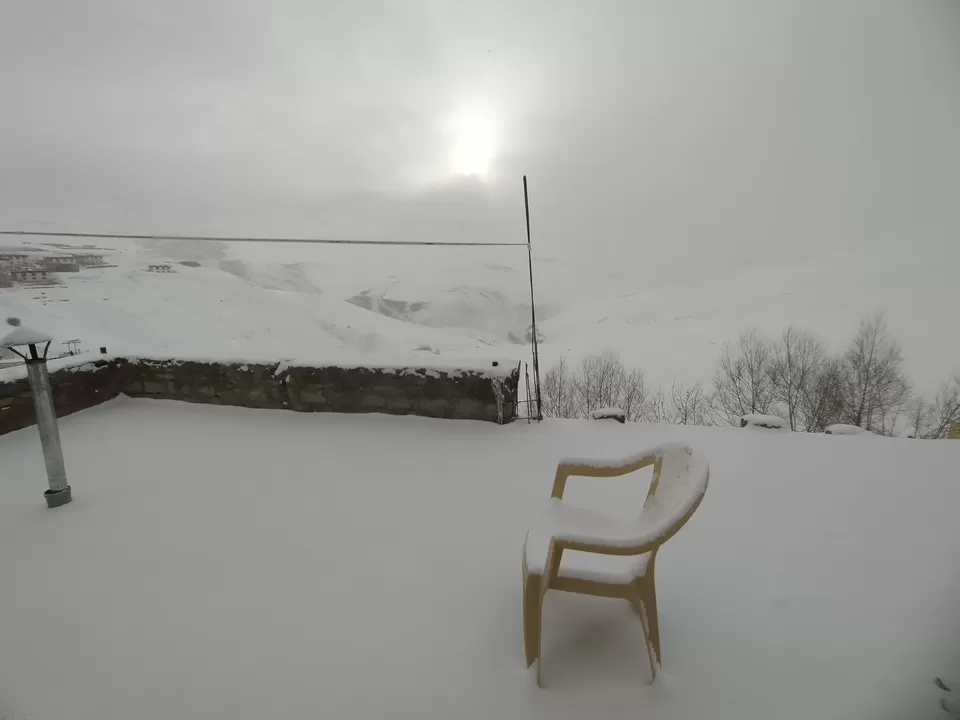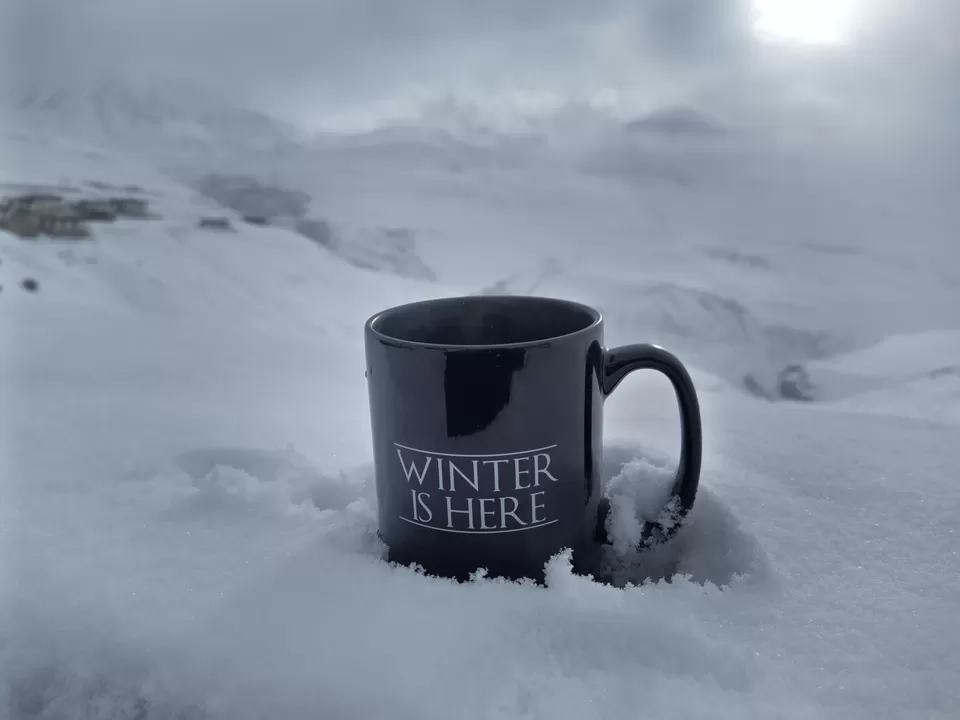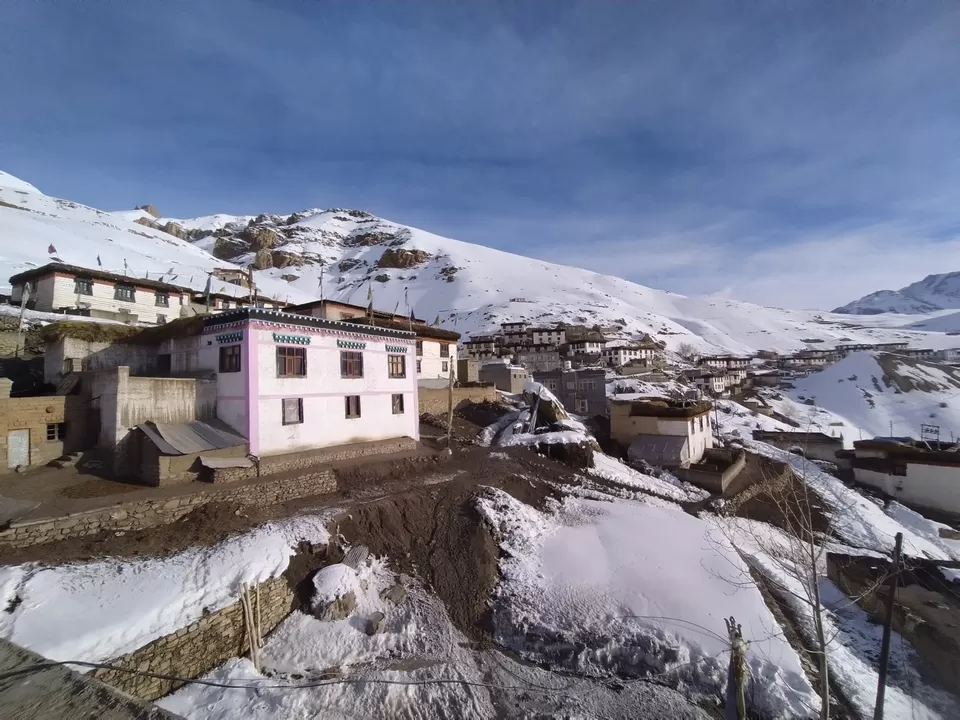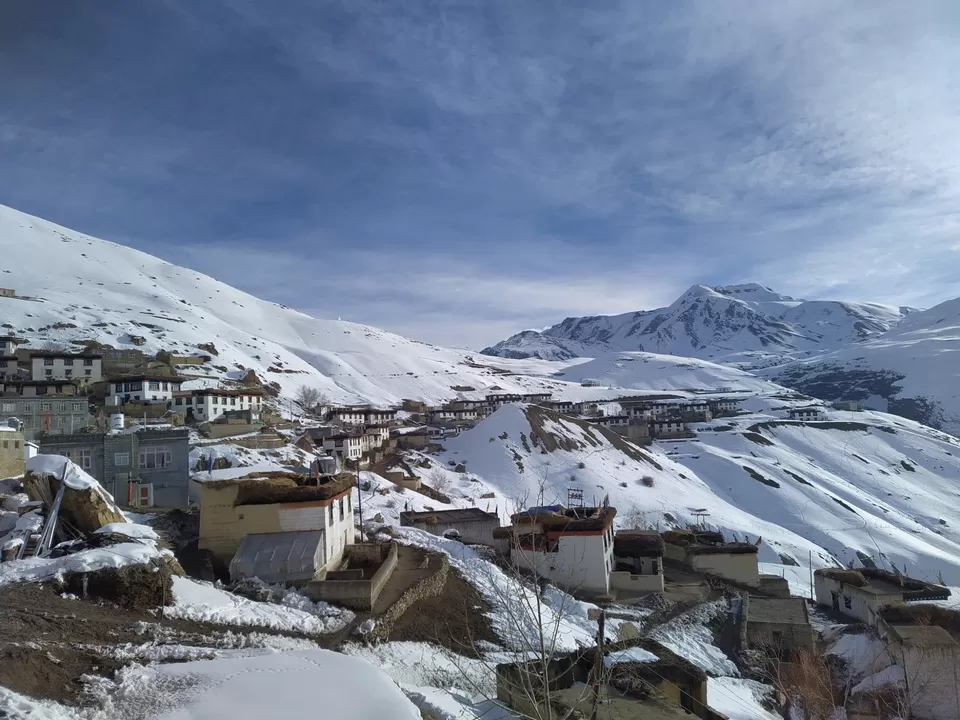 Woke up at our own leisure as the next two days would be relatively short, the worst part was over. Breakfast consisted of typical stuffed parathas and omelette bread.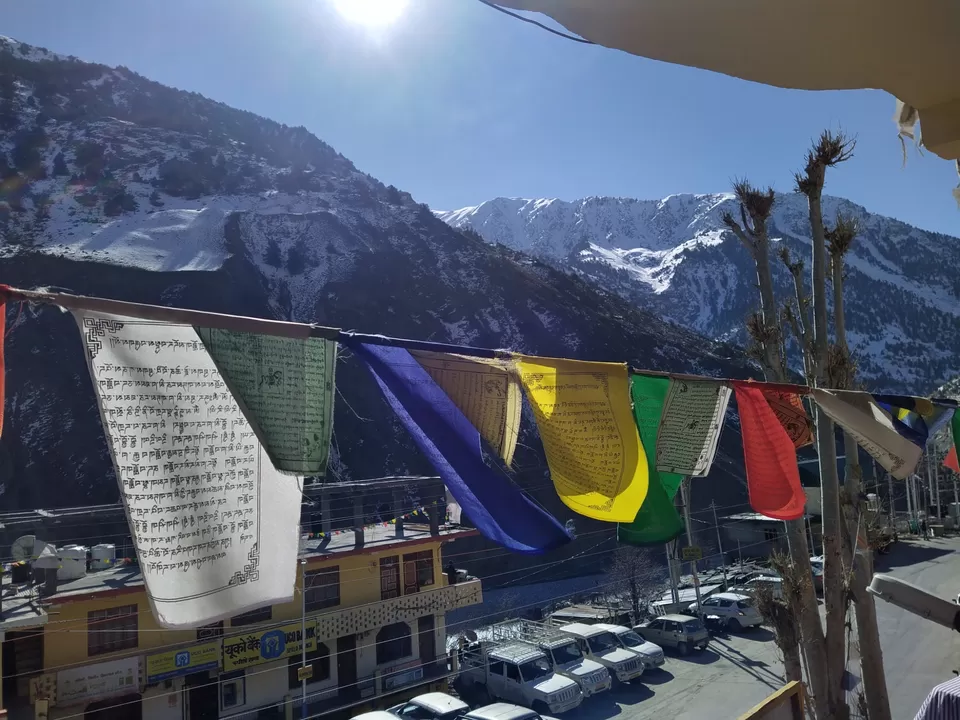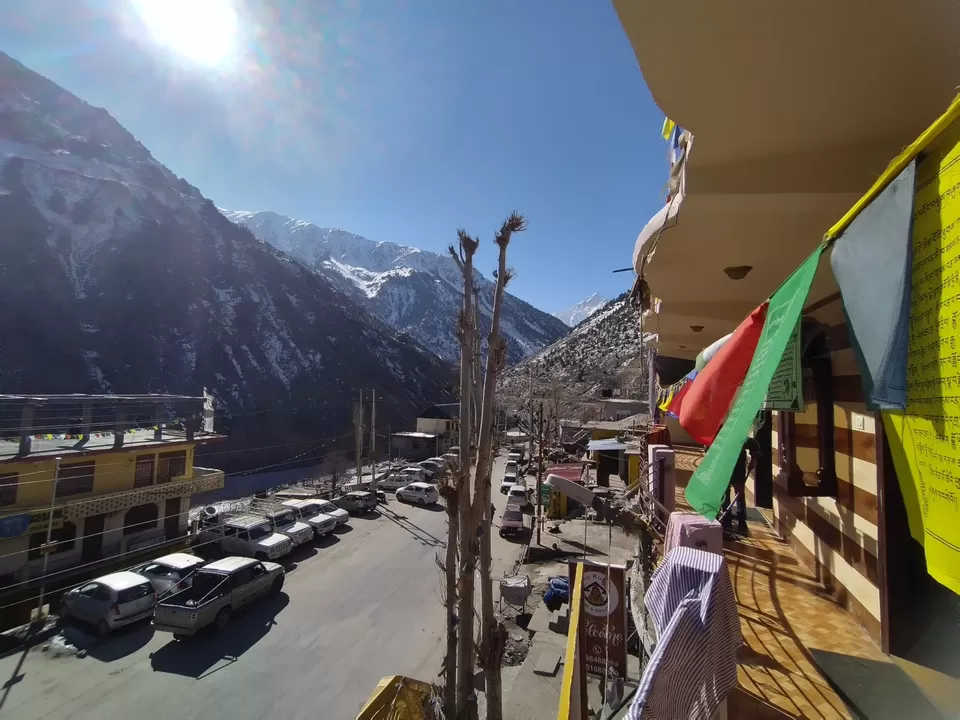 Today would mark our final day Himachal Pradesh as we headed towards Shimla, the capital city.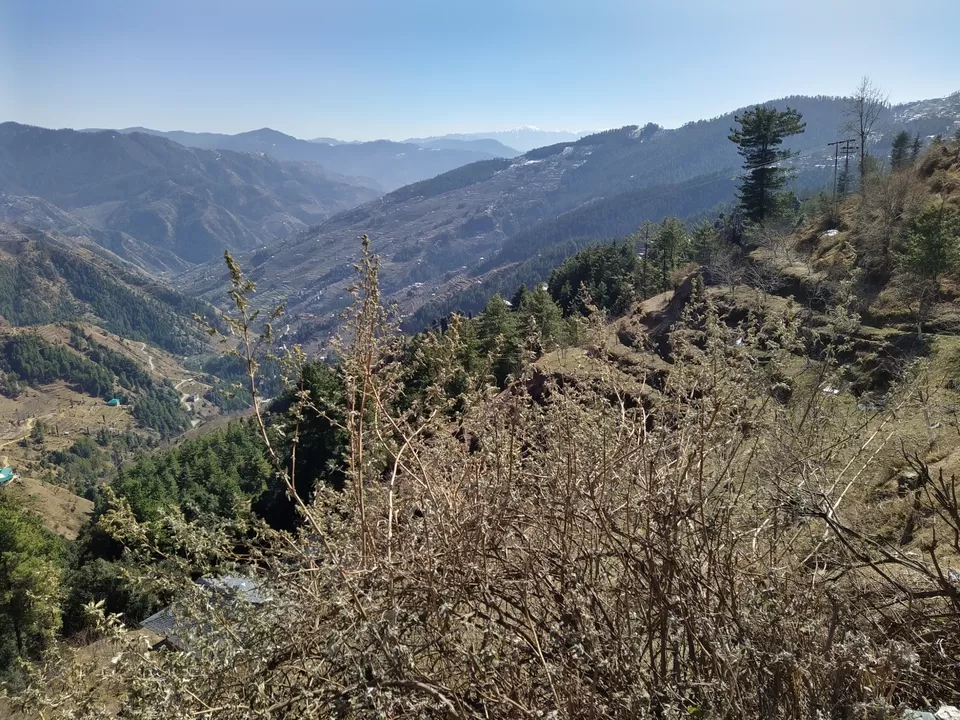 We stayed there for a few hours, playing things like rappelling and skiing. It was quiet fun exploring a new place. After having our lunch, we departed the beautiful place and reached our stay for the night; Rampur Bushahr.
Our day began early as we had to cross two districts that day; Shima and Kinnaur. After having a quick breakfast we boarded our Innova and sped for our destination; Spiti Valley.
Fun fact-During summers Spiti valley can be reached via two routes; Manali-Kunzum La-Spiti and Shimla-Kinnaur-Spiti. However, once winter sets in, the Kunzum Pass gets buried under heavy snow making it inaccessible for nearly seven months. Hence, travel to Spiti is only possible in winters through the Shimla side.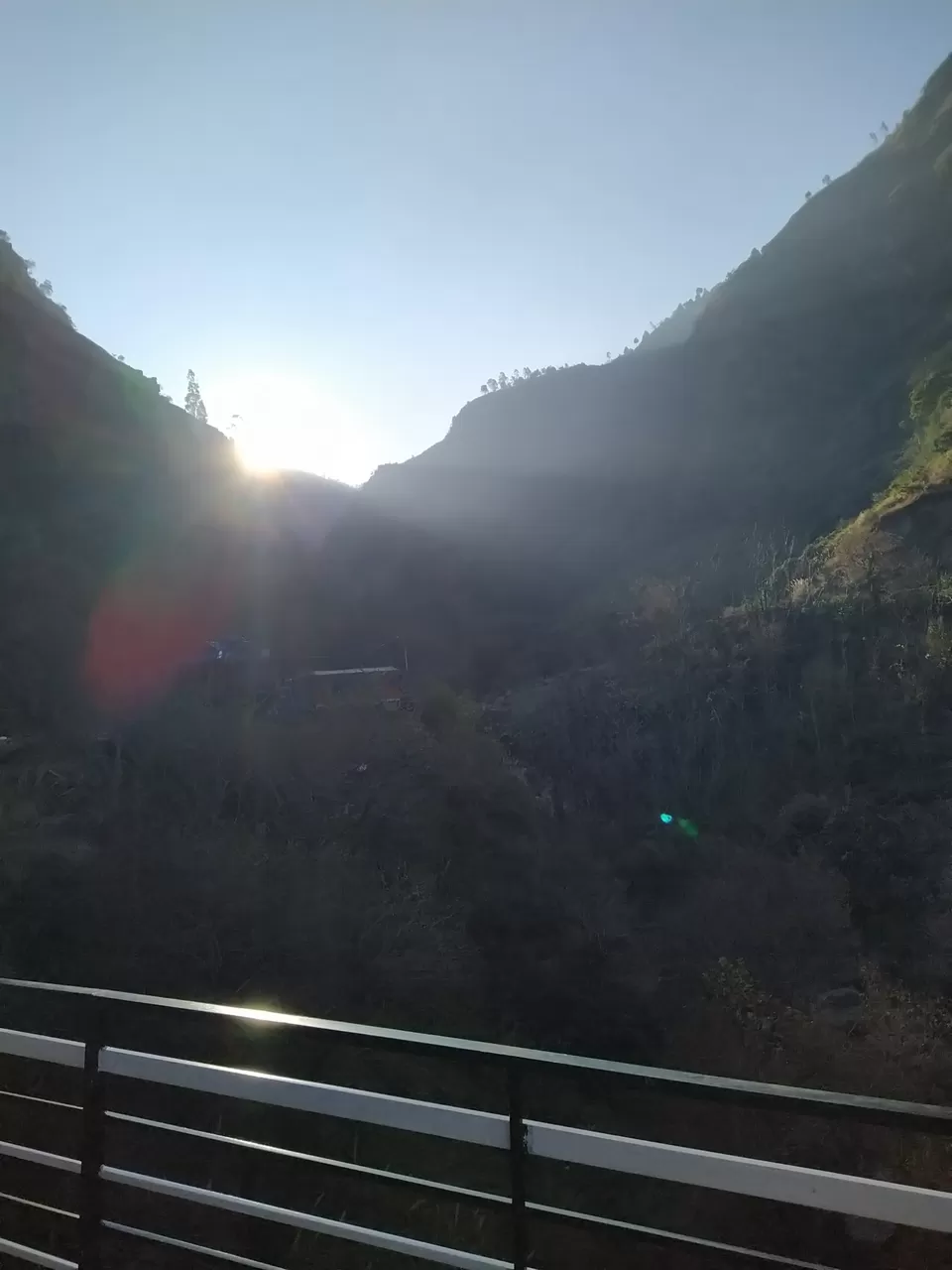 Making use of the relatively straight road in lower Shimla, we entered Kinnaur in quick time, and felt the difference straight away; the air was crispier, the temperature colder and the terrain grew more mountainous.
Spillow was our halt where we had a hearty lunch of Thukpa and Momos.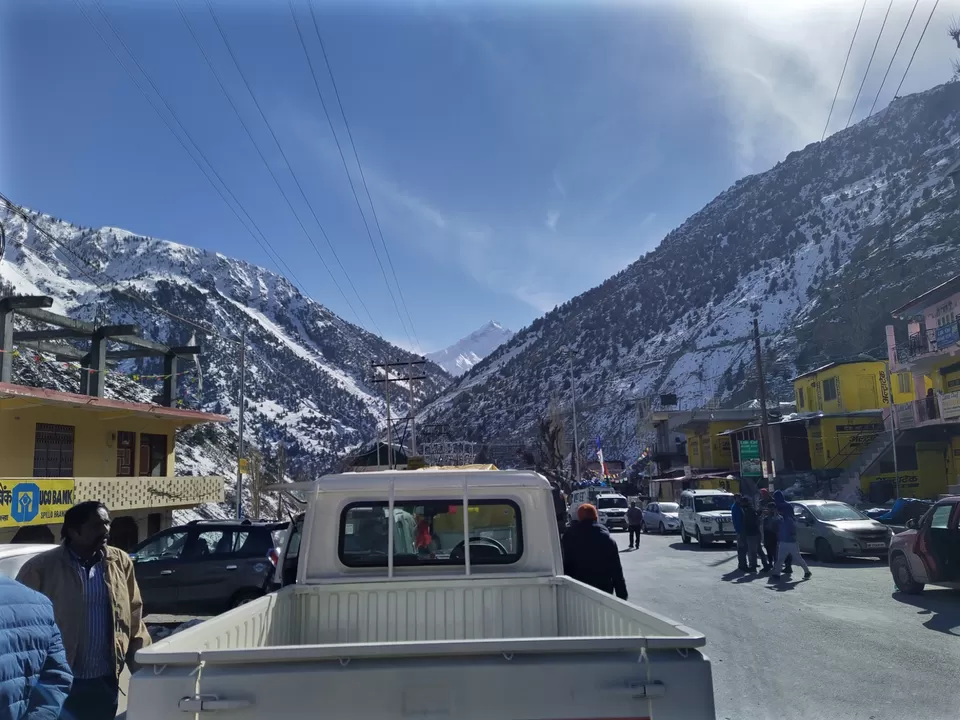 After our scrumptious meal, we continued on our journey towards Spiti. En route we witnessed some marvels; both natural and man made, the beautiful rivers, the huge dams, the windy valleys; simply amazing. How oblivious were we to Mother Nature bundled up in the comfort of our city lives!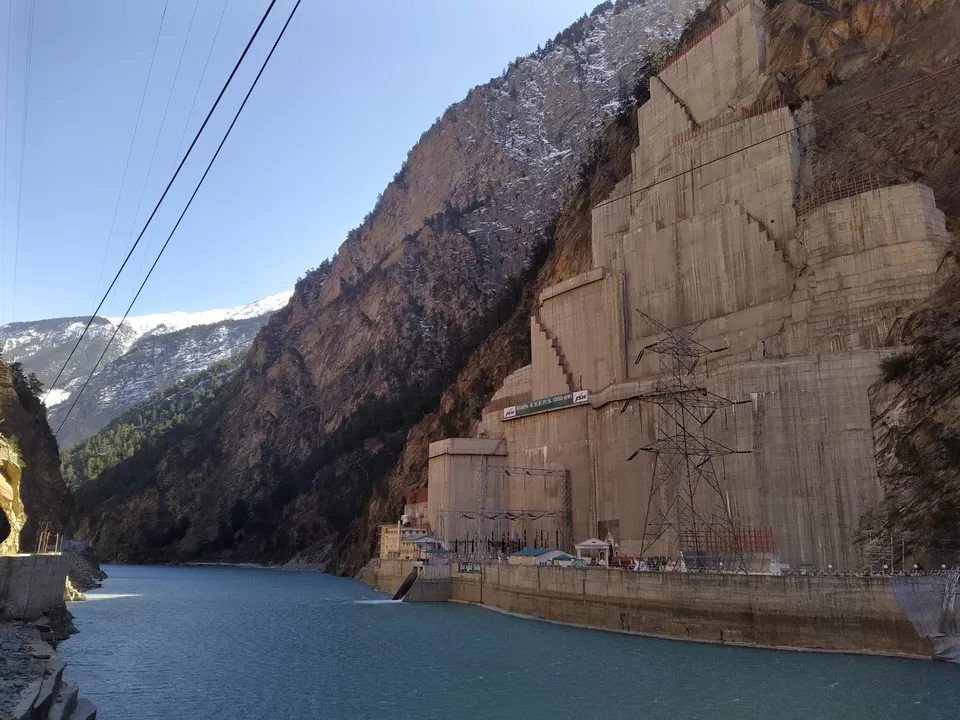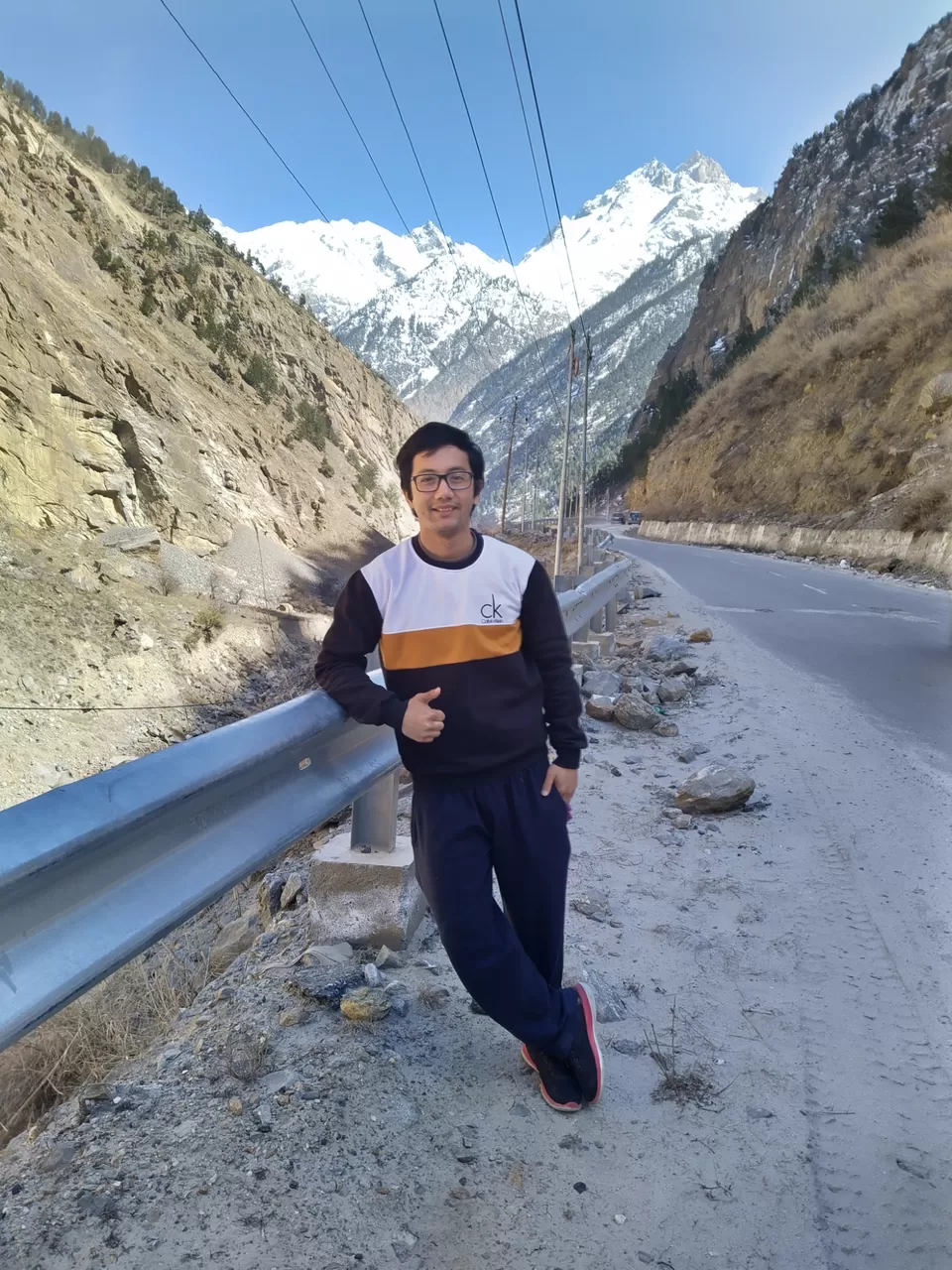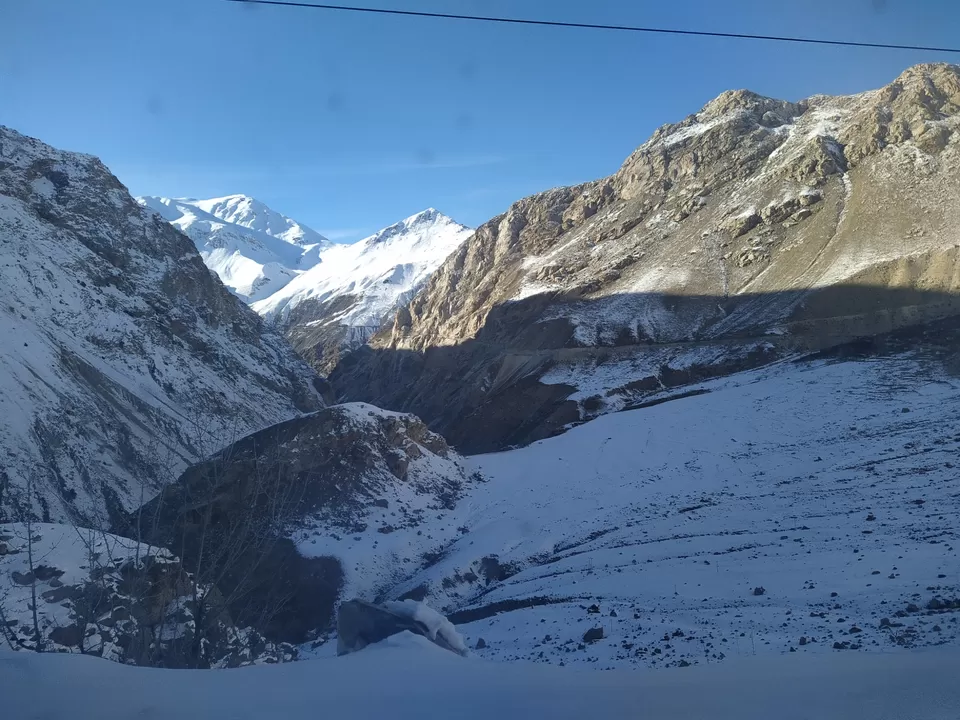 As afternoon approached and the sun started descending into the horizon, we reached Nako; the fag end of the Kinnaur district. Now here's the fun part, from Nako, you can actually see the Tibetan plateau, gradually rising up and leveling before your eyes. The sight is pure magic, the roads however, are a different thing altogether.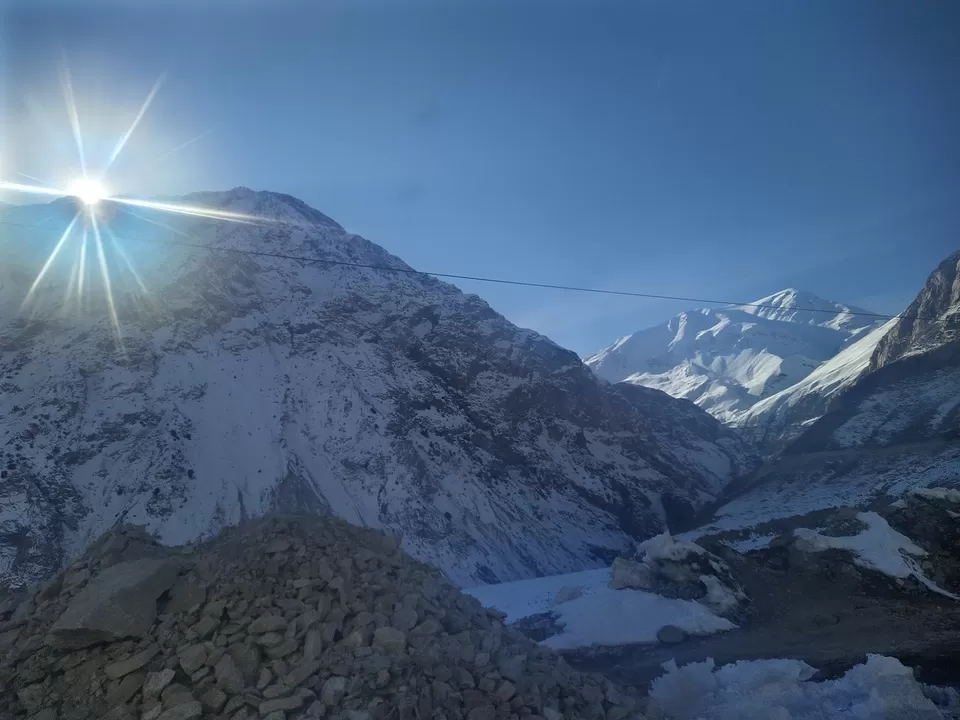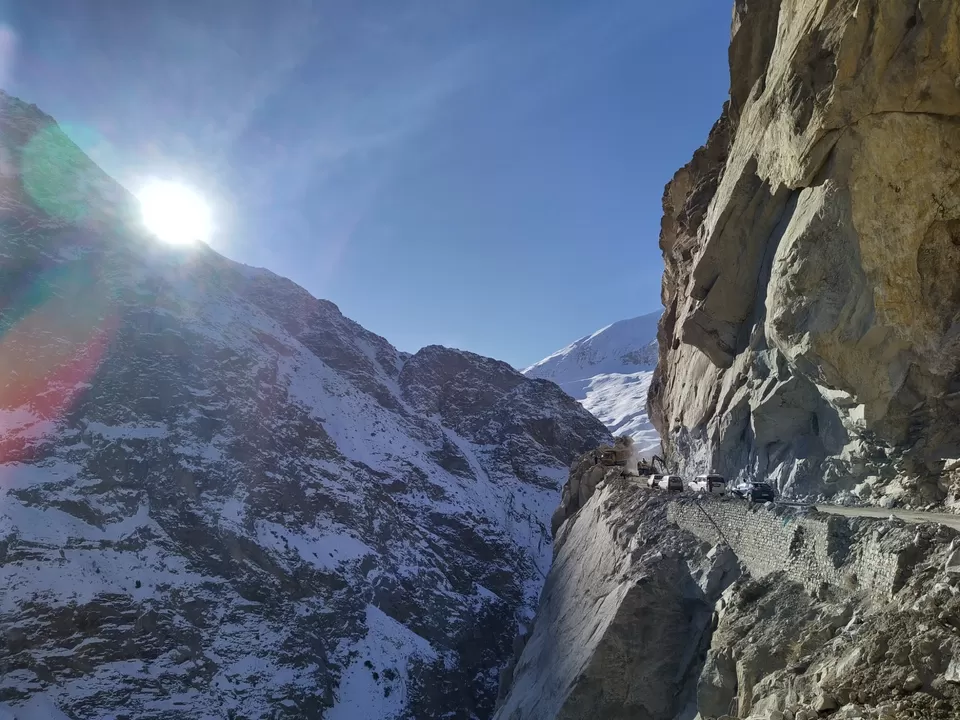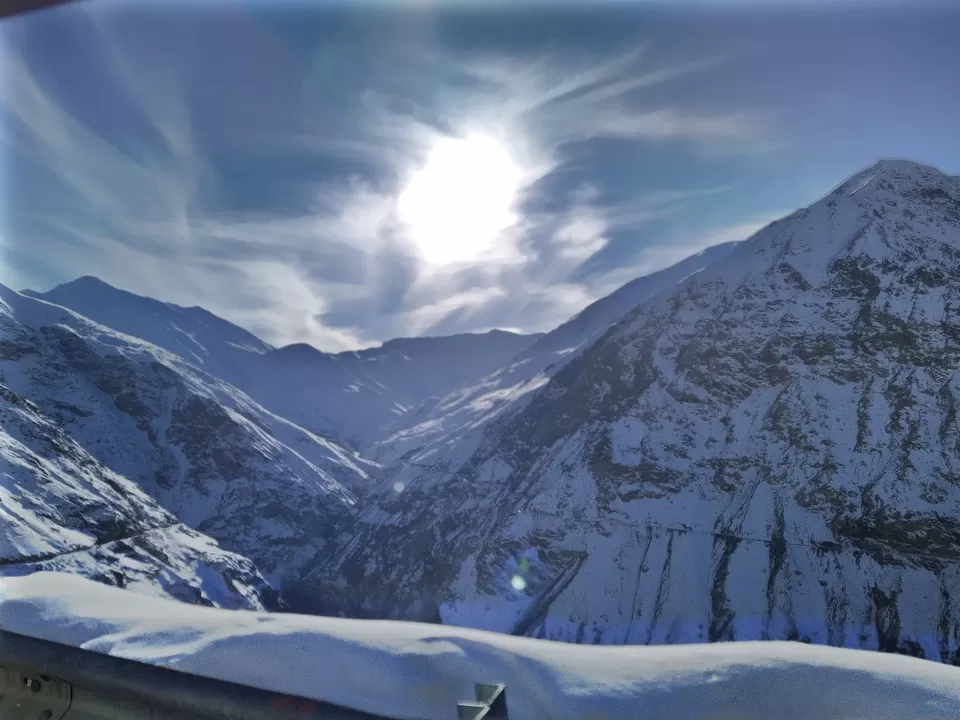 I had never seen such dangerous roads in my life with a perpendicular hundred feet drop a couple of feet away from you . One wrong turn and we would begin an unstoppable tumble down the jagged rocks! But our fears were quickly overcome by something spectacular in sight.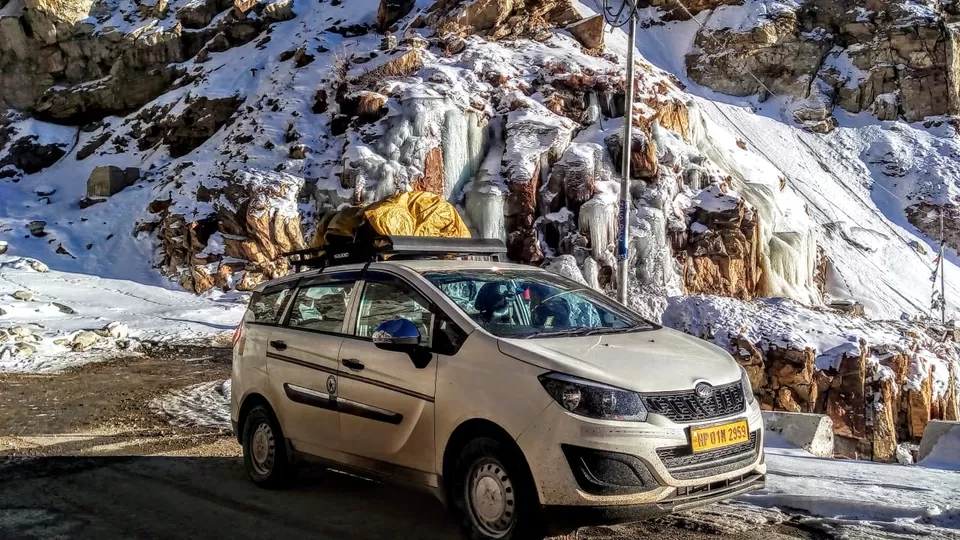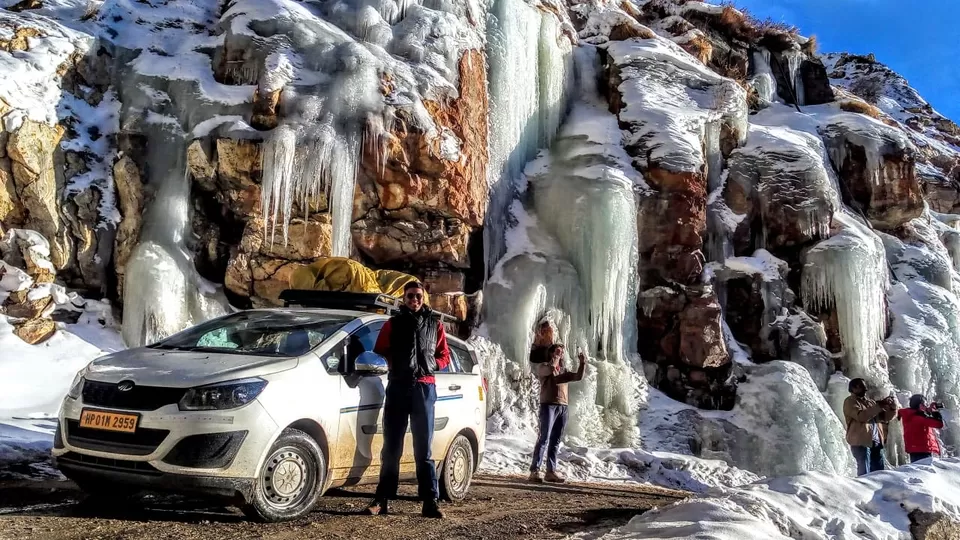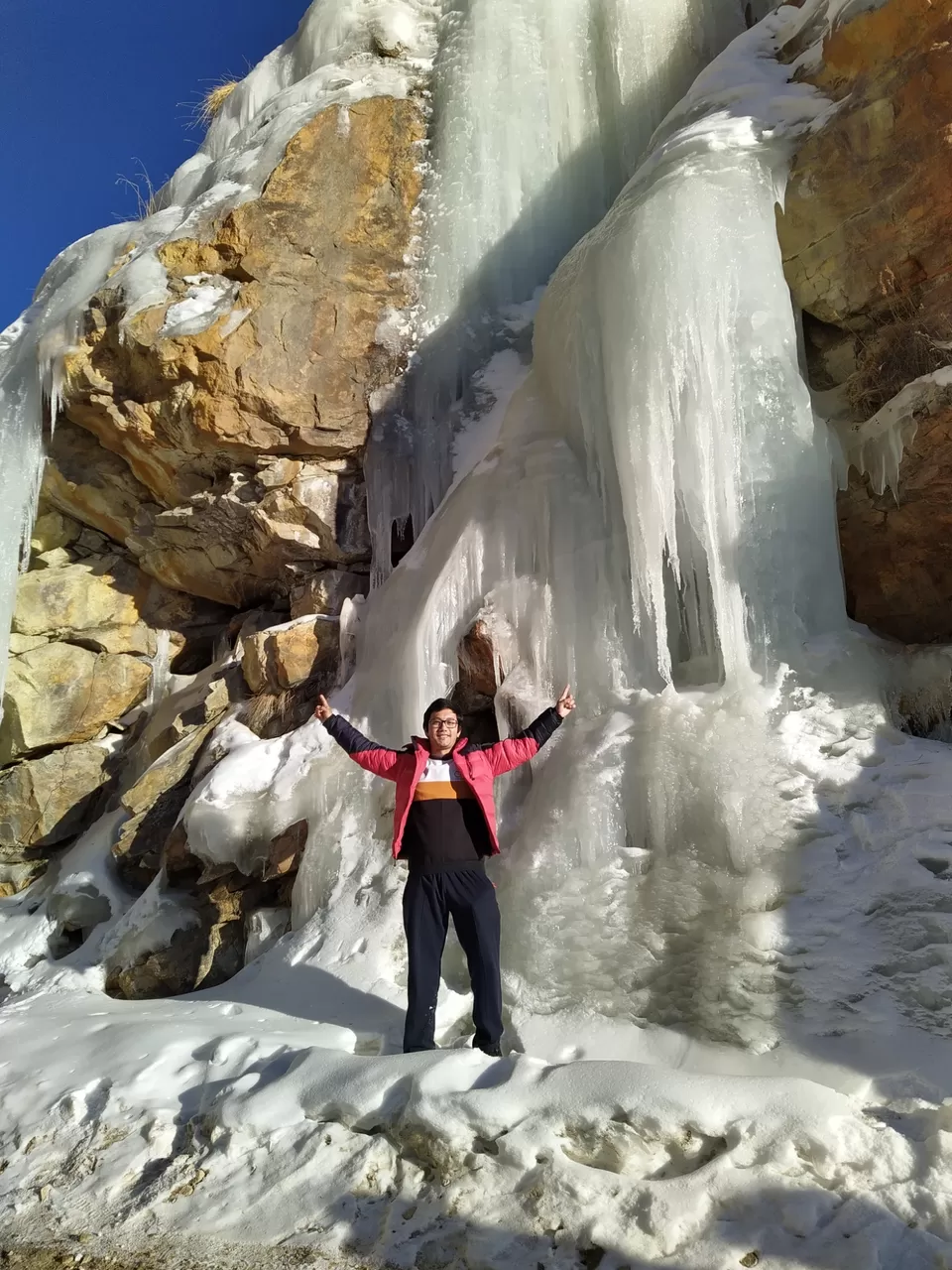 The cold was enough to freeze even a moving water body. We were letting out fogged breaths even during daytime; the temperature was below zero even during daytime! We knew we had entered Spiti Valley. Then after a short while, we continued on our journey towards Gue, our stay for the night.
We encountered the first setback of the trip as our car skidded on the ice. The sun had already gone down by the time this incident took place, leaving us stranded in the middle of a cold barren desert. Must have been around 6 pm I guess. The chill started penetrating our warm layers and even our very bones when we made the mistake of getting out of the car. No matter how hard we tried, our car simple refused to climb on the black ice.
It was then that we finally decided to spike the tires. Mr Pandey and Mr Vashisht took charge as we pointed a torch at the ongoing operation. After numbing our fingers for quite some time, the work was done. We were told that the tires would skid no more.
Thanking God, one of my teammates Nishant, checked his iPhone for the time. It showed 9:30! That means a good four hours had passed trying to fix the tyre but it certainly didn't feel like it. I took out my own phone to confirm and found the time to be 7:00.
When Nishant finally decided to check his location, it showed Beijing, China! We were left perplexed. It was then that our Mr Pandey told us that Gue was just a few kilometres away from the Indo China border. The iPhone was actually picking up the Chinese time!
Subsequently we reached Gue in 20 minutes and were greeted by a warm welcome from our host, Mr Sonam. A much needed gesture in the cold environment! We retired for the night after having our dinner.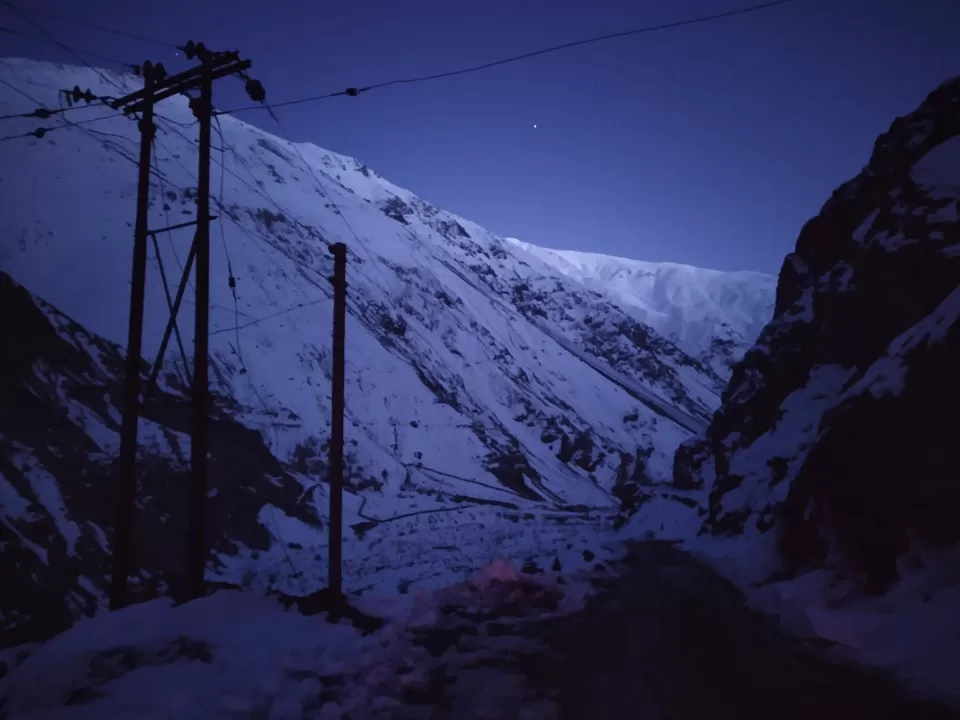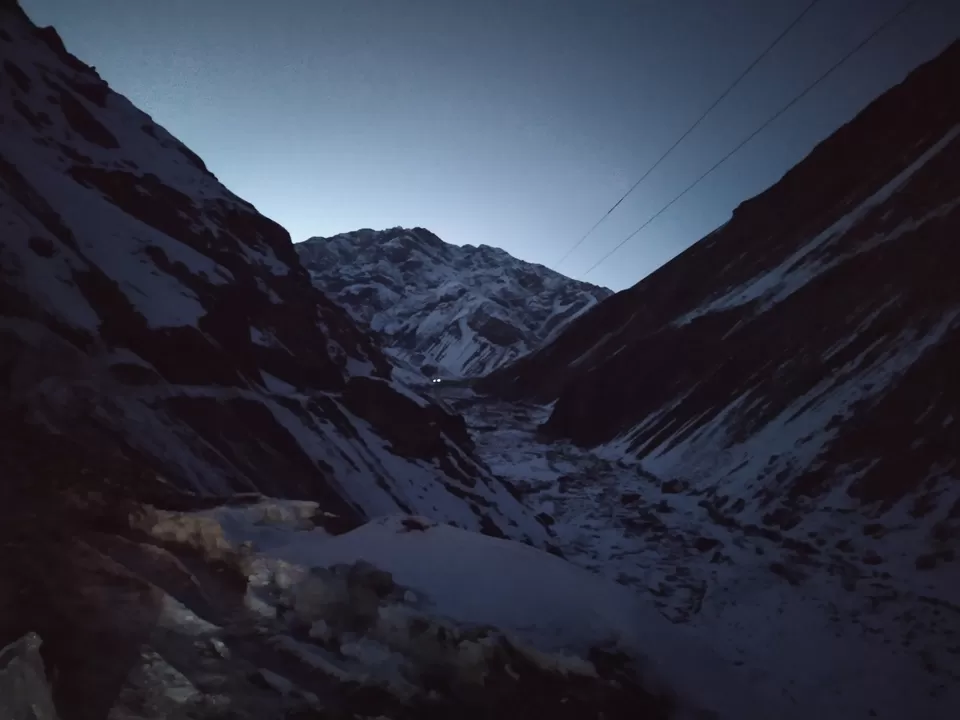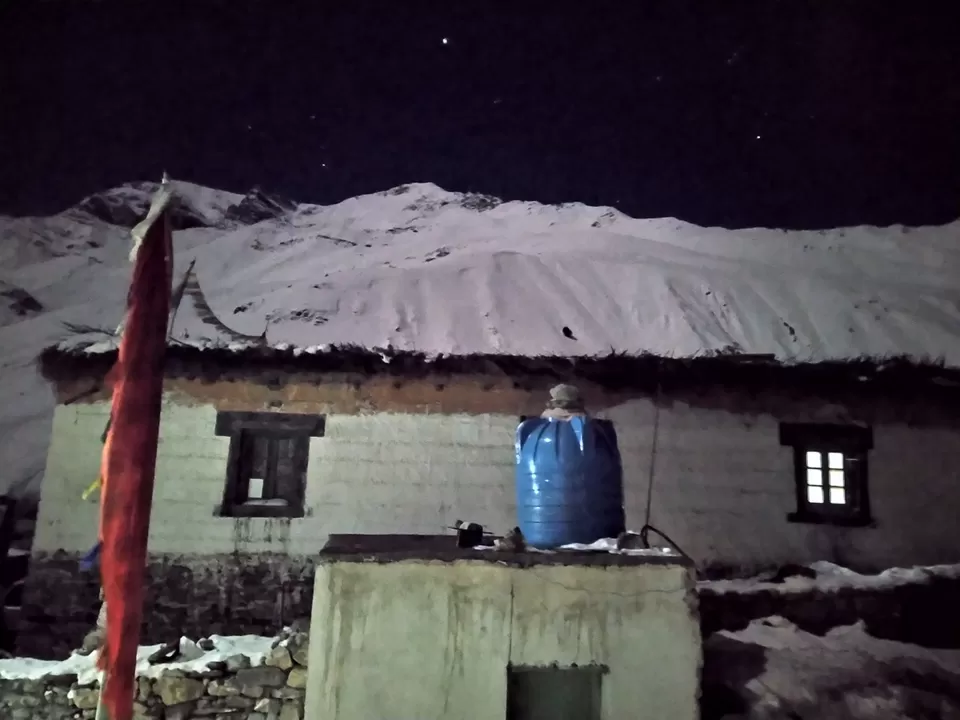 The whiteness, it felt surreal, like straight out of a fairy tale. Breakfast was served soon after we all had freshened up.
Toilets in Spiti during winter are an interesting affair. The regular ones are of no use since water freezes in the sub zero temperature. They're essentially a cat hole with a deep well down below for all the waste to collect. Constantly they're treated with husk so that when summers arrive, the faeces has matured into manure for the crops. Great innovation for a rain shadow region!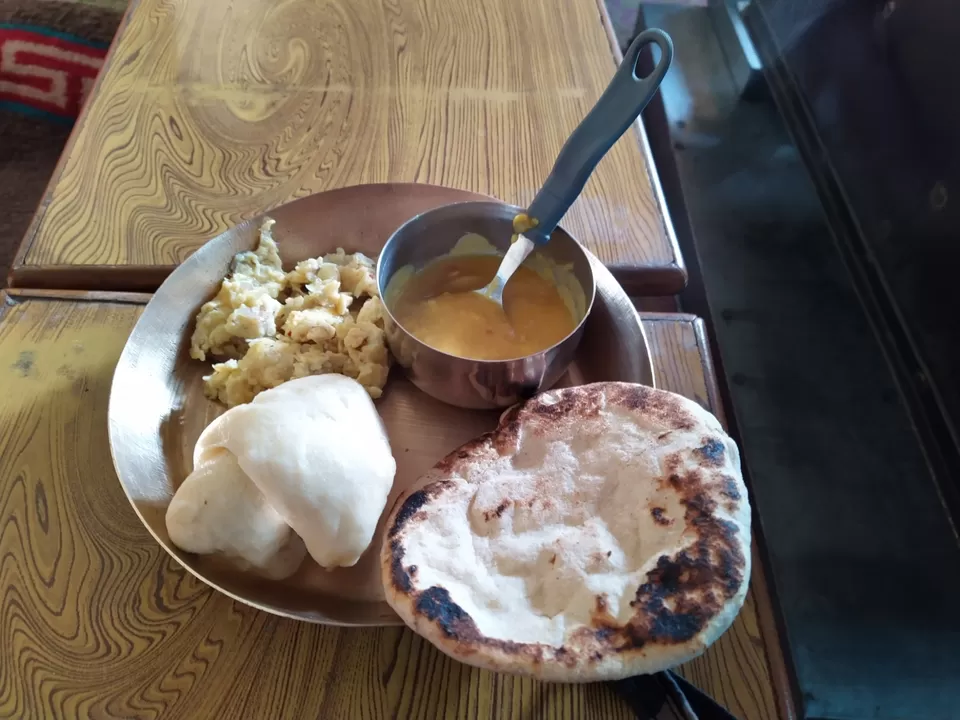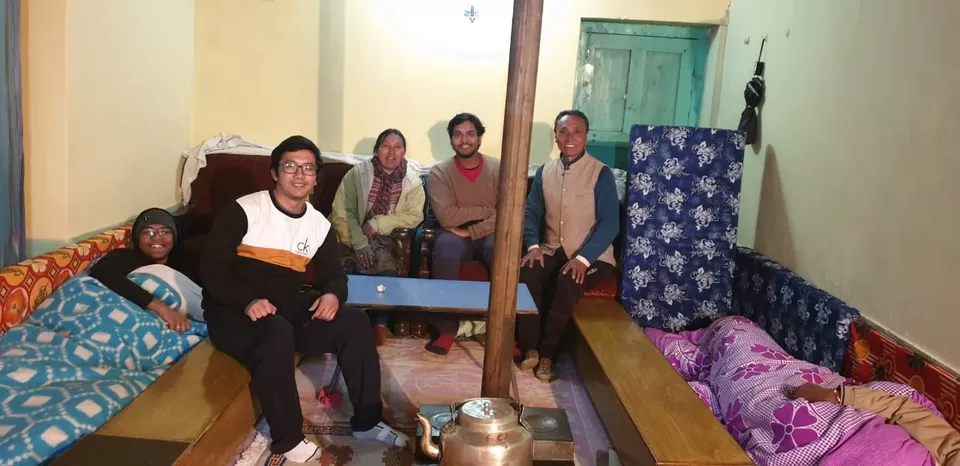 The breakfast was quite unique, as in the breads were unseen or unheard of in our cities. Healthy, hearty and tasty, it did its part of satiating our hungry selves.
We were joyous for the day ahead for we would stay the next two nights at Chicham. However, our joy quickly turned sour as we learnt that due to the cold outside, the diesel in our car had frozen. It won't start!
With Vashisht bhaiya promising to fix it, we left for the Gue monastery with our host, Mr Sonam. It was a mere 15 minutes walk from our place. Yes the same Gue mummy one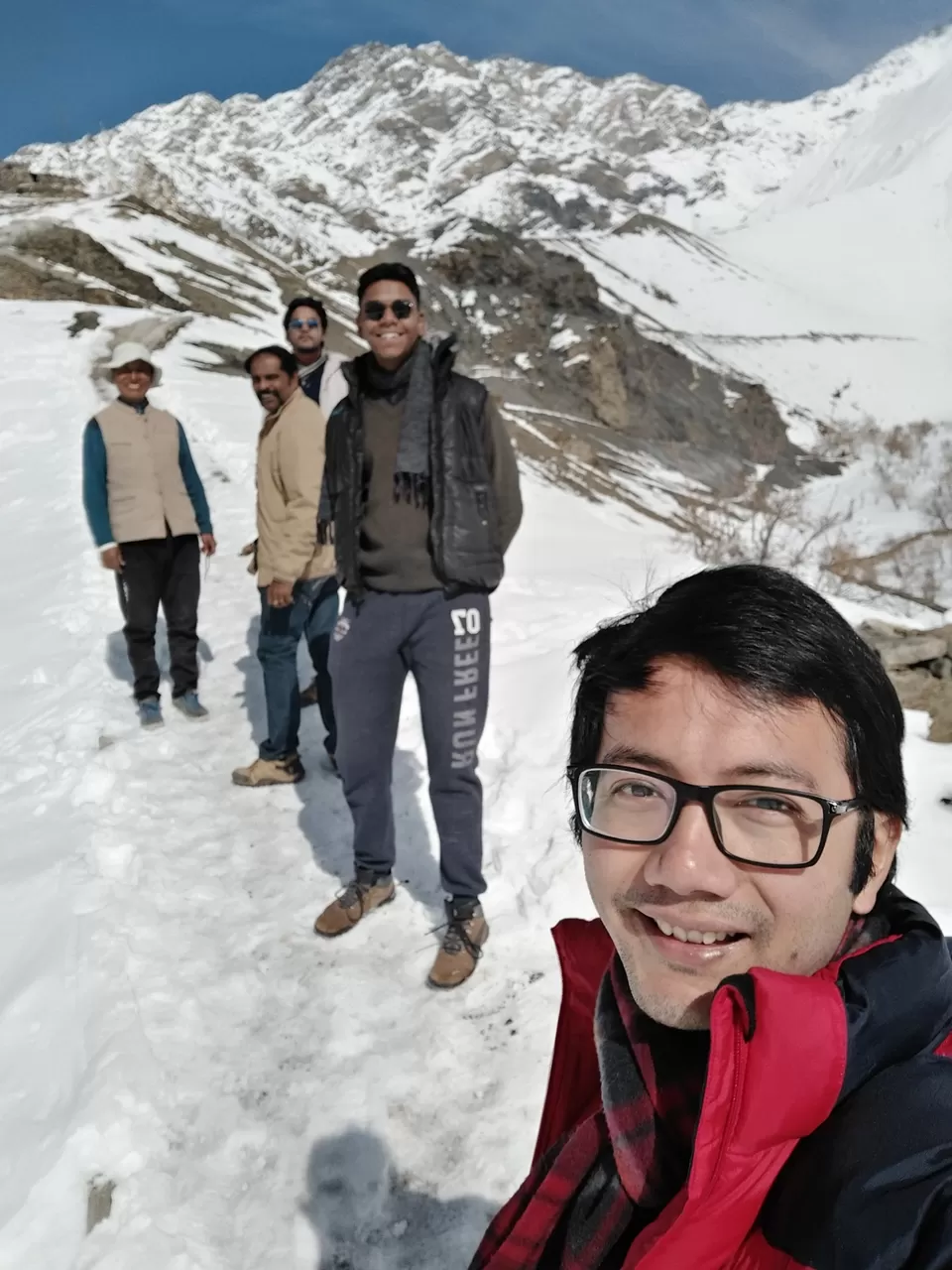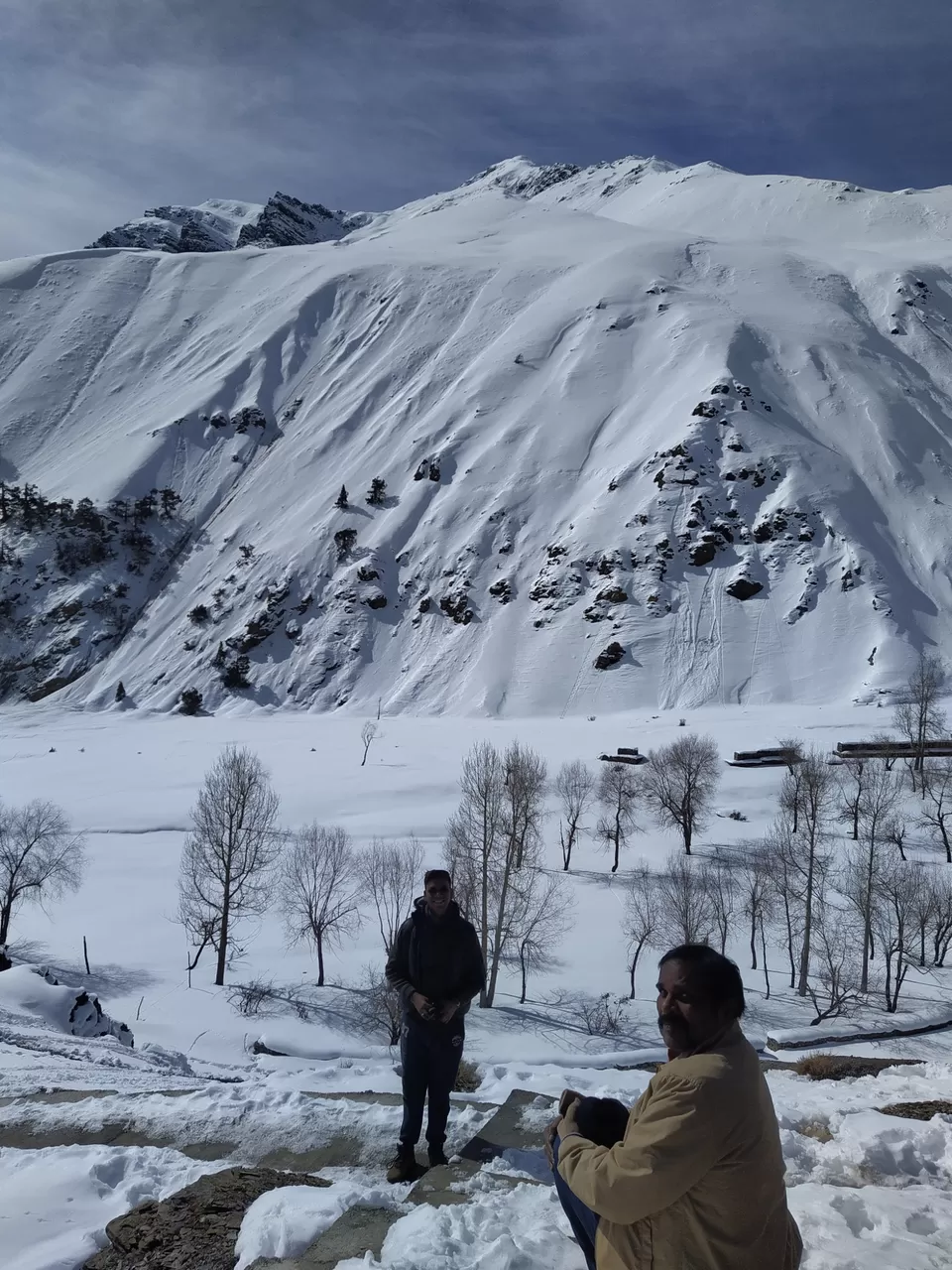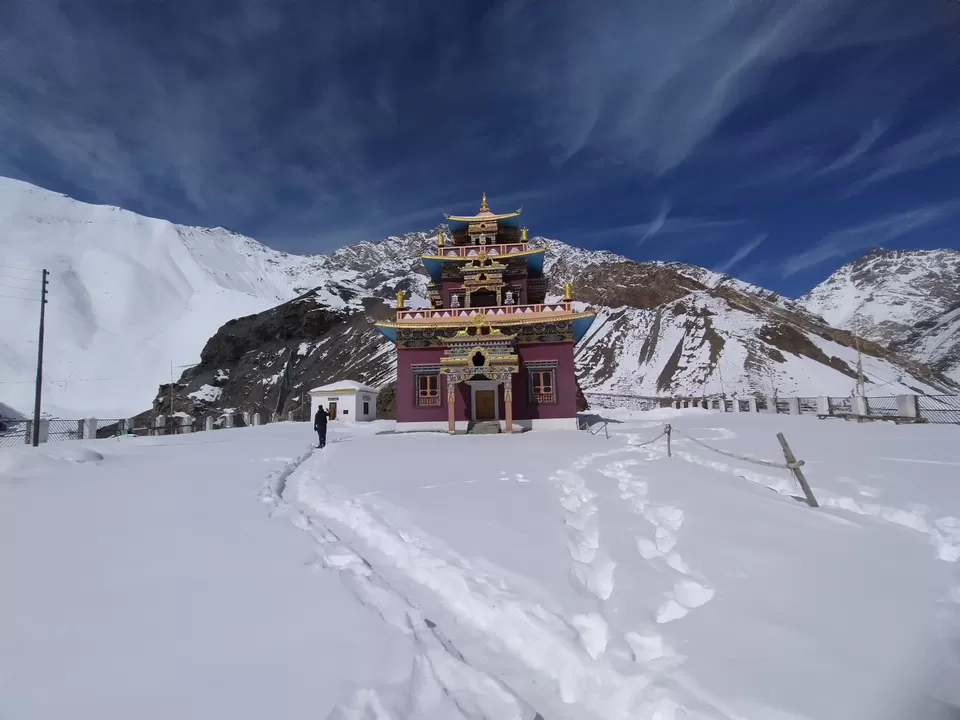 Then Mr Sonam (who also happened to be the head of the village) opened up the monastery. For the first time in our lives, we saw a mummy.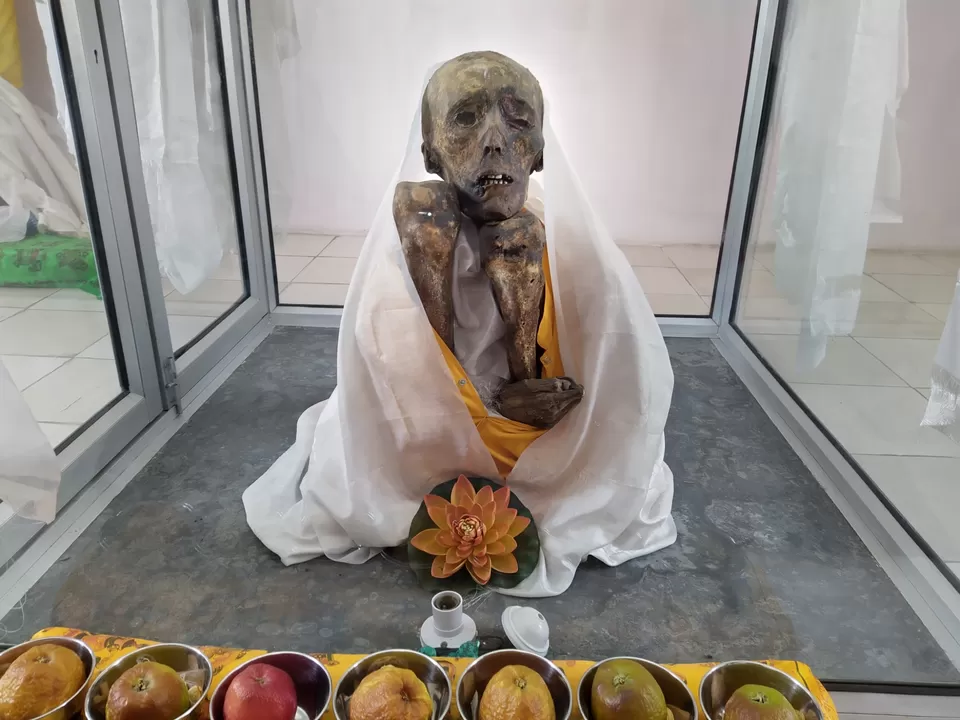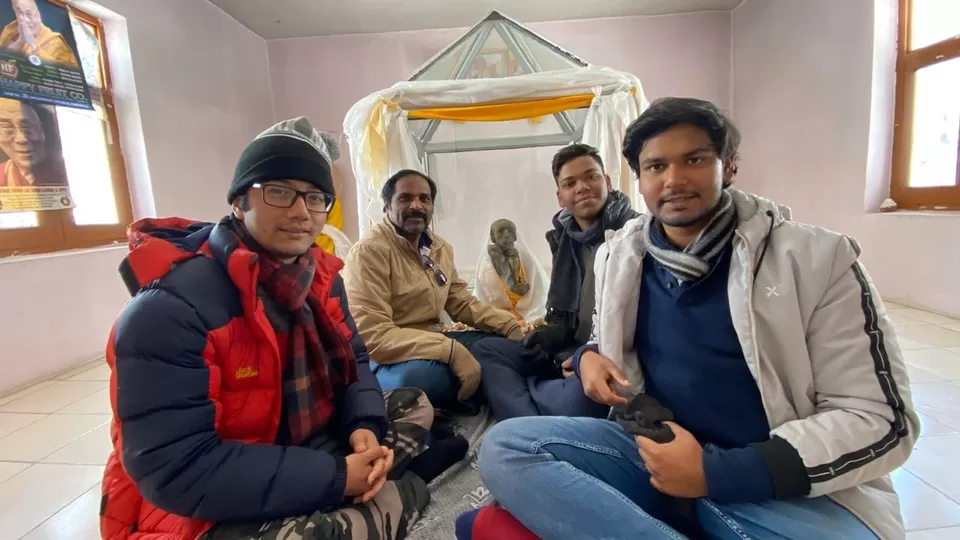 An earthquake in Himachal in 1975 collapsed part of a tomb in the village and revealed the 500 year old mummy. The monk's name was Sangha Tenzin and in order to free his village from a plague sometime in the 16th century, he decided to undergo the process of self-mummification. This claim has been proven right by researchers as it remains the only naturally preserved mummy in India.
We were witnessing something rare and unique.
By the time we got back, the car's engine began working. Heaving a sigh of relief, we waved goodbye to our lovely hosts and drove off to our next stop; Chicham.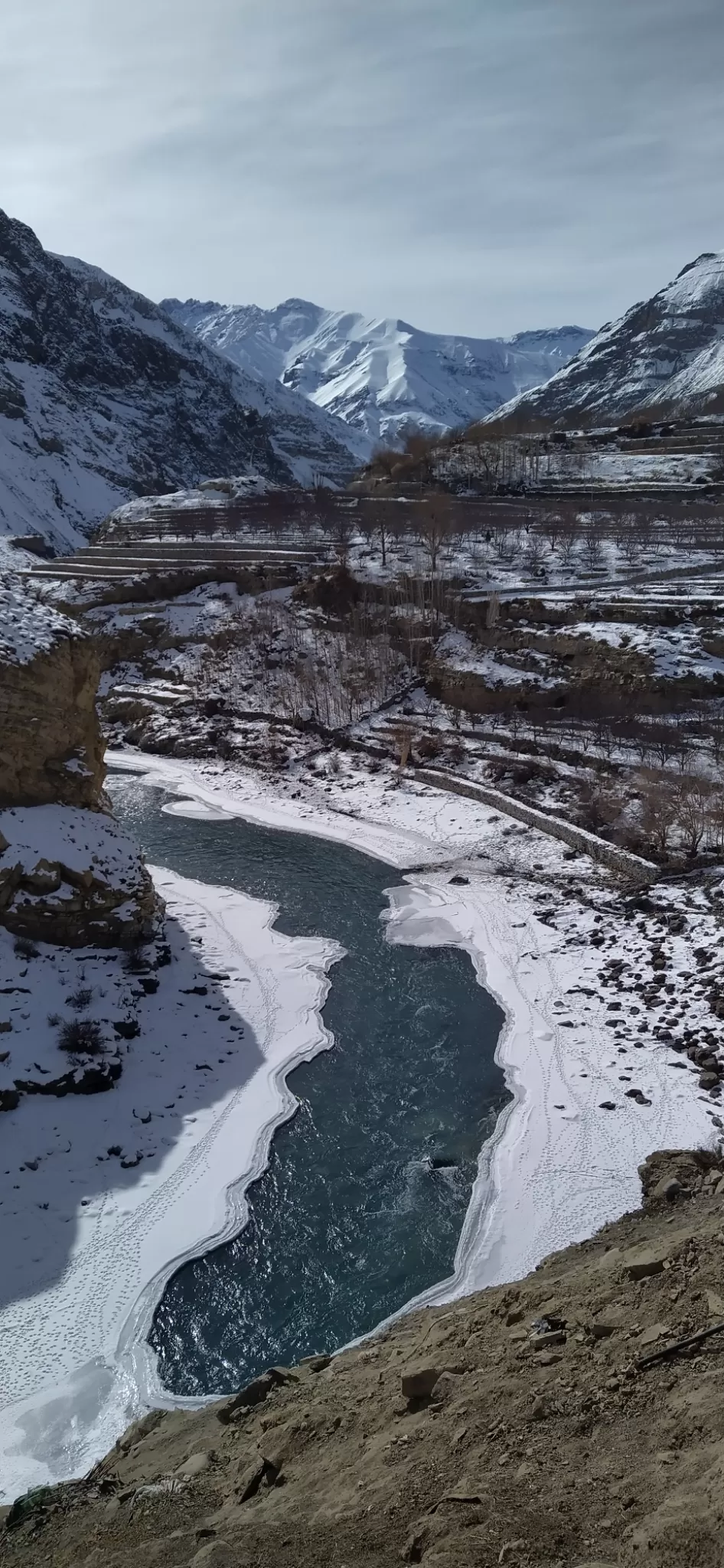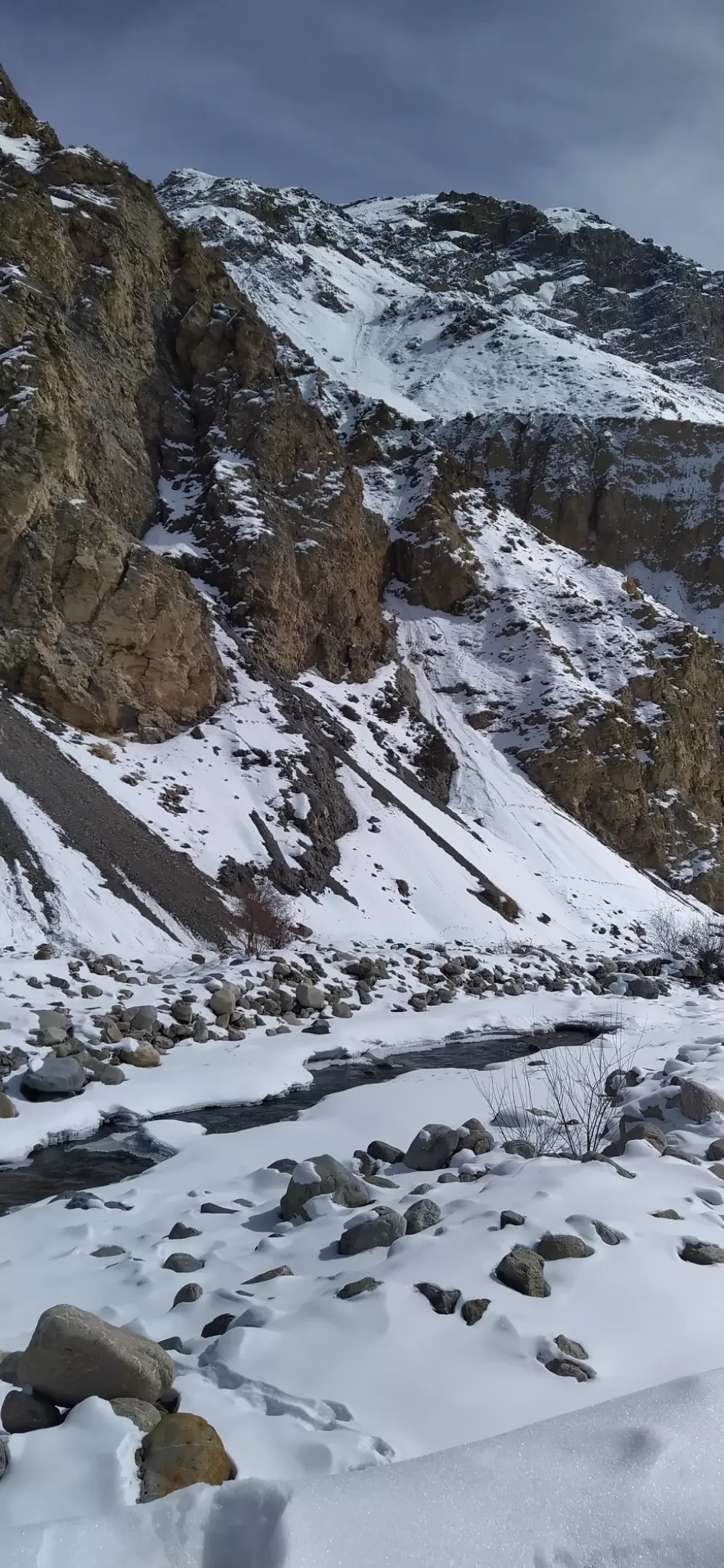 In between made a brief halt at Tabo, the village of meditation caves and a 900 year old monastery.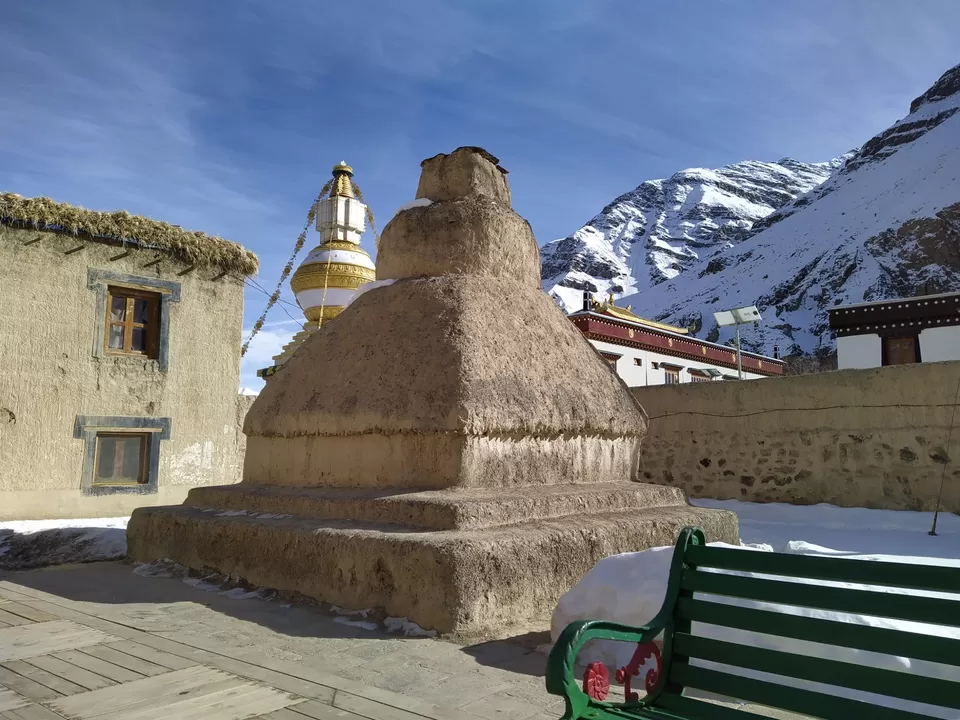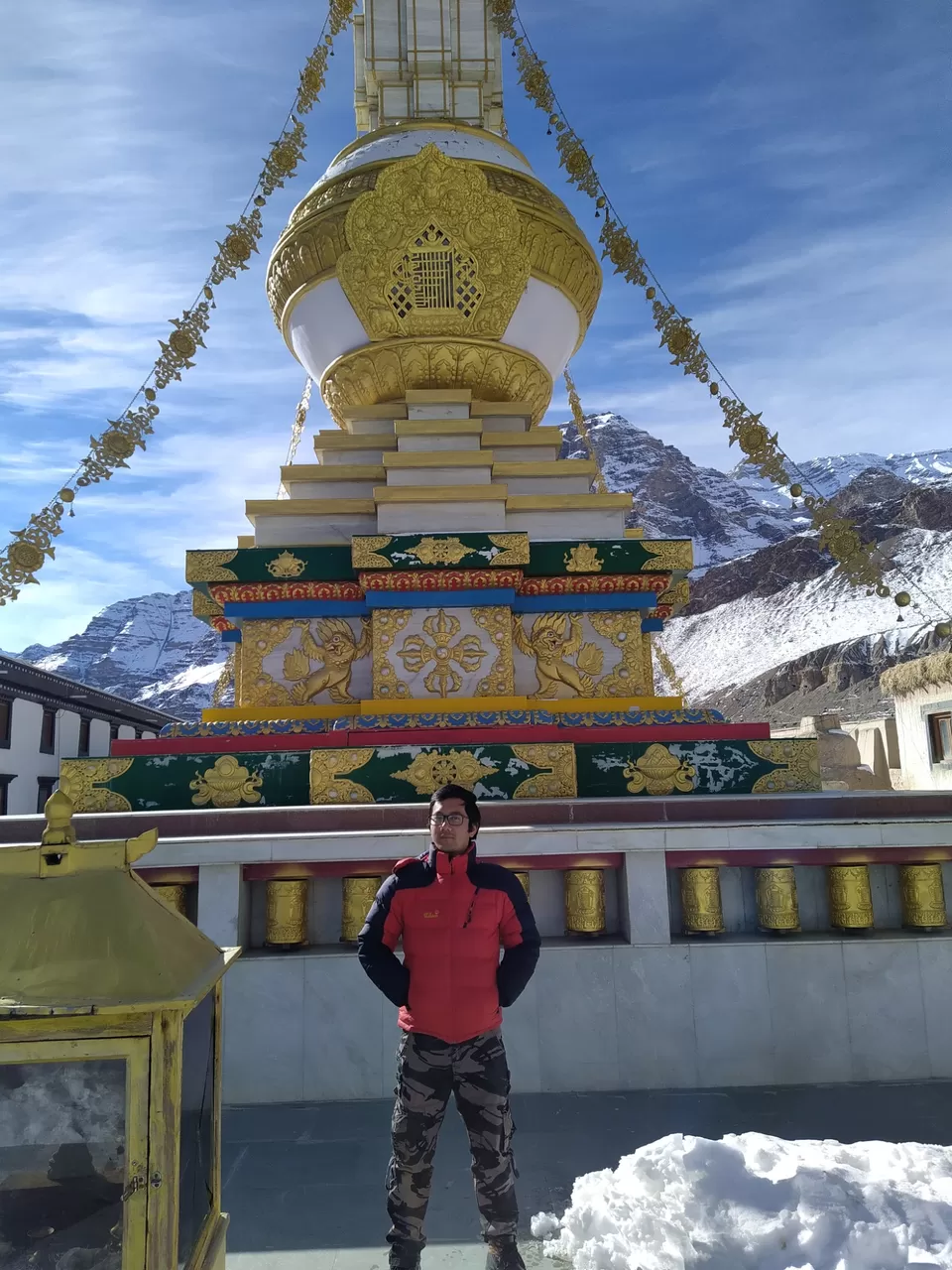 This mud stupa is believed to be the oldest in the region, dating back to early 12th century. Curious.
Having had our lunch, we quickly hopped back in our car for the remainder of the journey. It was going to be a rough ride, we were told.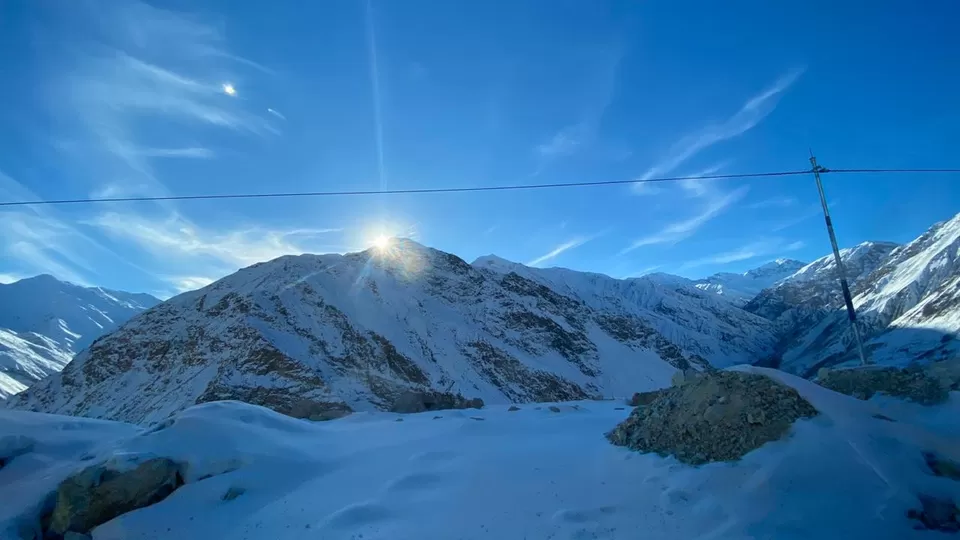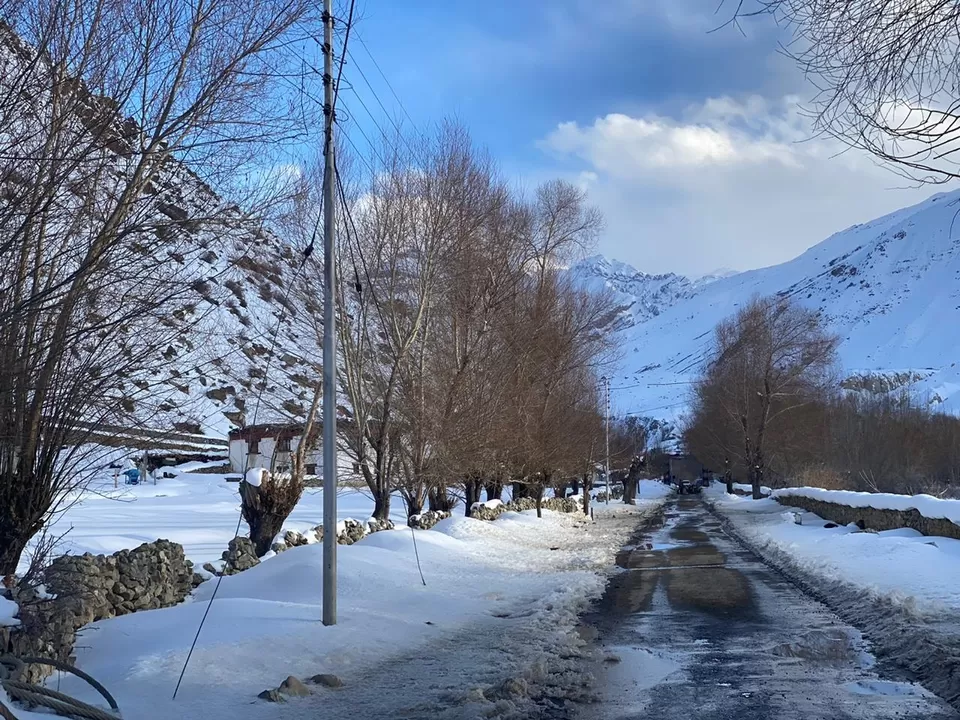 More winds and more turns followed as we started gaining more altitude. Gone was the plateau like terrain of the lower Spiti, we were now entering 13000 feet of mountainous landscape.
But we savoured every moment on our way, the towering peaks on either side, the deep gorges, the majestic valley, everything. We watched agape as scenery after scenery unfolded before us. The only hinderance though was the piercing cold. Even the layered clothing wasn't protecting us that evening.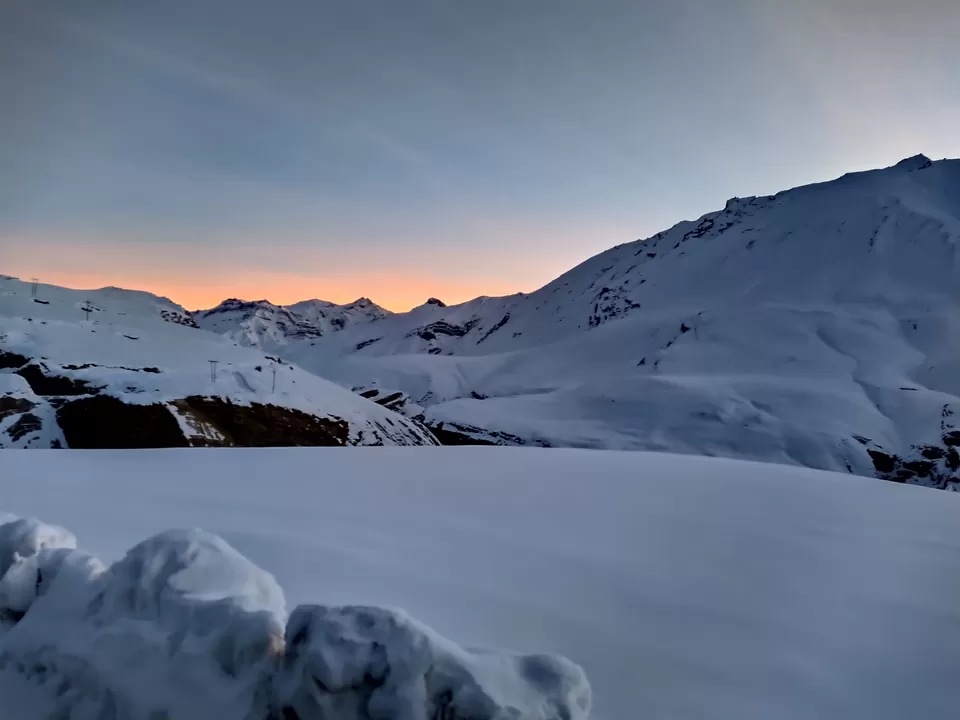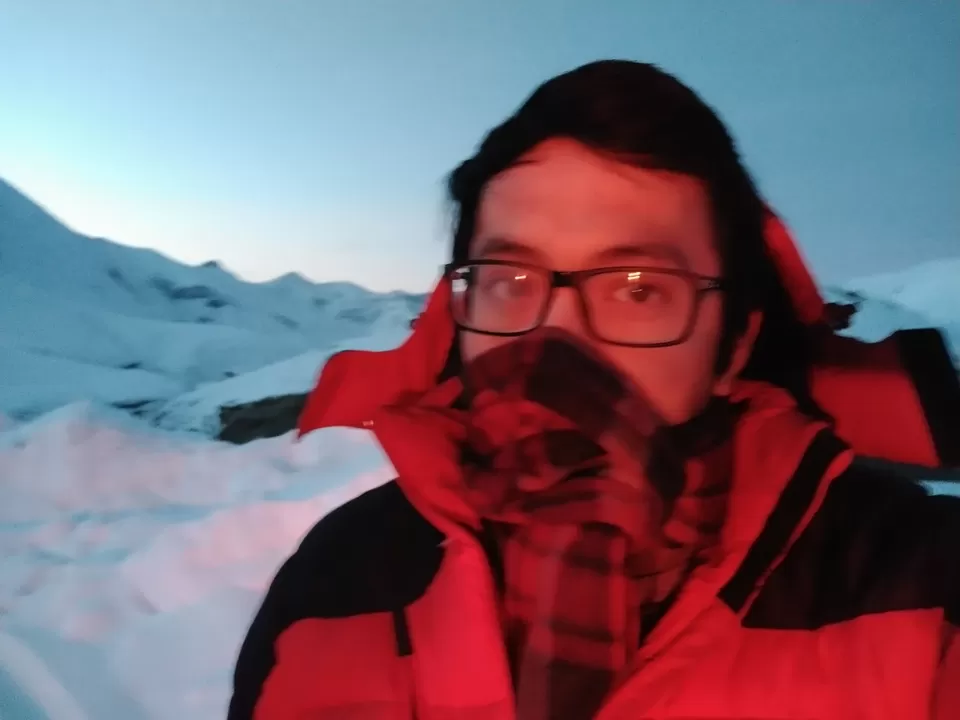 Upon arrival, we were welcomed with some hot tea and biscuits. Respite!
After calming down our shivers, we unpacked in our cozy rooms and then had our dinner.
We weren't allowed to photograph the inside of the monastery, but the Lamas were very warm in their welcome, offering us tea and snacks. One was even kind enough to offer me a Buddhist stole, which I was quick to accept.
Afterwards, we went for a brief stroll on the field outside posing for pictures as we went along.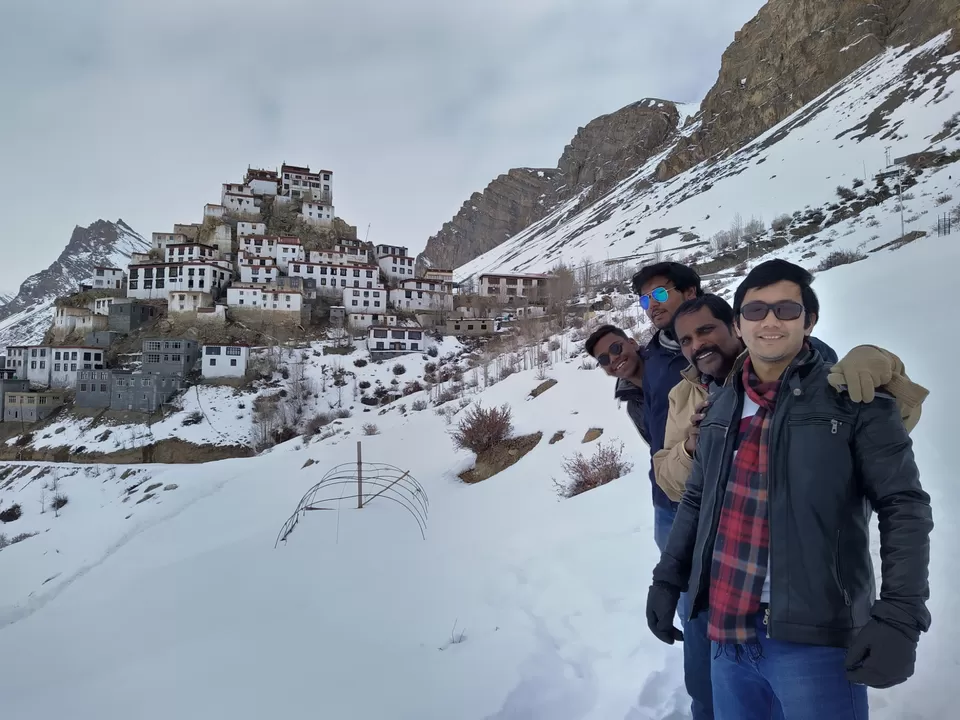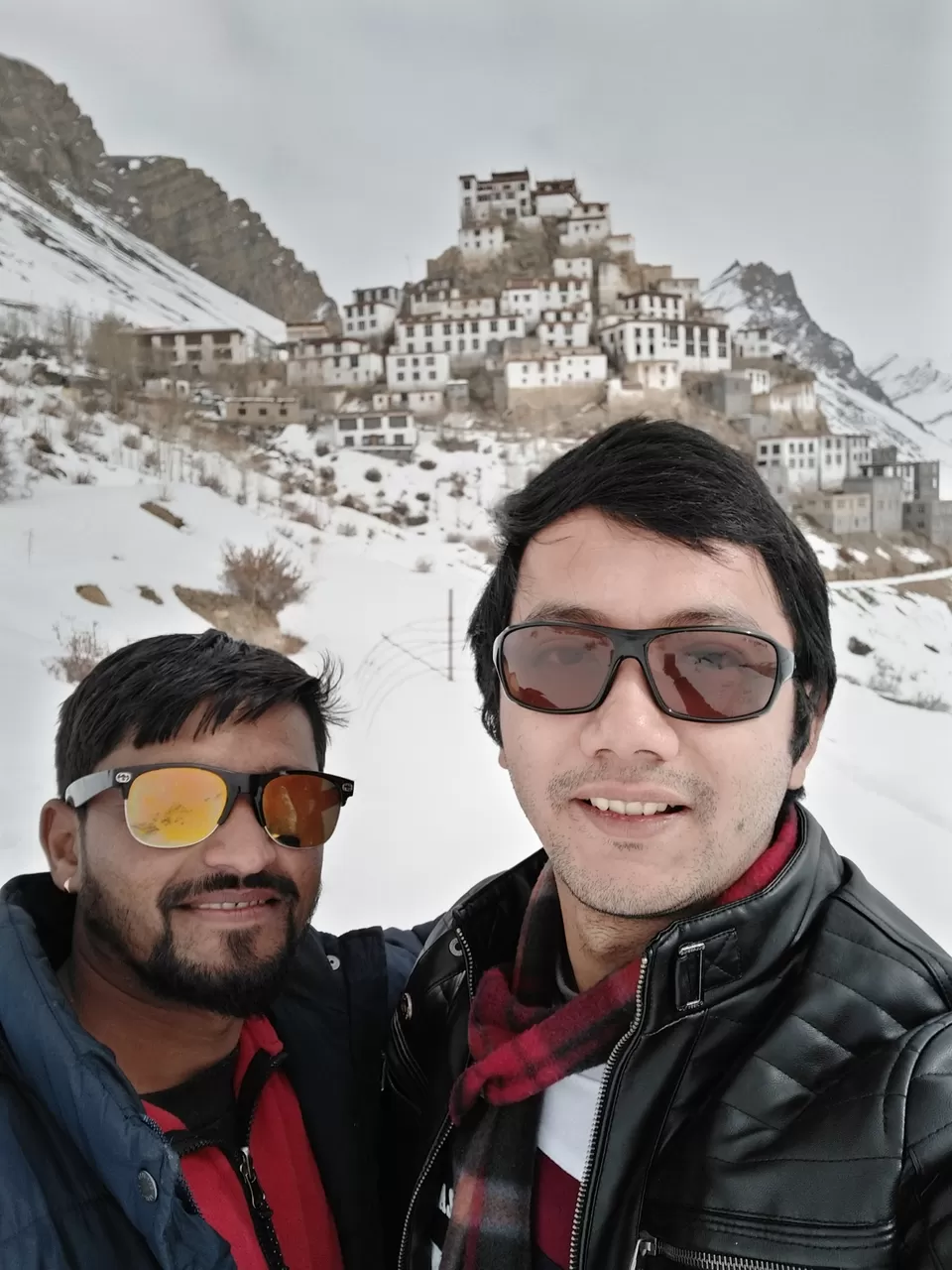 We decided to head back after seeing the clouds darken, a sure sign of snow at this time of the year.
However, the ominous sky quickly brightened after an hour through the journey. It was time to admire the Chicham bridge back on the way, a marvel in its own right.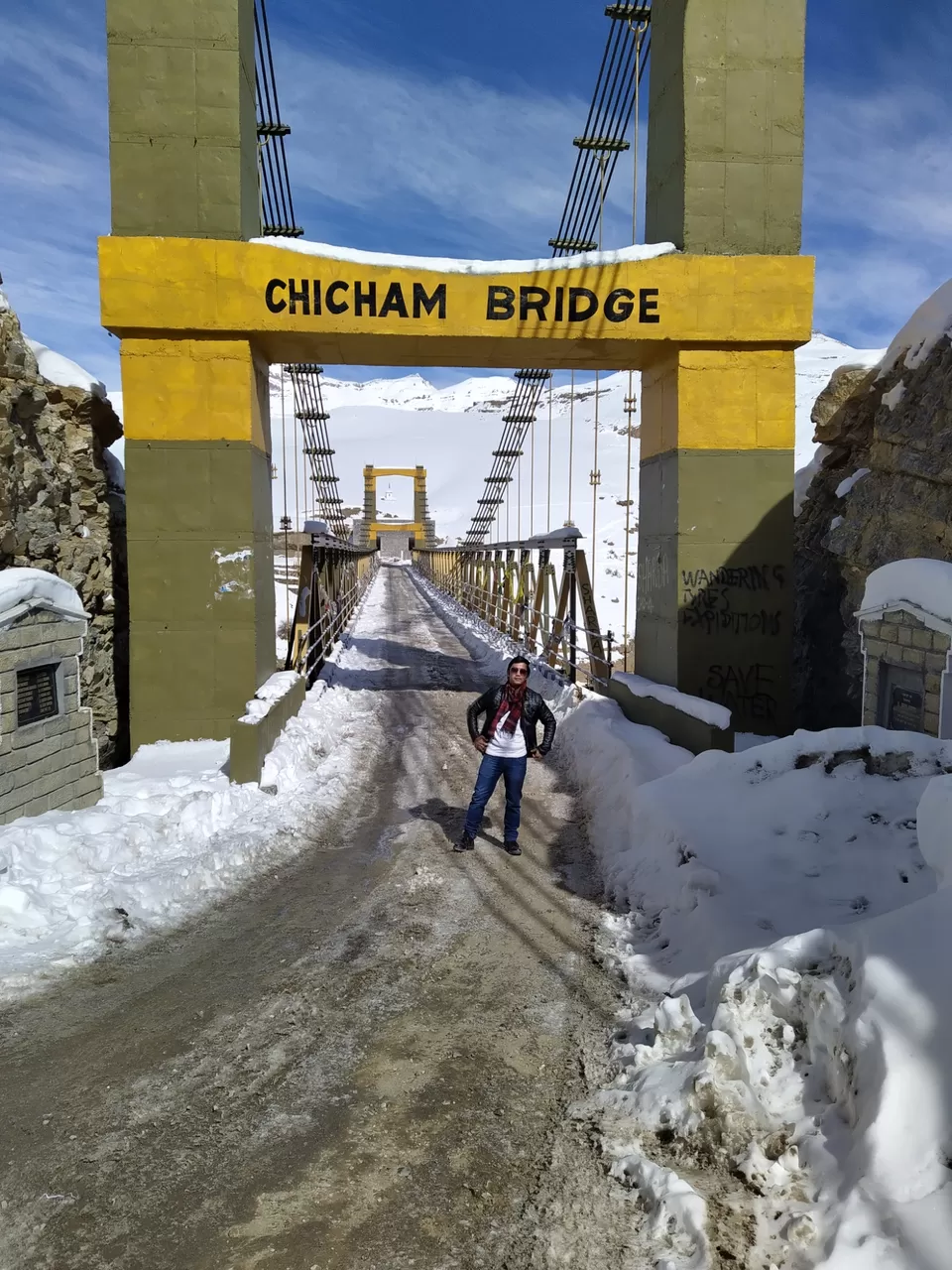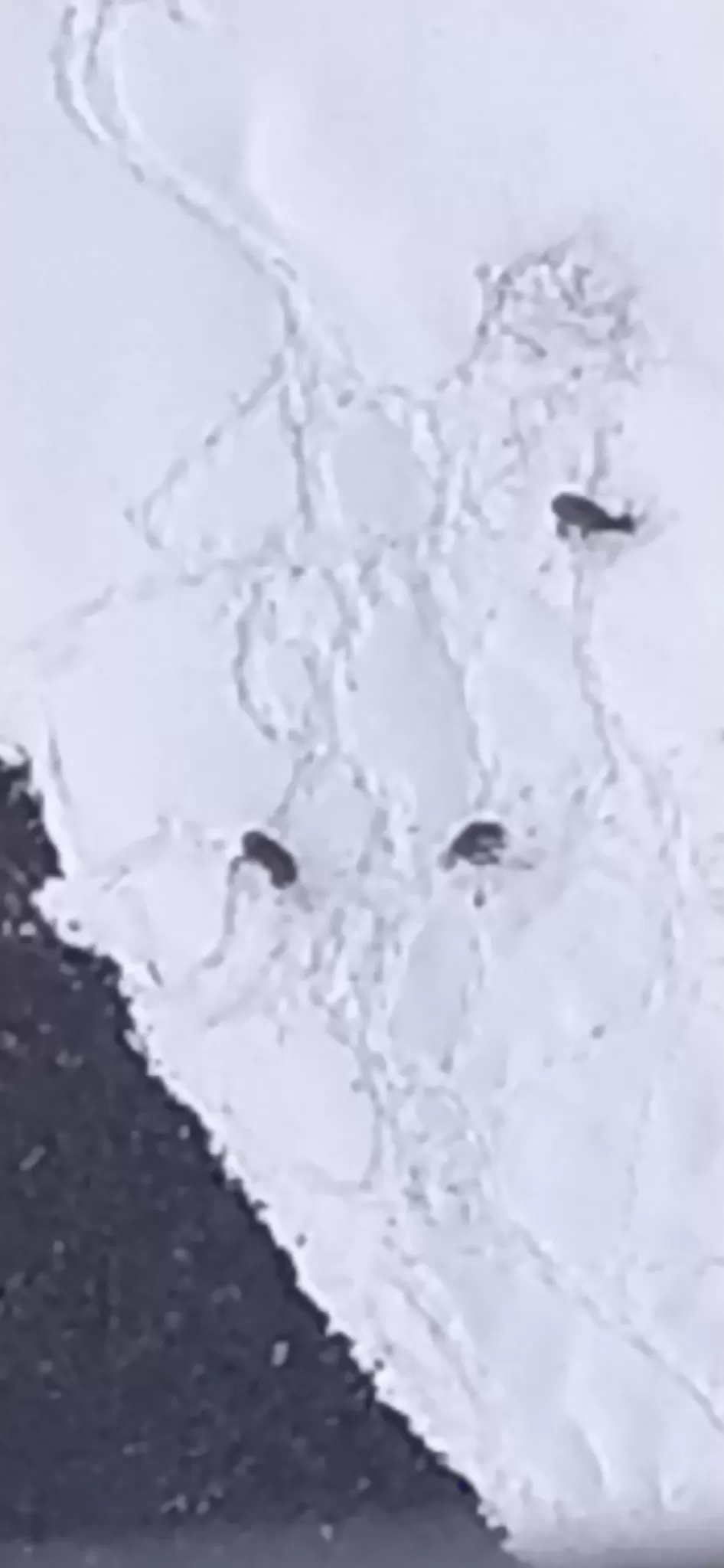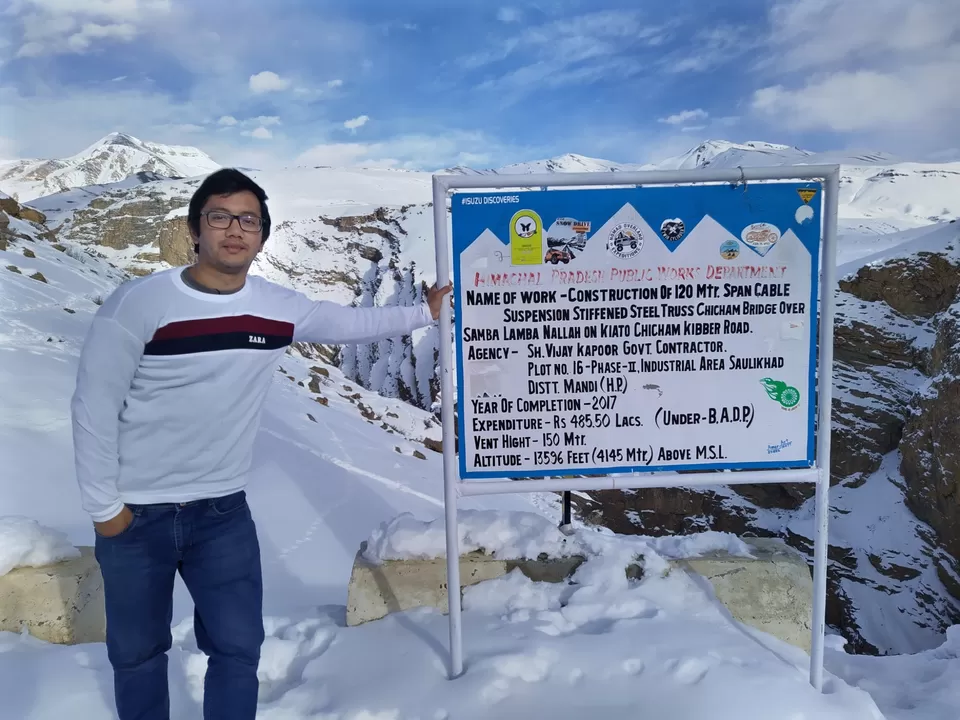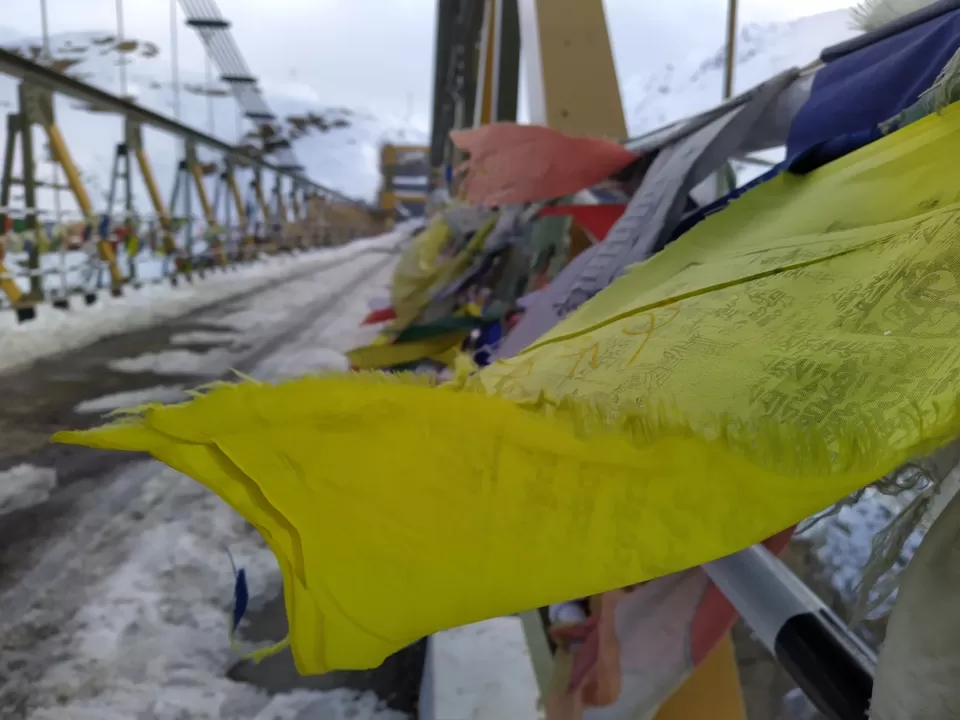 Situated at 4145 metres above mean sea level, Asia's highest bridge was inaugurated in 2017. And since then, has become both an important transport route and a tourist site, drawing in visitors all season.
However, the gorge below was deep, sending shivers down our spine.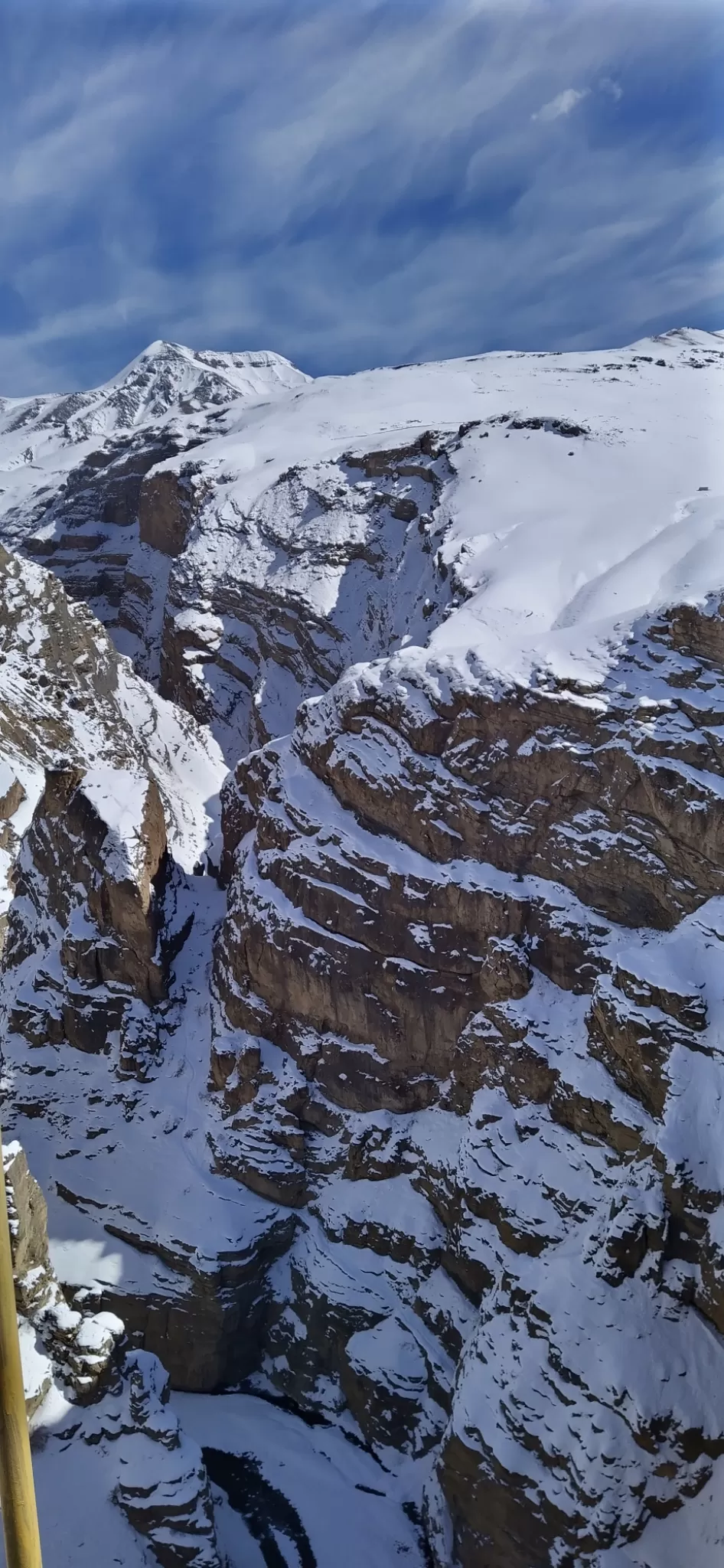 Our group then headed back to our base Chicham.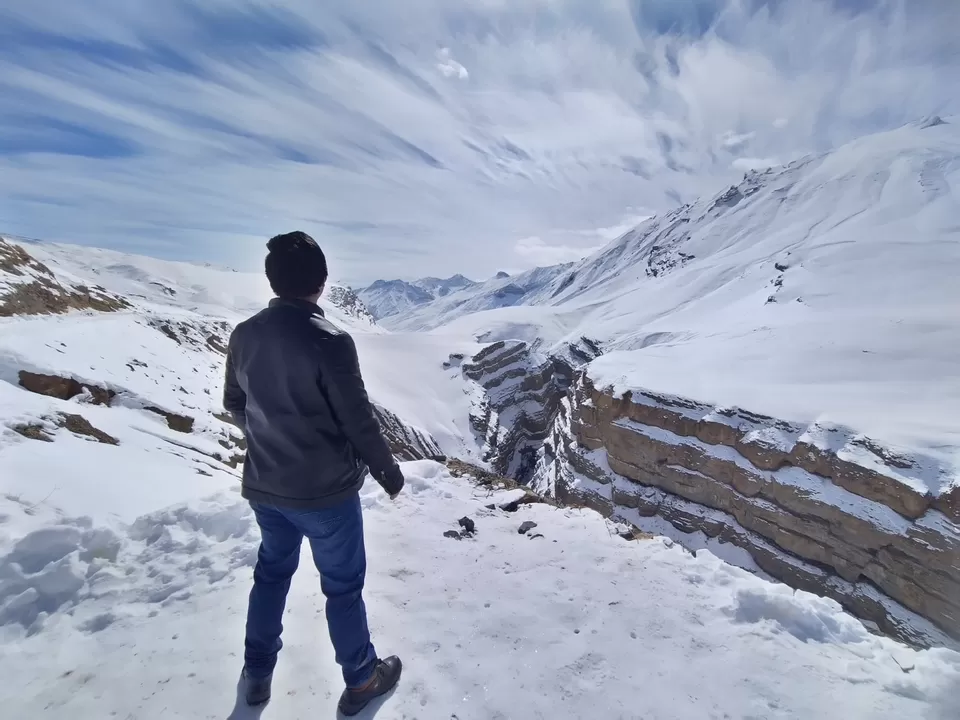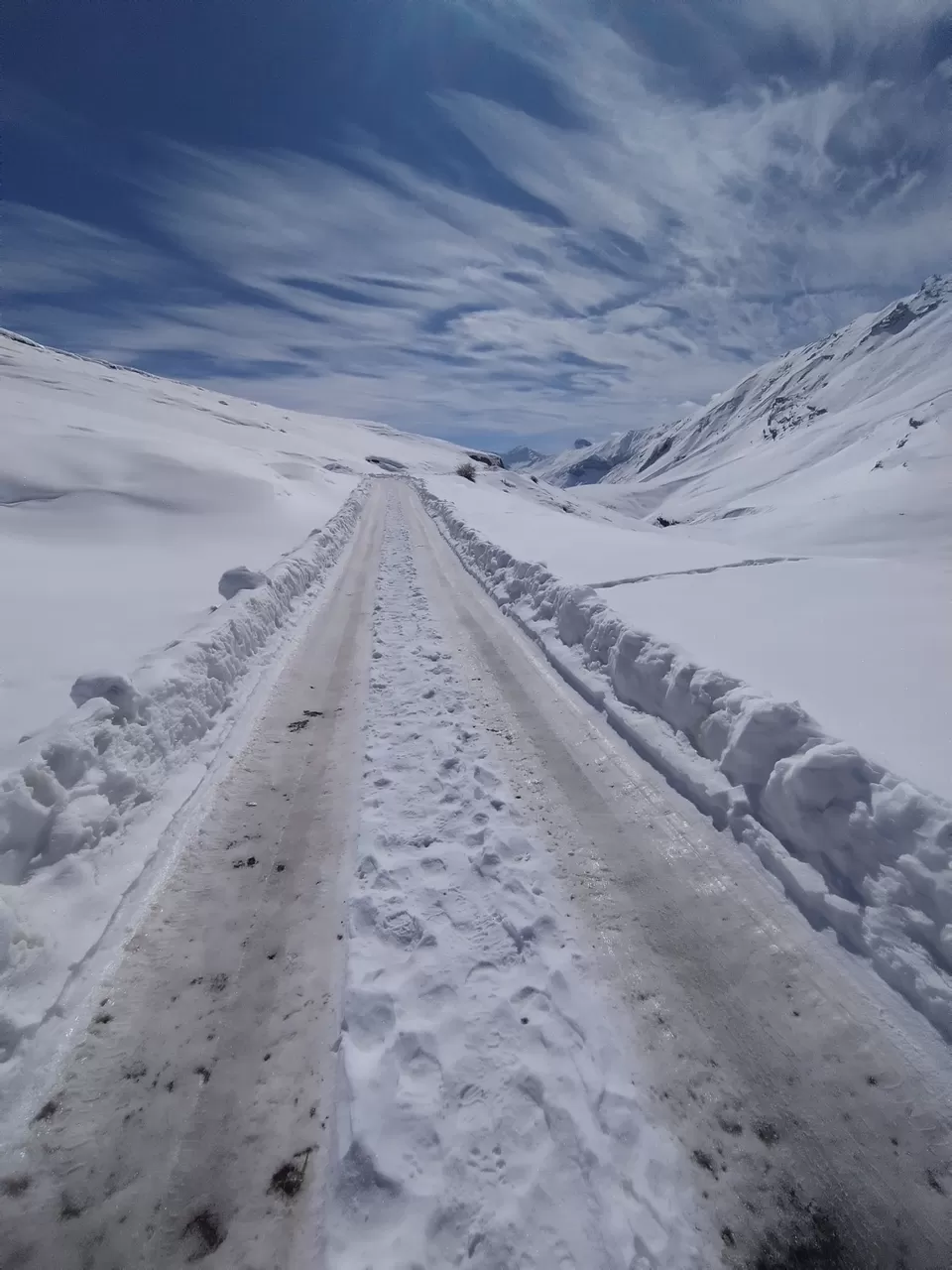 We reached the honestay around late evening and unwinded. Took a couple of hours to pack our things as the next day we were to head back. It was indeed our last stay in the valley.
It was around 1:30 that we managed to book a new car. With heavy hearts, we bid farewell to the Winter Wonderland. It took an hour to begin our journey back.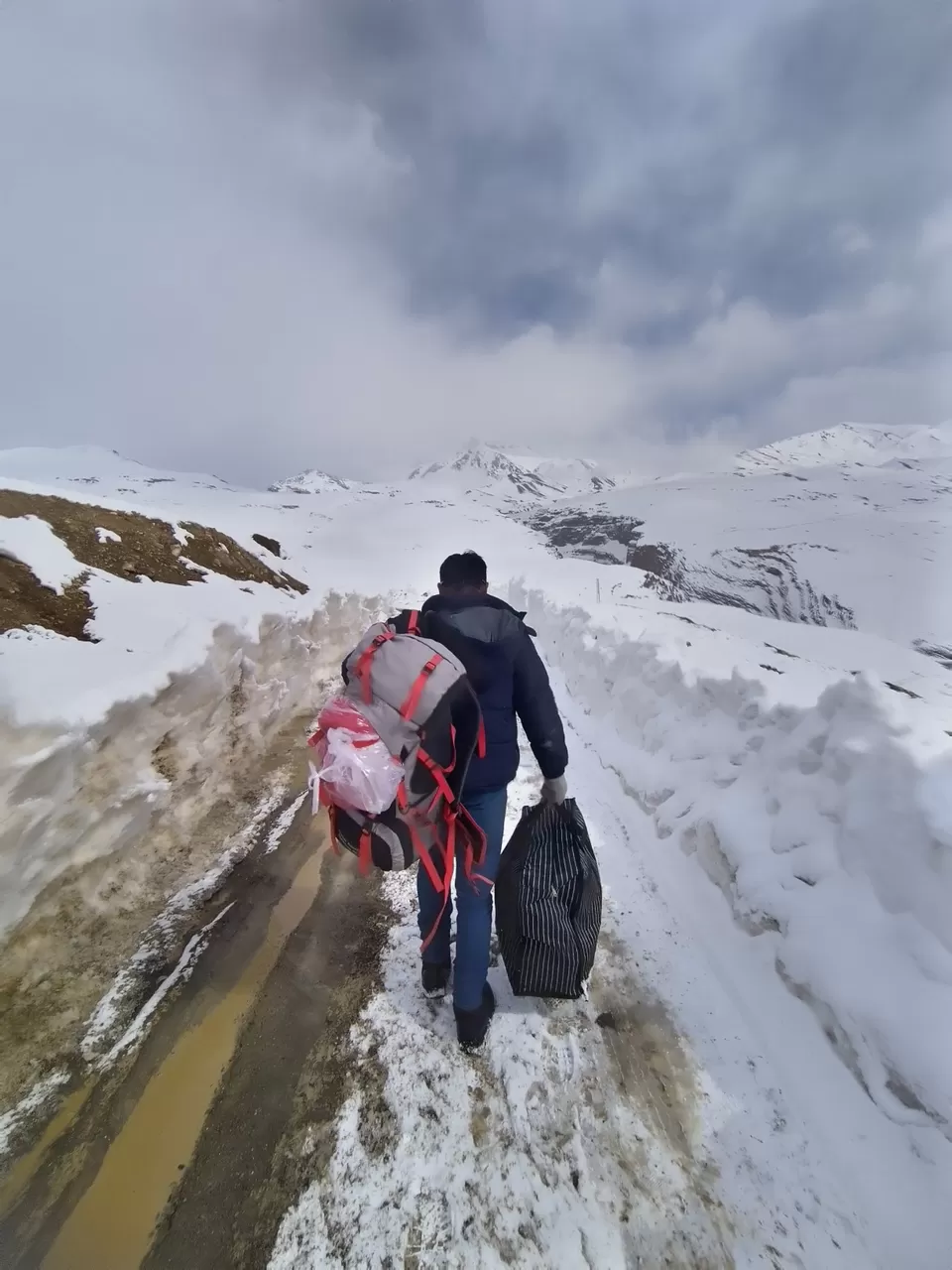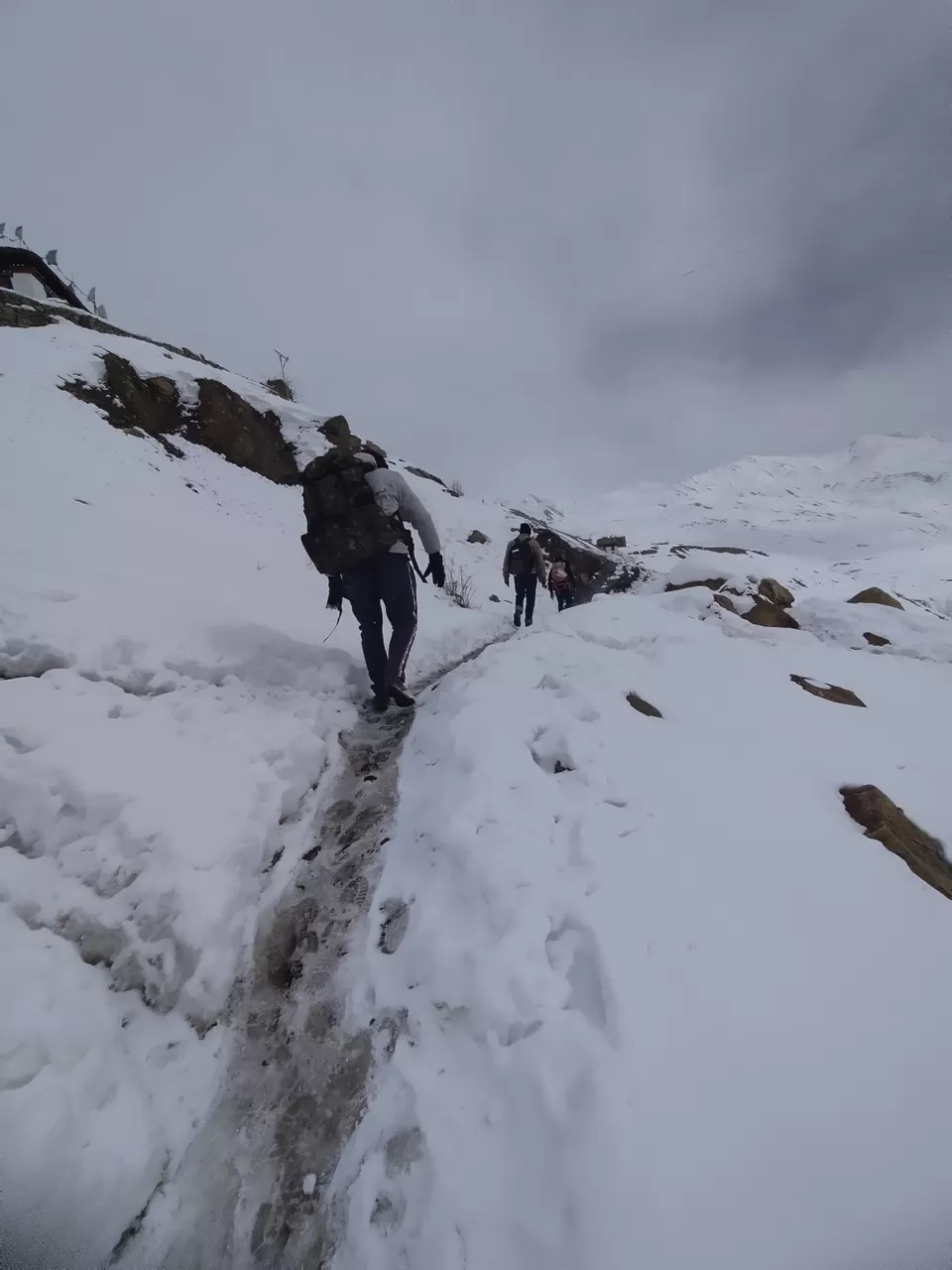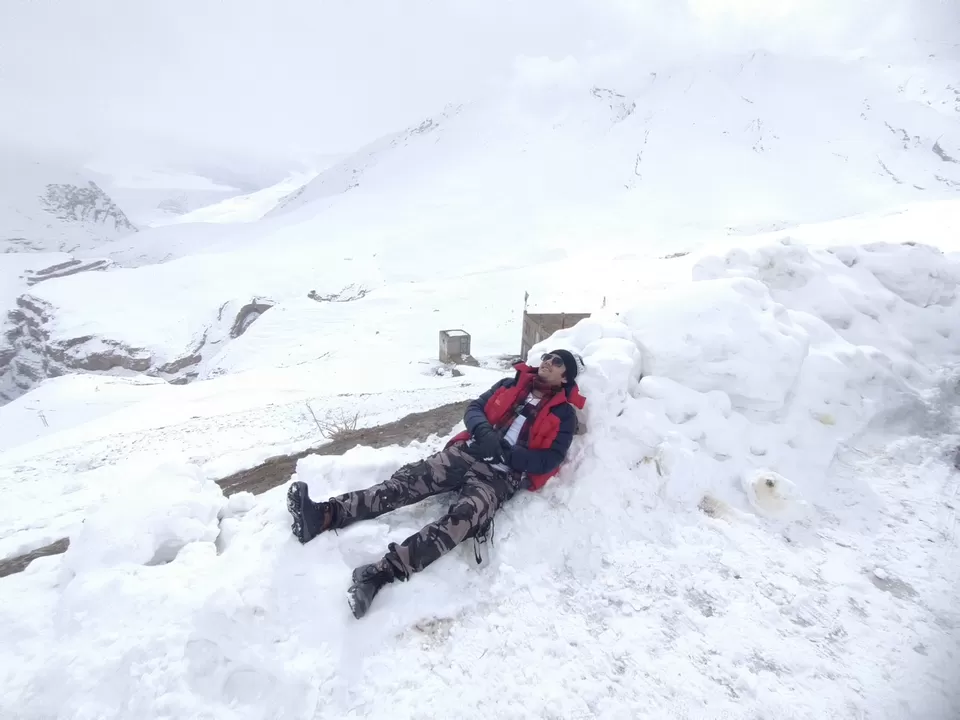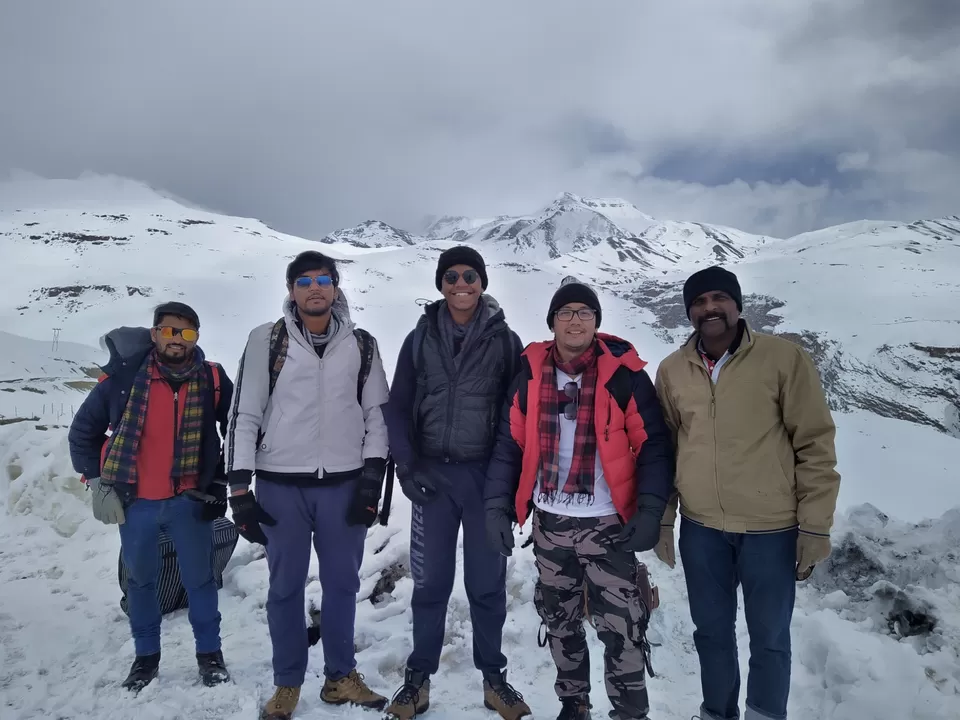 So, after loading our luggage on the Balero, we started our journey to the next destination; Kinnaur, where we would stay for the night.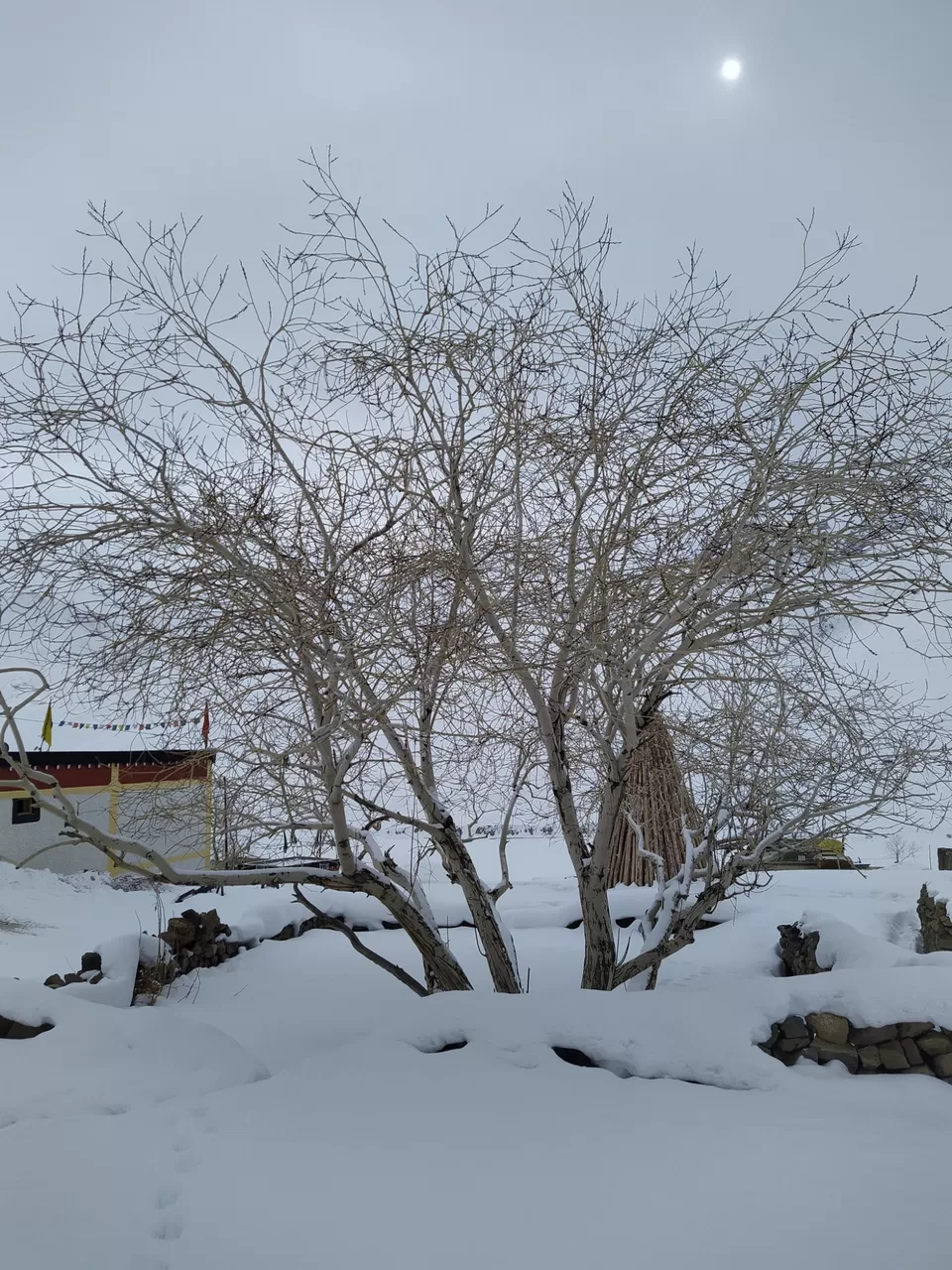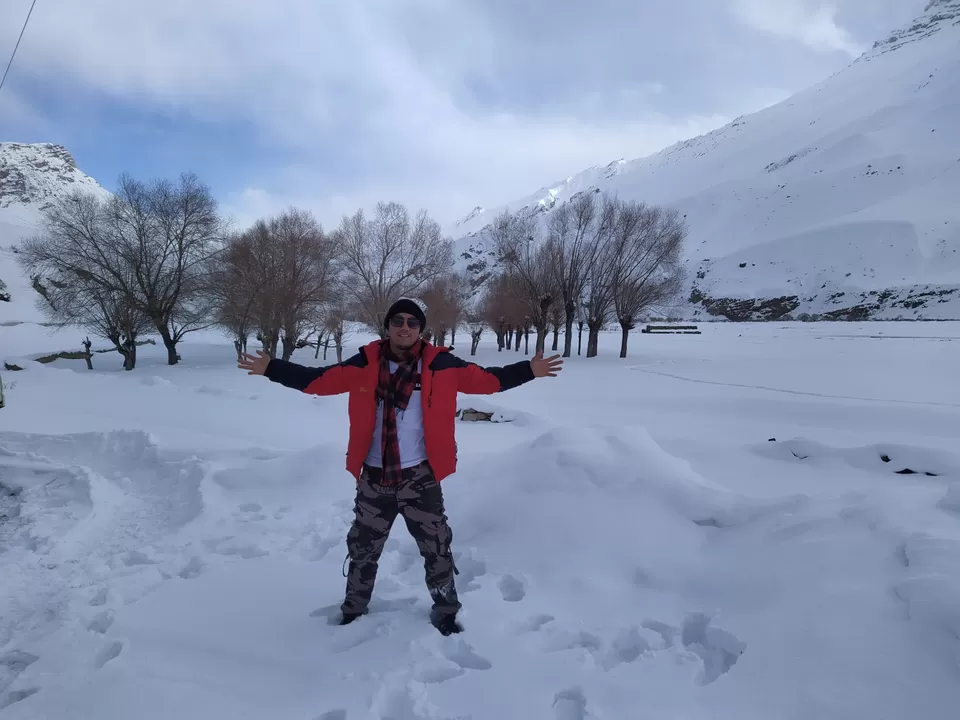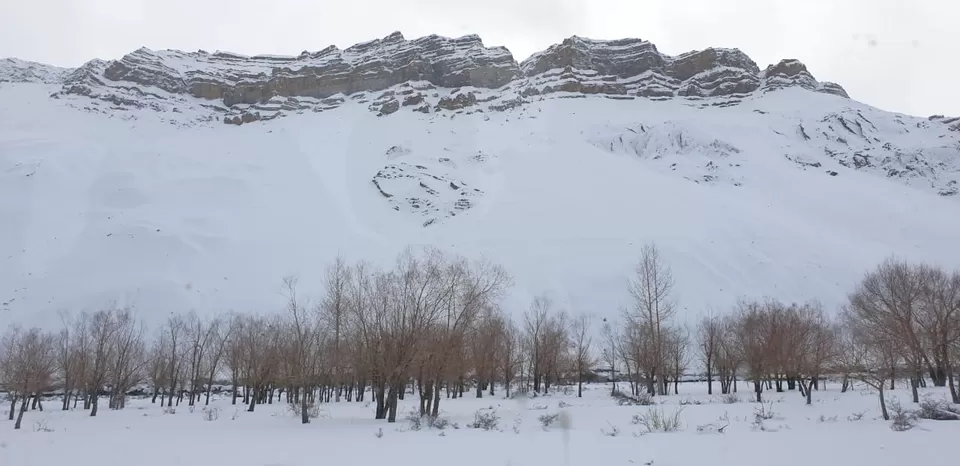 The heavy breakfast started taking a toll on the four of us as we began dozing off in turns. However at one point, I was lucky enough to be awake to witness something marvelous and out of this world! I immediately screamed for the car to stop and rocked my teammates from their slumber. Everyone agreed that the sight was too amazing to miss. We stepped out to view Mother Nature in all her glory.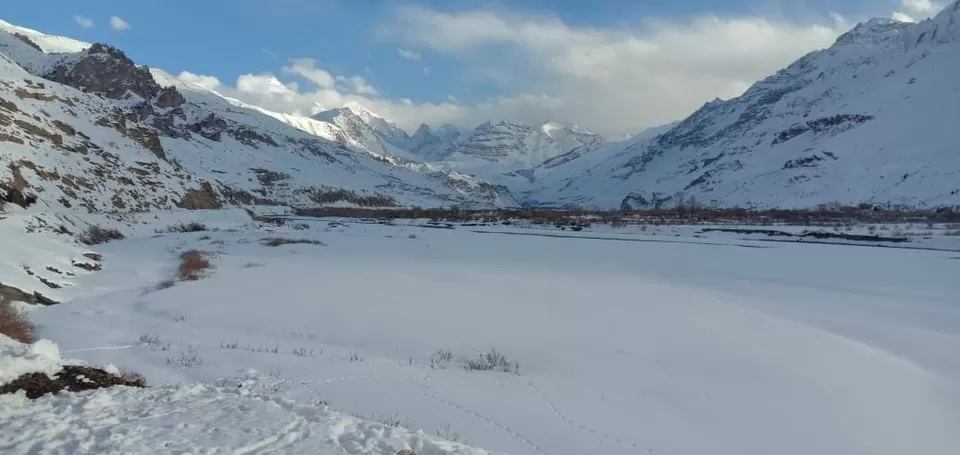 Wish the camera could fully capture the awe that we witnessed at that time, but hey, that's what traveling is for; seeing it from your own eyes.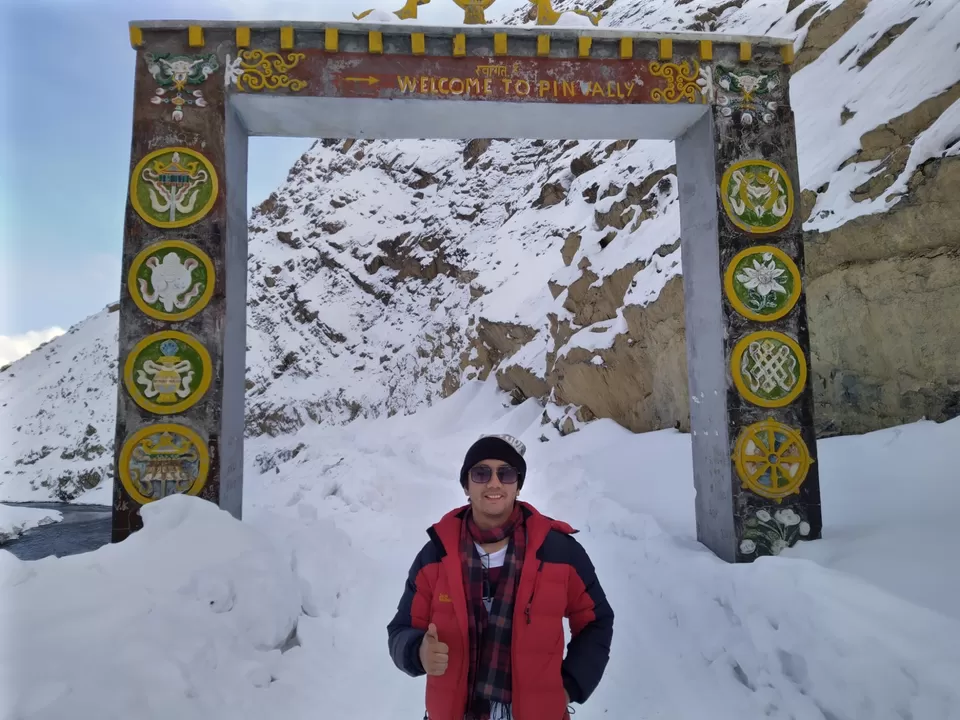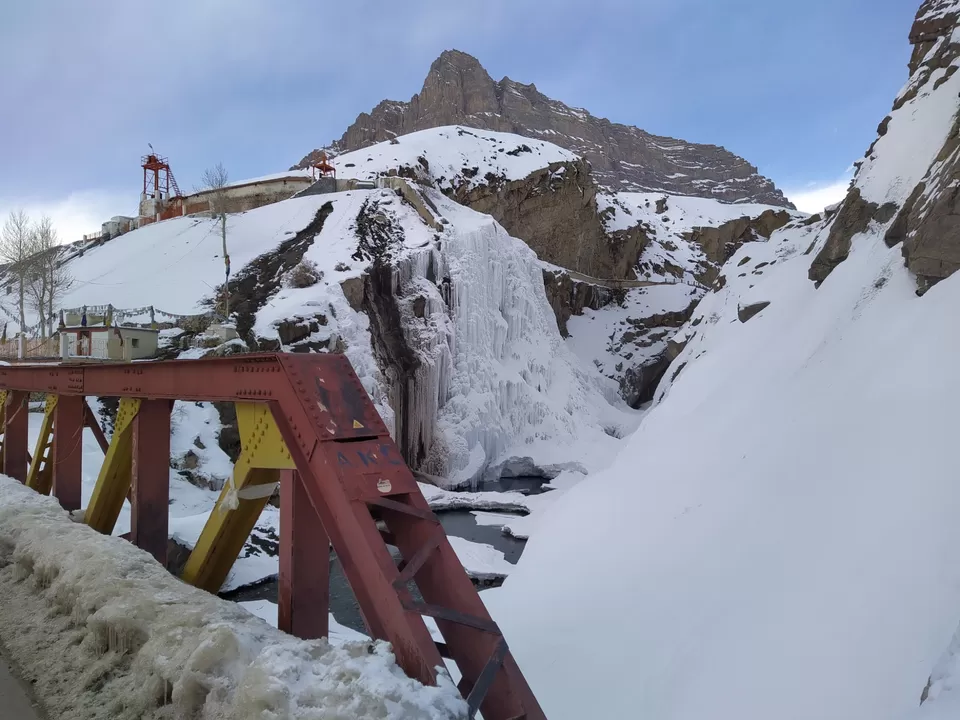 We crossed Spiti just before the sun fully set down. The journey to Kinnaur would have to be undertaken in darkness.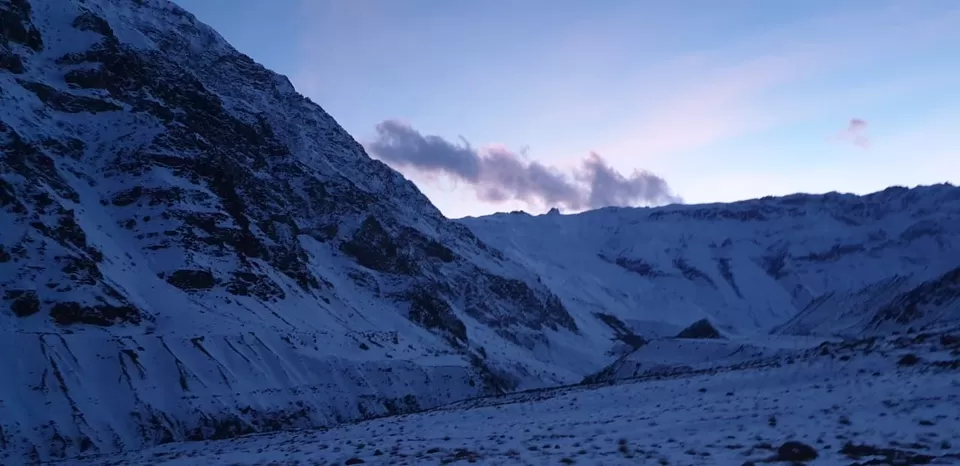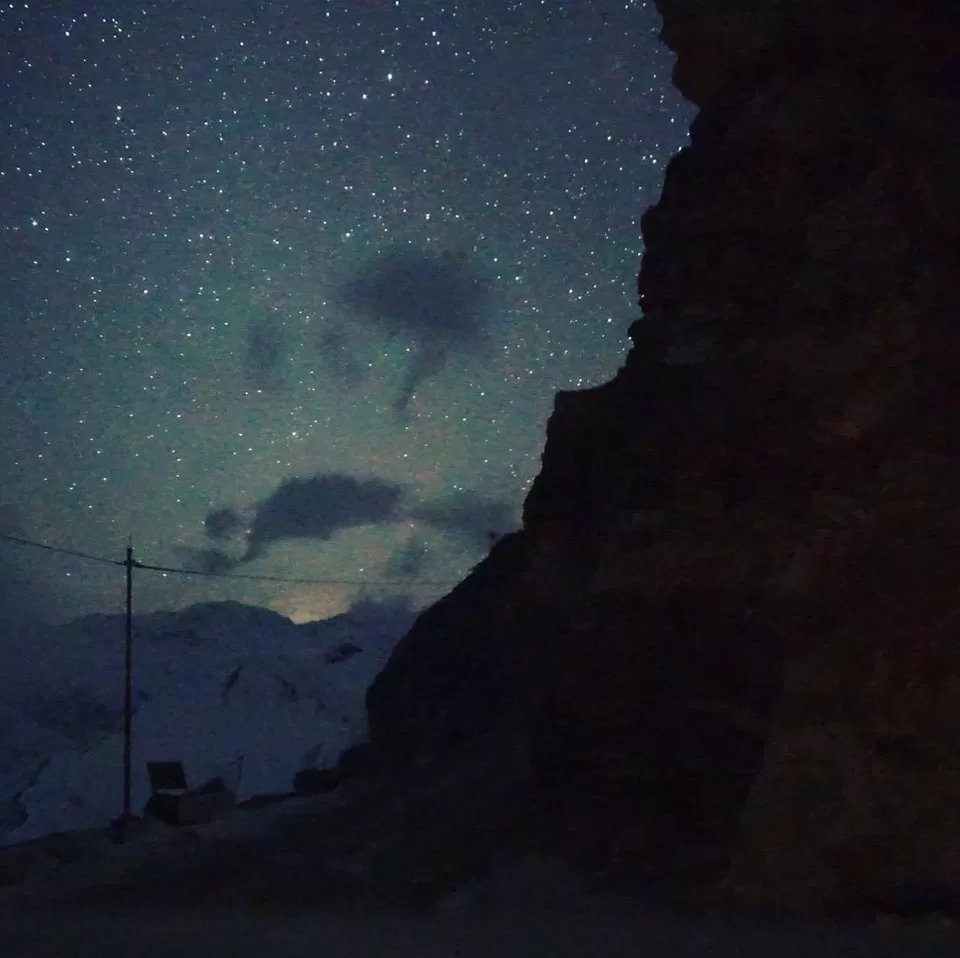 By the time we reached our hotel in Spillow, Kinnaur, it was 11:30. Luckily for us, the staff was waiting for our arrival as they showed us our rooms and later, served us some delicious, hot dinner. Content, we retired for the night after an arduous journey.
After checking out, we planned to go to a local monument know as Labrang Fort, said to be built by Pandavas, but unfortunately the roads were blocked due to snow so we had to abort the plan.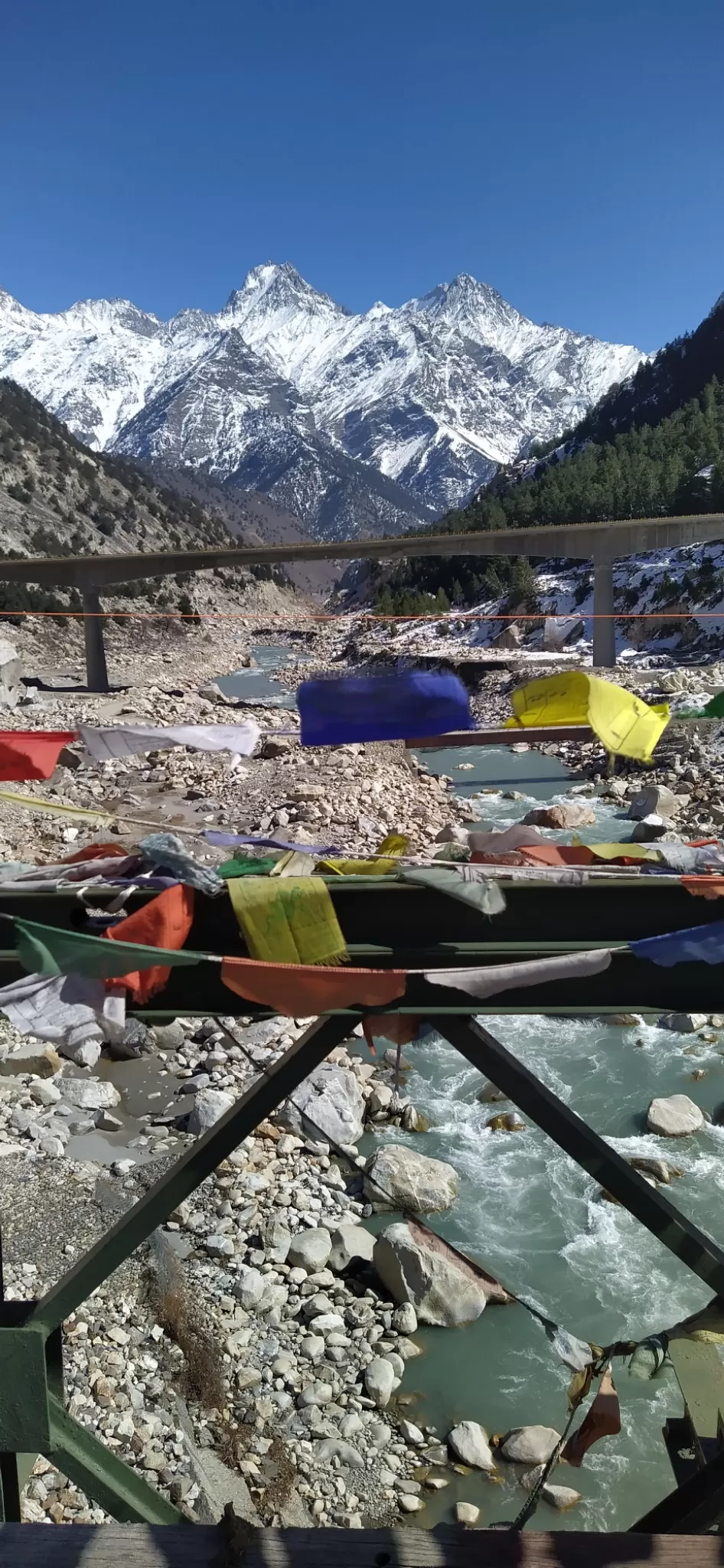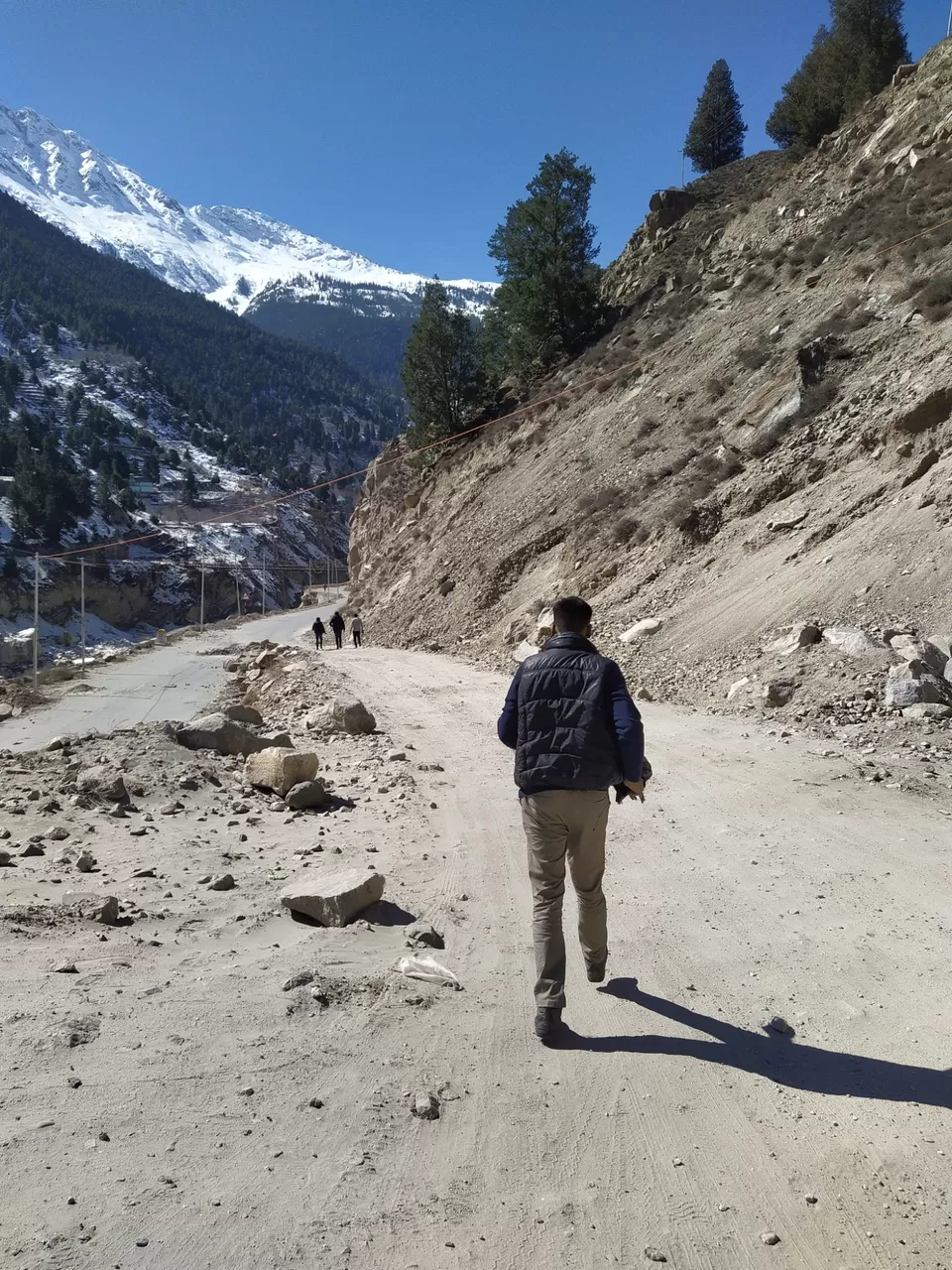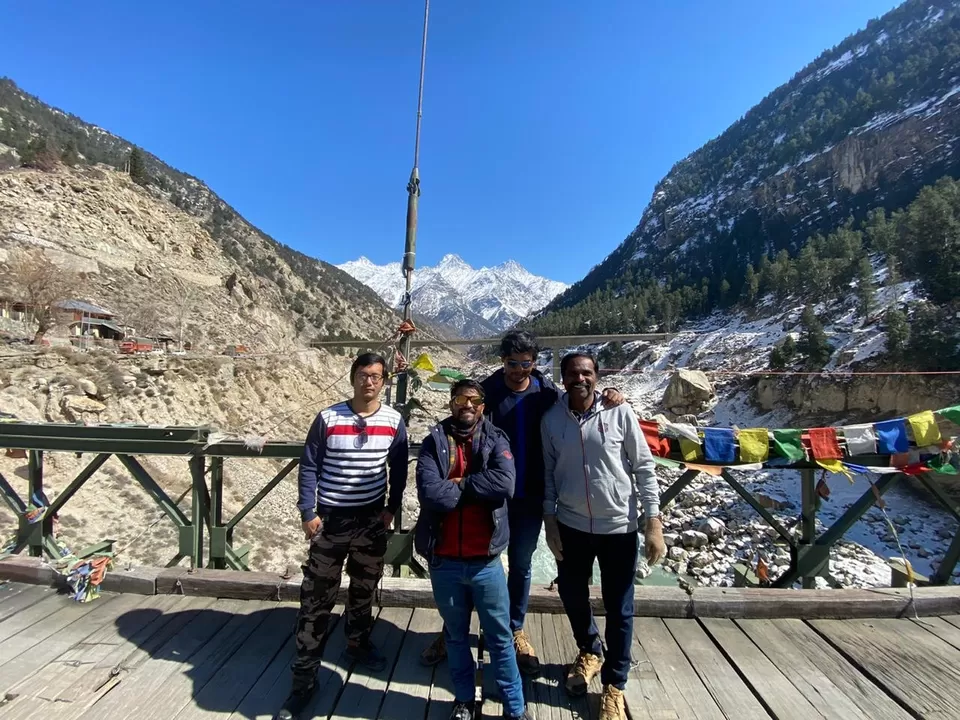 One thing is noteworthy; despite being over 90% in Hindu population, Himachal Pradesh has a strong Tibetan Buddhist presence and influence. Same thing can be said for the neighbouring state of Uttarakhand. Maybe it is due to being in close proximity to Tibet.
Reached Rampur in the evening by 4 pm, staying at the same hotel we had five days prior.
Checked out of our hotel by 10 am and took our own time to reach the fabled British summer capital, cruising through the roads. After depositing our luggage in a rented store room at ISBT Tutti Kandi, we headed towards the main city and bid farewell to Mr. Pandey and the driver. We were free to explore Shimla on our own.
However, we underestimated the climb from Lower Bazaar to Mall Road. It was a strenuous uphill 20 minute climb and we had take short breaks to catch our breath several times. But eventually, we did make it.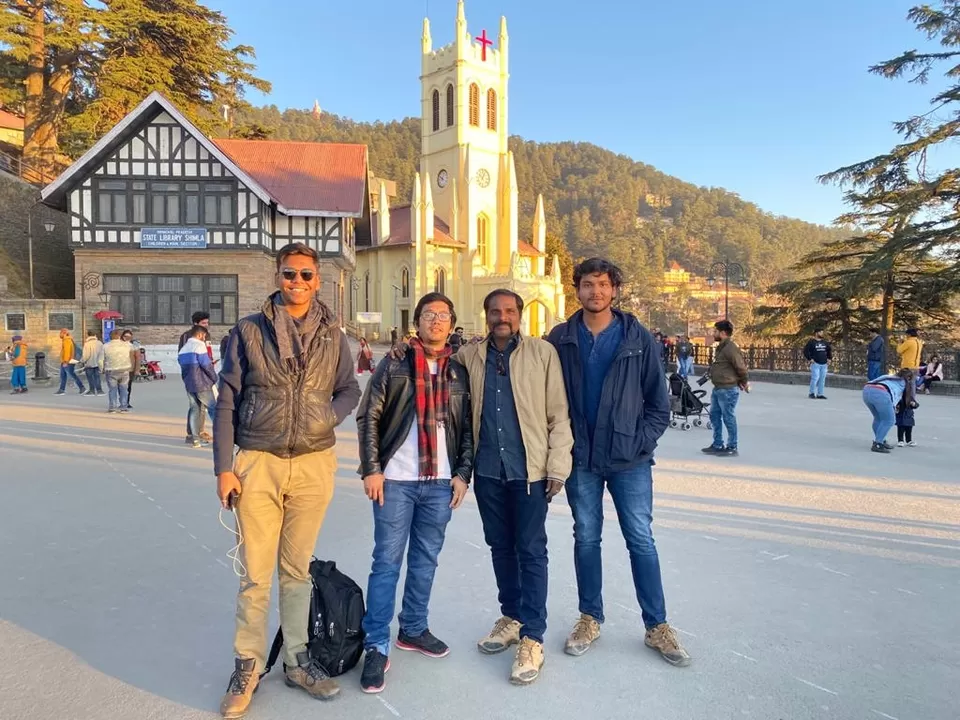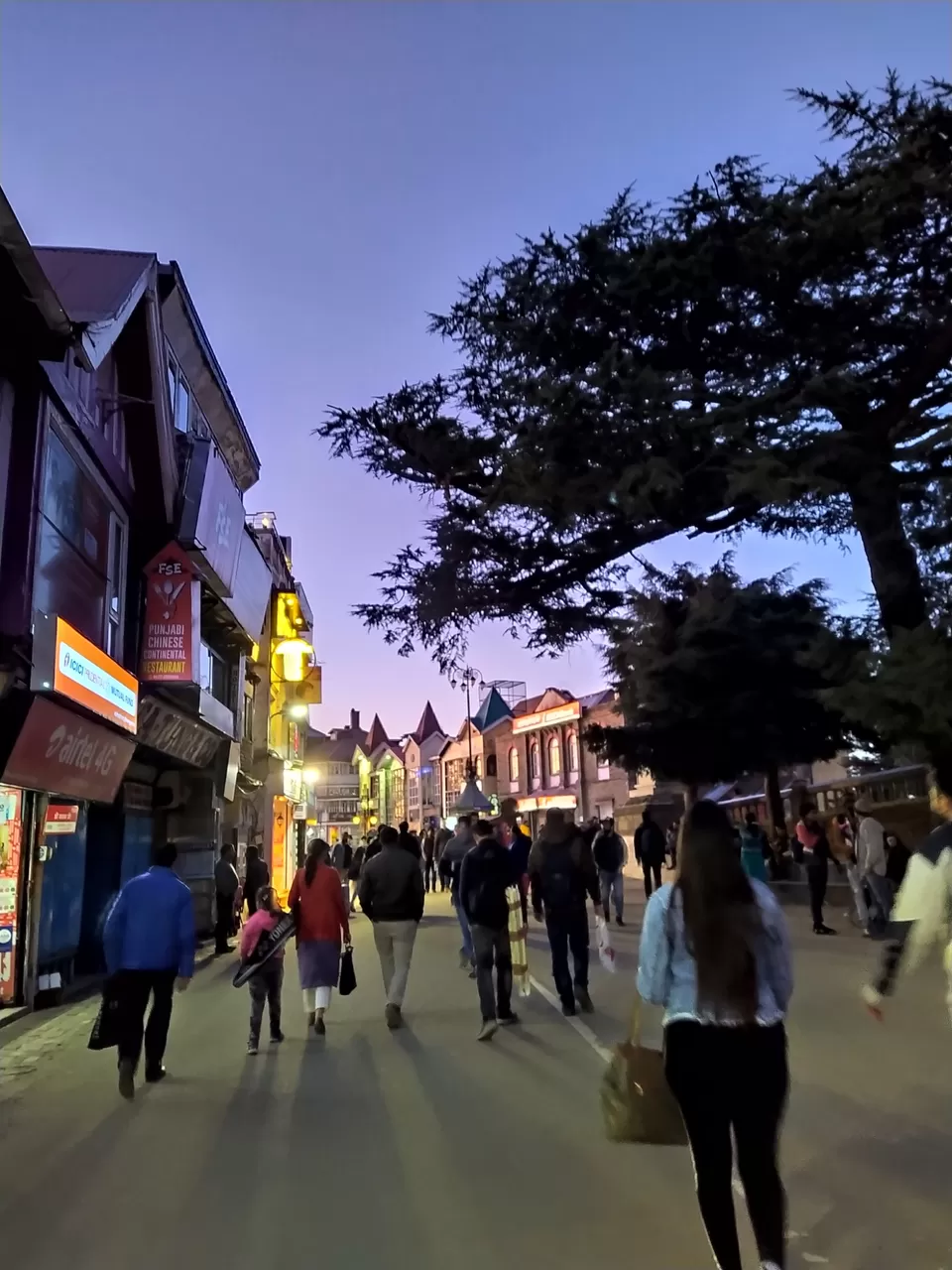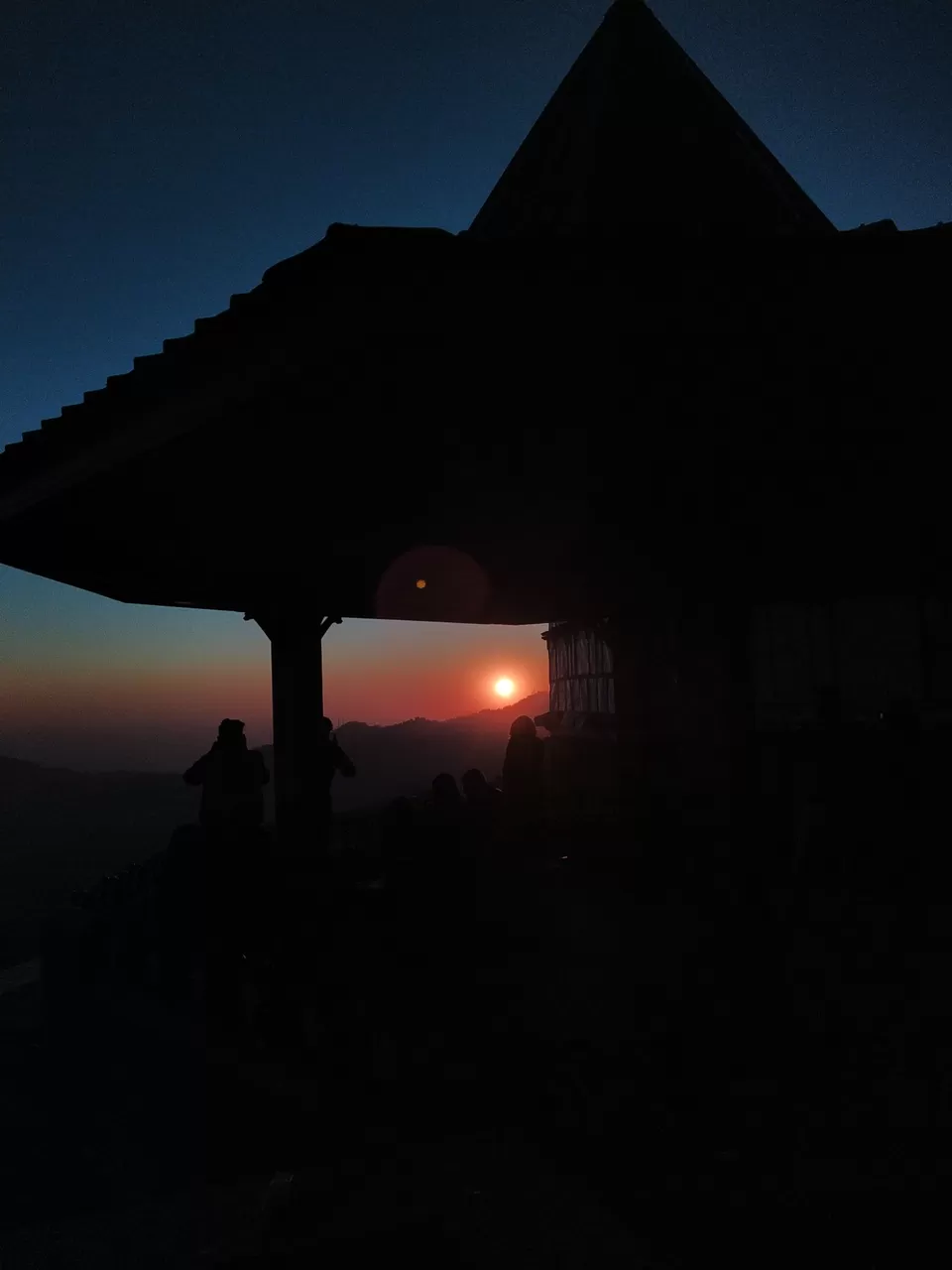 Having visited Shimla twice prior I acted sort of as a guide and although short on time, we explored whatever we could in the spare five hours we had; visiting Mall Road, clicking pictures in front of heritage structures, having coffee at the iconic Indian Coffee House, gorging on momos and kurkej. Beautiful!
I'll be making a seperate post, a combination of all my visits to Shimla to give justice to this beautiful capital.
Our time in Himachal came to an end as we boarded our Volvo bus for the night. After reaching Delhi early morning, we said our goodbyes and parted ways, taking our own routes, some quite far (Hyderabad). However, the memories that the four of us shared would live with us forever.
Total days 9
Total cost ₹17000