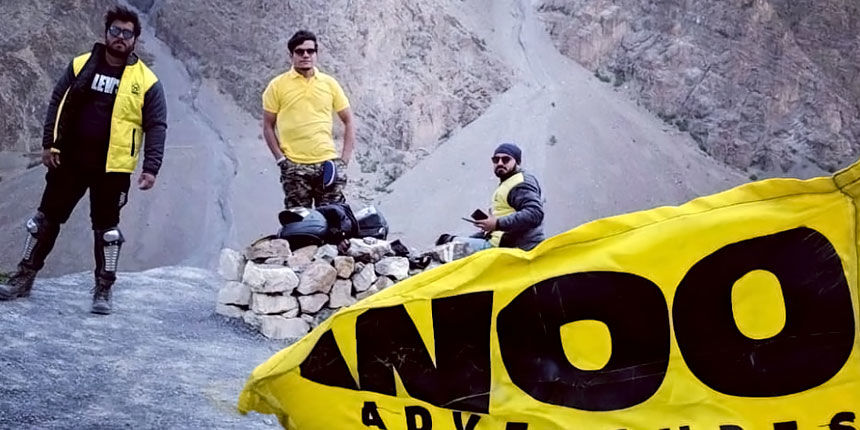 Trust me, 'heaven do exist' and that too nowhere but in India. Any guesses on what I am talking about? Yes, here I am mentioning the enthralling Spiti Valley as the 'Heaven on Earth'. Spiti, undoubtedly is a destination filled up with terrains, valleys, lakes, perfect weather and mesmerizing sceneries which you are thoroughly going to enjoy no matter what! Despite of it being a rough cold desert, Spiti never fails to impress the visitors with its jaw-dropping as well as a massively amusing beauty.
What to say, but I think I am lucky enough to see the wonders of this place in front of my eyes when I got an opportunity to visit Spiti along with my three travel mates and that too on our personalised two-wheelers. Well, according to me nothing's best than an overlanding trip to Lahaul-Spiti while passing through varied cities and being a part of the lush-green environment as well as the purified air as we moved on the roads here! It's been a month since I am back from my Overlanding tour to Spiti but still I just can't get over with the abundant memories collected from there. Feeling at the top of the world while visiting the World's highest post office, camping on the mountains with a barbeque in front of it, gazing the night sky filled with shining stars, and communicating with the locales as well as getting to know about their local culture was nothing but true happiness for me.
To be true, if I am asked to list some good things about Spiti, then my answer would be an endless one as I grabbed some of the finest moments from here to be cherished for the lifetime. However, I also got to know about some things, habits or actions which must never be done here and what are they? Surely, you are no far from its answer and thus, here I am enlisting a few things which shouldn't be done in Spiti at any cost. Have a look:
Never underestimate the power of Spiti's roads!
Just keep a single thing in mind- 'Never be overconfident'. The roads here are rough and treacherous at some time, also they can prove to be a dangerous one at times. I know you might have experienced some road trips before too, but this place is something different. Thus, there stands a great need for the over-lander to drive slowly as well as cautiously.
No Drink and Drive, please!
I don't think there is anything that I should be explaining this too. Just remember that consuming alcohol and then riding your vehicles here is a punishable offence as well as fatal for your life.
Avoid entering Spiti from Manali!
The same thing was recommended to us much before the commencement of our tour. But, instead you can just start your journey right from Shimla and conclude it at Manali. Why to avoid? It is prominently uttered that entering Spiti from Manali can lead to High Altitude Sickness since, on the first day you will walking for 2000 meters and then on the next day, the altitude will increase along with the distance reaching to 4000 meters.
No need to rush!
An overlanding trip to Spiti should only be planned if its participants have enough time. You should be having minimum 4-5 days for your Spiti Trip and this is because, instead of just touching this valley and coming back doesn't make sense. There is a dire need to enjoy the serenity and the scenic views lying at this beautiful destination.
Lahaul and Spiti are not the same
Never confuse among Lahaul and Spiti since they were never the same. Yes I know, Lahaul is often used with Spiti but both of these are entirely different. These are two distinct and comparable valleys with Spiti located around Kaza, Tabol and Chandratal and Lahaul situated around Keylong, Darcha and Jispa. Also, Spiti is accessible either through Spiti or Manali whereas Lahaul is solely accessible through Manali.