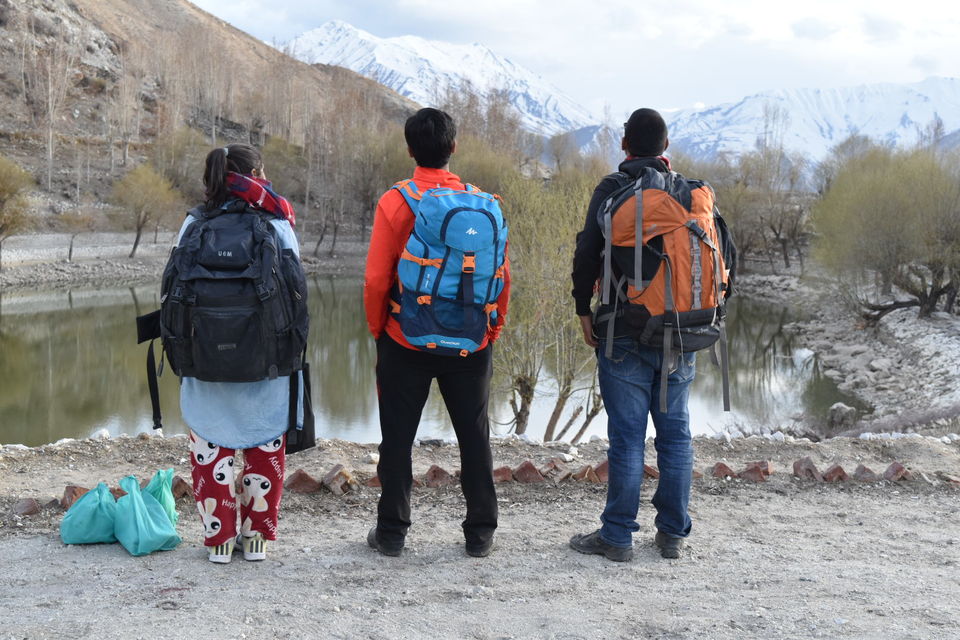 Our backpacking trip to the offbeat Spiti Valley started few days before we actually began with this mostly barren yet so picturesque journey. It was with coming together of 3 not-so-random strangers (Me, Chitraj and Kirti) to go to an unplanned expedition for around 10 days. Not much time was taken to rule out the options in South (Pondicherry, Karnataka etc.) due to weather and finalizing with "The Spiti". Meanwhile, we started tagging each other in FB posts related to Spiti, ranging from mesmerizing aerial view of the place to finding cheap home-stays there. However, little did we know what this trip held for us in its stride.
We started with the trip on 24th April with the following 3 guiding factors:
1) Unplanned- no pre bookings
2) Economic- budget trip without compromising much on comfort
3) Maximum public transportation- interaction with locals is must at such places, as they can tell things which google might not be able to (as whatever the Airtel 4G girl claims, network cannot reach everywhere ;) )
It was first such experience for me. My earlier trips were more of 3-4 days fully planned weekend trips, mostly on extended office weekends. However, this time, we three had one thing in common; we had enough time, as we were three UNEMPLOYED (by choice) souls trying to figure their lives out.
Suiting the time of the year we travelled, we took the following route:
Delhi – Shimla - Reckong Peo (Peo) – Kalpa – Nako - Kaza (Key, Kibbar, Langza, Koumik. Hikkim, Pin Valley, Mudh) - Peo – Shimla – Chandigarh - Delhi
I will be sharing the day-wise highlights of our trip:
Day 1 (Delhi to Simla)
•AC Semi-Sleeper Volvo from Delhi to Simla. Kirti and I had a good chase for the bus (thanks to my laziness) and as usual, Chitraj was there for the rescue, holding the bus for us, updating us with smallest of its movement till the time we finally jumped our way into the bus.
•Just 2 lines of a novel were sufficient for one of us to doze-off ;)
•Had home-made food on the way
•Reached Shimla New ISBT. Went to Old ISBT, as next day had to catch a bus from there to Peo
•Started with hotel hunting and came across all the weird hotels, with shady appearance and surroundings. Finally, with much of uphill and downhill workout, found a decent last minute deal on goibibo for Hotel Sita Palace on Mall Road. A nice place but with weird water timings.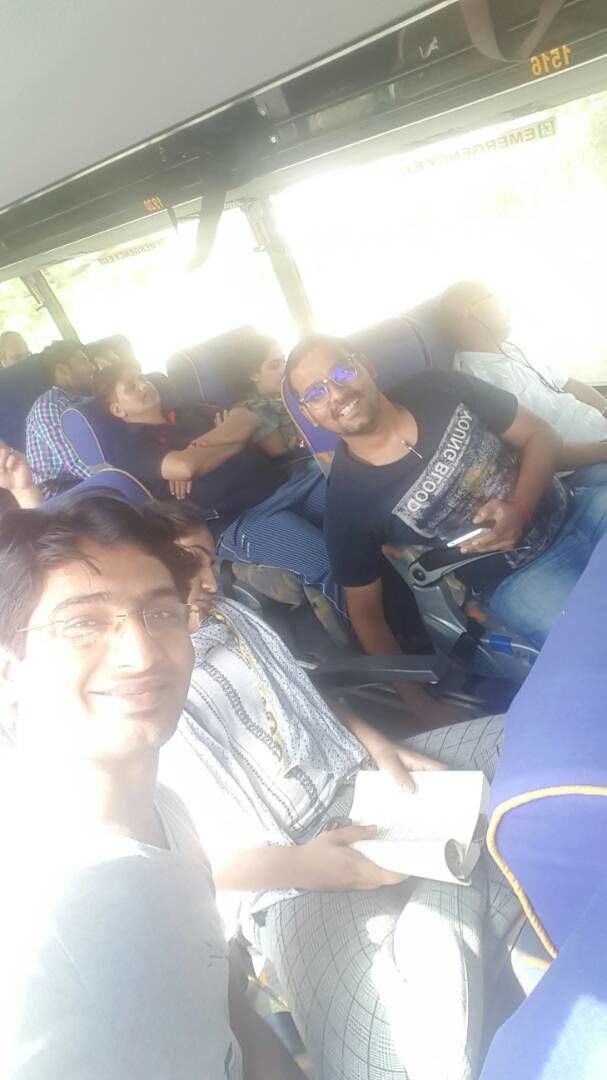 Day 2 (Shimla- Peo)
•Got little confused on places to visit next. Decided to do "Shimla darshan" for the day and figure out the bus timings and best route meanwhile.
•Visited the infamous Mall Road and did a small trek to Jakhu Temple with a huge Lord Hanuman's sculpture. On the way down, visited Christ Church and Kali Bari Temple. Trust me, we are not that much of god-believing persons, but Shimla didn't have much to offer in terms of travel.
•Being a tea lover, "Pahadi Chai" at "Café Under Tree" at the mountain top compensated for lack of travelling spots.
•Went to "Central Perk" café (rings a bell?) super-excitedly, however, the excitement was short lived on finding out that "Central Perk" was just in the name, but nowhere in its theme. However, the food and service was good.
•Took HP Ordinary bus to Reckong Peo. The Last Seats. Hell of a bumpy ride it was. Immediate fall in temperature after 5-6 hours of travel forced us to add layers of clothes on us. Two narrow bridges on the way made the journey far more exciting (as we survived :P).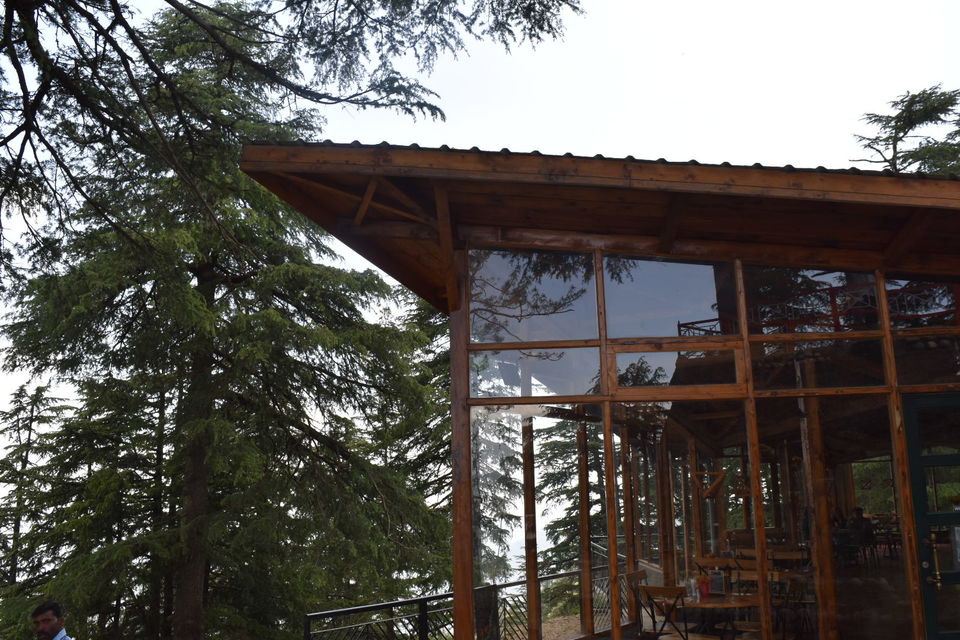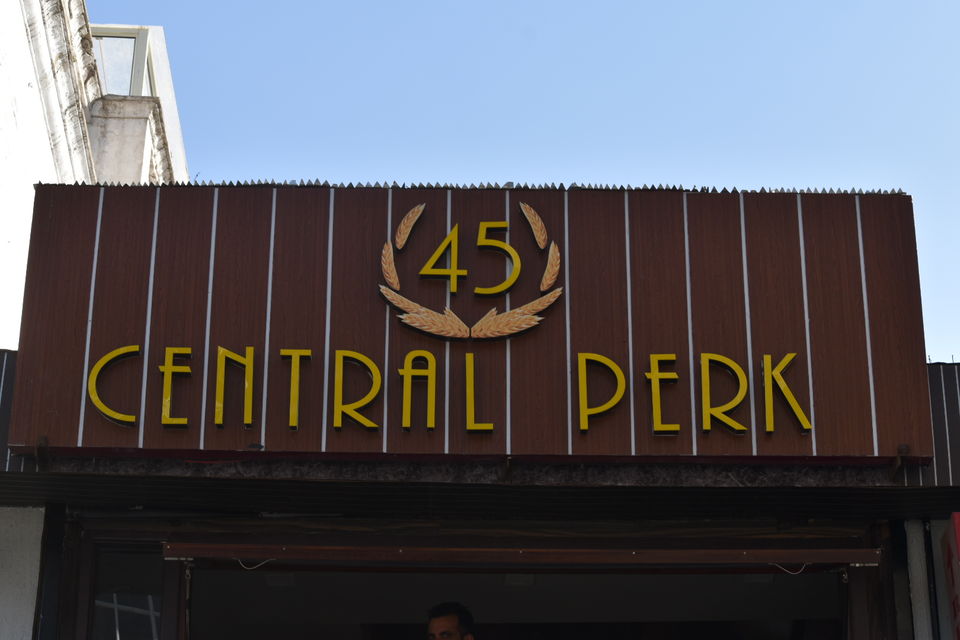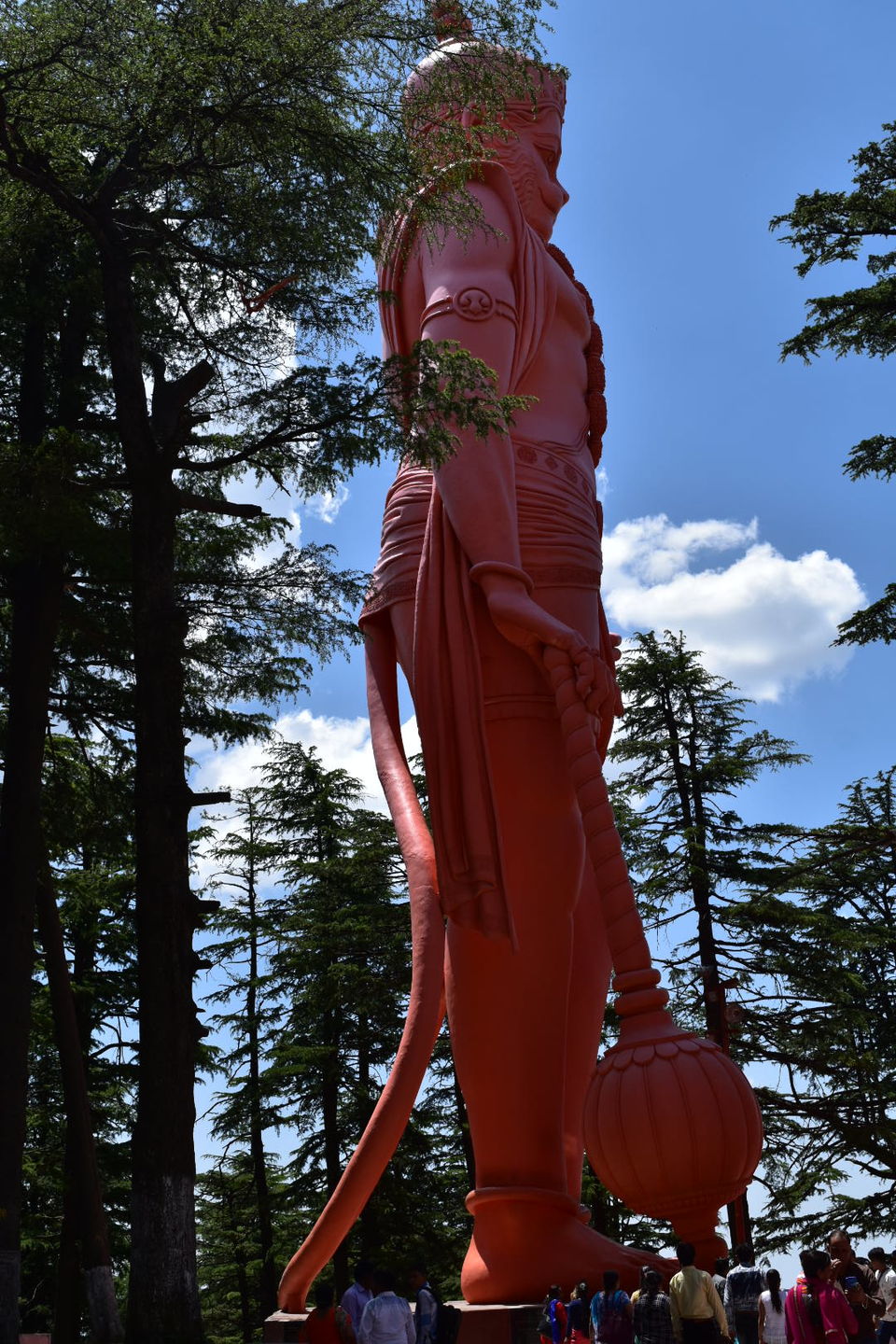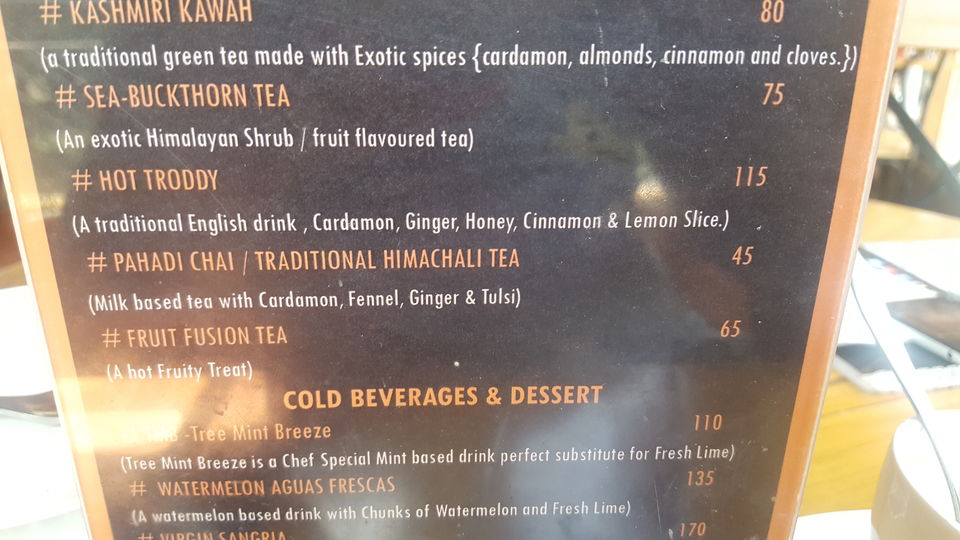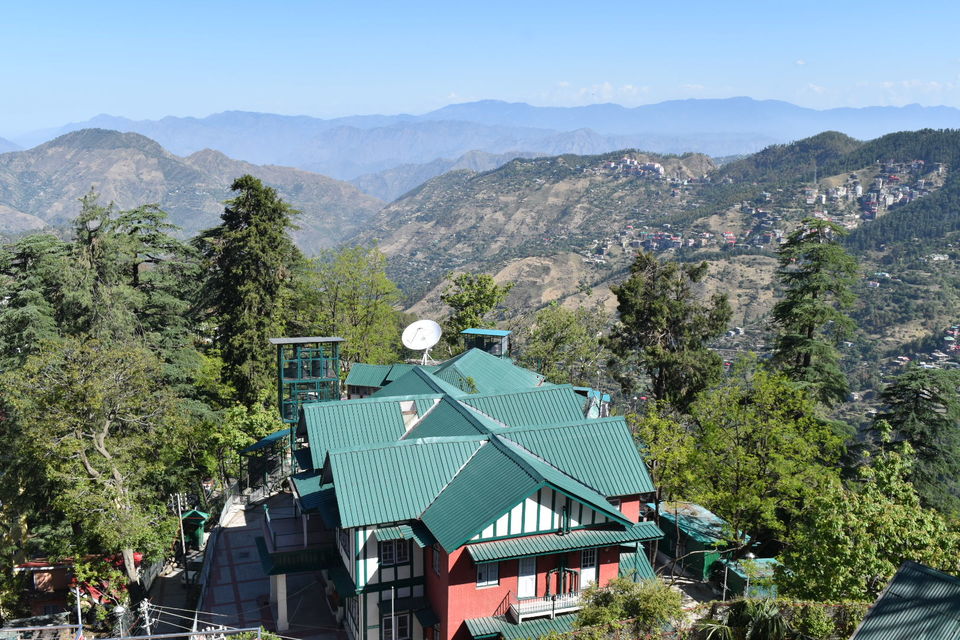 Day 3 (Peo-Kalpa)
•Finally the JMG (Juicer Mixer Grinder) journey paid off, when we saw the sunrise at Peo Bus Stand. Those Golden Snow Covered Mountains made us forget everything else.
•Met an awesome localite, Deepak. Had an hour long conversation with him. Being a guitar enthusiast, he was learning it through youtube. Kirti wanted him to be our co-traveler, but sadly for her, we had different "Manzil" and we bid farewell to him.
•Proceeded for Kalpa- 5 kms uphill to Peo. Had a 10 mins power nap on the way, but it worked like a charm.
•After looking for various stays, took accommodation in "Chini Bungalow", a nice place, with beautiful view of "Kinner Kailash" peak (though closed for trekking during our stay).
•Explored the place in evening. Went to monasteries, met localites and enjoyed scenic beauty of the place.
•Met a local family with the kindest of hearts. They offered us to join them in their wooden house to warm ourselves in the heater and made us feel like home, in every possible way. Then took us to their other home- the Cemented One- supposedly used in summers. Offered us home-made apple (& tully) wine with walnuts.
•I spent an hour in night in open space of our guest house, challenging myself of the chilled weather of 6°C (For Delhites, this is too much :P) while Chitraj and Kirti enjoyed the cards with an Israeli Couple in the next room.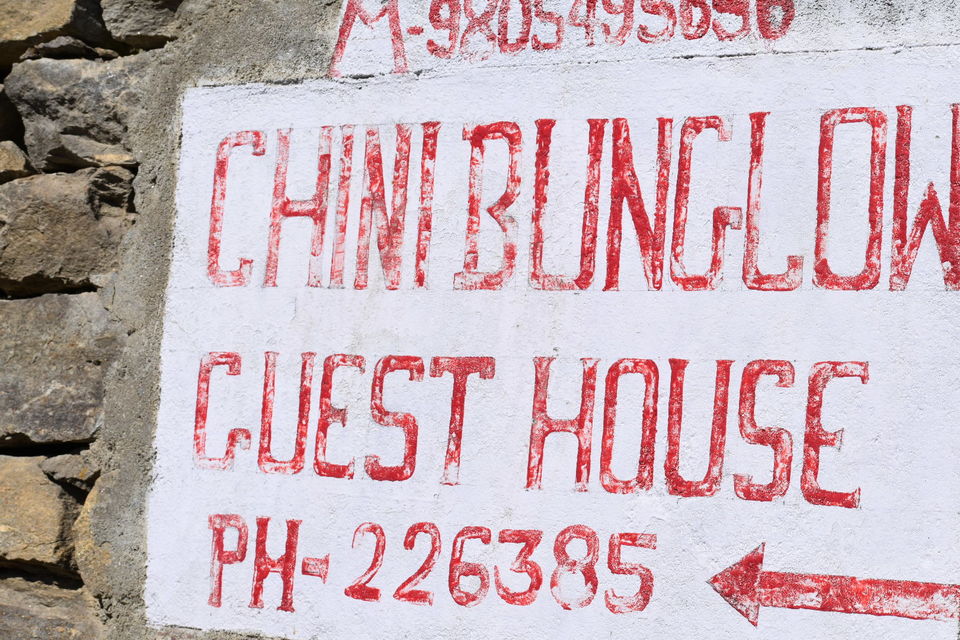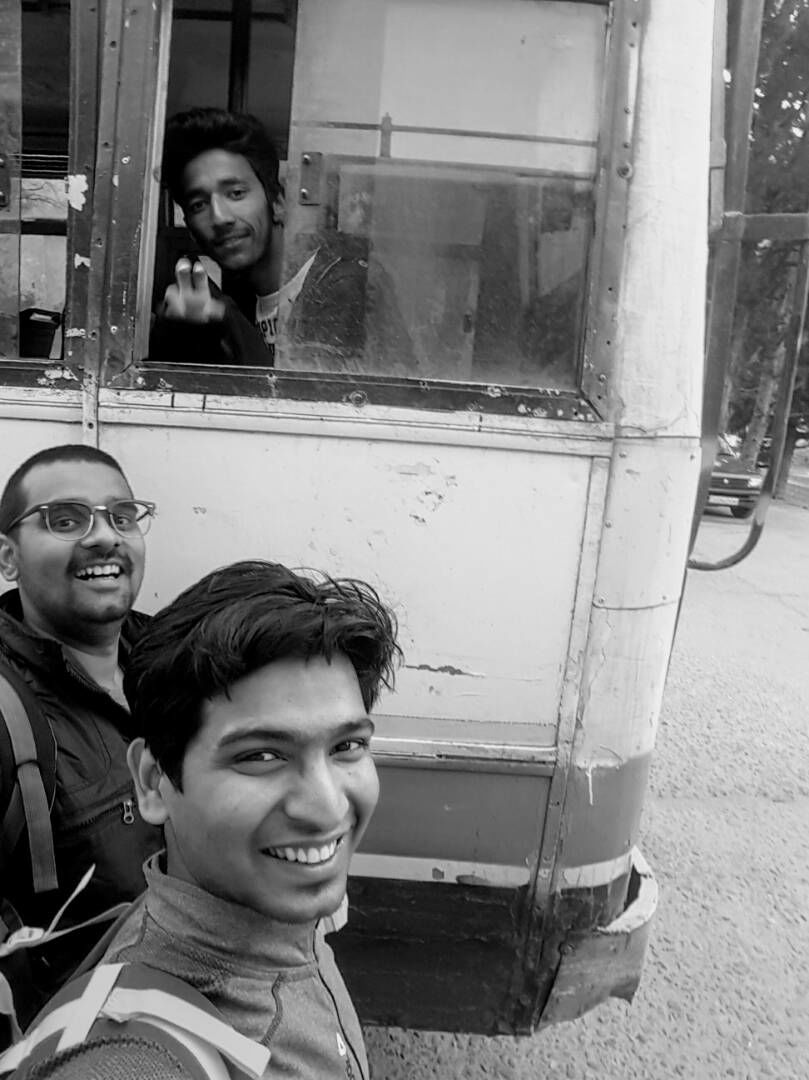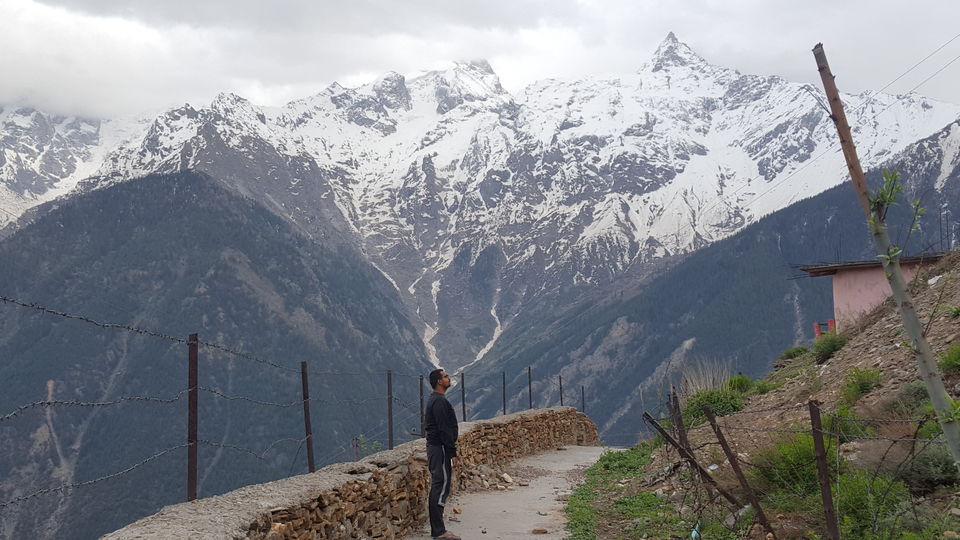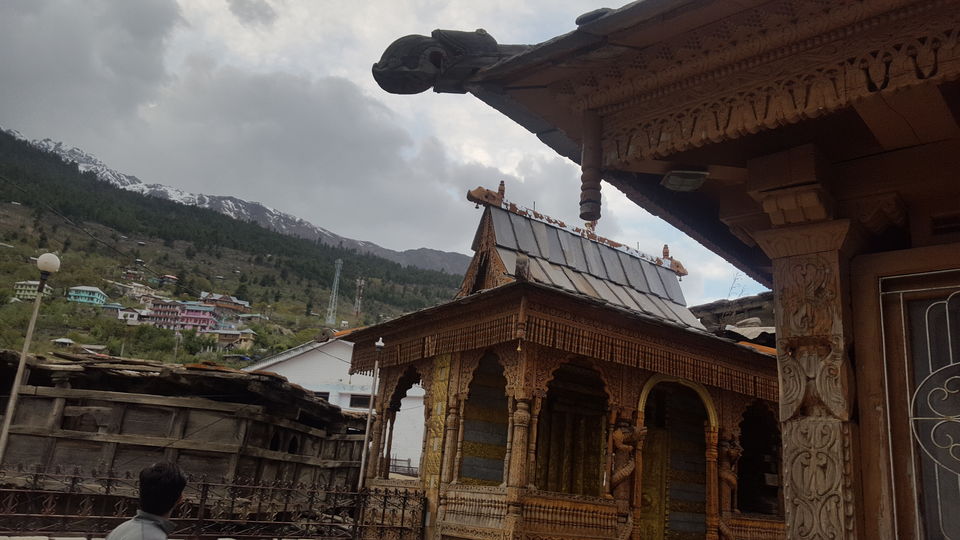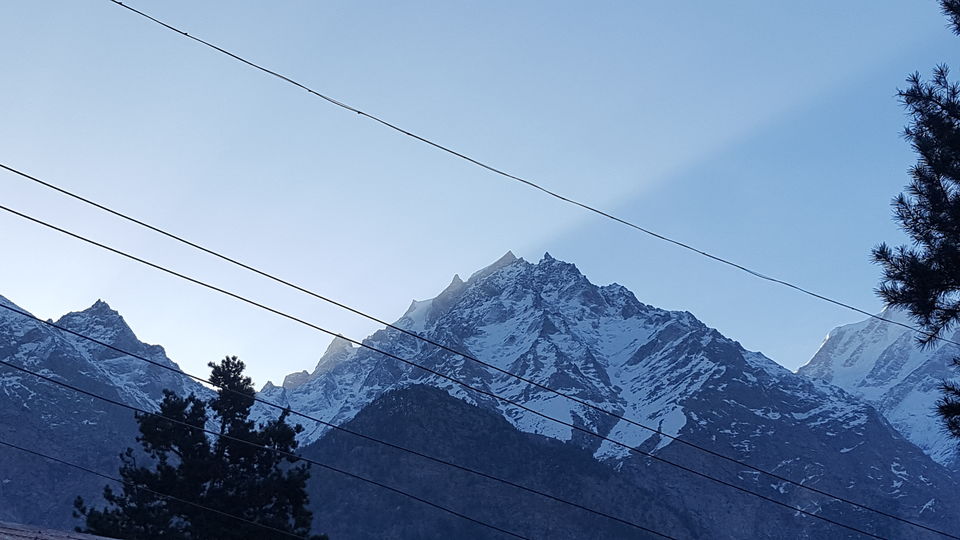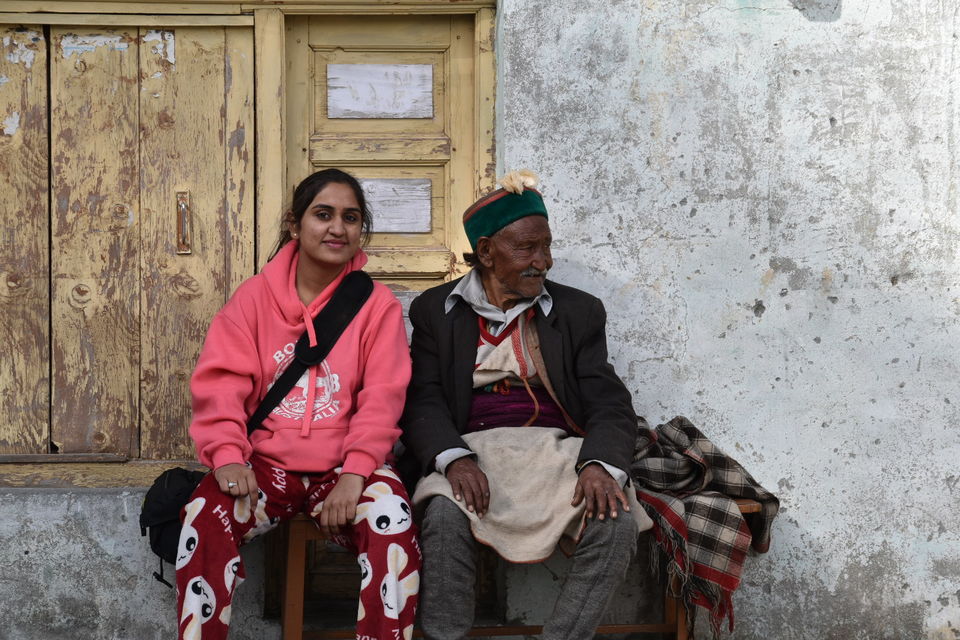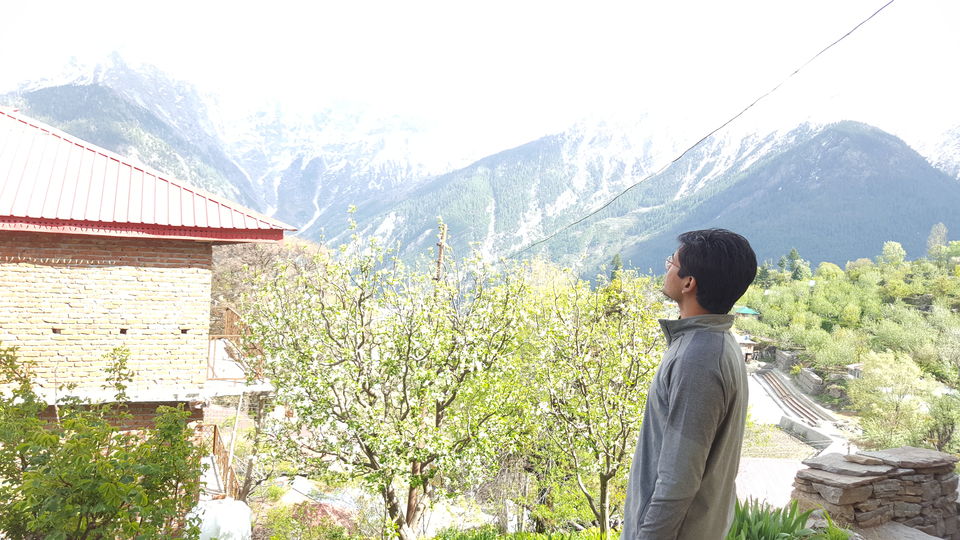 Day 4 (Kalpa)
•Dying to experience snowfall, we decided to trek to "Chaka Peak" as we were supposed to get our lust for snow satisfied there.
•Tried the local food of Himachal- Thukpa (similar to Soupy Noodles) and Momos (much bigger and tastier than what we get in Delhi) along with other delicacies before the trek.
•After 6 hours of steep trek to the mountain, we experienced the snowflakes. Super excited, we took the winning selfies and decided to call it "snowfall" as trekking for another hour to reach to actual snow seemed impossible to us (Beta humse na ho payega).
•A local, we met en-route to the top, accompanied us for the trek as a friendly gesture.
•Had fruits, we were carrying, as there were no food joints on the way.
•Knowingly or unknowingly, we took de-route and all three of us got separated on our way back. Three people, three different routes. It turned out to be really exciting and frightening experience as there was not even a single person on the mountain, we could take help of for our way back.
•My phone being discharged, I tried to reach to our guest house at the earliest possible (without a single stop for 2 hours) to inform Kirti and Chitraj that "I'm alive and safe". In the extra hour I earned, arranged for a surprise cake from Peo and a small treat for Kirti's birthday the next day.
•That re-union of us in our guest house after reaching back safely was the most memorable one.
•Had an expensive but appetizing dinner at Himachal Tourism Guest House. We started our dinner with Gulab Jamun (dessert) and ended it with Gulab Jamun (dessert) as we couldn't wait for the food to be ready.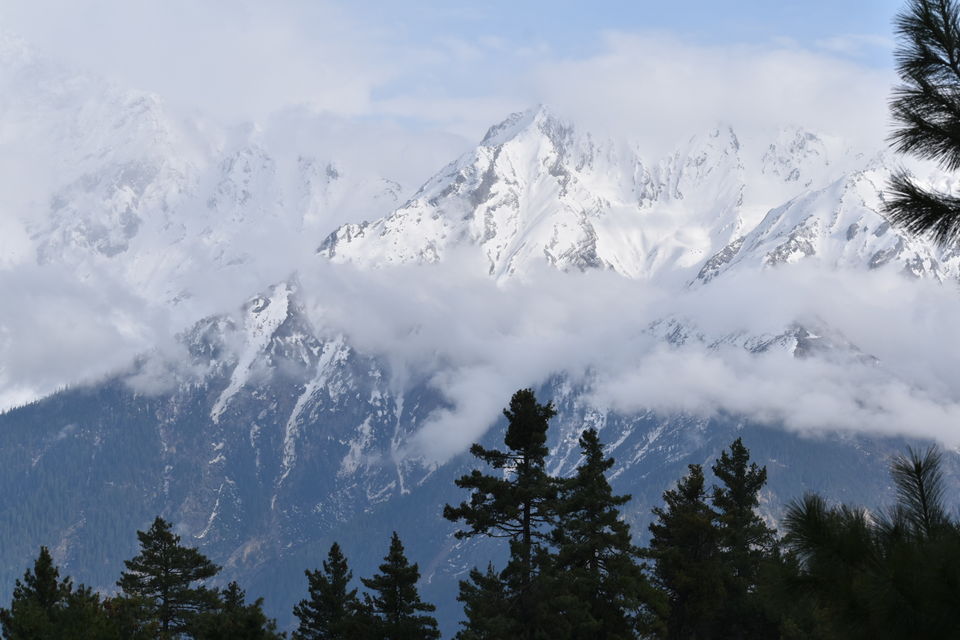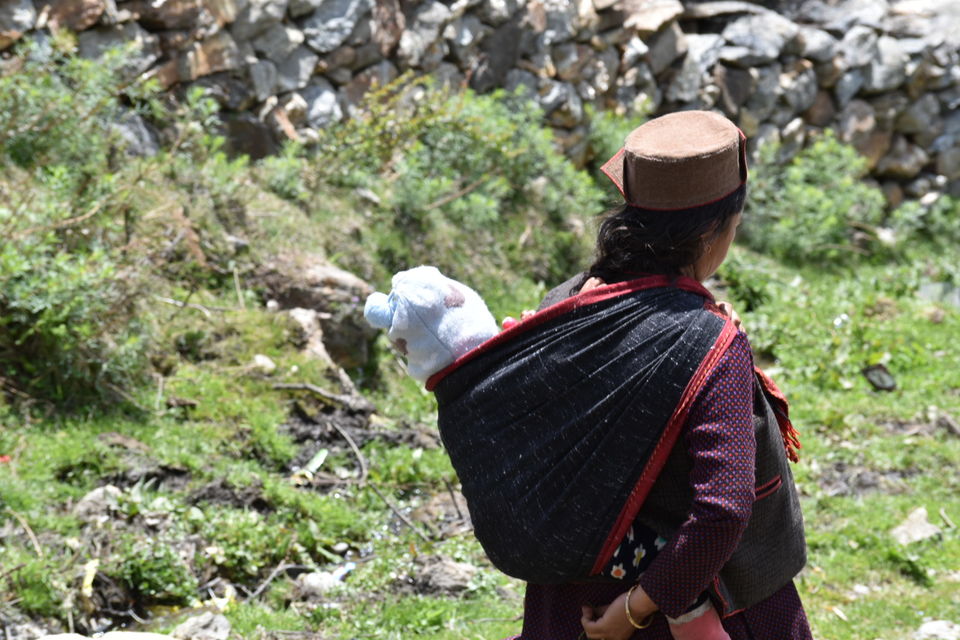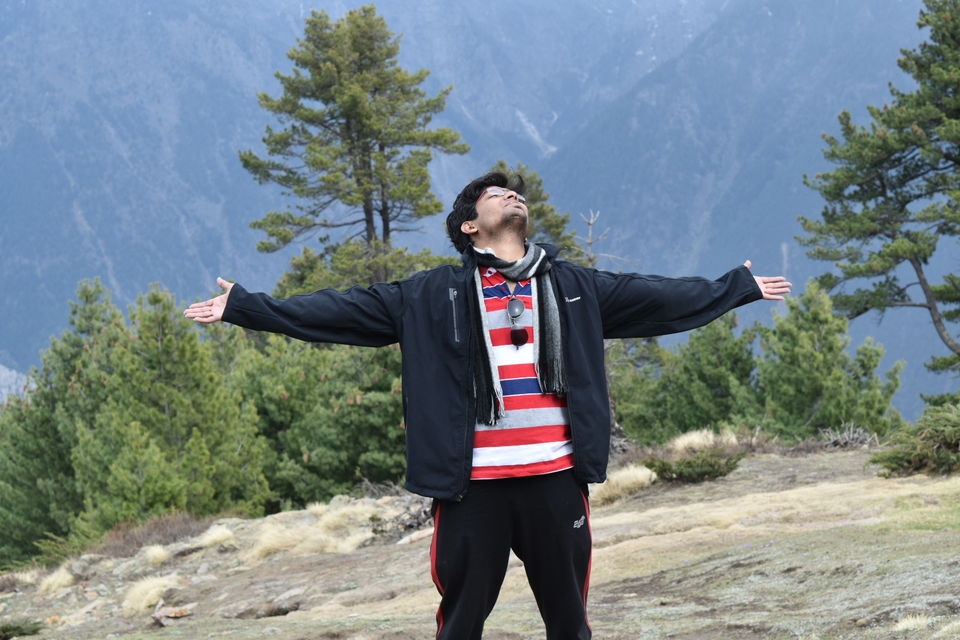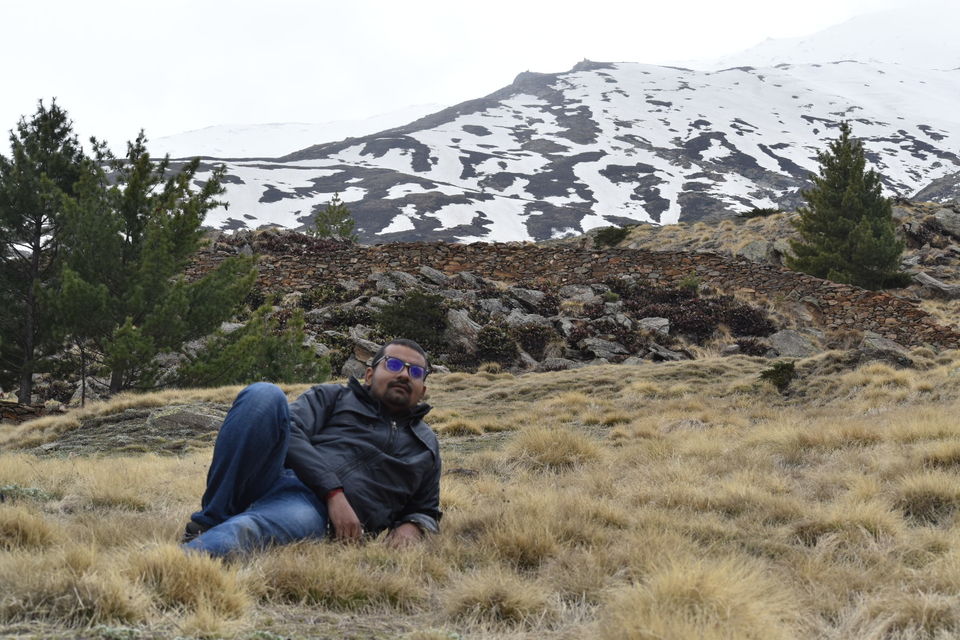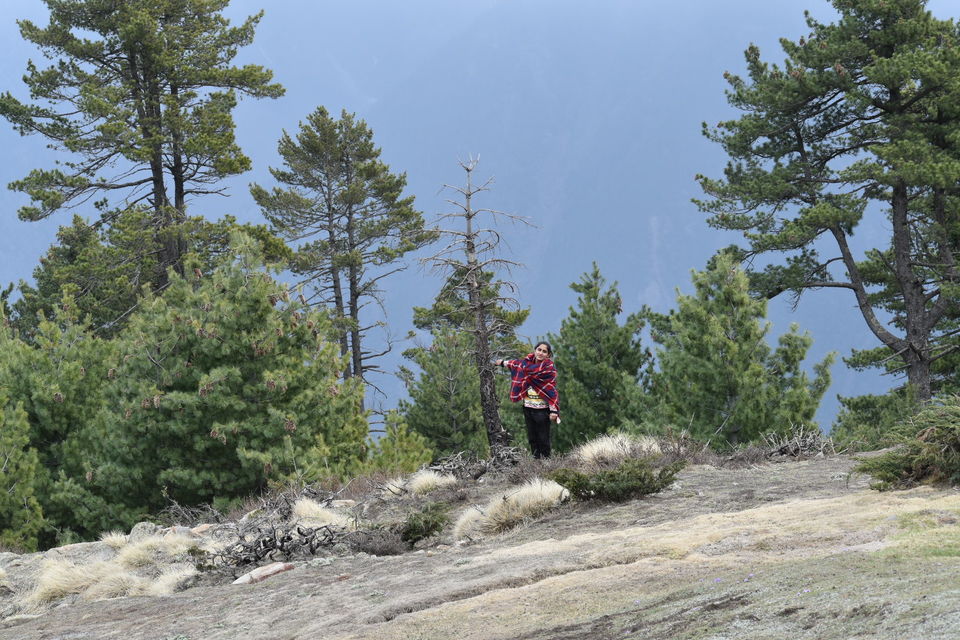 Day 5 (Kalpa- Nako)
•A surprise b'day party to Kirti at midnight. With cake tasting like "Feet", even worse than the trufle made by Rachael with beef in it, we used it for the cake slap. Had an hour of fun with prank calls and with cards. The room carpet also got the cake slap, for which we got scolded during check out the next day.
•Left for Nako at noon (Tip: Remember, HP buses offers 25% discount on ladies' tickets. Our friend put us to loss by not availing that :P)
•Nearly missed the bus, posting the post-cards to our friends (Anjali's idea)
•The journey with Himalayan range was so mesmerizing, that any random pic could be set up as desktop background.
•After 5 hours of dusty and bumpy ride, we finally reached Nako (Tip: Don't ask for types of tea at the bus stand "Nukkad", drink the first tea you get).
•Took Nako Lake view accommodation of "Kinnaur Camps" with the best view at reasonable rate.
•Did a small trek to the huge "Prayer Wheel or Mani Wheel (Tibetian Religious Symbol)" located on the mountain top. Views from top were just simply awesome and breathtaking.
•Treated by Kirti on her b'day in Lake View Hotel (Do try its freshly extracted Apple Juice).
•Met with Javed and Shweta, who left their jobs, to work on some environment project.
•Watched Gangs of Wasseypur-1 (Movie)
•Did star gazing for 2 hours in the clear night sky. Not being pro at it, we started finding random patterns in place of constellations. Witnessed falling stars for the first time and called it the night.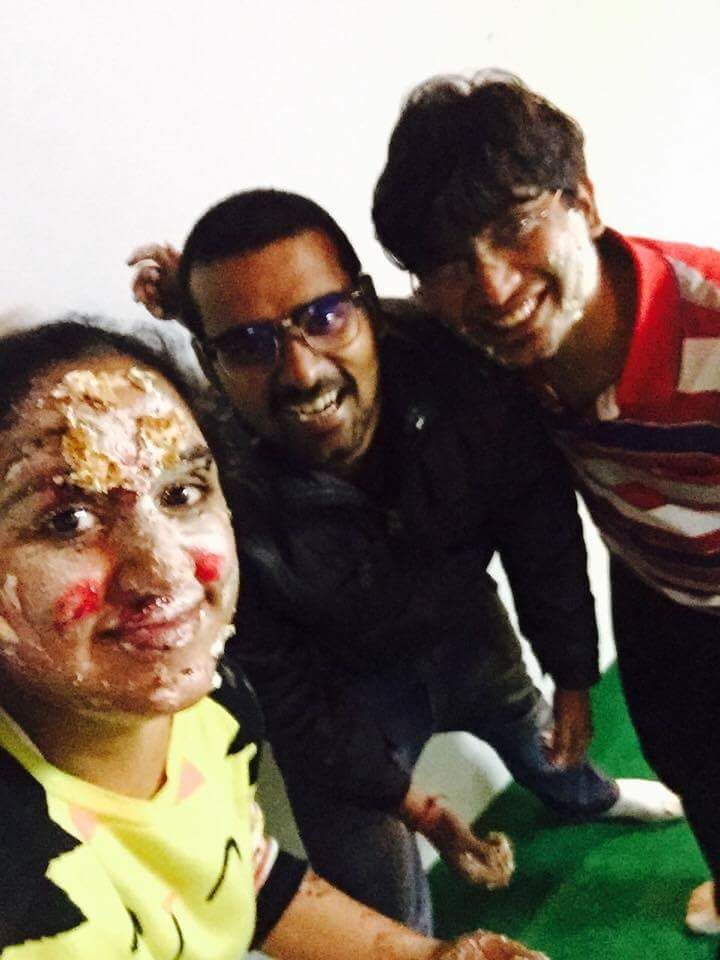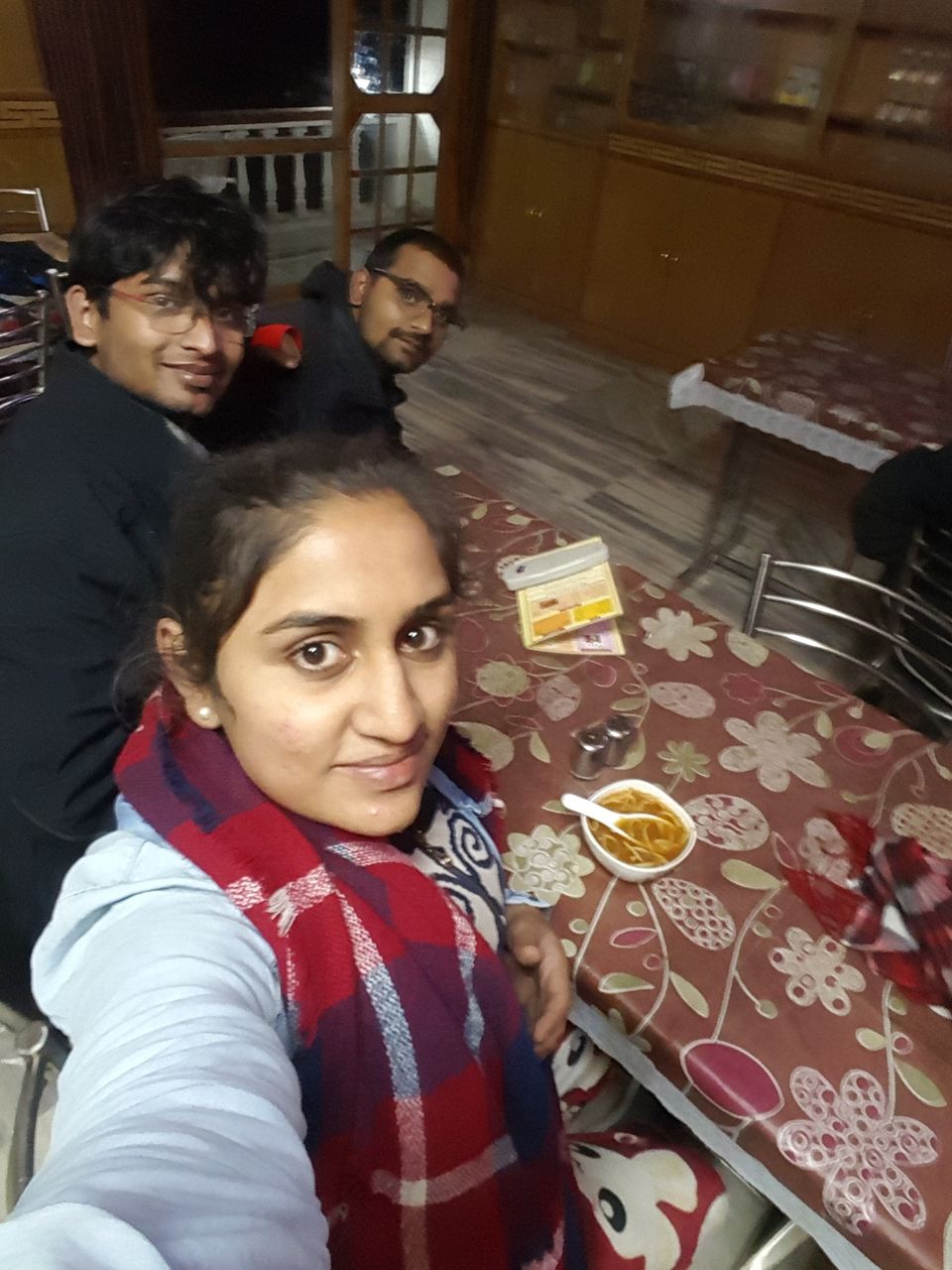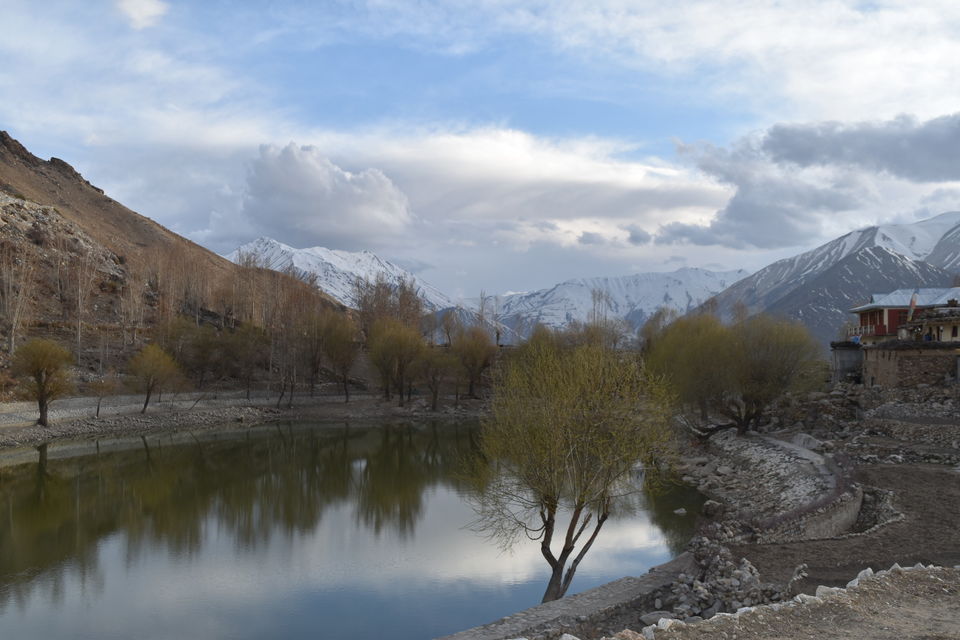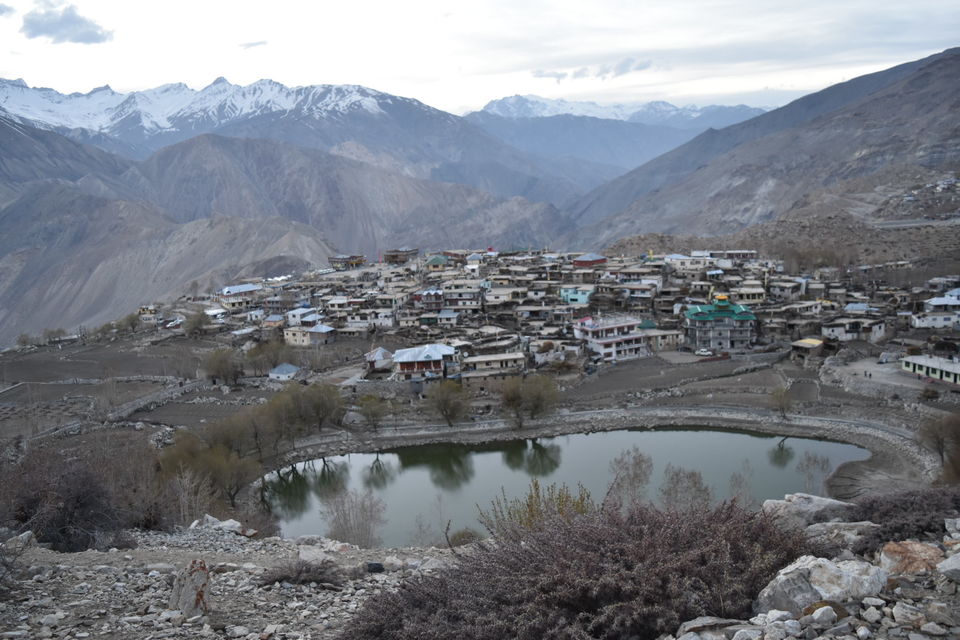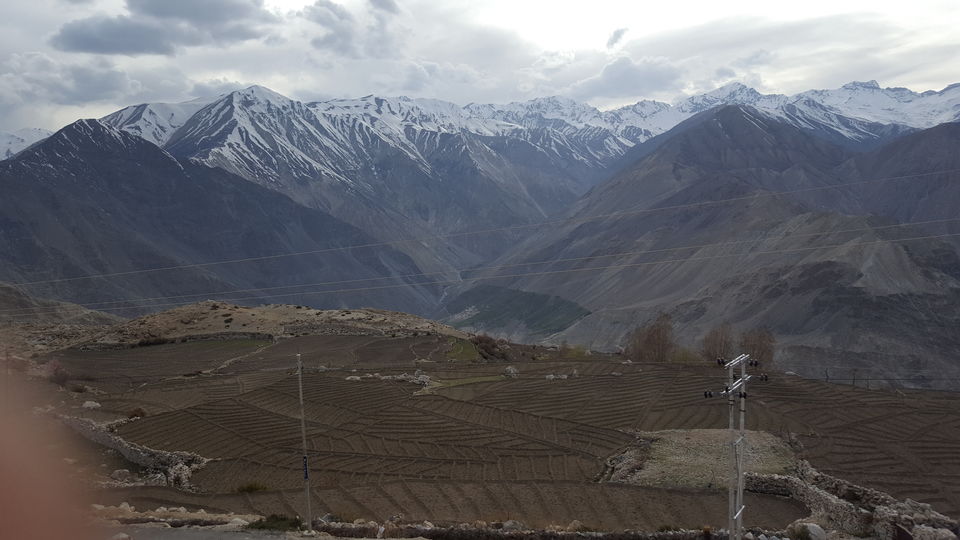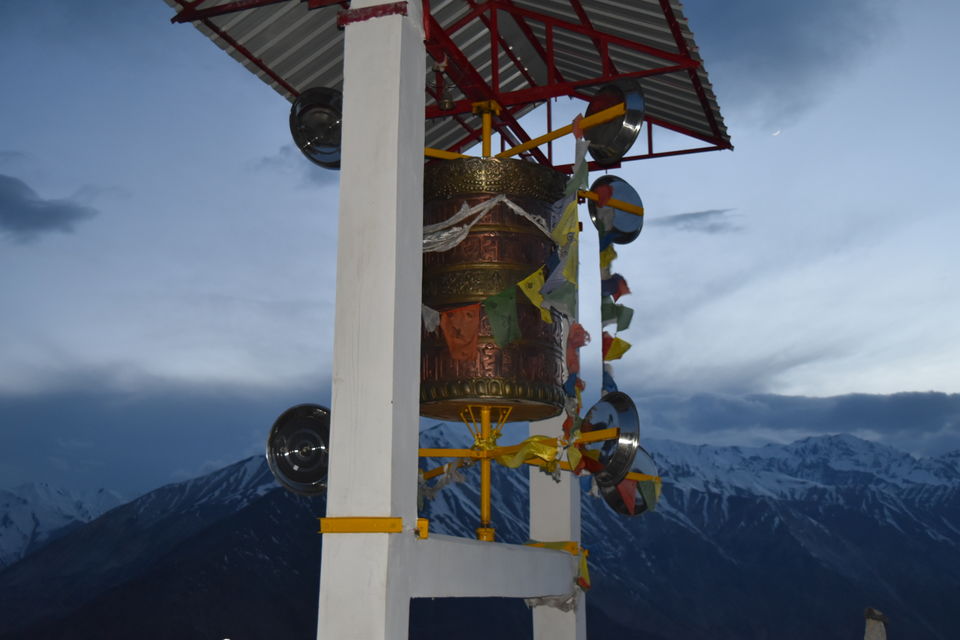 Day 6 (Nako- Kaza)
•Had breakfast (sandwiches) cooked by Kirti in one of the homestays- Amar Home Stay. The best part of the trip was "The People" we met on the way. They were so generous, helpful and welcomming, far away from the "crookedness" of city people.
•Left for Kaza. Another 5 hours ride.
•No network from here. Being addicted to our phone, it was not easy to accept the fact that our "beloved network" was not with us anymore. We came up with our own reasons to make calls and started asking for mobile of Locals there (including ITBP guys).
•Reached Kaza. Didn't like the place at first sight as it appeared to be commercialized, however, it didn't matter much later on, as we figured out Kaza was just a halting place and there were adjoining villages/places that were meant to be travelled.
•Took accommodation at "The Spiti Valley" Hotel, in front of "Sakya Tangyud Monastery". This hotel (the rooms :P) played with our budget somehow ;).
•Met with Akansha from Pune and got some insights on the places we should visit. Remember, we don't have google anymore? :P
•Had dinner at "Sanju Bhojanalaya". There were few places, which either served the great food or we were too hungry in those moments that we literally preyed on the veg food.
•Watched Gangs of Wasseypur-2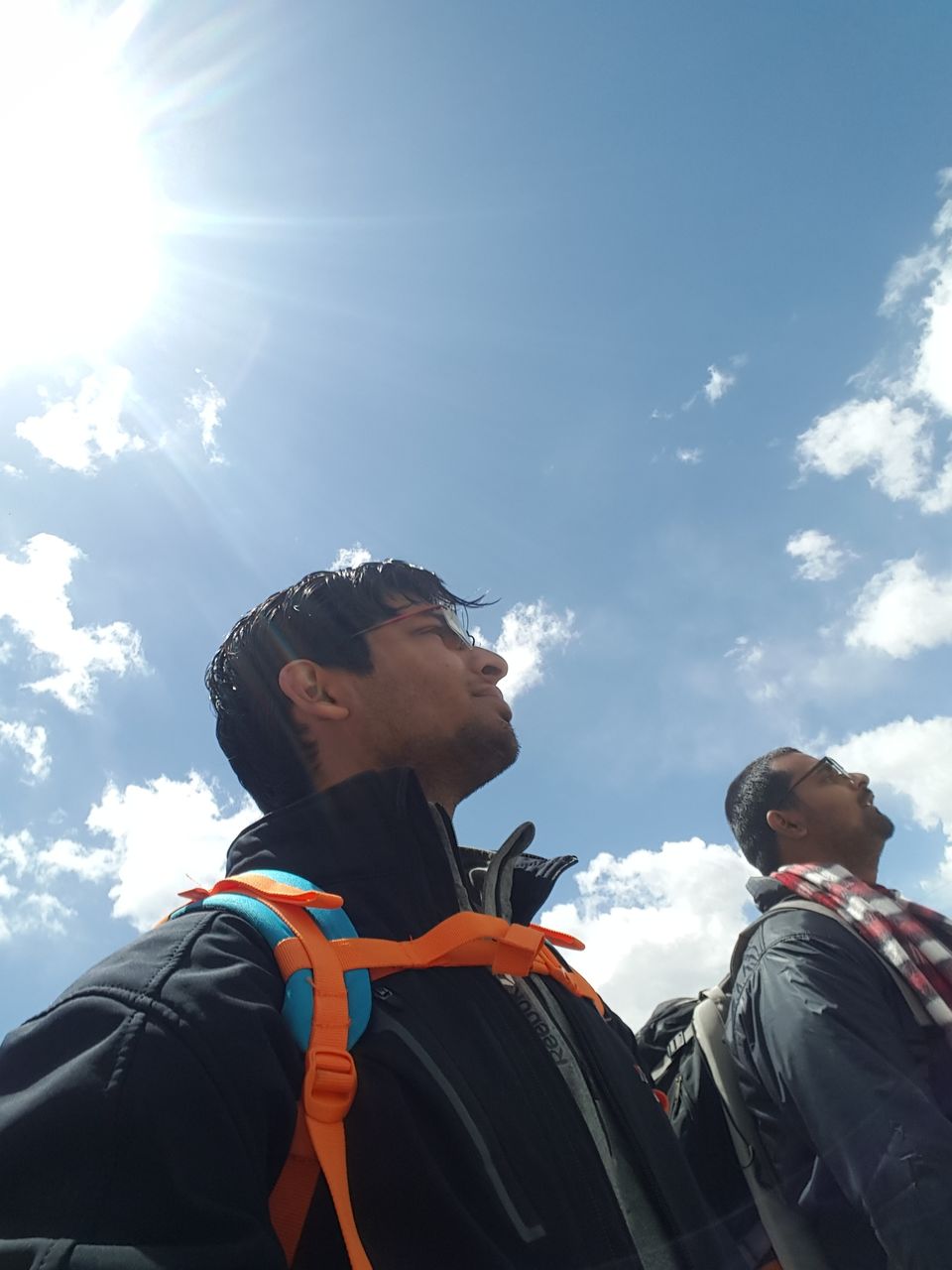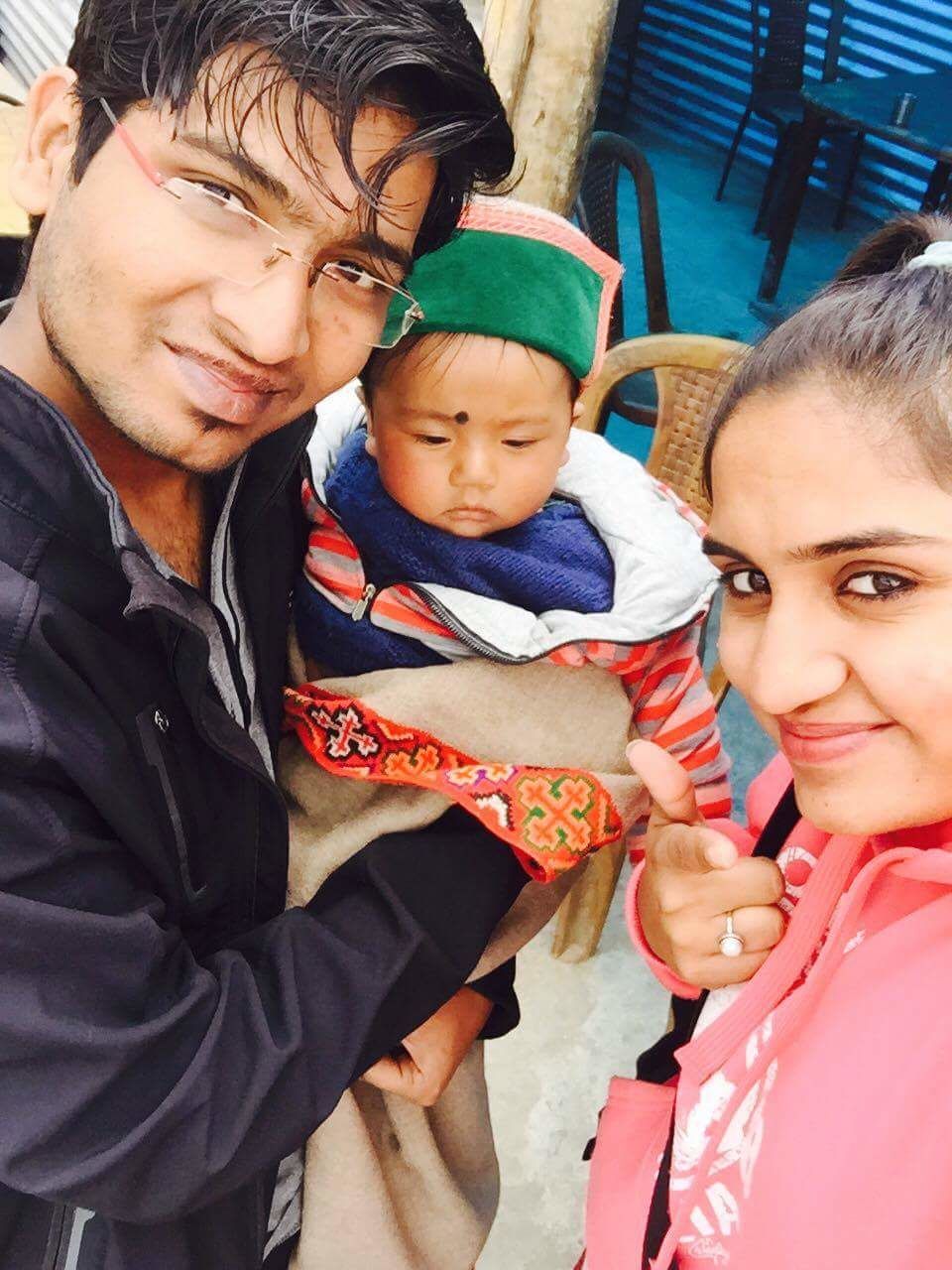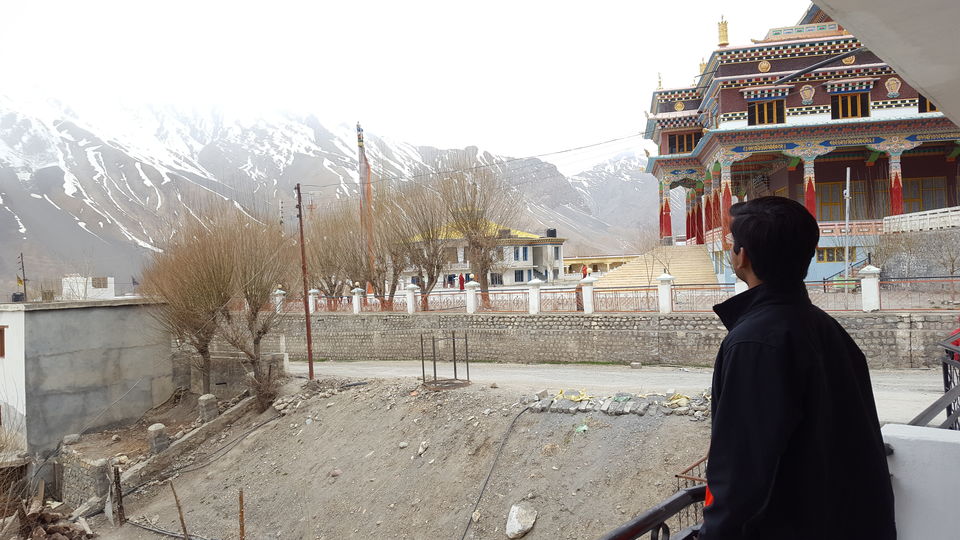 Day 7 (Kaza- Key, Kibbar, Langza, Koumik, Hikkim)
•Hired a car to visit these 5 villages
•The driver cum guide (Tashi- meaning "Namaste") turned out to be our age and became part of the group in no time because of his nature and hospitality, that we hired his service for the next day as well to visit Pin Valley.
•Drove car on the hilly/ sexy roads of Kaza for around an hour
•Visited Key Monastery (built in 11th Century). The Herbal Tea served by the Monks/Lama there made our day. We ended up taking two each (Tip: Don't shy away in asking for it, donate the amount to the monastery).
•The temperature in Kaza ranged from (-)12°C to 8°C
•Kirti broke her I-Phone while giving her favorite pose. But it's okay, bahut paisa hai ladki ke paas ;)
•Experienced snowfall on the way to Kibbar for couple of hours. We sang, danced and played with the snowfall (this time not the pseudo one).
•Went to a Manali Lady (popularly known as "Aunty") to score. Ended up with the scrumptious lunch (homemade samosas, momos, tea and main course). However, the score remained "0" for the trip. :P
•Proceeded for the fossil village in Spiti- Langza, having a huge Buddha Statue on the top (1000 years old). I found this place to the most peaceful of all, with a population of just 137 people spread across a huge area. The sand mountains there offered ultimate peace.
•Left for Koumik, the highest village in the world connected by motorable vehicle. Finally found the pure white snow bed there. Crazily slept for an hour on it, ultimately leading to shivering in even the smallest bone of my body. Couldn't feel my body for an hour. But it was worth it, as it was in my wishlist.
•Left for the last place for the day- Hikkim, having the world's highest post office. Posted some postcards, which never reached their destination.
•Spotted hidden figures/ faces on the snow covered mountains on the way back.
•Watched "Anand" (Movie) during night.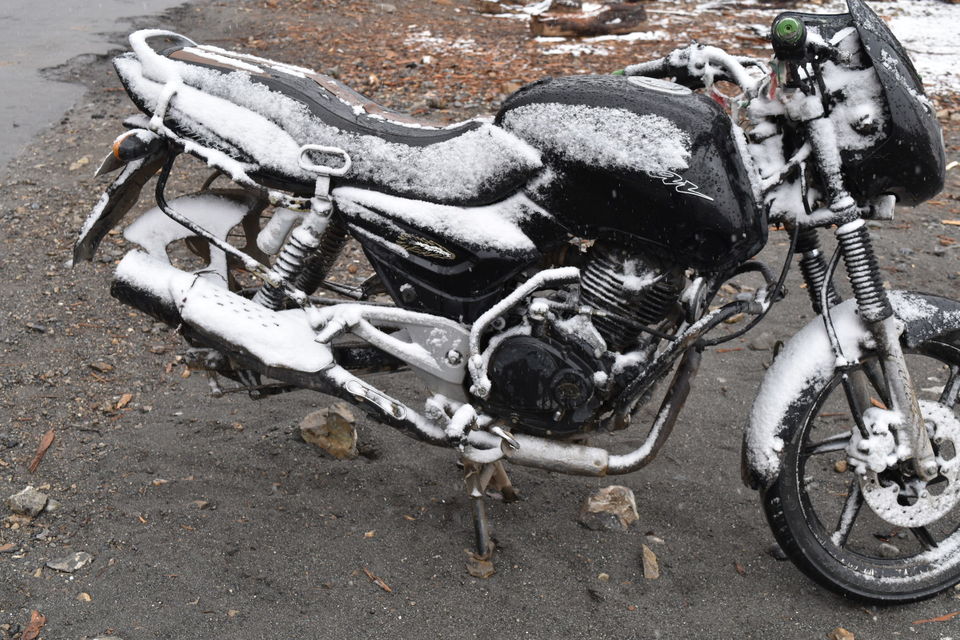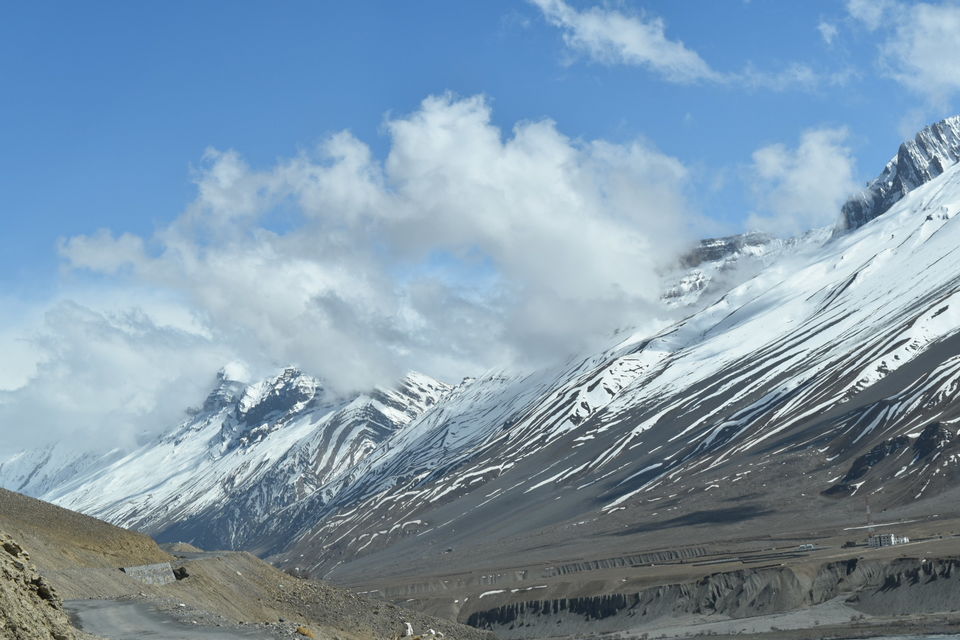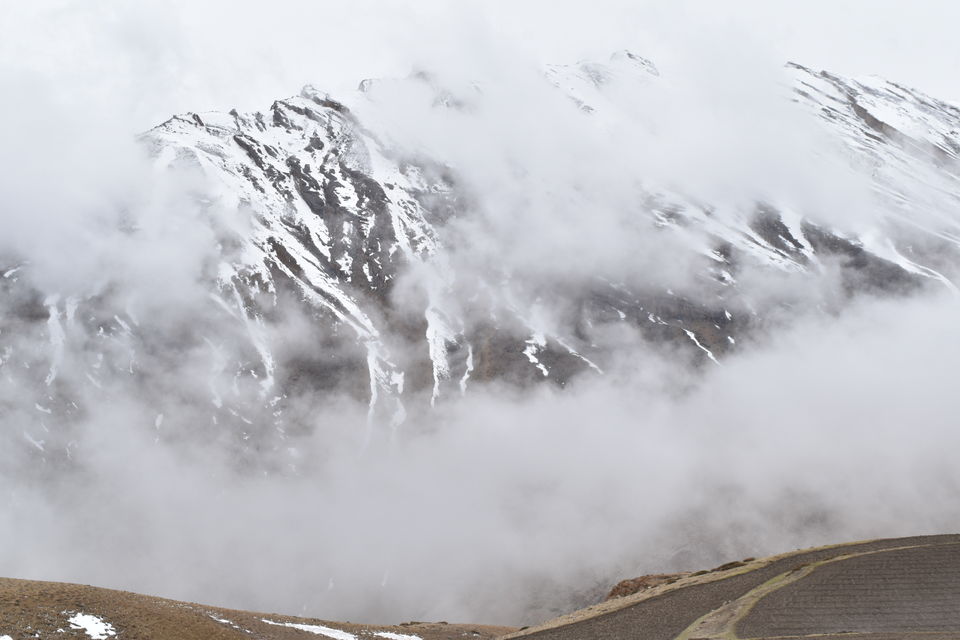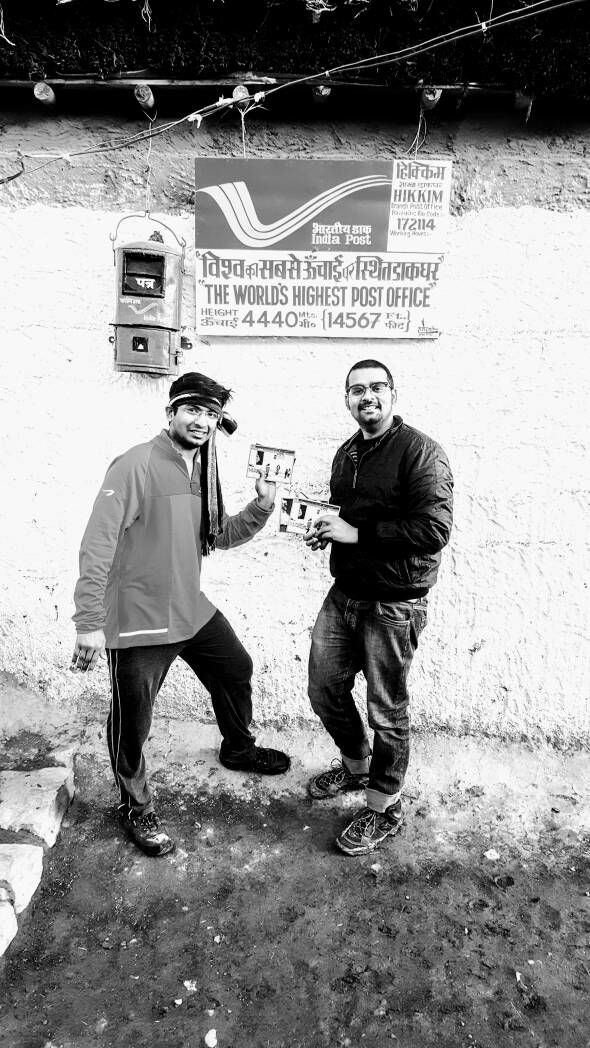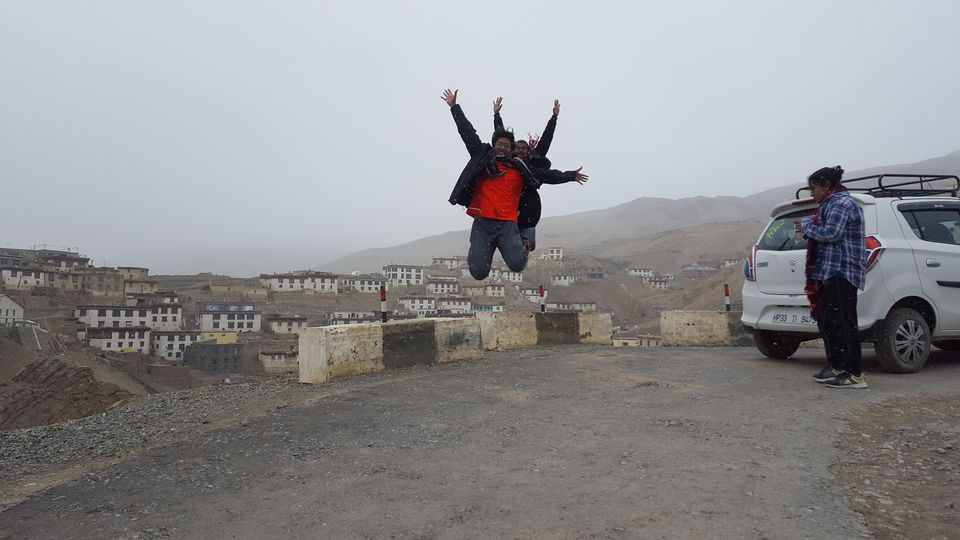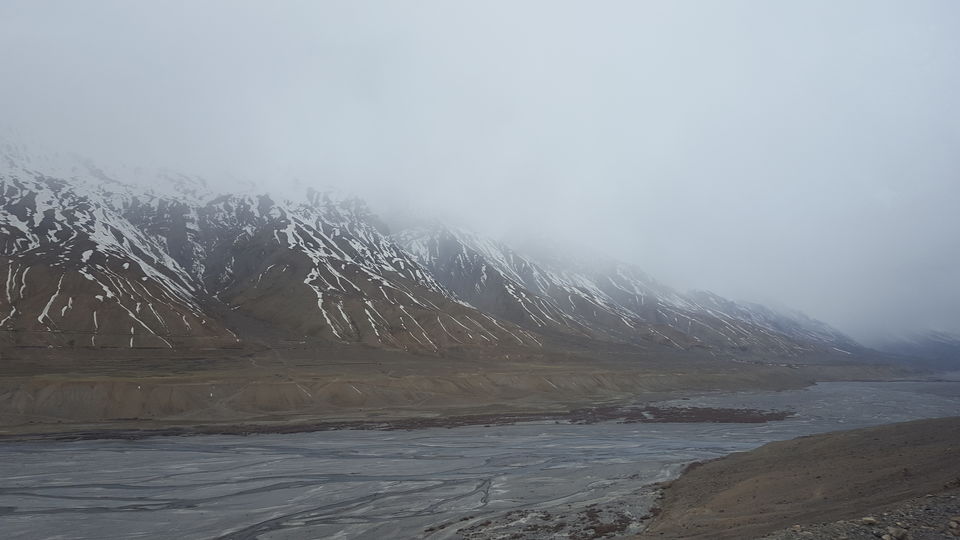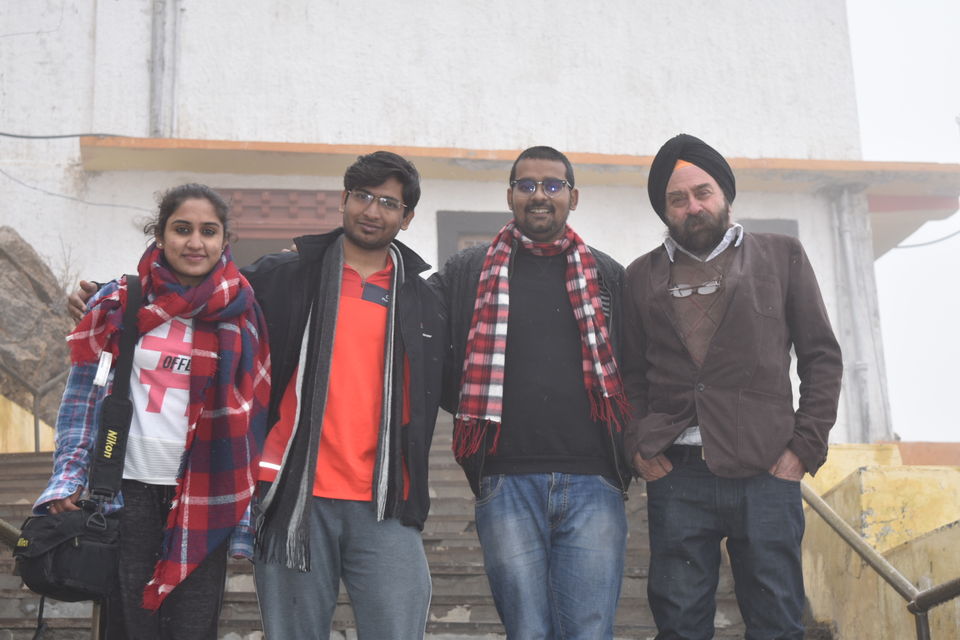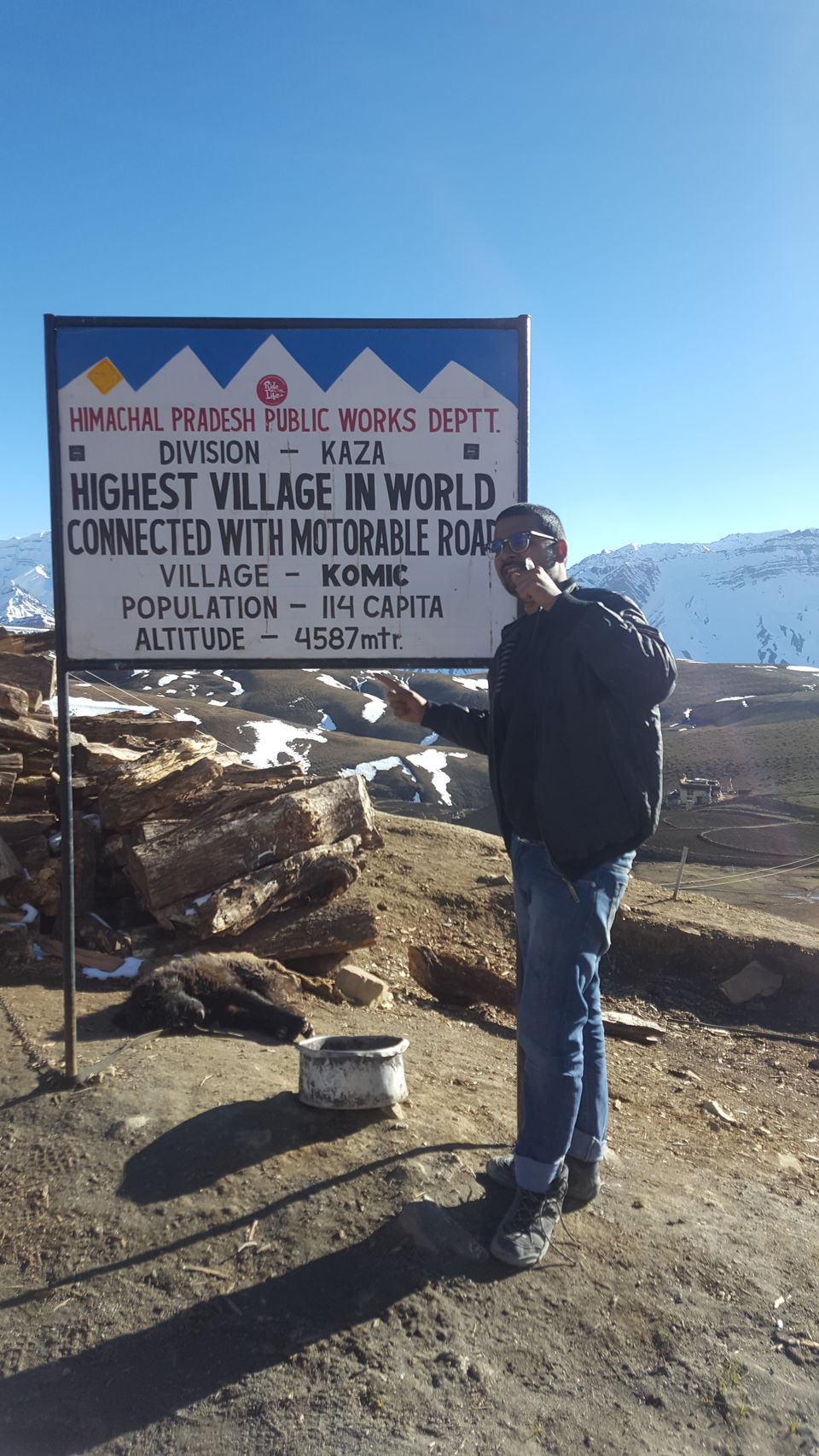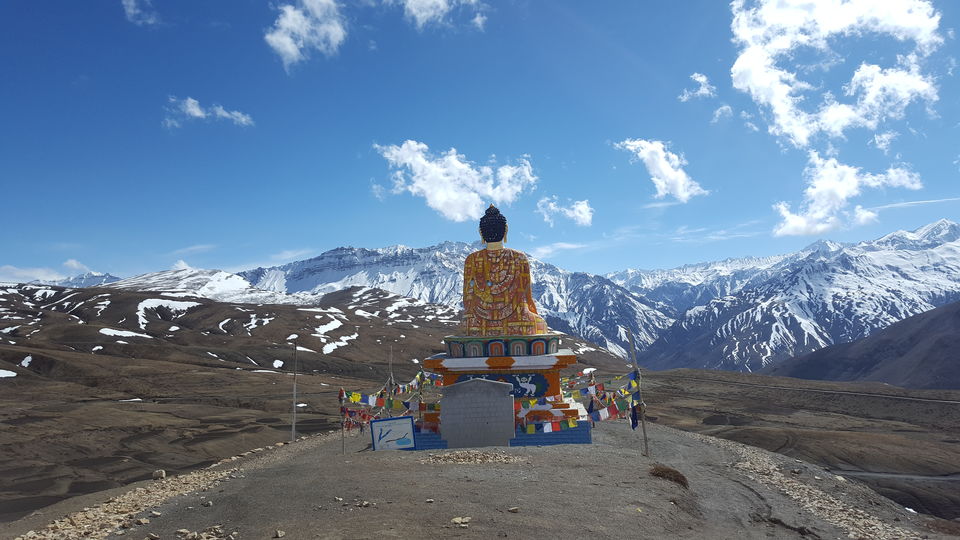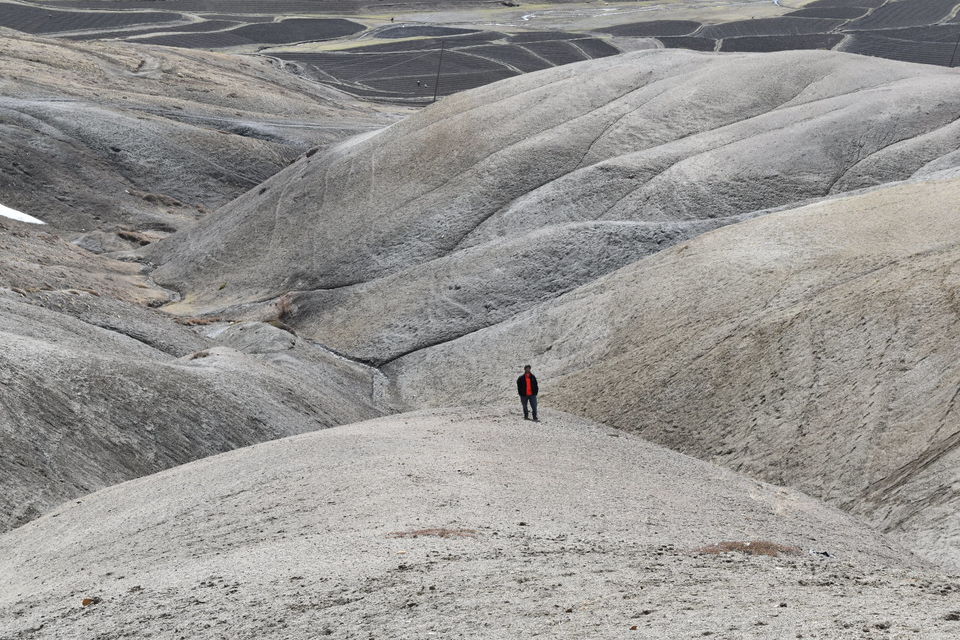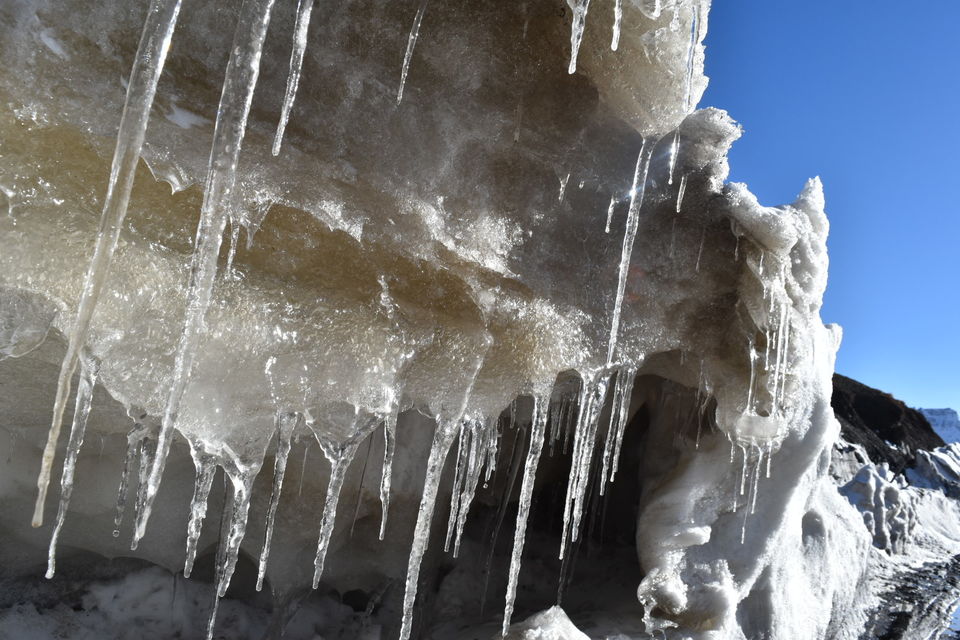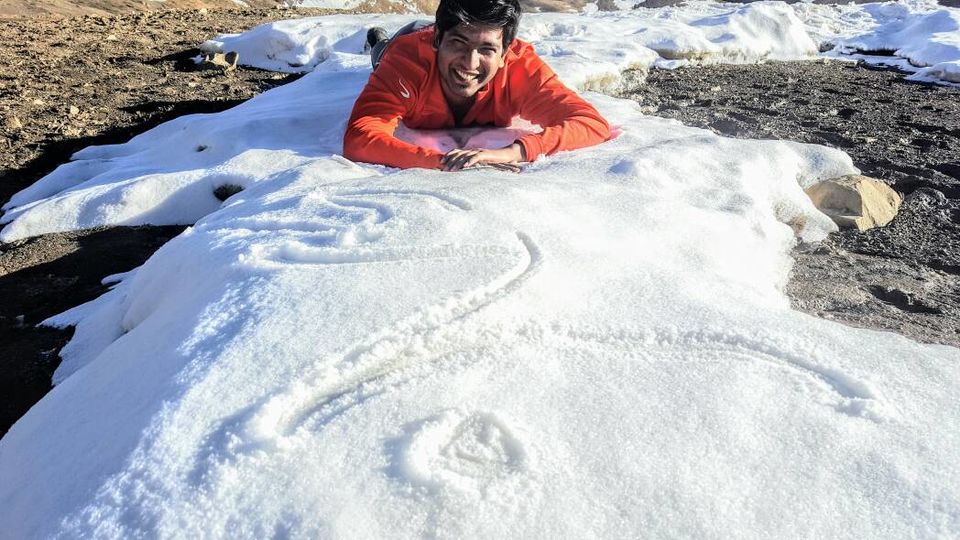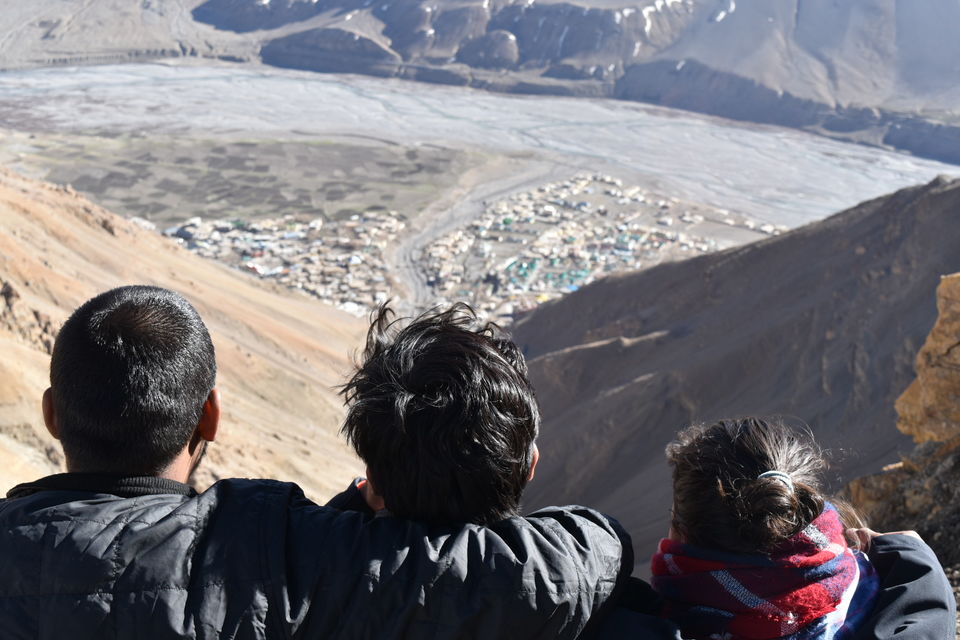 SDay 8 (Kaza- Pin Valley, Mudh Village)
• Our last day in Spiti
• Went to Pin Valley. It was hell of a scenic drive, with best of the views of Himalayan Range and Beas River
• Got down in the Valley and later on, in the Hanging Tailing Bridge. The water of Beas river was as clear as a crystal and as cold as Ice.
• Went to Village Mudh to have yet another mouth-watering meal. The highlight was the salty tea, prepared in a special wooden instrument, having ingredients as ghee, salt, and other masalas. It gave our body the much needed warmth.
• Went to the mountain fully covered in snow. Played in snow and clicked a lot of pictures (Tashi showed some pro skills on DSLR). Snow was the gift of this trip to me.
• Went back to our hotel, exchanged pics, and had dinner in The Sanju Bhojanalaya.
• All set to leave the early morning next day.
• Kirti took accommodation in Zostel for the last night and did the star gazing and bonfire.
• Chitraj and I took a sip each of "Angoori" to survive the night.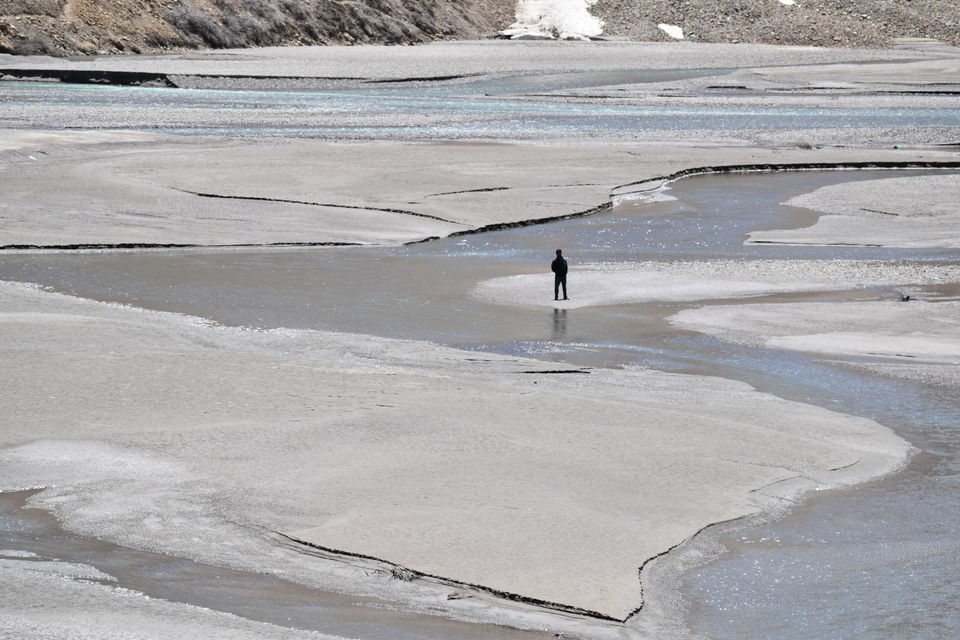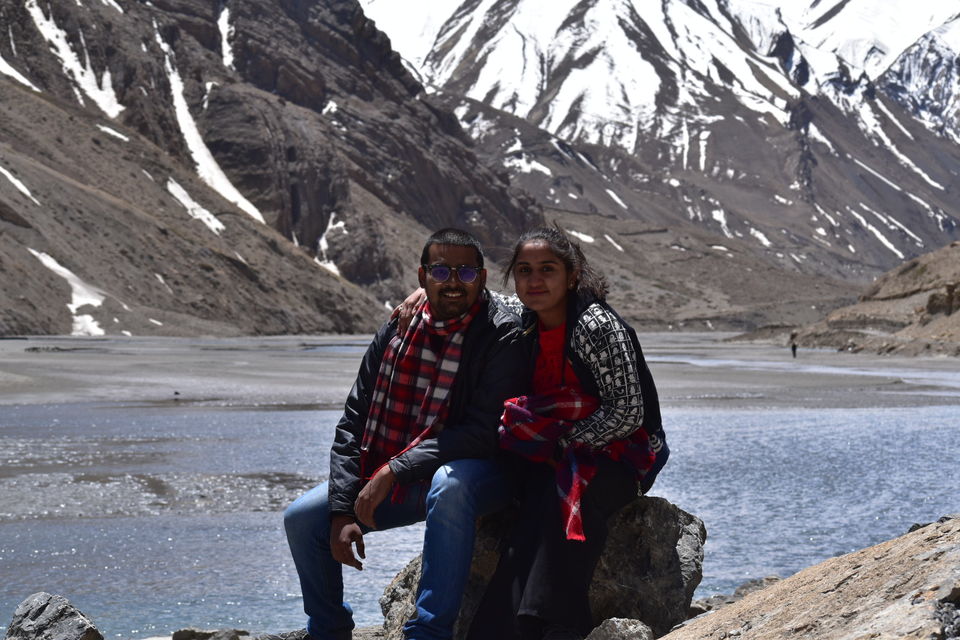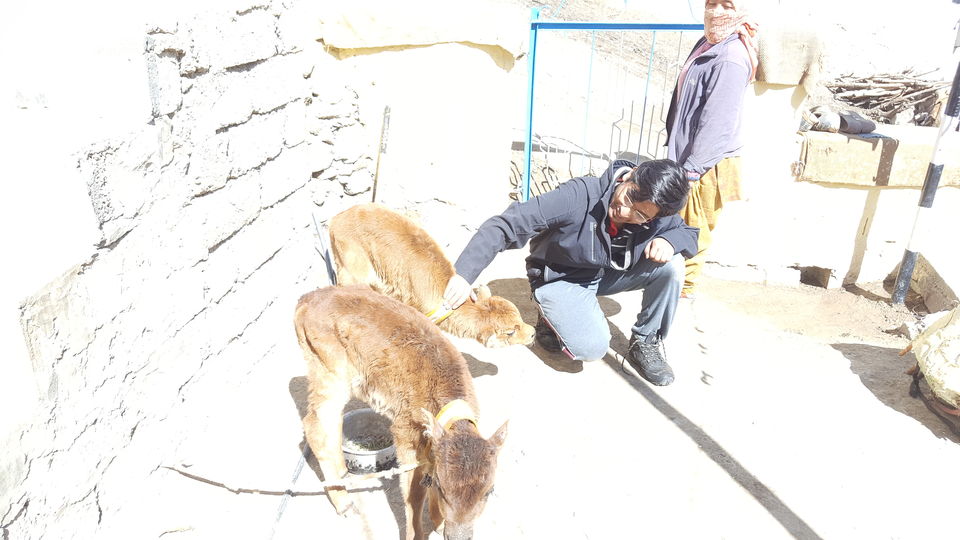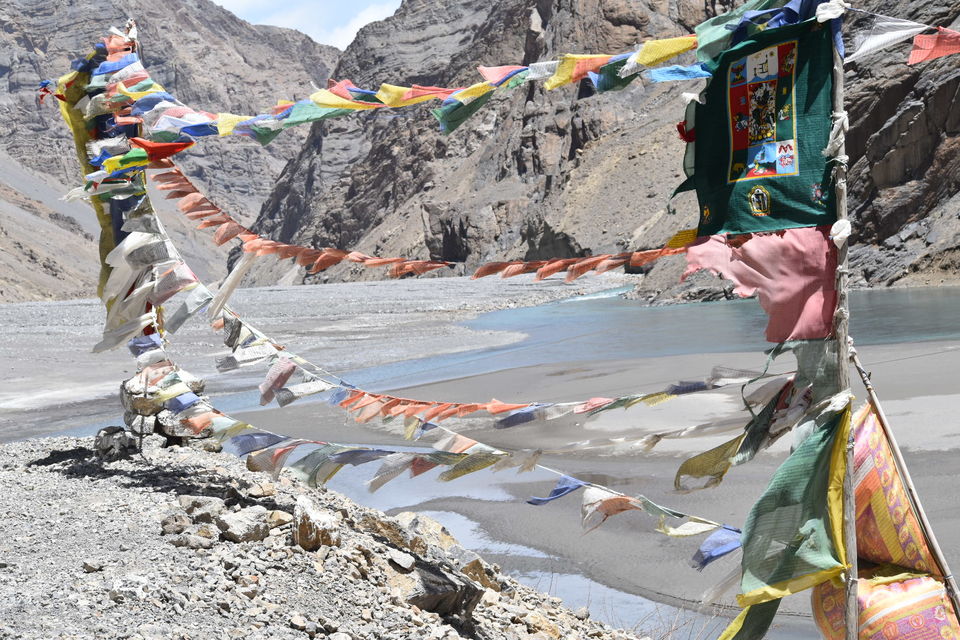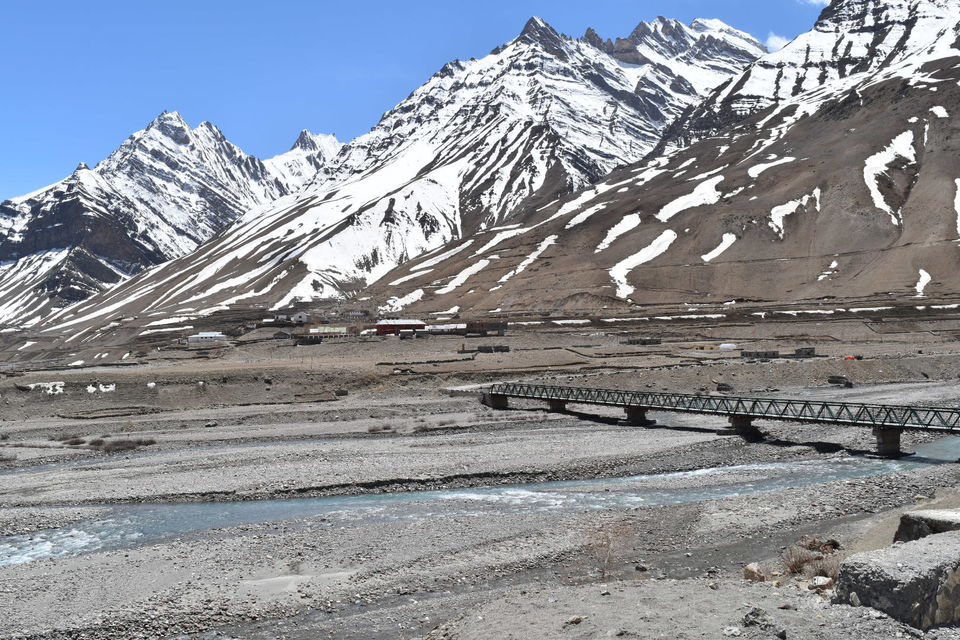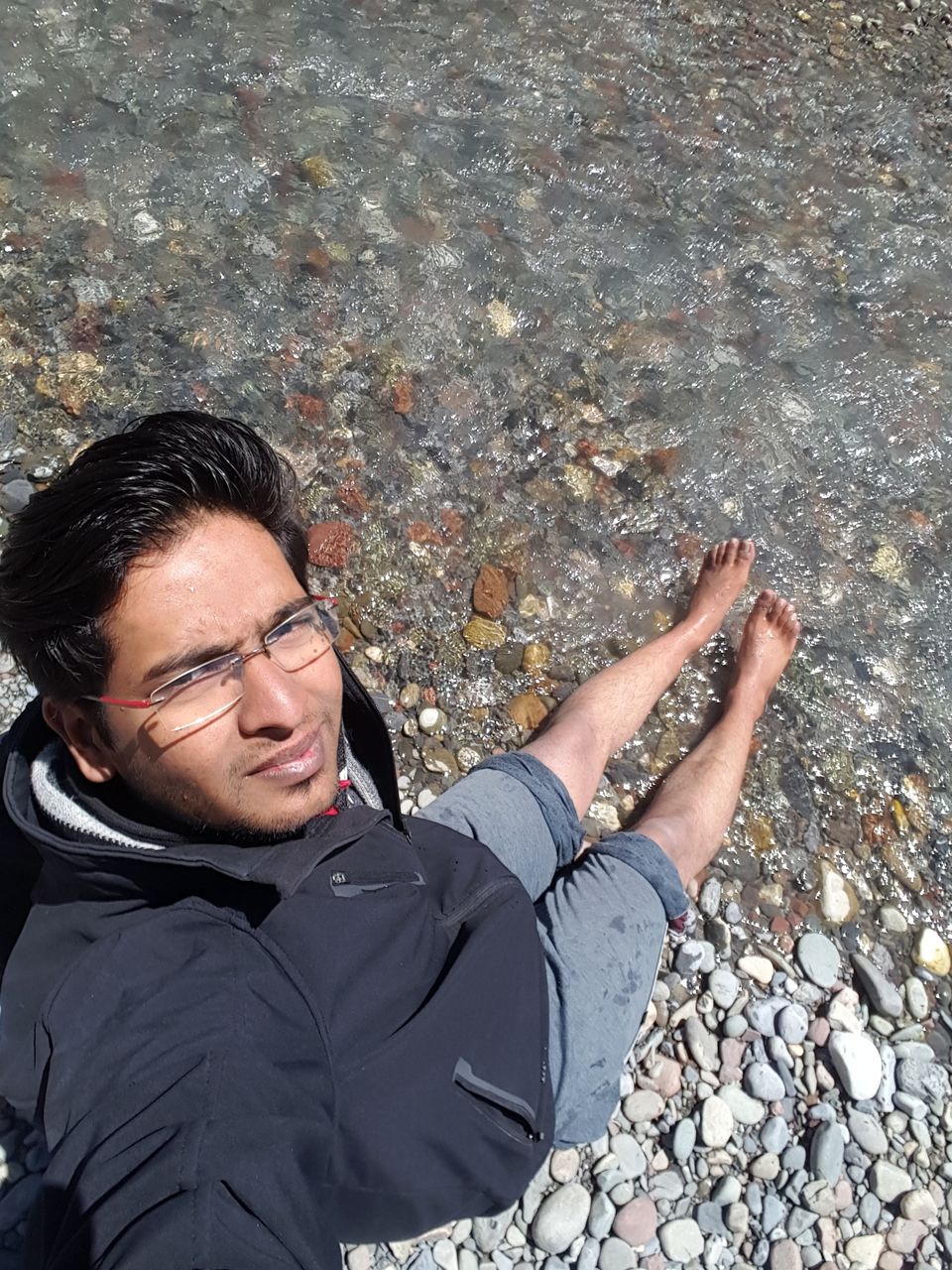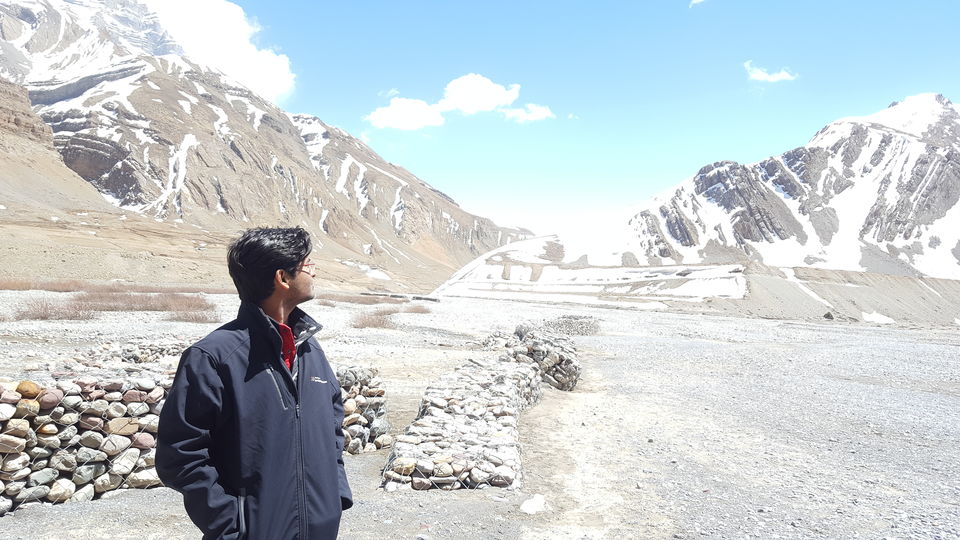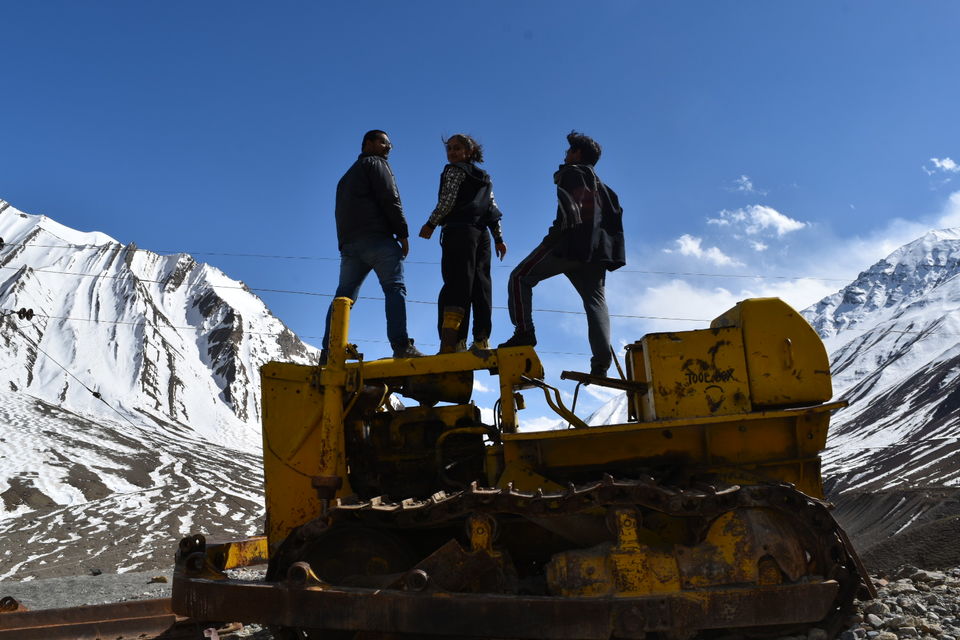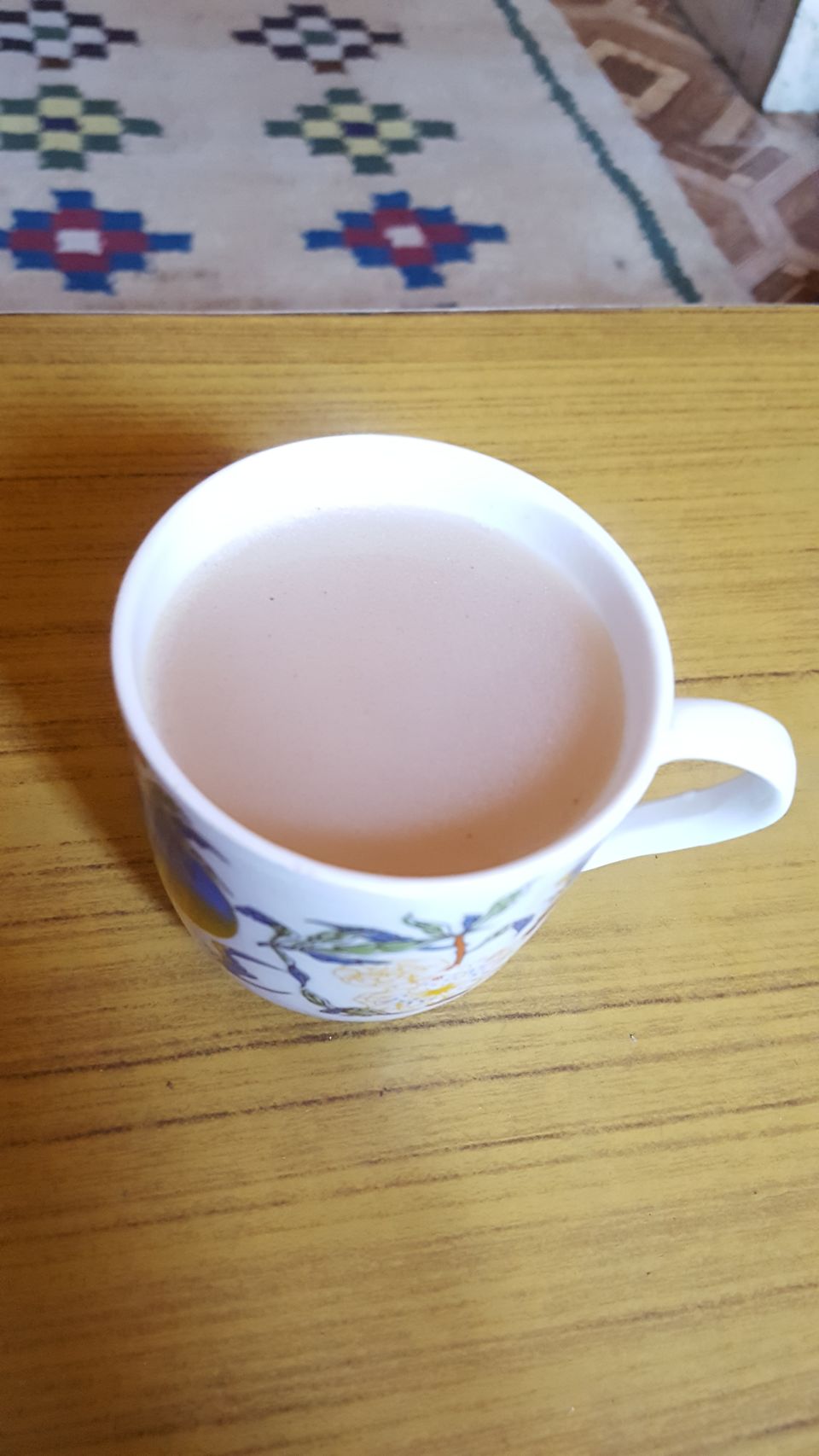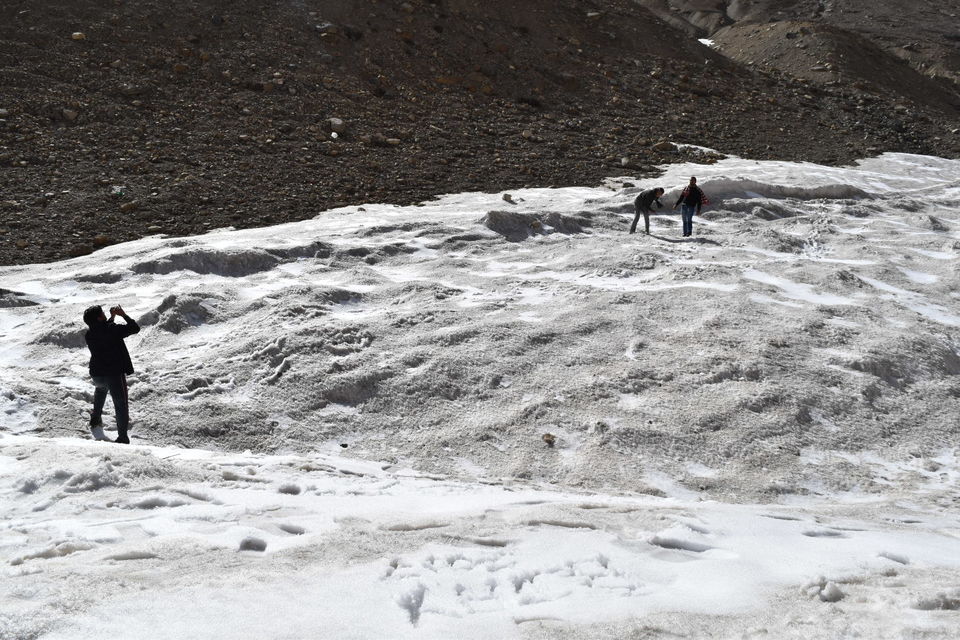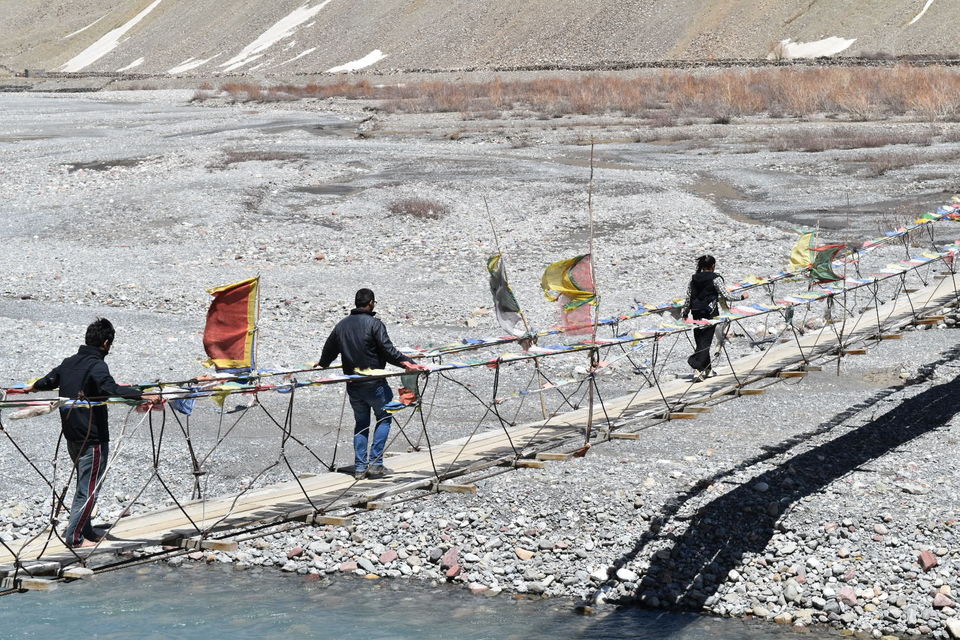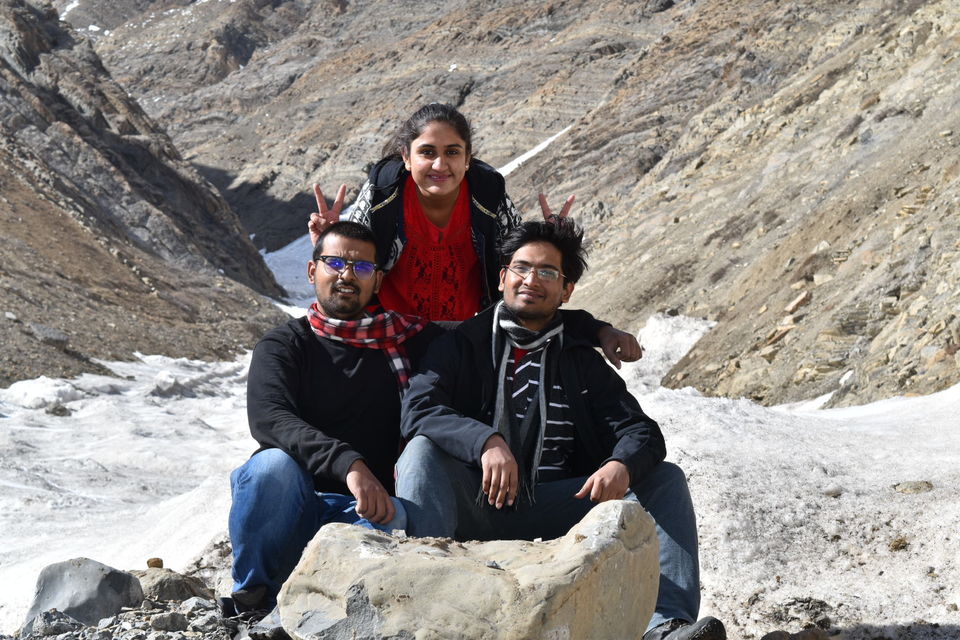 Day 9-10 (Kaza- Peo- Shimla- Chandigarh- Delhi)
• Started for the continuous bus journey of 32 hours back to delhi.
• The return journey was comparatively smoother, as we had become somewhat experienced by then. ;) (Tip: Don't try to be a stuntman by taking seat in last 2 rows of the bus :P)
• Sang, played music, slept and clicked random pics on the way
• Ultimately, the Delhi was waiting there with open arms to welcome us with heat and humidity, and voila, we were back. :)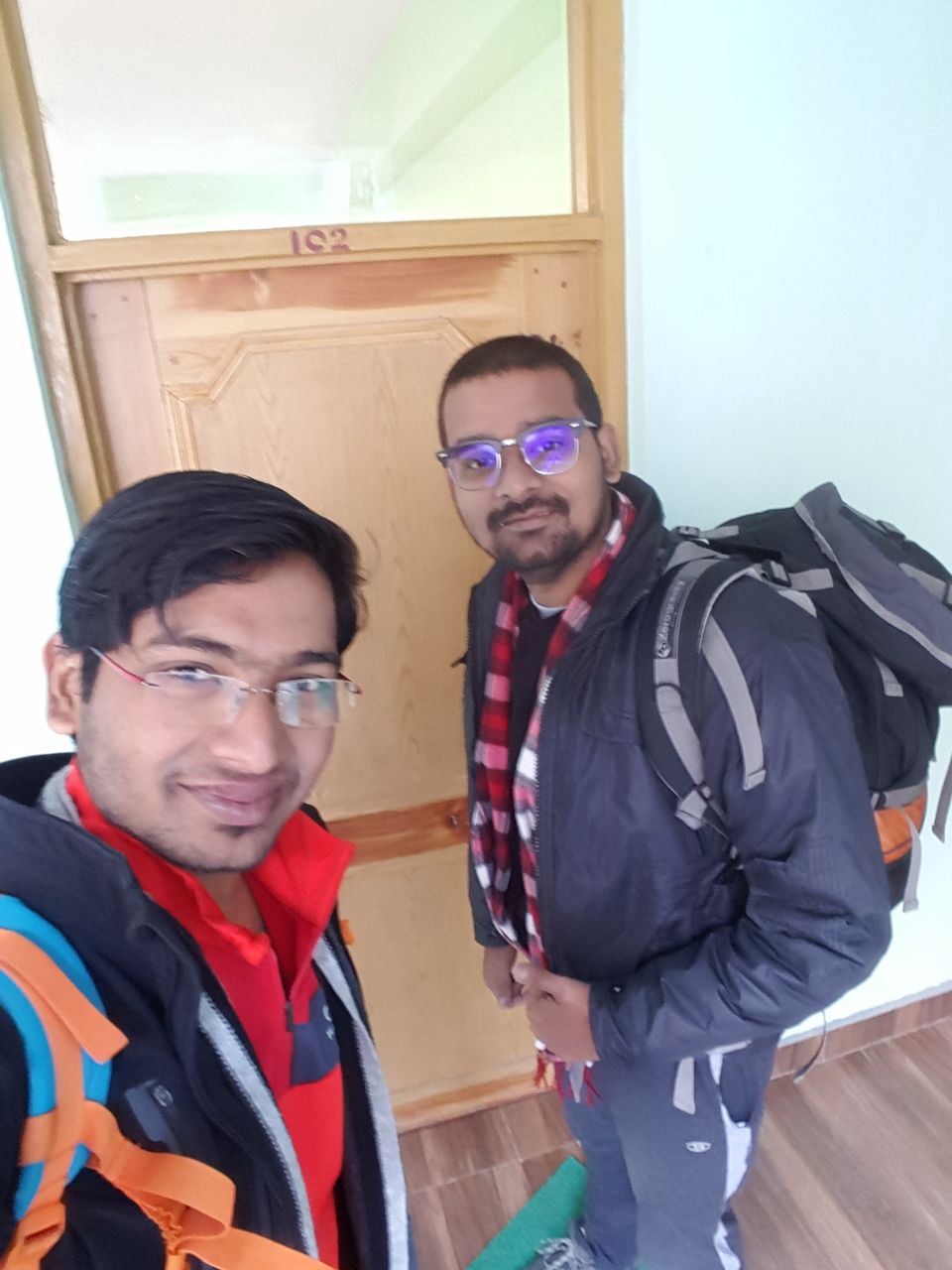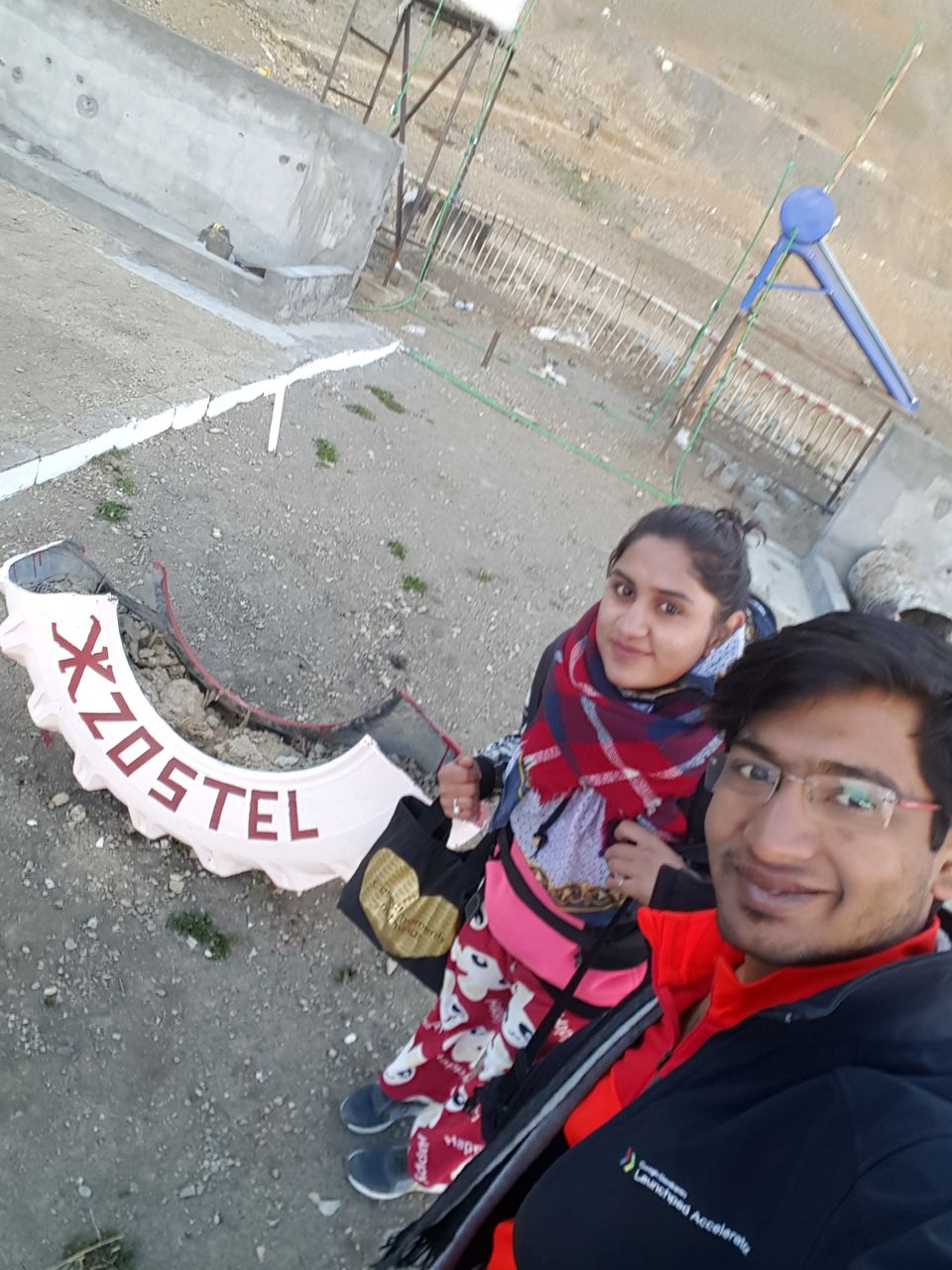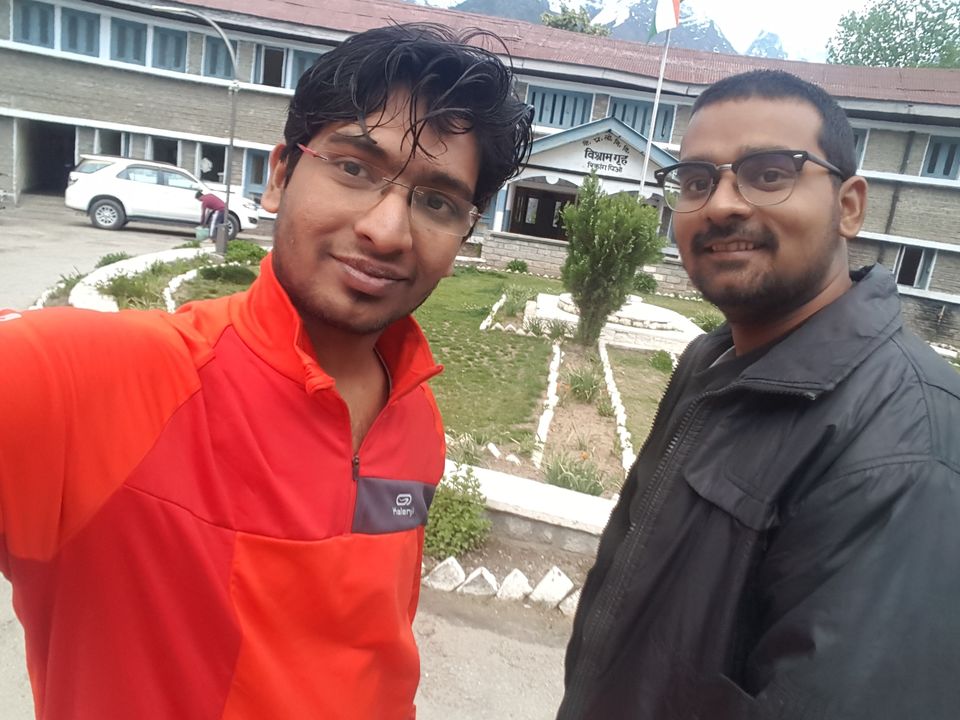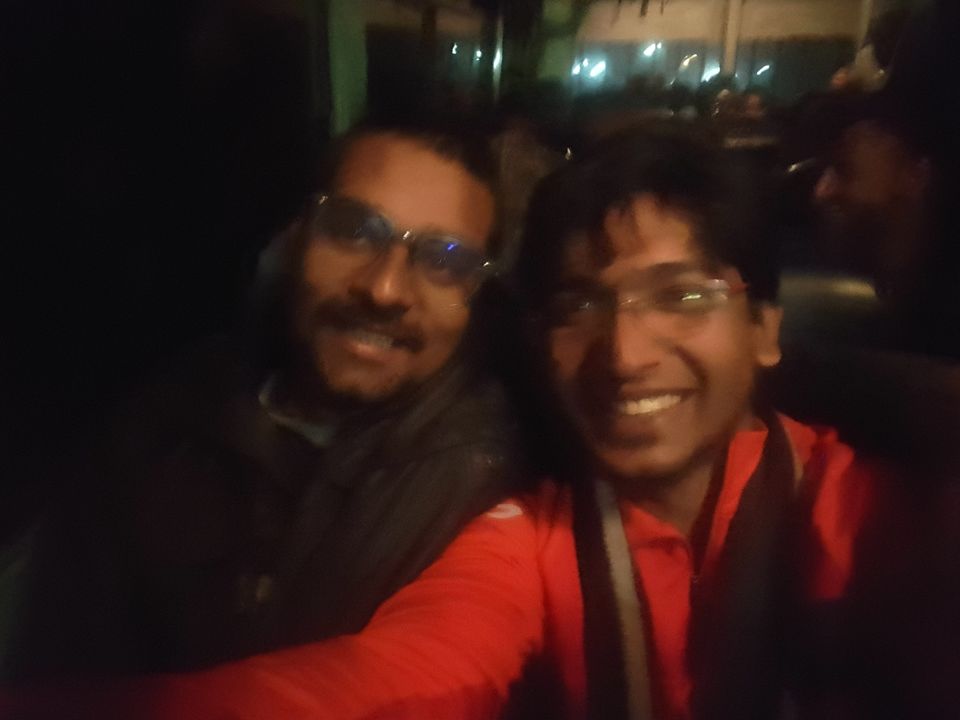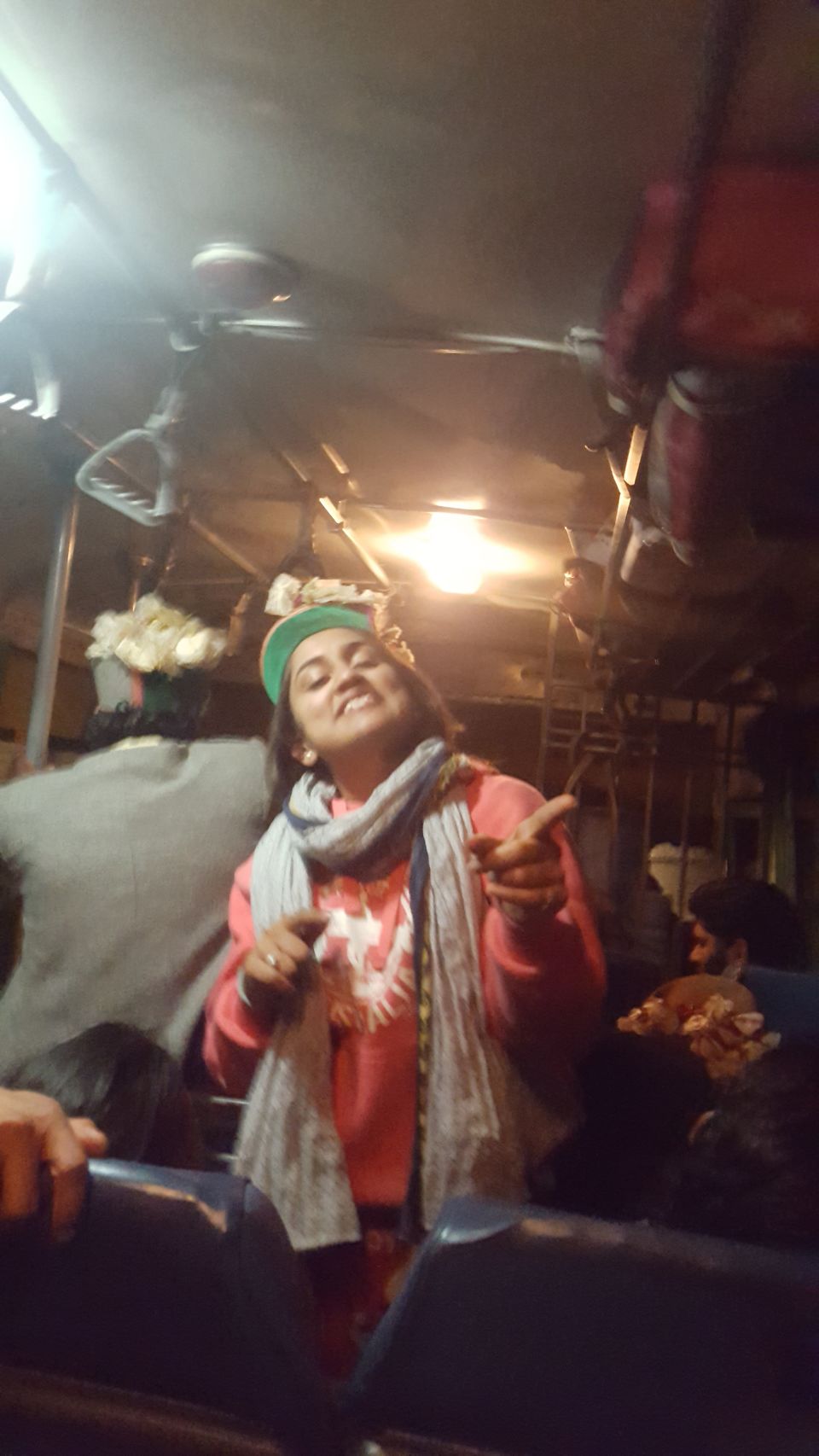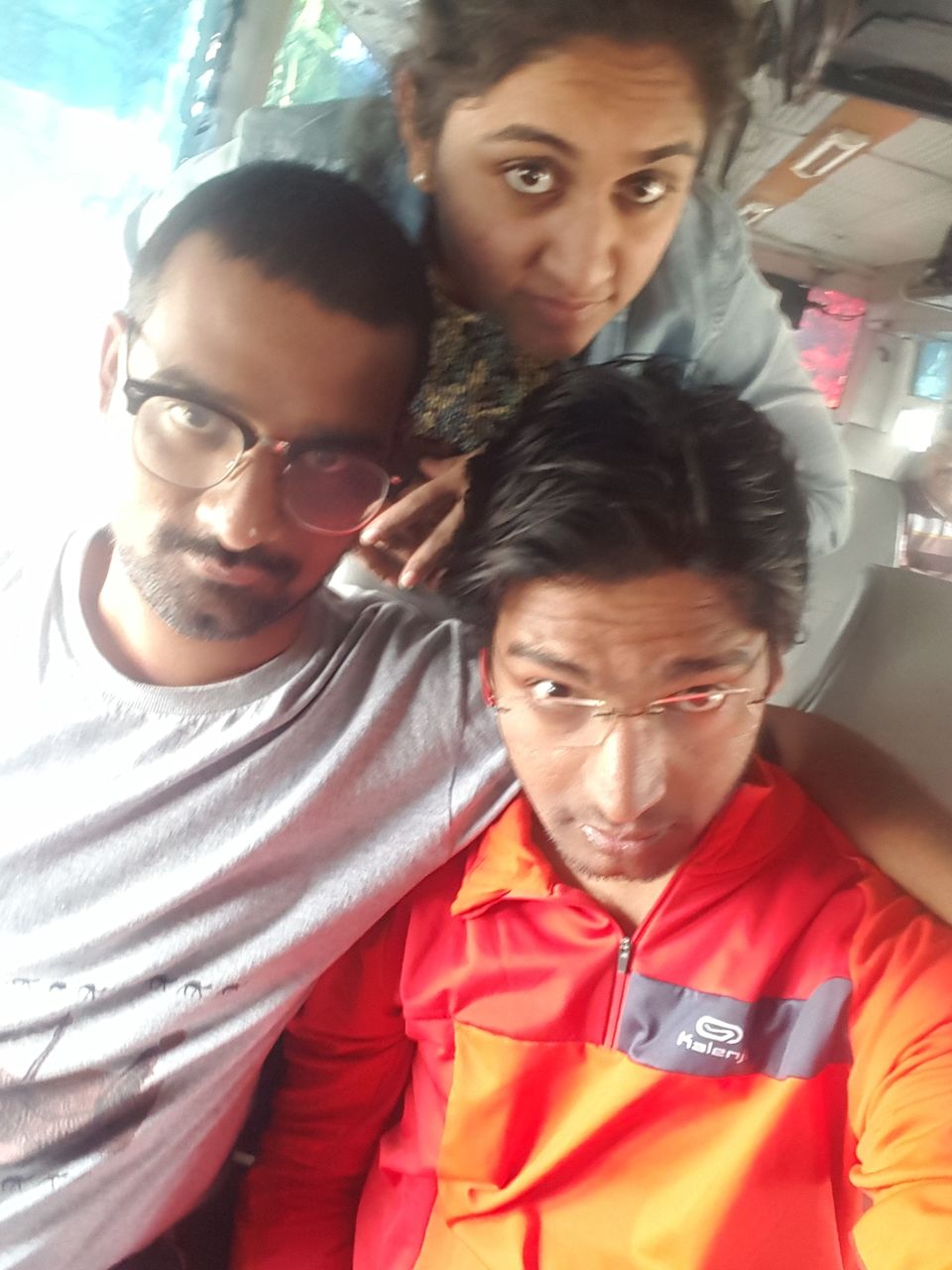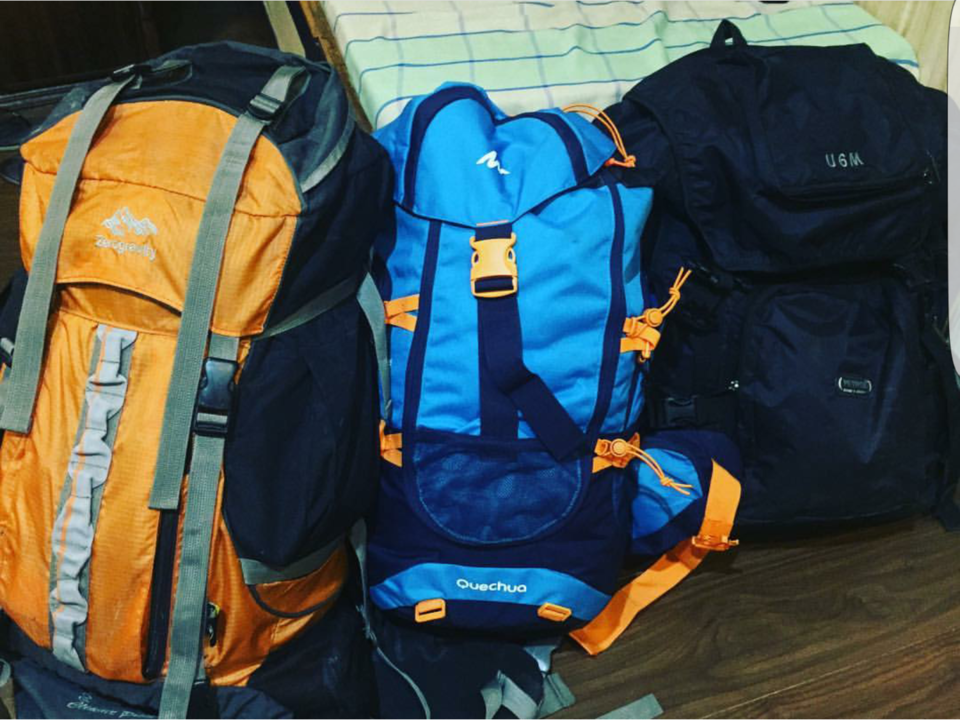 • There were still so many places like Sangla, Chitkul etc., we couldn't explore due to paucity of time. You can allot more time for the trip. Also, there were places like Kibbar, Hikkim etc. where we could have spent more time.
• Don't make a halt at Shimla, not worth it
• If you want to cover entire Spiti circle, plan your trip mid June onward, then you would be able to visit Kumzum Pass and Chandratal Lake as well and return via Manali route. We, however, preferred travelling in April end to satisfy our snow lust and we wanted to travel in off season to avoid too many travelers and to get good deals and peace. :)
• The place being located near Tibet and having multiple river has too much associated "Gyaan" one may want. If you are into history, you can read about these places before going there to appreciate it more.
• At the end, we managed to complete our trip in Rs. 10k per person (Delhi to Delhi)- with some audit adjustments/ manipulations.