Once the travel bug bites there is no known antidote, and I know that I shall be happily infected until the end of my life.
I am sharing here what my travel infected soul wants and how I manage to maintain a balance between my work and my interests. It's about a recent trip which I made with two of my best buddies.
Visiting Mcleodganj was always there in my travel bucket. I wanted to see the day to day living of the Tibetans (Mcleodganj has Headquarters of Tibetan's Government in Exile). Day and night chanting of the Buddhist Mantra fills your soul with purity, allow you to concentrate and refresh your soul. You will find Buddhist people holding beads and chanting round the day without affecting their daily work and routine. The main center is the Dalai Lama Temple which is a must visit place in Mcleodganj. Apart from the Dalai Lama temple there are other monasteries as well.
Our itinerary was to spend a day in Mcleodganj then trek to Triund, visiting other attractions en route. On the first day we got to hear a good news which was 'Paragliding has now been started just a day before we reached'. So there was no chance of ignoring this. We hired bikes and started our 75 Kms journey on the mountains to reach Bir Billing which is the Paragliding site. Covering the distance with bikes was a very good decision as got to see beautiful mountains and valleys, and yes we could stop anywhere to take photos. The ride includes travelling through Palampur, which is one of the beautiful places I have seen. Palampur is famous for tea farming. Invading inside the tea garden which are down the slope on hills is a refreshing experience, and it has to be, Since the Tea is a refreshing beverage. That's awesome !!!!
After spending about an hour at the falls we proceeded forward to reach Bhagsunag temple en route and then finally reached Mcleodganj which is about 2- 3 kms from Bhagsunag Temple. Our return Bus was scheduled to leave Mcleodganj at 6 pm. We still had 4 hours in our hand. We utilized these hours by Visiting the Dalai Lama Temple. I suggest you should make a visit to the temple once you are in Mcleodganj. The present Dalai Lama resides in the compound of the temple. The temple is so beautiful from inside, you will find Monks doing chanting and the main temple area is surrounded with Dharmachakra, the devotees and visitors spin the wheels which is cylindrical in shape and is a part of the Buddhist prayers.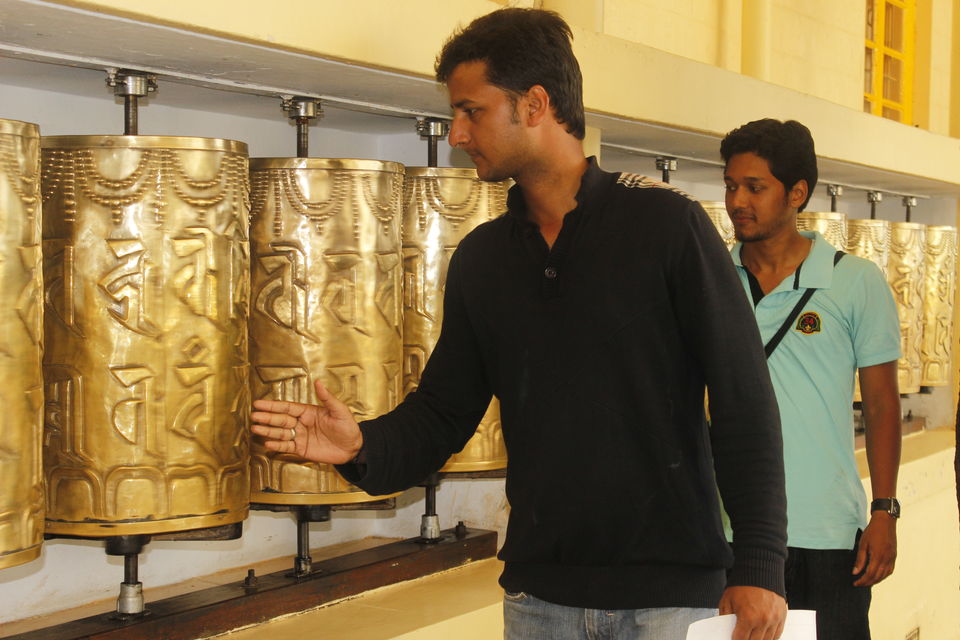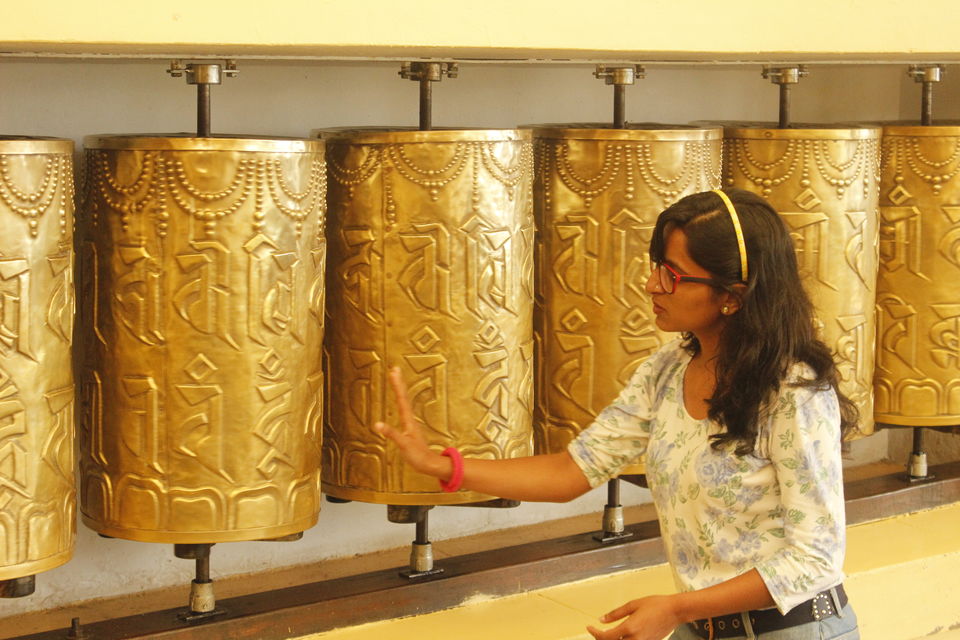 Finally after 3 hours ride we reached Bir (the landing site). From the landing site you can see Billing, the take off site. After riding on a steep uphill for about 40 Minutes we reached Billing, which is the top of the mountain. Believe me that place is Heaven. Every minute or two, you will be surrounded with clouds. You can feel cool touch of the clouds on your face, just close your eyes and feel the fresh and calm touch of the cool breeze. Once the clouds disappear from the jumping point, the para gliders start to jump and so did we. Though it is really scary for the first timers to jump and see yourselves up in the sky tied only with few locks (though these locks can not be easily broken). After a minute from the jump you will be actually flying like a bird. If you are lucky enough you will be flying through clouds and it makes you feel like heaven.
After a 14 minutes flight you will get landed at Bir. You can also memorize the moment by hiring a Go Pro camera and capturing the whole flight in a video. After the flight experience just relax and see the beauty of the mountains.
We started riding back from Bir to reach Mcleodganj which was 75 Kms away. It was evening by then and gradually it was becoming night while we were riding our bikes. After a while it was completely dark. Two bikes on a silent road, surrounded with thick forests and noises of the wild animals coming from far away, enough to fill you with adrenaline rush. We were expecting a lady wearing a white saree standing in the middle of the road staring on us!!! But that never happened :D :D. We finally reached Mcleaodganj at around 11 PM and it was enough to sleep like hell as we were extremely tired.
Next day our trek to The Triund hill was scheduled. We had to wake up early morning and pack our bags early as we would have been spending the coming night on the top of the hill in a camp. The trek was going to be a hard one. Though the trek has been rated as a moderate on the difficulty level because it is approx 9-10 Kms uphill from Mcleodganj. But although of a moderate level, the trek is really tiring because you have to trek on a very steep uphill path.
We started our trek from Mcleodganj at around 12 Noon and trekking for just about 3 Kms we were tired like hell. There are 3 tea points en route the final point which is on the top of Triund hill. Somewhere in the midway a big bunch of clouds covered the entire mountain which later poured the whole mountain with bone freezing water droplets and it became impossible to continue the trek. We could resume our trek only after the rain ended.
Now comes the final 3 kms trek which is much steeper climb as compared to the previous 6-7 kms. It really examines your strength and ability to trek on a continuous uphill track. Finally we reached the top at around 5 pm and view from the top looked like heaven. Triund has the perfect view of Dhauladhar range at one side and Kangra valley on the other. Triund is a place where you can relax and see mesmerizing view of Dhauladhar range. Weather at the top can change any time so it's always advised to keep a raincoat with you.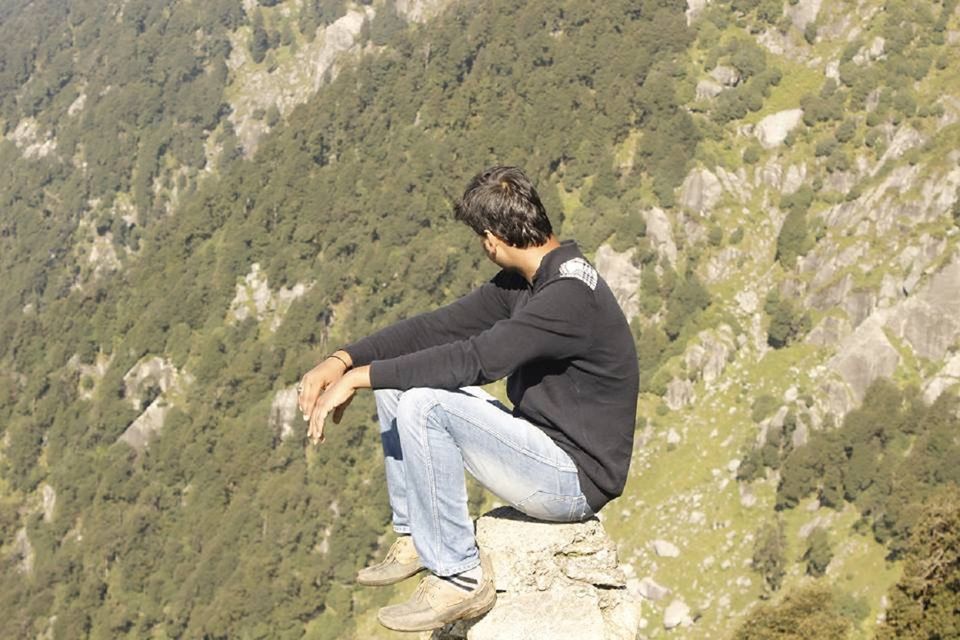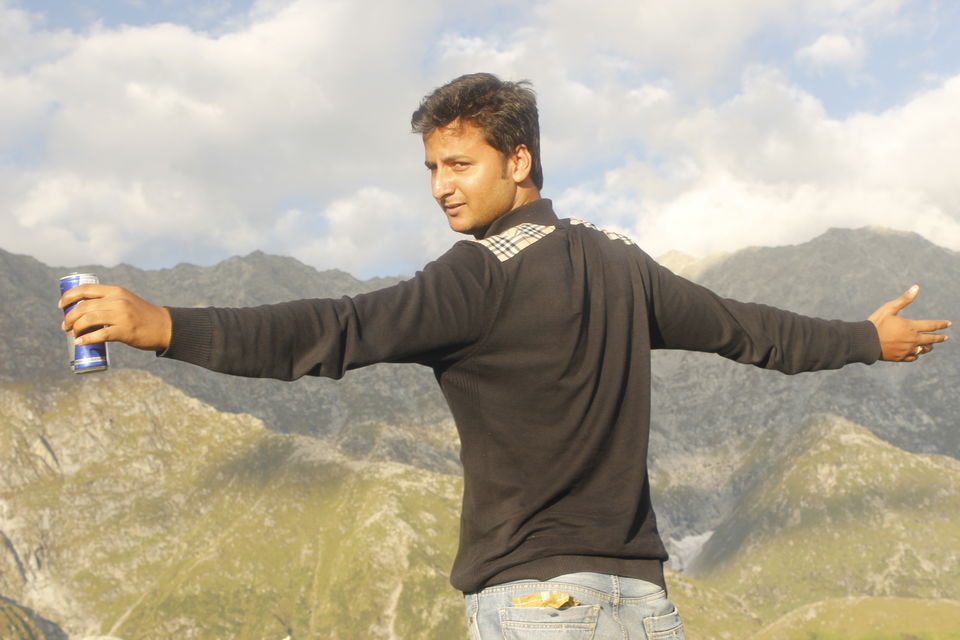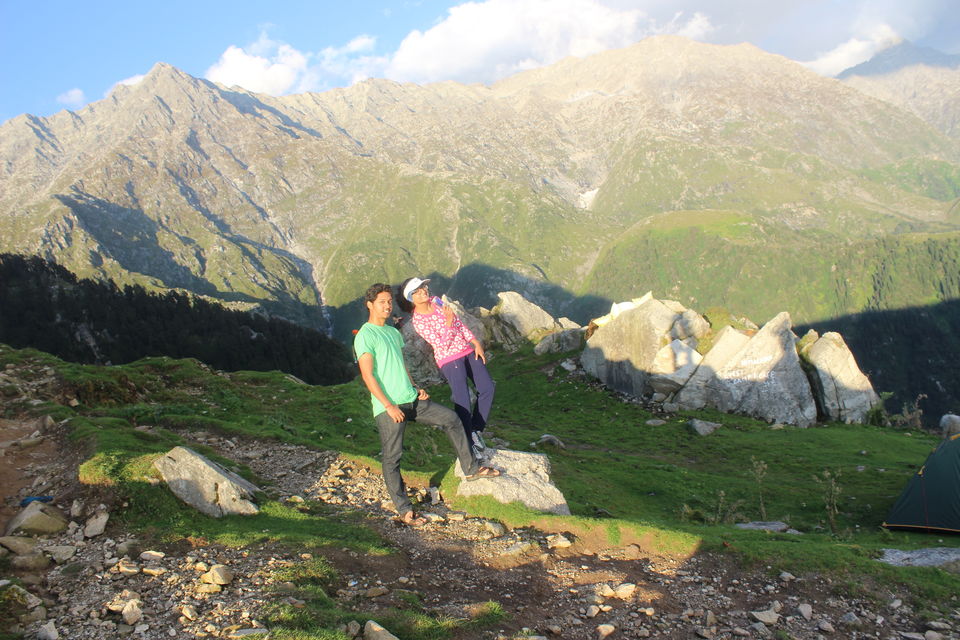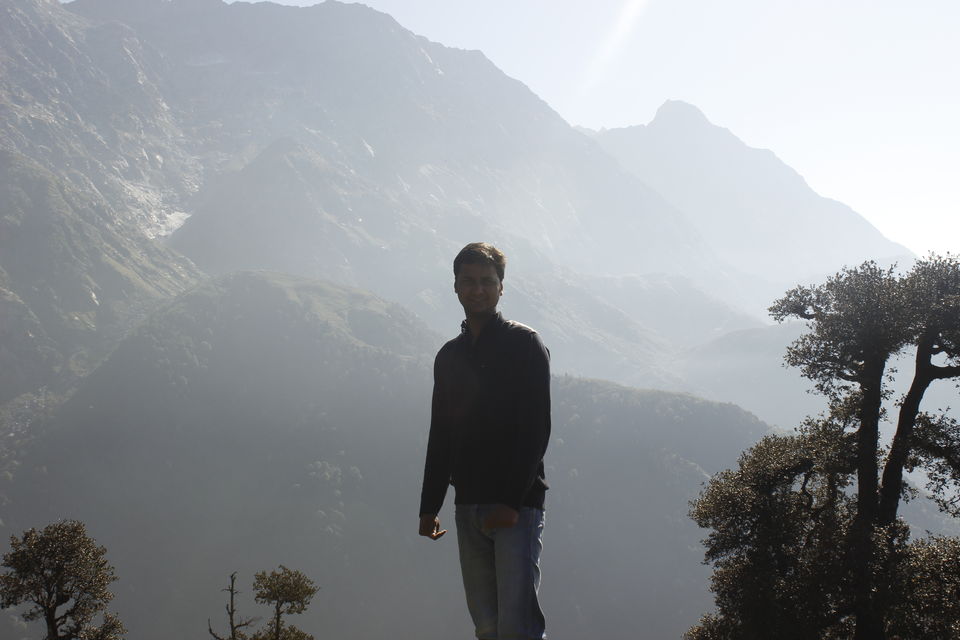 Now comes the beautiful and freezing night. Our guide had already prepared our camp by then. Though the temperature goes down very low at night but I suggest to get out of the camp and you will find beautiful sky with stars twinkling. You will find the number of stars have doubled from what we see from our cities. It's because of the clarity of the air with zero pollution.
Next morning we had decided to trek down in the early morning but we could start at around 10. We planned to take a different path which leads to the Bhagsunath falls. The route is very tough with no track at all. You will have to jump from one stone to another, the down hill is very steep and you have to mind your every step. A wrong step and you will be in trouble. This down trek is so beautiful where you will find horses grazing on green slopes and clouds make this view more fascinating. After trekking down for about 3 hours we reached The Bhagsunag fall. It's very energising to taste the pure water coming somewhere from the top, the water is so pure and fresh.
Coming back from the temple we still had 2 hours to roam around the market area and had some delicious foods to eat which include Thukpa (soft noodle like things with mouth watering spices). Finally we reached our pick up point at around 6 from where our bus was scheduled. We boarded the bus and our return journey started.
Our trip was short so we could not make visits to other attractions but we had lot of new experiences which will last in our minds for so long. Visiting the mountains, meeting people there and living their lives, explore their culture, trying new varieties of foods always fascinate me. Now the trip has ended and we three people are back in our offices and started working with fresh mind and soul, memorising everything we did and planning to make an another visit to a new place has already been started in our minds.
With this I end up writing my experience but keep on remembering what I did in my last trip and also planning to do lot more in the next one. Till then HAPPY WORKING !!