This was my second outing with YHAI. Dalhousie was fabulous and it just kick started the traveler in me wanting to travel to a lesser known place. Though Andaman is where it all started, YHAI gave the option of travelling to lesser known destination with less nickel. So this time it was Goa. I was not interested in Goa biking trip and did only because I can't directly go for Sailing but it turned out to be one amazing experience. Though sailing got cancelled this time the second half with my old school mates was fun enough.
Day 2 Joy Ride and Acclimatization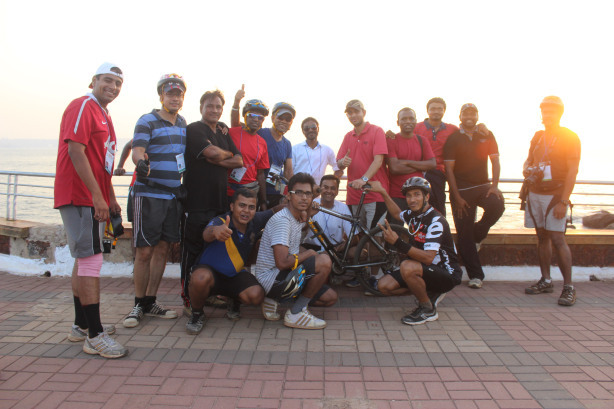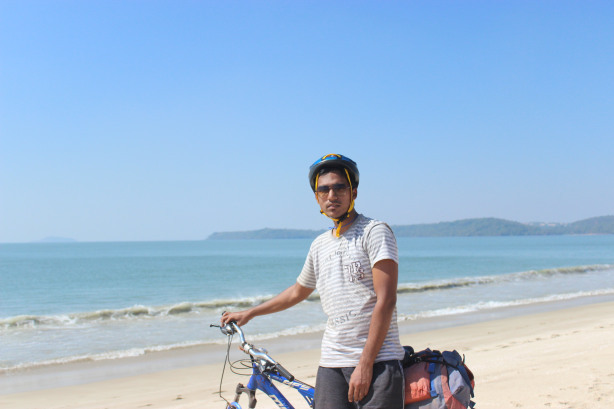 Day 4 Assolna to Netravali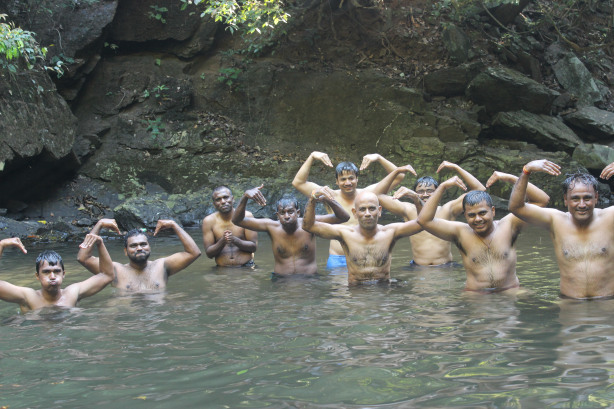 Day 5 Netravali to Dudsagar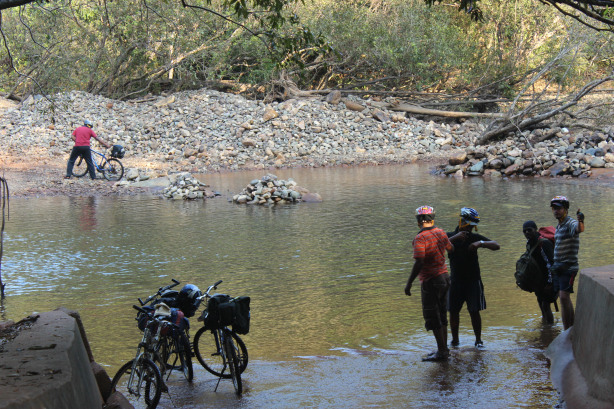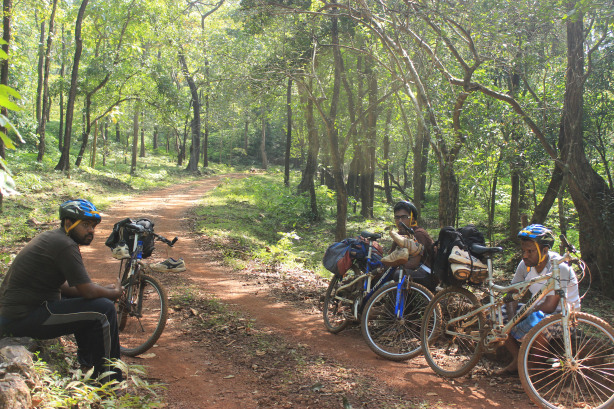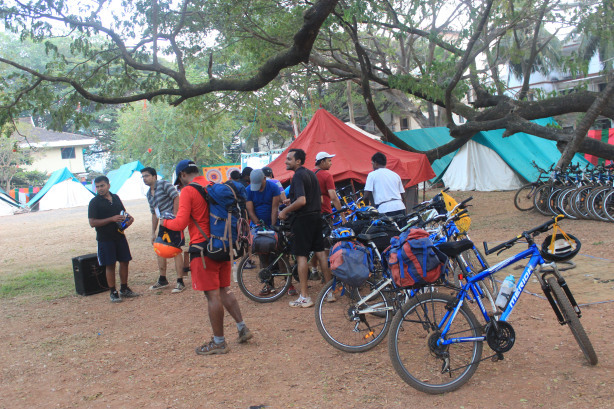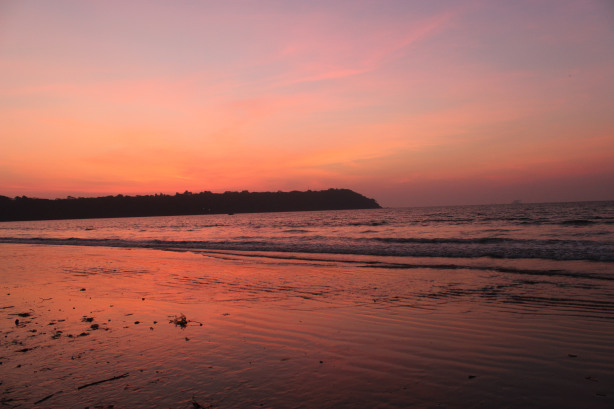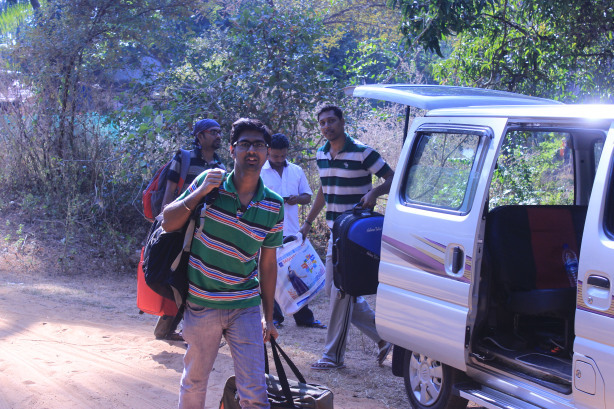 Day 2 - Beach, Migraine and Casino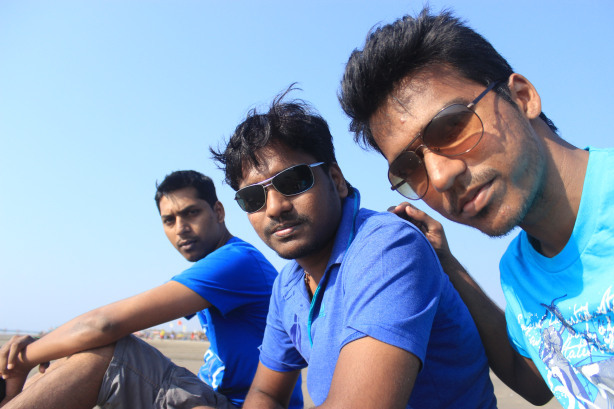 We had the best reserved for the last day, at least that's what we thought. I again got up late around 11.30. By that time Seena and Balaji were ready to visit Aguda fort. Prasanna and Karthik who got up just before me too decided to join them. As I didn't want to be left alone I too joined them.
It was a boring outing in Goa followed by a beach visit, lunch in shack and back home. For breakfast we had bread omelet which had pav instead of bread. But the chai was amazing and also tasted much waited sugarcane juice after a long time which was yummy. Lunch was pathetic but none had much appetite. That day it was Prasanna's turn to fall ill but not as much as I did.
In the evening around 4.30 we started off to Baga for some water sports. We decided to do Banana boat ride which was Rs. 200 per person and Para Sailing for Rs. 600 per person. Balaji and Seena went for Para Sailing first up and had an amazing experience with extra dip in pool and lowering of the parachute in water. It costed them Rs 500. We thought we were cheated by Rs. 200 but when we entered. Our boatmen asked Rs. 350 per head to lower the parachute in water. I was pissed but confirmed we were not cheated for jumping in the sea as they expected some money for that too.
I and Prasanna opted out for that dip but the best thing is after doing that we escaped without paying Rs. 700. That was more thrilling than the ride. As we had watched Italian Job the previous night we were planning in a similar fashion. We also watched American Pie 2 for a couple of times during our tenure which felt good to be watched with friends even though more than half the film was cut in Pix.
Day 3 Sports, escapade and finally booze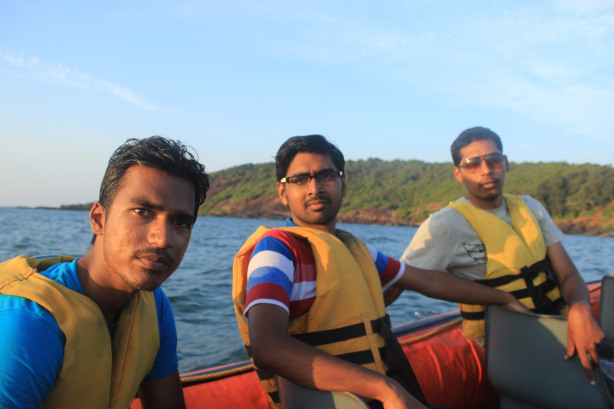 We took some quality rest and kidded Balaji about not going to Tito's that day but after all the drama went there having Pav omelet yet again. Then went to Tito's paying Rs. 2000 and once as we entered every one of us were disappointed with the lack of fairer sex ratio. But that's what made us decide that we are going to get on a high at last. Once it happened... well, the rest was history.
Part 1 The Ride that was
Day 0 Where it all started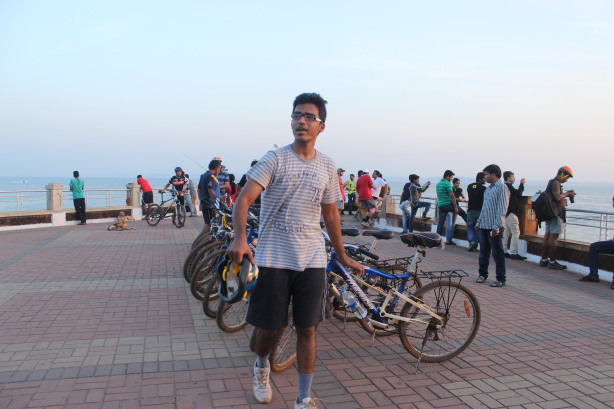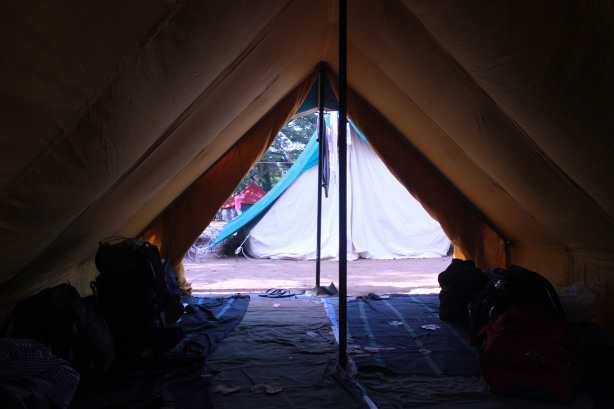 The first day we didn't do much, just went to Baga and had dinner, beer outside. Balaji was lamenting about not doing anything that day. Even I thought so but didn't let it out. This is what too much excitement can do. So we came home by 10, quite early by Goa standards but I was the last to sleep, just to change the routine.
It was just a couple of hours in office. Actually after my friend Siva's marriage I directly went to office with bag on Thursday so that I could sleep in dorm and get my mandatory 3.5 hours done. I thought I should go to Goa with a six pack so that I could flaunt my abs in beaches but it was never to happen. Workout in last two weeks suffered a lot after my friend Vimal had to go to onsite, chilled beer and my cold. But I went in a lot better shape than Dalhousie which means there would be less body pain.
I started off around 11'o clock from office. I swiped in early at 6.30 that day. I thought of swiping in at 5.30 and workout squat for one last time but it didn't happen because of the rain that day morning. So I got off to Central by going to Paranur and catching the 10.30 train which came late by an hour. Don't know what would have happened if I had planned for the next train which was scheduled at 11.30. It was a one and a half hour journey where I was restless as I had to take care of the luggage. Finally got down at central and walked to the train.
There was a hot looking chick from Infosys going in front of me. Before I could strike a conversation she quickly ran to the Bangalore express which was scheduled to go at 5 minutes from then. I don't know how these people could be so late to station. Having said that I reached the station almost an hour before the departure of train and my coupe was almost empty other than a Telugu middle aged woman who also came in the EMU that I came by.
As my coupe was empty I could sleep for a good hour or two in lower birth. Till Yeshwanthpur no one came to my coupe. There was a LIC agent who came and advised me that 20,000 that I earn won't be enough for my life. I could have easily argued but what's the point. Then a lady of my age who looked decent enough came and sat in my coupe. First time I was travelling with a youngster but as soon as she came four more guys with iPhone came and made it impossible for me to talk with her. But they were fun loving people. From their attire and accessories I could get that they were rich.
I slept for a while and got up late at around 9. By that time the girl had left and I talked with them about the guy who wanted me to do CA. Being CA students they naturally diminished the thoughts saying that, "never do CA, people will always take you seriously." He had a point there.
At around 11'o clock, just before Margao i don't know what struck me but i asked someone who looked like an IT employee about how I should go to my base camp. That guy had very good knowledge about Goa so went with him from Margao to Kadamba bus stand (Rs. 10), Nonstop shuttle from Kadamba to Panaji (Rs. 30) and Panaji to Miramar base camp (Rs. 10). In all it cost me Rs. 50 and I was off to trekking mode. Exploring new means of transport.
I reached the base camp without any problem. Had lunch and took a quick bath without further ado. I thought the tough part was over. Good thing about YHAI is you never feel alone. If an introvert like me could feel this way think about fun loving people. After few hours I got acquainted to Suyash, Shantanu and Mayank. Immediately I got to know that Suyash is the one I'd be more friends with. We had similar passions and he could understand me more than others. Shantanu too was fun loving. Both were from Pune and Mayank was from Mumbai.
Then met with Andhra gang of 3 (Madhu, Srihari and Sudheer) with whom I couldn't talk much. Suyash, Shantanu, Mayank and I went for a walk to nearby Miramar beach and to the backwaters just behind the camp which was a great sunset point and got ourselves some good sunset pictures. We had a quick dinner and slept off quite soon that day.
I knew this was again going to be just another day where we'd be wailing our time away and had planned for a quick nap in the morning because of the joy ride which we went which wasn't in the time table
Earlier we went for jogging and did a quick warm up. That too with veteran marathon runners we could get proper warm up. The staffs in Goa where fun loving and young people whom you don't get to see much in YHAI and also the camp was very lenient compared to Himachal camps. Add to it there were no girls in our batch which meant that there would neither be any motivation, nor be any distraction.
So that day we got our cycles, went for a couple of joy rides which wasn't much difficult and wailed our time away. That night we had to host camp fire but we hadn't prepared anything. Kavin nicely managed with his humor. Though I don't like people showing off it was good to see Kavin in a way he was. He was honest, a most important trait in any human.
That day we also got to know about our routes but i didn't pay much attention because i didn't want to spoil the suspense. Slept peacefully.
After one or two uphill's in the initial stretch it was mostly ride in beach. Only on that day we got used to gears. It was a long stretch in beach which we did after lunch because we had to wait for the tides to settle in. First lunch was fun and the sweet which Shantanu had bought was real nice, though I forgot the name.
The next 27 Km in beach was moderately tough with sands getting soft in between. Except for two or three pictures with bike there wasn't much scope for photography. The beaches were full of bikini babes and all were amazingly fit who were like nitro boosters for us to ride the bike through.
Only on that day got to know that Manish is the prankster along with Pravin Bhai who was everyone's favorite in the trip. Manish even got a picture with a woman in bikini (note that she's a mother of two.) Looked very much a babe though.
After a tiring ride we settled for lime soda/juice in a beach shack where I was repeatedly making eye contact with a hot looking Indian girl but only that and nothing else. We thought that our journey was almost over but what seemed to be a perfect day took a U-turn after the beach ride.
We actually waited in Shack because Madhu had got a flat tire but once we started from the shack everything bad happened and took almost an hour and a half to reach Assolna football ground. We got a single room which resembled very much like a bachelor's room. There were whole lot of mosquitoes and other insects but the place wasn't much cold. We took a quick bath and I slept quite early.
I could hear Manish telling about his pyrogenics and fighting it out with Group Leader Kavin for some mystery girl. I didn't prod much and had a good night's sleep in the cloth that YHAI gives. The day before I slept in the blanket directly and got swelling so I was careful. Being alone you got to be very careful as you don't want to be a burden for others.
My favorite day of the trip. There were few up hills but nothing tough and the ride was a smooth one to the base camp. That day became awesome because of the waterfalls which half of us went to after reaching the base camp.
Bathing in the waterfall felt great. Add to it, got great pictures of ourselves in funny poses as well as the waterfall shot which every photographer wants. Once we returned to the base camp we had tender coconut water and two bondas (strictly limited) and went to room to freshen up. The place was great with great ambience.
That was the day I really got to be friends with the Andhra gang. We had a nice chat for about 2 hours and the rest were in other room where there was lot of noise. Only while coming to dinner Pravin Bhai explained about it which was nothing but the landlord joke who asks for money after every second item. Food was amazing that night and had sumptuous amount of it even though the landlord was prying.
Though I slept well, that was the day I felt really cold without an extra blanket but it didn't stop me from sleeping well.
The day started off with an acrobatic dive by Pravin Bhai which the people who saw would never forget. The lucky ones in this case was me and Srihari. And that guy is such a sport. He could have easily died there but there he was joking and laughing it out. If it had happened to me it'd have taken a couple of days and more than a few pat in my shoulder to have become normal.
That was the most tiresome journey technically but that was the best biking experience I had of the trip. There were a lot of up hills, down hills, puncture and regular stuff but last ten kilometers to reach the camp was amazing in jungle. Mountain biking at its best. We all were tired but that majestic Dudsagar falls kept us going.
On a road where even a four wheel drive cars couldn't go through, we were cycling and everyone were watching in awe. What better site you need.
As soon as we reached the base camp I took my cup and gorged 4 cups of Rasna to quench my thirst. Only after reaching the base camp we came to know that we won't' be able to see the falls that day so took a freezing bath in the stream nearby and had to shit in a tented toilet. I did it more than once during the stay there as I was afraid to go to toilet during night.
And that was the first time I saw moon rays. It was awesome to use moons light to find direction. Food was amazing too and this time I carefully got an extra blanket and slept well on time.
That was the day Mayank had got ill and wanted to go home. Everyone had some advice to give to him but i kept mum. I didn't want to influence his decision. But finally he made it.
We got up early, had breakfast and cycled to the majestic Dudsagar falls, 2 Km from there we got an uninterrupted view of the falls with no one but us there. Some great photos (or think so). After half an hour foreigners started to throng there. A very pretty girl was taking photos at a point where I was taking photos. That lady gave whole new meaning of photos there for she was posing brilliantly.
We felt like foreigners there as there were very few Indians around. Then we went all the way down, some 10 Km which was tough. Travelling by the same route makes things irritating and that was one long journey that day.
But one good thing was the people in car where looking at us in awe and we were there in almost every photo/video that they were shooting. Felt especially good when we were waiting in stream and cars overtook us.
By afternoon I got totally irritated and was bad mood. To make things worse we went in a wrong direction following Manish. Manish was an animal who always was first in the group. But that wrong turn made the turn with Pravin Bhai joking about tempo and ordering one more lassi when the guide came to us saying we have come way ahead.
That lifted my spirits. And I've to say that lassi in Goa was fabulous along with sugarcane juice. The last few kilometers to reach bondla camp was simply impossible to ride. It looked more like a trekking route where we pushed the cycle all the while. It was totally uphill and the most treacherous of the lot.
One look at the Bondla base camp and I got all my energy back. A full storied dorm with beds, bathroom etc. was a welcome change from a no electricity Dudsagar camp. Only during these expeditions we come to know about the luxuries which we enjoy. Unfortunately for us the zoo was closed so we rested in the dorm and i slept early keeping with the loner tradition. The rest were sharing stories and having fun I guess. Had a totally peaceful sleep that night.
That was the last day and we know where we were going so there wasn't any surprise element. But I got mood off like many in the morning because of problems in cycle. Sudheer and Madhu had to take turns and ride cycle because one cycle had become unridable.
What took us an hour to climb the previous day took only 10 minutes to get down after a delayed start but that was one scary ride. Having problems with height it felt terrible. If that is not enough, my cycle spoke got cut off and so my left break was loosened to 10 percent of its real effect which means I could hardly apply break.
From that time to the point where we reached Old Goa it was a terrible journey. I couldn't ride fast even in downhill's so would always be at the last. Kavin stopped encouraging after some time which was good because I didn't want to constantly be reminded of being last. Just before reaching Old Goa we had the real taste of Goa Beer/Breezer which gave us a whole new kick. Once we hit the city after going to a couple of churches we had to keep pace as there was traffic. I forgot all about the spokes and breaks and reached base camp in style. It felt great where a group of 50 children from Manipur were clapping for us. There is no bigger drug than applause.
That night most of them left. I thought of having one more beer but didn't have company so just went out with Andhra gang and came back. My total expense for the week was Rs. 400. That night there was snake show and the host of the show was a Manipuri teacher. Camp fire was quite fun with lot of giggles and claps.
After bournvita I had one hell of a sleep that day.
I woke up at 9'o clock which is quite a luxury in youth hostel. Breakfast was over by the time I got up so I got ready in my own pace and left base camp at 11 that morning with a lot of good memories and some not so good memories.
I definitely missed Arun and Sugand but didn't miss them as much as I thought. After Spiti debacle I thought I could never go alone anywhere but this experience has given me confidence to go alone if needed.
Part 2 Goa - For what really is.
Now that the tough part was over I was very excited for the second part. Christo wanted me to take a taxi for Rs. 1000 from Miramar to his place in Arpora but come on I don't even spend that much when I go with family. So got precise bus instructions from him.
First took a bus from Miramar to Panaji (Rs. 10), nonstop shuttle from Panaji to Mapusa (Rs. 18) and another shuttle from Mapusa to Vegas super market (Rs. 10). Yeah you read it right, it was Vegas super market (Welcome to Goa baby!). I thought of buying beer first up for my friends but decided against it as I didn't know how much I've to walk to reach his place. After a walk for about 15 minutes I got to his place, thanks to precise instruction from Christo and my intuition, it wasn't tough to find the place.
When I went there he was giving instructions to two couples which I heard and was happy to know that all research had not gone in vain because I could get most of the places. Then freshened up a bit in room but wasn't able to sleep because of the excitement.
On the other hand my friends were coming by train and they decided to opt for cab from Vasco, a normal call in given circumstances and reached home around 2.30 PM. The fun and frolic started as soon as they entered. I started laughing after a period of 10 days. As usual it was rest of the guys making fun of Balaji.
We opted to have lunch from nearby Bella Rosa resort along with mildly chilled Tuborg. It was great to have good spicy non vegetarian food after a long time but beer wasn't good. Generally I like beer but I hated Tuborg instantly.
I got up last and felt good getting up at 11'o clock. Seena and Balaji got us all Aloo Paratha which was yummy and as usual I had the maximum share. We went to Anand Bar and Restaurant for lunch which was the best lunch we had there with Red Snapper, Prawns etc. I again didn't have any liquor instead opted for Maaza (can you believe it?) Don't know what had gotten on to me but I hardly touched liquor that day too.
Then we went to a stretch of quite beaches in North Goa and were privileged to see someone topless which was icing on the cake. Seena went to have a closer look but wasn't able to. Poor Guy! Then I, Balaji and Karthik took bath in the beach. I came out of the water just after a few minutes and got terrible headache sitting in hot sun so rushed others home too.
Once back in room I tried to sleep but couldn't, my temperature was soaring up and headache never ceased to cease. I thought I wouldn't go for Casino that night but guys pressurized me too. On the other hand it was the final day of first test between Indian and South Africa which we thought would be won by South Africa easily. But no one knew why they went for a draw that time. Good thing is I forgot about the headache as soon I hit the road and went to Casino.
We went to Casino Pride which was about Rs. 1500 per head and thoroughly enjoyed the experience. I was lucky to get my money back and few others money too. In all we got Rs. 1600 back which was good according to normal standards. I could have got another 400 if I had been careful but its fine, mistakes happen. Food wasn't much good but I loved the ambience and the entire experience. Good that my friends pressurized otherwise I'd have missed this amazing experience. At around 2.30 we started feeling really sleepy and by that time we had lost all our money so came back home around 3.30 and slept like hell.
Frequent Searches Leading To This Page:-
goa travel guide for 5 days, whispering palms beach resort goa, goa villas for rent, budget hotels in goa, cheap goa packages from delhi with airfare, holiday beach resort goa, beach resorts in goa for family