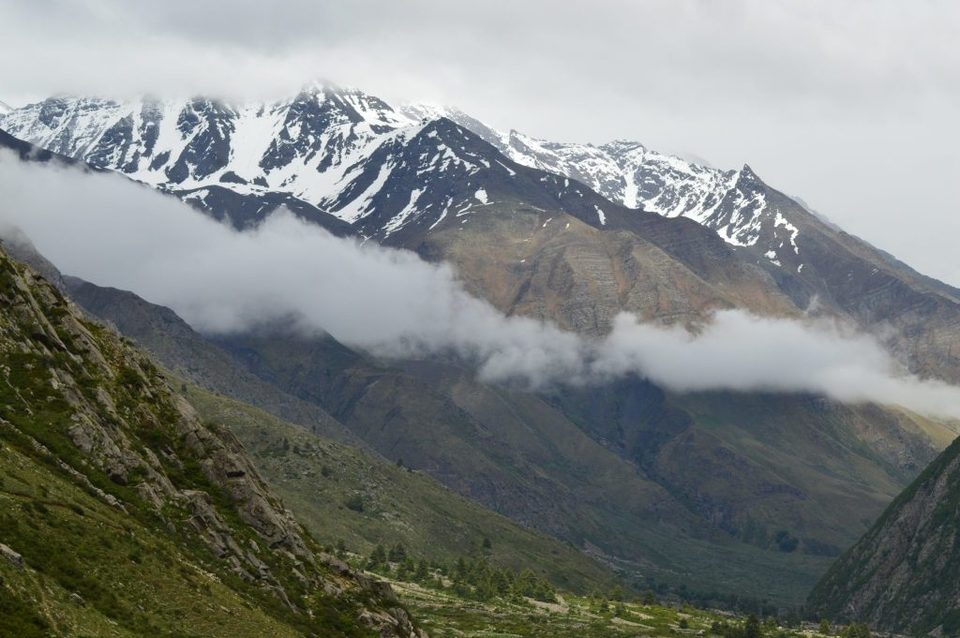 Chitkul, a small village deep in the Kinnaur Valley, but definitely... not less than a heaven.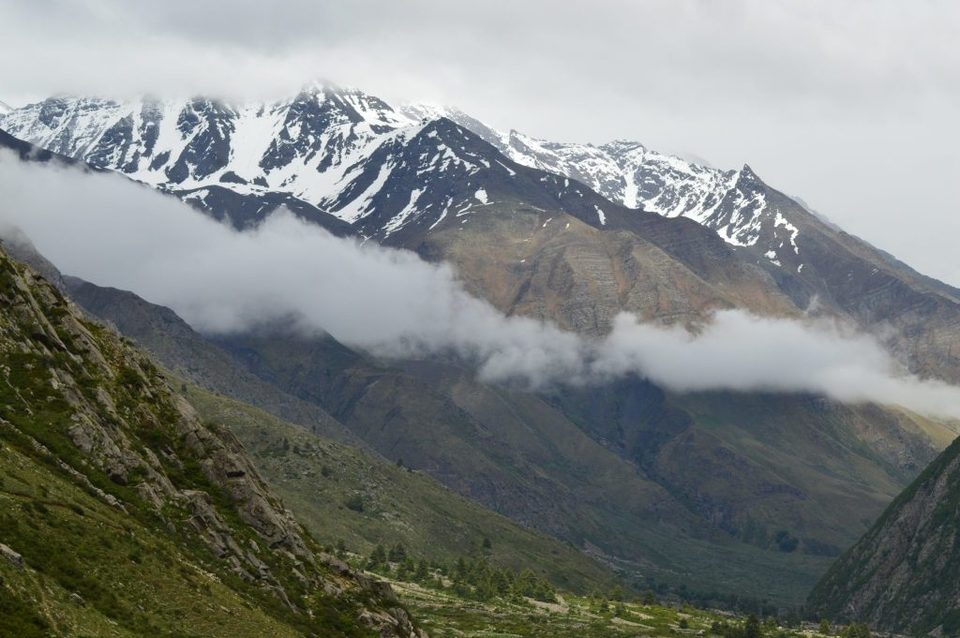 It is indeed one of my favorite places in India. Have you been to Chitkul? If yes, you must very well know about the mesmerizing beauty of this last inhabited village on the Indo-Tibetan border and the village is quite close to China. If you haven't been there yet, you need to go there. Trust me, you'll thank me forever for this.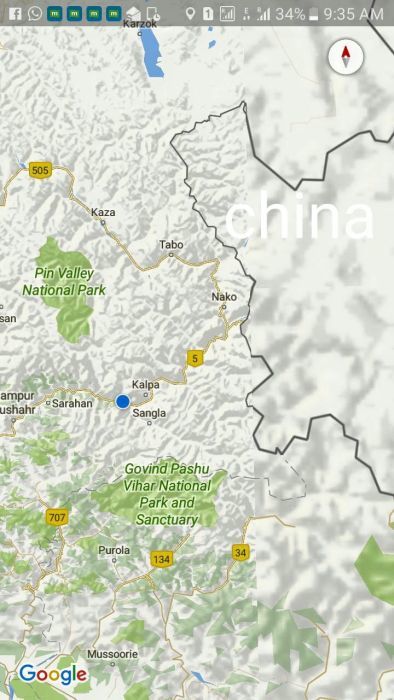 Till the time you aren't visiting this beautiful place, let's travel virtually. Follow me ????
How to reach Chitkul?
There are various ways to reach there. Chitkul is 600 Kilometers from Delhi. So, the most affordable and comfortable way is to take an overnight bus from Delhi to Shimla. From Shimla, you can hire a cab. We hired a cab online at an effective cost but after negotiating a lot.
If you are looking for a cheap trip, you can always get a local bus from Delhi to Shimla and then Shimla to Chitkul. Every morning a bus leaves from Shimla to Chitkul and charges around Rs. 450. But my personal suggestion is not to make your journey too hectic. In the bus, it takes around 1 day and if you take a private cab as we did, it takes 20 hours.
However, my plan was a bit different and generally, it should be that way. If you're going so far, you must visit all the beautiful valleys of Kinnaur. We first went to Sangla, Chitkul, and then Kalpa.
Our beautiful experience at Chitkul, Himachal Pradesh
On our Kinnaur trip, our day 2 was dedicated to this last village at Indo-Tibetan Border. We started our journey from Sangla Valley at 7 am. As we left Sangla ( 23kms away from Chitkul), our whole journey was itself something tremendous. The Baspa river was flowing through our entire journey.
Baspar river that meets river Satluj flowing through China to India. We could clearly see the glaciers forming the river.
You know what I loved the most, there was no mobile network in Chitkul and Rakcham. You are totally away from the cacophony of the whole world.
Where to stay?
On our way to Chitkul, we booked our night stay in Ibex Tents at the exit of Rakcham village (10kms before Chitkul). The location of tents is incredible lying exactly at the center with snow-capped mountains all around the village.
You can also stay in Chitkul, there are 2 -3 hotels and café but you won't find much to eat.
Check out our video on Ibex Tents, Rakcham:
For more amazing videos, Subscribe to our YouTube channel "Crave to Explore"
Initially, we were listening to road trip songs in our car but then the natural echoes pulled us deeply. Huge rock bizarre mountains on one side, on another side, huge valley, a stream of waterfalls, snowy peaks, and chirping of beautiful words.
Finally, we reached Chitkul at around 10 am roaming around and enjoying the scenic beauty of dense forest of Rakcham to Chitkul.
We saw a lot of Pinusgerardiana (Chilgoza) and Apricot trees on the way. Also, a lot of deodar trees which are used to create lavish furniture and wooden houses.
Chitkul has created an immense name in India only because of its pure beauty. It has scenic as well as the natural beauty that leaves you in Awe.
What to eat?
As we were hungry, we went to a café located at the extreme end of the village. There are hardly 2 cafes in Chitkul. The one we went to was the best due to its location and colorful ambiance. Though you won't variety of food in Chitkul, they served delicious aloo paranthas, butter bread, and if you eat eggs then omelet and boiled eggs and yes not to forget Maggie noodles and tea. It was a small yet beautiful café with outside sitting arrangement. All the tables and chairs placed in the shadow of rainbow umbrellas.
Lush green mountains could be seen from the front while on the back side, the tiny Chitkul village is located with all wooden Tibetan houses.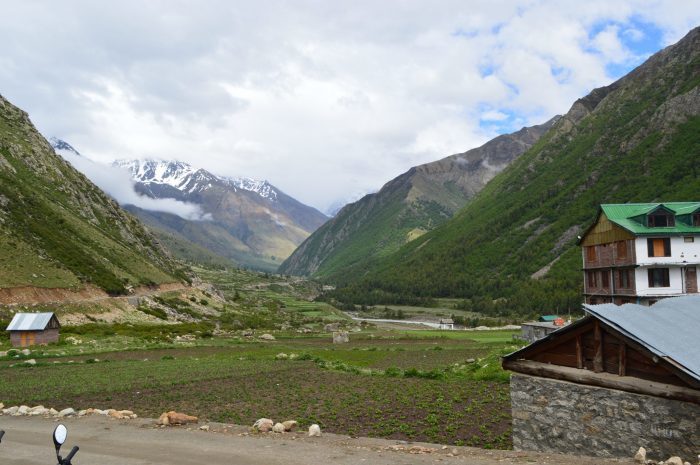 Even that café had accommodation facility and in fact, many Israeli people stayed there too.
Places to visit in Chitkul
After spending time there, we visited the monastery of Chitkul.
And then I spent some "me" time at the corner of a closed monastery.
It was located a bit on the top from where I could enjoy the view of the whole village and all the beautiful mighty mountains.
Soon, it began pouring down.
Once the rain stopped, I went near the Sangam of two beautiful rivers - Satluj and Baspa.
Near the parking area, there is a small shop (tapir) which is named as The Last Dhaba and there is a signboard which mentions Chitkul as " The last village ".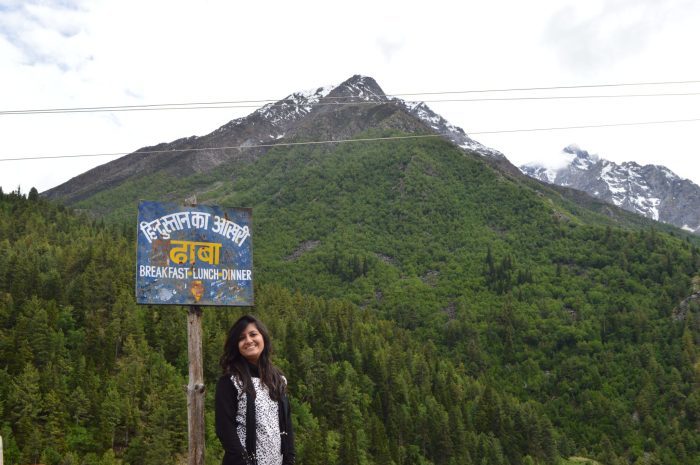 Though Chitkul used to be the last village at India-China border, now there are other villages that are much closer, one of them is Nako.
This village and stay at Rakcham totally changed my life. People say, Travel helps you discover yourself and this place very well proved it for me.
Experience of traveling to Chitkul helped me evolve and then turned me into a writer.
If I had time, I would lie there forever - Green Meadows, Apple Farms, Glaciers, Forest, Snow, monasteries, wooden cottages, mighty Himalayan mountains, and behind these mountains lied a different country.
I can't describe more, you need to be there. A must... must visit place.