Situated at an altitude of 11,300 ft on the Indo-Tibetan border, Chitkul is a straight-outta-heaven village waiting to mesmerise you. Guaranteed to feed the wanderlust of every mountain lover, Chitkul is a Himalayan paradise tucked away from commercialisation and technology. I first visited Chitkul during my Kinnaur trip and while I was there I knew I had to visit again. It was that stunning and I was that awestruck!
So, as I am going anyway, you might as well join! Here's a step-by-step guide to this quaint hamlet via public transport (shoestring budget, of course)
The Route
New Delhi – Rampur Bushahr – Karchham – Sangla – Chitkul
Rampur Bushahr is a small but significant municipal council in the Shimla district in Himachal Pradesh. It is advisable to take the 7.30 pm HRTC bus from Kashmere Gate, New Delhi and reach Rampur Bushahr directly, at around 10 the next morning. If you wish to explore Shimla or Narkanda, you can always make a stop there, which will consequentially extend your trip duration by a day or two. Grab a quick, light breakfast–mine mostly comprised of cucumbers and samosas from Rampur bus stand, and then catch the next bus to Reckong Peo.
Rampur to Karcham is a pleasant three-hour journey with some spectacular views. From Karcham, the road diverges into two, one takes you to Reckong Peo, the other to Sangla. So, if you do not plan to explore other parts of Kinnaur like Kalpa, Nako, etc. you should get down here at Karcham and take the next bus to Sangla.
By the time you reach Sangla, you begin to realise how it is more about the journey than the destination. The entire stretch from Rampur is equal parts breathtaking and adventurous. Karcham to Sangla is a one-hour journey and you can hitchhike if you think it necessary, but do not rely on it as you won't always find a local vehicle.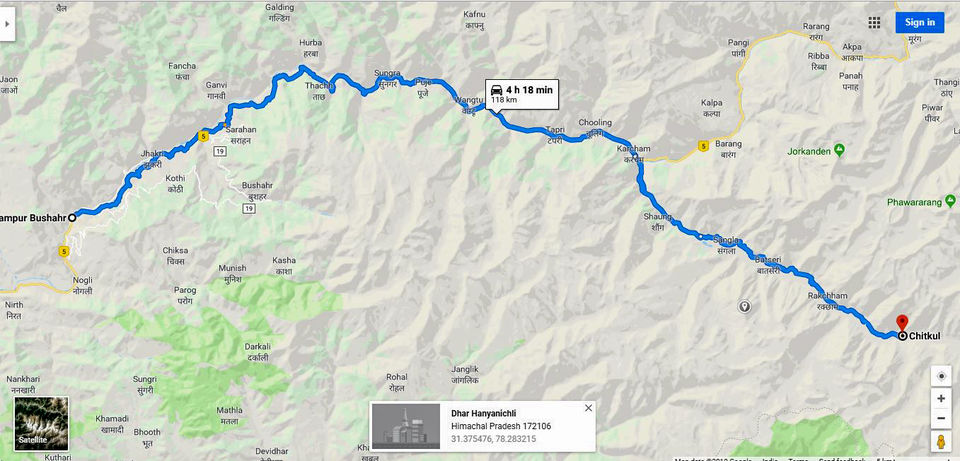 In August 2018, when I visited Kinnaur, somewhere between Sangla and Chitkul, there was a landslide and the road was blocked. Many travelling in bigger tour groups were stuck for days and only smaller vehicles could pass. Our bus dropped us off right before the blockage and we had to walk for a long distance before someone gave us a lift.
This brings us to an important lesson on travelling to remote places in Himachal–make sure you know the best time to visit a place. Monsoon is clearly not! March to June and September to December seem like a good idea.
Chitkul is such a boon after the taxing journey. One look at the green mountains and you will know how the pain of travelling 600 km in an HRTC bus was entirely worth it. The cold stream running alongside the mountains, unassuming wooden houses, young kids and their pet sheep, clean air and the gigantic Himalayan range, everything makes Chitkul a resplendent little hamlet demanding you to go off-grid for more than a couple of days! Chitkul is proximal to the Indo-Tibetan border, needless to say, there's strict ITBP security here.
The People
The locals of the village are humble people with modest means. Agriculture, cattle, and tourism are their main sources of income. It is imperative to know that they are wary of commercialisation and the outside world in general. They are religious people and their culture and sentiments need to be respected. You may find many shying away and avoiding conversations. Do not nudge them for no reason, and always ask before taking a picture as some may take offense.
Food is pretty basic here and sumptuous still. There are also several reasonably priced and comfortable home stays and hostels in Chitkul and in the nearby village of Rakcham. The village is pollution free and you are requested to travel responsibly, so please do not litter! You will require four to five days in total for the trip, and it can be covered in well under Rs 3,000 if you plan wisely! HRTC and local food/stay is the key.
Have a trip of your own to recount? Tell us all about it here on Tripoto!
Get travel inspiration from us daily! Save our number and send a Whatsapp message on 9599147110 to begin!