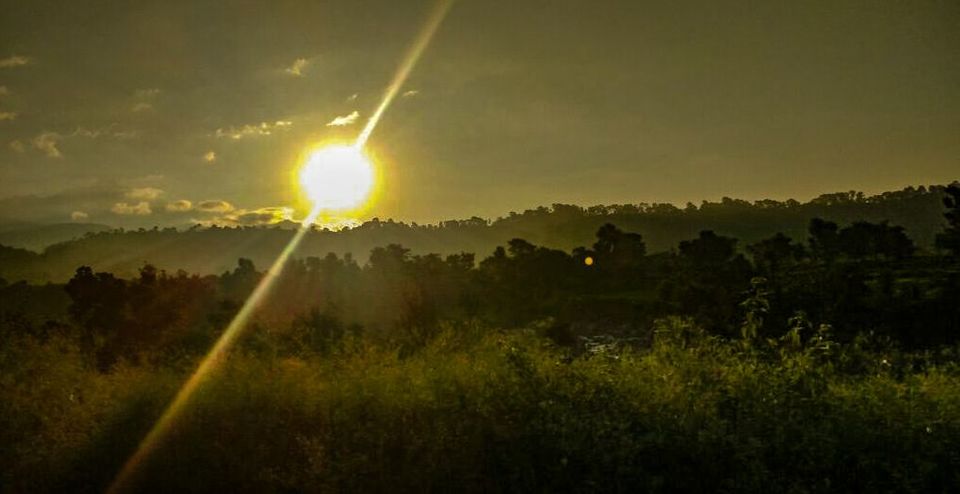 You all would agree with me for the title if I tell you I am talking about no place other than Himachal Pradesh known as devbhoomi (land of devatas). There is this different sense of calmness once you cross the Punjab border and enter into Himachal.
I have recently got a chance to visit this paradise and trust me if you are expecting me to talk about Mcleodganj, Dharamshala, Shimla etc, I am going to disappoint you because Himachal is not just these places. There is much more to it and that is still hidden on the hill tops, inside the forests and God knows where else . So let's take you to these serene villages of Himachal (They are no villages) and absorb the tranquility of these plush green places. As you enter the Himachal border from Pathankot , you are welcomed with a cool breeze usually every time of the year and long deodar trees. It will take you around an hour or two to reach banoi chowk if you boarded the Kangra bus from Pathankot. Usually these chowks are named after the names of rivers flowing there or nearby, and let me remind you throughout the way the rivers are not gonna leave you, from the bus you can follow the river waters and it might not be surprising if the bus stops suddenly on the road side and conductor gets down to fill his water bottle from the water seeping through the roadside hill. Yeah, it's the purest water – chilled and all for free. On the way there are many dhabas (Unlike Karnataka) to serve you delicious tandoori roti along with Kadi and Rajma and this hot meal is exactly what you need on those hilly cold Raasta.
As you reach banoi chowk, you have to get down and take a jeep to Lanjhni (It's a village on the hilltops in district Dharamshala and tehsil Kangra with around 150 houses , built almost one or two per hill ) Usually the locals living there provide guest houses for rent to travelers, but it's hard to find on your own since it's almost a non-traveller zone, so you have to make arrangements in advance or you could even take help from the drivers or hotel owners in Dharamshala as this place is just 10 KM from Dharamshala. Once you are set in that cozy room of your guest house facing tall deodar trees and pin drop silence you have all the time in the world to be face yourself. The silence here is not deafening, it's music to your ears when you can hear your own heartbeat. I would suggest to reach the guesthouse before the sunset just to be on a safer side (Although people here do not lock their homes..)
Enjoy a great adrak wali chai and let the artist within unwind. (That's my personal touch to it)
Next morning , it's an advice to wake up early because you surely would not like to miss one of your life's best sunrise, the first rays breaking through the clouds(although you are on clouds ) and sun rising behind that green cover of trees . After making up your morning, the walk through the hills between the clouds would lead you to a soul awakening path, the cool breeze and the warm sun is the perfect combination for the awakening. No need to rush, nowhere to hurry for…Just Live and by this I mean actually LIVE LIFE.
You have all the time to explore the village now and you would really be astonished to know that this village is built much better than many of the cities we live in, with all the amenities and yes there is hardly any power cut happening in this village. Please take your time to talk to the elderly people here, you will fall in love with the sweetness of their language and affection , they will tell you how their ancestors bought these hills and constructed those houses which are more robust than many of our recent constructions, they have the plethora of stories some depicting their ancient beliefs and you will feel how innocent and pure their hearts are while some will tell you some daily tales about myths which might scare you a bit,but overall this is gonna be a lifetime experience for you.
If you craving for the outside world , you can anytime tale a local jeep or cab to Dharamshala and ahead to Mcleodganj and have a gala time, do a real time cheap shopping ,enjoy your time with little cute monks in Dalai lama temple , visit the famous Shiva Café and Bhagsunag temple and Falls.
This trip would give you a soul stirring and calming experience or I should say 'A Murakami experience'.
Please do write to me if you need any details for this place in case you are travelling.