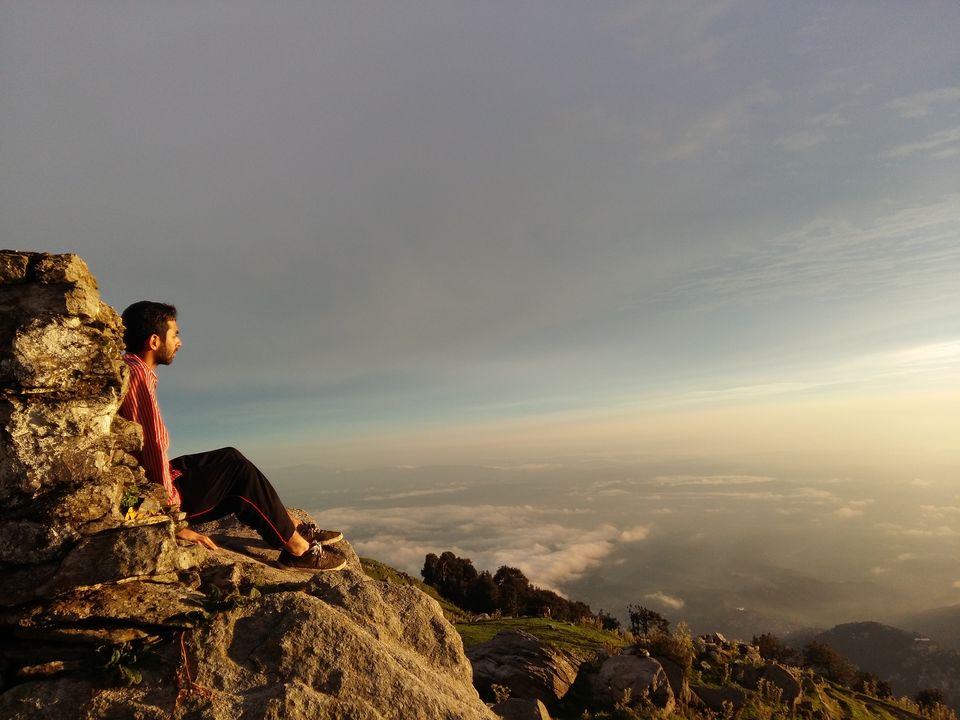 Where are you going ?" I asked Abhay, when I made an usual, casual visit to his room and witnessed him packing his bags. "To Triund" he said " Would you like to come ?"

This was an opportunity, I had been waiting for a long time, for this was the first opportunity, I had for going on a trek; first time for a sudden planned trip; first time for a trip, not telling my parents much in advance.
"Yes"I said overjoyed. "Get ready in 15" he said.
And we were off, a company of four in the middle of the night, from a small city-Patiala, (around 9:30) having no idea whether we would get a bus to Chandigarh; not having much money in our pockets; no food whatsoever; no rucksacks(only laptop bags); not a lot of battery charged(in my phone); two somewhat less charged power-banks for Abhay's liking.( big fan of clicking photographs)
"Sorry no buses available, at this time to Chandigarh, take a bus to Ambala from here, wherein you would get a bus to Chandigarh" The conductor said.
We did exactly what the conductor said, the time was 6:30 in the morning, when we reached Dharamshala.( 6 and 1/2 hour journey from Chandigarh)
A daunting challenge awaited me, after reaching Dharamshala- to call mum and explain the events that took place, which unexpectedly went pretty smoothly in the end.
After waiting for about an hour, we eventually got a bus to McLeod Ganj. McLeod Ganj is a 40 minutes bus ride from Dharamshala.(You could also get a cab from there) We reached McLeod Ganj at 8 and after having breakfast(have a heavy one going to need it) and freshening up, started our trek to Triund from Bhagsu nag.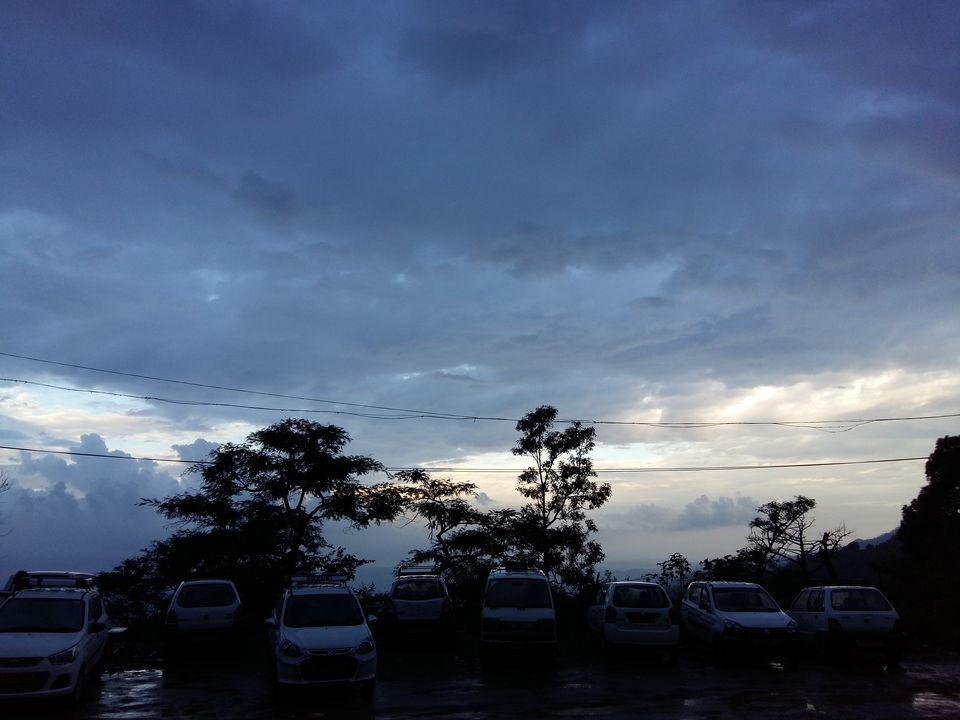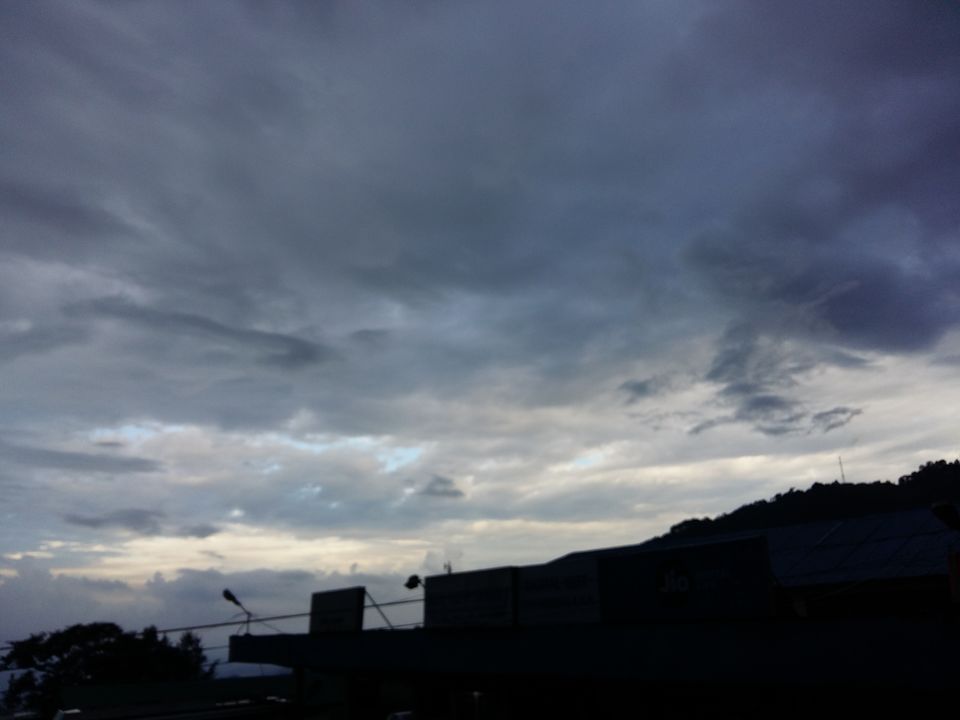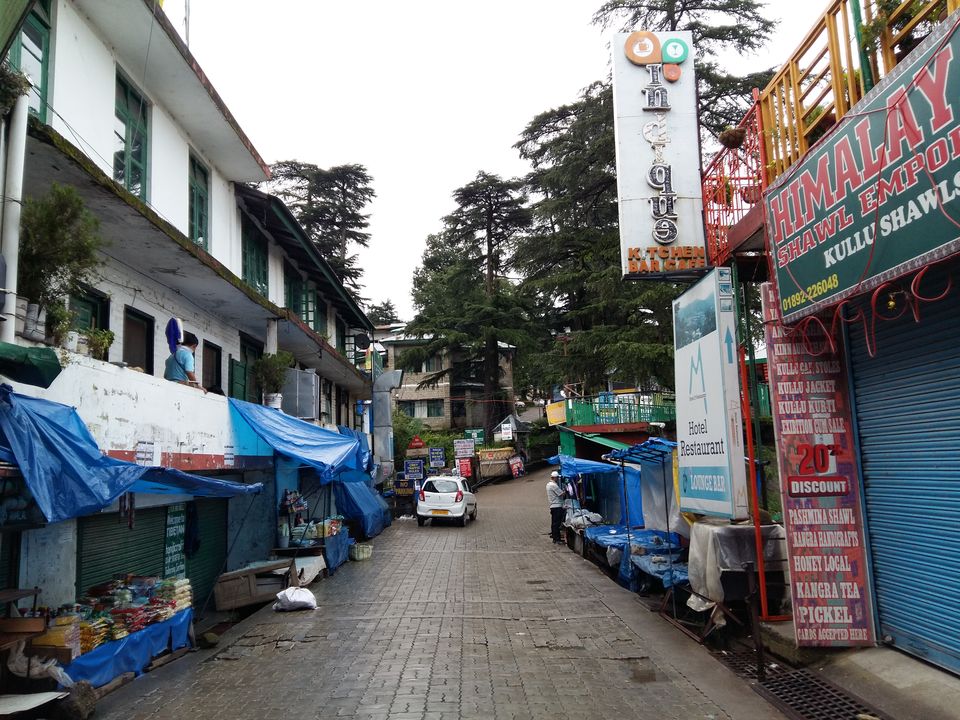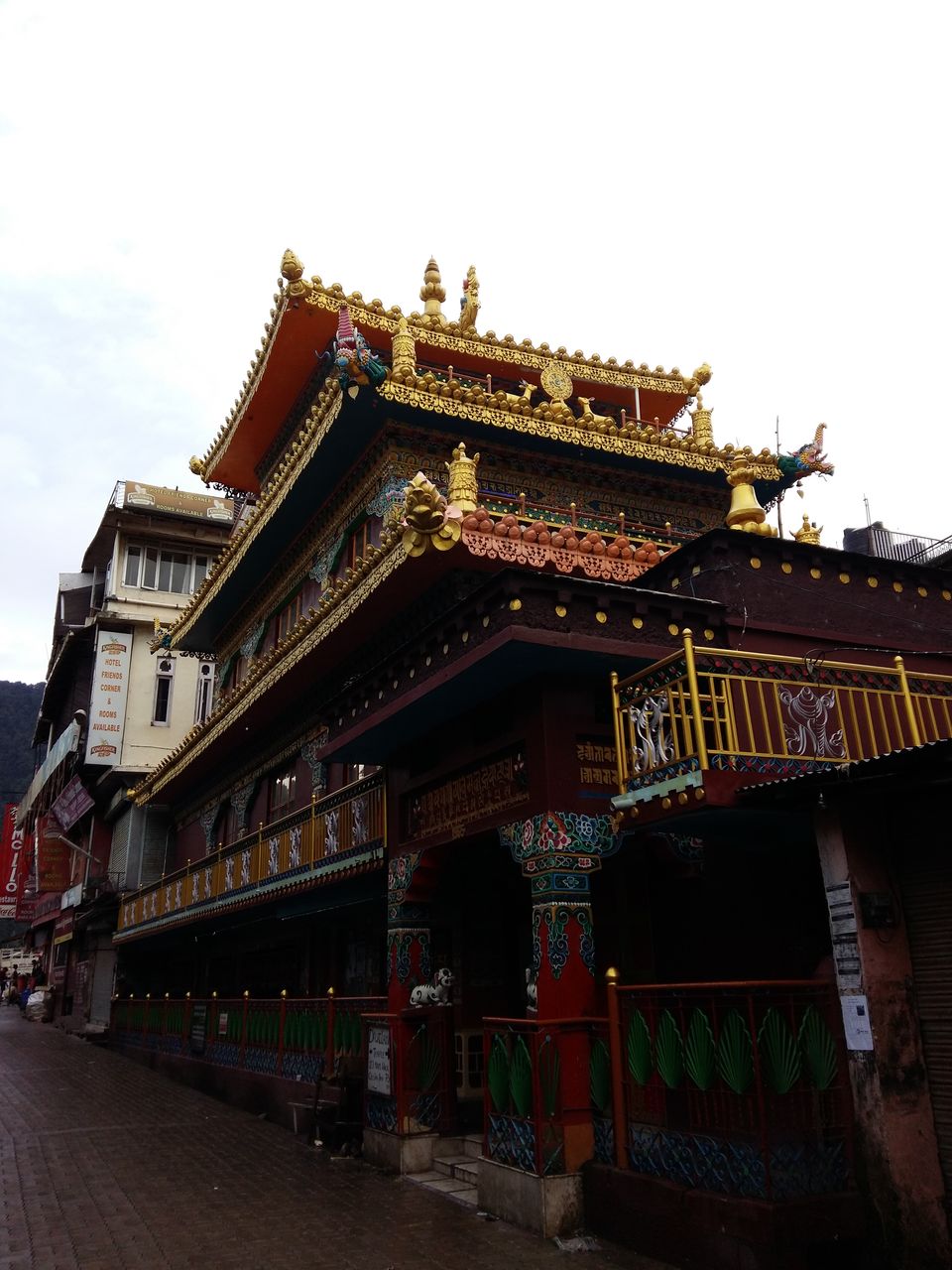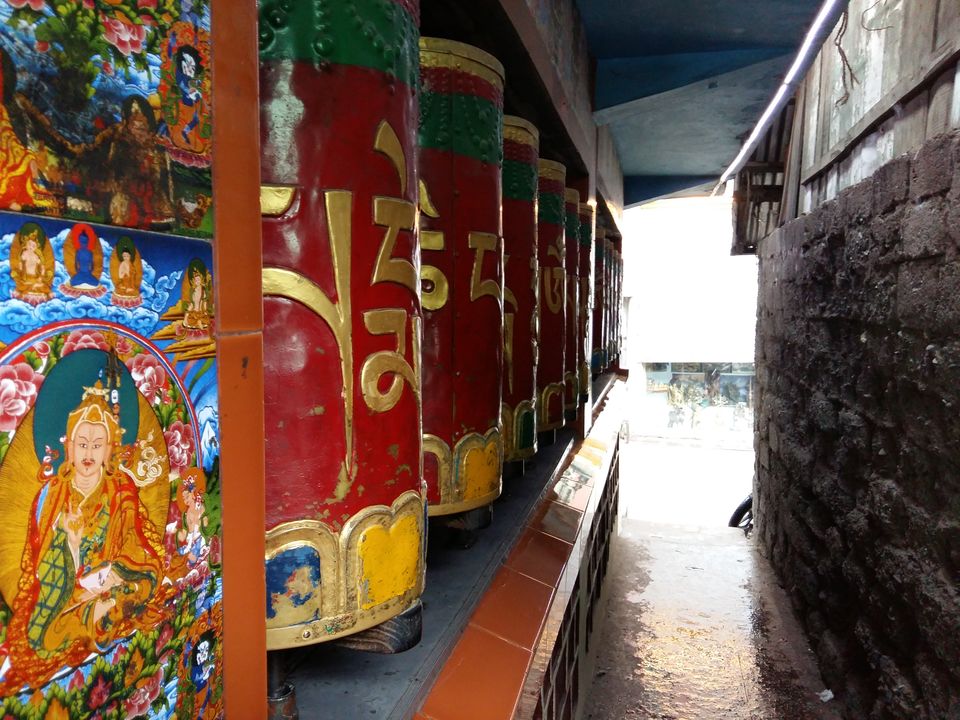 9:30 was the time when we started the trek.
"I am tired can't climb anymore" said the 90kg bulky Apoorv. "We are just 10 mins in and only climbing a slope, I told you it is going to be hard for you"said Abhay. We became unsure whether he would be able to complete the trek or not. We still moved on keeping our fingers crossed and hoping that we will reach the top.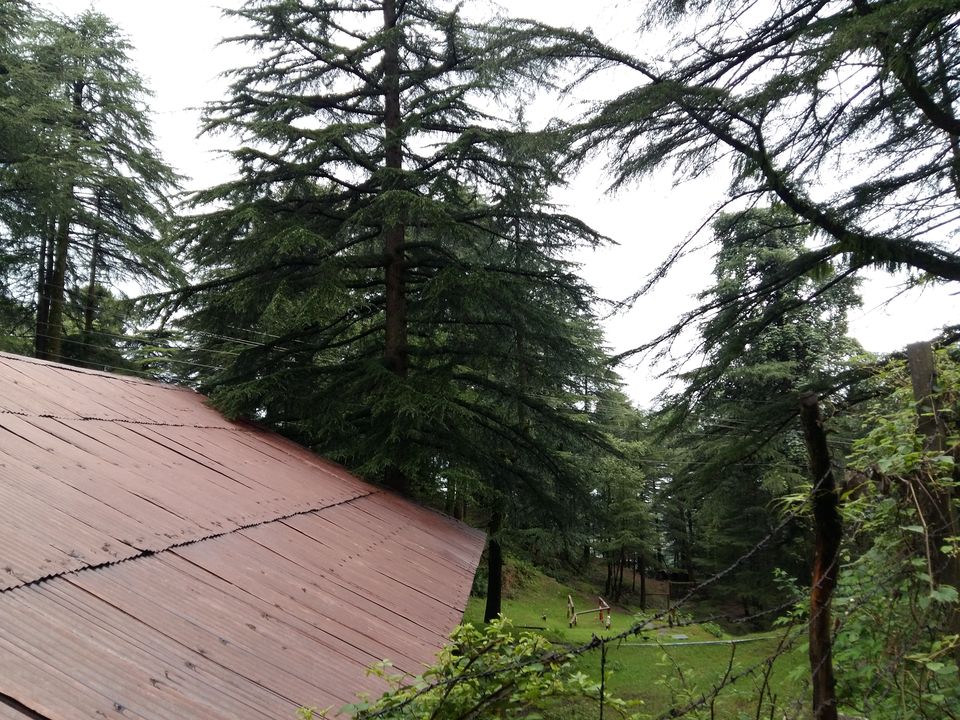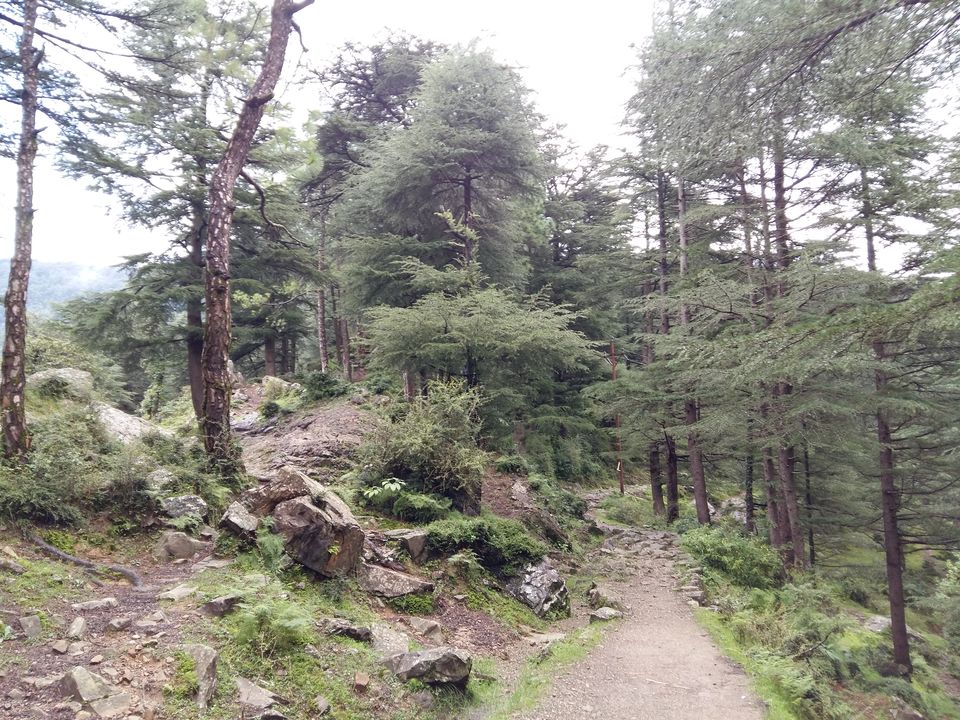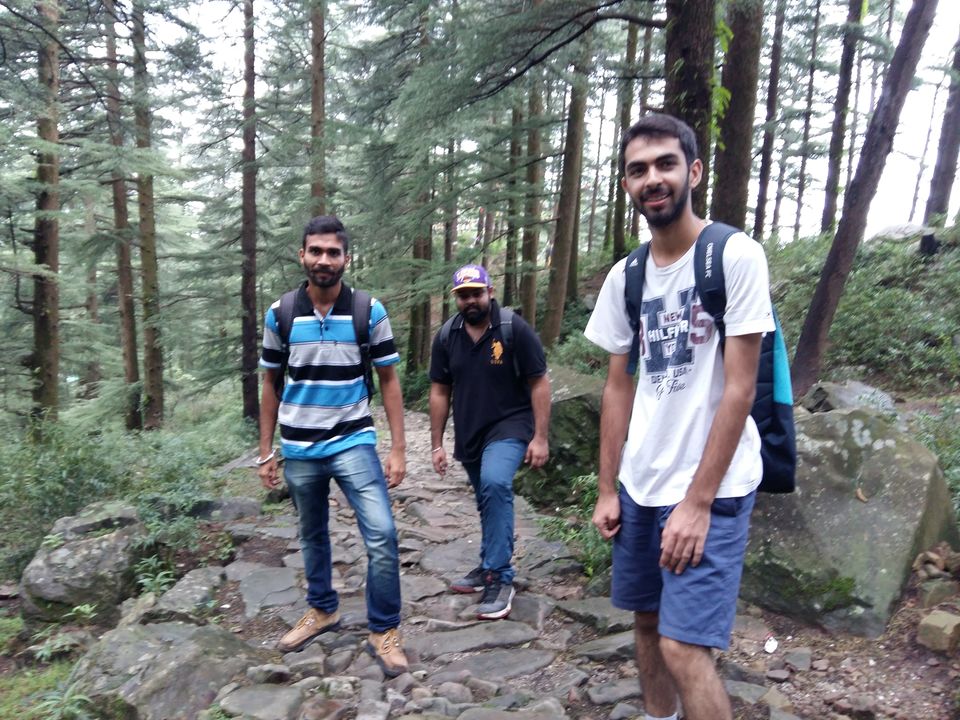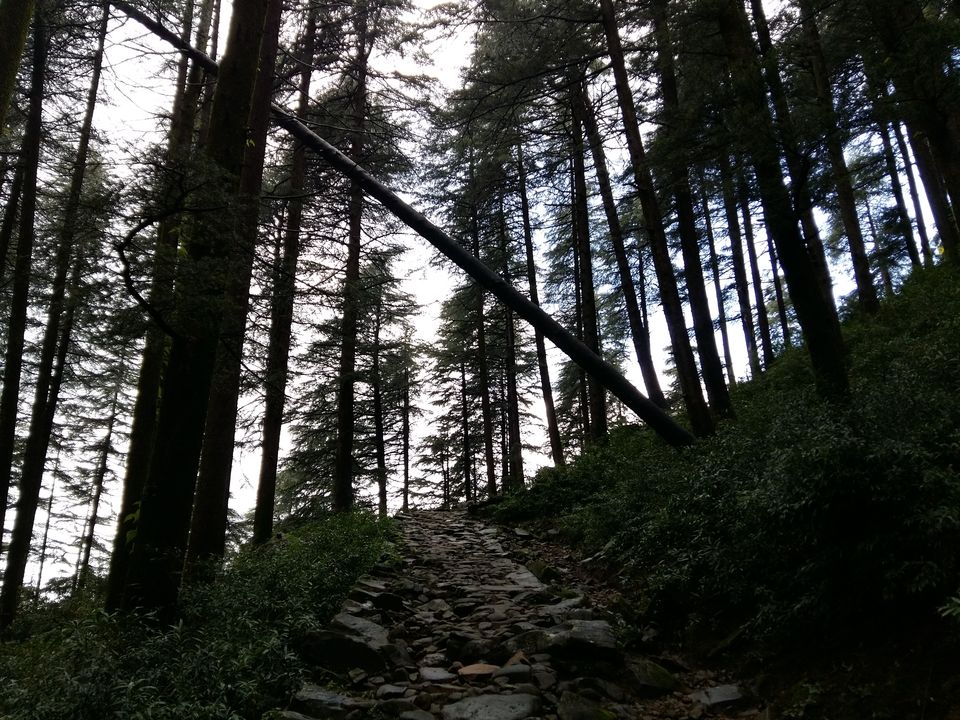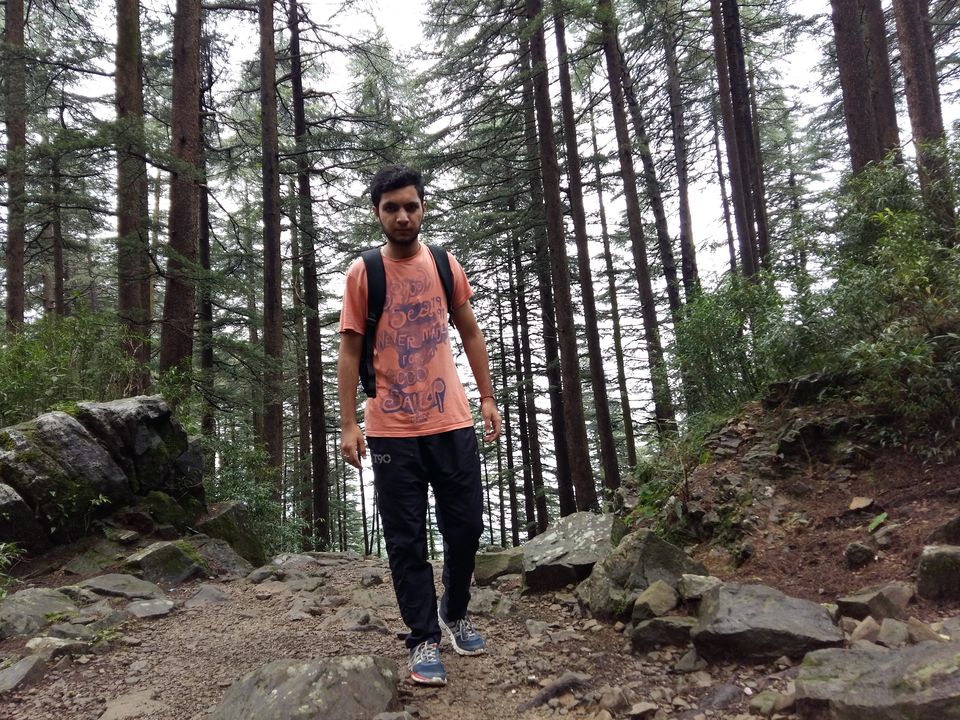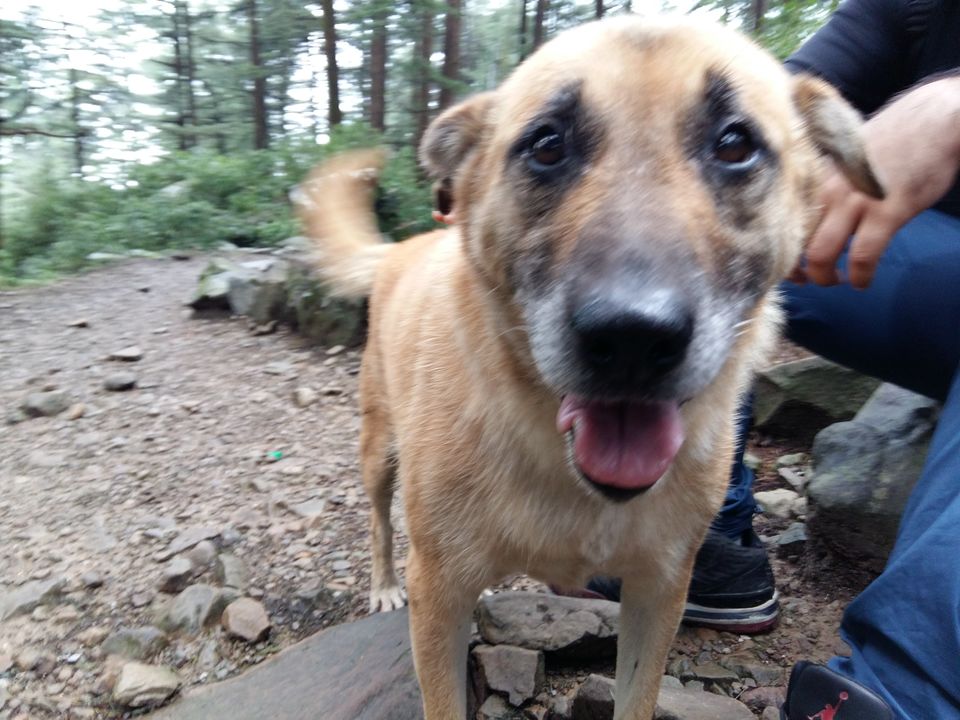 "I can't carry the bag and walk, It's too heavy" Apoorv tiredly said when we were about 3-4 kms into the trek. So we had no option but to share the load. "What the heck, why is it so heavy?"Aham asked. "Abhay asked us to bring blankets"He replied. And there we all say in disgust a blanket as heavy as it gets. "What !!"I exclaimed seeing some dirty clothes. "Oh that is why it is so heavy."Apoorv said sheepishly. We had no option but to carry on moving sharing all the luggage between the three of us. Things started to move smoothly there after until !!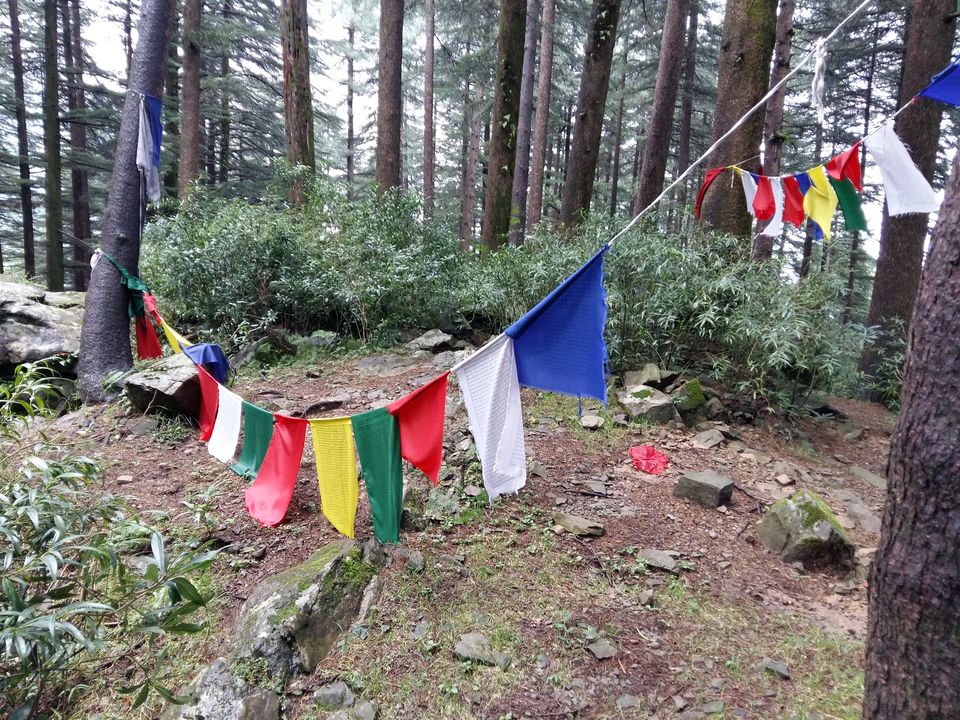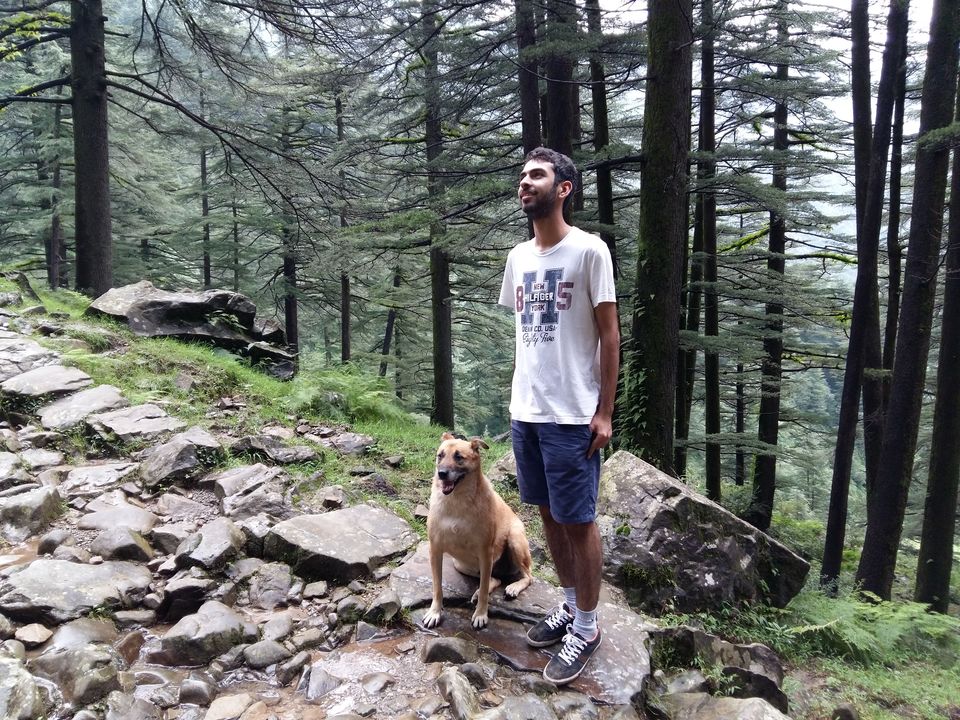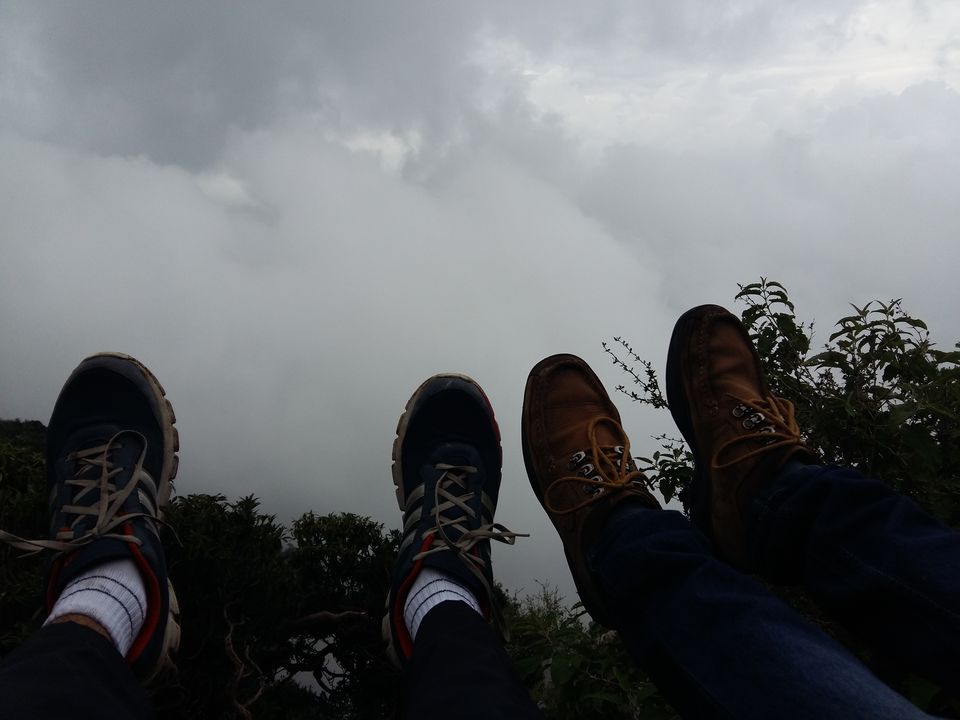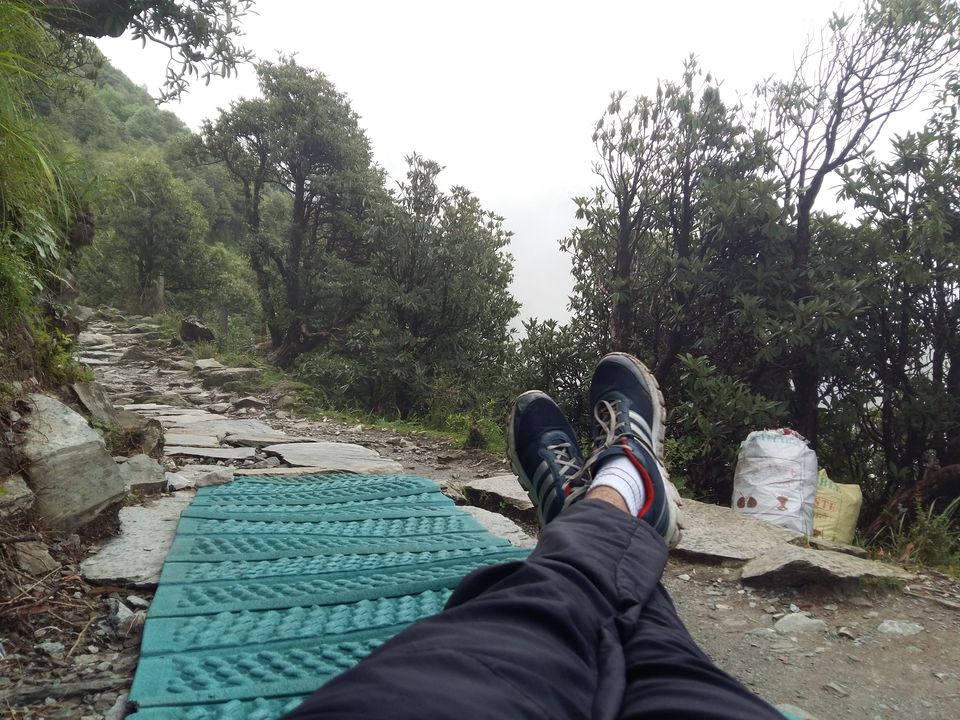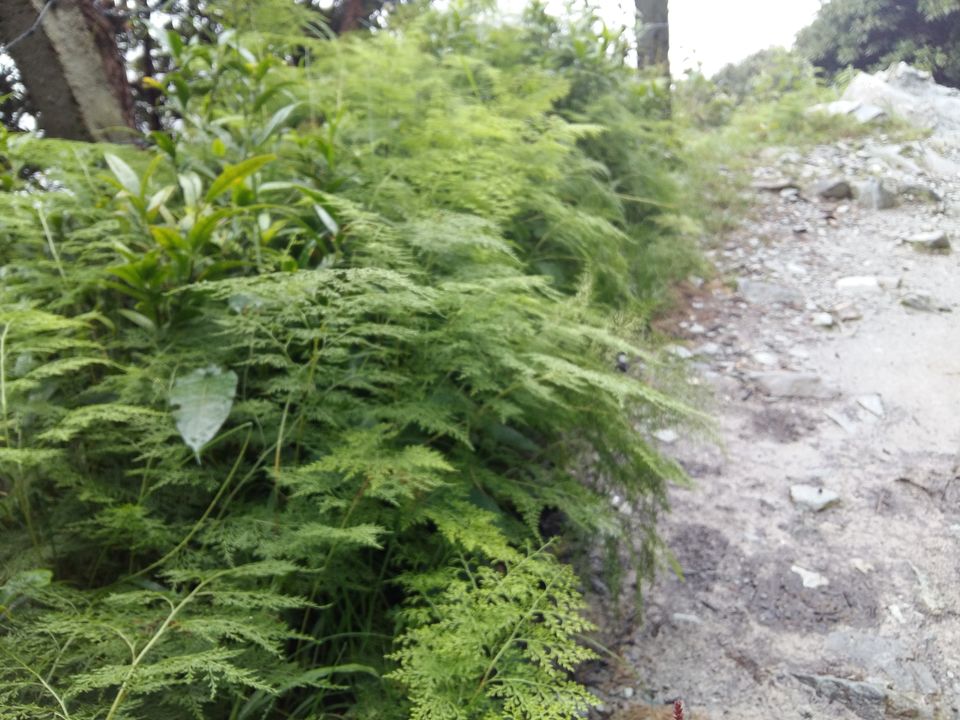 If the challenge of your first trek is not enough it was accompanied by drizzle, the rocks en route became pretty slippery. Still we kept on going because there was no point in waiting. Mid-journey we made a companion in our struggle to the top; he had a DSLR and chocolates that we desperately needed. (He was a little more experienced than us in trekking(could help us)).
The climb became steeper as we went along, awaiting us the biggest hurdle yet, I had to help Apoorv climb the steep waterfall and climb it myself with the gigantic bag that Apoorv once had. The task was gruelling but was somehow completed by us. Apoorv had exhausted each and every ounce of his energy. We made it after another kilometre more of trekking.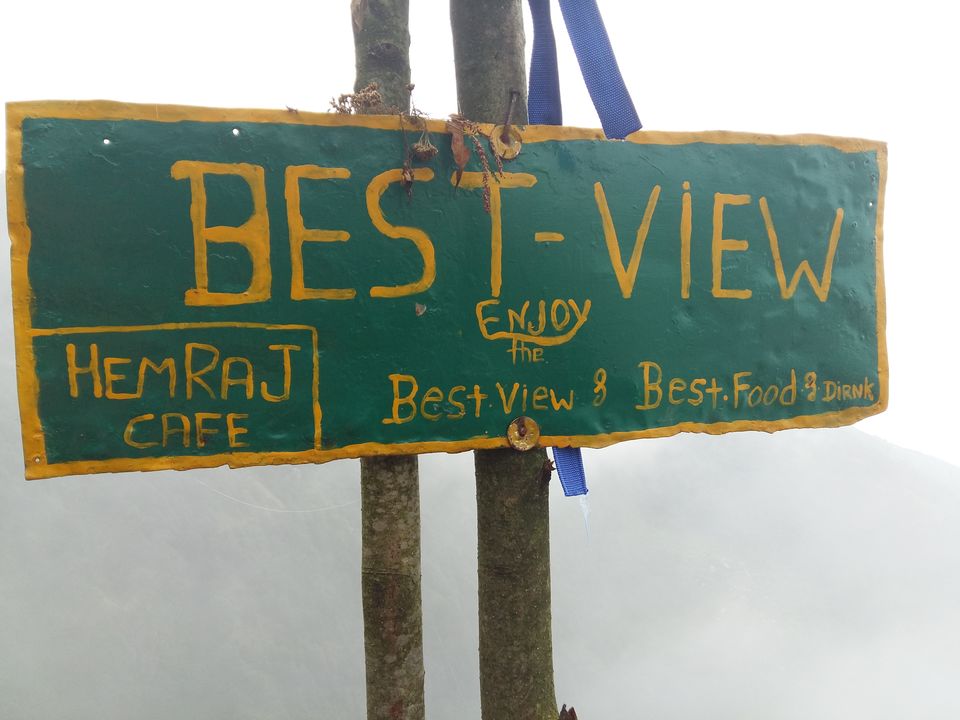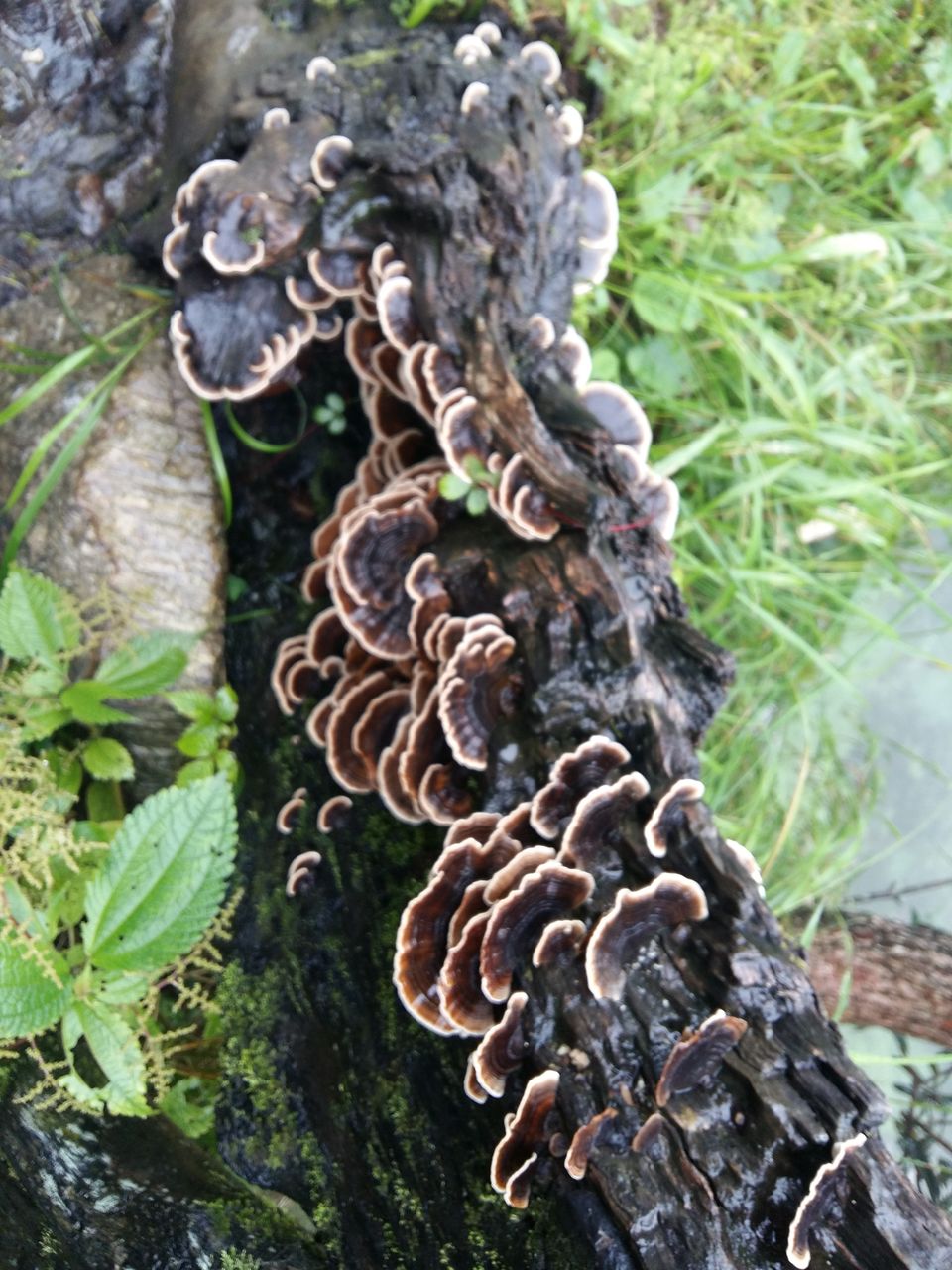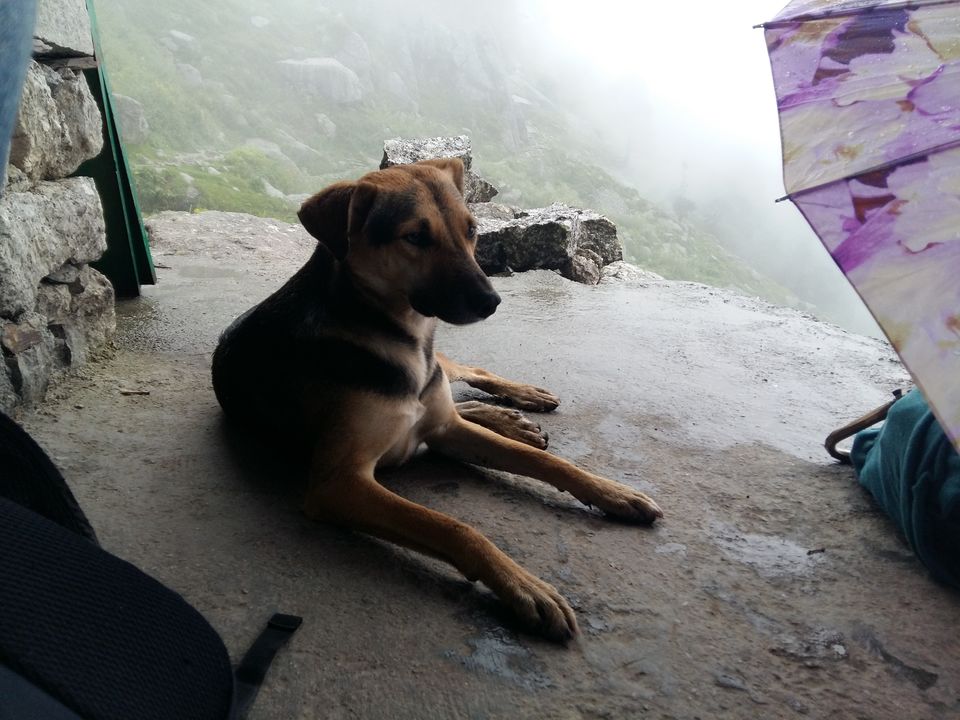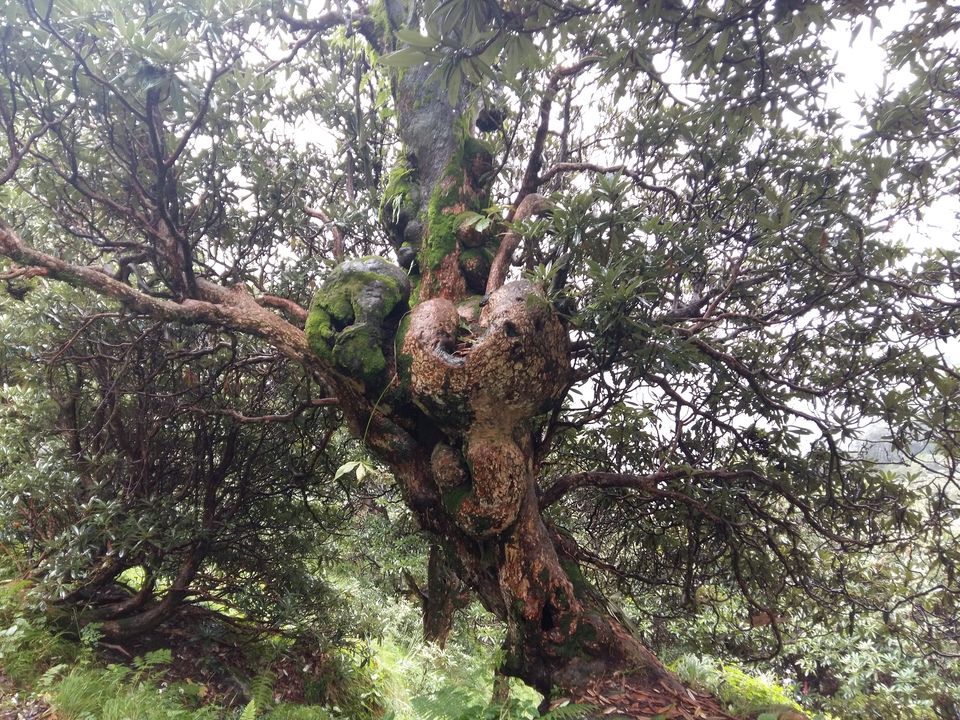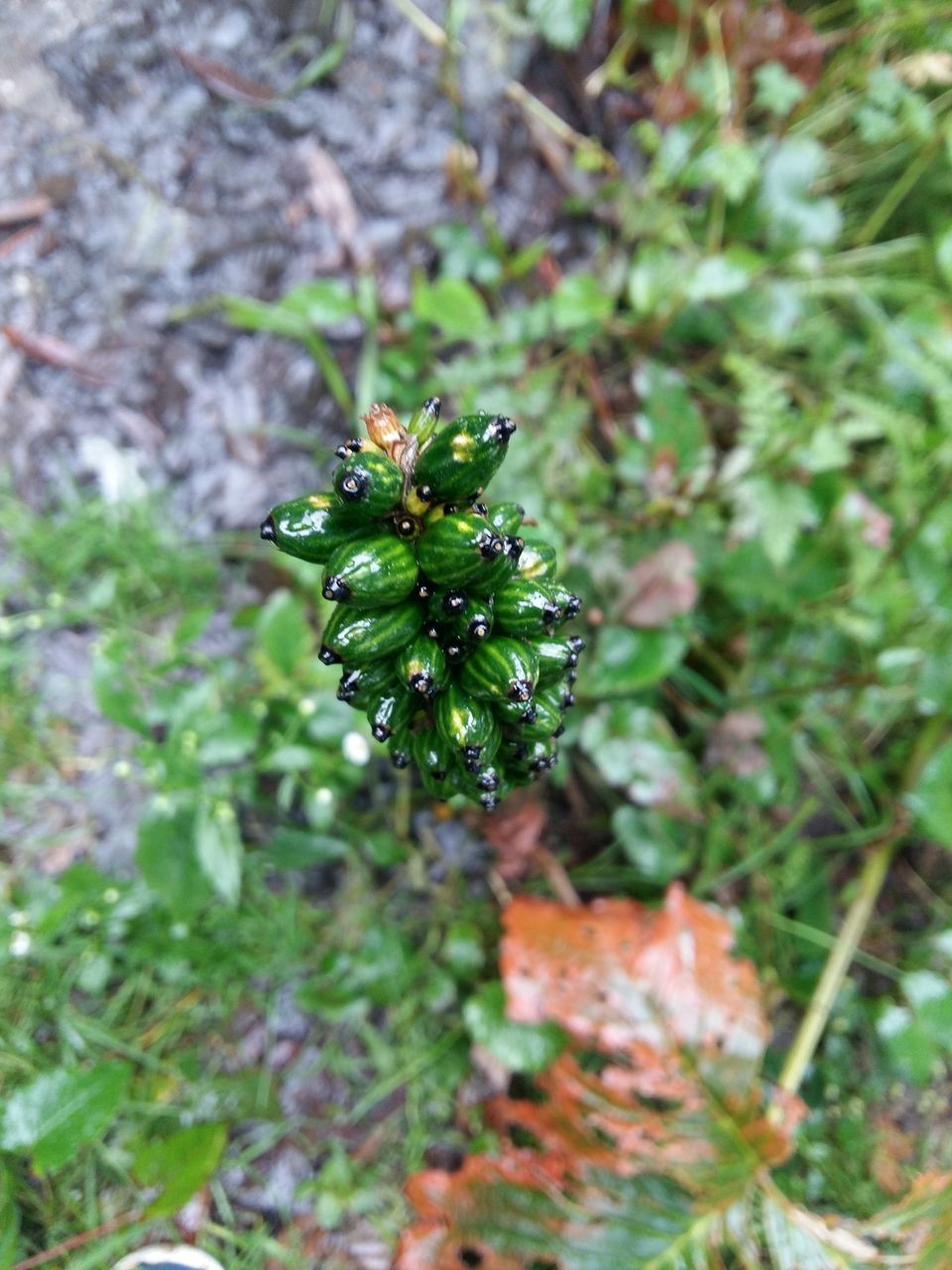 The view from the top was worth the effort of five hours it took us to reach . We took a small halt at the top and then asked around for tents. It costed us 600 per person for the tent along with the sleeping bags. This was my first time camping.(discarding Rishikesh don't consider it camping) When I was putting my eyes a full work over of three-hundred sixty degrees I saw snowline, I wanted to trek to that point but time was short on us as we had to return back the next day. I vowed myself at that time to return one day to trek snowline and perhaps even go further.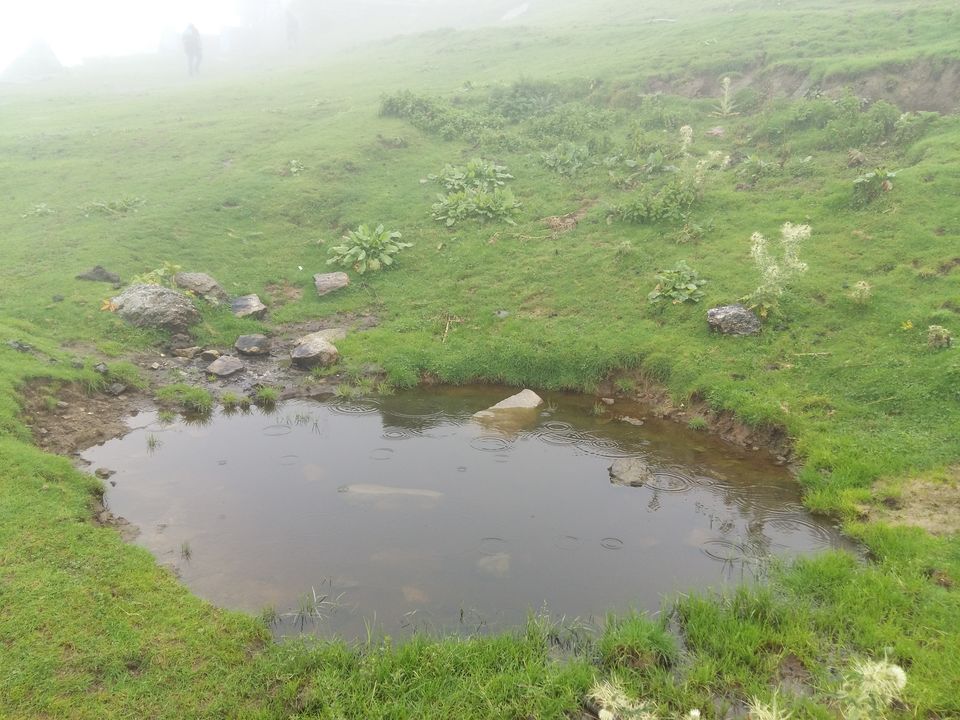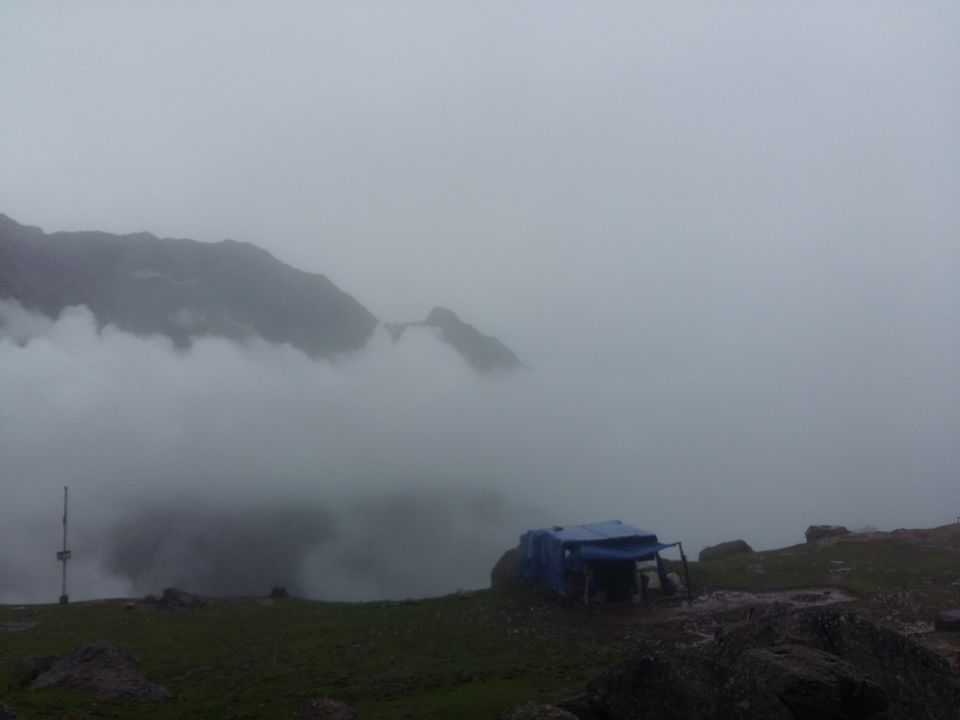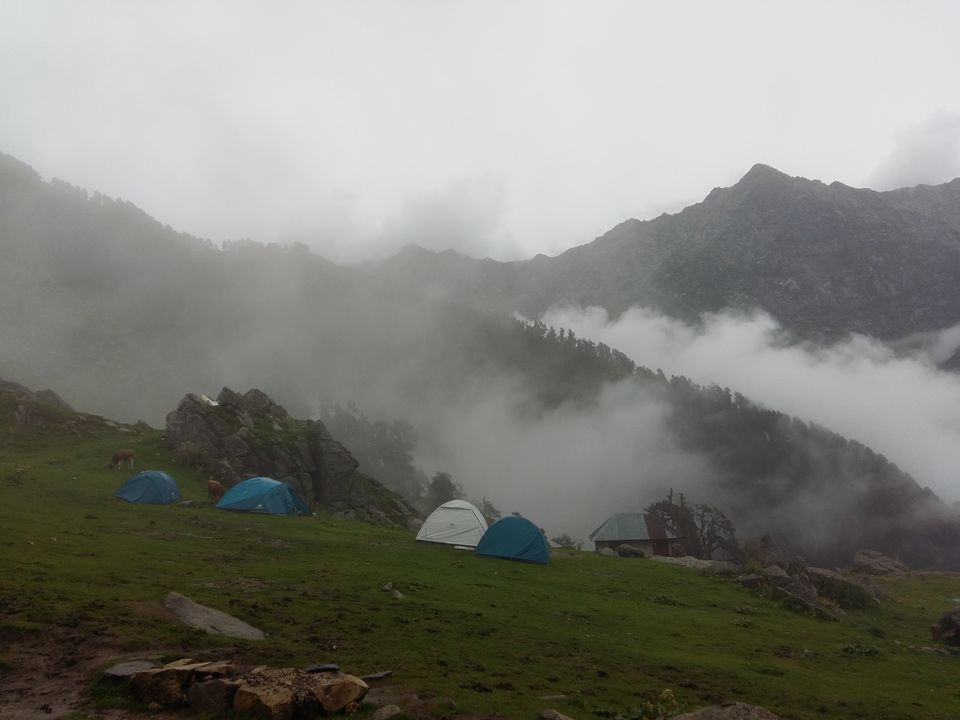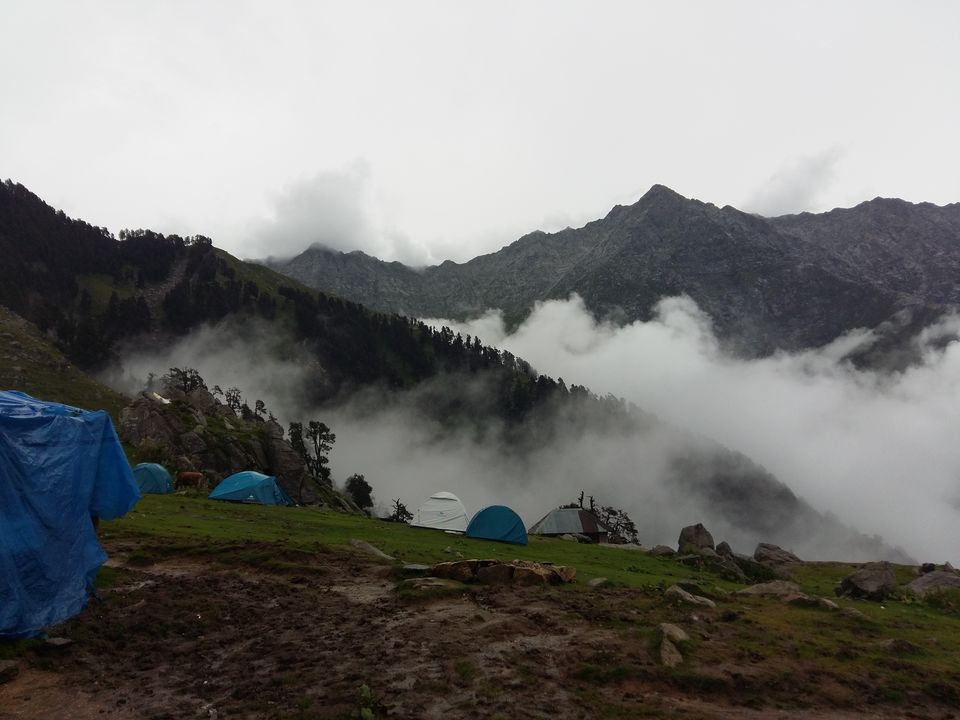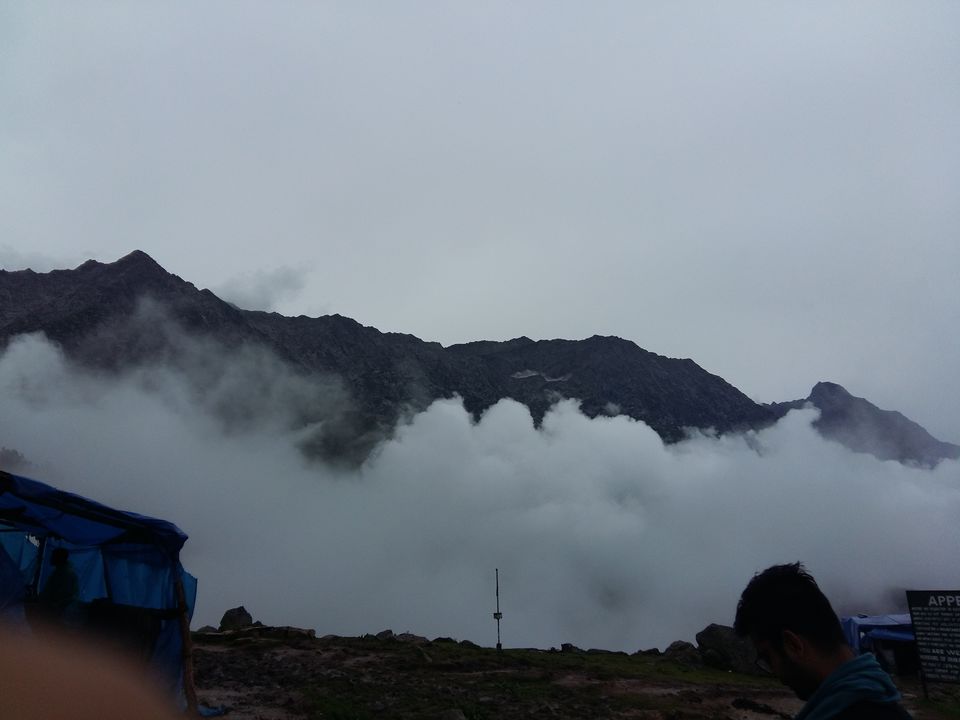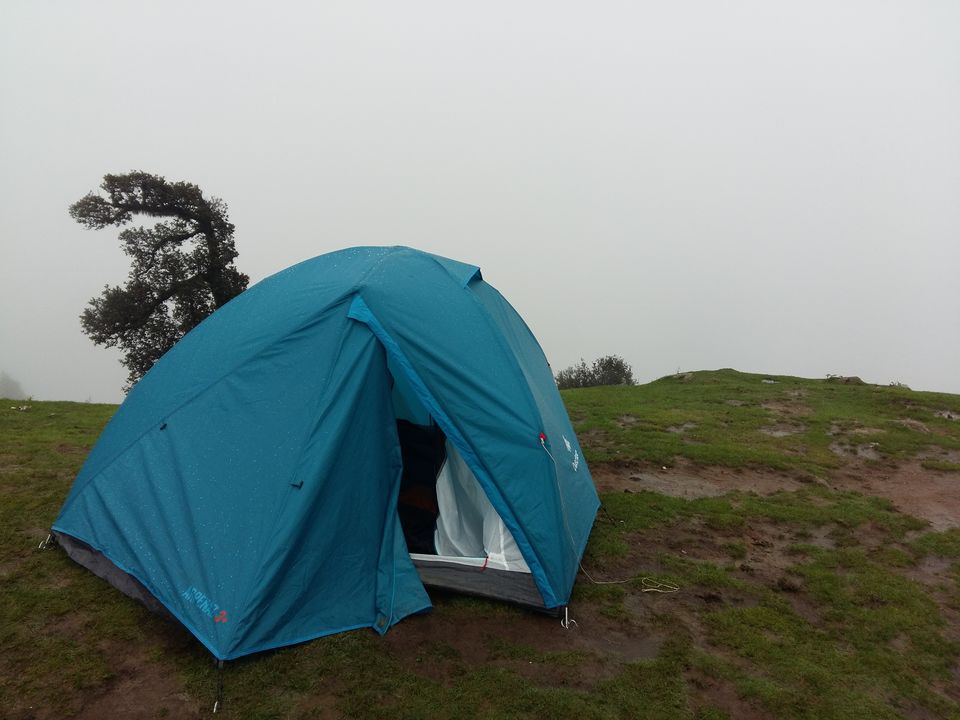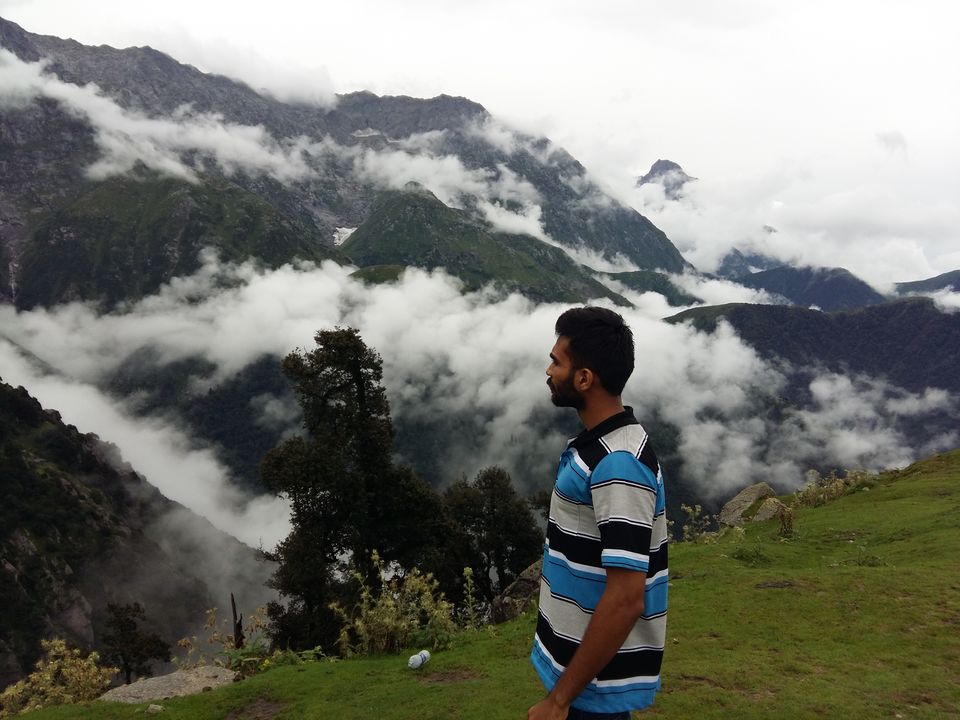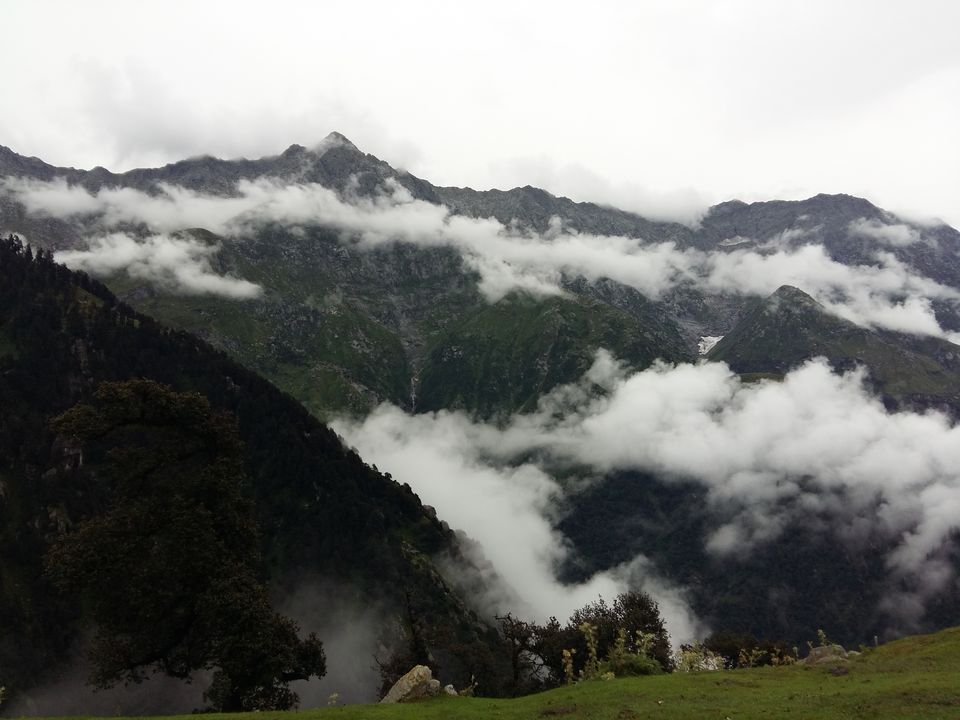 Aham and Apoorv decided to take a nap while me, Abhay and the stranger that we made friend decided on exploring the area. The place is surreal and although it was slippery and muddy our wanderlust helped us roam all around it. We roamed around till sunset taking images,videos and creating time lapses and exploring the beauty of Triund. The sunset was just magnificent to say the least it was accompanied by a moon rise and a rainbow.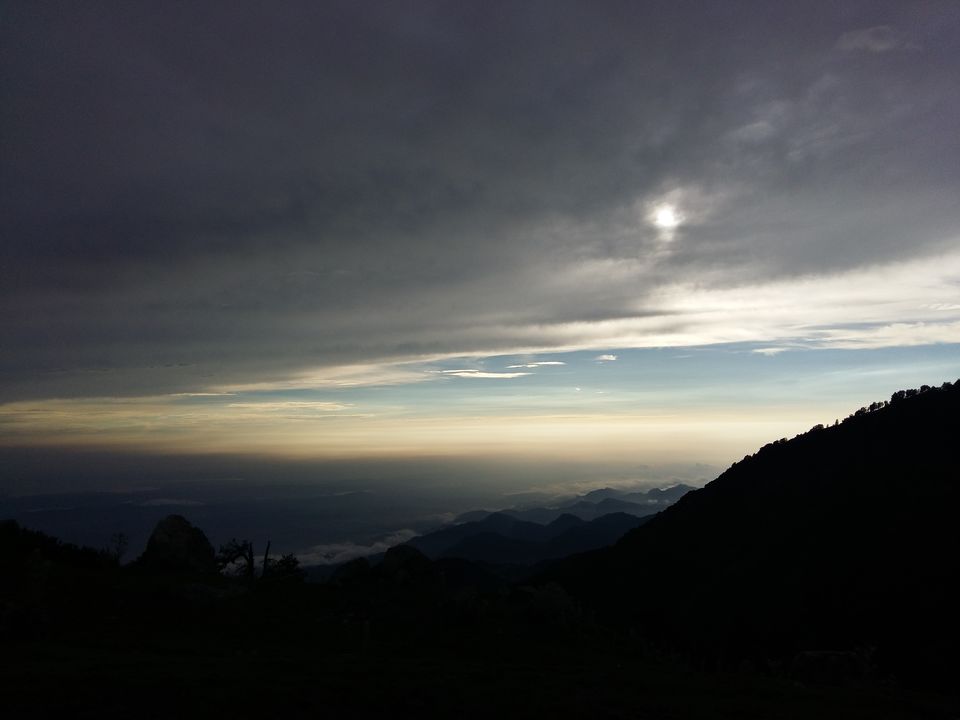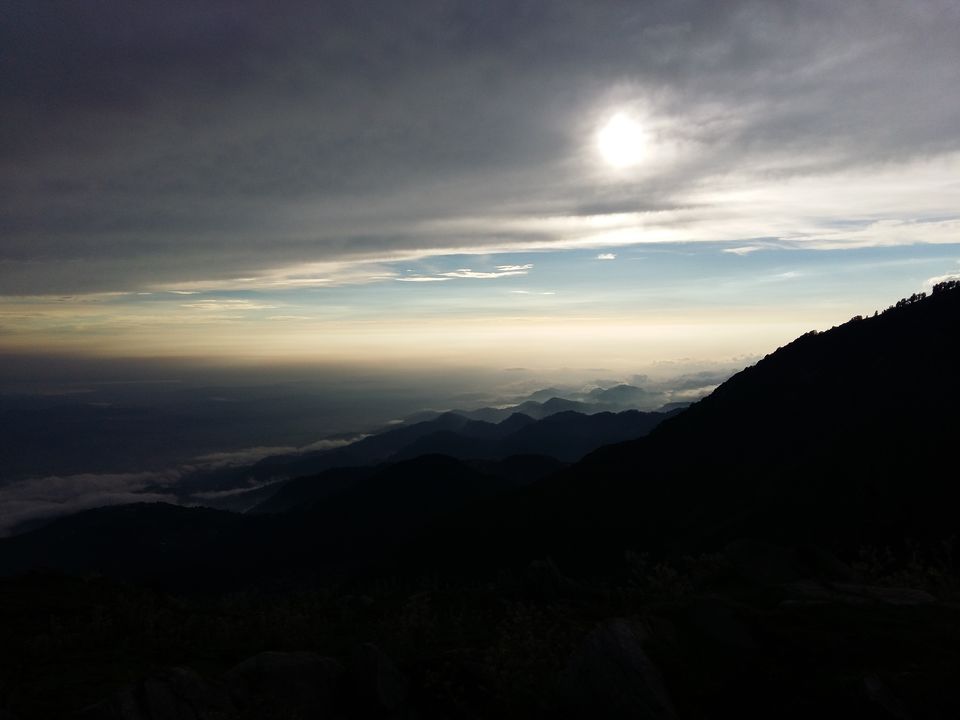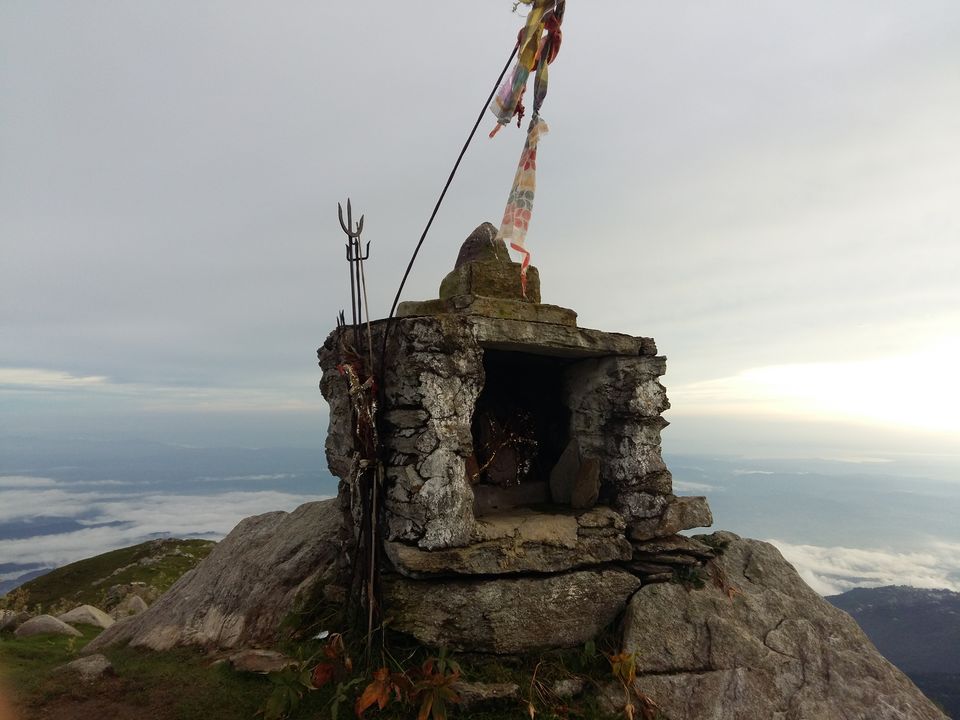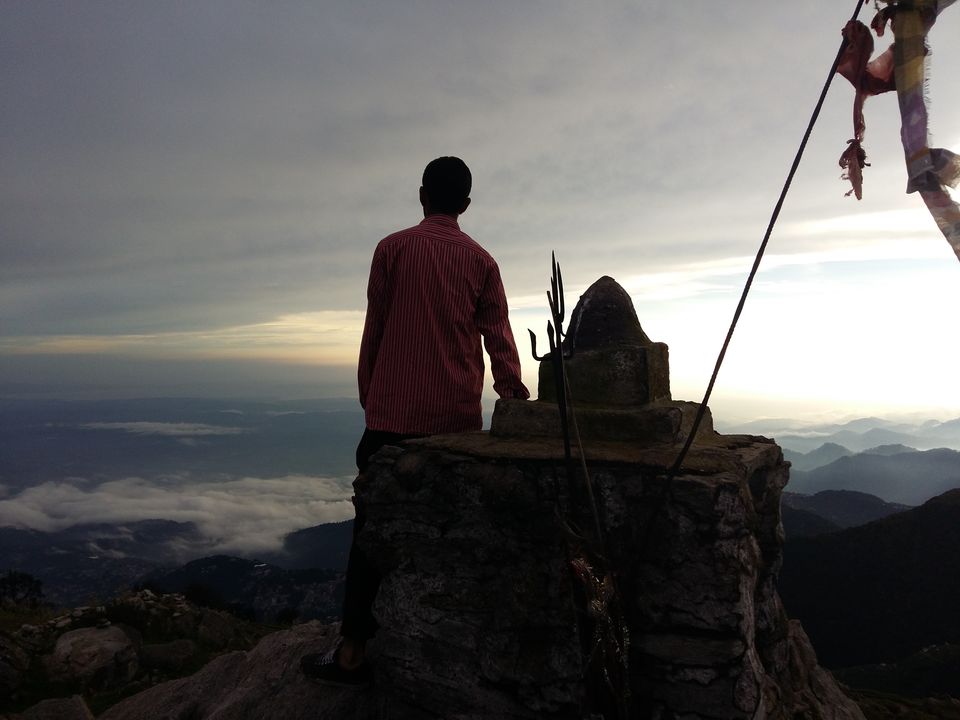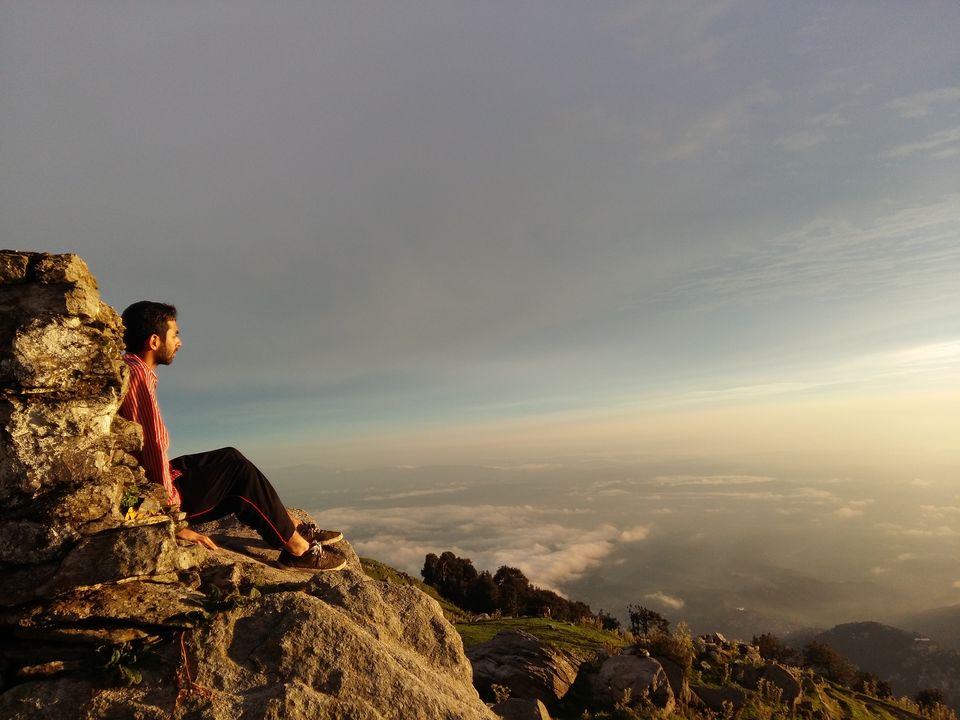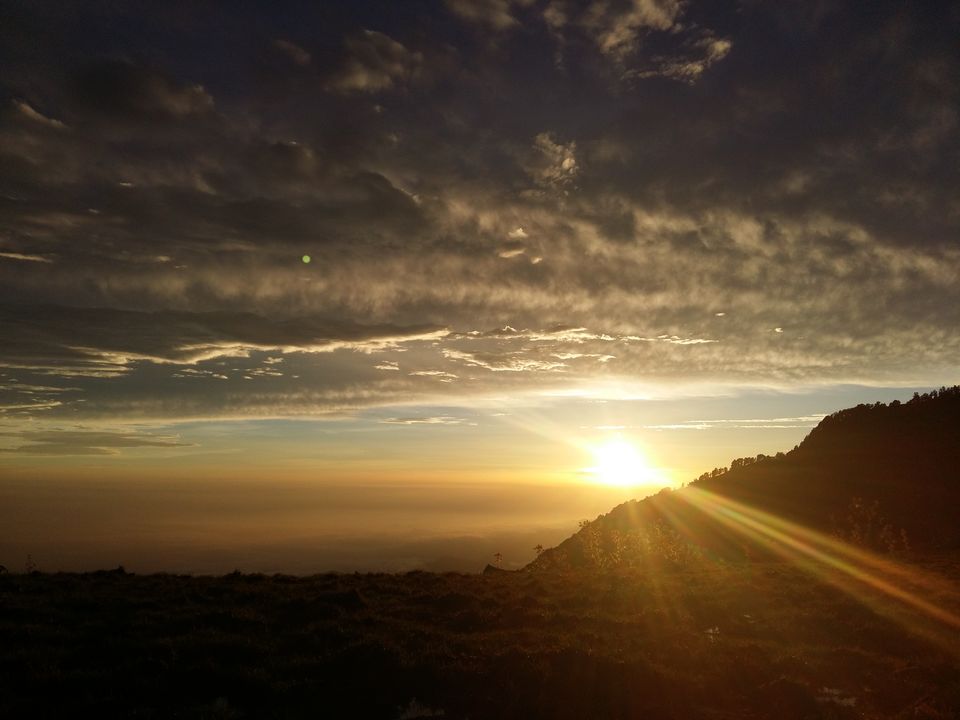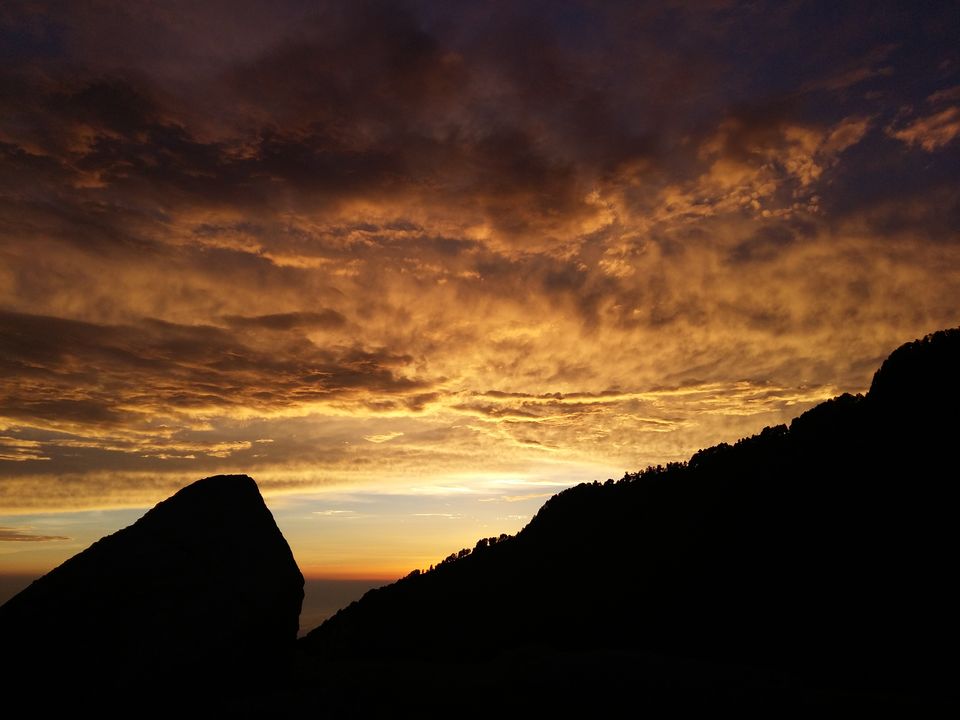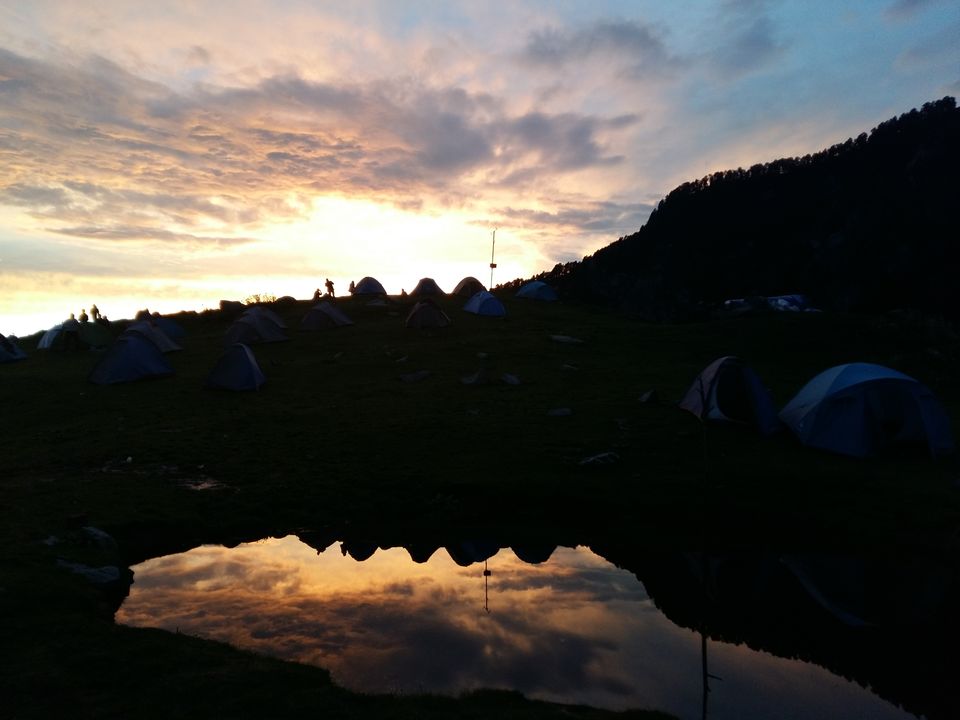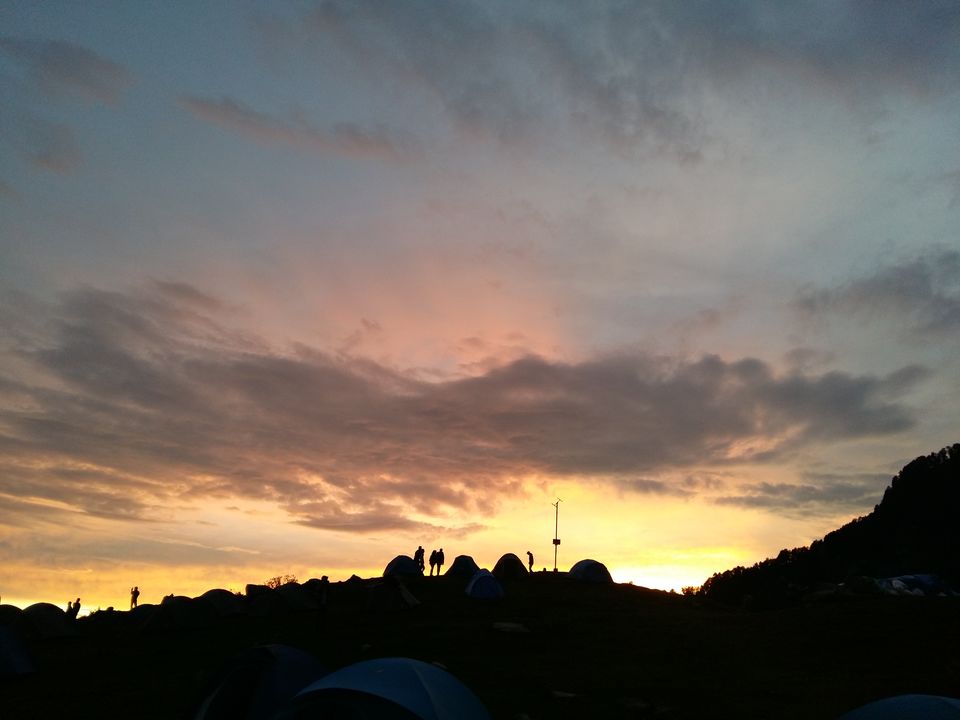 In the night we made our friends jealous by showing them the video of the time lapse and telling them what they had missed. Our meal for the night was maggi before going to sleep.
The next day was an early shine day to head back to McLeod Ganj reaching smoothly at the bottom one and a half hours earlier than ascent.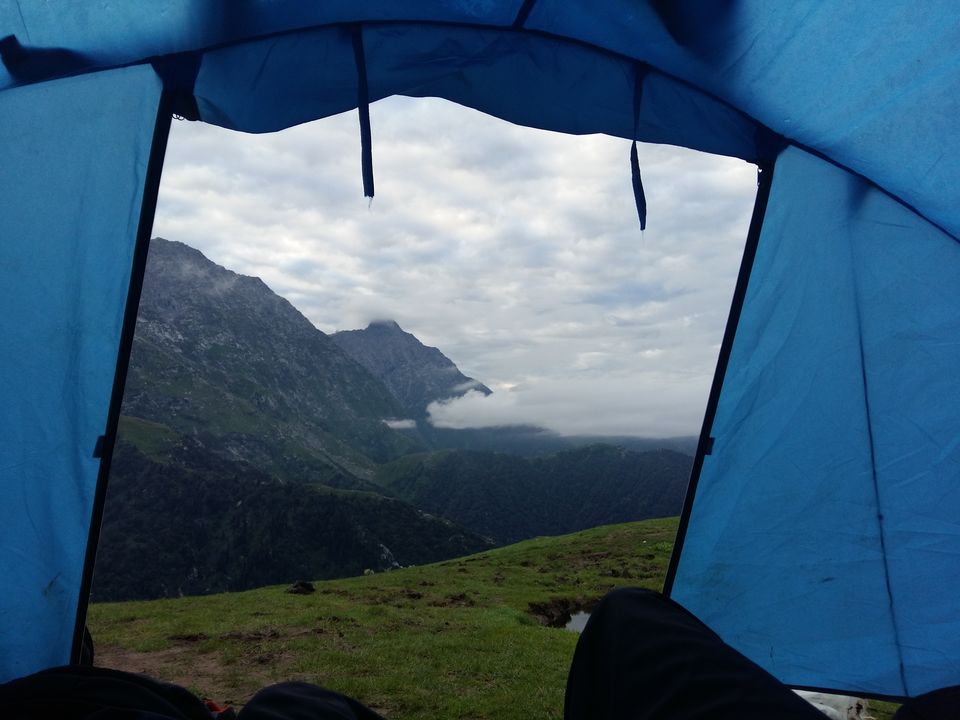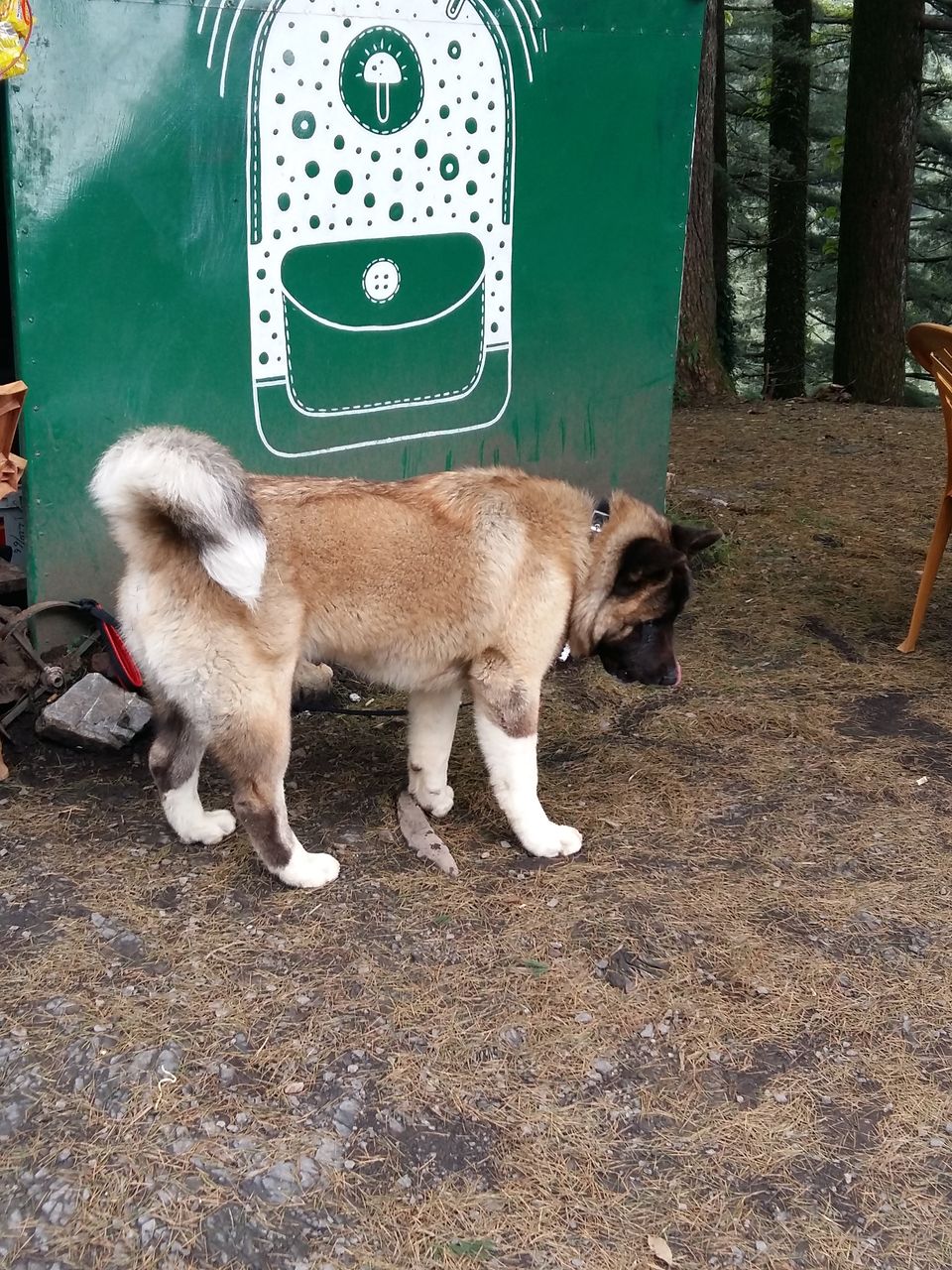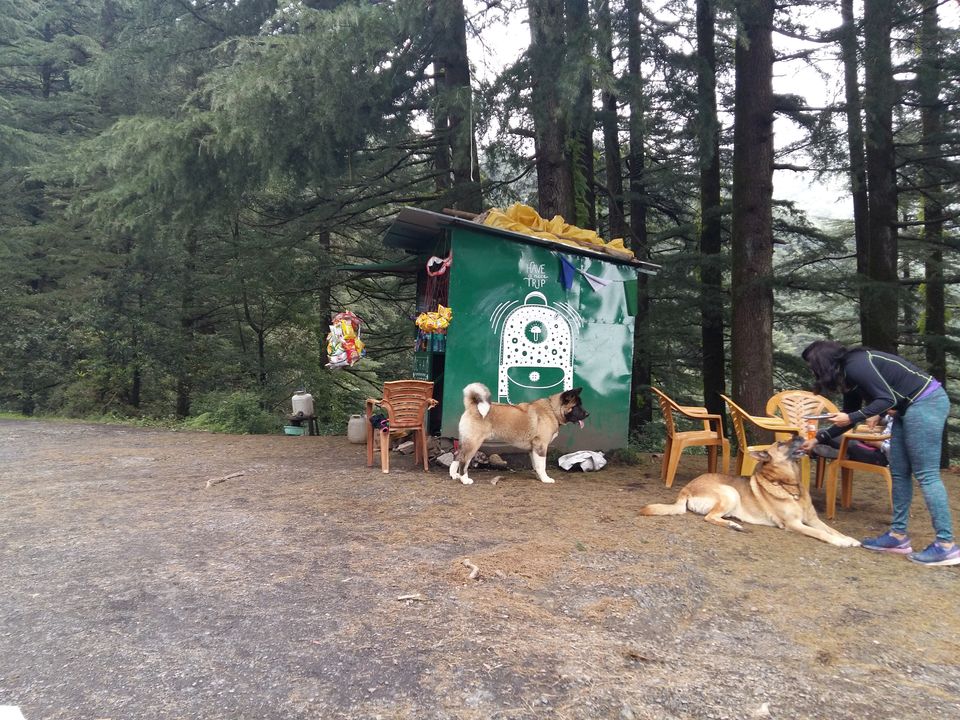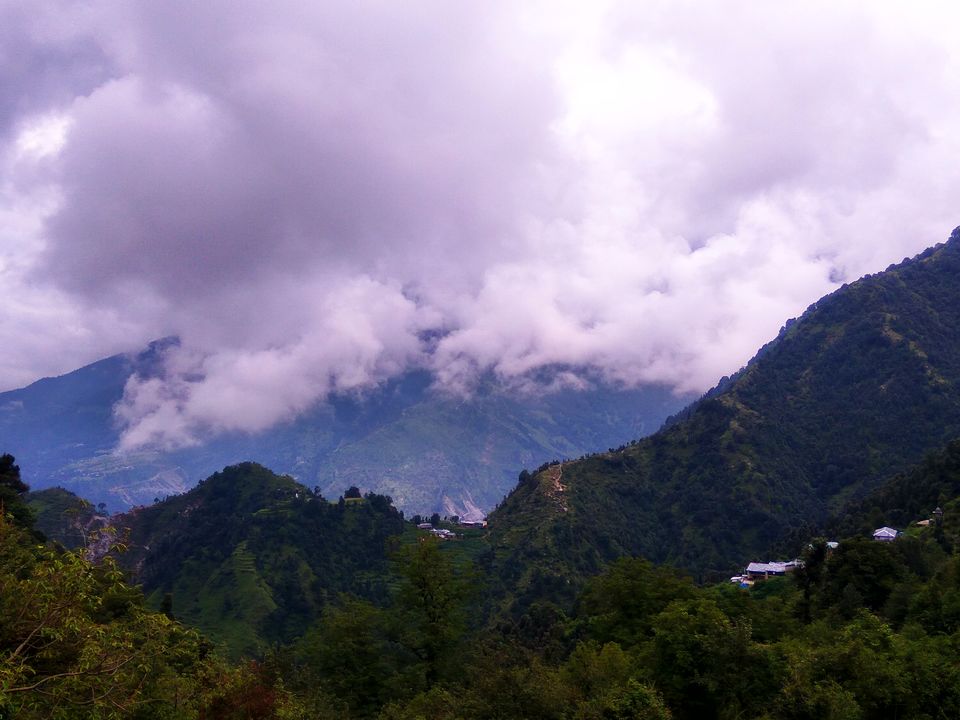 After brunch we were off to Dharamshala. The problem arised when we were not able to get buses with seats back to Chandigarh from Dharamshala. Eventually we got a bus with two seats vacant in it and switched seats turn by turn till we reached Chandigarh. Eventually reaching Patiala with our legs taken a full toil.
This trip really inflicted the spirit in me to trek even more, exploring more of Himalayas by climbing it.