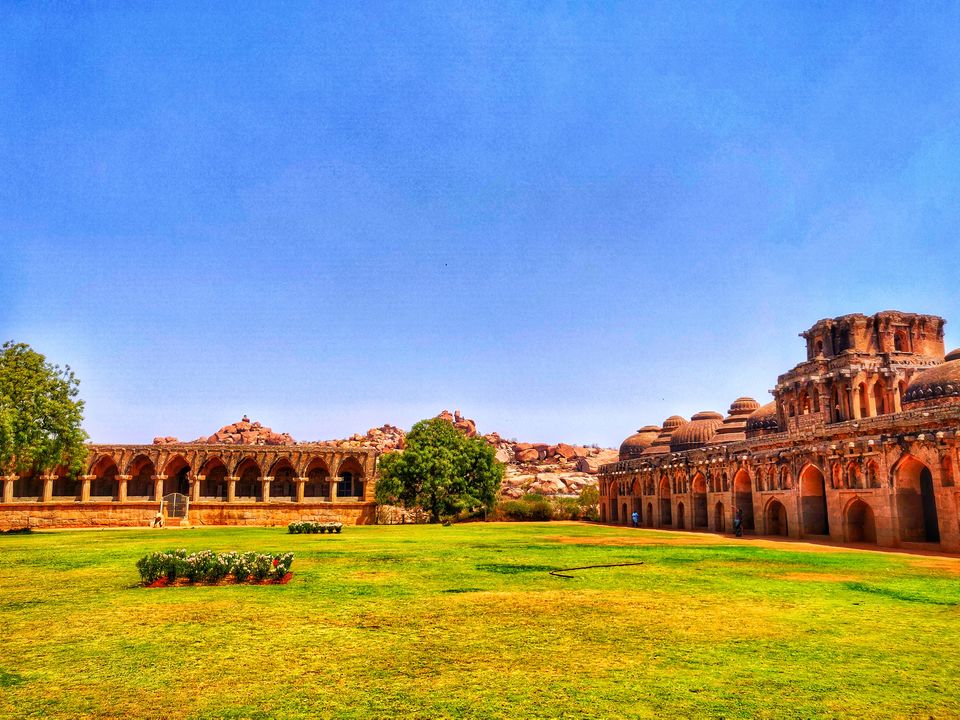 When it comes to travelling, one thing that comes to our mind is how expensive will the trip be. And if you're someone who has this question every time you plan a trip, then don't worry, I've got you covered with a much-needed budget travel itinerary for Hampi. Being an aspiring travel blogger, travelling on a budget is essential to me. I like to travel on a budget and traverse the place in a local way. And if you are planning a short trip, then this article is apt for you. Here's how I planned a 4 days Mumbai to Hampi trip for Rs. 5,000.
Hampi
Well, you might've read a lot about Hampi recently, and I must say it's all worth the hype. Hampi is not just a city of ruins; it's a city of agony, pain, and royalty. Hampi - an ancient village in Karnataka, glorifies the story of the Vijayanagara Empire. And if you are a sucker for history, and love to explore new places and their culture, then Hampi is for you.
You not only get to behold magnificent art but, another side of Hampi, known as 'Hippie Island' allows you to unwind. Hippie Island is a plethora of dainty cafes, picturesque views, and jewelry shops.
How to get there?
Mumbai to Hampi
There's a direct bus from Mumbai to Hospet which will costs you Rs 2000 return. It takes 13 hours on a bus, and the root is comfortable throughout. I took a VRL travels semi-sleeper AC bus from Mumbai, and trust me the journey was very suitable. They provide you with blankets, and the seats can be adjusted as per your preference.
Hampi to Hospet
The bus drops you off at Hospet, which is 12 km from Hampi. You can board a bus from Hospet to Hampi, which will cost you Rs. 16. But if you are in a group, then you can take an auto which will cost you Rs. 250. I honestly prefer the bus, since you get to enjoy the scenic route and its affordable.
Accommodation:
I stayed at Padma Guest House, which is right in the heart of Hampi. It's at a walking distance from Tungabhadra river, Virupaksha Temple, Matanga Hill, and is 1.5 km away from the majestic Vittala Temple. I paid Rs.1400 for three days; and got a late check out too, so that was an added bonus. There are plenty of options when it comes to staying in Hampi. I chose this guesthouse because it's not only in the center of Hampi but is also quite safe for solo travelers.
Since I was staying in city center, it was convenient for me to walk to most of the places. And for the places that couldn't be covered by walking, I had hired an auto for the day. The auto driver took me to some unexplored places as well. So I had to shell Rs 400 return for an entire day; which according to me is a good deal. Apart from this, when it comes to the monuments, I had to purchase a ticket at Vittala Temple, which cost me Rs 50. But the ticket was valid at the Lotus Mahal as well. And after covering Hampi, I went to Virupapur Gadde, popularly known as Hippie Island. One needs to take a short boat ride for Rs.20 one way. Hippie Island is small and can be covered on foot.
Food
Food is one of the most important things when you visit a new place. It not only differs from place to place, but its history and cultural significance also change gradually. When it comes to Hampi, there are a plethora of food options available. One can have a hearty meal in Rs 100. I ate a South Indian thali at Gopi restaurant for Rs.80, and that kept me full for four-five hours. I spent Rs.300 for food on a daily basis. But went a little overboard with my budget while I was on Hippie Island. In total, I managed to spend Rs. 1500 on food overall. Places I recommend - Gopi restaurant, Mango Tree restaurant and other food stalls in Hampi. Also, don't forget to try appams from one of the stalls outside Virupaksha Temple.
Total
Travel: Rs.2500
Stay: Rs.1400
Food + Miscellaneous: Rs.1500
I went a bit overboard, but then Rs.5,400 is still a good amount to spend in 4 days, especially if you are on a budget, but also want to let loose a bit. So go ahead and plan your trip right away! Happy travelling folks!