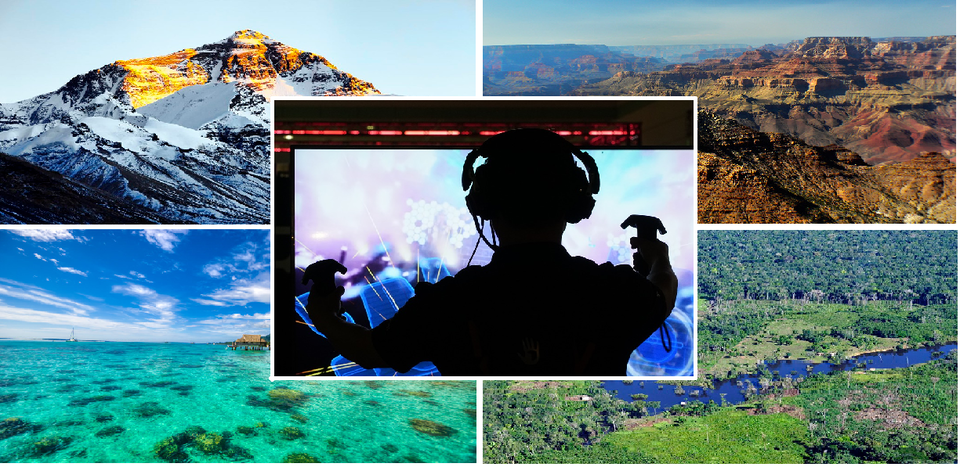 As a kid, when I had peanuts for pocket money, reading about difficult to reach destinations fascinated me. I understood that only a chosen few could make their way across tough terrains and those who did, would spend their lives preparing for that one moment of glory when they would finally conquer the highest of peaks or complete the journey through the scariest of rainforests.
This was a thought that was difficult to forget and something that still amazes me. What if I could be teleported directly from my bedroom to the top of Mt Everest? I could leave behind all my hardships would be left behind and I would bask carelessly and rather arrogantly in the undying glory of the moment. The thought hasn't seen the light of day. However, something quite close to it has taken birth and is currently taking the travelling world by storm. It is an idea that lets you explore inaccessible places in almost a life-like situation, minus the risks that come with the journey.
What I speak of isn't magic, yet no less. We know it as Virtual Reality or VR. VR technology is stages ahead of anyone's imagination and lets explorers romance the inaccessible destinations around the world as you chill in the living room. Here are the best VR travel experiences that every travel lover must try at least once for the ultimate thrill!
EVEREST VR
With multiple restrictions and a dedicated training being strong mandates for getting the mere permit for a quest to the Everest, it's not a surprise that Everest stays off the bucket list of most travellers. But thanks to Iceland's Sólfar Studios and RVX, this unreal experience comes to you instead. Using an advanced game engine and digital cartography, a database of over 300,000 high resolution images of the mountain were collected to produce a stellar VR outing known as Everest VR.
The journey starts at base camp, followed by a dangerous climb through the Khumbu Icefalls, Lhotse Face, Hillary Step, and eventually, the final stretch leads to the top of the world's highest peak. This will definitely make you feel the jitters and the much needed adrenaline rush. Users can choose from different views like sweeping, bird's-eye views of the mountains at up to 1500x resolution and the option to follow in the footsteps of 18 real expeditions, including the trails of Edmund Hillary and Tenzing Norgay in 1953.
Supported Headsets: Oculus Rift, HTC Vive
Google Earth VR
Google Earth is reborn in virtual reality, leading to the growth of a whole generation of bedroom travellers. With the flick of a controller, users can now explore any place and even plan their trips first hand. The stunning features like zooming in and out of anywhere, the blend of aerial, satellite and 3D-mapped 'Street View' content give you wings to hover over the skies or simply stroll along your favourite street across landscapes and into space itself. If not teleporting, it definitely transports users instantly from one corner of the earth to another. Did you know, it even lets you choose to watch the place on a bright sunny day or with a romantic dimmed moon, setting the mood right?
Supported Headsets: Oculus Rift, HTC Vive
Digital Domain Teleport Tahiti
It takes a lot more than just enough funds to reach half way across the globe to Tahiti. Hence, getting a solid preview beforehand is much appreciated. Though this one's just a five-minute experience, it puts you right in the middle of this blue paradise for a satiating sun bath. Explore the mountains, waters, coral reefs, white sand beaches, lush jungles of this Polynesian island and then some! This unique VR tour even lets you take a diving expedition as well as surf along the beaches of the archipelago.
Supported Headsets: Google Daydream, Samsung Gear, Oculus Rift, HTC Vive
Under the Canopy
When Conservation International and Jaunt joined hands, the result was a journey that reminded us of the fragile beauty and endangered ecosystems of the Amazon rainforest. A trip inside this VR begins with a descent down a 200-foot Ceiba tree. A Surinamese guide narrates the different experiences to you and helps you intimately examine the trees, wildlife, and rivers. Expect three-toed sloths, a 15-foot anaconda, and an army of tropical butterflies to enchant your soul. Take note of the impact of deforestation and how the Amazon rainforests contribute to the production of most of the breathable oxygen on this planet.
Supported Headsets: Samsung Gear, PlayStation VR, Google Daydream, Oculus Rift, HTC Vive
The Grand Canyon VR Experience
If the Grand Canyons seemed too far, well, they're not anymore. With this immersive experience that doubles as a game, users can ride a motorised kayak or stand-up paddle board. Move at your chosen speed and alas at how the platform engages motion control to tip along with your head, adding an extra touch of reality. The detailing and accuracy of the rock formations, cliffs, waterfalls, and animal life is breathtaking and you can take a walk in either 'day' or 'night' mode.
Supported Headsets: Samsung Gear, Oculus Rift, HTC Vive
Get travel inspiration from us daily! Save our number and send a Whatsapp message on 9599147110 to begin!
Check out Tripoto on Youtube!