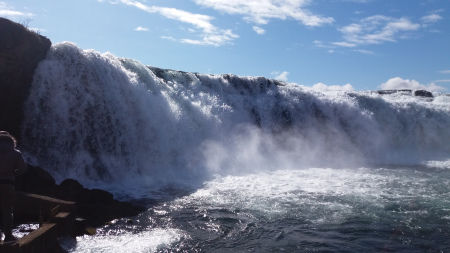 Iceland had been a dream for quite a while now and somewhere in the middle of my regular life, I knew it in my heart that I wanted to do it alone. It gives you the independence to do what you want to do. The fact that you don't have to impress anyone or adjust to doing things you don't want to do makes a huge difference. You are on your own and everything, good or bad, was your decision. The next big reason was, I did not want one solo travel to define me for the rest of my life. After the last one, I had numerous memories and I revolved around it. One day it hit me. It was 2 years ago and I needed to experience the rush of meeting strangers, waking up in unknown places, being stupid and learning to love myself. So the next thing I did was book my tickets to this island in the middle of nowhere.
This trip was an adventure from the time it hadn't even begun. I got my passport at the last moment and had to do everything in a rush. But I did make it. That's what matters. I arrived in Iceland on the 27th of April with my backpack, a return ticket and no plan what so ever. I was going to go with the flow. This doesn't come easily to me. I NEED to plan things. I need to know about the next step and that's why this was going to be an even bigger challenge. The last time I traveled alone, I kid you not I had an Excel file of my itinerary. LOL
As soon as I entered the hostel room, I met two girls. I just kept my bag and started talking to them. One of them is Theresa from the USA and another one is Duen from Australia. Theresa was going to Skagaströnd (north Iceland) for a month of residency and lives in Barcelona. She decided to come a week early so that she could travel a bit before starting her work. Duen also lived in Barcelona to study Spanish and was soon going to return to Sydney. We spoke about really stupid stuff and things that you usually don't talk to with a stranger whom you've met 10 minutes ago. I guess I knew right there that I had already found my people. So bizarre how quickly things escalate!
The next thing I know, I am booking a ticket to go on the golden circle tour with Duen and planning to rent a car with Theresa. Just within 1 hour of stepping foot in this beautiful country, I had 2 new friends and a plan to spend the next few days.
The next day Duen and I commenced towards our day with "BusTravel Tours" for the Golden Circle Tour and I would agree that it was a good choice. They picked us up right in front of the hostel (like all the other tour buses in Iceland) and our journey to the discovery of this splendid country began. The Golden Circle consists of the Kerið crater, Faxi waterfall, Gullfoss or "Golden Falls", Geysir & Strokkur, and The Þingvellir National Park. We had an amazing tour guide: Julia. She was extremely funny and I loved everything she told us about the country.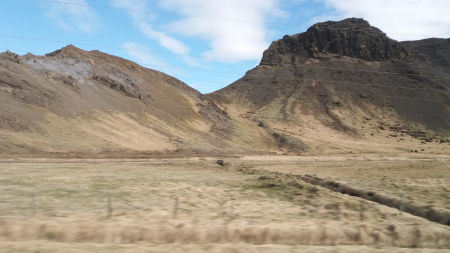 She pointed us towards the country's largest thermal power station and it was inordinate to see how the only thing cheap in Iceland was electricity. Our first official stop was supposed to be Kerið crater. But any human in their logical sense of mind needs coffee to function and hence that was our first stop. The thing you need to learn in Iceland is that it is SUPER expensive. Even bread costs 3 euros. I've literally lived on cereal, bananas, tuna, eggs, cheese, and bread. I ended up getting a baguette because once you've lived long enough in France, Baguette is essential for survival.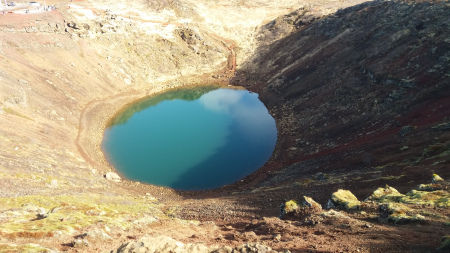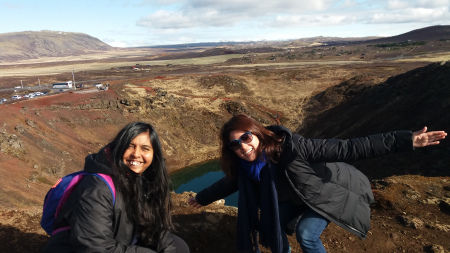 I saw more fascinating things in one day here than I've seen in my entire life. That's the beauty of this place. You don't need to go somewhere to see the magnificent things, you just need to get out of bed. Towards the end of my 2 weeks, I realized that the first day was, in fact, the most average thing Iceland has to offer. It doesn't hit you once but a million times a day that you are here.
My jaw literally dropped at the sight of the Kerið crater and it kept dropping every time we stopped. It's enormous and I don't think I would ever do any justice to show you how bewitching it actually is. Iceland makes you realize how insignificant you are. How we as humans are nothing but a speck of dust in this wide universe. We had 30 minutes to walk around the crater and I was upset that the tours don't let you stay longer than that usually. One quick run around it and I couldn't wait for the day to unfold.
Next, we stopped at The Faxi waterfall. This was the first waterfall that I would be seeing amongst many more around. I can't tell you how spoiled by nature I feel now. Back then this felt magnificent…of course…but even after being one of the most marvelous places I've ever been to, Iceland is filled with better ones.
We stayed here a while and went up-close to the waterfall. It was nice having Duen along for things because we could share the awe we felt in unison, laugh at stupid things and most importantly take pictures of each other. I was once told that even when you travel alone you are actually never alone until you want to be. I have come to believe in this with all my heart. Duen is always going to be a part of my stories and I hope I would be in hers.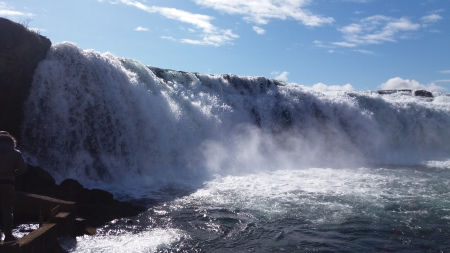 Next up was Gullfoss or "Golden Falls". So Foss basically means waterfalls in Icelandic. Standing above the 105 feet high magnificent beast you are flabbergasted by beauty. Huge, exquisite and fierce. Falling into the rocky canyons and gushing with a cloud of mist, this waterfall is everything and more I imagined it to be.
Once upon a time, there was supposed to be dam around these waterfalls but Sigríður Tómasdóttir saved it. She is considered as the savior of this iconic splendor and I couldn't agree more. It would have been such a shame to have lost the magic of nature to human deficiencies. You have 2 points of view for the falls. One very close and one from the above. Personally, I loved it when I was closer to the falls. The water being sprinkled everywhere, the noise of gushing water and the immense pleasure of being a part of such phenomena of nature.
The "Geysir and Strokkur" were our next stop. Apparently, the word geyser is actually derived from the name of "Geysir". So this Icelandic name got translated into multiple languages and became "geyser" in English. But it so happens that it's dead since mid-2000's and doesn't shoot up anymore. Strokkur is the active one that shoots up and soars high as far as the eye can see. The legend says that the "Geysir" would rise up three times higher than this one. The first thing that you notice or more precisely smell, is the nose burning smell of rotten eggs coming from the sulfur that is one of the main minerals/elements of the hot water. But once you get past the smell you see small tubs of bubbling blue water spread across the area. Graceful, clear and pristine water.
The Strokkur is the main attraction though! Duh! The water shoots up every 4-5 minutes so you have to be patient if you plan to record it. Honestly, it just spurts up in surprise and no one can be sure of it. But when it does, you can't help but feel irrelevant in front of Mother Nature.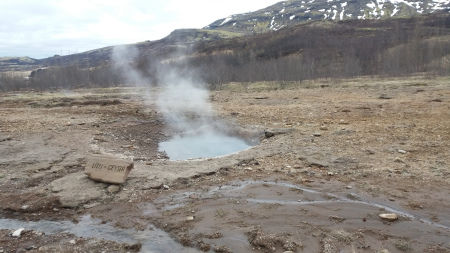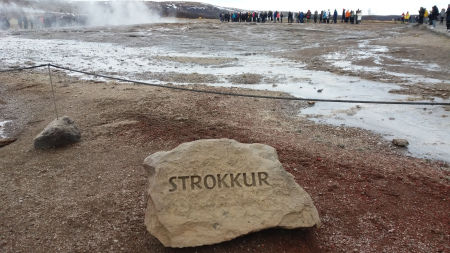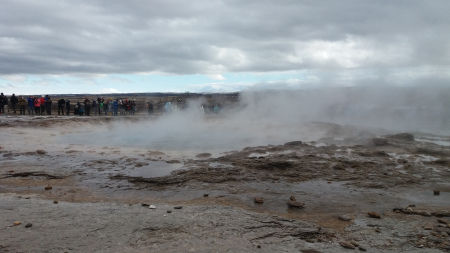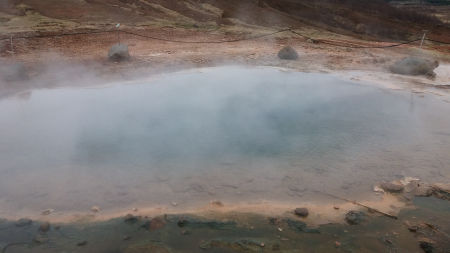 The Strokkur is the main attraction though! Duh! The water shoots up every 4-5 minutes so you have to be patient if you plan to record it. Honestly, it just spurts up in surprise and no one can be sure of it. But when it does, you can't help but feel irrelevant in front of Mother Nature.
Next up: The most important part of the day! LUNCH! There are 3 small restaurants nearby but like I said they are really expensive. I wanted to have soup and Duen accompanied me in my cravings. While standing in the queue we saw a woman pass by with a plate of chicken wings. Both of us just looked at each other and said: "oh yeah, let's go get chicken wings". I don't know if we were hungry, the food was expensive or the food was actually good but we enjoyed every last bit of it.
The final stop of the day with the tour was to "The Þingvellir National Park". The specialty of the national park are the tectonic plates. YES!!! You can actually freaking see the tectonic plates as they have risen above the ground. So the two tectonic plates here are the Euro-Asian tectonic plate and the American tectonic plate. It is one of the most astounding places I've been to. I mean how many times does one get a chance to walk on a freaking tectonic plate. The Euro-Asian plate is a bit hidden so a bit difficult to see but the American one rises right above the ground like "The Wall". This also happens to be the place where the national parliament of Iceland - was established in 930 AD.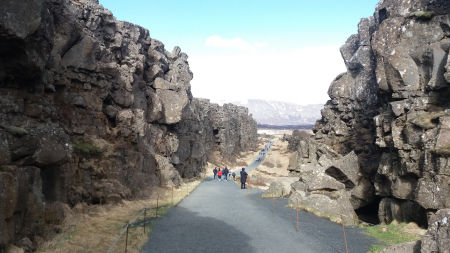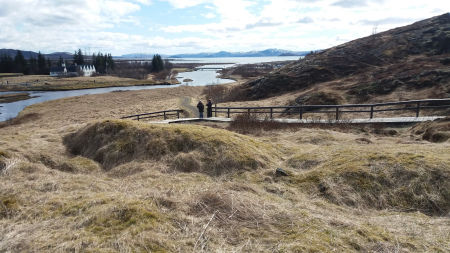 This day was just one prodigious thing after another and I couldn't stop being amazed. This was the perfect way to begin the two upcoming weeks. Also, I couldn't have asked for better company to get it done. Humans do make a difference in your life. Duen was my veracity to believe in the humanity. It doesn't take long before a stranger is in your pictures and you feel like you've known them for ages. This might sound clichéd but people who travel alone just have a way of understanding each other. A way to connect that we fail to do with the people in our day to day life. Somehow there is this unspoken language between us that we understand and we do not need to explain anything to each other. You can be a first-time traveler or seasoned traveler; we all experience the same anxiety, the rush of adrenaline and the same detachment to our original surroundings. The fact that we had the same train of thoughts before we left home, gets us closer to each other in a way that can't be written down.
To end the day we went for a walk around the city and I wasn't that impressed. God, I know I sound like this ungrateful human and I complain a lot but once you've seen what I have, you will surely understand what I mean. The city is admirable but when you get away from it, that's when you see true Iceland. We went to the Hallgrimskirkja church and made one last stop for the day: The supermarket! Got the things required and left for the hostel to rest.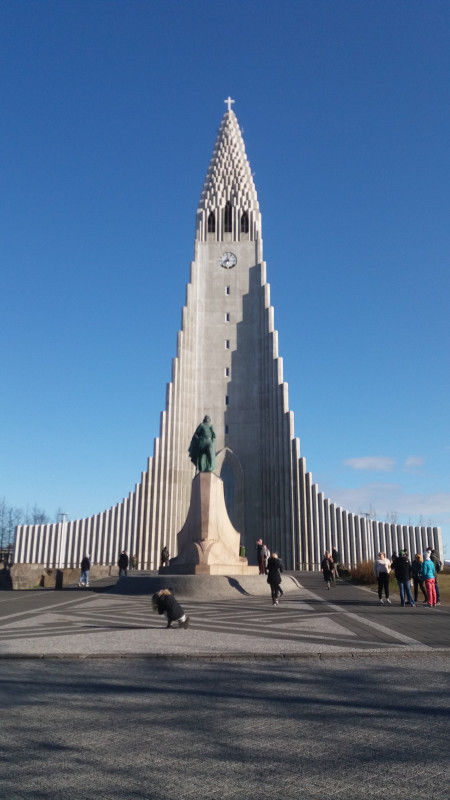 I learned to look at the world in a more relaxed way. I remember overthinking about everything and dwelling on minor details. Then came a point when I had to let go and wait for the outcome. Things were magical when I wasn't the one deciding my fate. Most of my trip was people asking to come along and me saying "OK why not". These weren't the things on my list of "must do's" but I am grateful that I ended up here. Because maybe I didn't want them, but I definitely needed them.
Travel Tips:
Iceland is expensive and one meal approximately costs 2000 ISK (1500 Rs). In case you want to spend that much go ahead. But for the people who are cheapskates like me, shop at the supermarkets.
The cheapest supermarket is BONUS. I lived on this. I wouldn't say it's cheap exactly but by Icelandic standards, this is as far as you can get.
For the first two nights, I chose the Bus Hostel in Reykjavik. The hostel was the cheapest I found and it was around 22-25 euros a night. It had clean rooms and bathrooms. The only problem is they don't give you a duvet. This seemed very weird in the beginning but there are some other hostels that follow the same rule. To get a Duvet it costs 1000 ISK (800 Rs). If you have your sleeping bag, well and good!
If you are planning to rent a car, get it from the airport. The benefits are that it is cheaper and you can drive from the airport to your destination directly.
The Airport Keflavik is 40 minutes from the capital and there are multiple bus services that get you there. They all charge 2500-2700 ISK and do not pay beyond that.
Because I was super lazy to hitchhike the first day, I chose to get a tour. Tours are expensive (Duh) and you save a lot if you just rent a car. Still the tours guide you all over the place and it's nice to know things that usually get unnoticed. The other point that I did not like with the tours was the time constraint. I prefer staying at a place as long as I want and they have very strict time constraints.
I chose the "Bus travel Iceland" as my tour service. The Golden Circle tour is the one I selected. Normally these tours cost you roughly about 10, 000 ISK (80 euros). I have suggested a site called the "getyourguide.com". They have good offers and I got mine for 49 euros. Great deal. The Bus travel offers other tours for south Iceland, the Snæfellsnes peninsula, and the Glacier lagoons.
The Golden Circle tour I found consisted of the Kerið crater, Faxi waterfall, Gullfoss or "Golden Falls", Geysir & Strokkur, and The Þingvellir National Park. Most of the tours do not include the Kerið crater and the Faxi waterfall. You might instead have a secret lagoon visit included.
Since most of you by now would be thinking of the Blue Lagoons, I did not visit it as I found it too touristic and too many people. But for those of you still interested, it costs 7000 ISK for the most basic package. You can upgrade to a premium (10,000 ISK) or VIP (35,000 ISK) package. It is situated in Grindavik which is 47 km south of Reykjavik.