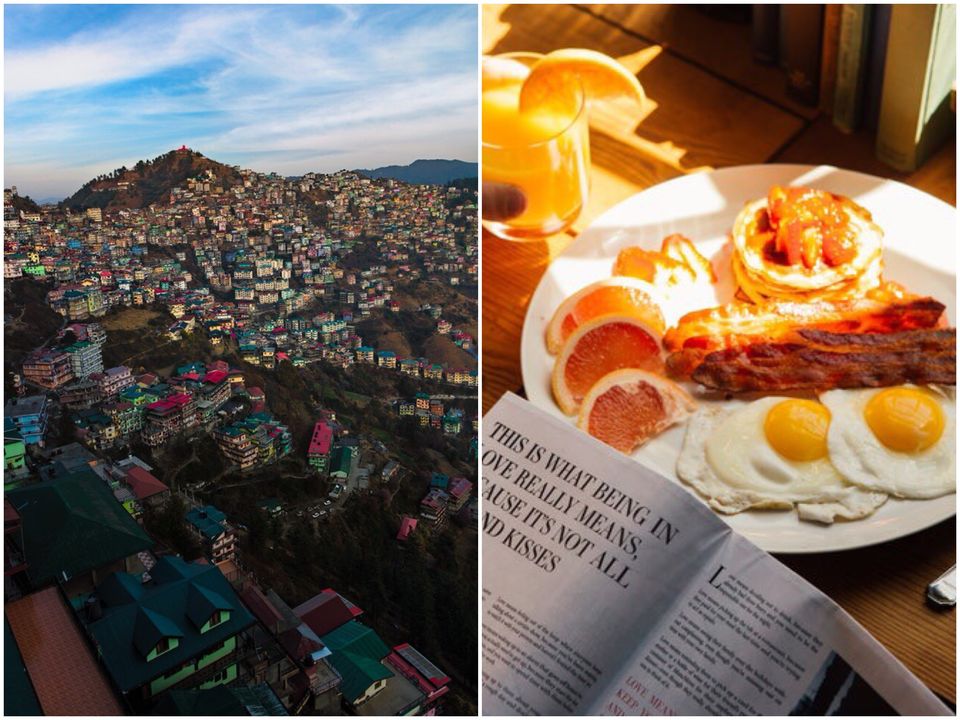 Shimla is one hill-station most of us have been to at least once in our lives. Family vacations, school trips or weekend getaways with friends, Shimla seems to fit the bill no matter who you're going with. It's one of the most obvious choices whenever an average Delhiite mentally goes, ''the hills are calling", mostly because of its easy accessibility. As popular as the queen of hills is for breathtaking views and amazing weather, it is also an ever-growing hub of great eateries. Let's take a look at some of the cafes in Shimla that are becoming increasingly popular.
Most Happening Cafes In Shimla
Whether you're looking for modern, cafe-style food or a more traditional, local fare, Shimla will definitely spoil you for choice. One can find a delightful mix of charming old eateries and hip, Instagram-worthy joints. There's something for every kind of traveller. Here are the best cafes in Shimla, especially when you're on a budget:
If you're looking for a place to relax over some great food, Wake & Bake is an amazing option. You'll easily spot its happy yellow windows on Mall Road across the police station. The cafe in Shimla is popular for its breakfast options like waffles, crepes, a wide variety of eggs, and has a very cute, calming decor. They have a nice selection of books and board games to choose from. Also, don't leave without trying their coffee which they make as an in-house organic blend. Service can be slow but the food is definitely worth the wait.
Cost: ₹800 for two
Cuisine: Italian, Continental, Middle-Eastern
Standout dishes: Hummus and pita platter, Lemongrass chicken, Hazelnut latte, Banana and nutella waffles
Timings and location: 9.30am to 10pm; Near Police Station, Mall Road, Summer Hill, Shimla
Contact: 0177 281 3146
I always feel like any trip is incomplete if you don't try the local food. In Shimla, this tiny joint called Himachali Rasoi serves amazing Himachali dishes (probably the only one in Shimla) with utmost warmth. Foodies are in for a treat at this cafe in Shimla as they also serve an unlimited thali that you can feast on while being comfortably seated on the floor mattresses. Pro tip: save some room for dessert after your meal. The traditional Himachali crepes called patande served with ghee and jaggery are to die for!
Cost: ₹500 for two
Cuisine: Himachali
Standout dishes: Kangri Dham thali, sidu (steamed stuffed bun), rehru (warm spicy lassi), patande
Timings and location: 10am to 10pm; 54, Middle Bazar, Near Shiv Temple, Baljees Stairs
Contact: 0177 265 2386
Hideout is one of the most loved cafes in Shimla not just because of its food but also the laid-back and friendly vibe. It is a small cafe overlooking Mall Road where I've spent many evenings reading and sipping on their brilliant cold coffee, with the strangely comforting commotion of Mall Road in the background. Hide Out is also a great place to start your day with, owing to its ever-smiling staff and delicious breakfast options like French toast, fluffy omelettes and pancakes.
Cost: ₹600 for two
Cuisine: Italian, American
Standout dishes: Royal chicken burger, Focaccia bread sandwich, Pizzas, Cold coffee
Timings and location: 7.30pm to 10pm; Near Police station, Mall Road, Summer Hill, Shimla
Contact: 0177 2653100
I personally love the raw, rustic charm of ICH outlets across the country. The one in Shimla, like most ICH outlets, has been around since the 1950s and hasn't changed much. It is often frequented by popular personalities and famous politicians during their visit to Shimla. The food is fresh, tasty and unbelievably cheap! Whether you want a complete meal or a quick snack, there's something that'll suit your fancy on their small but varied menu. Needless to say, do try their coffee that comes with a generous sprinkle of cocoa powder.
Cost: ₹350 for two
Cuisine: Quick bites, South Indian
Standout dishes: Special coffee, pakora, egg noodles, butter masala dosa, omelette
Timings and location: 8am to 10pm; Mall Road, Middle Bazar, Shimla
Contact: 0177 2652982
Cafe Under Tree is located near the popular Jakhoo Temple at about 8,000 feet and is only a short hike away from the temple. This place is worth visiting simply for the beautiful all-wood interiors and surrounding mountain views. Its walls have huge glass windows and you can see deodar trees around, feeling like you're enjoying a meal in the middle of a hilly forest. The menu at this cafe in Shimla has got a decent variety of food ranging from salads, pizzas and sandwiches to typical North and South Indian dishes.
Cost: ₹1200 for two
Cuisine: North Indian, South Indian, Fusion, Asian, Italian
Standout dishes: Watermelon salad, Basil and thyme masala dosa, Pahadi chai, Pateela coffee, Tree mint breeze mocktail
Timings and location: 9am to 7pm; Below Jakhoo Temple, Jakhu, Longwood
Contact: 092185 27773
You can't help but stop at Krishna Bakers while taking a stroll on Shimla's Mall Road, blame it on the delicious baking aroma or the beautifully stacked bread and buns in their shelves. It is the best place to grab a quick bite on the go, that too, at extremely pocket-friendly prices. I particularly love the momos served with a super spicy mint chutney along with the usual red chilli sauce and mayo. I always get snacks packed from here to eat later in my hotel room! Do give it a shot if you love old-school bakeries that serve simple, no-frills food.
Cost: ₹300 for two
Cuisine: Bakery
Standout dishes: Pasta roll, Momos, Veg patty, Chicken patty
Timings and location: 8am to 10pm; Ridge-Mall Road, Bemloi, Shimla
Contact: 011 2854 4374
One of the oldest eateries on the Mall Road and probably in all of Shimla, Sita Ram & Sons is a popular name amongst both tourists and locals. The shop has been serving the same dishes since the last six generations and each one has become a legend in its own. The secret lies in the sweet and sour imli chutney they serve on top of every dish along with lots of onion. The locals who have grown up eating Sita Ram's popular chhole lucchi claim that the taste has been constant over all these years and reminds them of their childhood, making this shop even more special. Just in case you're wondering, a lucchi is a lighter version of a bhatura but not any less satisfying!
Cost: ₹150 for two
Cuisine: Street food
Standout dishes: Chhole lucchi, Chhole kulche, Tikki chhole
Timings and location: 10am to 5.30pm ; MC Commplex, Near Regal Building, Lakkar Bazaar, Longwood, Shimla
Contact: 098055 07100
La Pinoz serves an amazing variety of pizzas at a very convenient location on the Mall Road. The dough is made in-house and is hand-tossed. The best thing is, they don't make you wait too long, and you'll have your piping-hot pizza ready within 15-20 minutes of placing the order. While you may be tempted to try their pasta, I'd recommend you stick to pizzas. They are super generous with the toppings, which kind of justifies their slightly high prices. You can also choose a wheat crust for your pizza or 'make your own slice' by picking from the available toppings.
Cost:₹700 for two
Cuisine: Italian, American
Standout dishes: Garlic bread, Veg tamer pizza, Fire-e-chicken pizza, California pizza, Irish coffee
Timings and location: 10am to 10.30pm; Shop 71, Mall Road, Summer Hill, Shimla
Contact: 0177 2808438
Honey Hut is located on the Mall Road and has a super cute honeybee theme going in their decor and their menu. Each dish uses honey in some way and in beverages, sugar is completely replaced with this natural sweetener. The only downside to visiting Honey Hut is that you'd want to try everything on the menu! You'll be surprised to find all the different ways they use honey in regular recipes, which delightfully enhances the overall taste of food. Apart from trying the excellent desserts and coffee at this homely cafe in Shimla, you can also buy locally produced honey products to take home or for gifting.
Cost: ₹500 for two
Cuisine: Italian, Chinese, Finger food
Standout dishes: Honey fruit salad, Honey chilly mushroom, Honey cappuccino, Walnut chocopie, Honey banana cake
Timings and location: 9am to 10pm; Khadi Bhawan, Middle Bazaar, Mall Road, Summer Hill, Shimla
Contact: 0177 2650347
Aunty's Kitchen
This small, easy-to-miss place is serving great Chinese food since 1971 and is well-loved by both locals and tourists. If tasty, authentic food is all that matters to you, then Aunty's is the place for you. Ambience is not great and the seating is congested with only 4-5 tables so I'd suggest takeaway. The prices are super cheap and portion size is huge, so you'll definitely leave the place happy and well-fed. There's a decent variety to choose from for vegetarians as well.
Cost: ₹400 for two
Cuisine: Chinese
Standout dishes: American chopsuey, Garlic chicken, Chicken lollipop, Singapuri noodles, Thukpa
Timings and location: 10am to 11pm; 44/31, Middle Bazar, Near Shimla Fire Station, Summer Hill
Contact: 0177 2807262
Know of an amazing cafe in Shimla or elsewhere? Write about it on Tripoto.
For regular dose of travel inspiration, Subscribe to Tripoto's channel on Youtube.
Frequent Searches Leading To This Page:-
places to visit in shimla in one day, best cafes in shimla, shimla cafes, best momos in shimla, famous cafe in shimla