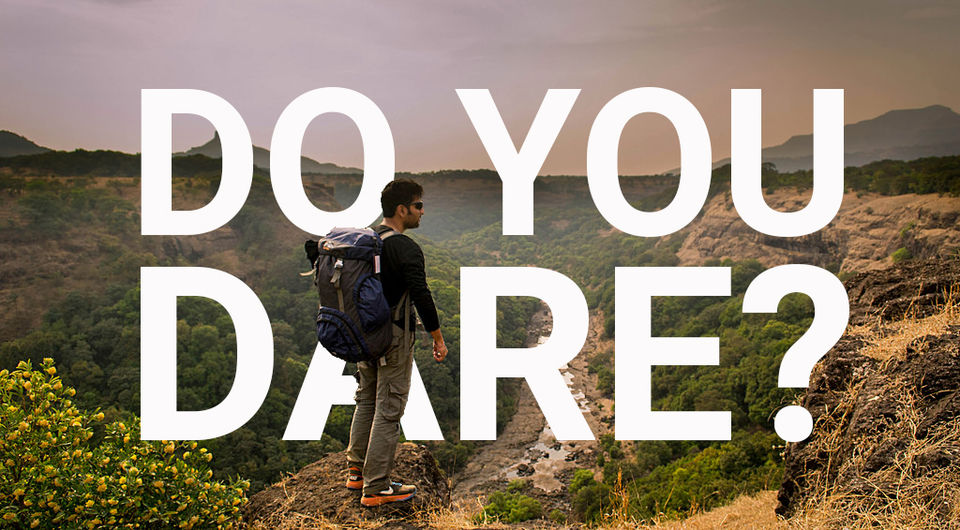 Who wasn't inspired by the three best friends' college travel pact in Zindagi Na Milegi Dobara, or when Harold and Kumar went on an epic road trip to get burgers in Harold & Kumar Go To White Castle. Most of us talked about it, planned epic trips in excited voices but never got around to doing it.
So, how do we go about doing things that make stories we can (or can't) tell our children, things books and movies are made up of and more importantly things that make amazing snap stories? 
Let's stop daring our friends to ask out that hot girl in the bar (whose boyfriend is sitting behind her, of course), or the dares to write funny lies about the college principal on the compound wall they will never see. Let's stop, and dare big instead. 
Here's a list of travel dares that you can challenge your friends to and pacts your gang can form. These dares don't necessarily require the entire group to travel together, but they will definitely test everyone's limits and give their adrenaline a rush.
1. Break into a dance at a popular tourist spot/ Take part in a flash mob
Why should the High School Musical be the only place where random dance performances are nothing less than a norm. Dare your happy-feet friends to go the extra mile and break into a dance amidst a crowd of unsuspecting tourists, be it at the India Gate in India or the Grand Central Station in New York.
2. Kiss an exotic stranger who doesn't speak your language
Can be Bhojpuri or French, but to kiss an exotic stranger is no piece of cake, not even for the right swiping champs. Even if you have the guts to do it, you will still need effective communication to get through to the stranger and explain your situation.
3. Perform a Hindi song in a different country
Got friends who can give Adele a run for her money? Dare them to sing Bedardi Raja (from Delhi Belly) at an open mic in an exotic Scottish Inn or make a shady New York lounge groove to Honey Singh's Chaar Bottle Vodka. That'll test their inner Adele alright.
4. Go skinny dipping in the sea
This is not only challenging but illegal in most of India. But daring a friend to bare it all to the sea will have them take up that diet they have been cheating for forever and also make for an amazing story when they get around to doing it.
5. Get drunk with a stranger
Dare your friend to let all barriers down and get drunk and tell a perfect stranger how they pretend to like War and Peace but their actual favourite book is 50 Shades of Grey. It is an opportunity to let it all out, or maybe get to know someone and forget most of it the next day.
6. Spend a week in a backpacker's hostel
Dare your 5-star-dependent friends to spend a week in a backpacker's hostel. Not only will it prove to be super inexpensive but you will also get a chance to meet real travellers in all of their 'was lost on a mountain' story and rugged trek shoe-ed glory.
7. Gatecrash a wedding in a different country
Of course, this borders on illegal and might prove to be challenging when you neither seem to fit in on the 'ladkewale' or 'ladkiwale' side. But weddings being a happy occasion, you are sure to have fun, be part of a stranger's special day and if caught, will experience what it's like to make a run for it.
8. Dine with a stranger
Good food fuels the most interesting conversations or in some cases just yummy noises. Dare a friend to walk up to a complete stranger in a restaurant, better yet if in a different country, and share a meal with them. It'll turn out to be the best meal they ever had because for dessert they might end up with a new friend.
9. Get a haircut from a local barber in an exotic place
How many times have you seen people spend 2k on a haircut in a salon and walk out with the same hairdo. Dare that friend to get out of their comfort zone and get a haircut from a local barber shop from a side alley on the streets of Prague or a make shift barber shop under a tree in Dehradun. 
10. Go clubbing in a sari/dhoti in a different country

Clubbing today spells a F21 dress paired in the skimpiest fashion to gel well with the crowd grooving to Don't You Worry Child by the Swedish House Mafia. Dare your friend to break free from the generic attire and don a sari or a dhoti to a club and dance the night away and that too in a foreign land.