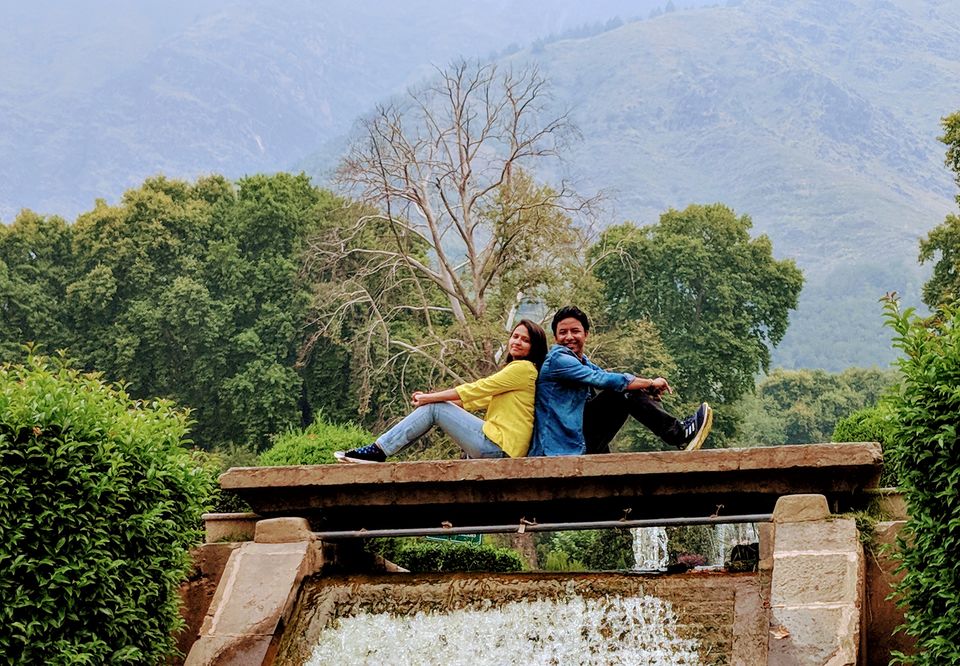 The past one year has been crazy for us, having a packed schedule as we travelled to 10 different locations, since our marriage on 12th March' 18. The list includes two countries – Mauritius and Indonesia, seven Indian States and one Union Territory. We aim 200 trips together in 20 years of our marriage.
But before that, here is how we did our 10 trips in the first year of our marriage.
#1of200trips - Mauritius (7 days) - Mar' 18
This was our first trip after marriage, our honeymoon trip. We were so excited but it didn't start well. Ruchi got infected with Hand foot & mouth disease just before the trip and we only came to know about the disease once we landed in Mauritius.
We had luckily planned our itinerary in such a way that we would spend at least 2-3 days in the resort which helped us a lot as it gave Ruchi enough time to recover, though not fully. We spent a lot of time talking about things like our choices, preferences, opinions, ambitions, which we wouldn't have talked about otherwise, I think that is what people say - 'Blessing in disguise.'
Next 3-4 days we explored Mauritius, we visited places like Ile Aux Cerfs Island, beautiful Port Louis, Dead Volcano of Trou Aux Cerfs, Temple & Lake of Ganga Talao Reservoir and Valley Des Couleurs which is unique in the world for its 23 Coloured Earth and many more.
#2of200trips - Madhya Pradesh (4 days) - Apr' 18
Khandwa in Madhya Pradesh is the hometown of Ruchi. This was our first visit to her home after marriage and we wanted to make the most of it. We visited Omkareswara, Hanumantiya, Indira Sagar dam and Shree Sant Singhaji Mandir. Omkareshwar is a Hindu temple dedicated to God Shiva and is most visited religious tourism place in Madhya Pradesh as it is one of the 12 Jyotirlinga shrines of Shiva.
Hanumantiya tapu is located at the bank of the Indira Sagar dam where the annual Jal Mahotsav is organized by the Madhya Pradesh Tourism starting October. It has got beautiful resorts to stay and offers a wide array of water sports. Jal Mahotsav, India's largest water carnival, is an eighty-day long festival of food, art and nature. So, next time you think about water sports, skip Goa and visit Hanumantiya during Jal Mahotsav and you would not be disappointed.
We also explored Indira Sagar Dam from the inside, photography was not allowed inside the dam. As an Electrical Engineer, I was so excited to see such huge Generators, turbines, transformers, switches and whatnot. I could remember a few basics of Electrical Engineering, read a decade back, and started explaining it to everyone how everything works. Who would lose the chance of impressing the in-laws ;)
#3o200trips - Kerela (4 days) - Jul' 18
Someone has rightly said Kerela is God's own country. A soon as we landed at the airport, it was all lush green and we could see coconut tree all around. It was almost 3 months since we did our last trip as we were still working our ways into our marriage. We were busy settling our house and the work pressure had taken a toll on both of us. So, this trip helped us relax, we had time for ourselves after so many weeks.
We explored Varkala, backwaters of Alleppey also known as Venice of India and Athirapally Falls - India's Niagara Falls.
Varkala, on the outskirts of Trivananthpuram, is a quiet and calm tourist destination frequented by a lot of foreigners for Yoga and Massage. The Red cliff view, the white sandy beaches and the spectacular Sunset are something that anybody would love about Varkala. Moreover, the cliff offers a fantastic view of the Arabian Sea which is so pleasing to the eyes. A massage at one of Spas is highly recommended.
We stayed for a day in Alleppey at one of the houseboats. The boats had sufficient amenities like an AC, geyser, running water, comfortable beds.
Anyone who has seen the pics of Niagara Falls would dream to visit it once in its lifetime. But, then if there's something similar in India, why not explore it first. This is how we decided on Athirapally Falls. The waterfall is spectacular and since it was monsoon, it was a heavenly experience.
#4of200trips - Kashmir (7 days) - Sep' 18
"If there is any heaven on the earth, it's here, it's here in Kashmir. It's a place which brings you close to mountains, clouds, lakes, gardens and many more. This was also our first family trip of 7 nights and 8 days, our parents and siblings joined us on this trip.
The trip started with blessings of Maa Vaishno Devi and we visited Pahalgam, Gulmarg, Sonmarg and Srinagar. Pahalgam had the best of the weather as it was completely immersed in clouds while Gulmarg was a bit disappointing for the family as they had only seen photos of Gulmarg covered with Snow but we were visiting in the Summers and Snow was not at all expected. Srinagar is famous for its Mughal gardens, food and shopping especially Pashmina shawls and winter clothes. The Dal lake as always never disappoints as we stayed in the houseboat at Dal Lake.
#5of200trips - Delhi (4 days) - Oct' 18
We were visiting a foodie couple friend in Delhi as it was long due. We kept planning a visit to them and it was not happening for the last one year. But, then the moment we got a long weekend due to Gandhi Jayanti, we immediately booked our tickets to Delhi.
We visited the Lodhi Colony for the beautiful Wall Murals, India Gate, Sarojini Nagar for Ruchi's madness for shopping and explored the food and nightlife of Hauz Khas village. Being from Mumbai, we always craved for the best of Pani Puris, chaat and North Indian foods, we had a lot of them in those 4 days in Delhi.
#6of200trips - Mahabaleshwar & Panchgani (3 days) - Nov' 18
Mahabaleshwar and Panchgani are the most frequented tourist spots by people staying in Mumbai & Pune. That doesn't take any charm from it as the weather is lovely. We had booked our stay in Panchagani, very near to Table Land. Table Land is Asia's second largest mountain plateau.
Mahabaleshwar has breathtaking valley view, nature and adventurous sports. It is also popular for its Strawberry production, one can have some of the best fresh Strawberry cream. We visited the famous Mapro Garden and had wood fired pizza, fresh strawberry cream with Icecream and grilled sandwiches and bought some Mapro Jams and squashes.
#7ofo200trips - Goa (4 days) - Dec' 18
Though I and Ruchi had travelled to Goa multiple times in the past, this was our first time together. By now, we had all planned to move to Kolkata in a couple on months and so wanted to visit Goa together. In fact, it was surprising for many that we had never been to Goa together earlier.
As they say, what happens in Goa remains in Goa. We travelled across North Goa on the rented scooter, partied hard, had candlelight dinner on the beach, visited forts overlooking the sea, saw best of the Sunsets, played with the waves, lit up the Sky Lantern, slept on the beach in the middle of the night talking about our philosophies, our ambitions and the list goes on and on.
#8of200trips - Gwalior & Agra (4 days) - Dec' 18
We were visiting Gwalior as we wanted to visit Ruchi's Grandfather. We wanted to make the most of it by exploring Gwalior, we visited the beautiful Gwalior fort, Jal Vilas Palace Museum and had some of the best street foods here.
Agra is just a couple of hours away from Gwalior, who would miss the opportunity to see the greatest Symbol of Love - The Taj Mahal. Though I had visited Agra while I was studying in Indore, Ruchi was really exhilarated to visit the Taj Mahal. It's one of the most beautiful monuments and is one of the Seven Wonders of the World.
#9of200trips - Sunderbans (2 days) - Feb' 19
We moved to Kolkata in January and were looking for a weekend trip from Kolkata. The Sunderbans National Park excited us the most and we decided on a 2 day trip with a night stay at the Gosava village.
Sunderbans has the world's largest Mangrove forest and the tourists are taken on a boat ride. The journey itself is mesmerizing as we curl through the creeks and tributaries. If you are lucky, one can spot Tigers and deers. We were lucky enough to see a family of deer from a distance. In addition, a variety of birds visit the Sunderbans making it a delight for the bird lovers.
#10of200trips - Bali (5 days) - Mar' 19
Ruchi and I wanted to travel to a place which is relaxing for our anniversary. Bali was on top of our mind as it has some of the best beaches, beautiful Sunsets, Sunrises, Temples and most importantly the private pool resorts at affordable prices.
The blog on our Bali trip is already up, check it out here for more - How to experience the luxury of Bali in budget?
---------------------------------------------------------------------------------------------------------
With this trip, we reach our first milestone of #target200tripstogether. 10 trips in 12 months in the first year of our marriage. We are not sure if we will ever be able to do 200 trips or even 100 trips for that matter, but then 10 trips in a year for the next 20 years is what we wish to do. Travel with full-time jobs is difficult and exhausting but it's fun to see, explore and learn about different places across the globe and we are so excited to see more and travel more.
We leave you guys with one of photo from our marriage, I hope you like it. Leave us with your feedback and love. You may follow us on our Instagram where we keep sharing our travel experiences.