Going on a road trip in Himalayas was a dream for me since the day I started preparing for JEE. Everyone has a motivation that drives them to do what they do, this was mine. I got a chance and I finally did it.
I could not ever have imagined how it actually felt like sitting on my bike and smiling for the picture with the board that says 'Rohtang Pass'. And it was more than I thought it would feel like to be there in that moment- being 'in' the clouds, shivering from cold all over, that feeling of immense satisfaction, thrill, excitement and happiness I will never be able to forget.
There, I wanted to shout my heart out, I wanted to laugh, I wanted to be silent and just let that feeling sink in, and you know what I did everything I wanted to. I really felt alive that day and this feeling was what I crave for all the time.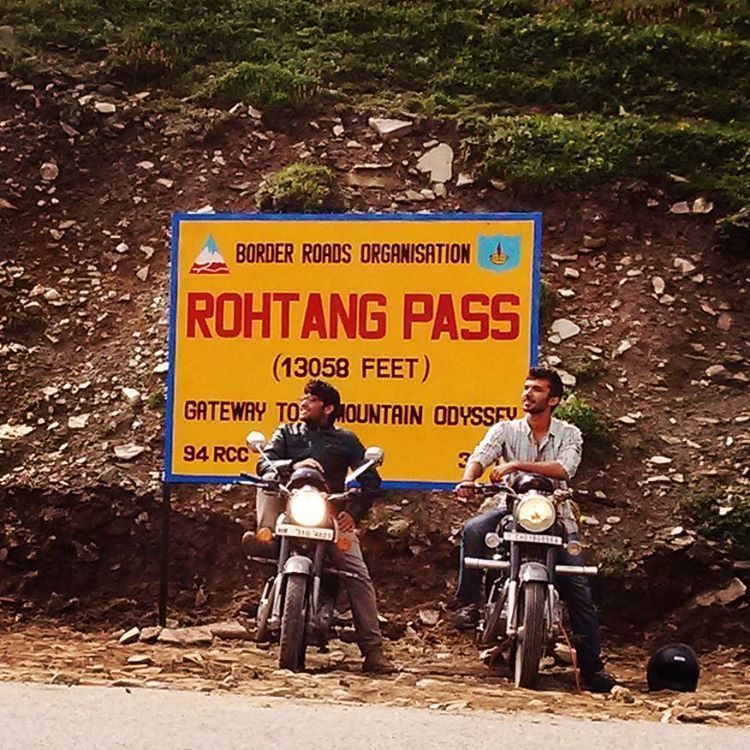 Planning a trip to Himalayas by road, in the monsoon, is a suicide as they say with the rains and frequent landslides.
Generally, a plan starts with convincing our parents, but here we had to convince ourselves first whether its worth the risk and only after that, our parents. That we did, in our own 'ways' (Or maybe we didn't!)
When we laid out the plan, we were 8, from which 4 backed out (happens with everyone I guess). Me, Raman, Zeeshan (the photography enthusiast),Shivangi(the tomboy)were left. That was a moment we had to decide whether to keep the plan or not, and thank god we did. We planned to pull it off anyway, just the four of us, two Enfields and a DSLR.
A night before leaving my home for Chandigarh, I could not sleep. The inhibitions started to pour in and started to get over the best of me, I mean "What if we really are wrong?", "What if something happens to us?", "Should not we be listening if everyone is telling us not to go?". These were the questions I had a hard time convincing myself "its okay" to, and maybe it happened to all four of us, we did not really talk about this.
But somehow when the morning started to set in and I still had my eyes wide open, my mom then told me 'Its okay if you think its okay, just trust yourself and keep my son safe at all times'. That day I again realized how much she loves me, I know how much she must have been scared to let me go (when I myself was), still she did not stop me, because she knew it was important for me.
Well this was the push I needed I guess, and you know, it felt like I grew up a little that day. Then's that i started with a tank full of my bike and headed off to Chandigarh.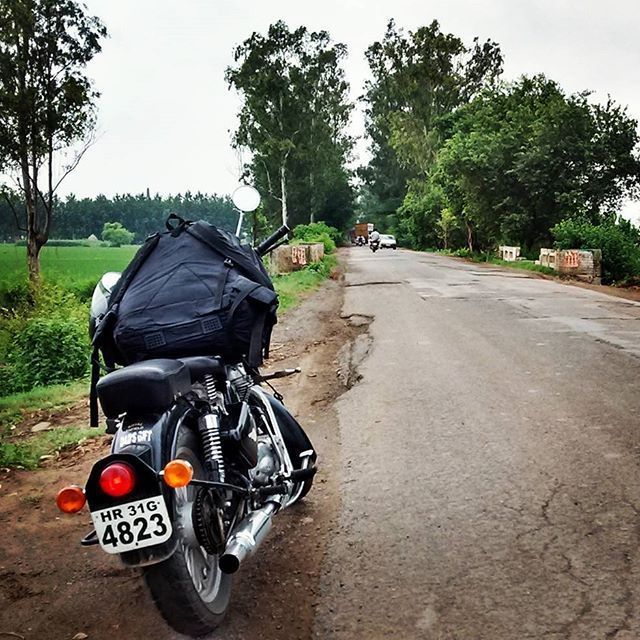 ......... and we left!!!
With the rising sun, we had already left for Shimla, four brothers (we refer the tomboy as a brother too :p), two Enfields and a lot of memories to make.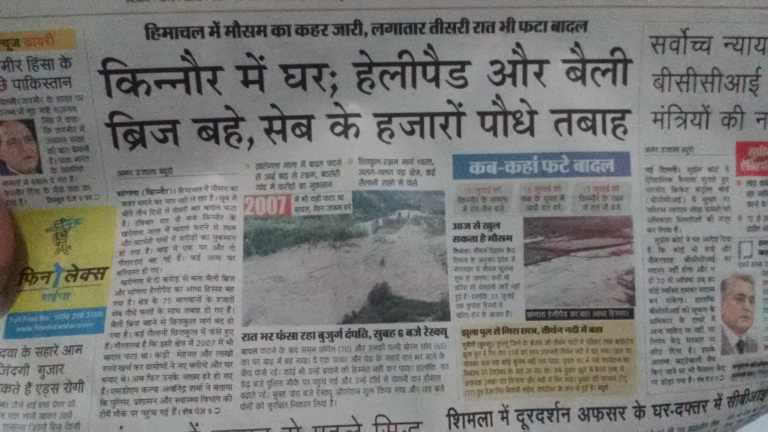 Driving in the plains is fun, but once I got the taste of driving in the hills, I don't like to drive in the plains anymore. I mean its so much fun, you can never take your eyes off road, every 10 meters is a curve you got to master, I just loved every moment of it. The photography lover amongst us was going crazy and taking picture of literally everything. Relaxed, as we were quite ahead of our plan, we took some stops- to click pictures obviously, to admire the beauty as they say, for the much needed tea and to give our asses a break (;p). As we reached Shimla, it was already beyond sunset, so we checked in the Hotel which was actually free of cost- I will let you know the hack. At some places we had to stop because of the landslides thankfully happened before us, that gave us goosebumps. But we had made up our mind and there was no turning back. We reached hotel and imagine this, you go someplace and see this article in the newspaper.
Yes yes, all the things crossed our mind which you must be thinking right now. Anyway, about the hotel, rooms were comfy, but we were not here to get comfortable (I wonder if our asses could talk :D).
So, w e left for Kufri. Getting there was the first thing that seemed difficult since we started, the late evening as it was, was foggy as hell, we could not see more than 5 meters ahead of us, plus it was drizzling and the road was quite steep and wet and there were very less people by that time. It was an hour drive to Kufri , a beautiful place it was. We had to ride on khacchars as the trek is not possible there unless of course if you want to tread in the knee deep mud. Kufri was the topmost point of Shimla, and was freezing by the time we got there. A major setback was awaiting as we got on our bikes for Shimla. The rear wheel of my bike was bubbling (courtesy of a mechanic of Varanasi who could not fix the jammed axle and told me since it is jammed already you won't have any problem riding), was not anymore in my control, but reached Shimla anyhow as we did not have any option by then. So we planned to get that fixed and leave for Manali the next day, but turns out that swing arm had to be changed in order to fix that. Usually, its not much of a task, but since axle was jammed, the service center too could not free it. The whole bike had to be de-assembled and had to be taken to a gas welding shop to cut the axle permanently. By the time it was fixed, day was over. And we had a whopping 5400 bill in my hand by the end of the day, but at least to the bright side, atleast the bike got fixed and to my luck, I received the McM scholarship that day itself, of Rs.50,000. Lucky, hun?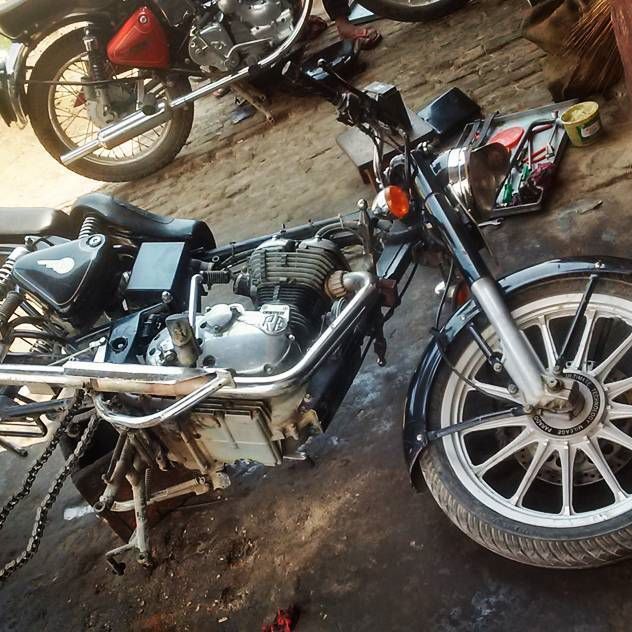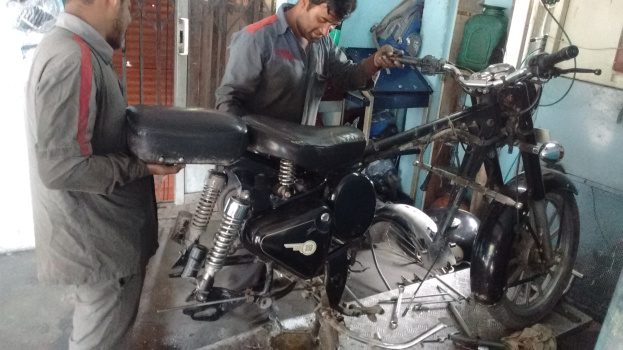 And I have saved a picture of bill too.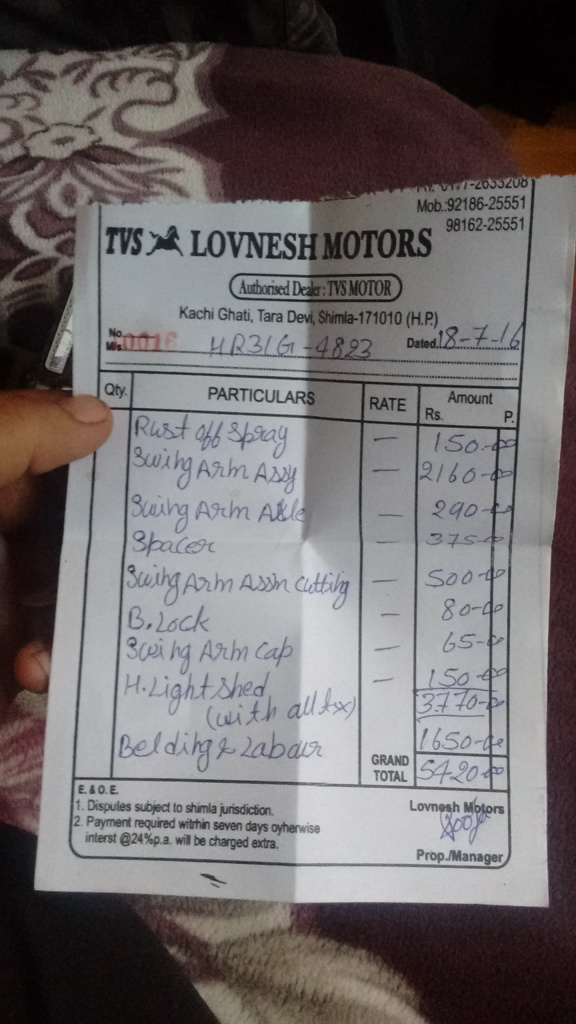 We headed off to Mall road, which is quite a cool place to hang out at.
Go to the Mall Road at sunset, find a place where you can see the whole city from and trust me, you are good, you won't get up until your hunger cries.
We were already a day behind our plan so we had to save, and what is better than Dominoes for dinner if you want to save your 'hard-saved' money. We reached the hotel after.
*Oh, What would not we have given for a comfortable bed and a hot shower by then.*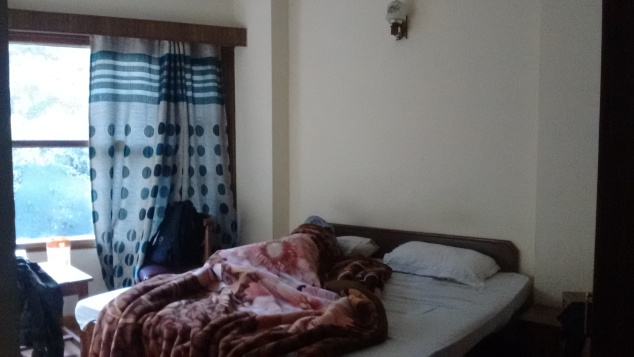 We had to leave for Manali the other day, which is around 250 kms from Shimla, so we had to keep our schedule tight and our backs tighter. The morning was cold, yet beautiful, we got our tanks full, took a cup of coffee and we were as good as we started off from Chandigarh.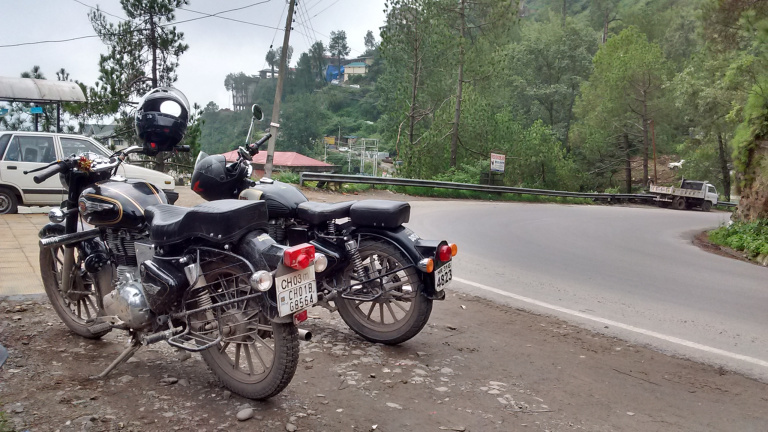 Let me tell you an awesome thing about riding in the Himalayas. We riders are very much appreciated and admired there, we set the travel goals for other people (as they say). Everyone wants to talk to us, ask us where we are from and how we managed to get our bikes so far away from our homes, get the pictures clicked with us and the bikes obviously. It feels good to be wanted, right? Also the safety gear is so cool(I never thought I would ever say this), and trust me, no matter how much I hated wearing mere a helmet, it feels amazing to ride in the complete gear- the helmet, the jacket, elbow guards, knee guards, heavy shoes, the gloves. Moreover, the riders there have,like a 'unspoken' brotherhood there even if they don't know each other. Let me give you an example, whenever we stopped midway, there was at least one rider who stopped too just to make sure everything is good. Feels good to know that people care. No rider, even if he is riding solo, can ever feel alone there. This was the thing I liked the most about the trip and which has taken away the inhibitions of being alone when riding solo in the future.
The sun set, and we reached Manali. Situated on the Beas river, known as Himalaya's hippie town, it has that magical aura in its air which can make anyone fall in love with this place. It has everything, you want to go skiing?- Go to Solang Valley, you want to trek?- Go to Vashisht and trek to the Jogini Falls, you want to party hard?- head off to old Manali, want to pray?- Hidimba temple/Maa Sharvari temple. You name it and you won't be disappointed, I promise. We had a 3 day stay there (Of course free). We went to Vashisht, Jogini waterfalls- a 3 hour trek, we went partying to the old manali which is surprisingly the craziest yet the most peaceful place in Manali, and the Solang Valley, we had maggie sitting on the banks of the river with our feet in the water- what a peaceful evening it was, and as we did in Shimla- Mall road was our place to hangout.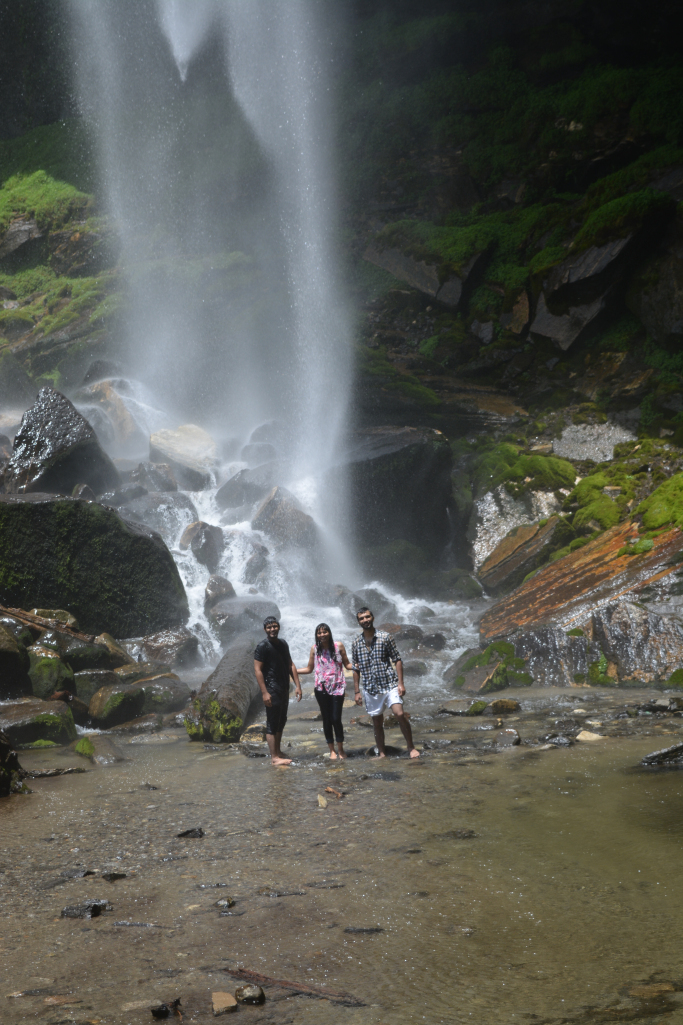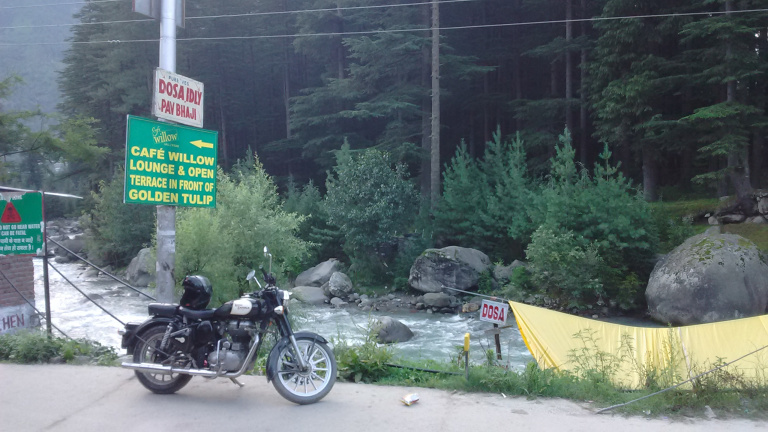 Then came the most awesome part of the trip- Rohtang Pass. Below are some pictures to give you an idea of how much height we were driving at.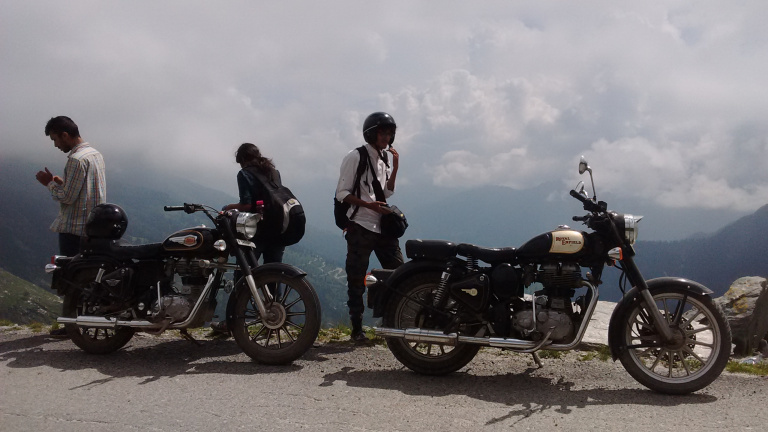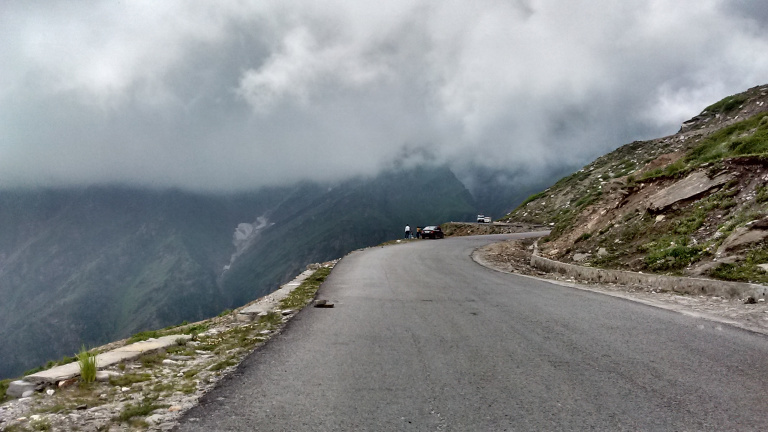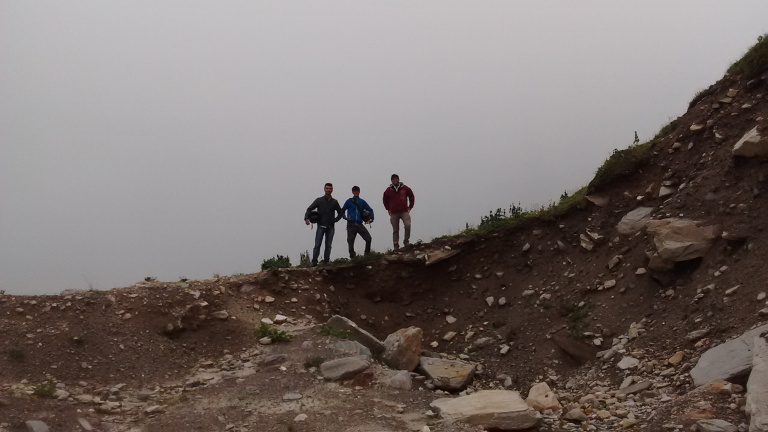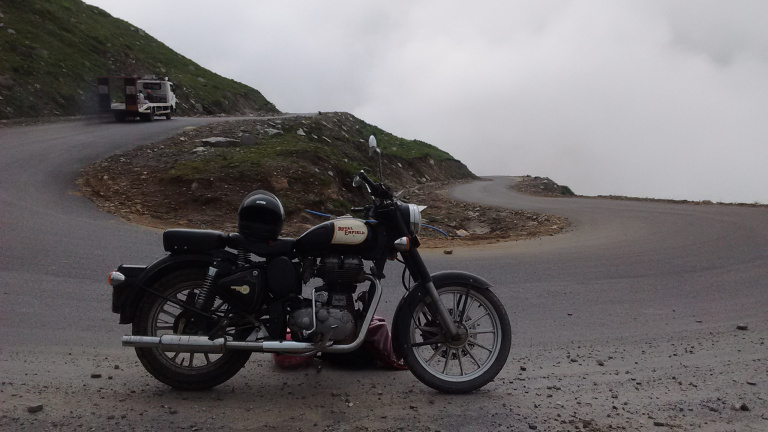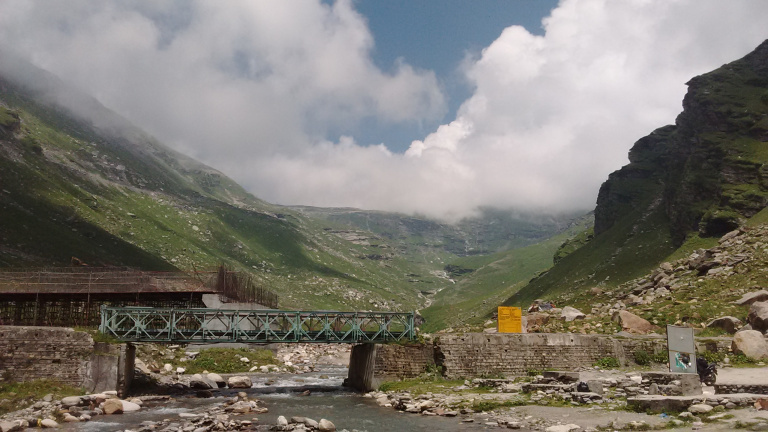 Situated at the height of 4000 meters from the sea level, 51 km from Manali, was the Rohtang Pass. Being there, it was one of the best feeling I had ever had. To be there was like a dream come true. I remember, in 11th class, I used to share the kind of pictures I got clicked in that day. And now, I was there, we were there. Life can't be more good, I thought.
Getting there was in itself a task, starting off with a wait for 3 long hours in a queue to get the Ladakh pass, the roads further testing our riding skills to the extremes. There were some turns where we had to stop at just the edge of the roads to let the army trucks pass, with the deep valleys staring back at us. That was scary. Encountered some landslides on the way where we had to wait an hour or so to let the cranes free the way. Sitting somewhere on a big rock, taking sips of a 50 rupee coffee, I thought about the whole trip, about the life I have, the people I have in my life, about everything. We sat there for almost an hour just to sink all the feeling that was overflowing. It felt so good. But like every good movie has an end, we had to leave before its late, we had to return to Manali by the evening, and leave for Chandigarh the other day.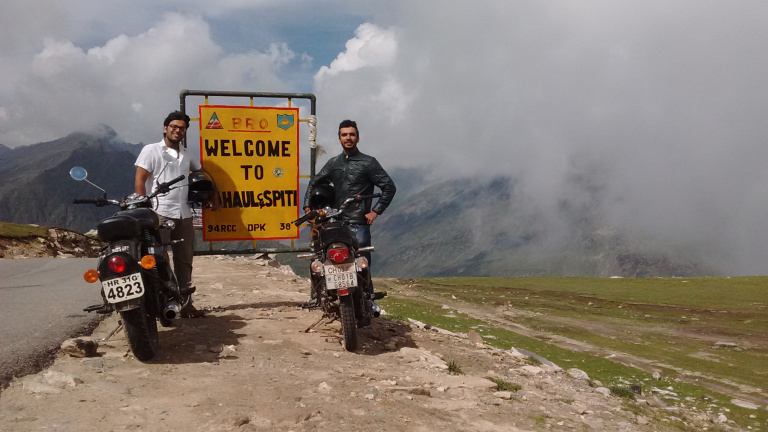 We left early in the morning but unfortunately, we took a wrong decision to take another route which turned out to be the worst road we drove in those few days, and that did cost us 6 hours to cover just a 60 kilometers. But the good part was, there were a lot of apple orchards in the way, and we being the hostelers, did not leave a single centimeter of space in our stomachs, and in our bags.
Anyway, we drove further. Just when we thought our trip was over, we were never more wrong. Remember I rode on a bubbling tyre from Kufri to Shimla? That ruined the tyre and made it irregular with some bumps. It was not at all safe to ride on that tyre but we were in middle of nowhere so no other option other than driving to a city nearby.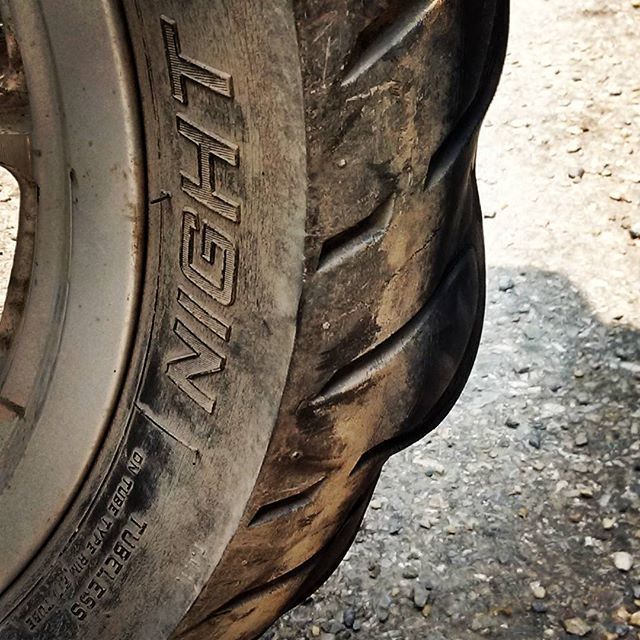 We had to drive with this tyre only, for another 40 kms to Mandi where we got to change the tyre, replace it with a new one. Another Rs.3000 bill. Its funny how can a unskilled mechanic can fuck you up so bad, and thats where I decided never to get my bike serviced at a mechanic no matter how trustworthy they say he is. Anyway, we left from Mandi by around 6 pm for Chandigarh. It was already late but Zeeshan had a train for Jaipur from Ambala at 1am, and hence we had to rush. Fortunately by then we were quite comfortable with the roads and besides being the night, we did not have any problem until we started getting late. Last bus for Ambala was at 12.10 am and we got there at 12.12 am. But to our luck, he got the bus...
...and that ends the most beautiful trip we had ever been to. Although there is more to the trip that involved me and Raman riding from Chandigarh to Delhi and then to Varanasi which in itself was a long story, but that i am leaving for sometime else.
This post was originally published on A Public Diary.