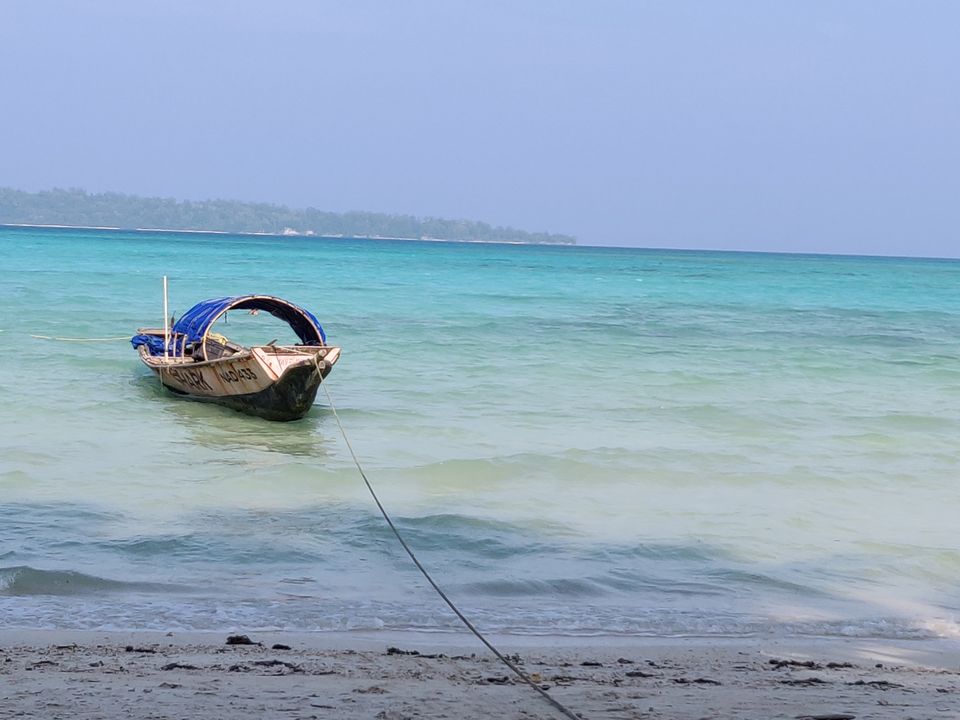 Whilst I pulled out my backpack to prep it for my next holiday, a tiny pocket book fell into my lap. Flipping through its pages I couldn't help but smile. Scribbled in it were my words, thoughts, musings from my last holiday. And just like that my mind was awash with all the happy memories. So here's an account of what we did last January in Andaman.
An early start
We had an early morning(read 4am!) flight to Port Blair. So we decided to go to the airport the night before by the late train. The wind in the night was nippy. And as the local chugged on the dark track my excitement knew no bounds. We are finally going to Andaman! The land of pristine beaches and mangroves.
Andaman has been on my bucket list for years now. We had a chapter in my Kannada textbook where the author describes his visit to the island. And in those early schooling days, little me traveled to this magical island through his words. It was then that I learnt about mangroves. Smitten by his writing and the vivid description that was splashed across my textbook, I promised myself that I'd visit Andaman someday. And tonight it was that little dream that was finally shaping into reality. I couldn't be more grateful.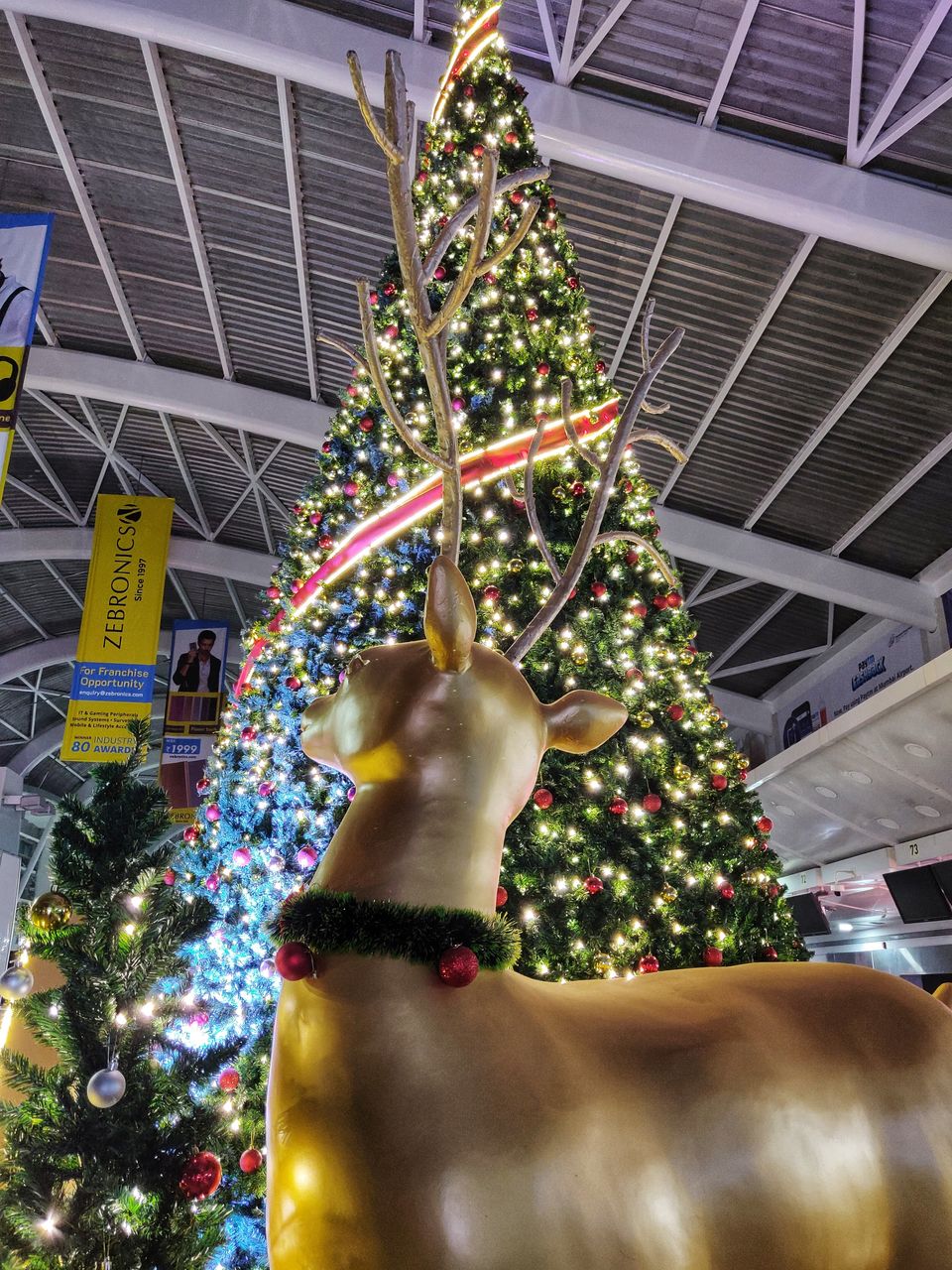 A bumpy touchdown
This journey had a rather bumpy start. We reached the airport in the middle of the night excited but also sleepy and hungry. And since we were flying out of domestic airport, the food court was closed. And to make things worse the airlines messed up while loading our luggage and my tiny duffel got stuck on the belt, midway.
Unbeknownst to all this we flew to Port Blair(PB) sans 1 bag. It was only after we reached the baggage belt were we diligently informed by Sheetal (GoAir Baggage attendant) that our bag will be reaching PB through the Chennai flight arriving @ 11am. It was just 7am then. The island humidity was kicking in and add to that a sleepless night journey, I was not in the mood to wait for 4 hours sweltering under the airport fan . But here's the thing about small town and it's people. They have a heart of gold, always polite and ready to help.
Chatting up with Bharath, the RPF officer on-duty and the friendly Andaman tourism info guy I learnt that there were rooms available within the airport and the terminal manager could help us avail it. In just a matter of 20 mins, we were checked into our room(Sleeping in the airport? Check.). We showered, we napped and ate the airport samosas for breakfast and it was time to head to the Jetty to catch our Makruzz to Havelock.
The first sight out of Makruzz was no less than a movie's opening scene. Teal, turquoise, aqua - name the shades of blue/green and the water had it all. And to top it off, Gecko(our stay in Havelock) had a slice of paradise just a skip away from our cottage door.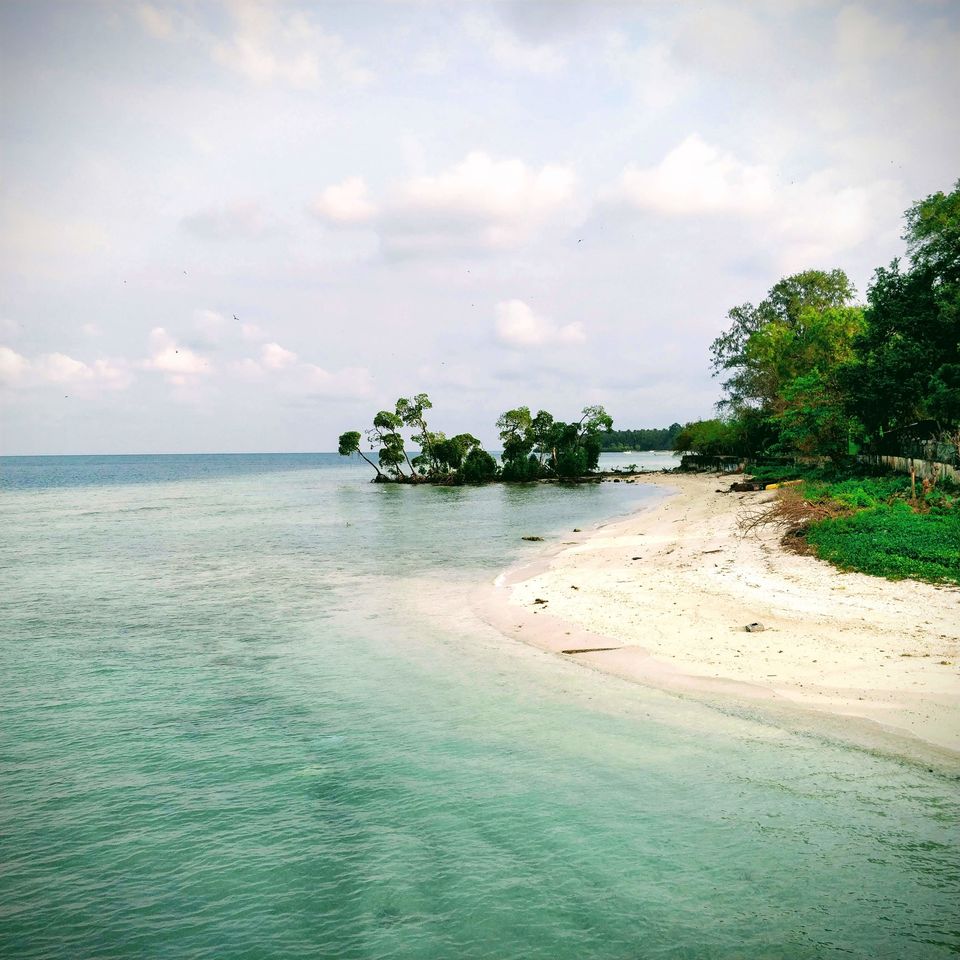 Into the mangroves
Today I felt like a little kid waking up on the first day of her Disneyland trip. It was time to go live up a childhood dream. Although I had no idea a kayak would take me into the mighty mangrove thicket, it sure was a pleasant add-on. A novice that I was amongst a bunch of pros, it took a while for me to figure out the forward and backward strokes. Tanaz (our kayak instructor) led the group, meandering through the mangrove swamp and filling us up with information about the mangroves and the types that made Havelock their home.
It was lunch time when we finally reached shore and bid goodbye to our newfound friends. We hopped onto our bikes and cruised along the bicycle lane in search of a perfect shack to fill up our grumbling tummies. After a hearty meal at Sea Dragon we were off again to explore. It was then that we found an outlet to the Govindnagar beach. What we also found was a swing by the beach. Needless to say, we had a whale of a time swinging by the beach , playing in the water and staring into horizon.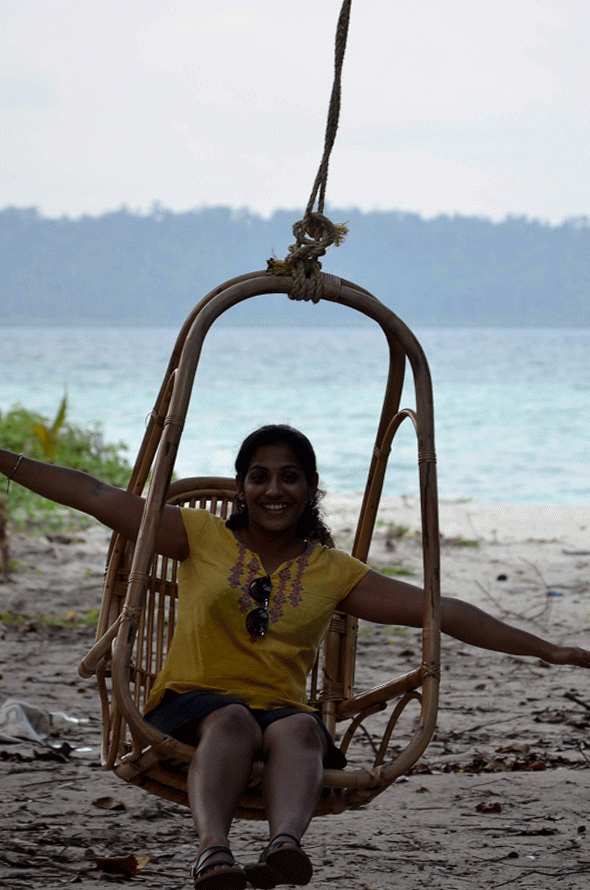 Into the water!
Today we go underwater! The water in Havelock is so clear that you don't have to go too deep to watch the exquisite marine life. We had a pre-booked appointment with Andaman Bubbles to go scuba diving. It was my first time. He was doing it for the second time after Pondicherry.
When it was time to enter the water, his instructor took him into deeper depths to start the session and I stood in chest deep water awaiting my instructor. As I stood there in the warm water glistening under the morning sun, a school of tiny colourful fishes swam past me.
After a few minutes of breathing practice we were off into the depths of the sea. I was awestruck by the proximity of the coral reef to the shore. The marine life on display was breathtaking and colourful! After a scintillating show, we cycled our way to Lobster Cave in search of today's meal.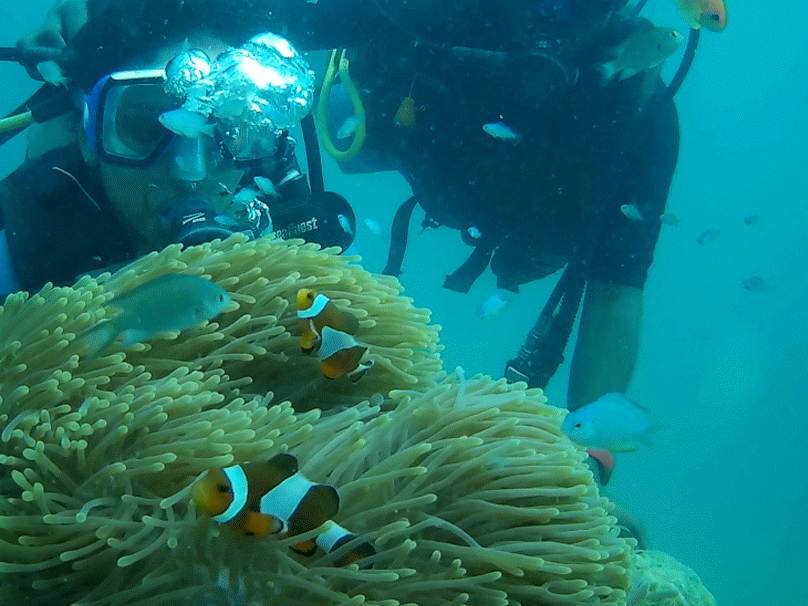 In the evening we headed to the Kalapathar beach. Located on the other end of the island, the journey to this beach is an experience you wouldn't want to miss. This part of the road doesn't have a bicycle lane like the rest of the island and it is a bit rugged. You will need to be careful of the bus and tourist cars that ferry tourists to the beach. Add to that a few miles of uphill climb.But let me tell you this - it's absolutely worth it all. The road meanders through the jungle with the waves crashing onto the shore on your left.
I must confess, we took a a pit stop midway compelled by the beauty of the place. I am glad we stole an hour here before finally reaching the main beach which is slowly gaining tourist footfall. Idyllic, serene - we found our little piece of heaven.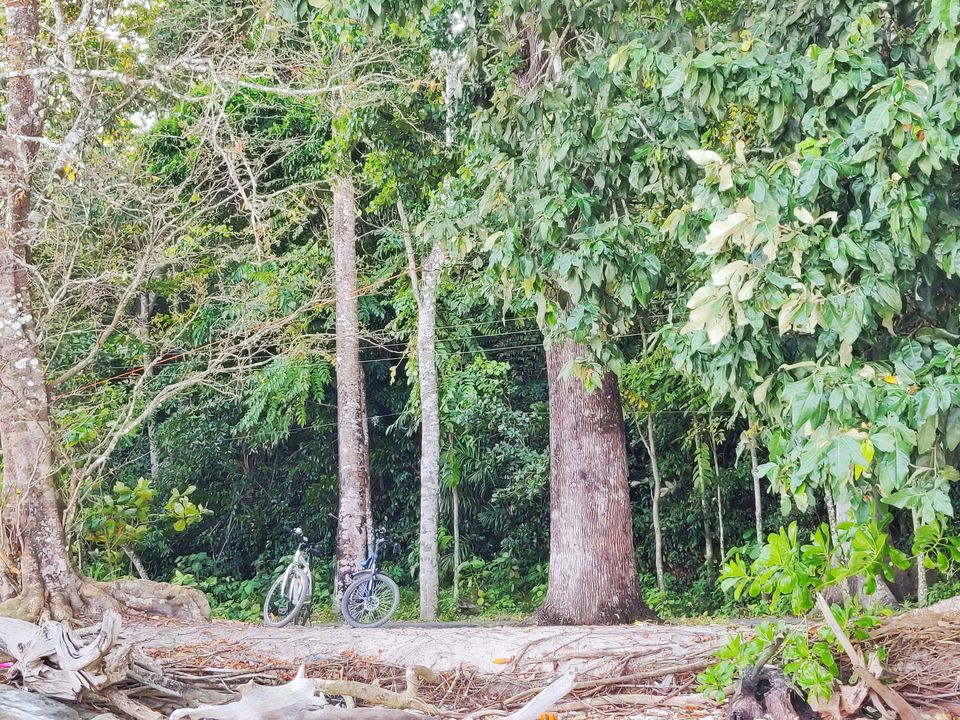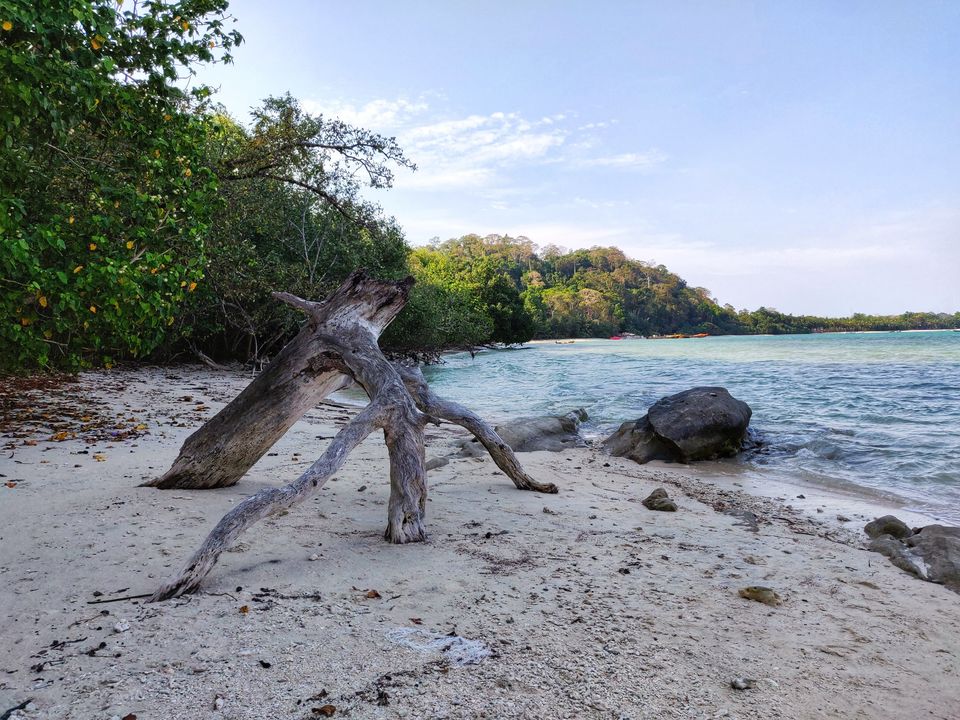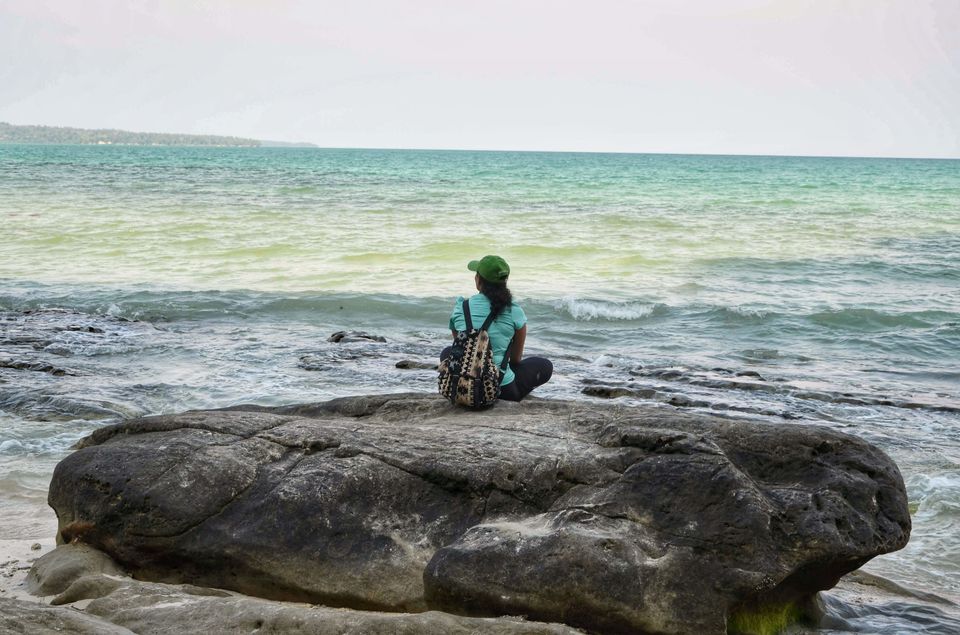 Although the water is enticing, it is not safe for you to get in. You will find numerous warnings put up by the government about it being infested by crocodiles and sharks. Also, we found the water on this part of the island wild and tumultuous.
Teleporting to another world
Radhanagar beach is tucked little farther away into the island and the road is rugged. It is not advisable to cycle on this terrain. Hence we took our bikes until the market center, parked them there (you don't have to worry about leaving you bikes anywhere on the island. You will always find them right where you left them.) and took a STS bus from Govindnagar circle. The beach is 8.75km from there.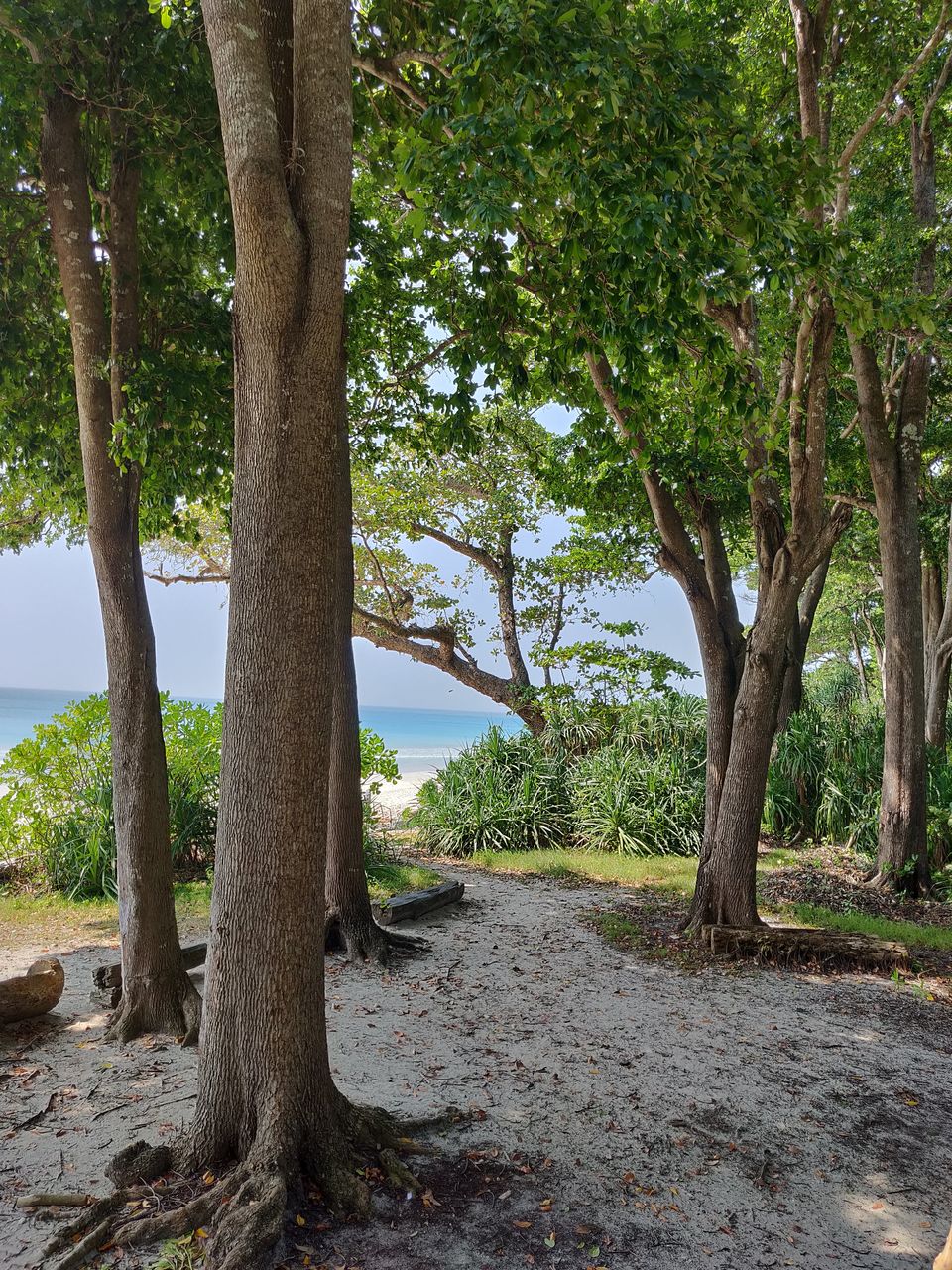 Elephant beach trek starts midway from here. It's about 1.8km from the place where the bus drops you off. There is a bus to & fro from the beach at an interval of an hour. You can always enquire the friendly driver about the next bus timing while you get down.
This is a very popular beach, expect to find a crowd. A dainty curve of silver sand washed over by crystal clear blue water. All this topped off by a lining of lush forest. This place is definitely postcard worthy. As we walked into the woods, dwarfed by the humongous trees, we felt outlandish. As if we had teleported onto the sets of LOTR.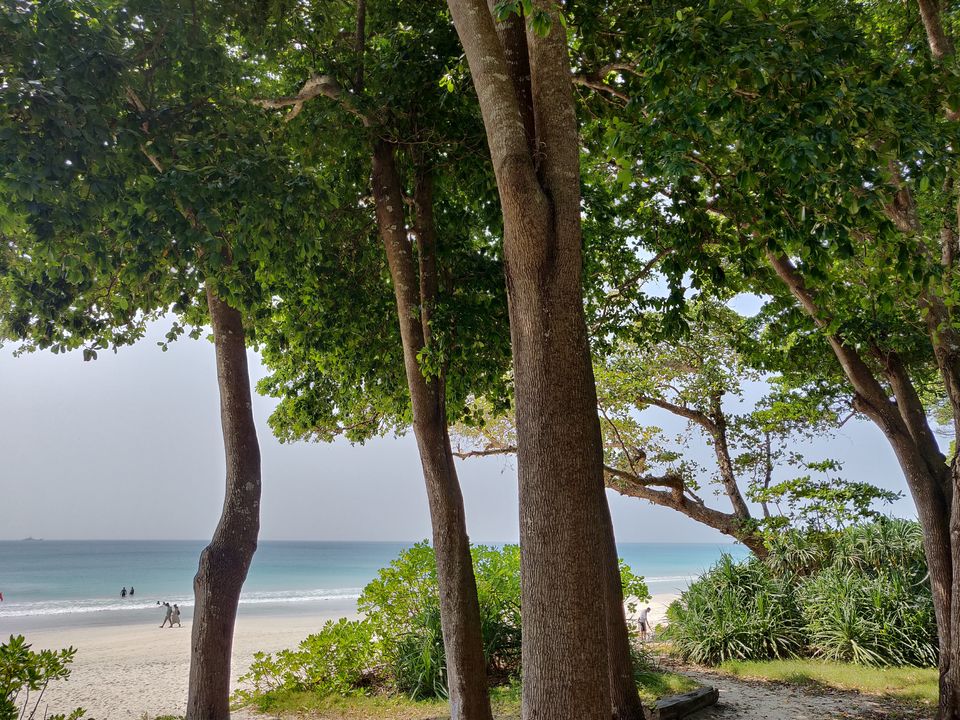 Neil ❤️
It's time to bid adieu to Cottage#13 that we checked into on the 13th of Jan. 13 surely was anything but unlucky to us. We had the best time of our lives frolicking all over the island, eating delicious food and catching sunsets and sunrise in our private beach every single day! Grateful to a week well-spent, we head to the teeny island - Neil.
The Gecko cottage here had my heart at the first glimpse. Tucked away from the main market and with sunrise point in the backyard it was love at first sight. Courtyard of our cottage was complete with a hammock. The backyard equipped with a cozy divan overlooking a jungle.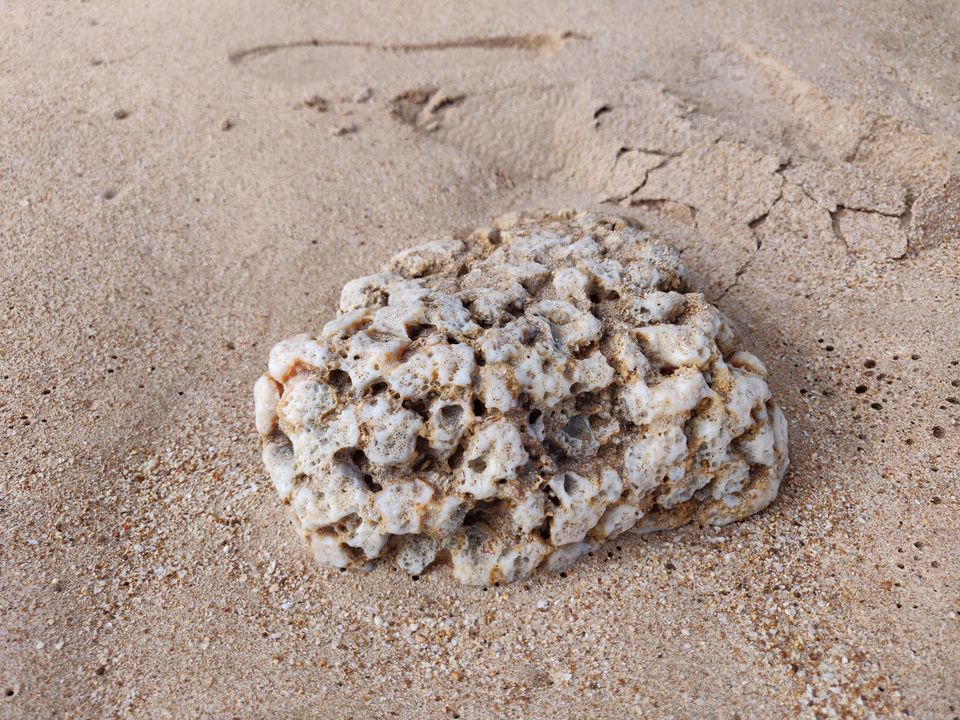 A lazy stroll down the beach, marvelling at the corals strewn all over it's shore it didn't take us long to realise Neil was a loner's paradise! Most people visit this island in the morning, rush through the beaches and head back by the evening ferry. Don't. Just give this island a day or two. Unwind, relax. It will be worth it.
Marine wonderland
Last night we went bicycle hunting. Wherever we went we only found "Captain Cycles". Even their supposedly small cycles were too big for me. So we decided to explore this island by feet and on STS buses. Laxmanpur is a rocky beach that sports the famous 'Natural Bridge Formation' locally known as the Howrah Bridge.
This beach is unlike any other that I've ever visited. Almost Mars like.It's also a coral hot spot. Hire a guide and walk along the rocky terrain watching the sea urchins, star fishes, and a numerous other marine life trapped in between the pockets of these rocks in the low-tide. We spent almost 3 hours just ogling at the beautiful creatures that appeared from every nook and cranny of this place.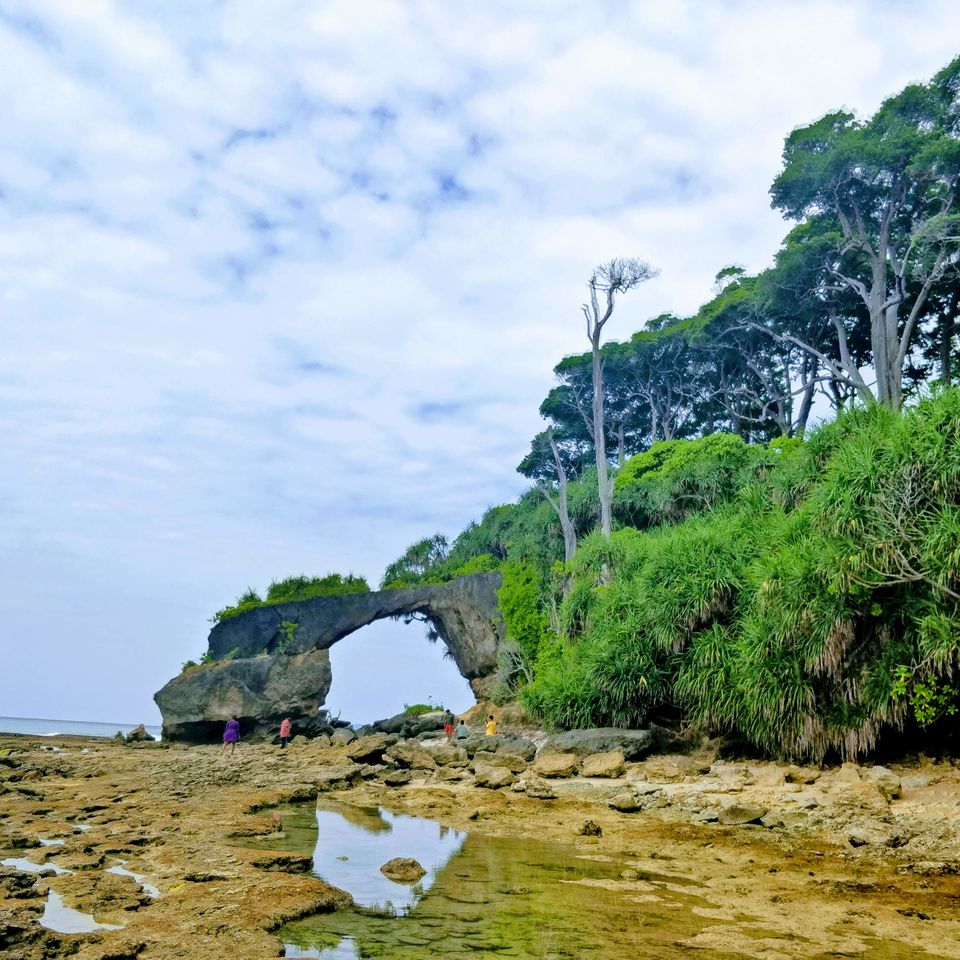 Off to the city
After a week long rendezvous with the nature, we headed back to the city with a heavy heart. Frankly I wasn't prepared to go back to Port Blair yet. The quaint island life was finally calming my nerves. It felt good to be woken up to exquisite sunrises by the zealous birds in your backyard. I looked forward to the wagging tails of the puppers waiting outside our cottage every morning. Lazy mornings led to soothing nights by the moonlit beach. We sat there watching million stars light up the sky and talked for hours without once glancing at our phones. I was not prepared to leave all this behind just yet.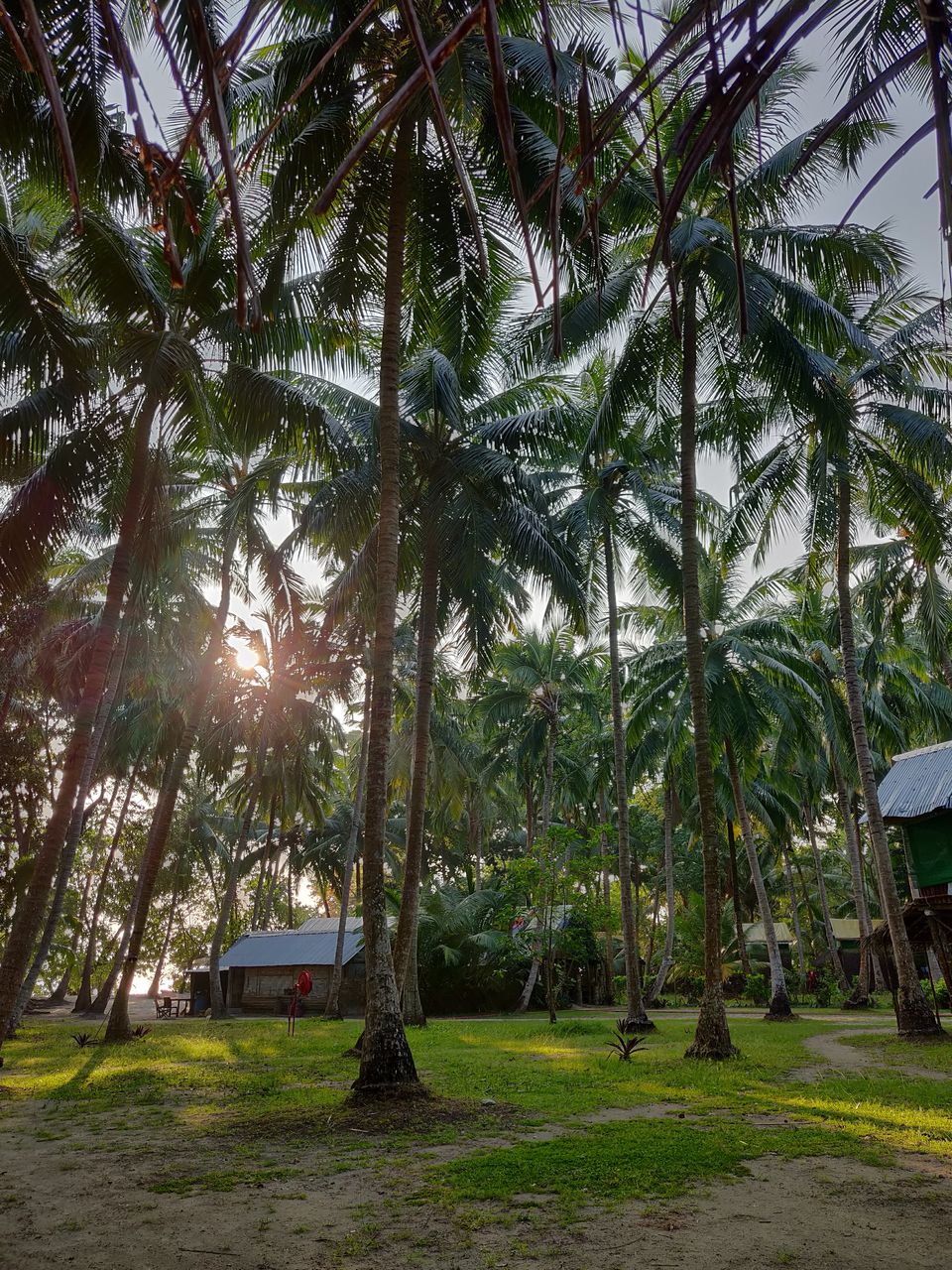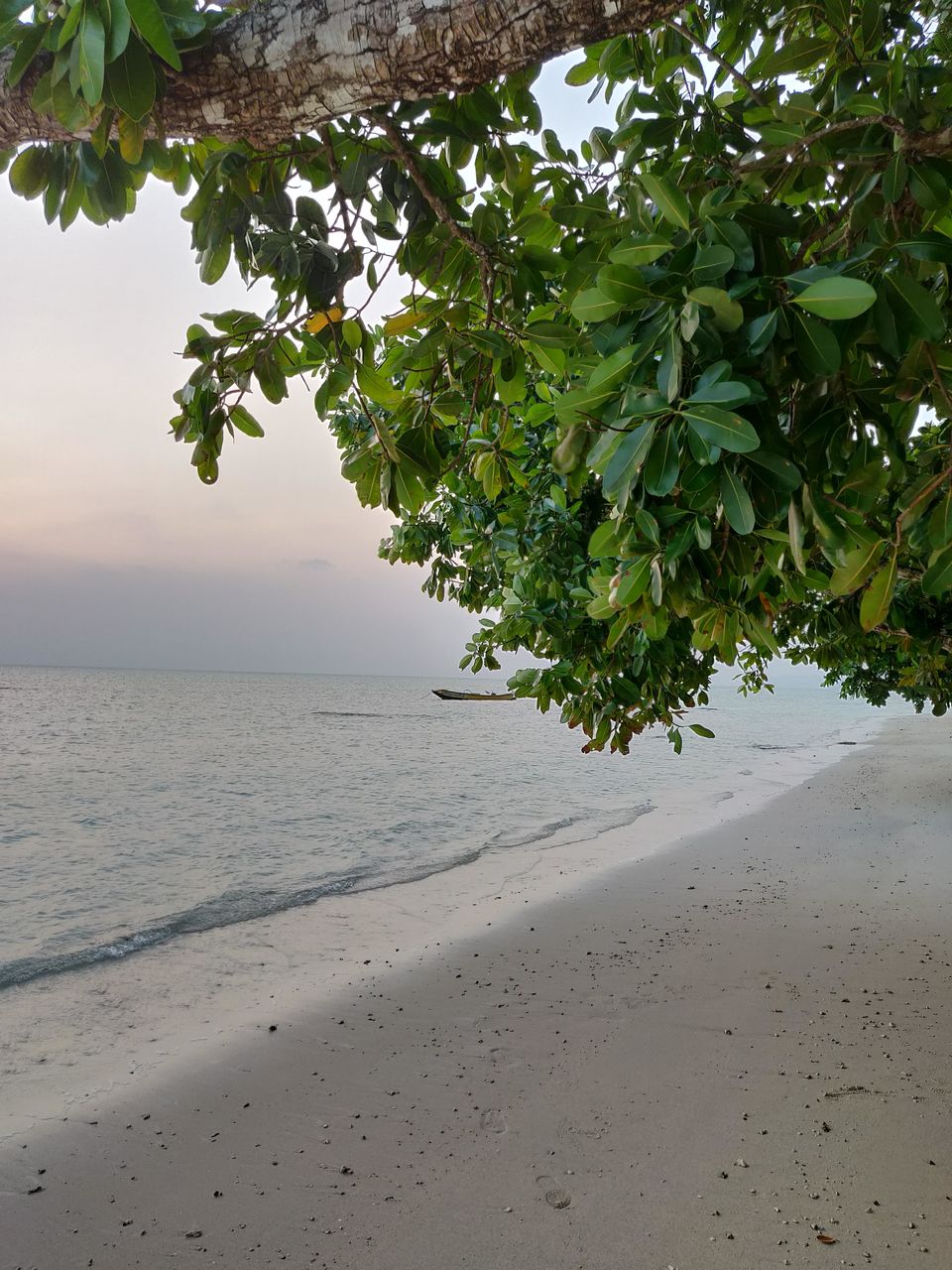 That day only a part of me went back to Port Blair. It's almost a year now and I still miss the imp I was on those deserted beaches. The pristine salty waters of Andaman had moulded me into a calmer, confident version of me that I now love. The trusting pooches on the island made me much humble and open to love and kindness even when its hard to get by.
For the next few days we slowly got acclimatised to the city life. From falling asleep to noisy crickets and raucous waves - we accustomed ourselves to catch a wink amidst the bustle of a town. We also took the local bus and explored Samudrika Marine Museum, Chatham Saw Mill and the cellular jail. You could also go catch a sunset at Chidiya Tapu. And if you do, don't miss visiting the biological park there.