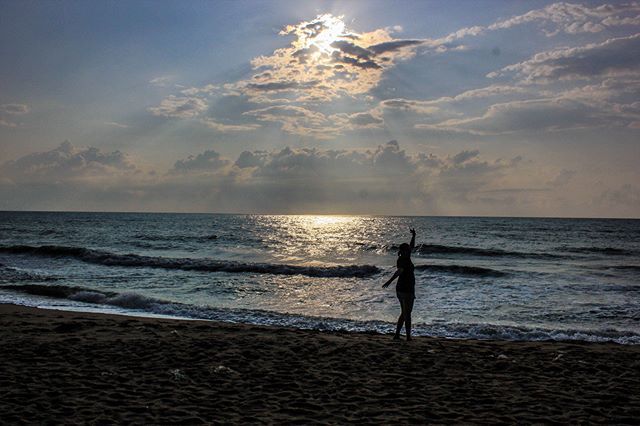 #CoffeeWithTripoto
Chennai and Pondicherry have always been my all-time favourite destinations. Given a chance, I'd happily relocate to either of the two places with no regrets. As much as I'm not fond of the humidity, I love the location, the beaches, the food, and especially the Tamilian red chutney with dosa.
I've visited Chennai and Pondicherry on several occasions and it had been a while since I'd dropped by to see how my favourite places were doing. My friend had never been to Pondicherry (even though he was a Tamilian) and it was an excuse enough for me to want to go there! I instantly got down to listing out all the things I wanted to do and began execution!
Pondicherry is roughly 100 km from Chennai and is just a few hours' drive from Chennai. There are several modes of transport to get to Chennai and while trains and buses are a perfectly good option, I wanted to get there quickly, spend more time, and get back as soon as possible. And that's why I decided to go there by flight this time.
Having visited Chennai on countless occasions, I wanted to spend more time in Pondicherry. But, I did want to visit Dakshin Chitra which is on the highway to Pondicherry. I also wanted to go to Besantnagar beach road and eat some roadside food and walk along the beach like I always did when in Chennai.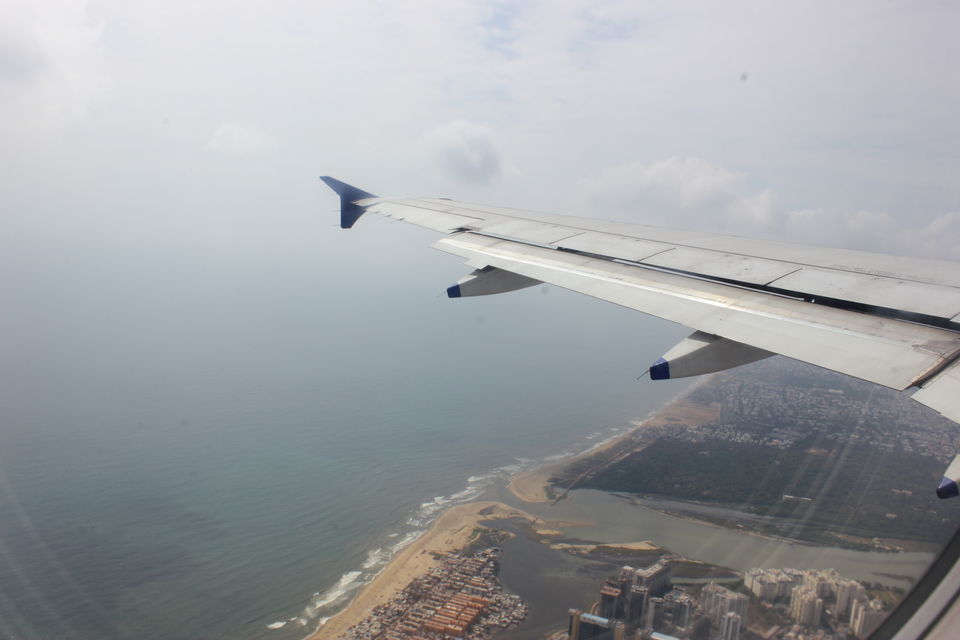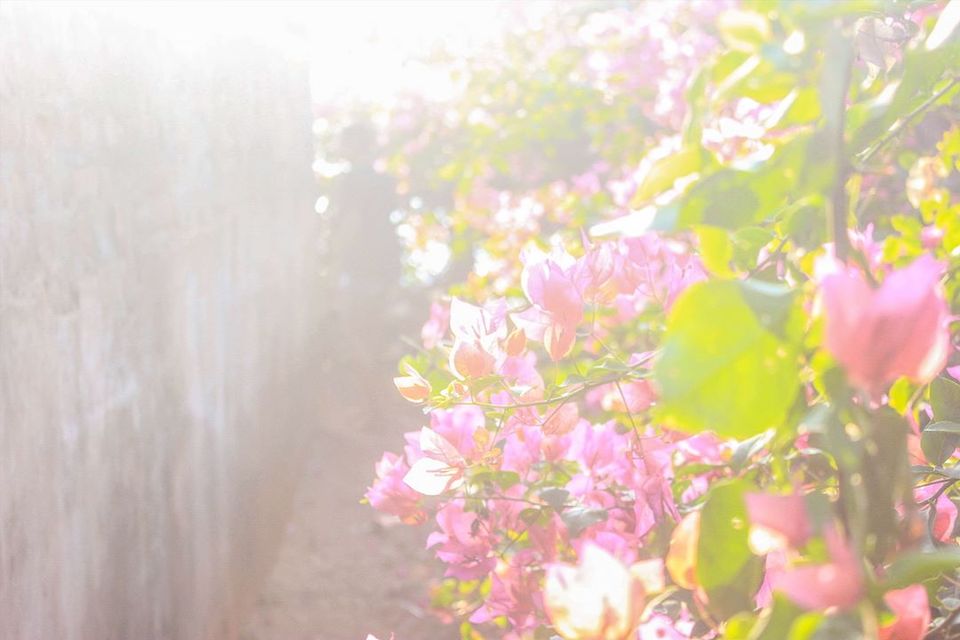 It's only a little more than an hour's journey by flight to Chennai. The moment we landed, I navigated to our hotel which was a few blocks away from ECR, the highway connecting Chennai to Pondicherry. We stayed in Treebo.
Normally, for non-Tamilians, even if you can speak Tamil, it is extremely hard to get around in an auto in Chennai simply because of how they blatantly decide to charge astronomical amounts for short distances. However, I found out that Ola was reasonable and we stuck to (mostly) using Ola.
We checked in, had a quick breakfast, shower, and since we weren't tired after a short flight, we decided to instantly head out. I desperately wanted to head to Dakshin Chitra and buy some accessories. For those of you who don't know what DC is, it's a museum of sorts that houses antiques and artefacts from different cultures. They literally have life-size models of houses from various parts of South India. Hence, the name Dakshin Chitra.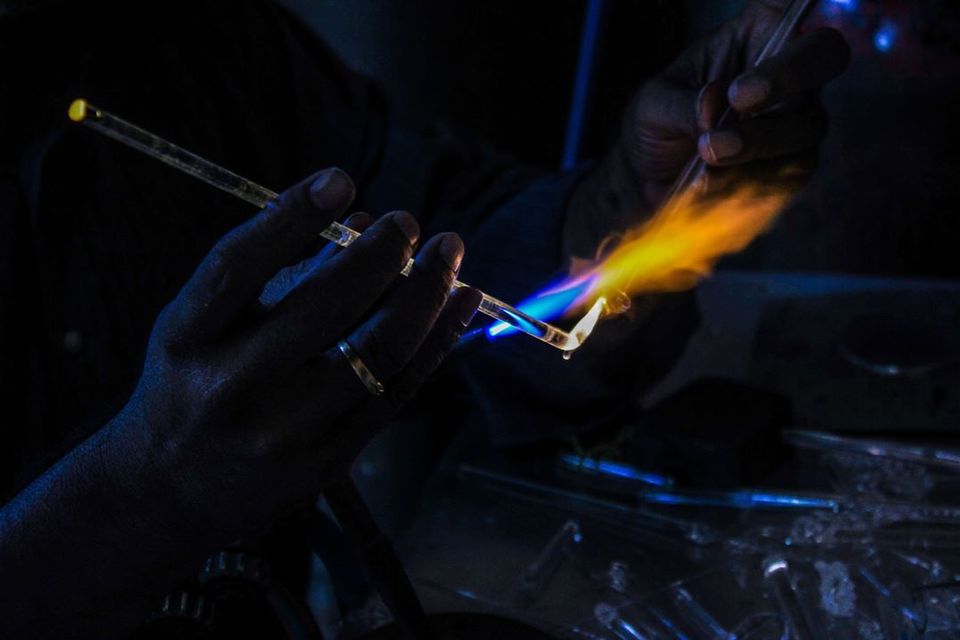 We booked an Ola cab and about an hour later, we reached Dakshin Chitra. While it's almost always crowded, you can get away from the crowd by going in deeper. They have stalls of all kinds, selling small and colourful accessories. They even have typical village ladies sitting by houses and offering various services such as mehendi and cloth painting using wooden stamps. You get to take the hand kerchief once you paint it!
I even had my palm read by a sweet lady who said I would travel the world and see a lot of places! I was glad to hear that! The people there are extremely genuine about what they do. While certain services or products may seem a little over-priced, you don't feel the pinch only because everyone is polite and you feel satisfied at the end of the experience.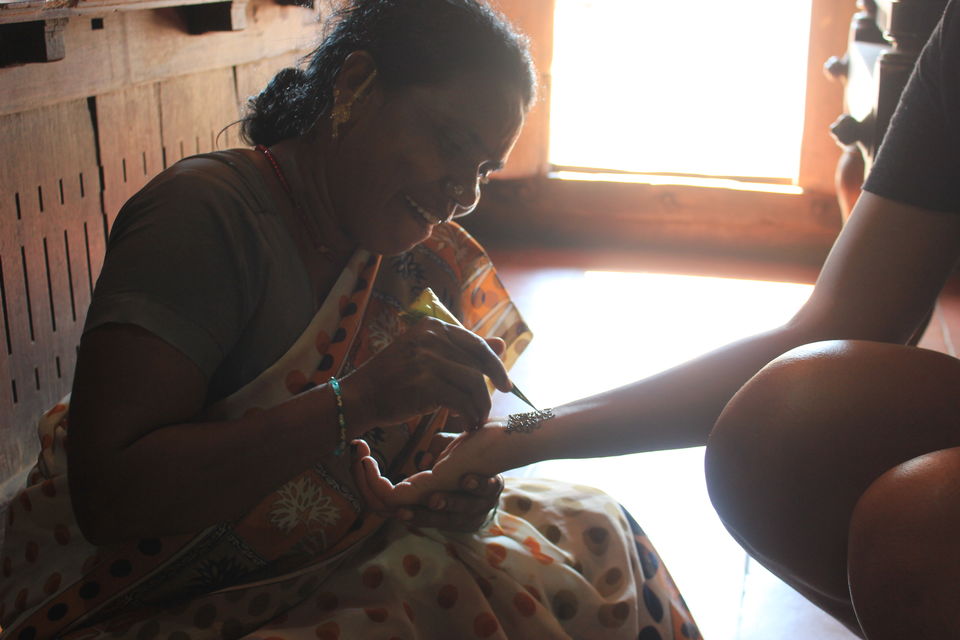 I don't really like mehendi, but interacting with her and watching her smile at her own creativity was enough for me to get it done.
To confirm what the palm reading lady said, I even had a cute little parrot read out my future! I loved how they chirped every few seconds as they picked out a card to read into my future!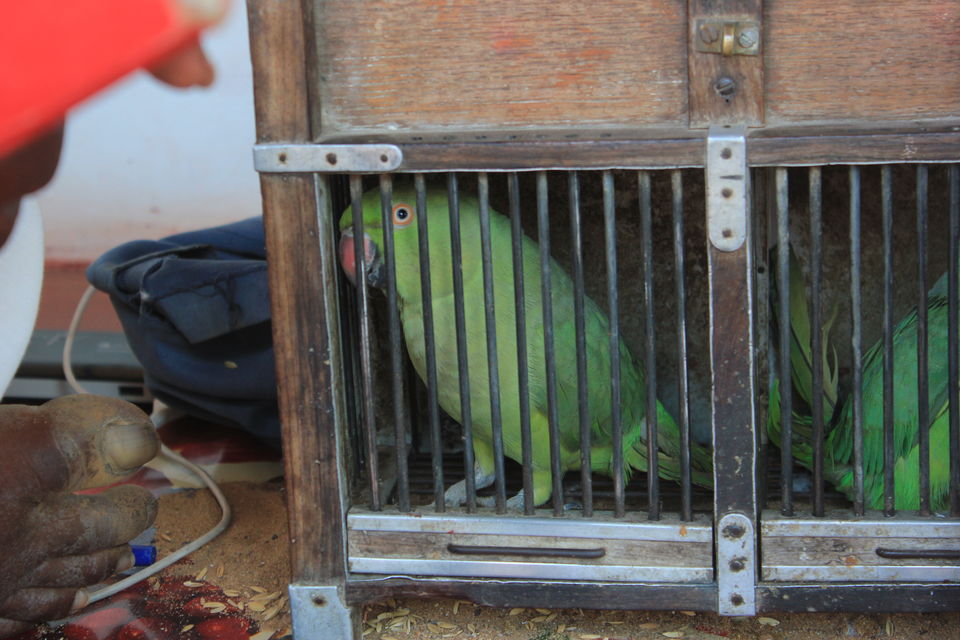 A line queued up outside a small little house and five minutes later, I knew why. There was going to be a traditional puppet show. There's a word for it in Tamil, but it's something I can't remember now. But, I do remember laughing at some of the jokes they cracked! At the end of the show, it was revealed that the show was not conducted by a "they", but by just one person!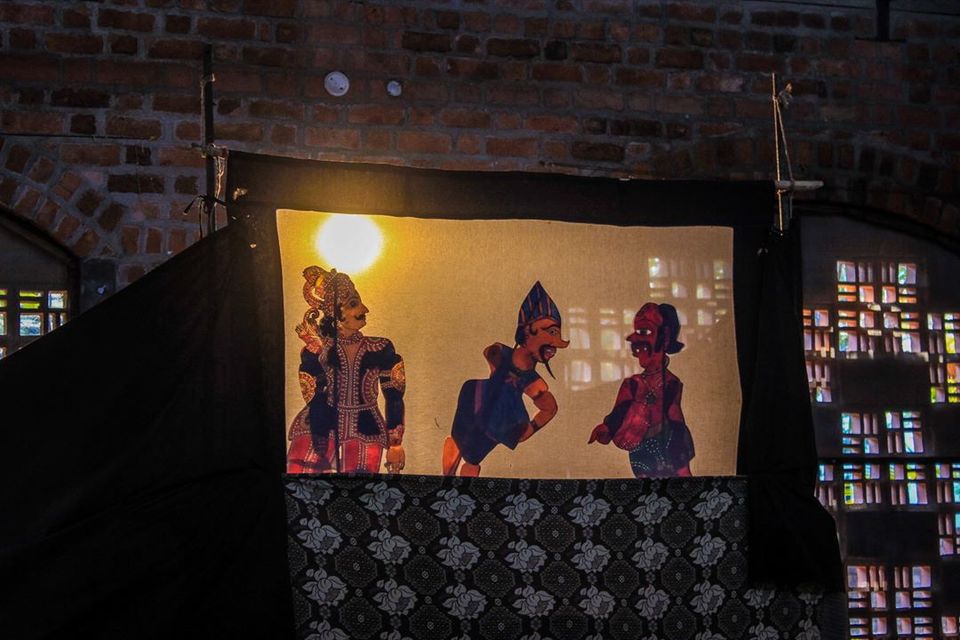 I shopped for a lot of small anklets (my favourite), earrings, bracelets, and funky necklaces! They aren't very expensive and they are extremely colourful and trendy. You can see some of them on display in the video I've included at the bottom of this post.
We booked another cab and headed back to Chennai as the sun began to set. We decided we would go to Besantnagar and walk along the beach side. The beach was crowded; it was to be expected since it was a weekend. Besantnagar's beach side road is one of the best I've seen in a place like Chennai. The beach itself is filled with stalls that sell vadas and bajjis to potato twisters and fries. The road is dotted with fancy cafes and artsy sit-outs. They don't seem very obvious at first, but a quick search on Zomato can show you some pretty cool places.
After a nice long walk on the beach, we decided to try out some games on the sand. They had stalls that challenged you with different tasks such as knocking down an entire arrangement of steel glasses with one throw of a ball. A kid laughed at my friend as his attempt of knocking them down failed even when he tried with a basketball. Hoping to regain some self respect, he tried his hand at shooting balloons with a rifle. He didn't miss a single shot. He proudly handed the gun to the lady expecting a reward and she said, "Nothing to win sir, it's only for fun." I hadn't laughed that much in a long time! I even ended up winning the throwing ball game and another game for him! I won a huge minion stuffed doll and loads of other small stationary items. Each game attempt costed us a maximum of Rs 20.
We decided to head back and eat a quick egg-dosa dinner because we had to check out the next morning and find our place in Pondicherry the next day. I was looking forward to our stay in Pondicherry since I'd found places for two nights on AirBnb. They looked extremely authentic, quaint, and unique ... something I always love.
We woke up late the next day.
Checked out hurriedly, booked another cab and headed to Pondicherry. It was already 12 and I was hungry. Our breakfast hadn't been great and I was hungry for something with more ... junk. On the ECR highway, there's a famous bakery that we stopped at and I had my fill of pasta, chicken puff, and a whole lot of other stuff!
Our first night's stay outside Chennai was supposed to be at Auroville, just outside Pondicherry, at this place called Eden of Zen. Our cab driver freaked out the moment we neared Pondicherry because he hadn't carried his original documents with him. We had to take an auto for about 8 km to reach Eden of Zen.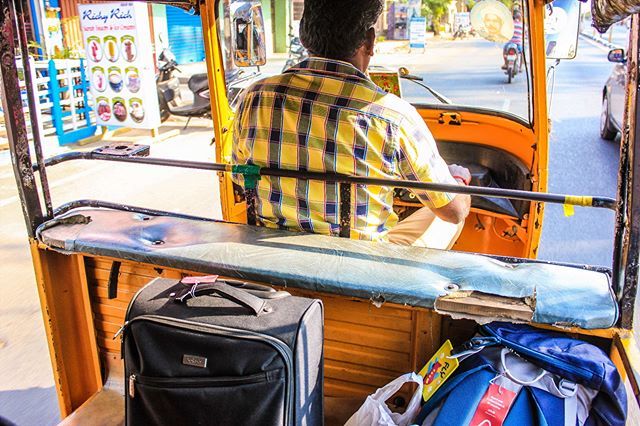 When we reached, we were greeted by about 5 dogs wagging their tails, each one trying to push the other way for the first pat. They all got patted equally while my friend carried our bags into the house. The host took us to our room and we soon realized that we had over-paid. The room was tiny, with one tiny window, no AC, and no bathroom. We had to use the common washroom which was smelling and it was super humid.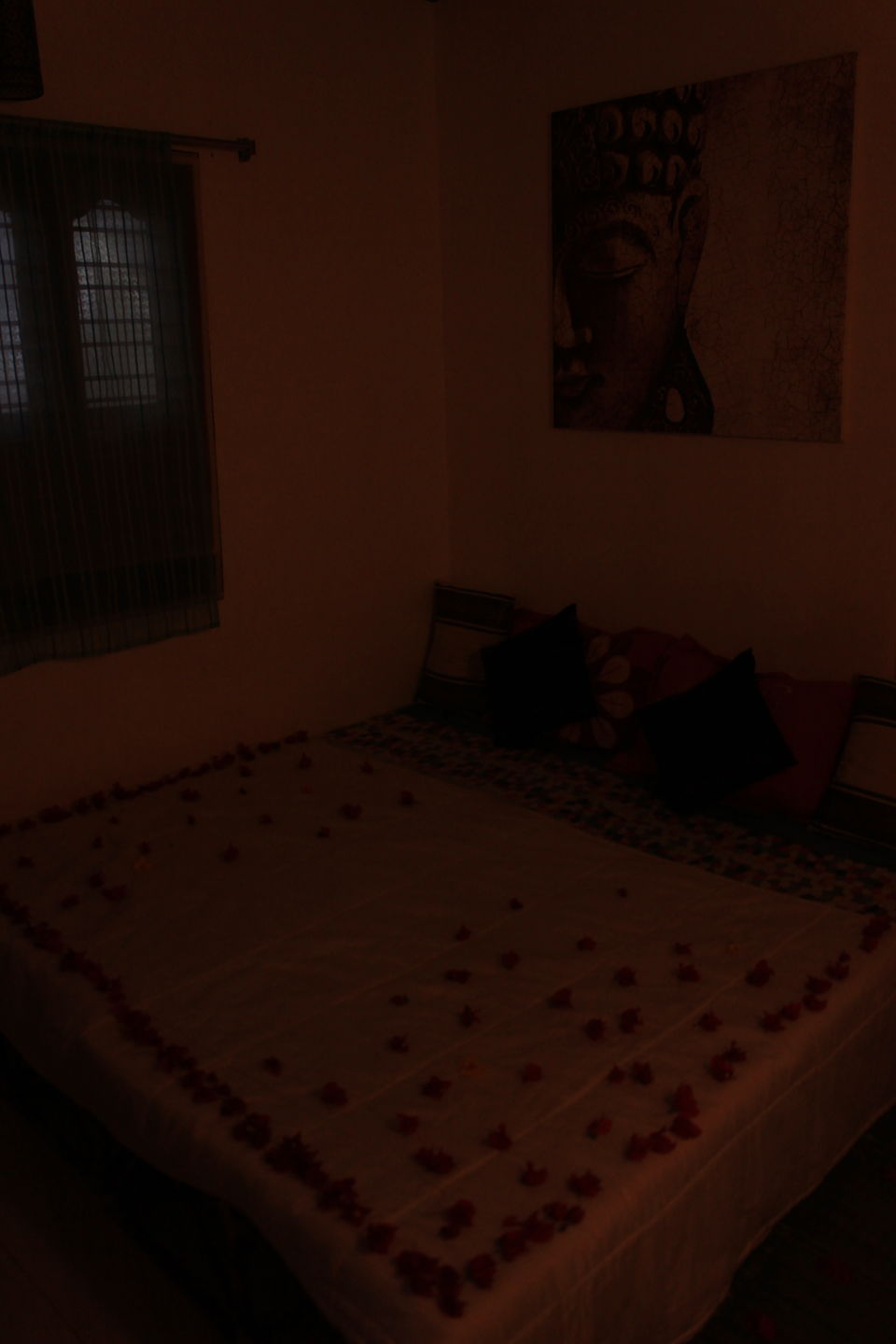 I instantly whined about it and my friend looked online for some alternative places to stay. We found a few, called them, and decided to leave immediately. Packing our bags, we began to unlock the gate to step outside when the host noticed. We told him of our issues and he immediately upgraded us to another room for a little extra charge and apologized for the inconvenience.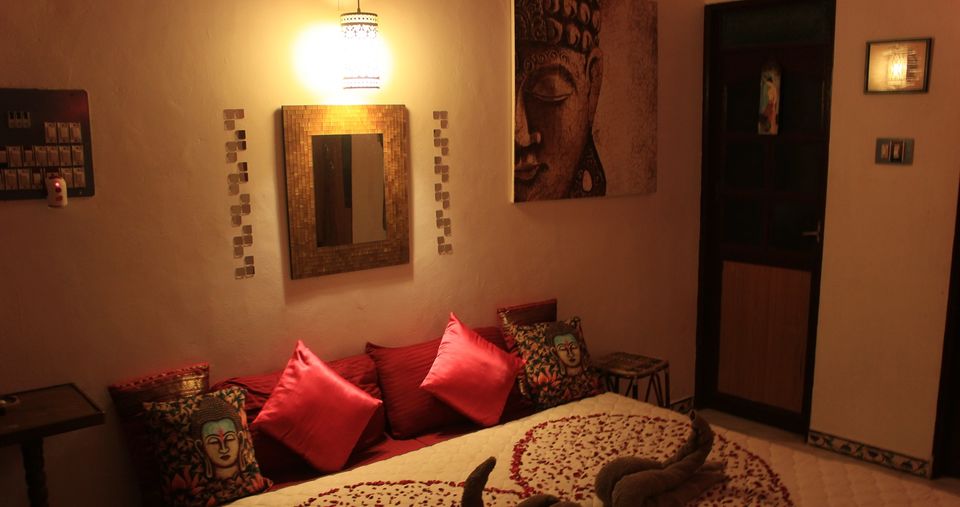 This room was extremely comfortable and felt like it was worth what we had travelled for. It had an AC, an attached bathroom, and a very spacious bed. It had become dark by the time we settled in, so I satisfied myself by playing with some dogs and playing board games. We later stepped out to eat dinner on the main road. I even bought two Kashmiri bags from a very persuasive seller. We found a lady who gave out rented bikes and rented one scooter. She was quite rude to begin with, but we needed the bike, so we let it slip. We paid Rs 350 per day. She insisted that we fill fuel only at her store and nowhere else. She sold petrol nearly Rs 15 more than what petrol bunks sold at. I said okay, and we filled up the tank at a petrol bunk later with every intention of using it up before giving it to her.
We ended the day soon so that we could wake up early and head to the beach.
The next day, the climate was cool and it felt like the perfect moment to catch the sunrise on the beach. We hurriedly got out of bed, git on the scooter, and headed to the nearest road that led to the beach. We then walked along a compound wall lined with bougainvillea. It was one of the most beautiful unexpected paths leading to a beach.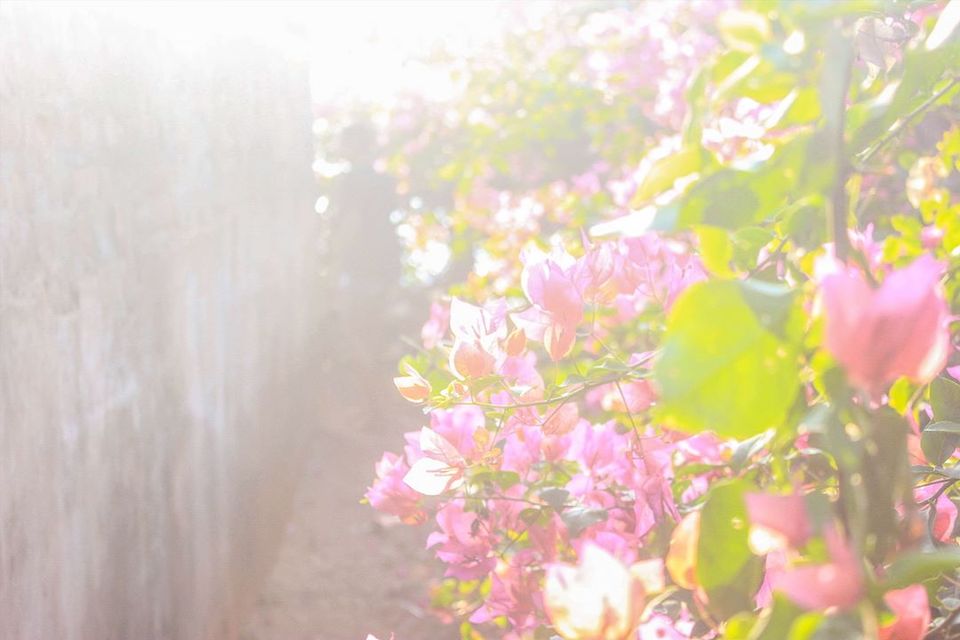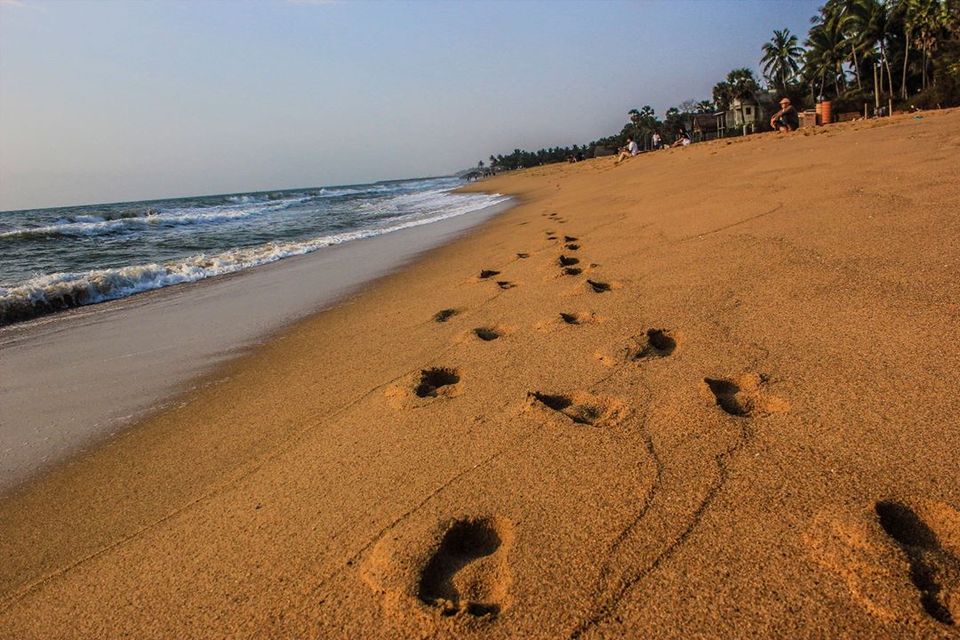 We found some fishermen pulling a huge fishing net back onto shore. We asked one of them how long it would take and he said it would take an hour. I couldn't believe that it took an hour to pull one net onto shore. I instantly decided to help out and jumped into action!
The feeling of doing hard work as the sun rises over the horizon is one of the best feelings to experience. We pulled out a lot of fish and they ended up offering a few fish to me. I'm not a fish eater, so I passed, but I chased away all the crows that tried to steal some! We did the hard work!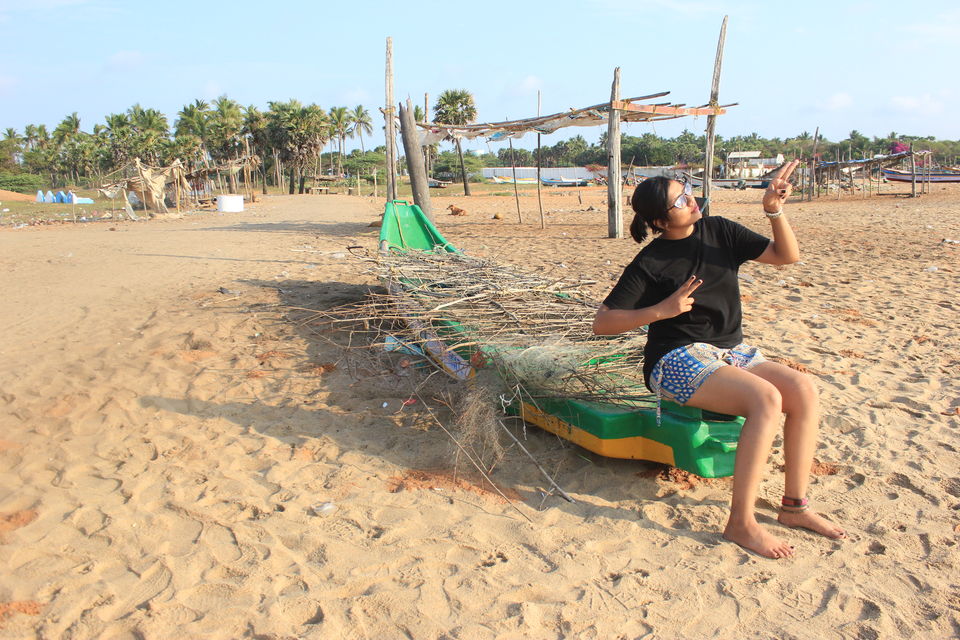 After relaxing at the beach for a while (and getting lost while trying to find that magical path again), we decided we would go to some of the famous bakeries of Auroville. We explored quite a bit and found some organic bakeries that were pretty good!
We had to head back and check out from Eden of Zen and check in at our next location. It was in Pondicherry and was called House of Blue Mangoes, also found on AirBnb. I liked how creative the names were!
We decided to keep the bike another day and took our bags with the bike to Pondicherry. We used the maps on our phones to find the place and believe me, even then it was hard. Nearly half an hour after circling around the same locality, we found it: a seemingly small and bright house tucked away into the heart of a Pondicherry market!
I instantly fell in love with the place! It was a typical Tamil house with space in the middle that was opened up to the skies. It had a small stairway that led up to the terrace. A lady helped us with our bags and showed us our room (with AC) and I loved my selection for our stay!
It included a kitchen that let us cook whatever we wanted. However, we went to all my favourite eateries in Pondicherry: La Pasta, Cafe Xtasi, Kamatchi Biriyani, Zooka Chocolate, and Villa Shanti. Later that evening, we met a foreign couple also staying in one of the rooms of the house. An Italian couple had come down to Pondicherry after visiting Madurai in all its religious activity to relax and unwind. They wanted to explore Pondi but had no idea where to start and where to go. I offered to help out by letting them tag along with us. They readily agreed.
We spoke late into the night and shared stories of each other's hometowns. Aramando and Suzanna were both originally from Venice and were living in Berlin to finish up their studies. It's only after talking to them did Aramando offer to make authentic pasta for me!
The next day, we headed out to Paradise beach, famous for its white sand and pristine waters. The sand was "white" hot! We could hardly stand for a few seconds in the sand. They loved how secluded the beach was and how the waters were actually clean.
Next, we headed to Auroville to visit the aashram and the other neighbouring areas.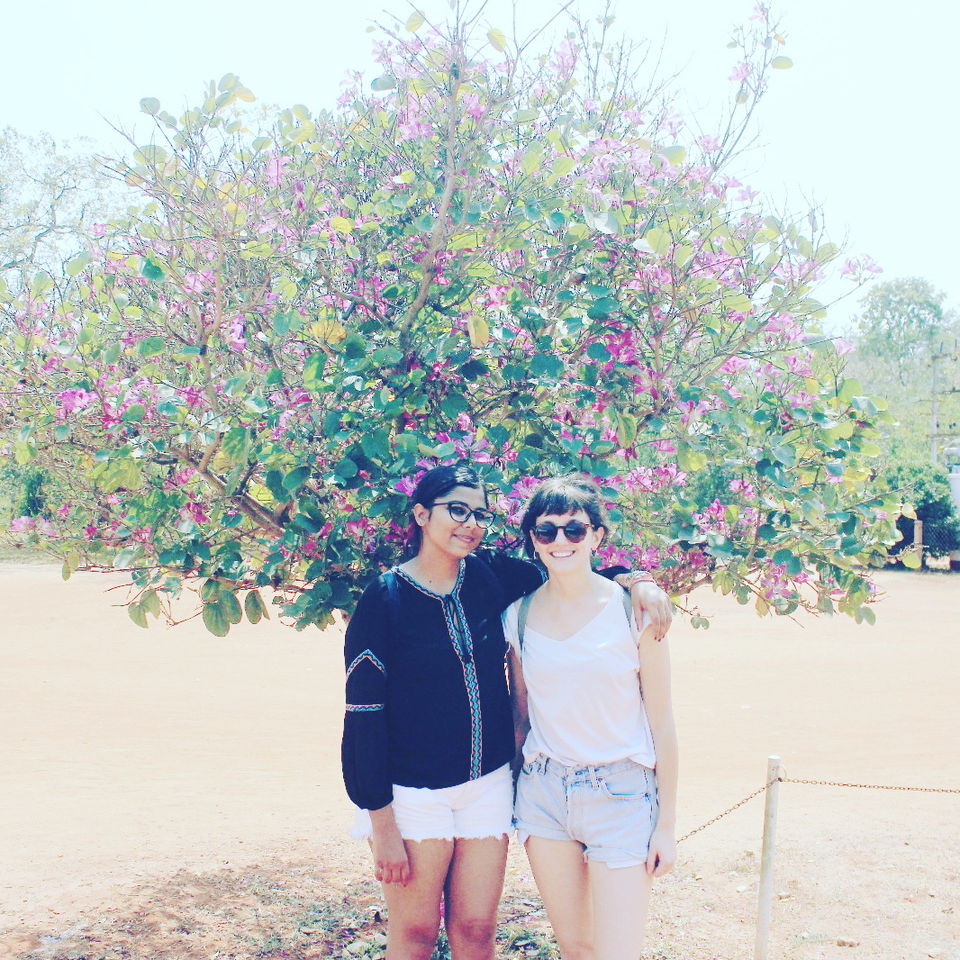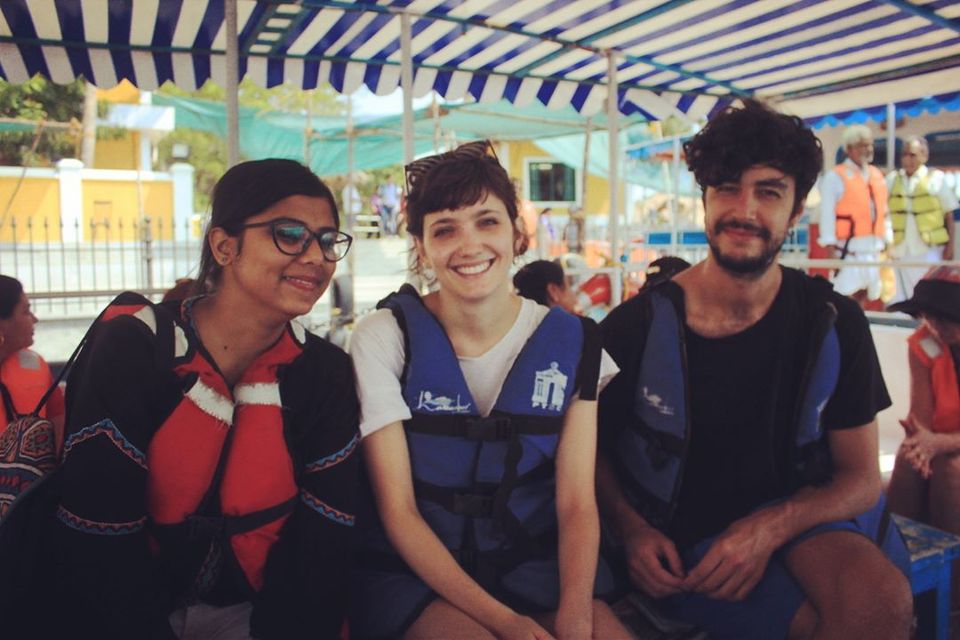 After a long walk back from the aashram, we decided to call it a day and headed back to the house.
Then the moment for Aramando to make pasta arrived. He bought the ingredients, cut the vegetables, and half an hour later, he presented us each with a plate of fresh authentic Italian pasta! While it is definitely not sufficient for our spiced up tongues, it was definitely very healthy and tasty. I loved the shallow fried eggplant that he used in it!
Finally the moment came for us to leave. We spent every moment talking to Aramando and Suzanna right up until the moment we left. It was quite emotional for us. Even though we had spent two days together, we spent a lot of time exchanging stories and we grew close over the days. It became apparent to us that even though our backgrounds are different, we shared the same values. Their perspective of Indians changed after they spoke to us. Right up until they met us, they had met a few other Indians who had troubled them and misled them on several occasions. They had lost faith in the people and somehow, just being with us, they began to respect the Indian way.
We suggested a few places to them and we bade farewell. We booked a cab and left to Chennai to catch our flight back to Bangalore. Our thoughts were with our new friends, wondering what they were up to. But, each visit to Chennai or Pondicherry has always been memorable. We either discover new places or new people. And it's always something to carry for a lifetime.
All the expenses mentioned were for 2 people!
Please watch a video compilation of our trip and subscribe to my Youtube channel!