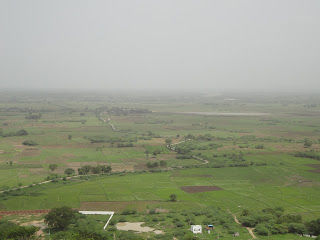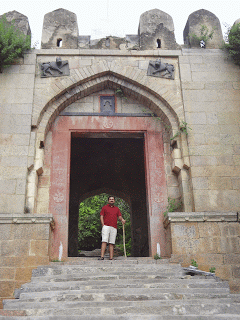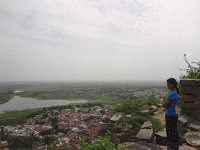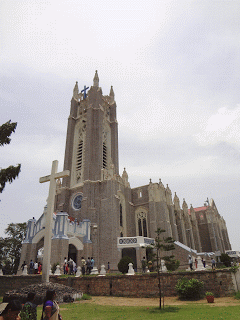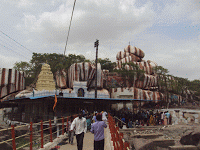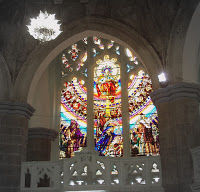 I saw Piku and loved an amazing counter-argument to travel given by protagonist, Bhaskor Banerjee. Here it is: "Why should I take all the hardships to travel to a different city, sleep in someone else's bed, just to 'relax'. Better to do that in my own bed." Well, not all of us have that quirkiness. And well, a few of us would like to travel in a rickety bus to far flung places and open eyes to a new morning, in a different bed than ours.
My wife works in a bank and that effectively means that it's only an elusive Sunday that we have together after 6 days; what you may call, fleeting memory of time gone by in office. This also means that to unwind, to keep it a relaxed one and to take road trips, we need to improvise, in 100 KM radius of Hyderabad for a 24 hours or less trip starting Saturday evening.
So this Friday, in a sudden bout of wanderlust, i decided to plan a 24 hours or less trip. As i mentioned in my earlier blog, my way of searching for location is simple: look for AP Tourism/ Telangana Tourism site for places to stay and what can be covered around them. Simple yet effective! So read on for a 24 hours or less self drive road trip to Medak with a night's stay in INR 3500 or less, door to door, all inclusive for two. If you are a couple who likes to loiter with another couple friends, the cost goes down to half!
Medak is a town about 100 KMs from Hyderabad and is most renowned for Medak Cathedral. If you wish to mix heritage, scenic beauty, religion and a picturesque location for some photo shoot, Medak offers it all. Lesser known fact: If you are a beer lover and love reading their labels while dew oozes slowly on the beautiful dark bottle, you will realize every brand known has a brewery in Medak that supplies to Andhra & Telangana region.
Pre-work: Telangana Tourism has a Heritage Hotel in Medak Fort which as 4 large spacious rooms that can be booked online. As the place is right in front of Bus Stand, you may hike on the trail to this place as well. The place has a functional restaurant with simple yet delicious offerings. As always, staff is decent. It always helps to call them and let know that you are coming so that the rooms are ready with all things functional and are in place for you. We did not call and the poor fellow gave the room we booked, to a couple with a young child. Long story cut short: Call them once booked.
Cost: INR 1361 for an AC Suite (best what they offer, most spacious)
1930 Hours: We started little late at around 1930 hours from Hi Tech City area, though would recommend to start a bit early to see sun going down in the open fields that's on the way. The sublime beauty of watching sun set in open green fields is an experience in itself. In monsoon, the road to Medak is all lush green and SH06 that leads to Medak is a good stretch.
Cost: INR 600 @INR 6 per KM while you are self driving.
2100 Hours: Reached Medak. Checked in. The place has all the sign boards of no alcohol allowed, however ... : ). If you wish to, you may take a stroll in moon light. If nothing, just pull out your chair and relax while the city beneath falls to sleep.
Cost: Food is moderately priced and will cost INR 300 or so for two.
0600 Hours: Wake up early to a beautiful sunrise. The balcony has an amazing view with lake on one side, fort right behind you and sun shying and coming out from the clouds. A good cup of tea and you are sorted. Unlike other properties like Tyada or Srisailam, they don't offer complimentary breakfast.
Medak Fort: Well, it's more of an outpost than a fort. Not much is left but still it's good fun to roam around. A lot of monkeys, and in morning, it's advisable not to go alone lest you can speak monkey language. We took a bamboo cane with us. The more admirable part of Medak Fort or Mubarak Mahal as it's called sis that it give a good view of the whole landscape and has amazing morning wind that is both refreshing and contemplative. Since we went post rains, there were a lot of beautiful butterflies to see. The outpost continues, with Police transmission towers at the top with a few men guarding it. There is also a mosque there.
Cost: None.
1130 Hours: Brunch time! Highly recommended, especially if you are looking for a pure vegetarian place: Hotel Chandra Bhavan right outside Medak Cathedral. Special recommendation for Sambhar Wada, was most amazing with their garlic laced Sambhar.
Cost: Nothing more than INR 120 for two.
1230 Hours: We reach Medak Cathedral and meet a lot of folks from countryside enjoying their picnic in the open festival grounds next to church. A local bazaar to complete the picture is right next to all this. Medak Cathedral is grand and has marvellous gothic stone masonry architecture. It is similar to Churches what you see in all Shahrukh Khan's DDLJ and similar movies. I wonder why they need to go to so far to shoot that is standing right here. The best and the one i most relish are the 3 stained glass windows and the magic that sunlight does with it. It is worth just to sit and watch it manifest God's creation in light and shadow. Once outside Church, don't forget to click a few pics for family album and then just laze in the shadows of trees in the garden next to the main building.
Cost: None except for change that you may give away at shoe counter.
1330 Hours: While on the road back to Hyderabad, take a small detour of 20 kms to Edupayala Durga Bhawani Gudi. Dedicated to Vana Devi Durga Bhawani, this temple has Manjeera River flowing next to it. Here again, a lot of picnic in process. The road to temple has a unique rocky landscape. It is a marvel of nature to see large rocks placed delicately on top of one another untouched by time and all that is running around them. It looks like God Almighty was playing Pithu and was called in between by mother leaving the delicately balanced rocks in place.
Cost: INR 175 for Special Darshan for 5 people. Loose change to shoe keeper and INR 240 @ INR 6/KM for to & fro in self drive.
1700 Hours: Back to mia-casa . As it's mango growing belt, pick up some Chinna Raselus on your way back.
Cost: INR 600 @INR 6 per KM while you are self driving. Add to it another INR 120 for in city travel within Medak town in your car.
Last few words: Don't over expect and Medak shall surprise you. If you and your beloved love a bike ride, it's worth a try. If you have a few PPTs to close on and still have that itch of wanderlust, Medak can easily be covered in an 8 hours trip, all inclusive.
This travelogue was first published by http://thriftyexplorers.blogspot.in/
Frequent Searches Leading To This Page:-
medak district in telangana, mandals in medak district telangana, tourist places in medak telangana, hotels in medak telangana, medak jilla telangana