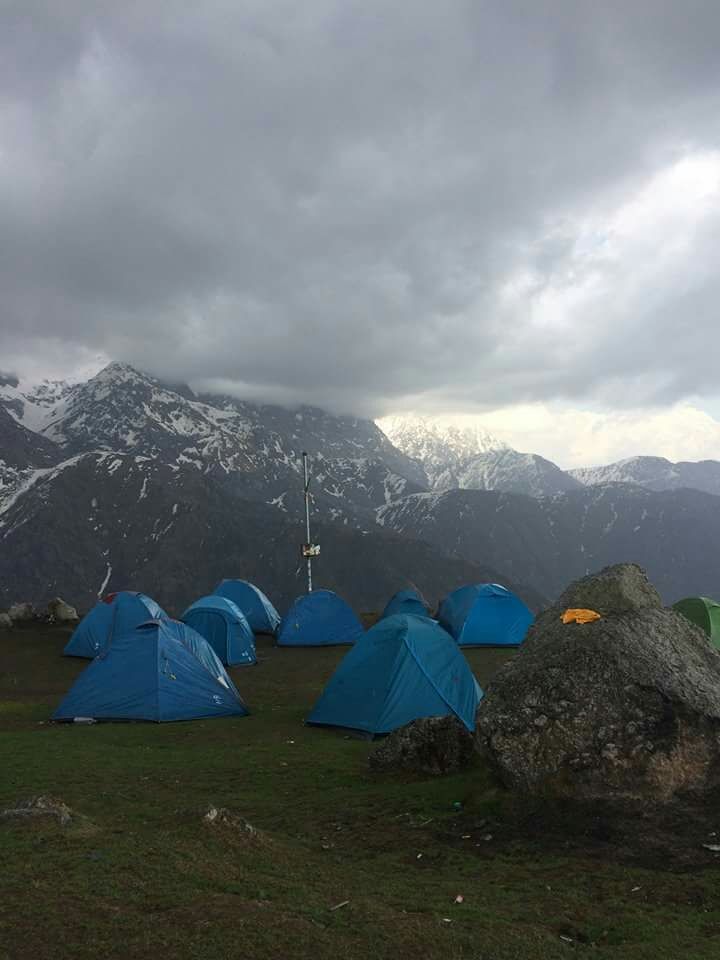 First time writing something (Moreover, In English), here how we start our 2 day pocket friendly, beautiful and peaceful trek to triund. We were three people. Me (Yatin) and 2 other female friends Diksha and Chahat. We work together in a small IT company in Mohali. It was 28th of march evening around 5:15 PM, after work we were going to eat something good in the market near my home place. Chahat told me let's have some Pani Puris. After just finishing that I was thinking to visit any good place or something like trek. I have done 4-5 treks already. I love to explore, explore lives, explore places (especially cold areas) and learn new things everytime.
Our boss were also in Nepal with his wife, relatives and friends. Most of treks I have done with my favourite couple, my boss and his wife. They are awesome and I love to have their company. They are not like my Uncle and Aunt. We live like friends wherever we go.
Now, back to the story. After thinking a bit. I just throw a thought of going for triund trek to Chahat and Diksha. I was seriously expecting a 'naa' from both of them, especially from Chahat. Then I was getting ready to convincing them for it. But the response was exactly different. Chahat said "kab?". My mind was like "what? Am I heard it right?!" Then I said "Tomorrow or may be Today". Both they were in thoughtful standing position​. Then Diksha smiled and said "Chlo, Chlo...mai ready hu, please chle Chahat, mujhe Triund Jana hai" and then she asked me "Vivek bhi wahi gya tha na?" I said "Han". I have also done this trek 2 times already.
Then, we were standing outside of KFC, food chain. Then I asked them to have some Chicken Longer in KFC and to plan this trek. 1 Chicken Longer turned into Veg Longer due to Navratas, but me and Chahat were stick to Chicken.
After placing order in KFC, we sit and started planning for trek. I ping my Boss on WhatsApp, then his wife replied me from his account and was excited to telling about their experience regarding paragliding. They did paragliding same day in Nepal. After appreciating it, I asked her for 2 days leave for triund trek for us. She replied "Okay, I will talk to Rahul (Boss), You guys enjoy, he is not with me right now", We were cheerished. Now, Chahat is saying, let me talk to my mom and Diksha with confused face said "Mai ghar pe nahi btane wali hu". I was like, alright. Try to tell them, just after that my girlfriend message was on my phone screen and she was asking "aur kitna time lgega?", I forgot that I gave her time and had told her that I will talk to her within 20-25 minutes. I just forgot that, then I replied her "we were planning to go for triund trek tonight". She was shocked and after literally 1 minute she replied just "Oh". Now you know better, what would happen in that situation. Haha. After deciding, we leave that place and get back to our places. It was 6:15 on the clock.
I get back to my home. I did packing and was ready to go to gym. Yes, you heard it right. Haha. I don't want to miss it. So, I finished the gym stuff in less than 40 minutes and then back to room again. We were discussing all the stuff over call that what things we required during this trek. I confirmed the bus timing of Chandigarh to Dharmshala from Sector-43, Chandigarh, there were many options like 10 PM, 11 PM and 12:15 AM, but we decided that 11PM is best suited for us. We reached around 10:50 PM in Sector-43, Bus Stand. We all were excited but Diksha was bit more excited than us. We were late. But that's the style of Yatin. Sorry, Haha...I'm always that late guy. After reaching bus stand, we took 3 tickets from piller or counter number 17. We comfortably sit in that normal Himachal Roadways bus, but we can't sleep in that bus except that foodie and snoring machine Chahat. Me and Diksha were like let us sleep driver baabu, because of that zig zag roads in himachal, we were not able to sleep. That's all from the day one.
If you want me to write more...I mean, If you think I have to write further then please ping me, I know there will be many grammatical mistakes, teach me please! How to write it, it's my first ever blog. Thank you and keep laughing.