2016 was just twenty two days old, my friend and I were getting bored matching the balance sheets in our office. We needed a break from this monotony. I was telling her about the trek I went for in the month of October last year. And exactly at that time, I asked my friend whether she would like to join me to Triund, to which she immediately said yes.
We gathered a group of 8 people, some known and some unknown (mostly friends of friend's).
Our bags were packed and our tickets booked. Ready to hop on the bus.
We boarded our bus from Kashmere Gate ISBT to Mcleodganj at around 8PM.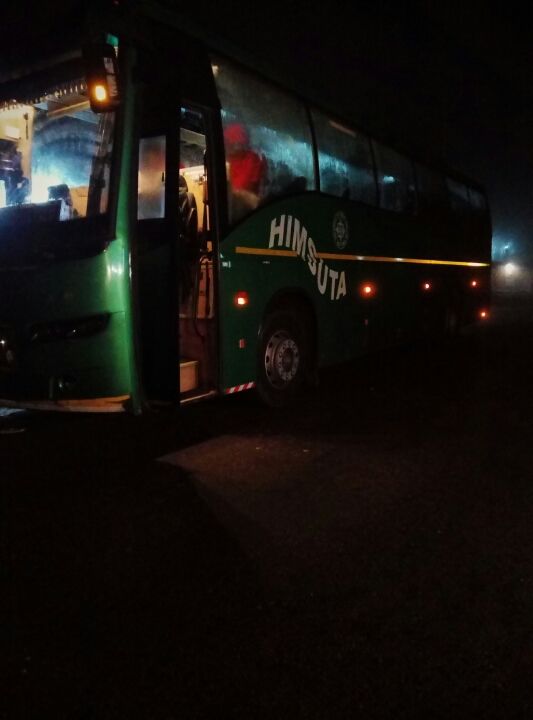 After 12 hours journey, we reached our little Tibet - Mcleodganj. We booked a guesthouse near Dharamkot, unloaded our bags in our room and hit to the bathroom to get ready for our trek. After a light breakfast we slowly moved towards our destination.
The trekking distance from Dharamkot to Triund Top is approximately 8km but there is a motorable road till the Galu Devi temple which could reduce your trekking distance by 3km. We on the other hand started our trek from Dharamot. Bad idea, I must say.

Anyhooo... Slowly and steadily we took the ascent. Initially the 8 of us started the trek together but after a while, our group got divided in pairs so that those who reach the top first could book the camps.

Few hours later, while resting at the Magic View café we met this guy who was also from Delhi. We started having a conversation with him and he told us that he had a severe muscle tear and that his doctor had advised him not to play basketball (his first love, as he exclaimed) or do anything that could strain his muscles. Inspite of that, he was still here trekking in these mountains. Moreover, this wasn't his first, it was his fourth time in Triund. I asked him "Why this place again and that too with a muscle tear?" to which he replied, "There is something about Triund which makes me come here time and again. It is worth all the pain. You will believe me only when you reach the top (pointing at the end point of our trek)." Those words worked like a booster for us. We moved forward and this time our new found friend and his best friend tagged along. Those guys made the trek even more fun and filled with laughter and kept on motivating us to keep moving. As we moved on further, the track became a little slippery because the iced dew on the rocks started melting. We had trekked for 4 hours and the last 1km was the steepest ascent. The moment we reached the top, we witnessed the snow capped Dhauladhar range turning from white to orange in sunset. At that moment, I realized why he kept on coming here. It was absolutely breathtaking!!

If you're a beginner and want to witness the mountains closely, this place should surely be on your bucket list.