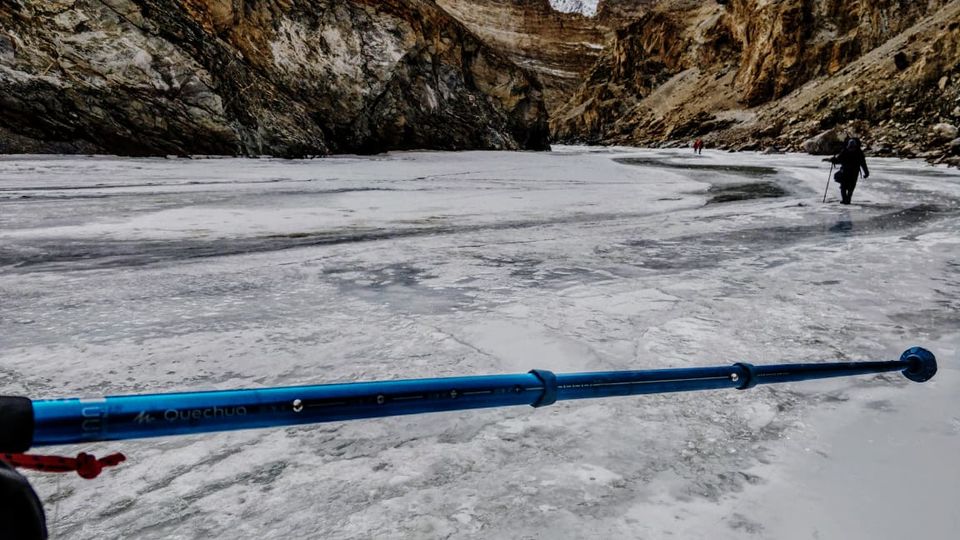 The idea to visit Ladak started in one of our treks to Kumar Parvat where I had been with a new group.I just knew one person in that group.The group was good and jovial and I found my Ladakis in this group .
This is how we planned our Chadar Trek .I did not contribute much in the planning the , the whole planning was done by 3 of my frens Chit , Adarsh and RK which am really thankful to.And we started our plan to Chadar by booking a iternary from Trek the Himalayas[TTH] Chadar trek for 8 days iternary which started from 24th to 31st of Jan 2019.
This package costed us around 25k + [4200 for ALTOA for wildlife and medical check fees].In addition to this we had to book our flights from Bangalore to Leh and back.Chadar Trek we planned to go a day ahead of what was planned by TTH , though this expense had to be born by us.We started on 23 rd Jan [night flight from Bangalore].
I will just mention one more tip before I start my story that this trek falls in the difficult category due to the cold weather conditions .As the trek is on Frozen Zanskar River which forms an Ice bed which is known as "Chadar".The temperature here can fall upto -35 to -40C during night and during the day it will be around -25C.
And there are no heaters here you are in mountains, follow the fitness routine and the instructions shared by TTH. As the trek is at altitude where oxygen levels fall, as a reason keep your selves fit to face Chadar with SMILE :)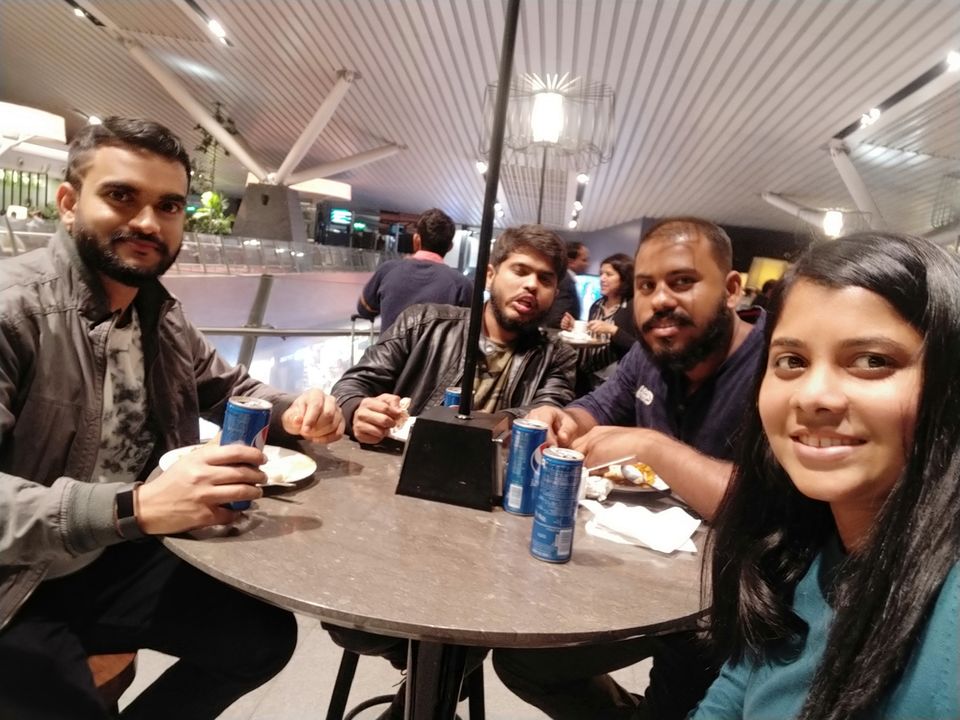 Here starts our story, 4 of us met at KIA Bengaluru and we supposed to join a TTH group of 8 in Leh. Around 9.30 in the morning we reached leh .We were already awestuck with the beautiful views of Snow Laden Himalayan mountains which we saw during our landing to Leh.
We reached Place view hotel which we had booked. All four of us were from Bangalore where temperatures are around 25-30 C had reached a place where temperature was around -8 to -10C .I cant express ki mujhe kaise laga. Yaar itna b cold hota hai kya .I was not wearing layers of clothing, I switched to 2 layers and fully covered my face so that only my eyes were open so that I can see.This how i look :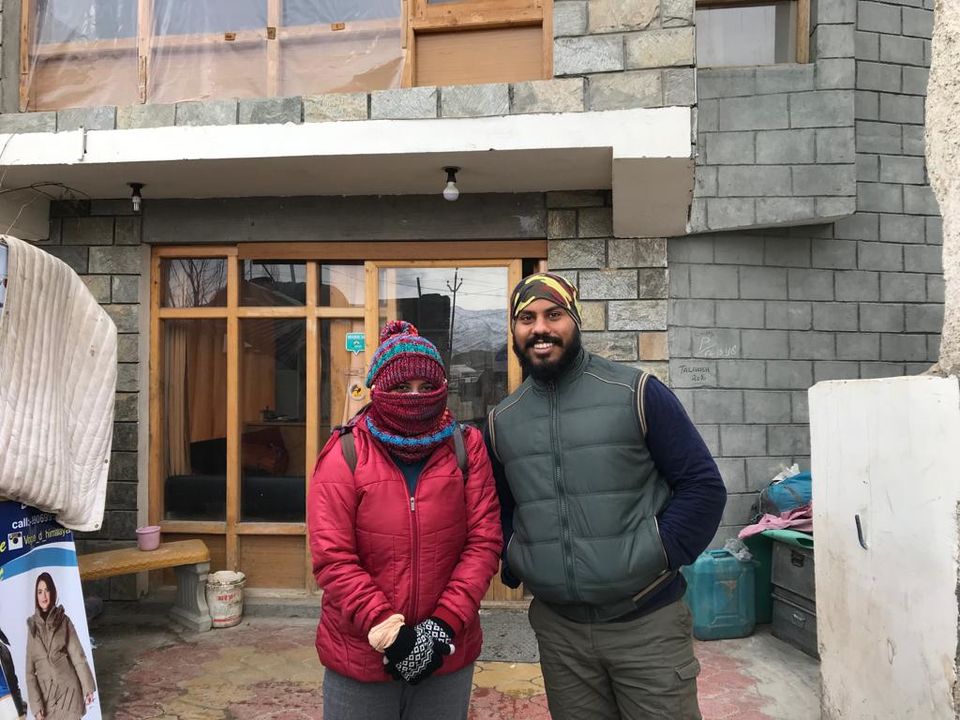 Then as planned we checked out and checked in the The Auspicious Hotel which TTH had booked for us.This hotel is walkable from Palace View .My friends stayed in a 3 sharing and since I was only Girl I got single room.
This hotel is better than palace view as you get continuous water and hot water is available during sometime ,so we dared to take bath .Today we planned to buy Gum boots , socks and gloves.We bought this from the Military shop which I mentioned above.We had some good momos and good brunch .Neha snacks is also good one in this place. Today we had briefing on the Trek from TTH and formalities of the giving the medical forms and boarding pass.We met our whole group of 8 who were supposed to join this trek.3 of them were from Mumbai and one was from Delhi.Evening we had dinner in Auspicious as we had preorderd.
Next day TTH as part of iternary arranges for the site seeing we had to be ready by 9.30am .We had our breakfast at hotel and started the site seeing tour.As part of the site seeing they covered Shia Palace, Tiksay Monastary and Hall of fame.All these places are beautiful in their own way.Locals are also were supportive and helpful.I love the kids in ladakh , they are very cute and friendly.
Some of the glimpses of our site seeing are as below: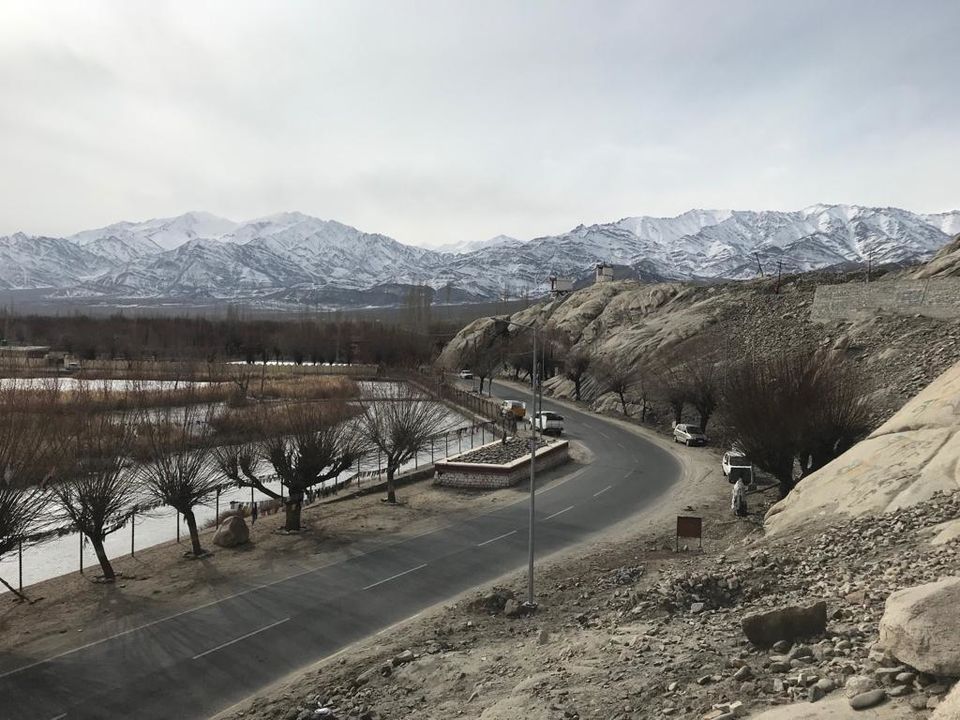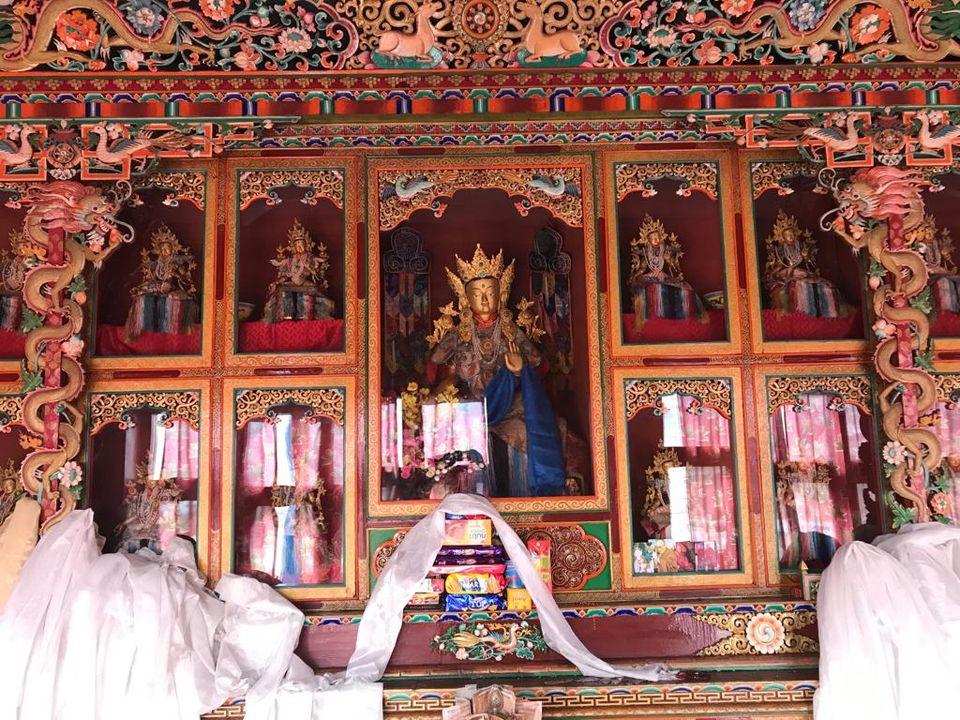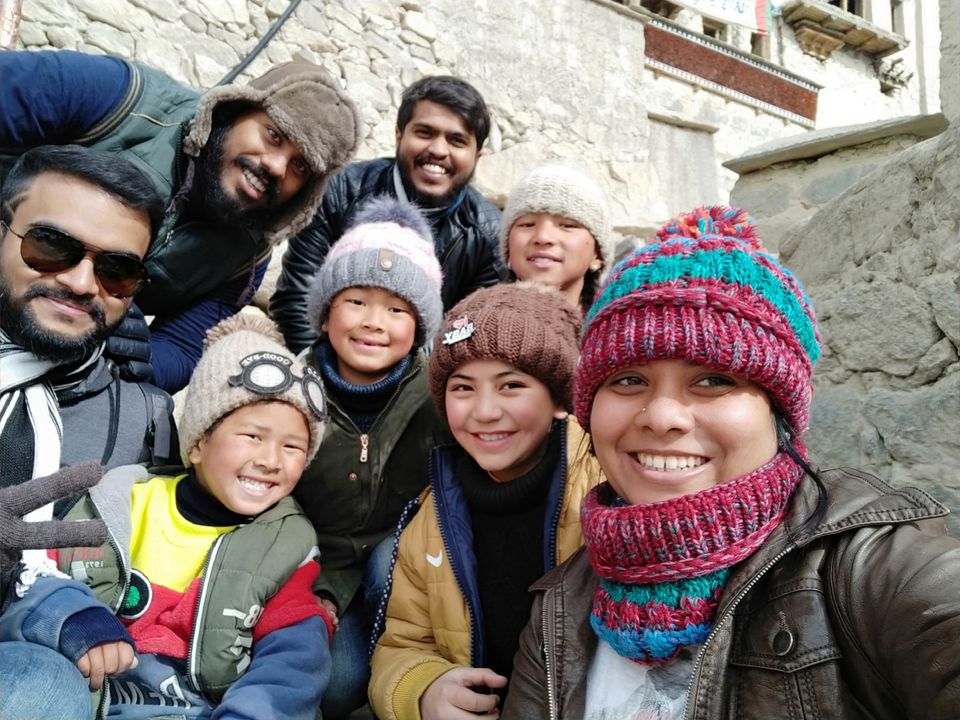 Next day we had a medical test to clear , before we proceed with our trek. They check for the high altitude sickness symptoms like couch , headache bleeding during cough , breathlessness .Also They check Pulse rate , BP and Oxygen level which should ideally be above 80%.
Unfortunately one of our group member RK got dropped out due symptoms .And to note that your medication wont be effective in High altitude place ,So he decided to leave .So now we are 3 of us Me, Chit and Adarsh and rest other group which headed towards Chadar the next day.
In the Hotel we met our trek Lead Chahat who briefed us the things to pack and next day timings to start for the trek. So when you clear medical an insurance is associated with you. In case of critical cases they do airlift.
Here comes the day Yippee we all packed our backpack .Please make sure you take both shoe types hiking and Gum boots.Gum boots are useful during the trek , in the camp site we can use the trekking shoes it's a reliever.We have to travel to the spot around 50 kms to the spot to start Chadar trek.We boarded our vehicle.Just take whatever is essential , rest you can leave it with bags which you will get from the tth , once you are back.This journey to reach the spot is very beautiful and white beauty. There is no network from the sangam. The roads are very small, the drivers here are very skilled to drive in such narrows mountain roads.
Some of glimpses of the journey are as below: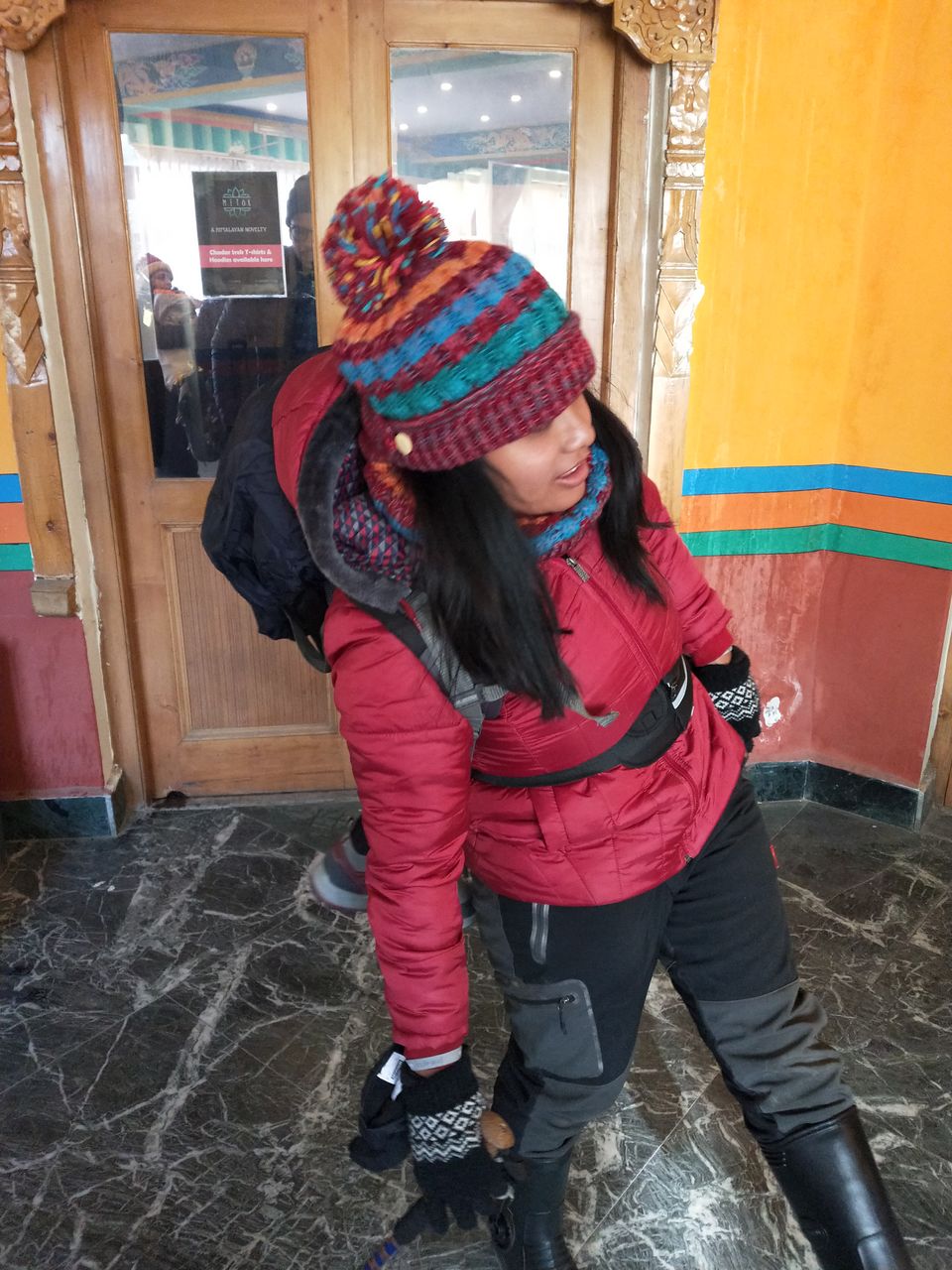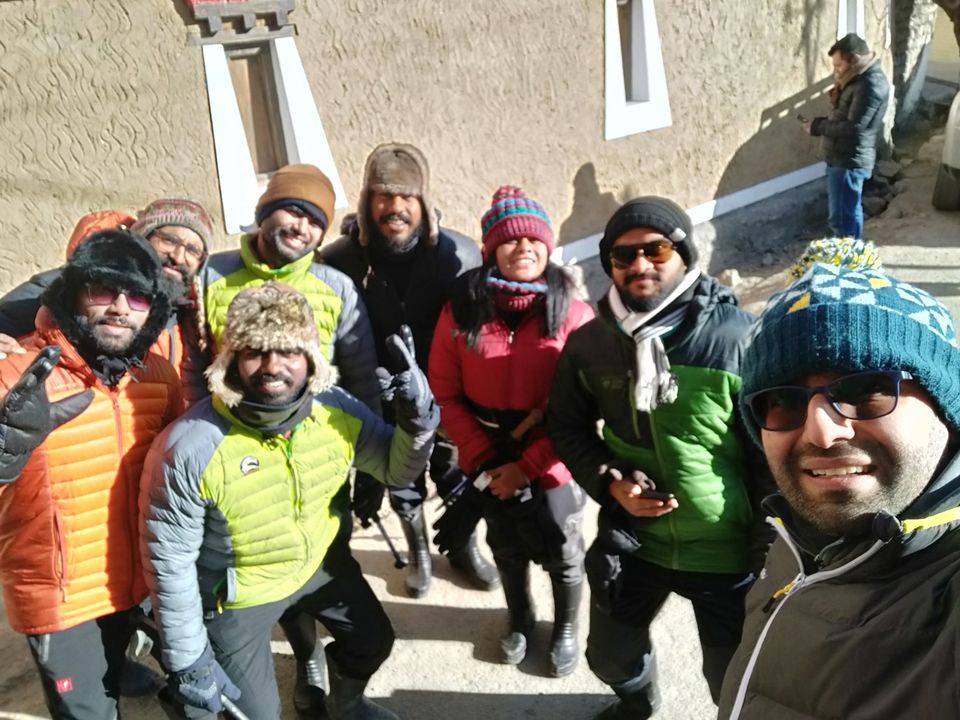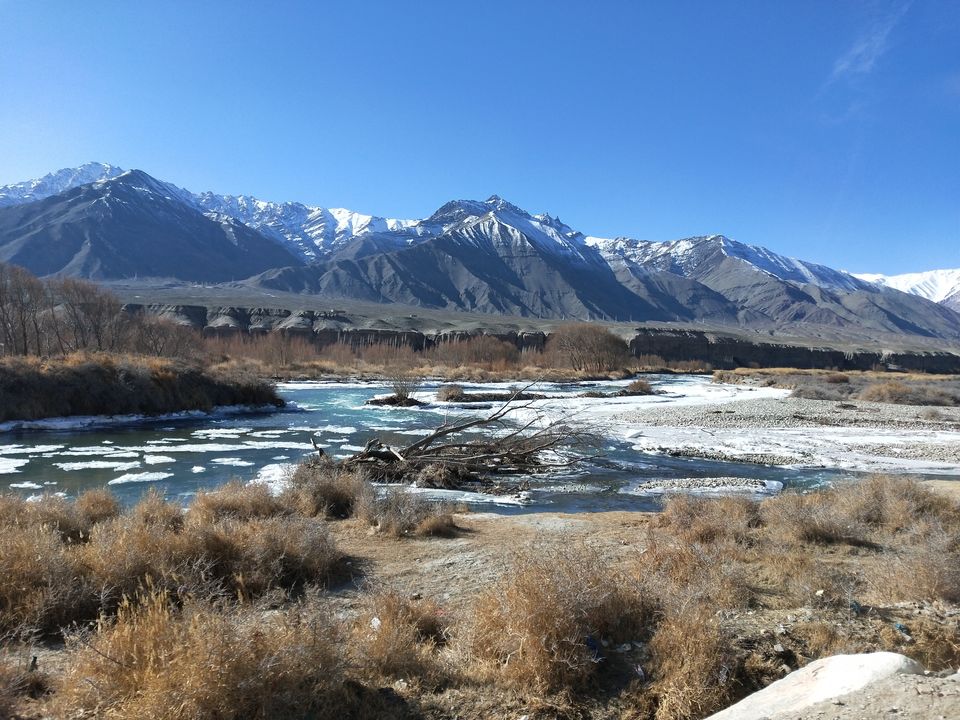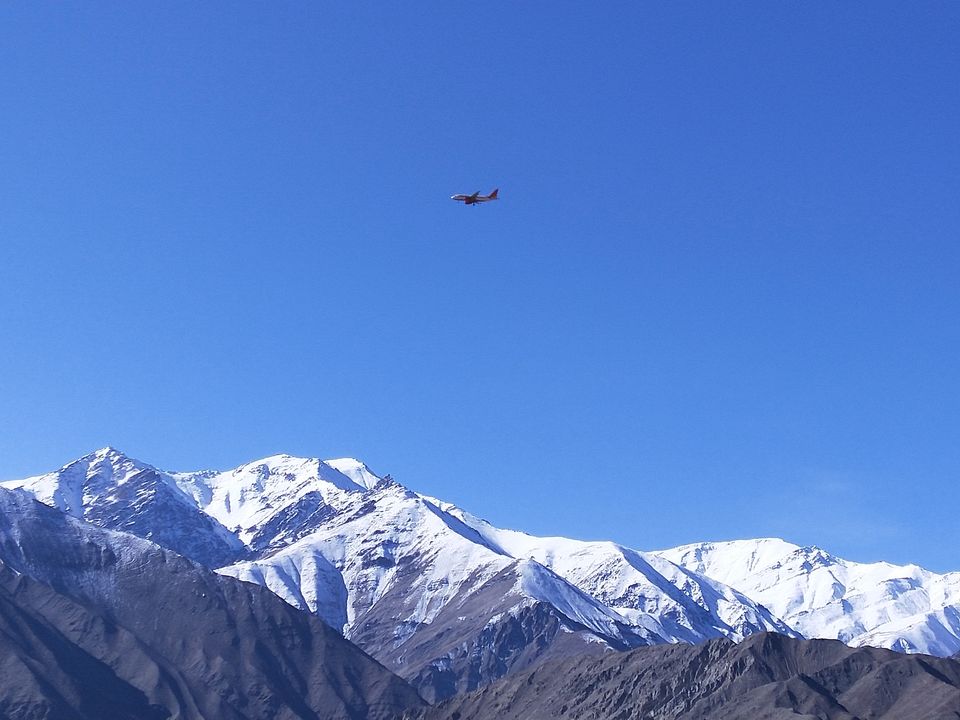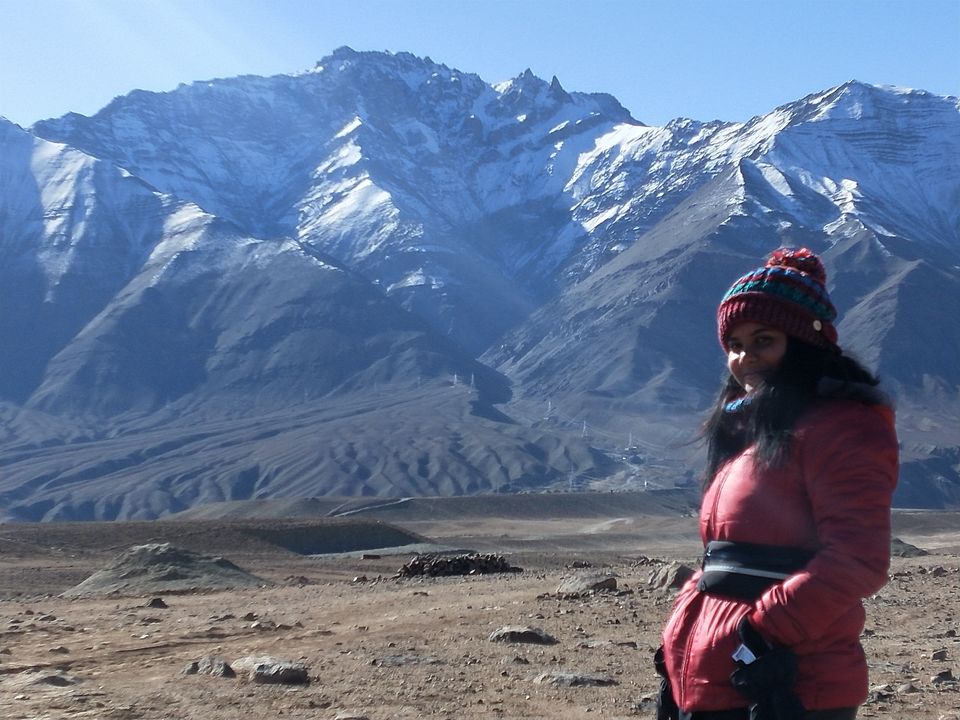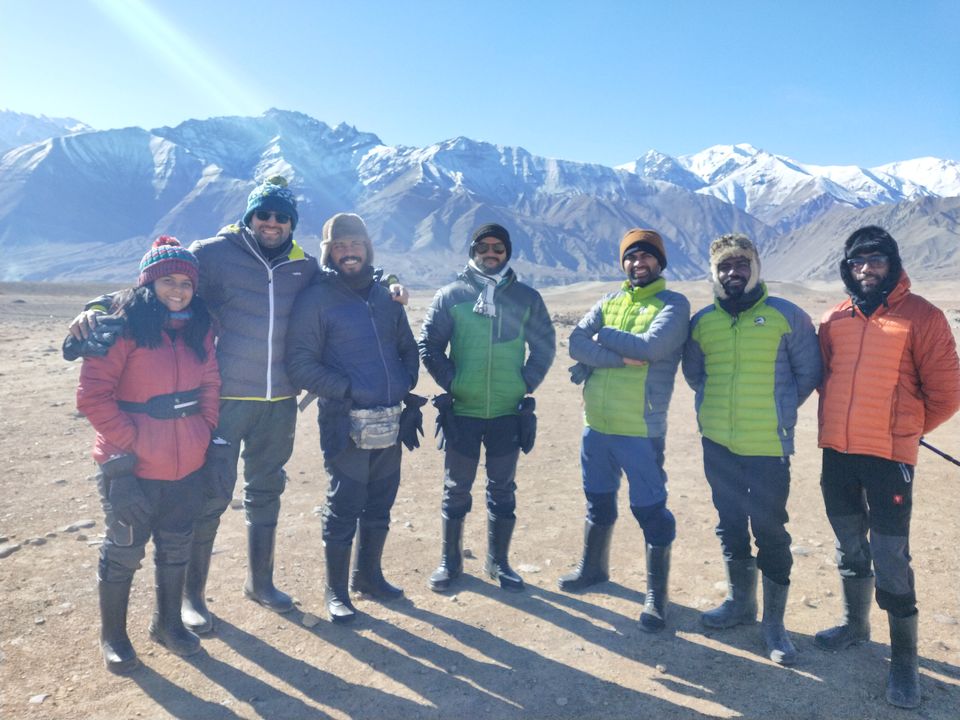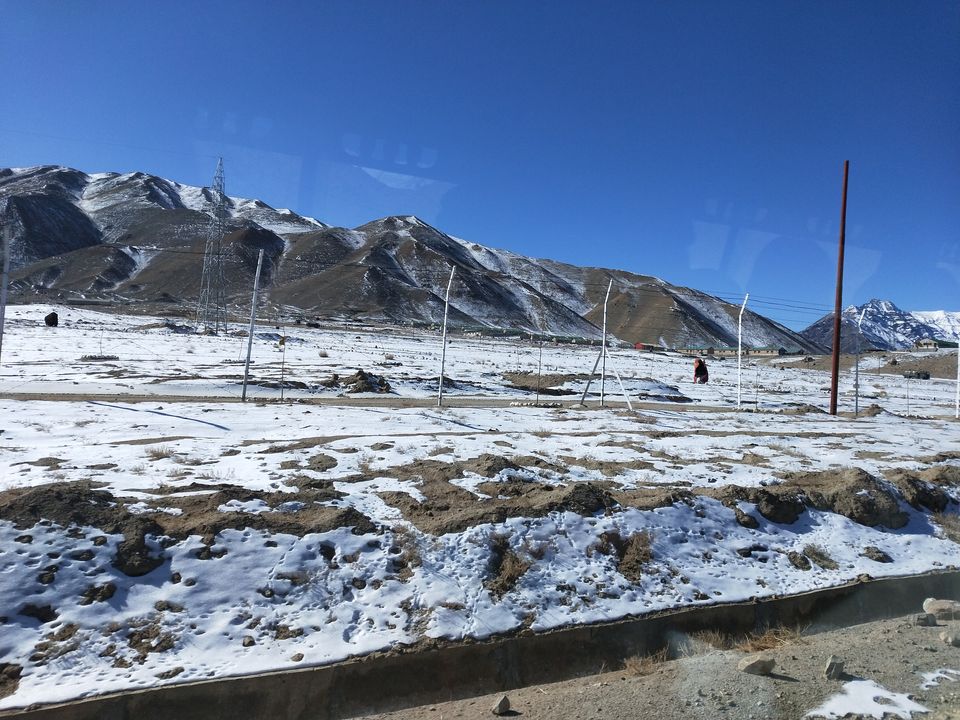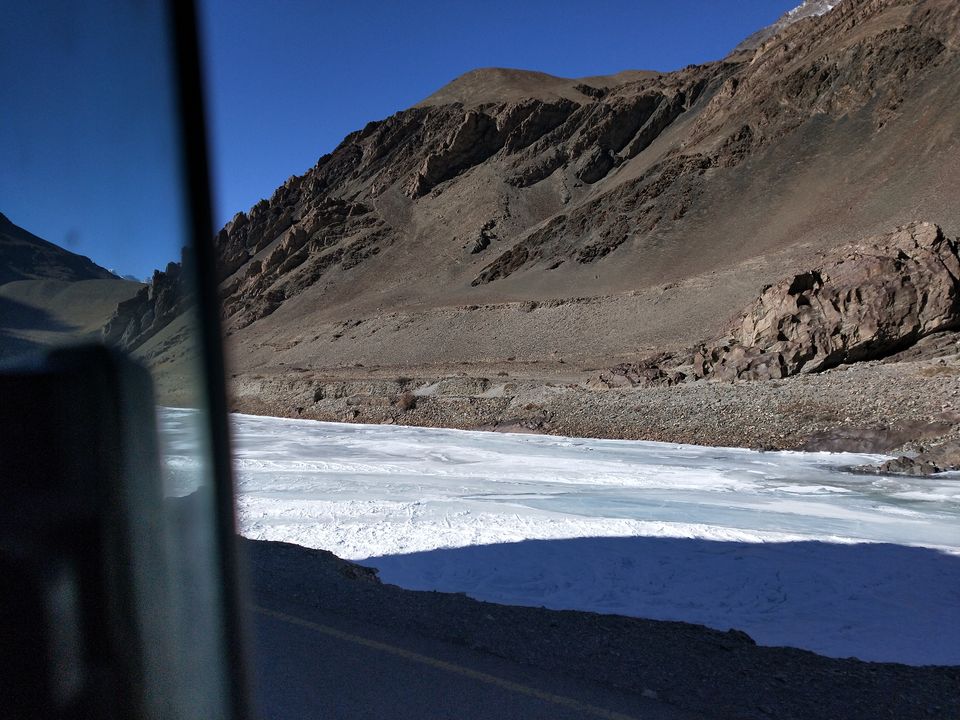 In the night the temperature falls very low bhai -30C .
I had carried a pair of woolen socks those kept my feet warm.Also you can add one more extra layer in the night to keep your selves warm.Then we gathered for evening snacks at the tent , our Guise was continuously talking to us so that we are diverted from cold and get involved in some discussions.
We had some campfire also which is like vardaan from God in such a cold night.There was another awesome thing in the night the chadar is guarded by Mountains which is called guage. This view along with the starry night is bliss.No words to explain the beauty.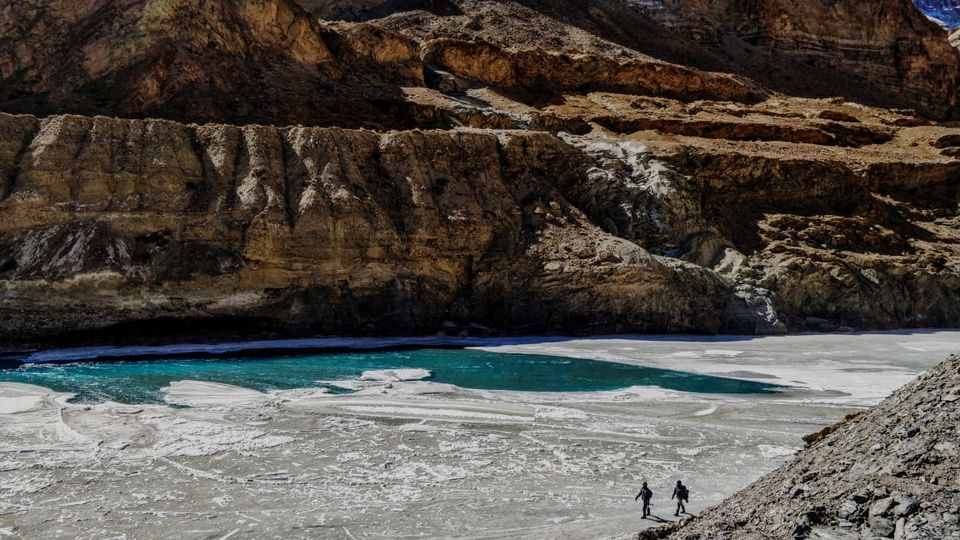 Next day we went for Hiking the mountains , these mountains look like Grand Canyon , only a bit reddish tinge is missing.I was breaking the ice blocks in most of the places.We did some Gulu gulu group dance taught by our lead.
Some glimpses are as below: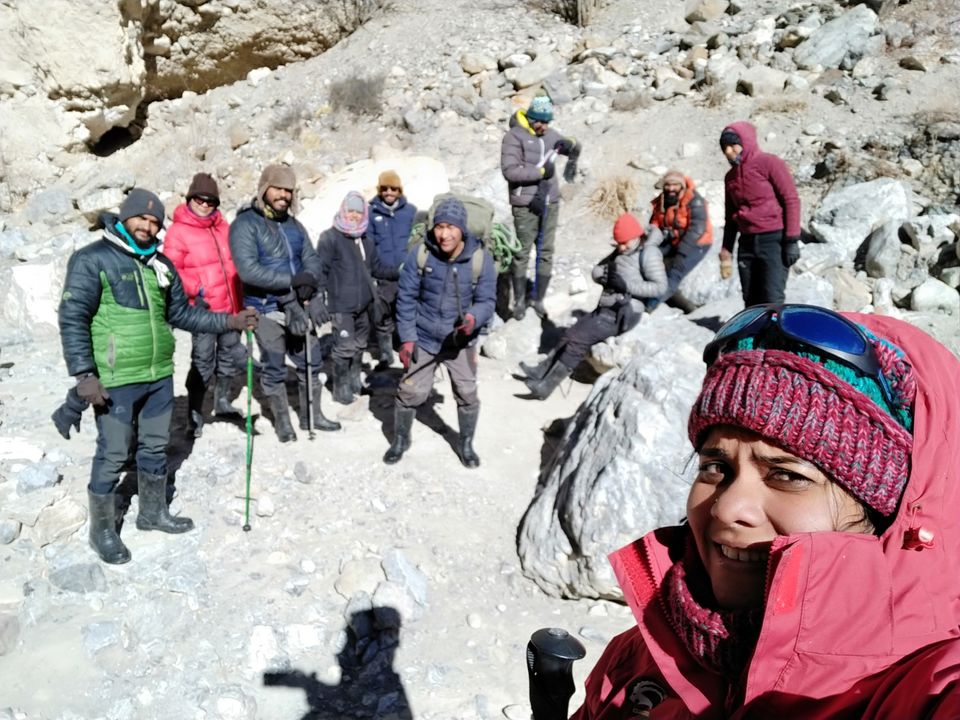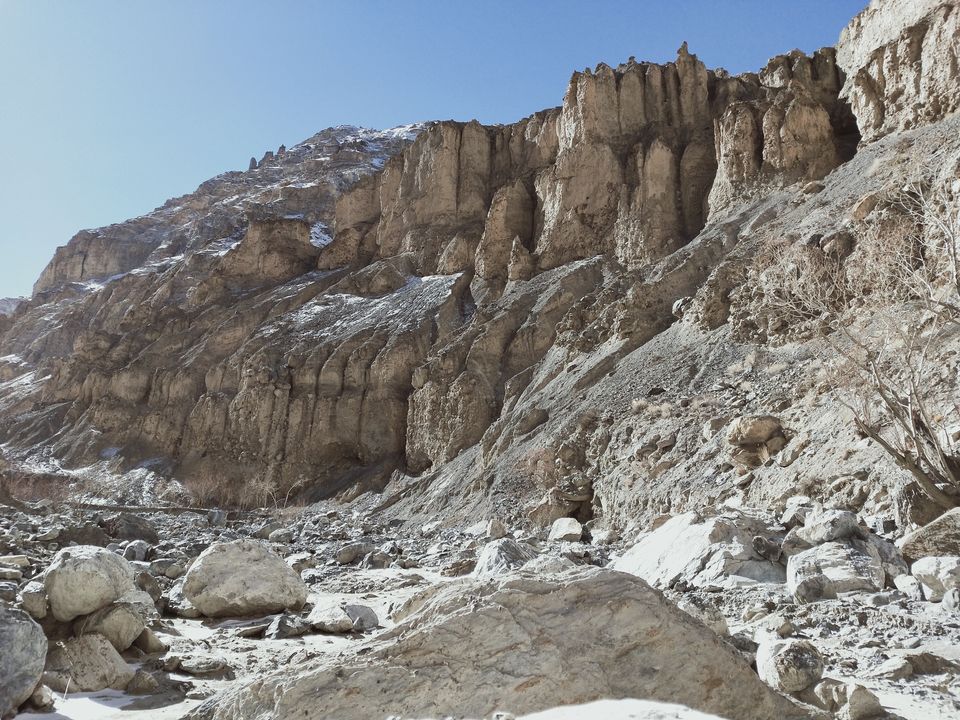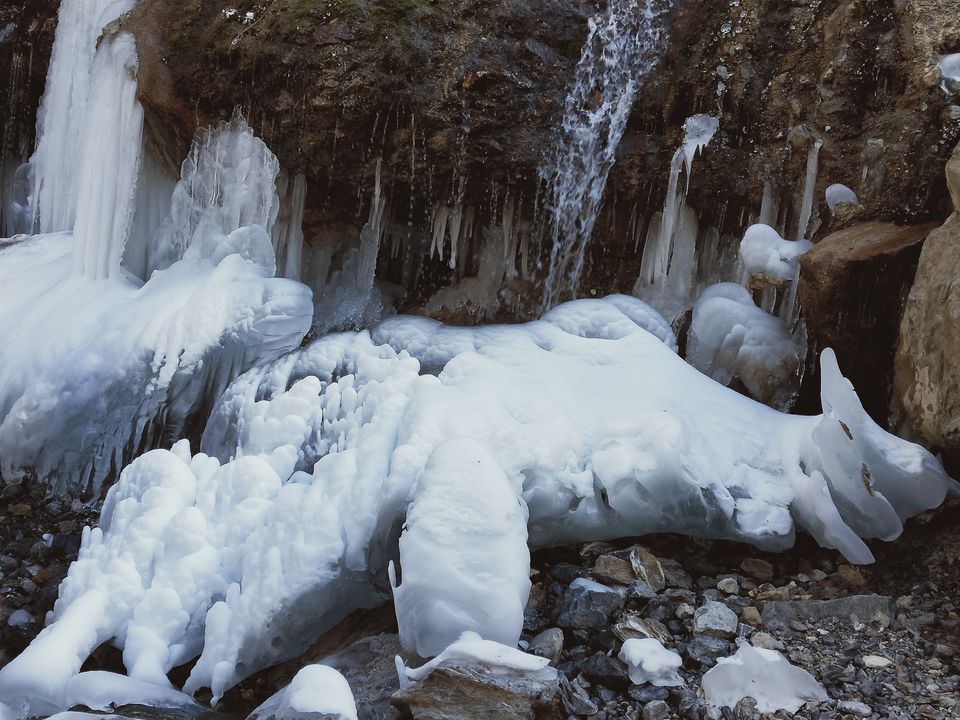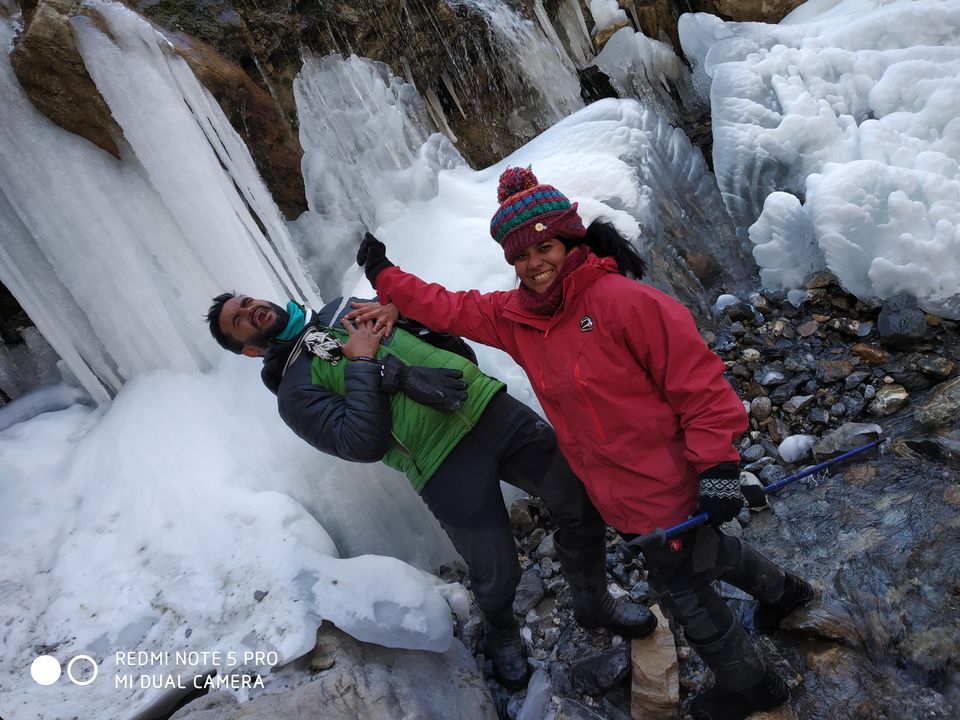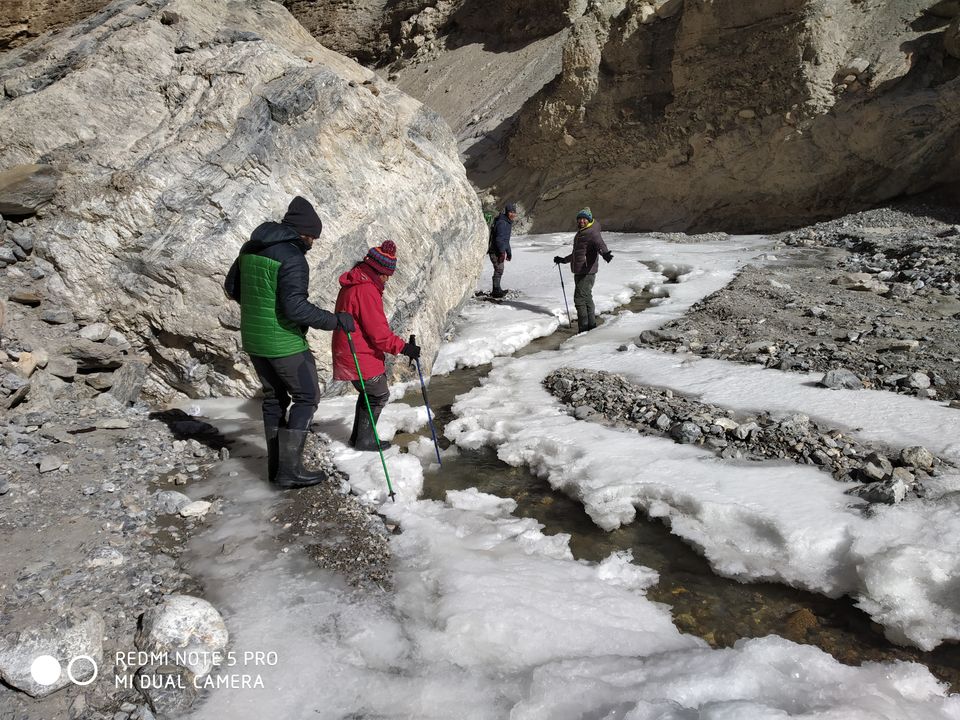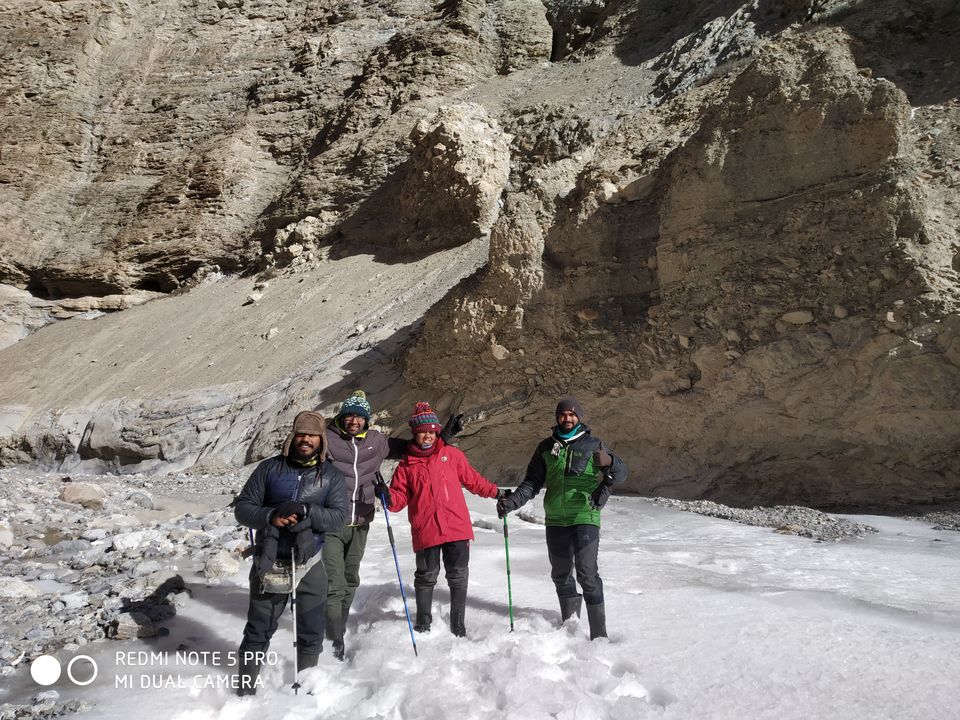 Next day again we did hiking on the mountains .This one was too steep we climbed some how and the view up was very beautiful.You can see the beautiful chadar from top view .Some shots which I took from there: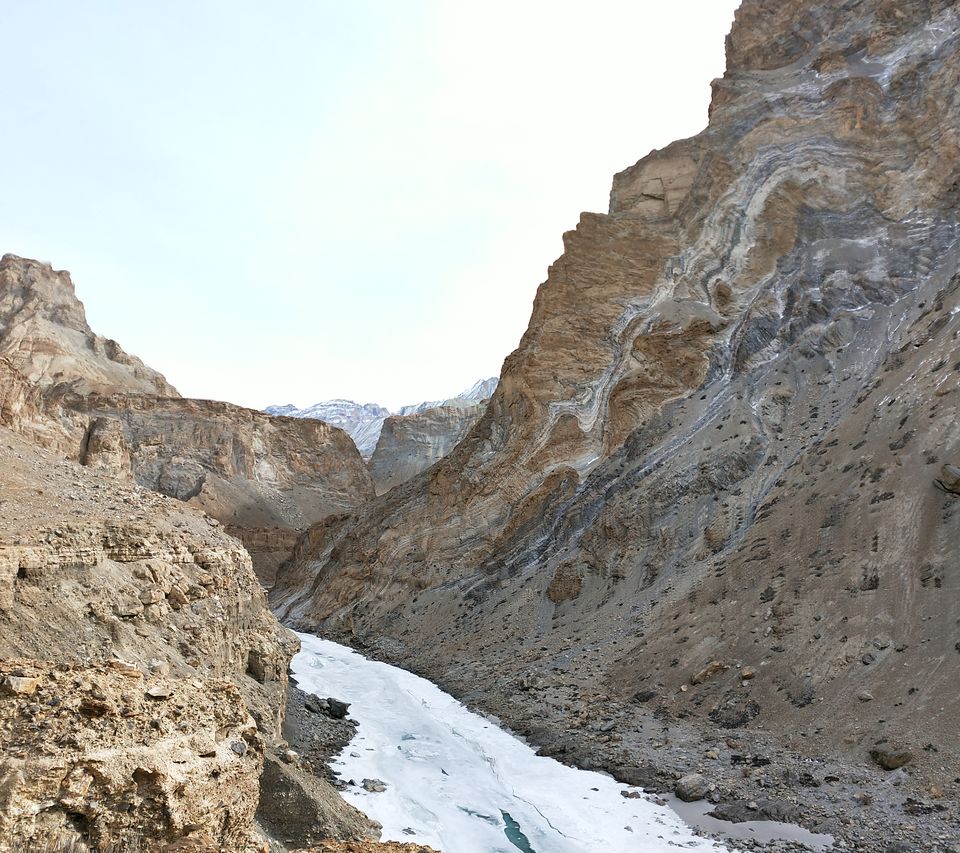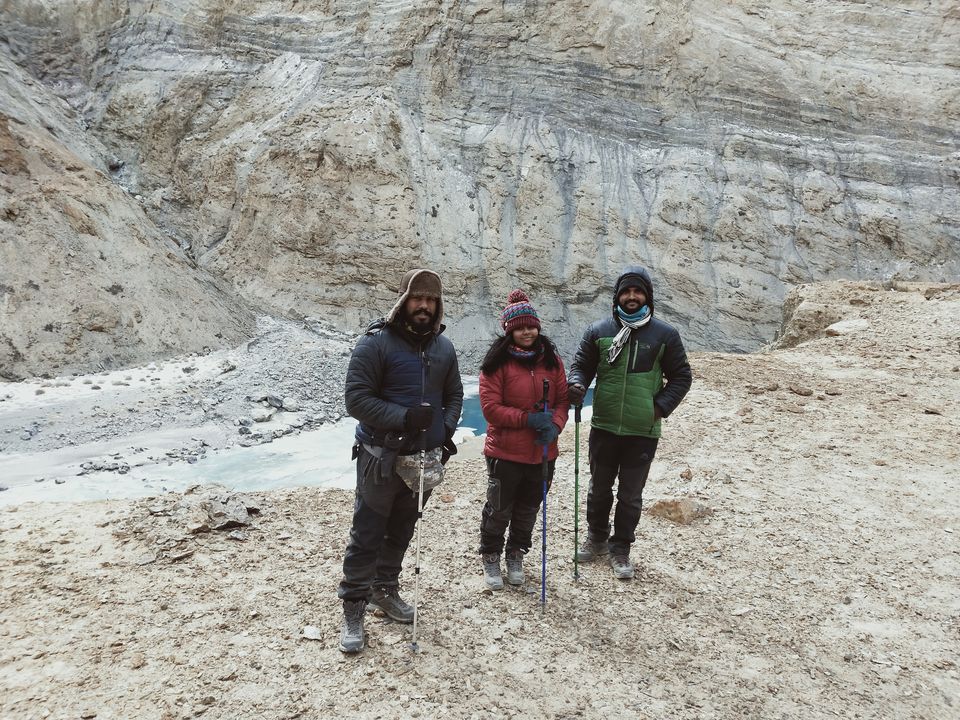 Next day early morning we had breakfast and started our way back to starting point which was like a km away.Here I was making sure I don't fall atleast on last day .Since till this day my count of fall was 8 .
Finally we saw fall of Chit which we celebrated.
So today we were on our own , next day we had to shift to the another hotel which TTH had booked us .First Ladakhi word which you learn is "Julai" which means hello , bye and then next important word "Juju" which is Thank you. So once we reached we were damn hungry.The heater were on only during night time , during the day the heaters are usually off in most of the hotels due to load shedding they have in this area.
It's a small place you can just walk around and we found some Ladakhi restaurant .Here peculiar thing about restaurants is it has no Doors , but big Rugs are cut and hung, due to the cold like the below one :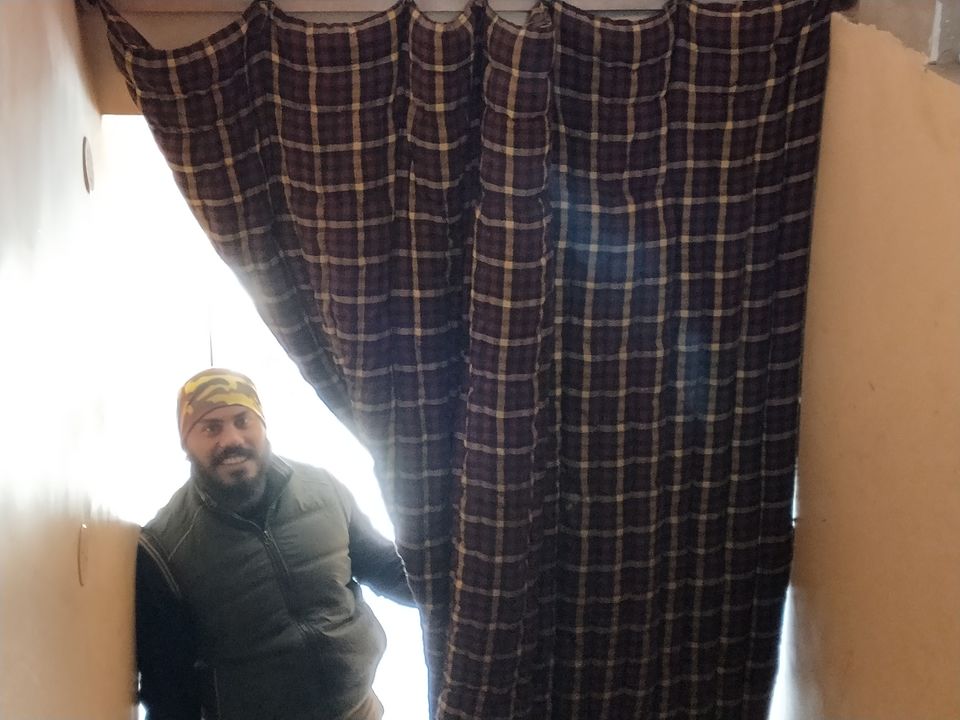 In this restaurant we had Tupka , its Tibetian soup with noodles in a big bowl which is damn good in this weather .And after that we just roamed around in the market. To be frank don't buy anything at your place all the accessories are available in the below shop: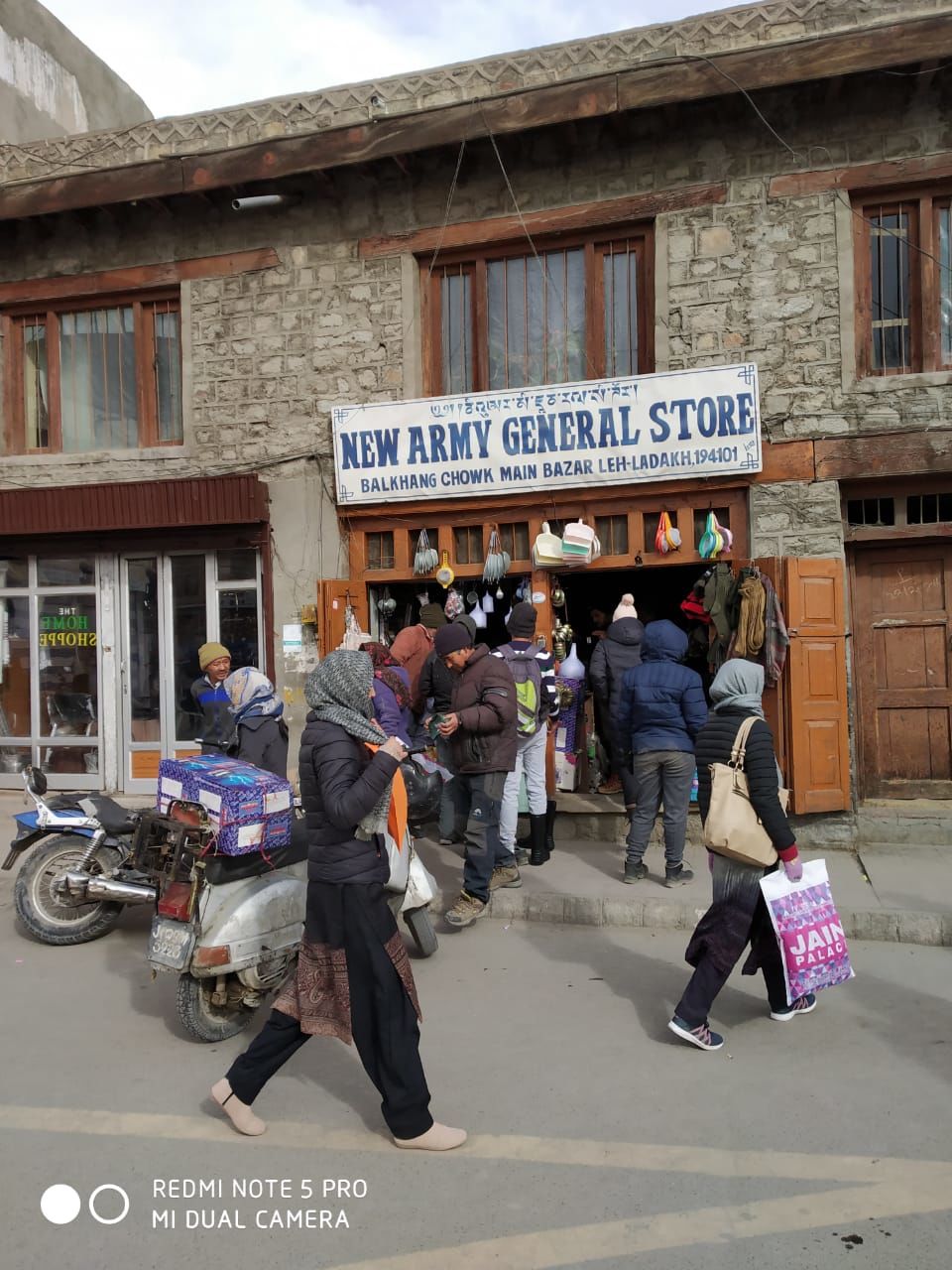 Due to winter most of the shops were closed. And in the evening the city closes very early may be at 6.We had some good non vegetarian food at a Kashmir restaurant in the main market and went back.In the hotels they usually want us to tell them well ahead of time if any case any dinner order we want to place.We had informed the hotel Dal and rice .Keep drinking hot water its good in this weather.
That night we spent playing UNO and Monopoly .Our Madrasiyo ka Raja was shows topper in Monopoly and his famous dialog "Aaj sabko Nanga kar dunga".
Next day we got up early, view from Terrace was very good. We explored the terrace and views around .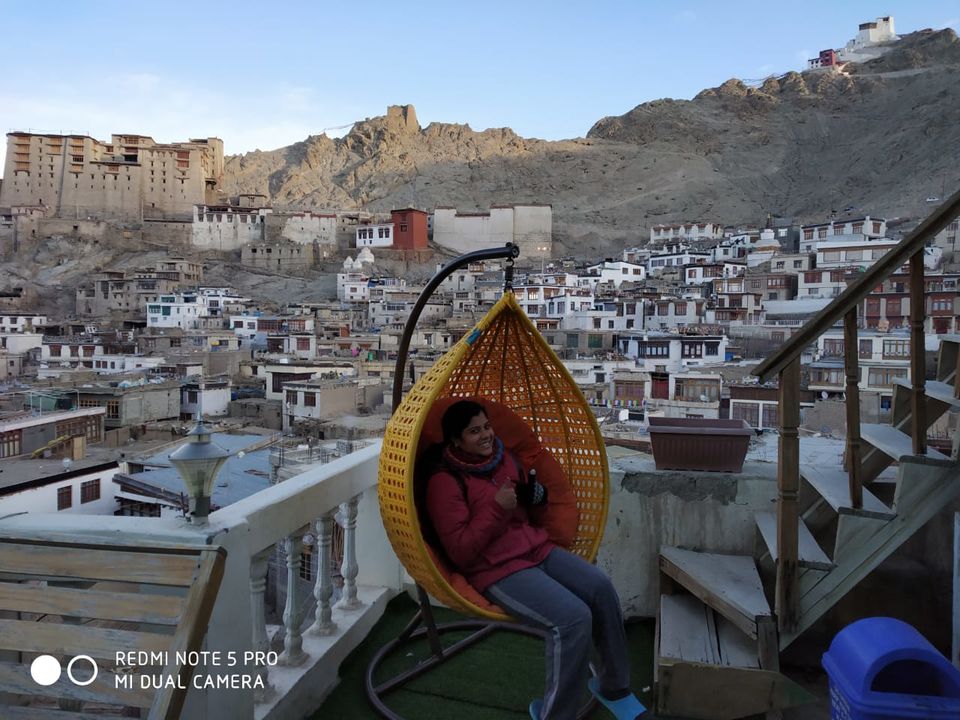 We reached the Chadar, haan yaar sach mein frozen tha ;).Hurray we went to the spot and photoshoot shuru huwa. After that we practiced walking on Chadar.Its awesome experience. I would suggest enjoy the route and less photo, the experience is more beautiful than capturing it in CAM.
When the trek started we were told that people keep falling since ICE is slippery and we had to learn walking on this. Be prepared to fall ;) it may surprise you anytime.Daily we had to trek for around 10-13 kms as per the iternary, so need to be fit as we planned to walk with our backpack.Though we are accompanied by porters who can carry your luggage for a charge of 800 per day.Porters and kitchen people travel with us. Our first destination was Shingra. Before we started our kitchen team gave us hot Maggie and tea.We also filled our water bottles with hot water.
And our trek started with the instructions from our lead Chahat, I was sent to the front .They plan to keep the slow ones in the front so that all walk in sync.We also had a guide[local guide] Stenzin who was leading our trekking path .The trek on ice bed is awesome .With beautiful frozen falls here and there .Big ICE blocks with the ice flakes which are so transparent that you view through it.Mantra for your trek follow your guide.
Later they found I was going fast , I joined with my folks behind Chit and Adarsh.There was another Girls only group which also started trek at the same time , this was also lead by TTH.We met them there .We had camping togather.And I was enjoying the views ki Thap , and my first fall ;).Let your selves fall on back, your back pack will save you .Luckily no cameras were on to capture my fall .People came and helped me get up .I was not hurt.
Yeh toh bas shurat thi picture abhi baki hai.
On the way we saw few people falling .Then we reached our point Shingra were we had to halt here.Our porters group had already setup the tents and kitchen . Once you reach here there will be one medical checkup to check your oxygen levels.Pata nai kaise mere toh oxygen level bad gaya tha 87 – 92;).
Some of the Glimpses of our way to Shingra: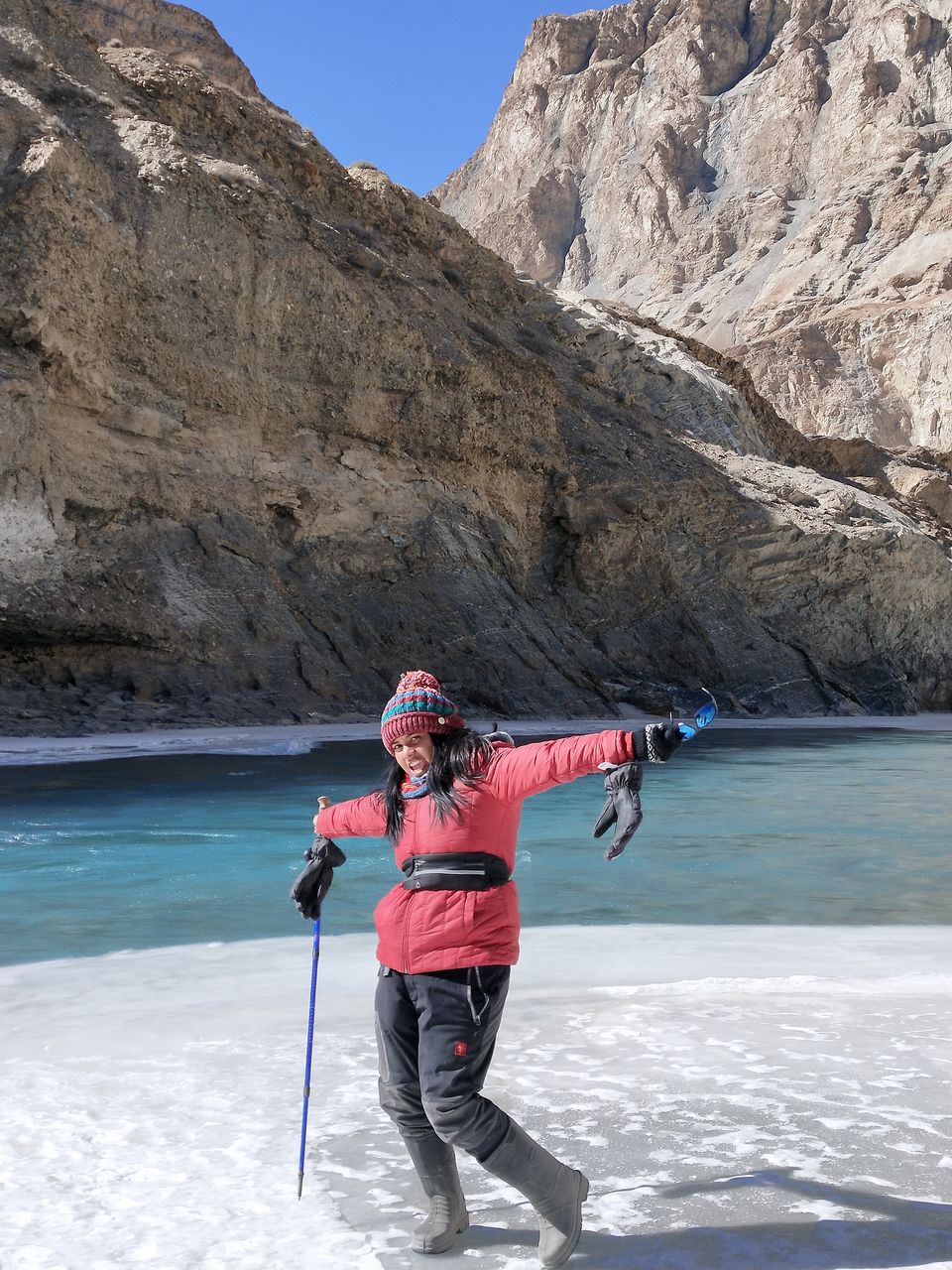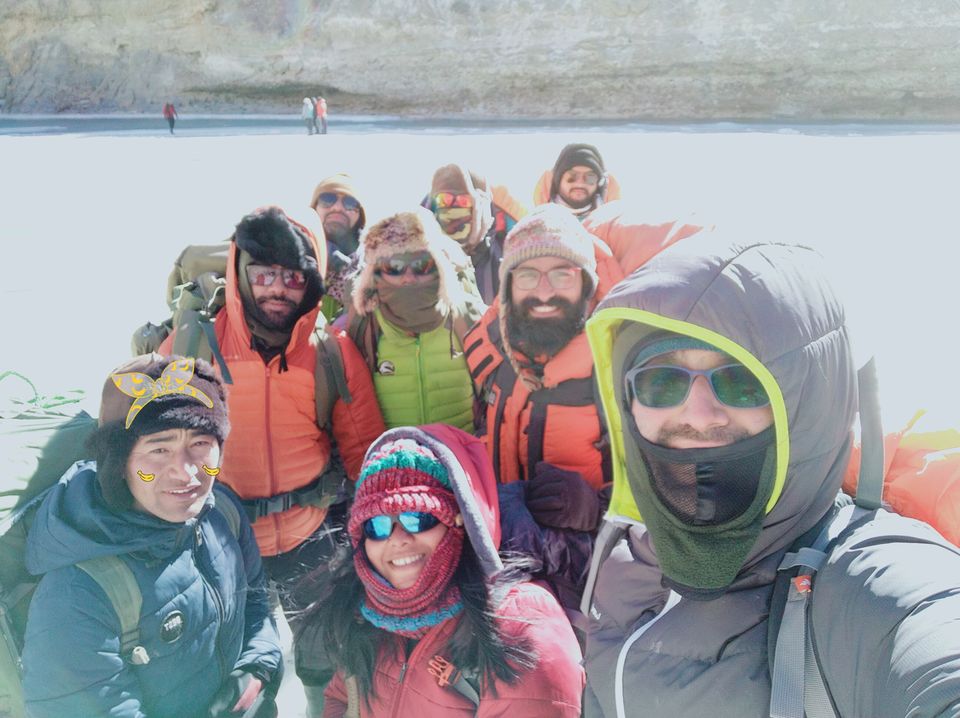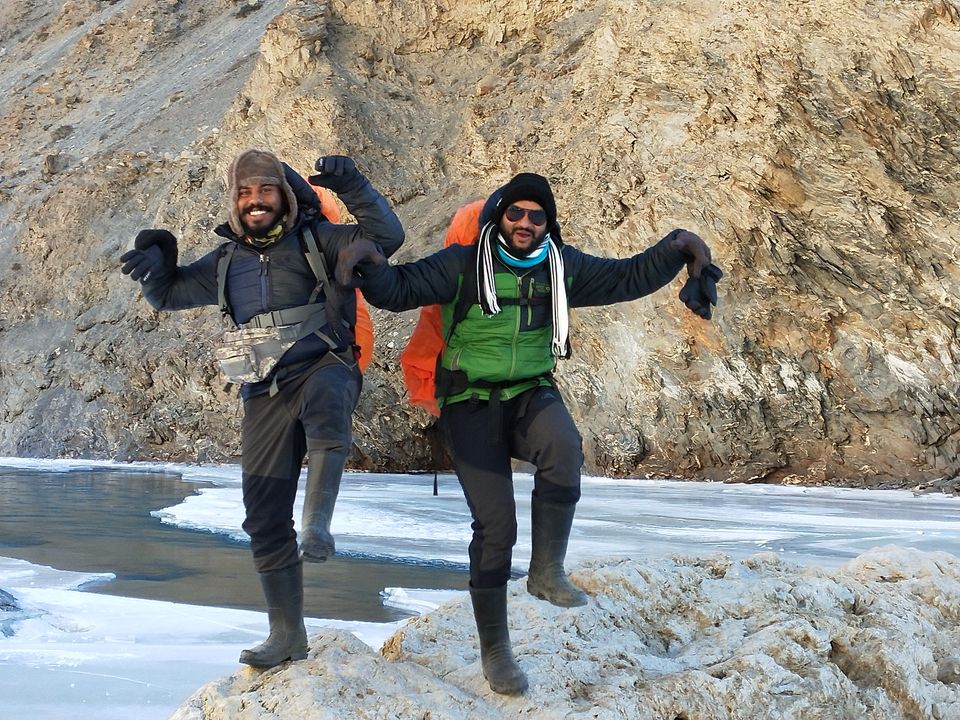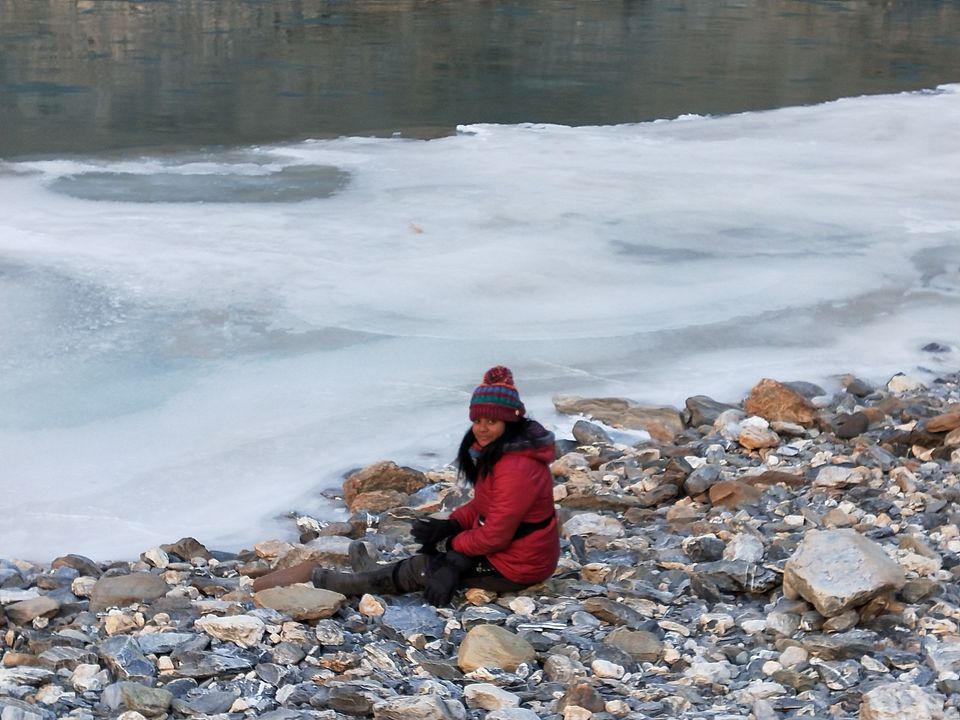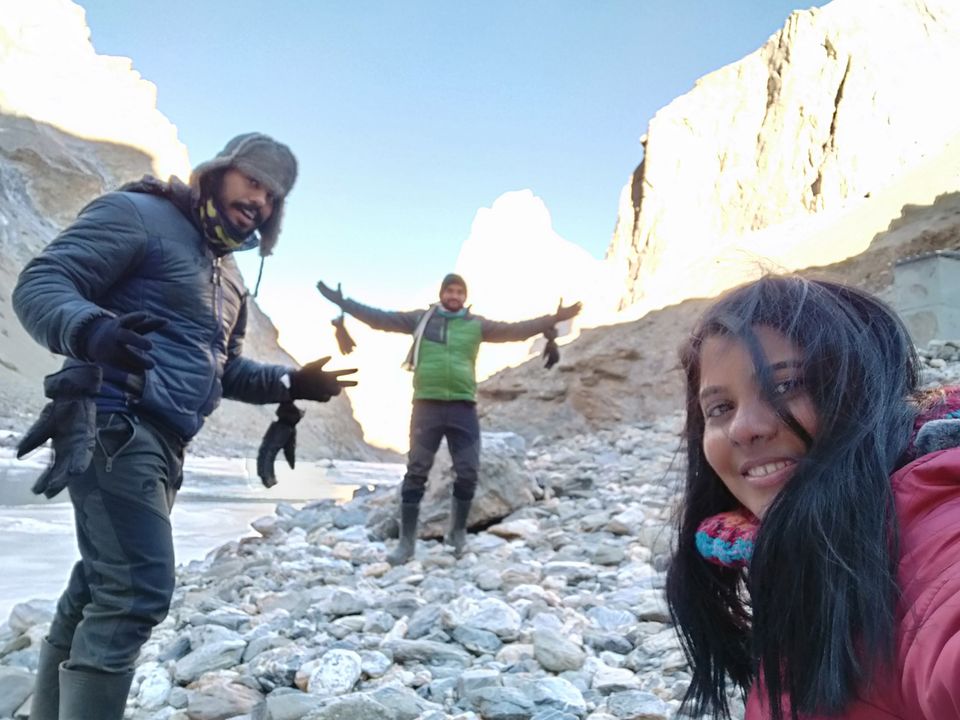 Night we had our dinner and went to tent .We are provided with two sleeping bags which are made for this temperature -35 to -40 c .These were warm enough.But I dint get sleep on first day.When I am going In I am getting suffocated and when I put my head out its is getting freezed.I was getting nightmare that people are carrying me on stretcher due to less oxygen levels. Luckily nothing as such happened.
Next day at 6.30 they wake us up , we packed the sleeping bags and had good tea and went out to see the views.Then finally packed our bags had breakfast , then started our trek to next point which was Tsomo Paldar.
We all packed up and went trhough the awestuck chadar views and ICE bed.In some places the Chadar was broken, so we had to trek on the mountains .The way through mountains is versy steep , and if you slip you fall in Zanskar or Chadar.On the way we saw a falls which was not completely frozen .They said that its from Mansarovar, but we were not sure if its true.
Here comes my next fall ;).Luckily no injuries am fine .
Actually our group was accompanied by another Girls group as I said my frens Chit and Adarsh thode distract hogaye the waise;).Wondering through the white beauty we stop a km before Tsomo when we got to know chadar ahead is broken.And they take you only if we wont get wet during trek.So we waited till the Girls group also came and then both trek leads went ahead to check the road.
But came with a bad news that we cannot continue anymore.So hearing this many decided to go back.I was also one among them since I dint get sleep the last night.My friends Chit and Adarsha asked me what to do , I said I want to go , without a word they agreed with me .But in our group only Sumit wanted to stay, rest Mumbai group wanted to go.Then they asked the Girls group aur there was a girl called "Ranjana" who gave some awesome speech on why we should stay back camp in Chadar. She said we came to experience this chadar , this cold weather.If we go ahead also we have same chadar only thing we might miss seeing the big Nerak frozen falls.But still we can do many things in this, which changed my mind.I decided to stay back chit and Adarsha also agreed.So from our group 4 of us stayed and from gals group out of 9 5 of them stayed.
So anyways for others to return some porter has to be sent as there is no network in Chadar area.So that afternoon we had our lunch and afternoon we camped at the same place and played Mafia and Antakshari. Now the Girls and Our group was combined.So Chit and Adarsha toh bahut khush the.Chit ne jo mafia khela , mafia mein hi bagal wali se pat gaya ;).Though she was the one to leave next day ;).
Aur Humara Adarsh silent boy ka be Dil ek ladki pe aagaya tha.And I was there messenger and helper in this.We had good Antakshari during night Campfire ke pass.
Then in the afternoon we had lunch and proceeded with our trek to Shingra.Me and Adarsh wanted to do some Sharukh sliding in Mein hoon na on this.And we did those stunts on the snow and reached throught the beautiful way to Shingra.After reaching Shingra we had dinner and campfire.There was some very good time were we talked to locals , new people in the group.Learnt new Ladaki word "Anniju" Aunty namste ;).
We were lucky to see blue sheep here .A herd which passed by the mountains. Finally we had lunch and next way back to our starting point.On the way we saw Juniper plant , which is there sacred plant,Stenzin got us the leaf.It smells awesome.
On the way we did lot of photography, ICE hockey, bum dance and what not.I pulled the sledge also ;).Then we stopped just before starting point as we were halting here that day.Had yummy dinner and good chit chat and enjoyed our last night on chadar campsite.
We all did face dip in Zanskar after reaching the point mine .We saw some group members removed there shirt for the photo and all in that weather. We did a lot of skating , sledge pulling.It was awesome , some of our stunts which I would like to share: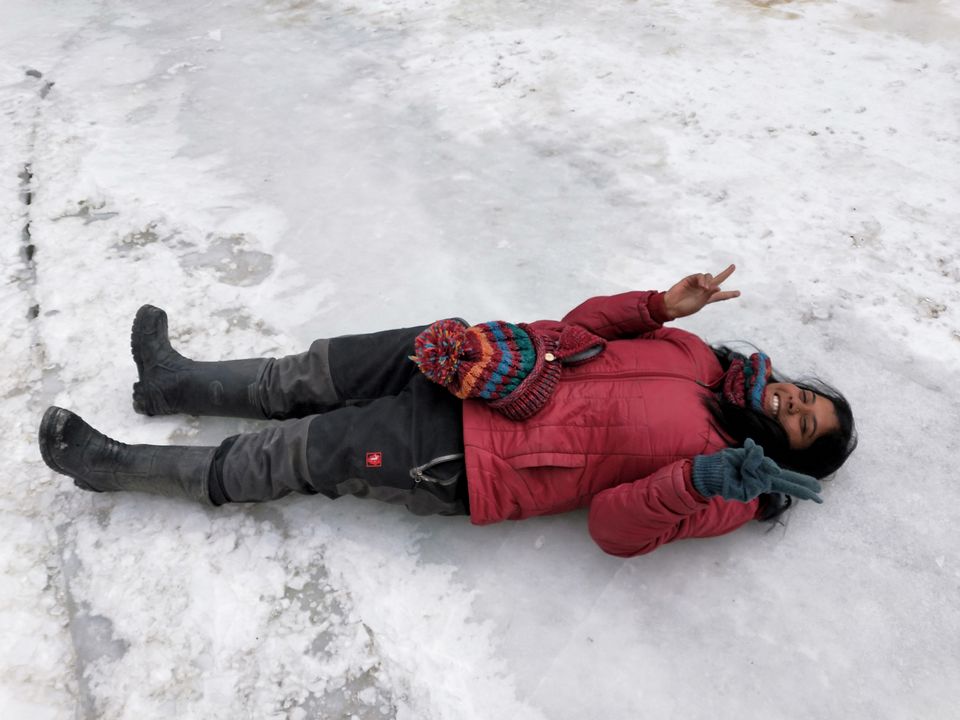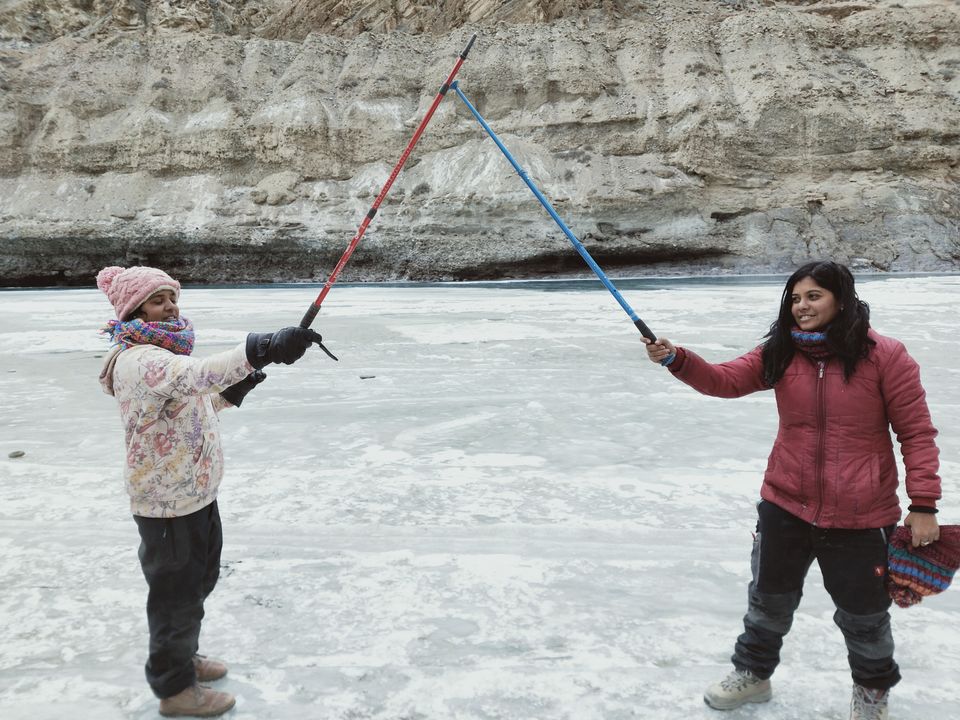 Then our vehicle was waiting for us we headed back to Palace view hotel. We 
our flight the next day.I had made new Friends on this trip to mention few Nitika, Ranjana, Anandita, Antara, Sumit. That night we all planned to party.We packed our bags for next day and partied hard and returned at 1am;).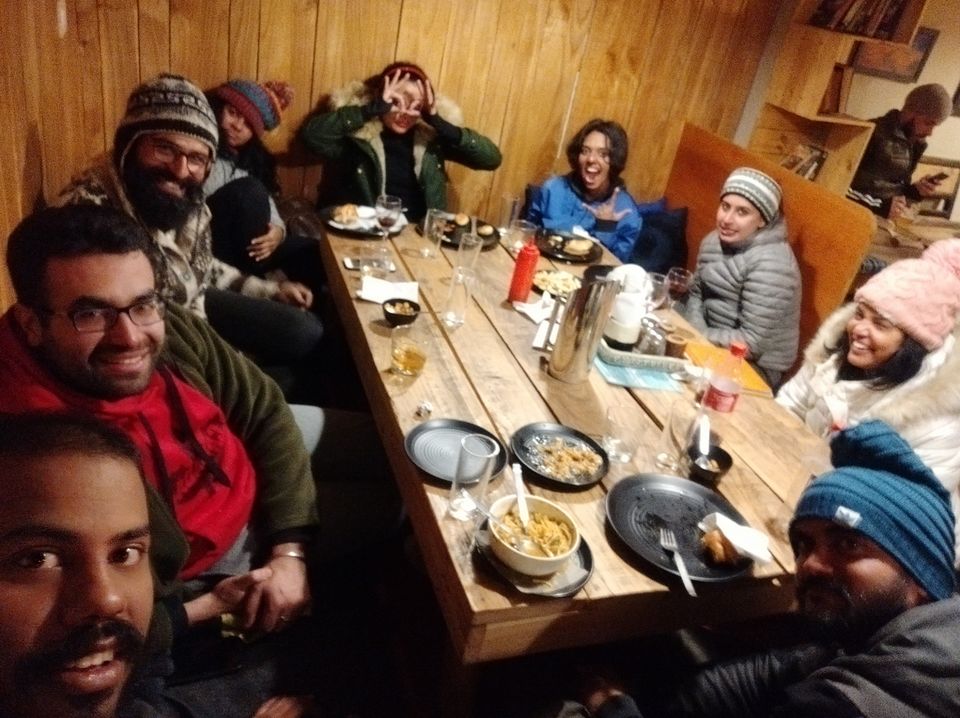 My Chadar Trek trip was awesome experience , thanks to Magic beans Chit , Adarsh and RK who made it happen