Day-1 - Our journey started from Bangalore ,3 of us were there and we reached Leh in morning at around 8:30am. The air hostess told that the temperature outside is -10c , I couldn't believe that temperature is so less because the sunlight was sharp which is penetrating through the window and directly falling on my face, I could feel the warmness of that light. But everyone in flight started to wear the jacket, gloves and other things to protect themselves from the cold but I didn't . Soon I realized that I'm wrong, as I steped out of the flight I believed that air hostess were right. The temperature is too cold I started freezing, unable to move my fingers properly. I immediately opened my bag pack and wore the jacket and other things to protect myself from freezing. We were experiencing the minus degree temperature with good sunlight, a great experience. Later we took a cab and reached the hotel where the organizers were waiting for us, they checked our oxygen level and pulse rate with the help of pulseoximeter and gave one form for each of us to fill. I was unable to hold the pen properly due to cold and even with glove on, it was difficult to hold the pen, with great difficulty at last I completed the form and later I handed it over to the organizer. Followed this we went to have breakfast. Organizers allotted rooms for each of us in sharing basis. That night I didn't get proper sleep, full headache ( due to high altitude) and weird dreams . Through out the night I was thinking, why I came here let me go tomorrow only from here.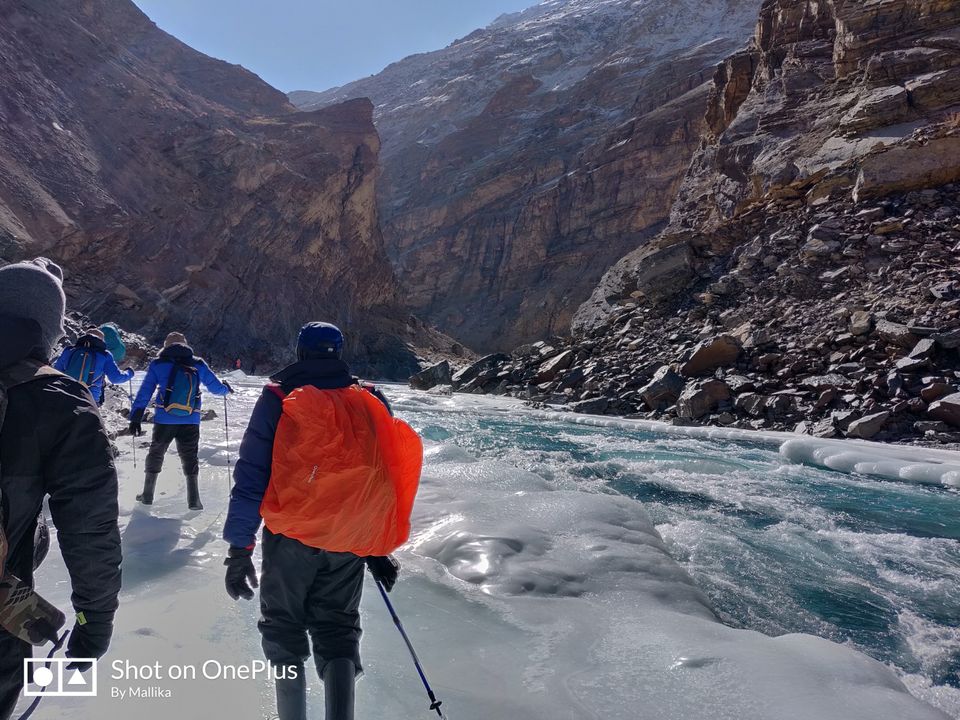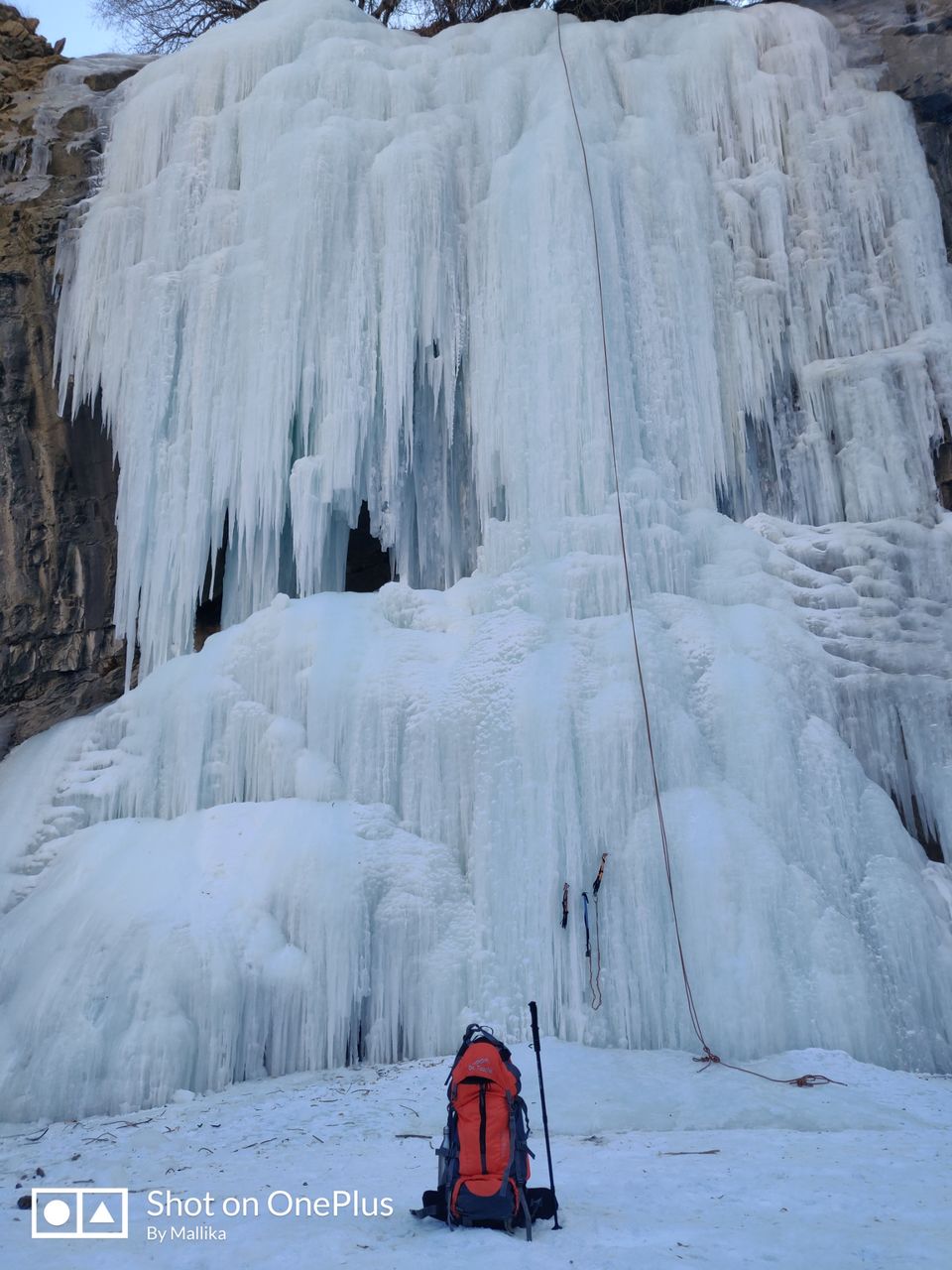 I felt better in morning, to enjoy fresh breeze I came out of the room. Just had a look around the hotel where we stayed, where ever you see only mountains, few covered with snow, few were not, it looking like a someone painted with white and brown colors. The view was fantastic, it was first time for me, it's look like a different world ( a world with in a world) looked like heaven on earth, I was lost for a while in the beauty of nature. After spending sometime outside I went to room to freshen up for our today work. We had briefing about the trek like rules, what we have to wear, to carry and whom we have to follow, like such things.
To wear- they instructed us to wear 4 layers of cloth,
1st layer thermals
2nd layer T shirt
3rd layer a thin jacket
4th layer a thick wollen jacket and last but not the least a rain coat.
Two layer protection for ear, sun glasses and sun cream.
To carry – one more extra of the same above mentioned, in case if we fall in the water due to break of chadar.
To follow- throughout the trek we have to follow the guide's instructions, no smoking, no drinking alcohol, no loud music ( as we are here to enjoy the nature there is no need for music and it also disturbs the animals). These are the highlightened instructions.
One more important thing gum boots are very important, to walk on the chadar as it is little non slippery compared to regular trek shoe.
Today we also had brief introduction about each other. We were 21 people group excluding guide and cooks.
This day went with medical check up and insurance claiming. All of us went to check up center by 10:30. There were more than 100 people gathered for the check up. I waited for almost 2 hrs for my turn. When my turn came I went inside where they were checking blood pressure and oxygen saturation. My BP was increased and oxygen saturation decreased than usual but in lower limit of normal. I sought the doctor's advice and he asked few questions if I felt uneasiness, giddiness, vomiting sensation and headache, I said no later he told no need to worry you can carry on with the trek, I said thank you sir and left the place with his signature and seal in bottom of the form and went to claim my health insurance. I got a card for health insurance with that card it is free treatment for any casuality during trek. One of our fellow trekker was disqualified because he landed 1 day back as it is mandatory that 3 days of acclimatization, they used to check our landing time so we have to keep our tickets carefully . After this we all together went for lunch and did shopping for next day trek. All of us purchased gum boots it cost Rs 300 per pair and warmers.
I forget to mention during late night and early morning the water in buckets were turned to ice. It was very difficult to get water there.
got up early in the morning as we had to go to the base camp, from today our trekking starts officially. As we were lucky in day we are able to feel the snow fall in the place where we stayed. We left leh at around 10:00 Am in tempo traveler. The roads were so clean and well maintained by our army. On the way we saw the sangam (meeting place of rivers) of rivers – Indus and Zanskar. As we were going to walk on the one of this river i.,e Zanskar river, the sangam is also frozen and on the way we saw the magnetic hill too. We reached the camp site after 2- 3 hrs of road trip, the last 30 minute of journey was very bad because the roads were not made properly. We all started to move towards the river which has frozen ( chadar). The first step on zanskar was thrilling, it is a first time experience for me to walking on a frozen river. The ice is slippery, it is difficult to walk on the ice. As the guide told earlier only to walk like penguin i.,e little flexion of knee, slightly forward bending and small small step without lifting the foot much. As it is new to us few slipped and fell on the ice. We continued our journey on frozen river, which was surrounded both sides by mountains, no sun light, we are able to see the flowing water below the formed ice at places and also beside the formed ice. The one which look like glass is well formed chadar it is safe to walk on them. At places the chadar was not formed well in this case we used to take mountain path, this is very dangerous, one wrong step we will fall directly into water, one foot can be put at a time so narrow path. After 3hrs of the walk, few of them fell down. The great news,I managed not a single fall. We reached the first camp site Somo paldar, where the porters made the tents and were preparing snacks and tea for us, all of us went inside the respective tents. One lady had fractured her arm due to fall and one more girl had breathing problem, in first camp site they went to doctors who had first aid and later they were sent back with the fellow trekker and porter to base camp site from there they went to leh. Later we had small chat about the incident, few were thinking to go back as the following journey is too hard and few were telling not to worry will complete our trek I was in in the second group. With this mood each of us went to ours tents to sleep. In night we were provided with double sleeping bag although I was feeling cold, temperature went down to -20c .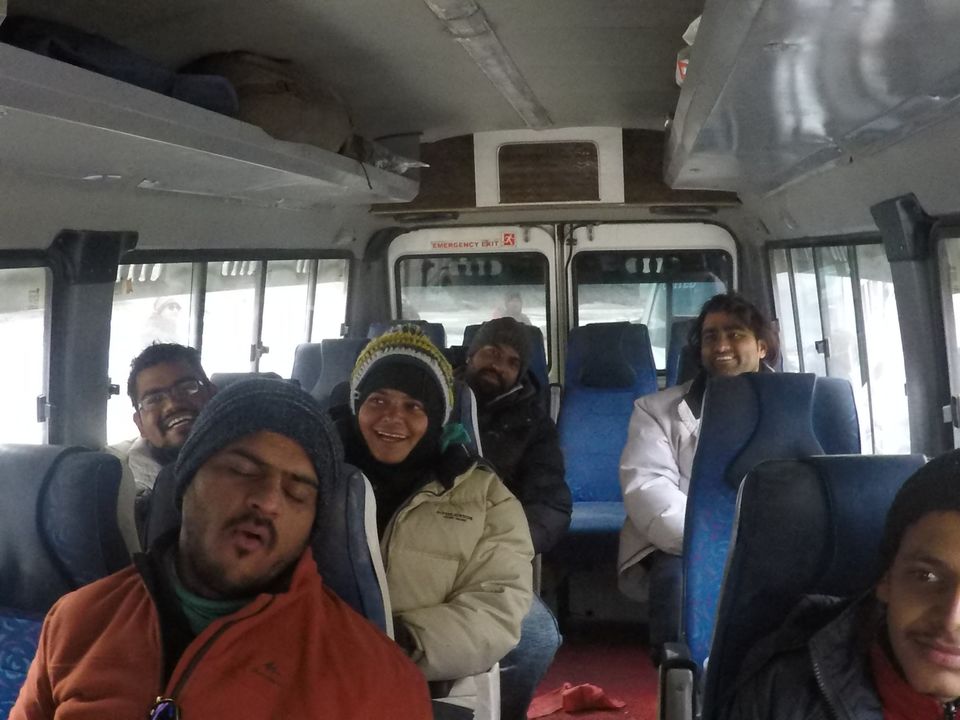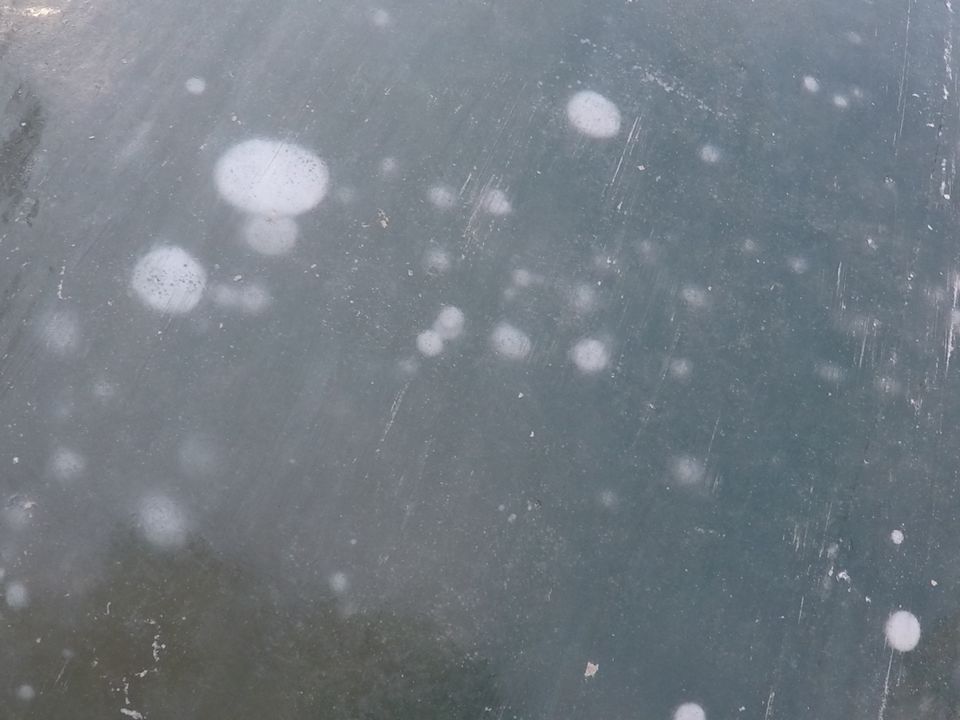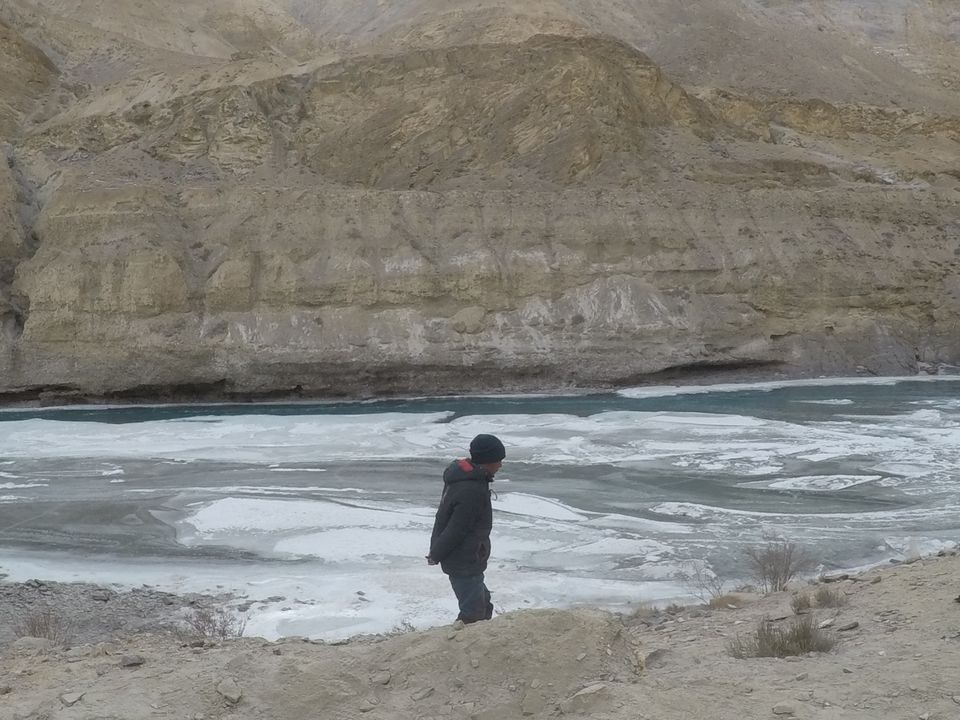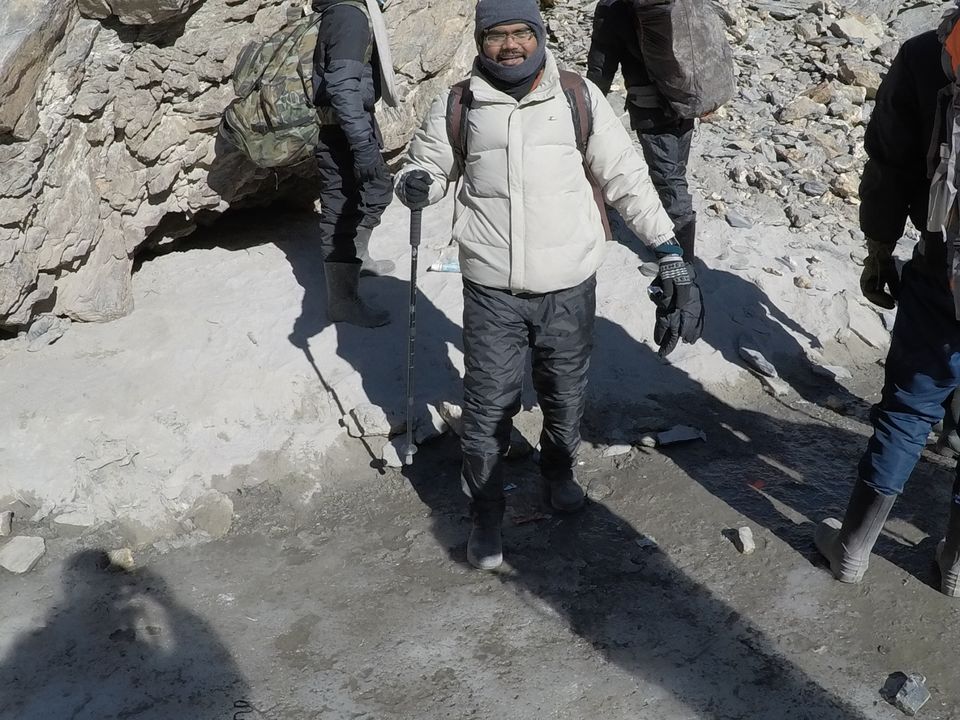 Towards tibb cave
I woke up in morning feeling cold I came out of the tent to freshen myself. as yesterday I hadn't observed properly around the camp site, In morning the view is beautiful completely surrounded by mountains from camp site about 50 meters the frozen river we can see , at that site a helipad landing place is also there, the birds were making sounds, the flow of water is loud in that silence, somewhere I'm able to hear the animal sound but not able to identify what type of animal and in this pleasant and beautiful surrounding our fellow trekkers were talking and disturbing eachother and making fun. Second day of trek, before starting only two of our fellow trekker decided to go back to leh we tried to convince them but they were firm in their decision, with nothing doing we sent them with an unwilling heart. After this drama we started our trekking at around 9:30 in morning, walking on ice, in between we use to play snow hockey with small stone and with trek stick, no sunlight, all around us we can see only mountains, frozen river, flowing water foot prints of fellow trekker and animals. We were able to hear our foot step sound, water flowing sound and sometime the cracking sound of ice. Whenever I heard cracking sound of ice my heart rate used to increase and feel scared . Todays path was more scarier, at places we need walk on the water below that chadar was formed, at places the path is narrow a small slip we will definetly fall into the flowing water and in next minute we will be freezed to ice. The current in river is too high and in between we used see small falls which have converted into ice a mini snow falls. Then we had lunch break at around 2pm after 45 minute of break, we started to walk , after 30 minute of walk the sunlight was falling on us for first time in our trek and it went like that only. Before reaching the camp site we have to cross a river of 3 to 4 meters which was not frozen and the water was flowing very fast, a temporary bridge which was made with small braches of tree and that branches mix with water to make a small breakable natural bridge, it is scary and dangerous with the help of porter we were able to cross that bridge safely. At last we reached the camp site Tibb cave at around 5:30 in evening. Where tents were ready, this time they have put the tents in sand just beside the frozen river. Later had tea and biscuits. In night we had dinner and saw the photos and videos we have taken and enjoyed our work.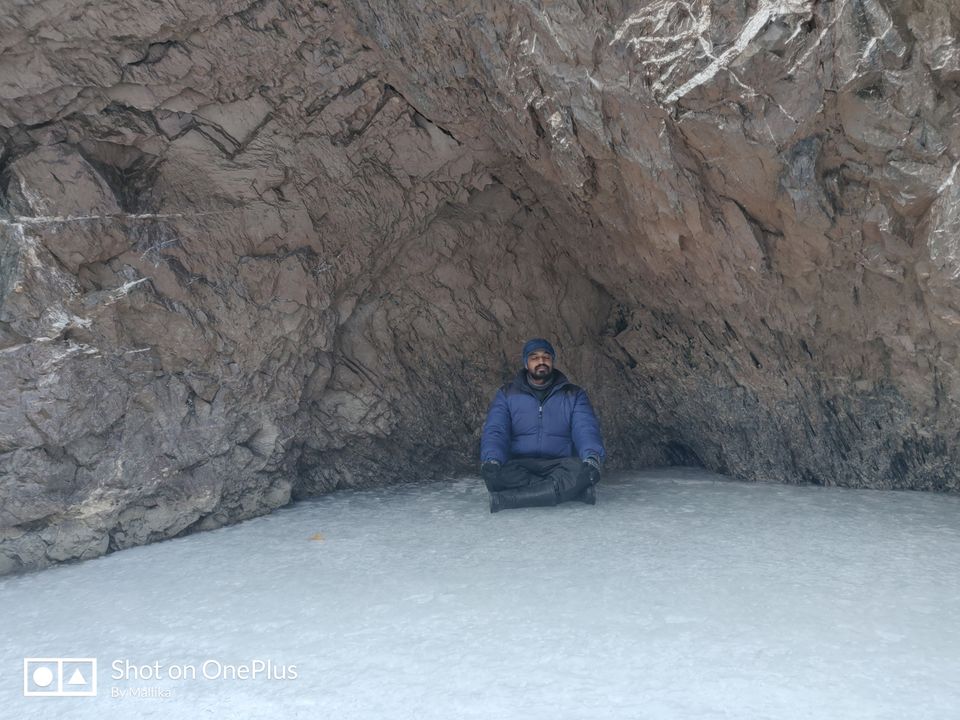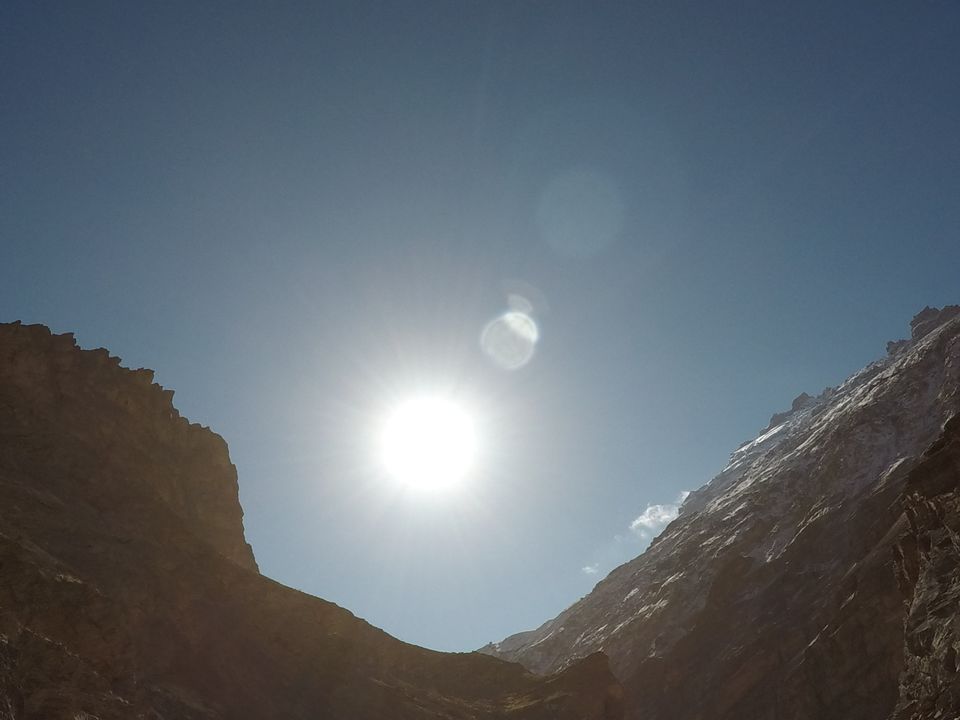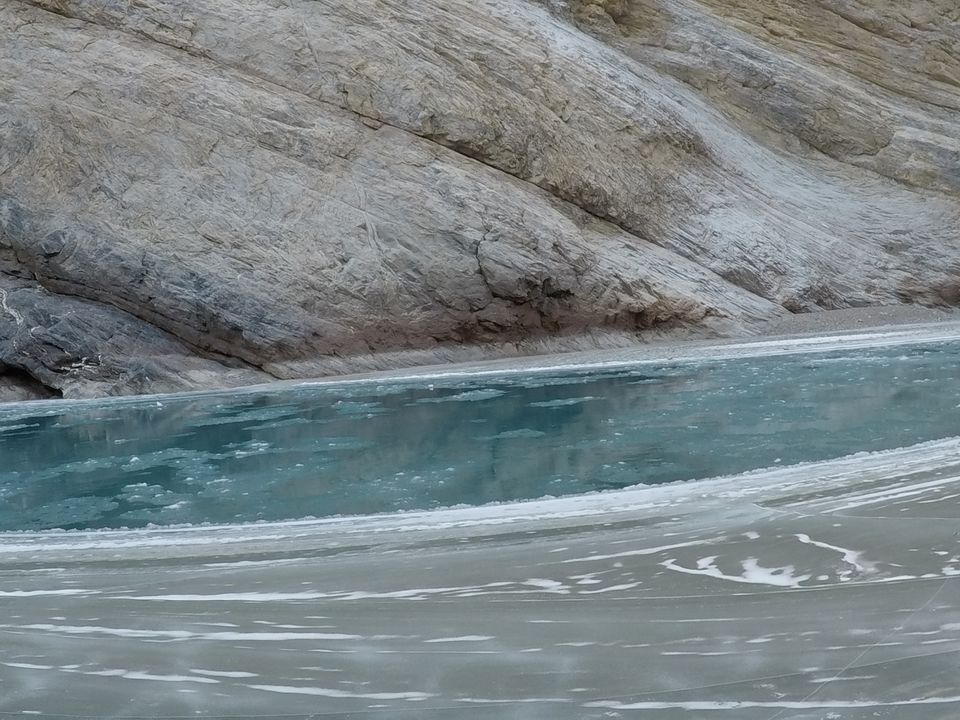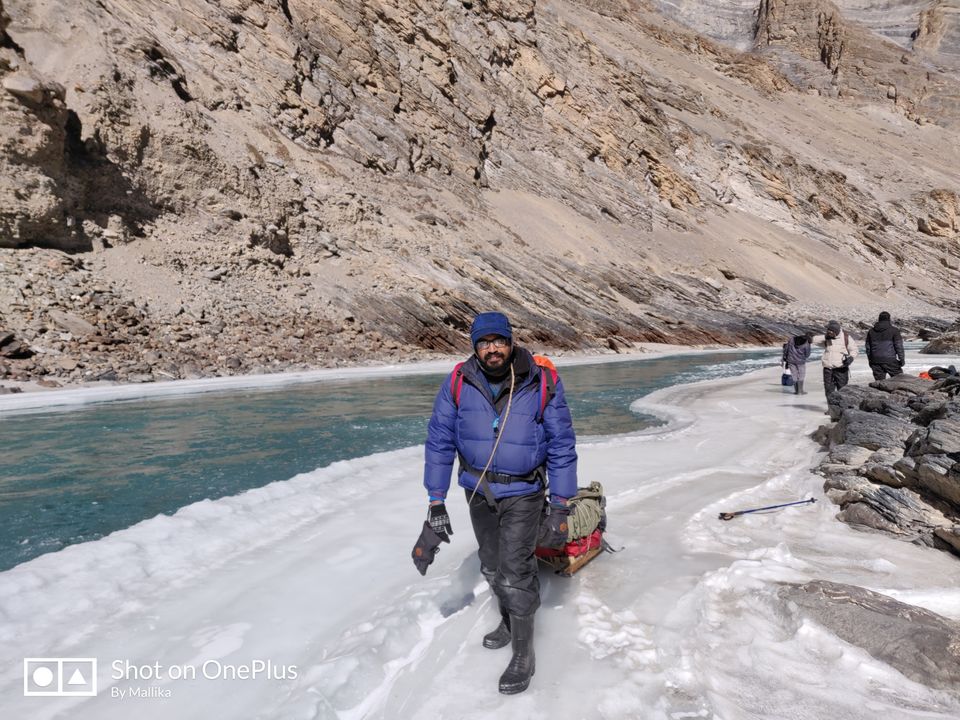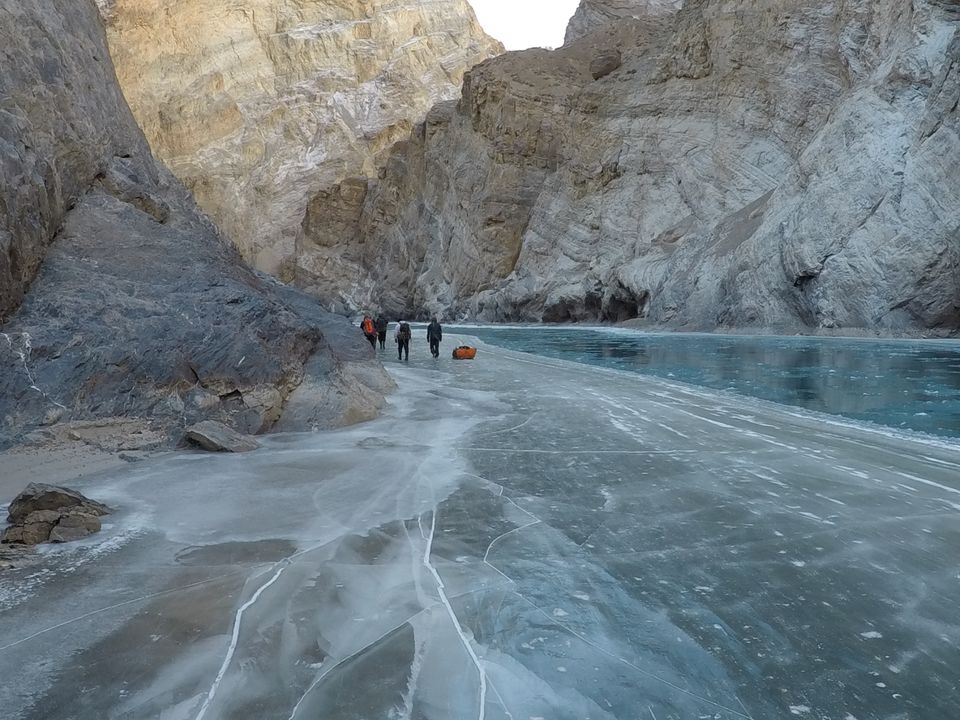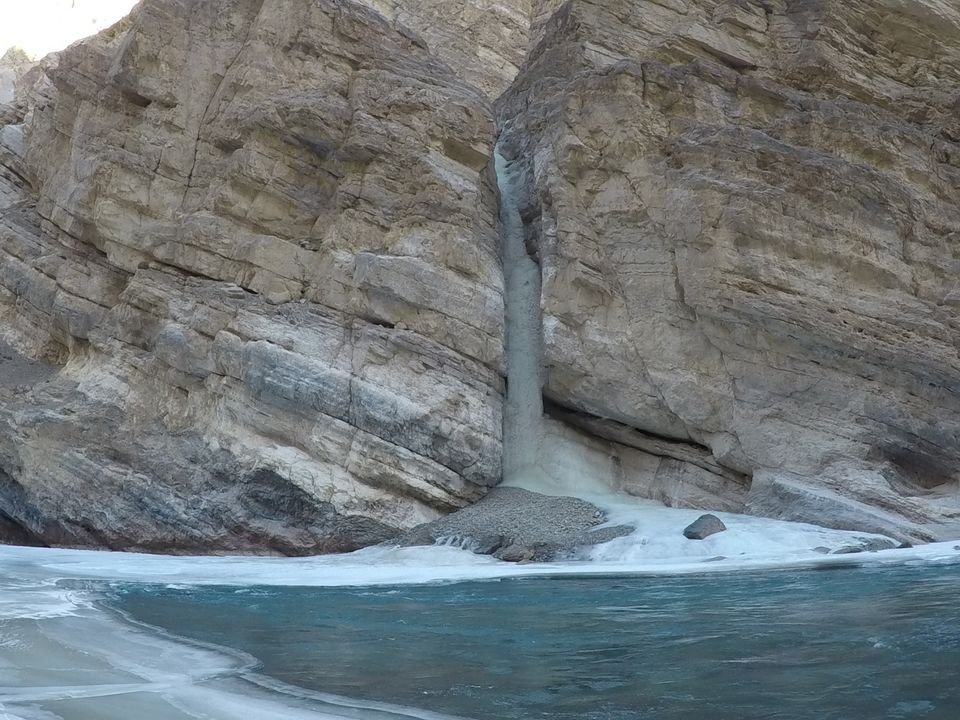 towards Nerak falls
3rd day of our trek started at exactly 9 in the morning. Today we all are little confident while walking, still we fell down, same as the last day, with more difficult path. Due to changing weather chadar is broken at places, that time we use to take mountain path much difficult with that gum boots on mountain not able to balance with that shoe. We meet a group who were coming from Nerak falls, all of us are asking them only one question i.,e still how far. We reached Nerak falls around 4 in the evening. The water falls itself is frozen converted into a huge ice, looks likes falling from the mountain and the edges are sharp , by looking at that falls I came to know that God is the best architecture in this universe, what an art incredible white colored monument sculptured by God, there is no words to describe. I was lost myself by looking at that incredible monument. After few minutes we took photos and group photos with the falls by holding our national flag to show our victory of completion. Later we moved further for our next camp site. There we got rooms for stay each room cost Rs 1500/- only, all of us took 4 rooms and shared. In that room heater were there to warm us, we placed our wet socks on the heater to dry this heater was made out of steel barrel with one hole to place wood and to light it up, from tha hole a pipe made of cement which was going upwards and out of the room to take the smoke away from that heater. The room become warm within few minutes after lighting the wood, that night we were served food to our room only by our beloved cooks and porters, we were served with soup, papad, egg burgi, poori, rice and dal, all of which tasted yummy. After few hours of chatting we all slept in the sleeping bags.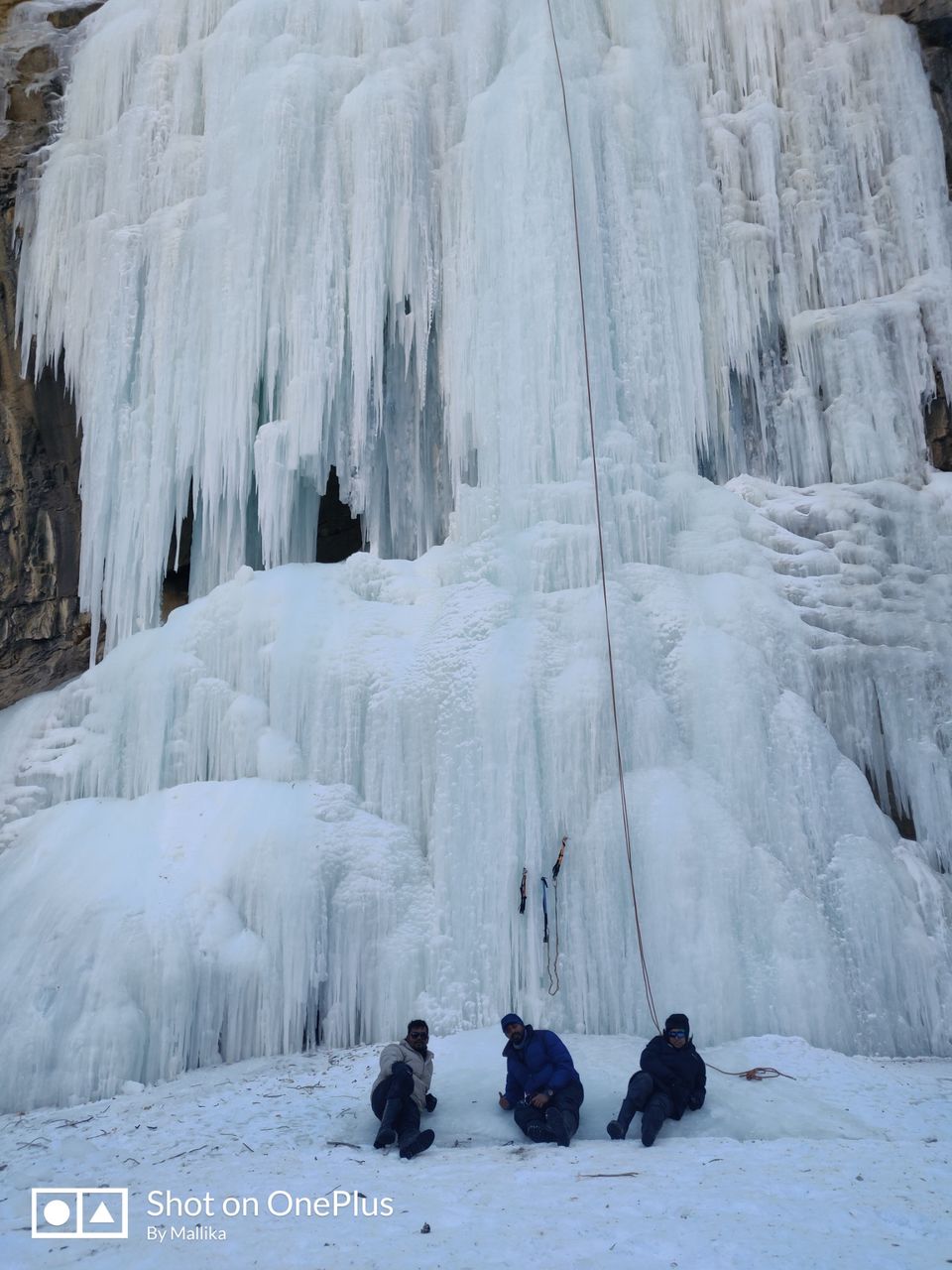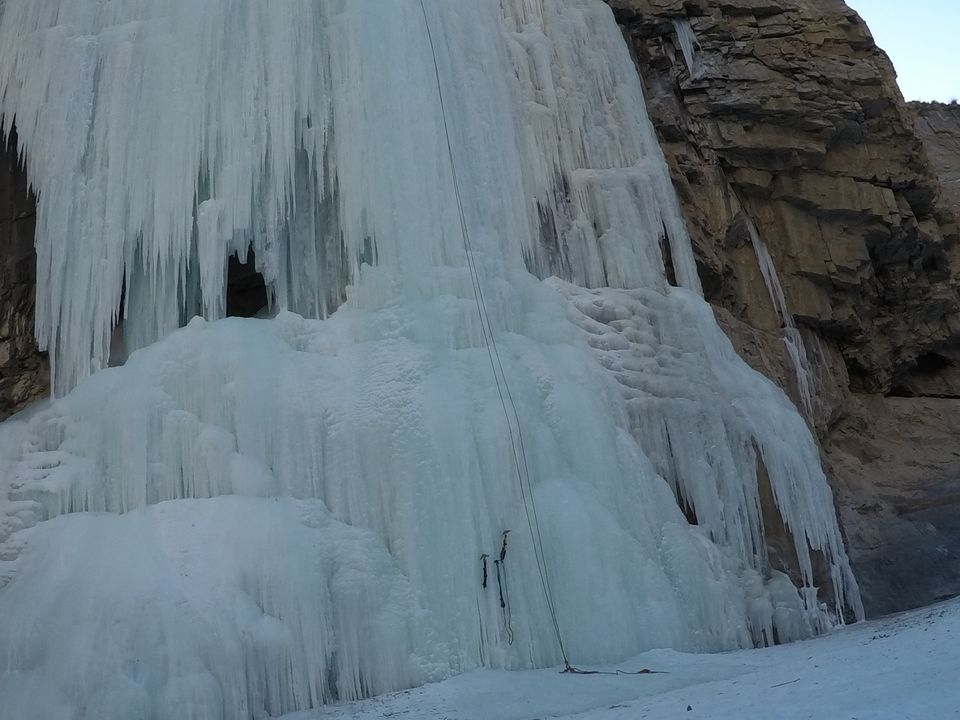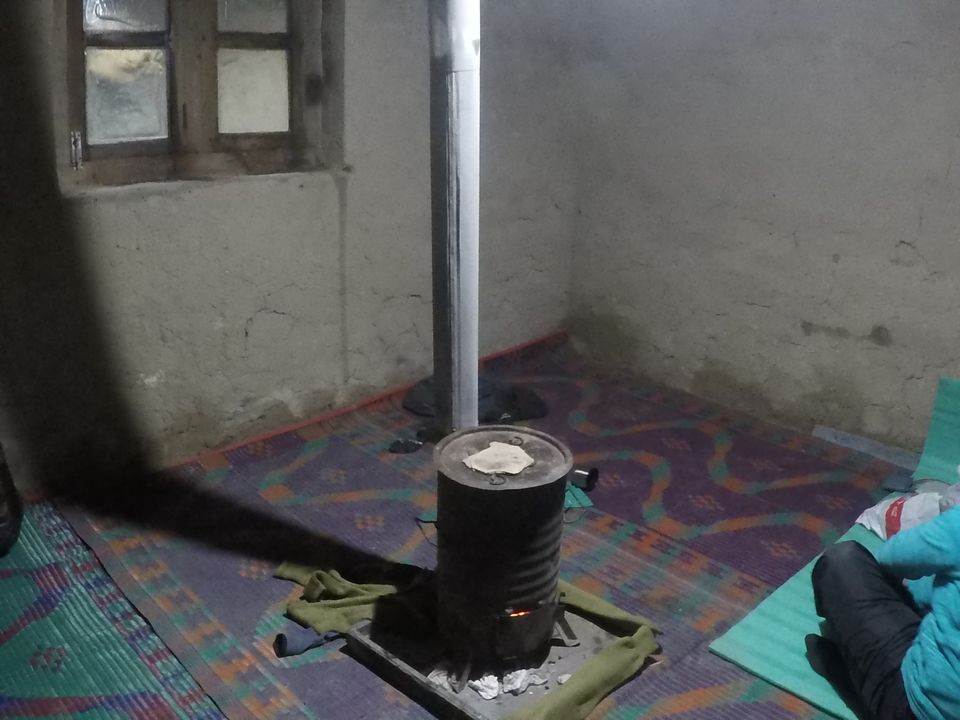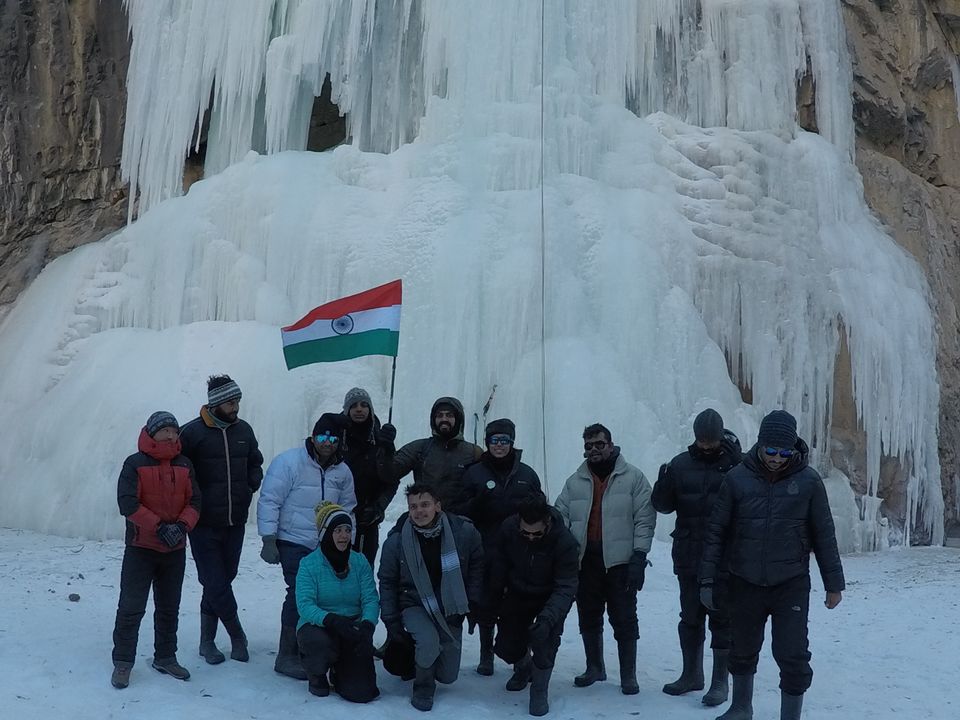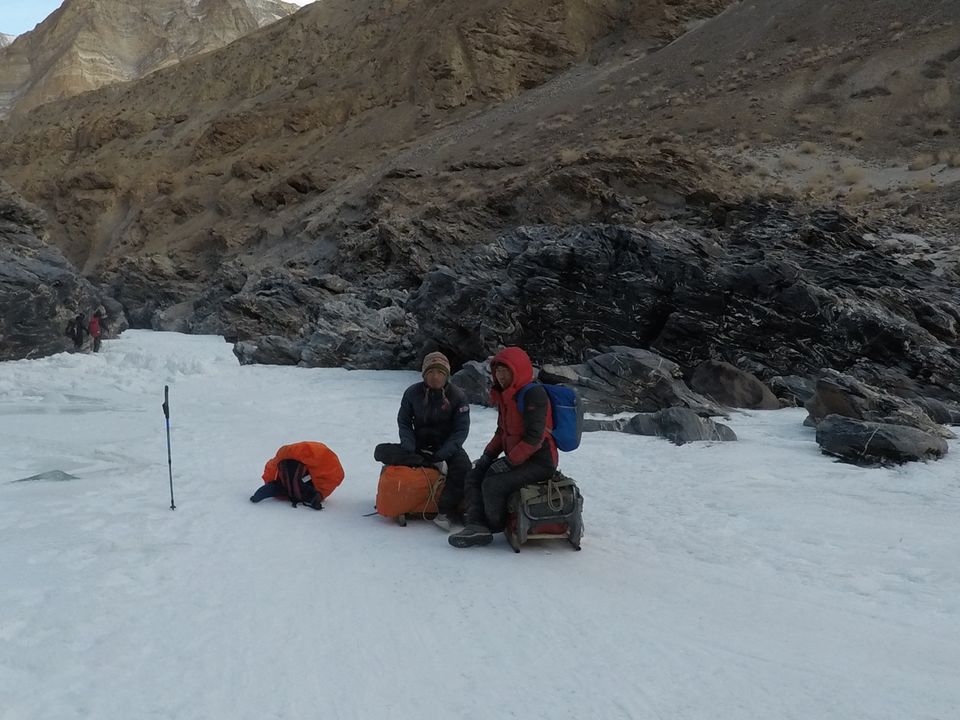 towards base camp
Next day morning we got up by 7 only, Actually in night we didn't appreciate the beauty of that place where we stayed. The place is surrounded by mountains and these were covered with snow and just coming out to have a look at the beauty of that mountain with sun, it looked much more rich,the sunlight made the snow to shine like a diamond, the view looks like diamonds covering the mountain and that scene is just wow. As we have to cover the two days distance in one day it is almost 30km, so we left 8am only from that place after havin quick breakfast. We going back by the same path how we came, but the path is looking unfamiliar due to change in the weather we can appreciate the changes in the chadar which is broken at several place compared to yesterday so asusual we have to take mountain path without any reasons. At places the chadar is breaking while walking on it. I'm able hear the crackling sound, which is dead scary. This day was the most difficult part of trek because of change in weather last night and finally I had a fall, I felt like my hips were broken a thoud sound came on my fall, I got up with courage and acting like nothing has happened. We reached the tibb cave at around 1:30 in the afternoon, there we had lunch and continued our trek, we reached our today's camp site at 5:30 in evening. It was almost 9 hours of trek with 30minutes break that to for lunch. I forgot to mention that me and two of mine fellow trekker were lost in between for almost 1 hours only three of us were walking, the ice is breaking we don't know what to do so we climbed the mountain to walk, at place we were not able to climb mountain also so we stopped there only for 15minutes later the other troop were going to nerek they helped us to get down on chadar and showed us the path to walk and we reached our troop within no time.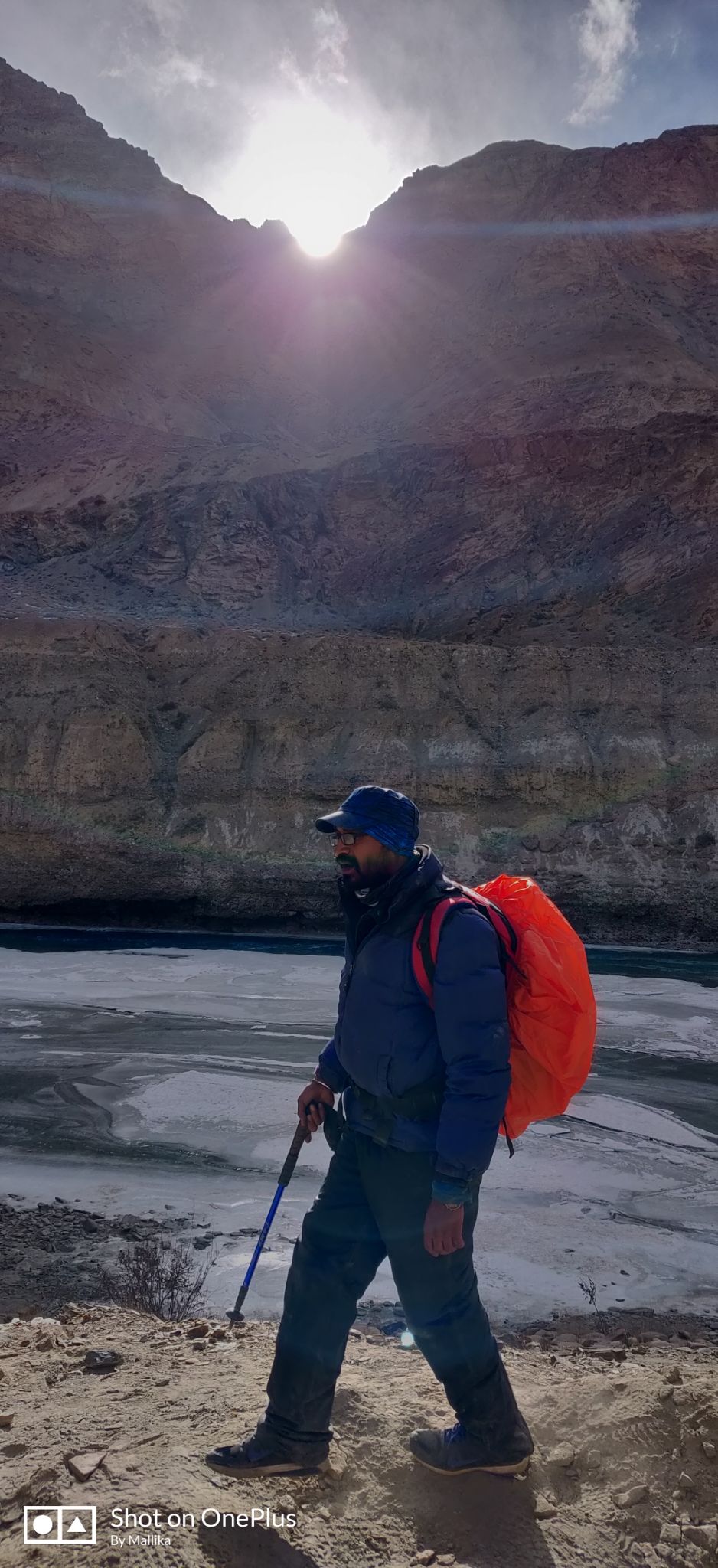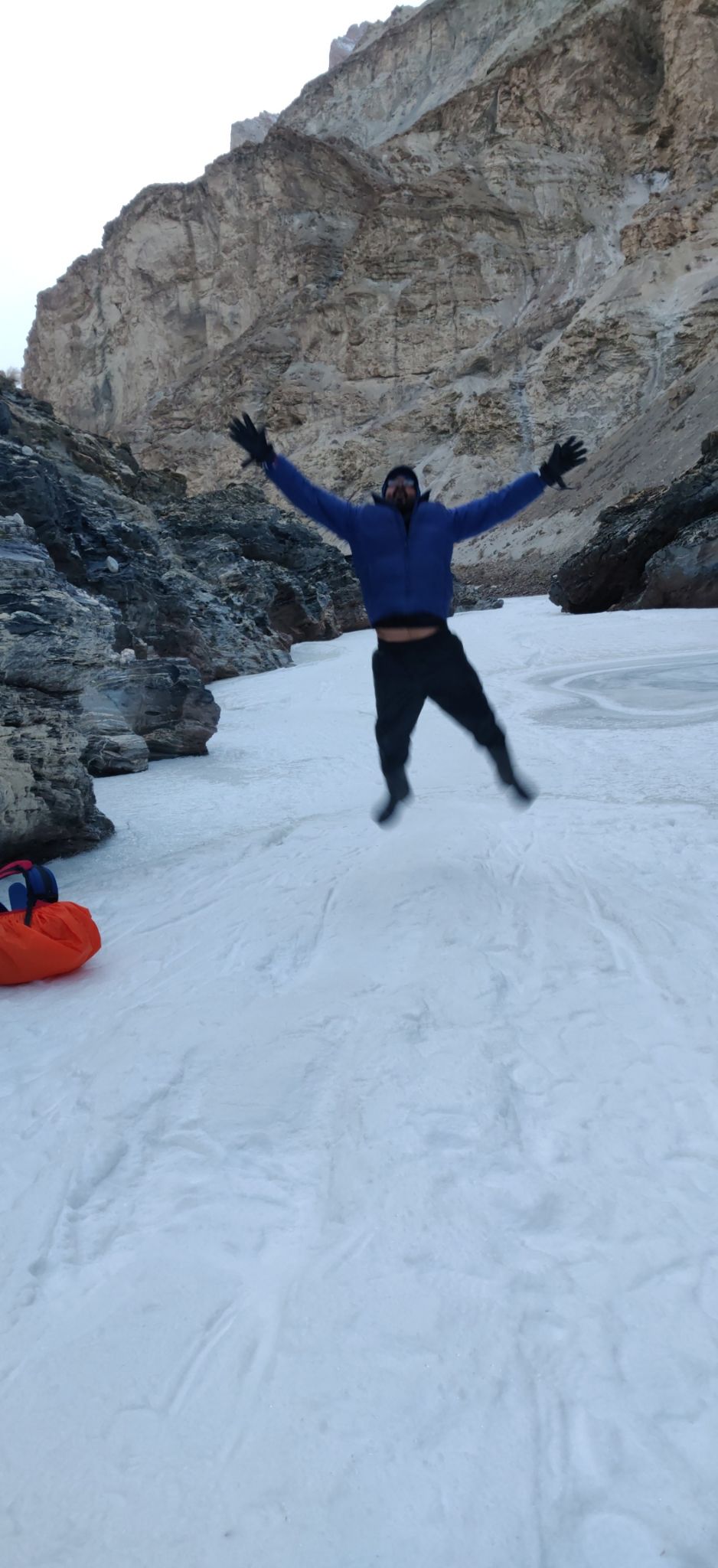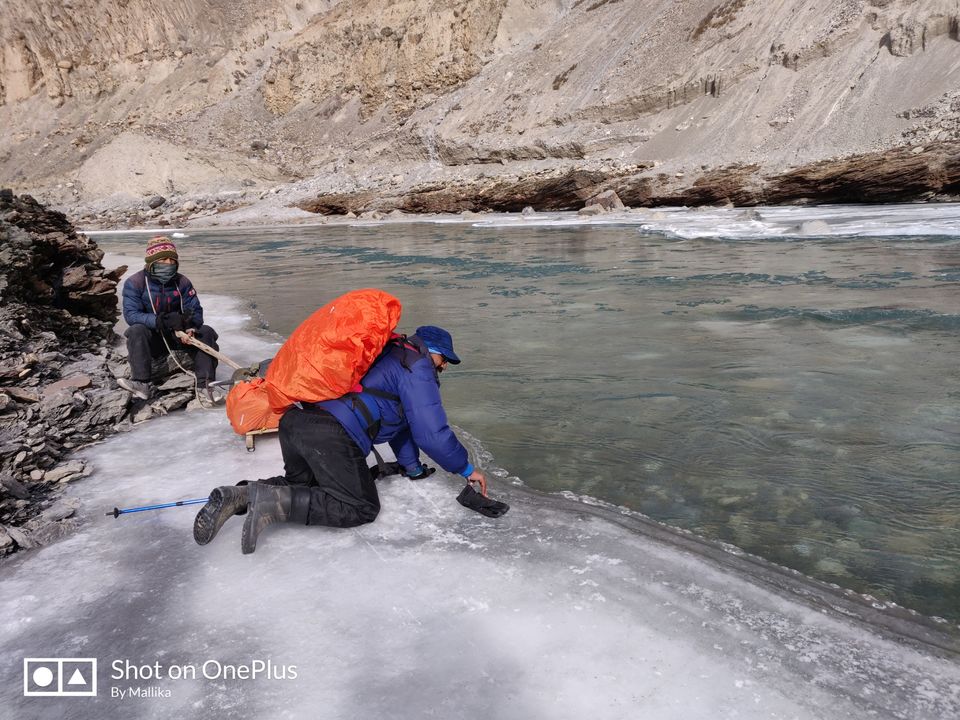 towards leh
Today we have to cover only 6km so we started at around 10 in morning we reached our base camp soma paldar what we covered 3hours in first day trek now that much only left, we continued from there with our beautiful memories of first day and how hard on that day to walk, now we were almost walking freely like experts. Beside our path big mountain crushers were making road to Zanskar village it spoiled our path so once again climb mountain but here for 100meters only one step can be placed at time only that much space was there. Finally we reached the place where van will pick us. Before getting into van we wanted enjoy the chillness of the water so one by one all of us dipped our face into the zanskar river for 10seconds my experience is like after coming out of the water my face started to burn like anything for few seconds. After this we all get into the van we left that place in no time we reached leh in evening and went to hotel night we all shared our experience and phone number to keep in touch.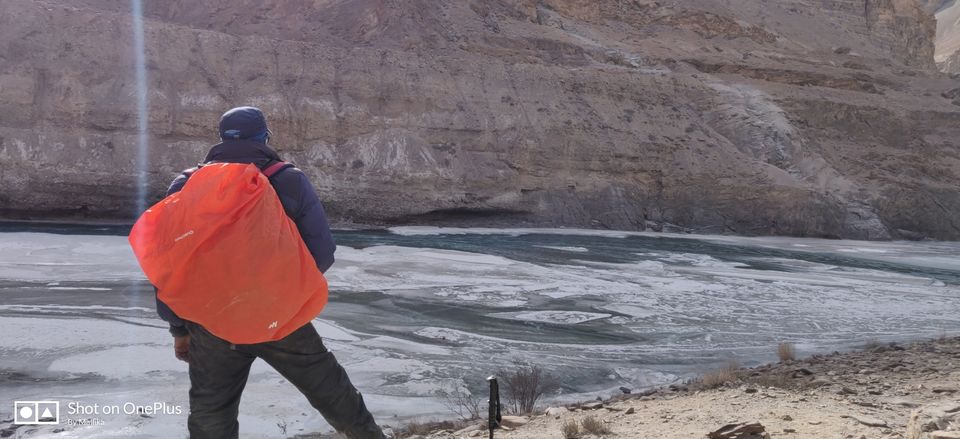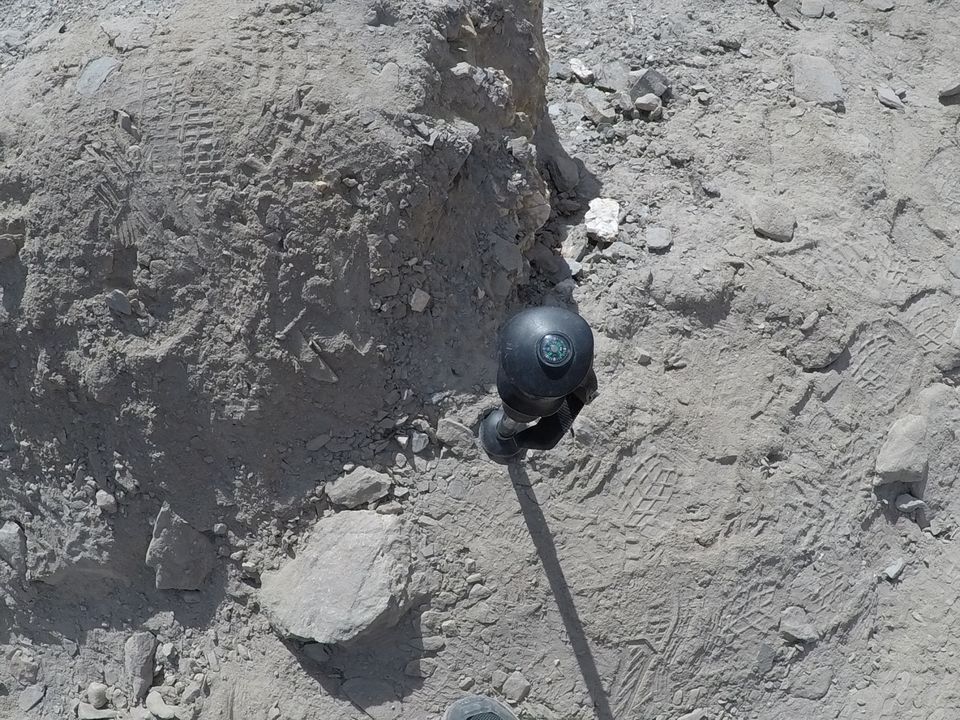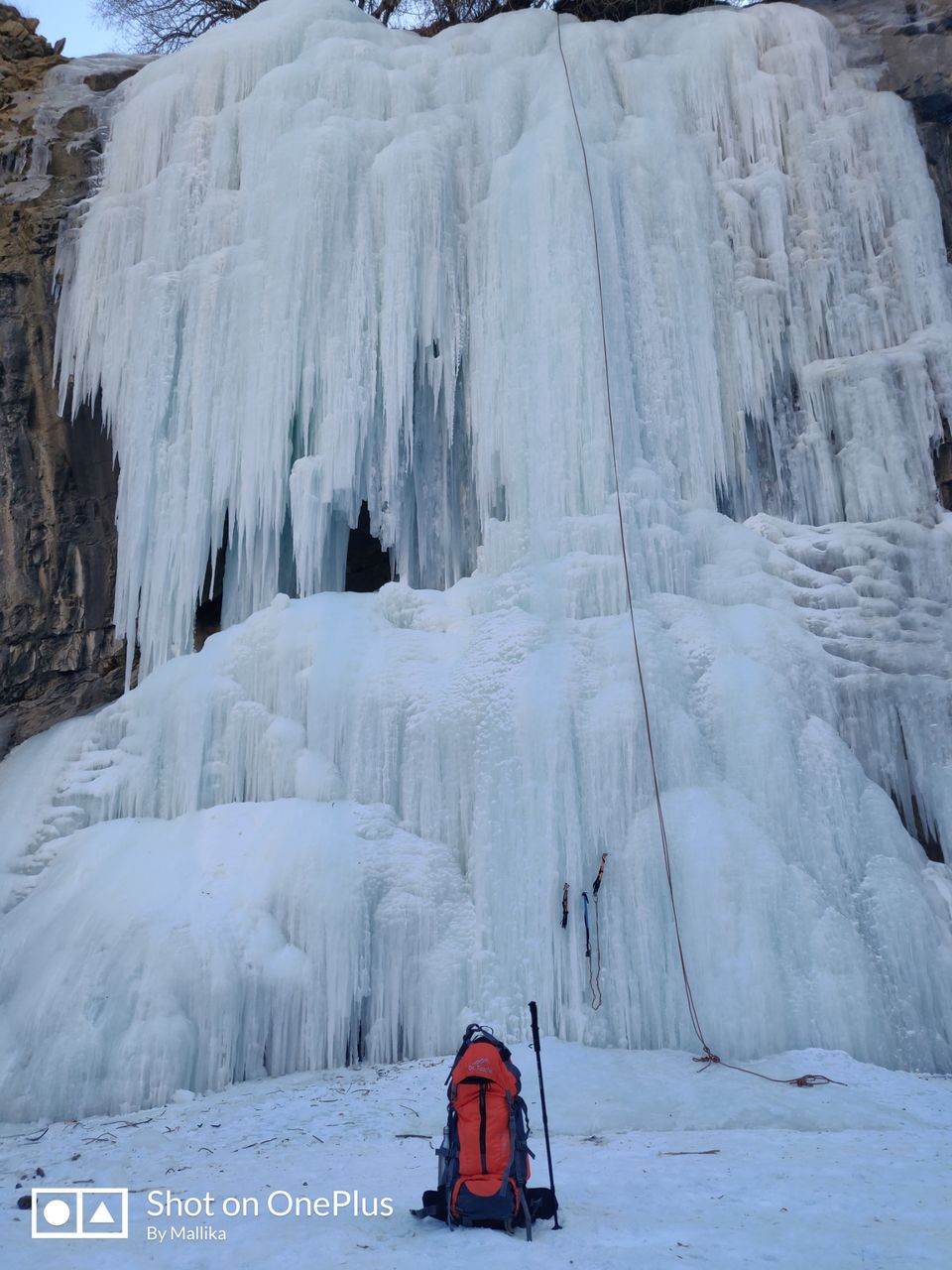 Next day morning I had flight to Bangalore I left early and reached Bangalore by 9 in night with full of beautiful memories and proud for completing the one of the difficult trek in India.
https://youtu.be/gdTvZYUYKA8 . This is a link to small video of our experience in trek and our beautiful journey from Bangalore to chadar trek